The first thing I thought when I arrived to walk around the Dovestone Reservoir, was how lovely and picturesque it was. Surrounded by hills, patches of woodland, sailboats bopping on the water, and a very well maintained neat path around it.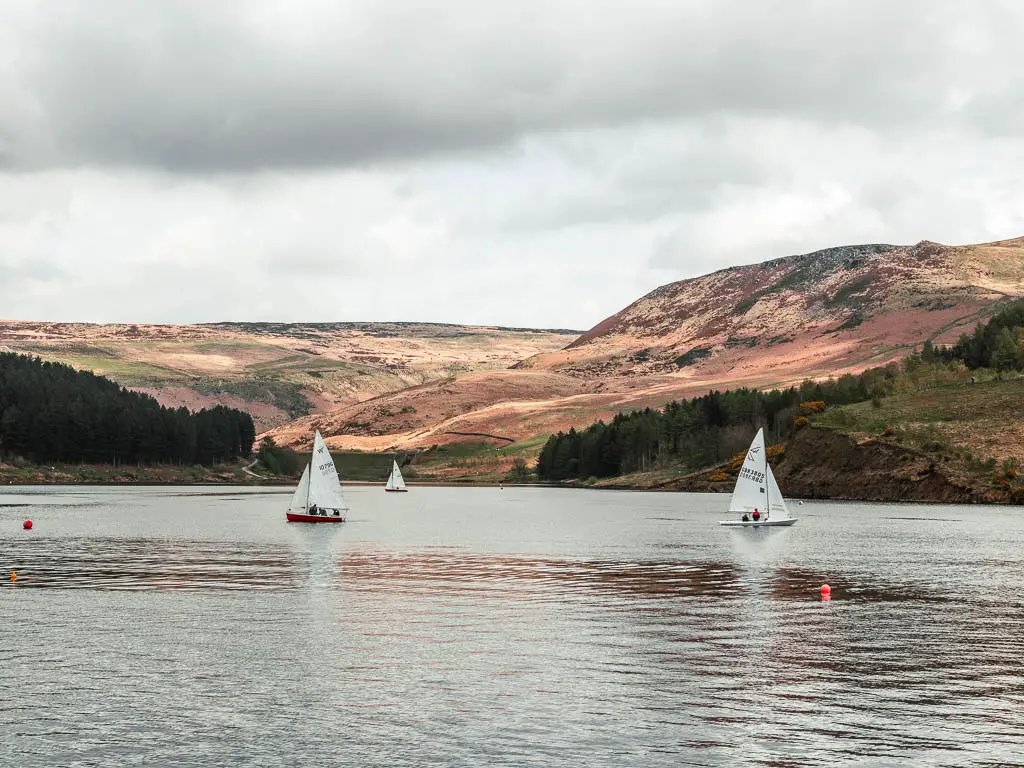 This was just what I needed. You see, a week prior, the child I live in the same house as, caught stomach flu from nursery, and passed it on to me. I spend that weekend projectile vomiting, and convinced I might die. Once that was over, it took the best part of the week to get my energy back and feel 'normal'. 
That week, the child brought a cold home from nursery. Today I woke up with a cold. 
I was not about to have another weekend taken away from me by this demon child, so I needed something simple and easy. 
Alternate route
The Dovestone Reservoir is located in the Peak District National Park, and is adjacent to the Yeoman Hey Reservoir. At the time of writing, the dam walkway between the two reservoirs is closed, so if you want to make this walk a circular, you need to include Yeoman Hey.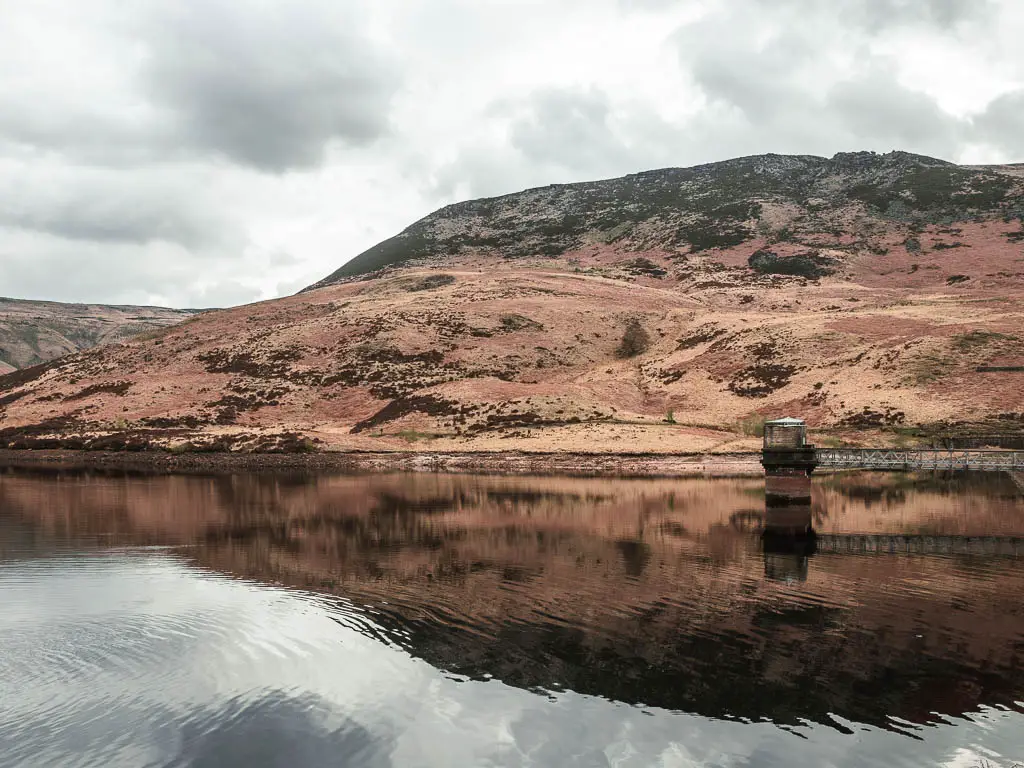 The sign says it will be open again in spring, which we are well into, so that's not much help. You can see here for updates on if the crossing is open yet.
However, I have to say, I actually preferred the Yeoman Hey section of the walk. I thought it was quite beautiful. 
What I'm going to do in this guide, is give you an overview of the circular walk around the Dovestone (and Yeoman Hey) Reservoir, with full logistics, and a map. Then I will go on to describe the route with photos, so you can see what it's like. More walks I recommend will be at the end.
How long is the walk around Dovestone Reservoir?
It's just under three miles to do the circular walk around Dovestone Reservoir, and just under four miles to include Yeoman Hey. 
Is Dovestone Reservoir dog friendly? 
Yes. Dovestone Reservoir is a dog friendly place to come for a walk. No stiles, no livestock, and dog poo bins about. 
Is Dovestone Reservoir pram friendly?
The path around the Dovestone Reservoir is pram friendly, however, the full circular walk around Yeoman Hey is not. You can take a pram along one side of Yeoman Hey though. The other side is very rugged, muddy, and rocky.
Parking at Dovestone Reservoir
There is a pay and display car park right next to the Dovestone Reservoir. At the time of writing, it costs £1 for up to 2h, and £2 for 2-4 h. The car park has an ice cream van (on weekends and in good weather) and public toilets. It's a big car park with 117 spaces, and 4 blue badge bays.
I usually try and find the free places for parking, however, I was a bit unwell and didn't have it in me to go on a hunt. Plus, although I'm cheap, I didn't mind stretching for £1.
When I left, I drove in the other direction, and discovered the free parking places on the main road alongside the reservoir. There aren't many of them, so you would need to get there early to grab one. 
Tips for walking around the Dovestone Reservoir
If doing the walk on a weekend, get there early. The car par was almost full when I arrived late morning. By the time I left just after midday, there was queues for parking.
The pay and display is contactless payment only. 
If you haven't come with wheels, then definitely include Yeoman Hey. It was my favourite part of the Dovestone Reservoir walk.
You can probably get away with trainers. Although part of the trail alongside Yeaoman Hey is muddy and rugged, it's not that long, and you can navigate around the muddier bits. Trainers are definitely suitable if you just plan to walk around Dovestone. 
If you want to go more off-piste, Dovestone Reservoir is surrounded by trails to take you up to Dovestones Edge, The Trinnacle (which I came back a week later to walk), and Chew Reservoir.
Logistics
Start/Finish: Dovestone Reservoir Car park
Where is it: Located in the Peak District, on the Manchester side. It's next to the village of Greenfield. Post code for the car park is OL3 7NE.
Public transport: Greenfield has a train station
Distance: 4 miles for the walk around both Dovestone and Yeoman Hey Reservoirs. 2.7 miles for the walk just around Dovestone Reservoir. 
Time: It took me just over an hour to walk around both reservoirs.
Difficulty: Easy
Terrain: Easy, well maintained accessible path around the Dovestone Reservoir. Dirt trail, mud and rocks around one side of Yeaman Hey.
Amenities: Ice cream van and public toilets at the main car park. Accessible toilets at the main car park. Wooden viewpoint benches at various points on the walk around the Dovestone Reservoir. An area with wooden picnic benches on the other end of the reservoir. 
Dovestone and Yeoman Hey Reservoir walk Map
Want to see more from the Peak District? You can read about all the walks I have done here.
---
Route Description for the Dovestone Reservoir Circular walk
When I arrived at the reservoir car park, and got out of my car, I was hit with an onslaught of noise. It was quite chaotic with lots of people about, but I had something up my sleeve. I had just bought the AirPod Pros, and had yet to try them. When I put them in my ears, it's as if the whole world went silent.  I had wanted the AirPod Pros for some time, but it sickened me a little, how much they cost.
In that moment, I knew that was £280 well spent….or so I tried to convince myself.
You can't see the Dovestone Reservoir when you arrive, you need to walk up to the top end of the car park, and mini hill, and it's just there. I decided to walk around it clockwise, for no reason in particular. Now I have done it, I think this is a good way to go. You get more reservoir views from the get go.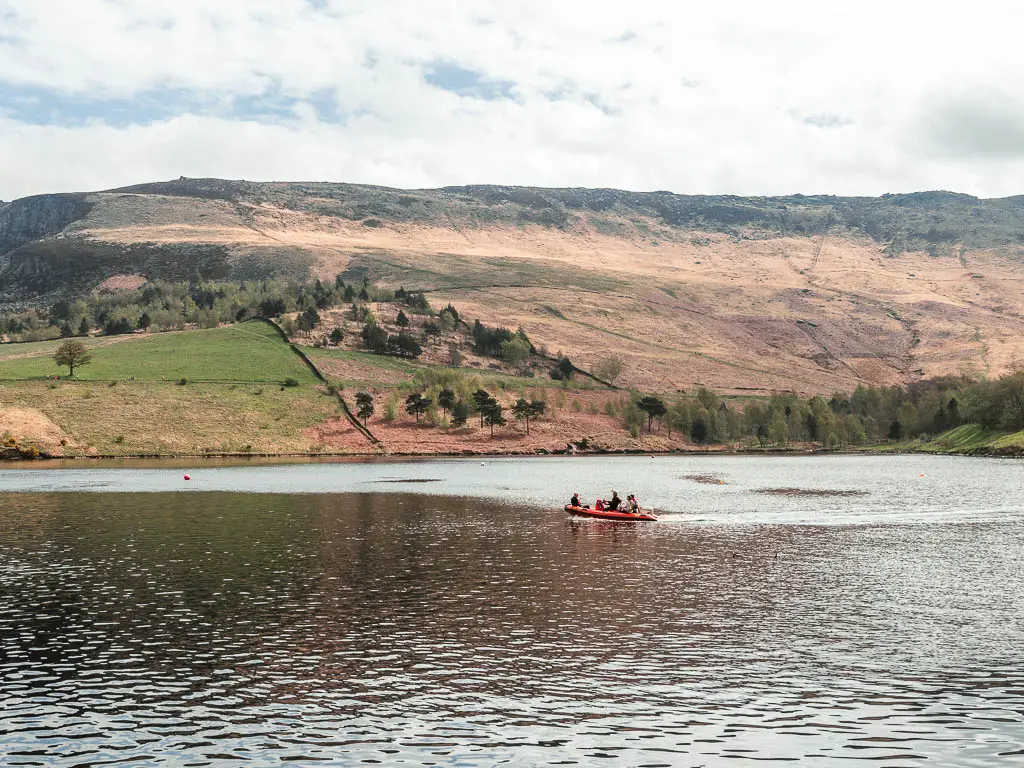 Start the walk around the Dovestone Reservoir
The walk starts off nice and easy. Despite all the people, I thought it was quite lovely. Very picturesque. My AirPods definitely helped.  Silence, with a view across the water with all the sailboats, and a backdrop of impressive hills.
At the end of this first stretch, you need to go up the mini hill, onto the other side of the wooden fence, to continue on the path. 
I was a little surprised when walking along this bit, as most people had disappeared. I could take my AirPods out now. Although, I was excited by my new purchase and wanted to sample them a bit more, so put a podcast on.
Yeaman Hey
When you reach the dam crossing at the end of the Dovestone Reservoir, if it's open, you can cross over here, to walk back on the other side. Otherwise (and what I recommend anyway), continue straight onto Yeaman Hey.
The path is still nice and easy, so it's suitable for everyone. 
When you reach the fork, take the right path to stay on the reservoir edge. The path starts to get a little more rugged here, but still mild. 
I quite enjoyed the view looking back.
At the end, you will have a massive green wall in front of you. This is the next dam. You don't have to go up it though, as there is a small bridge crossing at the bottom. 
I could see some people up there, and usually I would like to take a look, but I didn't have it in me today. The thought of walking up a hill made me feel a little nauseous.
The rugged trail
Once you cross over the bridge, you are faced with rugged immediately. I quite enjoyed it. It was a nice way to mix things up, but still easy. 
It's mostly narrow dirt trail, and a bit further along, a little rocky and wet. It wasn't too muddy today, but I can see how with some rain, that would change. 
Walk back around Dovestone Reservoir
As soon as you reach the dam crossing between Yeamon Hey and Dovestone, the path becomes civilised again. 
You get a brief view of Dovestone Reservoir, however, for the next little bit of the walk, the reservoir is hidden by the trees, and instead you have the views of the hills. I thought about how I'd love to go up those hills, however, in this moment, I was glad I wasn't. I was really starting to feel that cold. Despite how easy this walk had been, it was really taking it out of me. 
Some way further along, you will be back walking with an unobstructed view of the Dovestone Reservoir.
The path will then take you on a few little curves around the corner, past a mini 'waterfall', and general prettiness, before finishing off along a straight path to reach the boat house. 
A little past the boat house, you will be back at the start.
More local reservoir trails i Recommend
I had loosely planned to walk around Wessenden after Dovestone. It's just 10min down the road. Driving there is quite interesting, as quite suddenly you find yourself in an area surrounded by a vast landscape of open moorland. Like you have stepped onto another planet.
Upon arrival, I parked the car and looked down at the reservoir. It looked bleak but beautiful at the same time. I felt rough. I didn't know anything about what the walk would be like, but from here, it looked too rugged for my energy levels. All I wanted to do right now was go home to bed. So I did. 
They next day, I woke up still very much with a cold, but decided to go back and give Wessenden a go. And boy I'm glad I did. Wessenden is now up there in my top three reservoir walks. I can confirm, it's very rugged, and there are hills. By the end of it, I thought I might pass out, but that's more to do with being unwell, as opposed to the difficulty of the walk. 
The first reservoir I have walked in the Peak District is Ladybower. That's very pretty, also with a backdrop of some edges. It's a bit longer at 6 miles, but is super easy.
If you want reservoirs without the crowds, then both Dale Dike and Agden Reservoir, along the east side of the Peak District, might suit you. Both are super short, at less than 3 miles. They are quite rugged though, and won't be suitable for prams. I found them to be incredibly peaceful and tranquil, and on a sunny Saturday, came across less than a handful of people.
Near to Agden and Dale Dike, is the Langsett Reservoir. It's quite a popular one, but part of the route is more accessible than the other two. I say part, because the other part is across the moor, which is a bit more rugged. The moorland gives it that extra variety though.
Other walks
If you want to explore other walks, and not just reservoirs, you can check out my Peak District walks guide here.
If you are wondering what my other favourite reservoirs in my top three are, one is Grimwith, up in the Yorkshire Dales. The other is Scar House up in Nidderdale. 
Pin it for later: Dovestone Reservoir walking guide