This 10ish mile walk from Faversham to Whitstable is part of both the Saxon Shore Way and the England Coast Path. Seeing as I am trying to complete both of these trails, it's a win win. Two for the price of one. Jokes aside, I really enjoyed this walk. On this day, I had actually planned to do a more hilly walk, however, I flared up my hip the previous day (in case you are not aware, I had hip surgery last year), so I chose this one instead as it was rated as easy. However, as far as easy walks go, this one, on this day, from Faversham to Whitstable was anything but….
Yes, it seems like it would normally be pretty easy. The whole route is flat and it's easy to navigate. But mother nature had other plans. It was crazy windy and I had to fight my way through lots of plants and weeds. I have the cuts to prove it. 
What will you see on the Faversham to Whitstable walk?
Historic towns, a nature reseve, a creek, a boatyard, mudflats, fields and marshland. Lots of cute beach huts, and maybe some bulls.
At just over an hour by train from London (because I'm from London and assume the world starts from London), this walk would make a perfect day trip. I give it my stamp of approval. 
Logistics for the walk from Faversham to Whitstable
Start: Faversham 
Finish: Whitstable
How to get there: There are direct trains from both London St Pancras (73 min) and London Victoria (1h 28m). Both towns are on the same train line, one–stop apart. So buy a return ticket to Whitstable, which will cover both journeys out and in. Just a note, if you get a return ticket from Victoria, it will only allow you to return on the Victoria train. If you buy the fast ticket from St Pancreas you can return to any major London station. Also, be aware that there are other much slower trains so check the train times so you don't accidentally get on the slow one.
Distance: 9.5 miles
Time: 3 hours
Elevation gain: 430 ft. You don't really notice it though. 
Difficulty: Mostly easy, but a bit challenging if walking through the flower weeds on steroids.
Terrain: Asphalt, dirt trails, shingle.
Tips: Take leg protection. 
Map – Faversham to Whitstable Walk
Click on the little box in the corner to follow the trail.
If you would like some other walking ideas in Kent, I have listed them at the end. Happy walking 🙂
How To Walk From Faversham To Whitstable 
Once out of the station, head to the town centre. You should be walking along Preston street. Once you reach Market Square, take a right.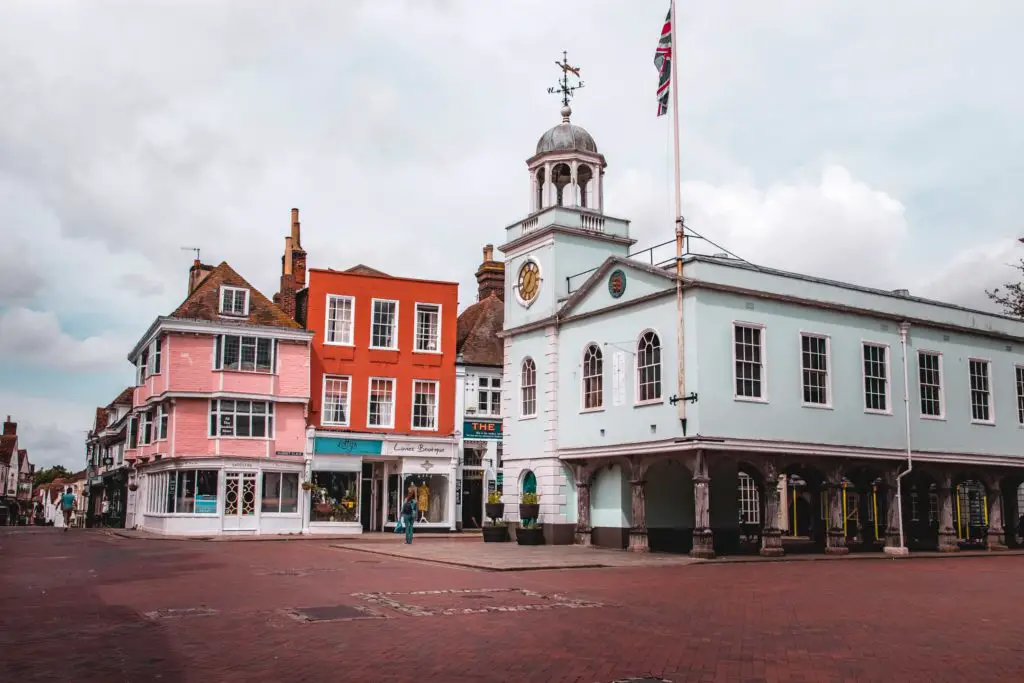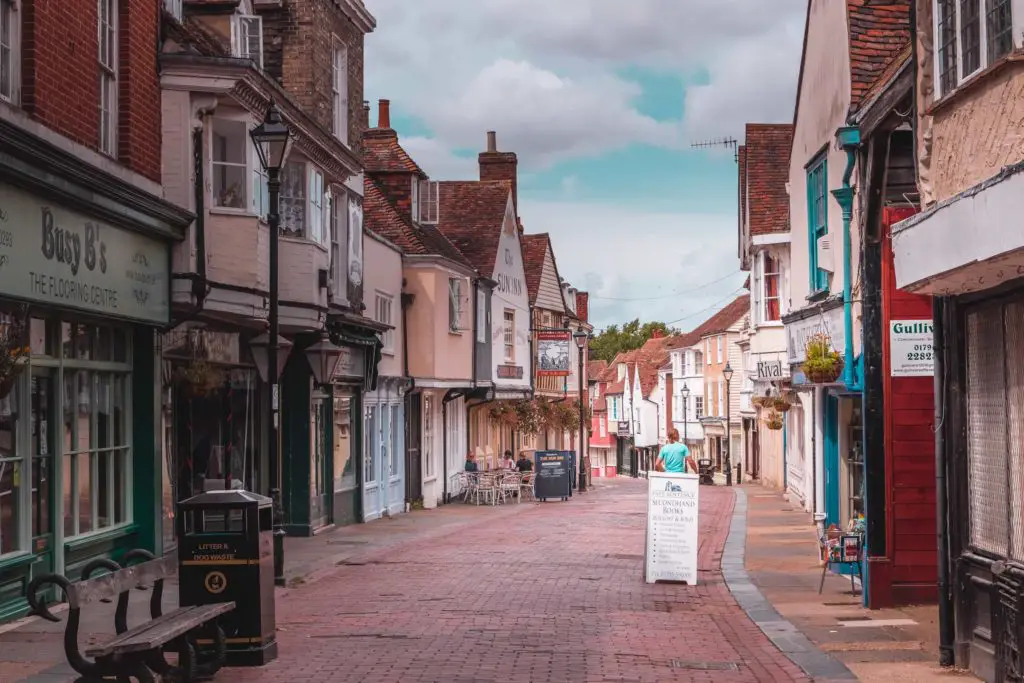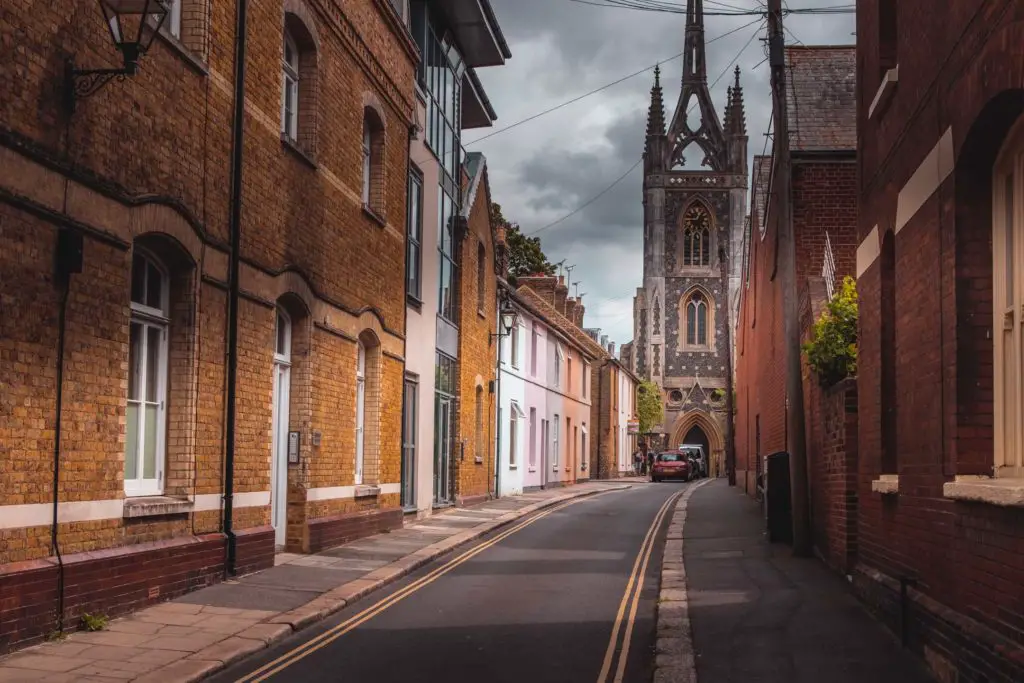 Continue along this road passing lots of cute houses, and Saxon Shore Way signage. Once you reach the end, the road will bear left taking you to the river. From now on, this will be to your left for the whole route to the ocean.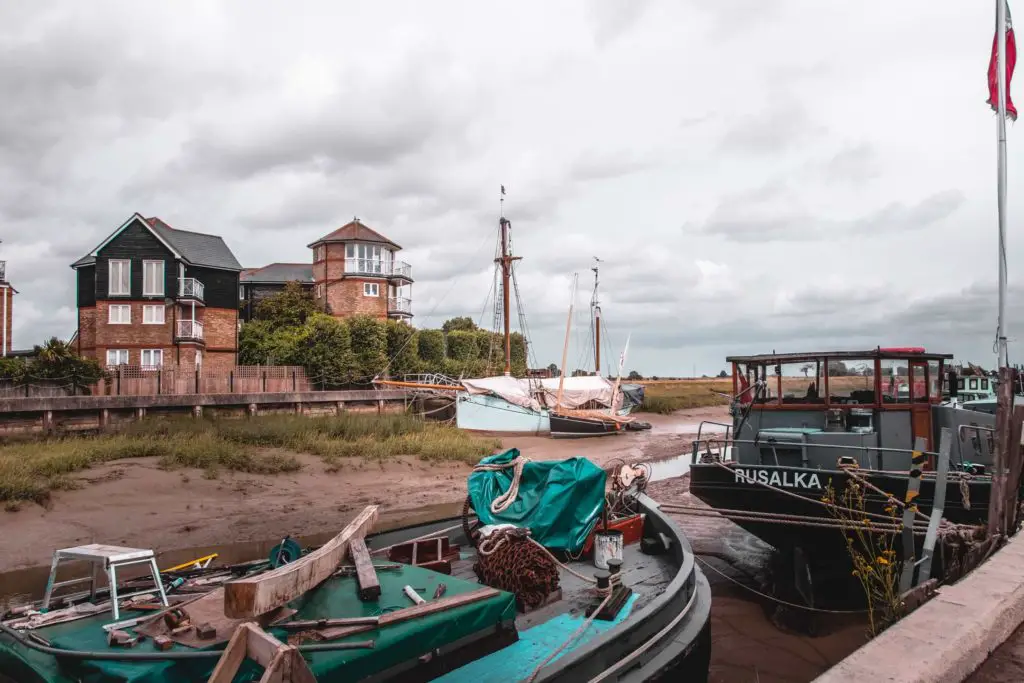 There are a number of interesting antique stores along this part and places for you to stop for a coffee if you so wish……Or oysters. This part of England is famous for them.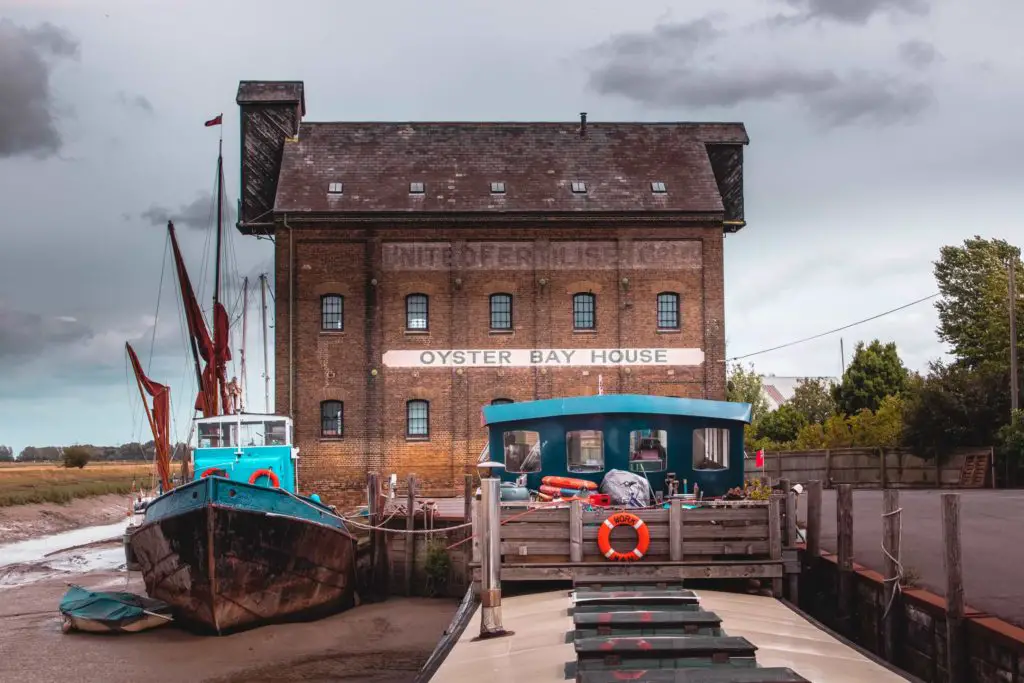 Iron Wharf Boat Yard
As you reach the boatyard the road will curve to the right. Don't go right. Instead, walk straight ahead through the boatyard. 
You will now walk through the land of boats. So many boats at different states of repair in this DIY boatyard.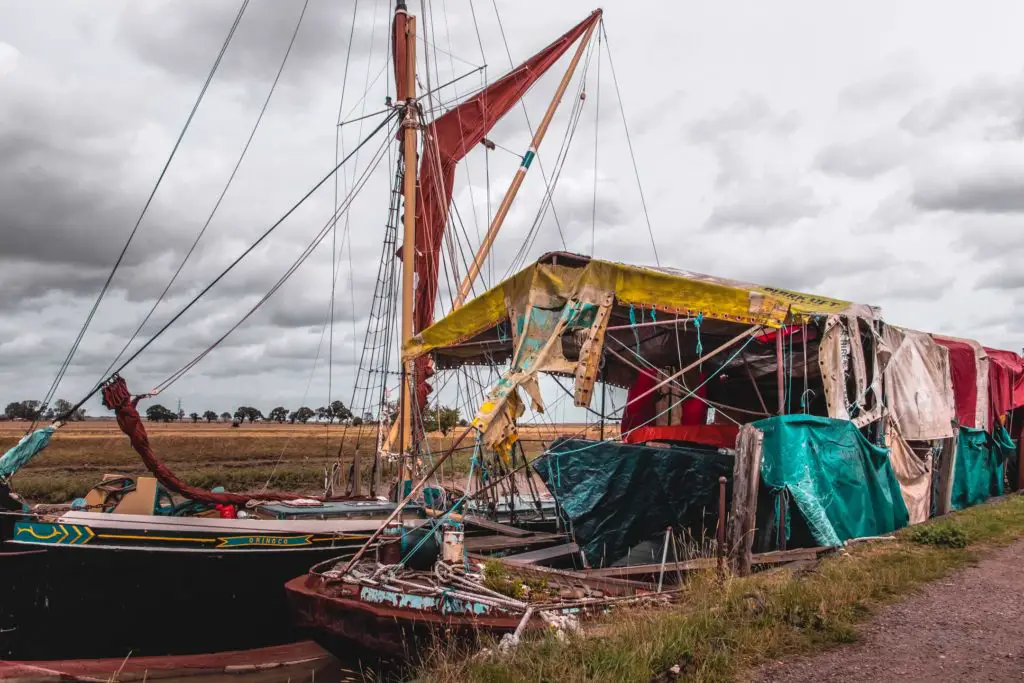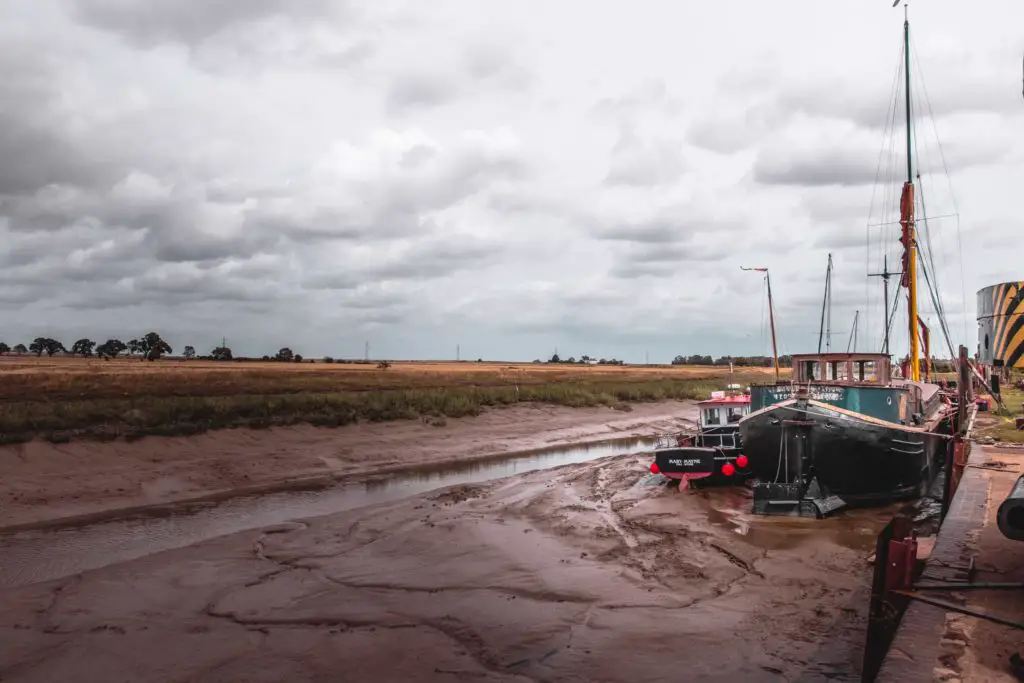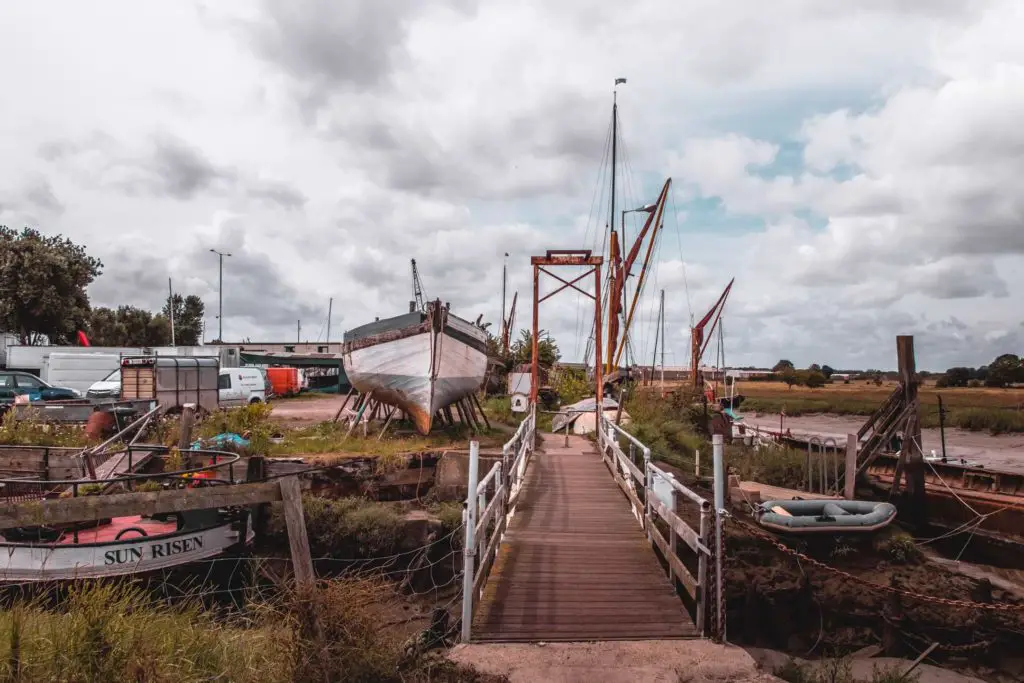 Once out the other side and over the mini bridge, continuing along the trail, you will pass the forgotten boat, before reaching the open fields.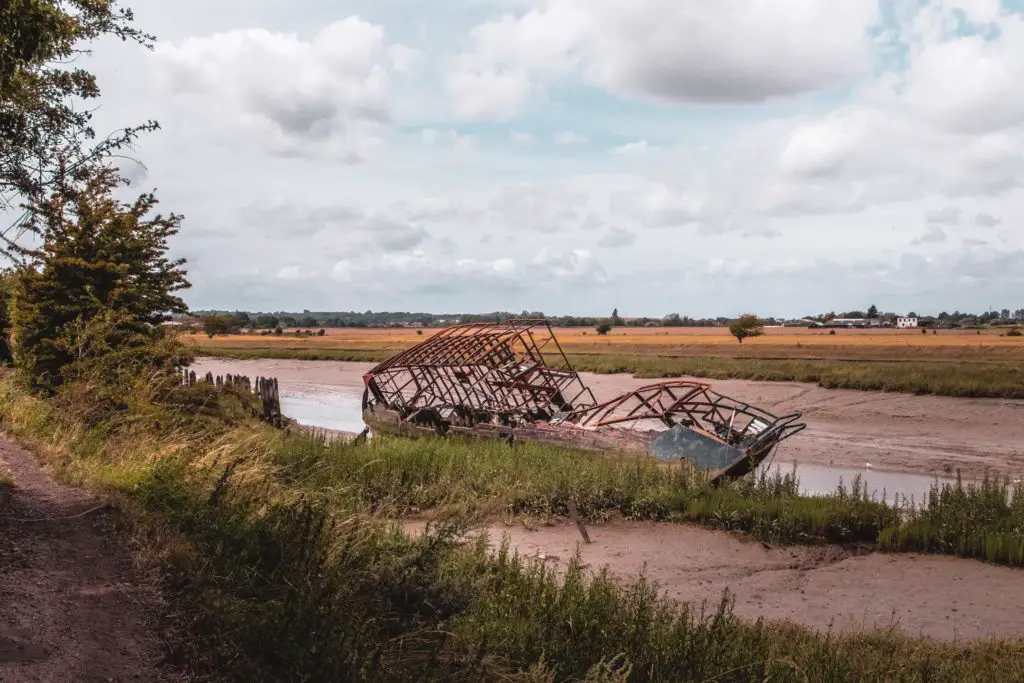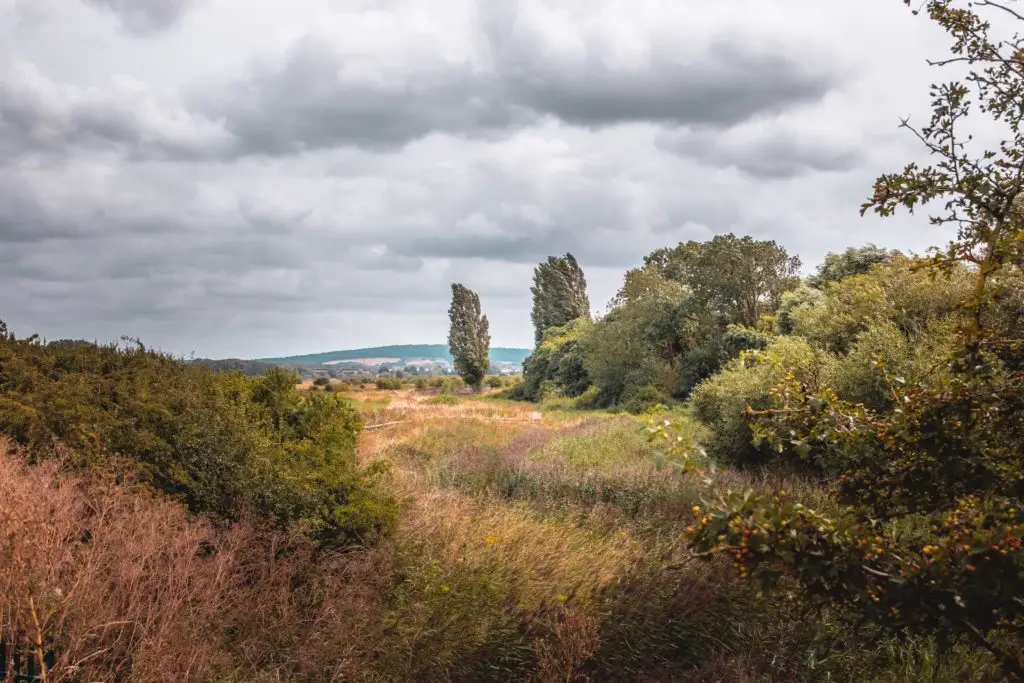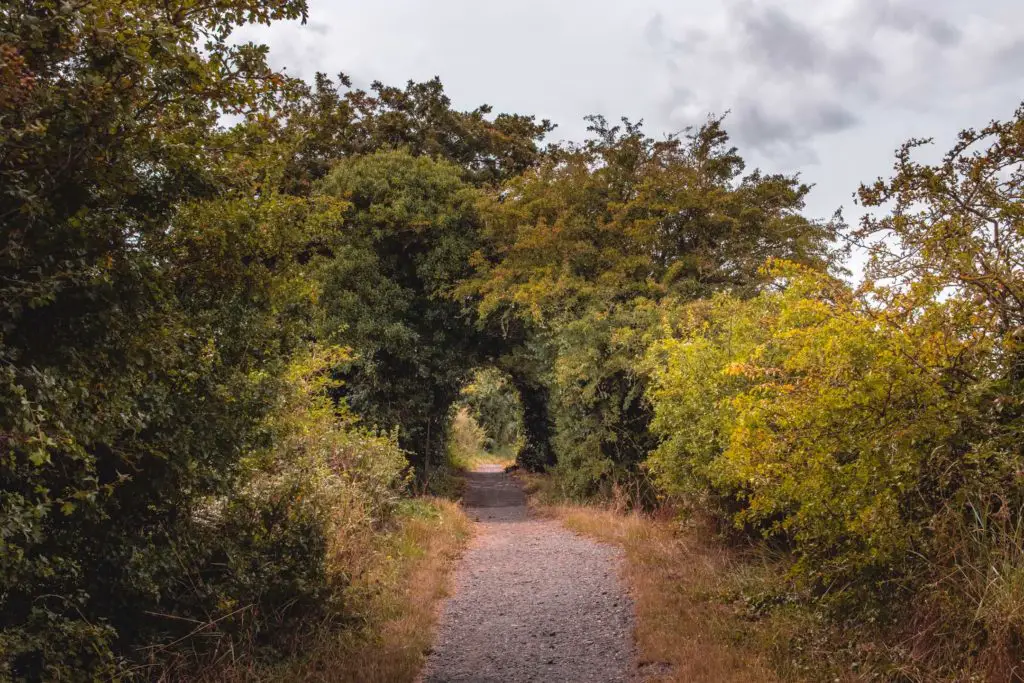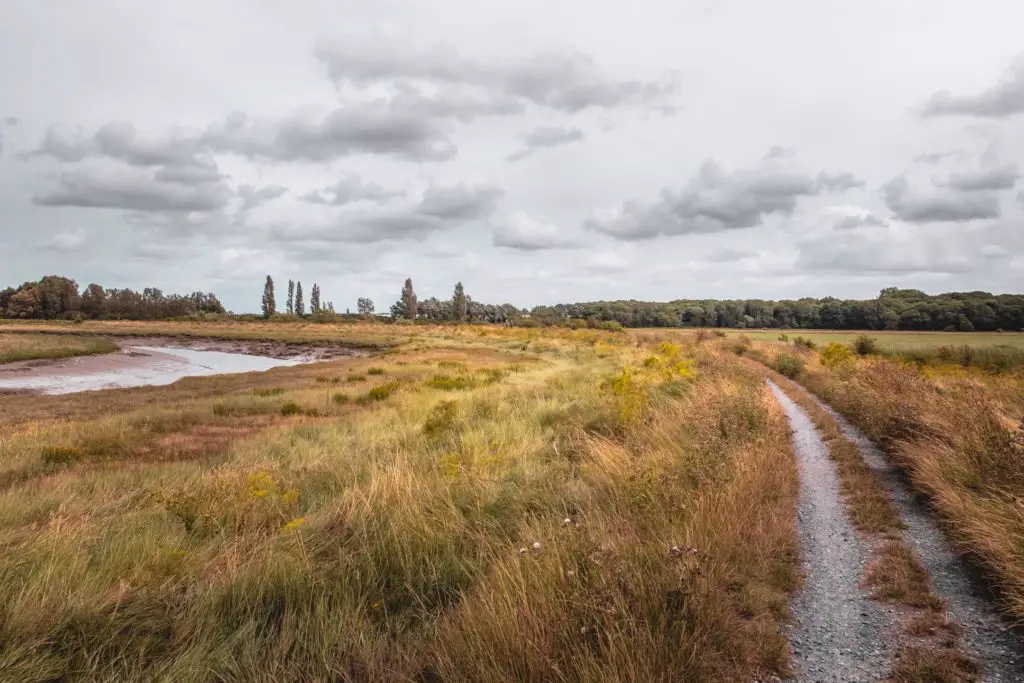 At the end, there will be a signpost which isn't much help because half of it was missing….the half in the direction I wanted to go. So, do I go left or right? Well, through my master navigation skills I decided left was the correct way.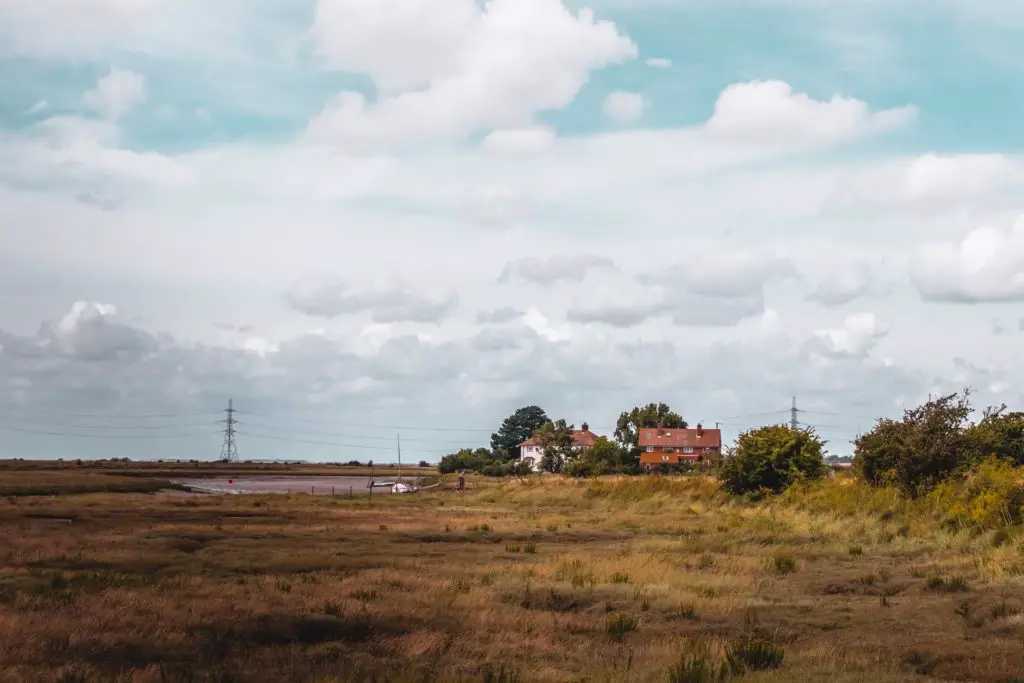 After this, there are a couple more turns to make, but they are well signposted. Just keep following the direction of the Saxon Shore Way (SSW).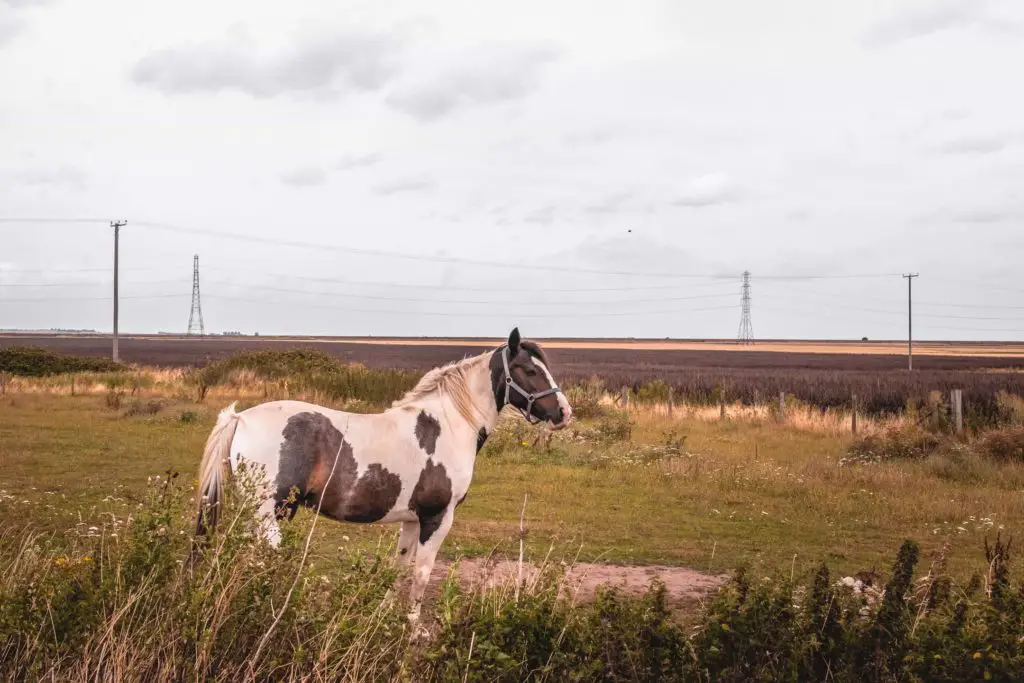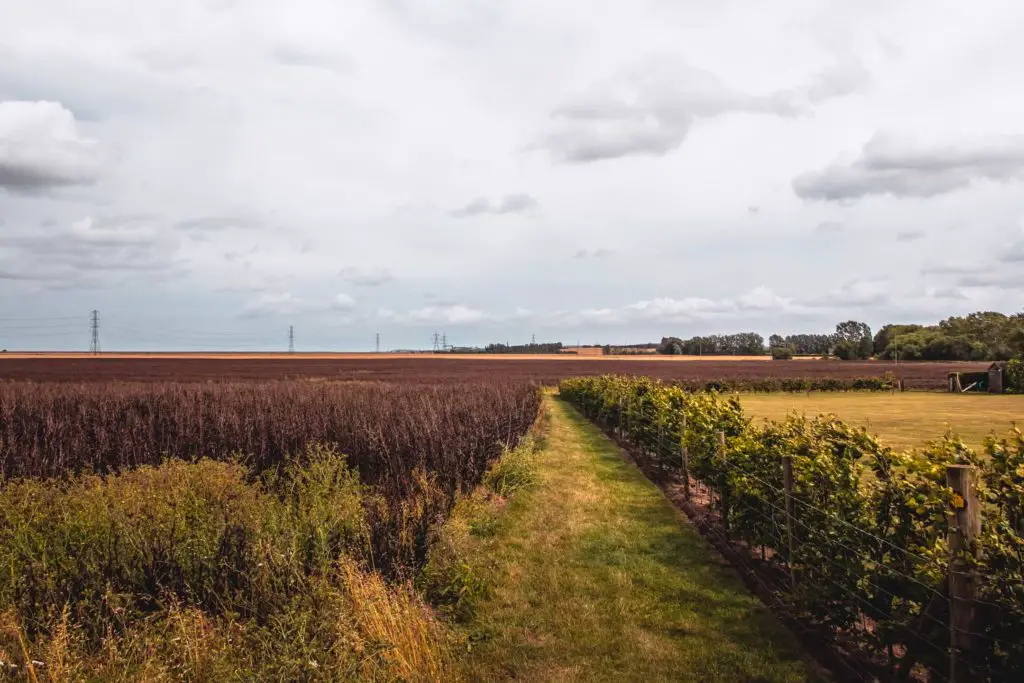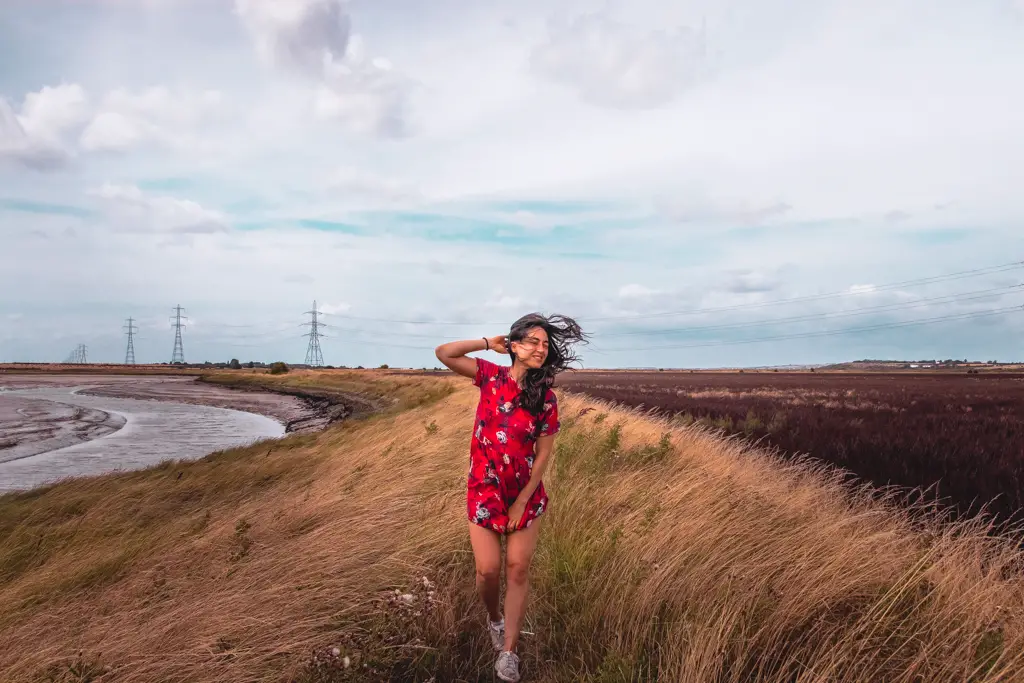 Up until this point things were fairly easy. Then the wind happened. Oh the wind. But this was just the start….
The weeds
So I don't know if this is just a seasonal thing, or an all year round thing. I hadn't read about it when reading up about this walk. I'm pretty sure someone would have mentioned it. 
I also don't know plants/foliage so I don't know if they are actually weeds, so someone correct me if I'm wrong. Until I'm told otherwise, I will call them flower weeds.
So, either side of the path the weeds were so overgrown that they engulfed the trail and entangle with each other. I question if this is the correct way. The sign says it is, so I'm gonna go with that.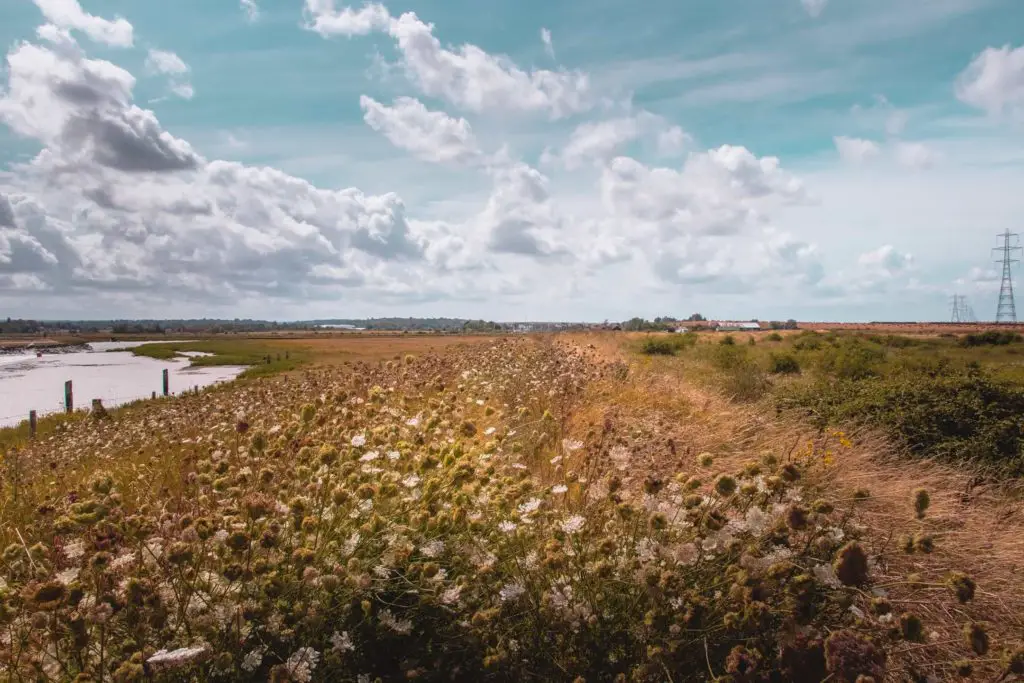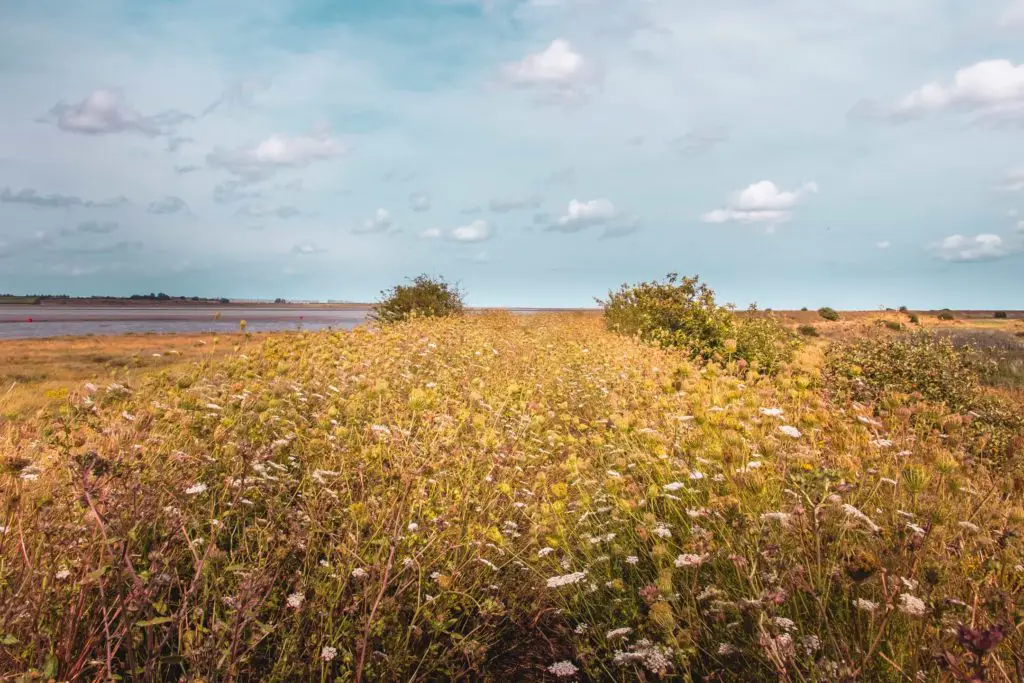 As I fight my way through, being scratched by all the scratchy parts, I tell myself it will only be for a short distance. But no. It just goes on and on and on. At some point, I wonder if I should turn back….but I've come this far, I might as well keep going.
Every so often there is an opening. But only for a small part, then the weeds take over again. By now my legs are covered in rashes and scratches. Note to self: Always bring trousers on a hike or walk….just in case.
Oh, and don't let this put you off. It was quite beautiful and made me wonder how many (or few) people come this way.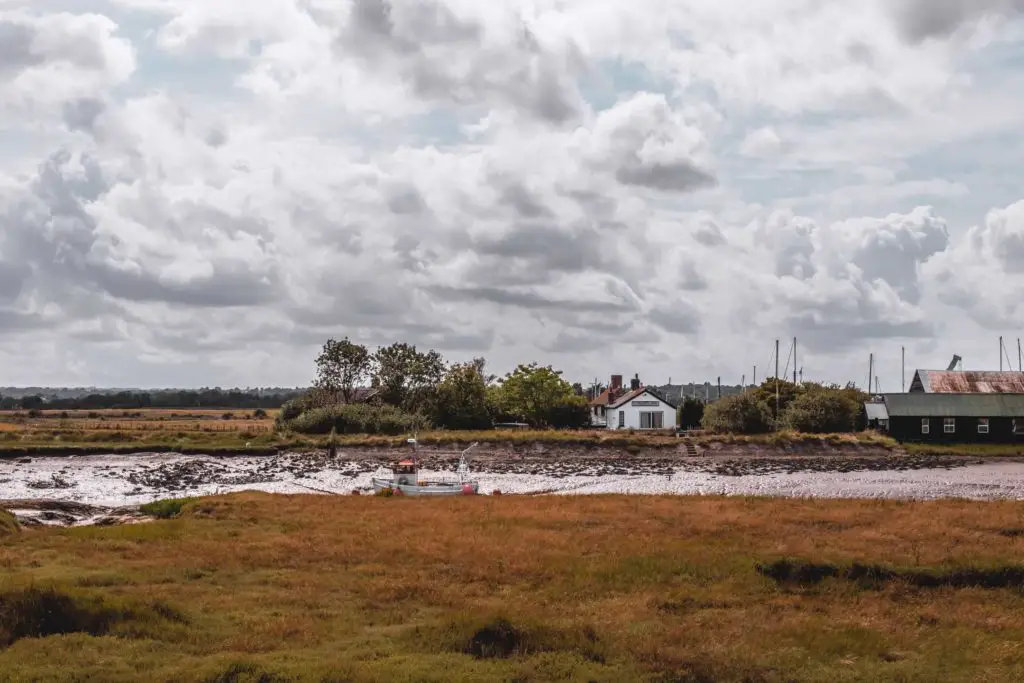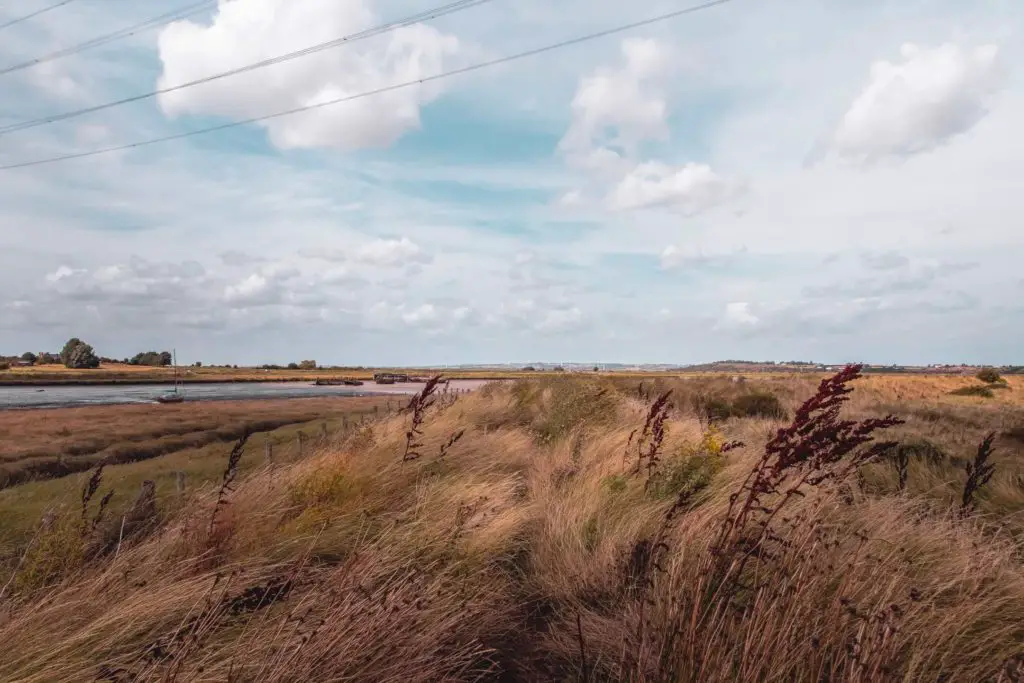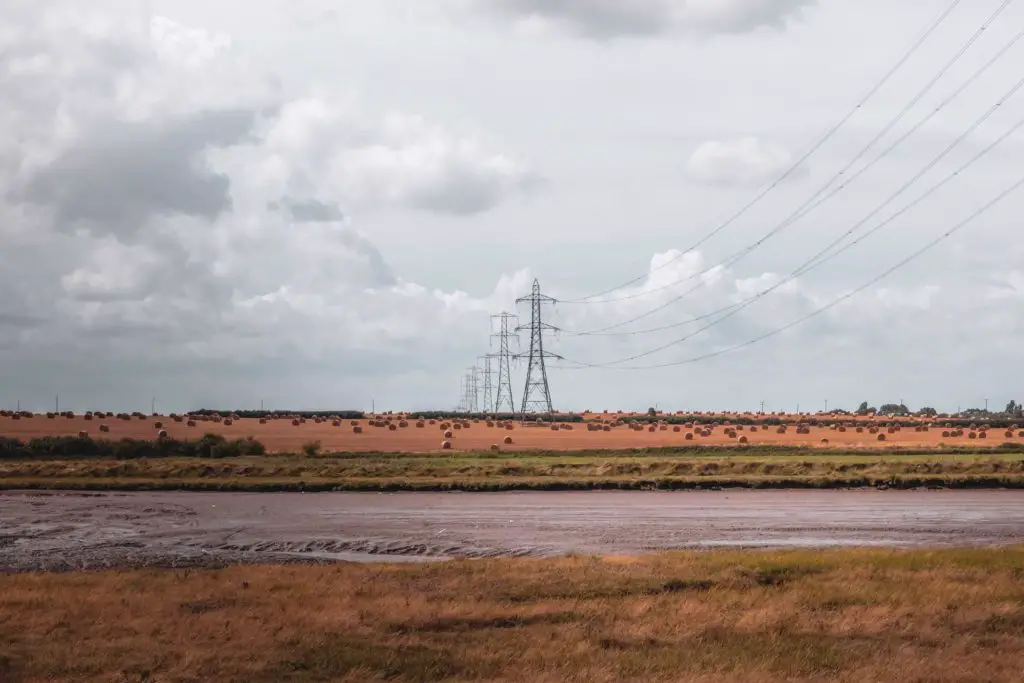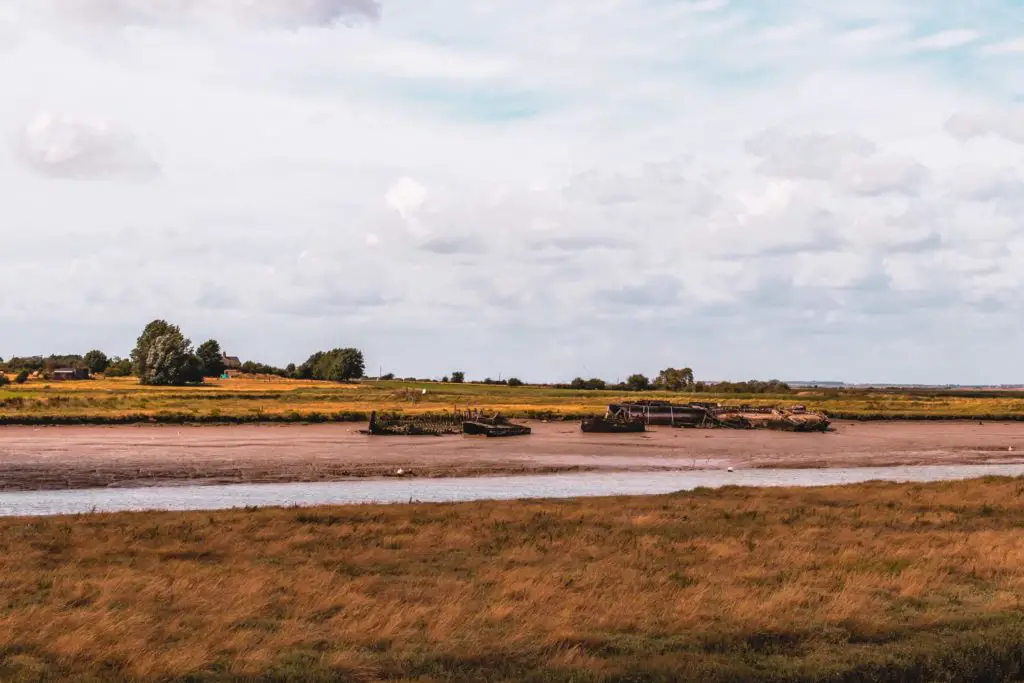 The Swale
You will then reach the sea wall with a view over The Swale. That's the bit of water separating the Isle of Sheppey from the mainland. Although, with the tide being out, it was mostly mud.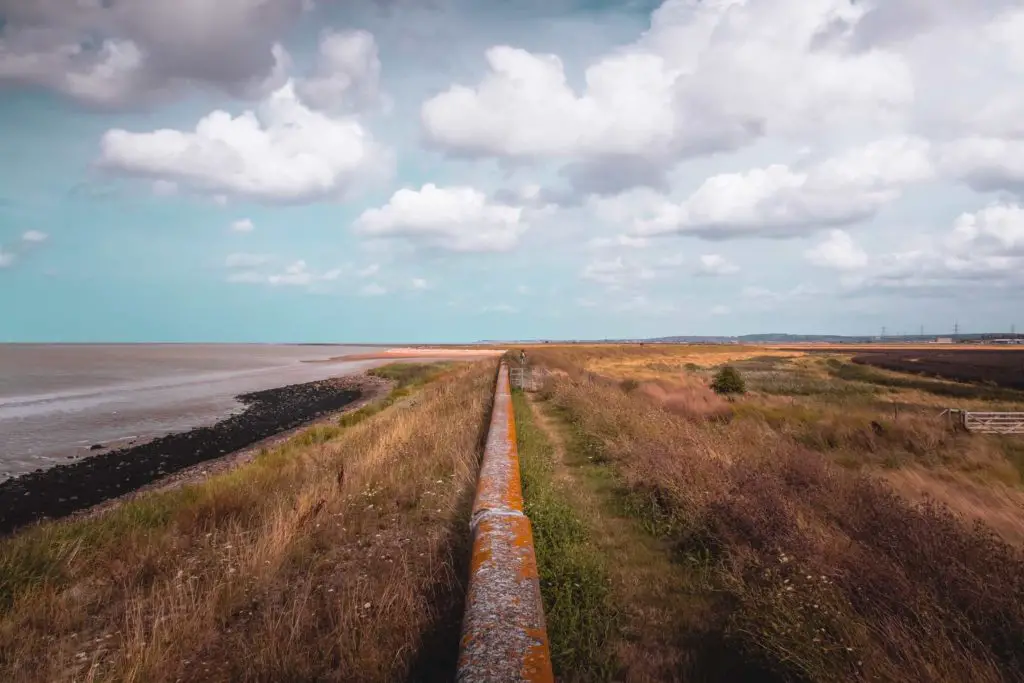 Up until this point, apart from a few people at the beginning, I had not passed a single soul…they probably turned around when they saw what they would have to walk through. Now that the path clears up,  there are a few people wandering the trail. But its not only people I find….
The bulls
After my bull encounter the previous week when walking from Ramsgate to Sandwich, I thought that was it. The chances of me finding myself in a field with another bull are quite low, seeing as it has never before happened in my life. Well, my friends, it happened again. Maybe they don't look so scary in the photo but I'm telling you, this one bull, with those horns, looked like the devil.
I wondered whether they would be able to smell my fear, so I stayed calm and walked slowly by. Keeping my eye on them, I had a plan. If one charged at me I would jump over the sea wall. 
Things happen in three's right? Well, by that logic I should encounter a bull on my next walk. That should be the last time. I will let you know how it goes…
With the people on the trail and the view of a white building up ahead (turns out to be a pub), I feel like I'm entering civilisation again. Oh, and that pub, I discovered, has a Michelin star restaurant. It's called The Sportsman.  I didn't get a picture of the pub, but here are some cute beach huts and homes near it.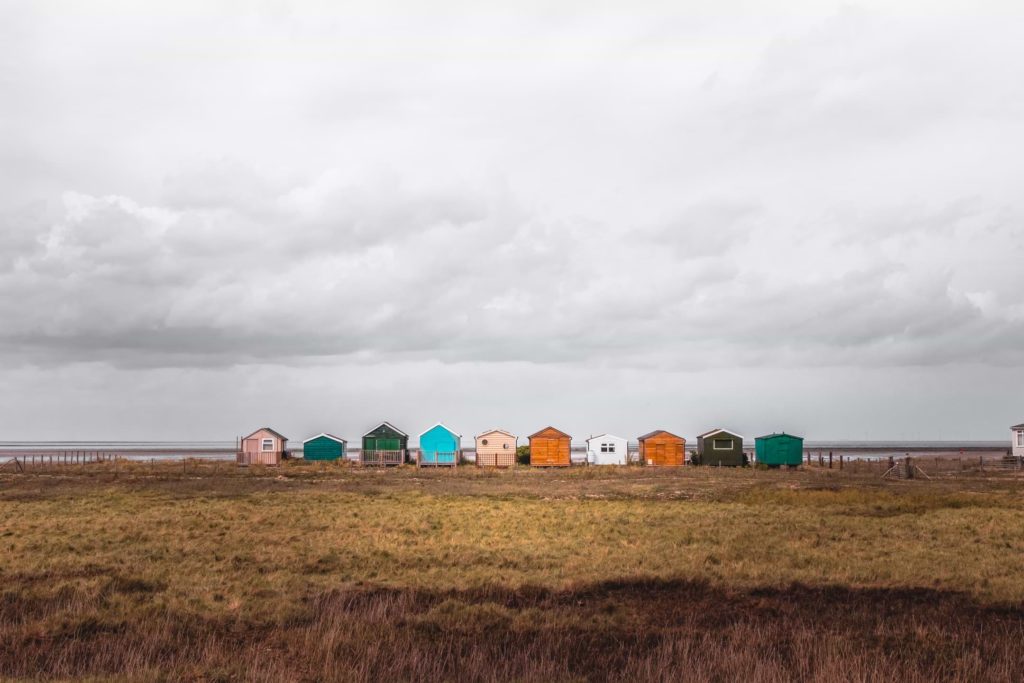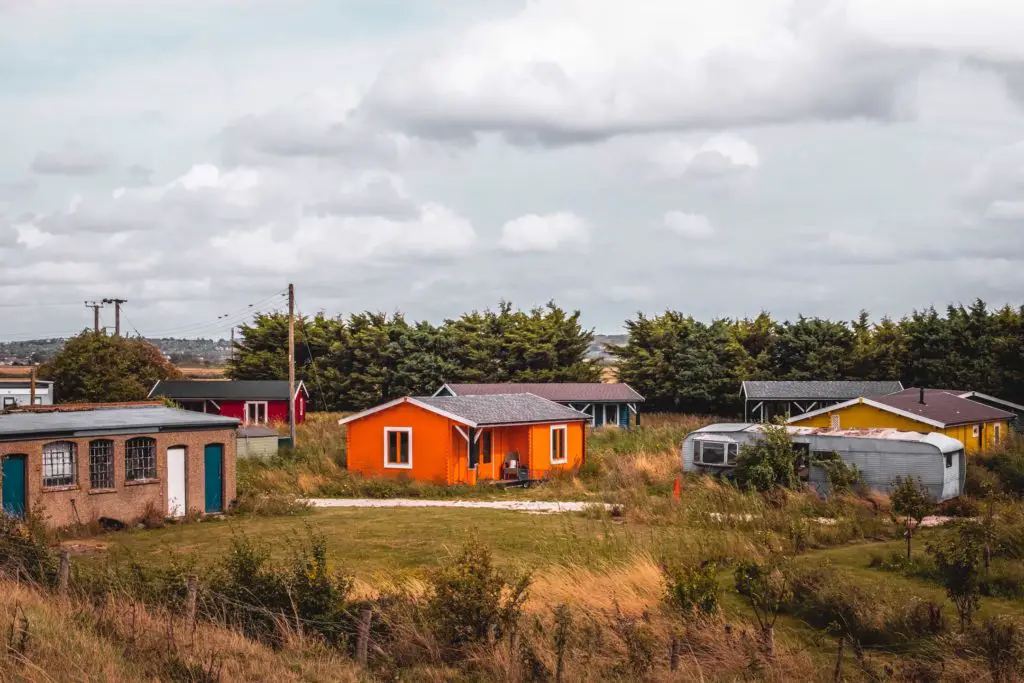 Seasalter
This next section is alongside a road, still walking with the sea wall to your left. The path will soon end (temporarily) and you need to walk on the road through the village.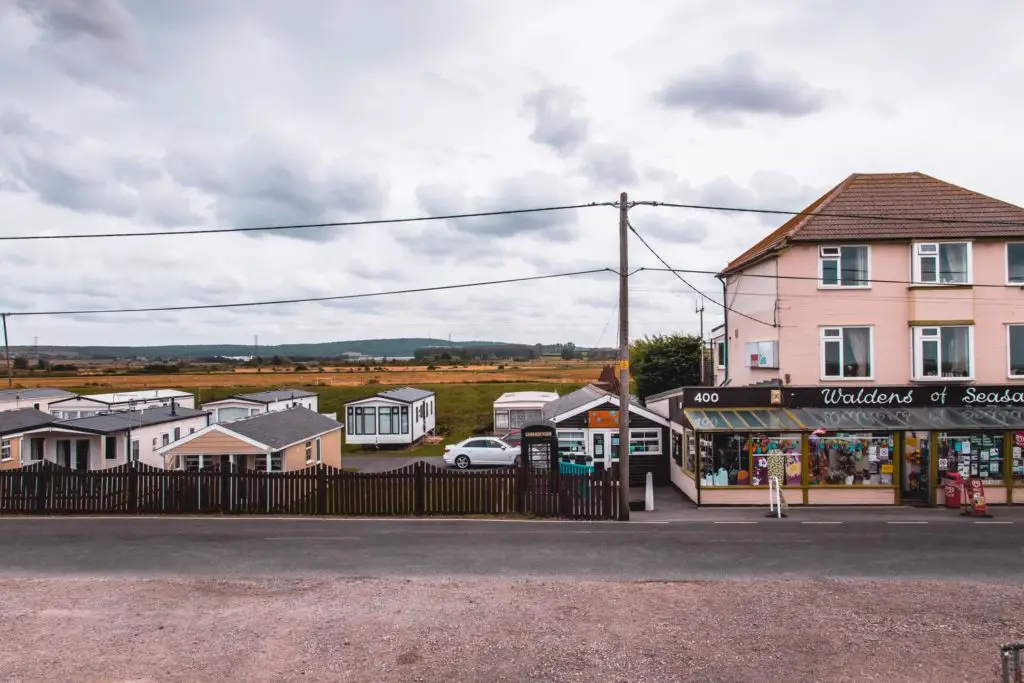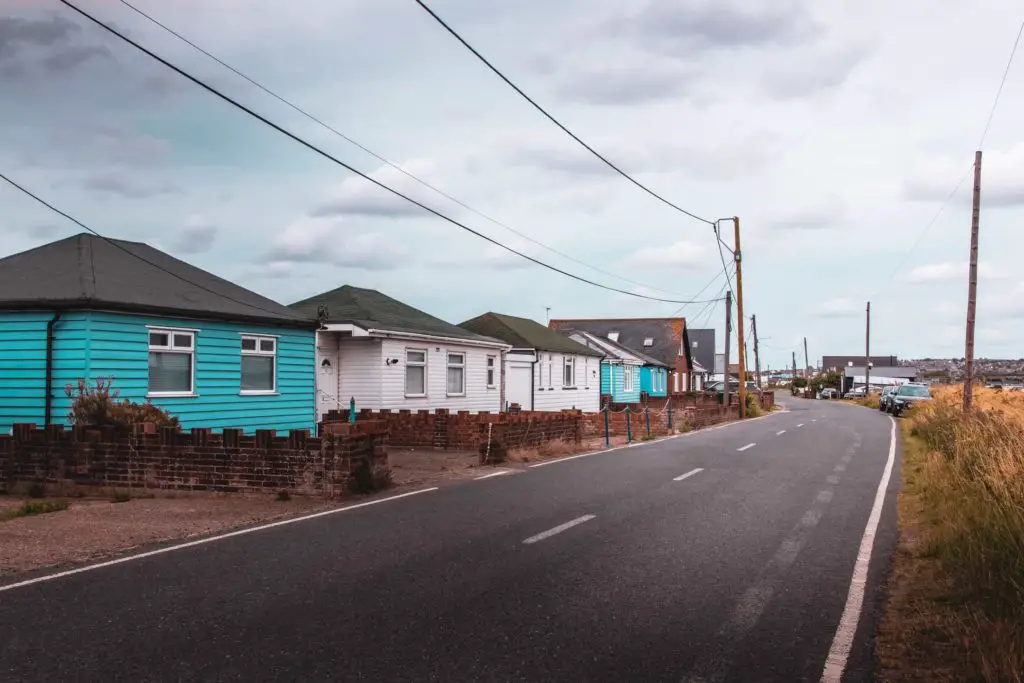 I mean that literally. There is no pavement. Hmmm, maybe there was a path somewhere. I just couldn't see it.
Anyways, there will soon be an opening where you can walk on a path next to the beach.
Fun fact: Seasalter was a centre for salt production in the Iron Age, and as such was raided by Vikings.
Whitstable 
As you approach the seaside town of Whitstable, you will be greeted by more beach hut cuteness.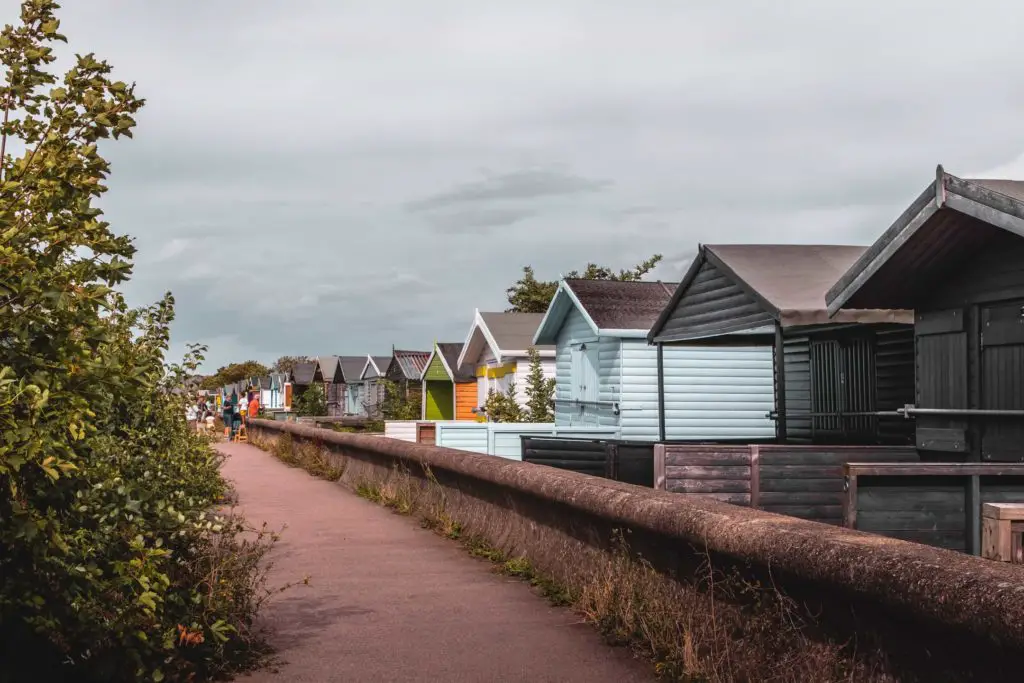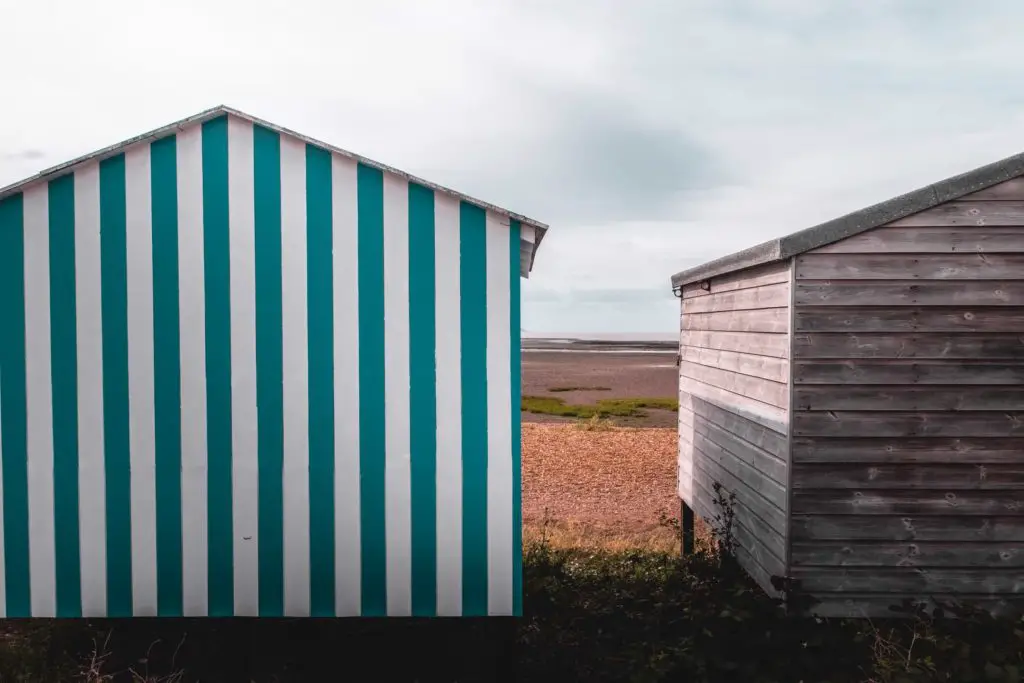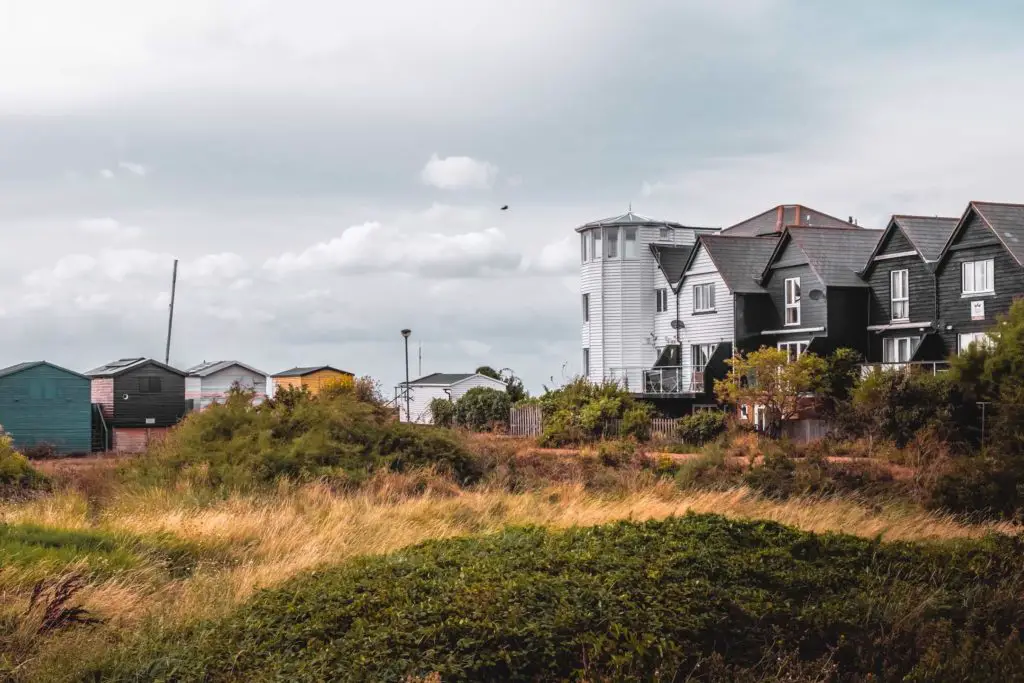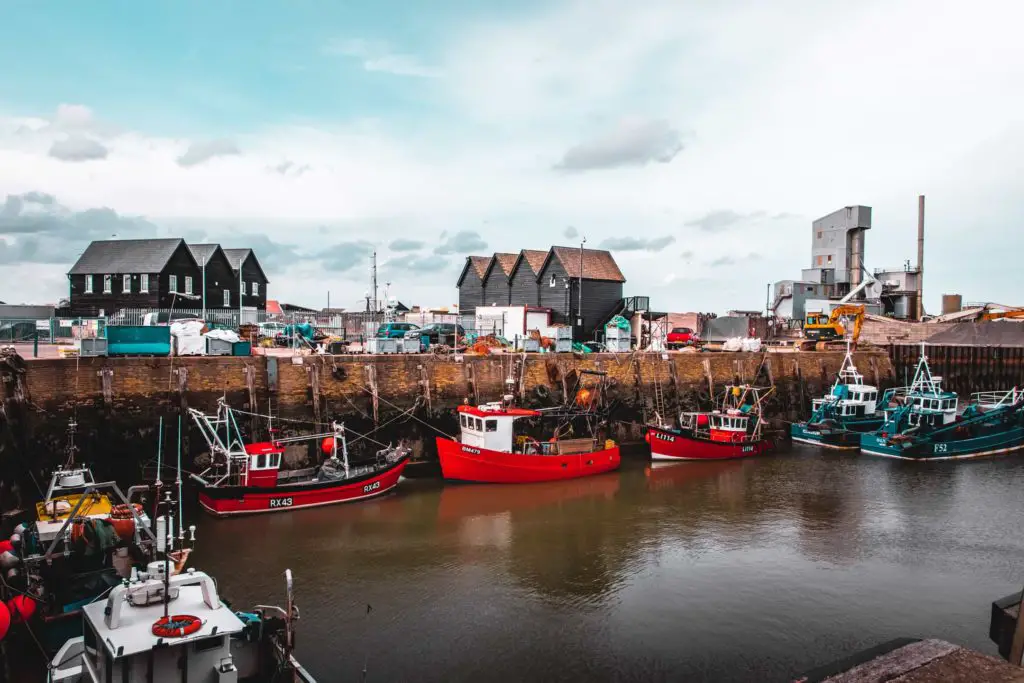 This picture perfect fishing and harbour town is famous for oysters…..Too bad I don't like oysters.
Other walks in South East England
If you fancy another walk in Kent, you can continue along this trail to walk from Whitstable to Herne Bay (4.8 miles). Or just a few stops along, a really great one is Margate to Ramsgate (8 miles) with its long stretches of sandy beach and white cliffs. Or if you want mega white cliffs (the white cliffs of Dover), then head further south in Kent to walk from Dover to Deal (11 miles), or even Folkestone to Dover (7 miles).
If you would like to do another section of the Saxon Shore way, then I highly recommend the hike from Hastings to Rye (13 miles). Bear in mind that it is more challenging.
The Thorney Island walk (9 miles), over near Portsmouth is quite an interesting one. The area is owned by the MOD so you need to buzz at the gate to be let in. It's strict in that you need to stick to the coast path, but you will enjoy views out to see, or inland to nature reserve.
For more look at the coast path, you can read about the best coastal walks near London.
If you would like to know more about the Saxon Shore Way then you can check out the visit Kent website.
Pin it for later – A guide to walking from Faversham to Whitstable