Brockenhurst lies in the heart of the New Forest, and with its very own train station makes a perfect base for going on walks from. 
Short walks, long walks, circular walks, point to point walks. It's also not unusual to see ponies and donkeys freely wandering down the streets. In fact, when I first arrived in Brockenhurst late at night, there was literally no one around…but there was a pony walking down the middle of the road.
The walks from Brockenhurst I will be telling you about today range from 1.5 miles in length to a whopping 17 miles. All bar one are circular walks (the one that isn't, takes you to another village in the New Forest with a train station so you can get back). 
Read more: What to pack on a day hike
I have personally done all of these walks and I will provide links so you can read about each one in more detail with a downloadable interactive map. 
So, starting with the shortest and working up, let's get to the good stuff….
---
6 best walks from Brockenhurst in the New Forest
---
1) Hollands Wood walk
Distance: 1.5 miles  Time: 30min  Difficulty: Easy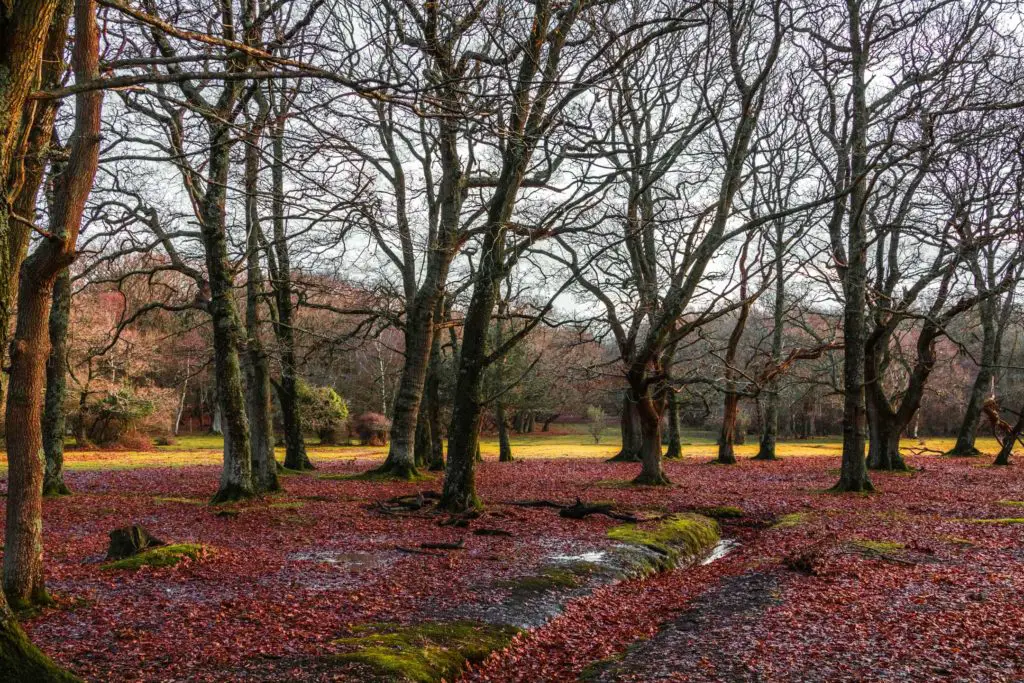 This walk is just a short distance north from Brockenhurst Village and takes you on a little circular around and through Hollands Wood. The area is actually a camping site, which I had no idea about until I got there. Given this finding, it's probably best to do this walk when the campsite is closed (winter). 
I liked this walk because it's super quick to get to from Brockenhurst and it's really short. I do usually love a good long walk, however short ones also have their place. It's perfect if you don't have a lot of time to spare and want a little stroll in the woods. It's very accessible with well laid out paths. The only downside is that it's next to the main road, however, for a short pretty walk, that can be forgiven. 
For more detailed info and a map, you can find that on my Hollands Wood walk guide.
2) Brockenhurst Village walk
Distance: 5 miles  Time: 1h 45min  Difficulty: Easy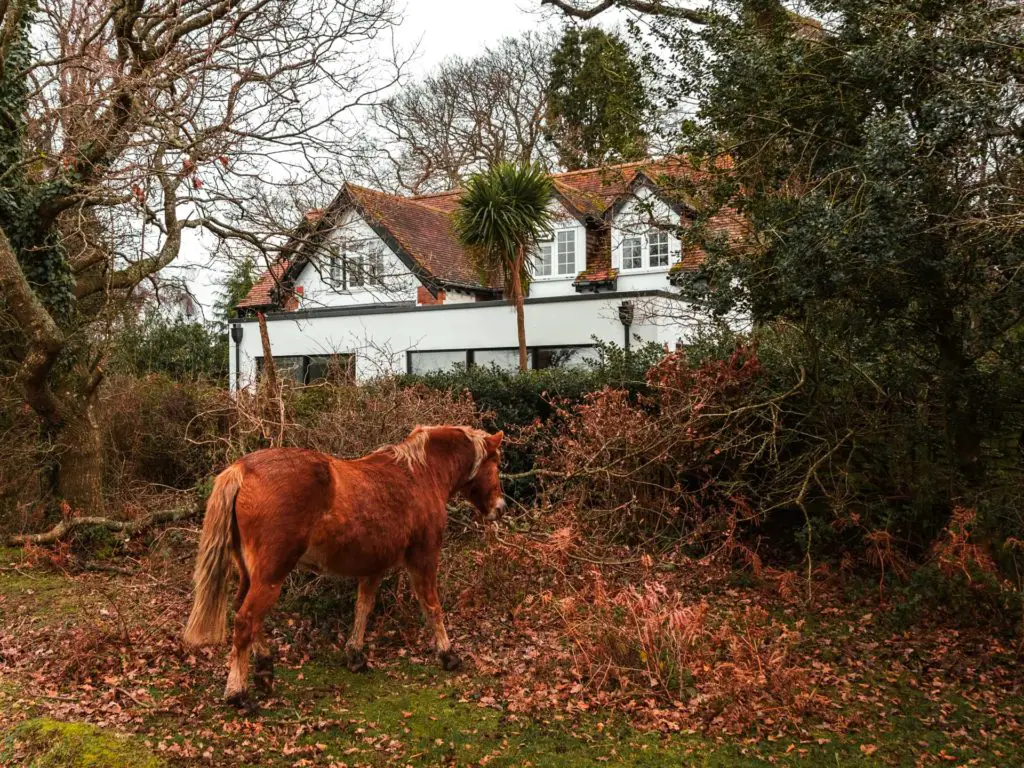 This walk takes you in a circular around Brockenhurst Village, starting and finishing at the train station. The walking route first takes you along the high street to meet a phenomenon called a watersplash ford. It's where the road is lower than the water level resulting in the stream running across it. Basically, part of the road is underwater. You can stand there and watch the cars as some run straight through it and others chicken out and turn around. 
The rest of the route is a mix of a small amount of marshy fields, dirt trails, gravel trails, some roads and a bit of woodland.  You should see lots of ponies and maybe even some donkeys.
This walk would be good if you are newish to countryside walking and don't want to go too far, or if you simply want a little bit of exercise on your holiday but want to leave enough time to explore other things in the New Forest.
To read about this walk in more detail with a map, you can find that on my blog post about the Brockenhurst Village walk.
3) Brockenhurst to Lymington walk
Distance: 7 miles  Time: 3 hours   Difficulty: Medium (if it's wet)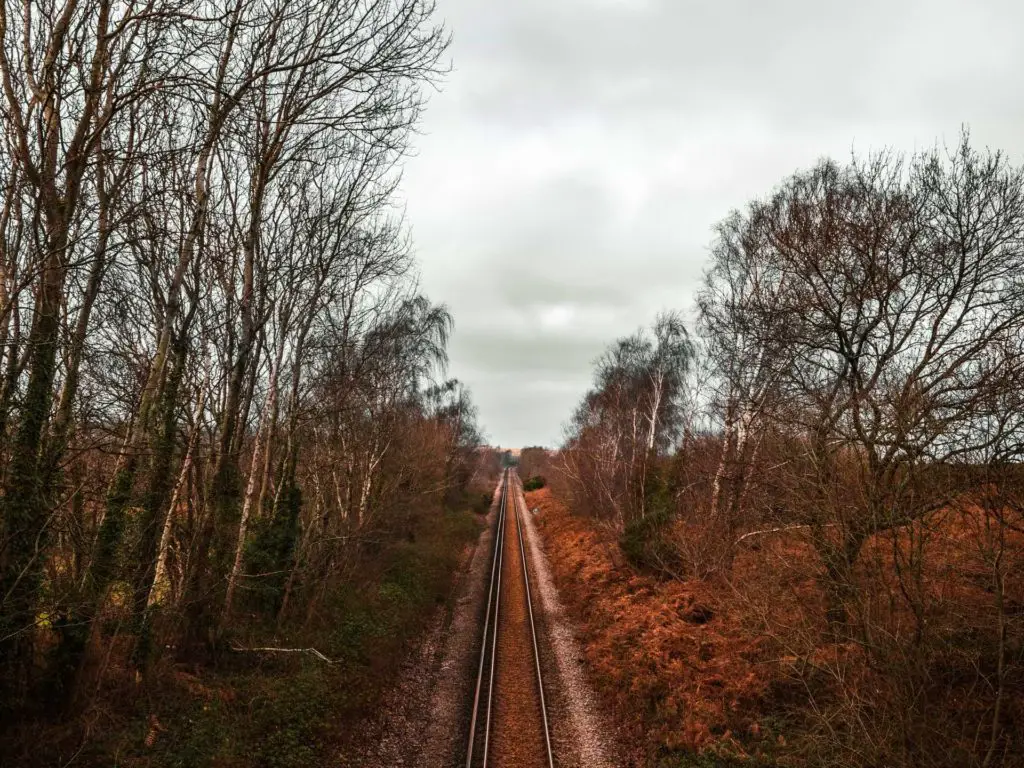 This is the only walk on the list which is point to point rather than circular. You could easily turn it into a circular walk, however, I chose not to as Brockenhurst and Lymington both have train stations with direct links to each other. Nice and easy. 
Of all the walks I have done in the New Forest, this one from Brockenhurst was the wettest of all of them. It wasn't raining when I did it….but it had been. A lot.
Giant puddles covering the trail and one section completely flooded. Maybe best not to do this one after it's been raining. It did make quite the adventure though. Some of this walk runs past suburban areas and you might even see some lamas (or alpacas…one of them).
You can read more details of this walk with a map on my guide about walking from Brockenhurst to Lymington.
4) Brockenhurst to Blackwater and the tall trees trail
Distance: 10 miles  Time: 4 hours  Difficulty: Easy/medium if it's been raining.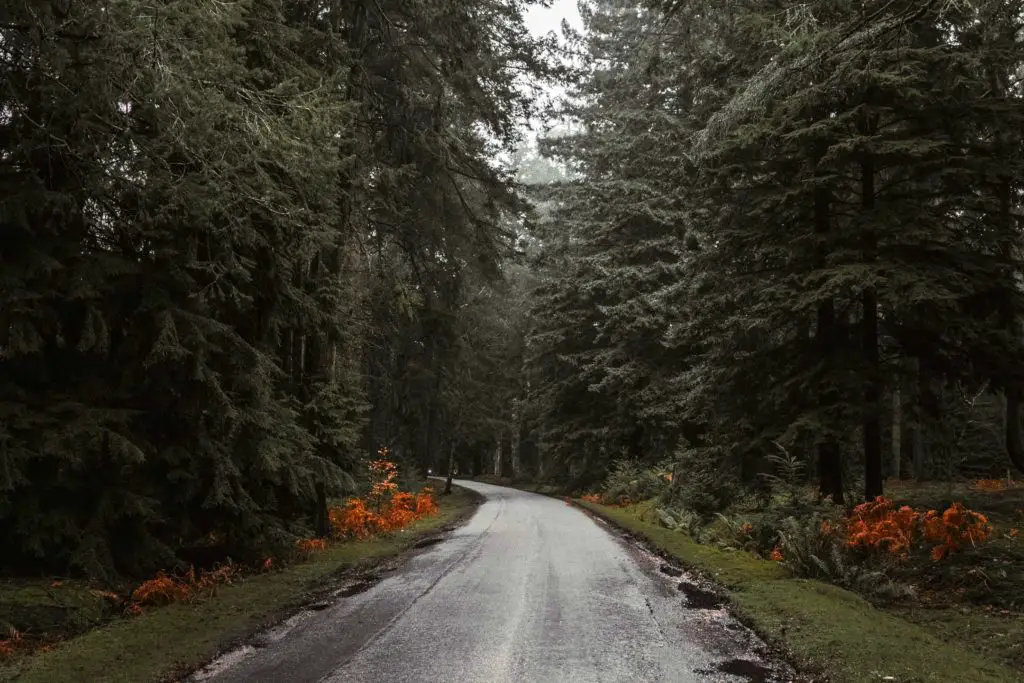 This circular walk takes you to some of the tallest trees in England, the Giant Sequoia. I can confirm that they are very tall trees. The tall trees section is actually its own trail in itself, so if you don't fancy the full walk from Brockenhurst then you can drive over there and park in the dedicated car park.
However, where there is a car park there is usually people, making the tall trees trail the busiest area I have walked in the New Forest. That's why I would recommend doing the full walk from Brockenhurst to give you that mix. There is also something quite magical about reaching the tall trees after working a bit to get to them.
This walk can be pretty muddy and there was a lot of jumping around and walking over precarious logs in an effort to stay dry. It kept things interesting though.
I have provided full details of both the tall trees trail and the full walk from Brockenhurst on that guide, with maps for each trail.
5) Brockenhurst to Lyndhurst walk
Distance: 10.6 miles  Time: 3h 45min  Difficulty: Easy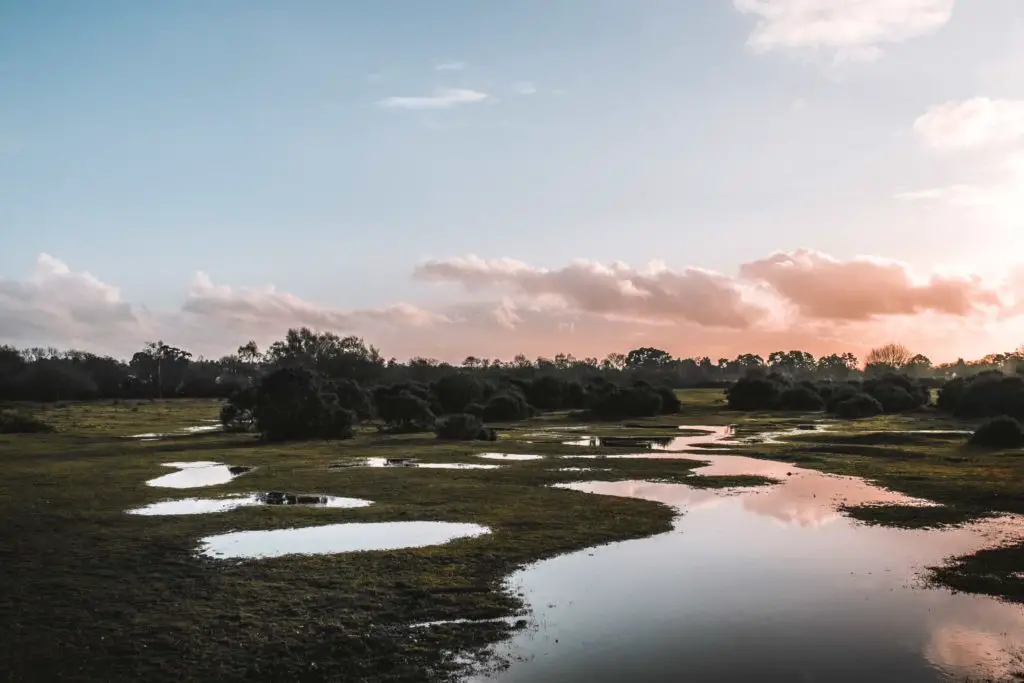 This circular walk is almost entirely on bike track, so if you fancy switching things up you could rent a bike for it. You would think that because it's on bike track the terrain would be nice and dry. Wrong. Maybe in the summer it would be dry, but I didn't do it in summer.
The first part of the walk from Brockenhurst can get quite muddy, and then at the very end on the walk back into Brockenhurst, the trail takes you across marshland which is very wet. As long as you have good waterproof hiking shoes, you will be fine. 
Lyndhurst is a lovely village so this walk would make a perfect day out. Walk to Lyndhurst, have a bit of an explore and stop for lunch, before returning back to Brockenhurst. If you don't fancy the walk back you could catch a quick bus back.
All the details including an alternate route to avoid the wet bit at the end will be in my guide about walking from Brockenhurst to Lyndhurst. 
6) Brockenhurst to Beaulieu walk
Distance: 17.6 miles  Time: 7 hours  Difficulty: Medium (due to the length)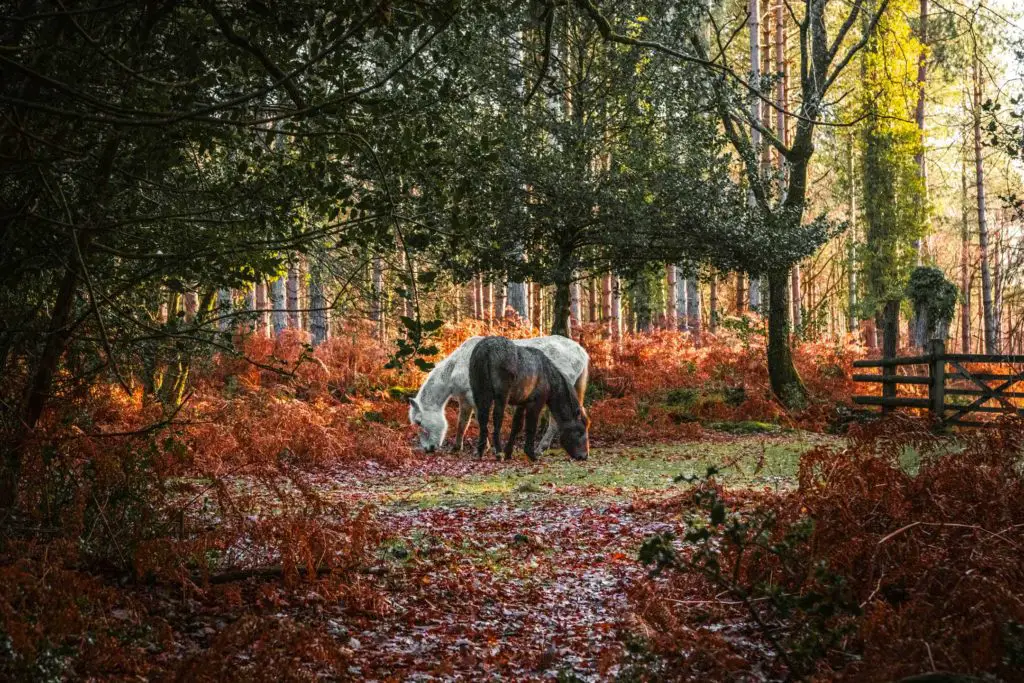 This was the first walk I did in the New Forest, and by far the longest. Not for the faint hearted, if you do this one, you have to commit to it as there are no transport links back to Brockenhurst if you get tired. I found this walk to be the most woodland fairytale magical of them all. Walking deep into the forest, along green carpet like trails with rays of light shining through the trees. 
When I next return to the New Forest, I will be exploring more trails along this route. I am especially excited to see what it looks like during spring. 
The first half of the walk is characterised by woodland, the second half by open marshy fields. You should also see lots and lots of ponies on this one.
You can find more details including full logistics and map on my guide about walking from Brockenhurst to Beaulieu. 
Final thoughts on the best walks from Brockenhurst 
These are the best walks I have done so far, but I will be sure to be updating this list on future trips to the New Forest. I have my eye on some bluebell walks in spring.
Now, which one is my favourite? I would have to say it's a tie between the walk to the tall trees trail and the mega long walk to Beaulieu.
More walks in the New Forest
If you would like to see a list summarising more walks, you could read about the 9 best walks in the New Forest. All of these Brockenhurst walks will be on the list, plus more.
Or if you want a quick look around Lyndhurst, you could read about the Lyndhurst walks here.
For other walking ideas, you could check out the New Forest website.
Pin it for later: