The Agden Reservoir was my second reservoir walk of the day. There are a bunch of reservoirs all fairly near each other, and all fairly short, so I had set out with the idea of walking four of them….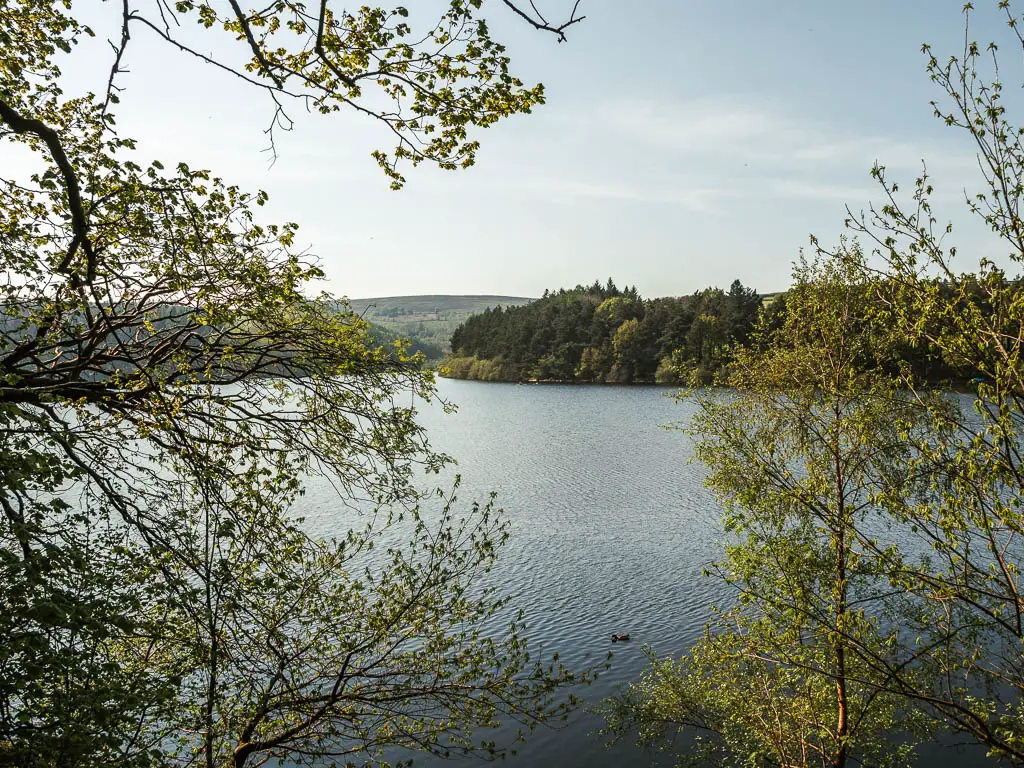 I ended up only walking two. I was a bit ambitious. It was actually the hunger and heat which cut my trip short. All my food was finished after the first one, and by the time I had walked around Agden Reservoir, I was hungry again. I had also come out here with long black clothes, not realising how hot it was going to be. I was sweaty and gross by the end.
The other reservoir I walked (before Agden), was Dale Dike. Just 5 min down the road. Between the two, I probably preferred that one, which was purely down to there being less people and no road walking. 
What I'm going to do now, is give you a bit of an overview of what to expect on the walk around Agden Reservoir, with full logistics, a map, and tips. I will then go on to describe the route step by step with photos so you can see what it's like. At the end, I will share some other reservoirs I recommend .
What to expect on the walk around Agden Reservoir
The first half of the walk around Agden Reservoir, I found incredibly peaceful, passing by no one else. It is also the rugged section. Very rugged, with some steep bits where, if the mud is wet, you need to be carful not to slip and fall in. It was very mossy, with stone walls, and some bits where the leaves on the trees were so luminous green, they almost seemed fake. It was wonderful.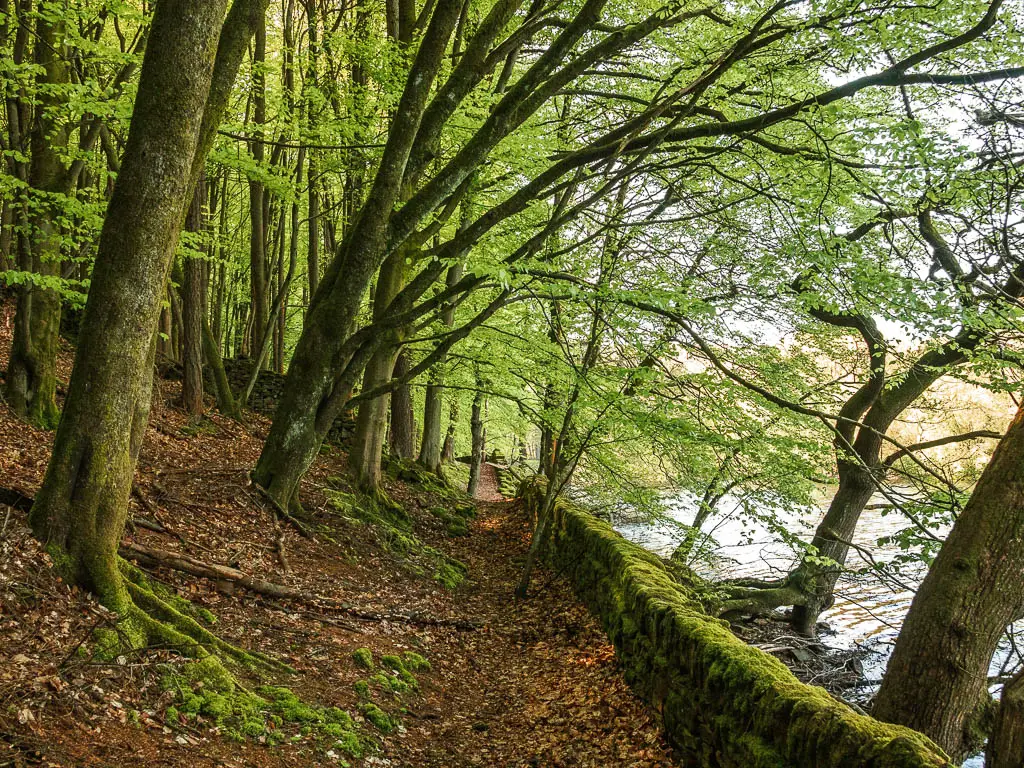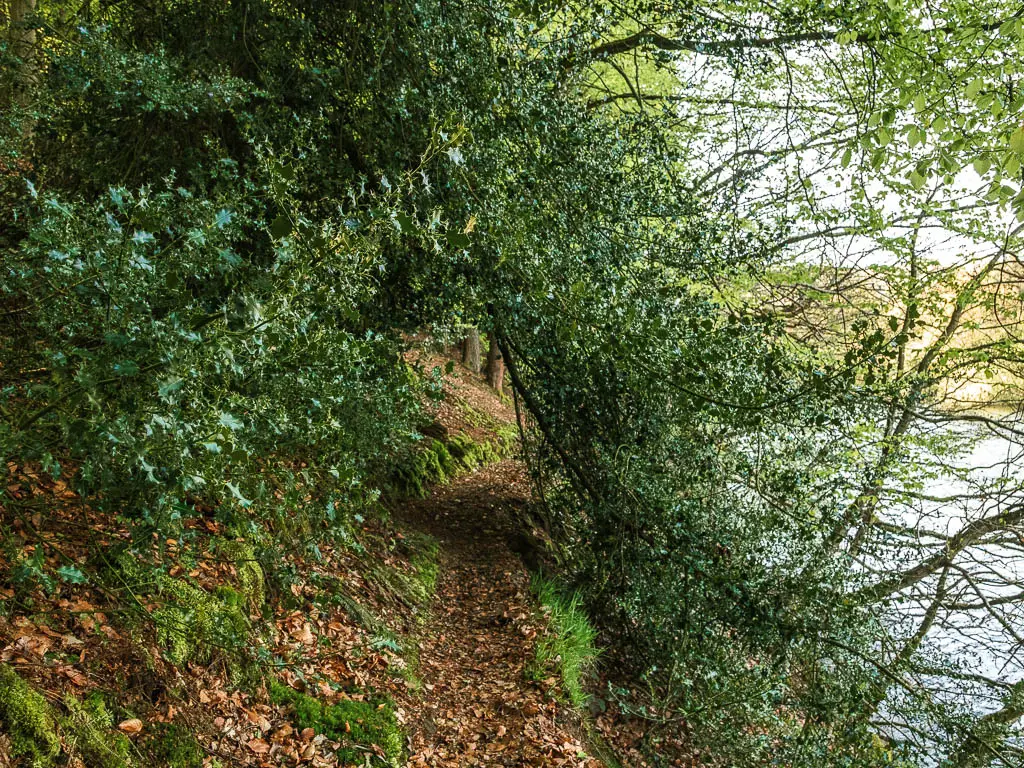 The trail on the other side of the reservoir, is definitely easier. With a mix of easy path and tidier woodland ground. This was the side where the people were, with easy entry points into the water (more on that in a minute). If you want to sit down, this is the side to do it on. The ground allows for it better here.
To circle around the other end of the Agden Reservoir, you need to walk on the road, and have a couple of hills to tackle. Nothing too dramatic through.
You will be under tree cover for almost the whole route around the reservoir.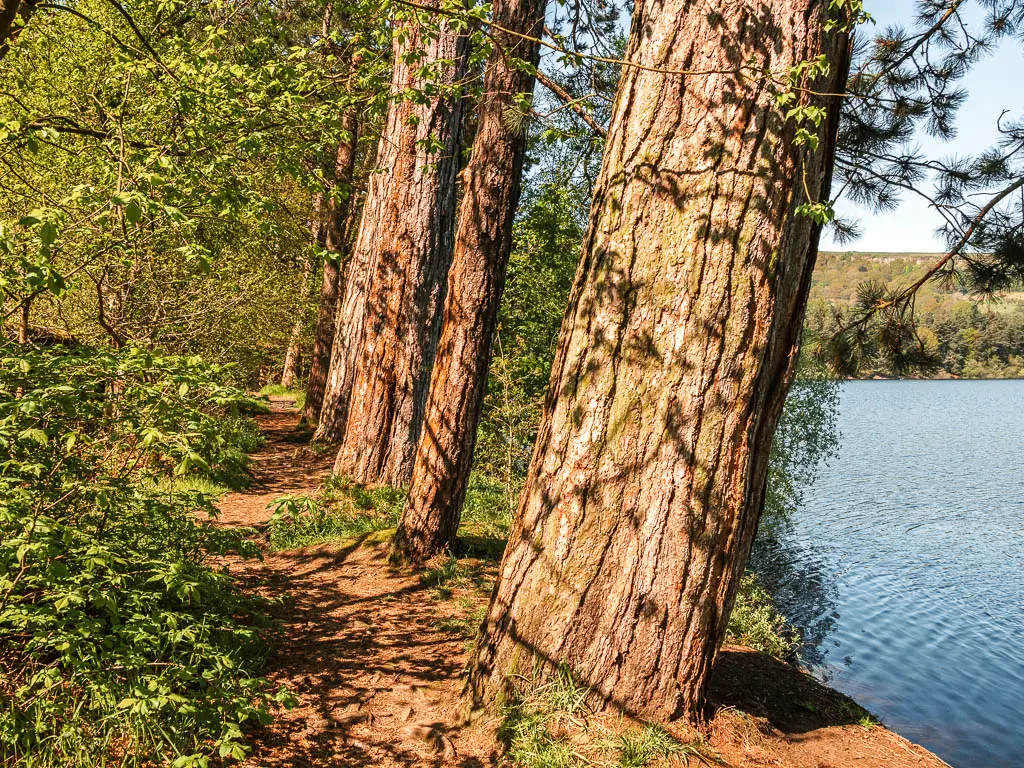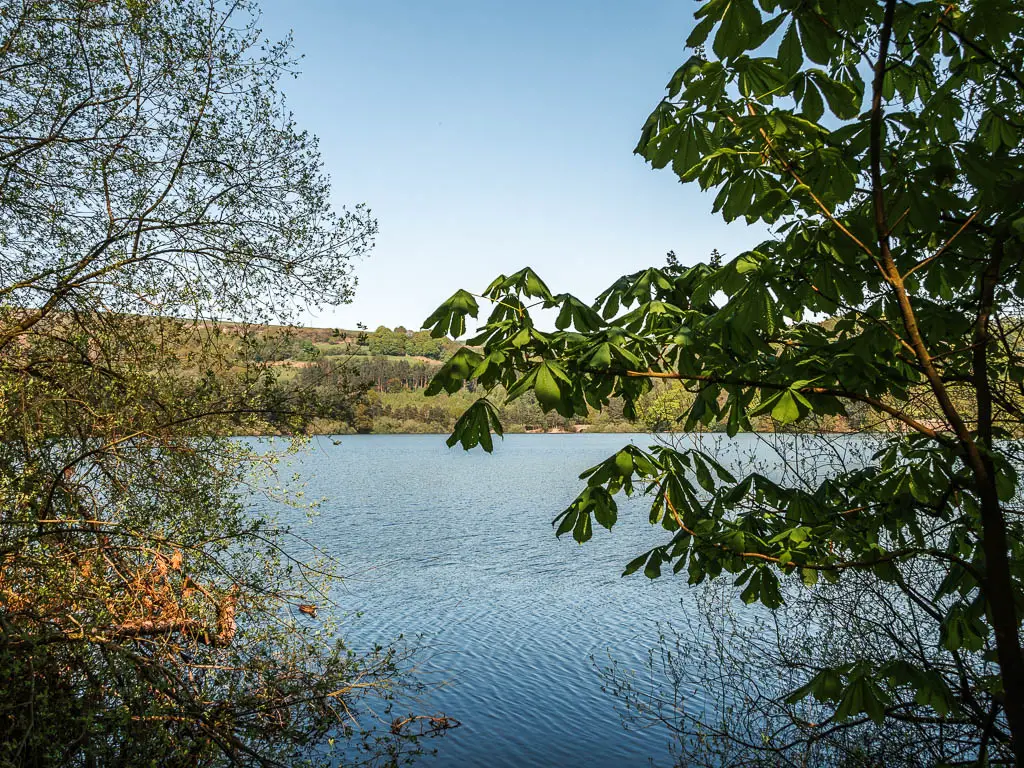 Is it safe to swim?
No, you are not allowed to swim in Agden Reservoir. There is machinery under the water, strong undercurrents, and blue green algae. However, there were people on the water. On their SUPS and little boats. Is this allowed? I don't know. I couldn't see anything on Yorkshire Waters website forbidding it.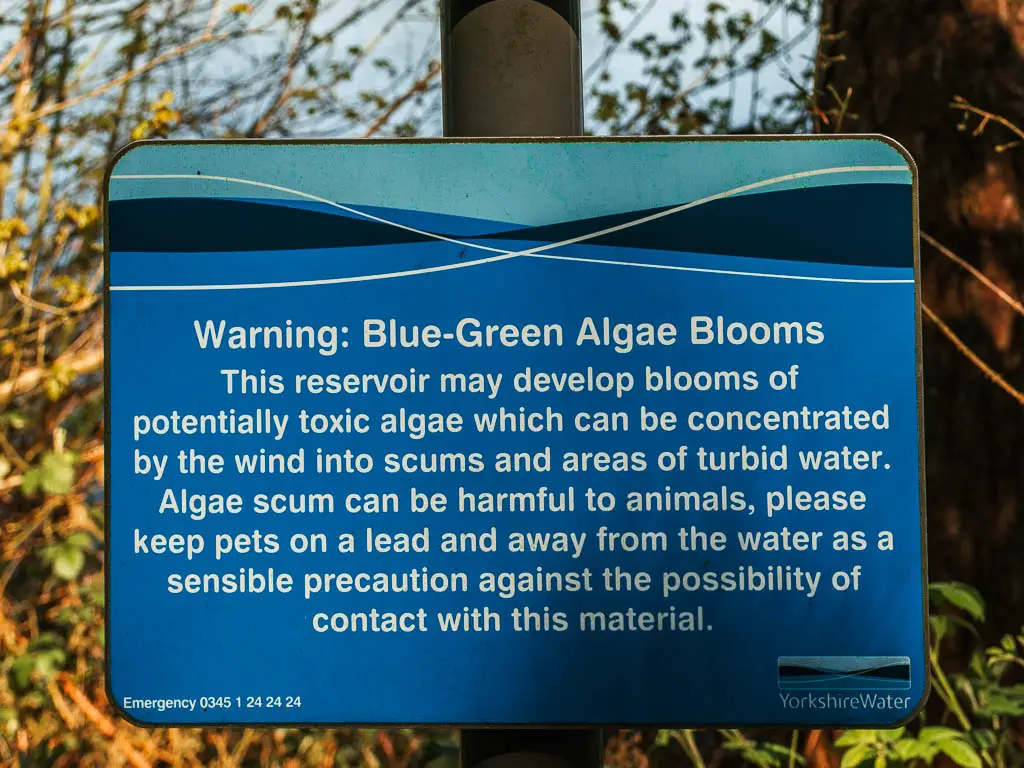 Is is dog friendly?
There are no stiles or livestock. I don't have a dog, but the Agden Reservoir seemed pretty dog friendly, and there were a bunch of dog walkers about. I did pass a sign saying to keep dogs on lead at all times, however, not a single person I saw had their dog on a lead. There was no explanation as to why dogs must be kept on a lead. The only thing I can think of is the algae in the water.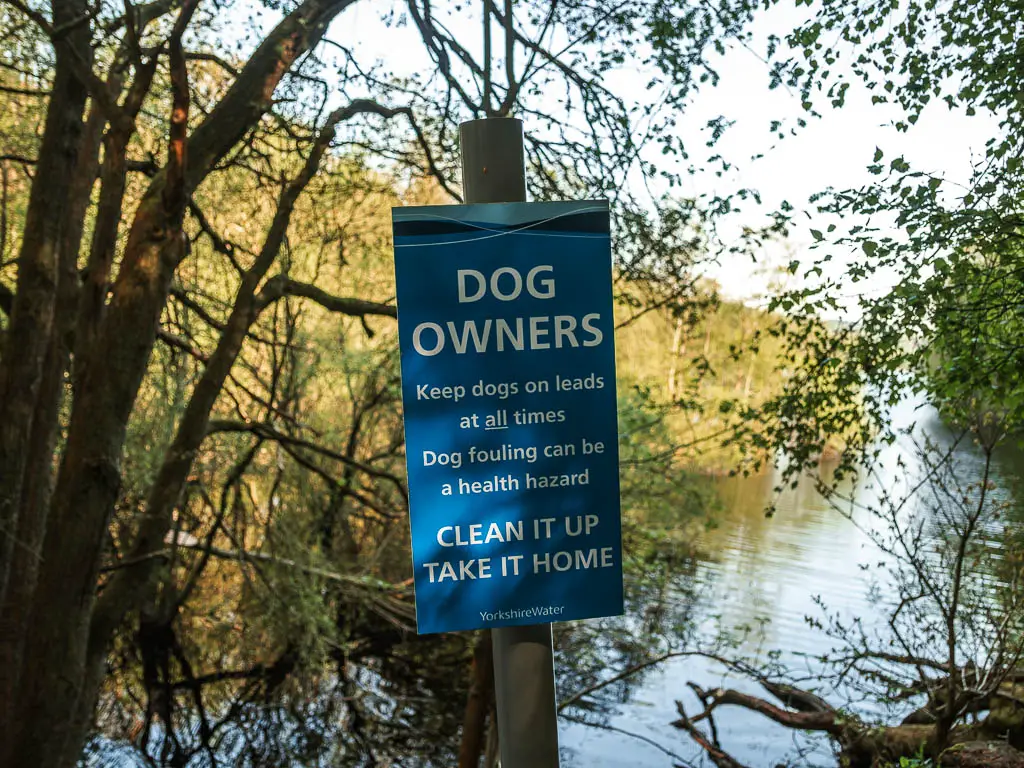 Is it pram friendly?
No. Well, one side of Agden Reservoir has a small bit which is pram friendly to walk, but most of the way around is way too rugged.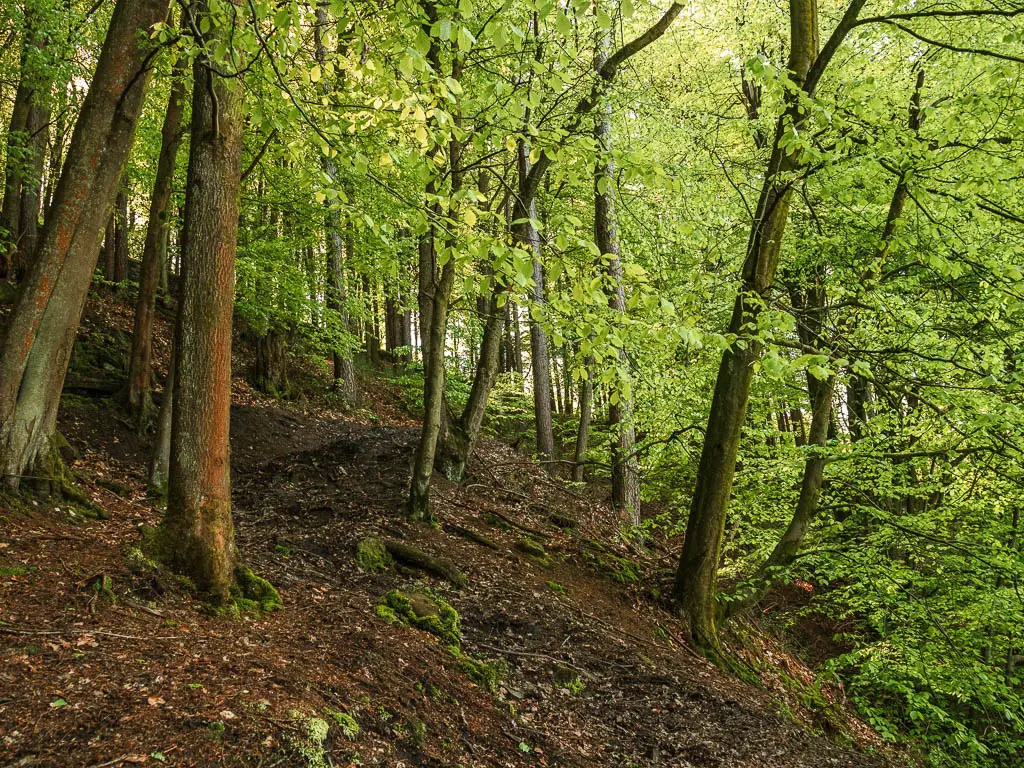 Parking to walk around Agden Reservoir
There is no official car park next to Agden Reservoir, but there are tonnes of places you can park on the road side, or you can park in the car park in Low Bradfield which is about 5-10min walk away. It's also free to park there. To do the full circular around Agden Reservoir, you have to walk through Low Bradfield anyway. Just a note, when I walked by, it was full.
If you want to park on the roadside by the reservoir, there is a lot of space on the east side. Most people had parked there. I chose the other side. If in doubt, find another parked car, and go behind them. Power in numbers.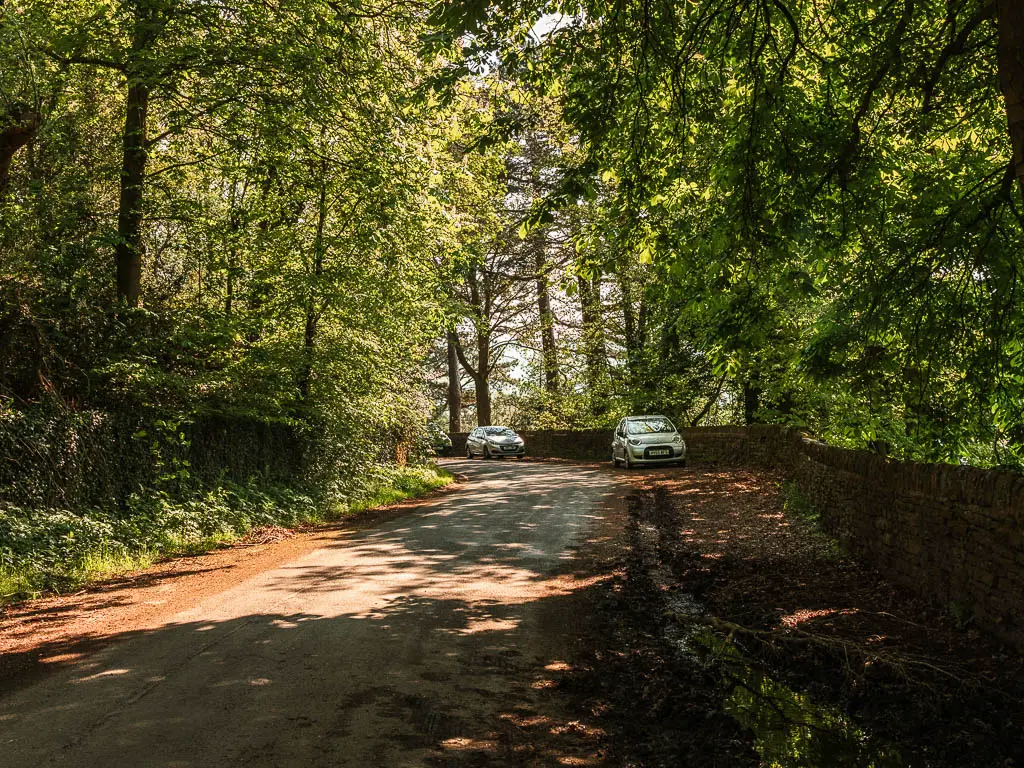 Tips 
If I was to walk Agden Reservoir again, I would do a C shape, instead of full circular through Low Bradfield. That way I would avoid the road section. However, if you want to make a day of it and finish at the cafe or bistro in the village, then you might as well park in Low Bradfield and do the full route.
Hiking boots if you want to walk all the way around, due to the terrain. 
Phone signal is spotty. Best look up what you need before you get there.
Logistics
Start/finish: I parked on the roadside on the south west corner. On Windy Bank road. There is an entrance to the trail just there. But feel free to pick somewhere else. 
Where is it: Agden Reservoir is located in the north east area of the Peak District, near to Sheffield. The local village is Low Bradfield. Post code for the car park in Low Bradfield is S6 6LA.
Pubic transport: Yes. Buses 61 and 62 come here from Hillsborough.
Distance: 2.6 miles
Time: 1h
Terrain: Rugged, dirt, mud, tree roots, road, steps.
Elevation: One side of the reservoir is flat, the other side has some serious undulations. There is a hill and steps in and out of Low Bradfield.
Amenities: None around the reservoir itself. In Low Bradfield there are public toilets, a cafe, bar and bistro, and ice cream van (probably weather and day dependant).
Time of year: I walked Agden Reservoir in spring
Map for the circular walk around Agden Reservoir
Read more: Best walks around the Peak District
---
Route Description to walk around Agden Reservoir
---
I will show you the route starting from the south west corner of the reservoir, where there is an entry point onto the trail…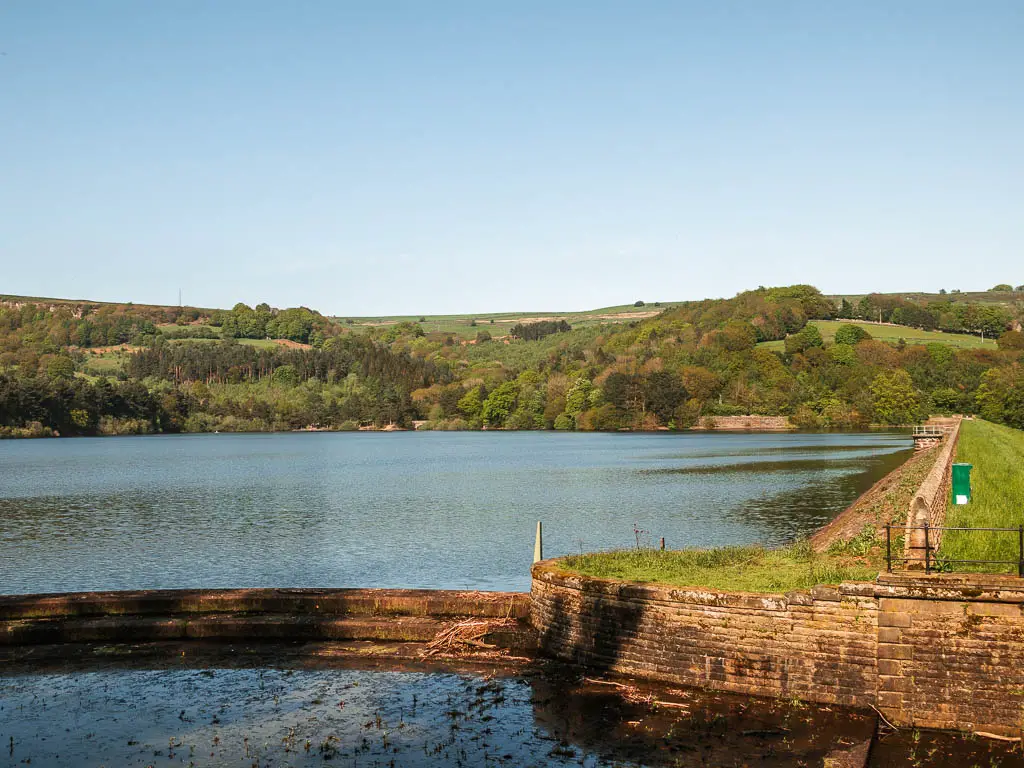 Walk the south west side of Agden Reservoir
Through the opening in the stone wall, the trail takes you to the left. You can't go right.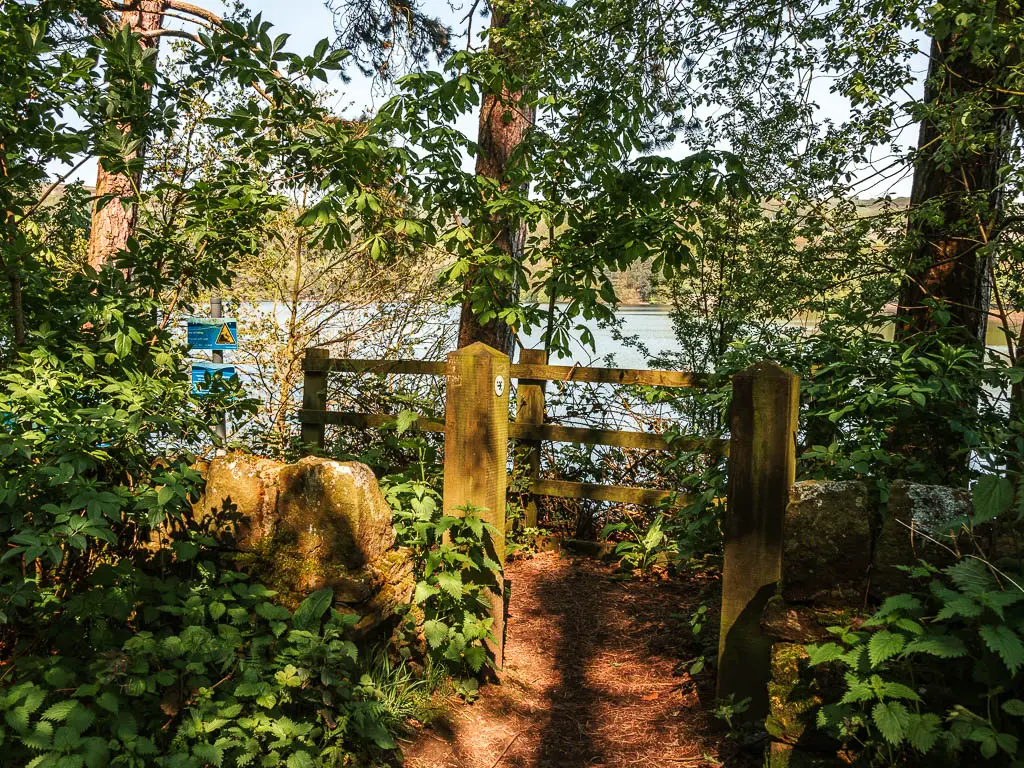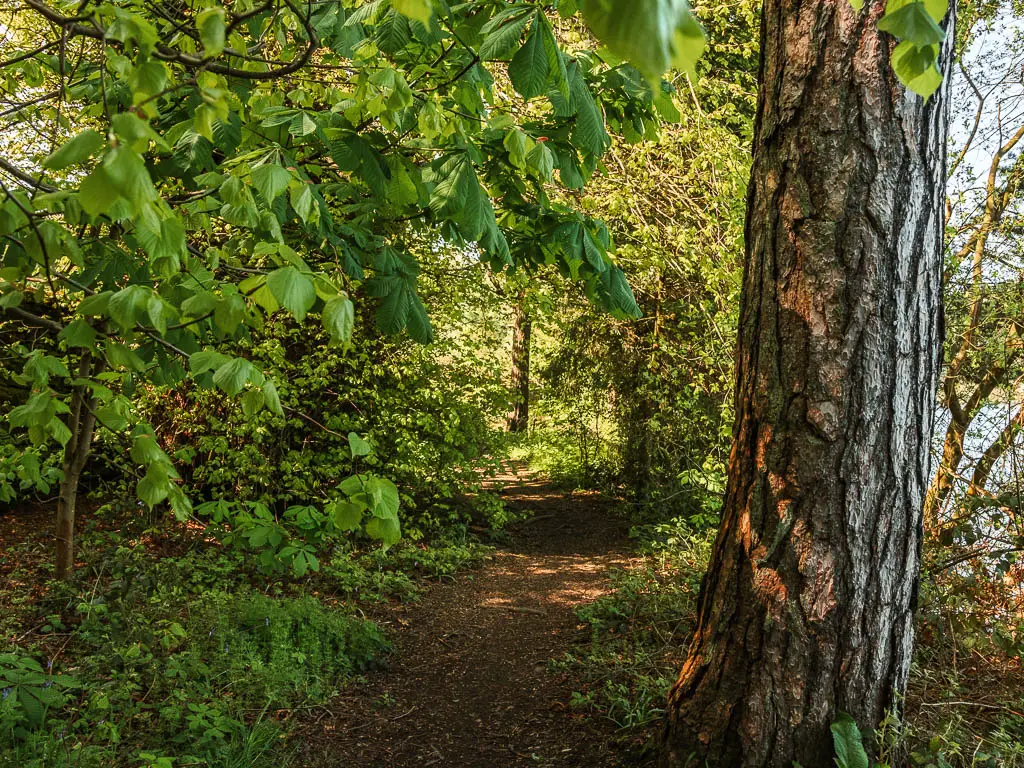 I didn't know what to expect when I came to walk around Agden Reservoir, and thought I had got lucky with Dale Dike being so peaceful. Well to my surprise, Agden Reservoir was just the same. With only the sounds of birds chirping, and ducks quacking.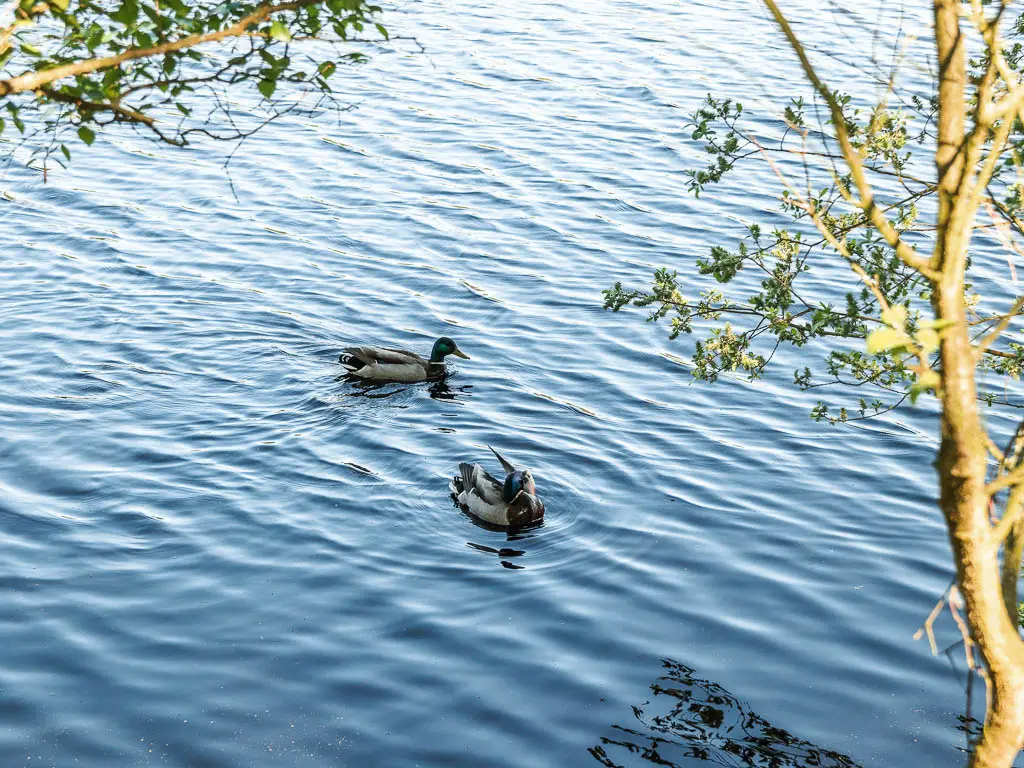 I was also surprised to find it was just as rugged as Dale Dike, and soon discovered it was even more so.
Wonderful nature
It all felt so lush (spring might have something to do with that). With all the green from the leaves, and the moss on the stone walls and ground.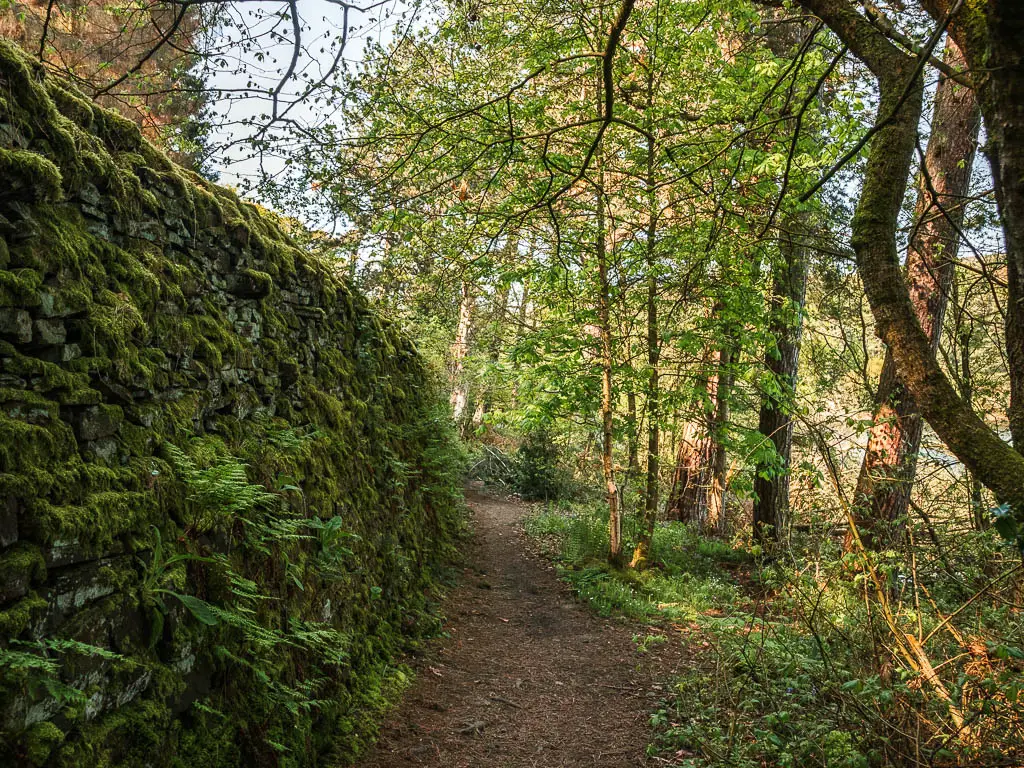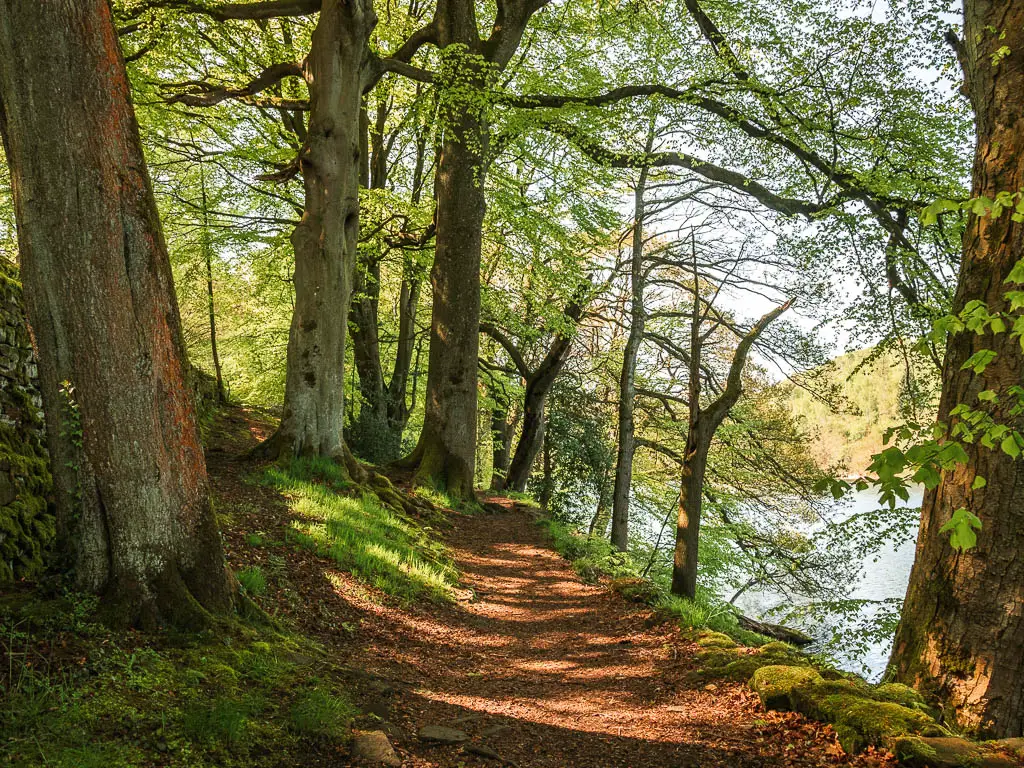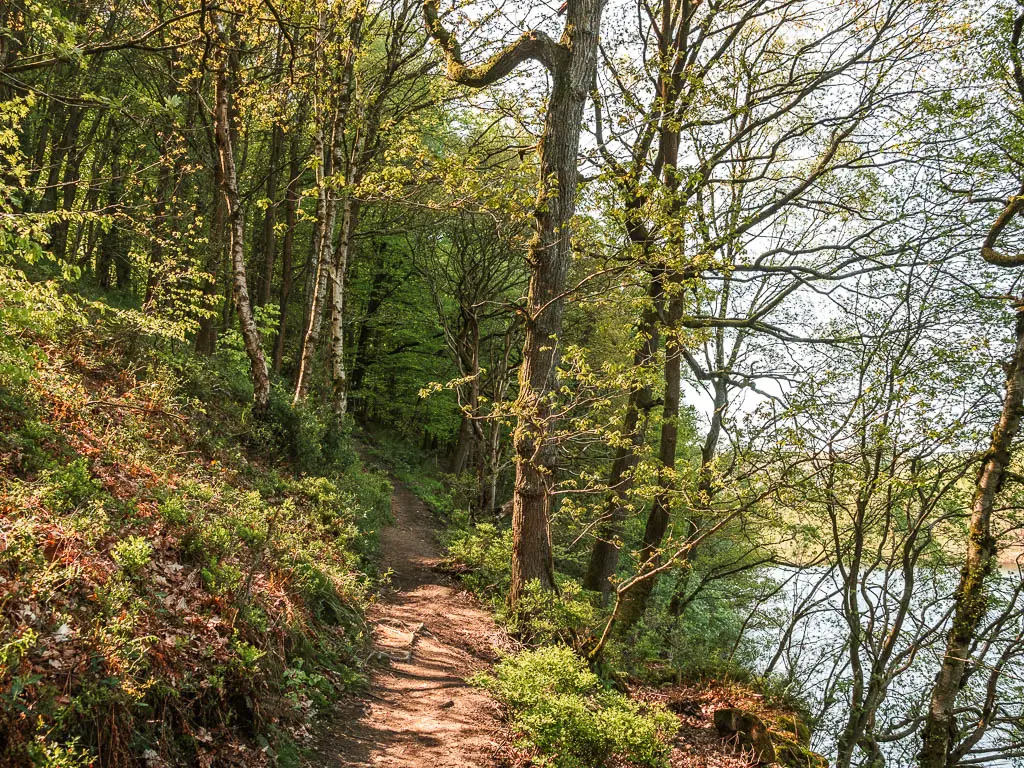 Not far along, the trail is more on a downhill slope with nothing to stop you falling into the reservoir if you slipped.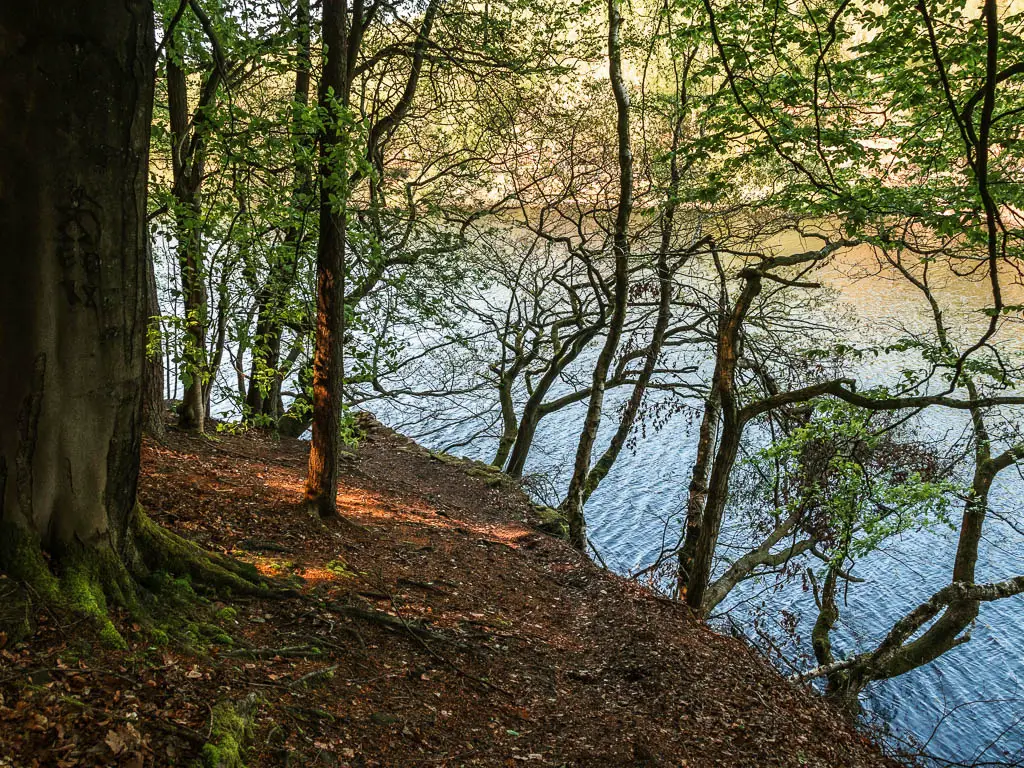 One section I found to be incredibly magical, with the leaning trees with leaves so luminous they didn't seem real. It reminded me of some photos I have seen of 'Instagram vs reality'. Where they showed this place in Japan with luminous green, where in reality it was not. I can tell you, that these ones really were that green.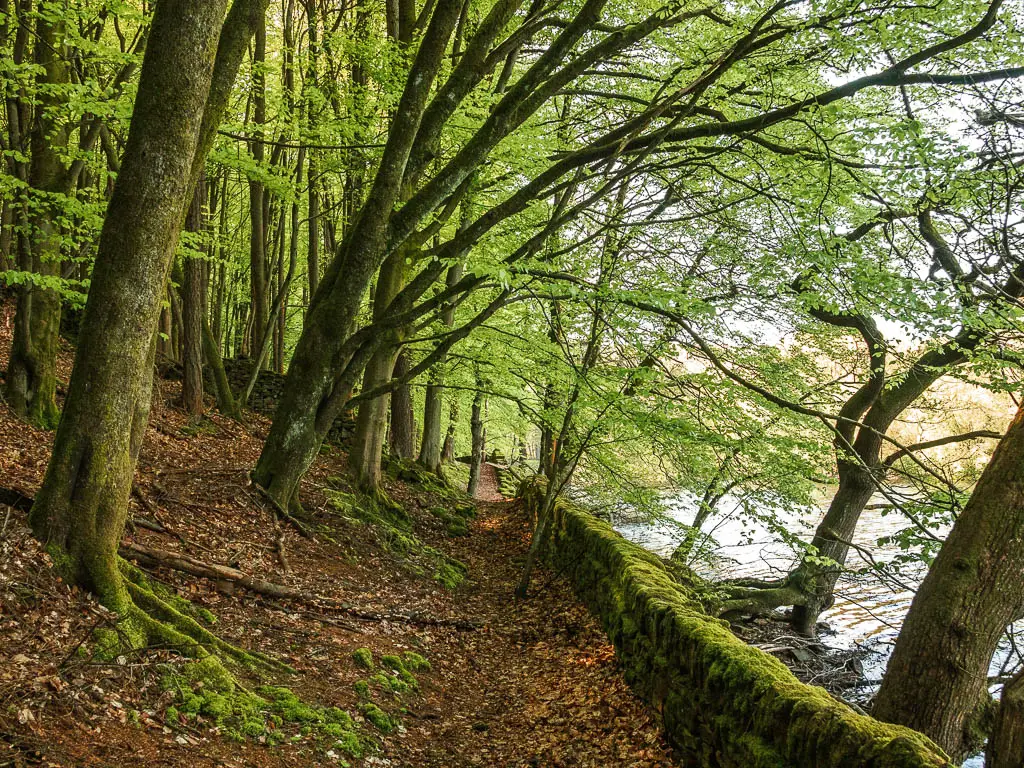 The trail will take you higher up, on some very steep muddy bits, with a view down to the reservoir through the tree gaps.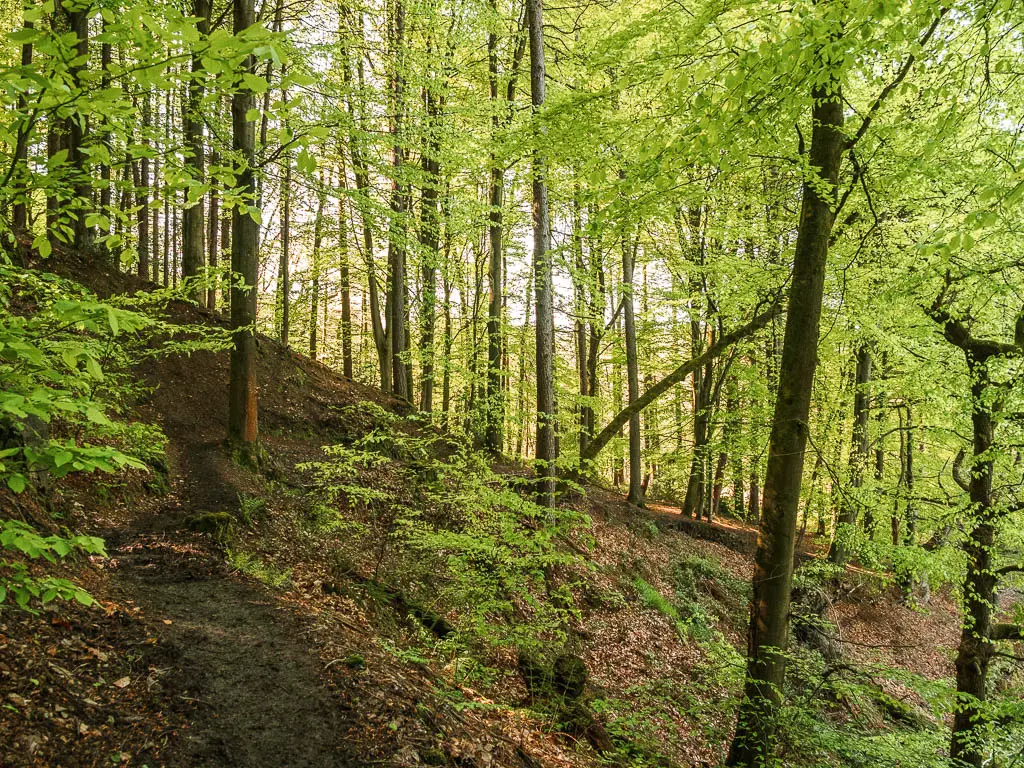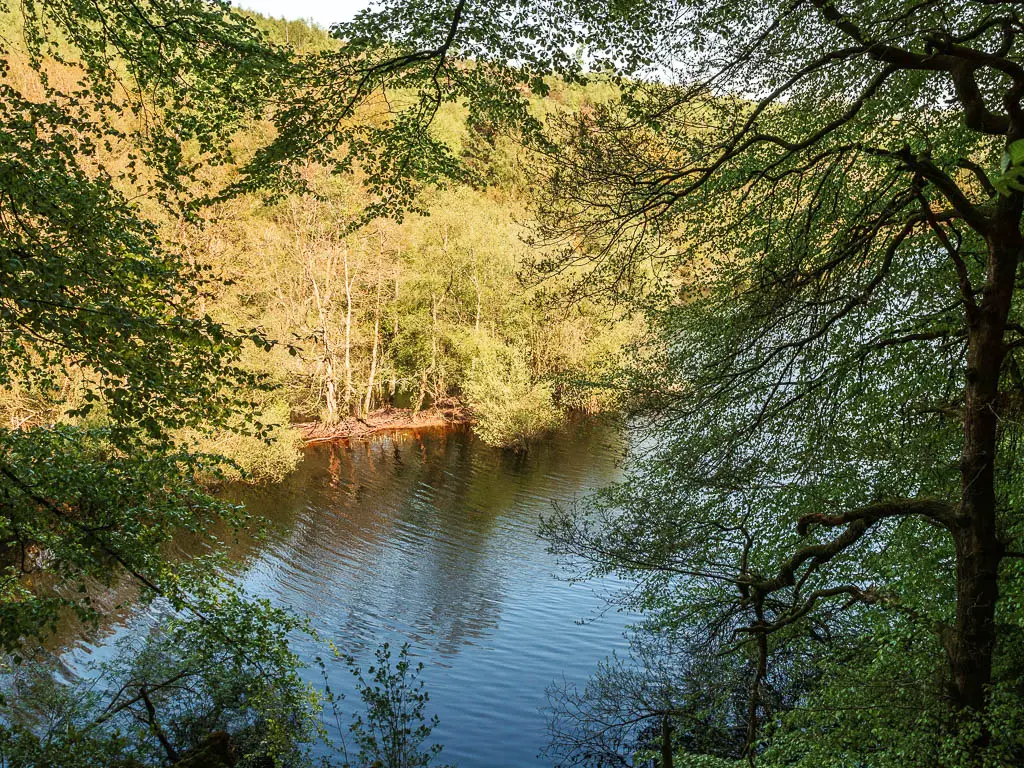 Before taking you down again, and through a little gate to reach the bridge crossing.
Walk the north east side of Agden Reservoir 
After the bridge crossing, you will start off on a dirt trail, which is pretty immaculate compared to what came before. This is where I came across my first people.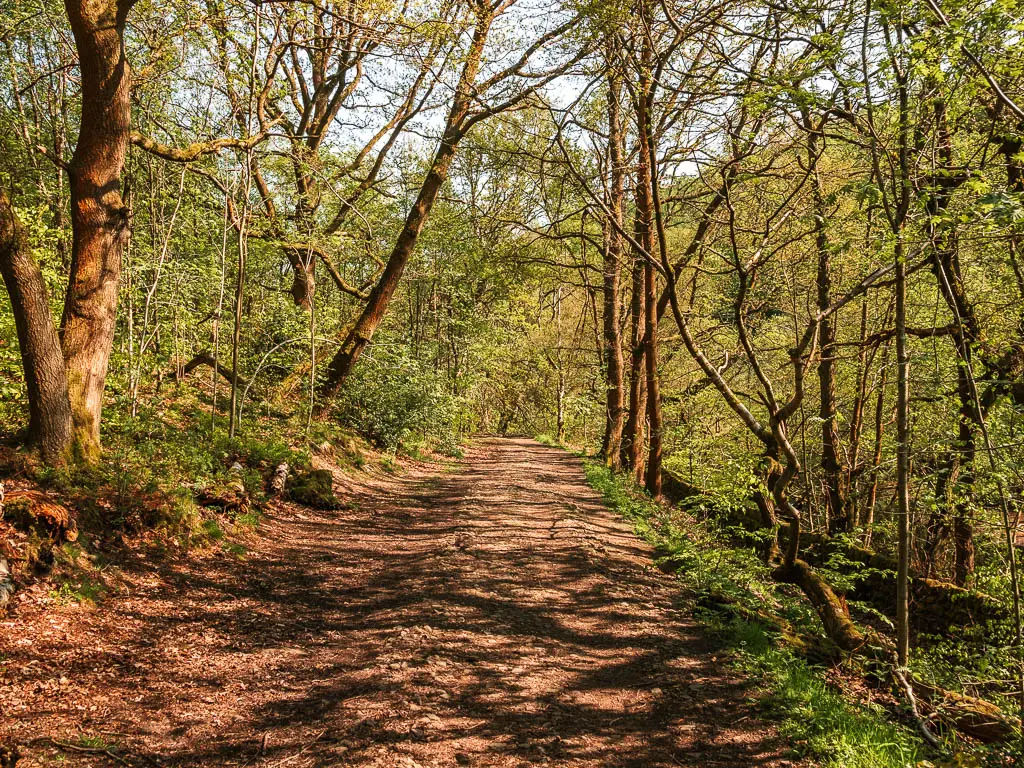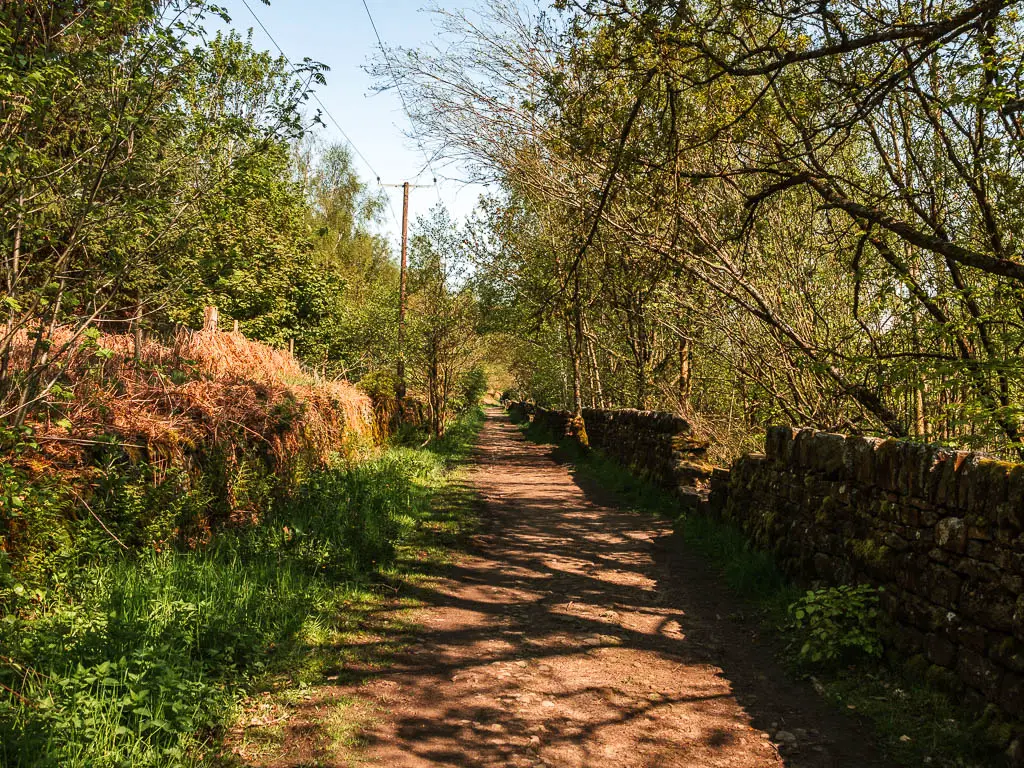 Keep an eye out for the wooden gate on the right, and go through it to walk back down to the Agden Reservoir edge.
When you get back down to the reservoir, if you turn right, you will find a rope swing. I didn't go over there as it was occupied. To continue on the circular route, turn left.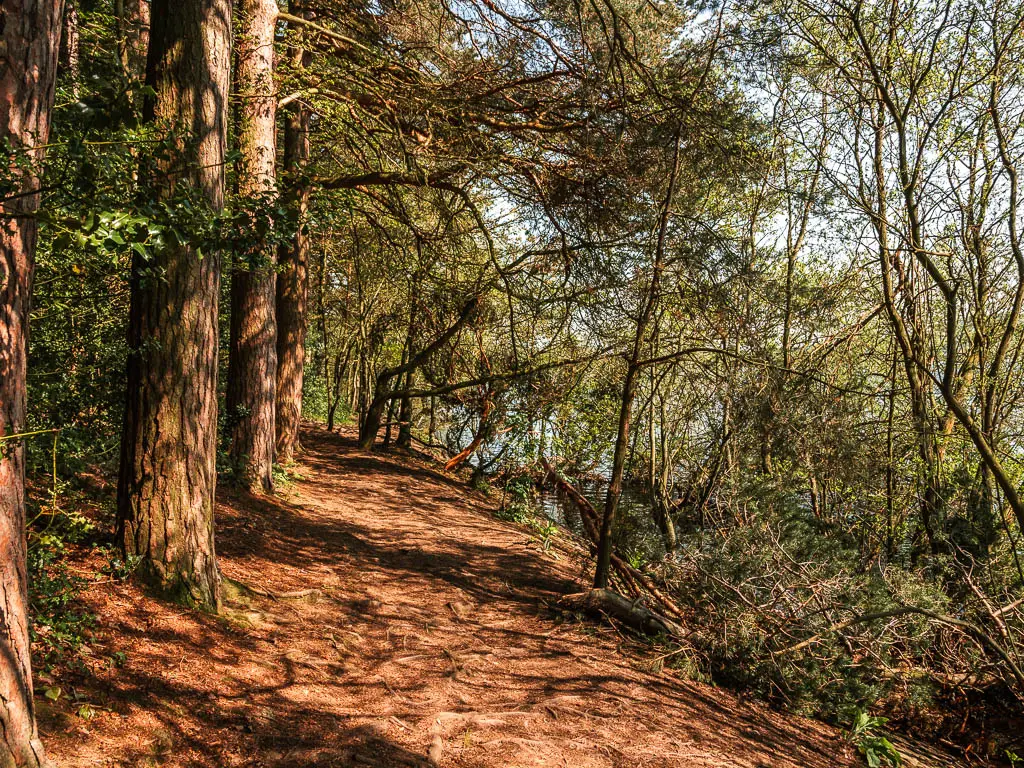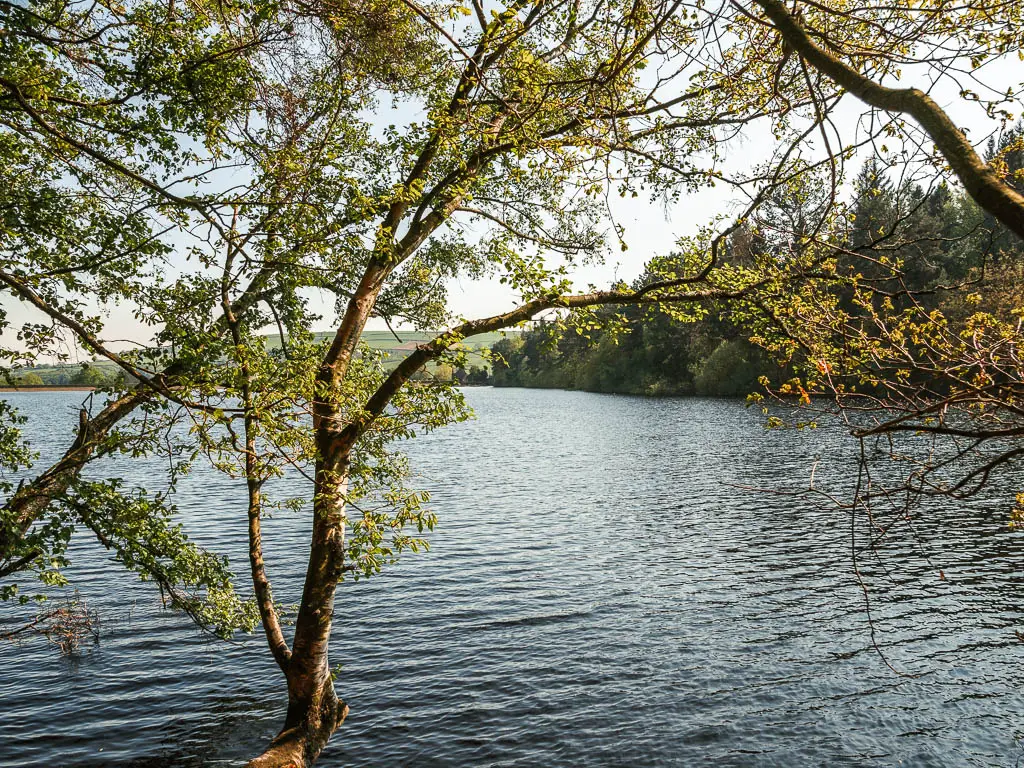 The trail is a little bit more rugged here, with some tree roots, but still nothing compared to the other side of the reservoir.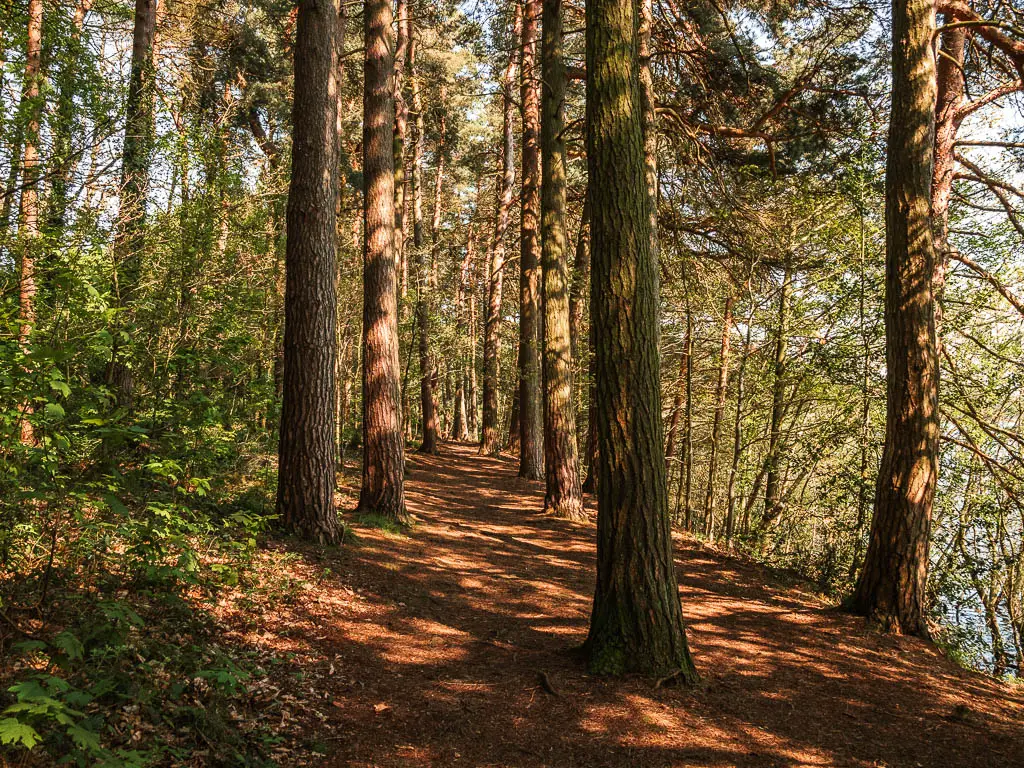 Some way along, you will get a view to a lovely bridge. I couldn't get a clear view with my camera, but here it is:
The nearer I got, the busier it got. There are larger areas here for entry into the water (where people were hanging out). This bit is also next to the road with lots of spaces to park. 
Once I reached the bridge, I realised it was a dead end (not the bridge, the trail). So had to climb over the stone wall to get onto the bridge.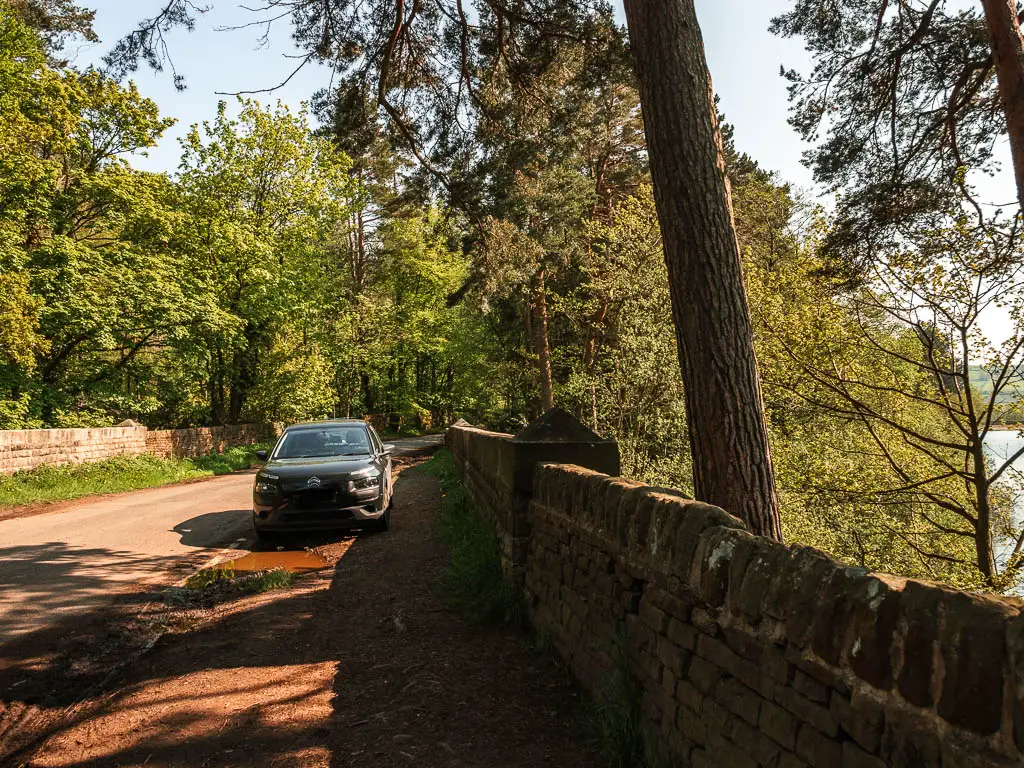 You don't need to climb over the wall, there will be an exit somewhere, I just didn't want to walk back to find it.
Walk to Low Bradfield
You will now be on the road, which is what makes up most of the rest of the walk. I had actually expected to be able to walk across the dam, but unfortunately you cannot. 
On a positive, the road was quiet.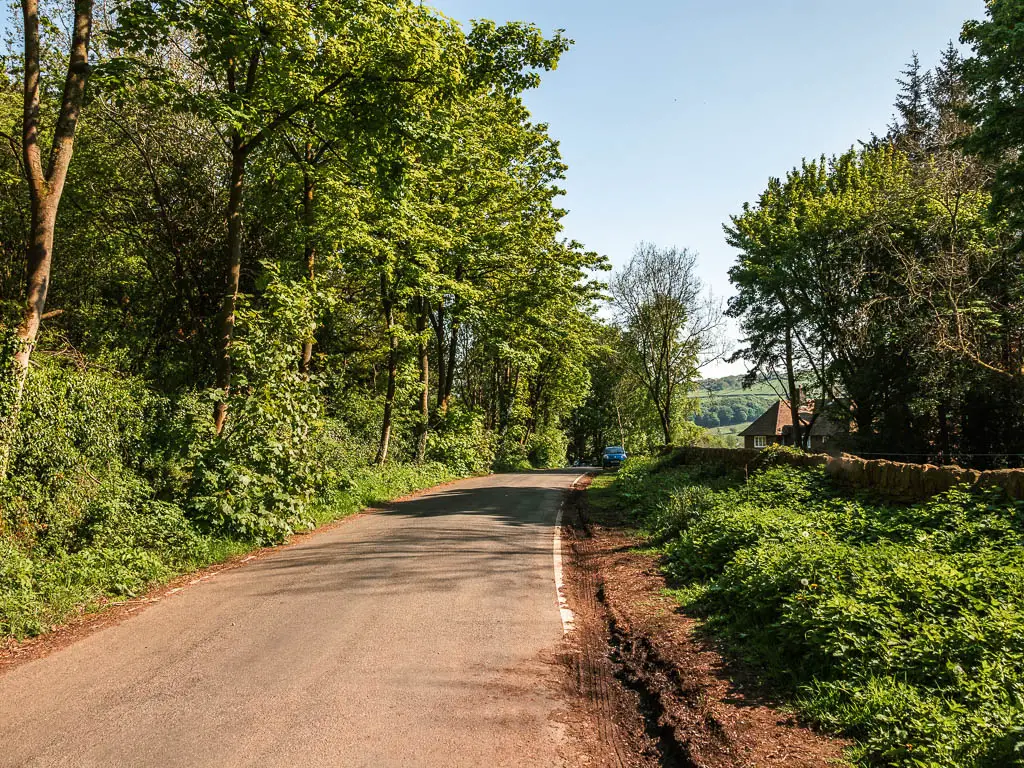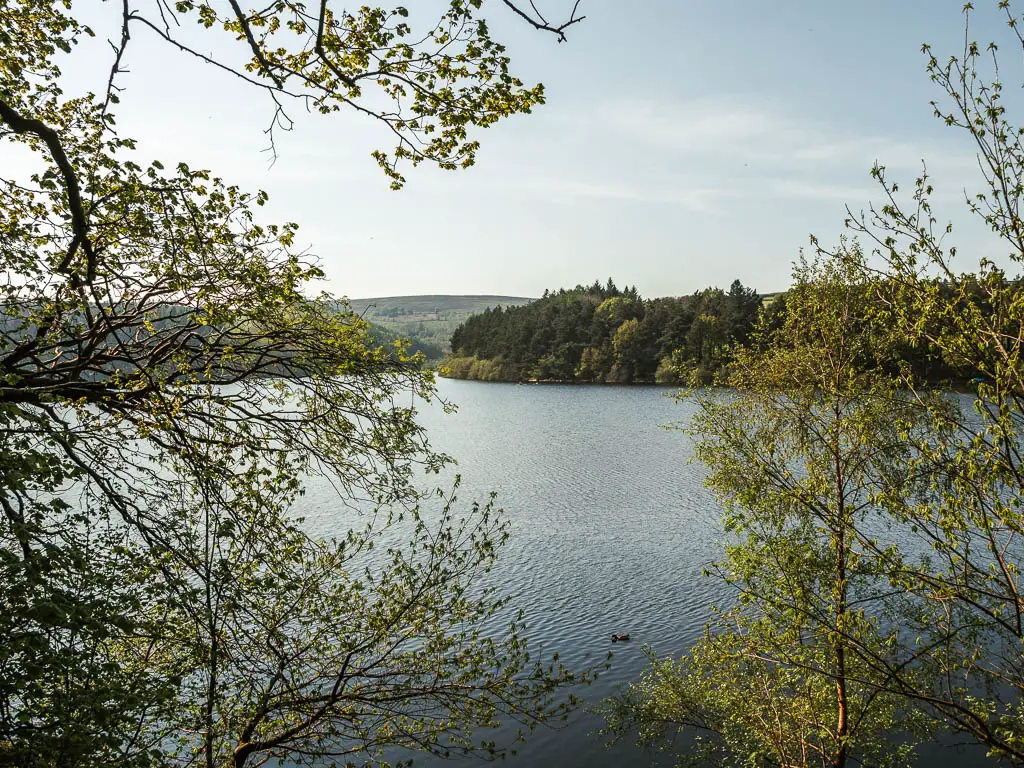 Further along the road, and just past the house, there is a gap on the right, with a trail sign. You need to go through this gap and all the way down, past the stones, and down the steps, to reach the bridge. It was around here I started to hear the sound of cricket. Very wholesome.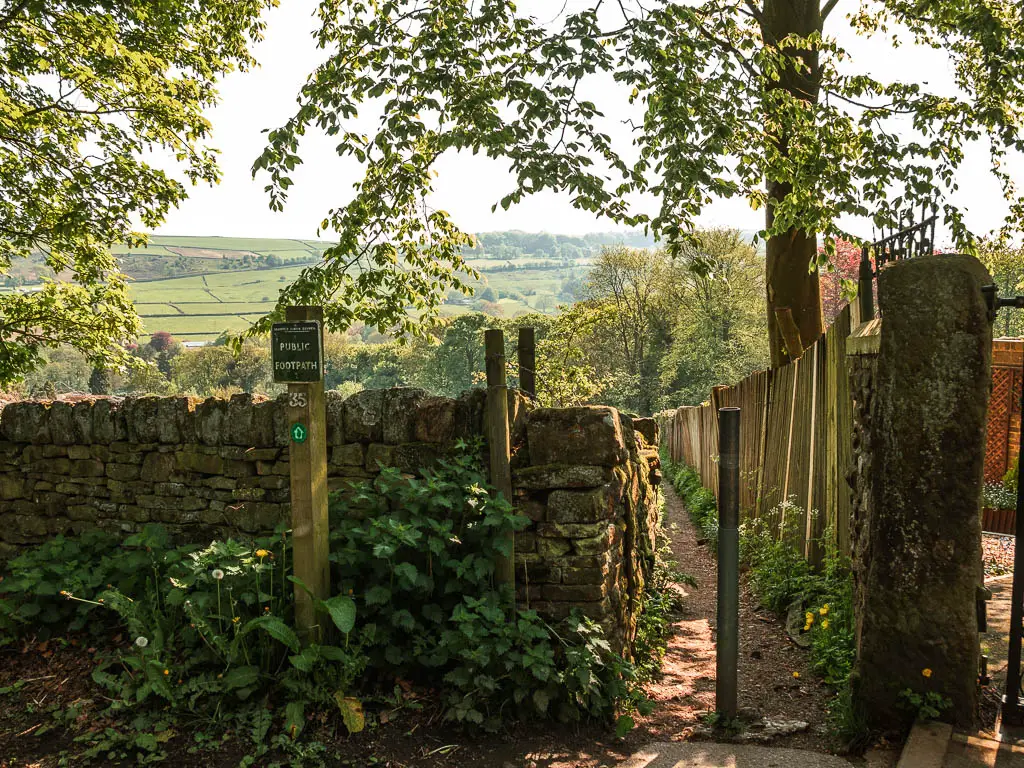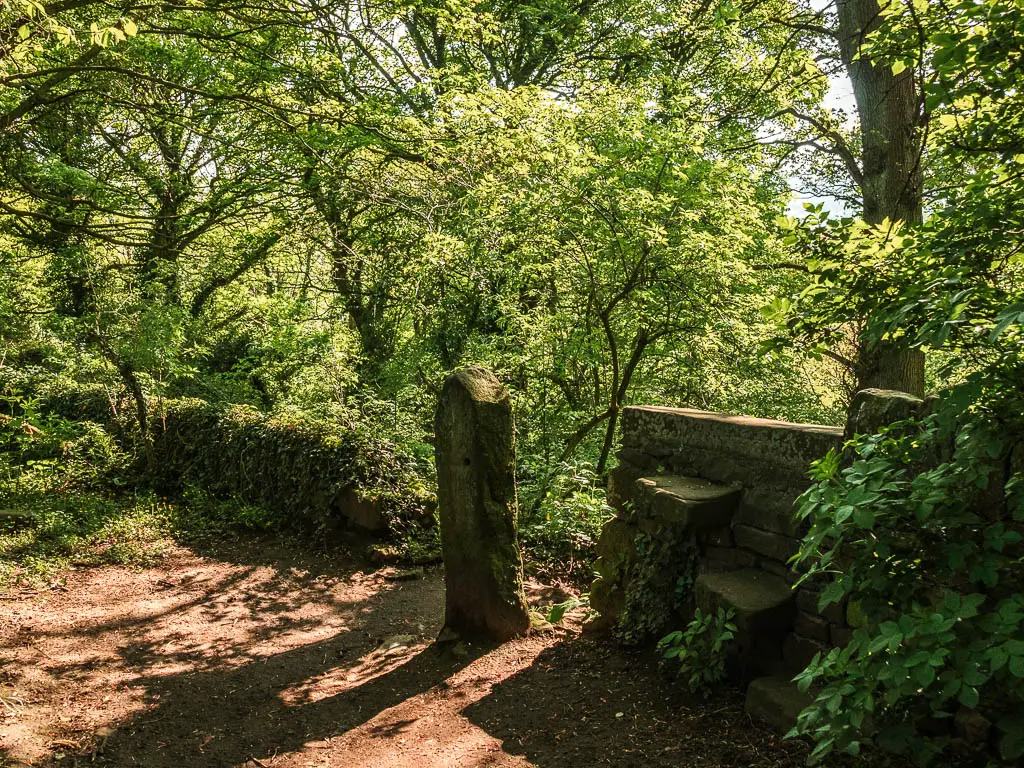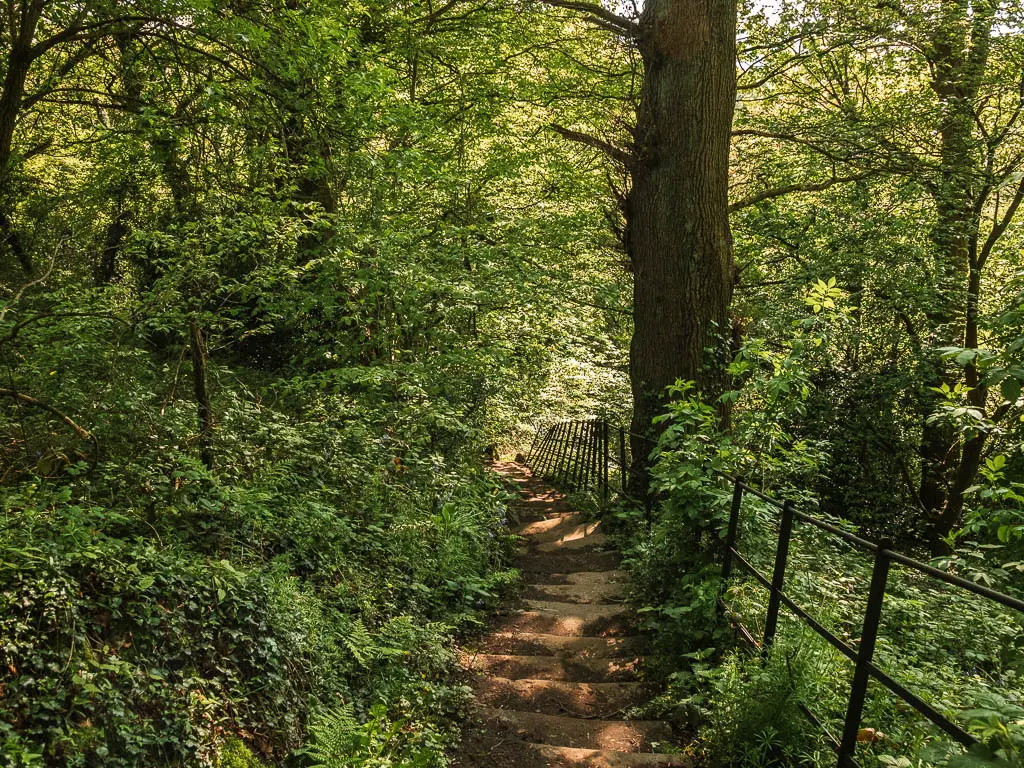 Over the bridge and to the left, Low Bradfield is a short way along.
Staying on the trail, it will lead you past the car park, and maybe cricketers. Keep going, along the road, then at the junction, turn right. I didn't mention, but you are walking uphill now. Remember, what goes down, must come up.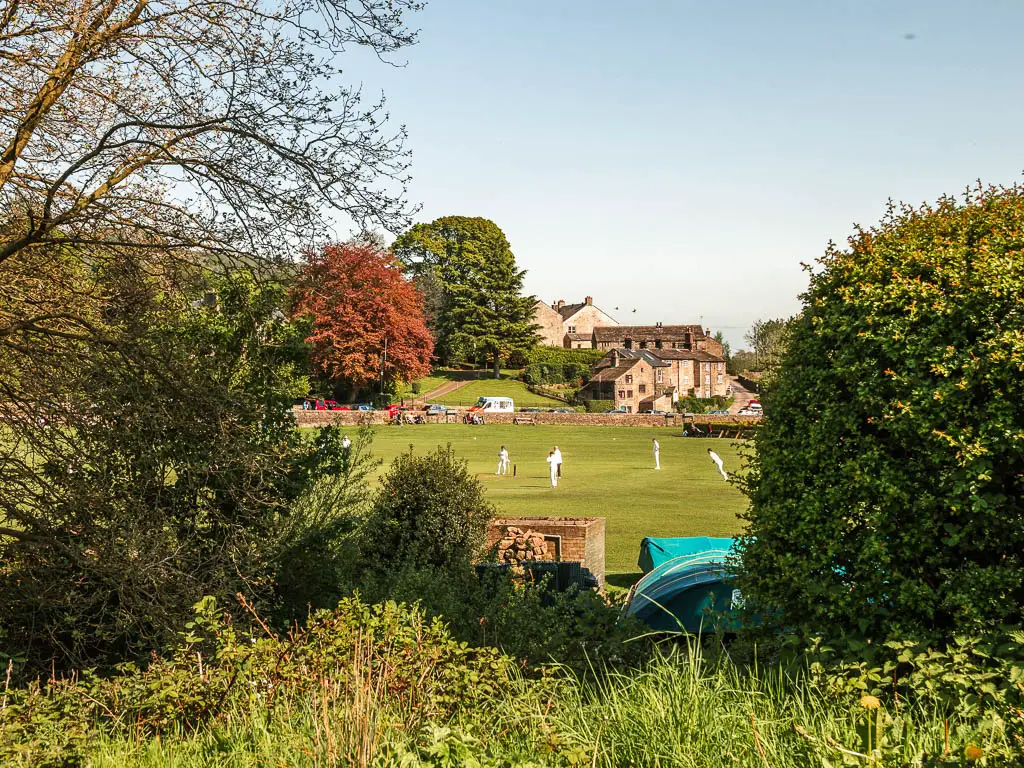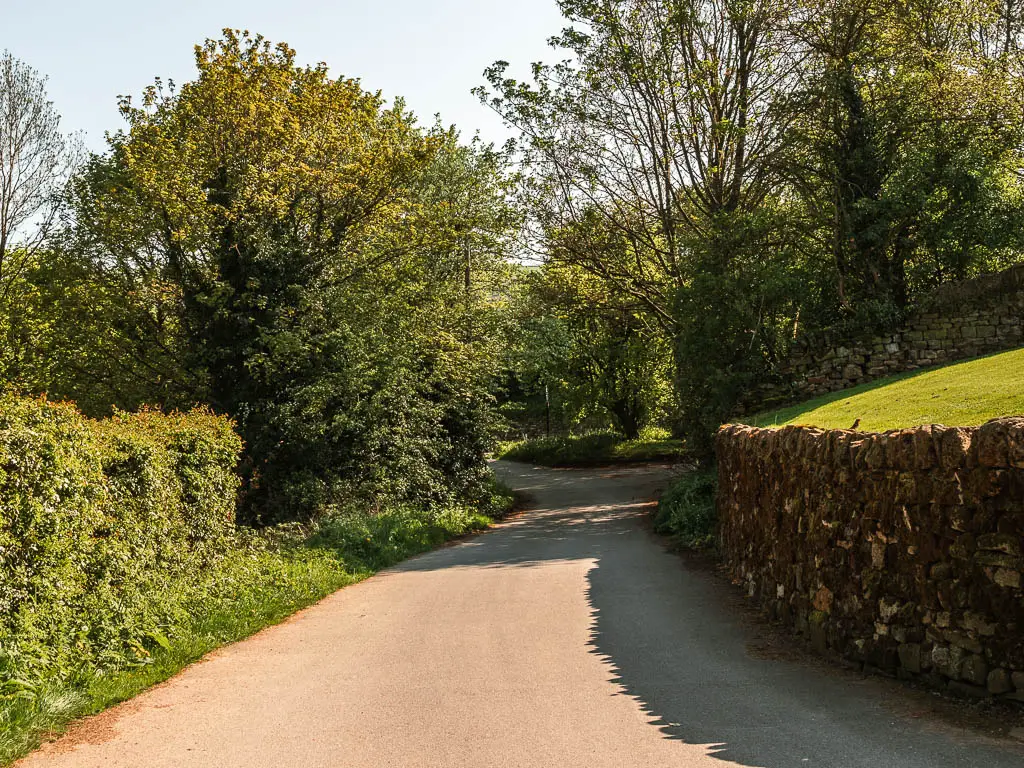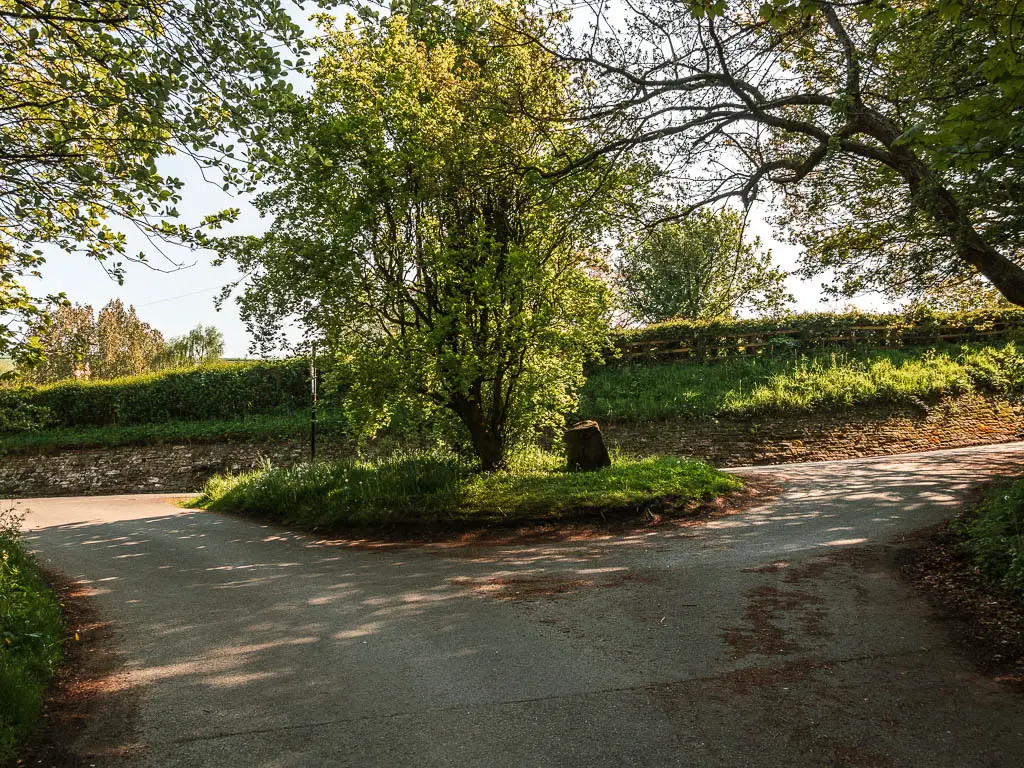 I wasn't too keen on this bit. Walking uphill on a road in the blazing heat of the sun. 
At the next turning, for Windy Bank road, walk along it and it will lead you back to the Agden Reservoir. There are some nice views from up here, but I would have probably have preferred to stay on the reservoir and walk back the way I came.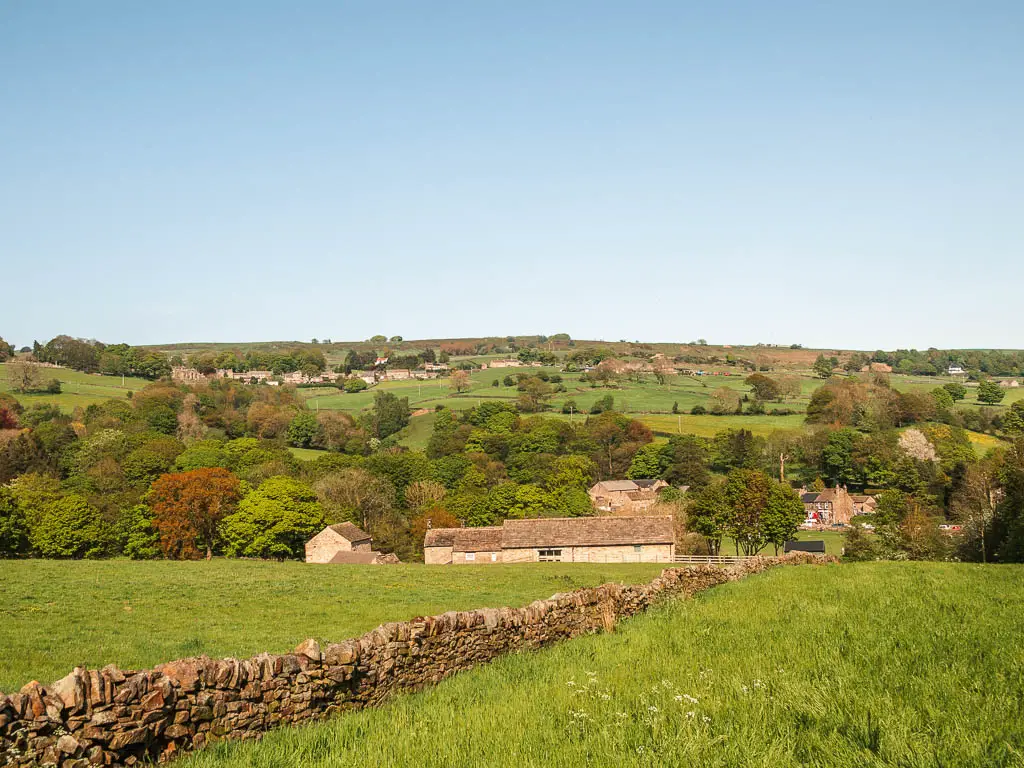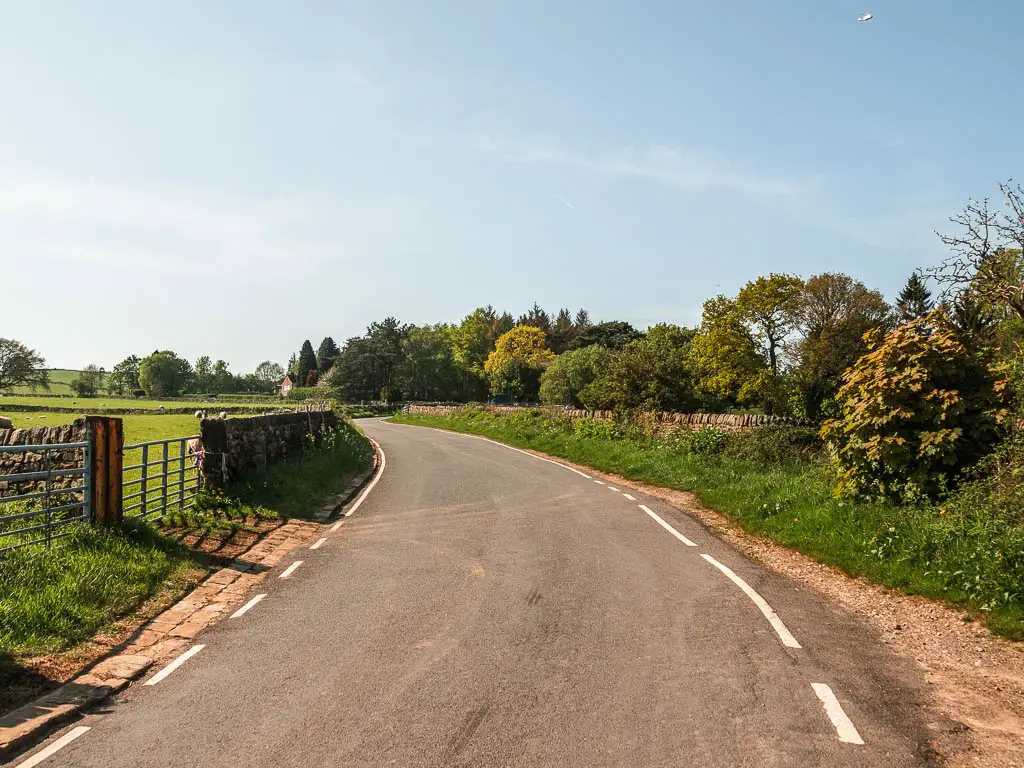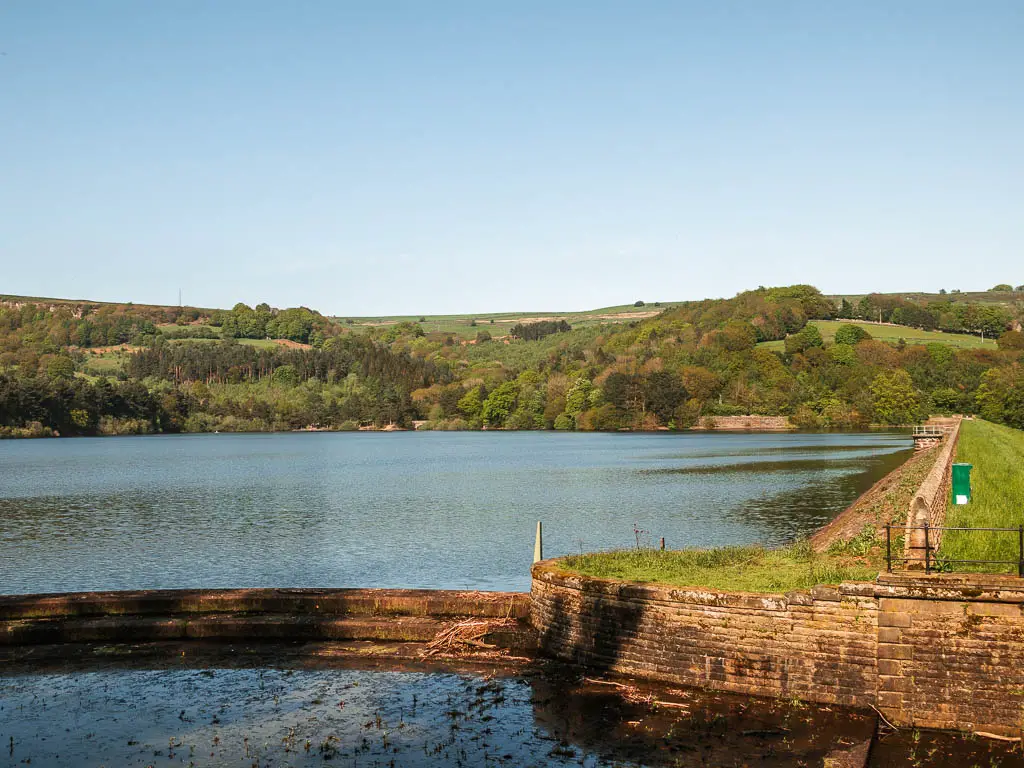 More local reservoirs
Dale Dike: 2.9 miles circular. Very peaceful. Very rugged. 5 min along the road from Agden Reservoir.
Wessenden Reservoir: 5 miles circular. My favourite in the Peak District. Peaceful moorland. Lots of surprise waterfalls. 
Ladybower Reservoir: 6 miles circular. More popular. Stunning backdrop of Derwent Edge.
Dovestone Reservoir (including Yeoman Hay): 4 miles circular. Can be pram friendly if you just do Dovestone. Popular and busy. Surrounded by gorgeous hills.
Reservoirs I recommend further afield
Grimwith Reservoir: 4.3 miles circular. One of my favourites. Very moody. Located in the Yorkshire Dales.
Scar House Reservoir: 4.4 miles circular. Another one of my favourites. Also moody. Nice and secluded. Located in Nidderdale AONB.
Most of these reservoirs are owned by Yorkshire Water, which you can find out more about here.
Pin it for later: Agden Reservoir walk