The walk from Lulworth Cove to Durdle door is a classic little beauty.
To walk to Durdle Door, in simple terms, you follow the coastline west. If you are in West Lulworth and stand facing away from the sea, you will see a big hill up ahead to the left. You will see a very obvious path leading over it, and if you walk along that path, you will soon reach Durdle Door.
What I am going to do, is tell you exactly how to walk there, with a cute little extra bit at the beginning. I will also show you how to go slightly off piste to avoid the crowds on their way to Durdle Door, and finally, how to walk back to Lulworth Cove a different way to mix things up.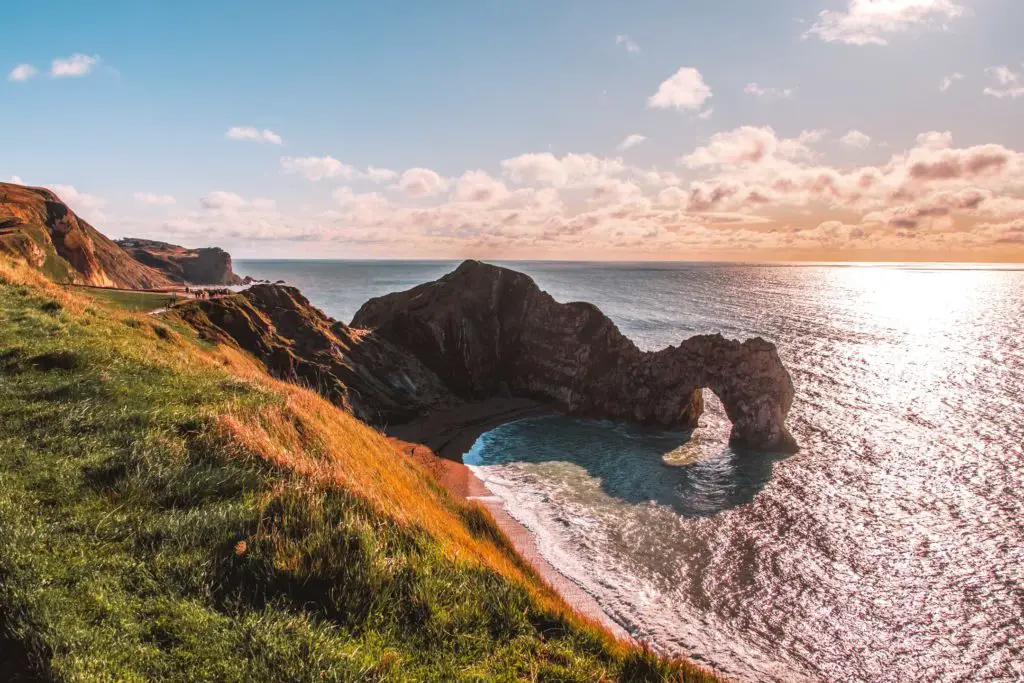 How hard is the walk from Lulworth Cove to Durdle Door?
Not hard at all. There is one big hill you need to hike up at the start, but it's short and will be over before you know it. If you choose to make this walk circular (which I describe below), there is another hill. But it's also short.
How long is the Durdle Door walk?
To walk straight to Durdle Door, it's just under 1 mile. So there and back it's just under 2 miles.
However, if you are anything like me, you don't like to go back on yourself. So I will show you a route to take you from Lulworth Cove to Durdle Door and circle back. This makes this walk about 4 miles, which I have provided a map for below.
Parking at Lulworth Cove
There is one large car park, which you pay for by the hour or day. It's quite a convenient location being right at the start of the trail to walk to Durdle Door. If parking is full, there is another car park nearer to Durdle Door next to the holiday park.
---
Logistics for the walk from Lulworth Cove to Durdle Door
---
Start: Lulworth Cove beach
Finish: Lulworth car park
How to get there: From London, there are direct trains from London Waterloo to Wool. It's about 3h journey. From there you would need to get a taxi to Lulworth Cove. Drive time about 10min. There are often taxis waiting outside the station, but you can also pre-book. There are very few and infrequent buses from Wool to Lulworth which is why I recommend taxi.
Distance: 1 mile to reach Durdle door, 4 miles to do this circular walk.
Time: It took me 2 hours which includes lots of photo stops and admiring.
Terrain: Path, dirt and grass trails, mud.
Elevation: 131 m (A bit higher if you take the off-piste hill). Just under 305m total elevation for the whole hike.
Amenities: Public toilets at Lulworth Cove, by the visitors centre which is near the car park. Numerous cafes and pubs along Main road. Public toilets near Durdle Door, at the car par
Tips for walking to Durdle Door
Go very early in the morning to avoid the crowds.
For the straight route to Durdle Door and back, you can wear trainers. If you are doing the circular, I would recommend hiking boots (although it's not a deal breaker).
Take sunscreen. The sun is stronger by the coast. Even on an overcast day, it can get you. I learnt this the hard way.
When you reach Durdle Door, continue walking on the trail past it for the best views. you will find a great spot along here for a picnic.
Just before Durdle Door, you will pass Man'O War beach. I recommend taking the steps down to that one first.
After you walk back from Durdle Door, stop in one of the pubs or cafes for a drink, or bite to eat. Or maybe sample some fudge or Dorset ice cream from the Dolls House.
Map of the circular walk from Lulworth Cove to Durdle Door
Click on the box in the top corner to follow the trail.
More local walk ideas near Durdle Door and Lulworth Cove will be at the end
---
The start of the walk from Lulworth Cove to Durdle Door
---
You can access the start of the walk from the car park in West Lulworth. However, I do recommend going back a bit first.
If you want to start from here though, then just take the very obvious path up the big hill. 
Alternatively, if you head down to the cove, just next to the Boat Shed Cafe on the right, you will see a sign pointing up the steps to the coast path. Follow this to take you up and around for a great viewpoint overlooking Lulworth Cove.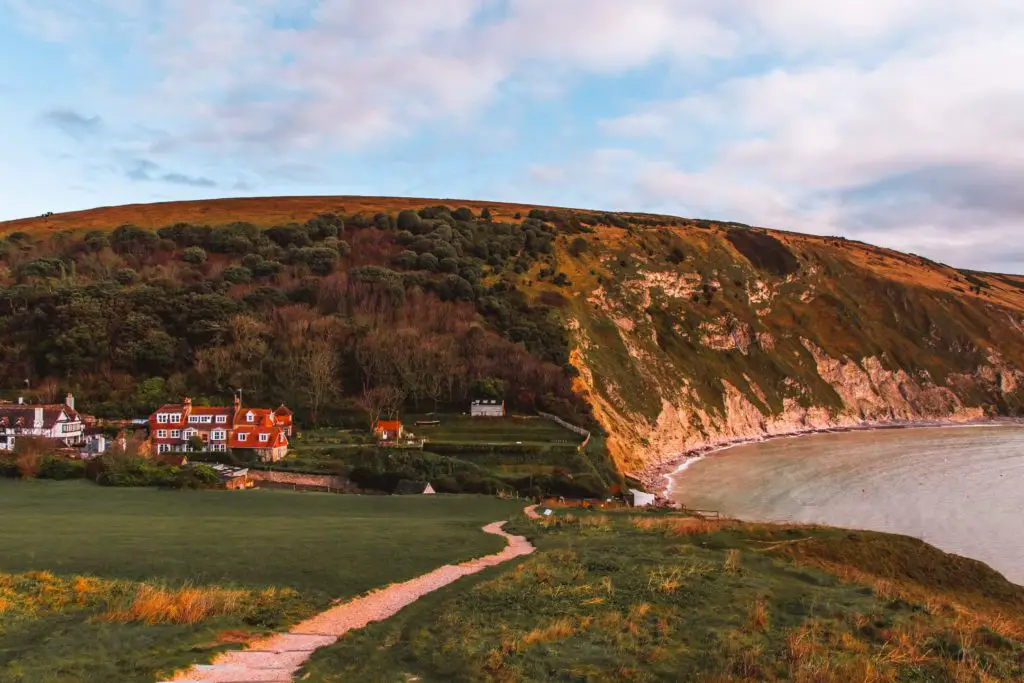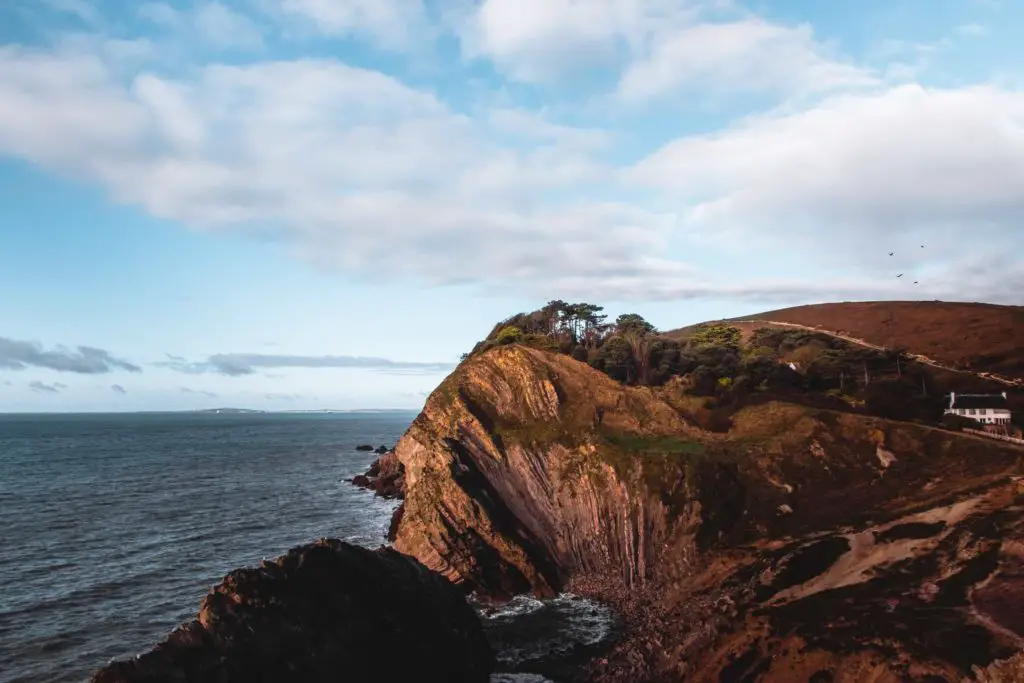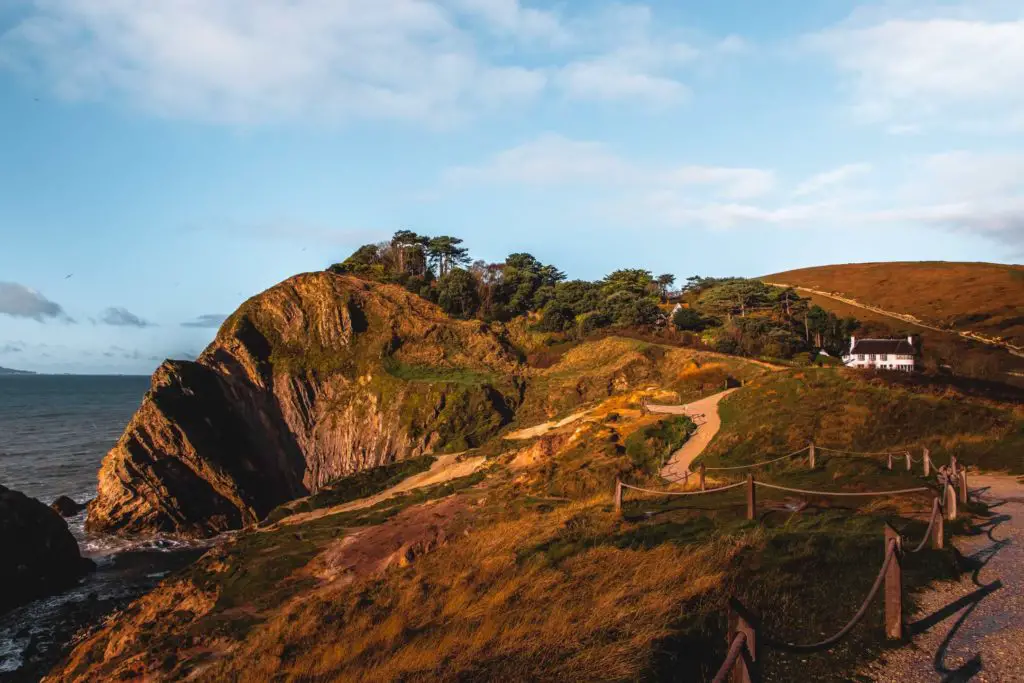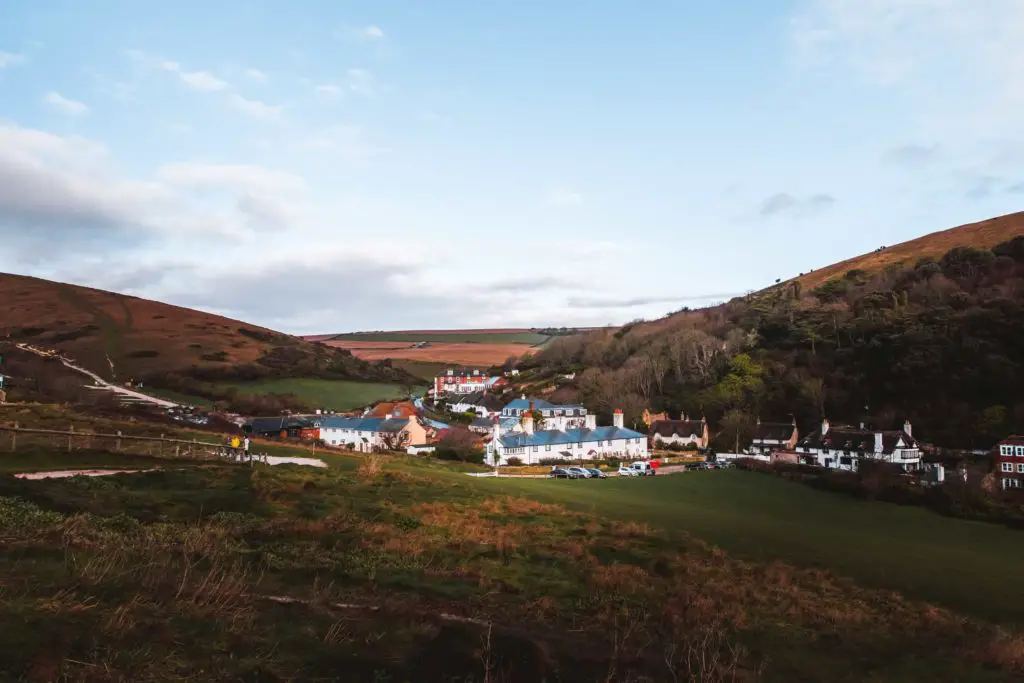 Once you have enjoyed the views enough, continue following the trail back in the direction of that big hill by the car park. 
The first big hill
Walk through the car park and the gate at the end, to reach the path leading up and over the hill. Now, depending on the day and time of day, this path can get very very busy. I headed out early in the morning and there were very few people around. Once I had returned back on my loop, the trail was full of people walking up it. This was around 11 am.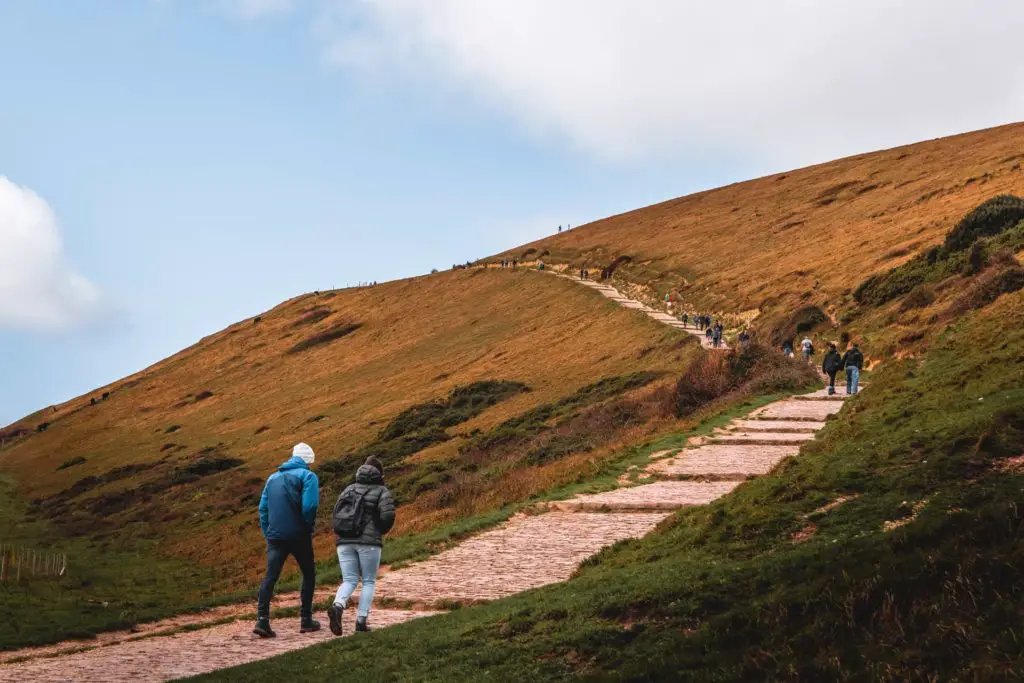 Go off-piste?
If you don't want the crowds or just want something a bit more off piste, then just to the right of this path is a dirt/grass trail. It's not very obvious, but it's there. I came back another time and tried this off-piste route, and there was only one other person.
You can find out more details about that in my post about walking up Hambury Tout.
What this off piste section also offers, is even better views as you go up much higher than the main path. For the first bit, you will still be within view of all the people on the main path, but they soon disappear out of view. You really do feel like you have the whole place to yourself.
Once at the top you get a great 360 degree view of the whole area. 
Whether you have taken the main path or gone off piste, once you walk to the top of the ascent, you will get views up ahead of where Durdle Door is. You can't see the arch yet, but you will soon. 
Descend the hill
Now continue following the path down (or descend off the big hill to join the path). Then a bit further along, near the holiday park, walk though a gate.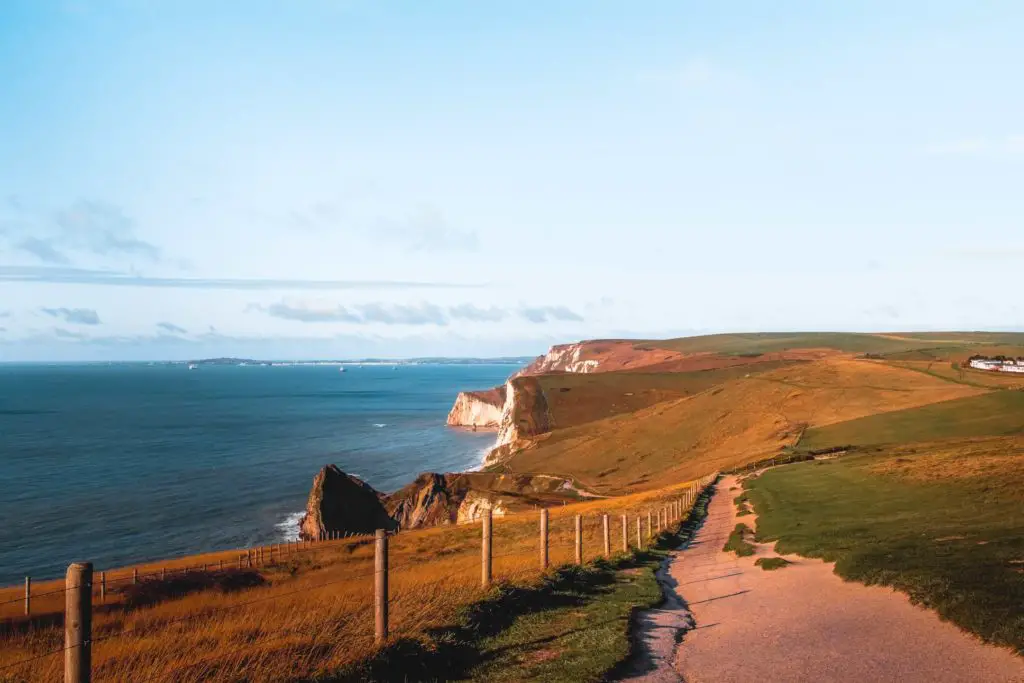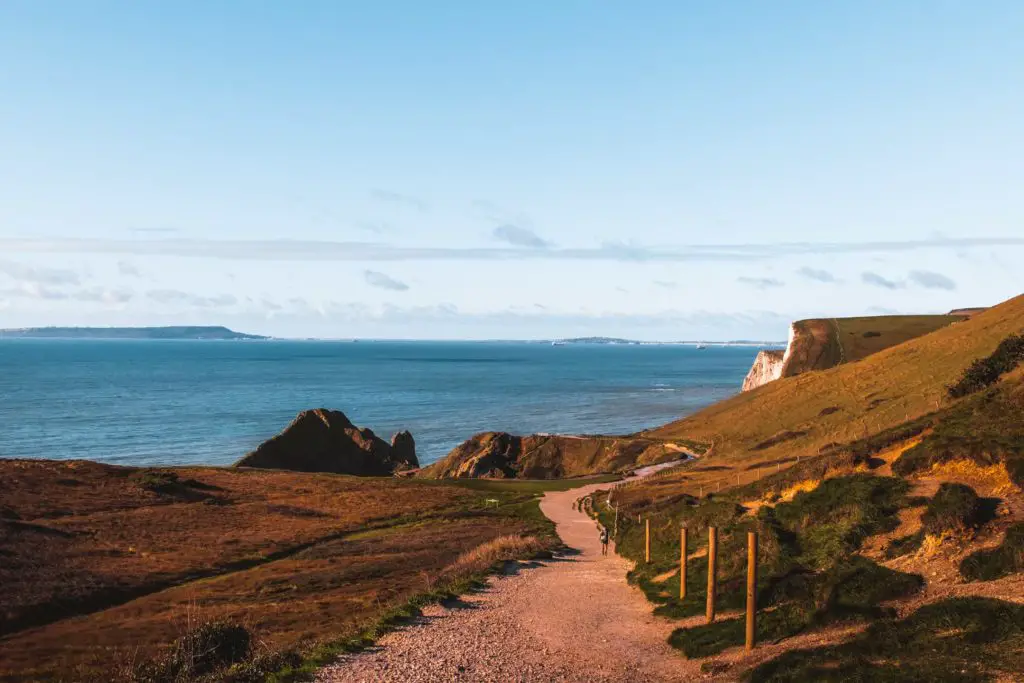 Once through the gate, take a left to walk away from the holiday park. Then descend further to first reach Man O'War beach.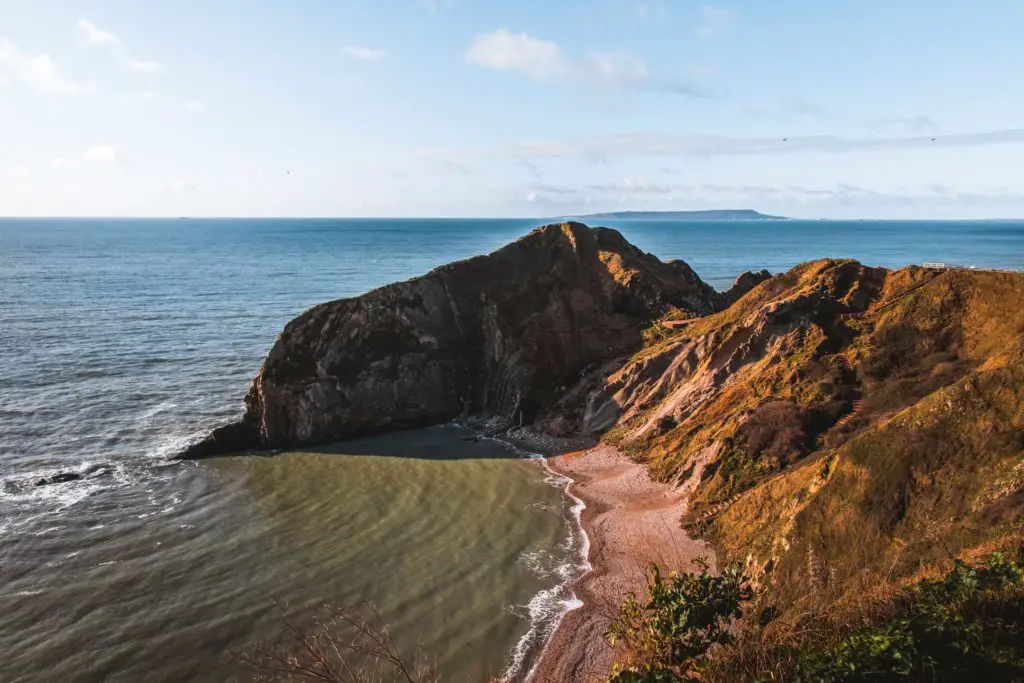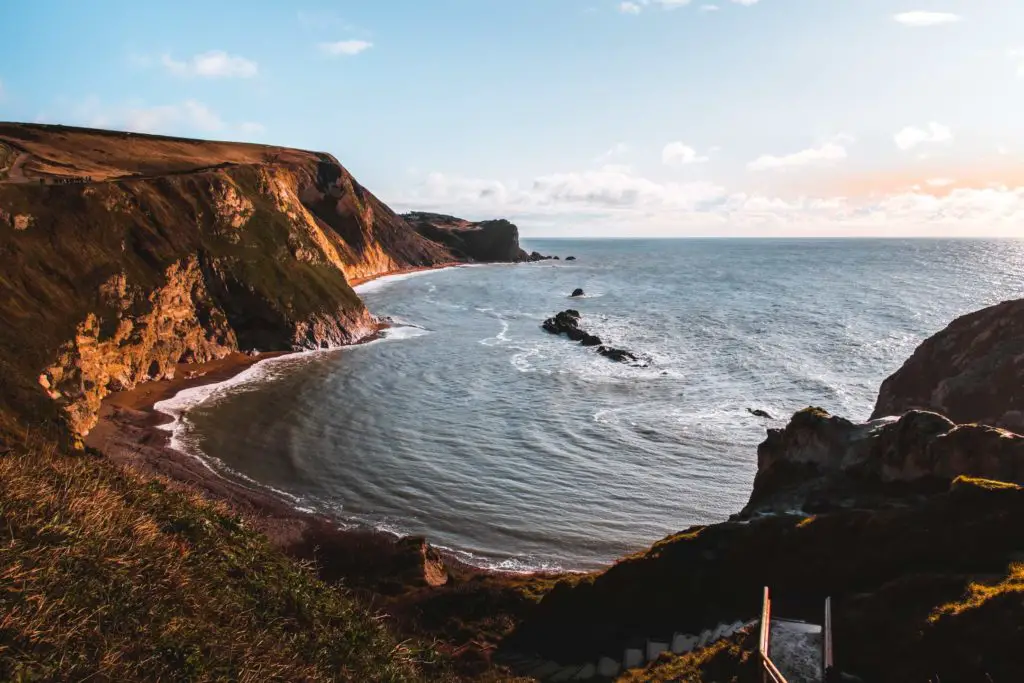 Walk to Durdle Door
Well done. You've made it to Durdle Door. There are steps here you can walk down to reach Durdle Door and Man O'War beach.
For the best views (the ones you see in all the photos), continue following the coast path walking away from Durdle door… 
Then look back.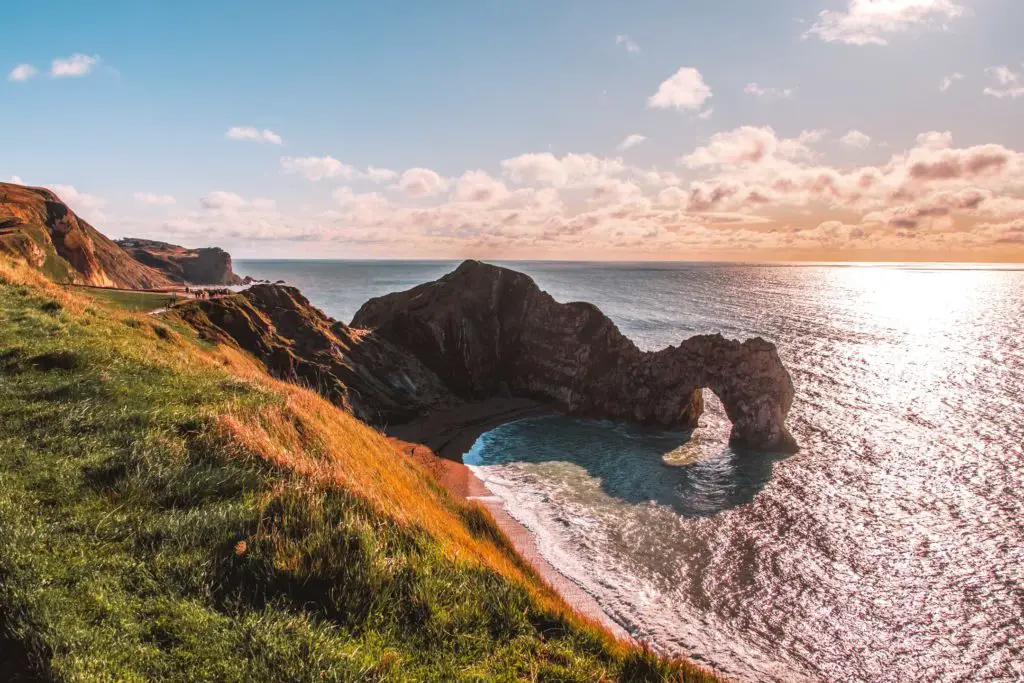 Leave Durdle Door to walk back to Lulworth Cove
You now have to decide if you want to walk back the way you came, or do the circular route. For the circular route, follow me….
As you continue along the coast path, you will see a very big scary hill up ahead. You can breath a sigh of relief that you wont be hiking up this one.  Well, for this particular hike you wont be. 
However, if you have the time and want more of a challenge then do I actually recommend it. I hiked along that bit of coast many years ago and it's one of my favourites.
Anyway, back to this hike. So, just before the massive hill, go through the gate to the right and walk through the valley.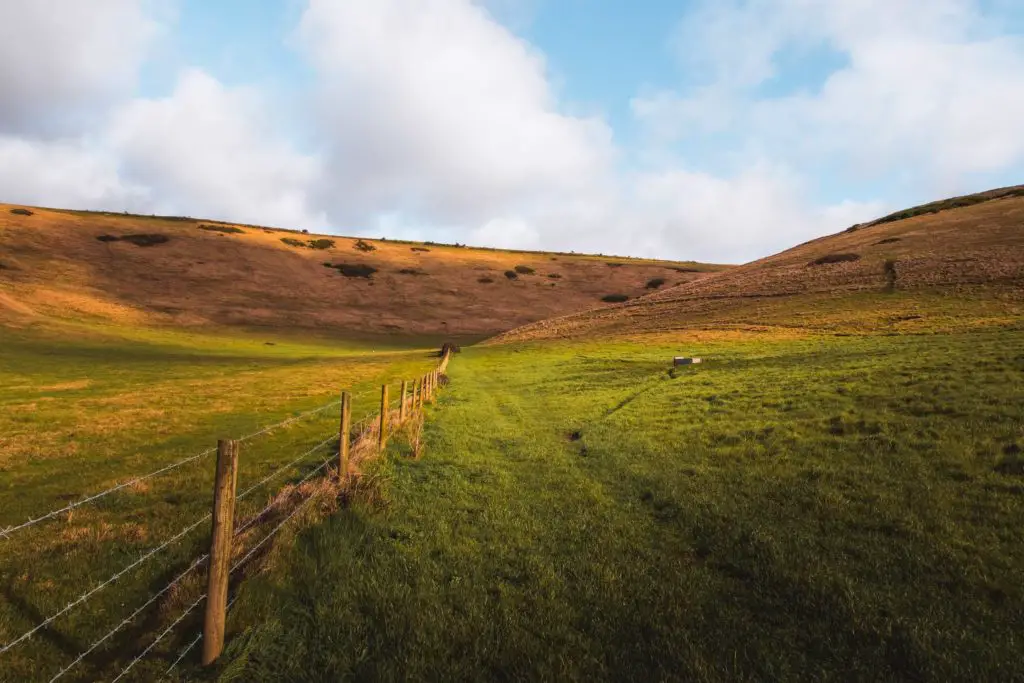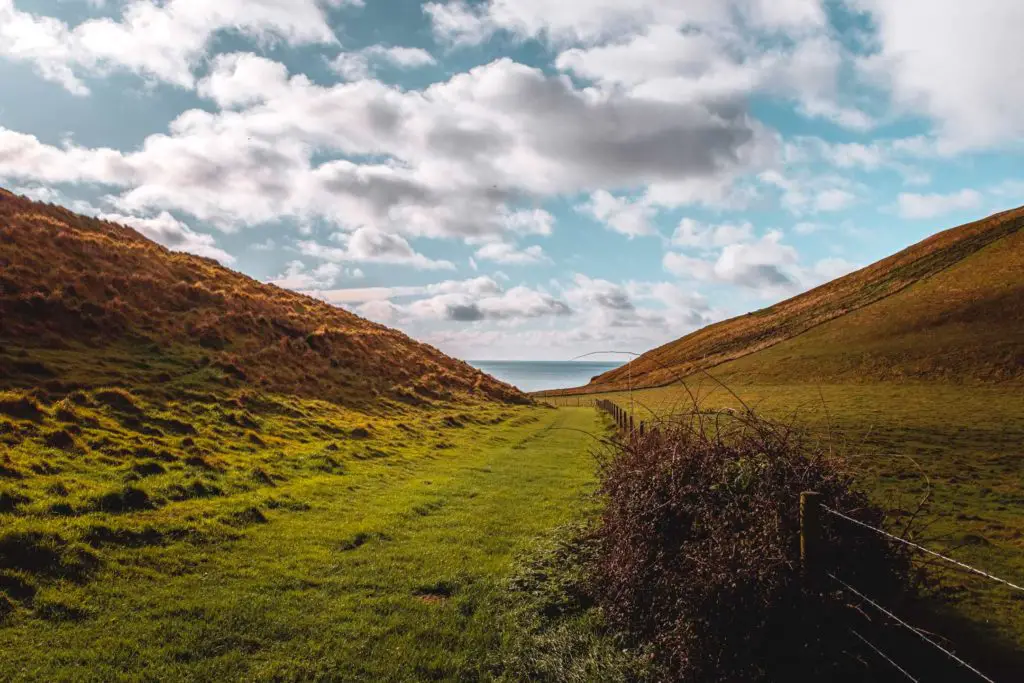 I kept my eye out for the cows as usual (if you aren't familiar with me and my fears, I have a fear of cows in fields). I didn't see any, but I did see a trough. So I knew they must be around.
Somewhere.
Turning the corner, cows did come into view, but we were separated by a fence. I love a good protective fence.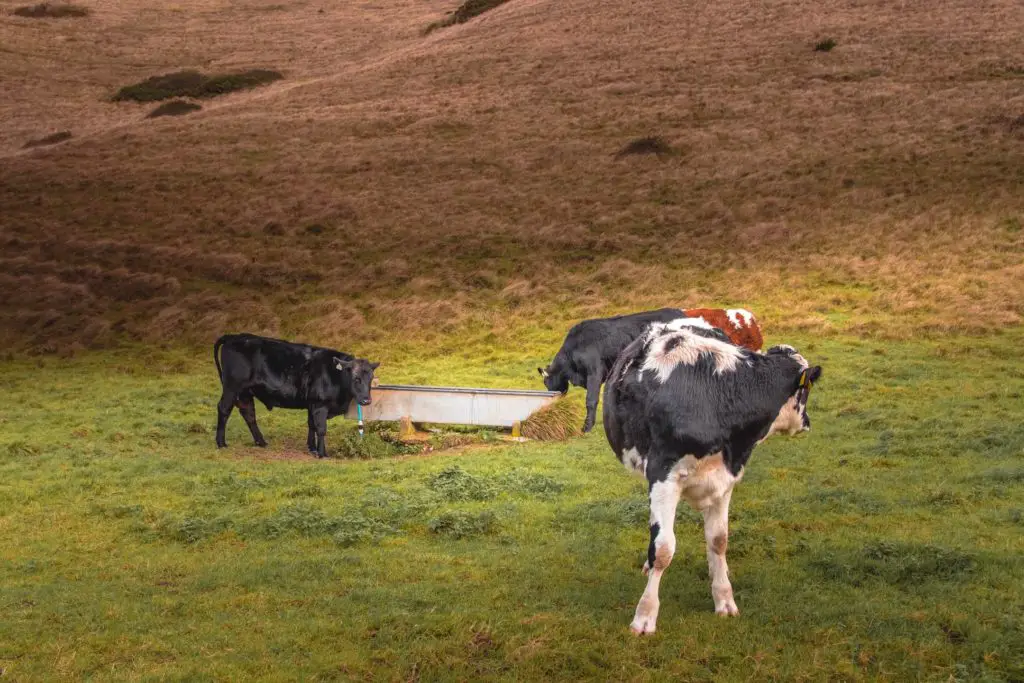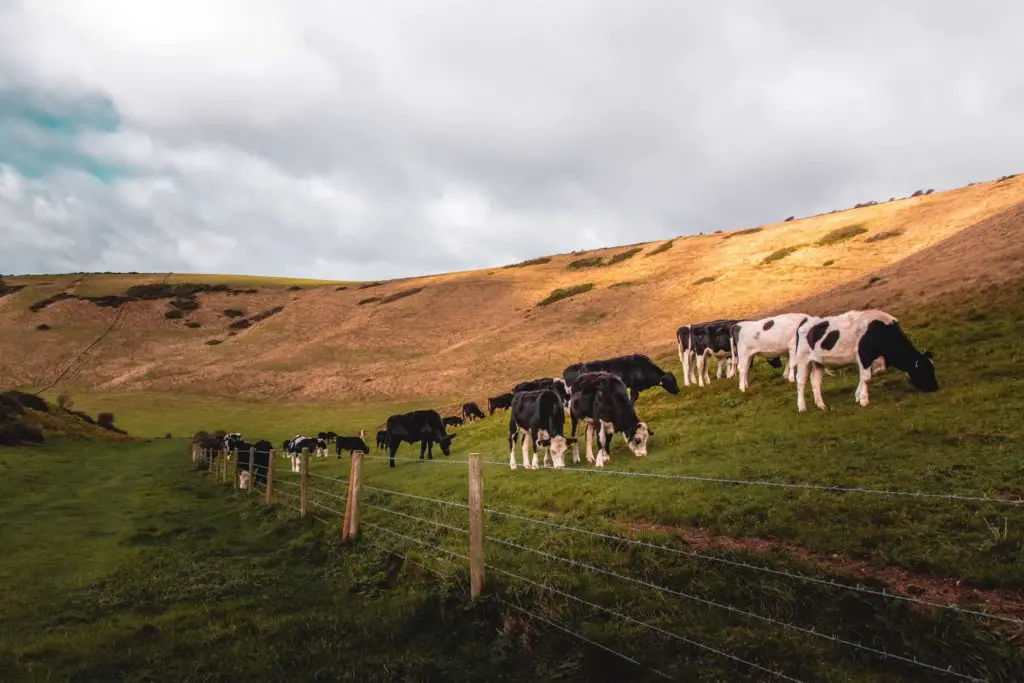 The second hill
From here, you will start to go gradually uphill. Then at the end, take a left before the next gate to go up the steep hill. It's only a short one, but the views up the top make it worth it.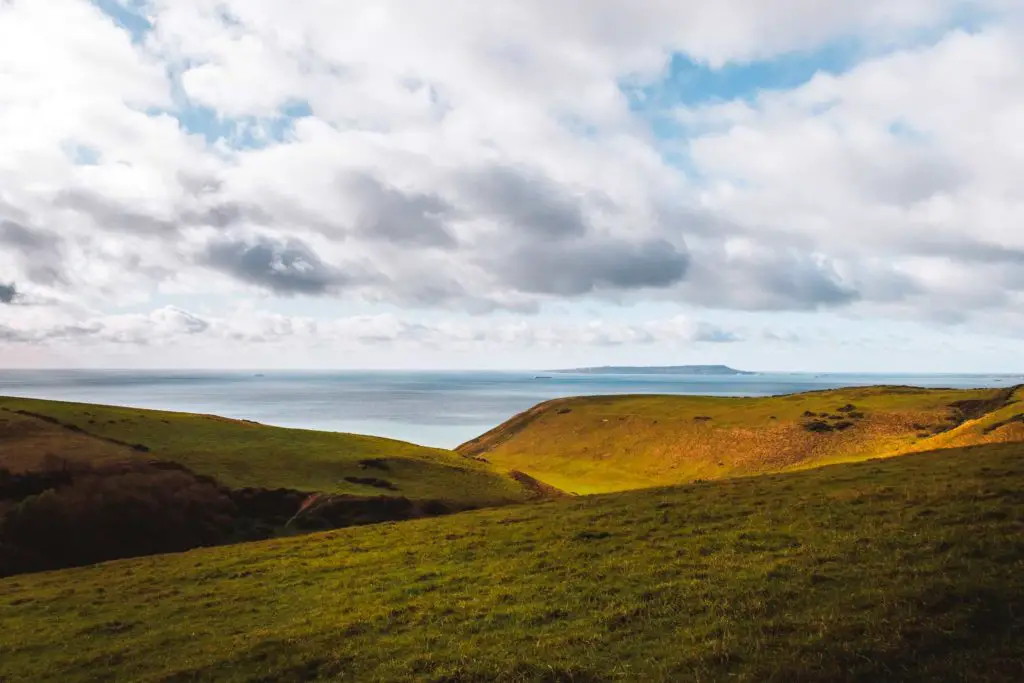 At the top, take a right through the gate. If it's recently been raining, this bit can be a bit (a lot) muddy. I don't recommend going out in brand new white trainers. 
The holiday park will be to your right as you continue along this trail. Then at the end, you will be on a road briefly.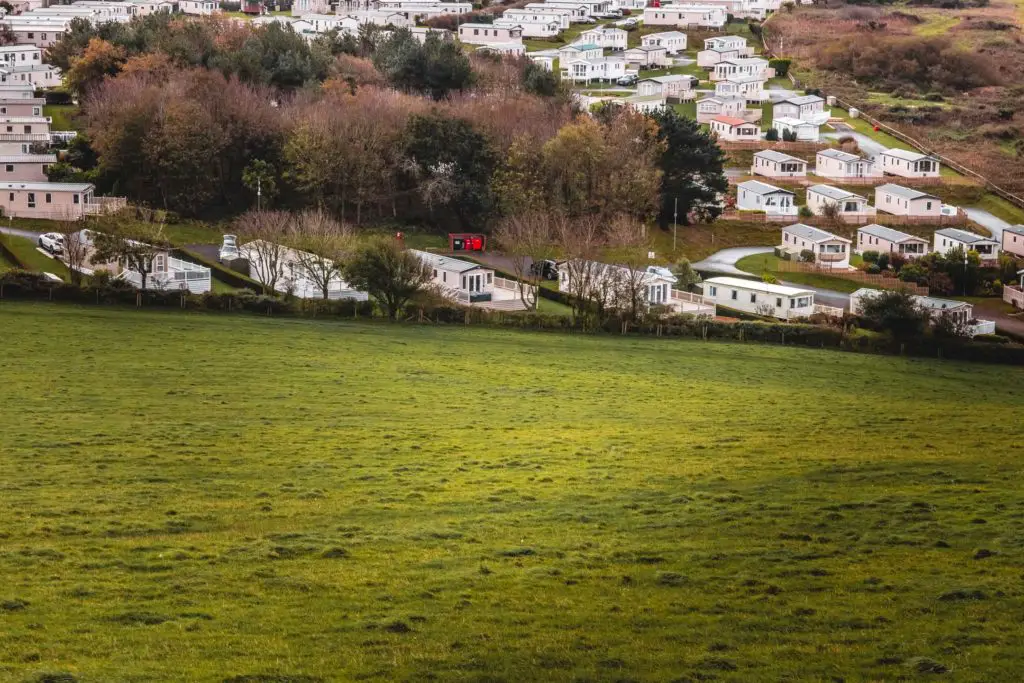 As you walk along, don't take the road going right down to the holiday park, but instead, cross over this road. The trail you want will be behind the hedge on the other side. Follow this trail right, and you will soon reach woodland.
(In my map you will see I accidentally went down the road, before coming back up. Don't do that)
The woods
As you walk along the trail, it takes you through a cute little bit of woodland, with a lovely view of Lulworth village to the left through the trees. You will also find some strategically placed picnic benches.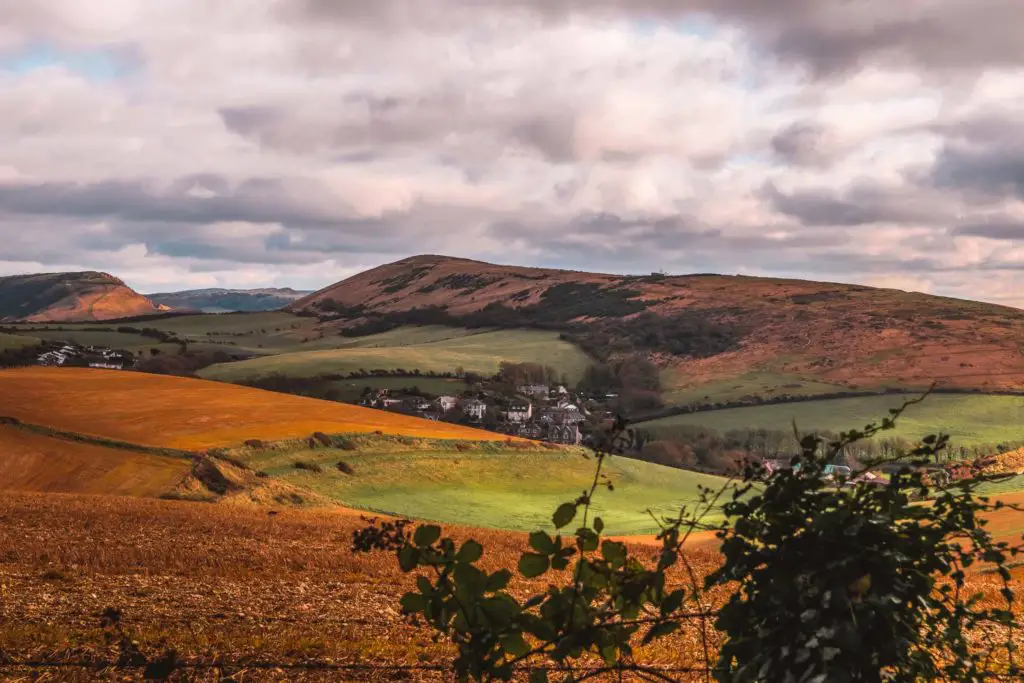 Once out of the woods, take the trail left and just continue following this as it takes you around the bottom of the big hill you walked up earlier. 
Warning: This bit can get mega muddy if its been raining recently.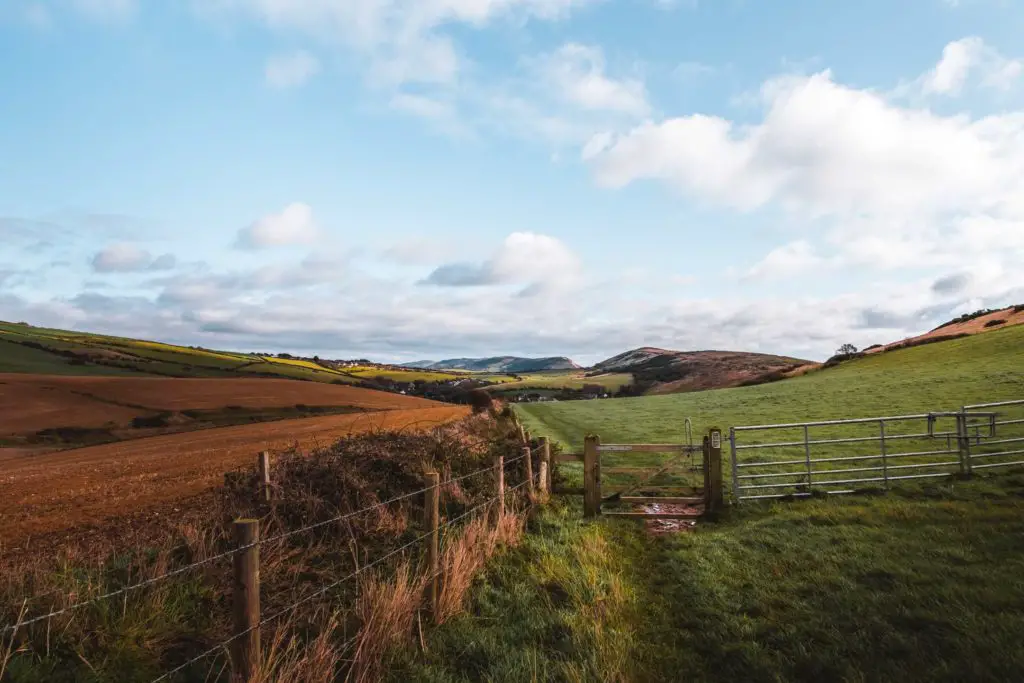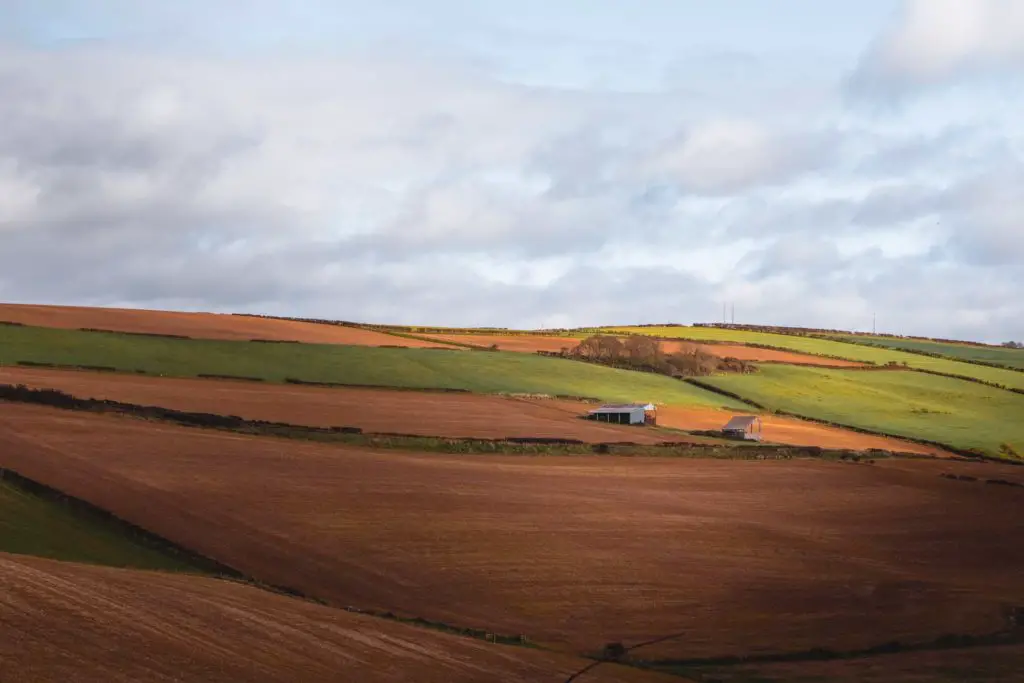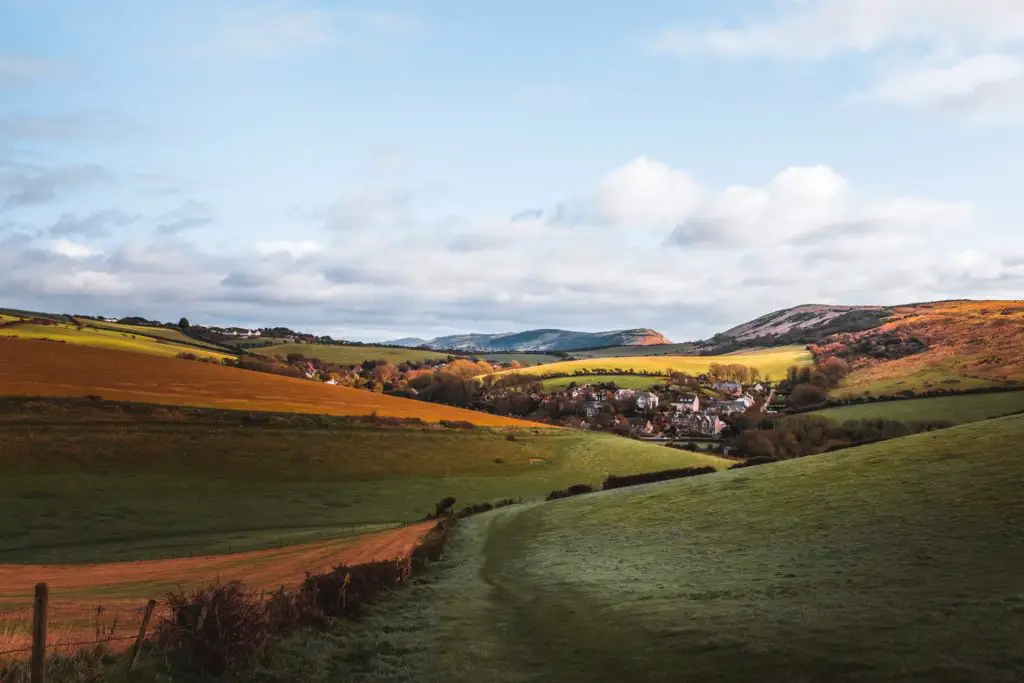 The last stretch of the walk back to Lulworth Cove from Durdle Door
As you curve around to the right, you will come across a sign post directing you to different areas of Lulworth. You can follow either as they all take you back, but if you stick to the trail you are on, it will take you back to Lulworth car park.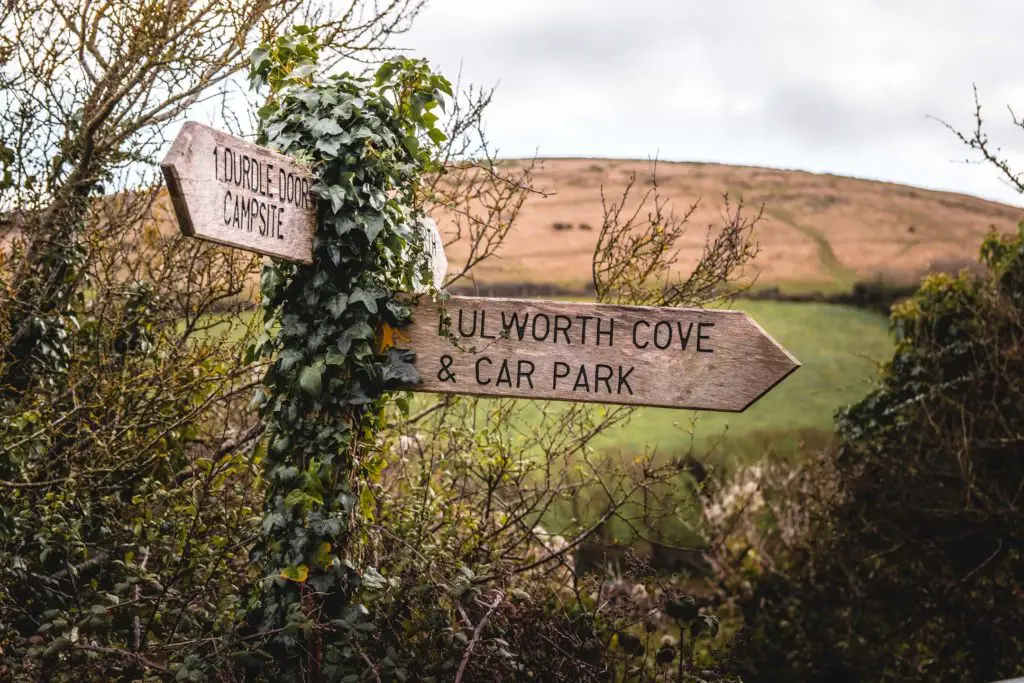 Other walks near Lulworth Cove and Durdle Door
Lulworth Cove is a small little village, but there are plenty of trails to walk on.
I mentioned earlier the alternate route up the big hill, Hambury Tout. It's not just a different trail to take to Durdle Door, but can also be a little 1 mile circular walk to do whilst in Lulworth Cove if you want great views but don't want to walk far.
After my walk to Durdle Door, I went and hiked a circular route to Mupe Bay and back to Lulworth Cove. It's absolutely gorgeous, with cliffy coastline goodness, and much less busy than Durdle Door.
If you would like to see another part of Dorset, then I highly recommend heading east from Lulworth, to try this 6.5 mile walk to Old Harry Rocks (can be shortened to a couple of miles – see post for details). It's in the Swanage, Studland area.
If you would like to take a dip in a tidal pool, then the walk to Dancing Ledge is the one. It's a 4 mile circular walk and nearby Swanage.
One of my favourites in Dorset is the walk along the coastline from Kimmeridge. It's a 10 mile circular walk but has some incredible views.
Another favourite if mine, is the walk from Lulworth Cove to Weymouth, passing by Durdle Door along the way. I haven't written about it yet. It's one I did it many years before I started this website. I intend to go back and properly track it and write about it.
For more walking ideas in Dorset, you can check out the Visit Dorset website.
Pin it for later: How to walk from Lulworth Cove to Durdle Door