The Seven Sisters cliffs walk, from Seaford to Eastbourne, is probably one of the most well known hikes that you can do as a day trip from London, and it's not hard to see why.
I have done this walk countless times, and the magnificent white chalk cliff views get me every time.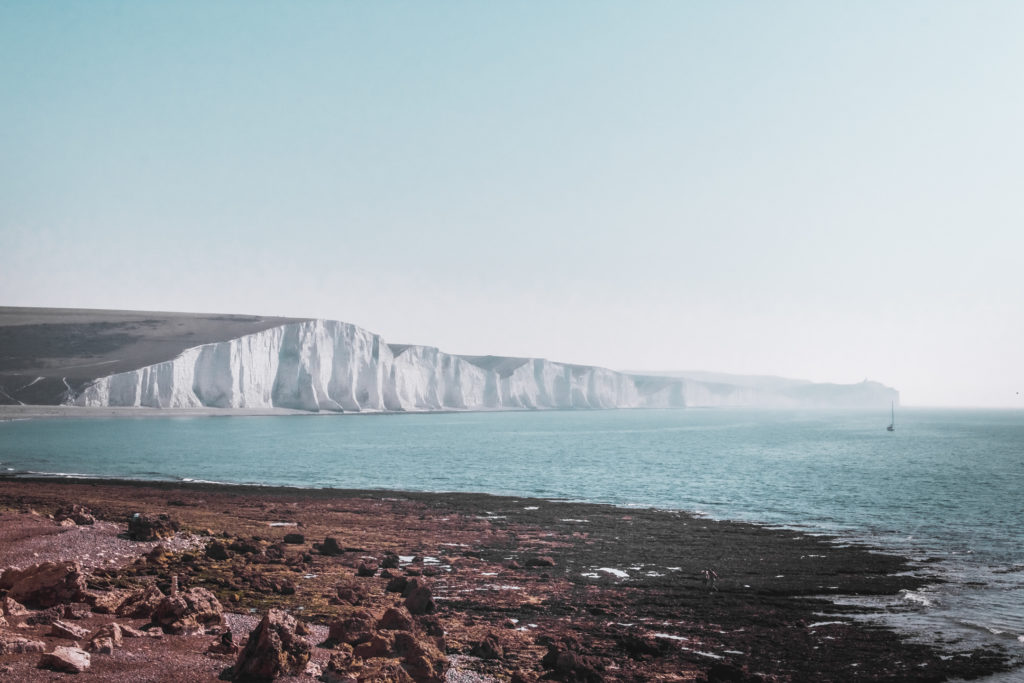 Also, the fact that you can get to the Seven Sisters cliffs from London in about 1.5 hours, makes it a perfect outdoorsy day trip hike. It's also extremely easy to navigate. In fact, it's impossible to get lost, and I challenge anyone to do so.
Read more: What to pack on a day hike
What I'm going to do in this guide, is first give you an overview of the Seven Sisters walk. I will then go on to describe the full route, with lots of photos. All distances I mention will be based on my walk on this day. You will find full detailed logistical information for the Seven Sisters cliffs walk, including how to get there, and an interactive map, as well as tips and safety information at the end.
This post uses affiliate links. You can read the privacy policy or disclaimer for more info.
Here are the different sections of this guide, if you want to jump straight to a particular bit: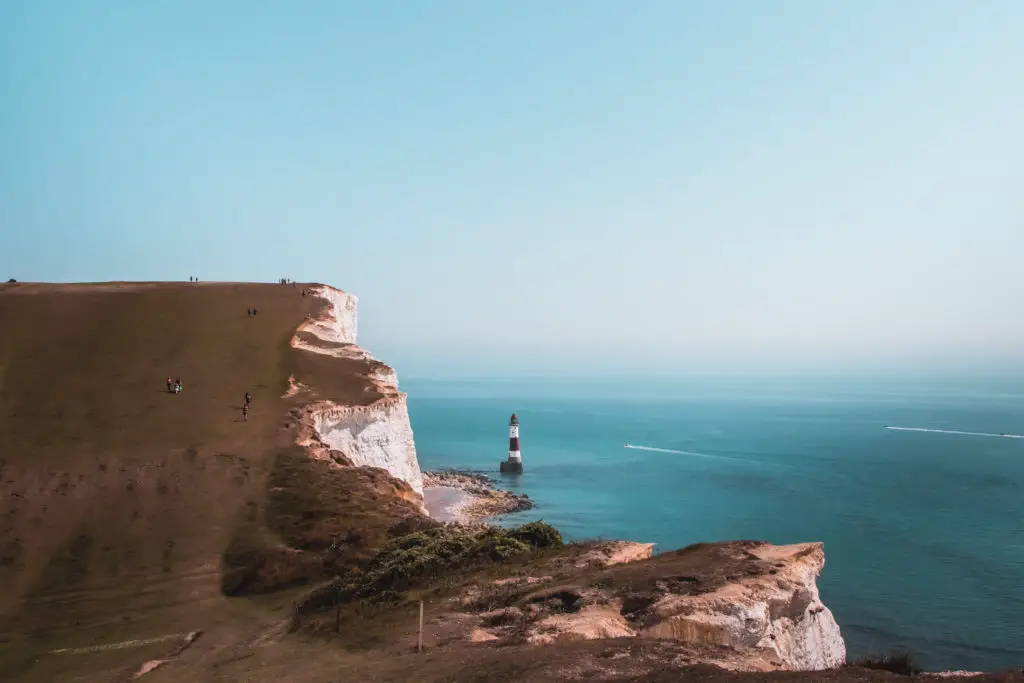 Why is it called the Seven Sisters?
Each sister represents a hill, although technically there is an eighth one. Plus, on either side of the Sisters Sisters cliffs, you will hike over a few extra hills.
Basically, it's very hilly. Although, the scenery is so draw dropping, that you hardly notice all the hills. Actually, you definitely notice, but somehow the beauty takes the edge off.
Fancy seeing the famous sisters from below? Why not try this boat trip which takes you all along the coast, where you will learn all about the history from local guides.
How long is the Seven Sisters walk?
The full Seven Sisters walk, is about 11-13 miles station to station (Seaford and Eastbourne). The difference in milage is down to wether you need to make a detour based on the tide level. I go into this in more detail later on. There are also a few options to shorten the route, which I will tell you about later in the guide.
Where are the Seven Sisters?
The Seven Sisters cliffs are within the South Downs National park, and forms a part of two walking trails. The England Coast Path, and the South Downs Way.
They are specifically located in the south east corner of the South Downs. If coming from London, you basically head south until you hit the sea.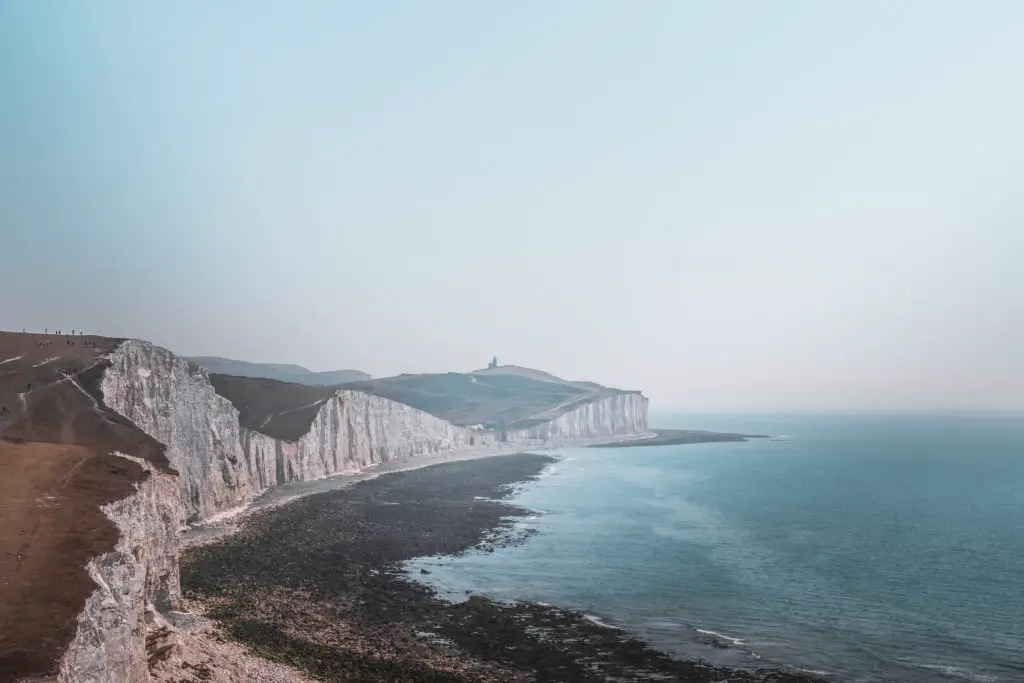 How hard is the Seven Sisters walk?
I would say that the Seven Sisters walk is moderate. Some may dispute that and say it's challenging. There are a bunch of hills, that really get your heart rate up, but they don't go on for that long. I would say that it's the length of the walk that makes it harder as opposed to the hills.
Which direction should you walk the Seven Sisters cliffs?
The most popular way to walk the Seven Sisters cliffs, is from Seaford to Eastbourne. Having walked both ways, I prefer this direction. The views are just a little bit better that way (in my opinion).
That's not to say the other direction is bad, it's just a slightly lower level of amazing.
Also, if you start the walk from Seaford, you get to the Seven sisters cliffs pretty quickly, however, from Eastbourne, you have a bit of a walk….actually, a very long walk.
Why I wanted to go and hike the Seven Sisters cliffs again…
I have hiked the Seven Sisters cliffs more times than I can count….all before I started this website. I have been wanting to write a guide about the Seven Sisters cliffs walk for a while, however, I didn't have many photos to show you its beauty.
So, a couple of weeks ago I went and walked it again, just for photography purposes….but also, any excuse to see the cliffs again.
The day I returned to the beautiful coastline was to be the hottest August bank holiday Monday EVER. I was strategic for this walk (maybe for the wrong reasons)….
I planned it so that for half the walk, the sun would be in front of me, half the walk behind. You know, so I could even out sun exposure (cough, tanning).
However, I failed to think about the fact that this would also be the worst photography conditions, the middle of the day and harsh sunlight, the main reason I was actually doing this walk.
Although, I wasn't too sad. The walk is good enough that I can forgive that. But man I had some real hard work when it came to the photos…They were almost unusable. The only way around it was to take some creative liberties with some of the colours in editing.
Anyway, let's get into the good stuff.
---
Route Guide for the Seven Sisters Cliffs Walk: Seaford to Eastbourne
Once out of Seaford train station, take a right and head to the sea. It's only a 5min walk. You will pass a supermarket, giving you a chance to get any supplies you may have forgotten. Once you reach the shingle beach take a left, and you will get your first grand white cliffs view. Seaford Head.
Now walk towards these cliffs. From here on out, you will be walking with the sea to your right for the whole way. I started my tracker once I reached the beach. All distances mentioned from now will reflect that.
Seaford Head will be your first uphill, and as you reach the top you get great views back over Seaford.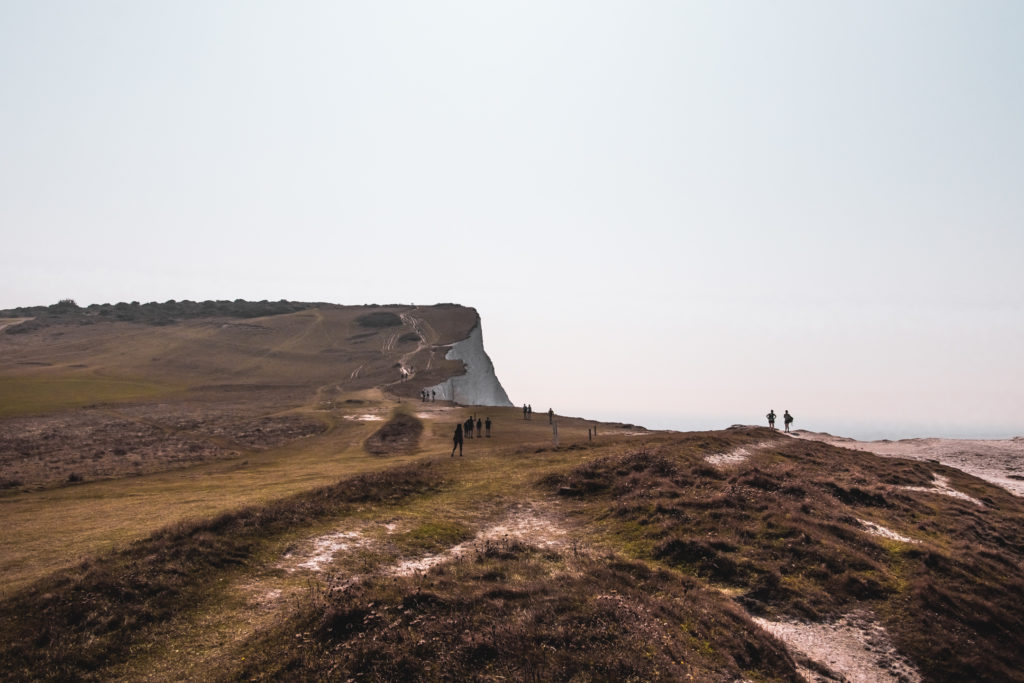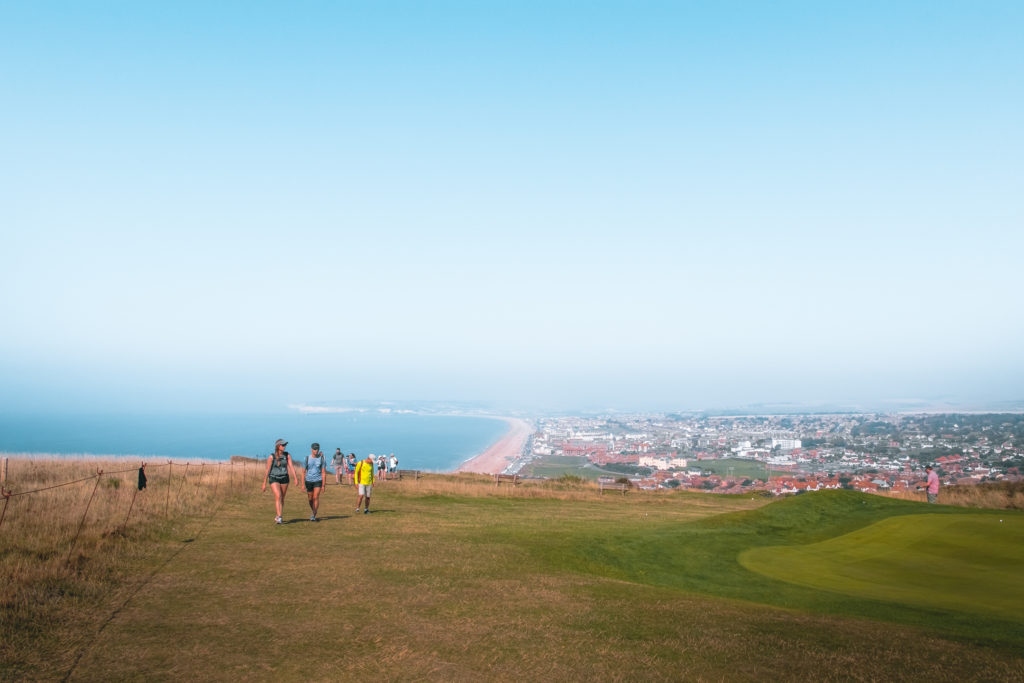 Next, you will walk past a golf course (walking past golf courses seems to be the standard for any great walk in England), before getting your first glimpse of the magnificent Seven Sisters cliffs.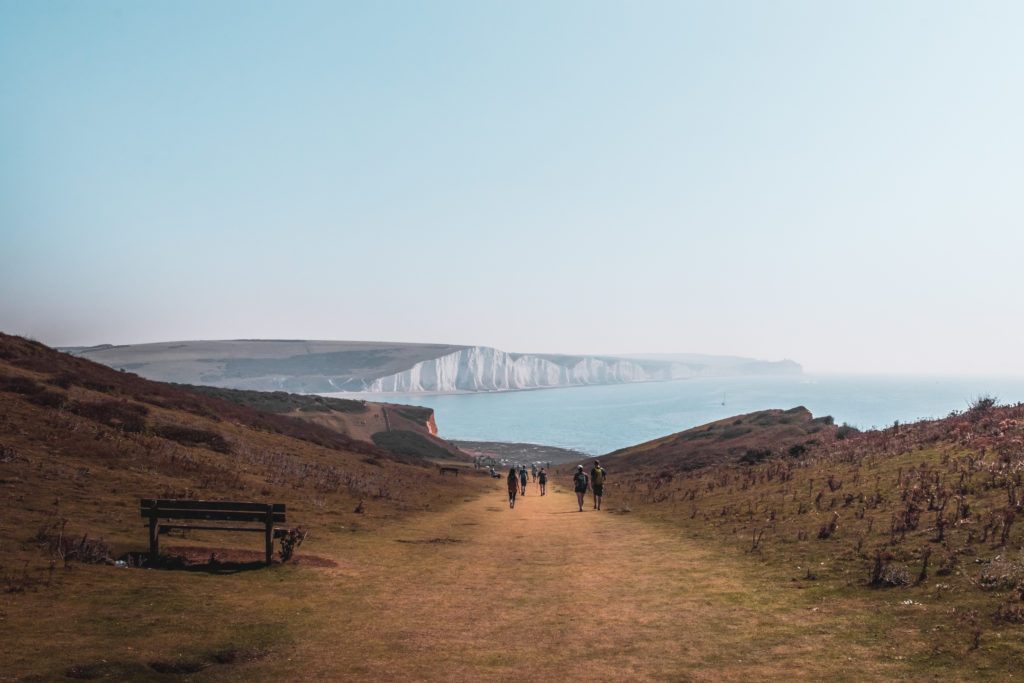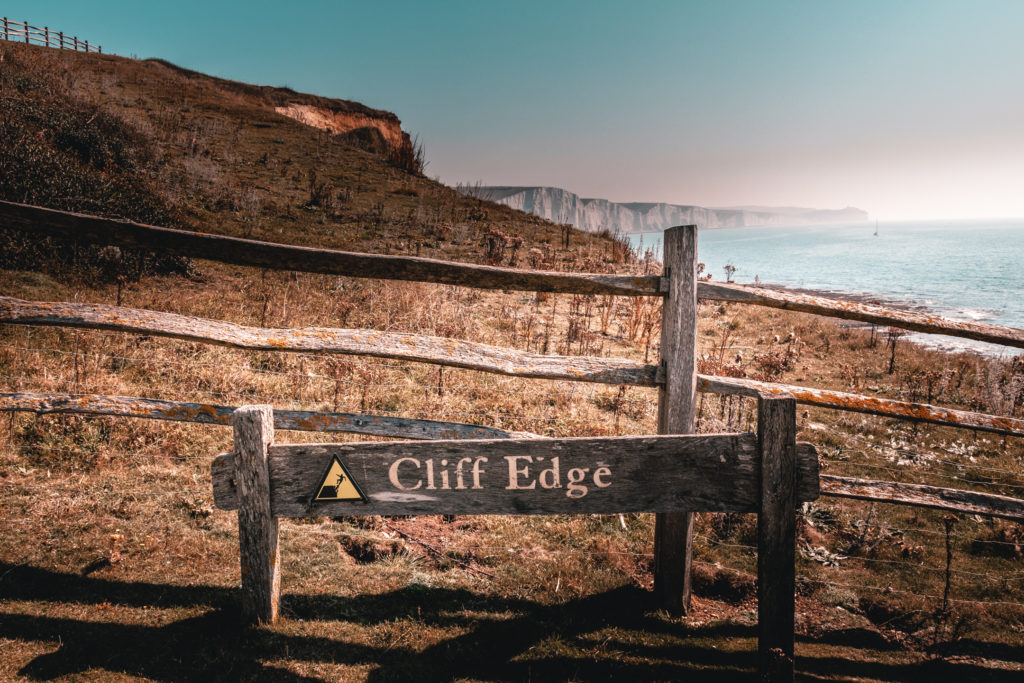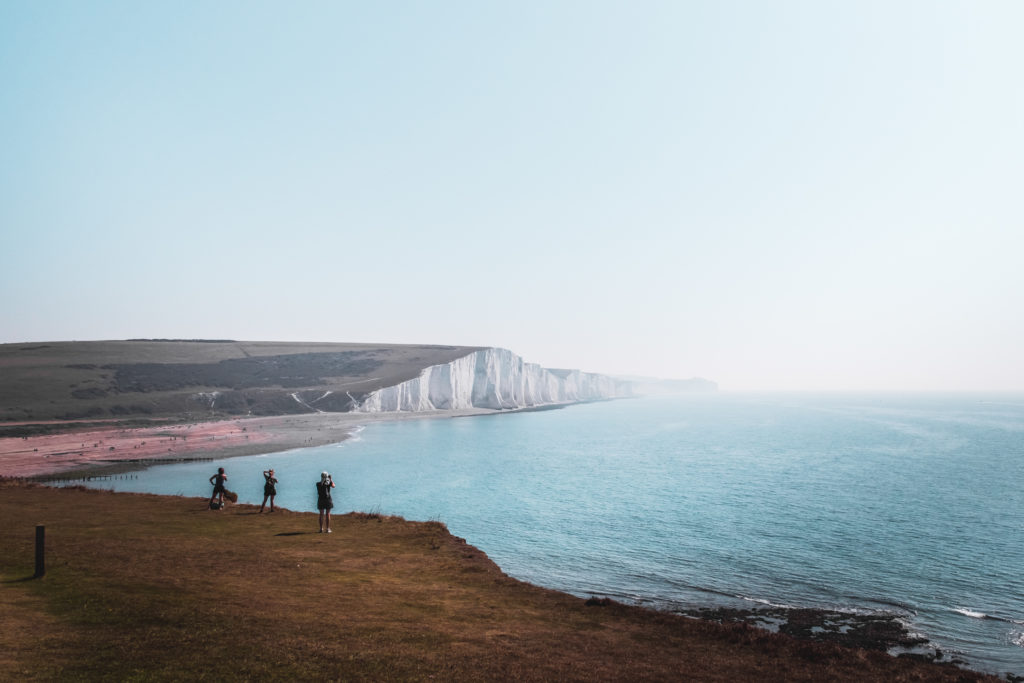 Fun fact: The Sisters Sisters cliffs are often used as filming locations as a stand in for the famous white cliffs of Dover, as they are free of any modern development. 
Cuckmere Haven – 2.7 miles
Next you will reach Cuckmere Haven, which is a valley where the South Downs meets the sea. This is where the Seven Sisters cliffs start.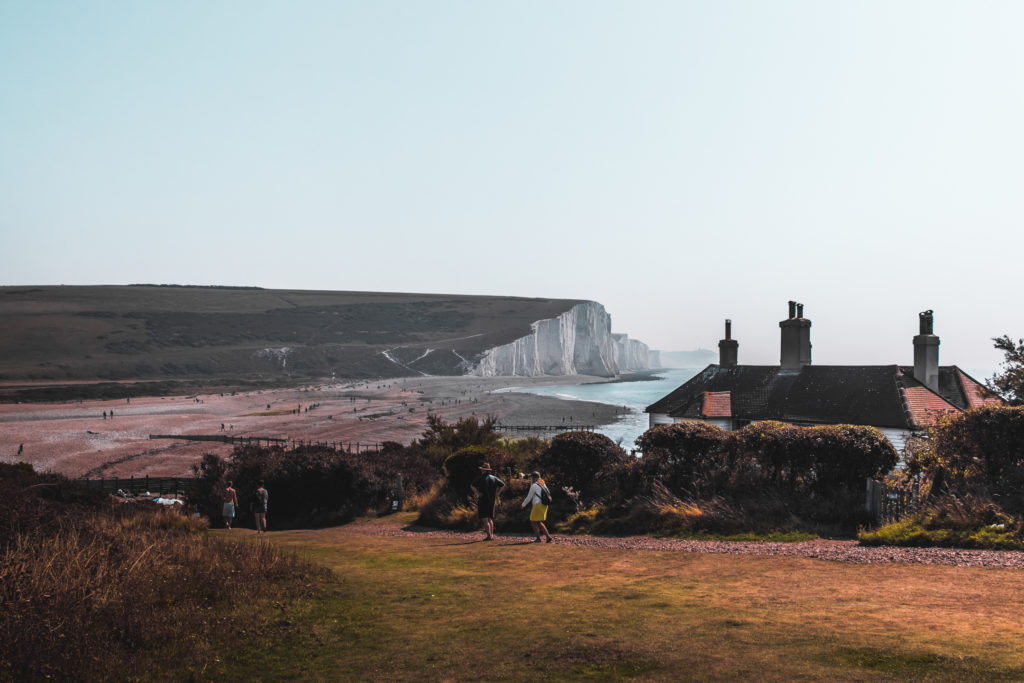 But first off, you need to navigate the Cuckmere River. At low tide, it is possible to walk straight to the cliffs start. If you catch it right, you won't get wet. Otherwise, you can walk through the low river.
When the tide is in, unless you want to get mega wet, you must walk inland along the river towards Exceat, through the Cuckmere valley, to reach a bridge crossing. Then walk back along the Cuckmere river on the other side.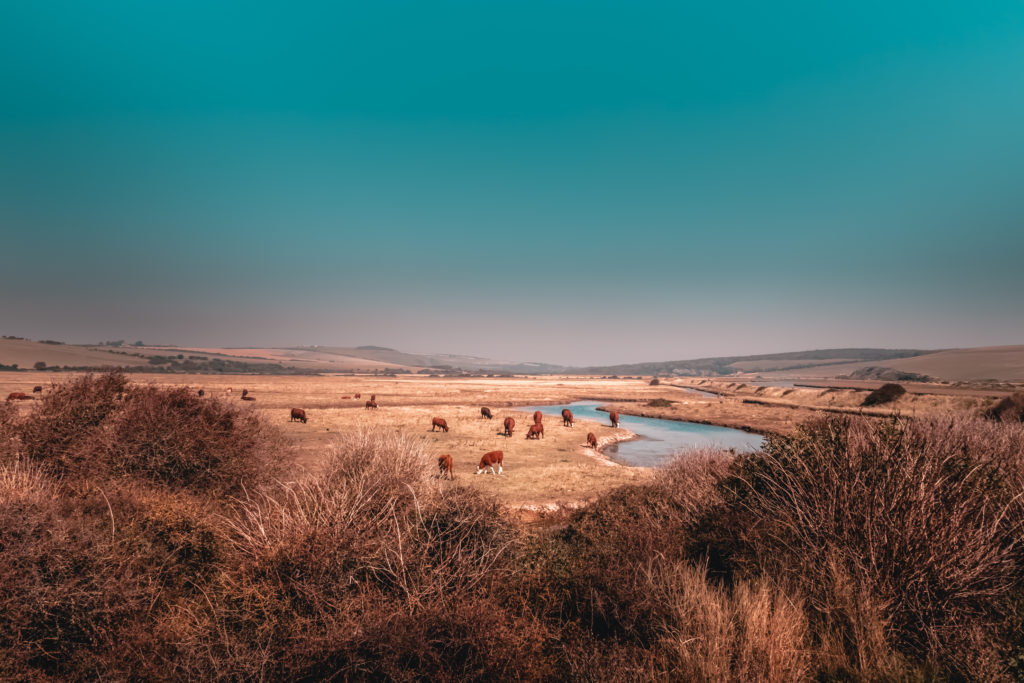 It does make for an interesting change in scenery. You will pass fields with grazing cattle and sheep. Even some canoeists in the river.
It does, however, add quite a bit to your walking distance (about 2 miles). If you don't fancy the extra walk, then try and time it so you get here for low tide…..or be prepared to get very wet.
I didn't check the tide times, so was prepared to have to walk through the river. I had no time for walking inland. Turns out the tide was way out.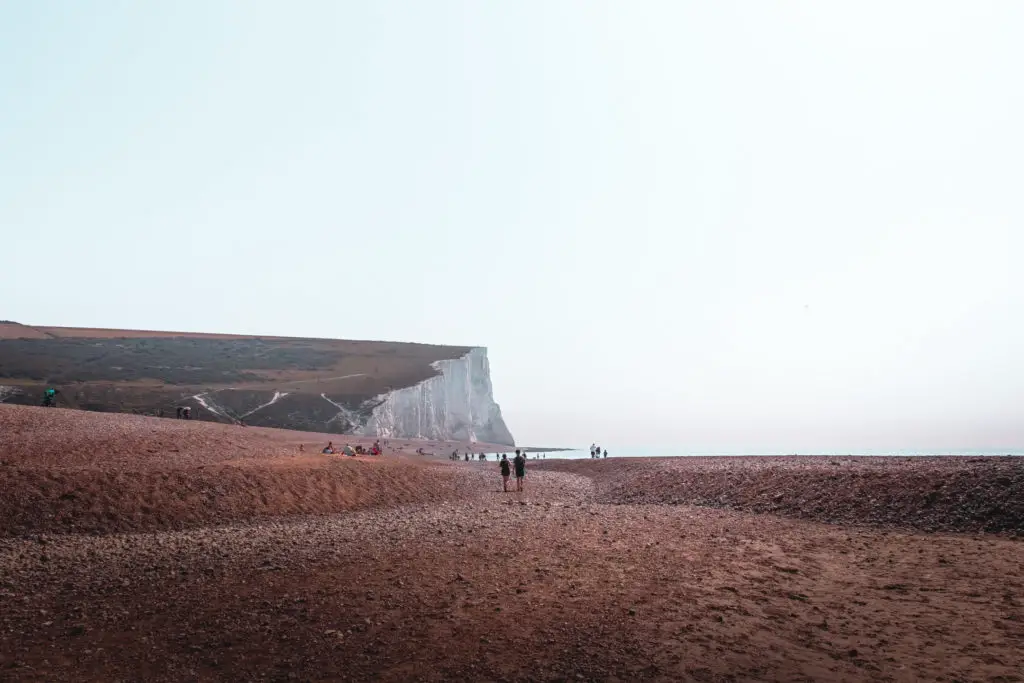 The only downside to the tide being out, is you have to walk across the shingle of death to reach the Seven Sisters cliffs.
A few fun facts….
Fun fact: Cuckmere Haven has been used as a filming location for a number of shows and movies inducing Robin Hood and Atonement. 
Even more fun fact: At low tight you can see part of a German sailing ship wreck.
Extra fun fact: This area was very popular for smugglers between the 16th and 18th centuries.
You have the option to start or stop your walk from here, via the local village of Exceat where there are bus links. It's slightly inland, and you can reach it by following that river I talked about.
You can read more about the area on the National Trust website.
Begin the hike up the Seven Sisters
As you hike up the first sister, it is quite steep, and could be slippy if your shoes don't have good grip.
At the top, take a look back for a great view back over the beach and the Cuckmere Valley.
This is also where the trail becomes part of the South Downs Way.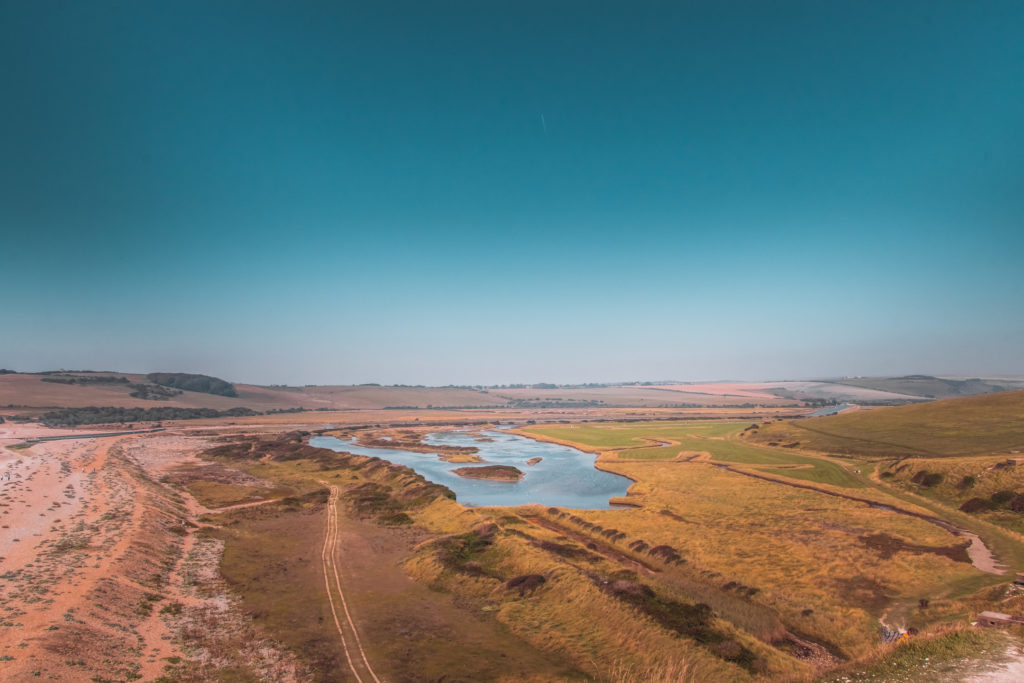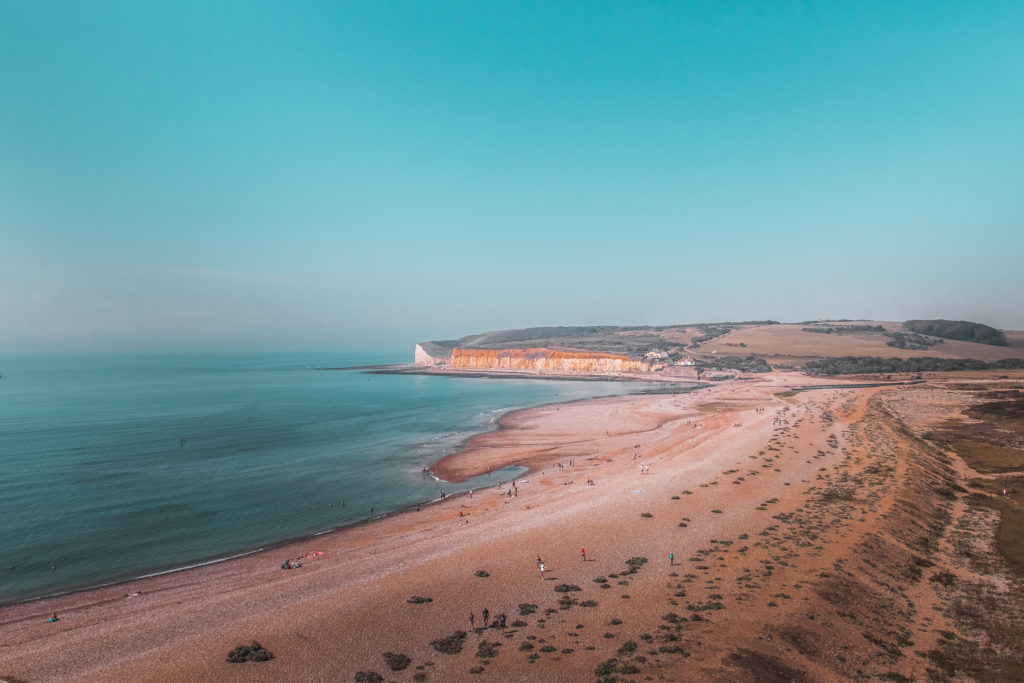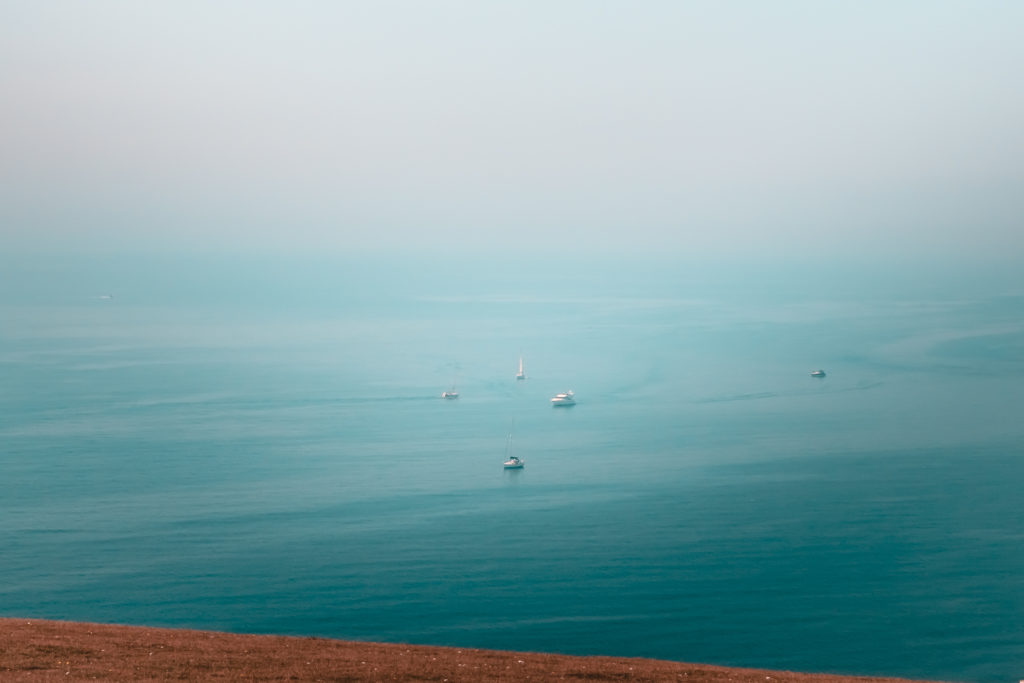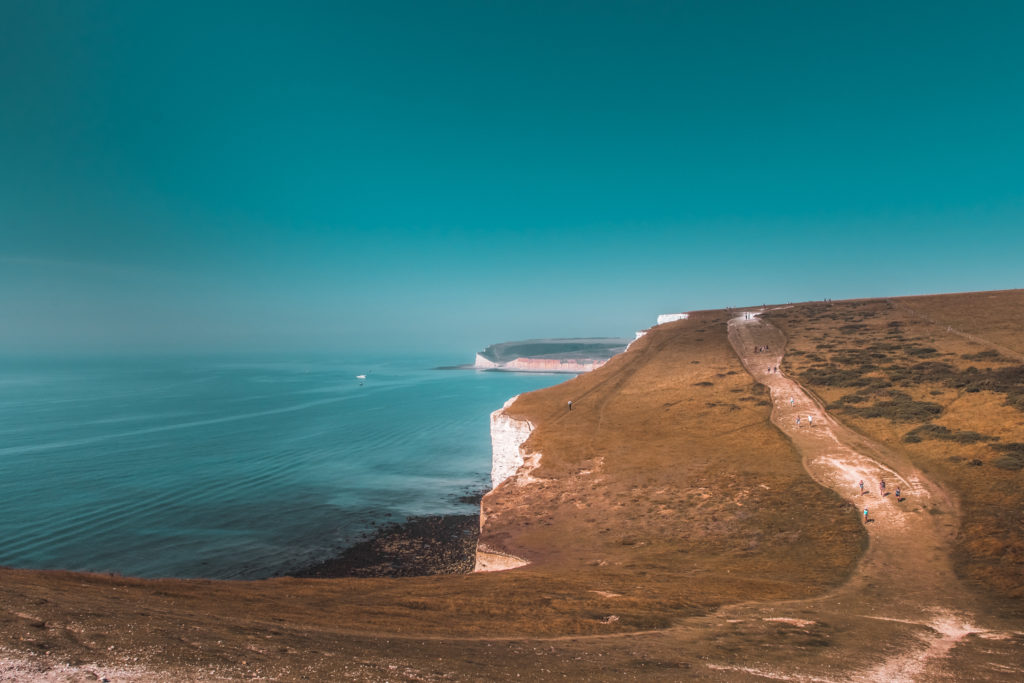 Just a note, the best views of the cliffs are actually either side of them. When you are walking on the Seven Sisters cliffs, you can't see them because, well, you are on them.
The views are still pretty cool though. A vast green undulating landscape, almost velvet like, with people ahead, so small they look like ants and their silhouettes on the horizon.
Birling Gap – 5.5 miles into the walk
(7.5miles if you took the detour at Cuckmere Haven)
Birling Gap, the next stop in the walk, is a coastal hamlet marking the end of the seven sisters. The area is owned by the National Trust and offers a tourist centre, cafe, beach access, toilets, a car park, and transport links.
As such this is the most busy section of the Seven Sisters walk.
If you want to escape the crowds, just continue walking past, along the cliffs. Most people arriving at Birling Gap will hang around in the area or the cliffs either side.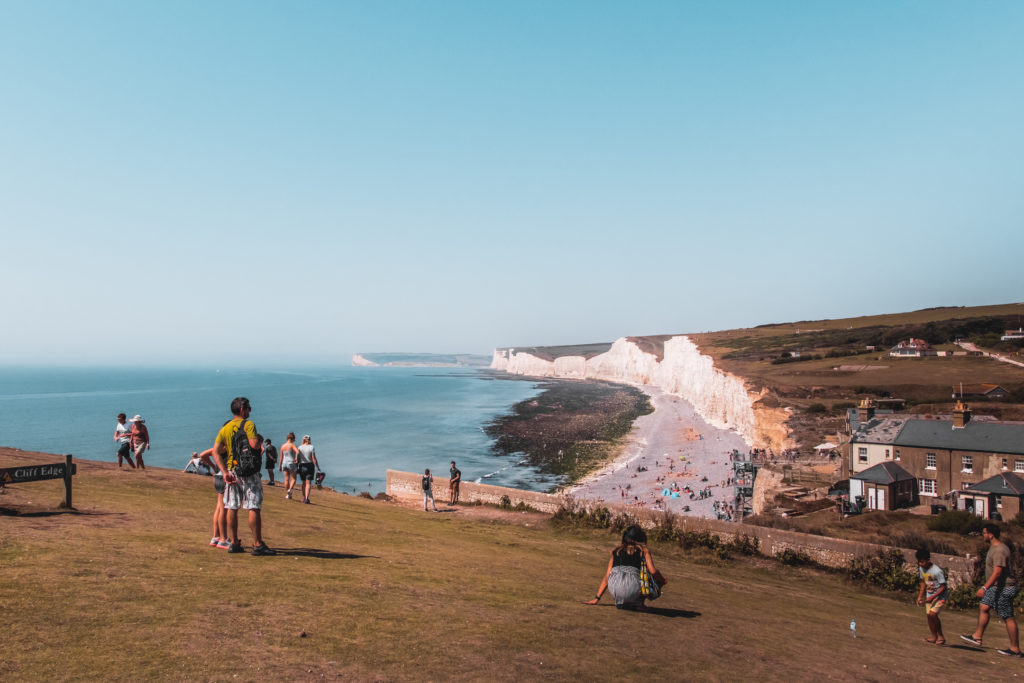 This is actually a good spot if you would like to have a break and eat or drink at the cafe, or even head to the beach.
There are bus stops here, so you have the option to stop or start the Seven Sisters hike at this point. If you choose to start here, then you could tie it in with a hike through Friston Forest.
This might be the end of the Seven Sisters, but it's not the end of the walk…..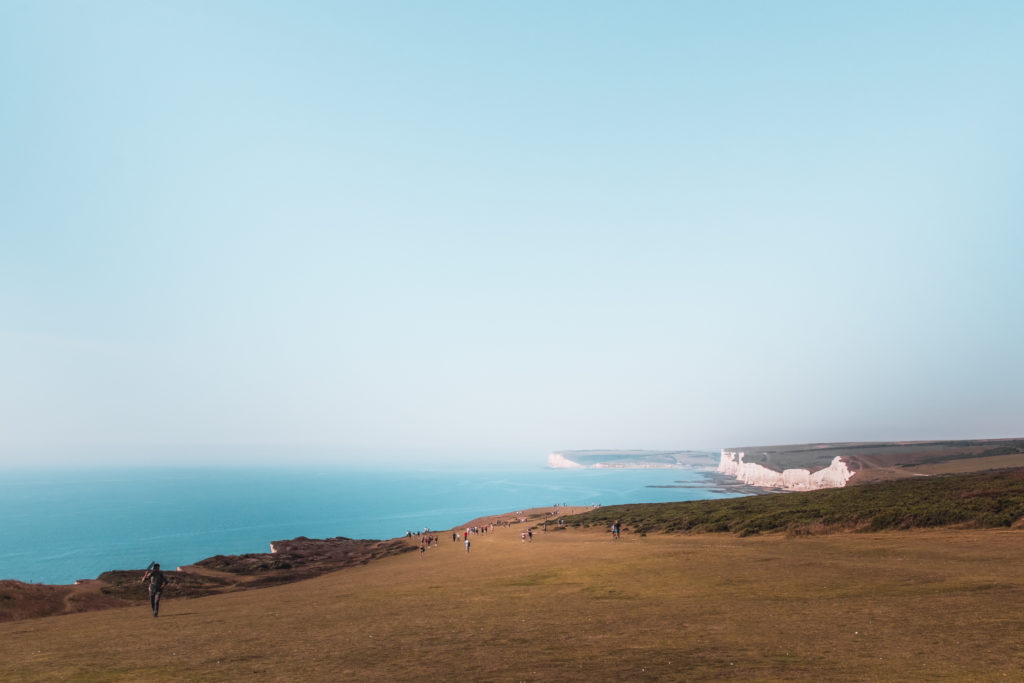 Belle Tout lighthouse
Next you will reach The Belle Tout lighthouse, which has had an interesting life. It was built in the early 1800's, however, its location meant that it was frequently covered by the clifftop fog.
So it wasn't very good at doing its job of warning passing ships. As such, it was decommissioned in the early 1900's.
It then became a family home and tea house, was almost destroyed during WWII, then got bought by the BBC as a filming location.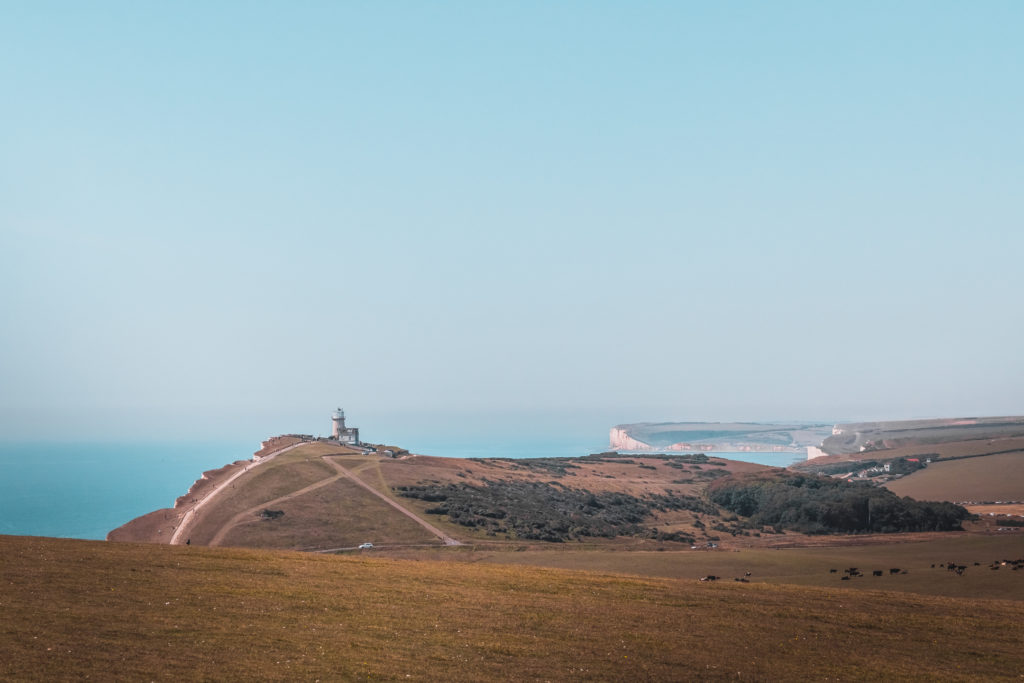 Due to the cliff erosion it was in danger of falling into the sea and in 1999 was moved back 17 meters from the cliff edge.
It now has new owners who have converted it into a bed and breakfast.
How perfect would that be? Spending the night in a lighthouse. Waking up overlooking the sea and grand white cliffs in morning mistiness. Going for a little sunrise walk along the Seven Sisters before coming back for breakfast. This place is officially on my wishlist.
Note: I have been trying to stay there but it's always booked out.
Beachy Head – 8 miles
(10 miles with the detour at Cuckmere Haven)
The next stop in the walk along the coastal path, is Beachy Head. This place is the stuff of poetry…I mean that literally. Poems have been written about it. The area has also featured in film and television including Harry Potter, James Bond and Black Mirror.
Fun fact: At 162m above sea level, it is the highest chalk sea cliff in Britain. 
In the early 1900's, Eastbourne bought the surrounding land to save it from development….this makes me very happy.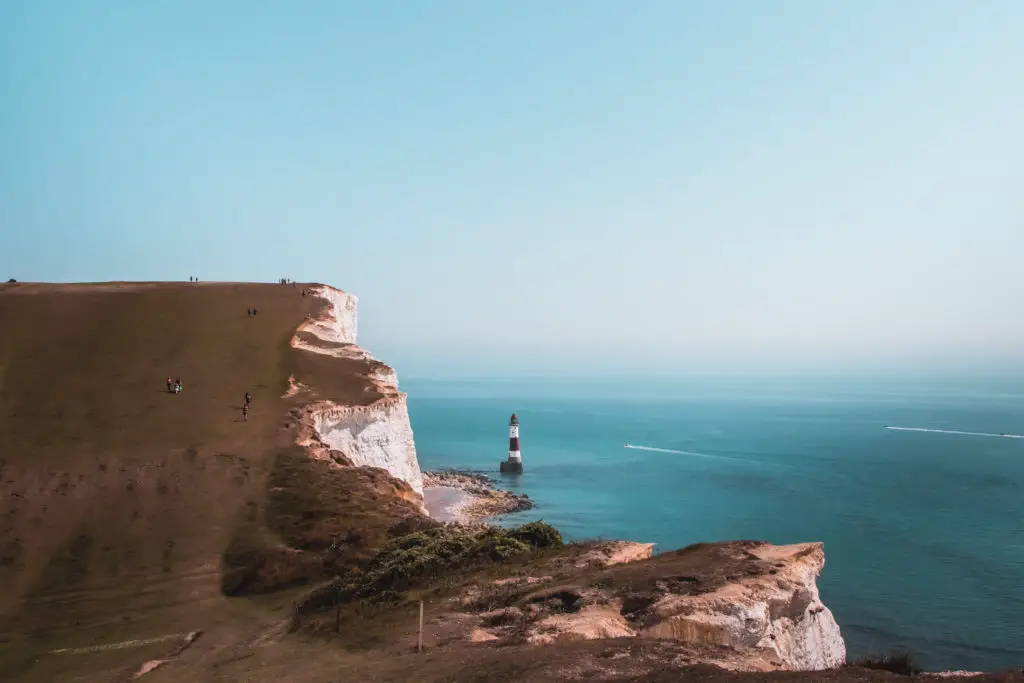 Here you have the cute candy cane coloured Beachy Head lighthouse. Seems rather tiny in comparison to the looming white cliffs. 
It was built in the early 1900's to take over lighthouse duties of the Belle Tout lighthouse.
Fun Fact: It wasn't always red and white stripes. Originally, it was granite colour, then a black stripe was added, then finally the red stripes to make it more visible in daylight to passing ships. 
Beachy Head marks the eastern gateway to the South Downs National Park, but also the end of the cliffs walk (or beginning, depending on which way you go). But you still have a little way to go…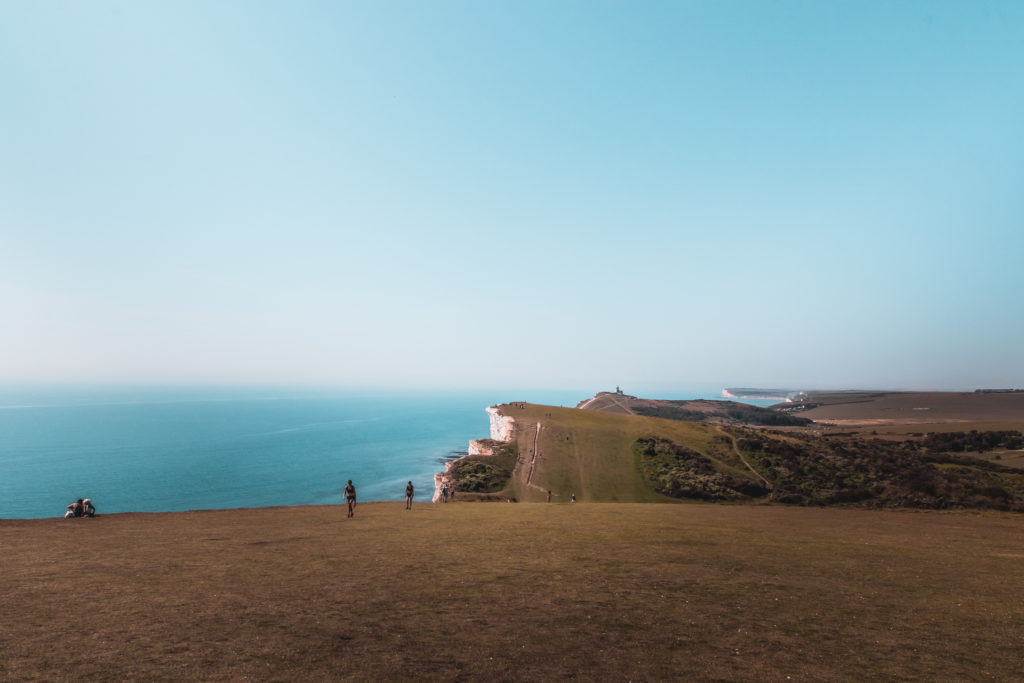 Reaching Eastbourne town
The landscape will now change, featuring a lot more flora and fauna. During summer, the flowers were on show in all their purple and pink glory.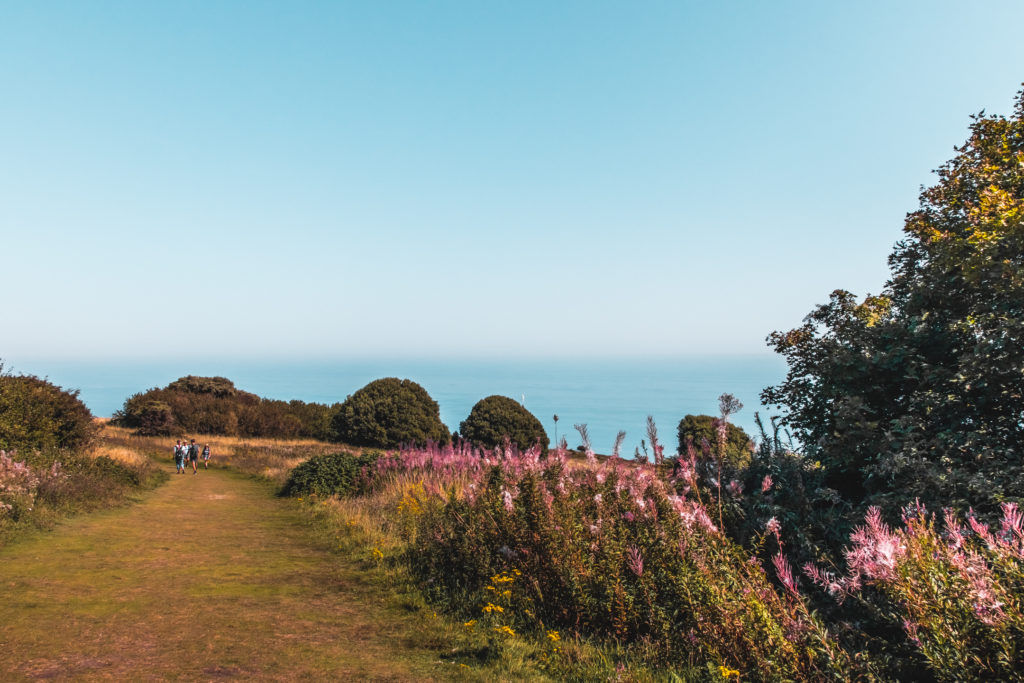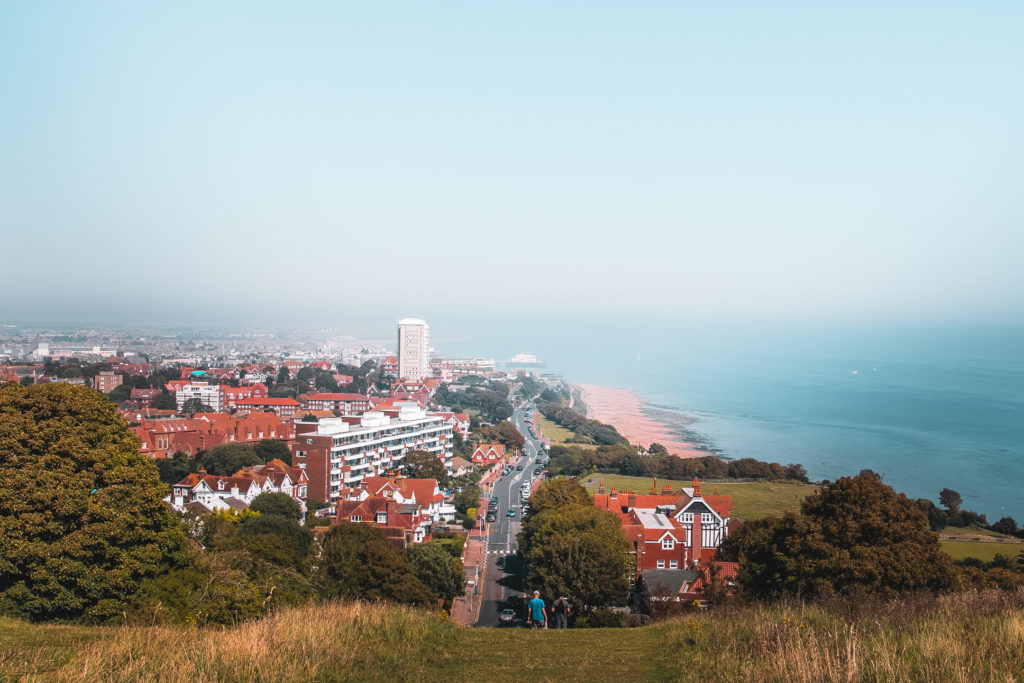 From now on, it's pretty much downhill until you exit the National Park, into Eastbourne town.
I must warn you, from here it is about 3 miles walk to actually reach the station, and can feel never ending. However, if you stick to the coast, you get some wonderful views back towards the cliffs. 
Logistics for the walk from Seaford to Eastbourne along the Seven Sisters
Start: Seaford
Finish: Eastbourne
How to get there: The Seven Sisters cliffs are easily reachable from London for a day trip hike, by both public transport and car. See below for more details.
Distance: 13ish miles station to station, 11ish miles if you don't take the detour at Cuckmere Haven.
Options to shorten the walk: You can access the walk (with bus links) between Seaford and Eastbourne via Exceat (Cuckmere Haven), Birling Gap and Beachy Head.
Time: Allow at least 4 hours station to station. Longer if you plan to stop lots and go at a leisurely pace. I've been researching online at how long other people walk the Seven Sisters in. The majority seem to advise 7 hours….It's never taken me anywhere near this long. But to be safe, allow a full day for the trip.
Total elevation gain: With all the ups and downs you will have walked uphill nearly 500m.
Terrain: Grass, dirt trails, pavement, concrete, shingle. Very hilly.
Difficulty: Moderate. If you are a regular hiker, then the Seven Sisters will be easy for you, if you don't do much hill walking then it will be slightly more challenging. 
Amenities: There are a few places you can eat along the Seven Sisters walking route, the Cuckemere Inn, Birling Gap Cafe, and The Beachy Head. There are public toilets next to each of these locations as well. Jump to places to eat.
How to get to the Seven Sisters Cliffs
By train
The Seven Sisters hike is the perfect route to do using the train, because it starts and finishes at a station.
Seaford and Eastbourne (the beginning and end of the Seven Sisters walk) are both on the Southern train line.
If coming from London, there are trains from London Victoria and London Bridge to Seaford. You will have to do one change (usually at Lewes), then from Eastbourne, you can get a direct train back to London Victoria or London Bridge.
If coming from Brighton, there are direct trains to both Seaford and Eastbourne, as well as indirect ones, with a change at Lewes.
What ticket to get: You should buy a return ticket to Eastbourne, and a single* from Lewes to Seaford. This will cover your return journey from Eastbourne, and your outward journey as far as Lewes, then the single ticket will cover you from Lewes to Seaford.
*I've always wondered whether a return ticket to Eastbourne alone will suffice. You are allowed to break up your journey anywhere along the route of travel. However, Lewes to Seaford isn't along the London or Brighton to Eastbourne route. But then again, they are on the same train line. One day I will ask a train person and let your know.
By car
Whether you start the walk in Seaford or Eastbourne, you will either need to get the bus to take you back, or make this a serious hike along the Seven Sisters, and walk back. Walking back isn't unheard of though. In fact, it has a name…the 14 Sisters. For this, you don't want to walk the full station to station distance though.
If starting from Seaford, walk as far as Beachy head, then turn back.
If starting from Eastbourne, walk as far as Cuckmere Haven then turn back. I would actually recommend continuing a little past Cuckmere Haven and up the hill. The views are really good from there.
You can also park in Exceat, and walk along the river to reach Cuckmere Haven, which gets you straight onto the first of the Seven Sisters cliffs.
Birling Gap and Beachy Head also have parking.
If getting the bus back to your car, the number 12X runs between Seaford, Exceat, and Eastbourne Monday-Saturday. 13X runs on Sunday (limited service). This is the only one which goes via Birling Gap and Beachy Head. You can plan your bus journey on the Brighton and Hove website.
Parking for the Seven Sisters
Seaford parking – Richmond Road car park, Post Code: BN25 1DB. West Street car park, post code: BN25 1EE. Saxon Lane car park, post code: BN25 1QL.
Exceat parking – Seven Sisters car park, post code: BN25 4AD.
Birling Gap parking – Birling Gap and the Seven Sisters car park, post code: BN20 0AD.
Beachy Head Parking – Beachy Head West car park, post code: BN20 7YA. If this one is full, there are a few others along this bit of road.
Eastbourne parking – Eastbourne has so many car parks. The nearest one to reach the start of the Seven Sisters walking trail, is Wish Tower car park, post code: BN21 4DR. Or you can take a look at all the options here.
---
Map for the Seven Sisters Cliffs Walk
Without the detour at Cuckmere Haven
---
With the detour at Cuckmere Haven
(note, I stopped the tracker before getting into Eastbourne centre in the second map. You can just follow the signs when there).
---
Tips for Walking the Seven Sisters Cliffs
I advise not walking next to the cliff edge (see next section on safety).
Take plenty of water and snacks.
Wear sunscreen, and reapply.  The worst burns I ever got were on this walk, a few times back. It wasn't particularly sunny, in fact, it was an overcast day. And I WAS wearing sunscreen. Reluctantly though, it was only because the people I was with insisted on it. My mistake was that I didn't use a high factor (I refused) and I didn't reapply. 
Hiking boots are not essential, but I do recommend at least wearing shoes with good grip. The first of the Seven Sisters you hike up is quite steep, and slippage could happen if you aren't careful. 
Disclaimer: If you chose not to wear hiking boots, then I will not be held responsible if injury occurs. There. Just need to cover myself. You never know these days.
---
Safety when hiking along the Seven Sisters cliffs
So, I'm going to be honest, when I first visited the cliffs I didn't realise how dangerous it was to go close to the edge. I'm talking specifically about cliff erosion. I definitely got way to close thinking the only danger was me losing my footing, not the fact that the cliffs could crumble under me. There are lots of signs warning you not to go too close to the edge but I figured that was more to prevent user error. 
The cliffs are very unstable. Someone pointed out to me, if you look ahead at the cliffs, you can even see cracks in them where they are at risk of crumbling. 
Here is video footage of that happening. There have been a number of fatalities, of people falling over the edge.
Also, be careful If you chose to go down to beach level and walk under the cliffs, as you will be at risk of falling rocks. Don't be scared though, it's absolutely fine to walk along the Seven Sisters cliffs…Just keep away from the edge.
---
Swimming on the walk between Seaford and Eastbourne
When walking from Seaford to Eastbourne, there are a few options if you would like to take a dip in the sea. 
First off you have the shingle beach at Seaford. 
Your second option is at Cuckmere Haven, also a shingle beach. 
Next, you can get in at Birling Gap. More shingle.
Finally, at Eastbourne, you have a long stretch of, you guessed it, shingle beach.
Yes. A lot of the south coast of England is made up of shingle beach….my least favourite walking terrain.
---
Seven Sisters Tours
If you don't want to walk the full Seven Sisters, then there are a few different tours you can do which take you to the highlights, both on land or by sea.
Seven Sisters boat trip: This is a small group boat tour on a luxury Italian boat, giving it a more VIP vibe. It will take you along the bottom of the Seven Sisters, with information about the history. The boat drivers are a brother and sister who are locals to the area, and have a blood line dating back to the most famous smuggler. You can find out more, and book your ticket here.
Seven Sisters full day experience from Brighton: This is a small group trip of just 6 people, taking you by minivan across the South Downs. Stops include, the Seven Sisters, Devil's Dyke, the Long man of Wilmington, and Seaford Head. You can find out more and book your ticket here.
Seven Sisters full day experience from London: This is also a small group tour, taking you to the same sights as the tour from Brighton, but you will be picked up from London.
---
Where to eat along the walk
If you take the detour inland at Cuckmere Haven, you can stop at the Cuckmere Inn, which is a local country pub. Opening time are all day on weekends, and 11:30 – 21:30 on weekdays.
If you head a little further into Exceat (which is slightly off the Seven Sisters walking route), you have the Saltmarsh Farmhouse and Cafe. This is a cosy, rustic cafe, in a 16th century farmhouse. It's mainly a boutique bed and breakfast, but the cafe and kitchen are open daily to the public from 10am
Find out more, and read the reviews for the Saltmarsh Farmhouse Cafe on Tripadvisor.
At Birling Gap, you have a cafe which is run by National Trust. Here it's more your cakes, sandwiches, pastries, and other quick bites, as well as tea and coffee etc. It is open every day from 10am-5pm.
Read the reviews for the Birling Gap cafe on Tripadvisor.
At Beachy Head, you can stop for food and drink at 'The Beachy Heady'. That's its name. It's a country pub and restaurant. Opening hours are all day on weekends, and 11:30 – 22:00 on weekdays.
Next to The Beachy Head, is the Cadence Cycle Club cafe. This is more of a food shed, which serves hot drinks, sandwiches, pastries, cakes etc. It's open from 8am-4pm on weekends, and 9am-3pm on weekdays.
---
Other cliff walks I recommend along the South East Coast
If you want more white cliff goodness, then I recommend heading east towards Dover. You could walk from Folkestone to Dover, or from Dover to Deal, both featuring white cliffs and hill walking. 
If you want to see the Seven Sisters Cliffs without the massive hike, you could try the Birling Gap to Friston Forest circular.
If you want some white cliffs without the hills, then you could walk the section just west of Seaford from Newhaven to Brighton. Or head to North Kent to do Margate to Ramsgate. Both of these walks have under cliff paths. The white cliffs are slightly less mighty though.
Other walks near the Seven Sisters
You could try out some more sections along the South Downs Way. The one before the Seven Sisters hike is Southease to Seaford. If you are feeling energetic you could tie it together with the Seven Sisters for one mega hike. 
Or a bit further back you could try Hassocks to Lewes, and Lewes to Southease. Both featuring the gorgeous rolling hills of the South Downs, village views down below, and lots of cows and sheep.
Pin it for later: