Last Summer I decided that I would walk the length of the North Downs Way. I did one section and then got distracted by other walks. The North Downs Way got buried amongst my list of things to do. Well, I have finally decided to get on and do it. The section I chose to walk today (actually last weekend) was from Farnham to Guildford (as the title suggests).
Way back when I first decided to do the trail, I had no particular structure in mind, but rather I would randomly pick sections based on my mood. Well, I have decided to change tactics and do it all in order, which is what brings me to Farnham. Farnham being the start of the North Downs Way. 
What was the walk from Farnham to Guildford like?
It was a mix really. During the start of the walk, I didn't think I would enjoy it at all (I explain more later). However, as I got on, it got more pleasant and quite lovely at times. 
During the walk from Farnham to Guildford, you are never that far away from civilisation and the sound of the road is always there. I say always, but it's not as bad as it seems. Yes, sometimes the road noise was extreme, but other times it was a faint hum in the distance. 
The route itself is characterised by trees and woodland mostly, with some open fields, a couple of golf courses, and of course, the roads.
There are some very small uphill sections, but nothing that would label this walk as challenging.
Is the walk from Farnham to Guildford easy to follow?
Yes, yes, yes. In fact, as I was walking the trail I thought about how I would tell you that you don't need a map at all. It is (almost) very well signposted. I say almost because my dreams of telling you that you don't need a map were shattered when I hit a junction which wasn't signposted.
All in all, there were only 3 sections where signage was missing, but I will tell you where they are when I go on to describe the walk from Farnham to Guildford.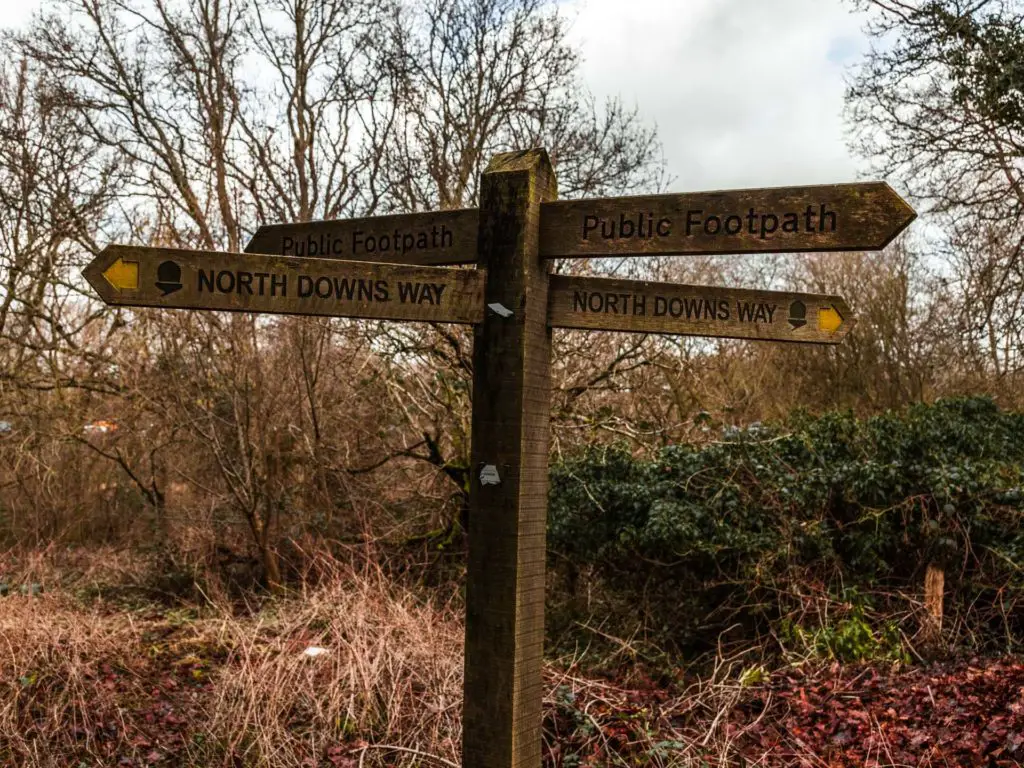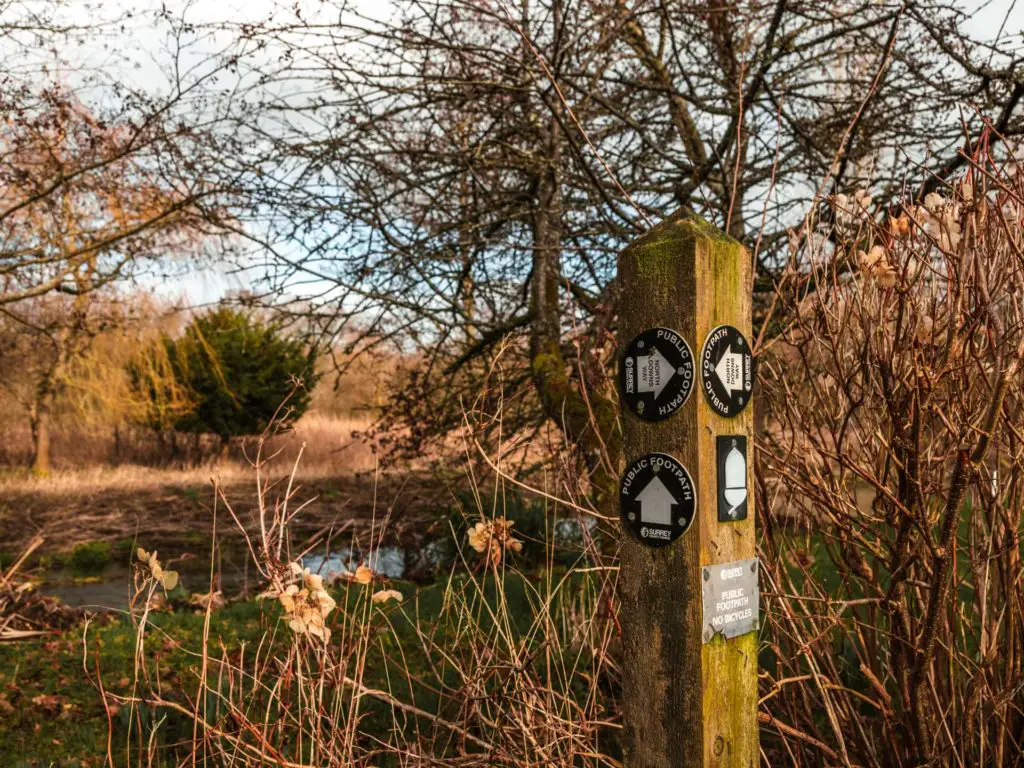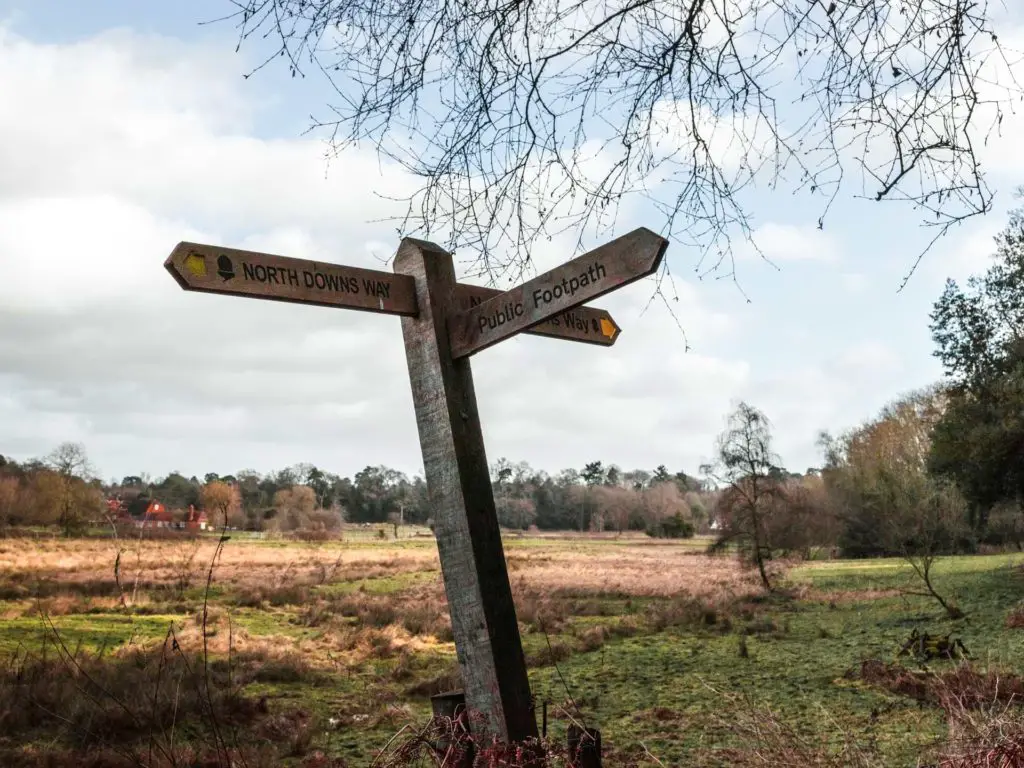 As most of the route is so well signposted, I actually wouldn't be surprised if the signage was there, but I just missed it because it was hidden.
---
Logistics for the walk from Farnham to Guildford
---
Start: Farnham 
Finish: Guildford
How to get there: Both towns have train stations with direct trains to and from London. London Waterloo to Farnham is a 1 hour journey and there are two direct trains an hour  At the time of writing, there are no direct trains from London on Sunday and the journey takes 1h 40min. So don't go on Sunday. Guildford to London Waterloo takes 34min-1h depending on the train. Sundays it can take slightly longer. You will need to buy a single for each journey as they follow different routes. 
Distance: 11.3 miles
Time: 4h 30min. No lunch stops but did pause a lot for photos.
Elevation: Highest point 405ft. Total elevation gain 1480ft.
Terrain: Road, dirt trails, some muddy patches. 
Difficulty: Easy (or moderate due to the length)
Time of year: I did this one in Winter.
Map for the walk from Farnham to Guildford 
Click on the box in the top right corner to open in your maps.
– More walking ideas for the North Downs will be at the end –
---
How To Walk From Farnham To Guildford Along The North Downs Way
---
If you have arrived in Farnham by train from the North, you will need to cross over the rail tracks. As there is a train in the station, you may find that the barriers are down if you go onto the road, so it will be quicker to use the bridge in the station to get over the tracks.
Following the road towards town, you will see a small trail leading off it to the right. Ignore that and walk a bit further down to the main road junction.
The start of the North Downs Way
Take a right at the main road and you will be hit bang in the face with the big North Downs Way signage marking the official start point.
Looking at it, I felt sort of excited at the journey ahead. I almost had the desire to walk the whole thing in one go. I say almost because I really don't. The whole route is very easily accessible from where I live that it didn't seem worth it to take annual leave to complete. I need to save my days off work for places further away.   
The busy road
Following the direction of the sign, you will be walking alongside the main road for a bit. Even when you walk onto a trail at the next signage, you will still be walking alongside the road.
It's very loud.
At this point, my excitement faded and I decided I wouldn't like this walk. Having studied the map beforehand, I knew that the walk from Farnham to Guildford was going to be a bit more suburban than wilderness, but the reality of that didn't really sink in until I got there.
I think it looks alright from the photos, but what you can't see is the noise.
Another reason why I didn't think I would enjoy this walk is because I had trapped wind. I was feeling all crampy and couldn't stand up straight properly. My only hope was that at some point along the walk, it would make it's way out.
Things start to get better
The trail then approaches a lovely home. Yes, the road noise is still there, but the house is a nice distraction. A couple of cute little dogs were running around as their owner came out of the house to take them for a walk. 
I thought about how I could almost live here. If it wasn't for that road.
Almost like the New Forest….but not.
The trail then leads under a bridge and finally away from that damn road. 
My last 8 walks have been in the New Forest, so it was fresh on my mind. In fact, when deciding what walk to do today, my first thought was to head to the South Downs Way (another long distance trail on my list) for this very reason. The fact that I had walked so much in woodland recently, I wanted to mix it up and walk in open fields with a sea view. 
However, seeing as it is winter with much shorter days, it made more sense to focus on walks that don't take as long to get to. Don't want to waste daylight hours travelling. 
Anyway, back to the point I was getting to. The trail leads past lots of holly bushes and leafless trees and tree tunnels. It reminded me of the New Forest, only not as good. The poor man's version of the New Forest.
Well, if you haven't frequented forests then you won't have anything to compare it to so actually this would be rather lovely. 
Another road
The trail then leads onto road again, but much less busy than the last road. Take a left here and at the next junction is the first place where the signage is missing (or I just didn't see it). Go left onto Moor Park Lane.
Follow this road as it leads you to your first uphill. You need to be a bit careful along here as it gets quite dark under the tree cover and there is no pavement to walk on.
The posh area
At the top, everything seems a bit more fancy and well kept. I imagined this is where the rich people in the area live. I realise now, that I only took a photo of the road. So you have to imagine.
Be careful here though. I got distracted and almost missed the trail turning. Pretty much just at the top of the hill you walked up, the trail leads off to the left. So you don't actually walk along this road very far.
Is it really winter?
As the trail leads to an opening next to a field, I really notice the blue of the sky. Everything suddenly got a lot brighter and I started to get a bit sweaty. It definitely didn't feel like winter anymore. I would go as far as to say it felt like spring was coming….it's February.  
Thinking about it, it doesn't feel like winter really happened this year. I mean, it rained a lot. I'm gonna say it rained more than it ever has. It has been very grey. But it never really got that cold. Maybe for a few days things froze a little, but only for a few days.
Interesting.
More woodland
The trail then leads into Runfold Wood nature reserve. Basically lots of trees.
Once you reach the road, you will be at the second point where the signage is missing. I mean, it's there, but only useful if you are walking in the opposite direction, Guildford to Farnham. 
I figured out (and by that I mean I looked at a map) which way was next.
If you take a left at this road then you should at some point see the North Downs Way signage and trail on the right.
Which then takes you past more bushes until you reach….another road.
Be careful on this road. Whilst there weren't many cars going along it, the ones that did, did so fast.
Welcome to the Sands
You see these welcome signs whenever you enter a new village along the road. I always know or know of the village which I am entering.
Not this time. I have never heard of the Sands. Sounds kind of exotic, or is that too obvious?
As soon as I entered the Sands, the first thing I noticed was the road. The tarmac looked fresh and neat. It was like I was entering an important place….and then it sort of abruptly ended and went back to old weathered tarmac. 
That must have been a bad section of road that had to be replaced. 
The golf club part 1
After passing by a random steam train you will see your first golf club of the day. Farnham golf club.
Just passed the main building, the signage will point you left and past the sign telling you to beware of the golfers.
Beware.
I found this bit of the walking interesting in that you don't walk through the golf course which is what usually seems to happen when walking in England. This might actually be the first time I have been guided around it. 
Maybe because it is a posh golf course. I don't know if it's posh. I just made that up.
So continuing on along the road and past this lovely post box, the trail leads off the road over a mini bridge on the right.
As I followed the trail as it met the gold course again, I was struck by how luminous the green was. I almost felt like I wanted to tone it down in editing, but actually, it really was this bright. So I left it as is. 
I think it was partly the contrast of being slightly in the shade next to the open green with the sun shining down on it.
More of the same
Next, there is a bit more woods, a couple of bush/tree tunnels, a road, and a property that wants you to know it is protected by loose guard dogs.
I noticed a hole dug under part of the fence. As if the dog had dug it to get out and attack. So I hurried on past. There were lots of angry dogs on the last walk I did. I was even chased by one. 
Not fun.
Out of the woods and out with the wind
The trail then runs alongside open fields and crops. The view was super pretty the way the sun was shining and the woodland over the other side. This is more me.
And then you are out. Out of the woods and in the open air surrounded by cropland. 
When you reach a point where this green trail runs off the trail you are on, don't go down it. Keep going straight.
Oh and this is where my wind came out. Man, I felt so much better after this.
Back in the woods
Once at the other side you will hit another road with the trail continuing again opposite and into more woodland.
I noticed a pretty tree with orange/peach coloured leaves, like the ones I saw in the New Forest. I started photographing it. A couple of elderly gentlemen passing by, asked me what I was looking at. I told them how I thought the tree was lovely, and we spoke briefly about it before they continued on their way.
There is a small section taking you out into the open again with some lovely views, before making your way down and into more woods.
More woods and the half way point on the walk from Farnham to Guildford 
Next, it's more of the same woodiness you will have experienced so far. 
I was getting pretty tired of the woods at this point. The sky was lovely and bright and blue. Something we haven't seen much of for a while here in England and I wanted to be out in the middle of it.
I am after all a bit of a sun worshipper. 
But this next view was super pretty. I wouldn't get this if I wasn't in the woods. 
Past the cute house with well manicured lawn, the view opens up to the left. Ah, this is me again. 
A bit of mud
It's along this bit that the first bit of mud happens. Well, I can tell you now, after the New Forest it will really take a lot for me to consider a place very muddy. This mud was child's play in comparison.  I was so experienced by now in mud navigation that I was able to pass without getting my white plimsolls dirty.
Yes. I was wearing white plimsolls for this walk. Don't ask.
Oh, and I didn't get a good photo of the muddy bit so you will have to imagine.
Through another tree tunnel and passed the horseshoe bend (I love a good tree tunnel and horseshoe bend) you will reach the village of Puttenham.
Puttenham
You will follow the road through Puttenham as it curves around, past the Good Intent Pub, and at the main road, you may get to see some horses in the field opposite.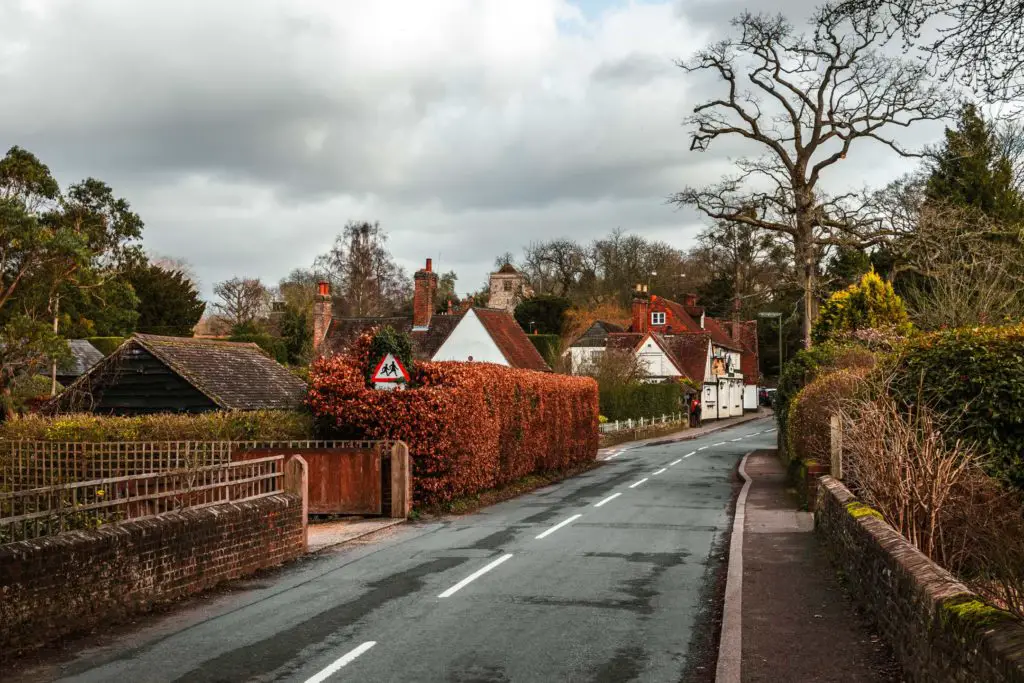 As I was photographing them, one of them walked over in my direction. I thought how lovely this was, that the horse liked me, but then I realised her/his owners had arrived and he/she was walking to them.
Never mind.
At this main road, you take a right and then a left at the hydro pool sign. There is also signage for the North Downs Way but I was more interested in the hydro pool sign with a dog on it. 
I absolute love hydrotherapy, it's the best thing I did for my hips after surgery. But this sign had a dog on it. Does this mean it's hydrotherapy…..for dogs?
I looked it up when I got home and it is indeed dog hydrotherapy. This makes me so happy. Dog hydrotherapy.
If I had a dog, and he got injured, I'd have him all over this hydrotherapy.
The golf course part 2
You will then reach your second and last golf club of the day, Puttenham golf club. Just like the first one, you don't walk on the green, but rather you are guided through it along the road.
I saw this sign on a tree and at first thought it said the 10th tree. 10th tree? The trees are numbered? 
In my defence, the two words are almost identical and the sign was on a tree. Anyway, I can tell you now that the 10th tee is a long way away. 
All along this road, those 10th tee signs kept popping up. I became more interested in where this 10th tee was. 
I didn't see the 10th tee, but the signs do eventually stop.
Once there are no more 10th tee signs, you will next walk past some cute houses and maybe some tractors.
The final missing signage
The trail will lead you to a road with a couple of bridges to the right. Walk under the bridges and keep following this road right to the end.
Here you will reach the third and final point where the signage is missing. There is signage directly opposite, but none for the North Downs Way.
You need to now go left and then right just before the carpark. 
Horse party
The trail continues gently uphill. I noticed up ahead a girl on the trail looking into a field on the right, taking photos. From here I couldn't see the field yet, and I was wondering what she was looking at.
As I walked past the last trees and got a view into the field I literally jumped back. I was not expecting a party of horses.
These weren't the only horses. Further along the trail, there was a whole load more in a field to the left.
More mud
The trail then leads under tree cover again and a long stretch of mud. I tried my best here but I was not successful at keeping my white shoes white.
I was trying to keep to the edge but would slide my way down into it. Meanwhile, that girl walked on by in her sensible hiking shoes.
Reaching Guildford 
The remainder of the walk is a mix of trees and open fields. You get a good view of Guildford before your arrival there.
The end of the walk from Farnham to Guildford
The trail turns to road, and at the very end of the road is where this part of the walk ends.
If you want to continue onto the next section, you take a right here and the signage will be ahead on the left. Alternatively, to get to Guildford train station you go left. 
From here it's about a 10-15min walk to the station. At the station, there are toilets and places to get food if you desire. 
---
More walks near Farnham and Guildford
---
Not too far from here you could try this killer route up Box Hill. At 4 miles in length, It's short, however it has some serious hills.
Starting from Guidlford, I would highly recommend the circular to St Martha's Hill and Newlands Corner. It's about 11 miles long, and has fantastic views.
Sticking with the North Downs Way, you have stage 2 Guildford to Westhumble, which is the section after this. Just under 15 miles long and dominated by woodland. You will also walk via St Martha's Hill and Newlands Corner.
Further along the North Downs Way, you then have stage 3, Westhumble to Merstham. 11 miles. A mix of woodland and views. A good chunk of it, and by that I mean most of it, runs near to a road.
If you want to stick around Guildford, you can read a more detailed side by side comparison of the best walks from Guidlford here. Or if you fancy going a lot further afield, you can read about the best Surrey walks I recommend here.
If you want more North Downs walking ideas, you can check out the National Trails website.
Pin it for later: How to walk from Farnham to Guildford along the North Downs Way