The Ashridge Drovers walk is a 6ish mile circular loop in the Chilterns, taking you through woodland, onto the chalk downs for fantastic views and past the cute village of Aldridge. 
This walk was slightly different from my usual walks in that I would be getting there by car. I don't actually own a car so I always plan my walks and hikes based on train access. That being said, now that I was able to get my hands on a car for a weekend, I was faced with too much choice. The Chilterns is a large area and now that I was not limited to where the trains go, I found myself overwhelmed with choice. 
So I had a good look at the Chilterns AONB website for recommendations. 
The Ashridge Drovers walk seemed like a good start. 
Actually, my original plan was a whopping 17 mile hike. But here's the thing, this would be my first hike in over 3 months. Not just any 3 months, but 3 months of lockdown. Yes, this would be my first hike since the drama of 2020. 17miles might have been too ambitious given my lack of fitness. 
What was the Ashridge Drovers walk like?
In one word. Amazing. Maybe it was due to the fact I had been stuck in the city for 3 solid months, and being anywhere in the countryside would have blown my mind. Either way, it doesn't matter because the day was a success. 
Being surrounded by what I would describe as unusually bright green. The blue sky behind white fluffy clouds. The smell of trees. I was in heaven.
Ok, so what was the Ashridge drovers walk like for real?
So I have just told you what it was like to go for a hike after being stuck in the city for 3 months which tells you nothing about the trail itself. So let's start again….
Well, it is a very well laid out path, ranging from dirt trails to grassy trails and a bit of pavement and road when walking through Aldbury. Some gentle hills, with one big hill. Then a lovely mix of woodland and open fields with views. 
There were other people around, but they mostly hung around near the visitors centre car park, and then appeared in patches along the Ashridge Drovers walk itself. 
Logistics for the Ashridge Drovers walk
Start: Bridgwater monument by the Ashridge visitors centre car park.
Finish: Bridgwater monument by the Ashridge visitors centre car park.
(If you are coming by train, you will have access from Tring station. This is a circular walk around Ashridge so you can technically start wherever you want)
How to get there: If coming from London by car, take the M25, then exit at J20 onto the A41 north. Leave the A41 onto the A4251 (London road). Then a bit further along, take a right onto the B4506 which will lead you into the Chilterns. A bit further along this road you will find the Ashridge visitors centre car park on the left….or enter Ashridge visitors centre into sat nav/google maps and it will take you there. If coming from Tring station, walk along Station road and it will eventually lead you to the trail loop. I'm not sure how long the walk is along this road. Sorry.
Distance: 6.5 miles
Elevation gain: 974ft
Time: 2h 25min at a leisurely pace
Difficulty: Easy
Terrain: Grass, dirt trails, some road.
Time of year: I did this during summer, but it can be enjoyed at anytime. 
Map for the circular Ashridge Drovers walk
(Click on the little box in the top right corner to open in your google maps)
More suggested walking routes in the Chilterns will be at the end
The Ashridge Drovers walk – a circular walk in the Chilterns
I have to say, I was a little nervous when I arrived at the Ashridge visitors centre carpark. It was packed. So packed that I was lucky to find a parking space. I said a little prayer in my head, hoping that people weren't here to do the Ashridge Drovers walk. 
As it turned out, the majority hung out around the car park. I mean this literally. With their picnics next to their cars.
Once parked, the trail starts from the Bridgwater monument. You take the trail to the right of it, then the first right past the sign for Duncombe Terrace.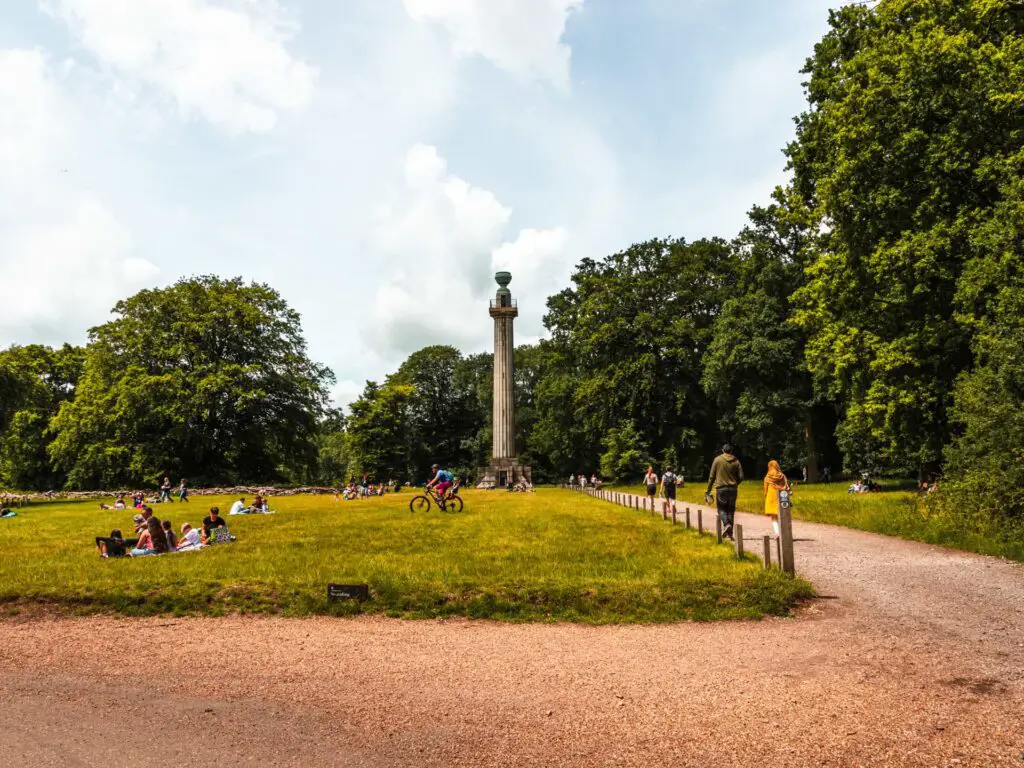 The Woodland
So this little section was still slightly busy, being that it is near enough to the car park that people spilled over a little. But they don't go too far along the trail.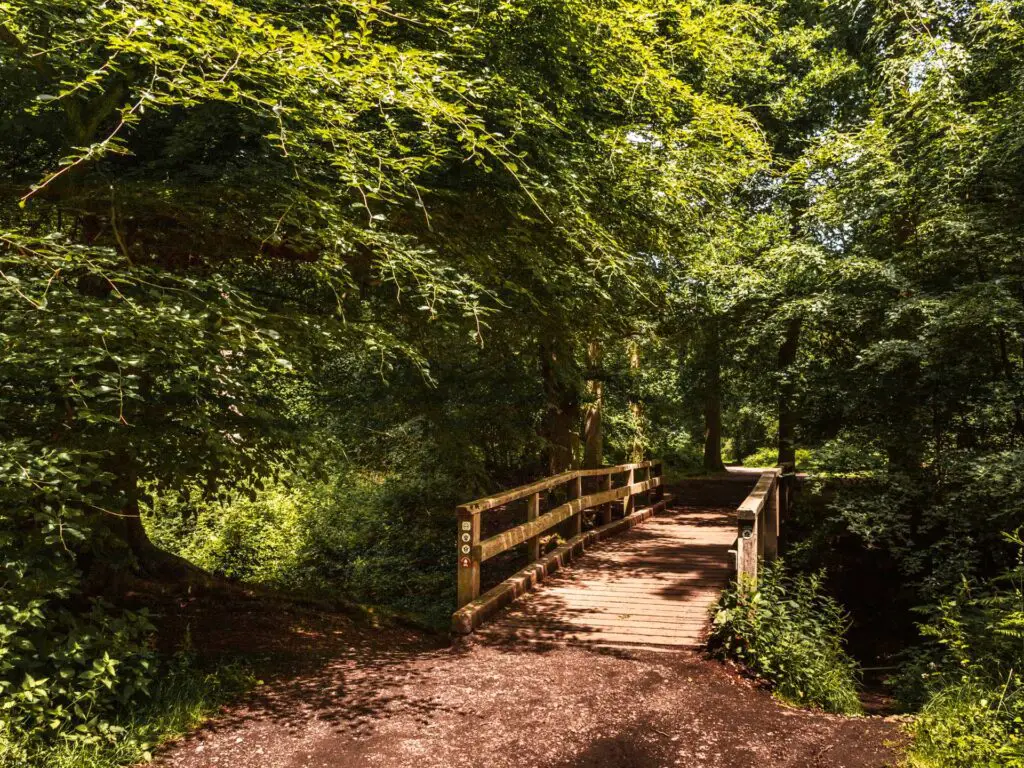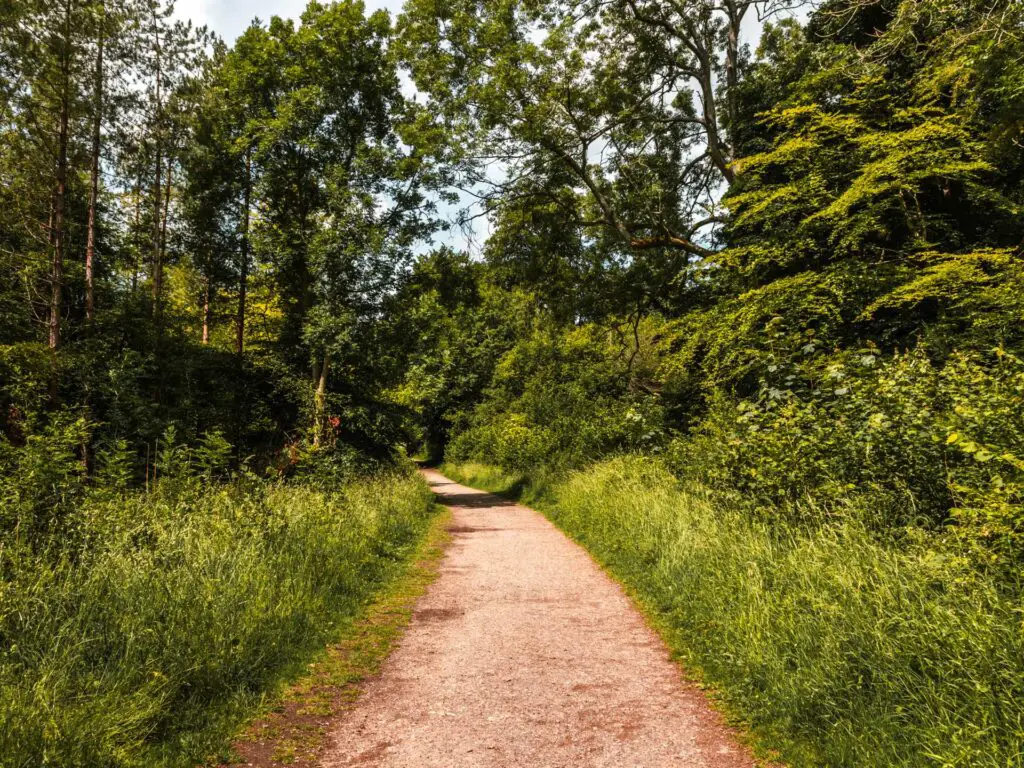 It was here that it really hit me. How starved I had been of the countryside. The dirt trail under my feet. The smell of green. I had forgotten about this smell. The tree smell.
Everything is enclosed by trees for a bit, and then quite suddenly an opening appears to the left showcasing bright green fields in the distance. I am going to say, my breath was taken away for a moment.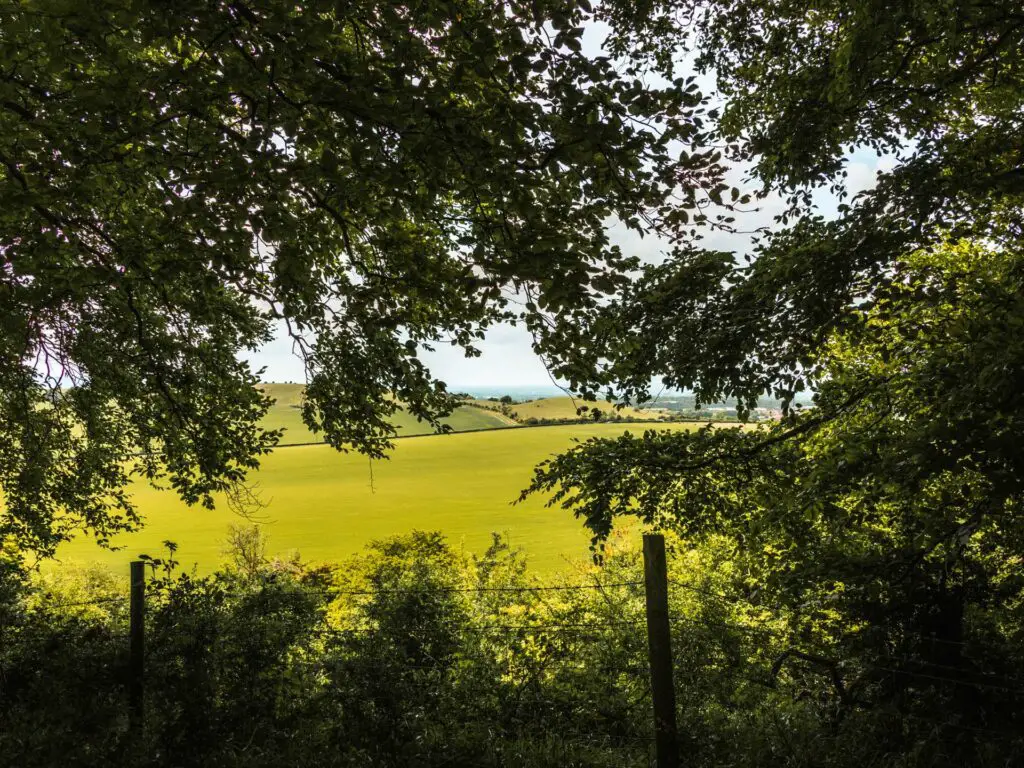 It was actually just after the first view that I noticed a big drop off in the number of people.
Views with unusually bright green 
At the fork in the trail, take the left to go slightly downhill and out of the woods. There is a brief section where the woods are replaced by tall bushes and some trees but then suddenly everything opens up.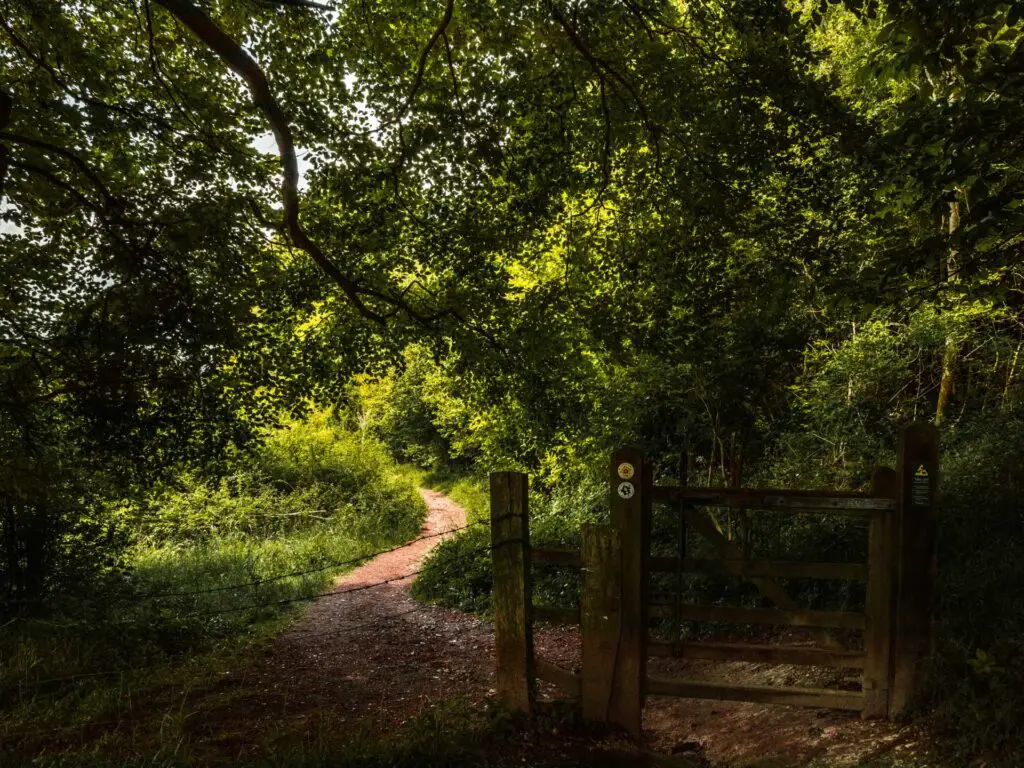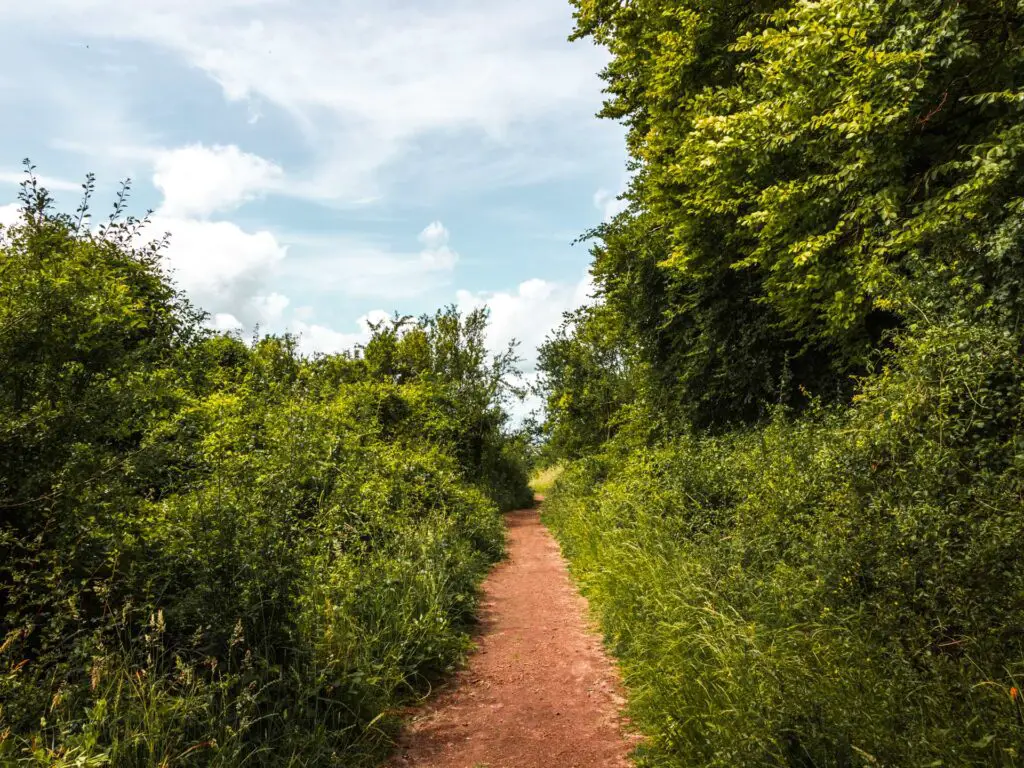 WOW. 
I'm telling you, the green was almost luminous. I mean, I have still been having some green time in the parks of London, but this was a different green. I actually had to have a sit down to take it all in.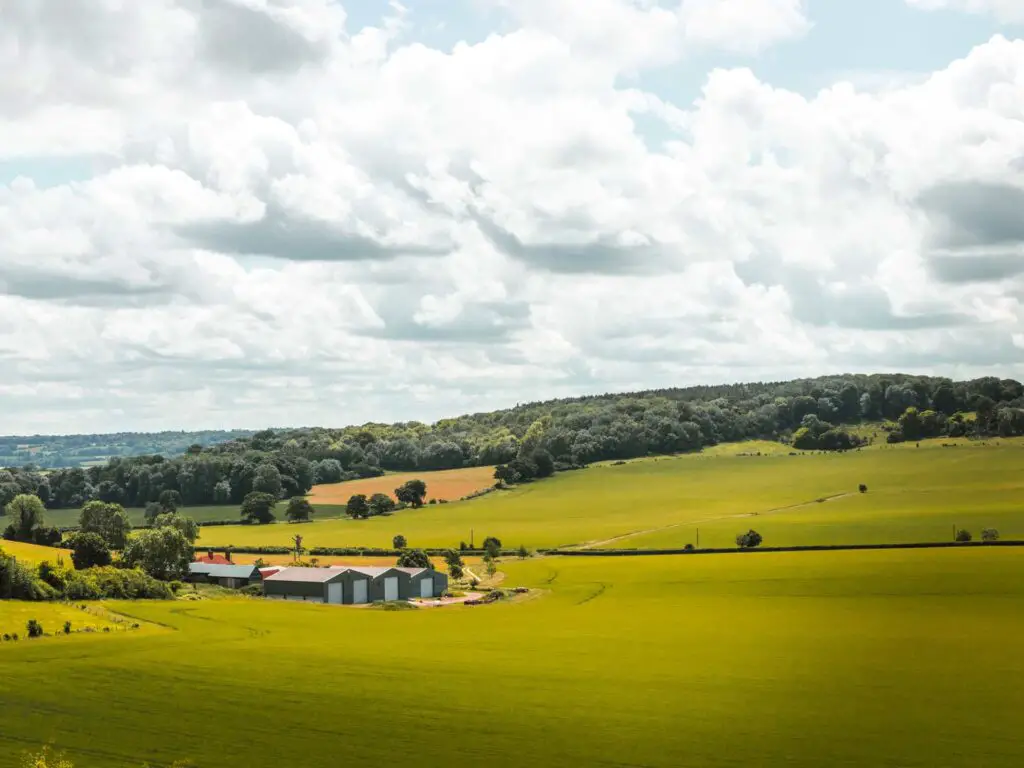 Another thing about this section was the peace. Not a single other person passed by.  This is what I came here for.
Once I had suitably taken everything in, I got up to continue my walk along the Ashridge Drovers trail. Although it was super quiet here, I did notice some trails in the distance which seemed to be a bit more bustling. Luckily I wasn't heading that way…
The busy section of the Ashridge Drovers walk
It turned out that the busy trail, not in the direction I was going, was actually leading to the trail I was heading to. 
It was at this junction that we all collided.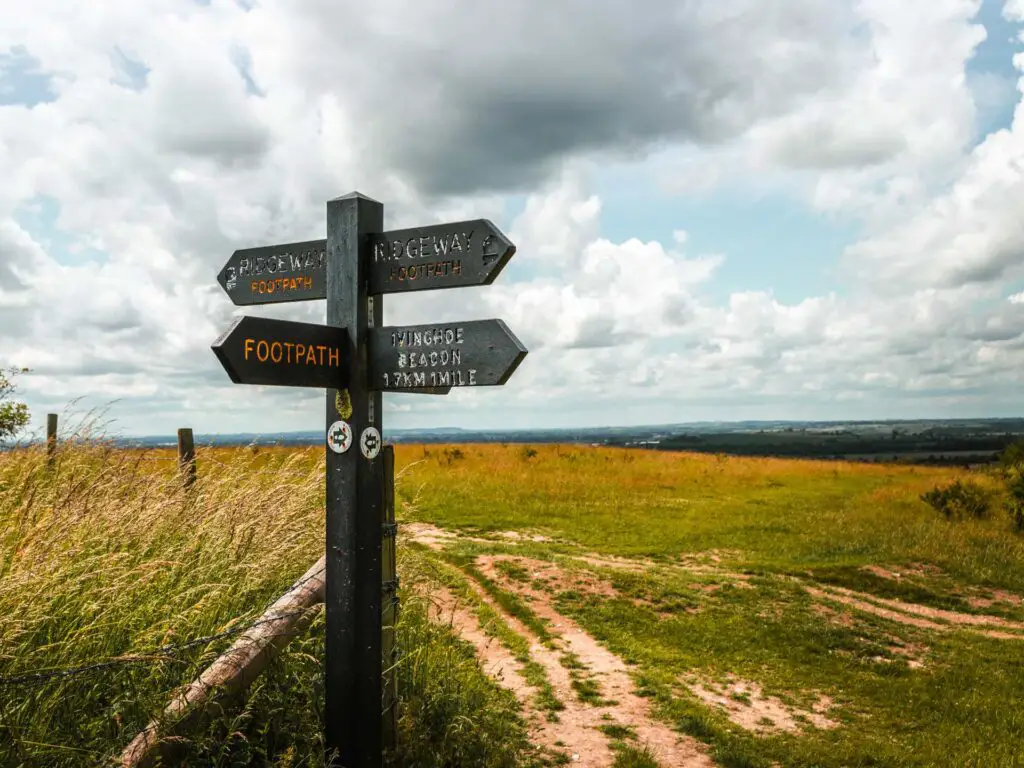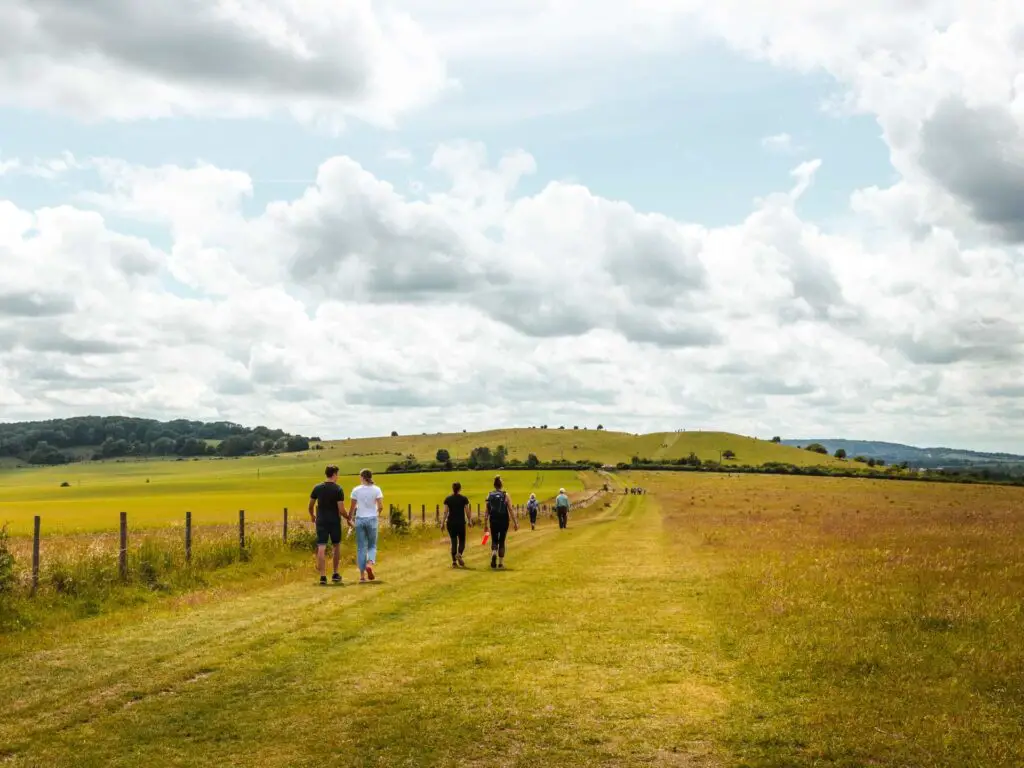 Taking left I was now on a trail with many people. Saying that, It was too bad. I was just happy to be out there, and if it meant sharing the trail with others, then on this day, I was actually fine with it.
(A few weeks later I did actually come back and walk all of this busy trail. It's the one that leads to Ivinghoe Beacon. Despite the high number of people, it turned out to be so worth it for the insane views).
The trail continued across the road, through the car park and up a hill for some more fantastic views of the Chiltern Hills.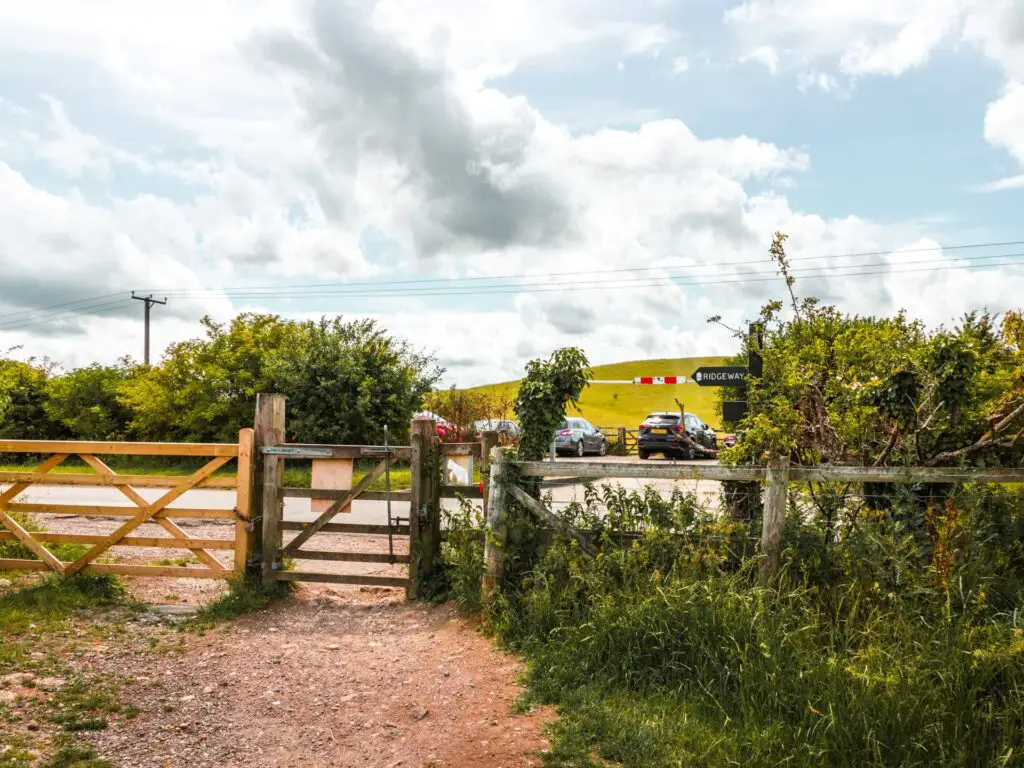 The lake
The walk continues along a ridge for a bit, passing by a lake to the right. This lake surprised me. I wasn't expecting it. I did wonder to myself if it is a lake for swimming. It was a lovely hot day, but there was no one down there……maybe there is a reason for that.
The woods and the unicorn
As you pass by the lake, the trail continues downhill to reach the woods and more tree smell.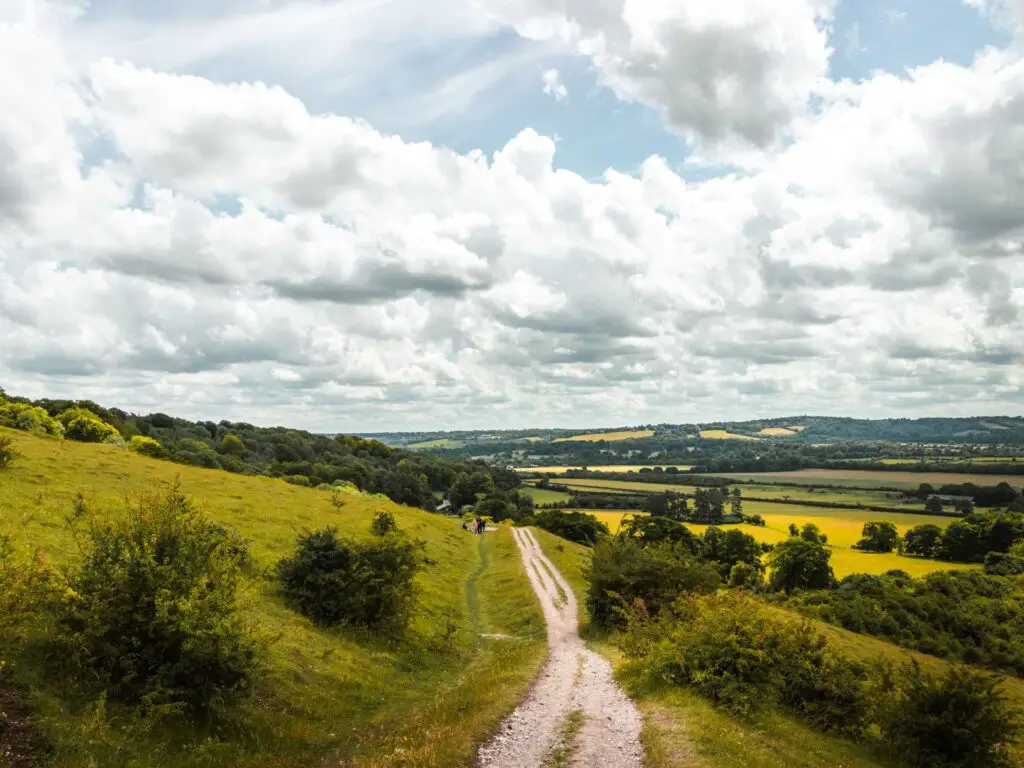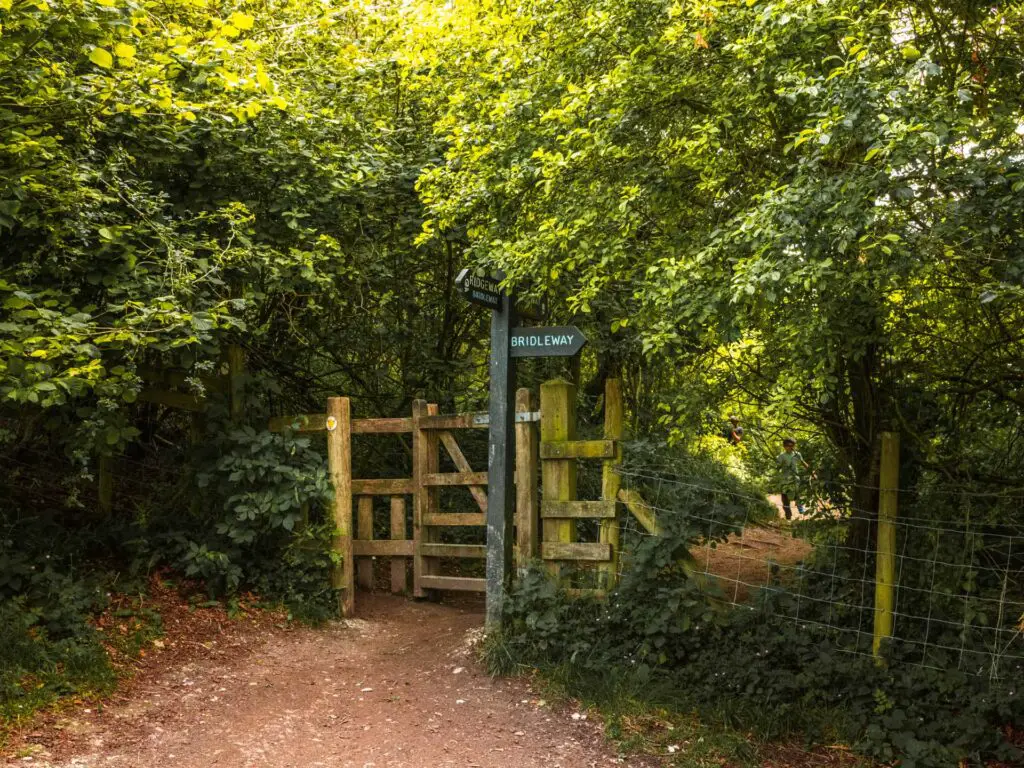 As you walk through the woods, every so often there is an opening to the right for more gorgeous views of the seriously bright green hills of the Chilterns.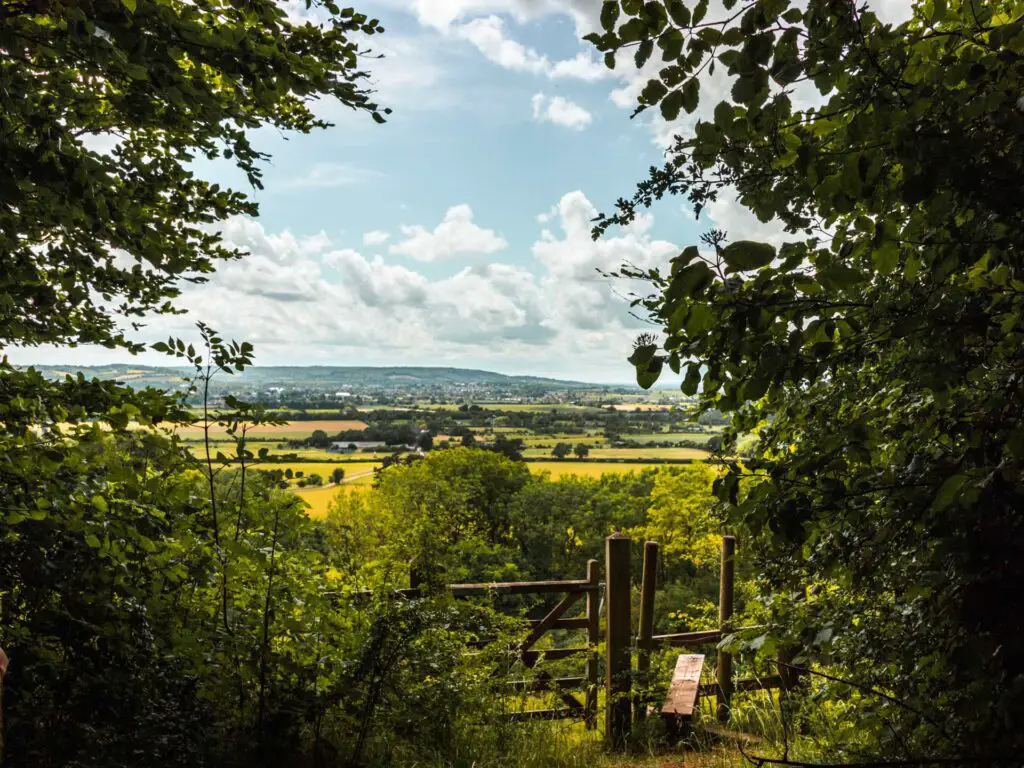 Then I noticed something up ahead. A man. I thought to myself how he looked like he was naked, but then rationalised that it was just the colour of his clothes. As I got closer I realised that nope, this was not his clothes. He was actually full on nude. Hiking. Literally just wearing hiking shoes and a backpack. As we got nearer to each other I started to panic. 
Where do I look? 
Do I nod and say hello as is the done things when you pass others on a hike in England? 
If I don't do the nod, then I will look rude. 
If I look at him, how do I avoid looking down? 
If I just keep my eyes up and look at his face, it will look creepy.
So I kept my eyes to the ground and acted like I didn't notice him.
Once passed I let out a smile and thought about how I had just seen something I had never seen before. Something rare. A unicorn one might say.
Nudity is not a big deal, but nudity when hiking in England is a sight to behold. I'm pretty sure it's illegal. But I'm glad I got to witness it.
(I later found out that it was world naked hiking day. I also found out that there is a naked rambler making his way around England. Maybe that was him.)
The walk into Aldbury
Things open up a bit as you leave the woods. Then when you reach the junction with a signpost, take the right towards Aldbury.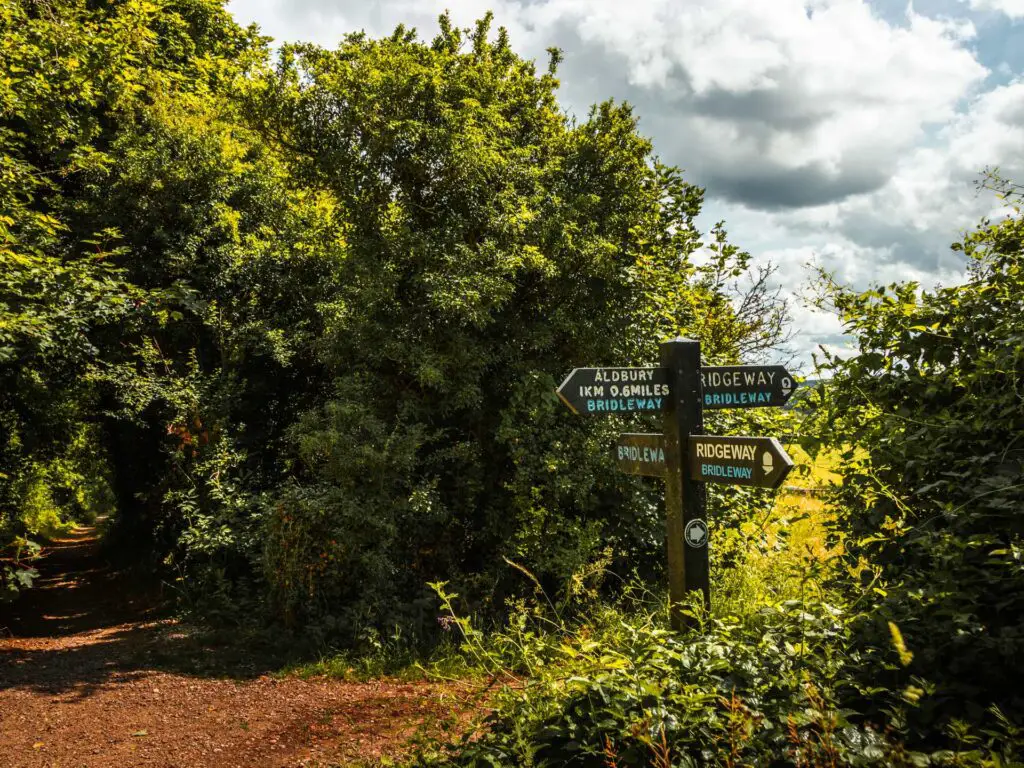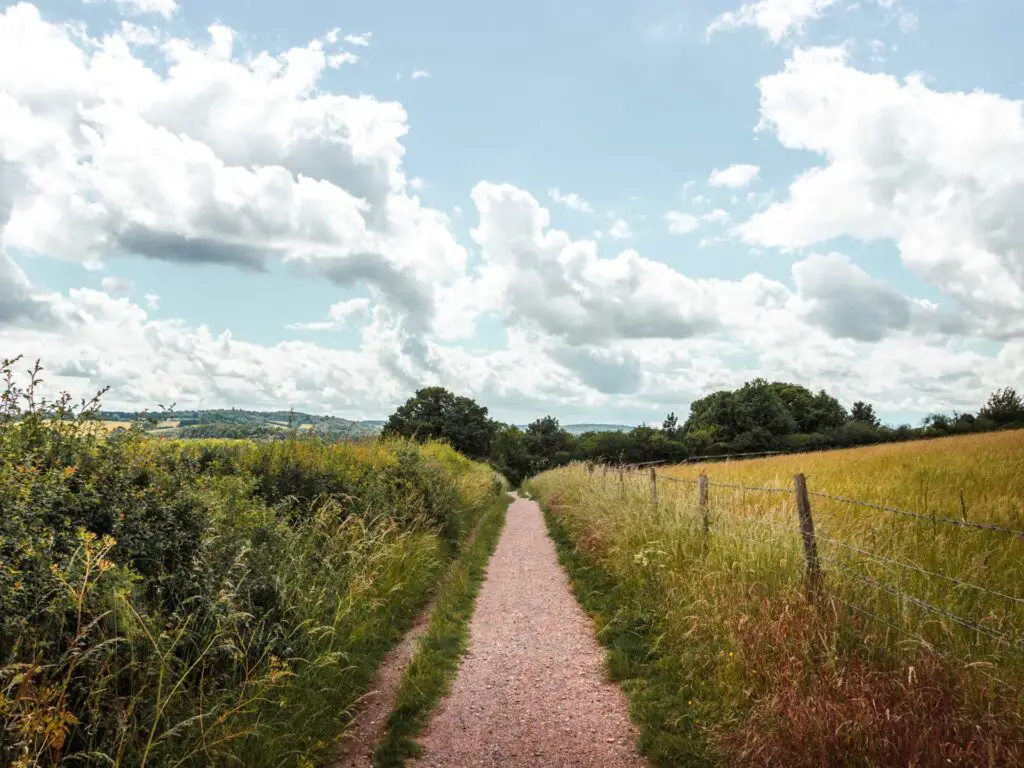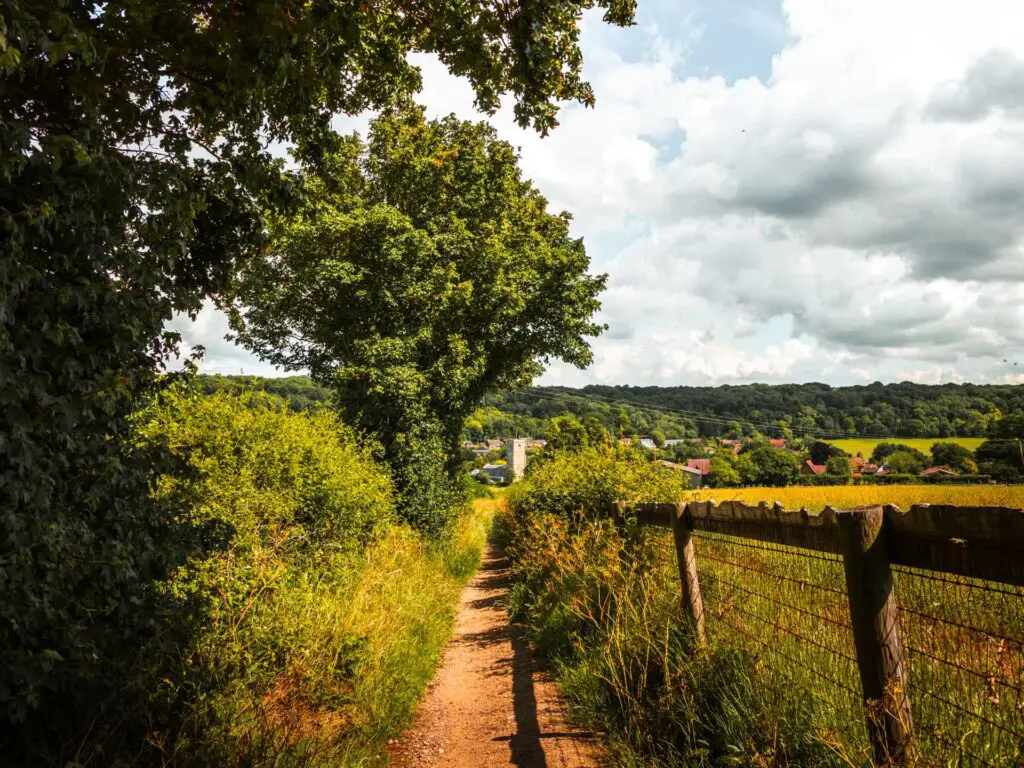 Along this bit of the trail you will get a lovely view of the church in the distance.
Once you pass the church on your left and reach the main road, take a left turn to walk into the village and past the duck pond.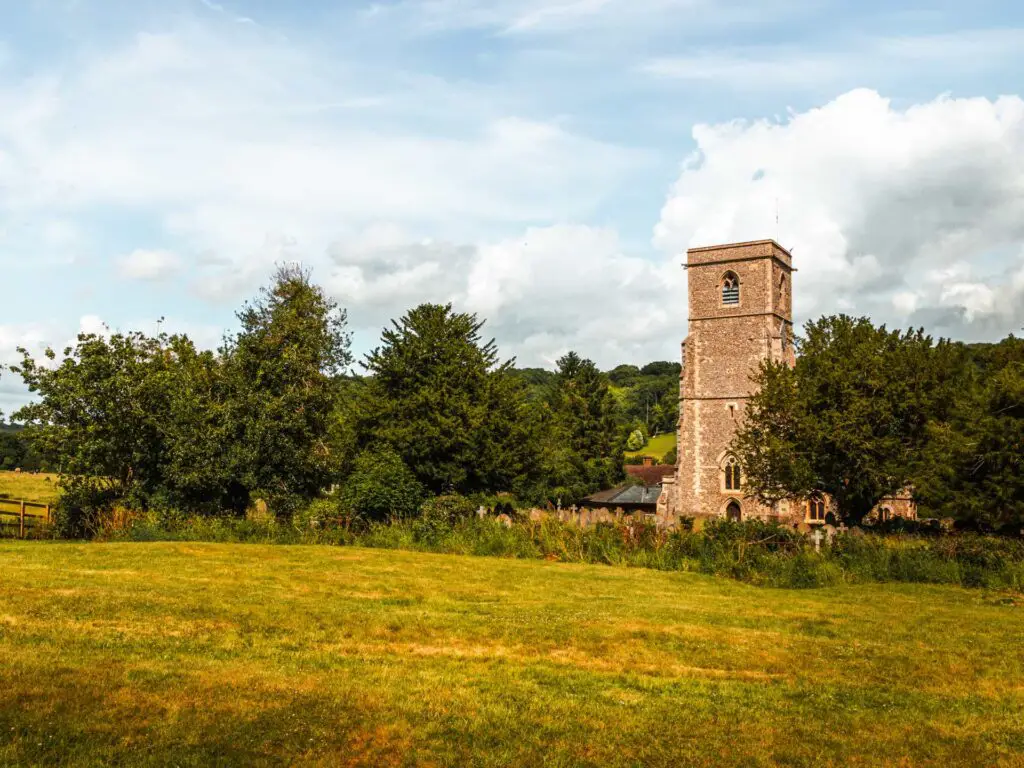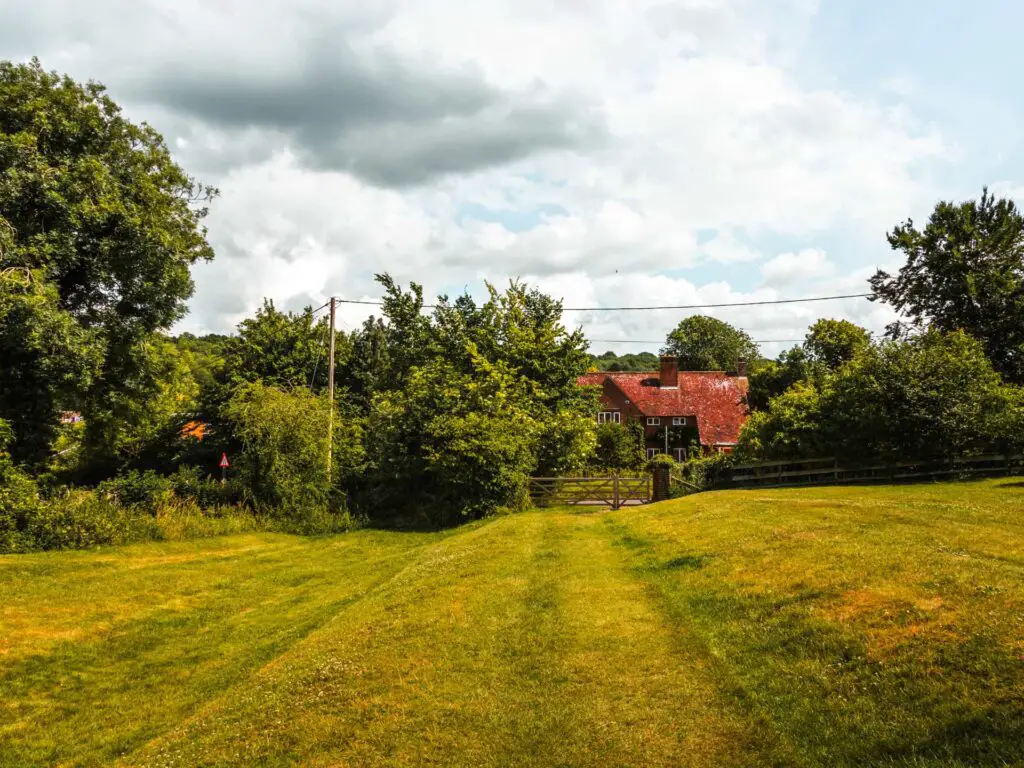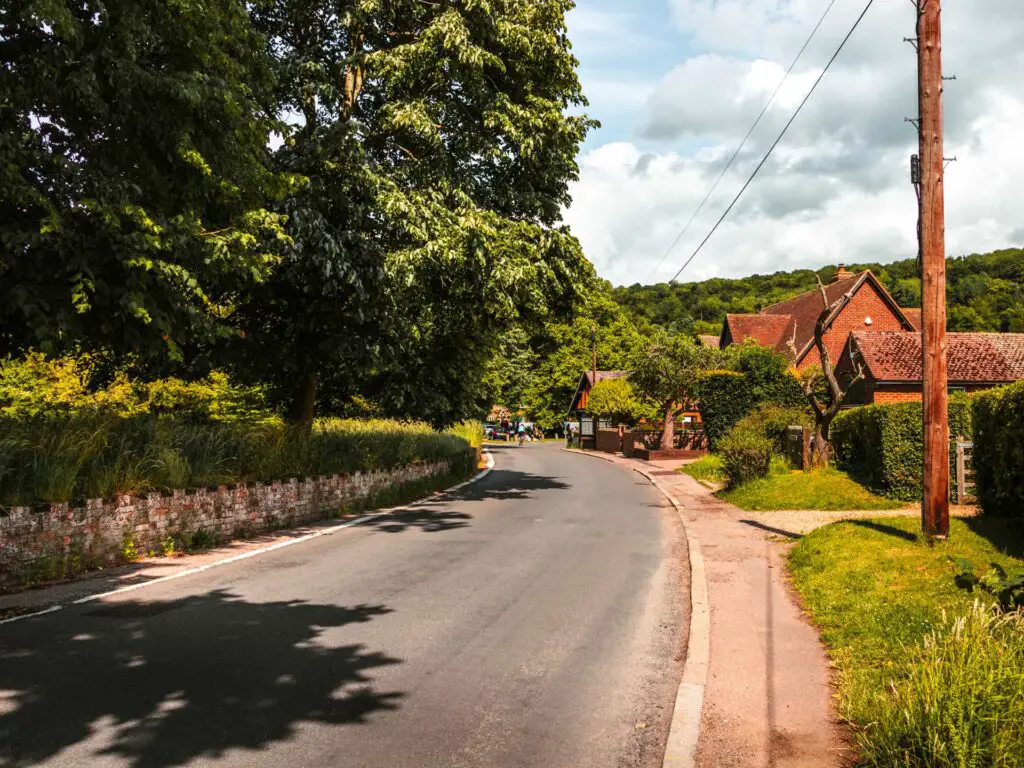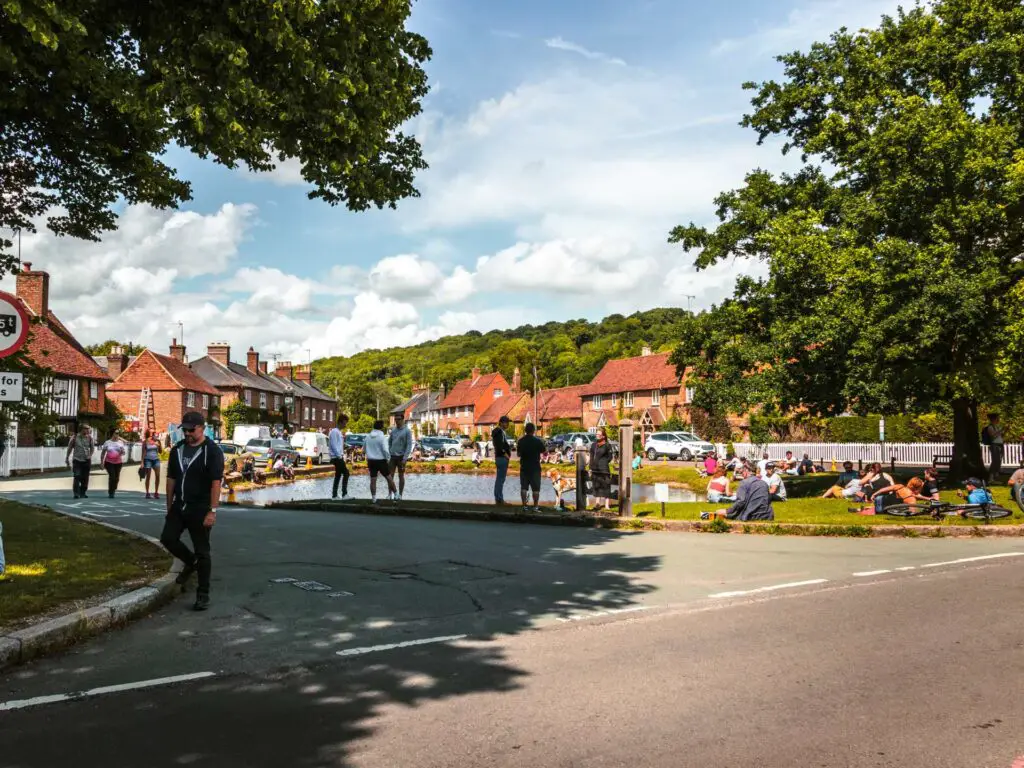 On this day, a lovely hot Saturday, the pond and green were heaving. So many people sitting around, enjoying the weather and surroundings. I don't blame them. It was lovely there. Although I do always wonder why people congregate in massive crowds like this, when just a short walk away you could be in peace and relative seclusion….
Maybe I'm a loner.
You will notice a cute white signpost at the junction. Here you continue straight on. Not right as I initially went. However, might I suggest taking the right briefly to see this lovely post box with a defibrillator inside.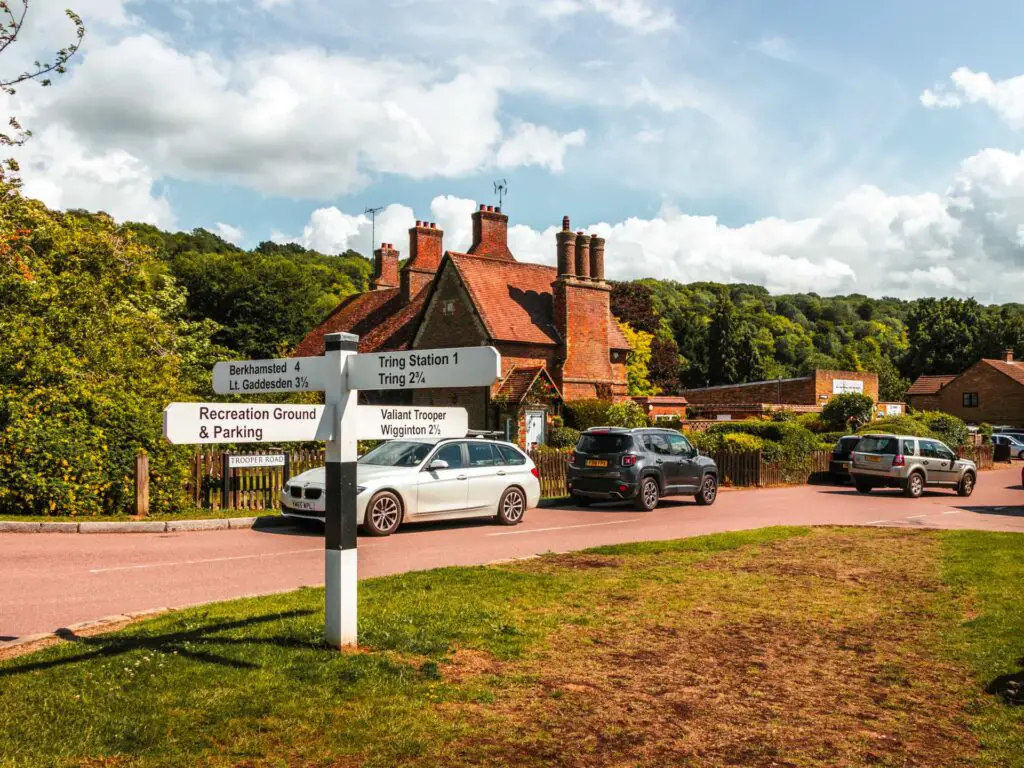 The final stretch on the Ashridge Drovers walk
Once past the white signpost straight (not right), you will start to go uphill. You need to take this left turn here.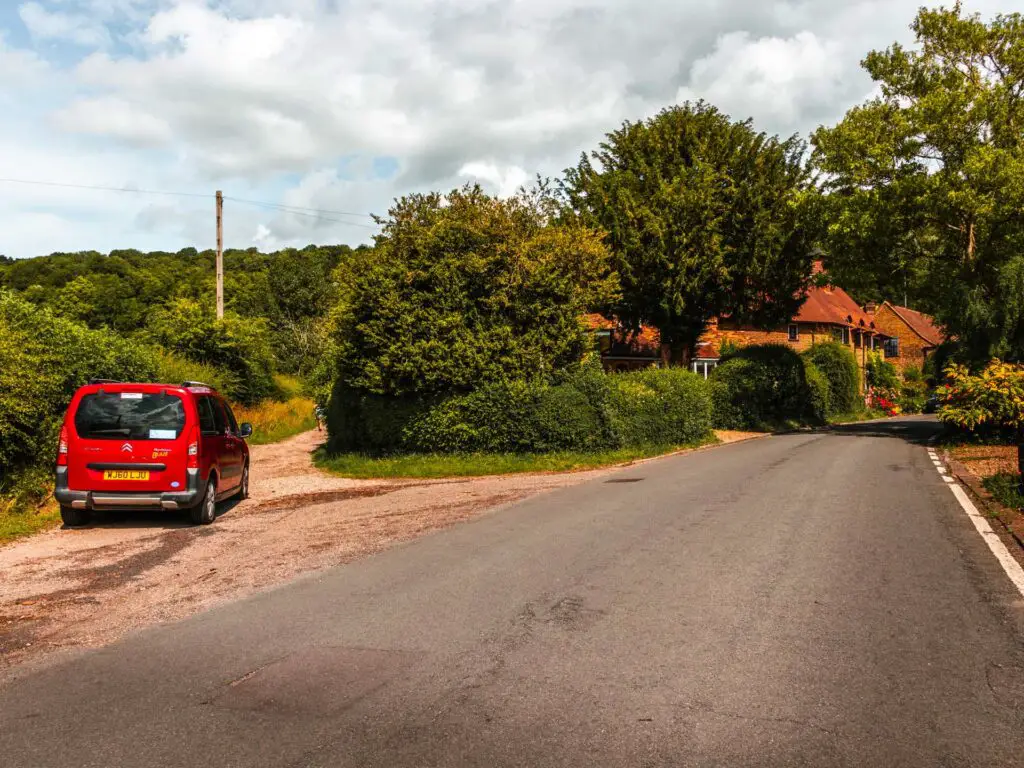 I knew the end was near and I had started to check out. I would reach the car park at the end of this bit of trail. 
However I was unexpectedly brought back into the present when I realised I was walking up a big hill. For an unusually long time.
Ok, I'm being dramatic. It wasn't for that long. But it was definitely unexpected. The whole of the Ashridge Drovers walk up until this point had been pretty easy with some gentle hills. 
The next day I had bum muscle ache. I'm pretty sure it was from that hill.
More walks in the Chilterns
The next day I came back to the Chilterns, but this time headed further north up towards Hitchin for a circular walk around Offley. It was a lovely cute little place. That walk was even easier but I would definitely recommend it. 
Another walk in this area which I highly recommend is the circular walk to Ivinghoe Beacon. I plan to get in more visits to the Chilterns over the coming months, so stay tuned for more hike updates….
Update: More lockdowns happened. But I finally got out again the next year….I present to you the Hambleden and Medmenham Circular walk. I really loved this one, however, I would have loved anything as (just like the Ashridge Drovers walk) it was a first post lockdown walk.
If you would like something more on the challenging side, then it has to be this circular walk from Wendover. It has lots of hills, with some of the best views I have seen in the Chilterns Hills.
You can get also get some ideas from the Chilterns AONB website.
Pin it for later: The Ashridge Drovers walk – A circular walk in the Chilterns