This 9 mile circular walk in the Chilterns takes you from Tring train station, up to Ivinghoe Beacon and along the Ridgeway before looping back around to Tring. I must say, the views I saw on the walk are some of the best I have seen in a while.
From the top of Ivinghoe Beacon, it felt like I could see all of England…..OK, not quite, but you can see pretty damn far. A few counties far to be exact. Then along the Ridgeway, you will get views up ahead of the Whipsnade White Lion (a giant chalk white lion on the side of a hill. More on that later).
In this guide I'm going to tell you bit about what to expect on the Tring to Ivinghoe Beacon circular walk. Along with some history and fun facts. I then provide full logistical information with a map. This is followed by a step by step guide of the walk route, along with photos. At the end I will provide suggestions for similar and local walks.
What is Ivinghoe Beacon?
Basically a high hill. Not the highest in the area, but apparently it's the one with the best views. At 233m above sea level, I can confirm the views a very good. 
Fun fact: Ivinghoe Beacon has been used as a filming location for Harry Potter and Star Wars.
Historical fun fact: Evidence of human activity has been found here, dating back to the Bronze Age. It is also the site of an Iron Age hill fort.
The Whipsnade White Lion
Made of chalk from the ground underneath, and spread across two areas of land. The lion was designed by R.B. Brook-Greaves, and completed in 1933. Why a lion? Well, to advertise the zoo of course. Due to fading over the years, the lion was restored in 2017 with donations of over 800 tonnes of chalk.
Fun fact: During the second world war, the lion was covered over to prevent it being used for navigation by enemy aircraft. 
Another fun fact: In 1981, as part of the Whipsnade Zoo's 50th anniversary, the lion was illuminated with 750 lightbulbs.
Want to see the most Northerly 'chalk figure' White Horse in England? Head up to the North York Moors and you can try this route around the Kilburn White Horse.
What to expect on the Ivinghoe Beacon walk
For starters, I wasn't so sure I would enjoy it. From Tring, as I started the walk up to Ivinghoe Beacon, there were way too many people for my liking. However, once I reached the top, all of that didn't matter. The views were so good, I didn't care anymore. The views are well worth the lack of seclusion.
As I left Ivinghoe Beacon, to walk back around back to Tring, the number of people dropped off, and I found myself walking the rest of the way mostly alone…..just the way I like it.
The walk follows the Ridgeway which is a long distance walking trail, with Ivinghoe Beacon being the end of it. It is very well signposted. Obviously, you can't end there, which is why I devised this circular walk back to Tring.
So there are a few hills in this one. Nothing I would say is too aggressive. Hmmm, maybe some mild aggressive. Lots of open space with views, a little bit of woodland, and cows. 
Logistics
Start: Tring station
Finish: Tring Station
How to get there: There are direct trains from London Euston which take 30-45min depending on the train. If coming by car, there is a pay and display car park at Tring Station. From memory, it's just a few pounds.
Distance: 9.3 miles
Time: 3h 30min (add extra for breaks)
Difficulty: Maybe a medium. It wasn't too tough, but there are some hills
Terrain: Grassy trails, dirt trails. It wasn't muddy, however, I did this during summer. I can't say what the winter would be like.
Elevation: 444m/1457ft total gain.
Tips: It might be worth doing the walk mid week if you can, as Ivinghoe Beacon will be less busy.
Map for the circular walk from Tring to Ivinghoe Beacon
You can follow google maps by clicking the box in the top corner.
You can find my more detailed Ivinghoe Beacon walk route on AllTrails here.
---
A Guide To The Circular Walk From Tring To Ivinghoe Beacon
---
Starting from Tring station, you go out and take a right along the road. There is actually a trail next to the road which I didn't see until I arrived back here later. You will then take the second road on the left, which is more like a driveway (It literally is someones driveway). There will be signage there and a gate.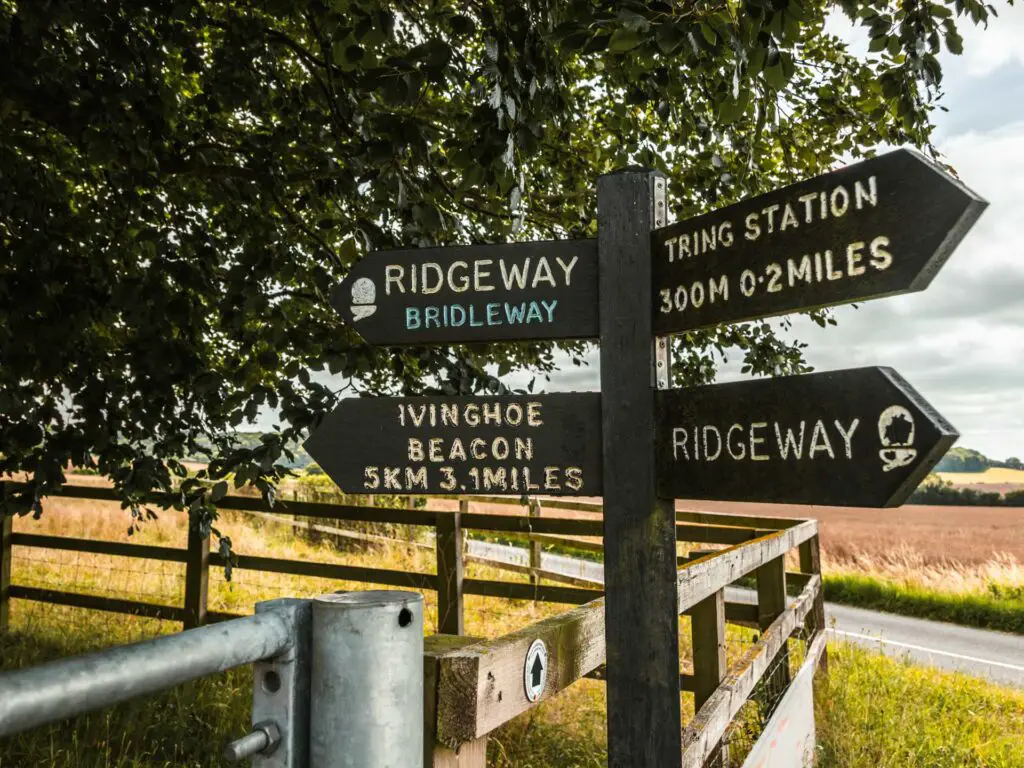 There is now a gentle walk uphill, with gorgeous views to the right.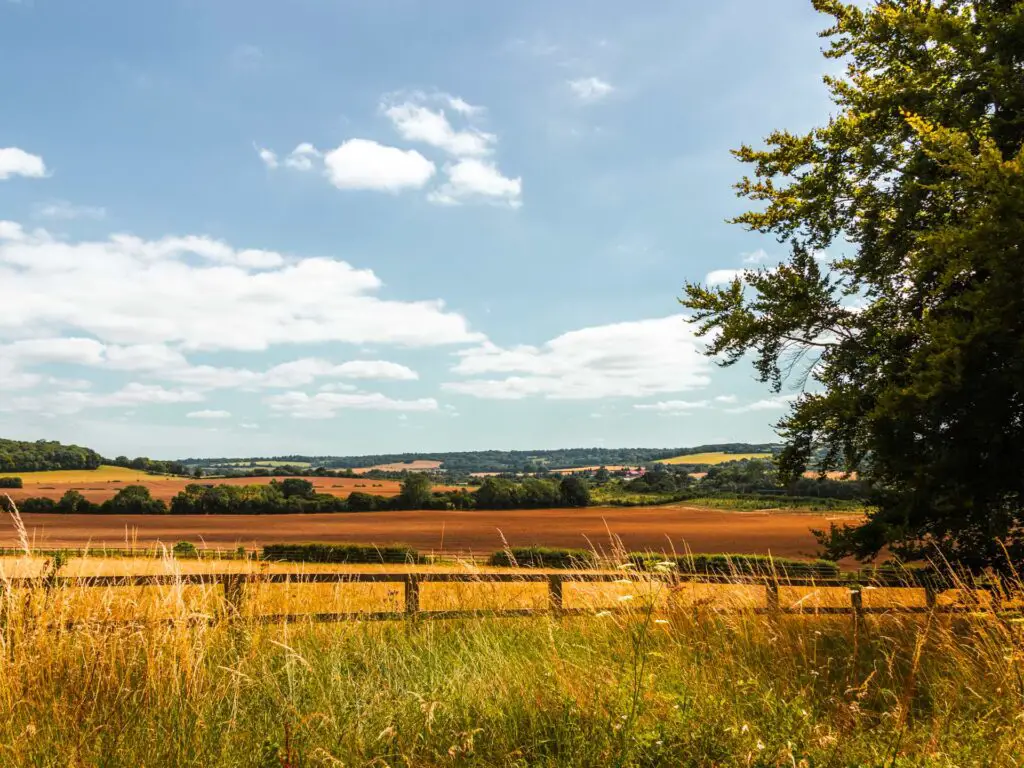 You will see as you get further up, the driveway curves to the left, but the trail you need to take continues straight up.
At the next junction with signage, go left, and you will now follow this trail for a while.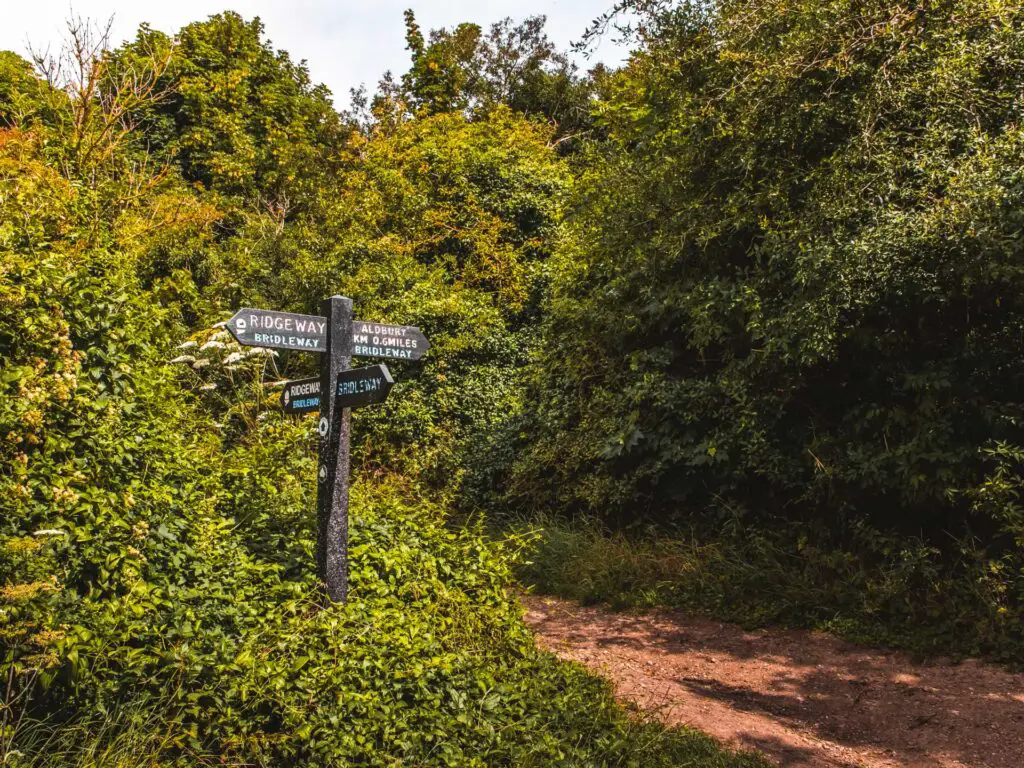 There were quite a number of people walking along here, or running, or cycling. It was slightly inconvenient as I needed the toilet and there really was nowhere I could go to hide myself. The toilet had to wait.
The tree bit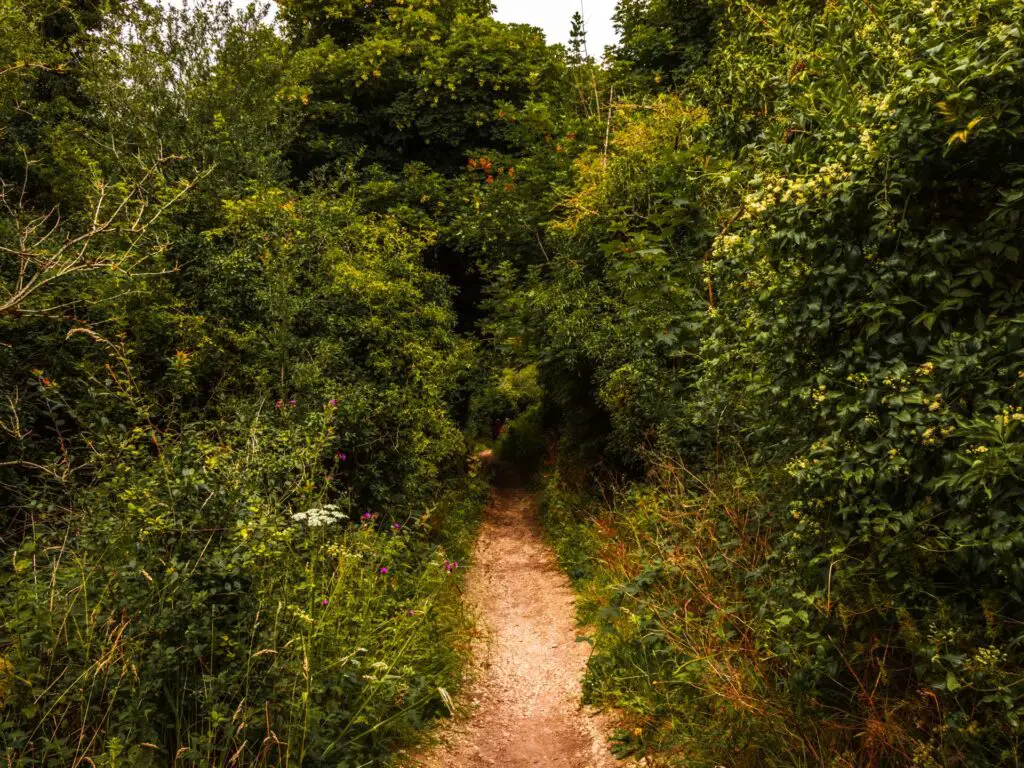 You will mostly be walking under tree cover with bits of view visible to the left. Teasing you. I was kind of hoping things would open up soon, so I could get a better view.
Then they did.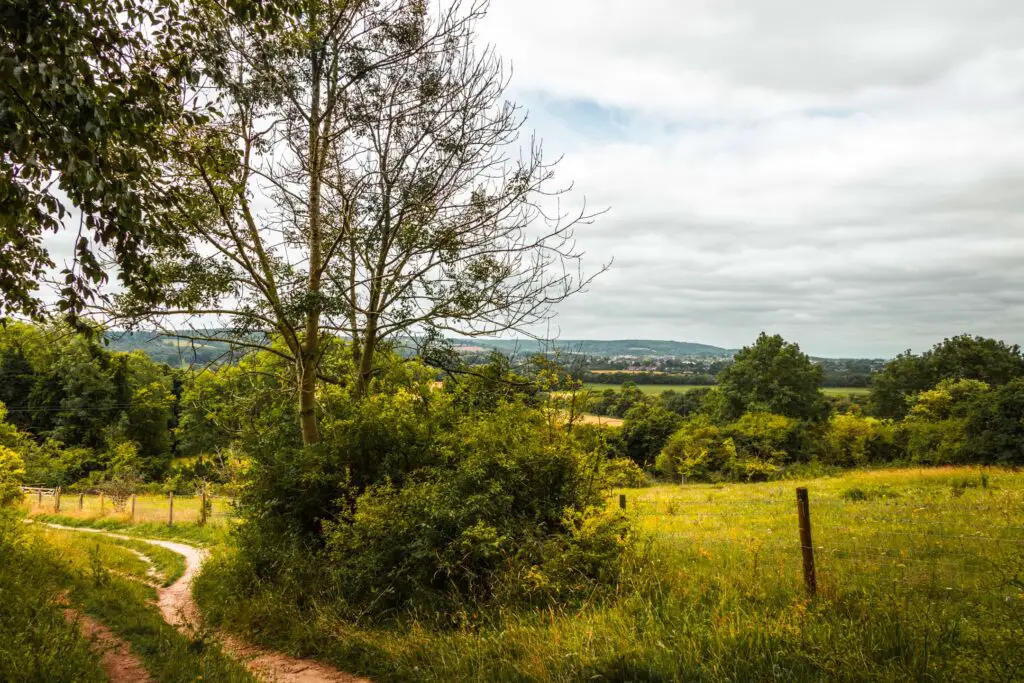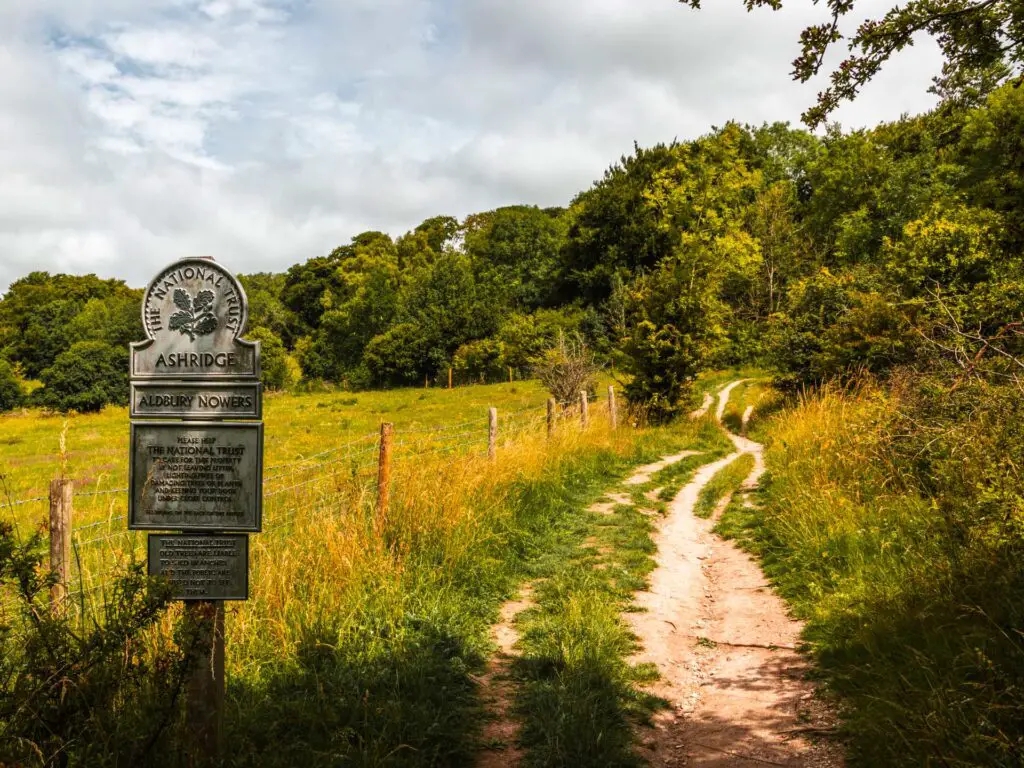 As the trail curves to the right, there is another small uphill, and things open up briefly. You will see a strategically placed bench where you can sit to admire the views.
The openness is only brief, as the hill continues up and back under tree cover.
The steps
A bit further along, you will reach some signage with wooden steps to the left. Take those steps and continue on up.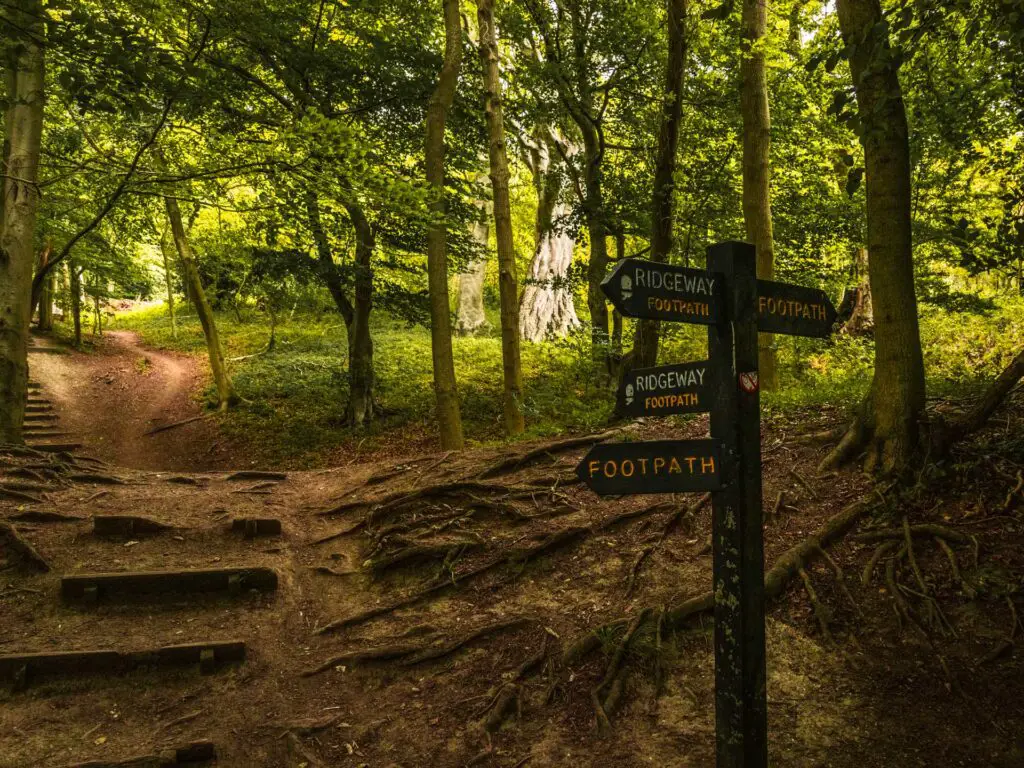 At this point, you will have been walking uphill a bit, it's mostly gentle with some short steeper bits.  
Out in the open
You will reach a junction where to the left is a tree with a rope swing. I didn't try it, but it looked like it could be fun. You don't go left here, you continue straight on and out of the woods. 
Here is where the main views begin.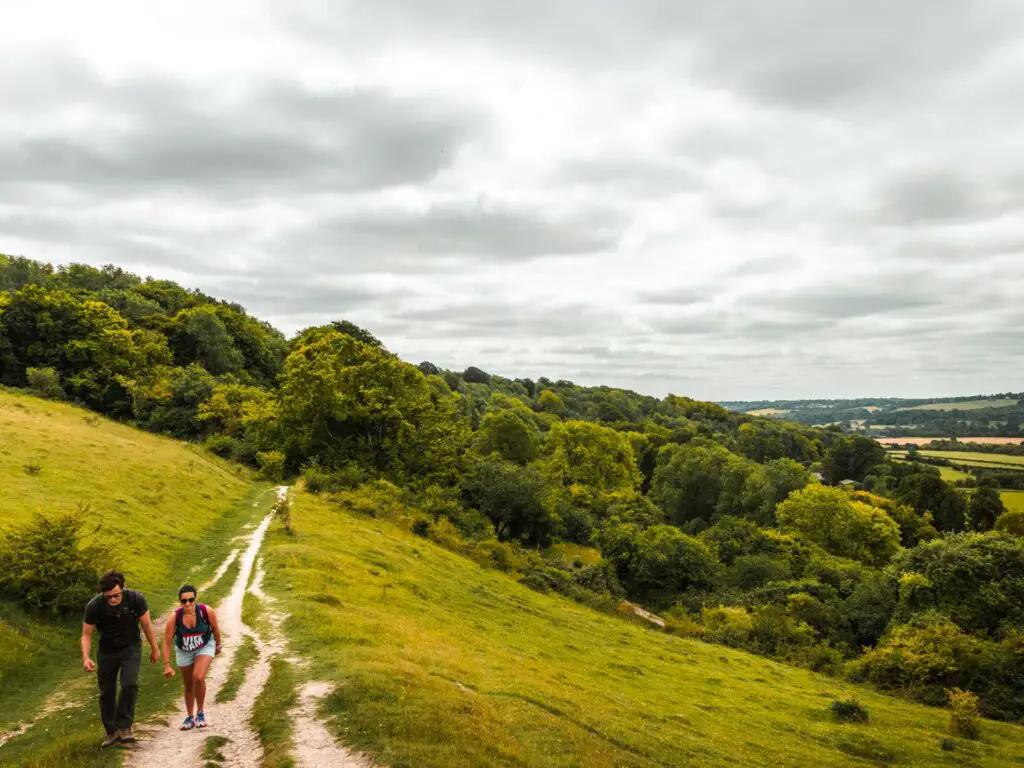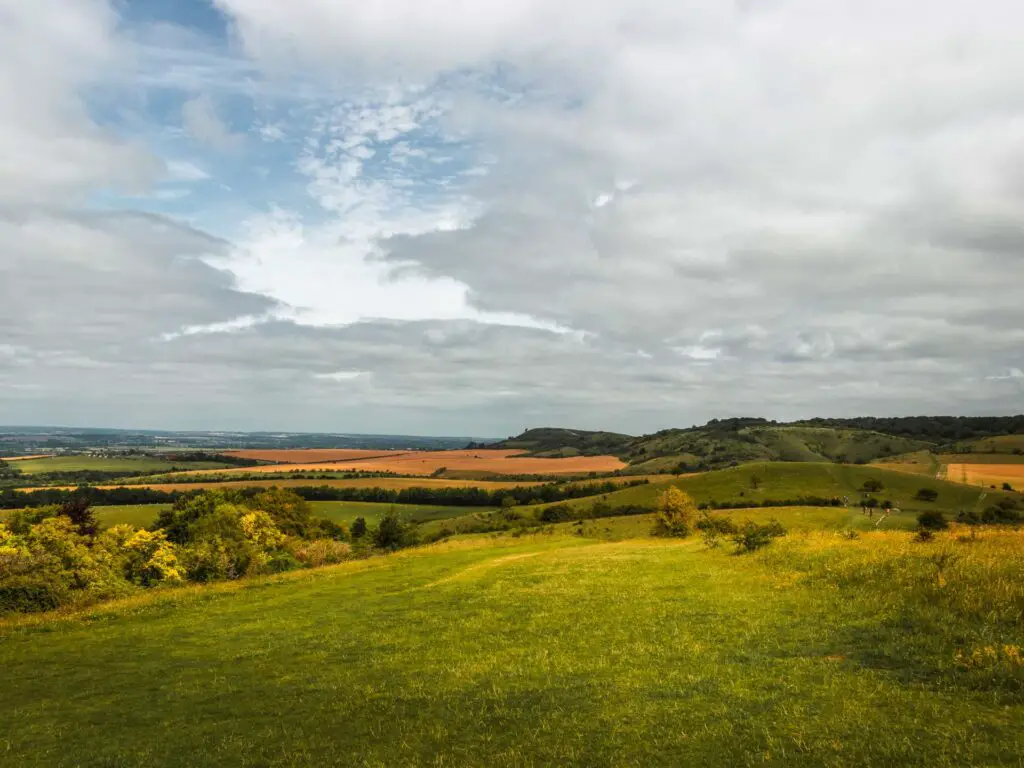 It was at this point that I got deja vu. I had been here before. Just a few weeks ago in fact. I realised I had walked along here, in the other direction, during the Ashridge Drovers walk. 
I had actually mapped out this route before coming, but it didn't register with me that I had been on part of it so recently. I have to say, I felt a little silly for forgetting. 
The busy trail
As I got to the top of this hill, and could see further ahead, everything started to make sense to me. You see, when on the Ashridge Drovers walk, I had noticed a trail in the distance which was heavily trafficked with people. It wasn't where I was heading, and I was glad. Now I realised that this is the exact trail I was making my way along. It is how you walk to Ivinghoe Beacon.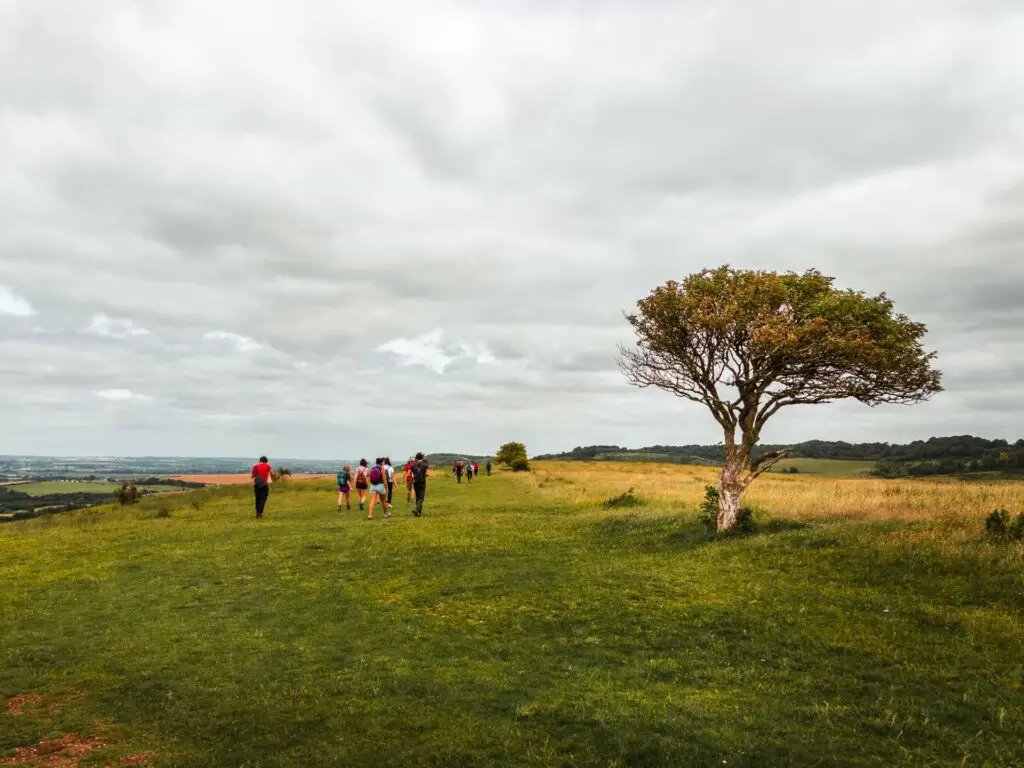 I have to say, I felt a bit of dread. I had a lot of walk ahead of me, and I wasn't sure I could tolerate being around so many people for the whole way. 
I mean, it wasn't like highstreet busy, but I was never out of earshot from voices.
Hill views ahead
The trail continues straight, with views all around, then through a car park and across a road. You will see up ahead the next hill you are heading towards.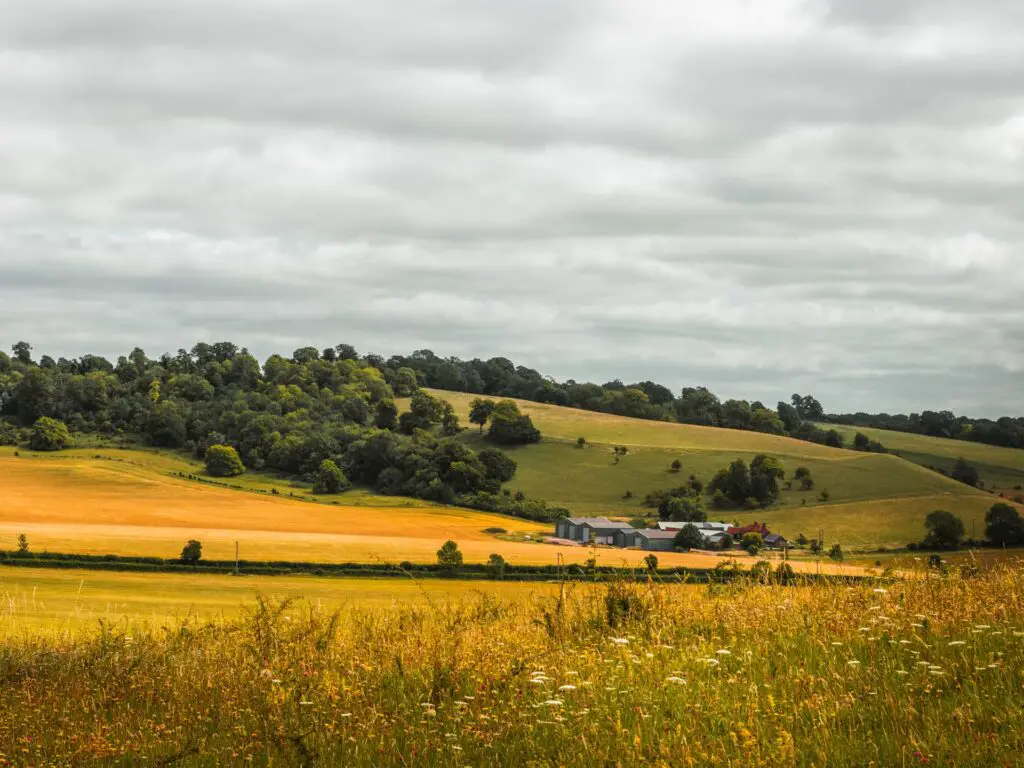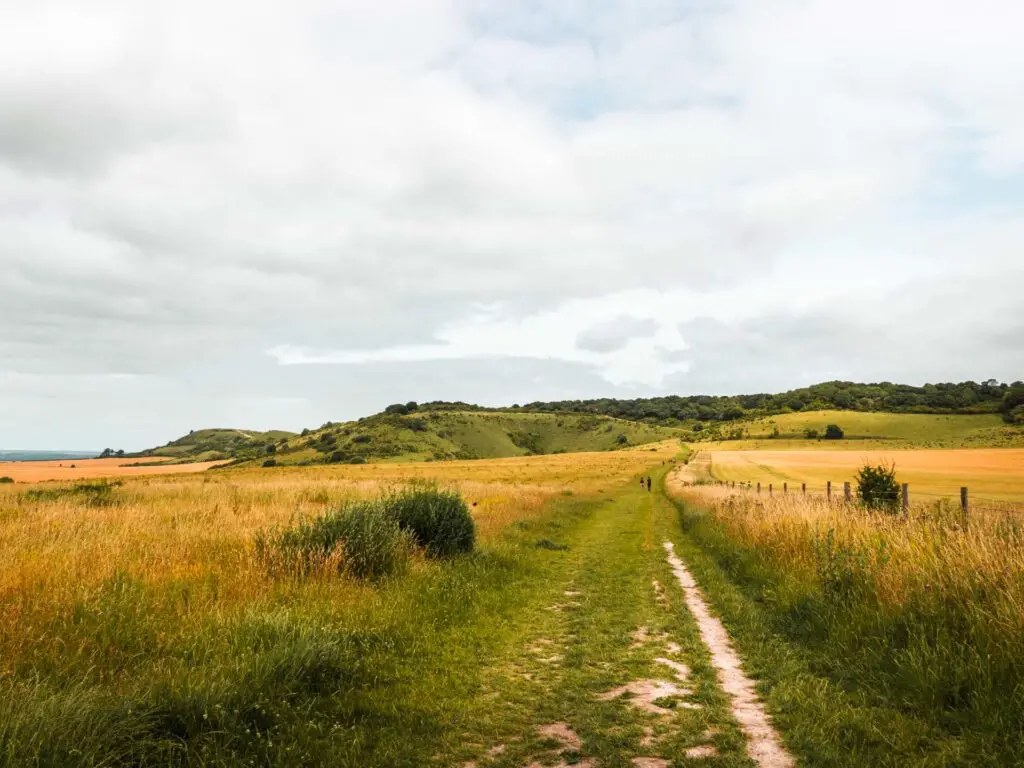 If it's a busy day like today, you will see ant people in the distance.
Towards the top of the next hill, as you reach a gate, the trail will split. I took the left one to find a spot to sit for lunch. You will see on my map, the two little lines poking out where I was trying to find somewhere where people wouldn't be walking past me. 
Stopping for lunch (with views)
I say I was stopping for lunch. Lunch consisted of energy bars. This wasn't on purpose. When I had left that morning, I had planned to pick up some food and coffee from the train station. As it turned out, due to the virus situation, all the shops were shut. Not what I was expecting. Not what I was expecting at all. There was one small place open, which is where I found the energy bars. Although, more tragic for me was not finding coffee. Maybe that's why I was feeling a little grumpy.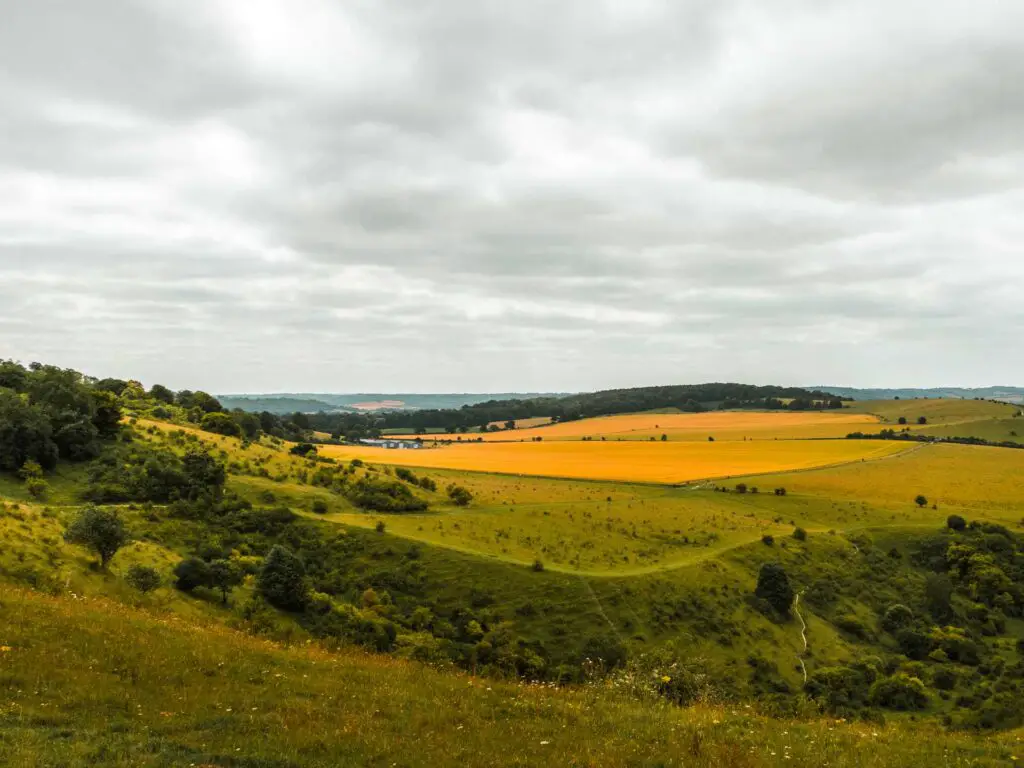 I sat there and thought about how I still had a lot of walking to go. I wasn't sure I could handle that much walking amongst other people. 
As I was here, I knew I had to at least make it to Ivinghoe Beacon, then maybe I would just walk straight back. Or maybe, just maybe, if I continue my planned loop back around to Tring, the walk would become a little quieter. I know from experience that people stick to the main stuff (the walk around Ivinghoe Beacon being the main stuff). 
I would evaluate the situation later.
The views from my lunch spot were lovely though. 
The walk towards Ivinghoe Beacon
Walking back the way I came, I took the trail left just before that gate. It doesn't matter which one you take, they all go the same way.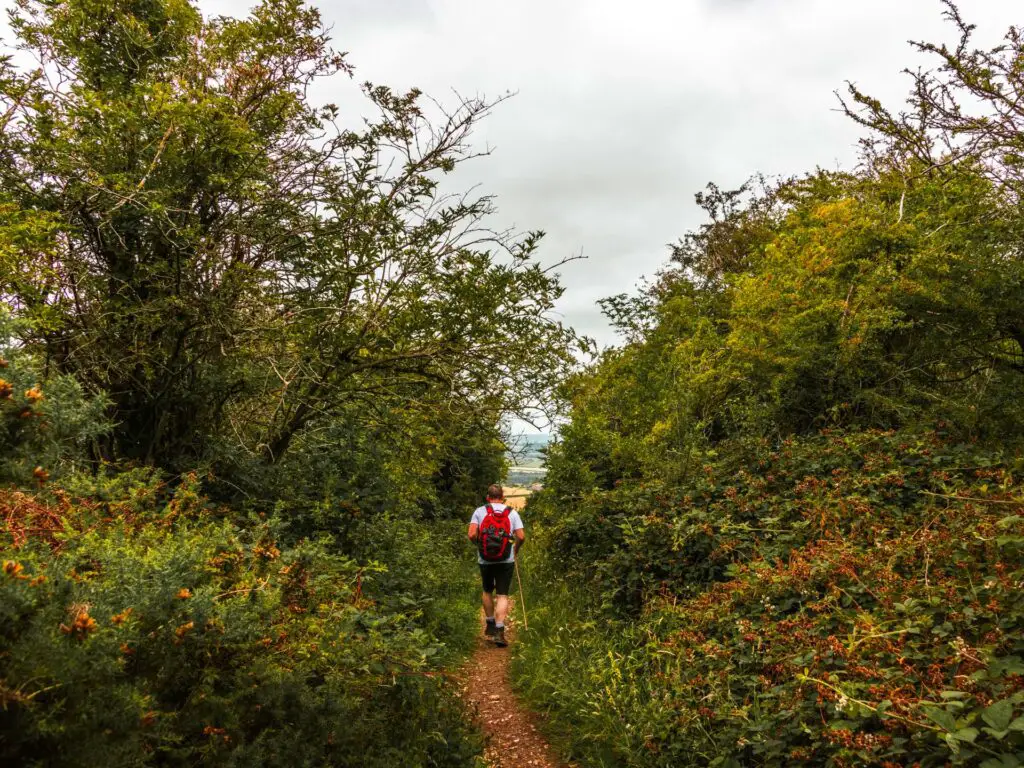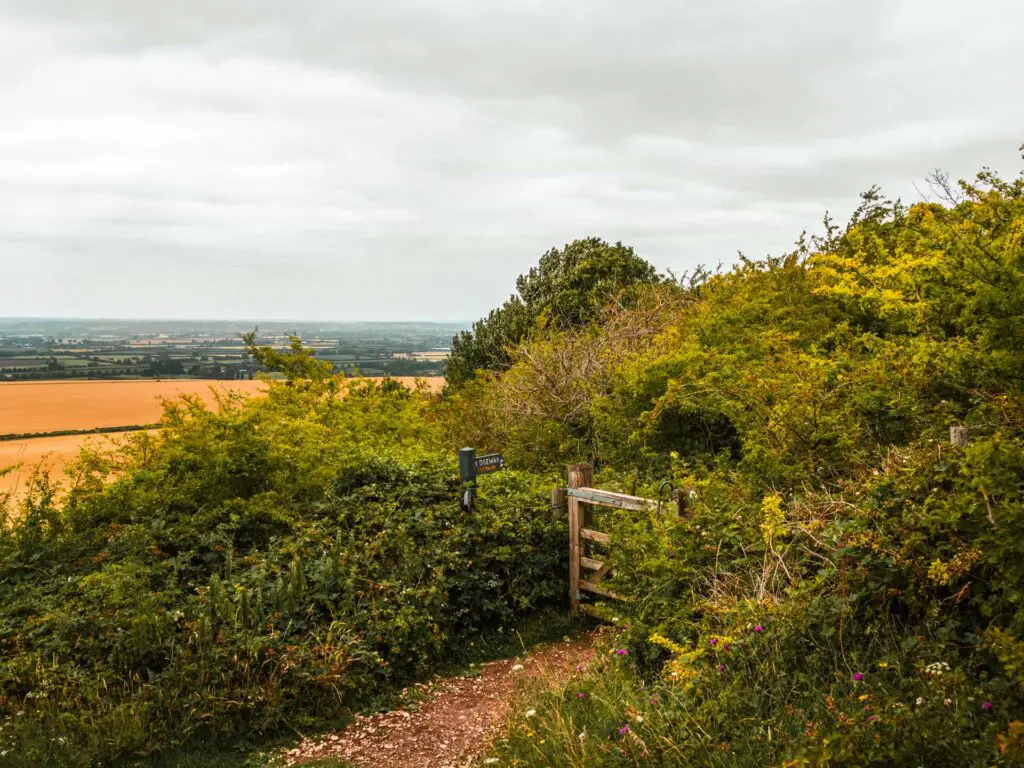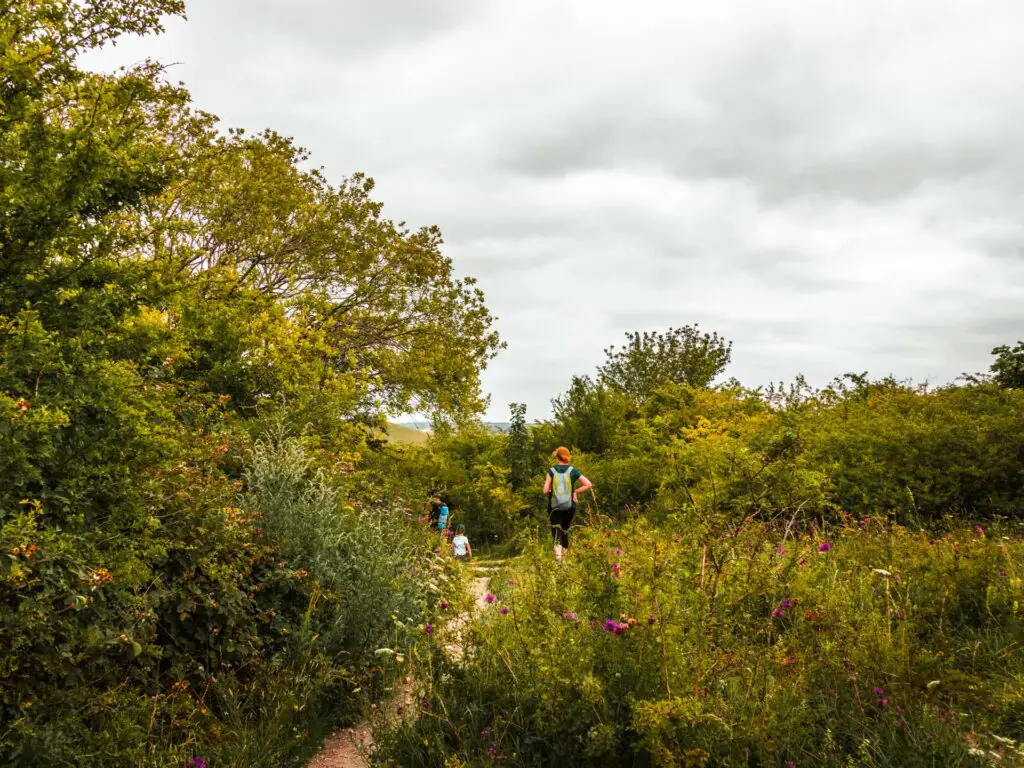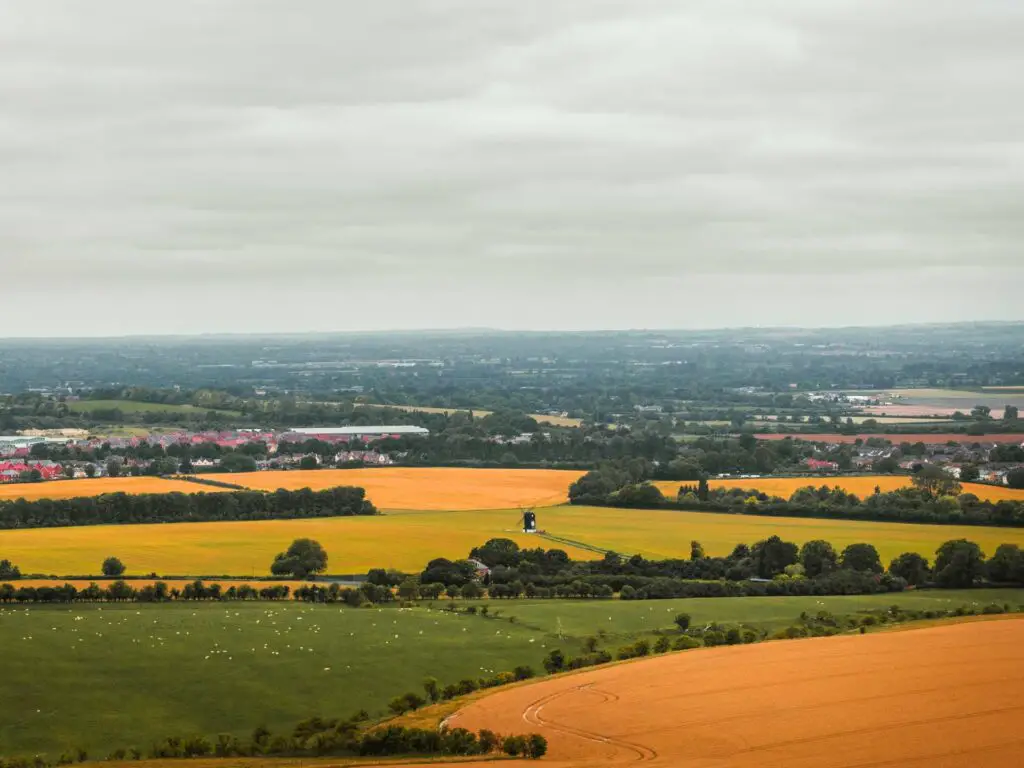 This bit of trail takes you through some bushes and gates, as you gently undulate up and down.
You will also soon be able to see Ivinghoe Beacon ahead, and now you just walk towards it. I did laugh a little once I could see it. I was able to make out lots and lots of little ant people at the top of it.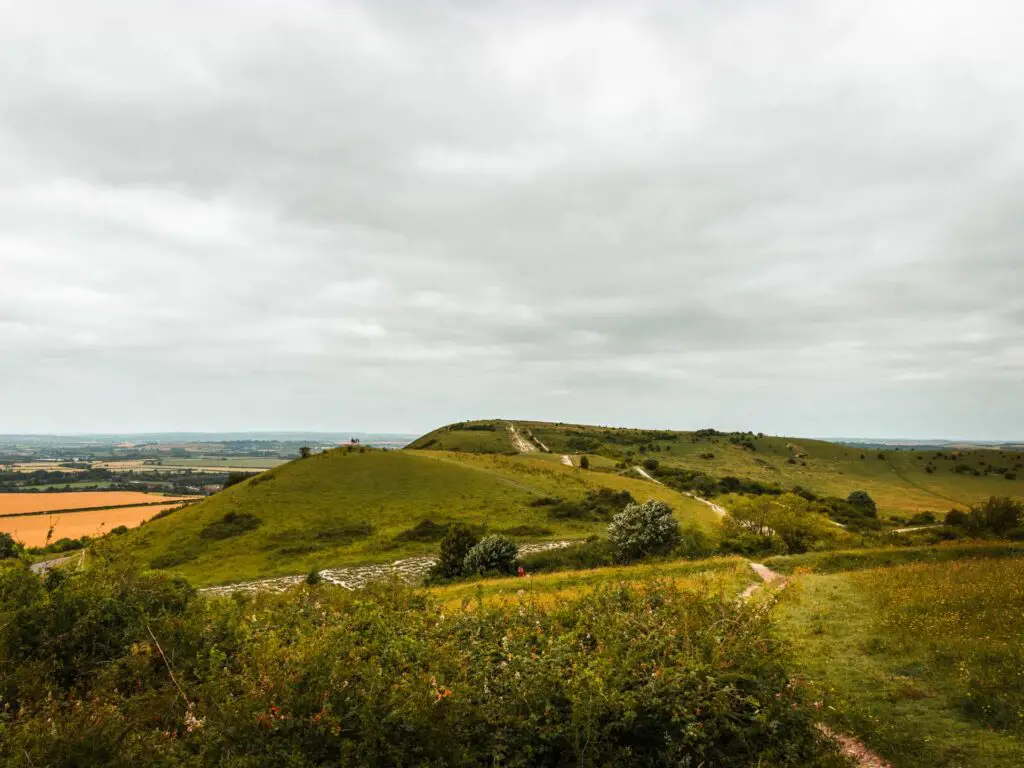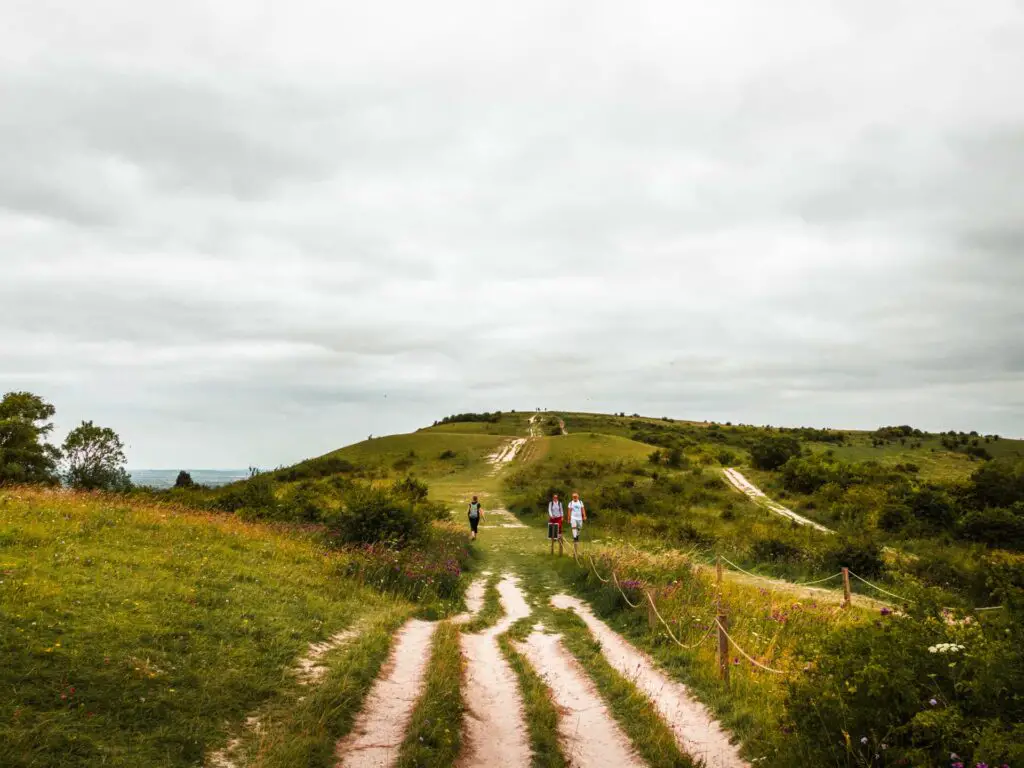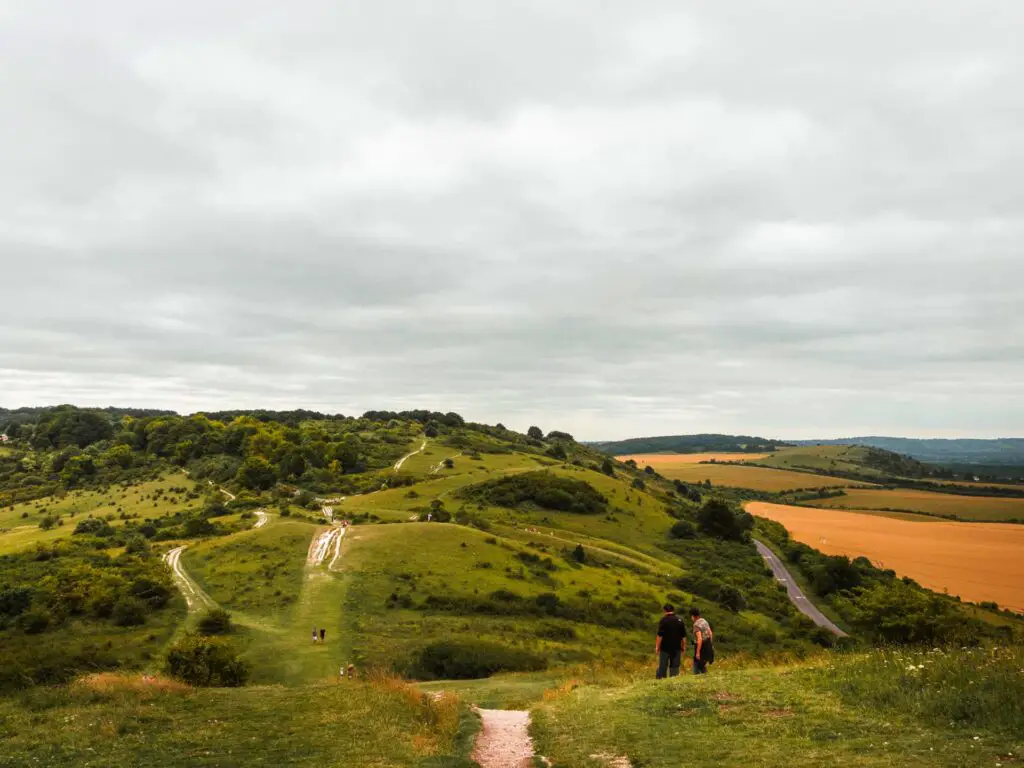 Walk to the top of Ivinghoe Beacon
Once I reached the top of Ivinghoe Beacon, it all didn't matter anymore. So far on this walk, there had been a lot of views, but not like this. All around, views reaching so far, across multiple counties. The pictures really don't do it justice so please don't go by what these pictures look like.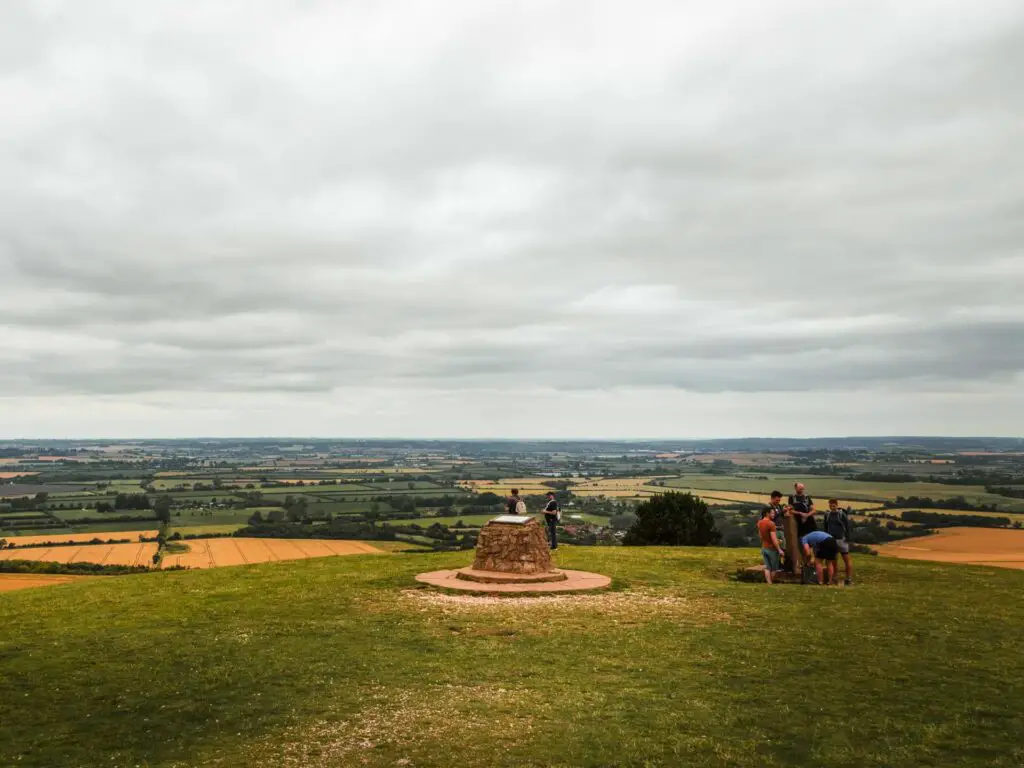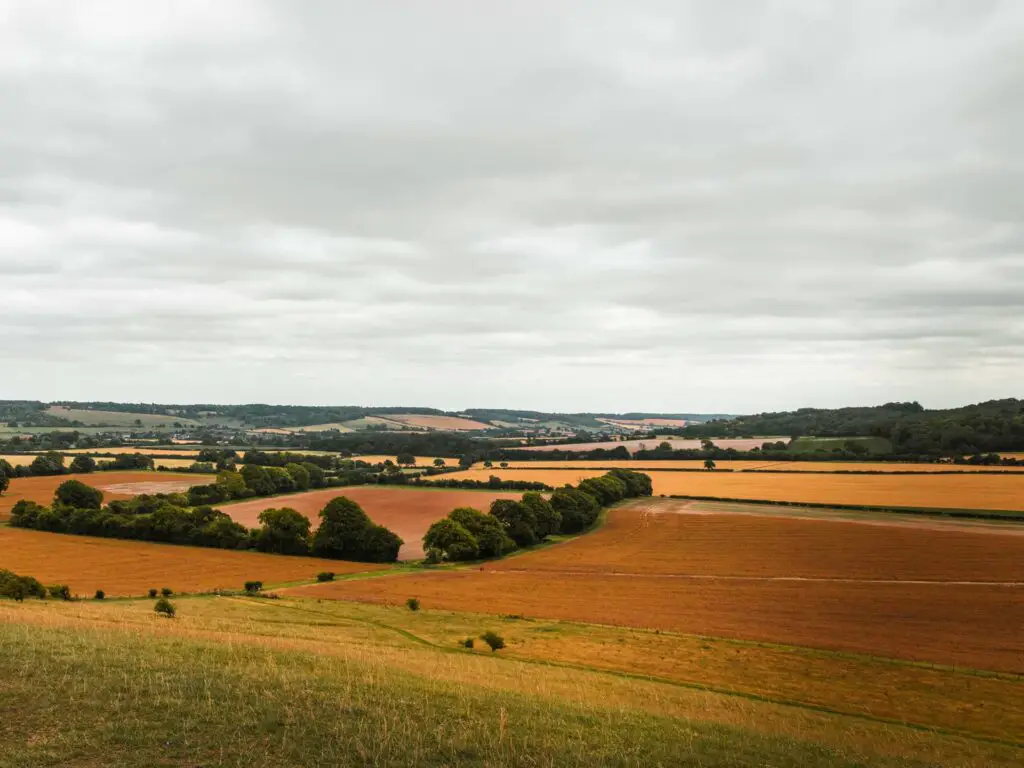 I can say without a doubt, that the walk up to Ivinghoe Beacon was 100% worth it. There were people flying kites, and even little aeroplanes. I had not seen these little aeroplanes for a long time. Man toys. 
The walk along Ivinghoe Beacon Ridgeway
You should see the Ridgeway up ahead to the right. I knew now, that I would be completing my original planned walk. The views had given me a new lease on today's hiking life. 
It was also along the Ridgeway, that I saw something up ahead that I wasn't expecting. Something that I had seen pictures of, but never actually knew where it was. A big chalk White Lion. 
A quick google search told me it was the White Lion of Whipsnade.
Walk away from Ivinghoe Beacon and the Ridgeway
At the end of the Ridgeway, take a right before the gate to head downhill. Then at the end before the two big trees, turn right.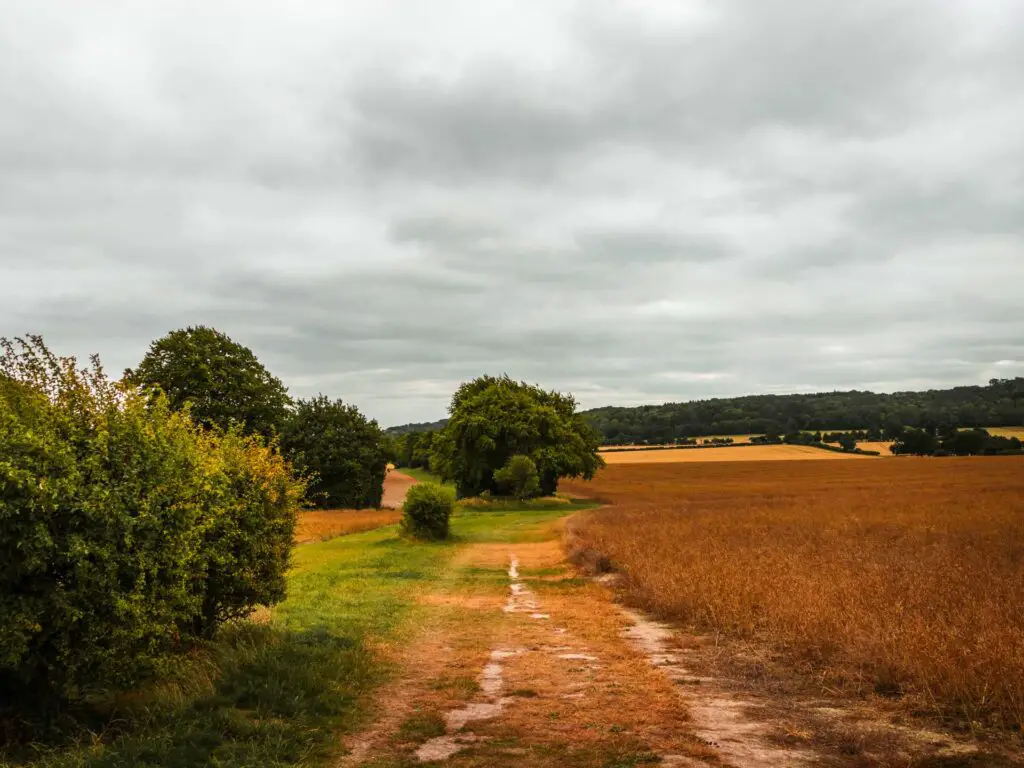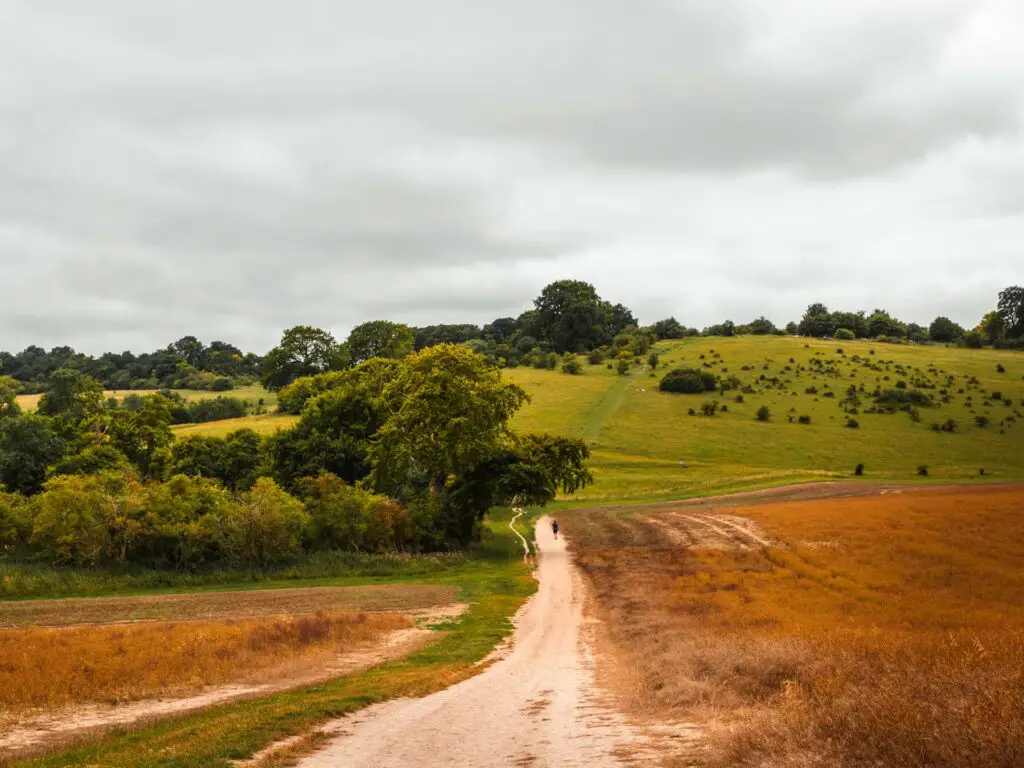 You will see a big uphill ahead. Don't worry, you won't be going up that hill. Instead, once you go through the gate, turn left, and at the fork, take the trail on the right up a small uphill. 
The wrong but right turn
So I took a wrong turn up ahead, but it actually worked out, so bear with me. There will be a gate leading up to a car park, with a left turn just before the gate. I initially headed up towards the car park, but then decided that was the wrong way, so turned back to instead take the left turn just before the gate.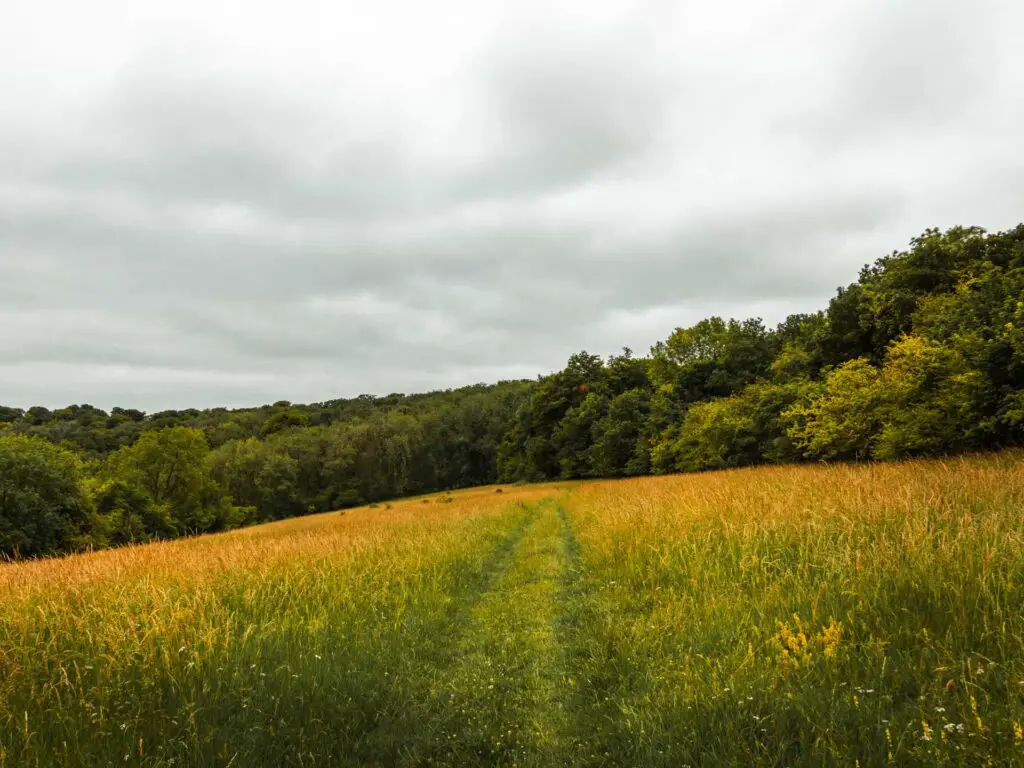 Along here, the trail is surrounded by overgrown stuff with woods to the right and openness to the left. I noticed that on my trail app, I wasn't exactly on the trail line. The woods on the right (which I realised is where I should be) were fenced off. I didn't want to turn back so prayed that I wouldn't hit a dead and up ahead. 
Now that I was away from Ivinghoe Beacon, the walk was noticeably much quieter, except for all the crickets. It was rather nice.
At the end, the trail went in the opposite direction to where I needed to be. There was no opening in the fence to get me into the woods. I decided to see if I could find an opening somewhere else, and if not, I would climb over. 
Luckily I found broken bit of fence.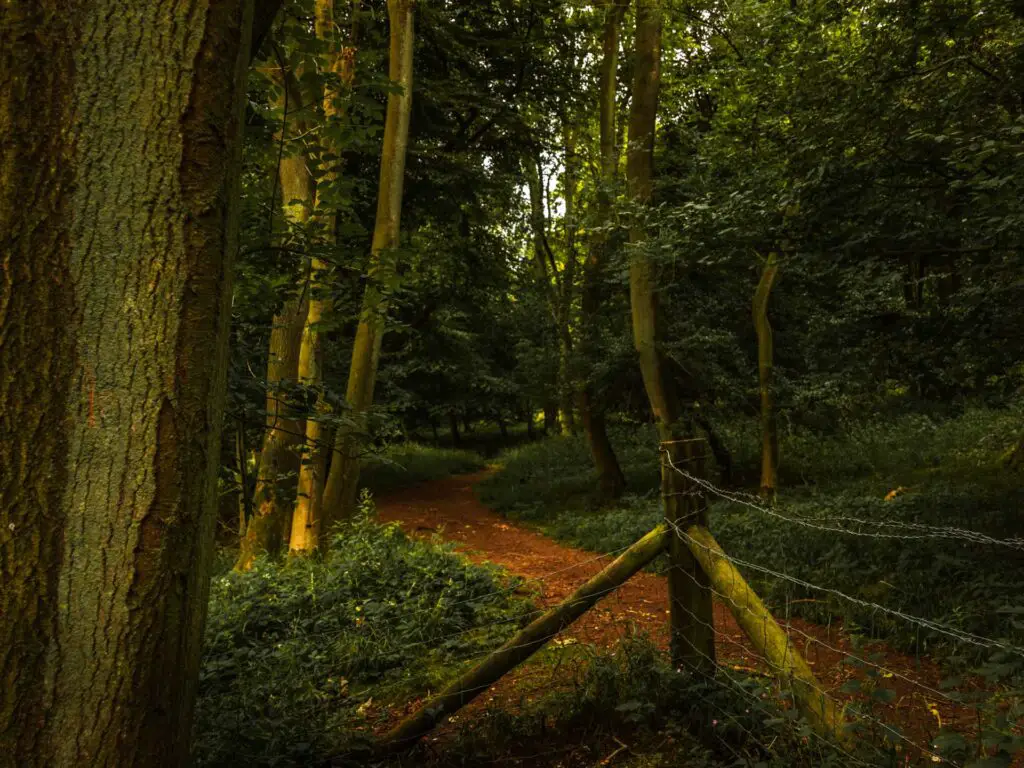 To find it, if you take a right (when the trail turns left) you will reach the fence corner where it is actually low enough that you can step over it. And there. You are now back on the correct trail, and now in the woods.
The woods
Through the woodland, there is a trail somewhere you need to take to go right. I missed it. Doesn't matter if you miss it too, as there is a turning coming up where you can sharply turn back around to join where you should be (you will see the sharp turn back on my map).
The mini trail along the road
Once out of the woods, you will hit the road. Cross over it and turn left. I could see on my map a trail running alongside this road. I figured it was through the woods. So I tried it. There wasn't much of a trail in there, and it also came to an abrupt end, forcing me back to the road. 
So don't try going into the woods. 
The correct trail does indeed run right next to the road. Like a pavement. Except it's super narrow and surrounded by overgrown stuff and hogweed (the toxic plant). In parts, the trail is almost not visible.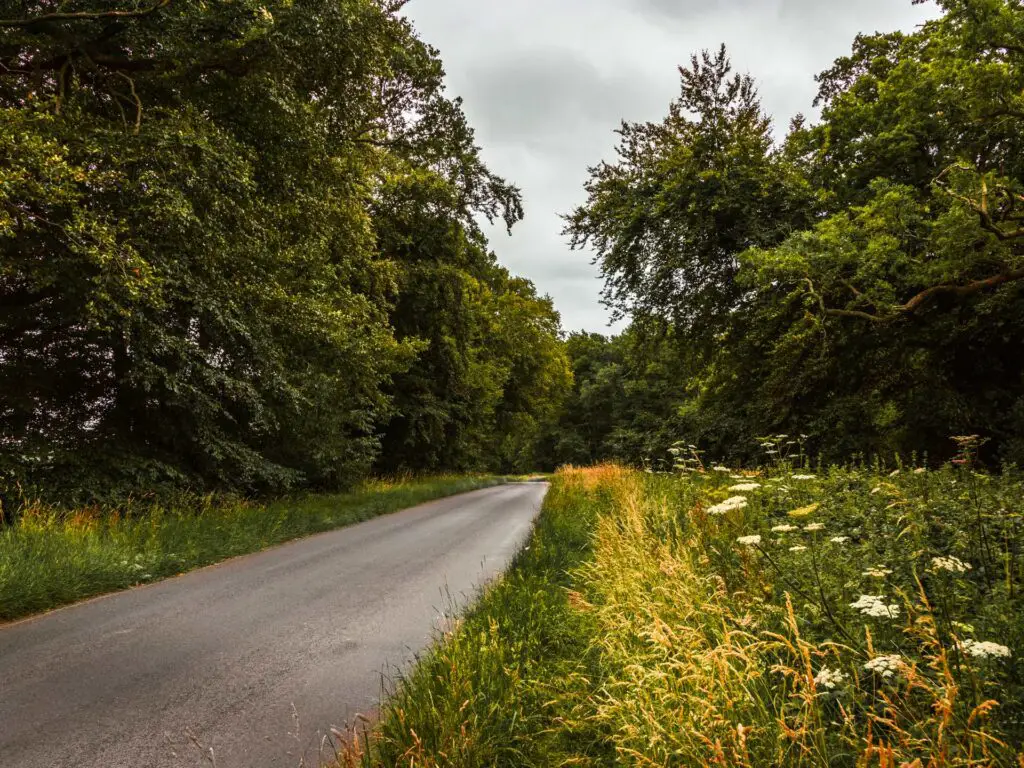 More woods
An opening will appear, and from here you walk straight ahead and into more woods.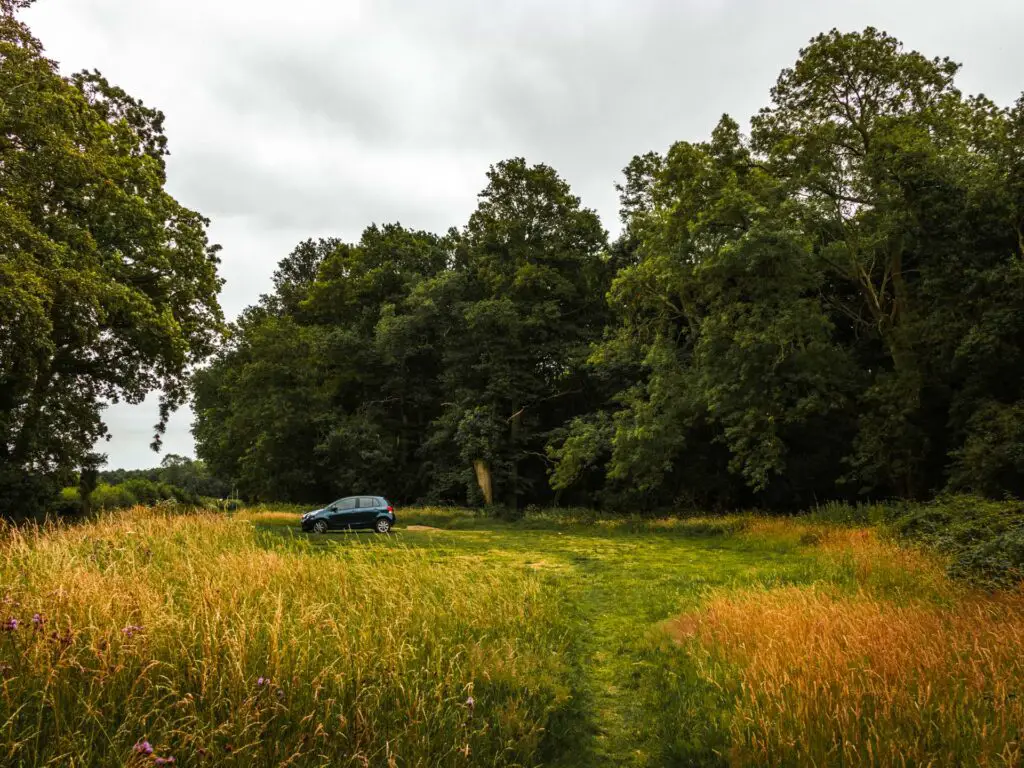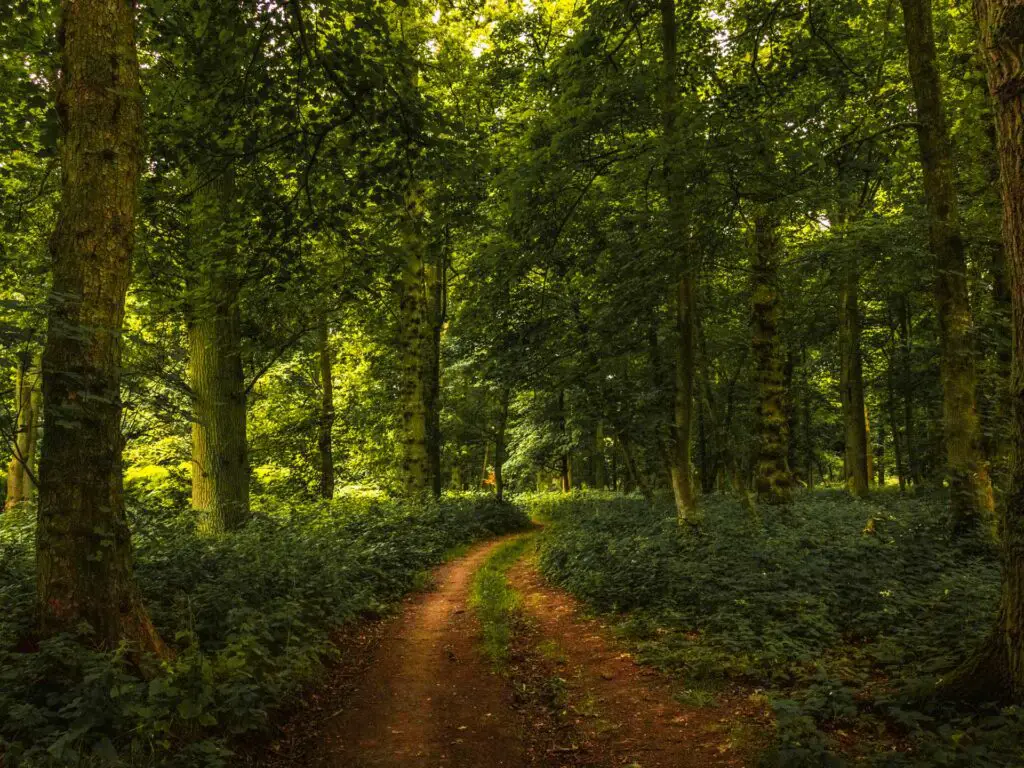 In the woods, take the trail on the right.
My line on the trail app is a bit squiggly in this bit. Not sure what I was doing.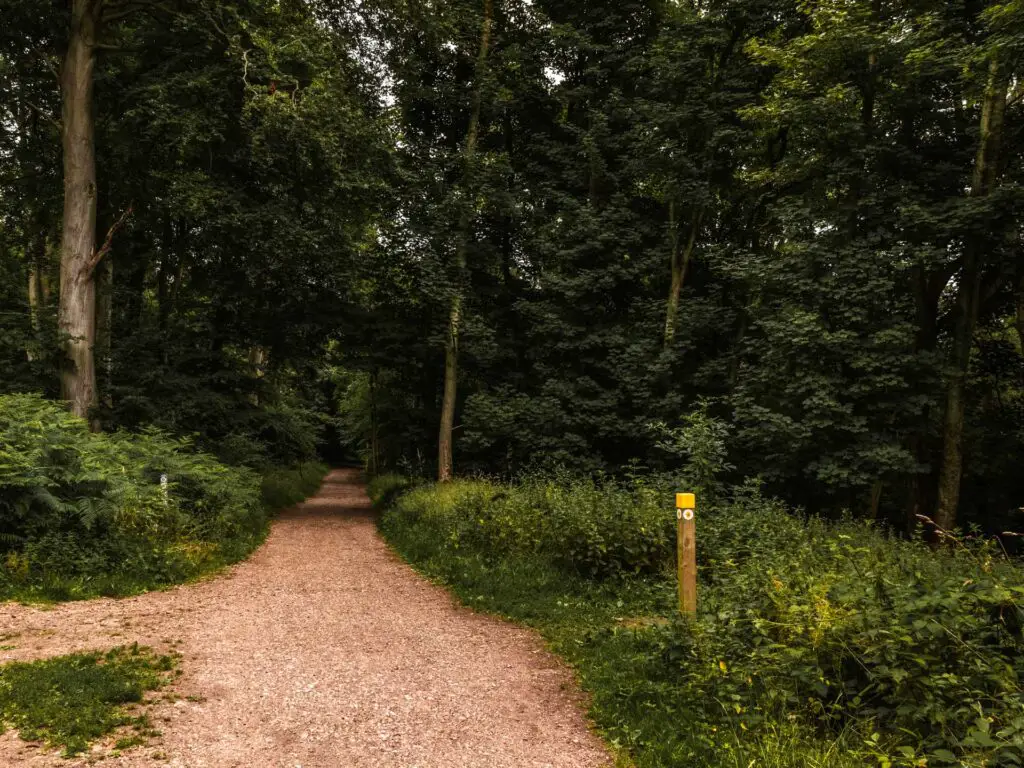 When you see this wooden stump with yellow on it, take the trail to the right next to it. You will then walk deep through some more woodland.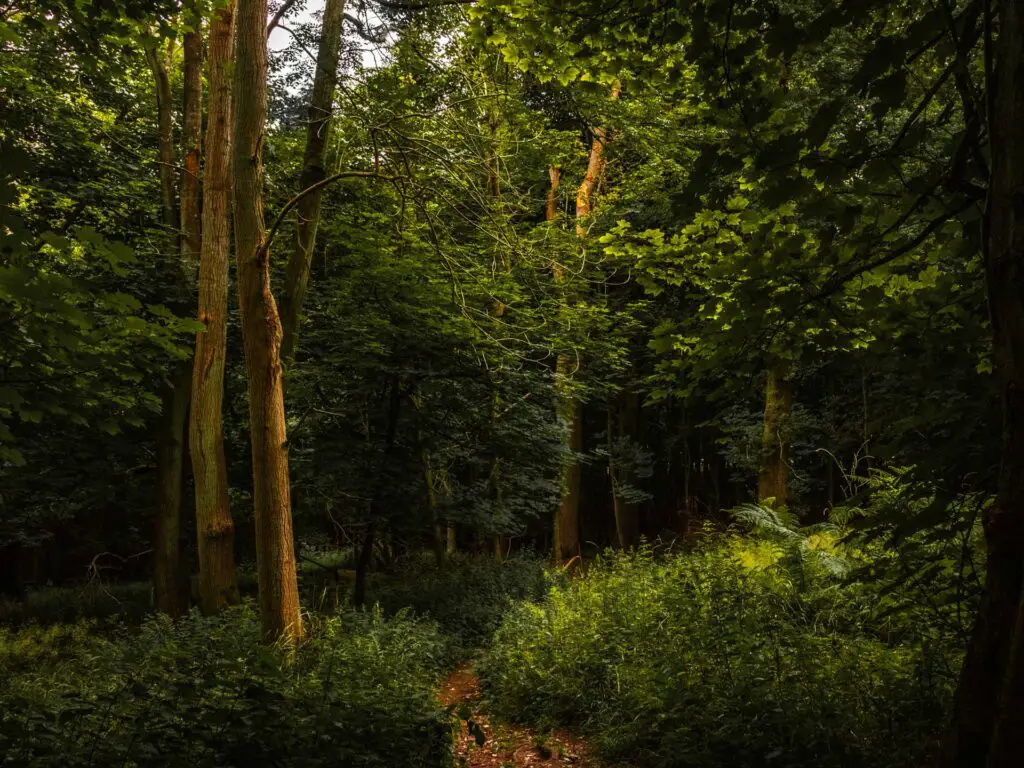 The cows
The trail will lead you out of the woods and into a field. There were a handful of people laying down in this field, but nothing like earlier in the walk near Ivinghoe Beacon. Everything in this section was just so peaceful.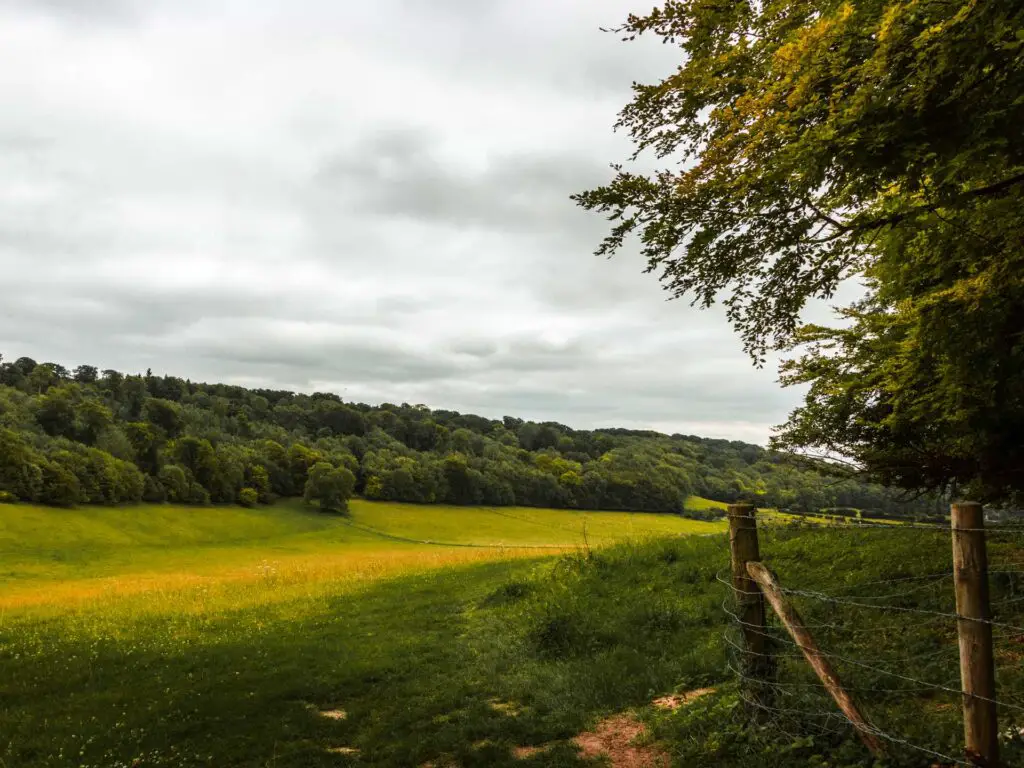 Then the next field happened.
The cow field.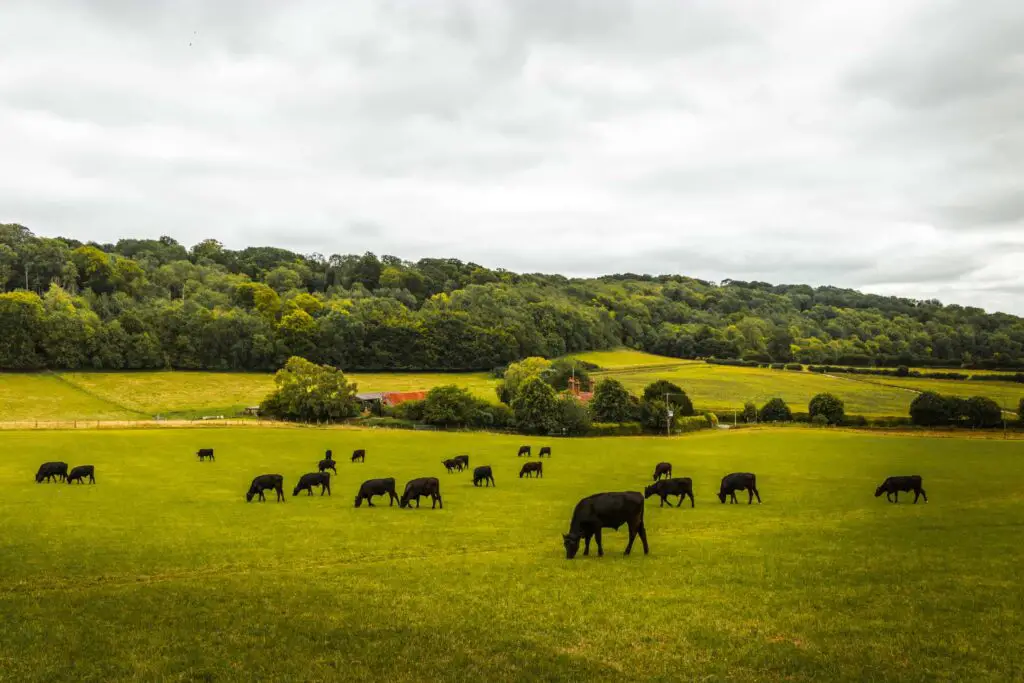 If you know me, you know I have a fear of cows in fields. Yes, I know, hiking around England, this is something which is unavoidable.
Before going into cow fields I always assess the situation. 
Can I walk another way?
If not, then where is my nearest escape route incase they decide to attack?
The cows in this field were kind of spread. First the big group you can see in this picture, then a bunch more to the right, along the fence. My only way was through the middle of the two groups.
So I made my way through, keeping my head down. 
I wondered if they could smell my fear.
More fields and a giant poo pile
Once safely through the cow field, the trail continues straight across the small road and into another field.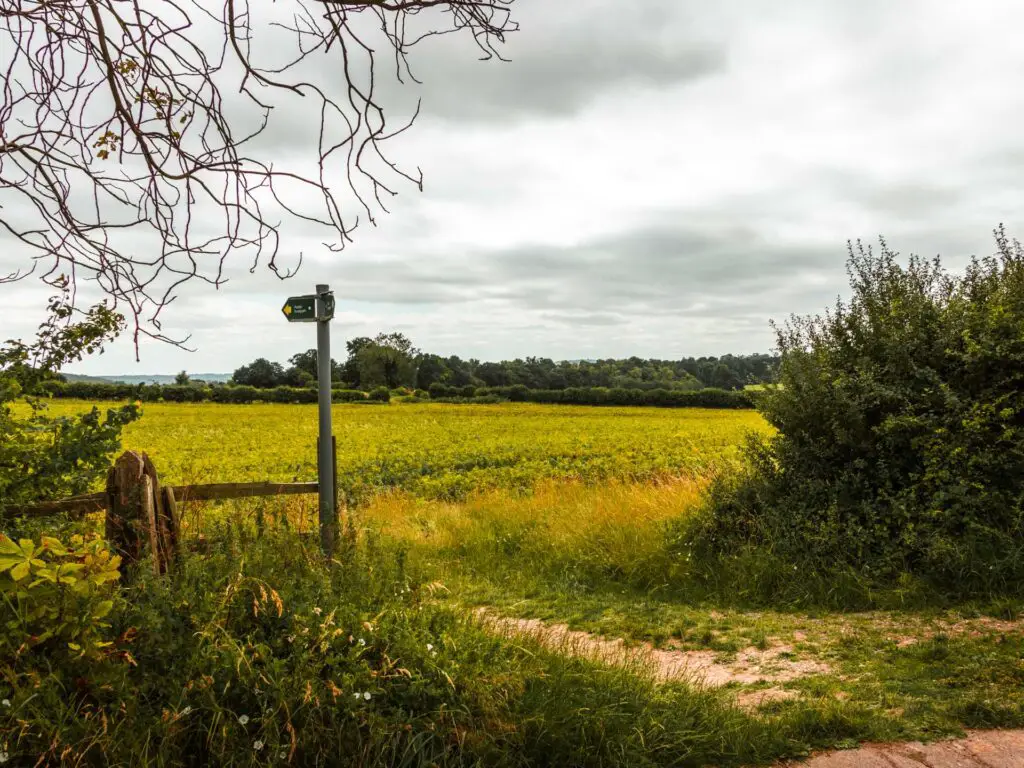 The views from here are lovely, as you make your way through a small hole in the bushes, then at the end, the trail will turn right at the wooden stump with yellow.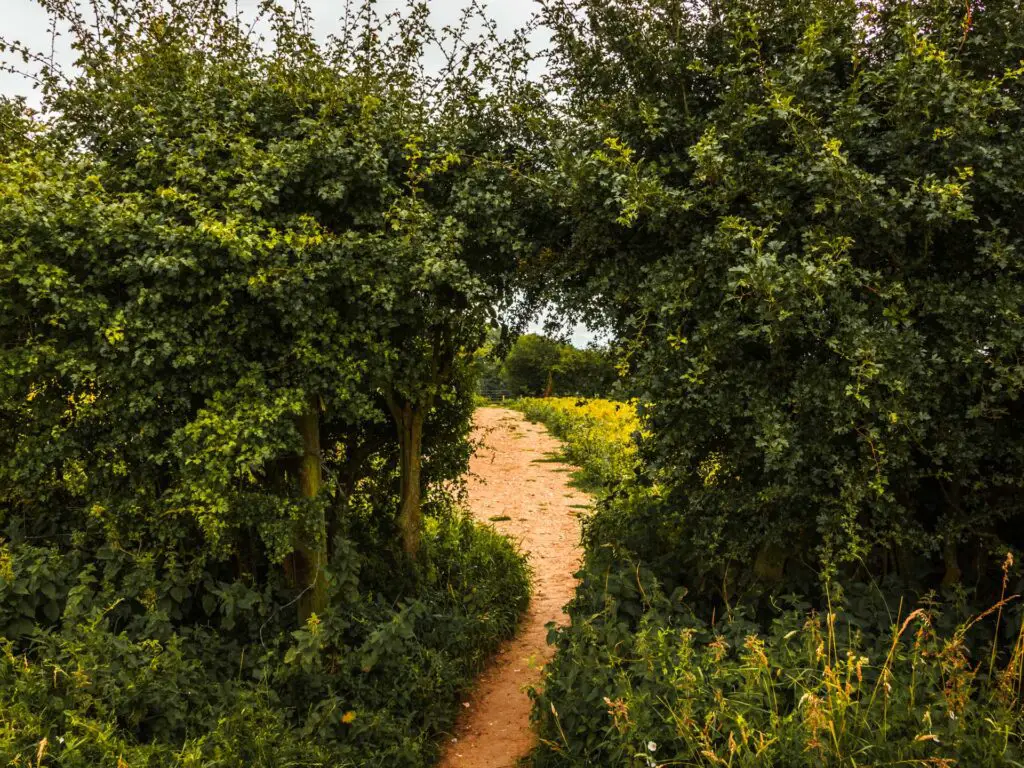 A bit further along you could be in for a real treat. A giant manure pile. You will then walk past a farm house, before reaching the road and onto the trail across from it.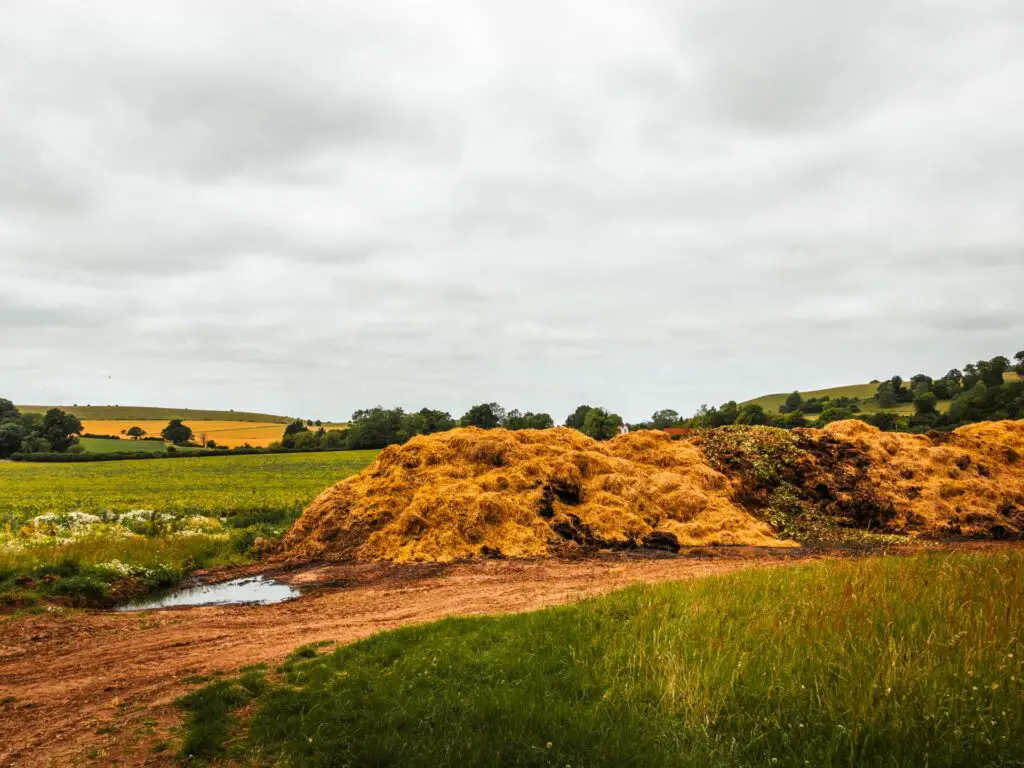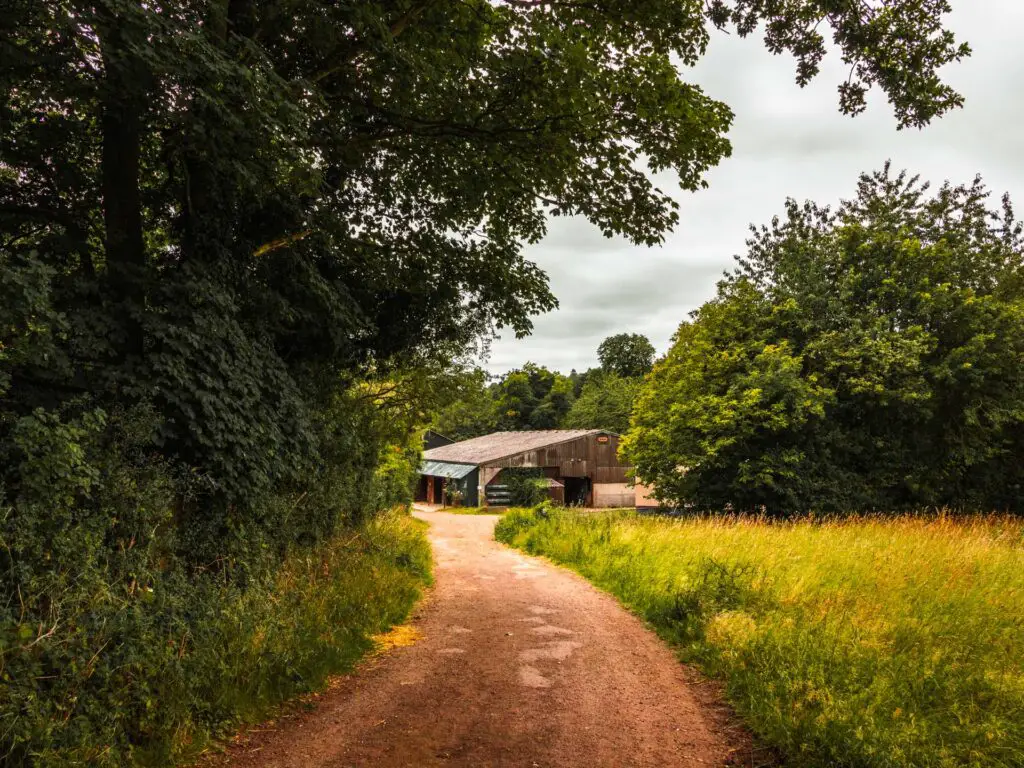 The golf course
A bit further along here, the trail will lead you from rugged to well manicured as you reach the golf course. An English countryside walk would not be complete without walking past or through a golf course.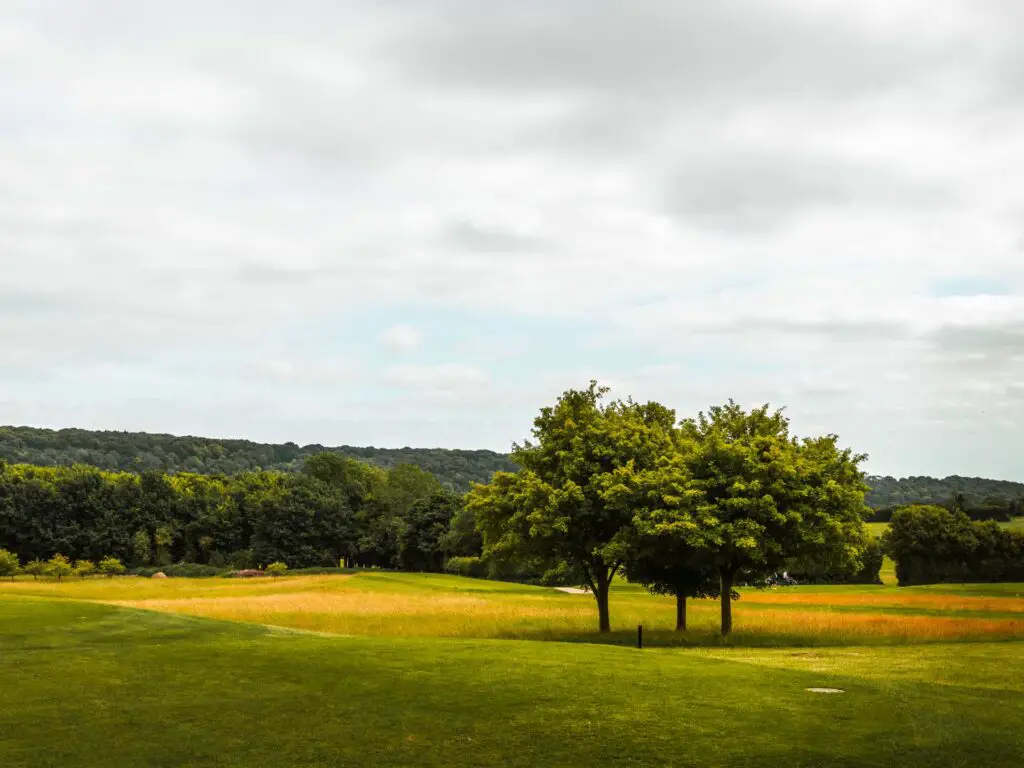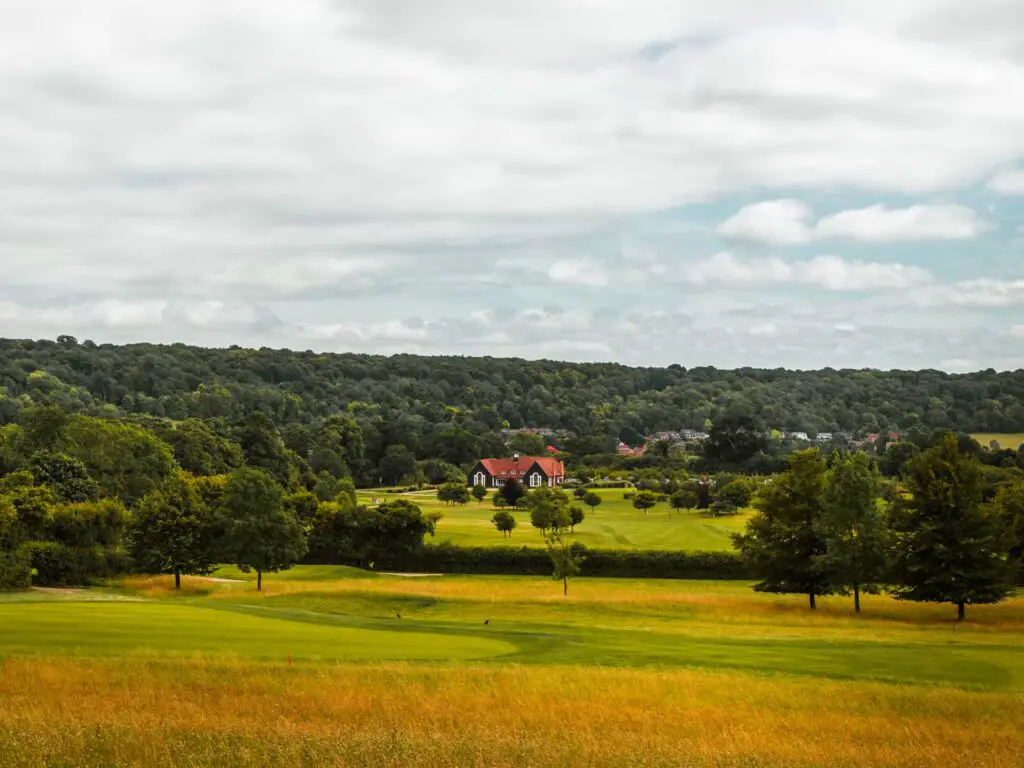 At the end, you will reach some signage with some turnings. Don't take the right turn into the woods, but instead take the right just after it and continue walking along the edge of the golf course.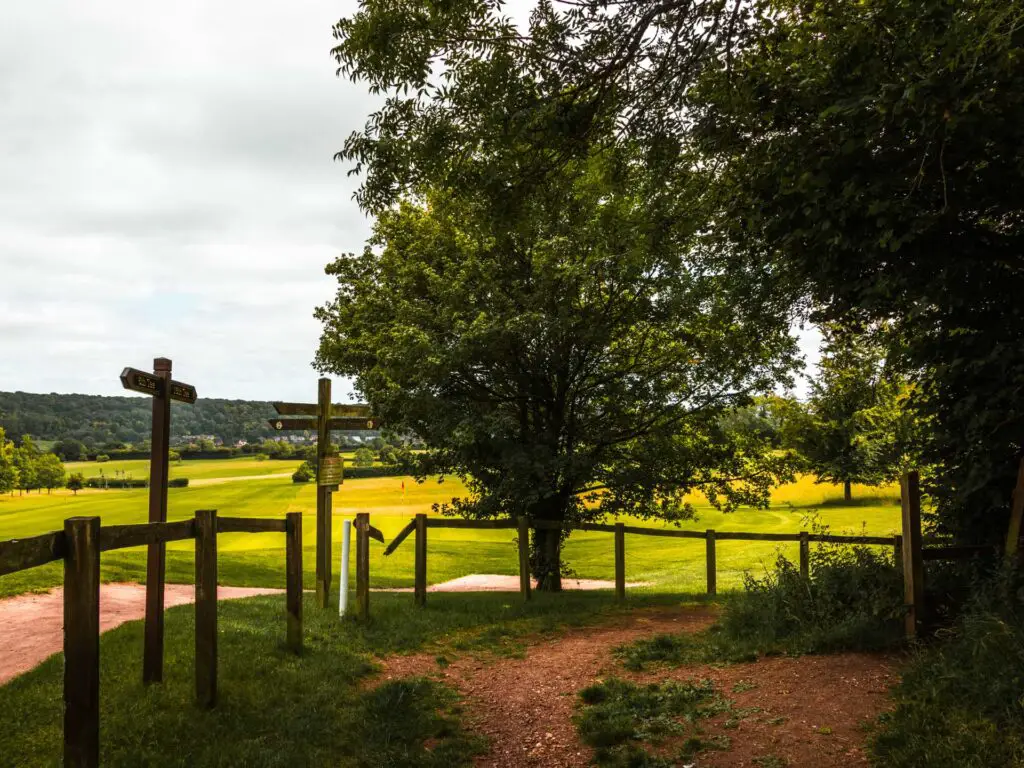 The trail will lead you to a gap in the trees. Go through this and follow the right trail.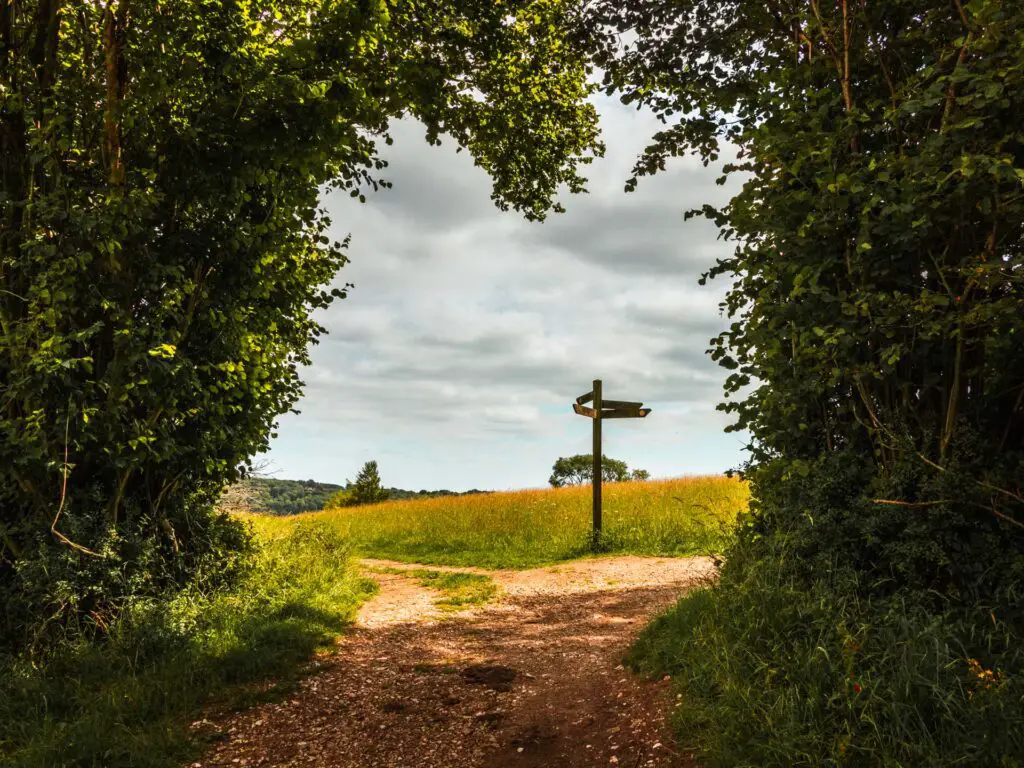 The final stretch of the Ivinghoe Beacon walk
I knew I was nearing the end of the Ivinghoe Beacon walk as I could hear the trains of Tring station down the hill to the right. Not in a bad way. I felt super satisfied with the walk today, and was ready to make my way home.
The sun was shining, with superb views all around. A perfect way to finish the walk.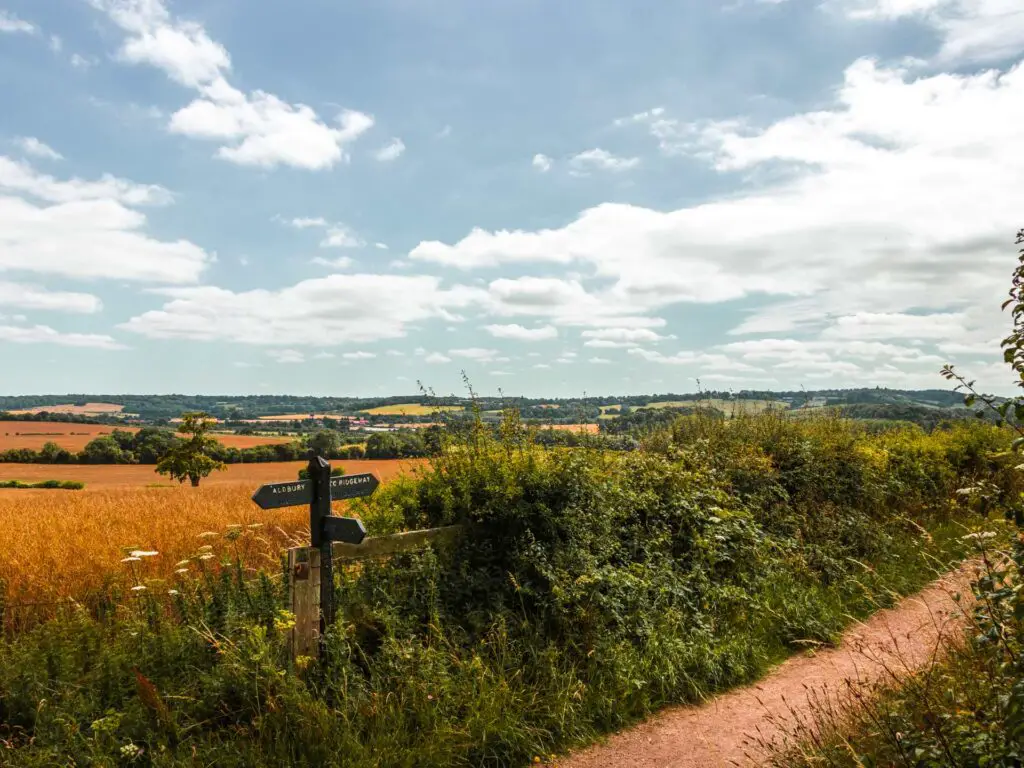 At the t-junction, take a right, and this will lead you to the bit at the beginning along that driveway. 
---
Final thoughts on the circular walk from Tring to Ivinghoe Beacon
---
So, I would say this was a trail of two halves. As I have mentioned already, the first section of the walk up to Ivinghoe Beacon was quite busy, but the views at the top made it worth it. Once off the Ridgeway, things got a little quieter. Then for the rest of the walk, I truly felt like I was away from everything, out in the English countryside. 
---
More walks near Tring and Ivinghoe Beacon
---
Another walk which partially follows the Ridgeway Trail is this circular walk from Wendover. It's a very very hilly walk, more on the challenging side, and has views to rival Ivinghoe Beacon. You will also get a glimpse of the Whiteleaf White Cross, another chalk hill thing.
I briefly mentioned earlier the Ashridge Drovers walk, which is just next Ivinghoe Beacon. Much shorter and fewer hills if you fancy something a bit easier. It's also a circular walk, however you would need a car to get there, or you could make the walk a little long by starting from Tring station. Or you could head north for a lovely cute little walk near Hitchin. 
Slightly further south you could try out the Hambleden Medmenham circular. This one has some hills, but isn't too challenging.
If you're looking for pretty, then look no further than Henley to Marlow. This one follows the River Thames from one pretty village to another. If you fancy it, you will be rewarded at the end with a number of choices of Michelin start pubs and restaurants.
More chalk figure or Ridgeway walks
Uffington White Horse – This is the oldest chalk figure in Britain. Located over in North Wessex, which connects to the Chilterns. The view of the white horse isn't as impressive as the Lion on this walk, but the landscape is gorgeous.
Kilburn White Horse – This is the most northern white horse figure in England. This route is very short and easy. There is an option to make it longer, which I describe in that guide.
Long Man of Wilmington – This walk is over in the South Downs and has the largest human chalk figure in Europe. He is a bit of a mystery, as known really knows how old he is, or why is is there.
Avebury walk – This walk is along the very start of the Ridgeway Trail over in North Wessex. The exact route I took, I wouldn't suggest, but I give suggestions of what to do instead.
I have more walks coming for the Chilterns, but for now you could find more on the Chilterns AONB website.
Pin it for later: The circular walk from Tring to Ivinghoe Beacon