The walk from Richmond to Putney along the Thames Path is long. Nearly 10 miles long. I mean, 10 miles isn't too long for a walk or hike, but 10 miles is long when walking on hard ground alongside the same river for the whole route. If I was to to it again, I would actually split it up. One walk along the river from Richmond to Barnes, and then another from Barnes to Putney.
That being said, the walk from Richmond to Putney is a beautiful stretch along the Thames Path. Lots of greenery, lots of boats, lots of nice bridges, and plenty of wildlife. This was my first time walking along the River Thames around Richmond (I did it before I walked from Richmond to Hampton Court, which I have already published). I was stunned by how pretty this part of the river is. Probably the prettiest part I have seen along the River Thames in London.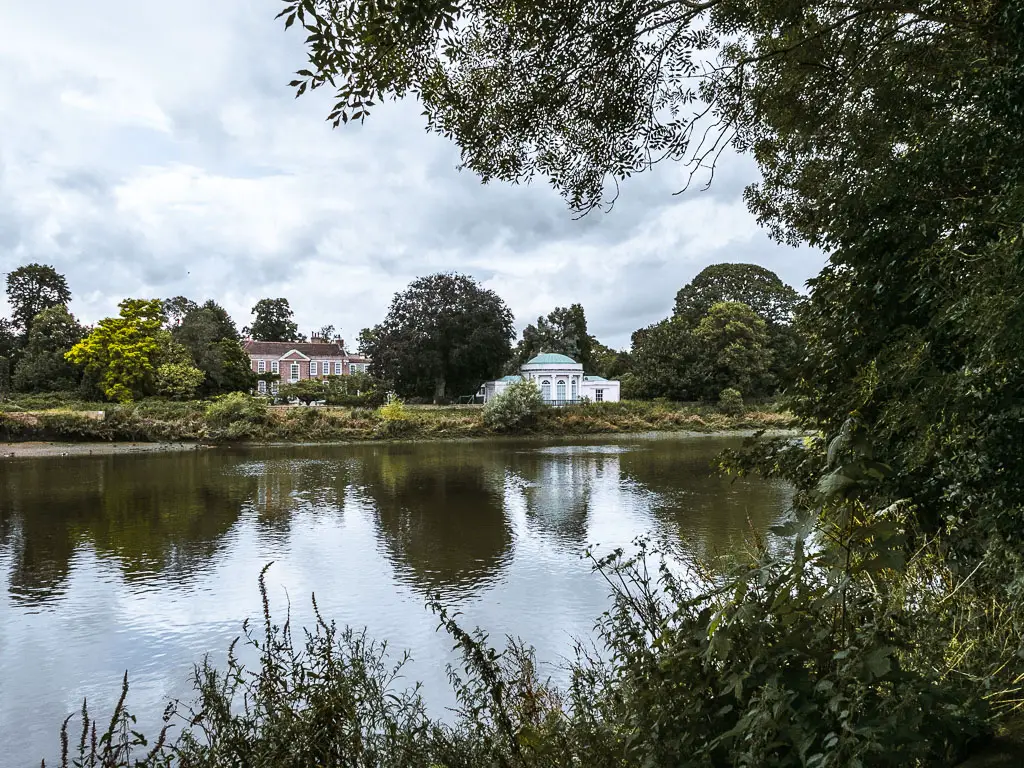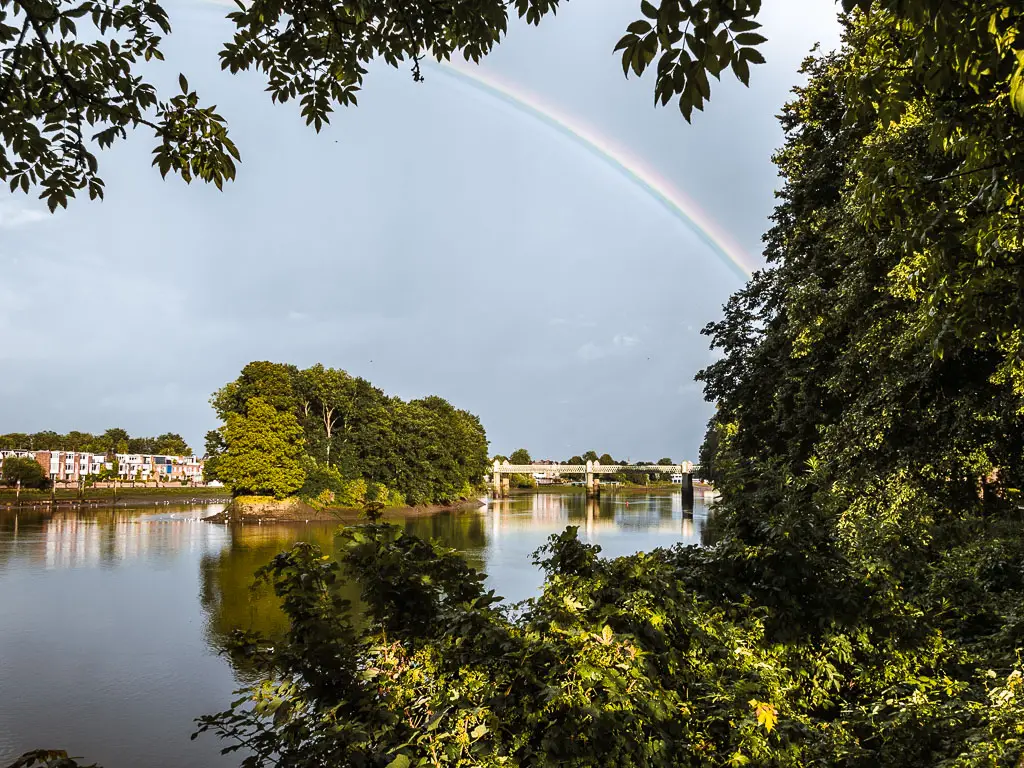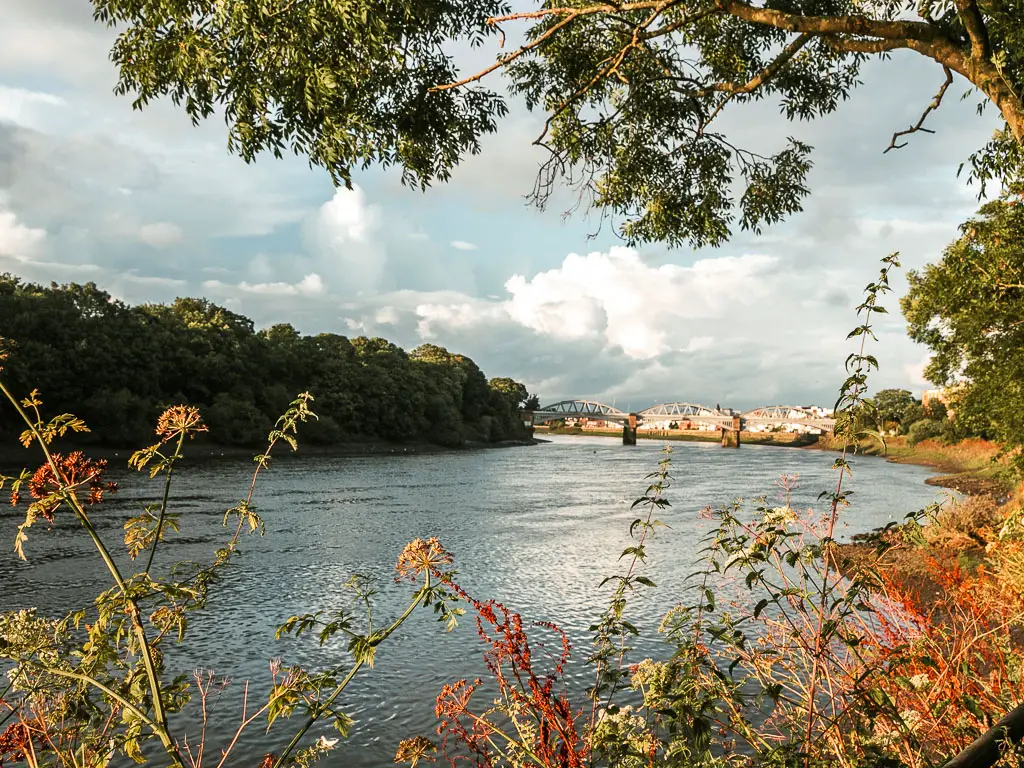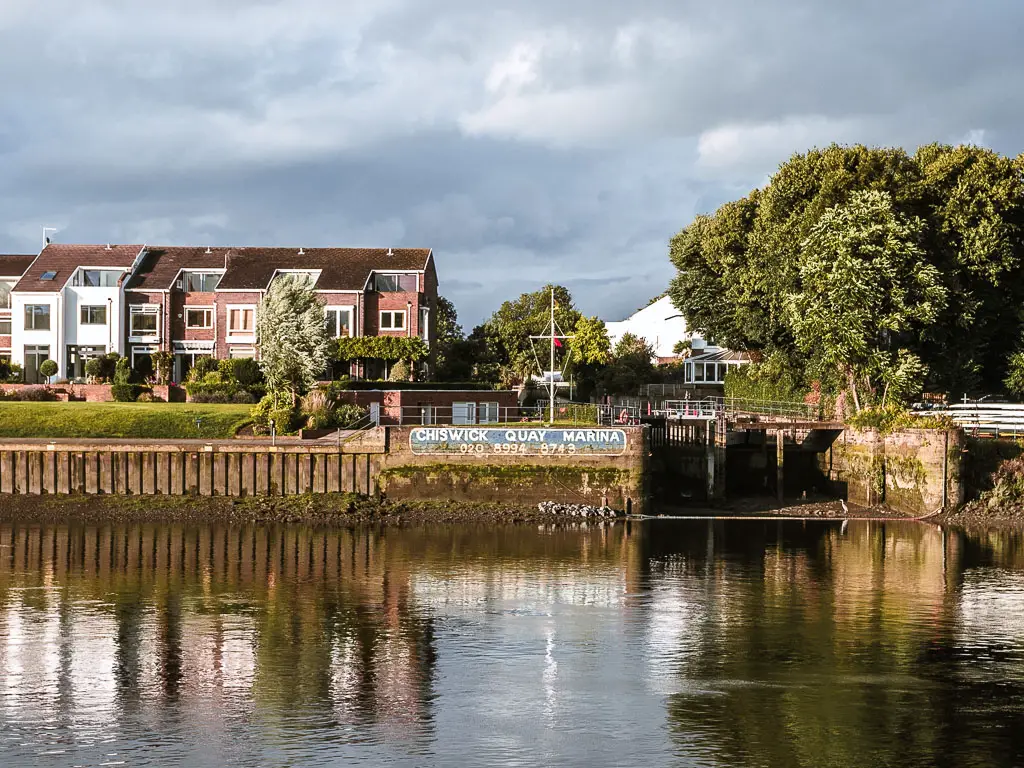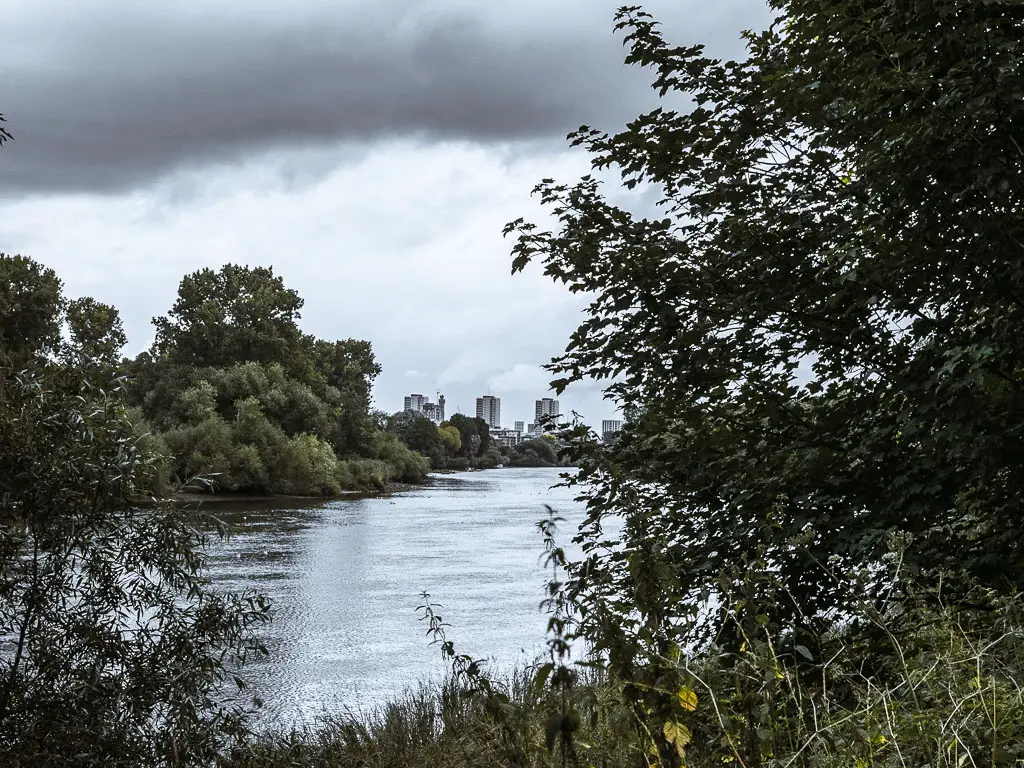 I actually did this river walk from Richmond to Putney along the Thames Path nearly 6 months ago. I know, I'm a bit late….better late than never.
What would I do differently for the Richmond to Putney Thames Path walk?
I have already mentioned, I would split it up at Barnes. However, if you would like to do full lot in one go, I would do it the other way around and walk along the river from Putney to Richmond. Richmond is a much prettier part of the river to finish the walk on, with plenty of cafes, restaurants and pubs right on the river side. 
If you are a runner, this would also be a great route to do. If I could still run*, I would be out here a lot. 
*I don't know if I can or can't run. I haven't tried since my surgery yet. It's on my list of things to try.
Logistics for the walk from Richmond to Putney along the Thames Path
Start: Richmond station (this walk)
Finish: Putney Bridge (this walk)
How to get there: Richmond and Putney are both on the overground and underground (District line). Barnes is on the overground. You can get an overground train direct from Waterloo and Clapham Junction. If coming from central London, buy a return ticket to Richmond. With that, it will cover your return home from Putney (or you can get off early at Putney, then return from Richmond with it.) Careful though. There are quick trains and not so quick trains. The not so quick ones take you in a big loop. Avoid this one….unless of course you are coming from one of those stations on the loop, then ignore everything I have just said. Another thing to note, the overground and underground stations at Putney are on opposite sides of the river. 
Distance: 9.4 miles (I started the tracker from the train station)
Time: 3(ish) hours
Difficulty: Easy in terms of terrain, medium because of the length.
Tips/amenities: Richmond, Putney and Barns all have things. Pubs, shops, restaurants etc. There are some wooden benches along the route. 
Time of year: I did this one is autumn. Can be enjoyed anytime though.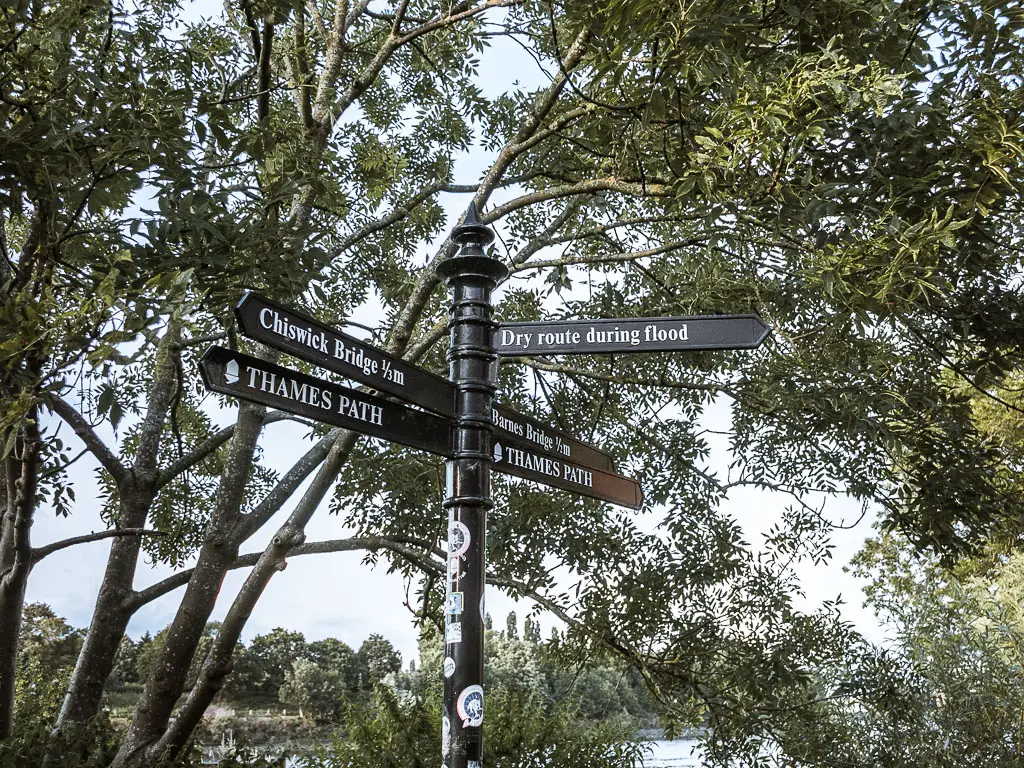 Map for the walk from Richmond to Putney along the Thames Path
– More walk ideas along the River Thames will be at the end –
A Guide To The Walk From Richmond To Putney Along The Thames Path
Out of the station at Richmond, it's a bit of a walk to get to the River Thames. First cross over the road, and then directly opposite the crossing, go along the alley. At the next road, turn left to walk over the railway bridge. 
Walk through Little Green, then Richmond Green. You want to come off Richmond Green on the left corner, to then walk along Friers Lane. This will take you on a small road between the houses, and then onto the river. 
The start of the walk along the Thames Path from Richmond to Putney
At the river, turn right. Here you will get a lovely view back towards Richmond Bridge, and straight ahead towards a railway bridge.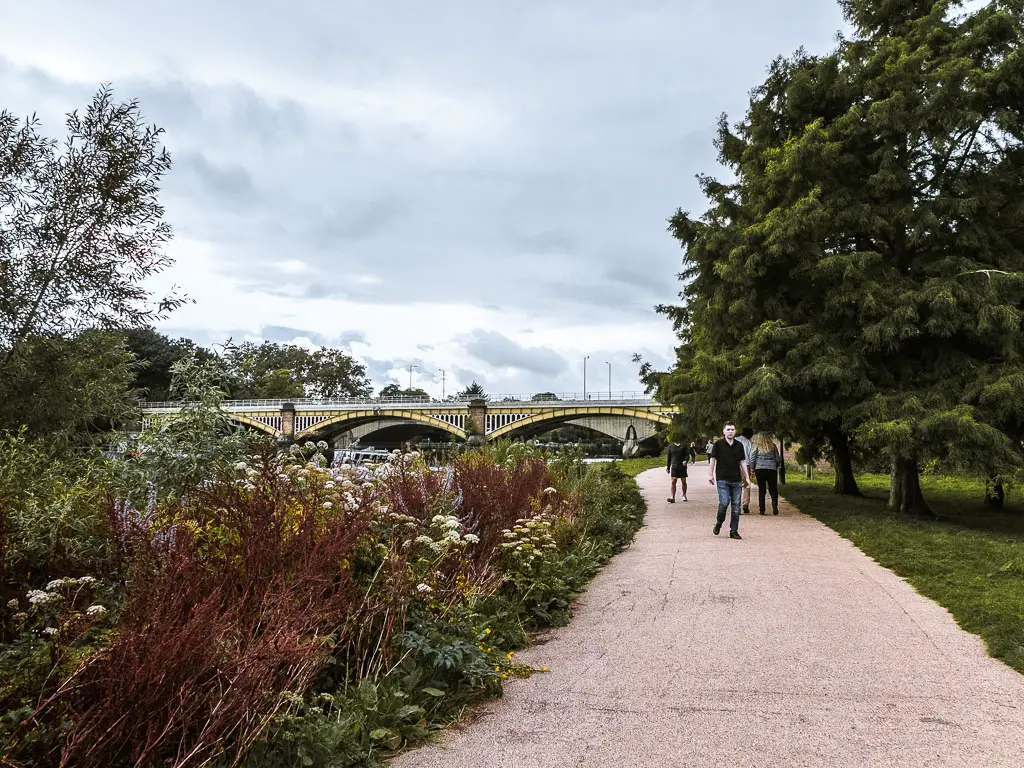 It's lovely and green here, with lots of little (and some big) boats floating about. This was probably the busiest section of the whole walk along the river between Richmond and Putney. Over by Richmond Bridge is where all the pubs and restaurants are concentrated. It seems to be quite a popular little spot. 
Follow the Thames Path, to walk under the railway bridge, and then, just ahead, Twickenham Bridge.
The Kew Riverside walk
From Twickenham bridge you will have the Old Deer Park to your right. For a big chunk of the walk from Richmond, you will be walking alongside the Deer Park and Kew Gardens. 
After Richmond Lock, everything becomes even greener. You are sort of engulfed by it. This stretch of Thames Path along the Richmond to Putney route is known as the Kew Riverside Walk.
Somewhere through the thick bushes and trees you will reach an opening with a bench and a gorgeous view across the river to the houses on the other side. I made a mental note to remember this spot. It is now my spot. I brought Ollie back here one day to show him my spot.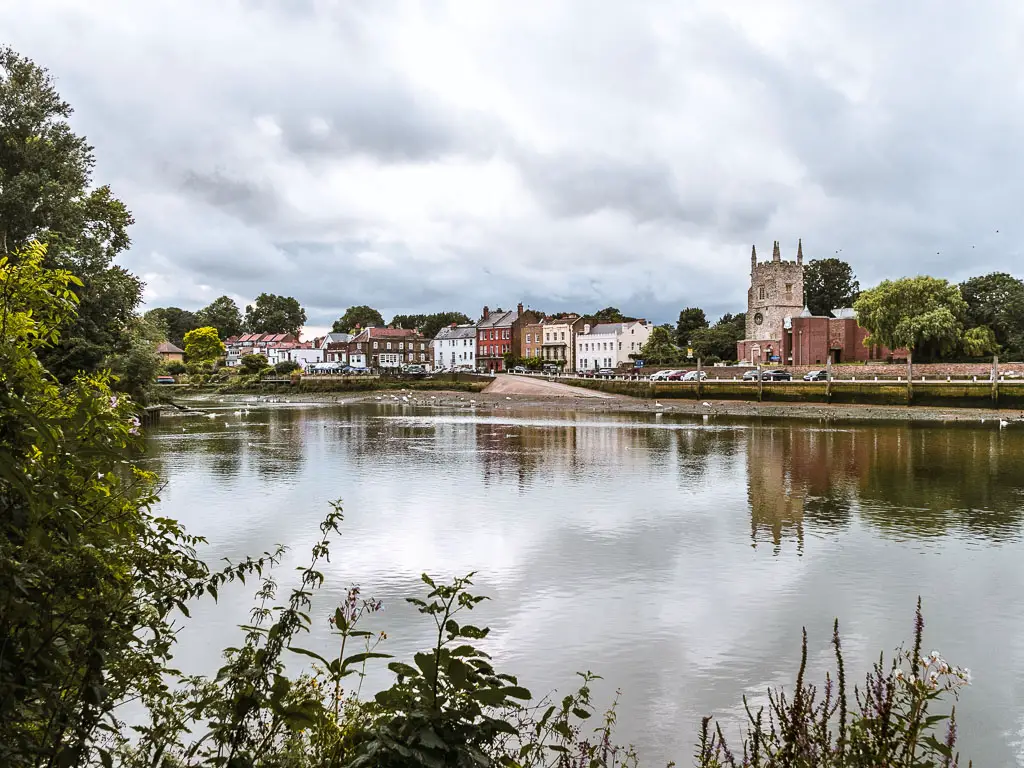 Walk to Kew Bridge
The walk then continues through more bush and trees, with the occasional opening to the right into the Old Deer Park and Kew Gardens, and along the river to the tall buildings in the distance.
It was somewhere along here that the weather turned and it started to rain, and I was treated to a rainbow spectacle. A double rainbow. This was the second double rainbow I have ever seen in my life. I had learnt though, that apparently it's always a double rainbow, you just often can't see the second one.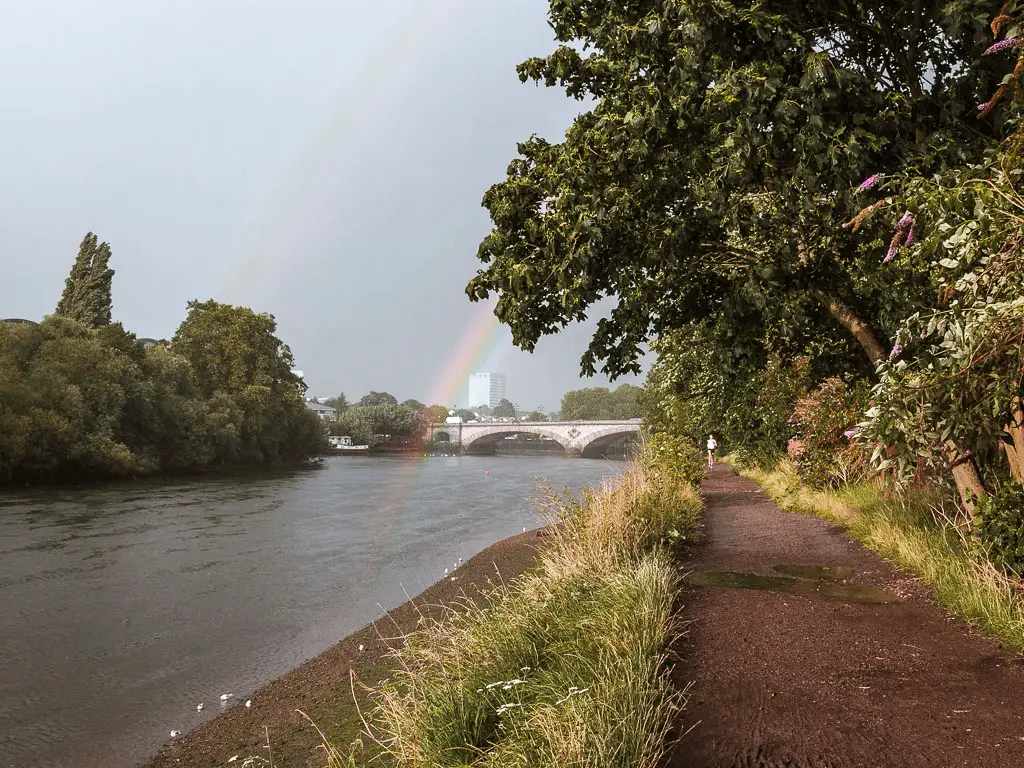 One of these rainbows, I could actually see where it ended. In the river. I rushed over to see if there was a pot of gold at the end….
There was not. It was all a lie. 
Next you will walk under Kew Bridge, and then Kew railway Bridge, with a view across the river to the houses. Then there is a bit more bush as you head towards Chiswick Bridge. 
This little slope into the river is for the rowers to get onto the river.
Walk past the Old Stag Brewery
Next, the Thames Path takes you onto a sort of green, and at the end you will reach the Ship Pub. I wonder if this is the same family of the Ship in Wandsworth.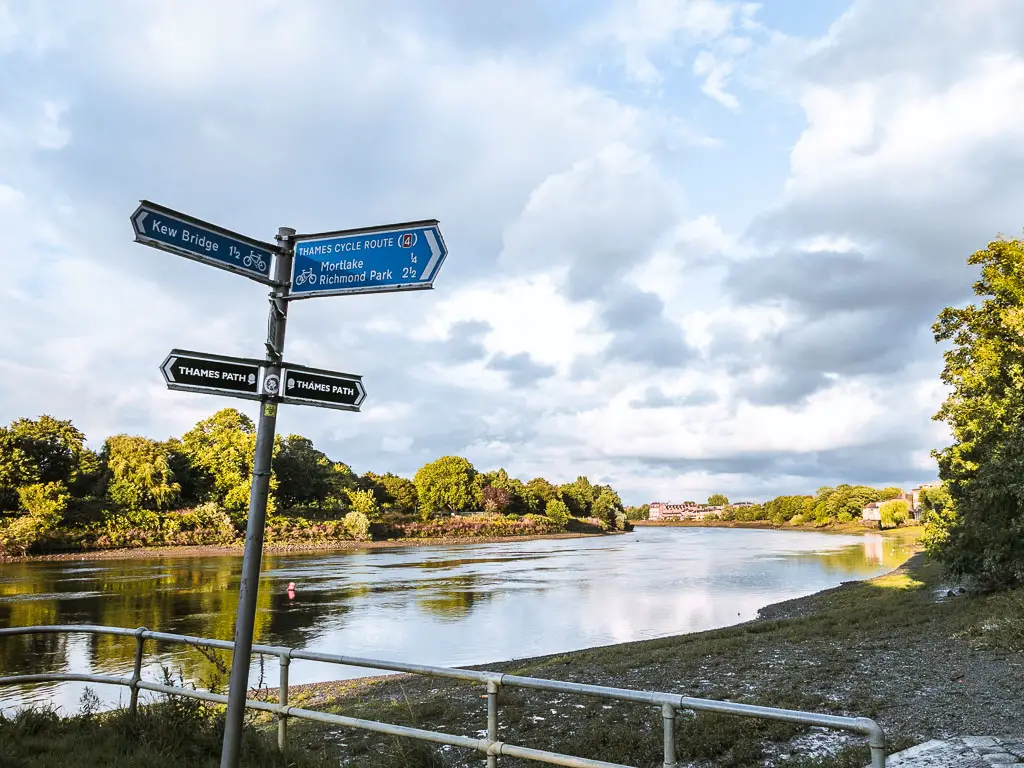 The route then goes alongside the old Stag Brewery. Budweiser used to be made here, right up until 2015. You will see the old sign as you walk past. Apparently it used to be called the Mortlake Brewery and was founded in 1487. The malting building wasn't built until 1903 though, and it was then renamed in the 1960s/70s to the Stag Brewery.
Fun fact: Apparently it was one of the oldest continuously operating business in Britain.
It's now going to be turned into luxury flats. Naturally. 
As I made my way along the side of the building, there was a man ahead drastically walking from side to side. Like he was very drunk. I figured he was drunk from the pub. 
I quickly discovered the truth. The path was full of puddles, and I too began drastically moving from left to right to avoid them. It did make me chuckle.
Walk to Barnes Bridge – the halfway point on the river walk from Richmond to Putney
The route then becomes all green and pretty with a view ahead to the lovely Barnes Bridge. You will walk past a Rick Stein restaurant and the White Hart pub. This would make a lovely place the end the river walk from Richmond, instead of walking all the way to Putney. It's a lovely little spot to stop for food and drink, with a lovely view to Barnes Bridge. Plus it's the halfway mark, so makes sense.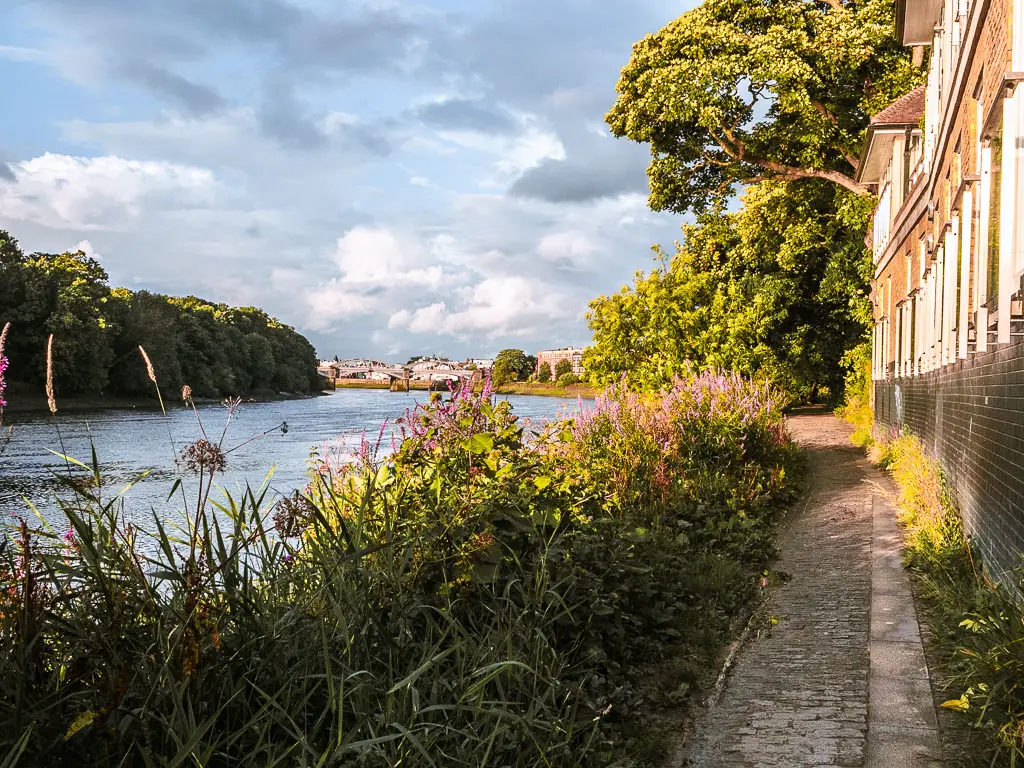 Walk to Hammersmith Bridge
To continue the walk towards Putney, continue along the river to reach the Duck Gardens. There are two paths here. Take the left one to stick to the Thames Path. Incase you are wondering, I didn't see any ducks. You are mostly engulfed by green stuff. 
Keep going and you will reach the lovely Hammersmith Bridge ahead. 
Fun fact: Hammersmith Bridge is one of the oldest mechanical suspension bridges in the world, and is made out of wood and wrought iron. It is actually the second one build here. The first one was in the early 1800's. It was then rebuilt in the late 1800's.
At the time of writing is has been closed for some years as it was not very safe anymore, and at risk of suddenly and without warning collapsing. It was reopened to people traffic only, in July 2021. The money wasn't there to repair it, so it was just sat there waiting. But good news, the money has now been found and work will start in February 2022. 
Walk to Putney Bridge
The final stretch of the walk along the Thames Path from Richmond to Putney is mostly green, with occasional openings to the river on the left. You will also walk past an old Harrods Building. The first time I walked past here, and looked up at it, I thought to myself how it looks like Harrods. I then noticed the sign which said Harrods. Apparently it's now flats. 
(For anyone that doesn't know, Harrods is a luxury department type store in London).
It was now getting dark. I was pretty tired at this point, and was now admittedly getting a little bored. This little section of the river I walked a lot on during lockdowns. So much so, I wasn't excited by it anymore. Now my mind was just thinking about getting to Putney, and the train home. 
I could actually walk home from Putney, which is what I had planned to do when I set off to walk the Thames Path from Richmond. Except, now that I was now tired and it was dark, I didn't want to add much longer to the walk than I had to.
I don't have anymore photos because it was now dark, but just before you get to Putney Bridge, you will pass by lots of rowing club houses. When it's not nighttime, you should see them all doing their rowing thing.
More walks nearby along the Thames Path in London
Richmond to Hampton Court – This walk is actually a similar length to the Richmond Putney walk, but it's a mixture of river and park which gives more variety. 
Putney to Battersea – Less green than the Richmond to Putney Thames Path route, but actually a nice little bit of the river showcasing more tall buildings. 
Battersea Park Chelsea Embankment walk – This is a cute little easy one if you don't want a long walk, but still want some green and pretty bridges. I have written about it over on my other website. 
Beverley Brook Walk – Not quite along the Thames Path, but it does follow the Beverley Brook River to reach the Thames Path to finish in Putney. It's a great little walk, taking you through Wimbledon Common, Richmond Park and Barnes Common before finishing at the River Thames.
I have written a post about walking along the Thames Path in London, which will give more details of the above walks, and a few extras not mentioned above.
Pin it for later: A guide to the walk from Richmond to Putney along the Thames Path