The walk from Richmond to Hampton Court is as simple as just following the path along the River Thames. That's not why I'm writing this guide, I mean, you don't need someone to tell you how to do it. This guide is more to show you what to expect along the way. 
Saying that, there is one thing I would do differently if I was going to walk from Richmond to Hampton court again…
I would cross the river on the boat…. 
Walk along the Thames Path on the north or south side of the river from Richmond?
I chose to start the walk from Richmond on the south side of the River Thames, more so because later on in the walk towards Hampton Court, this looked like the better side on the map. 
The thing is, the first bit of the walk out of Richmond can be super super busy. There is a very buzzy atmosphere with numerous restaurants, cafes and pubs. It's not that I don't like this kind of thing, I just don't like it when I go for a peaceful walk.
I looked over to the other side of the river and was sort of bummed that we weren't on that side. It looked lovely and peaceful. I also knew it had to be this way because the next bridge crossing is way way far away.
What I then discovered was that a short way along, there is a sort of little ferry boat that can take you across.
I was then double bummed that we didn't do that. Anyway, I will give more details about this and how you can do it further down.
What was the walk like from Richmond to Hampton Court along the River Thames?
So so pretty. My first time walking along the Thames Path from Richmond was not so long ago and I was truly blown away by how pretty this section of the river is. Lots of little boats moored along the route and greenery that makes you forget you are in London.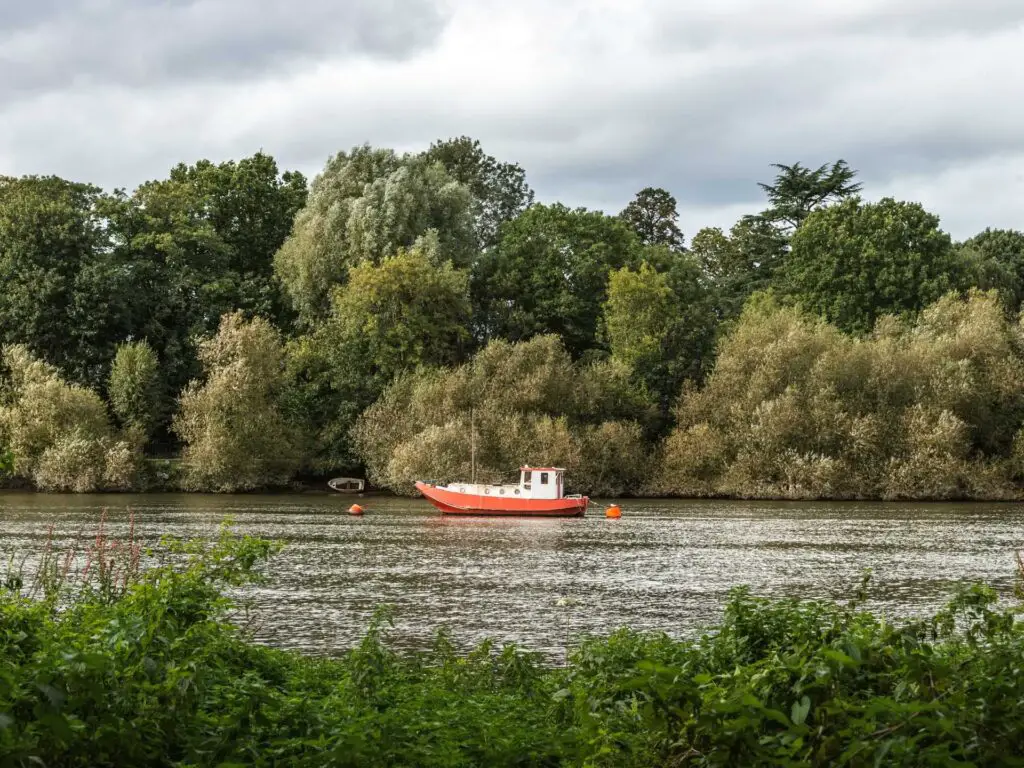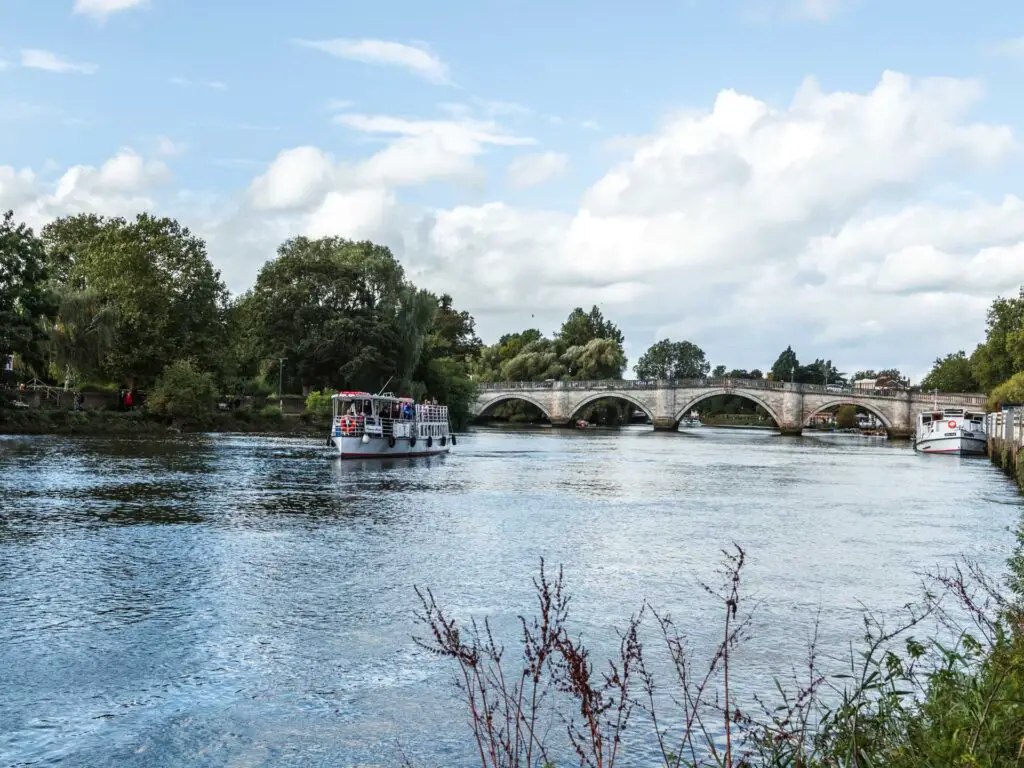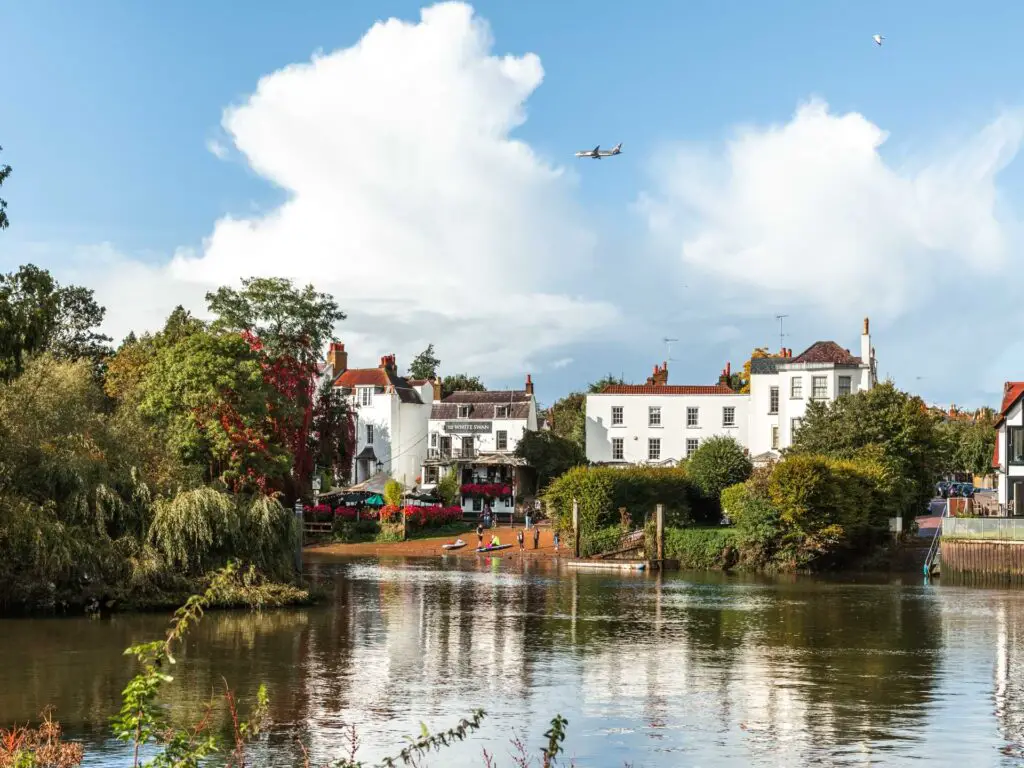 I was also very jealous. Jealous that people live this way. And by this way, I mean people actually have homes where their garden leads right onto the river. Often with their own little boat tied up at the end. Some people even have boat garages. 
Ollie's thought process was a little different though. Something about it being a flood risk to live here.
I see his point. But still.
If you fancy spicing up the walk, there are a few spots to hire a row boat, or SUP.
Richmond Bridge boat hire.
Walk in Bushy Park or Hampton Court Park?
First off, you will walk along the Thames Path from Richmond to Kingston, where you will cross over the river. At this point you have a few options to get to Hampton Court.
a) You can stick to the river, and continue following it to reach Hampton Court.
b) You can walk into Hampton Court Park.
c) Walk up to Bushy Park.
Our plan was to walk into Bushy Park and down into Hampton Court Park. We didn't quite make it all the way. Logistically, it wasn't as simple as we had thought. I explain more about this later on.
The walk around Bushy Park
Bushy park is basically a deer park. Like Richmond Park, only smaller. I have been to both numerous times, but never experienced what I experienced this time. 
The deer in heat.
I kid you not, it felt like we were in Jurassic park. The sounds these deer were making, coming from all directions. Like t-rex calling out. It was a little scary I have to say. At one point, I thought one was chasing me (turned out he was chasing a female). 
Ollie and I chose to leave quickly. It didn't feel safe.
Logistics for the walk from Richmond to Hampton Court (via Bushy Park) along the Thames Path
Start: Richmond
Finish: Hampton Court (this walk). Can also return from Hampton Wick or Kingston upon Thames depending on where you choose to end the walk. These stations are all on the overground. 
How to get there: Richmond Station is both overground and underground. Underground is the district line. Overground has direct trains coming from Waterloo and Clapham Junction. 
Alterations: Once over Kingston Bridge, you can sort of freestyle. Walk to Bushy Park, walk to Hampton Court Park, walk along the river. I will describe what we did incase you want to follow.
Distance: The walk from Richmond to Kingston Bridge is 5.5 miles After this, it depends what route you want to take to reach Hampton Court. Our full walk from Richmond, to Bushy Park then Hampton Court was 9 miles.
Time: Again, it depends. Ours took 3h 45min. We also stopped a lot in Bushy Park, and I didn't always stop the tracker. But definitely allow a few hours.
Difficulty: Easy
Tips: At Richmond, walk over the river bridge, then a short way along, get the Hammertons river ferry boat back across. At the time of writing, an adult ticket is £1. A child ticket is 50p.
Time of year: We did this during Autumn
Map for the walk from Richmond to Hampton Court (via Bushy Park) along the Thames Path
You can open the map in your Google Maps.
-More ideas for walks near Richmond will be at the end-
A Guide To The Thames Path River Walk From Richmond To Hampton Court Via Bushy Park
Walk to Richmond Riverside
So, first off, you will need to walk to the River Thames from Richmond station (assuming you came by train). A little bit of navigation is needed here.
There is a rainbow zebra crossing just outside the station (well, at the time of writing it is rainbow). You need to cross it, then continue straight down the alley directly ahead. When you reach the road, take a left to walk over the bridge over the railway.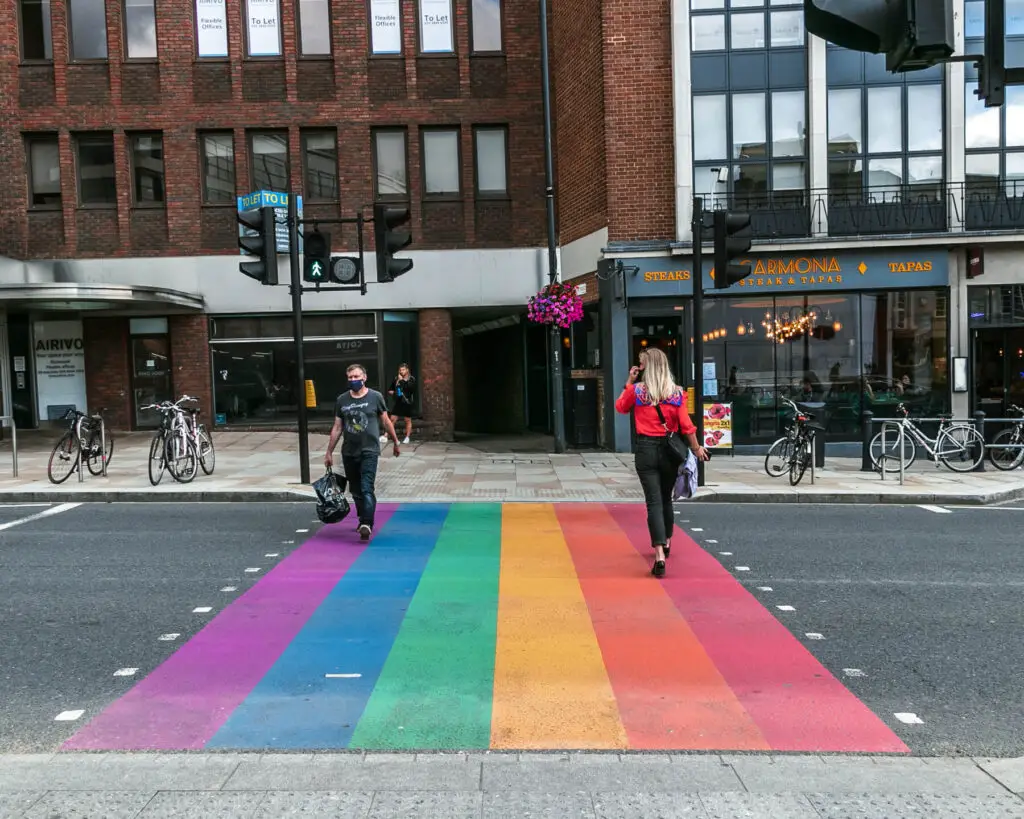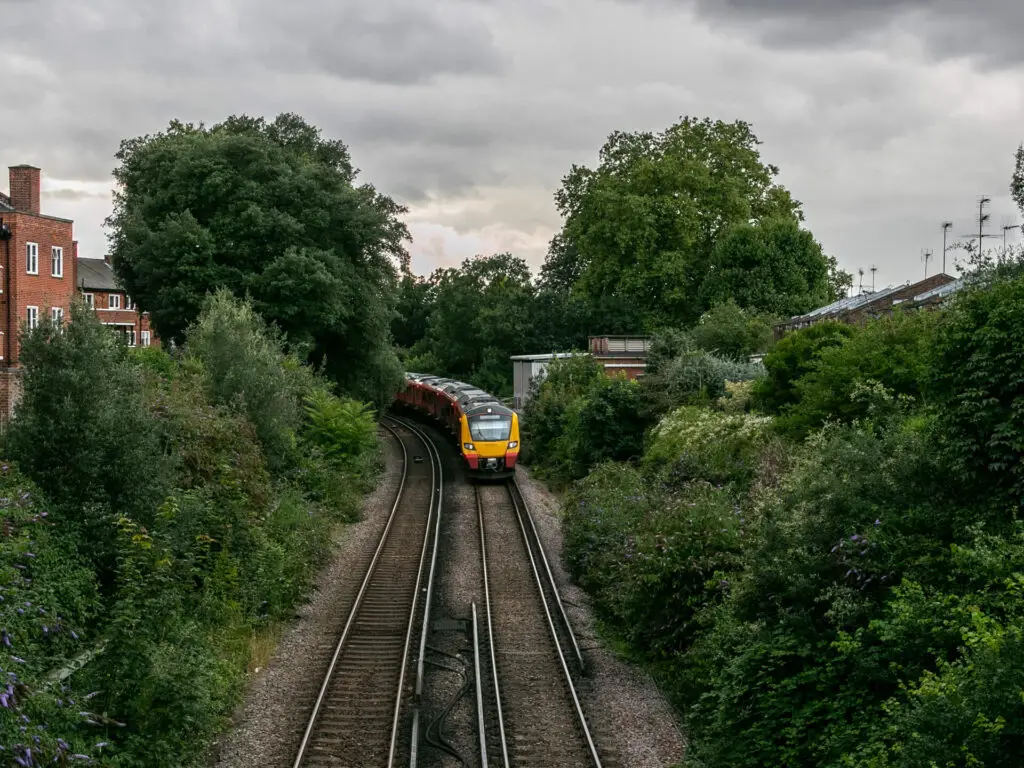 When you reach Little Green, follow the path through it then across into Richmond Green. 
You can follow this path a bit, but you want to at some point make you way across it in a left diagonal to the left corner on the other side.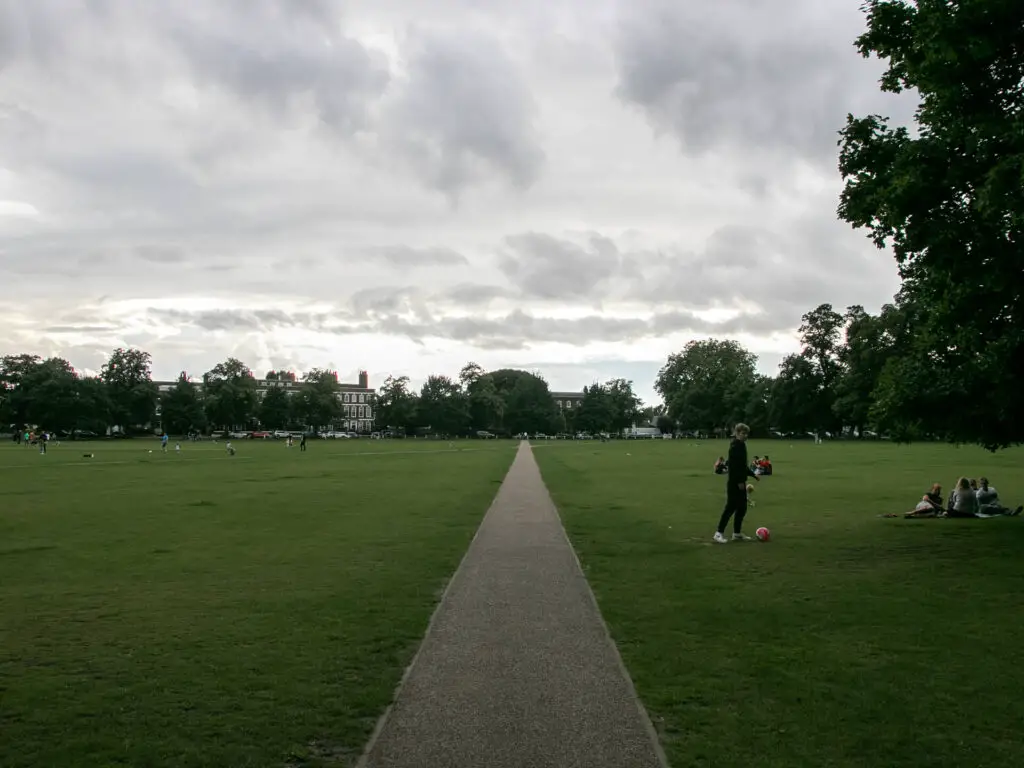 Next walk along Friers Lane (past the nice big house). Keep following this road and it will guide you down and then curve to the left, and then right and onto the the river. If you get confused, then follow the map above (or see photos below).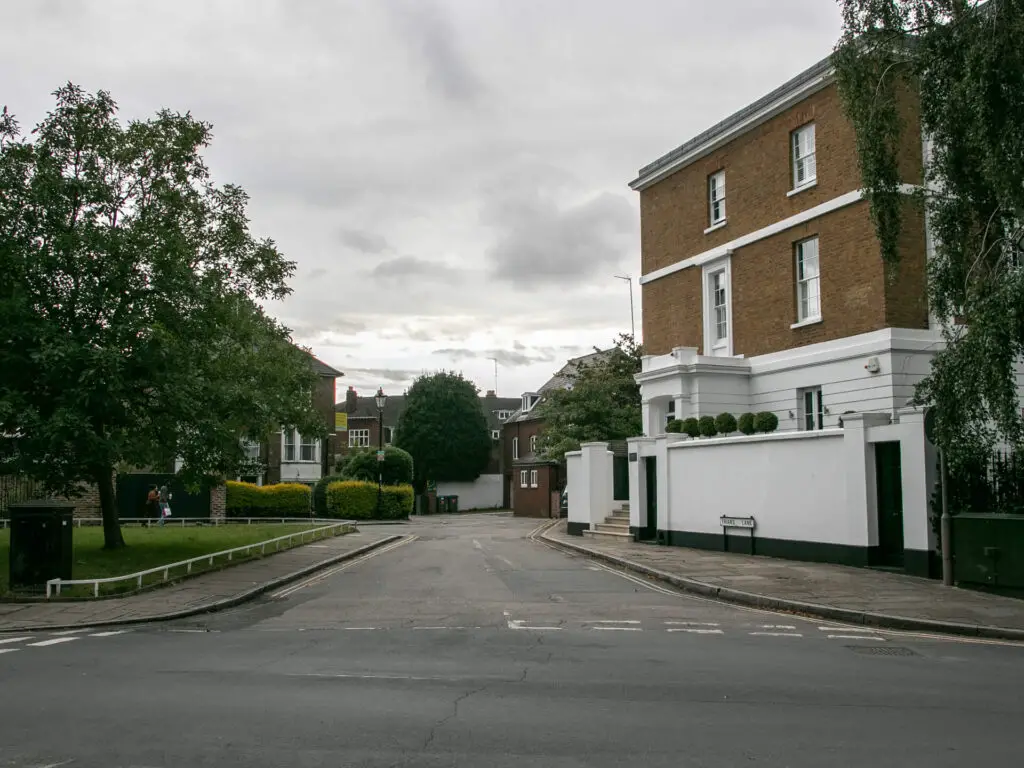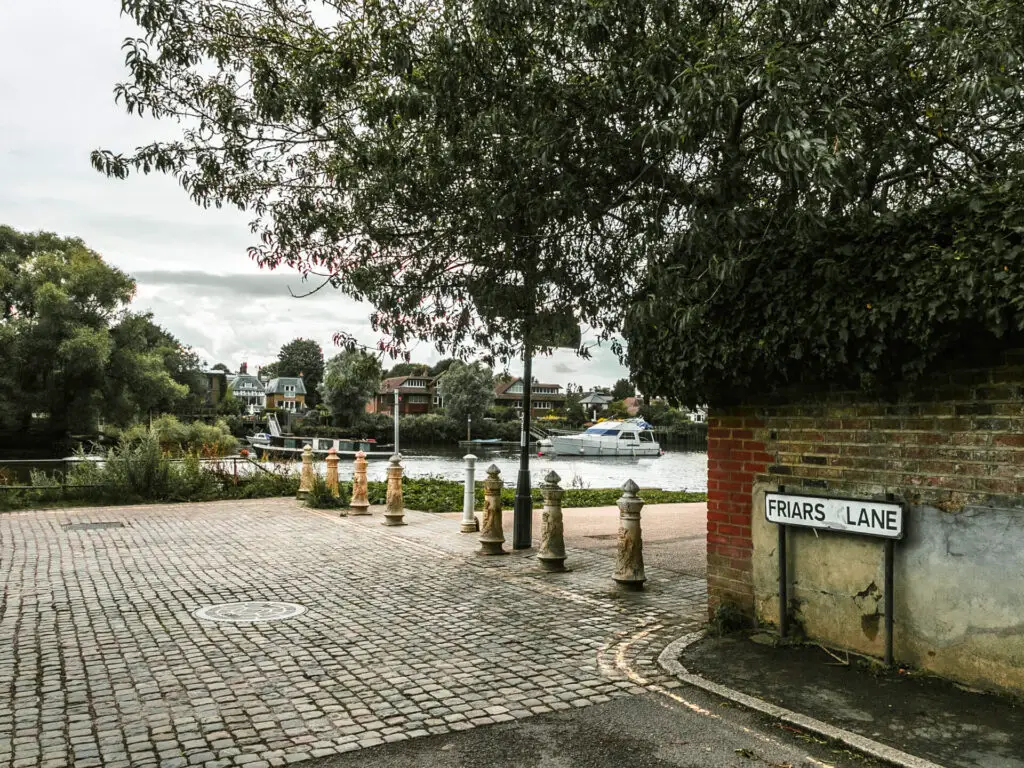 When you reach the thames path, walk left to walk along Richmond Riverside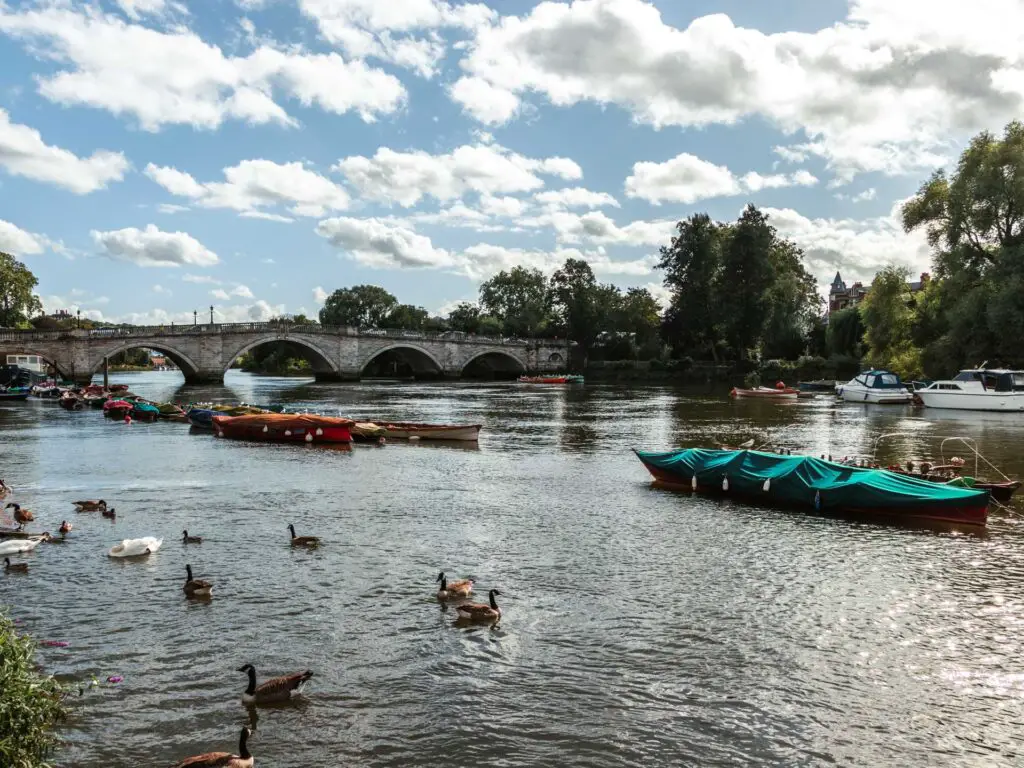 Choose to walk North or South of the river
As mentioned earlier, at this point I would cross over the first bridge of Richmond road, and continue the walk along the Thames Path on the other side. But that's me, I like the quiet.
We did not do this, so I will tell you about what to expect on this side.
Walk west along the Thames Path from Richmond
The first bit of the walk along Richmond Riverside was quite lively. Lots of pubs, restaurants, people. Very much like walking down the high street. Granted, we were here on a weekend, maybe weekdays are less busy?
Despite the business, it was damn pretty looking both ways along the river. You know what, you can even hire a row boat along here. I guess this side has its perks.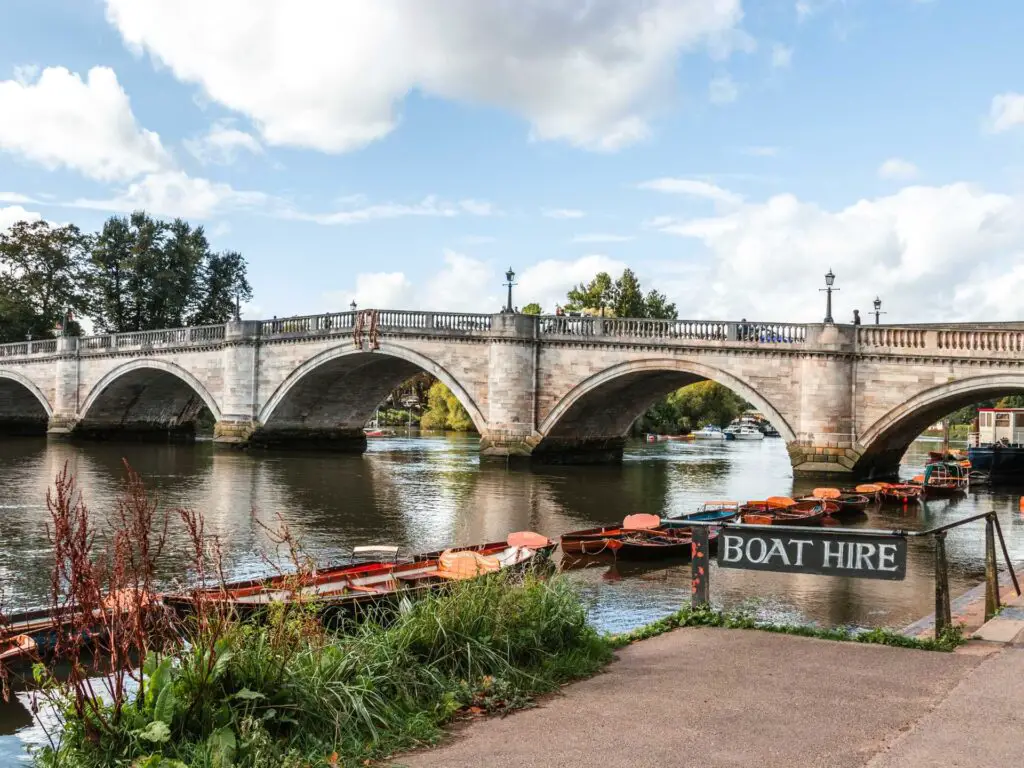 Continue the walk along the Richmond River Thames tow path
The path will lead you into Buccleuch gardens, and you will pass by an interesting subway entrance to Terrace gardens. 
When you see a dirt trail leading off the main one, take it. At the end you will then go through a gate, and turn right to walk back alongside the River Thames.
Things along here were a little different form the start (still busy) but the view down the river was gorgeous. So lush and green.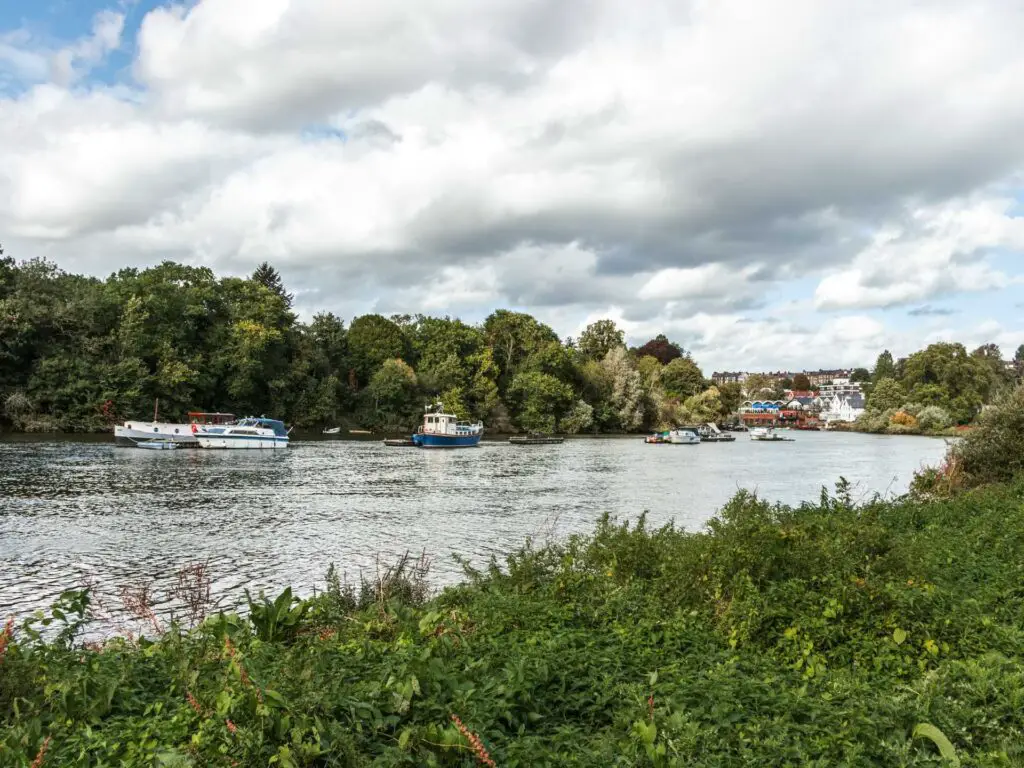 We could also see a storm ahead…and we were walking straight towards it.
It's along this bit that you will pass by the Hammertons river ferry crossing. If you were walking along the north side of the river from Richmond, this is where you would cross back over.
The rain storm
It was a little past here that the raincloud got us. Luckily we were right by some tree covering, so hung out there whilst we waited for it to pass. Meanwhile hoping lightening wouldn't make an appearance. 
It didn't.
What came next was so surreal. We went and stood by the river and the contrast was mind blowing. Looking east, the sky was this deep grey blue colour. It almost didn't look real, like a fake sky was put in behind everything. Then looking west, the sky was bright blue.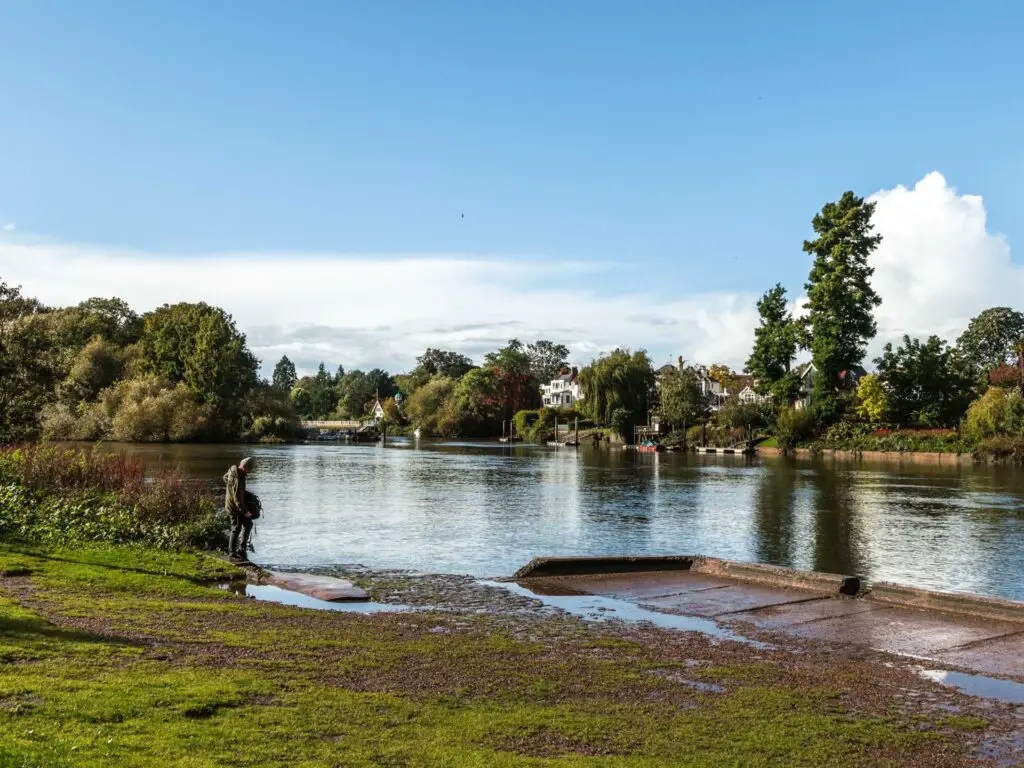 Walk past Teddington Lock
The riverside trail continues with a mix of opening and tree cover before reaching the Teddington Lock.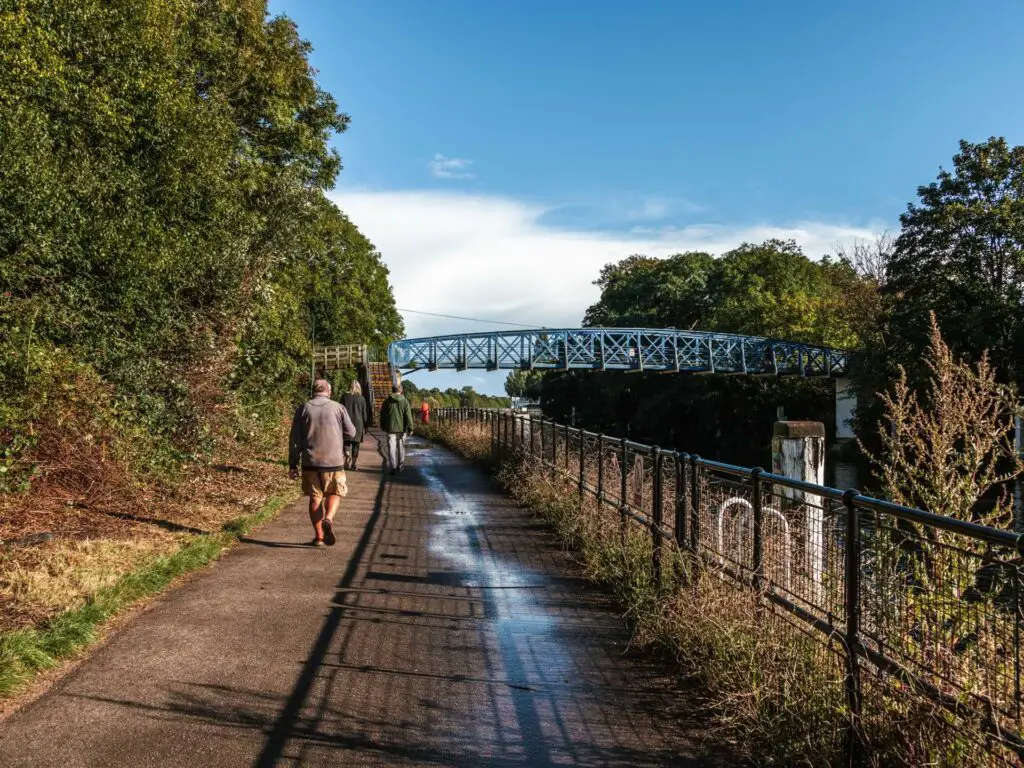 There is a footbridge here to take you to the other side of the river. We didn't take it. I wonder what the river view was like from up there. If you take a look, then let me know!
Continuing the walk along the Thames Path, we passed by some stand up paddle boarders. I had a quick look online to see where they might have come from because I wanted to do it. 
They could have come from the Royal Canoe Club which is on the other side of the River Thames. I also wondered wether they came by themselves with their own boards…..So I started to look online at how much they cost. 
I want one.
Walk along the Thames Path to Kingston
It was along this next section that I started to notice those houses I mentioned earlier. You know, the ones who's gardens lead right onto the river. I actually didn't take any photos of them. You will have to imagine (or go see).
Here are some other photos from along this bit.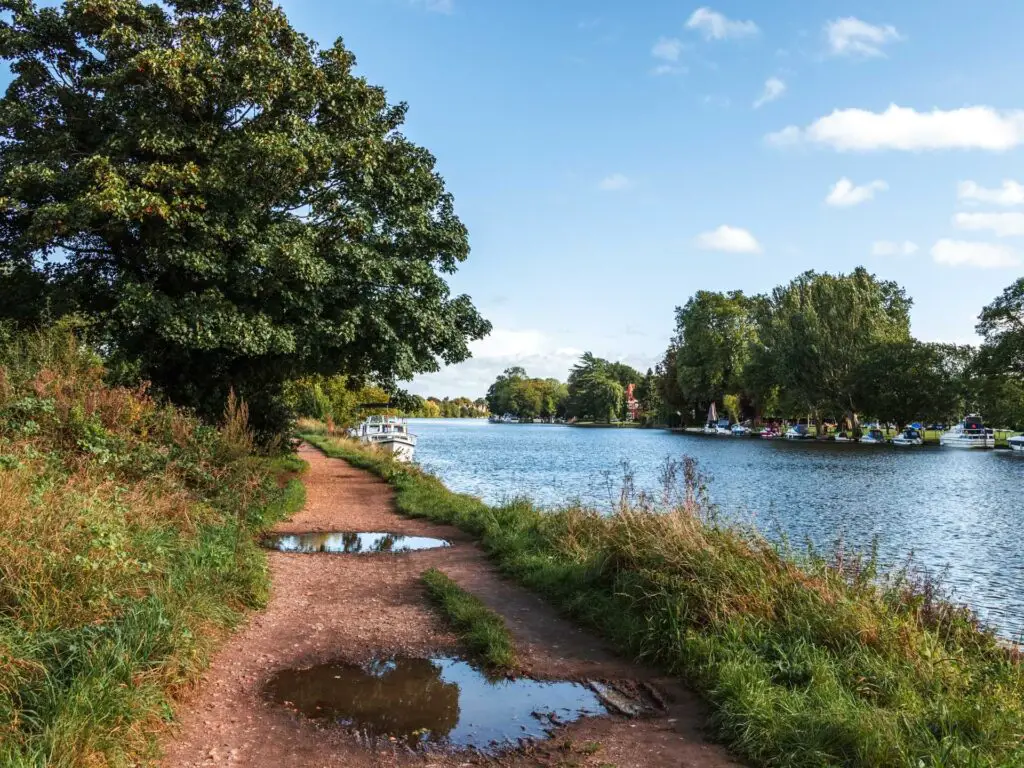 The nice bit of Thames Path ends for a bit as you reach the road on the walk into Kingston. Keep going in the same direction, past some barges and through a gardens. The first bridge you will reach is a railway bridge. Kingston Bridge (the one you will walk over) is just past it.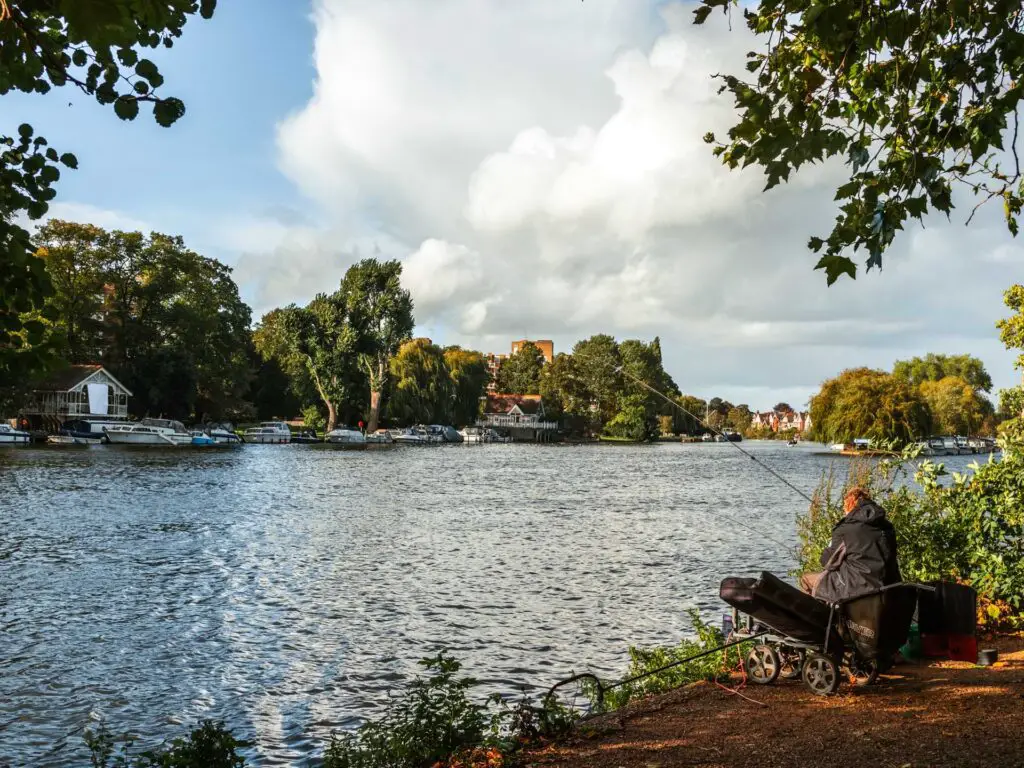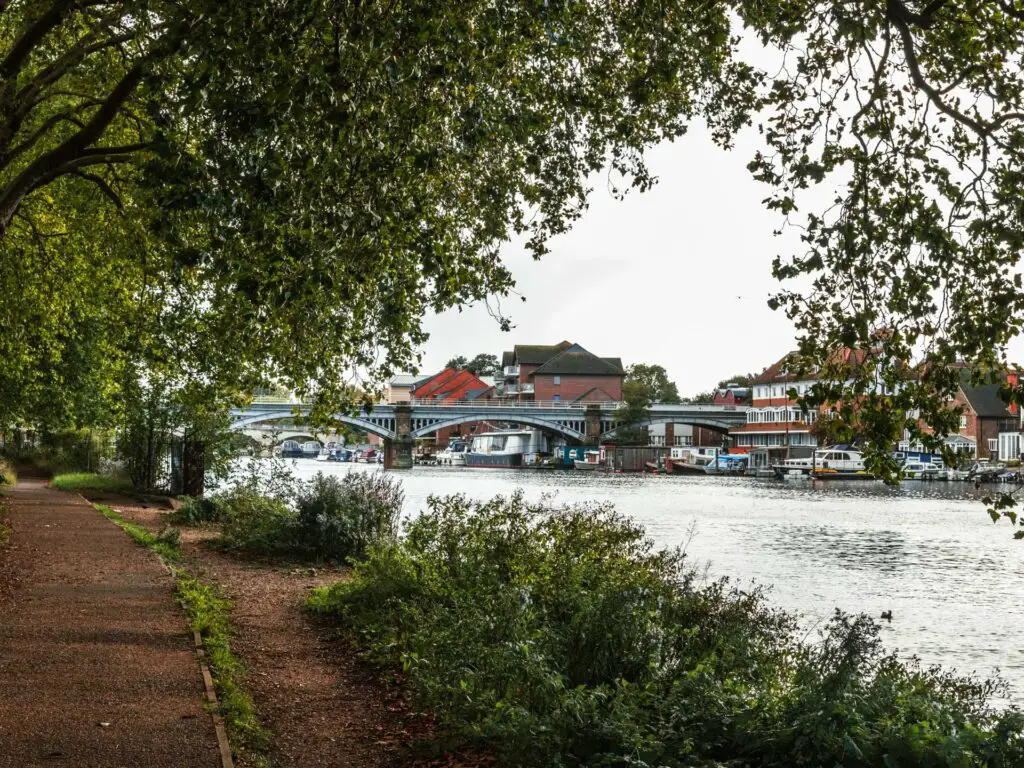 If you have kept to the river, you will see a spiral staircase next to the bridge. This will take you up there.
Walk from Kingston to Bushy Park (or Hampton Court Park)
Walk over the bridge, and you should see an entrance to Hampton Court Park on the left. If you want to walk to Bushy Park, keep walking to the roundabout. From there, take the left exit, then the first right onto Church Grove.
The entrance to Bushy Park is the second gate/entrance you will pass (see photo). On my map above, you will notice we accidentally walked into the wrong entrance first.
Walk around Bushy Park
So of course, you can freestyle this bit. I do recommend though, that you include in your walk the Diana Fountain and Leg of Mutton Pond. If you want some guidance, read on….
Walk to Leg of Mutton Pond in Bushy Park
Once you have entered Bushy Park, continue to walk on the main path, then take the little trail offshoot to the right. 
At the next main path, there are a couple of grass trails on the other side. In deciding which one to take, Ollie spotted a lonely tree. So we took the right grass trail leading to it.
If you follow this trail straight, it will lead you to the Leg of Mutton Pond, and conveniently, to a crossing point.
Leg of Mutton Pond and Heron Pond
On reaching the pond, we were met with an array of wildlife. Ducks, swans, and other birdlike creatures in all their chirpy goodness.
If you reached the pond on the same trail as us, walk a bit to the left and you will see a crossing platform. 
Once across, walk left along the water towards Heron Pond. 
The Diana Fountain or the big road (Chestnut Avenue)
If you want to go straight to the Diana Fountain, walk around the left side of Heron Pond and you will reach it. We wanted to take a different route so we could walk along Chestnut Avenue….
The Deer and the big road (Chestnut Avenue)
From Heron Pond we turned right, and then where the trail curves left around the pond, we took the grass trail leading to the right (just past this wooden sign).
It was quite pretty along this bit, walking between the heather.
So, remember I mentioned earlier about the deer making dinosaur noises. Well, for a while now we had been hearing them. Coming from all directions. We had yet to see them though.
At this point, the dinosaur noises had gotten more intense. And now, walking through the big bush plants and heather, we felt like we were in Jurassic Park. 
Still no sightings though.
At the main trail, we turned left which took us all the way to Chestnut Avenue.
Why did I want to go to Chestnut Avenue you may wonder?
This is why:
I just love a long endless road. 
Walk along Chestnut Avenue to the Diana Fountain
At the road, turn left, and this will lead you straight to the Diana Fountain. Walking along Chestnut Avenue is where the Deer started to make an appearance. The first one we saw was a monster. A really big dude with aggressive looking antlers sitting on the grass. He would tilt his head back as he roared. 
We quickly left his vicinity. 
Then the rest appeared. Some sitting, some running around. I took my obligatory photo of a couple then kept on walking to the fountain. Hoping they wouldn't come for me. 
The Diana Fountain and more Deer
Once at the fountain, Ollie and I went our separate ways. He went left, I went right.
Fun Fact: The fountain has been through a few changes by different designers in the 1600/1700's, and came to rest in Bushy Park in 1713. Wait what? Diana wasn't that old….
Another fun fact: Not be be confused with the Diana Memorial Fountain in Hyde Park. This one is not for the Diana you might have in mind. It's actually the Roman Goddess Diana, (although was originally Arethusa).
Remember I said I thought I was being chased by deer? This is where it happened… 
I saw a couple of deers hanging out, far away enough that I felt safe to stop for a moment to get a video. Watching the deer through my phone, the male suddenly started running in my direction. I freaked and started running to the fountain, thinking I would jump in it to escape. (You can see the red line, on the map I provided, make a sudden turn in towards the fountain).
It turns out he wasn't chasing me. He was chasing a female. 
I realised in time to not have to jump in the fountain. 
My heart pounding, I quickly moved on (but also saw some more deer and wanted a photo).
I then made my way to find Ollie and tell him of my trauma.
Walk out of Bushy Park to head to Hampton Court
From the Diana Fountain, keep following the road which will take you out of Bushy Park. This bit was interesting. There was a large group of females sitting on the side, and a male running around chasing some others. I think he was trying to round them all up.
This next bit is where our logistics messed up. There is a gate entrance to Hampton Court which we thought we could enter. Turns out we couldn't. 
So instead we went right and followed the perimeter around.
Just before the river there is a gate where you get a view to Hampton Court Palace. I asked the guard if I could take a photo. He said yes…so I stuck my camera through the gate.
Walk along the River Thames path to Hampton Court Park….or go home
At the river, if you turn left, you can walk along it and into Hampton Court Park. We actually started it, with the idea we would walk through Hampton Court Park to get to Hampton Wick Station on the other side.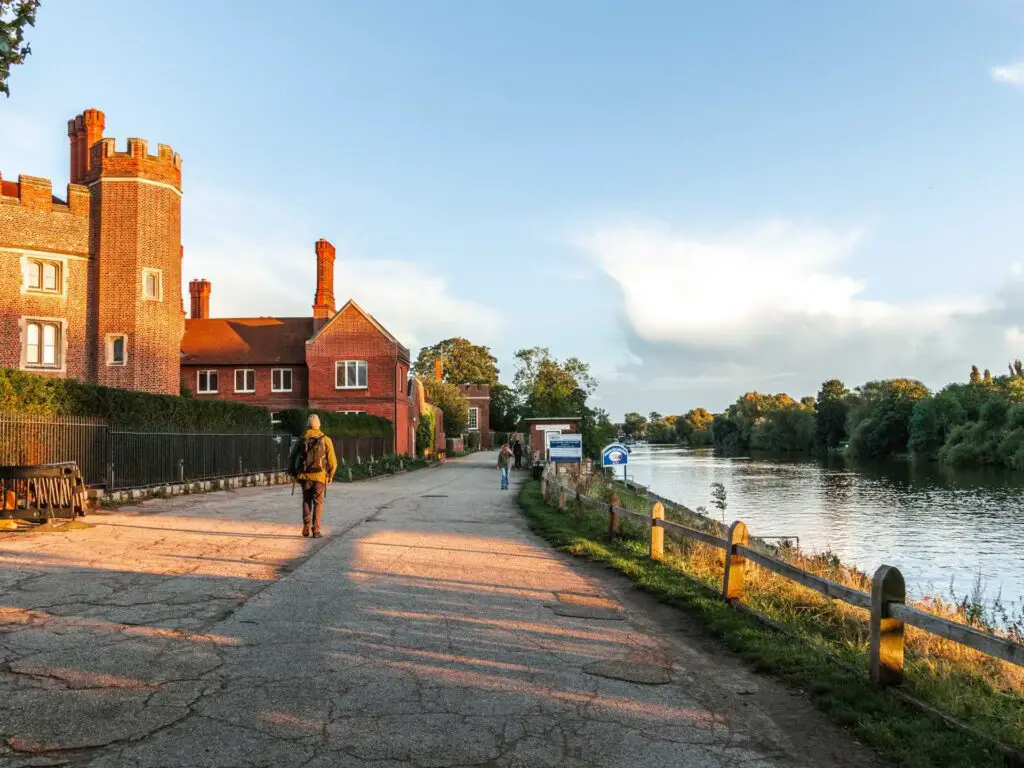 A little bit into it, Ollie realised there was still a bit of walk ahead of us to get to the station so he vetoed it. To be fair, the sun was now setting and it was getting dark. 
I also did legs that morning and they were starting to feel it. 
So we instead walked back to the bridge to cross the river and on to Hampton Court Station.
Although we didn't quite do all the walk we had planned (Richmond to Bushy park and Hampton Court Park), it was still a solid day out, a beautiful walk along the Thames Path that I thoroughly enjoyed. 
More walks near Richmond and along the River Thames
Richmond to Putney – 9 miles. Basically walk in the other direction along the river from Richmond.
Putney to Battersea – 5 miles. A lovely little river walk including my favourite bridge in London, and gorgeous view of the London skyscrapers.
Beverly Brook walk – 8 miles. This one takes you through the woodland of Wimbledon Common, Richmond Park, and Barnes Common before finishing the walk on the River Thames.
Tamsin Trail – 7 miles. This walk takes you around the perimeter of Richmond Park. If you do it, I would actually recommend walking a bit of it, then going off piste and following the little trails through the park. You can use the Tamsin Trail guide to see what different parts of the park are like.
I have also put together a more detailed comparison of walks along the Thames Path here.
Pin it for later: The Thames Path river walk from Richmond to Hampton court via Bushy Park