Dartmoor National Park is the only place in England that you can legally go wild camping without prior permission, however, this is in designated areas and there are a number of rules you need to follow.
In this guide I'm going to go through the rules, and give you some tips on finding a good wild camping spot in Dartmoor.
---
What is wild camping?
---
It is where you set up camp outside of a regular campsite, out in nature. The idea is that you go back to basics, and keep as minimal as possible. I go into more details on this in my guide on wild camping tips and essentials.
Why I love wild camping in Dartmoor
The fact that it's legal is a good start. You don't have that fear of being woke up in the night, and being told to move.
You really get that feeling of being away from it all, out in the wild, away from all noise and pollution. Dartmoor is a fantastic place for star gazing, we have even seen the milky way when camping in Dartmoor.
One thing to note, the weather in Dartmoor can be quite unpredictable, so you want to make sure you are prepared. 
Read more: Tips for staying warm in a tent  
Dartmoor National park is also a fantastic place for hiking, which goes hand in hand with wild camping. If you plan to do some hiking around Dartmoor, then check out my tips on hiking in the rain, and what to wear when hiking in cold weather.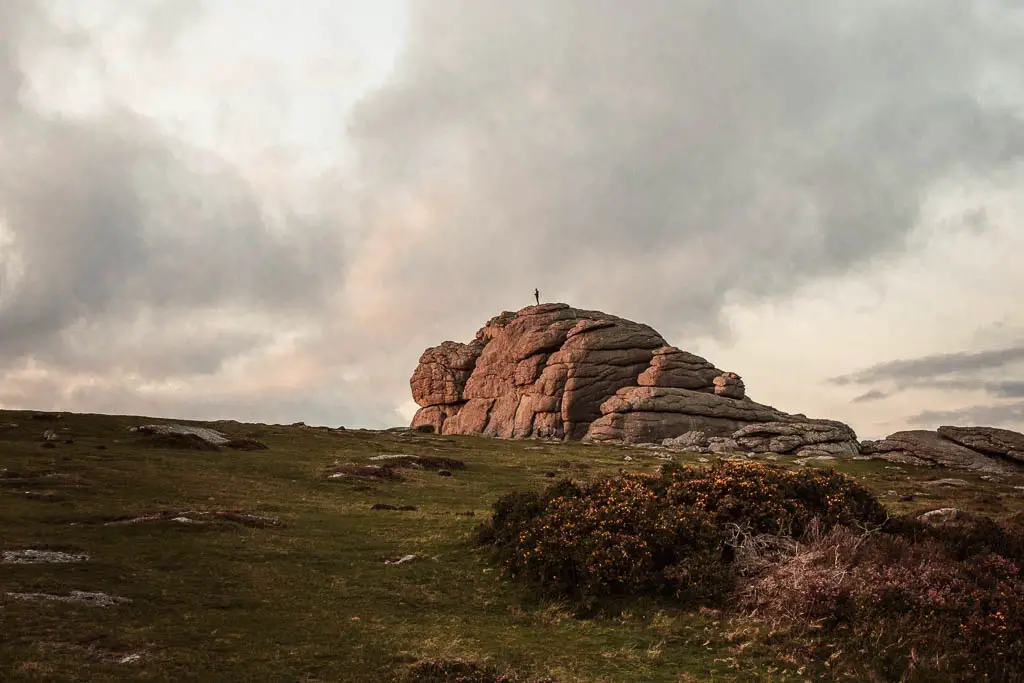 Why is Dartmoor the only place you can legally wild camp in England?
Most land in England is privately owned, which doesn't mean you can't wild camp, unless you get the land owners permission.
Dartmoor has bylaws in place, which allow you to go wild camping, as long as you adhere to some specific and very reasonable rules. 
Rules for wild camping in Dartmoor National Park
Wild camping is allowed in designated areas around Dartmoor, which you can see in this map. The purple areas, are the areas you can camp. 
It's also very important that you follow the concept of 'leave no trace'. Essentially, leaving the place as you found it (or better, by taking away any litter you find). So know one would ever know you had been there, and the habitat hasn't been disturbed. You can read more about the code up conduct here.
The rules:
Stay out of sight. So make sure you set up camp out of sight of road or buildings, in a tent that blends in with the landscape. Be at least 100m from the road. 
Avoid farmland, enclosed moorland, archaeological sites or reservoir catchment areas. Check out this map for a guide on where you can wild camp in Dartmoor.
Stay minimal. Only take with you what you can carry on your back. So no trips back and forth to the car. This isn't meant to be a luxury glamping experience. The idea is that you are at one with nature. 
Stay one or 2 nights max. 
Wild camping does not include overnight stays in a camper vans or motor home. You would need to find a campsite for this. 
No open fires or barbecues. You can take a camping stove, and use it on a stable rock. 
Leave no trace: Take all litter home, do not pollute streams or rivers, do not disturb the wildlife. If you have to poo, bury it.
All these rules…is it worth it?
These wild camping rules aren't just specific to Dartmoor, and should be followed wherever you choose to wild camp. Wild camping is about being back to basics in nature, and if that's not for you, that's totally fine. But you will be more suited in a campsite. 
It's also about protecting the landscape, and letting nature continue to flourish, whilst enjoying it at the same time.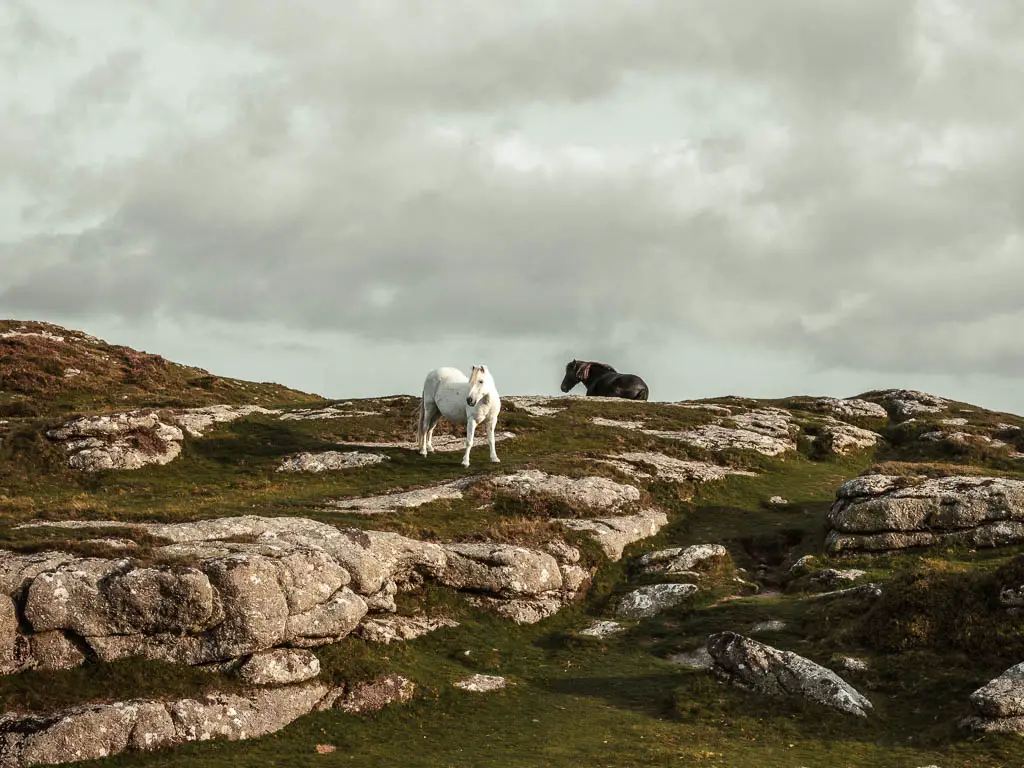 Have you ever been on a hike, and come across a spot where people have clearly been camping, and left their trash lying around. It's things like this which result in bans, and we definitely don't want to be banned from wild camping in Dartmoor. 
Best spots for wild camping in Dartmoor National Park
The best spot is somewhere that's legal, which is in purple on this map. I'm not going to tell you exact spots I recommend, but please let me explain before you think I'm gatekeeping (I will give you tips though!)
If I was to list a few spots that I recommend for wild camping in Dartmoor, anyone who reads this will go to those exact spots. Next thing you know, these areas aren't so private, and potentially become so trodden, that the land is disturbed. 
The idea with wild camping, is you are away from everything and everyone. You are in and out before anyone knew you were there.  You wouldn't like it if you turned up to camp and found a bunch of other people in that same spot. Well, I assume you wouldn't. 
I want to help you though! So will give you some tips on how to find the best wild camping spot.
Tips for finding a spot to wild camp in Dartmoor
I have another guide on tips and essentials for wild camping, however, here are a few key ones to finding a spot in Dartmoor (within the designated areas on the map).
Go for a walk in the day. Dartmoor National Park is a fantastic place to go on walks, and whilst out there, keep an eye out for potential places you can come back to later with your tent.  Make sure to mark it on your map so you can find it again. 
Read more: Best walks in Dartmoor National Park
Find your spot in the daylight. This goes hand in hand with the first point. If you try to find a good place to wild camp when it's dark, this will be very very hard. Trust me. This is what Ollie and I did the first time we wild camped in Dartmoor. Only to wake up the next morning and realise we were very near the road. Now whenever I am out on a hike, I keep an eye out for anywhere that could be a potential wild camping spot, and save it on my map.
Pick a flat bit of land, but also avoid boggy areas. There is a lot of bog around Dartmoor, so pay particular attention to this. If you scouted your location during the day, you will know where to avoid. 
Pick a sheltered spot. This isn't essential, however, it's a good shout because you will be more out of site, but also protected from the wind. On another occasion when Ollie and I were wild camping in Dartmoor, we found ourselves in an area of intense wind. It was so windy it was impossible, so we had to leave. 
---
Final thoughts
---
I hope this guide helps. If you have never wild camped before, then good luck and have fun!
Ollie and I love wild camping. Apart from the fact that it is free, you can be totally out of touch with the outside world, and there is nothing quite like it. We have seen many stars, the milky way, and the most colourful sunsets and sunrises.
Even though we are now living in a camper van, we still have our camping gear with us, to get out to those really remote spots. 
Pin it for later: Wild Camping in Dartmoor National Park