Dartmoor National Park is a fantastic place to head for walks. Full of ancient woodland, moors, craggy granite tors, reservoirs, rivers, and wildlife. Located in South Devon, South West England, Dartmoor covers about 369 square miles, and has been designated as a National Park since 1951.
Three things that Dartmoor is particularly famous for, are the tors, ponies and wild camping. I will get to those in a minute, but first…
Best walks in Dartmoor
These are the walking routes in Dartmoor I will be covering:
Wistman's Wood – 3 miles
Sheepstor – 9 miles
Burrator Reservoir – 5 miles
Foggintor Quarry – 2 miles
Princetown Railway and King Tor – 5.5 miles
Ivybridge to Western Beacon – 6 miles
Drakes Trail – 6 miles
I have done all of these walks in Dartmoor, and written a detailed walking guide for each one, which includes a map, tips, and full route descriptions with photos for every step of the way. Scroll a little further down the page to see more details for each one, and the link to the full guide.
This post uses affiliate links. You can read the privacy policy or disclaimer for more info.
Will I see Dartmoor Ponies on these walks?
Probably. The highest concentration I have seen of the Dartmoor Ponies, is probably around Haytor. However, I also saw them on all bar one of these walks on the list, and on that one, I still saw them on my way to the start of the walk.
They are not fixed to one place, and to be honest, I would be surprised if you went hiking in Dartmoor and didn't see any.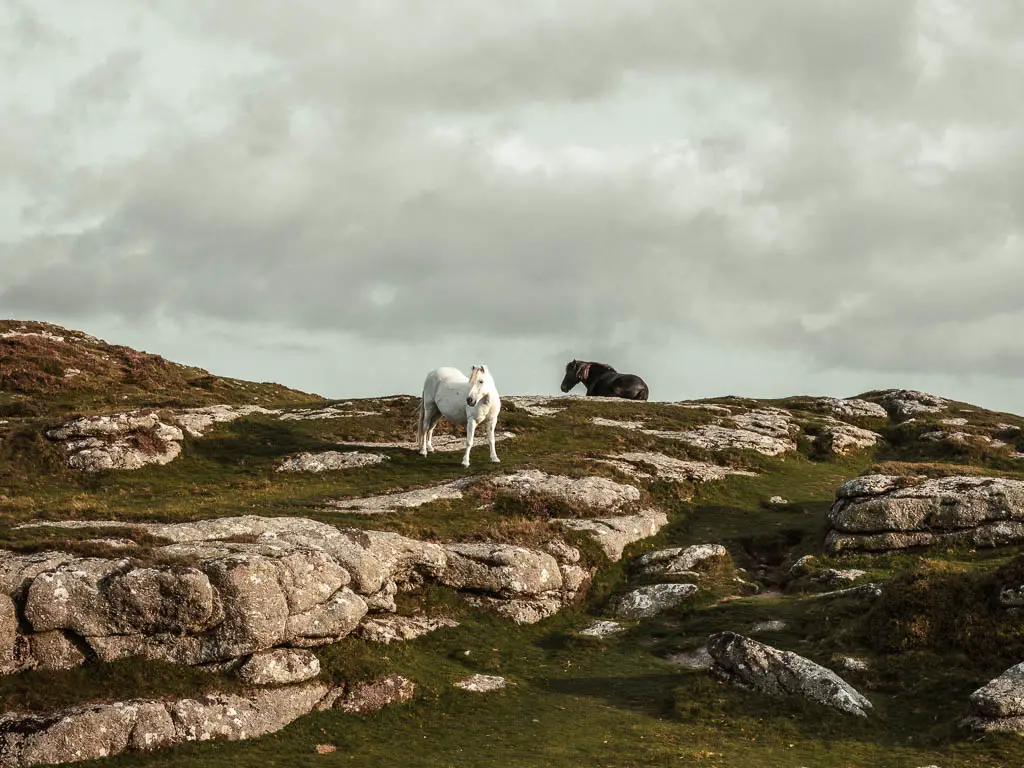 Often referred to as wild ponies, although technically, they aren't wild. They do have owners. It's just that they roam freely without constraints. They are used as a way to help maintain the land and keep vegetation down….kind of like lawnmowers. 
What are Dartmoor Tors?
Dartmoor tors are granite outcrops. Basically large rocks poking out from the ground. There are about 160 of them all over Dartmoor, each wonderfully unique. Most of the walks in Dartmoor on this list, either feature a tor, or have a great view of them.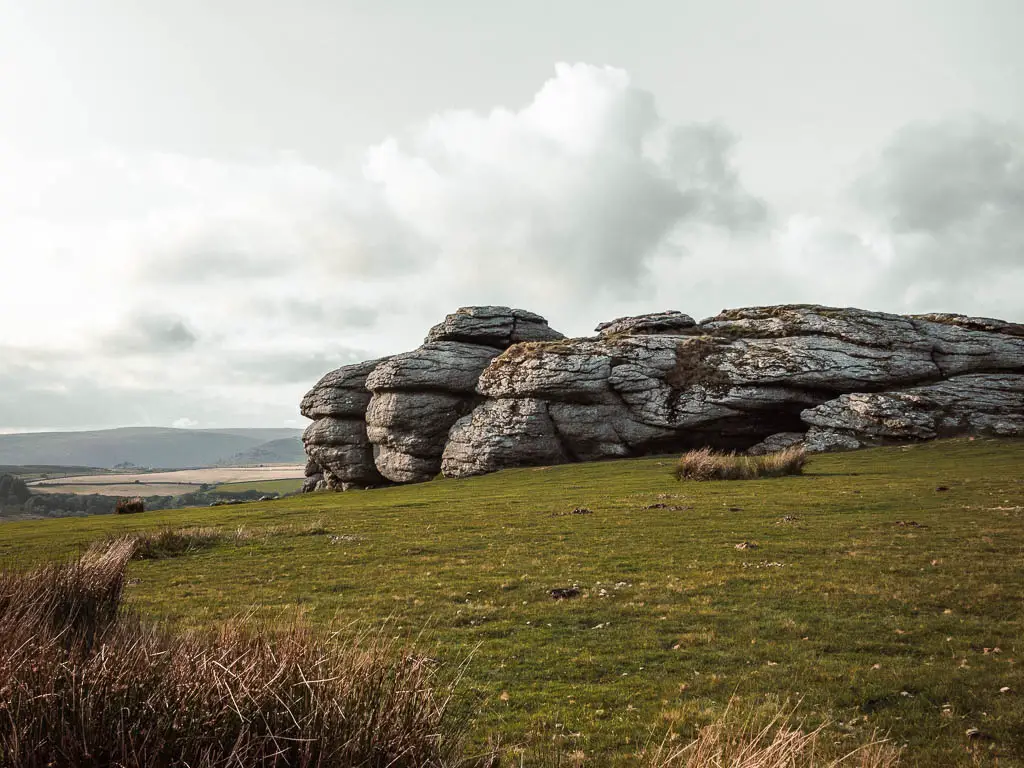 Wild camping
Did you know that Dartmoor is the only place in England that you can legally wild camp without prior permission? There are some rules you have to follow, and a few places are off limits. You can find out more on my guide on wild camping in Dartmoor National Park. If you would like to give wild camping a go, then make sure to scout for locations when out on one of these walks.
Read more: Wild camping tips
Read more: Tips for keeping warm in a tent
Fancy learning some survival skills? On this surviving the moors three day course, you will learn how to light a fire from scratch, forage for food, build an emergency shelter, use astro navigation. The course even includes a bit of abseiling, and helicopter extraction.
Can I get to Dartmoor via public transport?
Absolutely. Although, to be fair, there is a lot to cover where you would need a vehicle. However, you can still get to some fantastic places by bus or train, and every one of these Dartmoor walks on the list are accessible this way. 
You can take either the normal buses, or the Dartmoor Explorer.
Nb. Two of them I did get to with a car, however, I have given details on how to get there by bus in the guides. 
Also, all bar two of these walks in Dartmoor are circular routes. The others are out and back, or take you from one bus stop to another.
If you fancy trying something a bit different, you can do a horseback adventure through the wild moorlands of Dartmoor. Or if you would prefer something a bit gentler, you could do a private Land Rover Discovery driving tour. This one takes you across the moors, between the granite tors, and ancient settlements, whilst learning about the history. Including the places that inspired Agatha Christie.
---
7 Best Walks In Dartmoor National Park
---
1) Wistman's Wood – The one with the mystical fairytale woodland
Start/Finish: Two Bridges Hotel  Distance: 3miles (give or take)  Time: 1h20min (for 3 miles)  Difficulty: Easy
This is one of my favourite walks in Dartmoor National Park. Wistman's Wood is the most enchanting woodland I have ever been in. With ancient oak trees, and moss covered boulders. At about 400m above sea level, it is one of three high altitude oak woods in Dartmoor. It's so ancient, that the woods are thought to date back to around 7000 BC.
The walk itself is super easy and you can sort of freestyle. From Three bridges, it's a short walk on path and trail to reach the woods, after which you can explore at will. Then just walk back the way you came.
For more detailed walking route information, including photos, and a map, read about Wistman's Wood here.
2) Sheepstor – The walk in Dartmoor with a bit of everything
Start/Finish: Yelverton  Distance: 9 miles  Time: 3h 30min  Difficulty: Easy/Moderate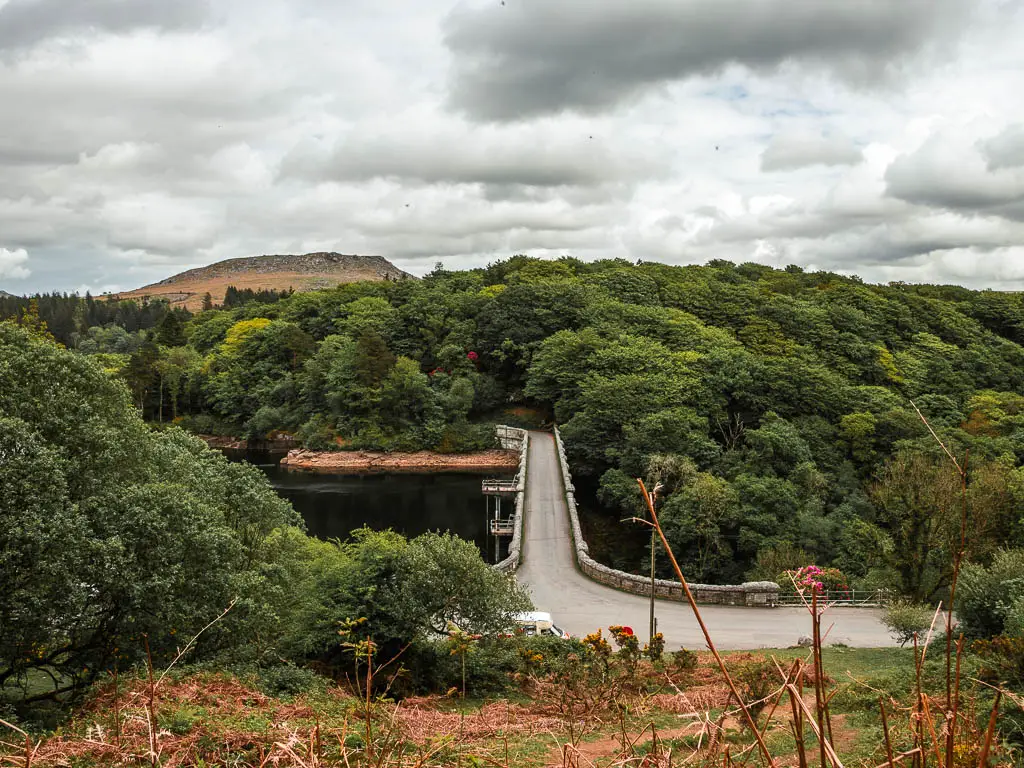 This is one of the good all rounder hikes in Dartmoor. Woodland, bluebells, flat bits, rugged terrain, hill climbs, amazing views, tor, a precarious river crossing, sheep, 'wild' ponies, reservoir, and pretty roads. 
I have labelled this walk as easy to moderate, and whilst there are some hills, they aren't too taxing. In fact, although Sheepstor looks pretty monstrous from below, it's surprisingly easy to walk up to. The moderate is more to do with the length of the whole route. The walk then takes you partway around the Burrator Reservoir, which I liked so much, that I came back another day to walk all the way around it.
For more detailed hiking route information, including photos, and a map, read about the Sheepstor walk here.
3) Burrator Reservoir – The one with a pretty damn and dog friendly section
Start/Finish: Meavy  Distance: 5 miles  Time: 1h 45min  Difficulty: Easy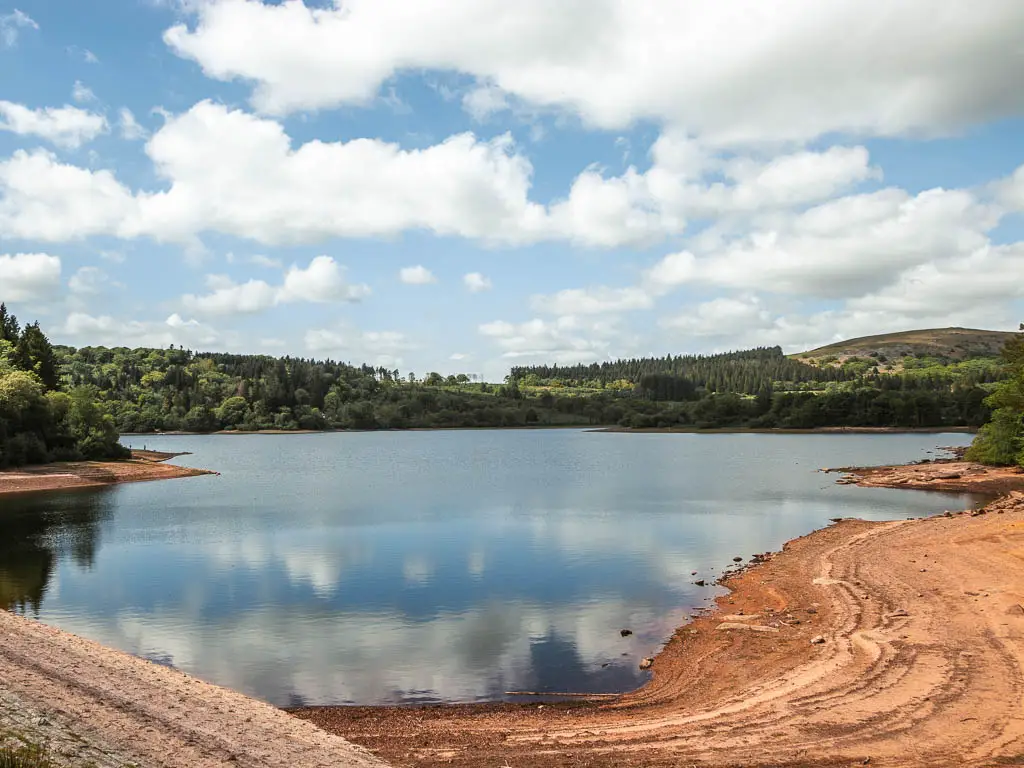 This walk in Dartmoor takes you on a circular route around the Burrator Reservoir. Overlooked by the impressive Sheepstor, surrounded by woodland, and a nice walking trail all around it. There is also a section dedicated to dogs. Dog walking can be tricky in Dartmoor, with all those ponies and sheep about, but this walk has a bit of trail for doggies to roam freely. 
Fun Fact: It was built to supply drinking water to Plymouth and other surrounding towns. It was also featured in the movie War Horse, by Steven Spielberg.
For more detailed route information, including photos, and a map, read about the walk around Burrator Reservoir here.
4) Foggintor Quarry – The most beautiful thing I have ever seen
Start/Finish: YellowMead car park (near Princetown)  Distance: 1mile (one way. Add extra to walk around and back)  Time: 15min one way  Difficulty: Easy
If you do one thing in Dartmoor, make it this. Foggintor Quarry has to be one of the most beautiful things I have ever seen. Unassuming as you approach, then when you enter the quarry, you are met with a lake of sorts, surrounded by sheer cliffs and greenery. 
This particular walk starts at a small almost missable car park, however, you can easily get to it by public transport, which I detail in the post. From there, it's a short walk along the old railway track bed to reach the beauty.
It's also a popular destination for those wild campers, and you will probably see one or two about.
For more detailed route information, including photos, and a map, read about the Foggintor Quarry walk here. 
5) Princetown Railway and King Tor Walk – The one along the disused railway
Start/Finish: Princetown  Distance: 5.5 miles  Time: Just under 2h  Difficulty: Easy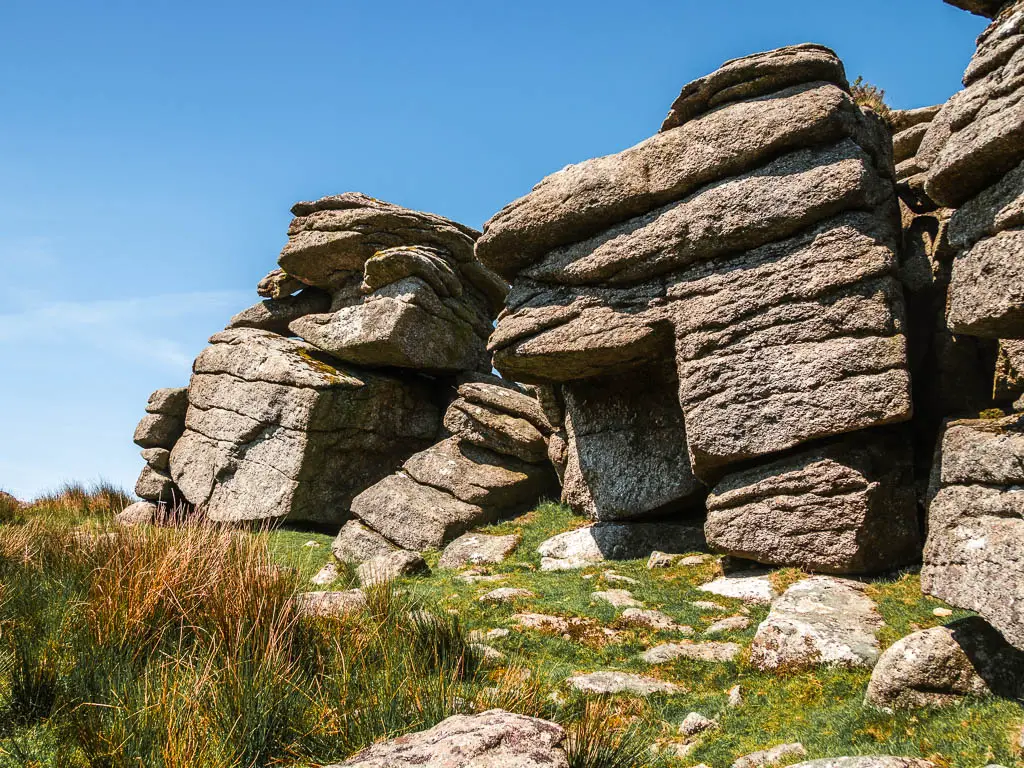 This is an easy walk in Dartmoor, taking you along an old railway track bed, up and around King Tor, with an optional (but highly recommended) stop at Foggintor Quarry. I must say, I found walking along the railway path quite tedious. It's not the railway tracks that you might expect, but rather a gravel path. 
The gravel did start to bother me a little. It's like the little sister of shingle. Gravel aside, the rest of the walk is lovely. King Tor is an impressive one, and is much bigger than it looks from below. There is also a surprise quarry, before reaching the beautifully breathtaking Foggintor Quarry. 
For more detailed route information, including photos, and a map, read about the walk along Princetown Railway here. 
6) Ivybridge to Western Beacon – The other walk in Dartmoor along a disused railway 
Start/Finish: Ivybridge  Distance: 6 miles  Time: 2h  Difficulty: Easy/Medium 
I would say this is the most exposed of the walks in Dartmoor on the list. There is a short bit of woodland to start, then you have a steep climb up a hill, to reach the moors.
With those panoramic views, across miles of open moorland, it's pretty easy to navigate, as once you are up the hill, you can pretty much see everywhere. It's an easy one to freestyle, and shorten or lengthen as you please. Part of the walk is on the Redlake Tramway, which is an old tramway track bed, and you can see some of the remnants of it in parts.
For more detailed information about this circular route, including photos, and a map, read about the walk from Ivybridge to Western Beacon here.
7) Drakes Trail – The one with the creepy tunnel 
Start: Tavistock  Finish: Yelverton  Distance: 6 miles Time: 2h  Difficulty: Easy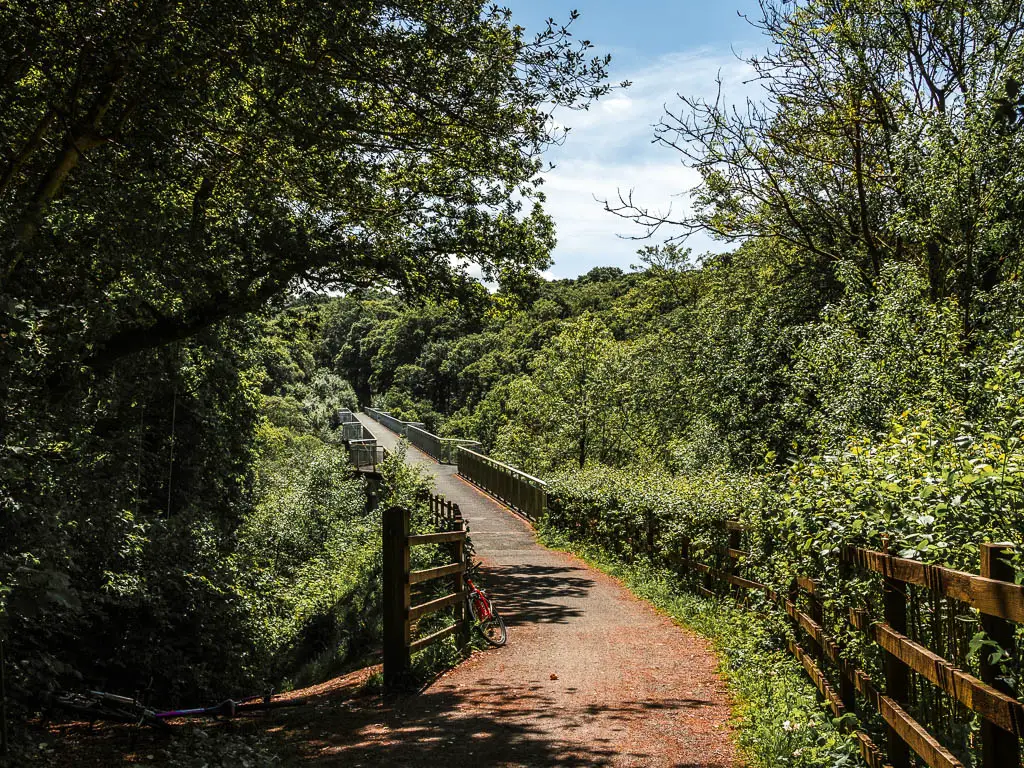 This is the only one of the walks on the list that is not technically in Dartmoor, but rather, on the outskirts. Despite that, you do still get some ponies sightings, and a view in the distance of some tors. 
The walk starts in the market town of Tavistock, and follows an easy path the whole way, mostly lined with trees. Two things that really stand out from this walk are the creepy tunnel and the high bridge. 
The tunnel…it's a long never ending cave like tunnel walkway, and apart from the light at the very end, it's pitch black. I've never experienced that level of darkness, where you can't see your feet, your hands, or anything really…except that light at the end, which seems to get further away. 
The high bridge did make up for it though. It has this rainforest treetop walk vibes, and you get a view way in the distance to a Dartmoor Tor.
For more detailed trail route information, including photos, and a map, read about the Drakes Trail walk here. 
---
Final thoughts on these walks in Dartmoor National Park
My favourite walks in Dartmoor from the list are Wistman's Wood and Foggintor Quarry. It's interesting because those are also the shortest and easiest walks. Usually I like the tough ones. They are both just so breathtakingly beautiful, that they win. 
Another thing to note, Dartmoor is known to have unpredictable weather. So you want to make sure you are prepared with good layers. You can read more about that on my guide on what to wear when hiking in cold weather. The weather conditions can switch from calm, to wet and windy in an instant.
Pin the best walks In Dartmoor National Park for later:
To find out more about Dartmoor, you can check out the National Parks website.