Strictly speaking, the walk from Hackpen Hill to Avebury along the Ridgeway is not very adventurous. It's quite simple, along a straight path. What's adventurous, is what happened next. I had planned out a walk that would take us in a circular, starting at Hackpen Hill and along the Ridgeway to Avebury, then looping back around. Life would have been so much simpler if we had just stuck to the Ridgeway, you know, after arriving in Avebury, just walk back on ourselves. The things is, I hate walking back on myself. So it was never really an option in my eyes. 
I am writing this story to tell you, walk back on yourself!
Although, in hindsight, we can now laugh about it. An adventurous story to tell and think back on. But I will tell you now, I am never walking that route again….
What is Avebury?
Avebury is a pretty village in North Wessex AONB in Wiltshire, and his home to the largest Neolithic Stone Circle in the world. Yes. The world.  They date back to somewhere between 2850BC and 2200 BC.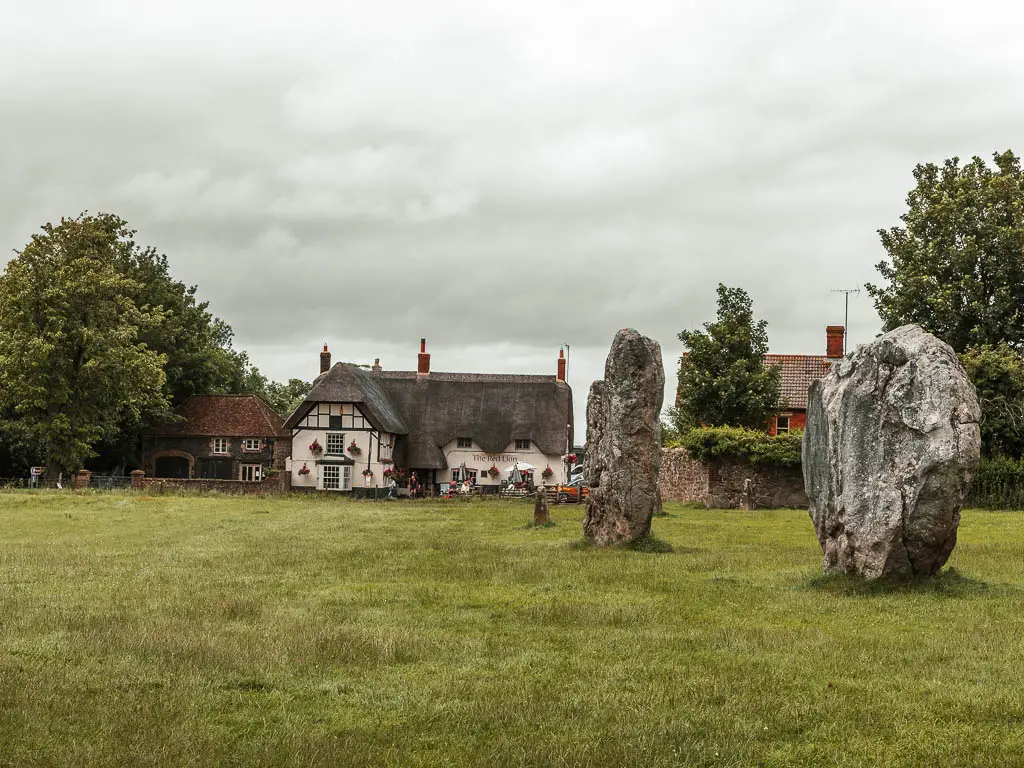 In Avebury, you will also find Silbury hill. It is the largest man made mound in Europe, and no one knows what it was for.
What is the Ridgeway?
The Ridgeway is a long distance walking trail, starting in Avebury and finishing at Ivinghoe Beacon in the Chilterns near London. It covers 87 miles through North Wessex AONB and the Chilterns AONB.
The Ridgeway is also known as Britain's oldest road. It was used as far back as prehistoric times.
Ok, so what happened?
So, as I said, the walk along the Ridgeway from Hackpen Hill to Avebury was very simple. Almost too simple. I was quite excited for the loop back, for some variety. 
What we discovered was that nature had taken over. I highly suspect this had something to do with lockdown. Less people walking in the area, which has resulted in nature claiming its land back. I have heard stories from other people out walking in the countryside after lockdown, about routes that were usually good to go, now hardly passable. 
We found ourselves fighting our way through grass so tall, it was taller than me at some points. As Ollie commented, I was taking him through tick heaven. Trails almost not visible in the overgrowth. Hogweed (the toxic plant) reaching out to attack us. Stinging nettle fields. Stinging nettle fields where there was no other possible way around, so we had no choice but to cover our bare skin, push through and hope for the best. 
You can see all the details of this disaster further down the post.
Tips for the Hackpen Hill to Avebury Ridgeway walk
I am going to give you the logistics for the walk we did. Although, for the walk back from Avebury to Hackpen Hill, I would strongly recommend not following what we did, but instead to go back along the Ridgeway….Unless you want to become a tick feast and blotchy stung mess.
As such, I won't talk turn by turn off the walk back, but rather show you what it was like. I will provide the full map though.  Maybe things have gotten better? Maybe with more people out walking, nature has retreated a little. Or maybe some of you just like that kind of thing. You have been warned though. 
Logistics for the walk from Hackpen Hill to Avebury along the Ridgeway
Start/Finish: Hackpen Hill car park (it's more of a space where you can park rather than an official pay car park)
How to get there: Google Hackpen White Horse. Then drive there. The car park is on the top of the hill, on the Ridgeway trail. There are no trains nearby, so this is a car job. The area is on the west part of North Wessex AONB in the county of Wiltshire.
Distance: 10 miles (8 miles if you walk back from Avebury along the Ridgeway)
Time: 3h 45min
Elevation: With the ups and downs you will walk up about 680m in total.
Difficulty: The Ridgeway walk between Avebury and Hackpen Hill is super easy…The other bit is not. 
Time of year: We did this during summer (last year)
Map for the walk from Hackpen Hill to Avebury along the Ridgeway and back
More walk ideas nearby or similar will be at the end
An adventurous walk from Hackpen Hill to Avebury along the Ridgeway and back
So, we started this walk from a car park on Hackpen Hill. It's not actually marked on google maps (or at least not at the time of writing). If you look for Hackpen White Horse, it's just next to that. The Ridgeway runs straight through it.
We had actually hoped to see the Hackpen White Horse on the walk, however, it didn't work out. We basically drove to where the horse is on the map, got a lovely view of it, and then proceeded to find somewhere to park which is how we found the car park. 
But as I said, you can't actually see the horse from the walk along the Ridgeway.
The start of the walk towards Avebury along the Ridgeway
Anyway, the Ridgeway runs straight through the car park. So just hop out and follow the trail. It's very well signposted, so you shouldn't have any trouble. From here, just keep going straight. 
The same as yesterday on the Uffington White Horse walk, we would be sharing the trail with ultra-runners. It was only today that we realised how far they were running, when we saw the really high mile (or should I say km) markers.
Walk along the Ridgeway on Hackpen Hill
I mentioned earlier that the walk along the Ridgeway is very simple. It mixes it up between gravel, dirt and grass. With no turnings, until the final short stretch to walk to Avebury.
The views all around are fields and hills. They were nice enough, but I have to admit, I did start to get a little bored. Because you are walking straight, the views to the left and right don't change that much. That mixed in with the simple straight path became a little monotonous.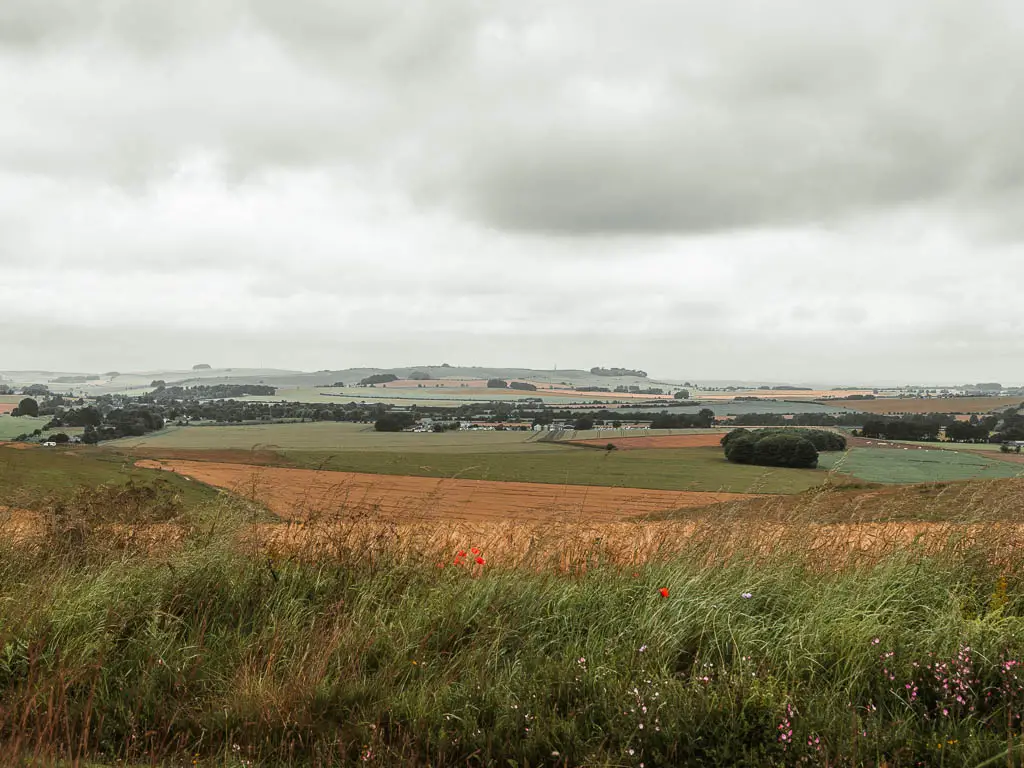 There are some sections where the hedge bushes get real tall, so you lose the views for a bit. 
Navigating the runners 
There were some challenges sharing the path with the runners. Having to keep an ear out for the sound of their quick steps from behind, and moving out their way. Frequently looking back to see when the next lot were coming. No judgement or anger, just a bit inconvenient. I salute them for taking on this massive running craziness.
Taking a Ridgeway detour
We came across a little opening in one of the hedge bushes, and decided to have a little see through there. For some variety. What we discovered is that this was the spot that the runners did their poos. Well, if you gotta go, you gotta go. 
If you look on my map, it's the spot where the loop meets.
Walk off the Ridgeway to head towards Avebury
As we were approaching the turn off, I looked so hard down the hill, to see if I could see the stones. With Avebury just there, and the stones so big, it baffled me that we couldn't see anything. I started to wonder if the map was wrong, and we were going to the wrong place. 
There is a wooden signpost for the turning to walk down to Avebury, although from memory, I don't think it said Avebury on it. It's the turning in the photo above.  That probably doesn't help much, so another way to know if you are walking the correct way, is to look at a map, and turn right off the Ridgeway when you reach the path that leads straight to Avebury.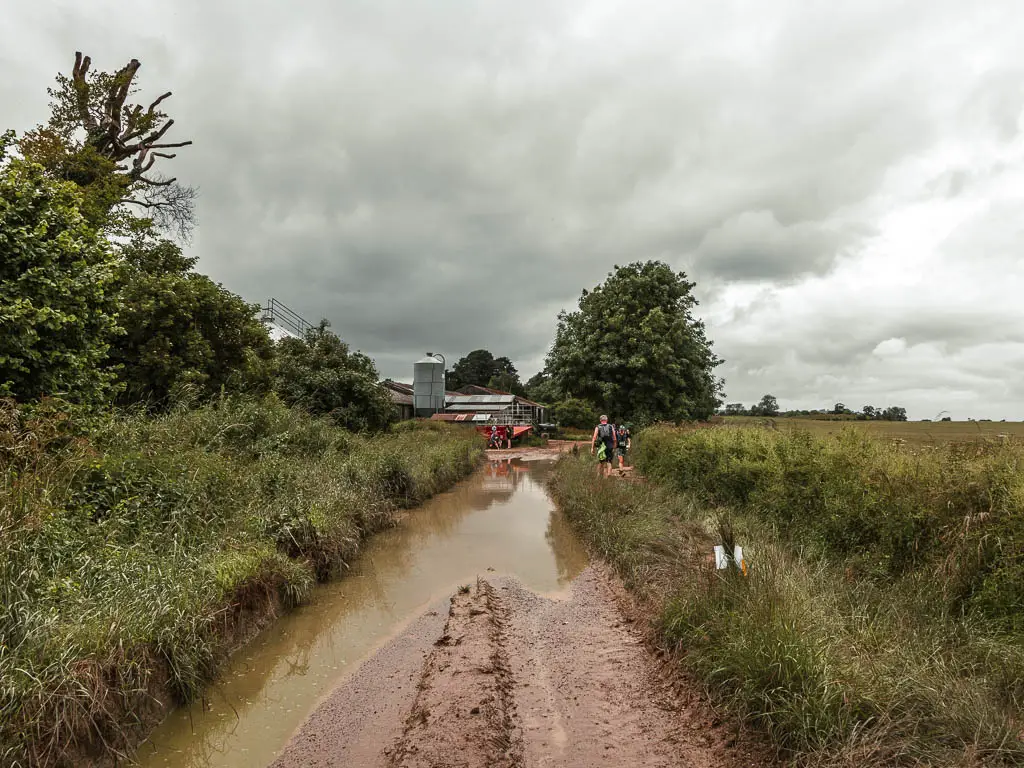 After the turn, the walk is downhill for a bit, then levels out to walk past a farm building, and then onto asphalt road.
Walk into Avebury
The first thing you might see when you walk into Avebury, is a crop circle to the right. It was quite busy with people, so we admired from the road, and then kept on with our walk.
Just next to the crop circle is a gate to the left. You want to go through that. We originally missed it as you may notice from the map, the little red line poking out.
Walking through the gate, and up along the ridge, it circles around to the right, with little peaks through the trees to the stones, before reaching the grand reveal. 
They really are quite spectacular, and I'm amazed that you can go right up to them. Imagine living here in Avebury and having giant, older than time stones in your backyard. 
Walk through Avebury 
All we did in Avebury is walk around the stones, so we didn't explore much of the village itself. It was a busy weekend, and when I get to escape London, I tend to avoid places with lots of people. I would strongly suggest having a little wander. I imagine there are some lovely village tea shops to stop for refreshments. 
In fact, if I was to do this walk again, I would spend quite some time exploring Avebury, maybe have some lunch, before heading back to Hackpen Hill along the Ridgeway.
Top tip: If you look on google maps, nearby you should see marked Silbury Hill. You should go visit. It was on our plan, but we ended up skipping it. I wish we hadn't. 
Anyway, as I said, we didn't explore here much, but instead wandered past the stones, admiring their grandeur, and then walked out of Avebury, passing by some cute, quaint village homes.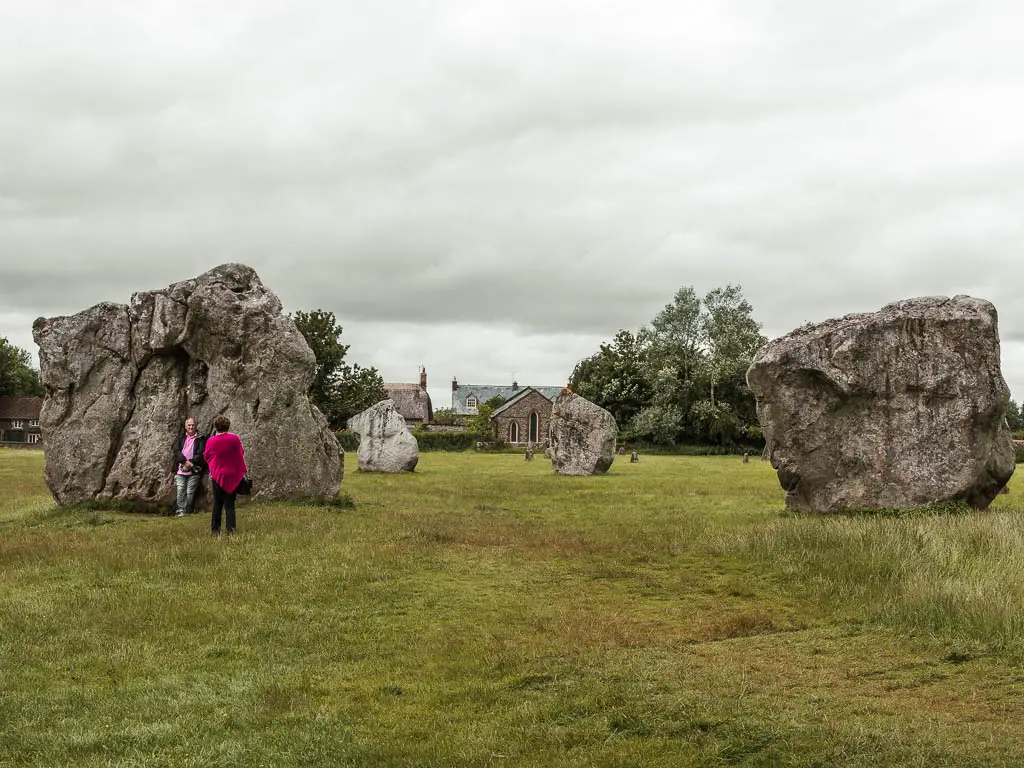 Where all our troubles began
On the walk out of Avebury, it was field after field with music and megaphone blaring in the distance. I think the noise had something to do with the race. Avebury was the finish point. We were walking in a valley which contained the noise. There was no escaping from it. I kept thinking that if we kept going, we would be far enough away from it that we wouldn't hear it anymore. But the noise just carried. 
The tall grass
When we first walked into a field with the tall grass, it was quite novel. I figured this would just be a one field thing. Something interesting and adventurous. Then the next field was the same. And then again the same. The novelty was starting to wear off, and I thought about all the ticks that must be close by. Right on cue, Ollie then mentioned how I was taking him through tick heaven.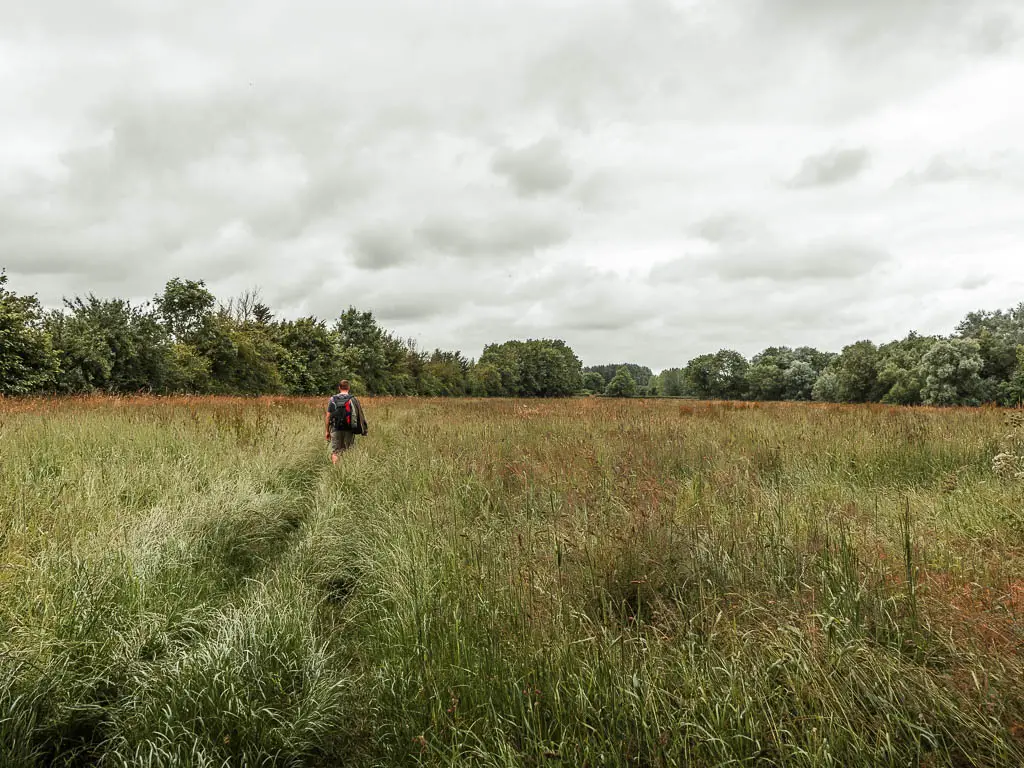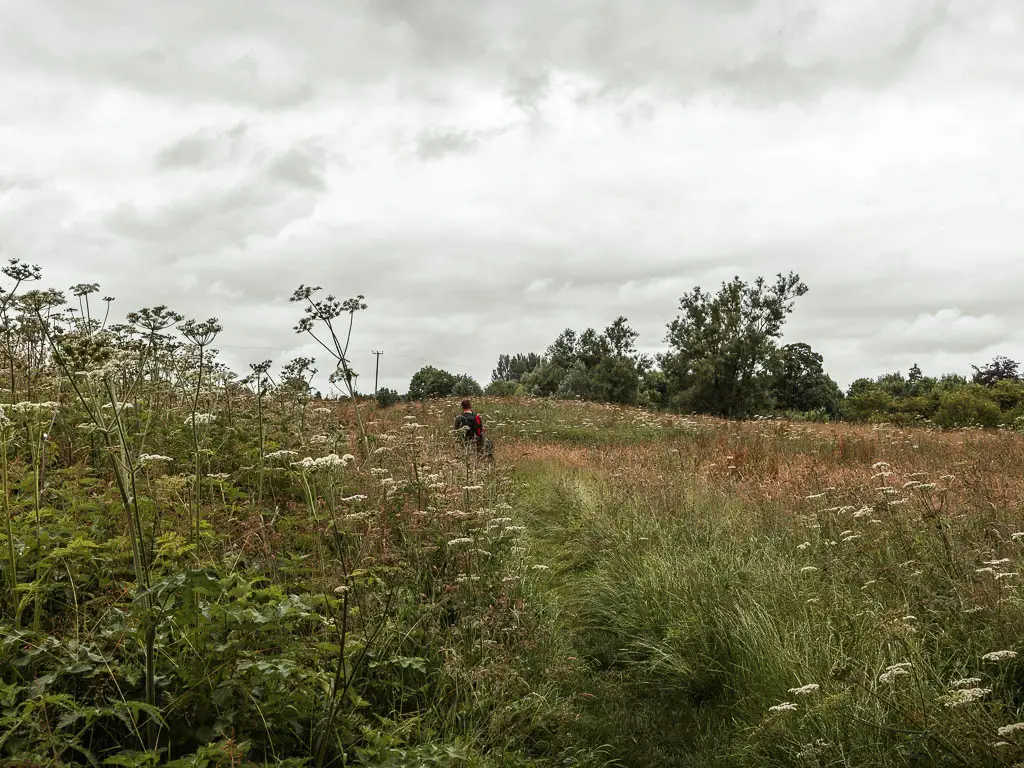 Then the hogweed started to make an appearance. This stuff causes sever burns and blisters if touched. Sometimes it was neatly to the side. Other times it was reaching out to touch us.
A sense of false security 
Once we were out of the mess, things eased up for a bit. I had never been so happy to see neatness and road. It was also around this point that we couldn't hear the music and megaphone any more. Everything was starting to feel alright. 
The corn field
The road lead us to the next bit of trail, which was a wall of nettles. No way in hell were we going to try and fight our way through that, so we had a look around, and found that the field next to it had a little path to the side. This was the corn field. We decided to try that. It seemed to lead towards the hill in the distance, which was what we were aiming for. So off we went. 
It was all fine and dandy as we made our way along the small trail, then when that ended, we could then walk along the tractor mark.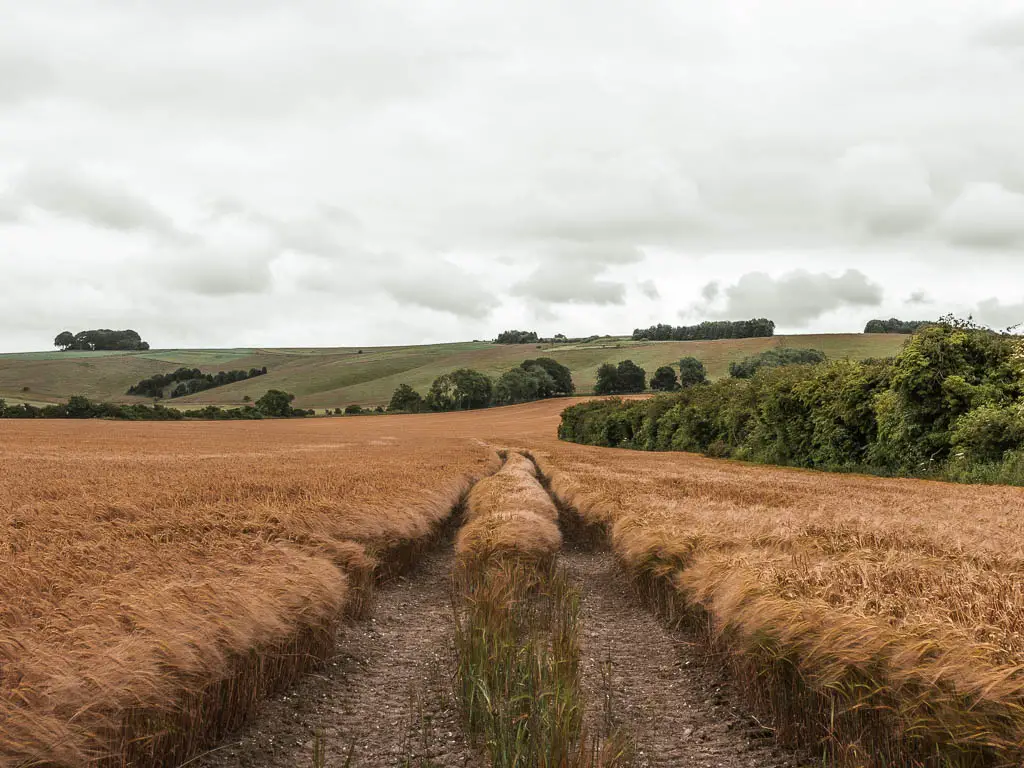 Soon the corn decided that that was too easy and started engulfing the track. The track was still under there. It was just hidden. No corn was harmed in the making of this.
When we reached the end, we were faced with our next challenge.
The next nettle field
We thought we had won. We managed to avoid the stinging nettle wall from earlier, and this trail had led us to were we needed to be. To the bottom of that hill. 
Out of the corn field, we walked into the woods to pick up the trail to take us up the hill, and found this: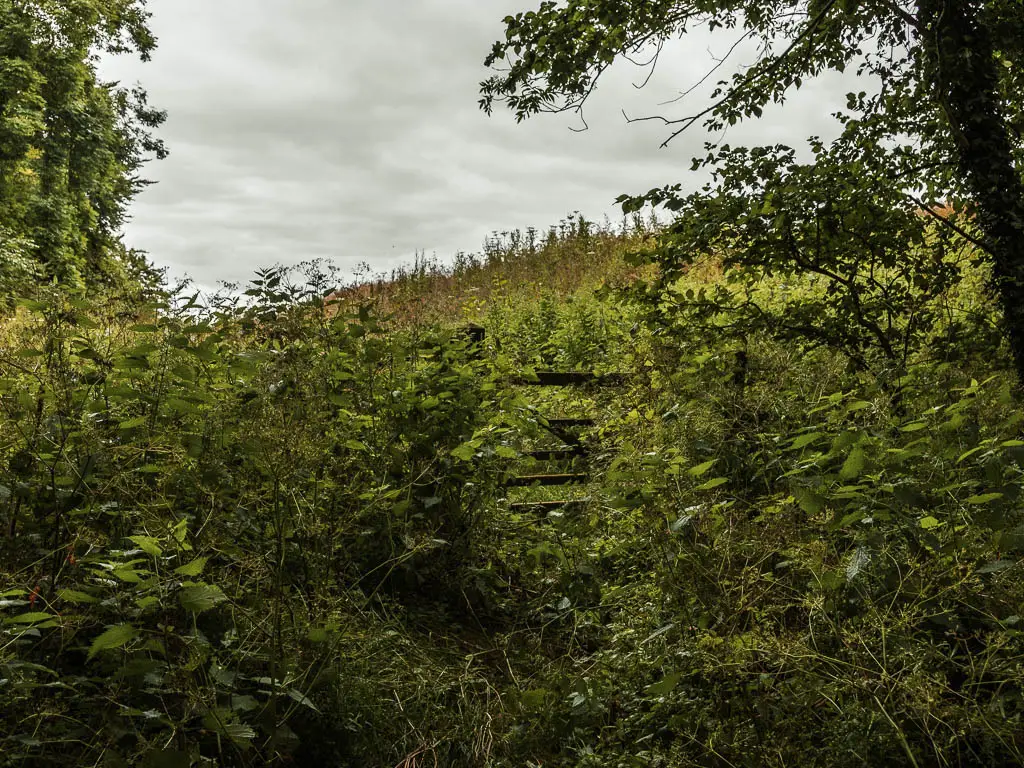 The nettle field of all nettle fields (this would not be the last one. But we weren't to know that yet). Just like earlier, we refused to attempt it and had a good wander around to find something else. But there wasn't. We had no choice but to go through the nettles. 
With my jacket wrapped around my waist, I lowered it to try to protect my bare legs, and then kept my head down and pushed my way through. 
It was only after numerous leg stings, that I realised I had made a fatal (and quite silly) mistake of having my jacket wrapped around the back. This made no sense as there was nothing protecting me from the front. Although, by now it was a bit late. 
The uphill through the tallest grass
Once we fought through the nettles, I thought the hard part was over. It was not. Now we had a steep climb uphill through grass taller than me.
The trail was truly engulfed by this point. It was the kind of hill where you might want to take a moment halfway up for a breather. But we couldn't stop. Well, we could. But I was very aware of the fact that there were probably snakes lurking around here. Not to mention the ticks. My theory was that if I kept moving, they might not get me. Plus all that hogweed. 
The next nettle field (the third one, but who's counting)
I was so happy once we reached the top, out of the tall vicious grass. Up until this point, I had been wondering if we were even in a place meant for walking. But seeing the gate and the sign gave me a sense of relief that all was good. The hard part was over…..
But it wasn't….
Walking through the gate, we were greeted by what would be the most aggressive nettle field of all. Above head height nettles. At this point, there was no way back. So putting my jacket over my legs (this time the right way around) I pushed my way through. It was a moment of thinking to myself, you gotta do what you gotta do. So just do it.
Reaching the top
Through the nettles we found ourselves on a hill of very short lovely grass and openness. I was very happy to see short, kept grass. Then once at the top, we sat down to regroup and think about what had just happened.
I looked down at my legs to examine the damage, whilst also flicking a tick off. I proceeded to have a closer inspection for any ticks that might have attached. Ollie looked at me, with a look that said, 'what did you do to us'… He also then said it. 
Walk back along the Ridgeway to Hackpen Hill car park
After a bit of a rest, we continued on, which led us to the same place we were at earlier, where all the runners did their poos. I was so happy to be back at the poo place, and to get back onto the Ridgeway for the final bit of the walk back to the Hackpen Hill car park.
Earlier on in the day, I was thinking about how bored I was walking on it. It was too simple for my liking. Now simple was exactly what I needed. 
More walks near Avebury and similar walks
Uffington White Horse to Wayland's Smithy – We did this circular walk yesterday, and it was really really lovely. The Uffington White Horse itself wasn't so impressive, but the landscape was almost unreal. Located over in the North part of the North Wessex Downs, and also covers some of the Ridgeway trail.
Ivinghoe Beacon walk – Not actually near Avebury, but I wanted to mention it because it is the last stretch of the Ridgeway walk. With Avebury being the first. It's a great walk, and one of my top recommendations near London.
Long Man of Wilmington – I have just done this walk. It's located over in the South Downs, and features white chalk figures. It was pretty similar to this Avebury walk, in that it was full of overgrowth…if you like that kind of thing.
For more walking ideas, you could check out the North Wessex Downs Website.
Pin it for later: An adventurous walk from Hackpen Hill to Avebury along the Ridgeway