I had heard a lot about this walk from Little Venice to Camden along the Regents Canal in London. I had heard about how beautiful it is and read about how it's one of the best walks in London. Well, I have to say, I was slightly disappointed. It wasn't a bad walk by any means, and some parts were really rather lovely. But it wasn't quite what I was expecting. 
What was the walk from Little Venice to Camden like?
I think my expectations were set too high. If you look online at photos for the Little Venice to Camden walk, it's all flowers and prettiness with quaint canal boats. Some of it is like this, but most of it is not. Most of it is brick, fencing and graffiti (and of course, the canal). 
I also suspect that my opinion of it was slightly tainted by the fact that I had just got caught in a downpour. I was damp, and everything around me just felt damp and dark and gloomy.
But as I said, it wasn't all bad. The start of the walk in Little Venice was gorgeous, then towards the other end of Regents Park, and heading into Camden, the loveliness continues. It's just that bit in the middle that I wasn't fond of.
Should you do the walk from Little Venice to Camden?
Sure, why not. Despite what I say, it's a good way to get a bit of nature in, in the heart of London. It's also very short. At 2.5 miles in length, it would work very well as a midday stroll to then finish in Camden for lunch at one of the many food stalls it has on offer.
Logistics for the Little Venice to Camden walk in London
Start: Little Venice 
Finish: Camden Lock
How to get there: Little Venice you can access from Paddington station or Warwick Avenue station. Both are on the Bakerloo line of the London Underground (the brown one). Paddington is also on the Circle, District and Hammersmith and City lines. Camden is on the Northern Line. Both have Santander cycle docking stations nearby. 
Distance: 2.5 miles.
Time: 1 hour
Difficulty: Easy
Tips: Do it on a sunny day. I feel that if it was sunny and bright, my experience of it would be have been very different. Also, if you don't enjoy big crowds of people, then I would say walk the other way. Camden is always heaving. So if you start the walk in Camden, you will get out of the way of it quickly, then finish at Little Venice which is more chill. There are also lots of little places to eat and drink on the Little Venice end. 
Map for the walk from Little Venice to Camden in London
More local, or similar walk ideas, and links to guides will be at the end
How To Walk From Little Venice To Camden In London
If you are starting the walk from Little Venice to Camden from Paddington station, there is an exit right at the canal, and from here you turn left. If you happen to find yourself coming out of another exit, then check the map to find the canal.
You will be greeted here by riverside cafes, canal boat cafes, the canal with people in their little boats. It's all rather lovely. I felt a sort of excitement and what was to come (little did I know).
From here you continue with the canal to your right, following the signs for Little Venice.
I didn't actually take any photos of this part. Sorry.
Little Venice
Little Venice is around the point where three canals meet to form a basin. It actually used to be called London's Venice. Basically, because it's like London's version of Venice. 
(Having been to Venice, I'm not so sure)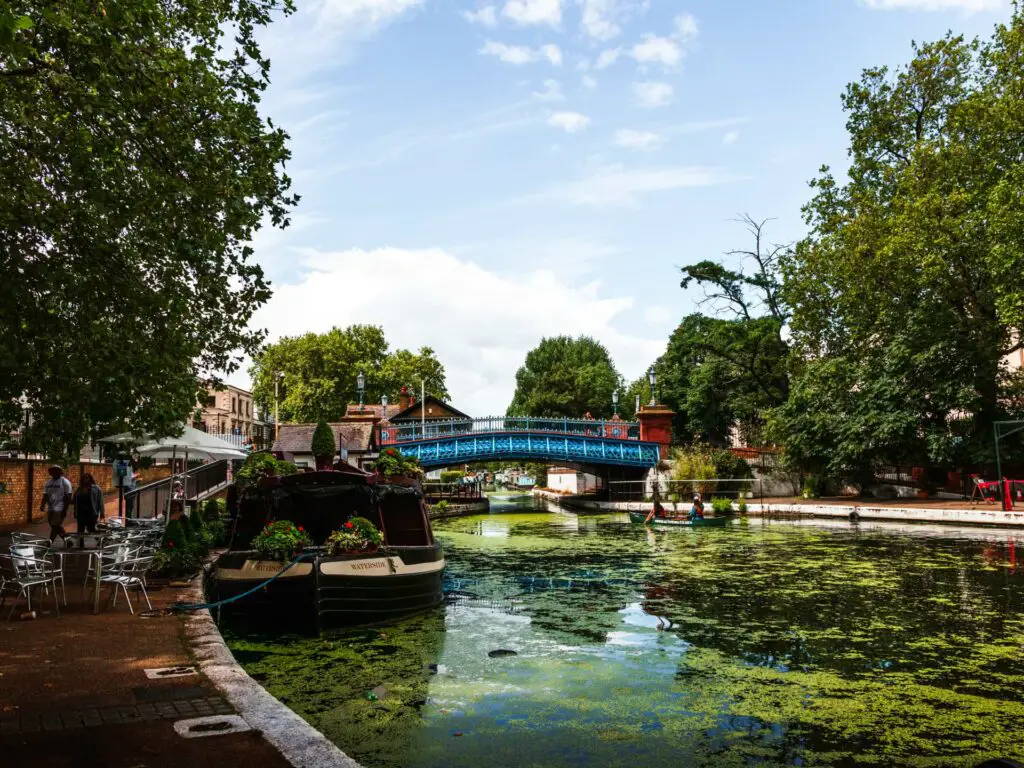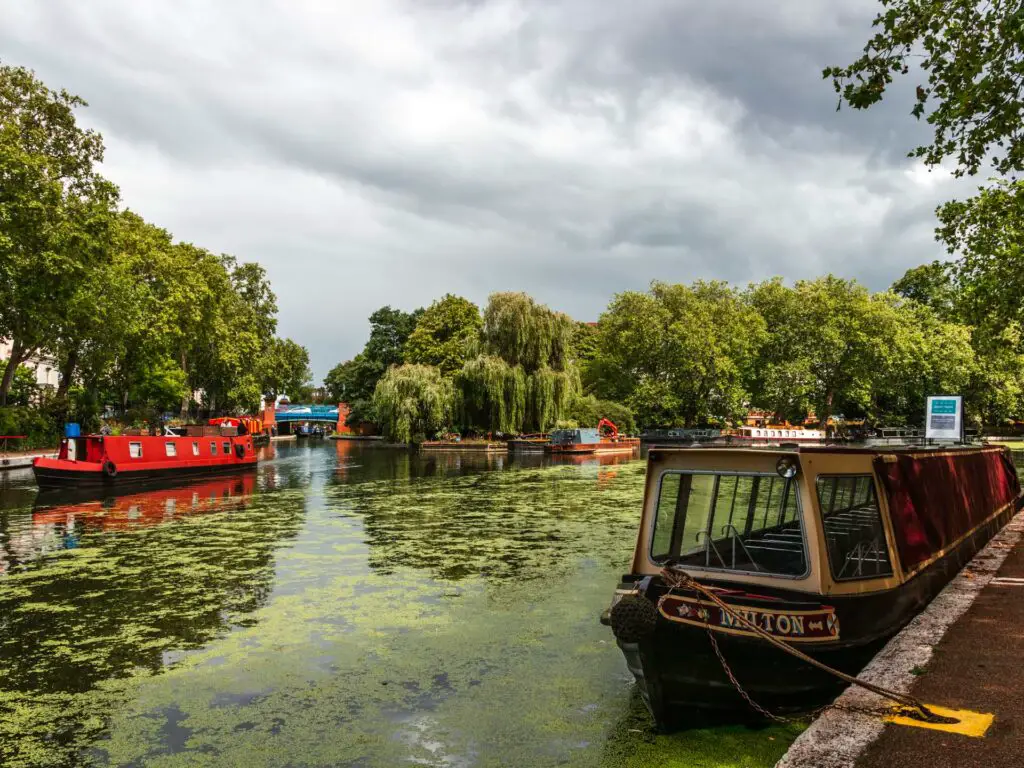 Filled with brightly coloured canal boats, and surrounded by lush greenery. The area is worth a visit in itself without anything else.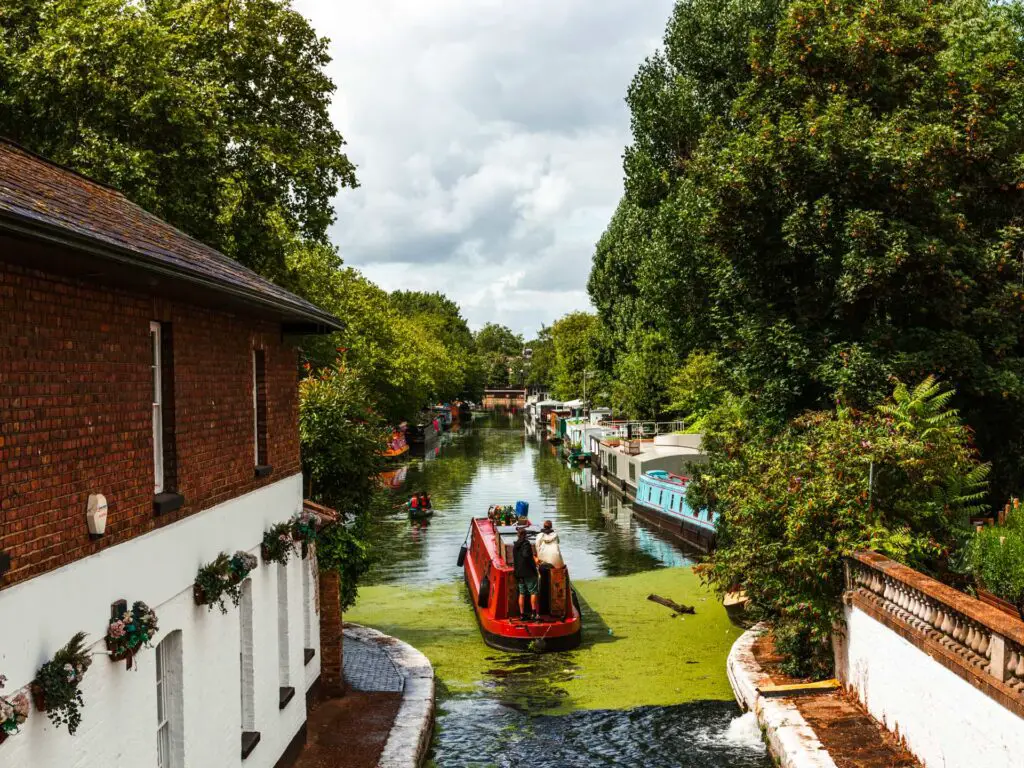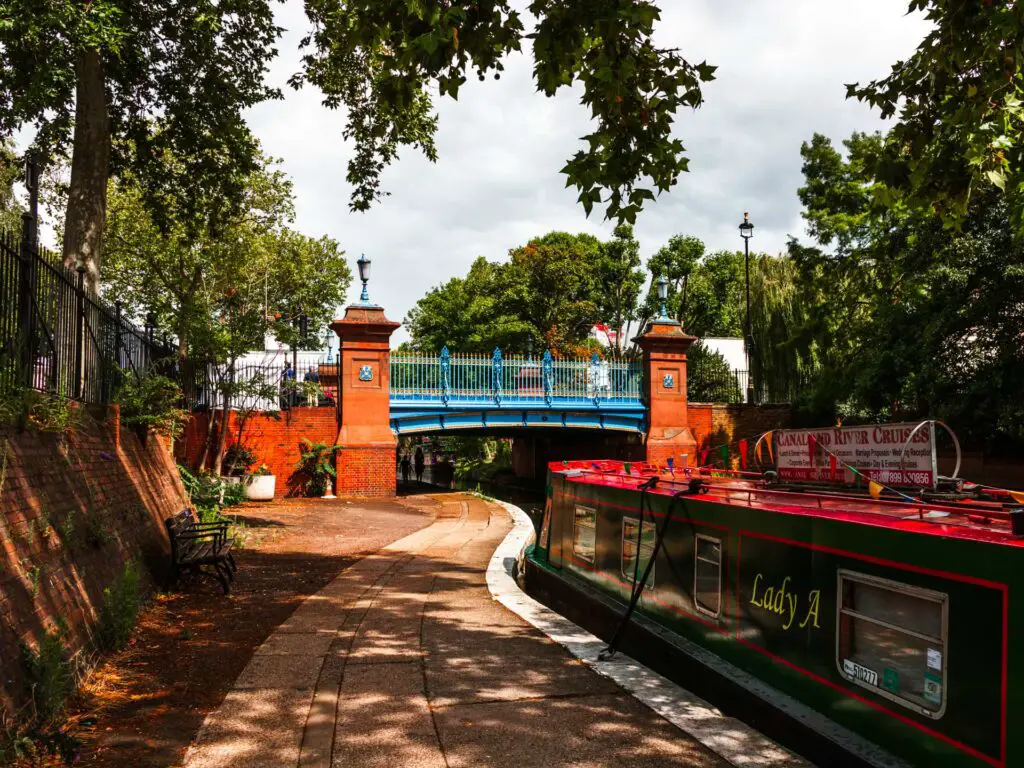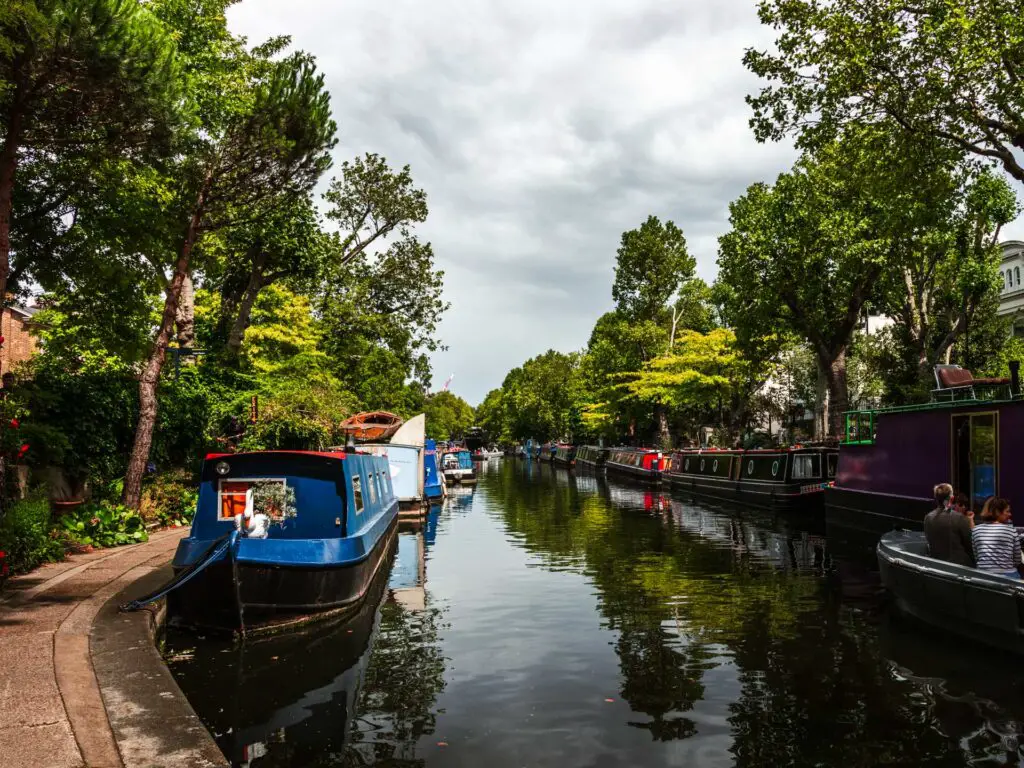 From this point you walk over the blue bridge and down to the canal, then follow the path. The canal will be to your right for this first part of the walk from Little Venice towards Camden.
Leaving the Regents canal
A bit further along, the canal path will come to an abrupt end and you will need to walk up to street level to continue the walk next to the road.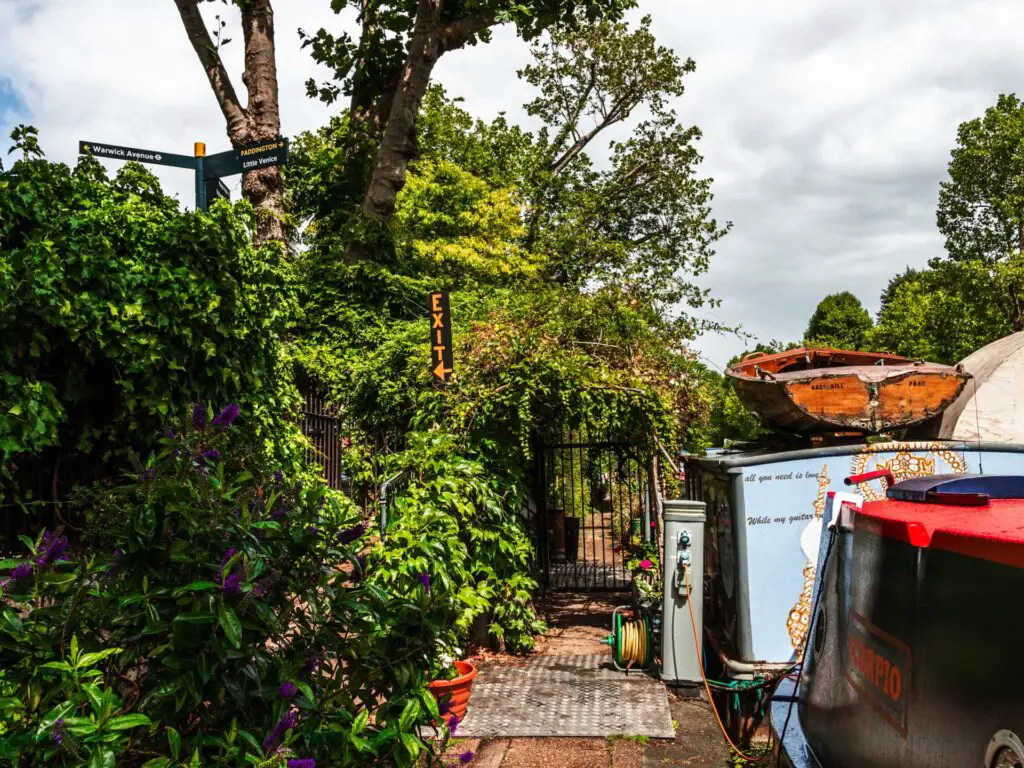 I was kind of hoping to stay right on the canal edge, but the rest of that path is for canal boat owners. I actually get that. If I had my own canal boat, I'd want to have bits of the canal just for me (and the other canal boat people).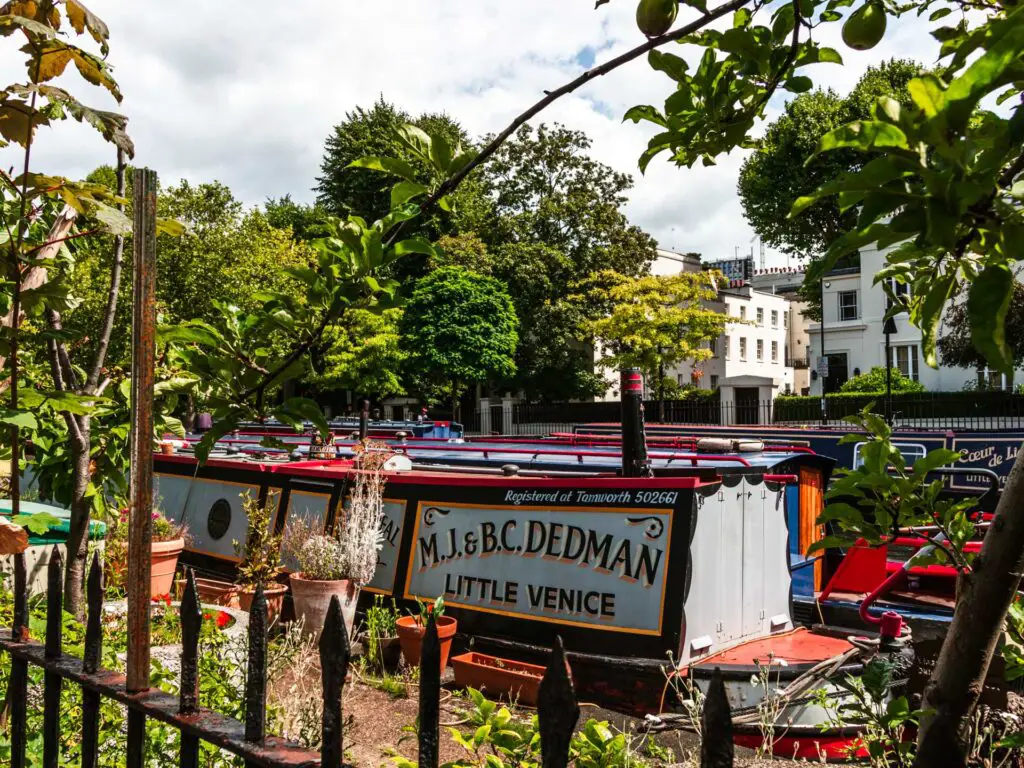 Once you reach the restaurant located on a bridge over the canal, you cross the road and continue straight where the canal will disappear for a little bit.
Back to the Regents canal
At the end, you continue down the alley directly ahead (where the road curves left). You will meet the canal again, but this time you are way above it, behind the black railings.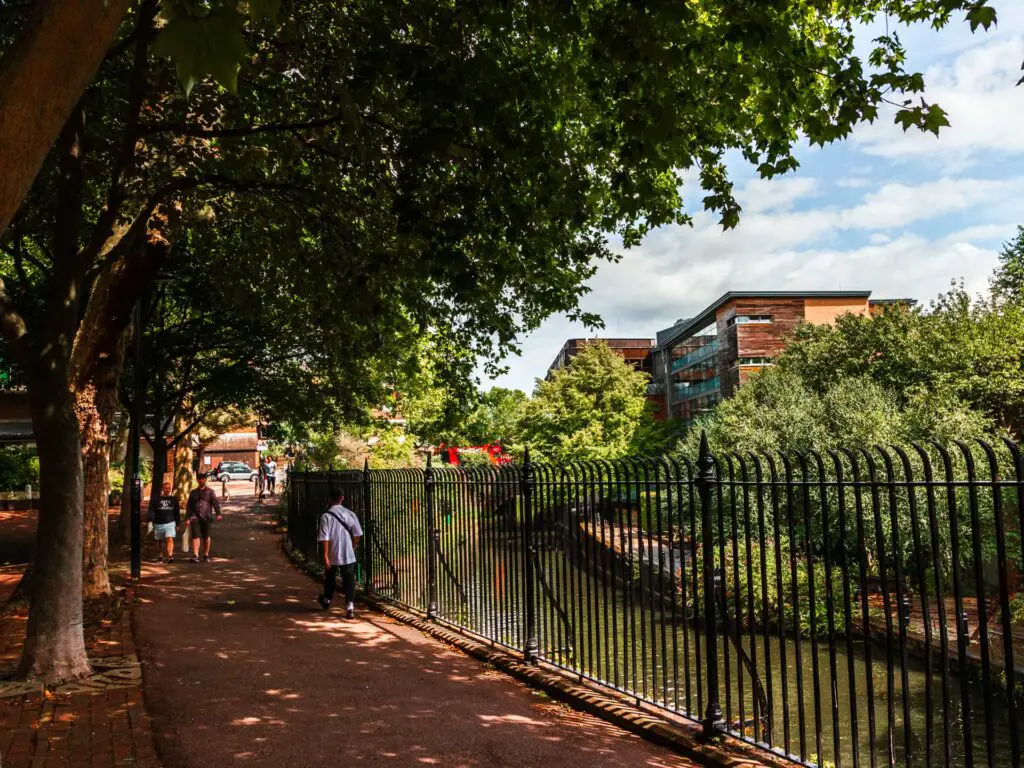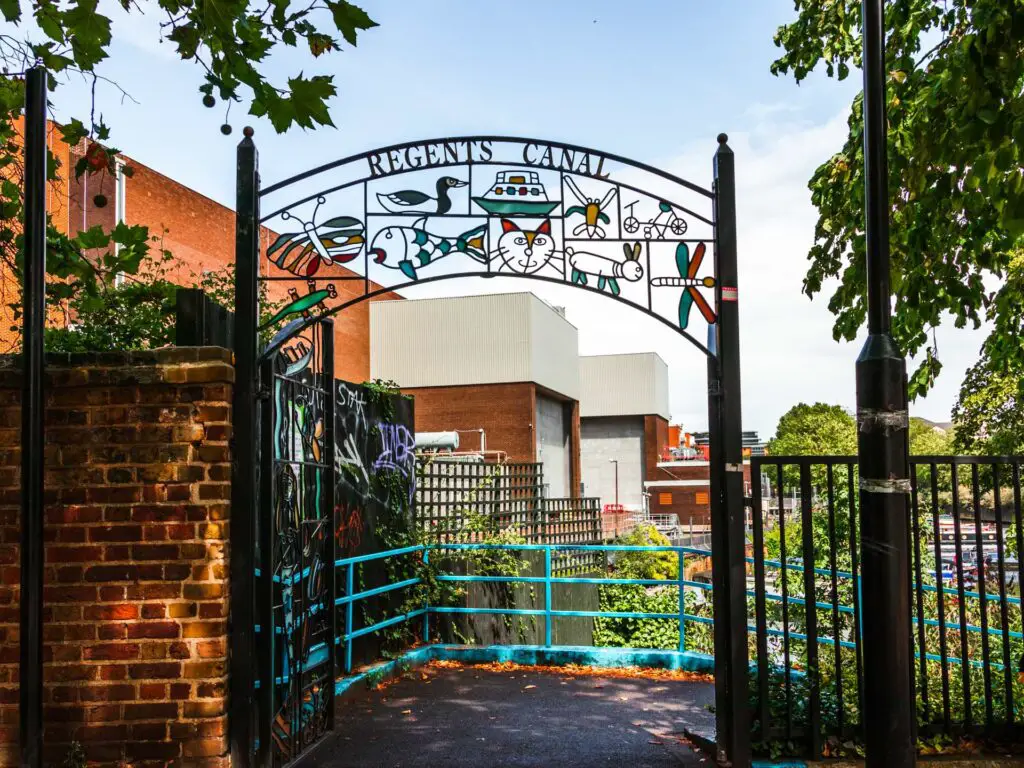 At the main road, take a right, then left, where you will find this gateway entrance back to the Regents Canal. For this next little bit of the walk from Little Venice to Camden, the Regents canal will be on your left.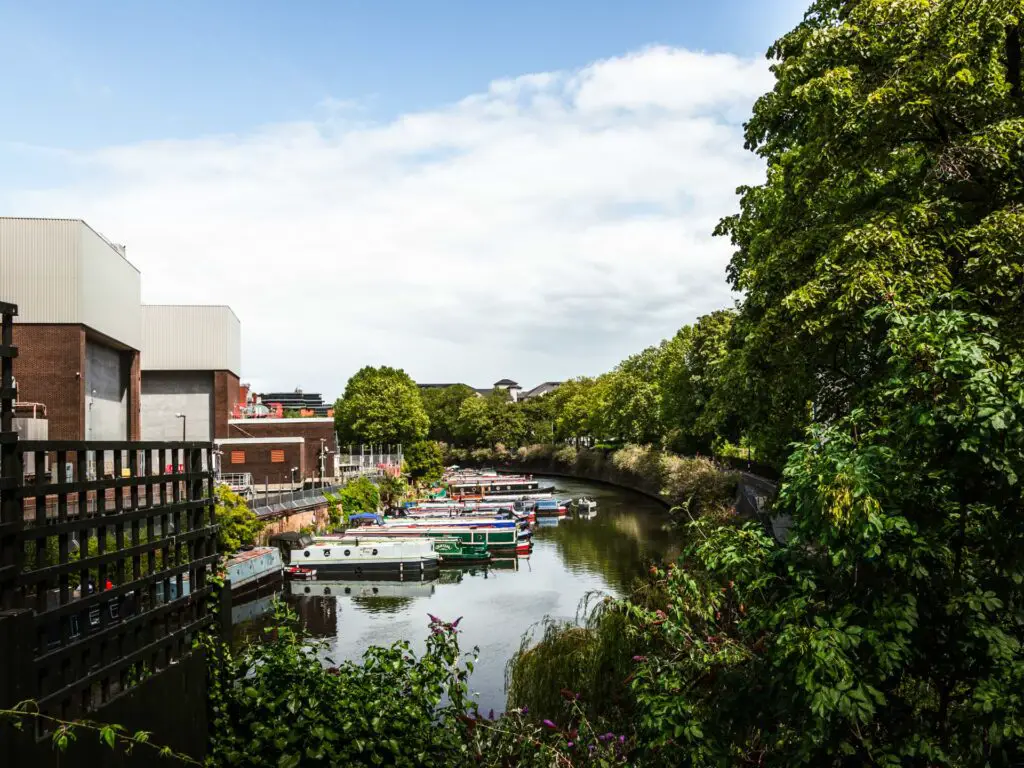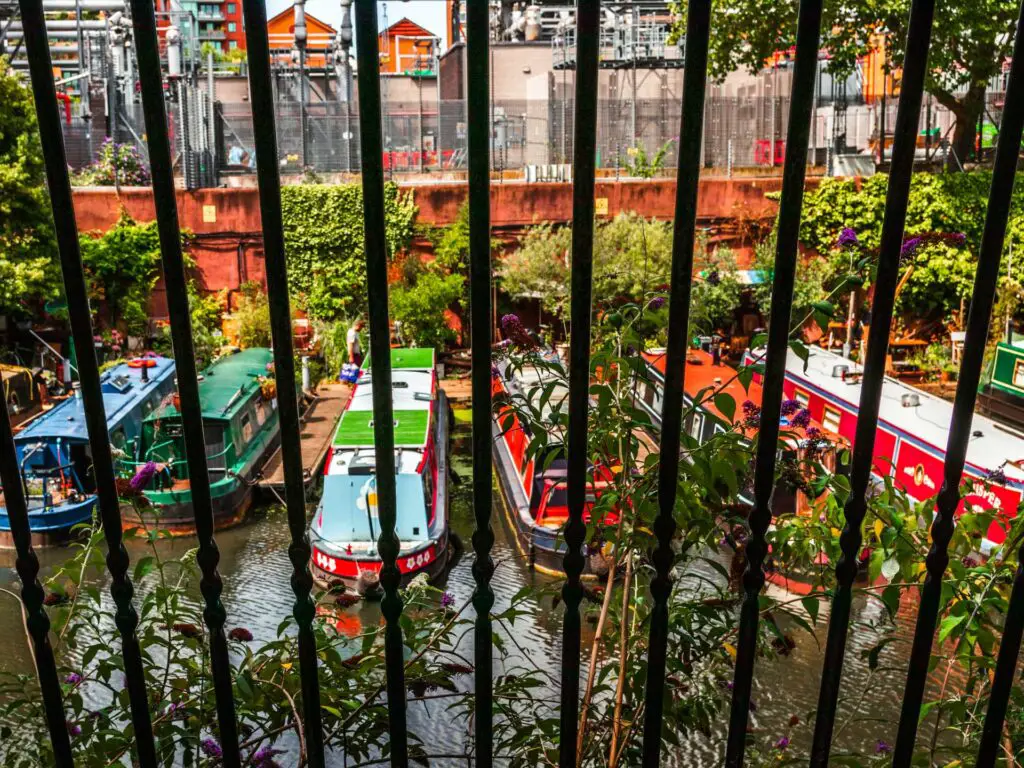 Down to canal level
When you reach a bridge, cross over it and it will lead you back down to canal level, where the canal will now be on your right.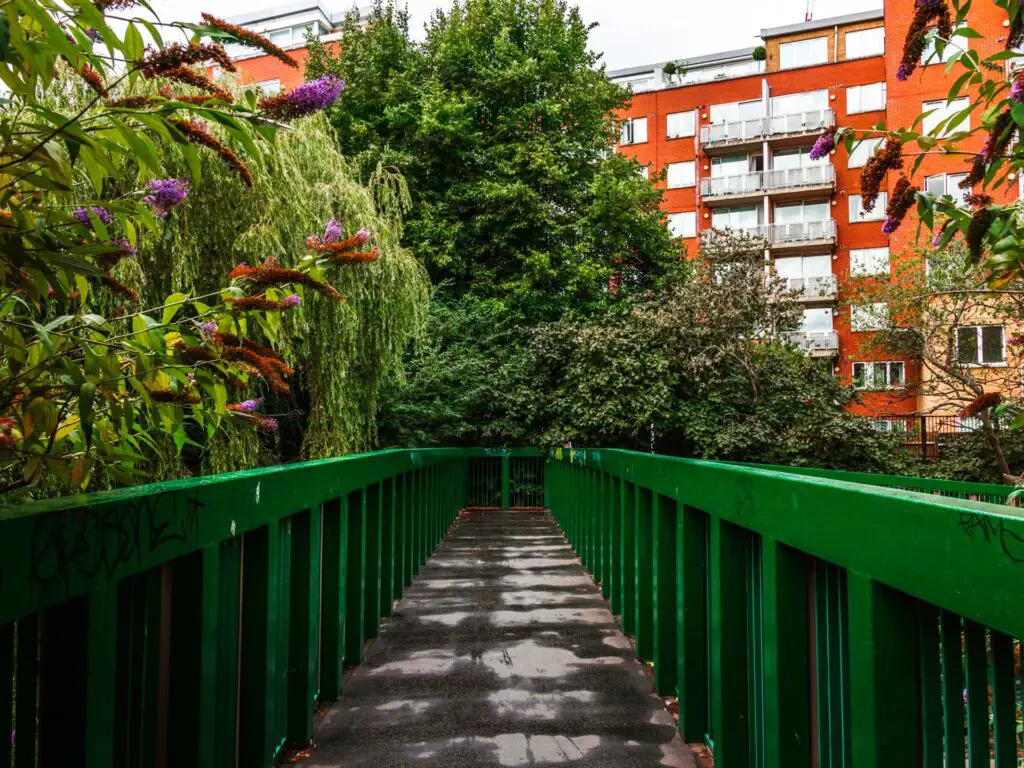 This section of the walk from Little Venice to Camden is where I started to not like it. Everything down here felt sort of gloomy and dark. Yes the greenery was lovely and lush, just the way I like it, but I wasn't so keen on everything else. I definitely got a vibe of not wanted to be down here alone at night.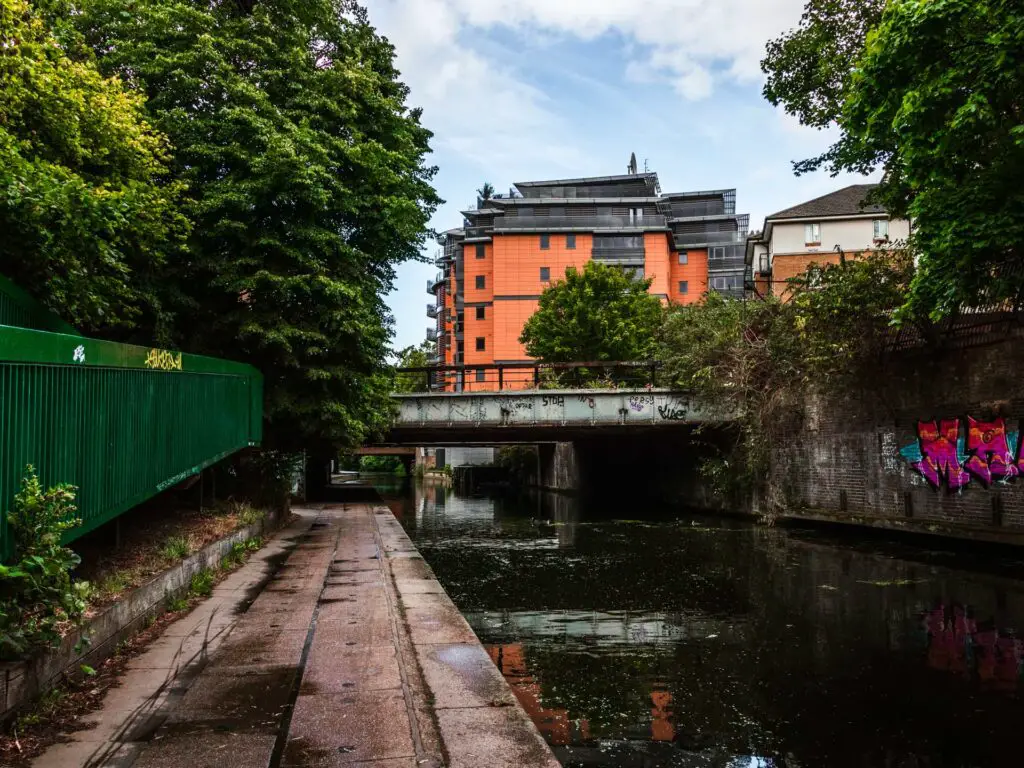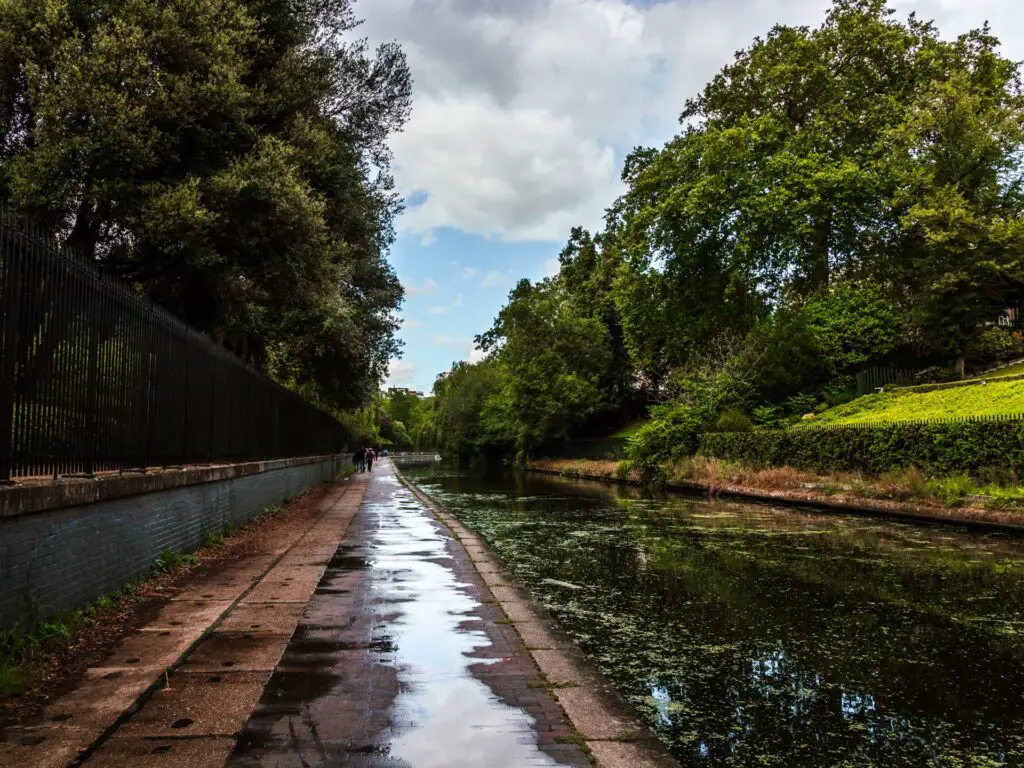 The walk around Regents Park
There are some interesting unexpected things along the way though. 
First off you will walk past a couple of big opulent type houses backed onto the Regents Canal. I wondered who might live here. Very rich people most likely.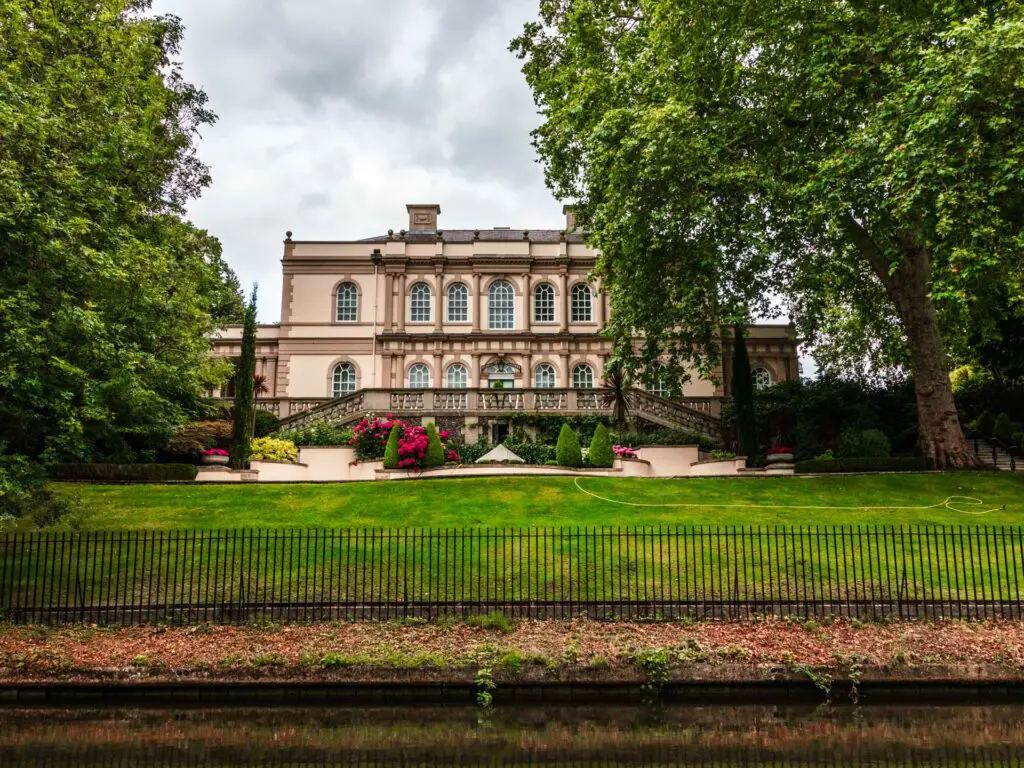 I can't be quite sure, but I think these houses came once I was in the park. Regents park is known to have giant homes.
Next you will walk past a section of Regents Park Zoo. You might even see some animals. I saw the warthogs. I thought about Pumba.
This section of the walk from Little Venice to Camden was slightly more people traffic heavy. Even a few crowds in spots.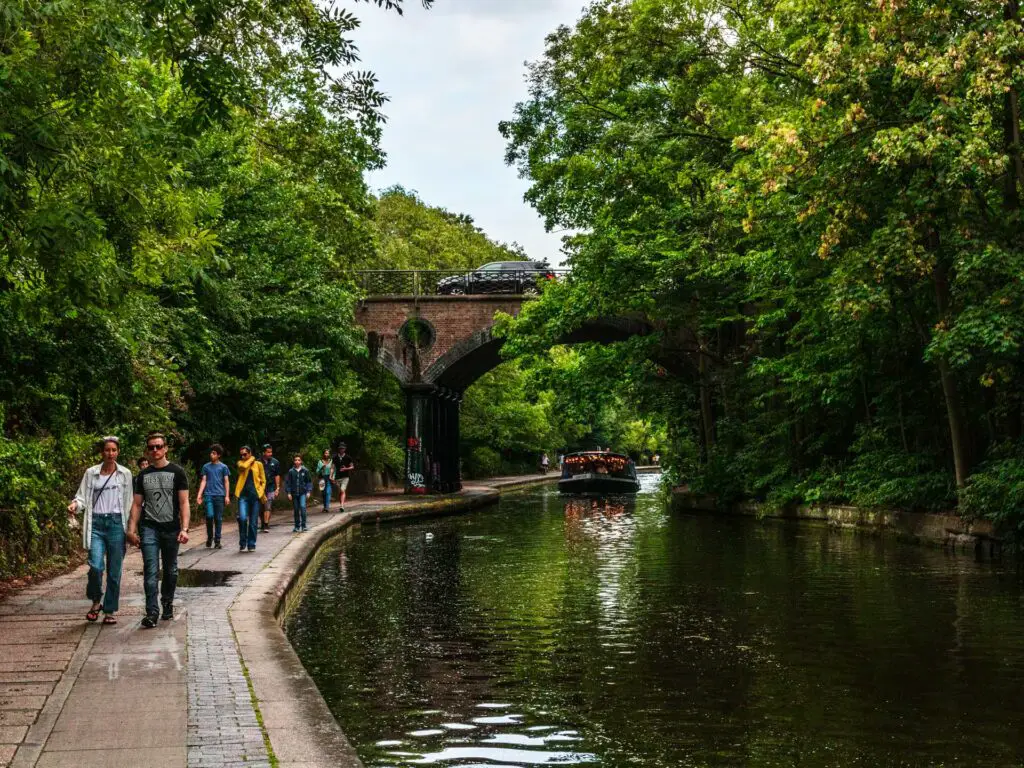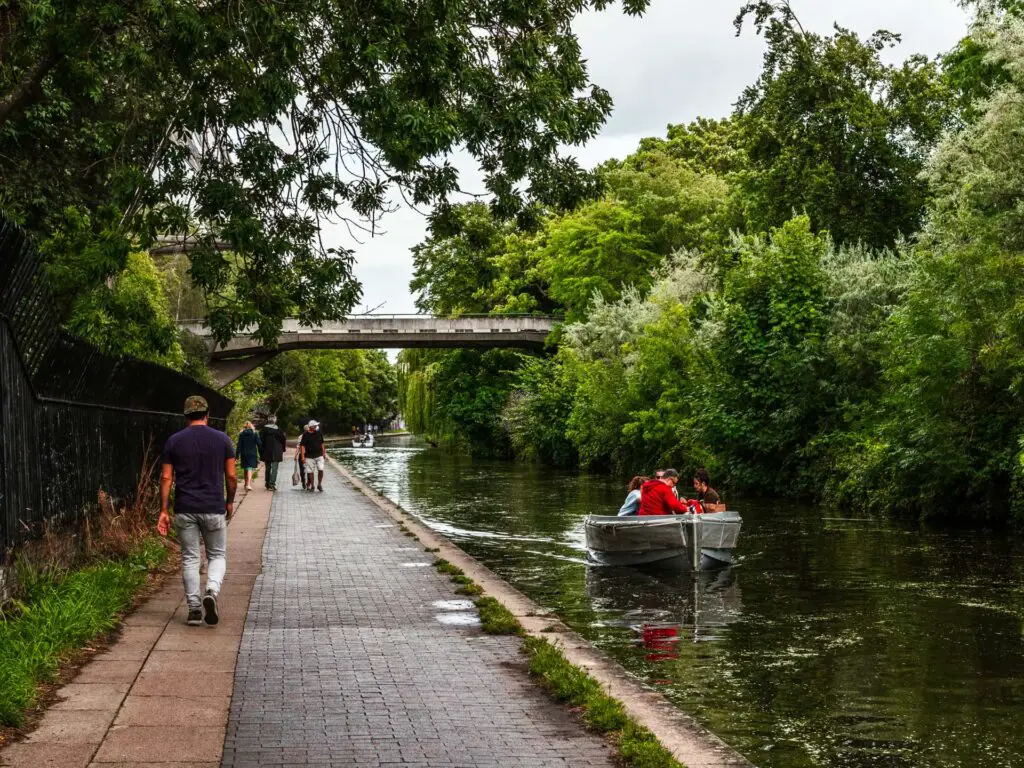 The final stretch of the walk from Little Venice to Camden
Once you go under one of the bridges, you will see steps leading up to the street (or to Regents Park if you want to go in there). To continue on to Camden, don't go up the steps, but stay on this canal path as it curves around to the left and under another bridge.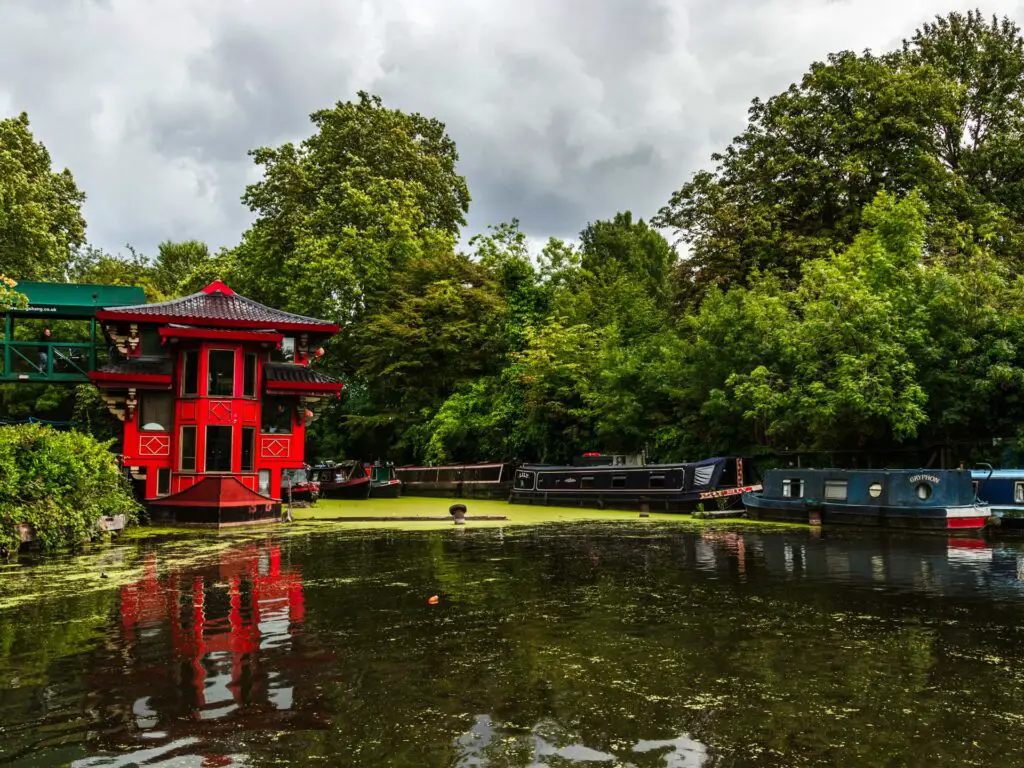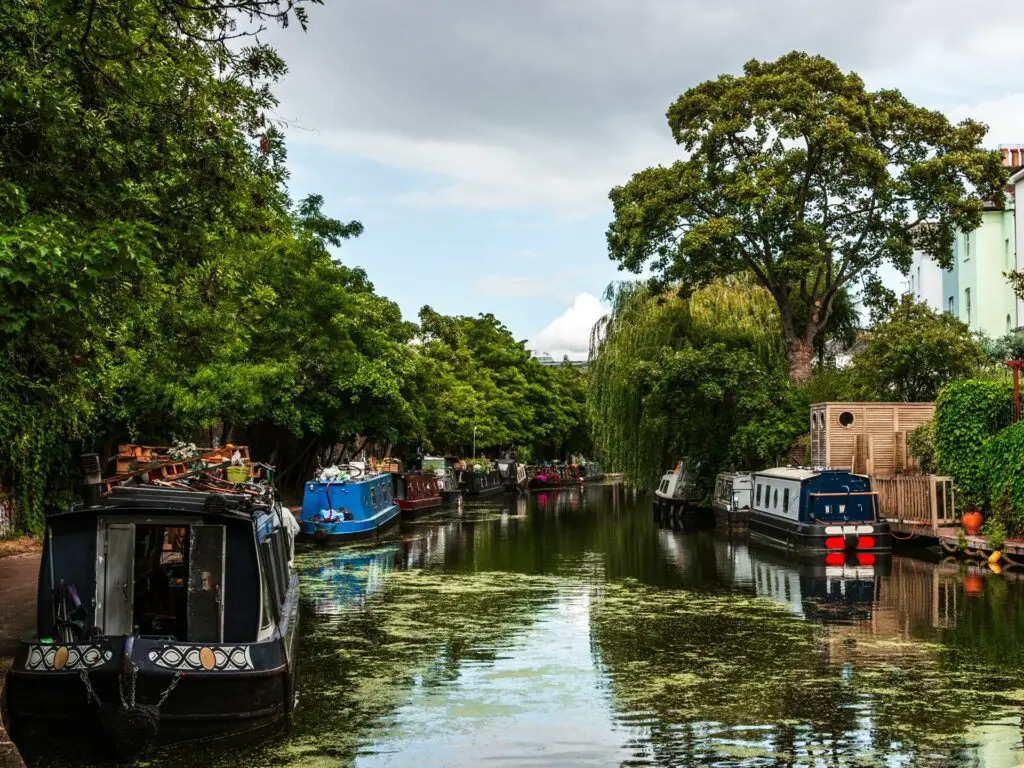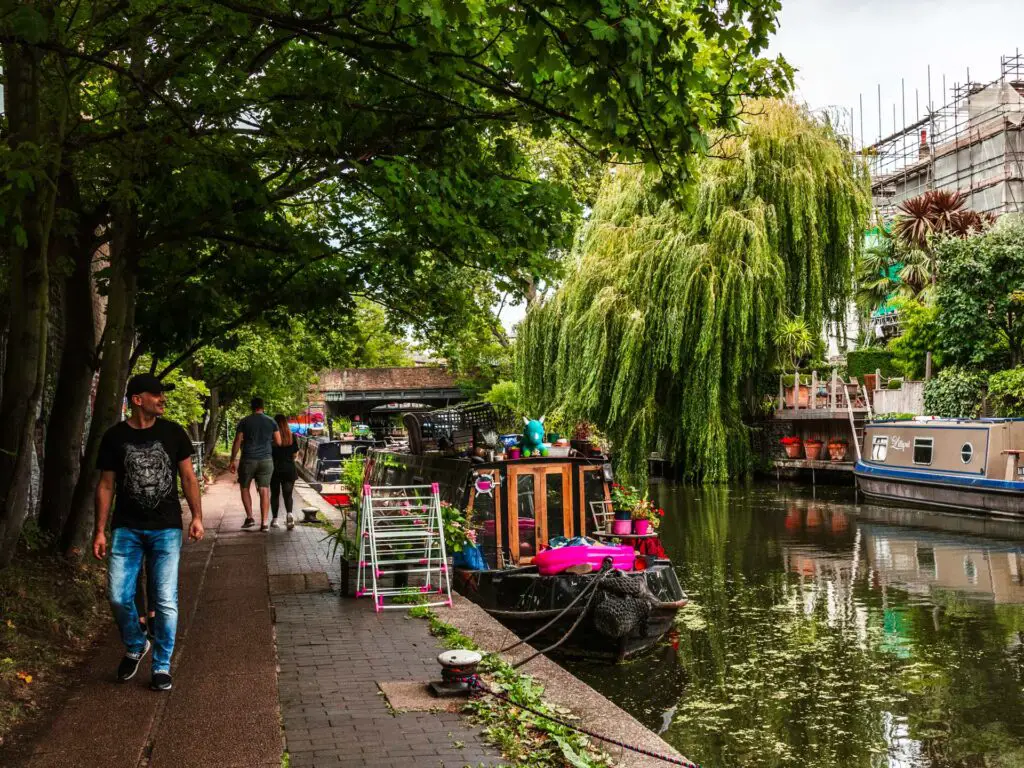 Things pretty up a bit more here. The canal boats are back, pretty flowers here and there. 
Camden Lock
As you start to approach Camden the vibe changes and things are a bit more Camden like. Music coming from various directions, young people with funky eclectic fashion. A bit more buzzy. A lot more graffiti.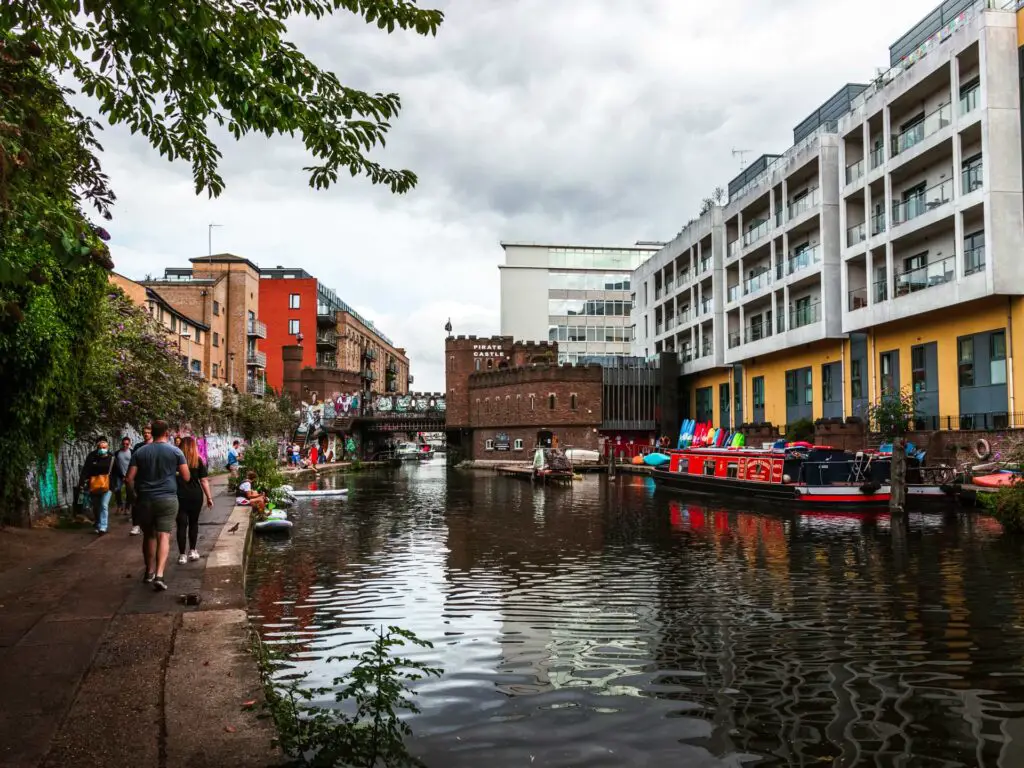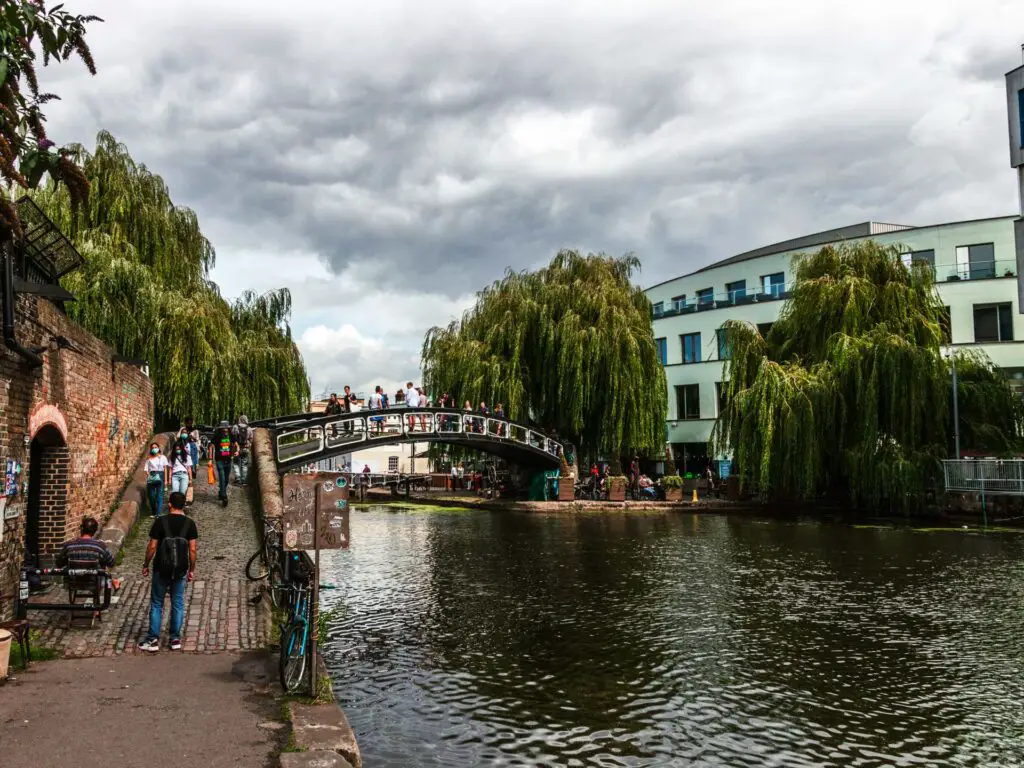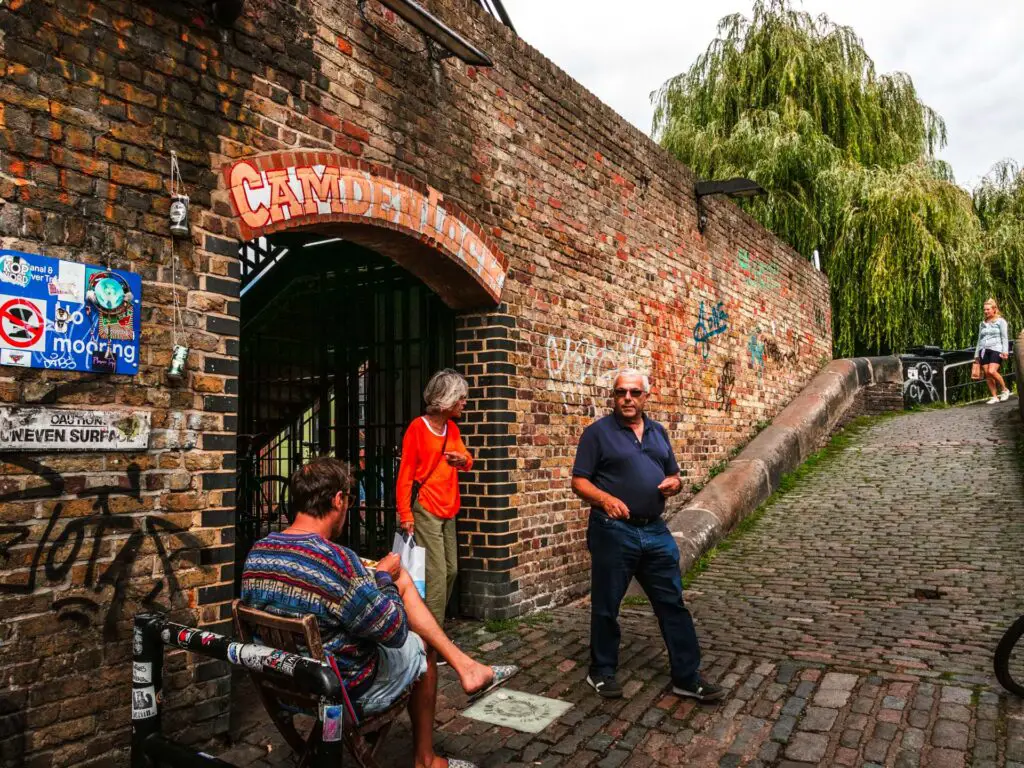 Head up towards the bridge, but don't go over it. Instead, go under the archway that says Camden Lock and you will enter the Camden Market food stalls.
This marks the end of the walk from Little Venice to Camden. It is actually the shortened version of the Regents Canal walk which follows the canal right down to the River Thames. So, if you would like to go further, then you could continue along the canal.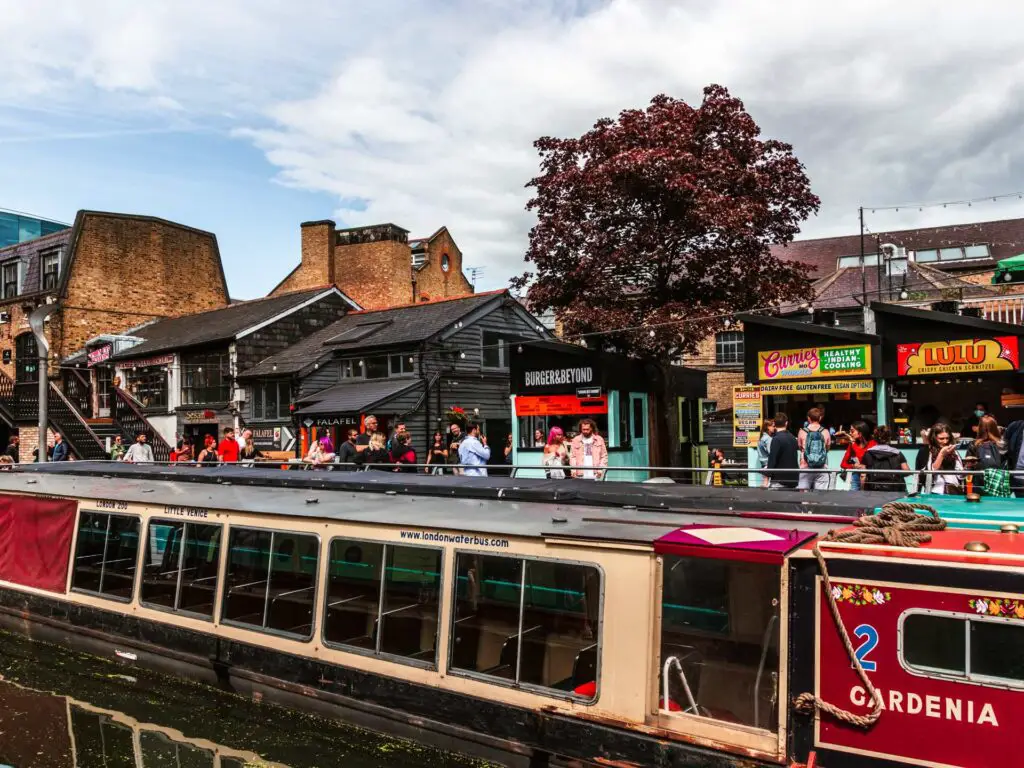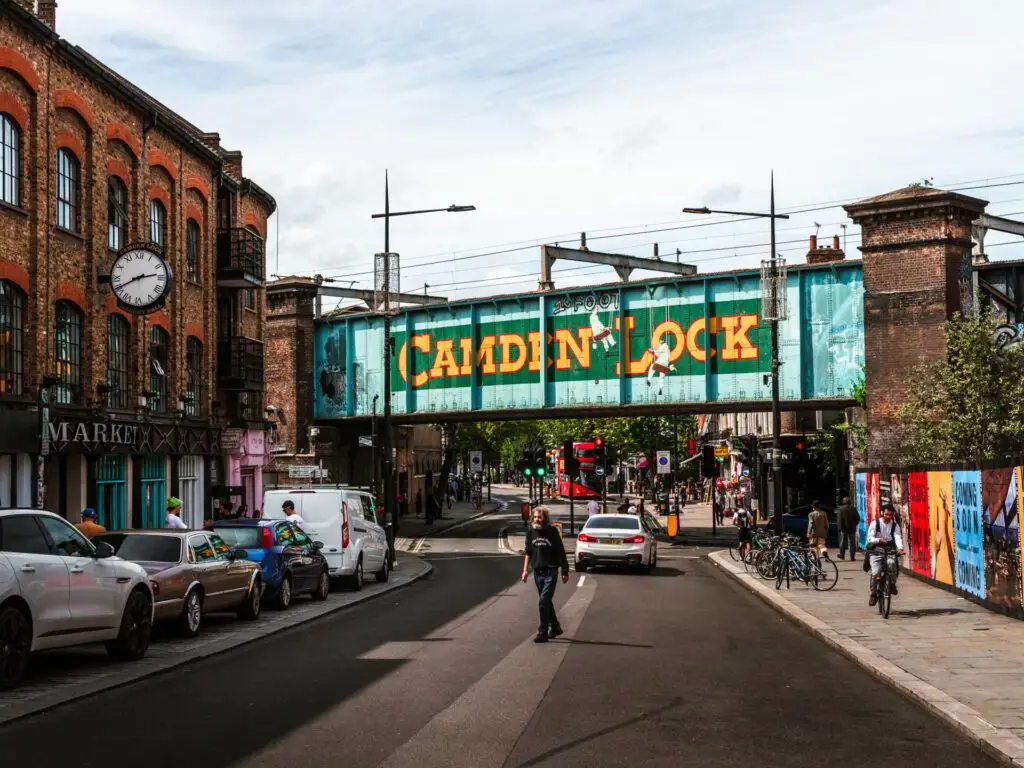 More walks nearby and around London
If you would like to check out Regents Park (which I recommend you do), you could do a lovely walk around the flower gardens.  Or something I would recommend more, is to walk up to Primrose Hill for some of the best views of London.
If you would like to do the full Regents Canal route, then check out my Regents Canal walk guide. Or, if you fancy something with more of a city vibe, then head over to the City of London.
To explore the River Thames, you can read my guide on walks along the Thames Path.
If you would like more info on Little Venice and things to do there, you can find that on the Visit London website. Or if you would like more Camden info check out the Camden Market website.
Other canal or river walks in South East England
Just outside London, in Guildford, you could try out this walk along the River Wey. It is the first river in England to be made navigable.
Slightly further out I would suggest trying out Rye to Camber Sands. First off, you get to see Rye which is always a win. You then make your way along the river to reach the English Channel and a sandy beach.
Pin it for later: Walk from Little Venice to Camden along the Regents Canal in London