The Regents Canal runs from Little Venice in Paddington, through London, to reach the Limehouse Basin in the city, with a walking path alongside it almost the entire way. The route will take you around the perimeter of Regents Park, through the eclectic Camden, past Kings Cross with a boat book shop, though the trendy Haggerston with hipster cafes and old factory warehouse buildings.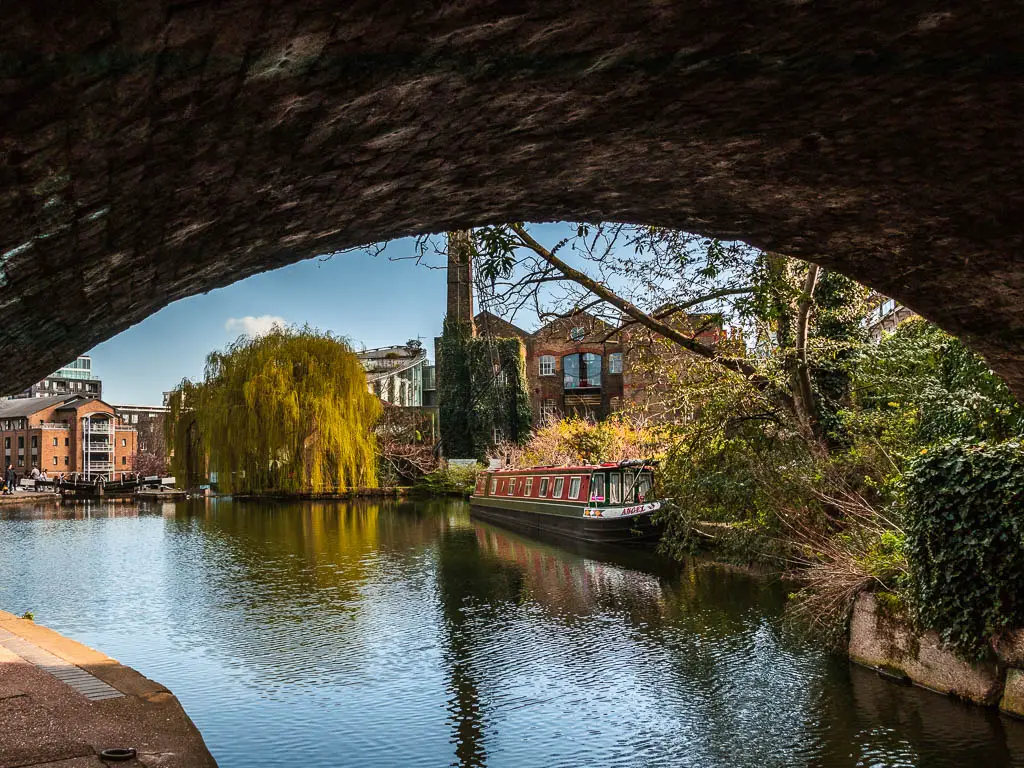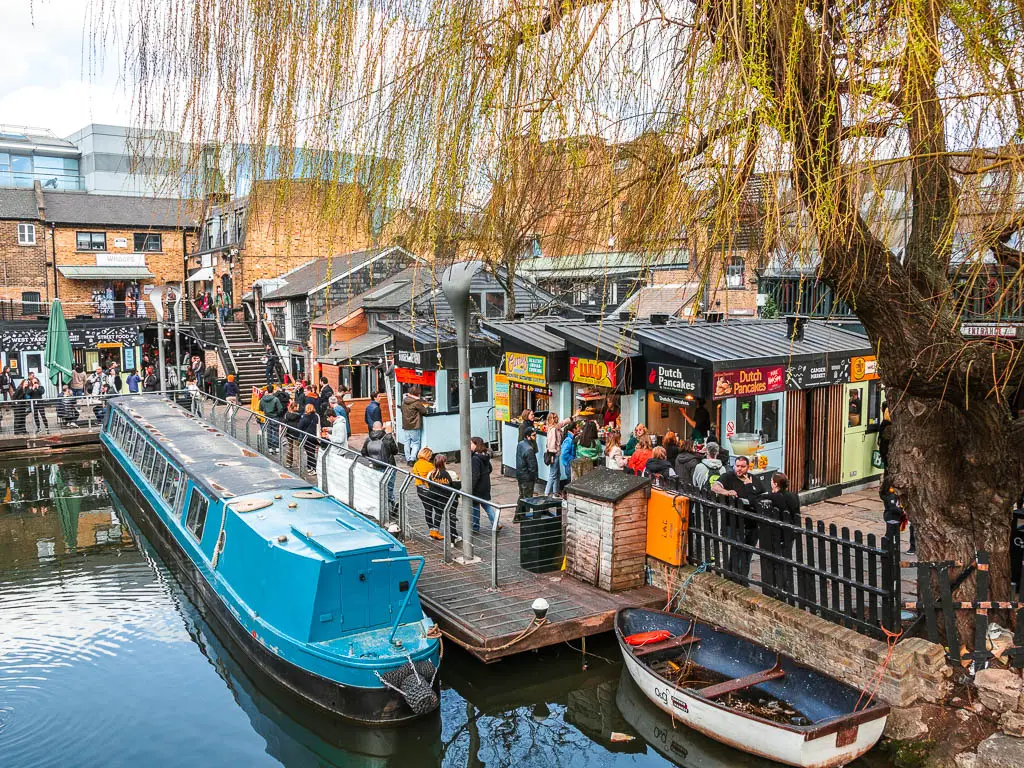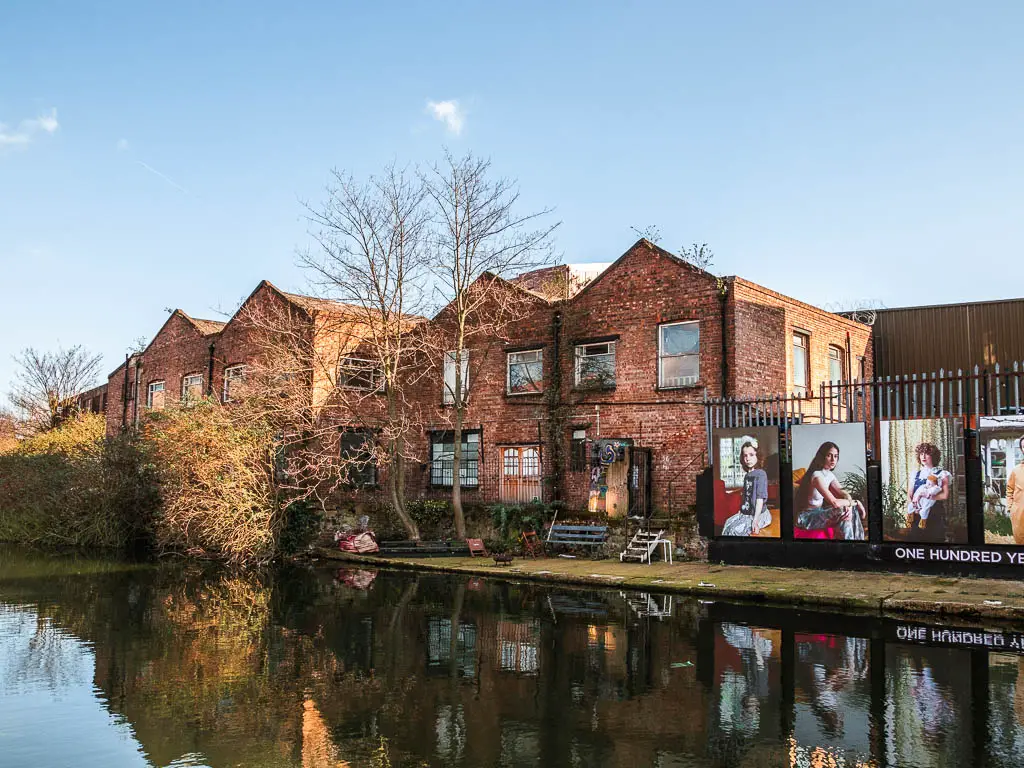 Then you will finish off with an impressive view of the skyscrapers of Canary Wharf as you reach the Limehouse Basin. Oh and of course, if you walk along the Regents Canal, you will see an abundance of boats and barges moored to the path side.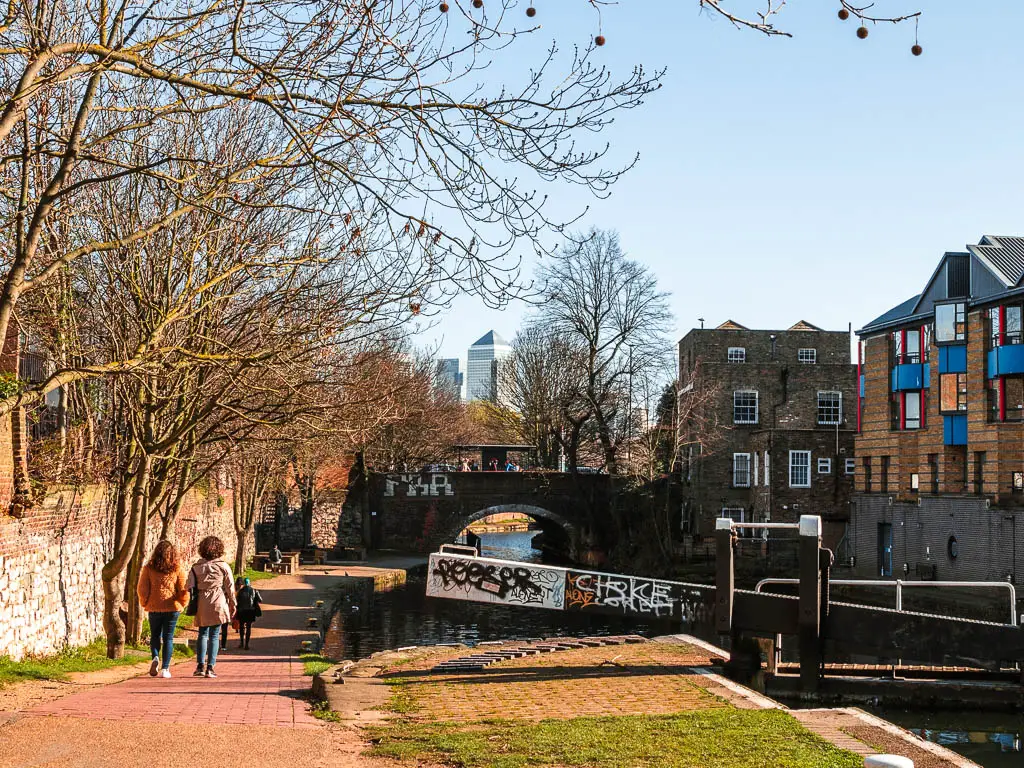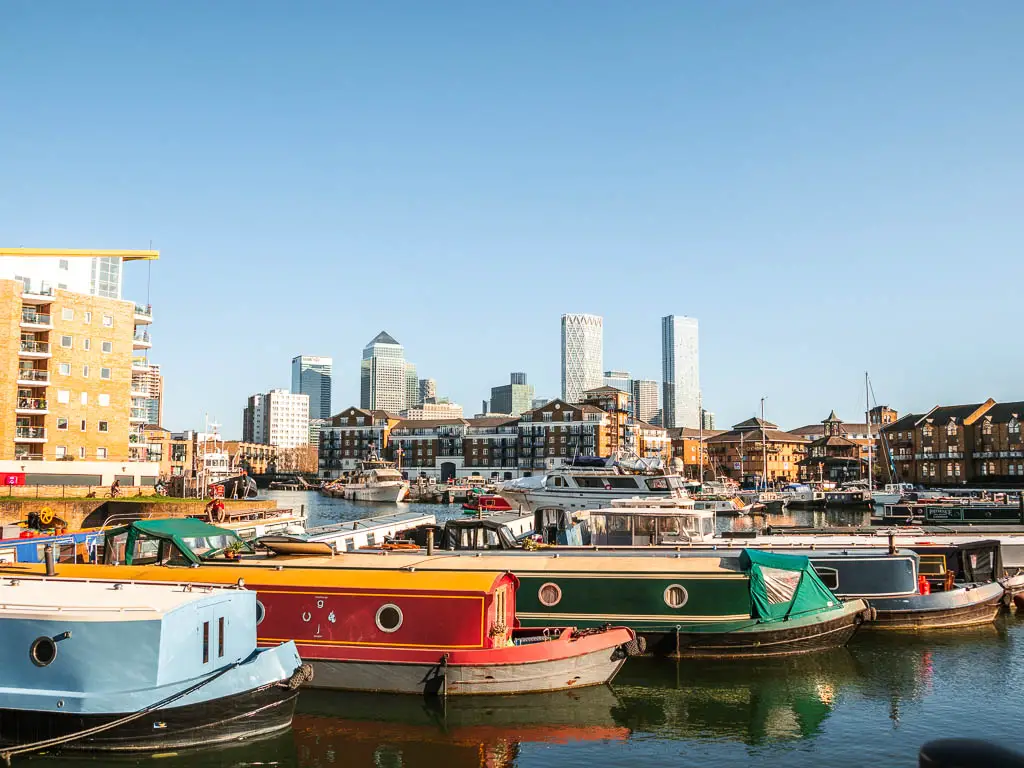 This post uses affiliate links. You can read the privacy policy or disclaimer for more info.
What is the Regents Canal walk like?
The whole route along the Regents Canal is pretty flat, along easy path, and you will most likely be sharing your walk with other people. Being in the heart of London, it's a popular place, so if you want peace and solitude, this is not the walk. If you are in London and want some nature, water and green without having to travel out, then it's a perfect place to come to.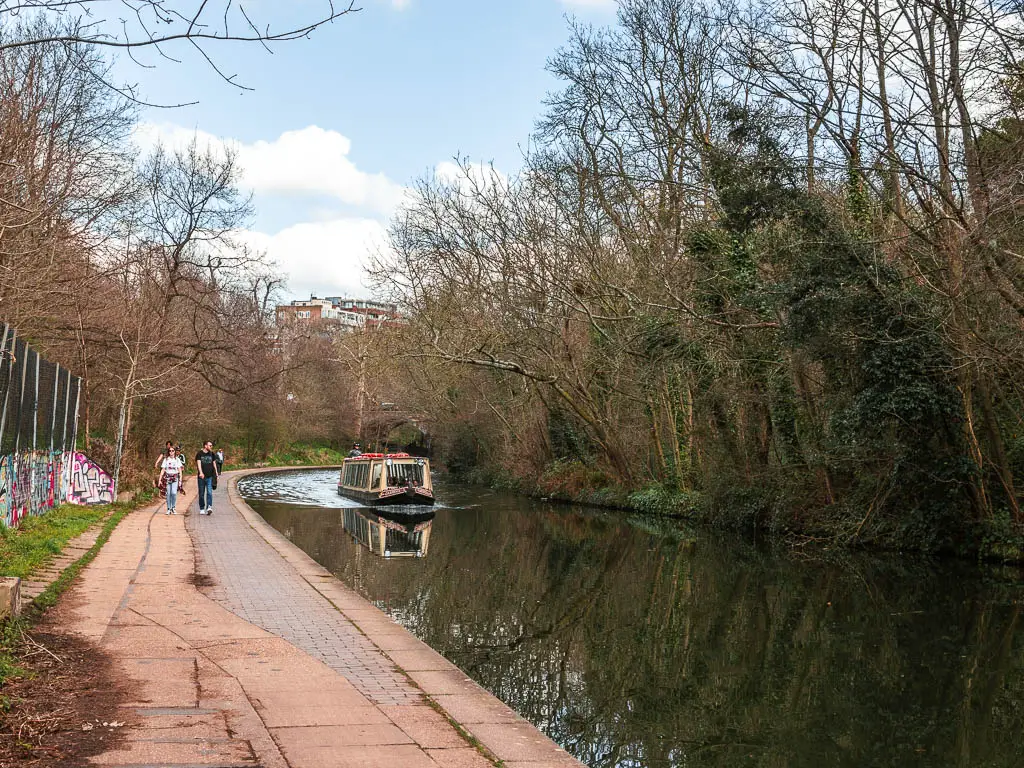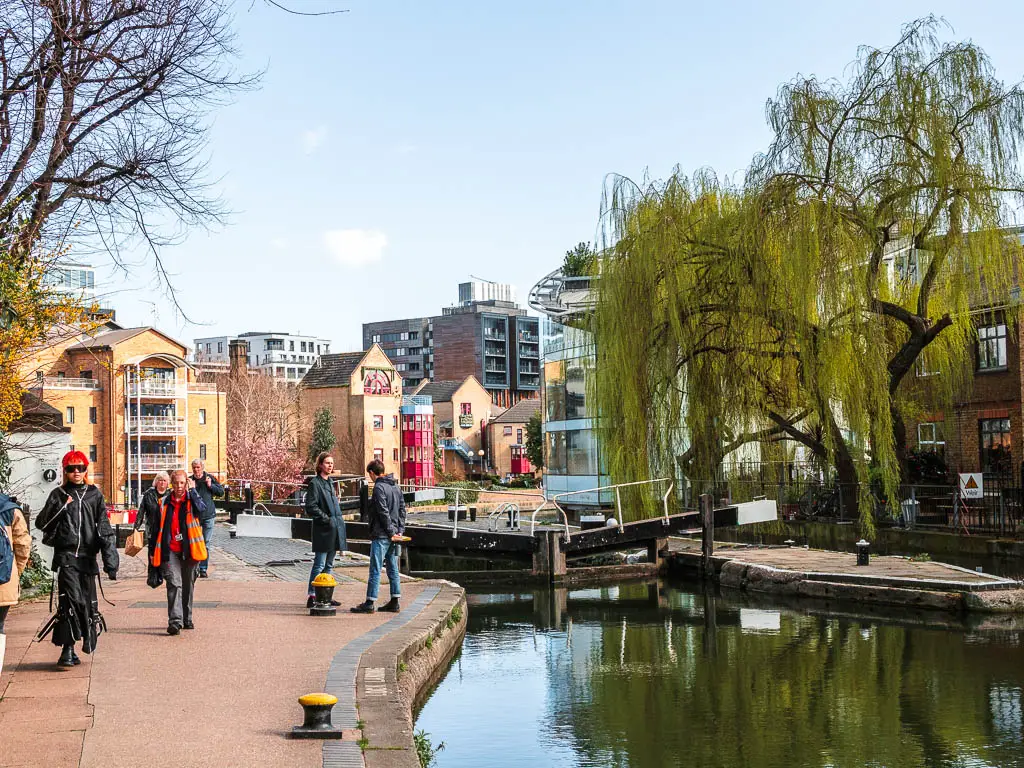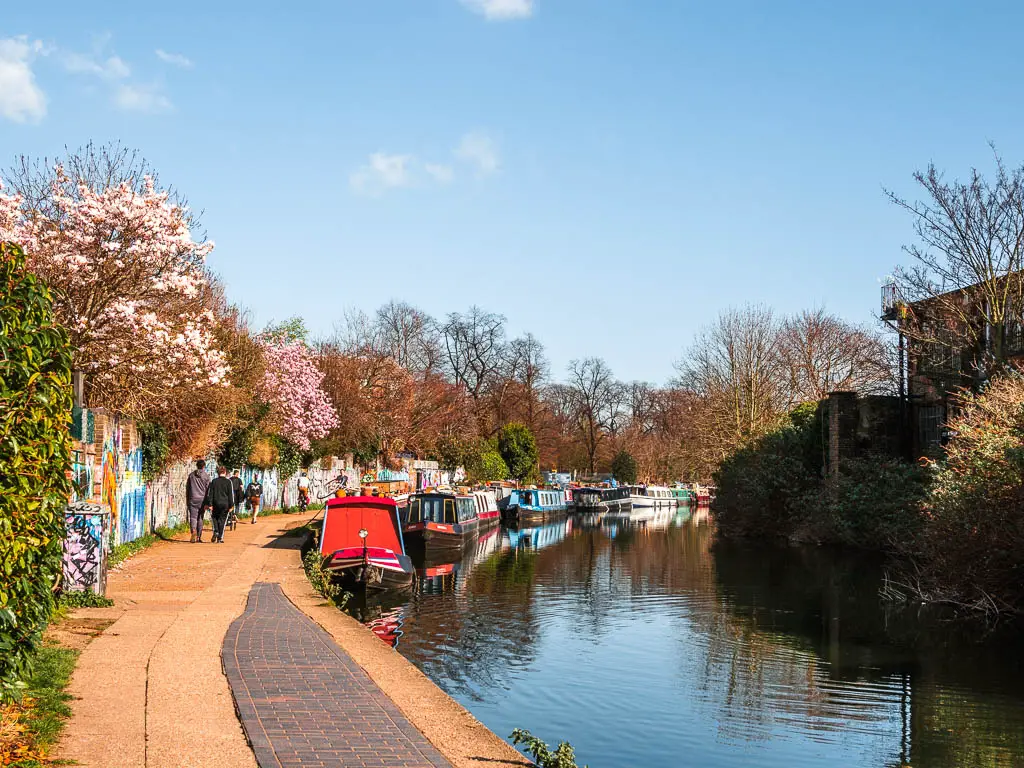 At 9 miles, I found the Regent Canal walk to be quite long. I can easily go out and do a 9 mile hike, but walking for 9 miles on the same path along the same canal, I did find to be a little tedious. However, that's just my personal taste. We all like different things. 
Next time I might hire a boat. I have found this company called GoBoat where you can hire a boat and actually drive it yourself. Is drive the right word? You know what I mean.
Options to shorten the walk
Now, being that the Regents Canal runs through the heart of London, there are plenty of underground and overground stations along the way, so you can tailor the walk how you want. You know, come out on different days to walk along different parts. What I'm going to do in this guide, is show you the route so you can decide if you want to tackle it on one go, or pick a section you think you might like.  
I have divided it up into:
Little Venice to Camden: 2.5 miles
Camden to Kings Cross: 1 mile
Kings Cross to Islington: 1 mile
Islington to Victoria Park: 3 miles
Victoria Park to Limehouse: 1.5 miles
There are train stations at all of these points, which I will give details for in the sections when I describe them below.
Little Venice to Camden is the most popular shortened version of the walk along the Regents Canal path. I have a whole separate guide on this section, if you just want to focus on that part.
If you would like to try something a bit different, you could try out this quest around Little Venice, where you solve clues to guide you on an urban adventure.
---
Logistics for the Regents Canal walk
---
Start: Little Venice (Local station is Paddington or Warwick Avenue)
Finish: Limehouse Basin 
How to get there: Paddington Station is on the Circle Line, District Line, Hammersmith and City Line, and Bakerloo Line – All zone 1 of the London Underground. It is also on the new Elizabeth Line. Warwick Avenue is on the Bakerloo Line. 
Distance: 9 miles
Time: 3h
Difficulty: Easy route, Medium due to length.
Amenities: Lots of benches en route. If you want the toilet, there are various food places/cafes along the way. You may have to buy something to use their toilet. Some public toilets around the Kings Cross area.
Time of year: I did this at the start of spring
Tips for walking along the Regents Canal
Don't take any food with you, there are plenty of options along the way. From the restaurants and river boat cafes in the Grand Union Canal, to the Camden food market, to Granary Square at Kings Cross, and then the hipster waterside cafes around Haggerston.
Just before you reach the Limehouse Basin, sit on the green to admire the view to Canary Wharf.
If you can help it, don't go on a sunny weekend. It will be super crowded. 
Stop off at the quirky boat book store, Word on the Water at Kings Cross.
Wear super comfy shoes. The whole walk is on hard ground. I was wearing comfy shoes and still got blisters. So comfy wasn't enough. I needed super comfy. 
There are two sections of the walk where the Regents Canal disappears briefly. I will try to describe how to find it again, but if in doubt, get out your map and you will see where the water picks up again. 
Walk a shorter section of the Regents Canal, and tie it in with a little boat trip. 
Map for the Regents Canal walk route
More local or similar walk ideas will be at the end
---
A Guide To The Regents Canal Walk
---
Now before we start I wanted to tell you I had not intended to walk along the Regents Canal today. I was instead heading to Marlow in the Chilterns. I arrived at Paddington station to discover my train had been cancelled. 
(It's even more funny because I almost didn't come out today because yesterday my train back into London from the south coast got cancelled. They all got cancelled and it took me 4 hours to get home. It was such an ordeal that I didn't want to put myself in a position to get cancelled today. But then I thought, the odds of it happening 2 days in a row was slim).
Anyway, I didn't want to sit around for an hour waiting for the next train. I didn't want to go home. 
Being in Paddington, I knew I was near the start of the Regents Canal, and it's been on my mind for a while to walk along it. So I guess the universe decided today would be the day. 
Walk to Little Venice from Paddington 
This bit can be tricky to navigate from the station as there are a number of exits. You want to exit on the other side of the big main entrance. If in doubt, find your nearest exit, then look on Google Maps and navigate to the water. This is Grand Union Canal. Walk along it and you will reach a large open water area which is Little Venice.
Section 1: Little Venice to Camden – 2.5 miles
I have gone into a lot more detail about this section of the walk in my Little Venice to Camden guide. So I will keep this brief. You can find much more detailed info and pictures over there.
Once you reach Little Venice, which is the bigger open area of water, go over the bridge, and follow the path under the next bridge. This bit of the walk is nice, as you pass by lots of barge boats. Then some way along, you will be taken onto the road/pavement.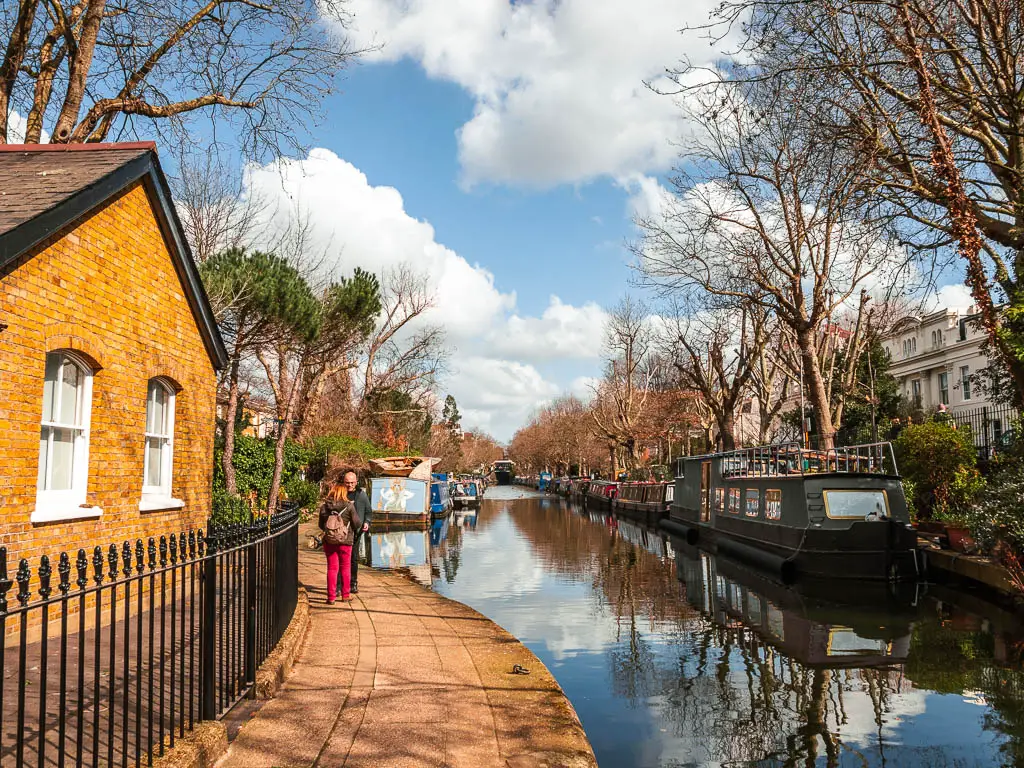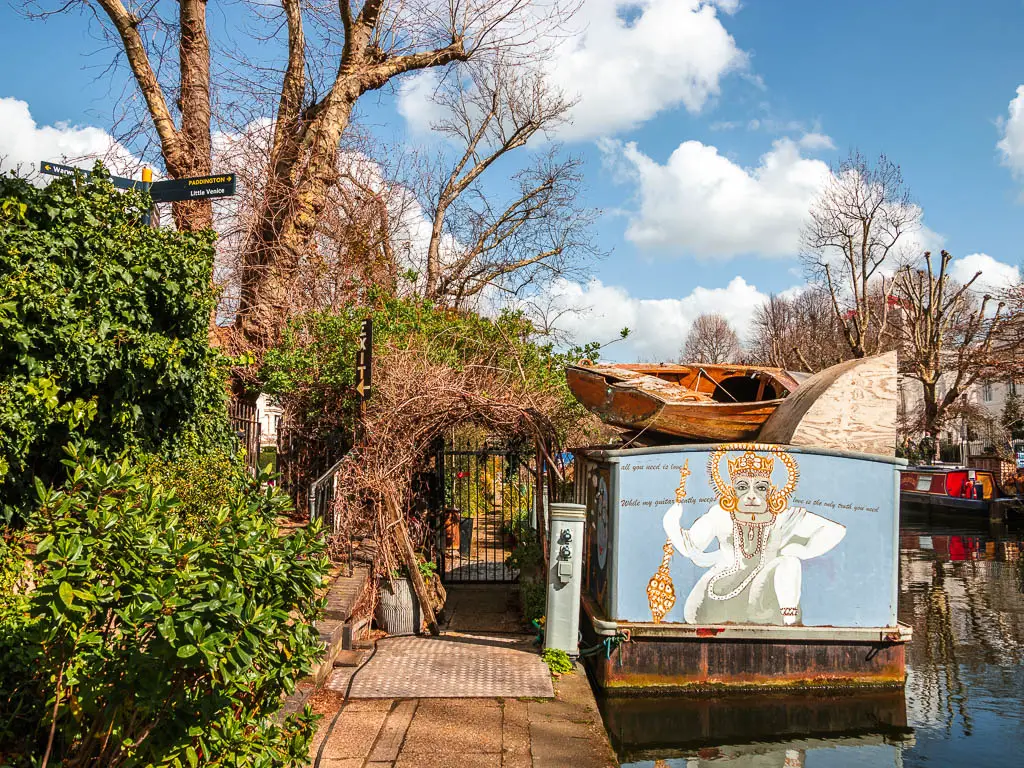 Canal detour
The first detour is coming up. First you will continue alongside the canal, then at the road junction, next to the Cafe Laville, go straight across and keep going straight. At this point the canal has disappeared. At the very end of the road, straight ahead is a little pathway between the buildings. Keep going along it, and you will find the canal again. It's only brief though, before you reach the next road junction.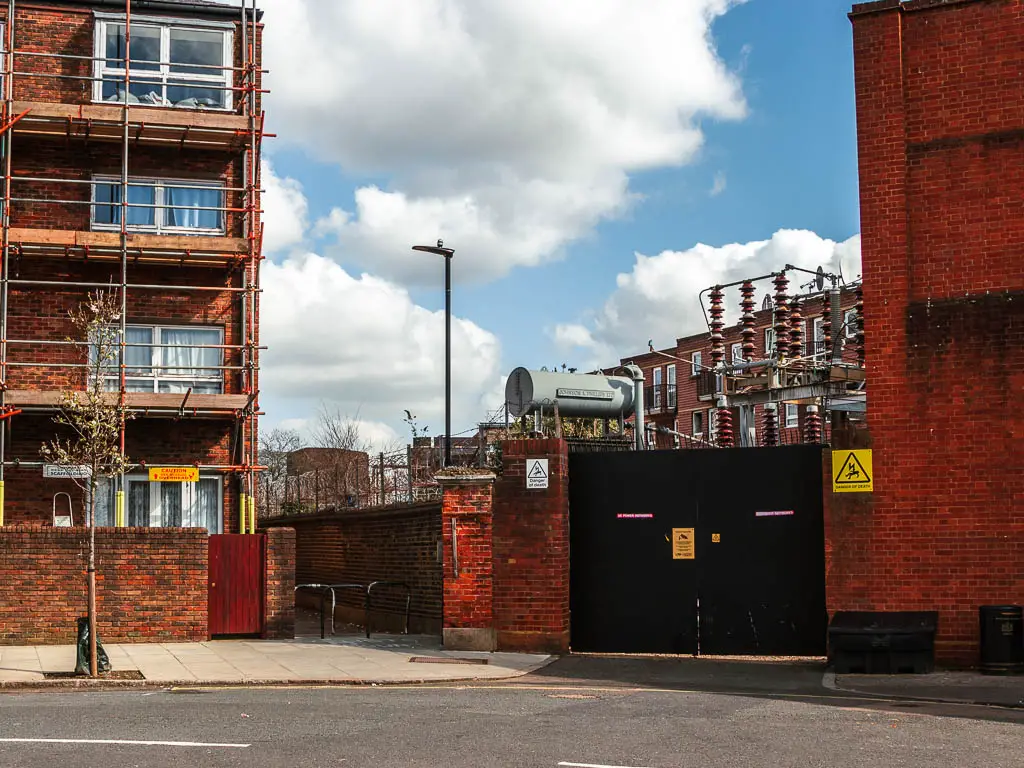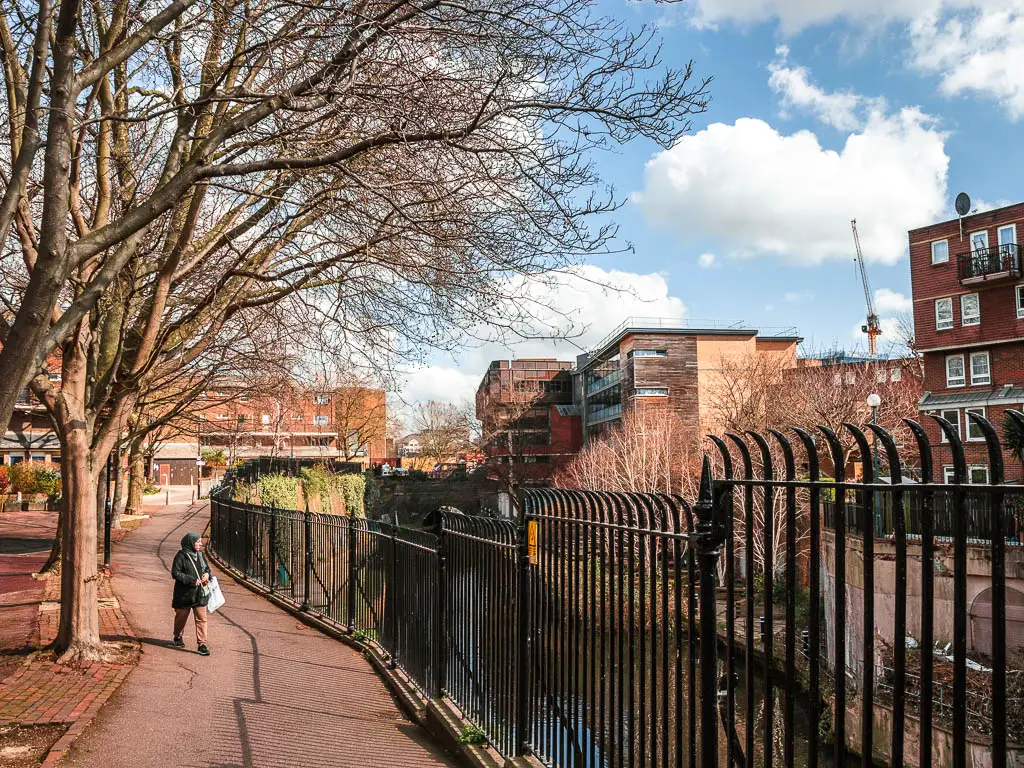 Pick the north or south side of the canal
At this point you have two options. If you cross the road and turn right, there are two entrances to get back onto the canal. Last time when I walked to Camden, I took the further entrance (south side). Today I decided to try the nearer one (north side). If you are deciding between north and south side of the canal, between the two, I think I preferred the north.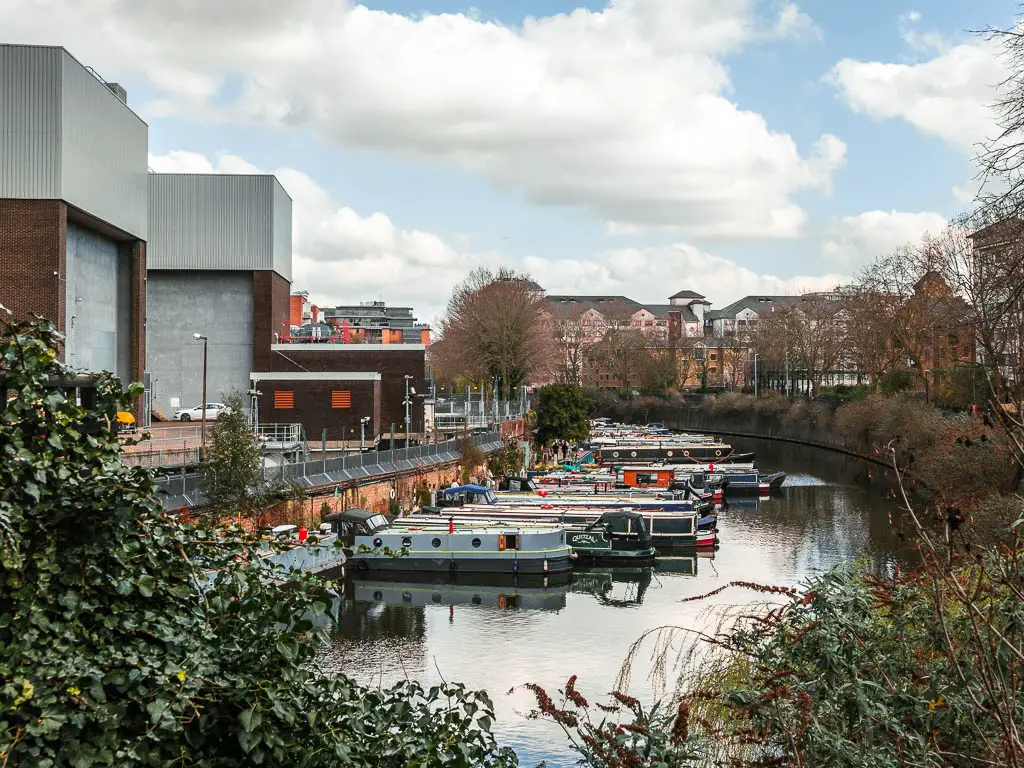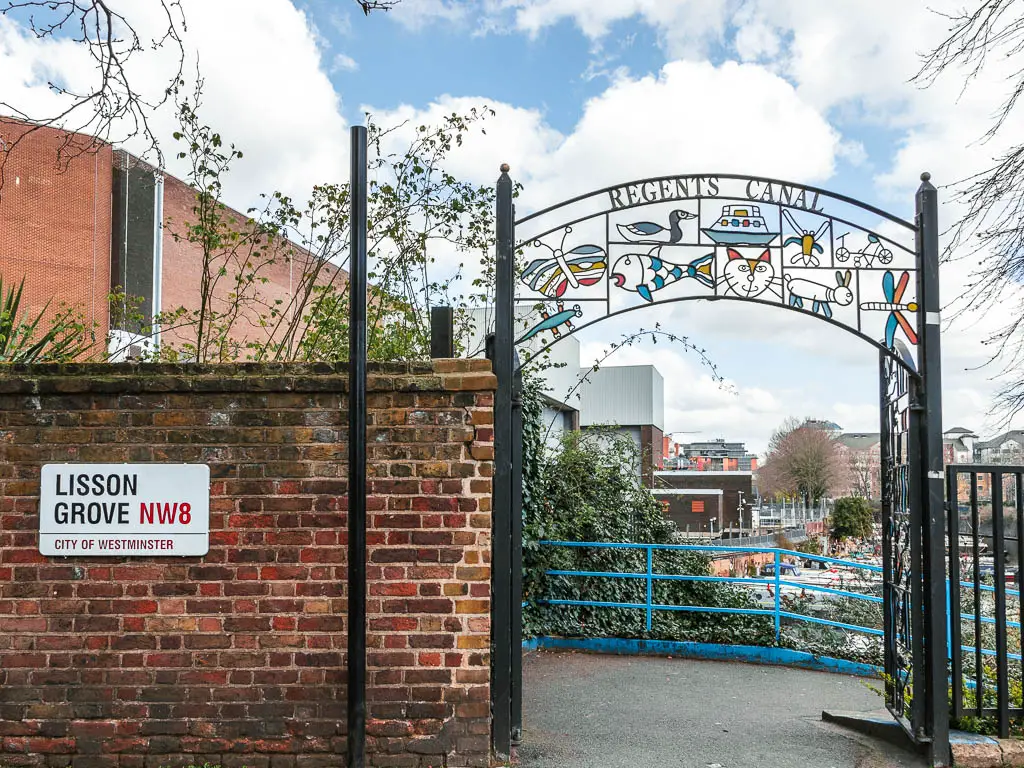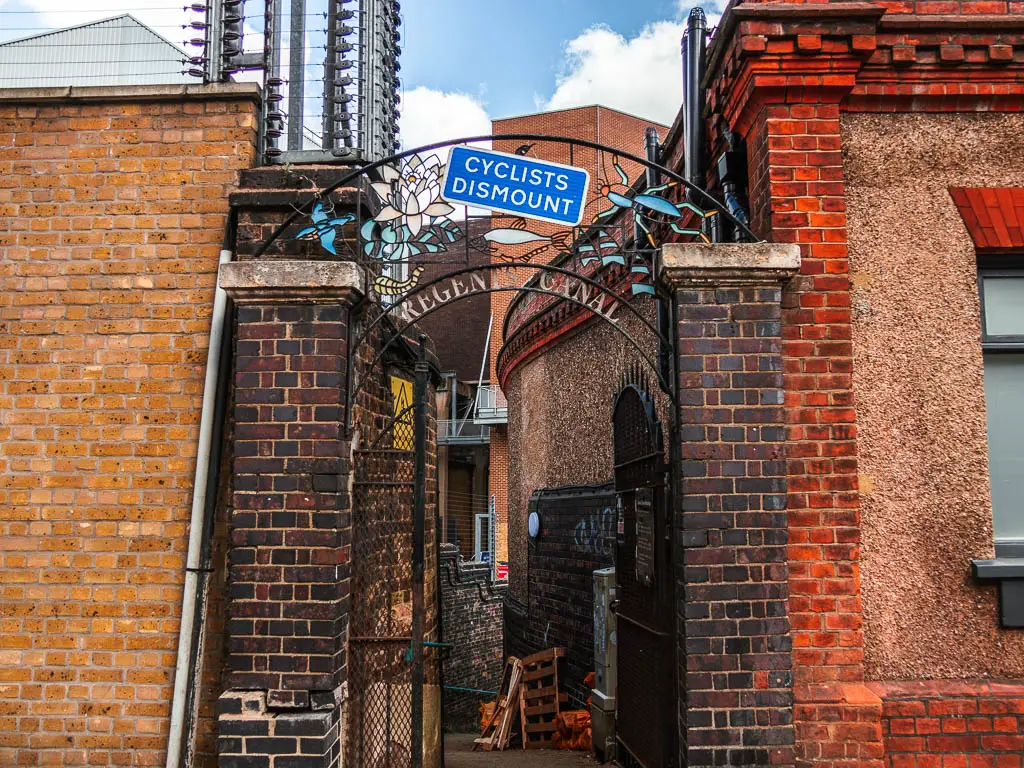 Walking along the north side, you will pass by more barge homes. It was quite interesting, seeing this other way of living. Each one seems to have their own patch on the other side of the path, like a mini front garden. It reminded me of how I once considered having a boat home.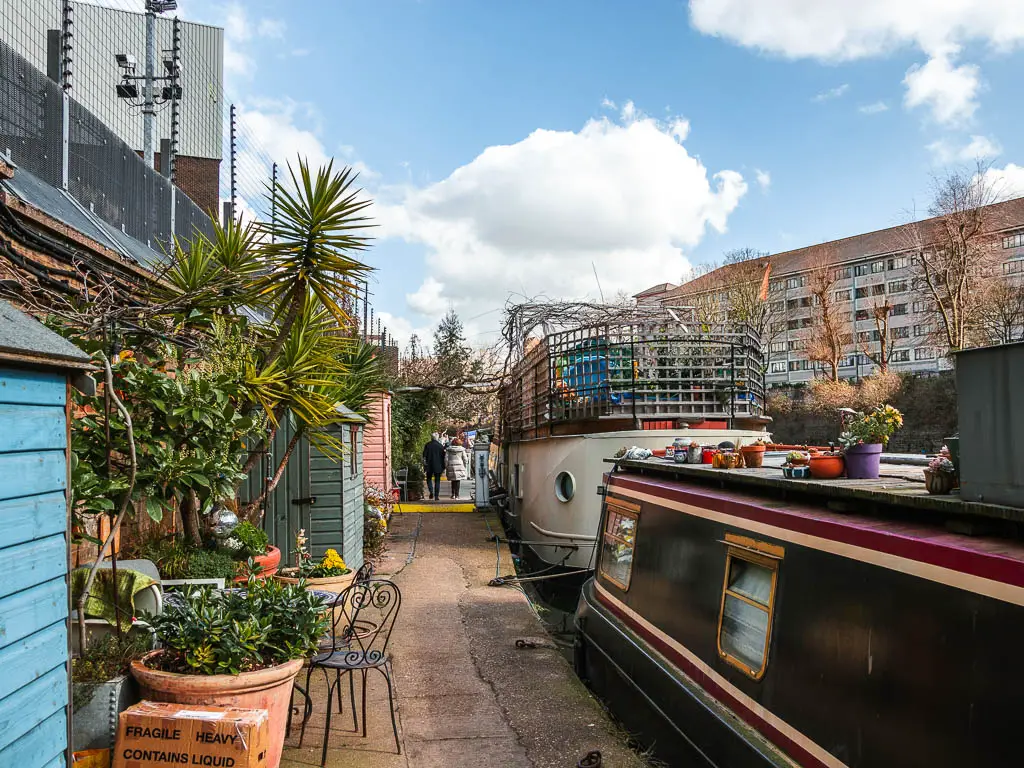 Concrete, graffiti, and Regents Park
Next it's lots of concrete and graffiti to reach Regents Park. Along the Regents park section, you will pass by some mansions overlooking the Regents Canal, lots of big green trees, and then you will walk past the zoo. You should be able to see some animals from the path. Nothing big. I saw some kind of dog looking animal. Maybe kayote? Do they have Kayotes?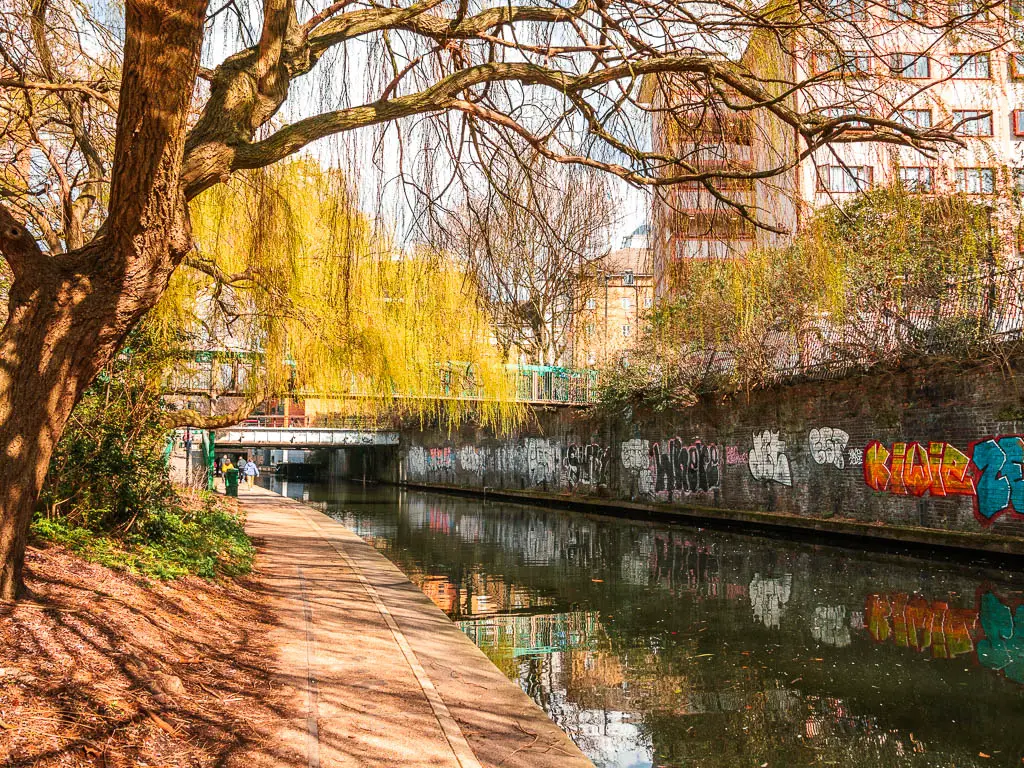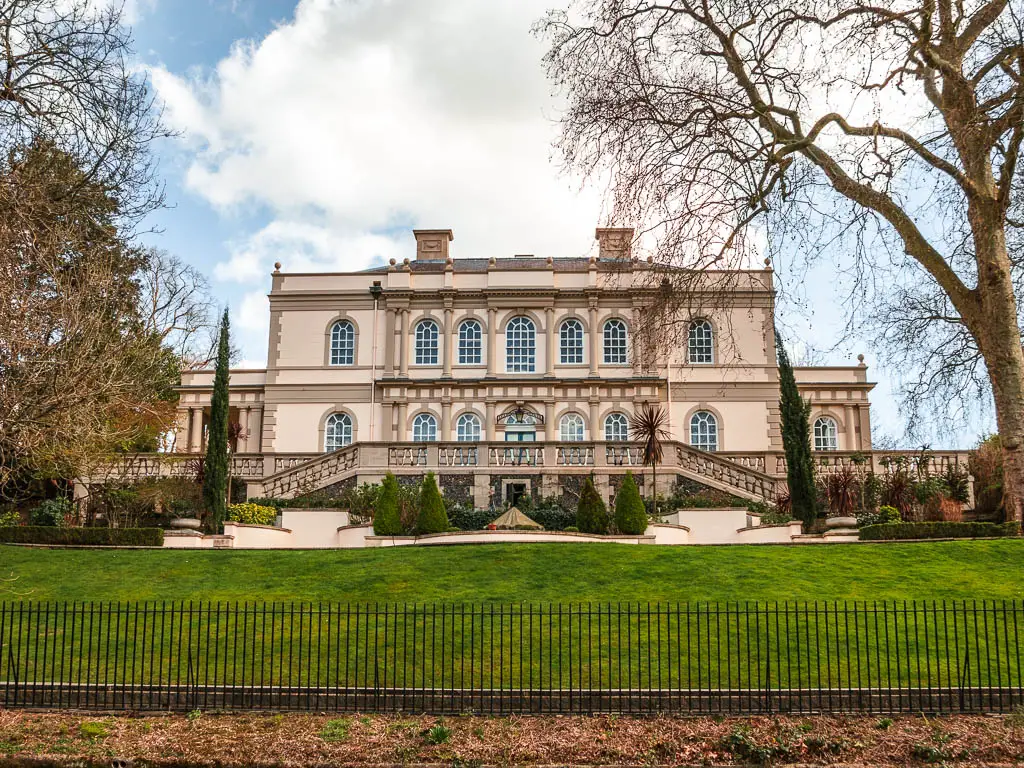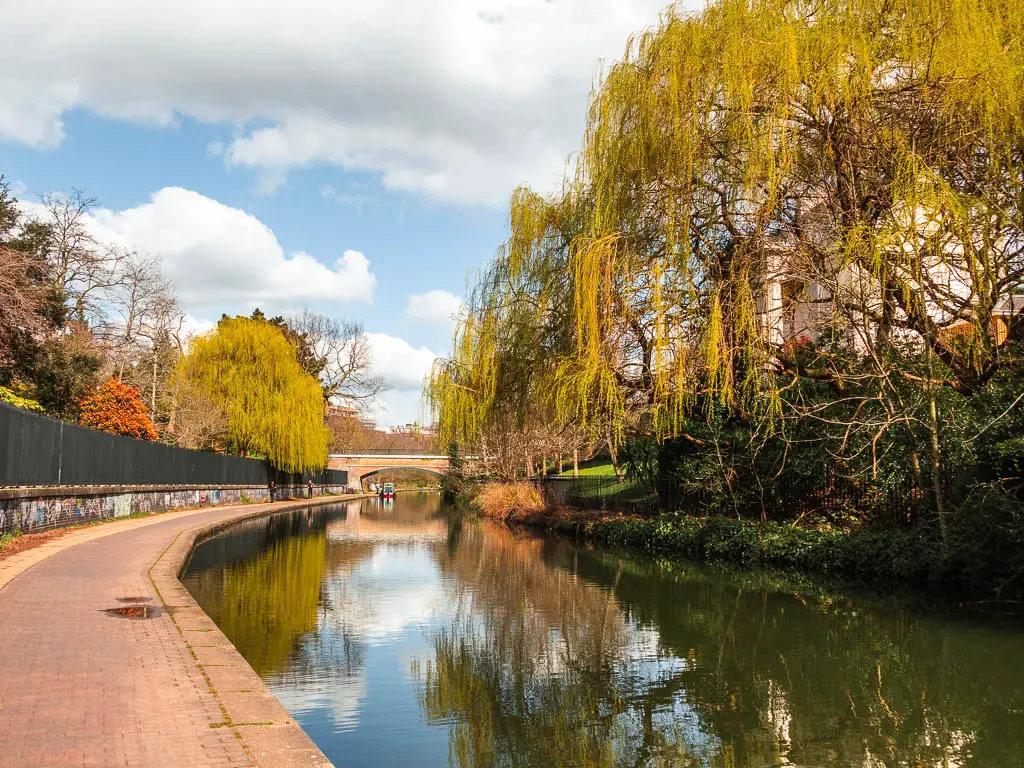 Walk to Camden 
At the canal corner, with the big red pagoda boat, the path takes you left and under a bridge. Along here, there are more barge boats, with a backdrop of houses, taking you all the way to Camden Lock. Here you will find Camden Market, which is a great place to stop for some street food.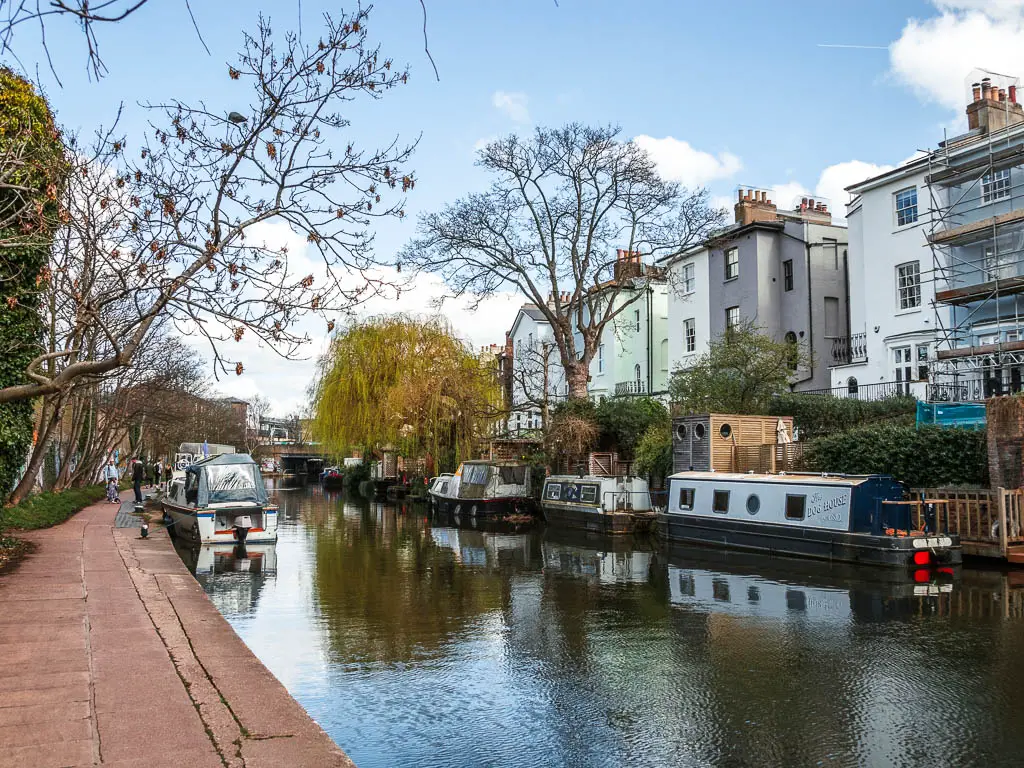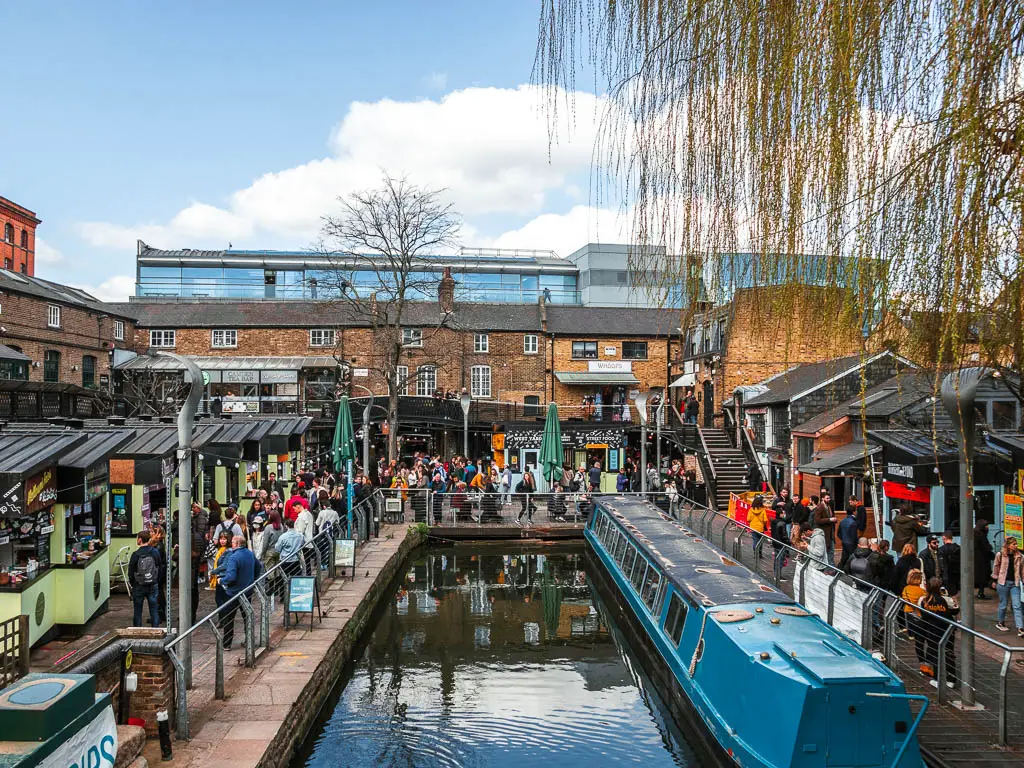 To continue on the walk, stay on the path, past the Camden Market entrance and up the steps, to cross over the Regents Canal. Then continue along to reach the main road.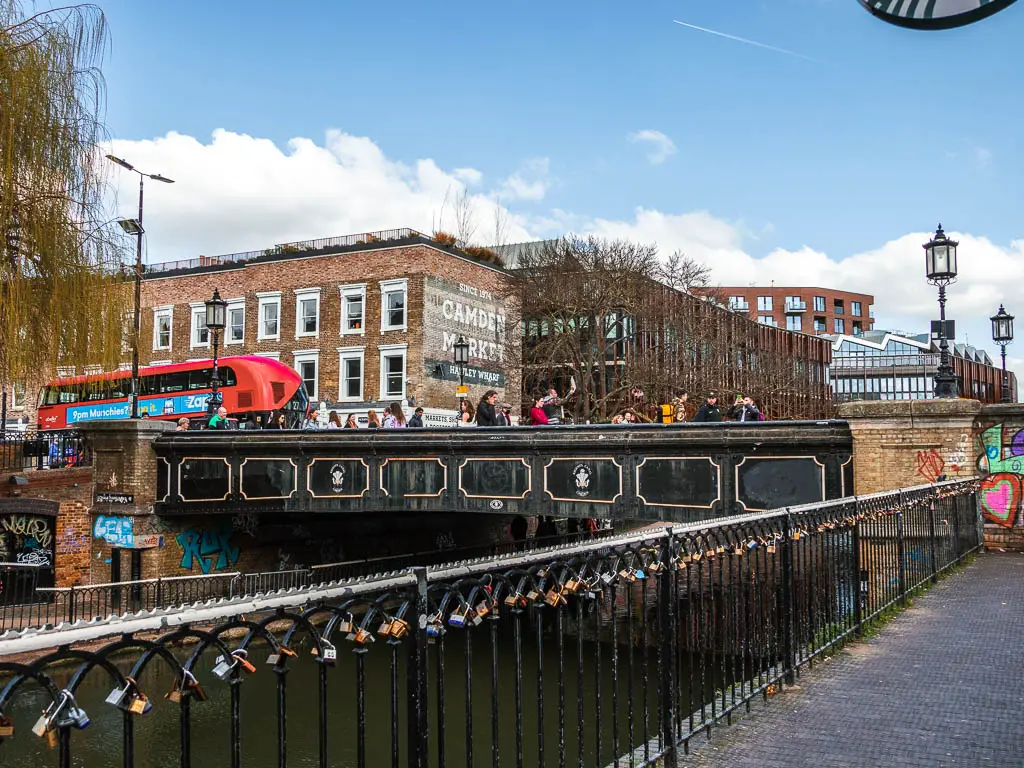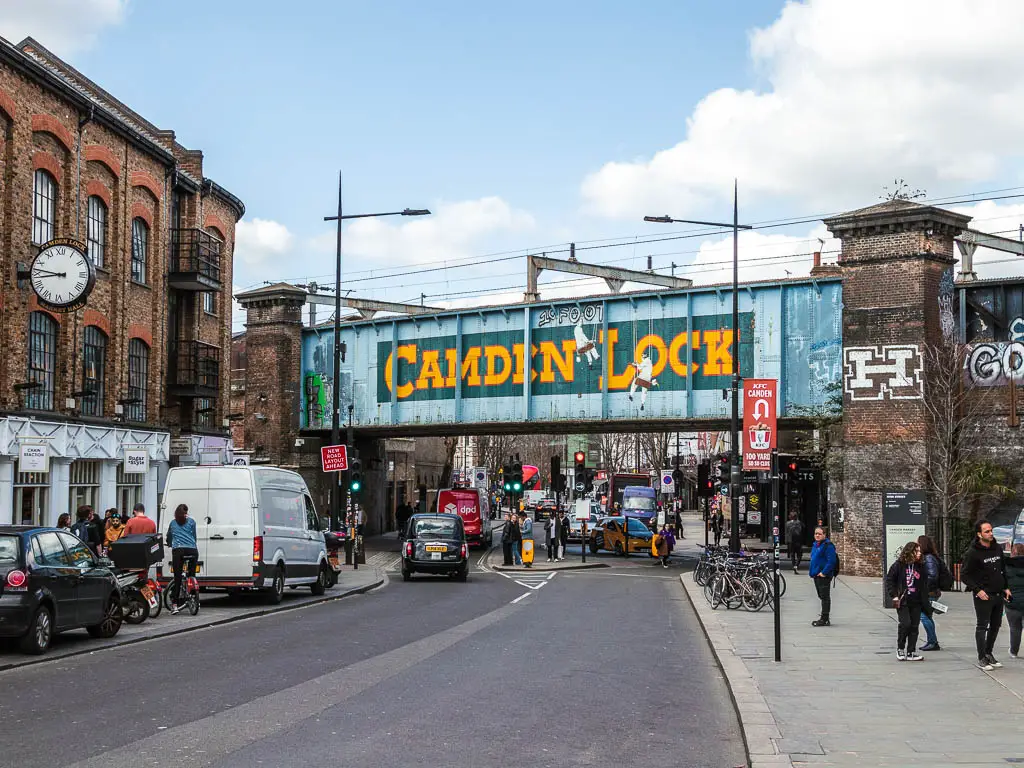 If you want to end the walk here, you have Camden Underground Station. It's not actually right in this spot though. You will need to walk towards the railway bridge that says Camden Lock, then turn right and you should be led to it. 
Section 2: Camden to Kings Cross and St Pancras – 1 mile
At the main road, go over the bridge and turn right, continuing alongside the canal. You will walk through another foodie section here.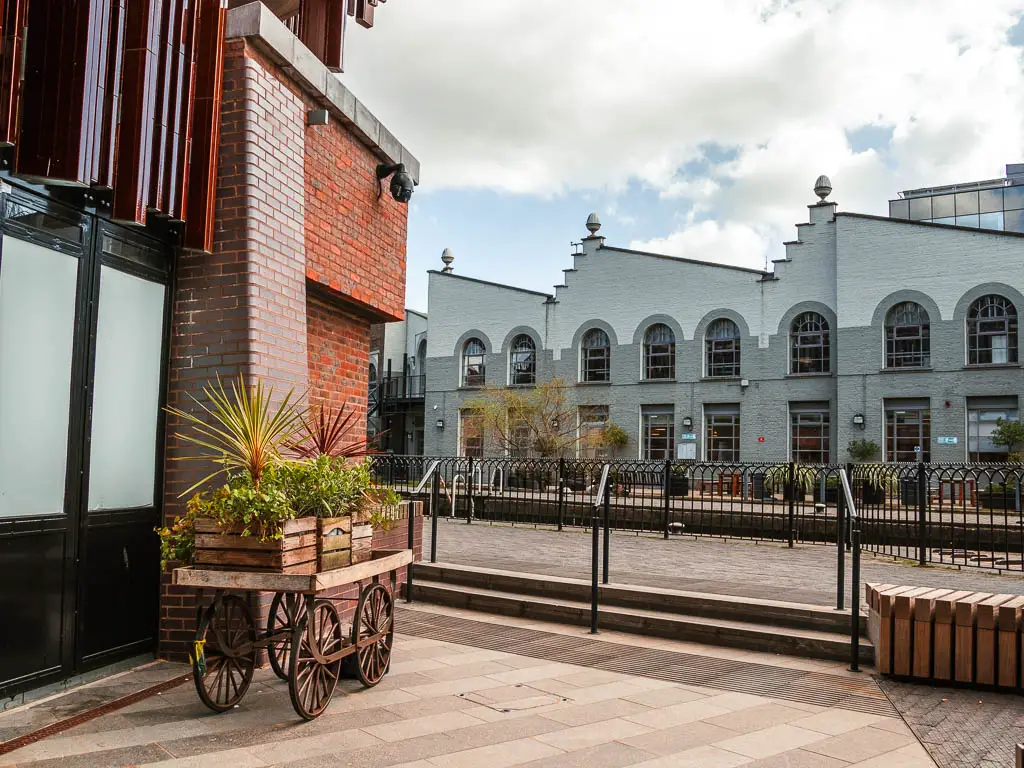 If you are starting the walk from Camden Station, I would recommend checking out Camden Market before you start the walk. After you are done, find the canal, and follow along.
Along this section of the Regents Canal walk, you pass by Kentish Town Lock, old warehouse factory buildings, and spaceship like apartments. It feels a lot more urban than the previous section. I quite enjoyed it actually. Yes the previous section had more green, which I usually like, but it really can't compare to green you get in the countryside. This section felt more like London, but in a peaceful hidden area kind of way.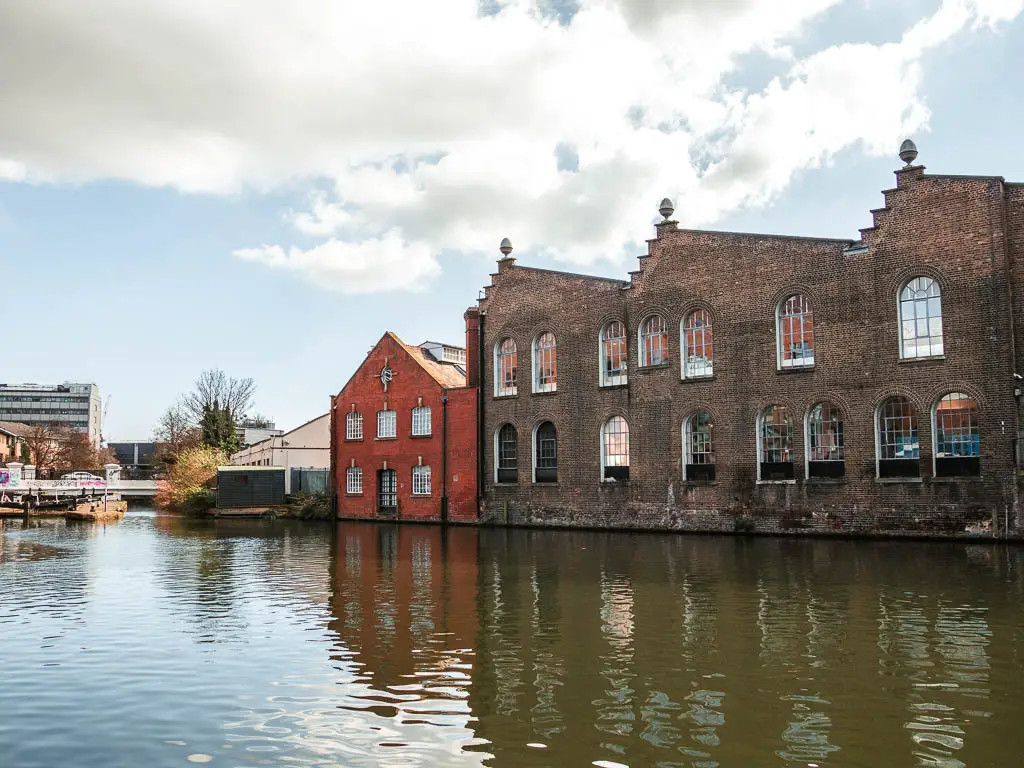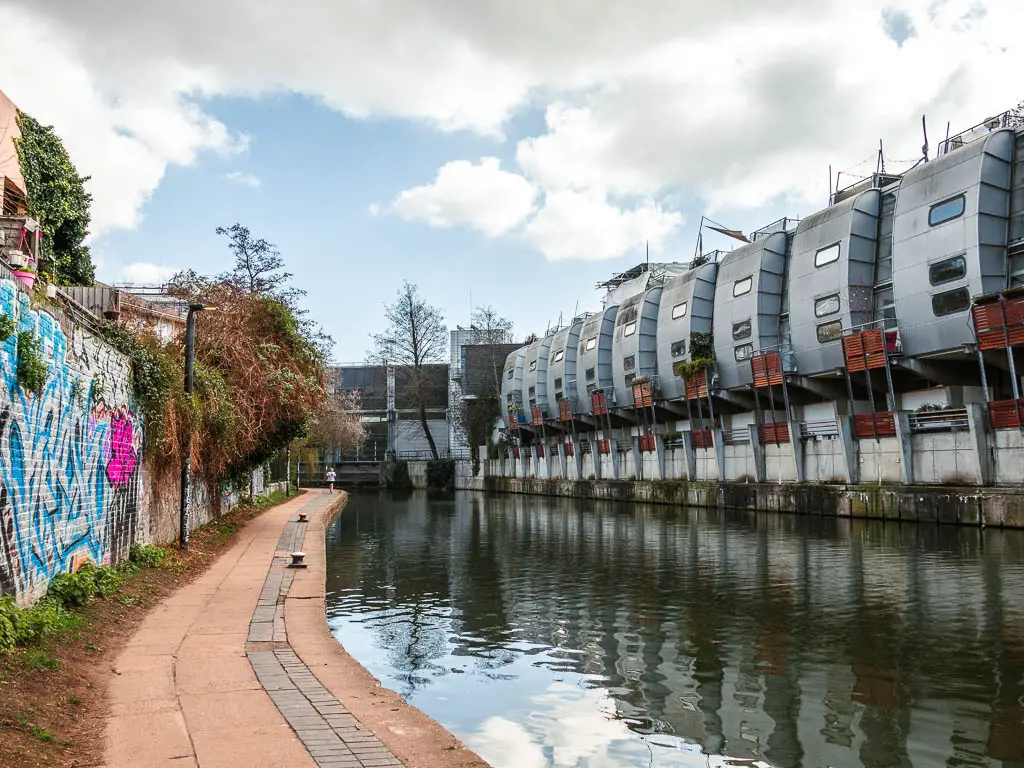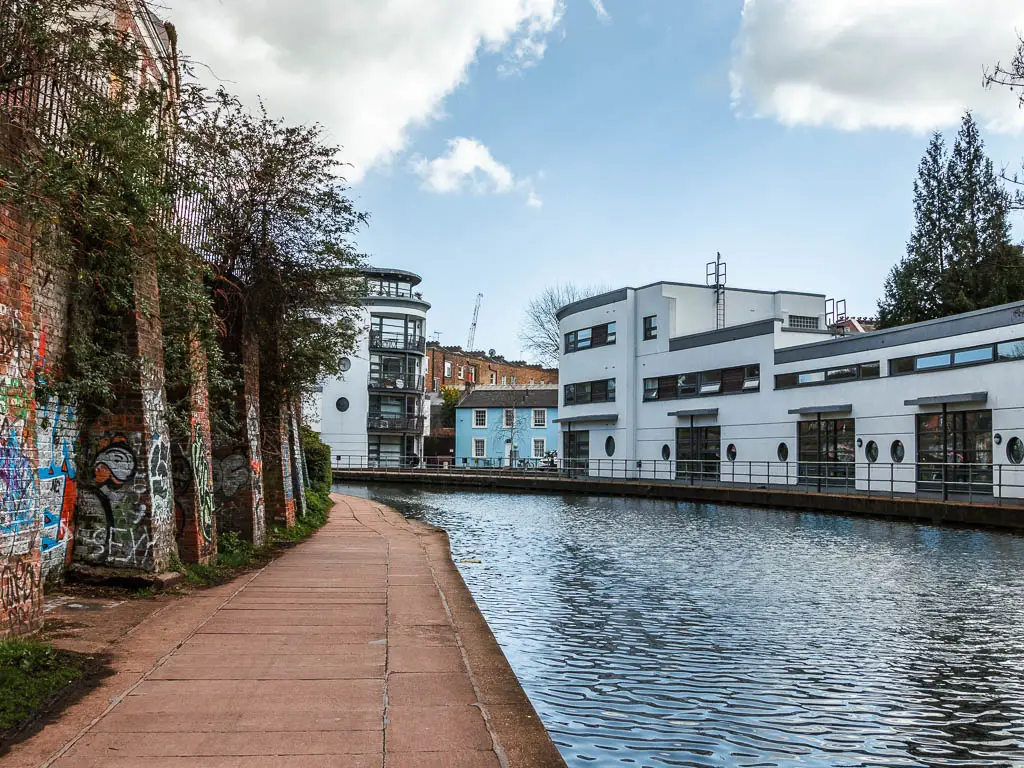 Tip: Look out for the little blue house nestled between the more modern apartments. Actually, it's not that easy to miss. 
St Pancras Basin
Keep going to reach a bigger opening which will be St Pancras Basin. Here you will be surrounded by tall buildings, the gas holders, and pass by St Pancras Lock.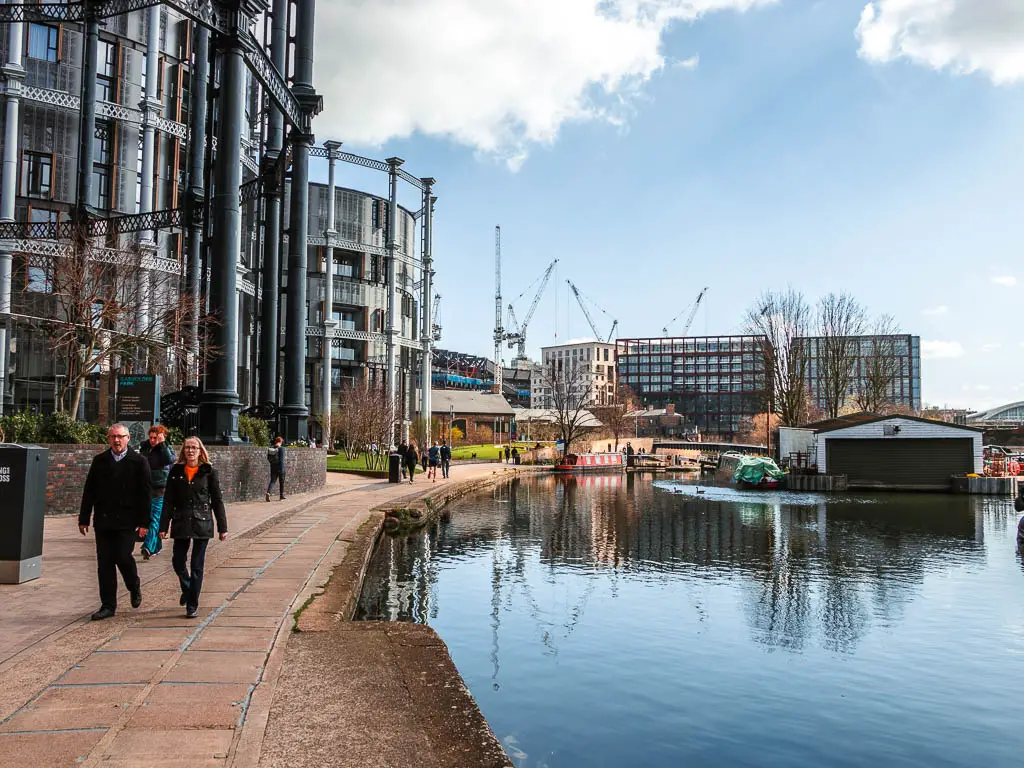 Fun Fact: The big iron frames to the left are gas holders, now restored into apartment buildings.
If you continue following the canal, you will walk over a little bridge type thing and then under a black bridge. 
Over on the other side of the canal, you should see a green area. Here there is an outdoor cinema (during summer months). And then a little further along on the left, there is an archway type entrance to a shopping square. I only poked my head in. I'm trying to save money. You will find public toilets here, and some food and coffee options.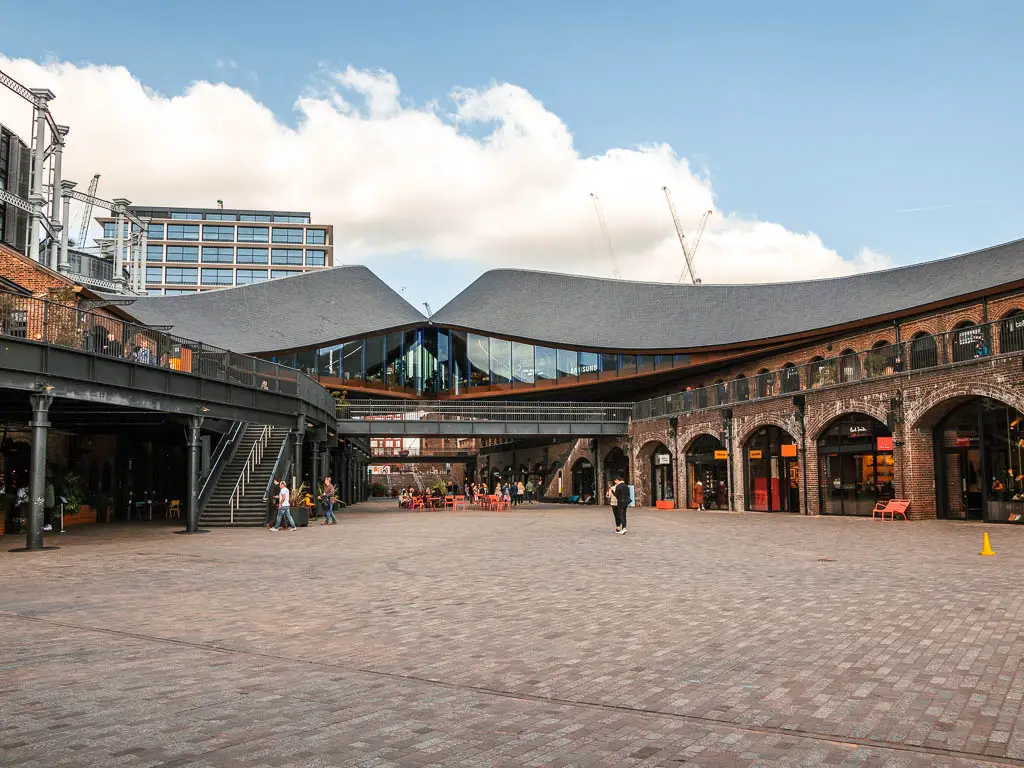 Then a little further along, if you take a left, you should find Granary Square with dancing fountains. Then a bit further past there, you will reach Word on the Water. It's a barge boat library. I had a little sit down here for a snack whilst I watched it. People coming and going. Some having a little dance to the music.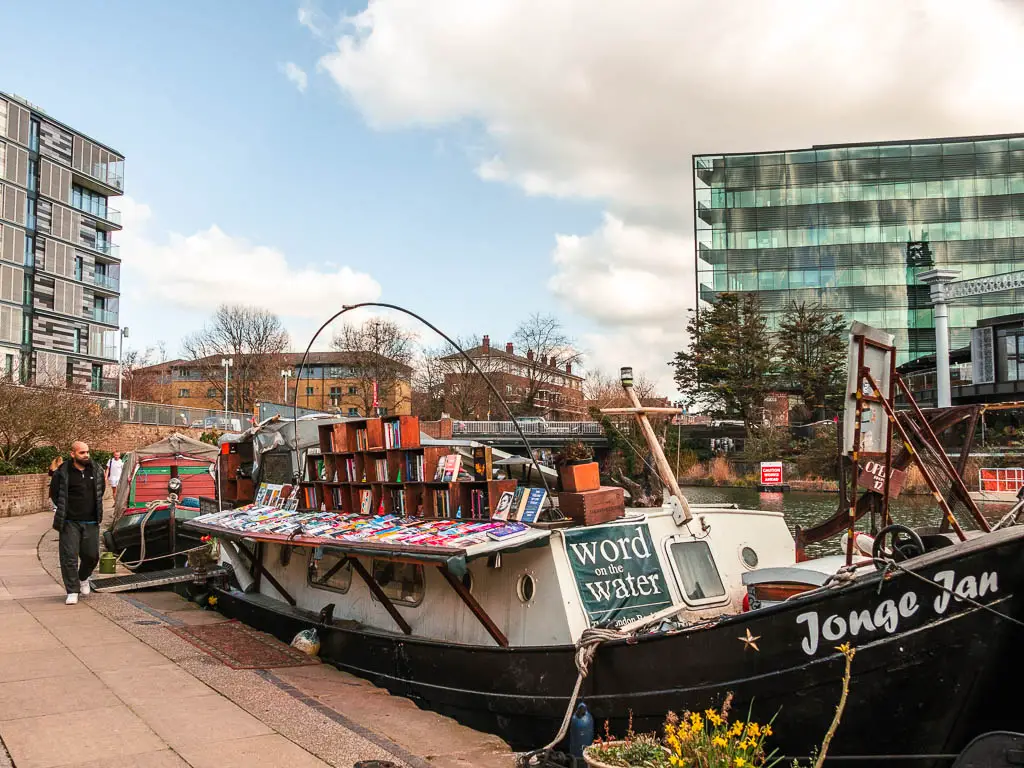 If you want to end the walk here, go over the bridge (there are a few around here, any will do), and you should find Kings Cross and St Pancras stations.
Section 3: Kings Cross and St Pancras to Islington  – 1 mile
If you are dividing the Regents Canal walk up into sections, I would personally skip this bit. The first part is nice, but then you have a big uninteresting detour to reach Islington. So maybe do the first bit, then turn back.
If you are starting the walk here, from the station, walk to the canal, cross over it, then turn right to start the walk. Before doing that though, I would go check out Granary Square and the barge boat library. 
To continue on with the walk, first you will pass by what looks to be old warehouse buildings converted into flats, of maybe offices…or both, mixed in with more modern ones. With lots of barge boats moored along the side.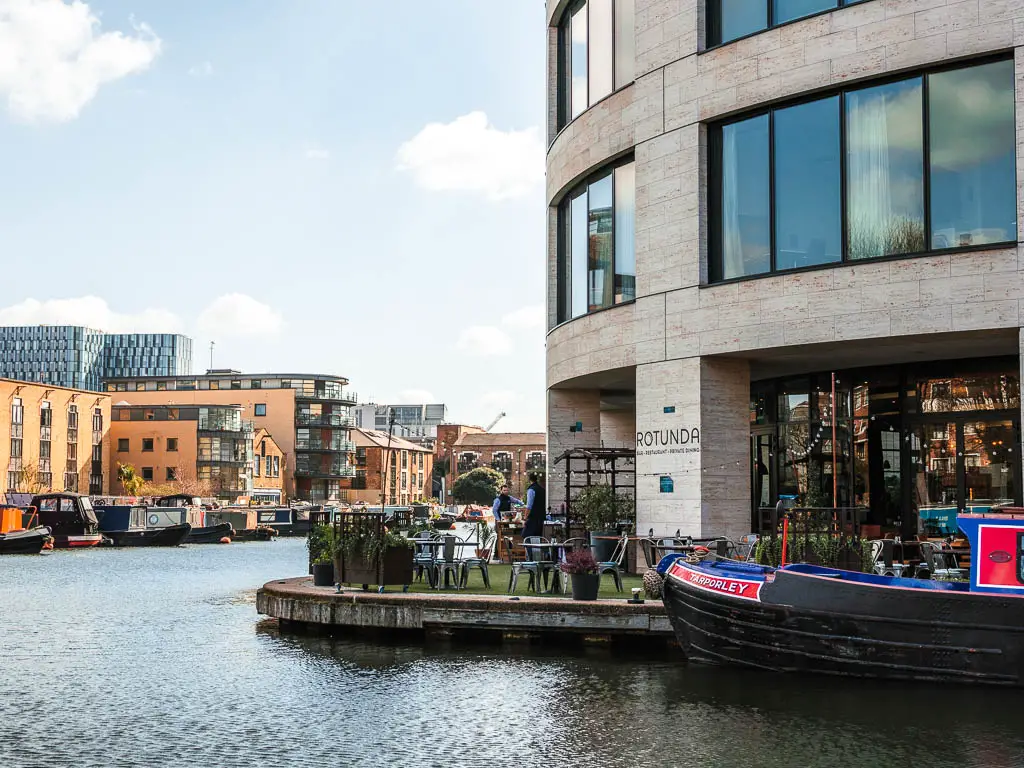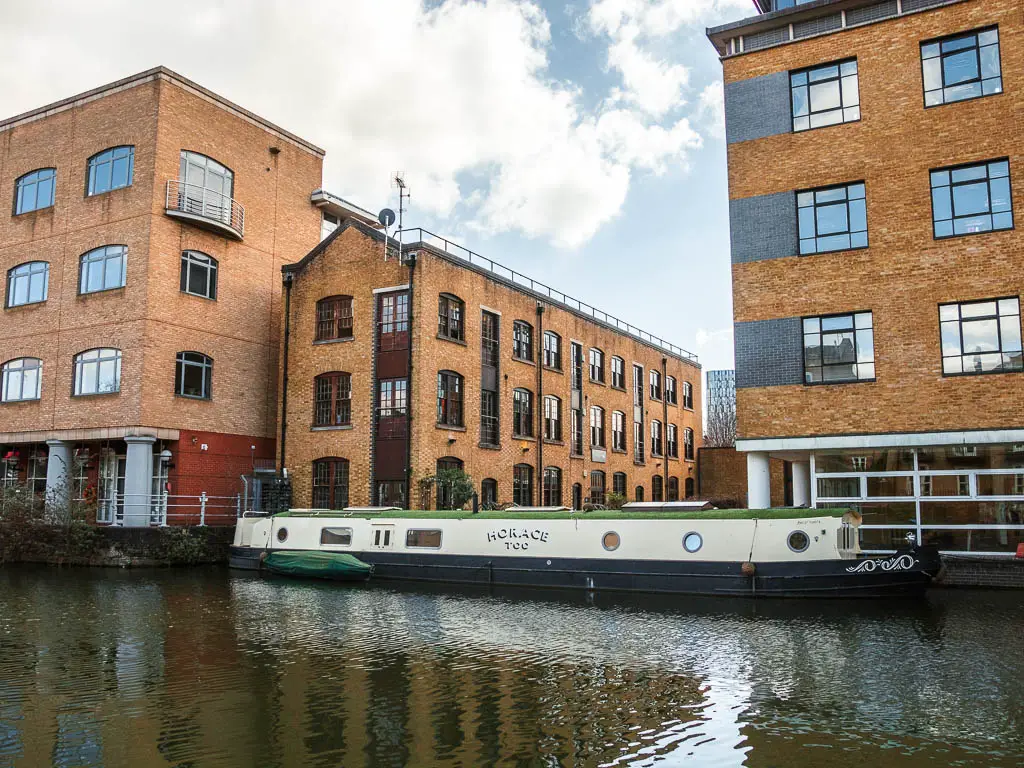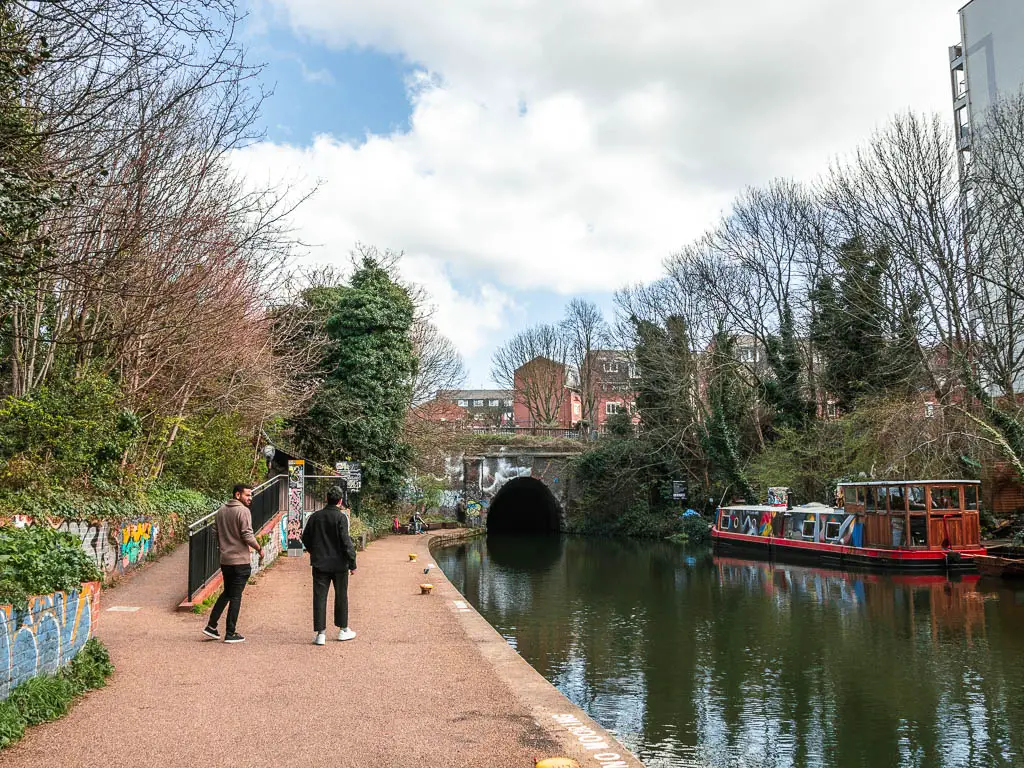 Then at some point The Regents Canal towpath will come to an end, and you need to walk along the side path up to reach the road.
The big detour from the Regents Canal towpath
I really wasn't fond of this detour. It went on for too long and involves walking through a shopping centre….
When the Regents Canal towpath ends, you need to walk along the side path up. Once on the road, across it to the right, you should see some small gates leading to a path. Follow this, past the apartments, and just keep going straight to reach the main road, with a barber shop on the corner. Continue straight past the barber, and then through the green, to reach the next main road.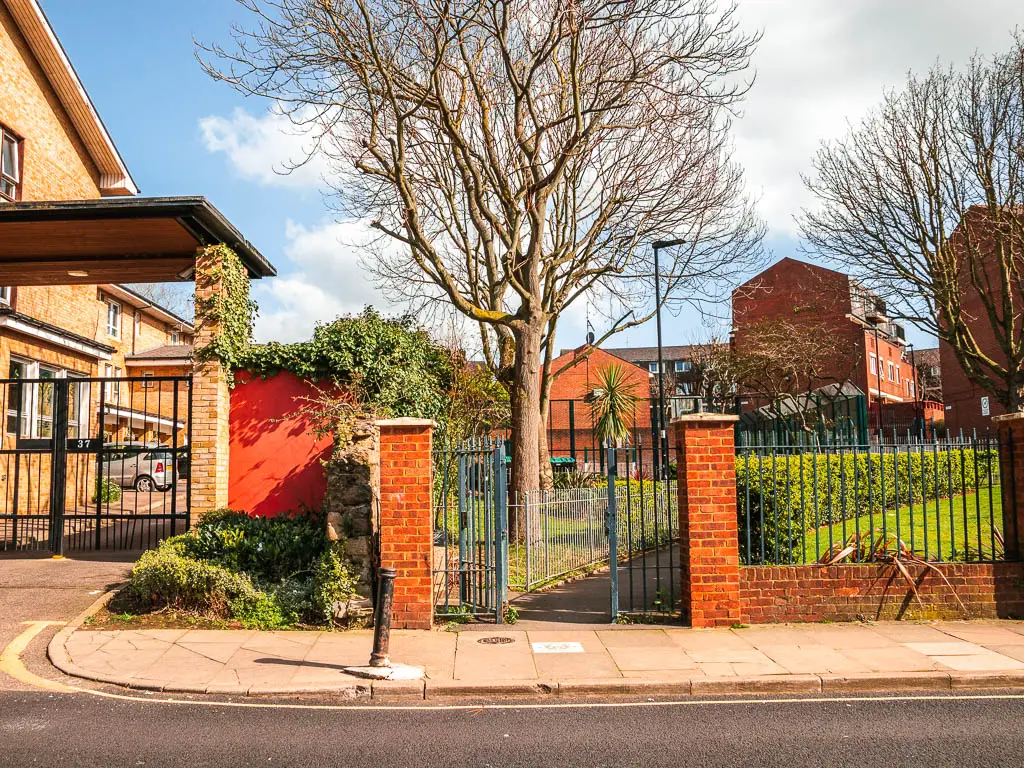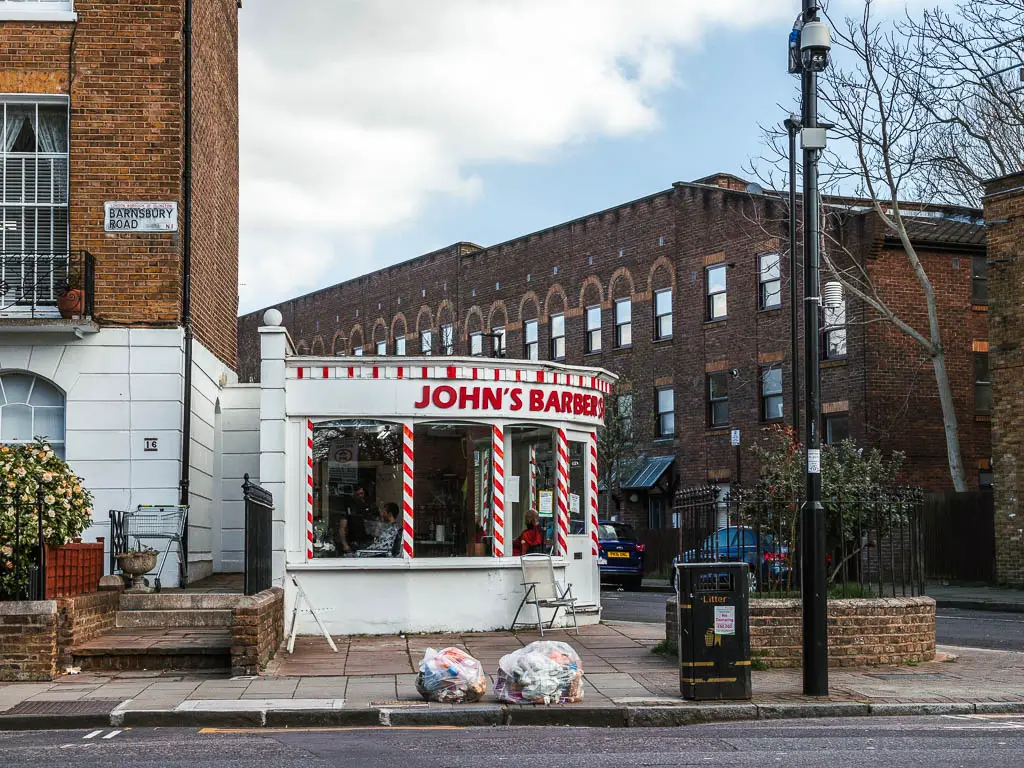 The shopping centre
This next bit is potentially confusing. At the main road, turn right, and a little further along you will see a big shopping centre area on the left. You need to walk through it. Once out the other side, you should be on Islington Upper Street. I have to say, this brought back memories. I used to live near here, many many years ago, and I've not been back since…until today.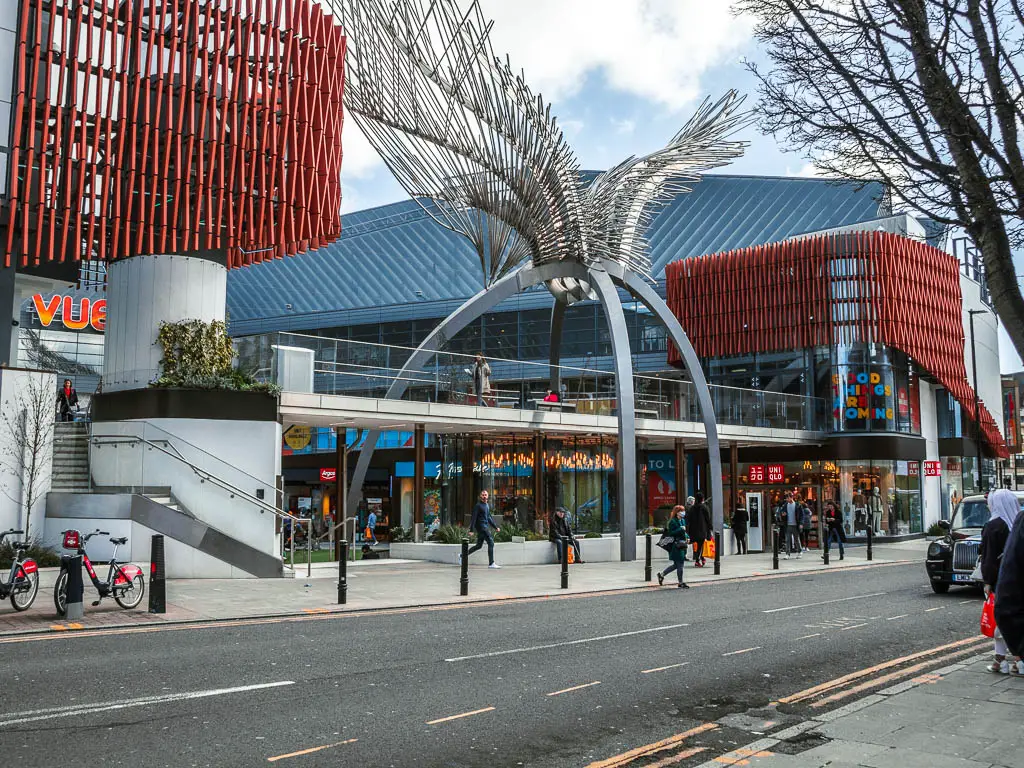 If you want to end the walk here, you have Angel Underground station to the right, then Highbury and Islington overground/underground station a bit further along the road to the left…I say a bit further along, it's more like a 20min walk.
Section 4: Islington to Victoria Park – just under 3 miles
Straight across the road from the shopping centre, you should see the side road, past the Amazon fresh shop. This definitely wasn't there back when I lived here. Amazon seem to be taking over. 
If you are starting the walk from here, and came from Angel Underground, turn right out of the station, then right again when you reach the Amazon Shop. If you have come from Highbury and Islington Station, turn right onto Upper Street, then keep going all the way to the Amazon shop, where you turn left just past it. 
Once on the side road, keep following it, and it will lead you back to the canal. You have the option to walk on a path on both sides of the Regents Canal here. I chose the north side.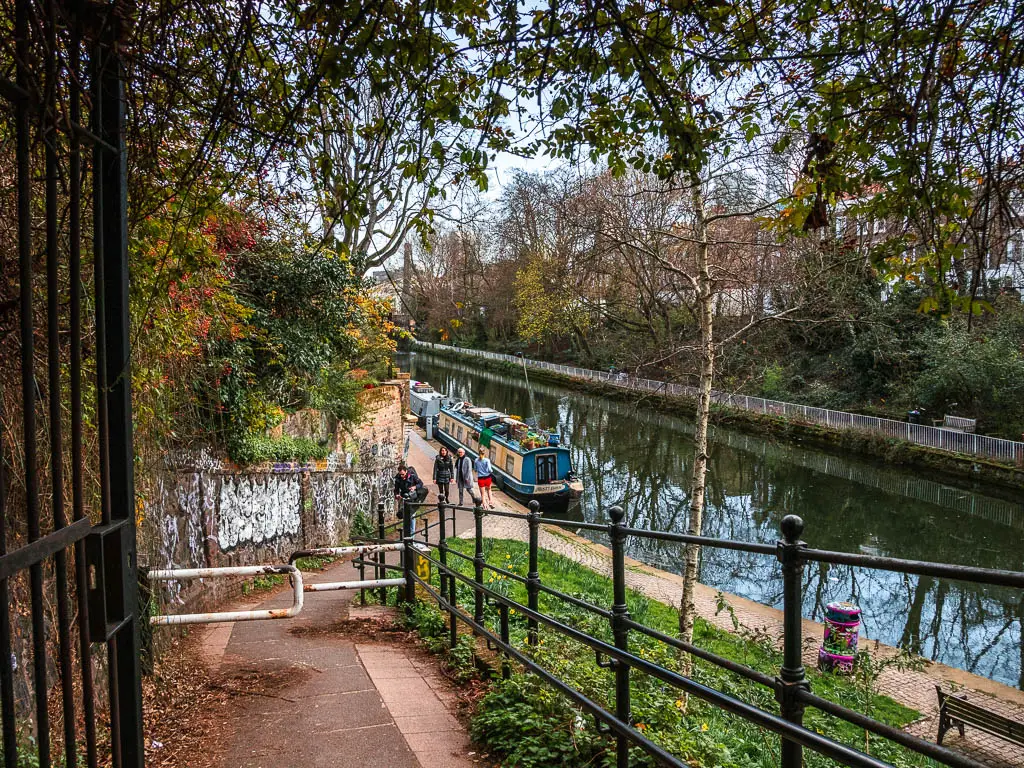 Walk back along the Regents Canal
I quite liked this section of the walk along the Regents Canal. Even though I used to live nearby, this is the first time I have walked along here.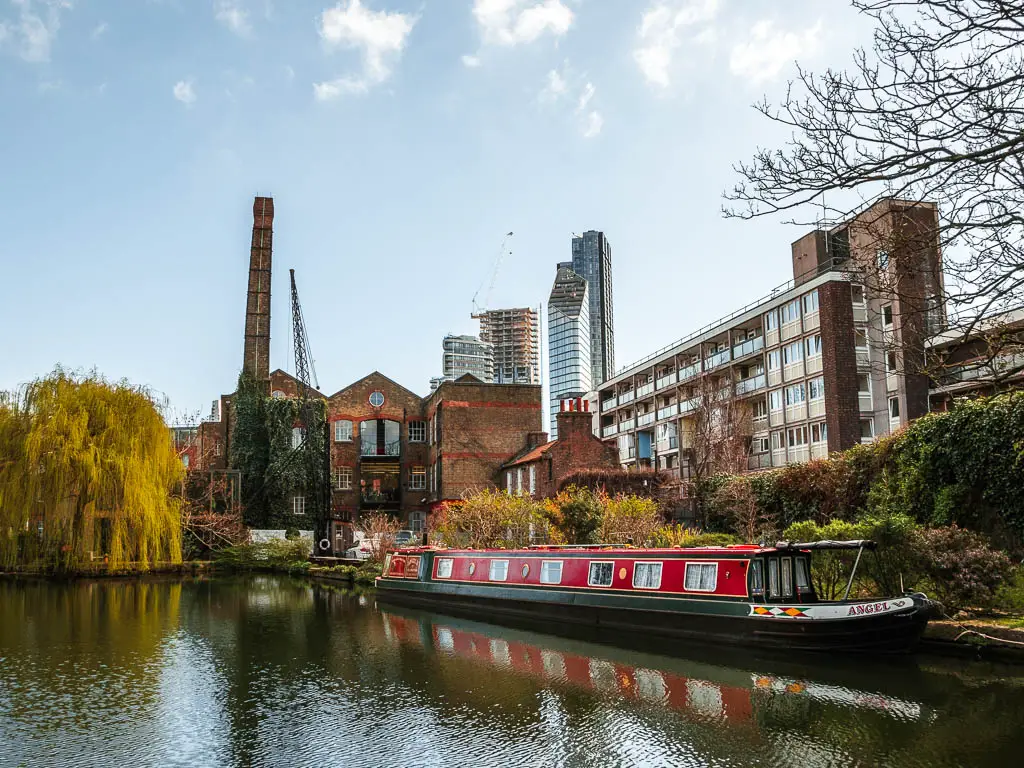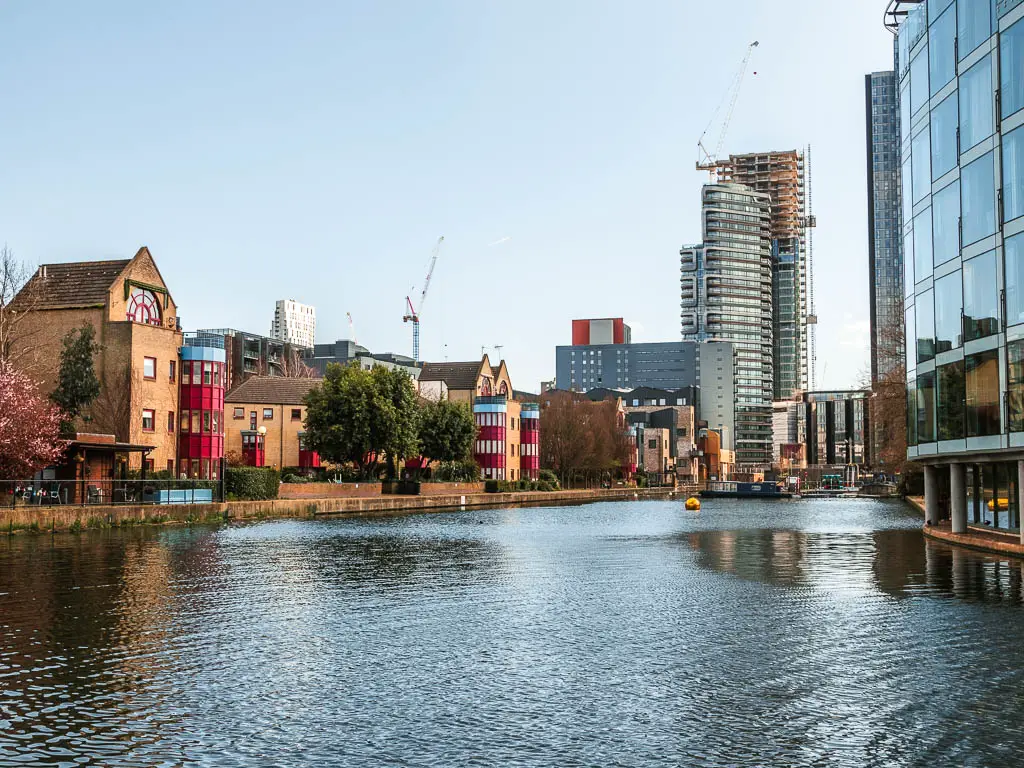 You will pass by more barge boats, and converted old warehouse factory buildings mixed in with newer apartment blocks. There is a nice area along here with artwork, graffiti and benches.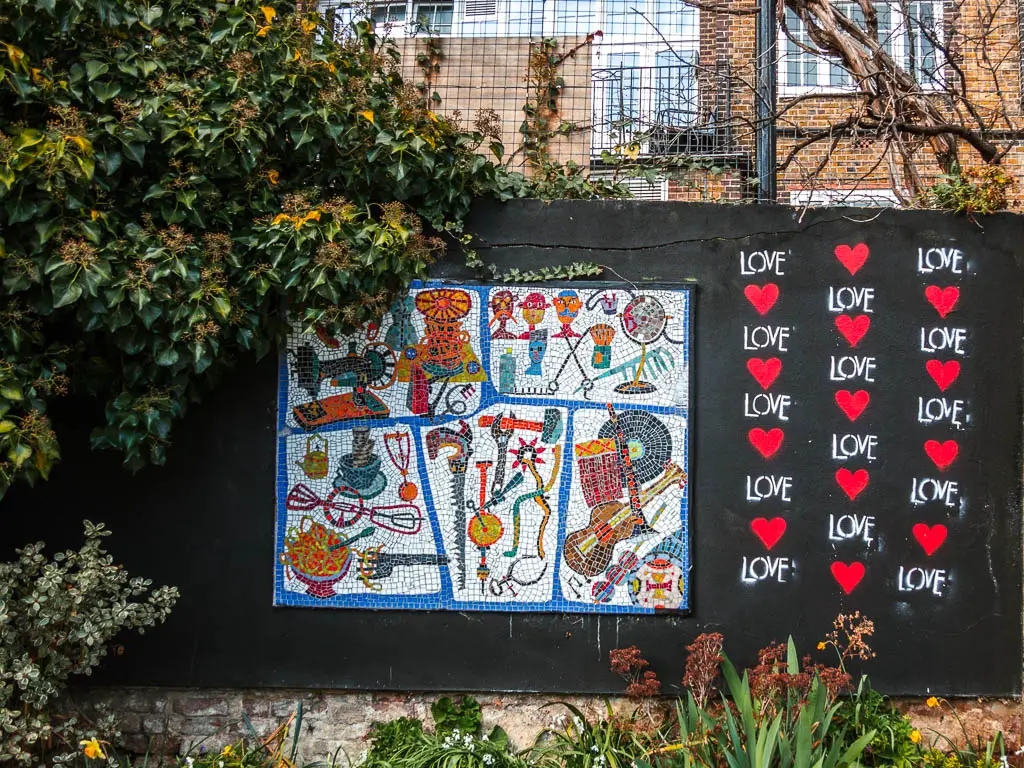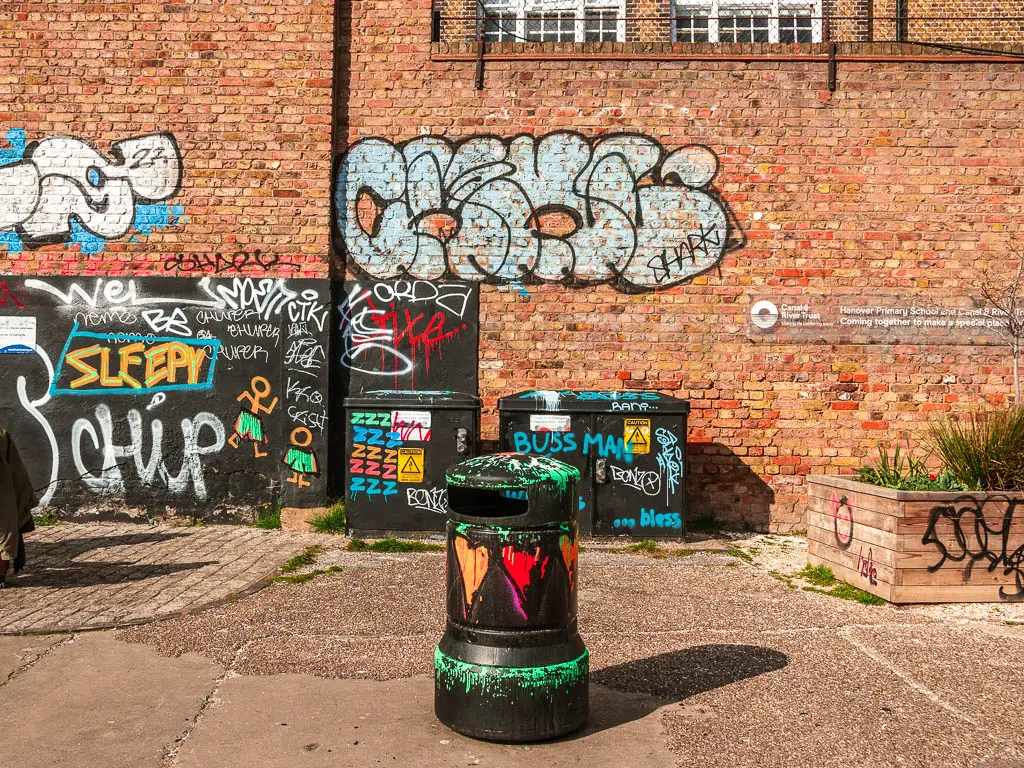 I also passed by a tarot card reading barge. Although I was tempted, I didn't stop. Remember, I'm trying to save money. I do suspect this barge changes location, what with it being a 'boat'.  So I can't say for sure that you will find it here.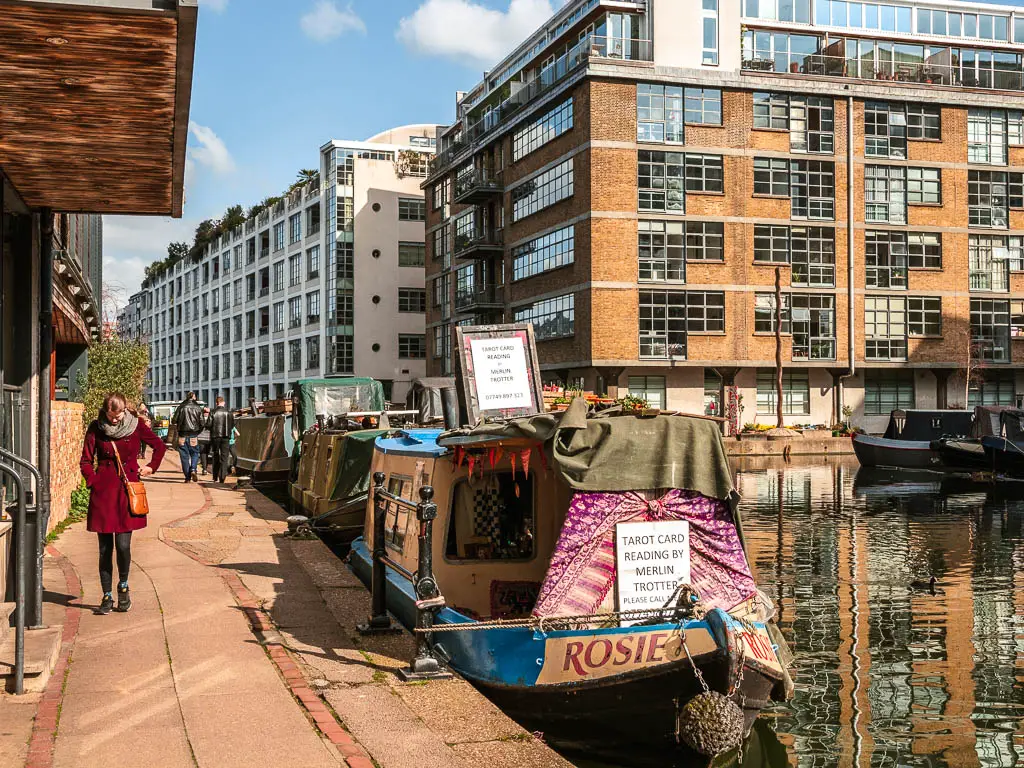 Old, new and hipster
The next part of the walk, is a lot of brick and concrete. I rather enjoyed it though. Passing by lots more converted old warehouse buildings, mixed in with modern apartments (and older ones). As you walk through the Haggerston area, there will be a number of canal side cafes. There is a definite hipster east London vibe here.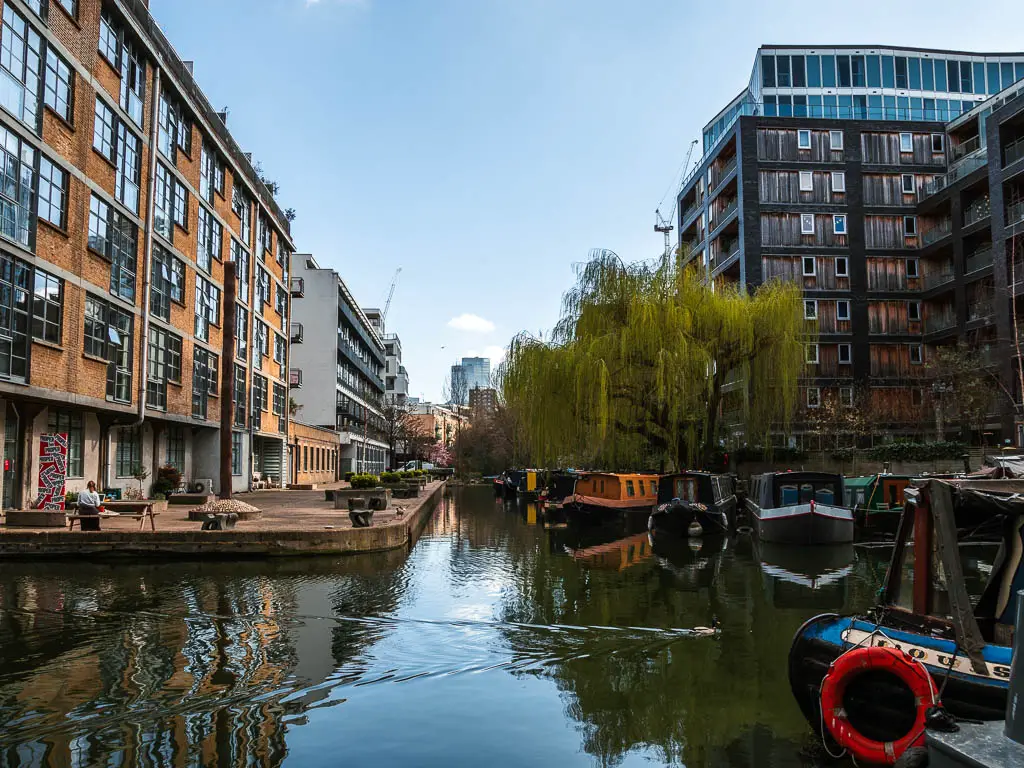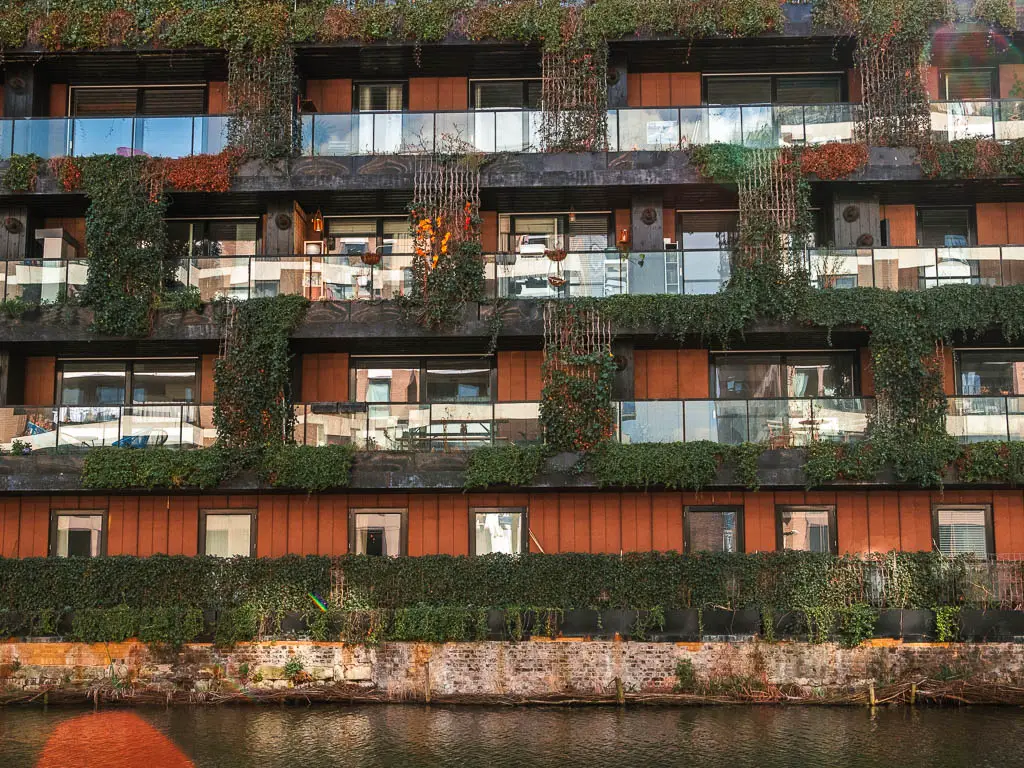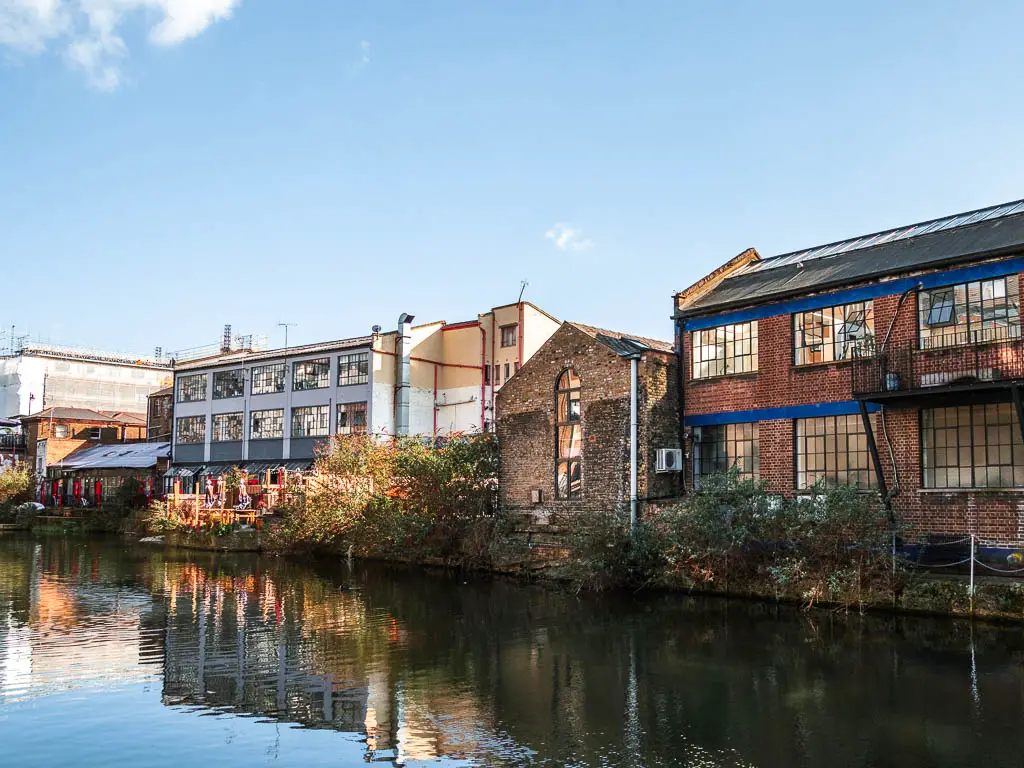 Victoria Park
Once past the Haggerston bridge and sharks, the canal path follows alongside a road for a bit, with a view to to big iron gas holders ahead.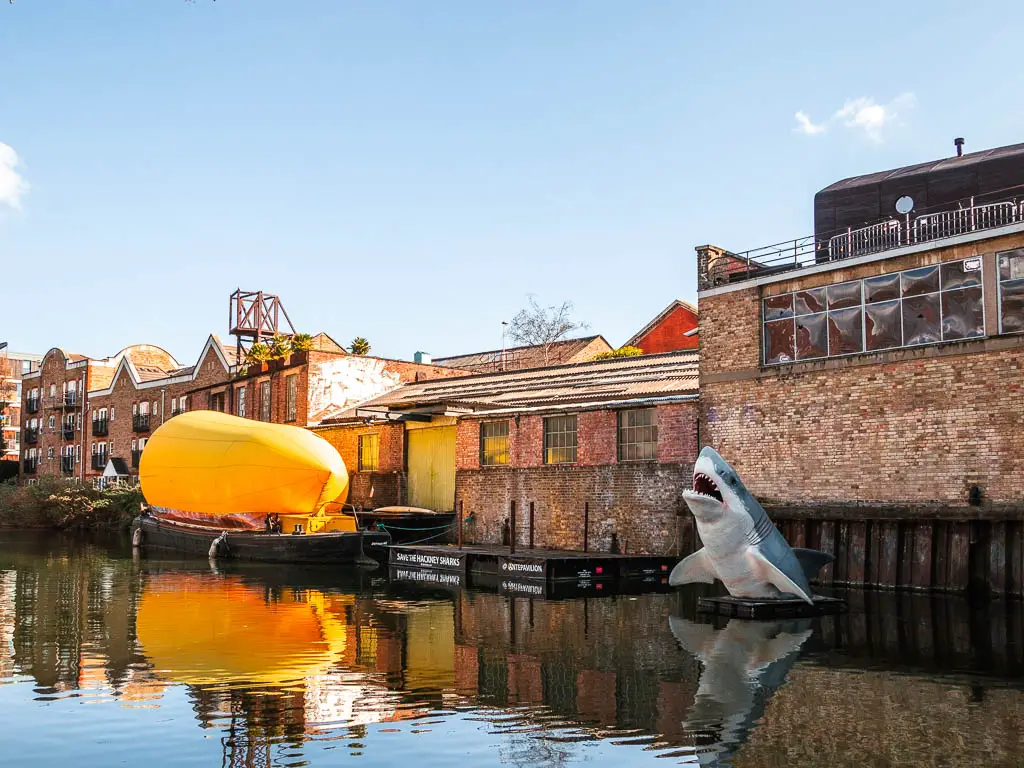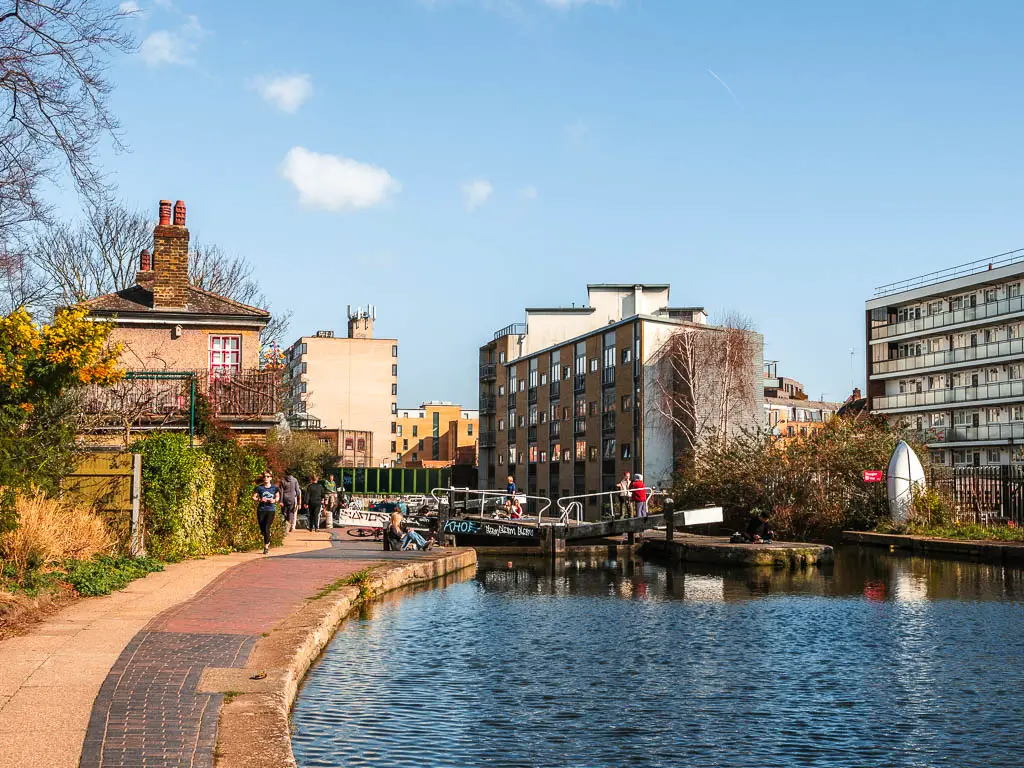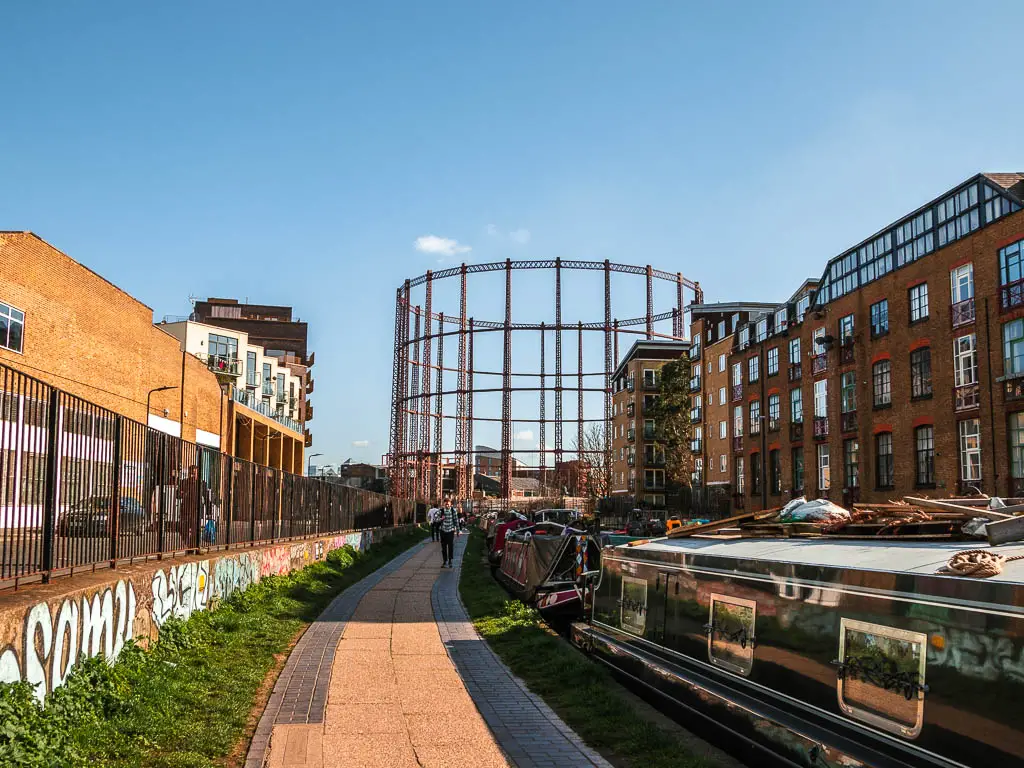 Past the gas holders, it's a random assortment of new buildings mixed in with old factory warehouses, to reach the pretty section of the path as you approach Victoria Park. I lucked out with the Cherry Blossoms.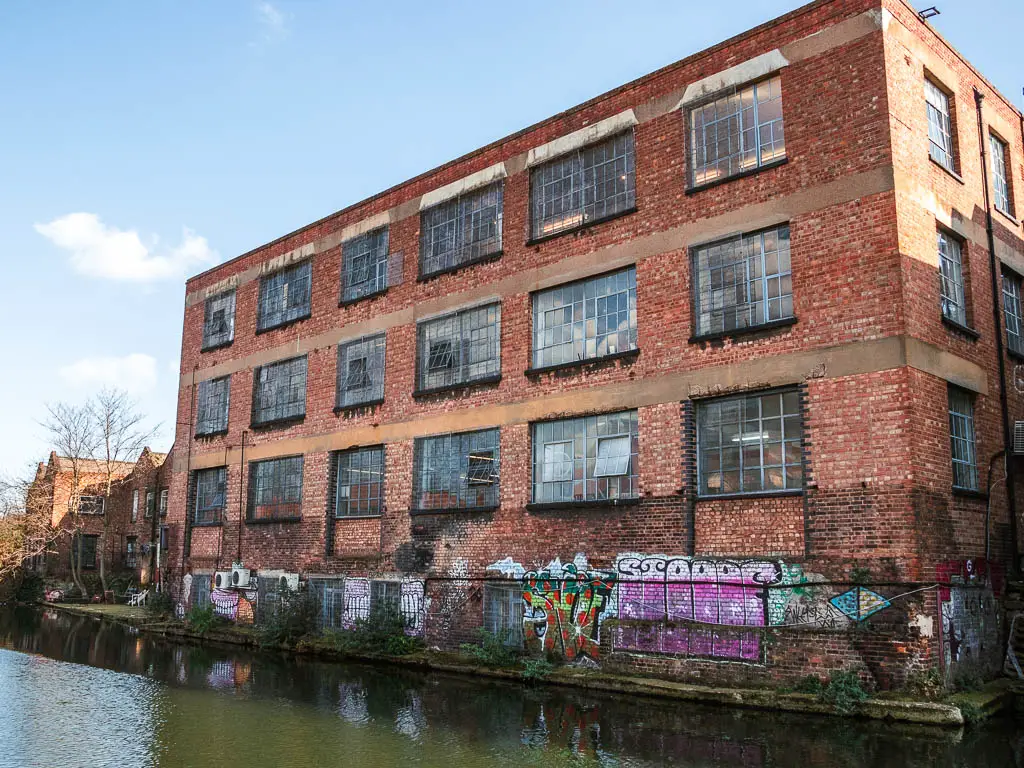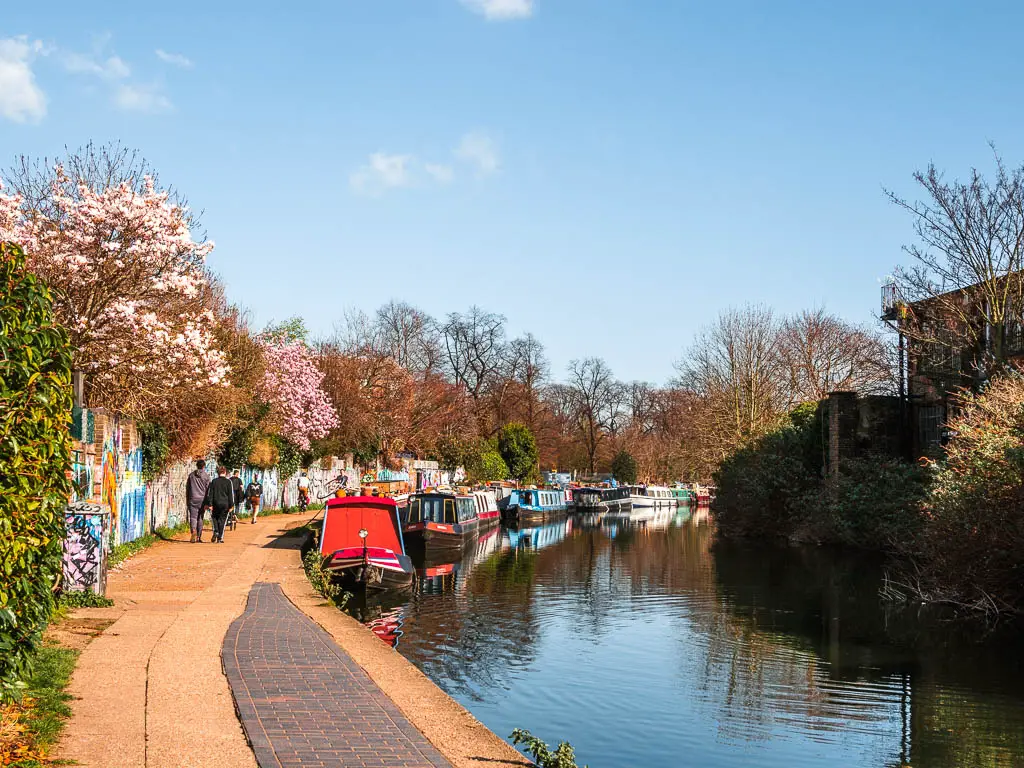 If you choose to end the walk at Victoria Park, it's a nice one to have a wander in. When you have finished, the nearest stations are London Fields, Hackney Wick, Homerton and Cambridge Heath. It's best to look on google maps to find them as they are scattered about. The nearest stations to this side of the park are Cambridge Heath and London Fields.
Section 5: Victoria Park to Limehouse Basin – The final stretch – 1.5 miles
If you are starting the walk from here, the Regents Canal runs alongside the south side of the park. The nearest station is Cambridge Heath Overground. It's on the other side of the canal. So once you arrive, walk to the canal (there should be signs pointing to Regents Canal), cross over the bridge, then turn right onto the path. If you are already on the canal path, then just keep going straight, with the park to your left.
If you are following my Regents Canal walk map, you will see that there is a gap in the trail here. That's because I had a sit down, stopped my tracker, then forgot to start it again when I continued on. 
As you keep going, you will switch from walking alongside Victoria park, to walking alongside Mile End Park. Don't worry about keeping track. It's all green stuff.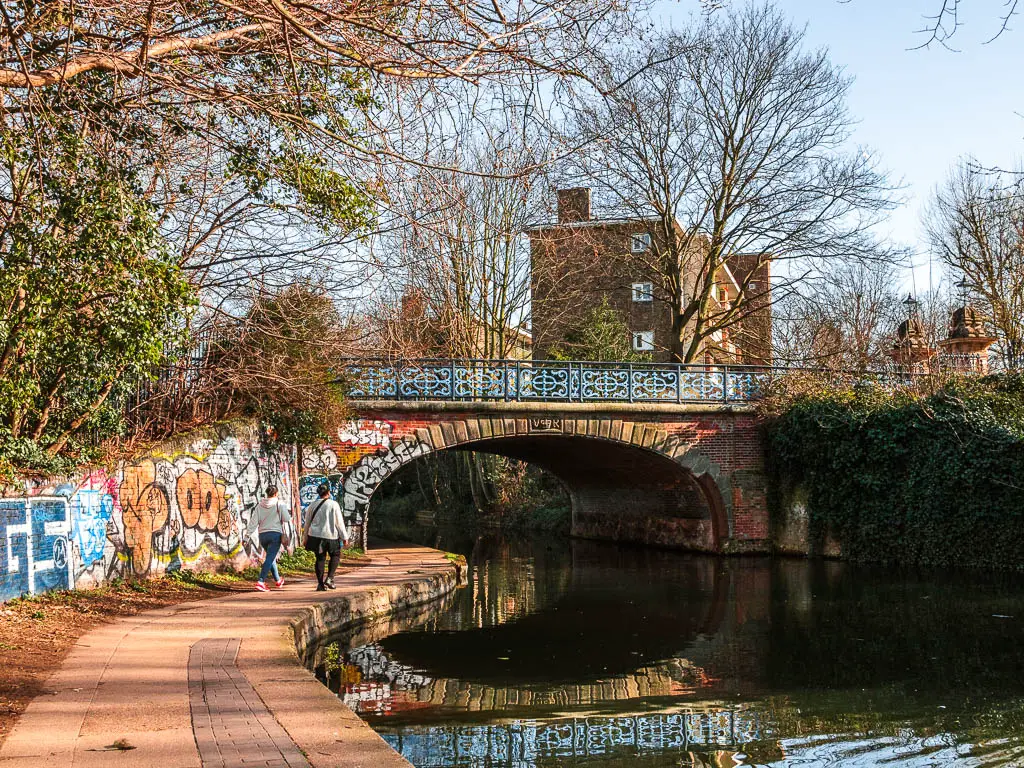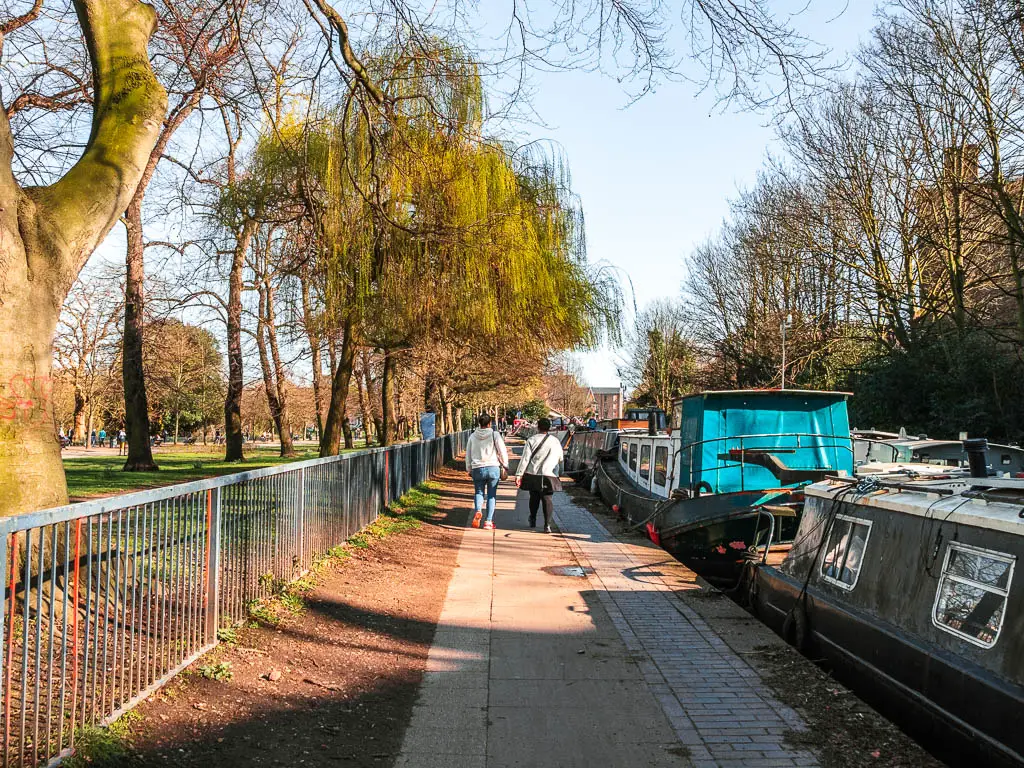 The skyscraper views
Soon you will start to get a view to the skyscrapers of Canary Wharf ahead. I really enjoyed this bit. Walking along the canal, amongst barge boats and brown buildings, with a striking view to the tall silver white skyscrapers ahead.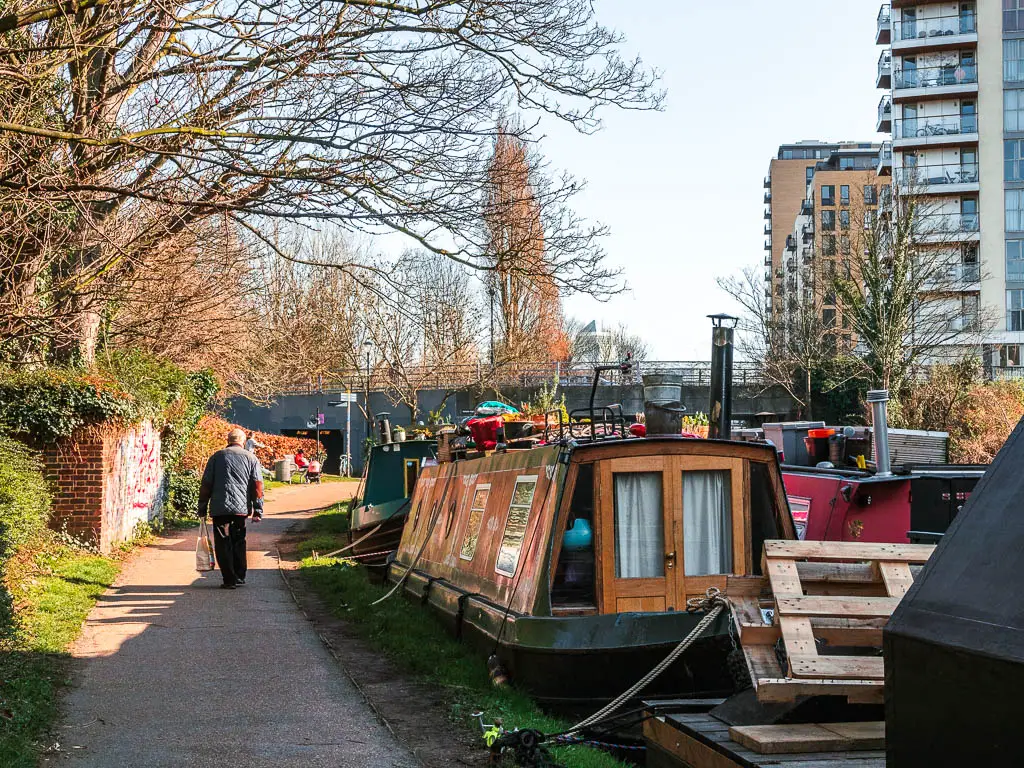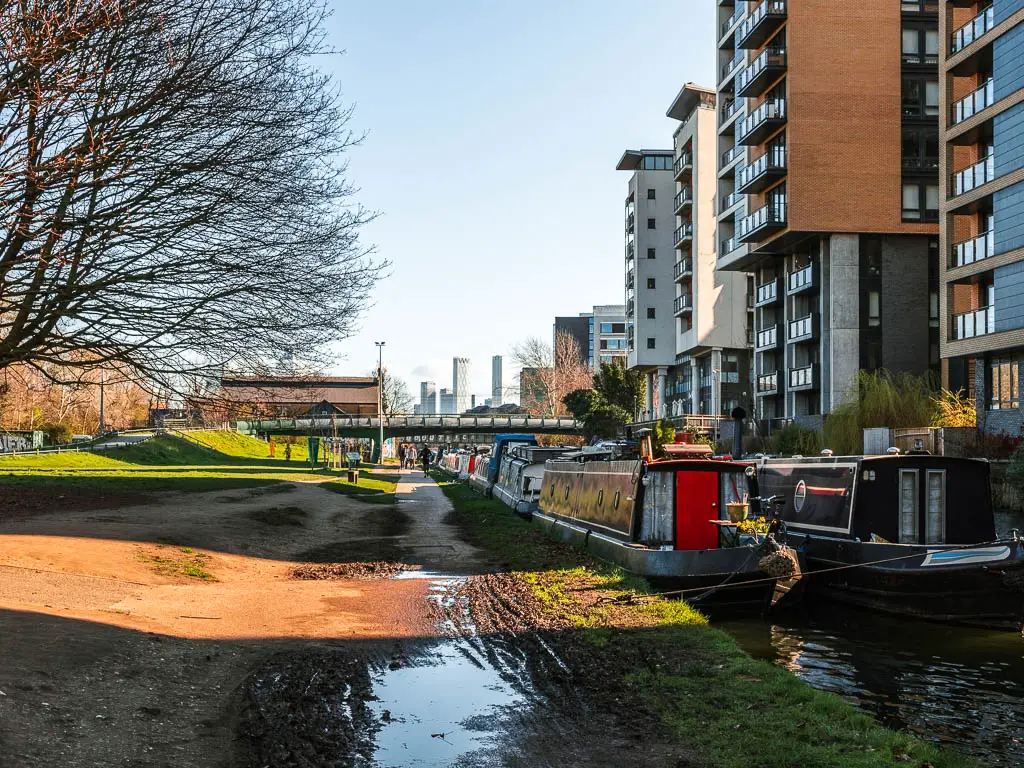 As you get closer, you will walk with the open green on your left, which would make a lovely place to sit, relax and watch the skyscrapers, before you finish the walk.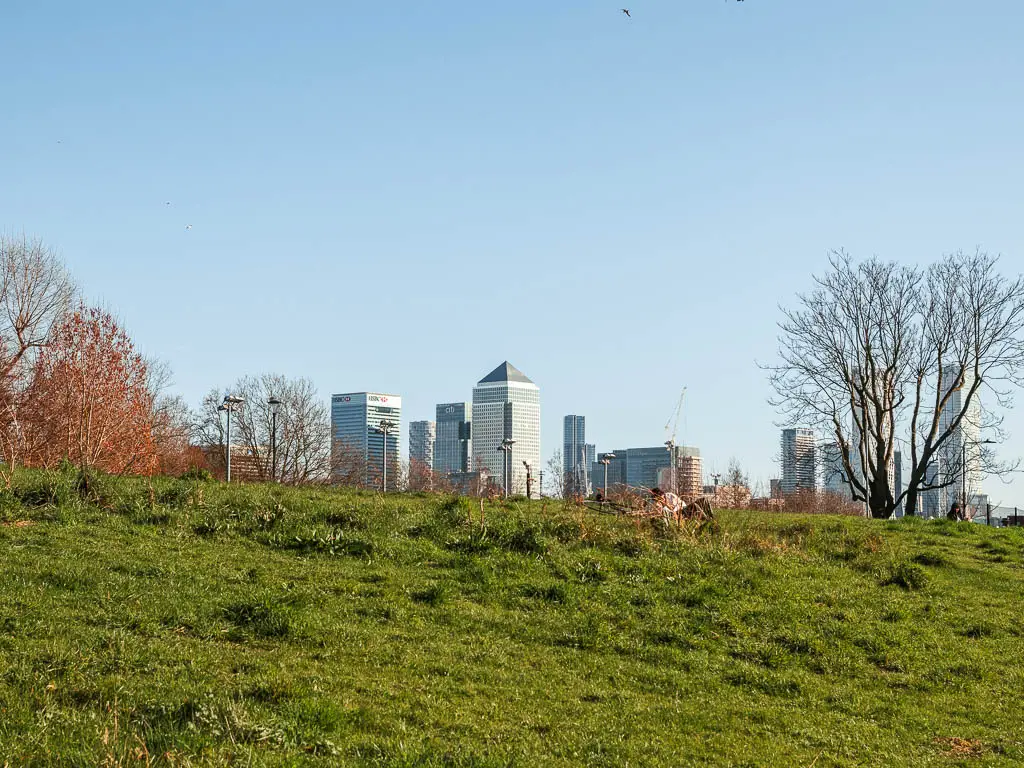 Walk to Limehouse basin
You should be able to follow the canal side all the way to reach Limehouse Basin from here. However, when I did it, there was buildings works, so I had to detour a little. 
A little further along the Regents Canal path, you are given a little green section to walk along before the end, and mass of concrete and bricks before reaching the Limehouse Basin.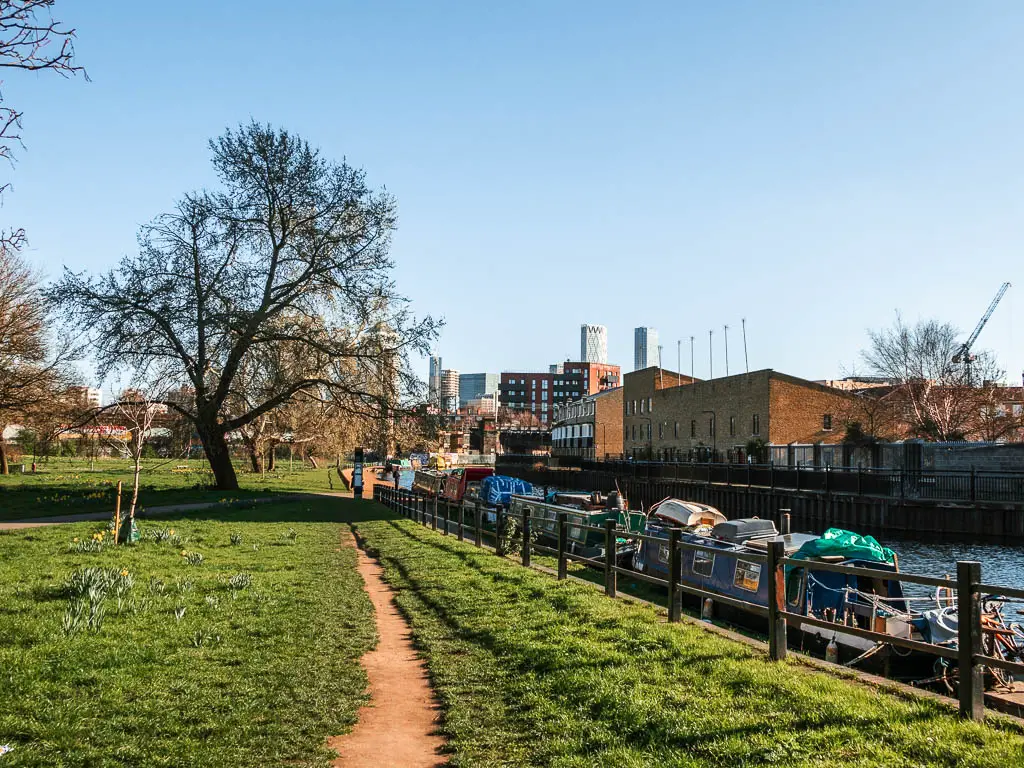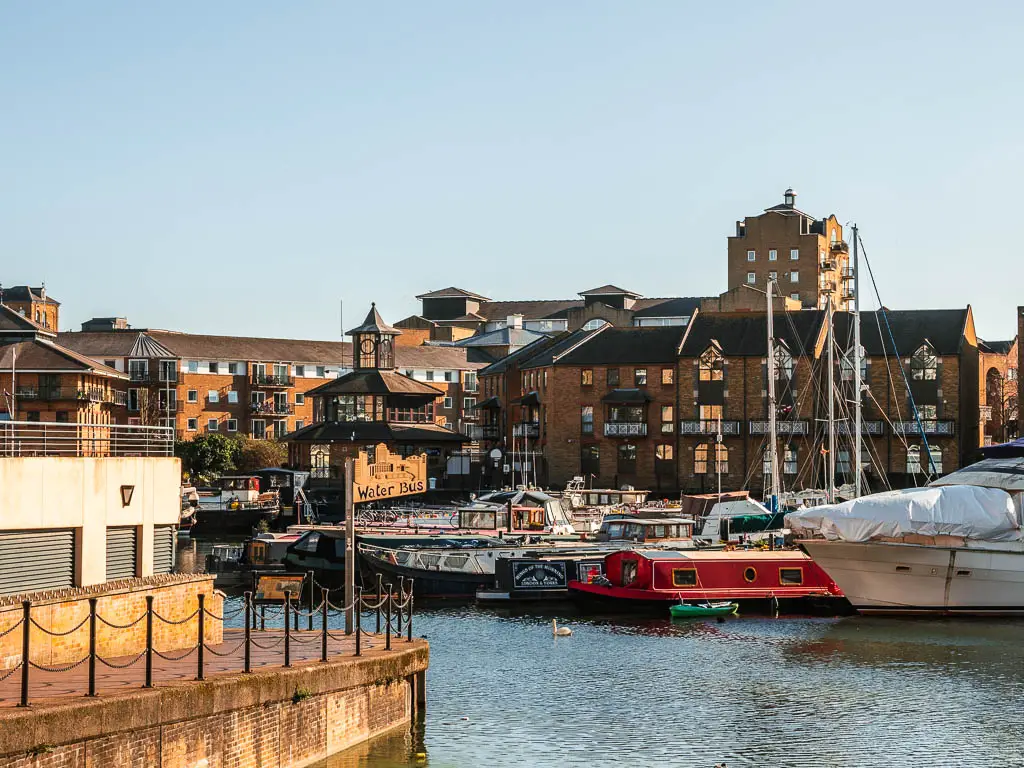 Top Tip: If you walk to the right of the Limehouse Basin, you should get a fantastic view across it, and all the barge boats, towards the skyscrapers of Canary Wharf.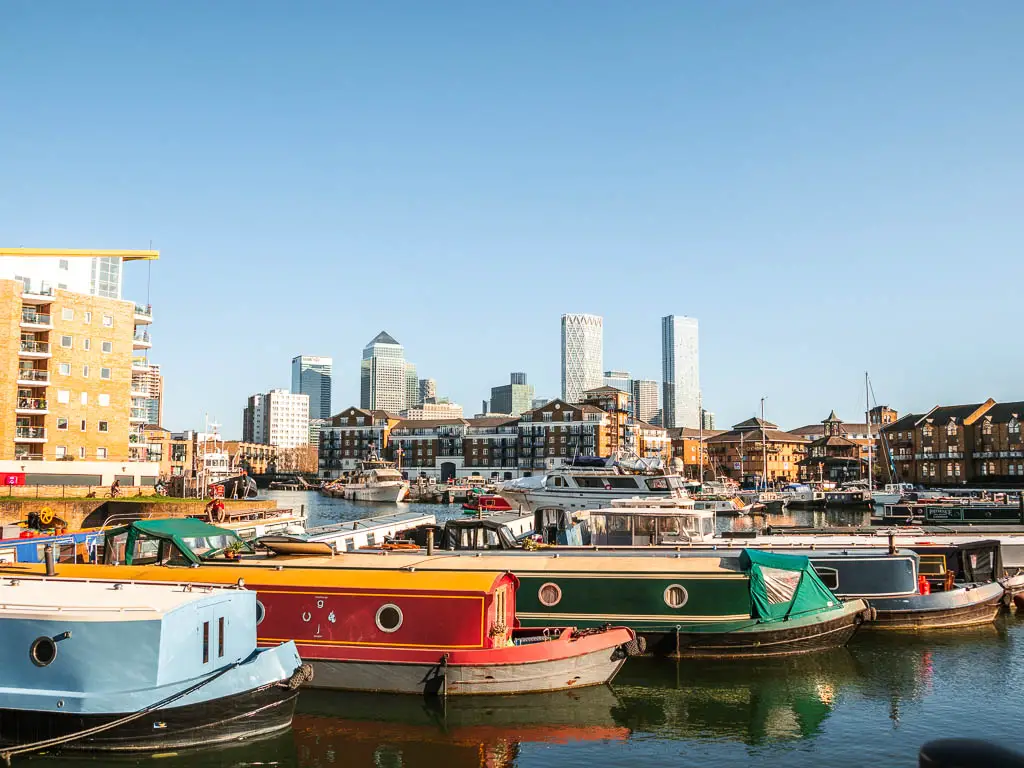 ---
More walks near the Regents Canal
---
The City of London walk is part of the Jubilee walkway, and takes you around and through the City of London.  It is a a mix of old historic with new modern. Think roman remains, a pub from the 1600's and tall skyscrapers. 
The Regents Park to Primrose Hill walk takes you across a royal park, over the Regents Canal, and up to Primrose hill, which has one of the best views of London. 
I mentioned earlier, the walk from Little Venice to Camden. This is a section of the route along the Regents Canal, and is probably the most popular bit to walk. If you read my guide on it, you will see that I wasn't crazy about it. However, that's not to say it's bad at all. It's just my taste. For me, it felt like it was trying to be green, but it didn't quite hit the mark with all the concrete. There are much greener areas to walk in London.
Surprisingly, I quite enjoyed the urban areas along the Regents Canal. It just fit better.
---
More walks in London
---
Richmond to Hampton Court, down along the River Thames, is probably one of my favourite walks in London. So much green that you would forget you are in London. This walk also takes you through Bushy Park where you might spot some deer.
Richmond to Putney, also along the River Thames, and also fairly green (but a bit less so than Richmond to Hampton Court). This one follows the river in it's entirety, and you will pass by lots of nice bridges, probably some rowers, and should see a bunch of wildlife. 
The Beverley Brook walk takes you through some green areas of London. Wimbledon Common, Richmond Park, and Barns Common, before finishing up at the River Thames. I quite enjoyed this walk, and it's a nice way to get some green in without leaving the city.
If you would like more from the River Thames, you will find more options on my guide on walks along the Thames Path in London
---
More canal walks near London 
---
If you like canal walks, then you should head out to Surrey to try the walk from Guidlford to Godalming. It's super easy to get to from London via public transport, and would make a lovely day trip. It's an easy one to follow, and is nice and green and countryside like. If you are brave, you could even take a dip in the water. It's a pretty popular wild swim spot during the summer months. 
Pin it for later: A Guide To Walking Along The Regents Canal Path In London