I kind of discovered the Foggintor Quarry walk by accident. By that I mean I was in the area looking on Google Maps for something else. I noticed a place called Foggintor Quarry, clicked on it, and was stunned by what I saw. A gorgeous body of water surrounded by cliffy-ness. I immediately told the boy* that we were going to walk to it. The boy and I actually had a little argument about the location of this place. You don't need to know the details, but just know that I won.
*boyfriend
So, the walk to Foggintor Quarry turned out to be pretty simple, it's hardly worth me making a map for it. Turns out that's a good thing because I totally forgot to track it. I did however track the walk back to the carpark so you can have a look to see the start point and exactly how to get there. 
In this blog post, I am going to tell you a bit more detail about getting there and tips/ideas for which way to walk around the quarry when there (basically what I did), including walking by some ruins. All with lots of pictures, so you know what to expect. 
But first, what is Foggintor Quarry?
Good question. I had no idea. I have since (with the help of my mother) found out that granite used to be extracted from here for use in construction. It was used to build the nearby Princetown, the prison and even in some London landmarks. Notably London Bridge and Nelsons column.
Fun Fact: London Bridge is said to have granite from Haytor Quarry (not Foggintor). Now, this is a trick. The Haytor Quarrie's had been shut down and the Haytor granite company now formed to work out of Foggintor. So any granite coming out Foggintor was labelled with the Haytor name. This was beneficial as Haytor granite was considered to be superior to Foggintor granite…..or so I have read.
Logistics for the walk to Foggintor Quarry, Dartmoor
Start/Finish: Car park near Yellowmeade Farm
How to get there: For this specific route, you need a car (I will show public transport options in a min). The trail starts off the B3357. I don't know the road name and it's not showing on Google Maps when I look. It's the road linking Two Bridges with Merrivale. There is a car park at the start which (at the time of writing) is also not visible on Google Maps. Basically, if you are driving west along this road from Two Bridges, you will reach a small parking area with a stone sign for Yellowmeade Farm. If you reach the Four Winds car park you have gone too far. You can also easily walk to Foggintor Quarry from Princetown which has public transport. The Dartmoor Explorer runs though here.
Distance: 1.4km from the car park to the quarry.
Time: 15min one way to get there.
Time of year: I (we) did this one during late summer…..The windchill made it feel like winter.
Tips: It's very windy out there. Be prepared. At the quarry, you have the option to walk high above it, or down and through it. I found it much prettier (and less windy) walking through it.
Map for the walk to Foggintor Quarry, Dartmoor
Click on the box on the top right corner to open in your Google Maps
More walk ideas, with a link to the full guide, near Foggintor Quarry and in Dartmoor will be at the end
Guide To Walking To Foggintor Quarry In Dartmoor National Park
Starting at the car park, follow the gravel path. I have provided pictures below so you see where you should be located. 
There isn't much else to say really, except to keep following this path. At some point, you will pass Yellowmeade Farm on the right (with some cows hanging out). Actually, the cows might take over the path as we discovered on our route back. And if you know me, you know that cows bother me a little. They didn't attack us I'm pleased to say.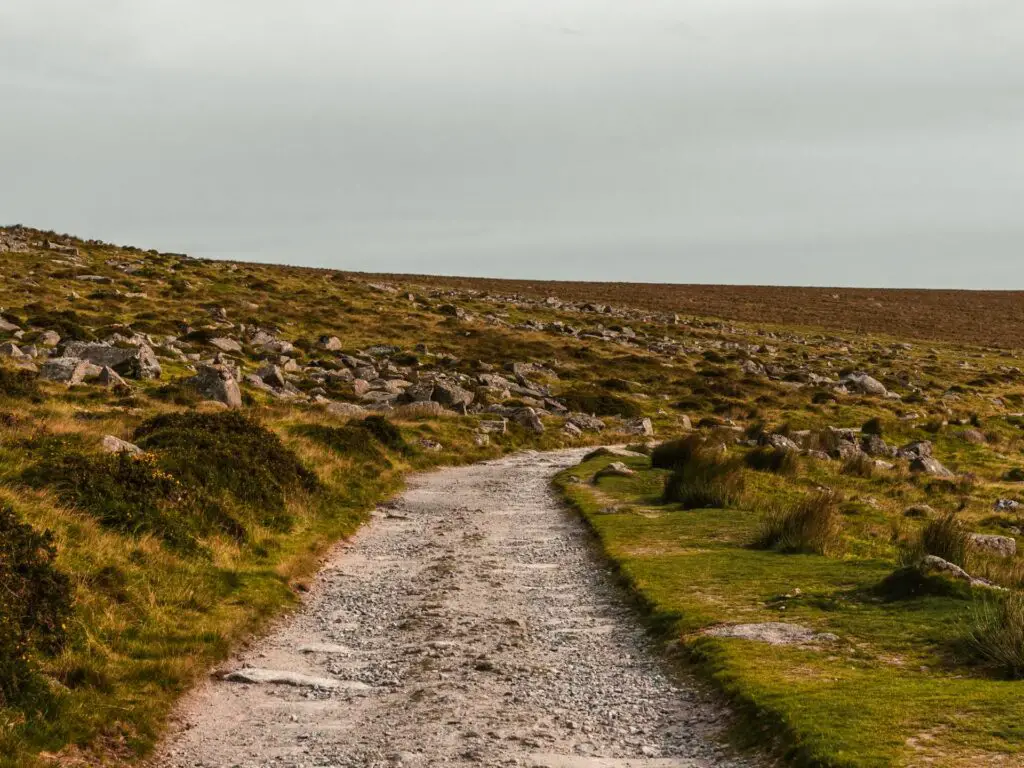 Anyway, continue along this path, with lovely views all around of the moor. 
The abandoned tramway
So this bit is interesting. You will notice rock slabs on the ground laid out in a uniform manner. I think this is an old tramway. Well, my map tells me it is anyway.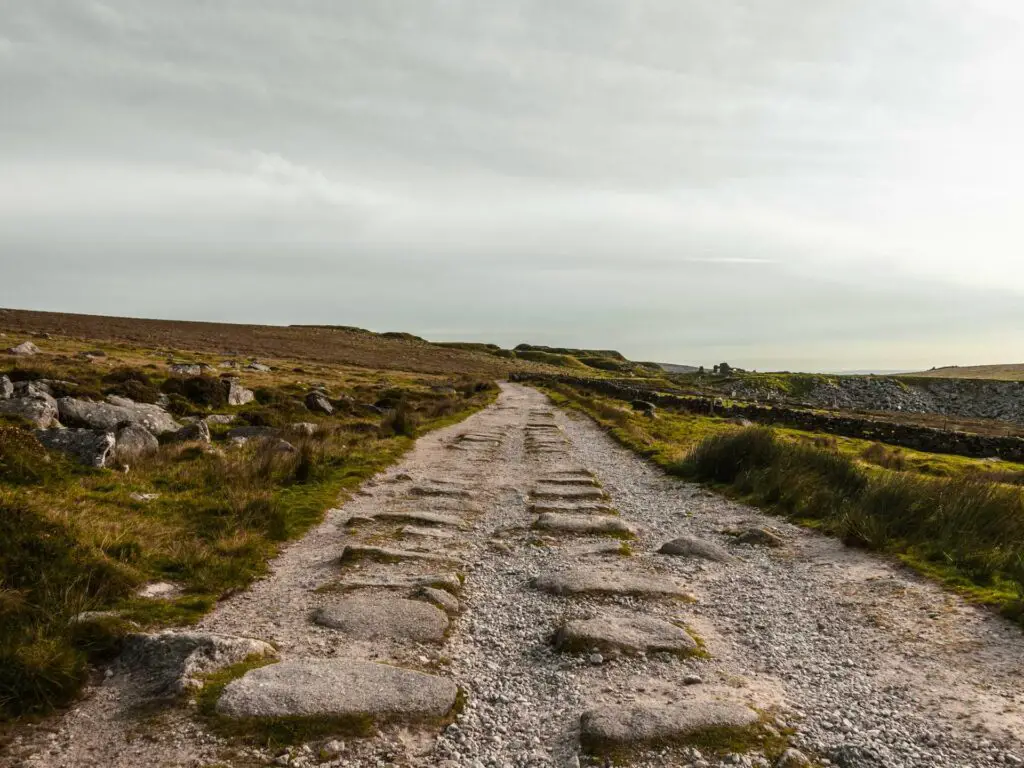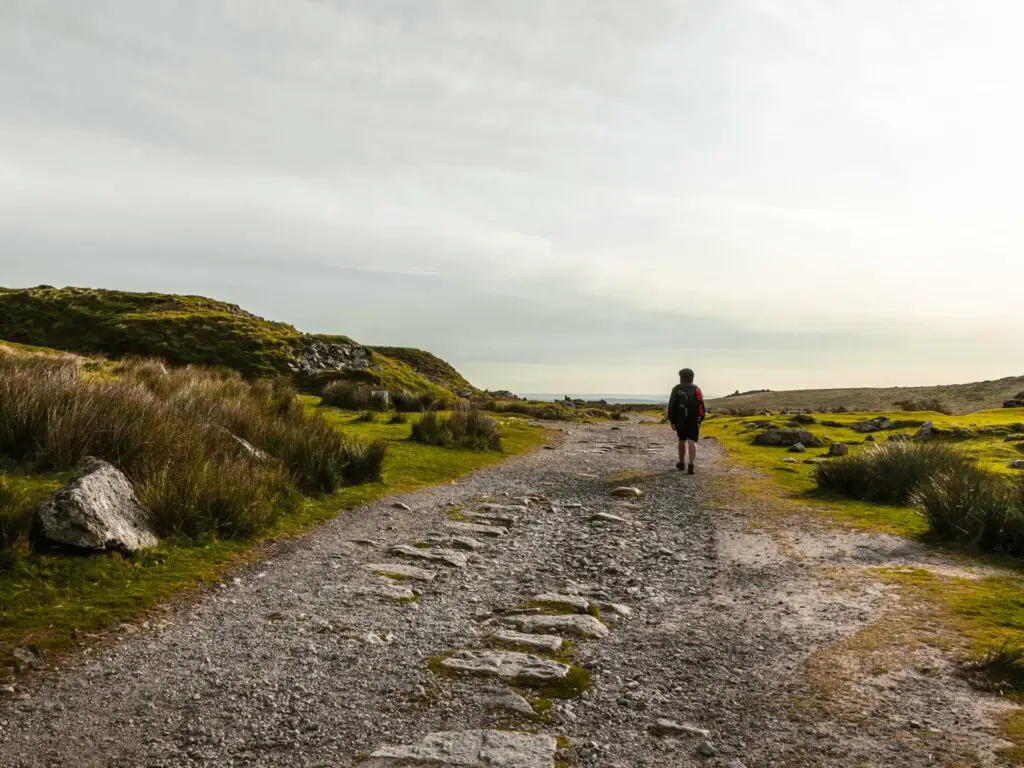 The walk into Foggintor Quarry
You will reach some ruins on the right (we come back to this later), and an opening between rocks to the left. Go left.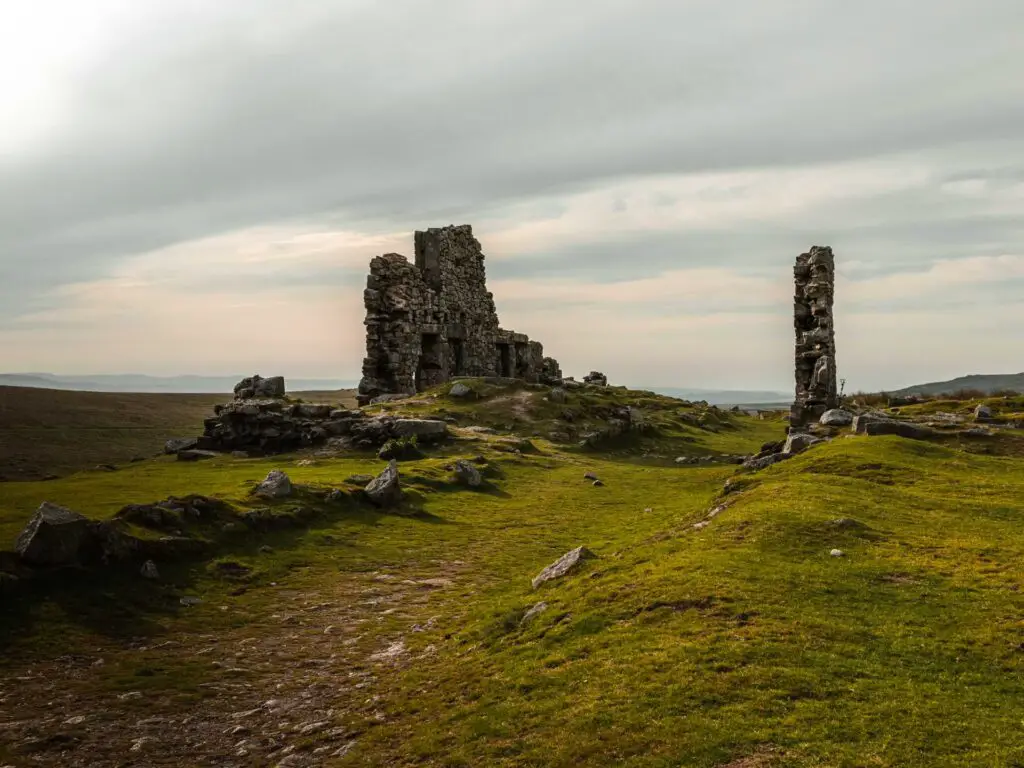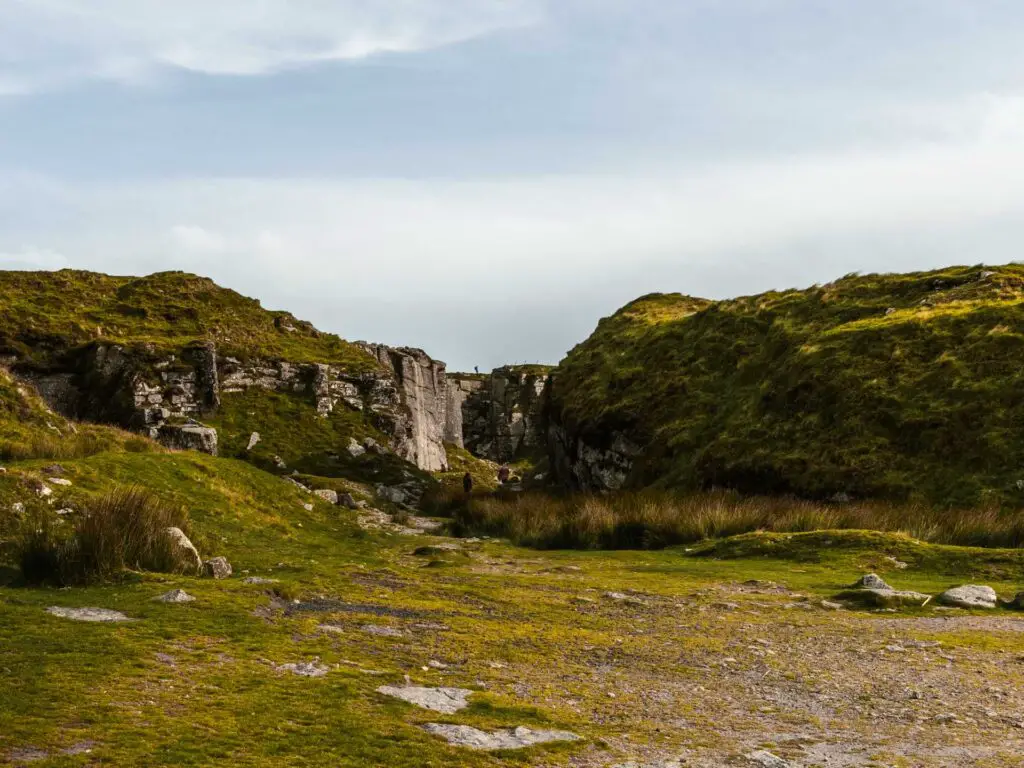 And there you have it, you have reached Foggintor Quarry. From here you can pretty much explore any way you wish. I started out going up the hill on the left to get a higher view of the Quarry down below.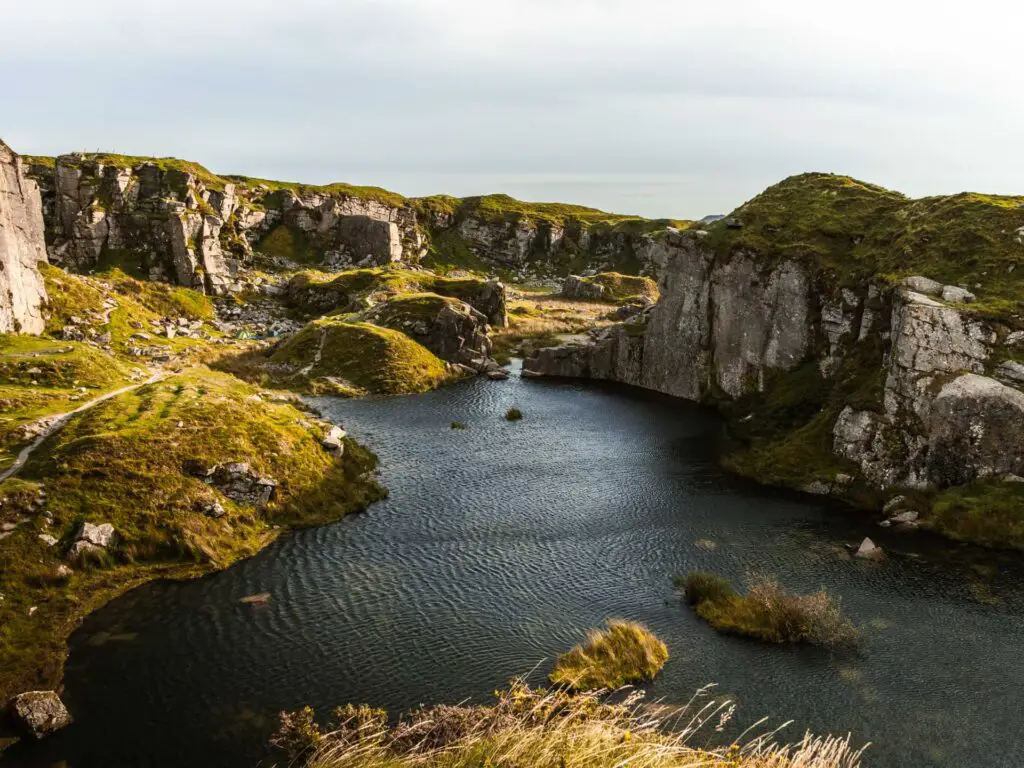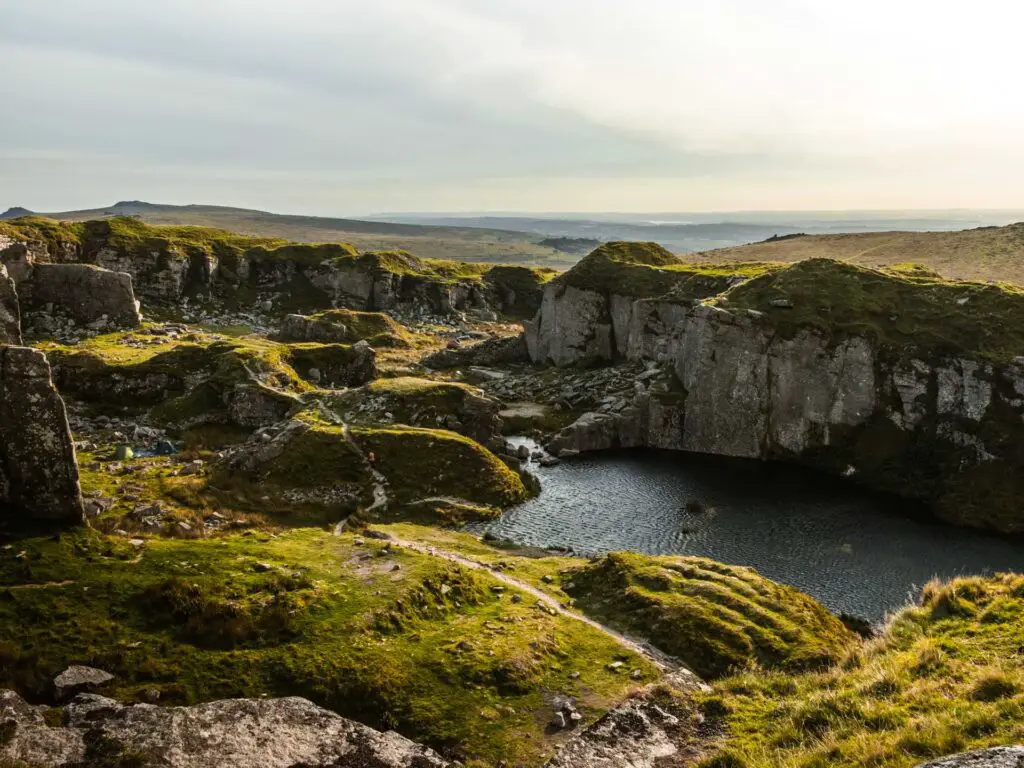 After walking along the edge for a short while I decided I wanted a different perspective (and to get out of the insane wind) and found a route back down into the Quarry. It was very much a scramble down the rocks. Kind of fun though. 
There is a trail that runs through Foggintor Quarry, so I joined the trail from here and followed it around to the other side. 
The walk out of Foggintor Quarry
To get out, the trail will take you on a bit of rocky terrain. If you don't like rockiness, then go back out the way you came. Once out, take a right, back in the direction of where you started.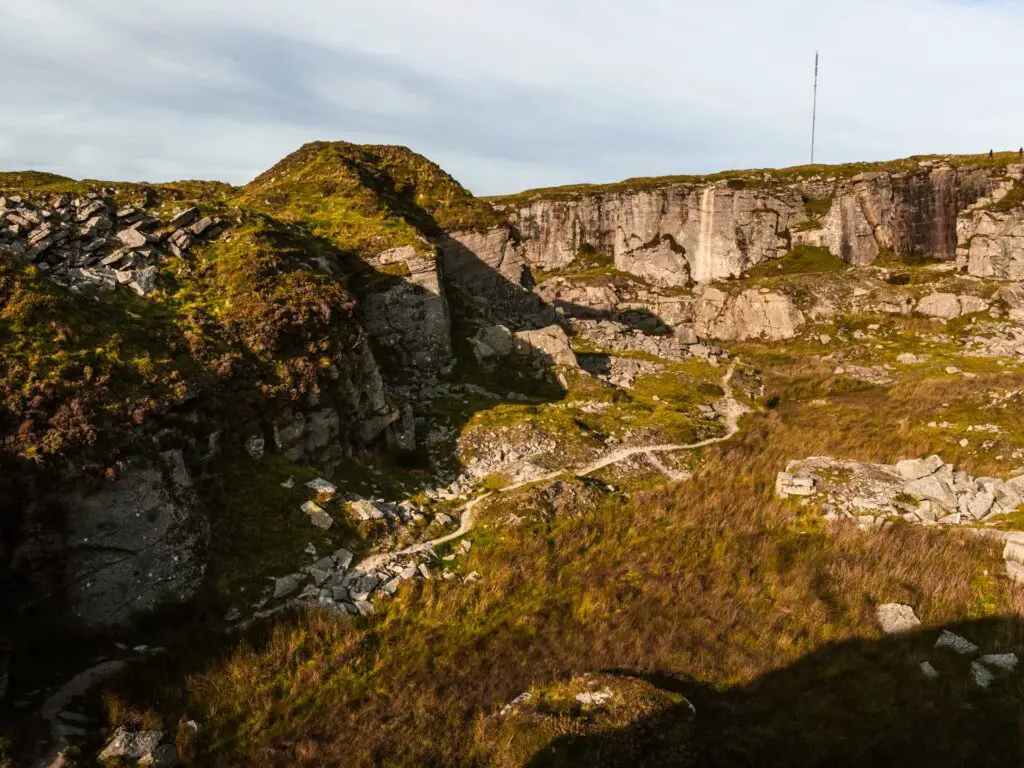 The ruins
Before leaving, definitely check out those ruins you passed earlier. They are not marked on Google Maps (at the time of writing). Also, at the time, I had no idea what they were ruins of. Mother has since come to the rescue again and provided me with a little history lesson.
So, back in the 1800's, this area used to be a bit of a community. Cottages, masons sheds, Wesleyan Chapel, for the workers and their families at Foggintor Quarry.
Fun facts: The chapel was used as a school for the children from mid to late 1800's (they then briefly moved to another location – Mission Hall) until a proper school was built where the Four Winds car park is.
Another fun fact: After the quarry closed, the cottages remained occupied until around the mid 20th century before the area was completely abandoned.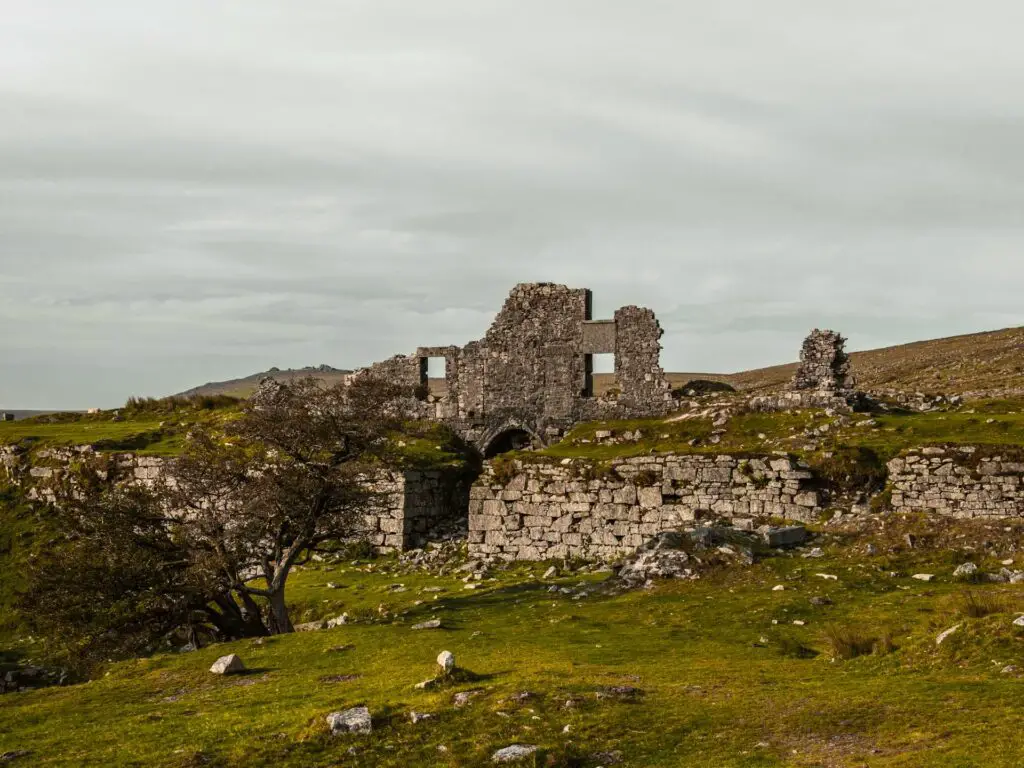 Once done exploring the ruins, it's as simple as just walking back towards the car park on the path you came on. If you are unlucky (or lucky, depends on your jam) cows may have invaded the path.
Final thoughts on the Foggintor Quarry walk
This one is short and sweet. If you aren't much of a walker, it's tame enough that it shouldn't bother you. If you prefer bigger strenuous walks, then this is a nice little one to do as break from all of those.
Oh, and it's very windy.
Other walks in Dartmoor National Park
You can read about the best walks in Dartmoor National Park, for a detailed side by side comparison. Alternatively, see below for a quick look at a few.
Wistman's Wood – Not too far from here you will find this mystical woodland. I highly recommend visiting if you can. It's also a very easy, simple walk.
Princetown Railway walk – This walk takes you both to King's Tor and Foggintor Quarry. That's two for the price of one. This one is also accessible by public transport.
Sheepstor Walk – Slightly further south in Dartmoor you will find Sheepstor. This is a lovely walk, but it is longer and more challenging. You will have a fantastic view across Dartmoor from here, and down to the Burrator Reservoir.
Burrator Reservoir walk – This one takes you around a large reservoir. It's very easy going, and quite beautiful. It's mostly walking under woods, with the occasional opening, and a grand view up a hill at the end.
Ivybridge circular walk – This one also follows an old tramway, if that's your thing. It does have hills, but it's not that hard, and you get far reaching views across Dartmoor.
You could check out the Visit Dartmoor website for more walking inspo.
Pin it for later: Walk to the breathtaking Foggintor Quarry in Dartmoor National Park