Last year on my walk from Hassocks to Lewes along the South Downs Way, I reached a junction where the signage pointed to Devils Dyke. In the opposite way to which I was heading. I had never been to Devils Dyke, however, I had heard of it. Particularly from cyclists. I decided that one day I would come back and hike to it.
Well, this weekend, that day came.
Before heading out, I mapped out a route I would roughly follow of 11.5 miles (it turned out to be 13.5 miles), and oh boy, I did not realise what I was letting myself in for.
What to expect on the circular walk to Devils Dyke
Now, normal me (pre-lockdown) would have been ok. But unfit me, wearing heavy hiking boots for the first time in months, on a super hot day, was taken a little bit by surprise. 
First of all, I didn't take nearly enough water, and ran out half way through (more on that later). 
Those hills
But those hills. I knew it would be hilly heading out there, but not like this. We are talking steep steep stuff, where if you slipped, there is no doubt about it, you are rolling all the way down that hill. These big ass hills don't come till much later though, when you think you are mostly done, and you have circled around at Devils Dyke to walk back. 
The views
Death hills aside, the views on this walk were simply stunning. You do work hard on the hills, but the views are your reward. Those hills are more than worth it. The rolling hills of the South Downs, in deep shades of green, with views out to the English Channel.
The terrain
A solid chunk is on gravel and grass trails. However, there are some points where you will find yourself on dirt and some mud. You will have to navigate under some low hanging branches in mini woods. To a point where, if you are very tall, could end up crawling on your hands and knees.  Some trails are quite off piste, and will have you wondering if you are going the correct way.
What is Devils Dyke?
Devils Dyke is a 100m deep V-shaped valley. There are a number of myths as to how it was formed…
One story is that the Devil was digging a trench, so the sea would flood the churches. There are a few variants as to what supposedly happened next. Some say he was disturbed by a women who lit a candle, some say roosters started crowing. Both of which made the Devil think daylight was coming, so he abandoned the dig. He then apparently threw the last shovel of dirt over his shoulder which fell into the sea forming the Isle of Wight.
Another story (my favourite one) says the Devil actually stubbed his toe on a large rock, and then abandoned the dig due to toe injuries.
But wait, there is another story. This one says that the devil was a huge goat who intended to crush the area. Once he smelt the salt water in the air, he feared his coat would get damp, so he fled the area leaving a hoof print behind (Devils Dyke).
As fun as these stories are, science says that Devils Dyke was created by solifluction, and river erosion thousands of years ago.
Want another Devil hike? 
- Try out Devil's Punch Bowl here -
Logistics for the Devils Dyke walk from Hassocks
Starting point: Hassocks train station
Finish: Hassocks train station
How to get there: There are direct trains from London Victoria which will get you there in 1 hour. If you are driving, there is a car park at Hassocks train station. It is pay and display. Not expensive though. I can't remember the exact amount, but it's just a few pounds. 
Option to shorten the walk: Yes. See below.
Distance: 13.4 miles circular route
Time: 5 hours
Elevation: Total elevation gain – 2562ft/781m
Terrain: Dirt, grass, gravel trails. Some mud if it has been raining recently. 
Ameneties: A bit before you reach Devils Dyke, is the Wildflour Cafe. At Devils dyke, there is the Devils Dyke pub. It's at the top, slightly off trail. In Hassocks, there is a Sainsbury's Local (at the main road out of the station, turn left and it's a short way along there).
Tips: Wear hiking boots/shoes. Take enough water.
Map for the Devils Dyke circular walk from Hassocks
Now, I am including both Google Maps and AllTrails. With AllTrails you can see all the little trails around you. I am going to be giving you other options to what I did. Partly because there is one small section, I only realised after, that I might have been on private property not allowed for walkers. I'm still not entirely sure. Another section I had to vear off track to go find some water. I will explain more when I describe the walk below.
Option to shorten the Devils Dyke walk
If you are planning to drive, you can park right next to Devils Dyke, and there are a number of walking trail you can pick from, to walk above and through it. Post code for the car park is BN1 8YJ. It's a National Trust car park, so is free for members. Otherwise it's pay and display.
When you arrive, Devils Dyke is pretty obvious, so you should have no trouble finding your way around.
– More walking ideas near Devils Dyke will be at the end –
---
Route Description for the walk to Devils Dyke
Upon arriving at Hassocks station, you need to follow the road out of the car park, but not too far. The first turning is a small path behind the houses on the right. There should be a signpost (or follow my map). When you reach the main road, turn right to walk towards the bridge. Just before the bridge, there is a turning on the left on the other side of the road, leading you into some woods. There are actually two paths next to each other. You need to take the one that goes up the steps.
From here, the next mile is on a narrow, not very interesting trail. However, towards the end of it, things open up briefly and you get your first view of the South Downs hills ahead on the left. 
That big hill you see over there, will be the first hill of the day.
When you reach the main road, take a left, and at the next road, just across from it, is a gate leading to a field. Go through it.
Now walk to the end of the field to the right of the building on the other side. 
When you hit the road again, go straight across it onto the trail. There should be some signage letting you know you are going the correct way.
Now continue along here and out the gate on the other side to reach the bottom of the first hill.
The windmills
There is signage here pointing in all directions. I remembered the first time I came here, I wasn't sure which way to follow up. Well, it doesn't matter. Just go up.
When you see the white Windmill up ahead, walk towards it.
I learnt a bit about these windmills last time, but in case you haven't read that blog post I will tell you. These are Jack and Jill (no jokes). Jill is the white one, Jack is the black one.
About Jill
Jill is a working windmill (working when the wind blows that is), and open to the public most Sundays (check before you go). Built in 1821 in Brighton, then moved to Clayton in 1852. She stopped working in the early 1900's, but many years later was restored to working order. You can buy some of her stoneground wholemeal flour when you visit.
About Jack
Jack stopped working in the early 1900's. He is almost unique in that he is one of the few male windmills in England. He is now privately owned and is actually a family home. They rent their place out for holiday lets and as a shooting location (video shoots, not the other kind of shoots). Let me tell you, I wouldn't mind staying there for a bit. I looked into it and saw how much it costs. Not quite within my budget. Not even close. I will have to give that one a miss.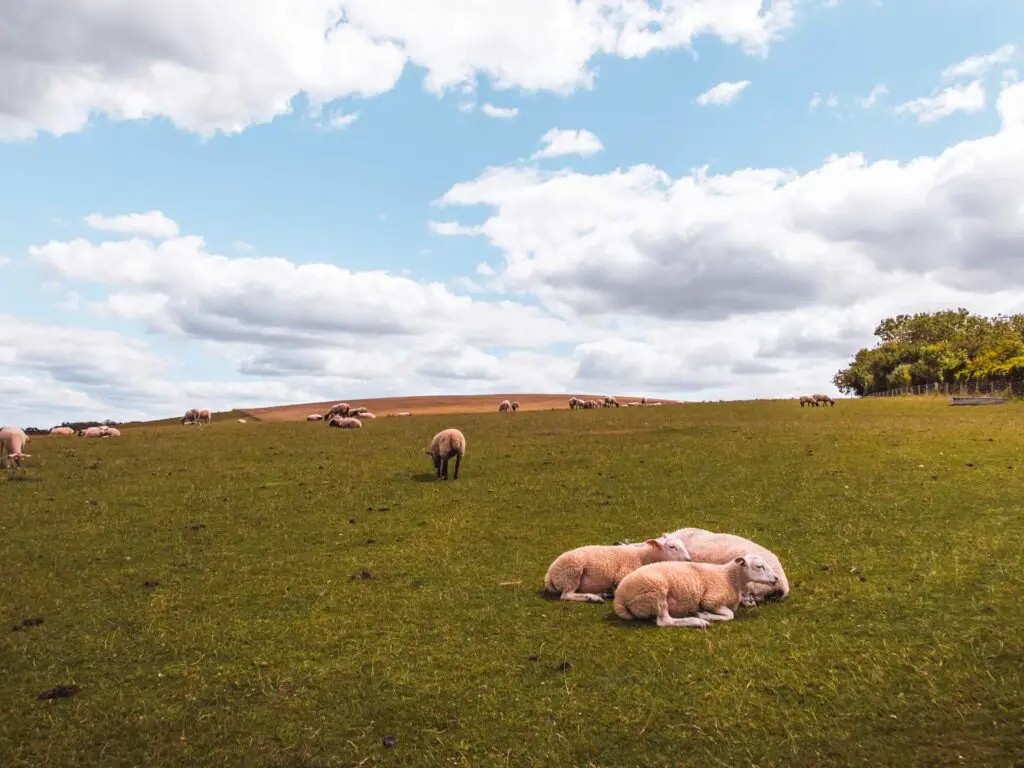 Reaching the South Downs Way
The last time I was here, I got confused and proceeded to walk in the opposite direction to which I was supposed to do. Well, now I know, you take the trail just next to Jill. There will be a gate leading onto it.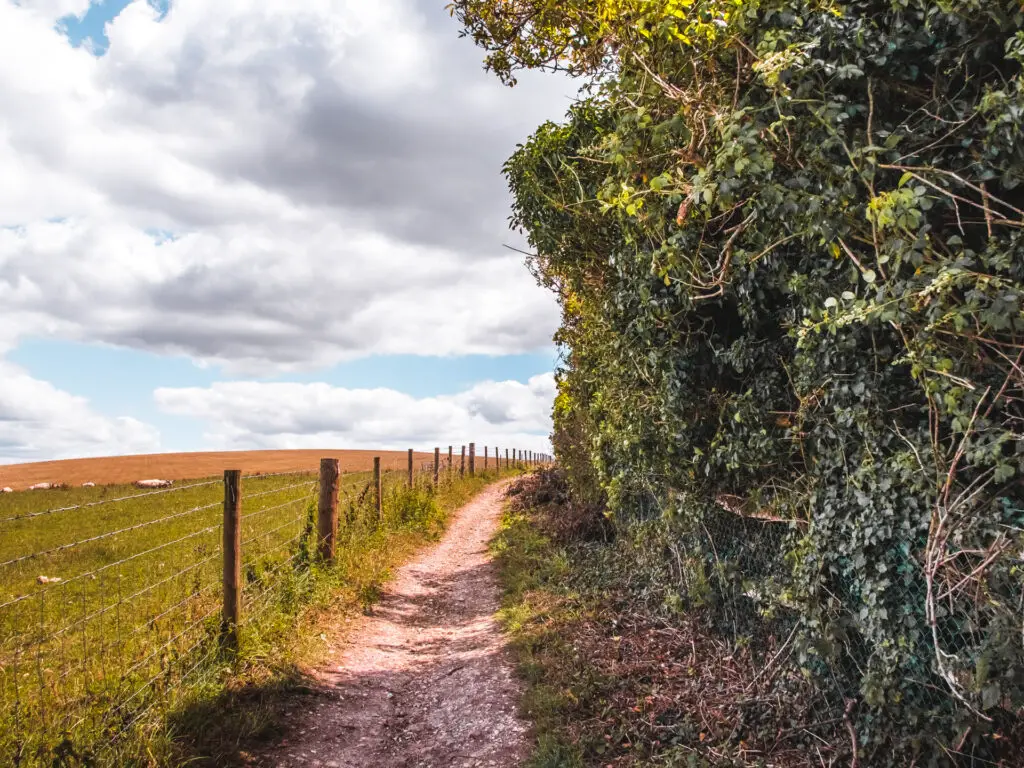 Follow this around until you reach the road. At the road turn left, and you will reach the South Downs Way signage where you can take your photo to show that you were there.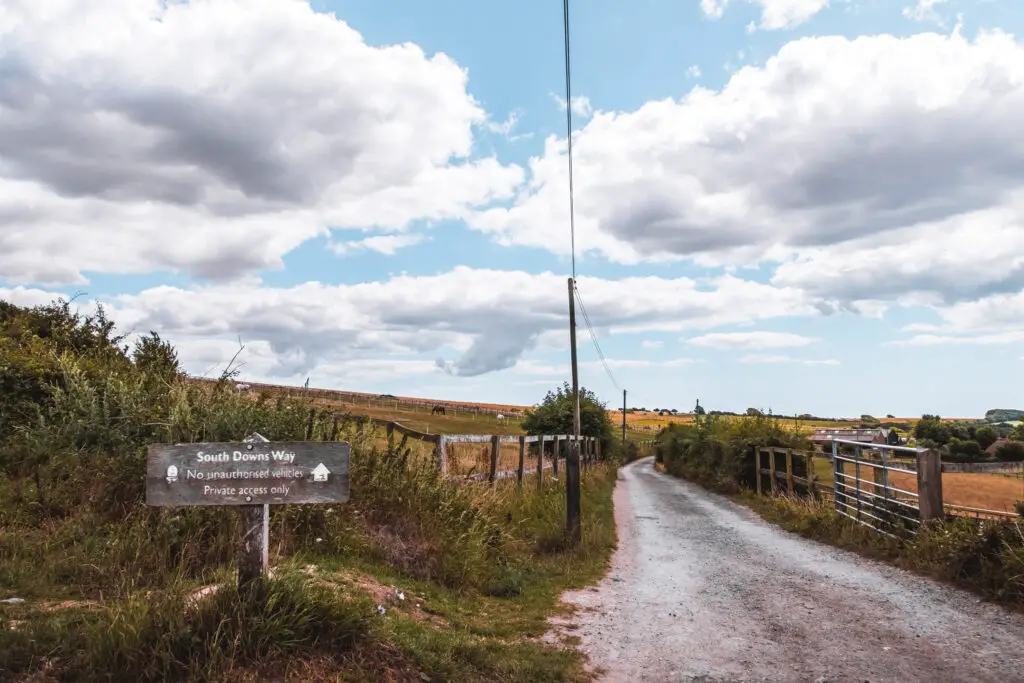 Walk in the direction of Devils Dyke
The left trail will take you towards Lewes. For today, you will be taking the right trail, to walk towards Devils Dyke.
The trail leads you downhill on gravel, with lovely views to the right of the South Down hills, then through a gate on the other end.
Here the trail becomes narrower with overgrown grass on either side. A bit more rugged.
You will pass Pyecombe golf course on your right. Quite a contrast of the rugged trail right next to the well manicured golf course. 
Other walkers
Walking along here, enjoying my peace, I suddenly heard voices behind me. I sped up to get away. However, every so often I would stop to take photos and they would catch up. It became this cycle of me walking fast to get away from them, only for them to catch me up when I would pause for a moment to get some pictures.
I decided to change tactics and let them pass. Although, I kind of regretted it because now they were in my view for the rest of this section of the trail.
The unlikely turning
At the end of the straight trail, it appears to turn left. This is the way those guys headed anyway. I checked my map and saw that I needed to go right.
The right turn was interesting in that it's not that obvious. I mean, if you weren't following a map, you would assume to go left. The right one is almost hidden. Anyway, I was glad I wouldn't have to look at them anymore. 
(I do like people really).
The golf course
At the end of this bit of trail, you will reach a gate that take you into the golf course. Now this is where you might have to do things a little bit differently to what I did
I took the trail on the left just before the gate….
Private property?
Now, if you follow this trail straight, you will eventually hit a gate to another field. I'm not sure if this field is for walkers. I say this because after walking along the trail in that field, when I reached the other side of it, the gate to exit was locked shut. So I had to climb over it to get out, which is where I saw the private property sign (for the field I was just in). I stood there for a moment thinking about it. I looked at my map app which always tells me if a trail is private. Well, it didn't say this one was. I was confused. 
(When I got home, I looked a bit more into it and the 'right to roam' laws. I still wasn't clear so I got someone else to investigate. They weren't sure either.)
So maybe, just so you don't break any rules, you should take a different route….
Alternate route
So back to that golf course. Instead of taking the left before the gate (the one in the photo above), you can go through it and walk in a straight line until you hit the main road. If you look on the trail map I have provided, you will see the trail, as it goes straight underneath where it says Pyecombe golf course, to reach the big yellow line which is the main road. 
When you hit the road, turn left and you will reach a side road which you can walk along instead of the big main road (it's the white line on the map). This will take you back to the trail I was on, but skipping out the possible trespassing. 
Now back to my trail
You will walk past Pyecombe farmhouse, and the road will take you over the big main road, with a cool view of it down below. 
Then a bit further along, an even better view of the train tracks down below.
You then have the next big hill. I was kind of hungry by this point and ready for lunch, but decided to make my way to the top and sit down to eat with some nice views.
The second big hill
So, it doesn't look too aggressive, but let me tell you, it goes on. For a lot longer than it looks. My hunger was really heightened as I made my way up it. I am being a little dramatic, but I had it in my head I would be at the top in a couple of minutes….it takes a little longer than a couple of minutes….and I was hungry.
As you are nearing the top, you will see a gate on the right. Go through that and continue left for the remainder of the uphill.
West Hill
Along here you will get some lovely views to the left of the English Channel and seaside towns. I was now happy that I waited to eat, as this would be a nice eating view. 
I pulled over just before the next gate which was a mistake.
So far, the walk had been pretty quiet. If you exclude the people at the windmill, then at the big South Downs Signage, and those other guys. But now it seemed everyone was walking through this gate.
After a little bit, I had had enough and got up to walk a bit further back to continue eating.
Walk towards Devils Dyke
Through that busy gate, you get a lovely view of a big big hill up ahead. This is where you need to walk to, to get to Devils Dyke. Now I must admit, after having sat down for a bit to eat, my legs were all stiff. I was a little sleepy from food. I was kind of ready to head home. Looking at that hill didn't fill me with excitement. I was pretty happy with what I had walked today. I did some hills, and got some lovely views, but I wasn't sure I wanted to do another hill.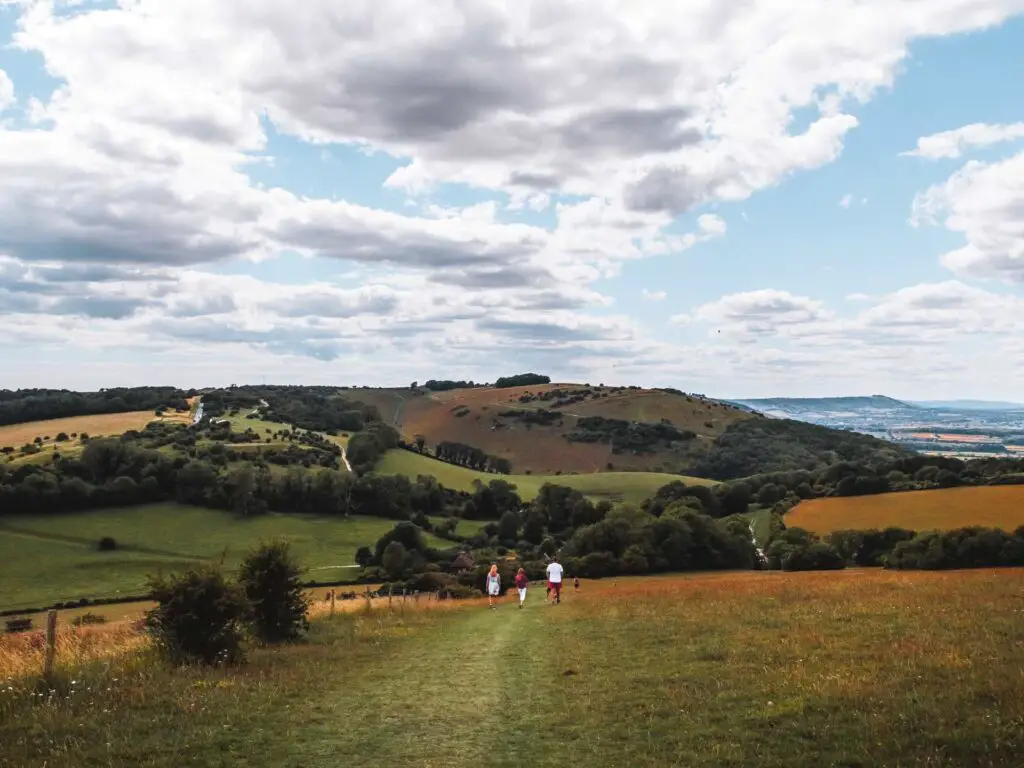 In this moment, I was sort of torn. The whole reason for doing this walk was to get to Devils Dyke, but now I kind of wanted to loop my way back to Hassocks. 
Deep down I knew if I didn't do it, I would regret it. I figured, it's just one last hill, then from there I will circle back. The way back looked shorter than the way out (it wasn't).
Oh boy was I in for a surprise. If I truly knew what was coming I would have turned back now.
That last little hike to Devils Dyke turned out to be pretty easy. It's what came next that got me (more on that later).
Descending West hill
When you get to the bottom of this hill, walk through the tree tunnel woods at the end. At the end of the tree tunnel, continue following the path straight and past some cute houses.
You will reach a fork in the trail where you can actually take either route. To the left is a cafe if you fancy a break here. I continued straight through the gate, but discovered that the trail I am taking then curves left, which would meet you if you took the turning at the cafe anyway.
You will hit a road, and the trail continues across from it though the car park. You will then pass more signage as you make your way uphill. 
Arriving at Devils Dyke
This was the hill I thought would be aggressive. It actually turned out it was fairly gentle. As you walk up it, you will have lovely views to the right of Devils Dyke. I found this section to be slightly busier with people. Makes sense as there is a car park, and Devils Dyke is a known beauty spot people come to visit.
In this instance, I was actually happy that there were a bunch of people around. It made me less nervous about walking through the cows (cows in fields make me nervous…it's a long story).
The trail will walk you around to the right, to reach the perfect spot to look down into Devils Dyke.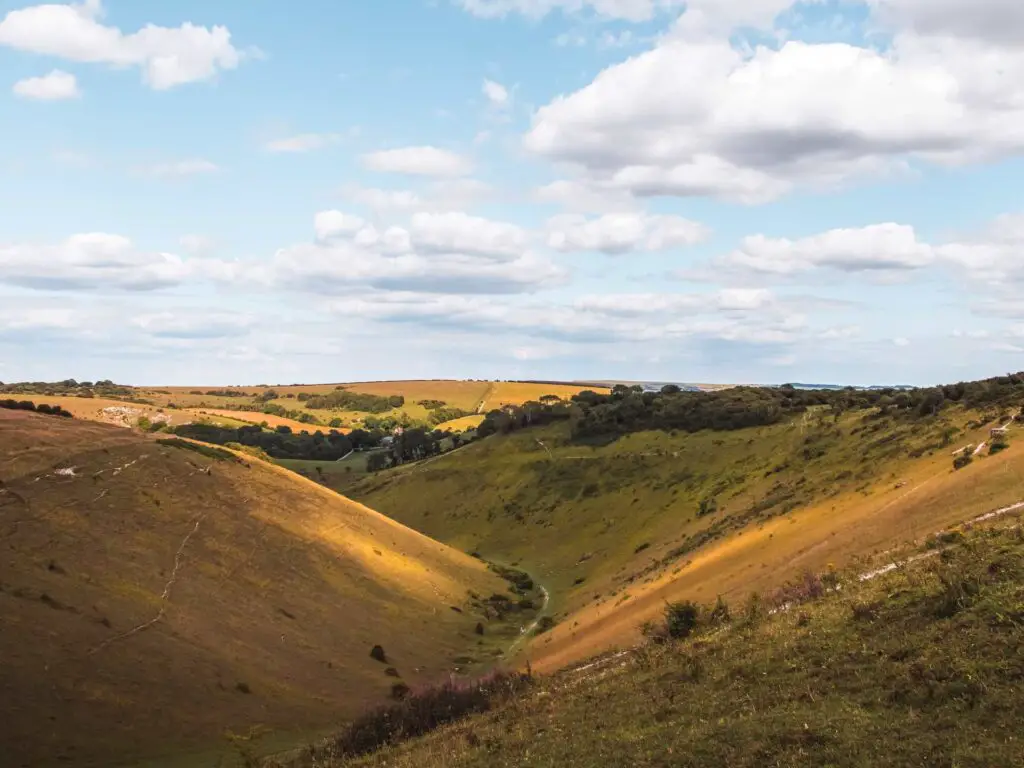 I have to say, it was pretty cool. Way better than it looks in photos. I didn't stay too long though, on account of all the people around. 
Walk around Devils Dyke
There are a whole bunch of trails to choose from to walk around Devils Dyke. Standing there, I had a little think about which one I wanted to take. I thought about descending into Devils Dyke, but then realised it would mean I would probably have to walk up again at the other end. I didn't want to create more work for myself. 
Little did I know, the other trail would descend me anyway. 
If I had only looked at the map properly, I would have seen the ascends and descends. I would have been able to prepare myself mentally for them.
Anyway, I decided to take the trail leading around the top of the hill, which leads into woods at the other end, and the start of the descent. 
The woods
Walking through the woods, there is a tuning on the right. It's very easily missable. I missed it. 
If you are following my map you will see I missed it. You will see where I took a sharp turn back. You would barely notice this trail. It's a lot more off-piste. At one point there is a big fallen tree you will need to cross to continue the trail.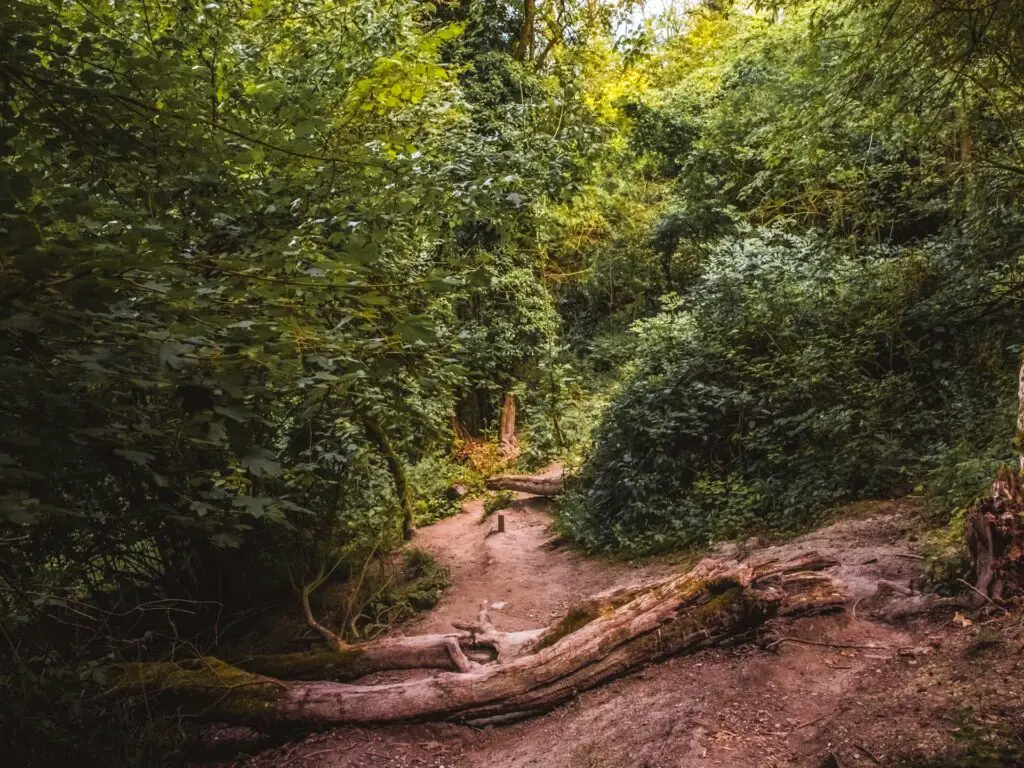 The trail goes steeper and steeper downhill, then once out of the woods, I realised I had walked to the bottom of Devils Dyke.  Exactly where I didn't want to be.
Leave Devils Dyke to walk up the hill
Now that I was in the valley, I was kind of hoping the trail would take me around the bottom of the hill ahead of me….it didn't.
There is a gate up ahead to the left, which takes you into some more woods (behind where the photo above is looking. Probably should have taken a photo of where you need to walk…but I didn't).
Make your way through these woods, and at this signpost, look right.
You should see a wall (aka, a very very steep hill). I looked at it and my first thought was….
Hell no.
The main trail going straight looked sensible. This trail on the right was something else. Now I am not averse to hills. But I wasn't prepared for this one.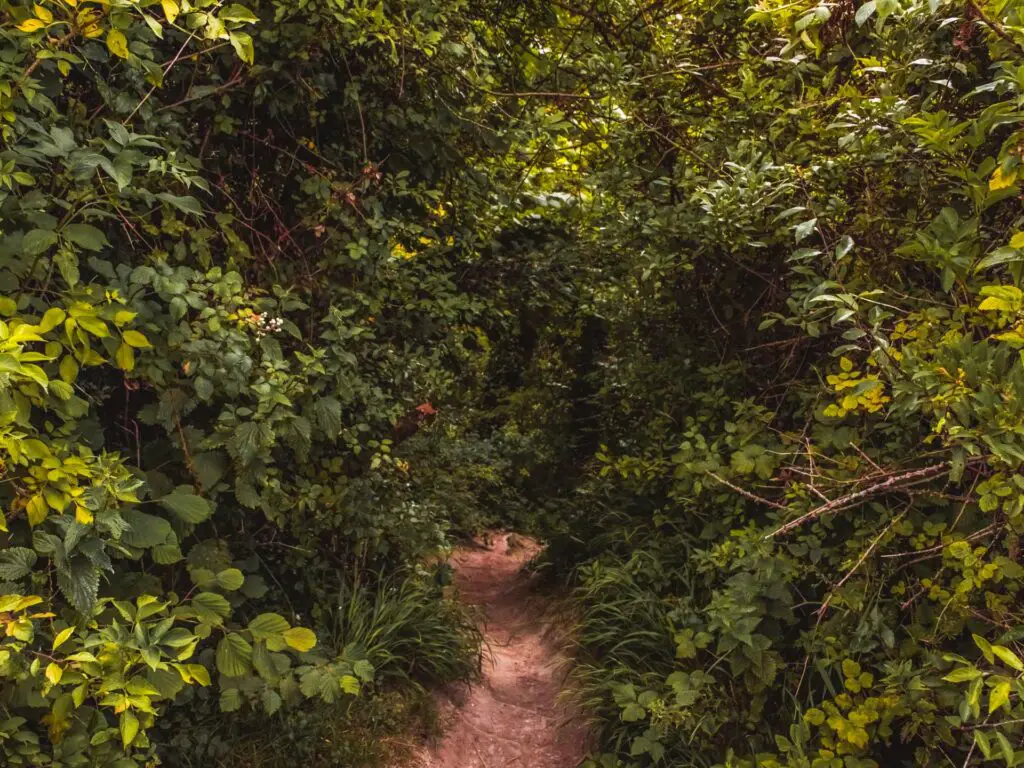 Did I mention it's very steep. 
Get yourself up it, through the gate, and a little bit more uphill, where things open up and you get some lovely views as your reward. 
Rewarded by views (and the start of watergate)
Ok, I need to say this again, the photos don't do it justice. My mind was truly blown.  The rolling green hills, and the way the sun shone down on them creating a sort of glow. 
So, I told you I had a bit of water trouble on this hike. Well, it starts here. 
I had realised at Devils Dyke I was running low, and needed to ration it for the rest of the walk (I had only brought 700ml out with me that day). Once I walked up this hill, rationing was not possible and I finished the lot. I figured I would be fine, as I was nearing the end of the walk and could wait it out.
-The story continues later-
More uphill (optional)
When you hit the road, cross over it and up a bit more to reach another trail.
You will see there is an option to continue up the hill or walk around it. I thought about what to do for a moment. Then decided I wasn't quite ready to go up again. I knew I would have to at some point, but for now, I was going to take an uphill break, so I followed the trail around the the left.
The views along here continued to blow me away. Now, the road is just below, so you can hear it. If you would like to avoid this, then you should take that uphill now. The road didn't bother me too much. As you go further along the trail, you can't actually see it. And in that moment, I was willing to sacrifice road peace to not have to walk uphill again (yet).
More uphill (mandatory)
The trail makes it's way through a mixture of open space and some woodland. Then once you reach a junction where there are steps going down to the left, you take the right. Up that hill.
More view rewards
As you get up that hill, you should see a grass trail going left and right. You will take the left, but also make sure to look back down for more stunning views.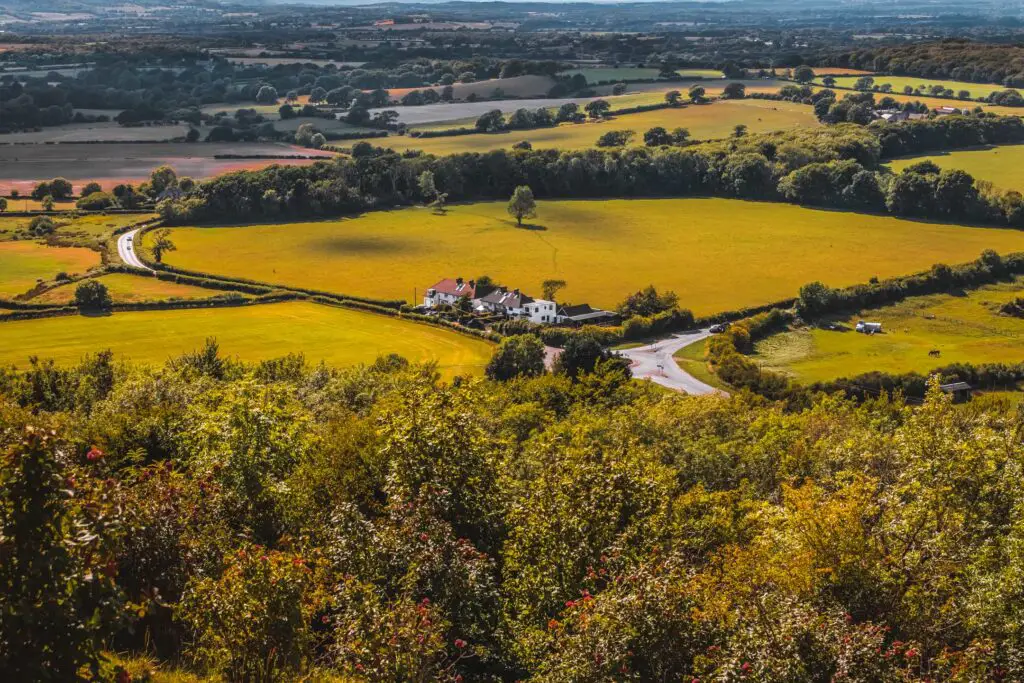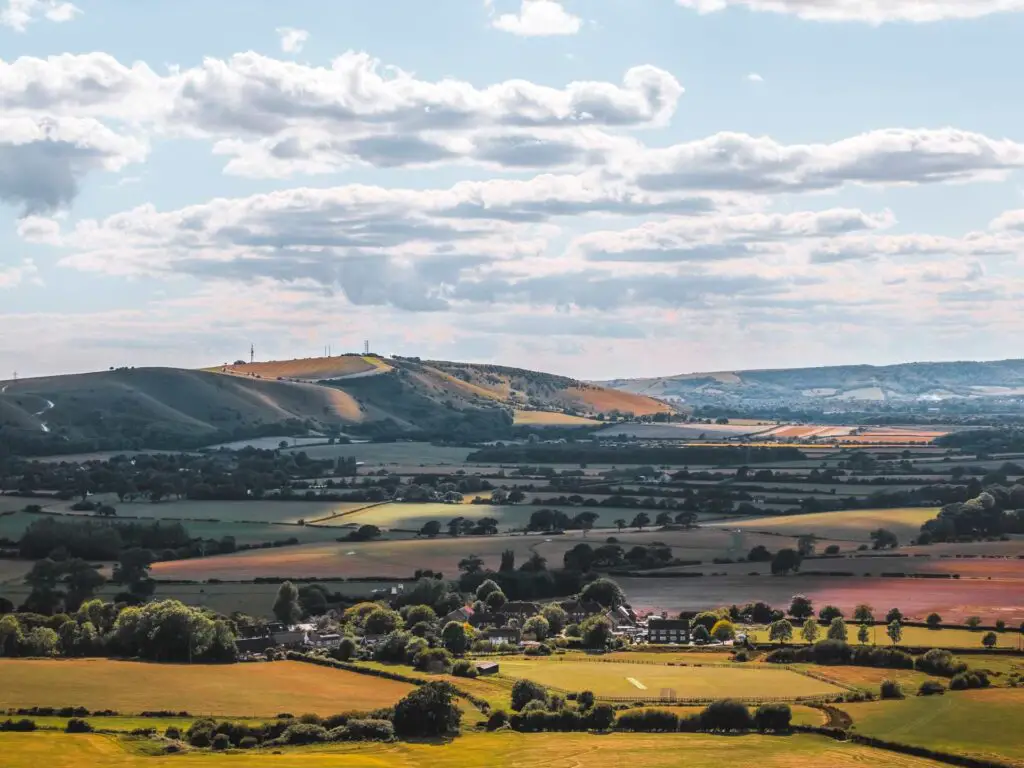 I know I have been moaning a lot about these uphills, but with views like this, it makes them worth it. I love a good uphill view reward. 
Off-piste
The trail will take you around and deep under trees again. This is where things get a little interesting. It was a super sunny day, and up until this point, the trail was dry.
Well, here I found the mud patches.
I was previously annoyed at myself for wearing these heavy, hot hiking boots. Now, this bit is where they came into their own. For this little bit, they were worth wearing. The trail is almost not visible, and the tree branches are hanging so low in points, that I had to do some serious crouching and dipping. My hair got caught a few times, and literally pulled me backwards giving me a good neck yank. 
The bit I can't remember because I was so thirsty
– the Watergate story continued –
At this point I was really struggling. I was so thirsty and dehydrated that I was feeling weak and a little dizzy. 
I thought about drinking my urine (no I didn't really think about it).
Even if I was considering it, I was so dehydrated. I had no urine.
In the dazed state I was in, my memory is a little hazy. As such, I can't describe to you which turnings to take because I really can't remember. I am looking on my map and the photos, and I'm not sure exactly which bit this is. There are a number of trails and turnings, so the best thing is to use my map to guide you. From my photos, I can see that I came out of the woods then went back in again, then came out again as I headed downhill to reach a farm.
The photos below are from this section of the walk. So if you see these things, you know you are going the correct way.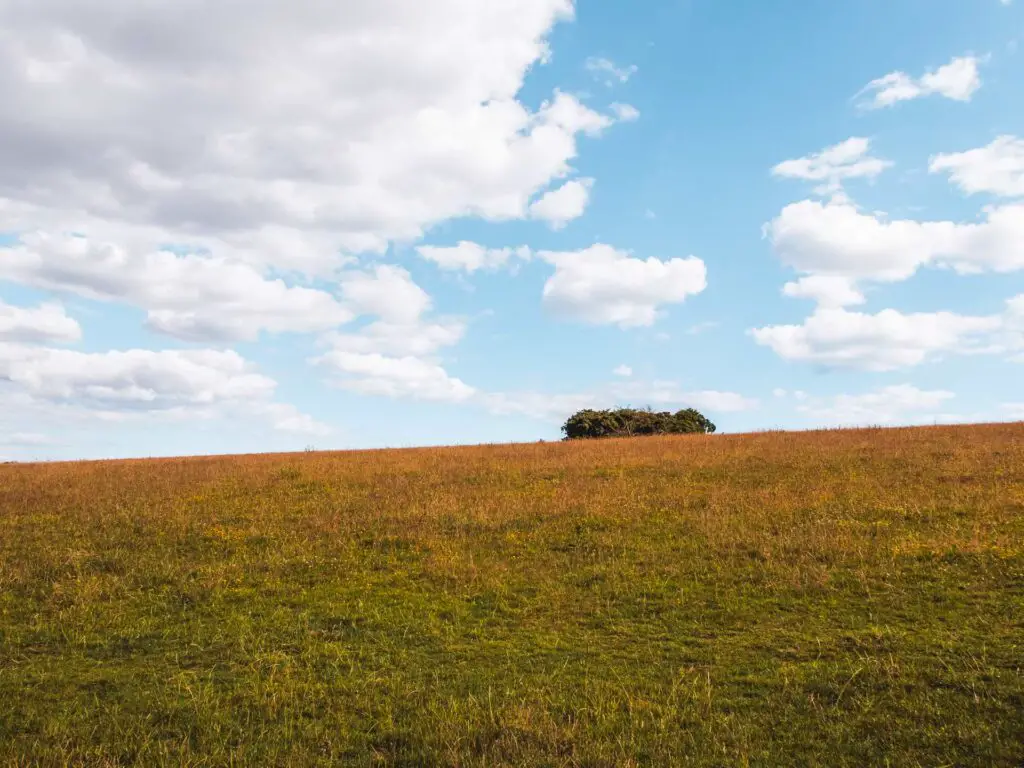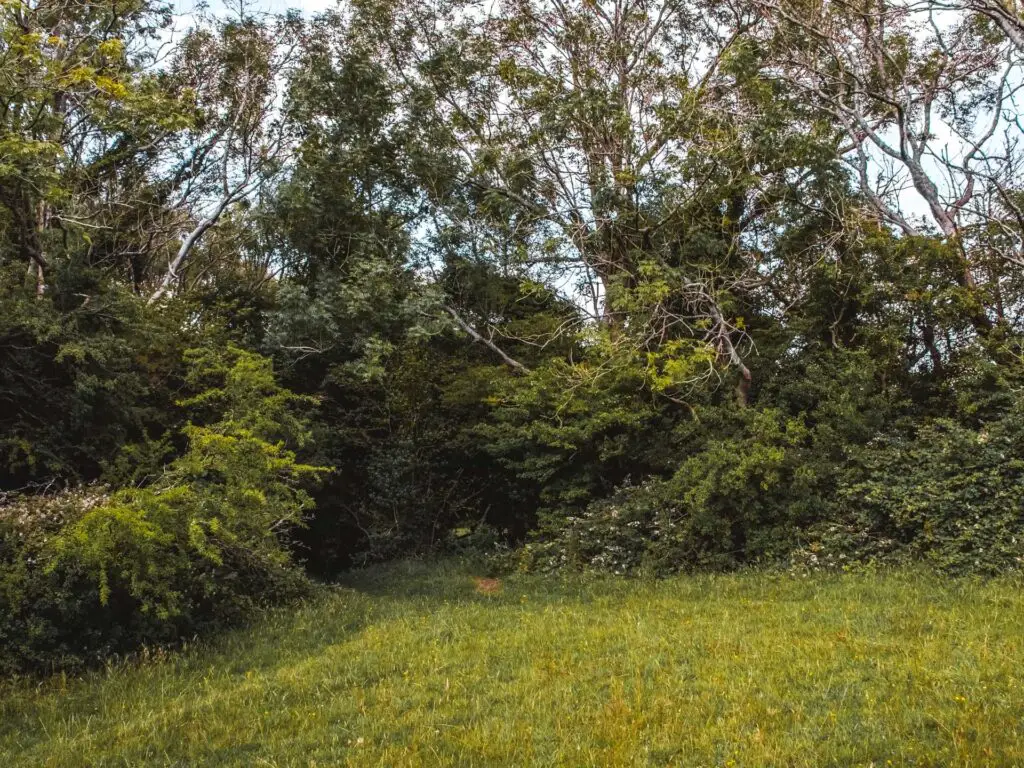 I can remember though, that when you get to a farm, the trail goes to the left of a tree.
Reaching Pyecombe
As I made my way downhill, I knew I was approaching a village. I thought about knocking on peoples doors to get some water. However, given the current world situation and people social distancing, it might not be appropriate. But I was desperate. 
Before resorting to that measure, I had a look at Google Maps and saw a pub. But would it be open? I needed to try.
Looking ahead to the next uphill past Pyecombe, I didn't think I would be able to make it up. I would probably collapse on the side of it, and shrivel up and need to be rescued.
Water detour at Pyecombe
So, if you are sensible and took enough water and aren't about to pass out from dehydration, you should continue through Pyecombe to take that hill up. You will see the trail on the map I have provided. You will see where I took a right along the road in the hunt for water.
I do not recommend taking the right along the road like I did. It's very boring and only for emergencies. That trail that goes up the hill from Pyecombe (the one you should take), joins me later on.
I didn't end up going to the pub. Once I reached it, I noticed a M&S petrol station up ahead. I love a bit of M&S, and went there instead for some M&S comfort. 
The final uphill on the Devils Dyke circular walk
After M&S, I sat on the side of the main road with my water (and M&S snacks) and felt the life slowly come back into me.
I felt ready now, to get to the end.
There was no way though, that I was walking back along the road to Pyecombe. So I found a trail from here, and made my way up.
The home stretch back to Hassocks
If you took the other trail from Pyecombe, it will join me a bit further along. Somewhere along here (see photo below).
At the road, turn right, and at the next road you will get a cool view of the train tracks and tunnel down below. 
From here, the rest of the trail goes back along the route you started on. You can see the trail to the left past the railway tracks. 
Then along that trail, it's straight down back to Hassocks.
---
Final thoughts on the Devils Dyke circular walk
I should have taken more water.
More walks near Hassocks and Devils Dyke
If you would like to do a section of the South Downs Way, you could try a walk near here, from Hassocks to Lewes. That one takes you past Ditchling Beacon, another cool viewpoint.
I also recommend another section of the South Downs Way just past that one, from Lewes to Southease. It is a long one, but has some stunning scenery. It's my favourite walk for rolling South Down Hill goodness.
For more walking ideas in the South Downs, you can check out the South Downs website.
Pin the Devils Dyke circular hike for later: