Wow. This walk might now be one of my favourites. To me, views are everything. And this one has them. Boy does it have them. The walk from Lewes to Southease has a hike up two big inclines followed by ridge walks. But it's after that second incline that the magic happens. Walking in the South Downs, having views of the rolling hills is not unusual. But something was different about this one.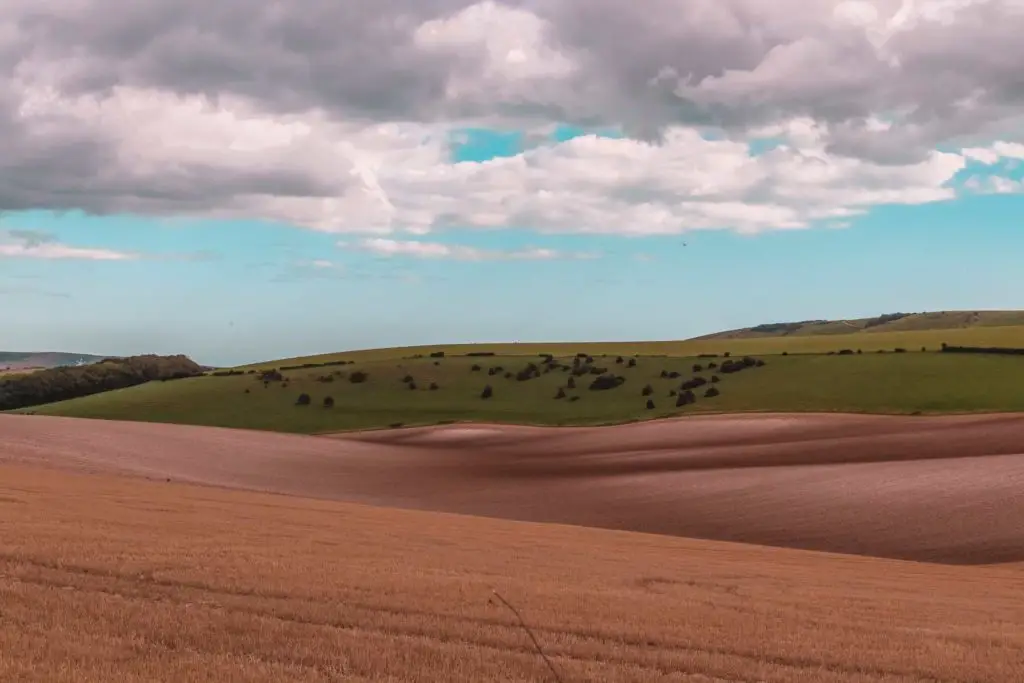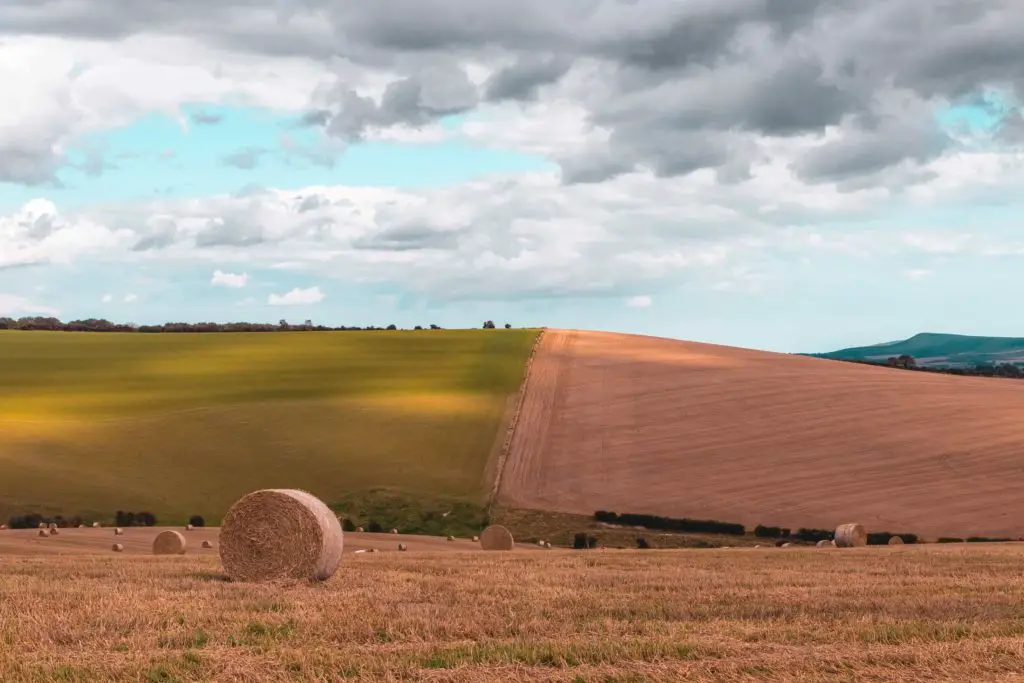 I found myself walking along a ridge with a 360 degree view of the hills, with their gentle undulations, and patchwork fields of different shades of green, brown and yellow. Then a view out to the English channel, which almost looked unreal. A perfectly sharp horizon of deep blue sea meeting light blue sky.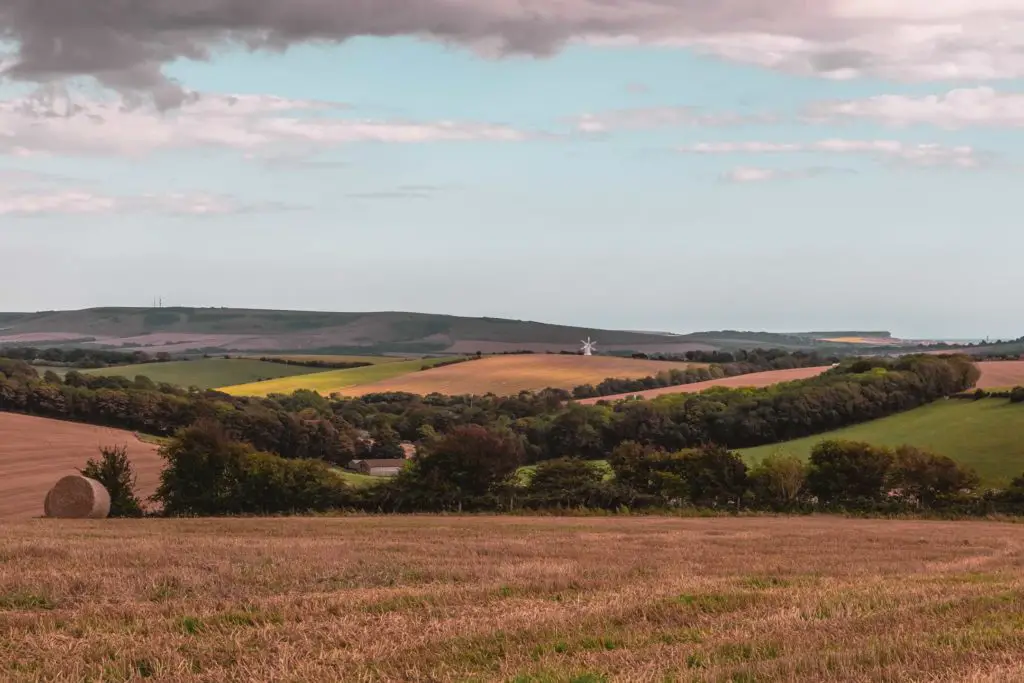 I took about 600 photos on this one. I just couldn't stop. With great difficulty, I managed to narrow it down to about 70, but that is still too many for this blog. So I narrowed it down further, and once I chose my photos, I entered them in the post. But it was still too many, so I went through it and made myself remove some. But still, this is now my most photo heavy blog post.
Now, you may know by now how I feel about cows in fields (scared). Well, this one had plenty. There was even the dreaded bull. I didn't see him, but a sign warned me he was there. Somewhere.
This walk is about 14.6 miles and covered 10 miles of the South Downs Way. There is a slightly shorter walking route from Lewes to Southease, but I did this one in a C shape in order to pick up the South Downs trail where I left off. If you don't want to walk the full distance, I will let you know how to shorten it later in the post. 
Now, lets get to the good stuff.
(Logistical info such as how to get there, timings and an interactive map will be at the end)
The walk from Lewes to Southease
You will start your walk to Southease, from Lewes train station. Once out of the station, follow the road straight ahead up a short steep hill. Keep going straight until the very end, and at the T-junction turn left. Take a right at the second or third road (either will do), and once you reach the church, walk downhill to the left of it. 
You basically keep going straight till you hit the bridge over the river Ore. Don't go over the bridge. Instead, take a left and follow the trail with the river to your right and bushy goodness to your left.
You will then reach an open field. Walk to the other end of it and go through the little gate. After the second gate, you will leave the river by taking a left to go under the metal bridge.  You will next be walking in a field, with a gorgeous view to the left…
And a view ahead of a white chalk cliff face. A glimpse of how far up you will have to walk.
The first incline
If you continue straight you will reach the woodland. Enter through the gate and take the path to the right. Now you go up.
Continue on, going under the telephone pylon till you exit the woods in the village of Offham.  Continue, keeping left till you reach the main road just a short distance ahead. 
You need to cross this road, but be careful of the cars. It's a winding road and the cars look quite vicious powering along it. 
You take a left along the road, then take the small path to the right just next to the 'bend in road' sign. I don't know if that's what those signs are called, but that's what they mean (I think) so I'm going to go with that. 
Take the right fork in the trail and make your way uphill again.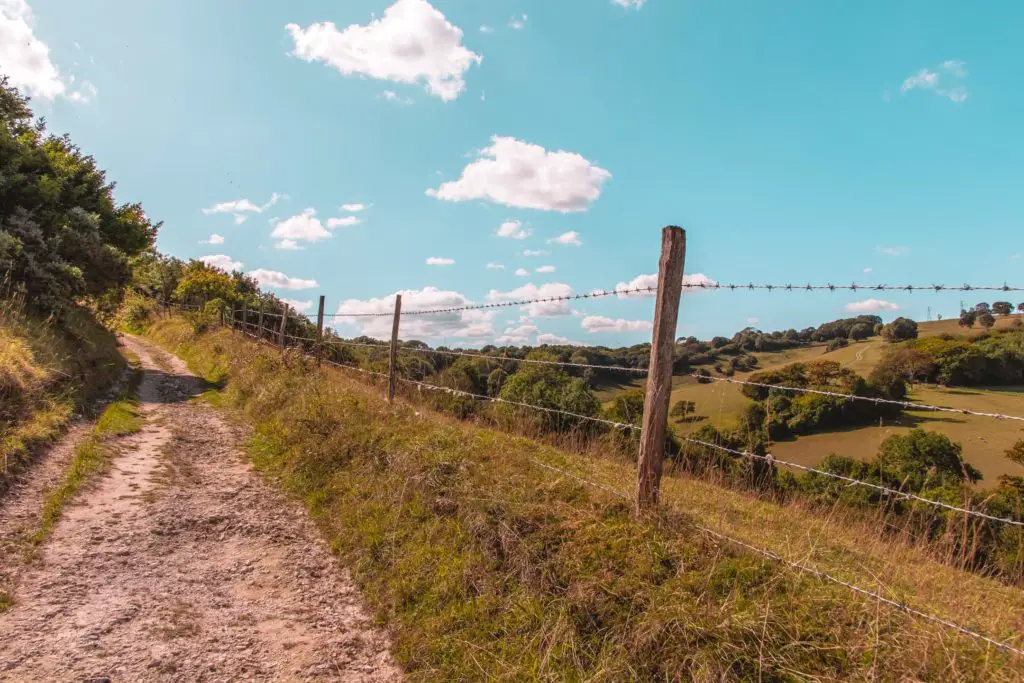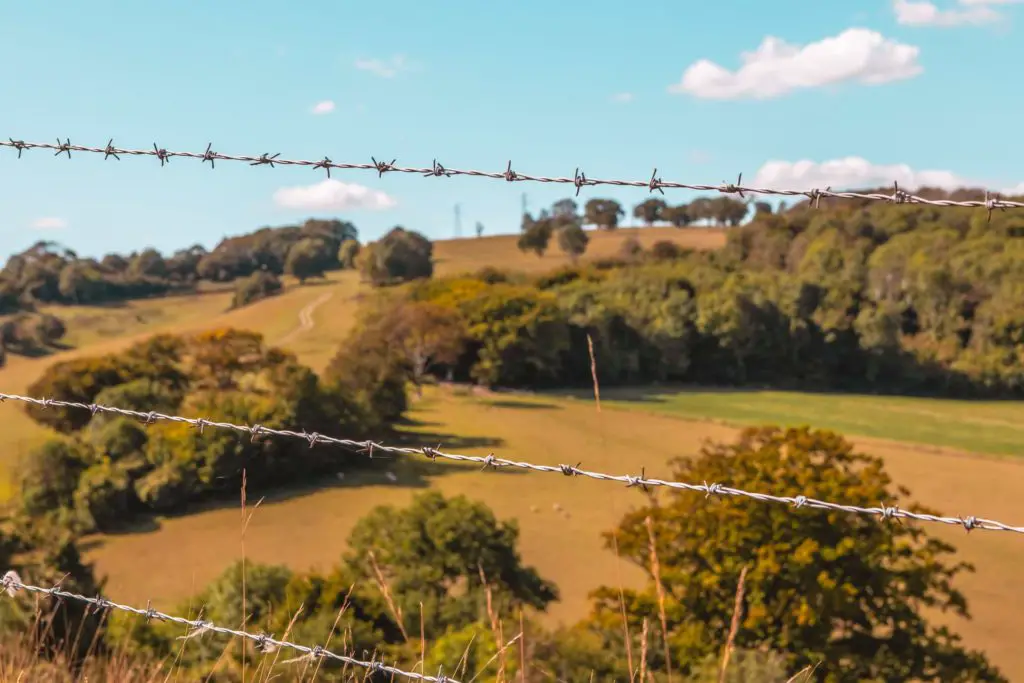 Continue going straight till you reach a point where there are metal gates on either side of the trail, take the right just before the gates and walk with a fence to your left.  Continue along, keep the fence to you're left past the next bend and you will soon reach an open field.
The first ridge walk
Walk through the field, continuing up, and under the telephone pylons. You will be continuing on in this direction for a while, and after going through more gates you will find yourself on the first ridge, with views to your right down to the villages below, and views to your left of the South Downs hills. 
I can't recall how many gates you walk through on your way up, but at one of them you will see your first signage pointing to the South Downs way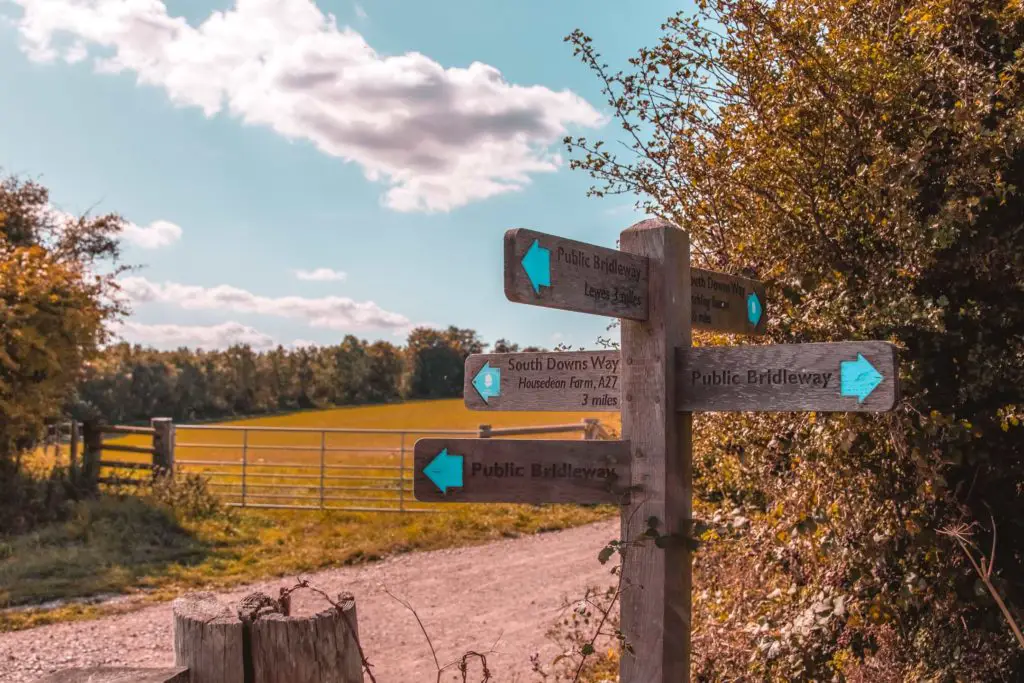 The South Downs Way
You made it! Welcome to the South Downs Way. The trail sign will point ahead and to the left. Take the left turn onto a much smaller path with nothing but views of the South Downs hills ahead (and some telephone pylons). From here on out, you will be following the South Downs Way. There are many more twists and turns for the rest of the walk, however, I'm not going to direct you turn by turn anymore because it's very well signposted. Every single junction you come to will have SDW signage. But I will still tell you (and show you) everything you will see.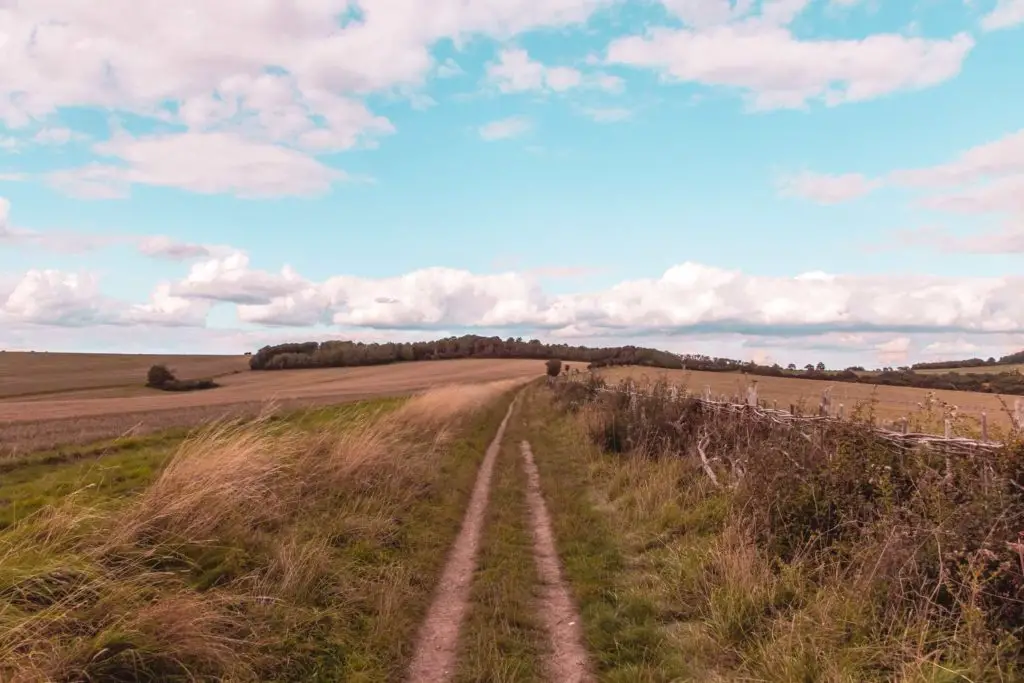 From the start of the SDW, you will continue for about 2.5 miles gently downhill, passing by fields, and maybe even some haystacks……I was truly tempted to go and jump on them.
(I have walked along this way a couple of times and the haystacks aren't a permanent fixture, so you aren't guaranteed to see them)
Next, you reach some woods where you have a very steep but short incline. Then once out of the woods, you walk down a steep hill until you hit the road.
The road and the half way mark on the walk from Lewes to Southease
So, you will know the road is there, way before you even see it. It's loud. The SDW signage will direct you to a bridge to go over the road, then for a short while you will walk on a path alongside it. Did I mention its a loud road?
You actually have the option to start the Lewes to Southease walk from this point, if you don't want to walk the full 14.6 miles. I mention this because the second half of the walk, from this point, was my favourite part. That's not to say the first half wasn't good, because it was, but I realise some might not want to walk that far. I detail in my logistics section at the end how to start from here.
The second incline 
Once you leave the road, the walking trail will still be level for a bit as you pass by more fields.
Then you start to go uphill.  As you make your way up, take a look right for some gorgeous views of the hills through the bushes and trees.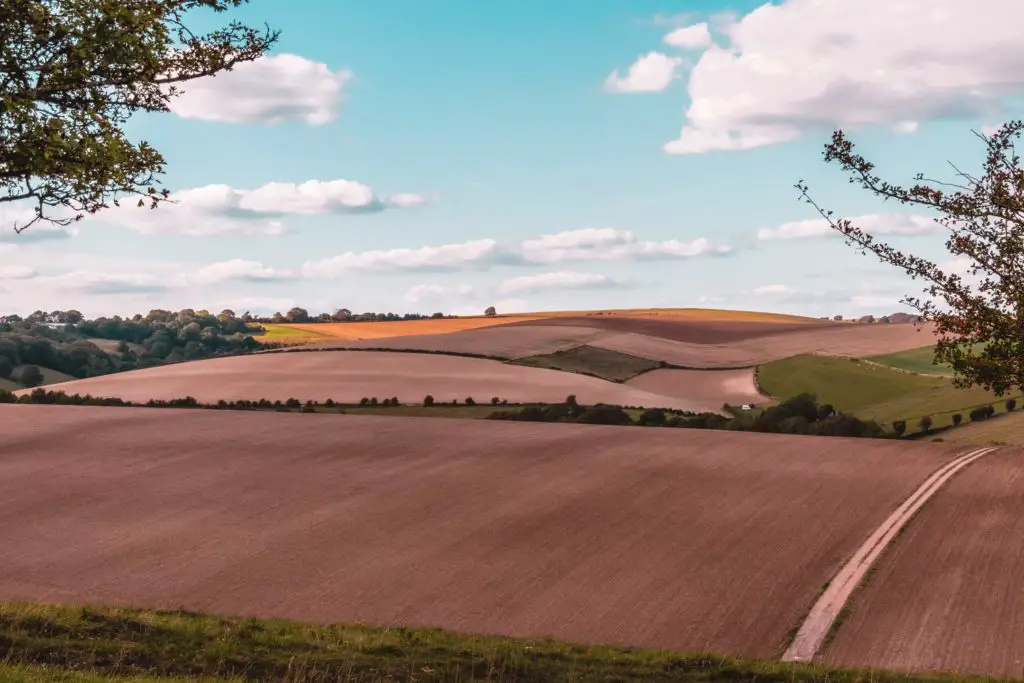 As I made my way up I saw some cows up ahead, right in my path. Hmmm. There was an opening into the next field. So I took it. I wasn't going to take my chances with the cows. I continued up with the fence to my right (and the cows just the other side of it) when I then noticed another opening in the fence….right next to the cows.
I stood there for a solid 5min working up the courage to walk past it where the cows could get me. You might think I am being dramatic, but these cows were being feisty, jumping on each other. Maybe they were mating. Well, whatever they were doing, it was scaring me. lol.
Well, I did make it safely past the opening, then made my way further up the hill. 
The second ridge walk (where the magic happens)
You will reach the ridge and find yourself surrounded by the rolling hills of the South Downs, and you start to get a peak of the sea.
The Bull
Over the past month, I have found myself in a field with a bull twice. I did say in my blog post about walking from Faversham to Whitstable that things come in threes, so I am due one more bull encounter. This time I was warned about the bull. I did think twice (or 5 times) about whether I should walk through this field or turn back. Well, I had come this far. I had to keep going. 
As I made my way through this field, I was on super high alert, keeping myself next to the barbed wire fence, prepared to jump over it if the bull appeared. Thinking about whether I would be able to make it over the wire without getting cut. I concluded that I wouldn't and that I might leave here today all cut up.
It was scary walking through this section, but I also wondered if a bull really was in here. The trail is near a pretty steep decline into the valley below. Maybe the sign was pretend lol.
My guard went down a little (but only a little) and I was able to properly look at my surroundings. You can even just about spot some white sea cliffs in the distance. I suspected that was the cliff of Seaford Head.
Well, I'm pleased to say, the bull did not appear, and once I left the field, my guard went back down to normal levels. As I didn't see the bull, does this count as the third time? Probably not, which means I am still due one more bull encounter….
Views out to the sea, and seaside towns
You will soon leave the trail and find yourself on a small road. This seemed like a good place to take my photo…
It is from here that you get good views of the towns by the sea, Newhaven and Seaford. It all seems so close, I wondered how long it would take me to walk to them. But no, Southease was my destination today. The walk to the sea is for another.
Descending off the ridge towards Southease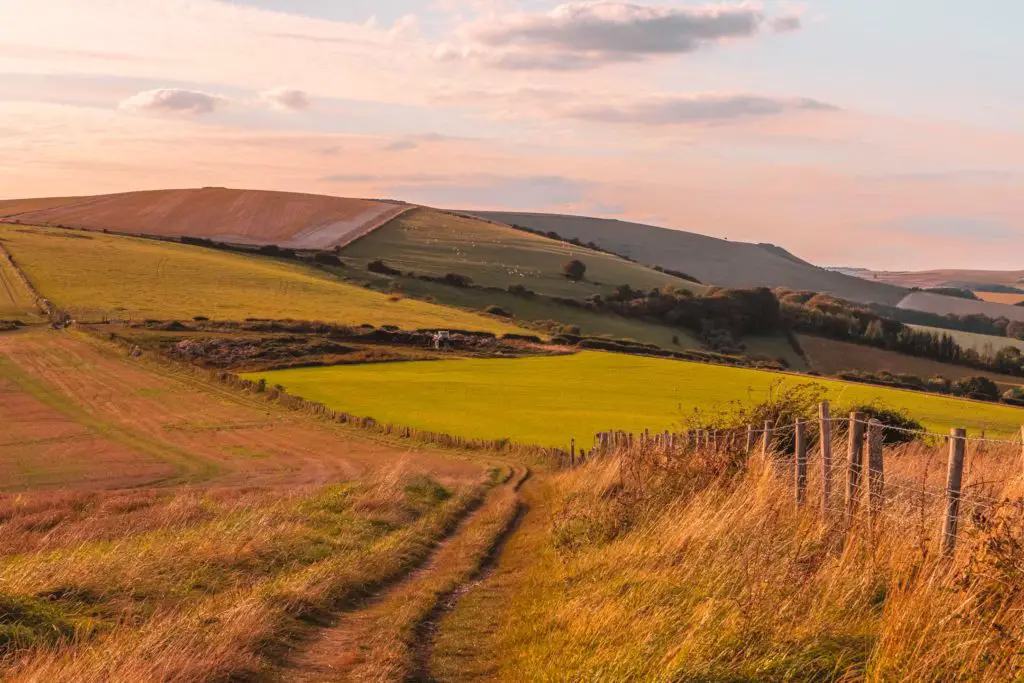 As I made my way downhill, a couple of farmers in their trucks drove on by, I looked at the time and realised a train would be arriving at Southease in 15 min. The trains are once an hour, so I decided that I would make this train and started power walking……
It actually took me about 45 min to get to the station from this point. Not even close lol.
The path lead me to a section with high fences either side, and signage warning of traffic up ahead. I couldn't hear any traffic, but ok. 
I laughed a bit when I reached the road. There was no traffic lol. Just a quiet road with signage pointing the pub. 
I instead continued following the direction of the SDW, I had a train to make (I still believed I would make it at this point).
Once I realised that train was not to be mine, I was kind of happy. I no longer had to rush and could really take in the sights again. With cows and haystacks dotted about in the fields below, I realised I was walking towards a farm house. I decided that maybe I will marry a farmer. Then I can live here.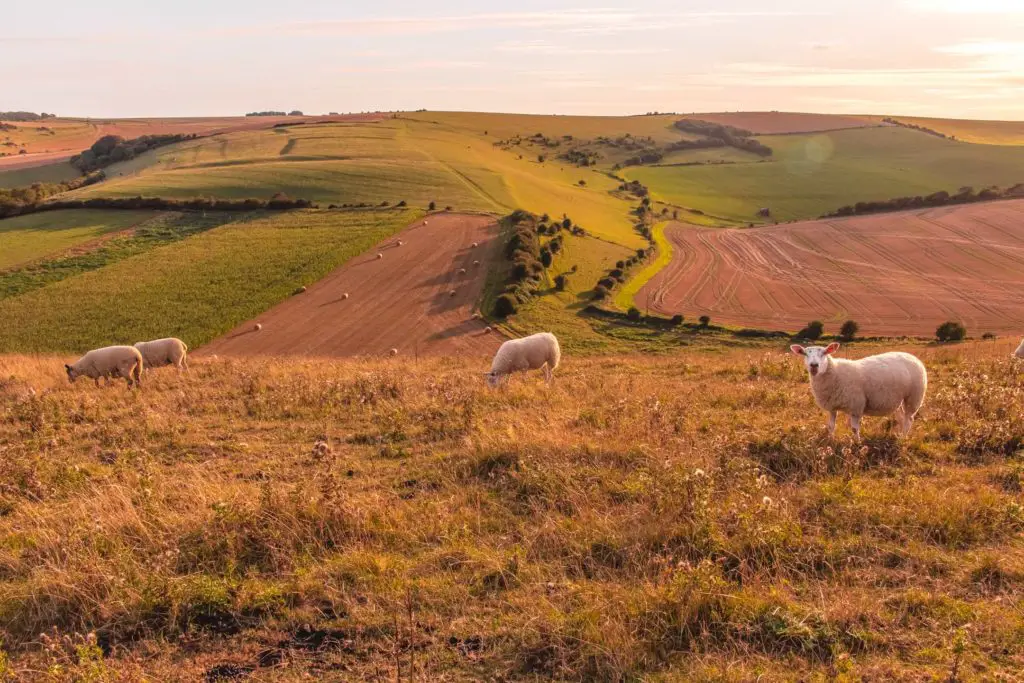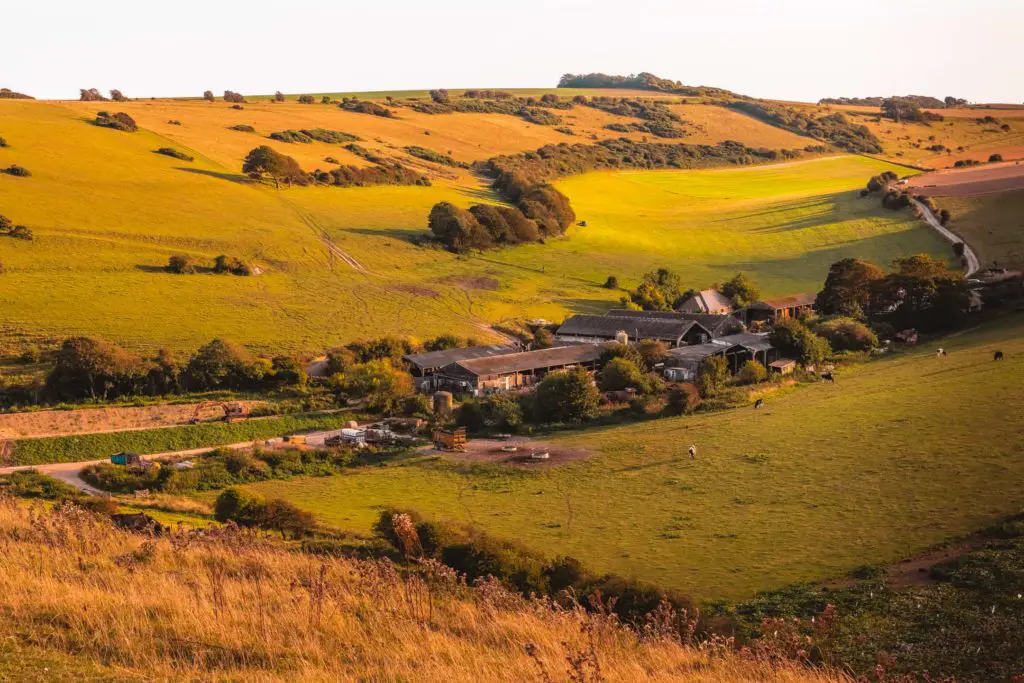 At the bottom, I took a left away from the farm house, leaving my imaginary farmer husband behind and found myself on a main road. I missed the turning. There would have been a right turn a bit further back. I didn't go back, but decided to continue along this road, and meet the trail a bit further on. Don't worry, if you make this mistake like I did, it's only a short walk along this road before you are bombarded with South Downs Way signage.
All about the South Downs Way
I passed an unusual amount of South Downs Way signage. Just a little reminder in case you had forgot where you are.
Reaching Southease Station
The sun was now hanging low in the sky, giving a sort of warm pink tinge to my surroundings. My train was not going to be arriving for a while, so as I passed over the bridge of the river Ore, I stopped for a moment to watch it. It was so calm, just how I was feeling in that moment. Calm, content and a little sleepy, as the day was coming to an end. 
I noticed on my map that there was a hostel near by, and I became filled with this desire to spend the night here. I didn't want to go home. The train journey back to the city was 1.5 hours, but really I wanted to stay in this peaceful place and wake up in the morning in the fresh air before continuing on with this walk to the sea. 
Up until now, I had not had the desire to do this trail by sleeping my way along it. But rather, wanted to complete it as day trips. This is the moment things changed. I knew there were sections of the trail that don't take you anywhere near train stations, and I hadn't quite figured out the logistics of those parts yet. Well, now I knew. There was no doubt in my mind that I would be spending the night in the South Downs as I walked from one section of the trail to the next……
Logistics on how to walk from Lewes to Southease 
Start: Lewes
Finish: Southease
How to get there: Buy a return ticket from London Victoria to Southease. The train is direct as far as Lewes (which is where you get off to start the walk). Then from Southease, it's one stop to Lewes, where you make a change for the train to London.
Distance: 14.6 miles, to walk from Lewes station to Southease station in a C shape. My favourite part of the walk was the second half, so If you don't want to do the full 14.6 miles, you can cut out the first 7 miles and start from the main road (A27) which is the halfway mark. To get there, head up the hill out of the station (on Station road). At the high street, jump on the 29 Regency Route bus heading towards Brighton. Get off at Housedean Farm, and just up ahead, the South Downs Way tail will be on the left. You could technically walk to this point, but it's a very boring 3 mile walk, mostly along a busy A road.
Time: It took me about 6 hours, which included lots of photo stops. But no lunch stop. Wow. I've only just realised as I write this that I walked a very long way without stopping to eat. 
Elevation gain: With all the hills you will have walked up about 2018ft (615m), but the highest point of the walk is roughly 690ft (210m)
Terrain: Narrow dirt trails, grassy trails, gravel paths and a bit of asphalt road at either end.
Difficulty: Medium (I'm calling it medium because it's a long one).
Map – Lewes to Southease walk
Click on the little box in the corner to open in your Google maps.
More walks in the South Downs
I did this walk as a continuation from the section of the South Downs Way, from Hassocks to Lewes. Or now that you have seen the ocean and a glimpse of the white cliffs, you may be tempted to head to them to walk the next section from Southease to Seaford and then continue along the Seven Sisters. 
If you would like a circular hike, you could try a hilly 13 mile one from Hassocks to Devils Dyke.
I found this website with more South Downs walking ideas, including circular walks which would work really well if you have driven to the area.
Pin it for later: A guide to walking from Lewes to Southease