You often have to work hard to get awesome views. Not on this one. Well, you have to work a little hard. But only a little. The walk from Hassocks to Lewes is mostly a ridge walk with views all around you of the South Downs National Park and the villages down below. You even get a view of the English Channel…..But you have to get up to the ridge first.
You hike up the steep hill to the ridge early on out of Hassocks, passing by the Jack and Jill windmills on the way. Then follow the ridge, to reach the highest point of the walk, Ditchling Beacon (248m). After this, things are pretty much level (with some gentle hills) and then downhill for the rest of the walk to Lewes. Oh, and there are lots of sheep and cows on this one.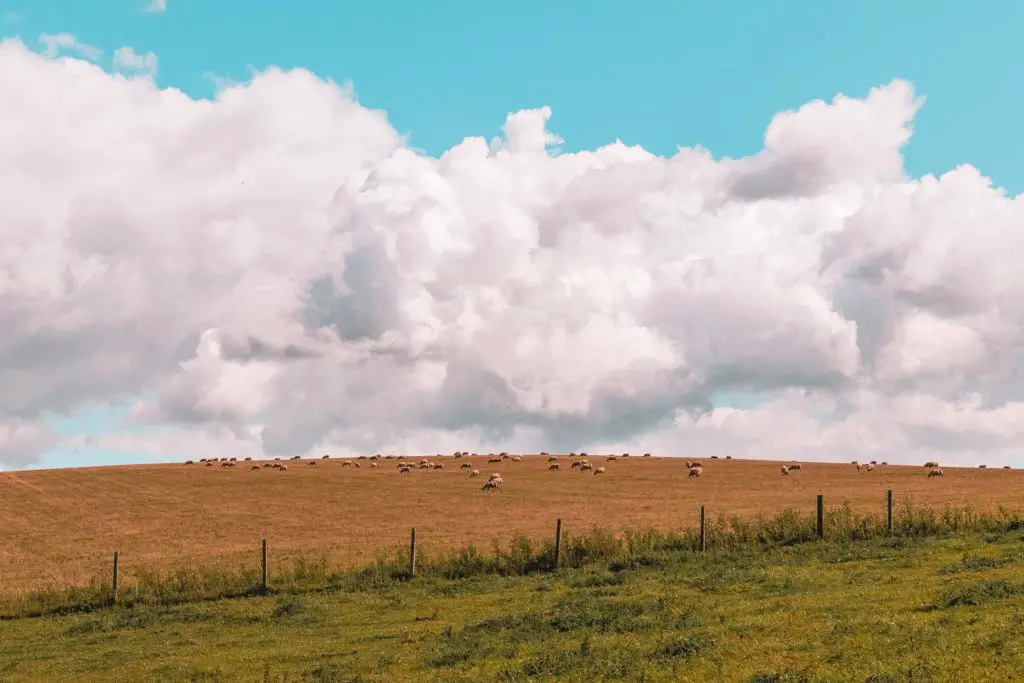 Why I wanted to walk from Hassocks to Lewes via Ditchling Beacon
This walk covers 11.4 miles, with 4.3 miles of that being the South Downs Way. Those extra miles are on different trails and get you to and from the towns of Hassocks and Lewes (and their train stations with direct trains to London).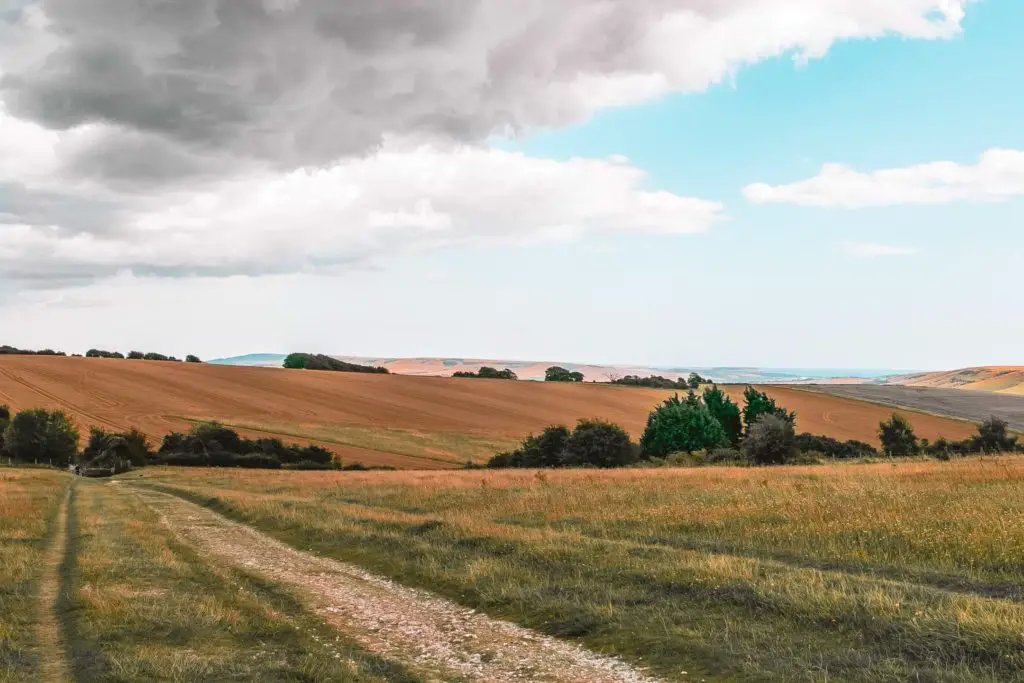 As it is my goal to walk the whole of the South Downs Way (in stages), this section was high on my list, due to easy access. I have had a good look at the whole route and some sections will require either mega long walks to reach train stations, an overnight stay, or alternatively I will need to get the dreaded countryside bus.
Anyways, what I am trying to say, is that this section of the walk, from Hassocks to Lewes is very easily accessible from London, with direct trains taking just over an hour.
And one last thing…..
I noticed a lot of cyclists on this route. Ditchling Beacon isn't just there to walk up, it is also a popular hill for cyclist.. It looked like fun…..and I got bike envy. I suddenly decided that I must get my own bike and come here to cycle the whole length of the South Downs over 2 days. There you go, my new challenge. But first I need a bike. My lovely city bike with a basket would not survive up here. I need a mountain bike. Watch this space….
Full detailed logistics and a map for the Hassocks to Lewes walk, and other local walking suggestions will be at the end
---
Route Description for the Hassocks to Lewes walk via Ditchling Beacon
Out of the station at Hassocks, walk down the road to the right and you will see a sign for the South Downs pointing down a side path. Take it.
At the main road turn right, and just before the bridge, there will be another South Downs sign pointing left to some steps. Take these steps.
Duty calls….
It was at this point that I realised I needed a poo. Hmmm. There was a pub outside the station. Should I go back? I'm not a big fan of going back on myself so I decided to soldier on. Now, I have no problem going for a wee in a bush. That's one thing I love about hiking, if you need to go, you just go. No need to find a toilet. But poo, now that's another matter. I have seen plenty of human poos when out hiking. Hell, I've even seen a human poo on a street in London. But I could not bring myself to be that person. So I held it in. It was a good 40min before the urge went away.
Continuing on with the walk…
You will continue along this path for a while, ignoring the paths that lead off it. You will mostly be enclosed by bush and tree cover, before reaching an opening with fields to your left and a view of a the South Downs up ahead. A nice big hill which you will have to walk up soon.
At the road, cross over to the field on the left (there will be signage) and head towards the building on the other side.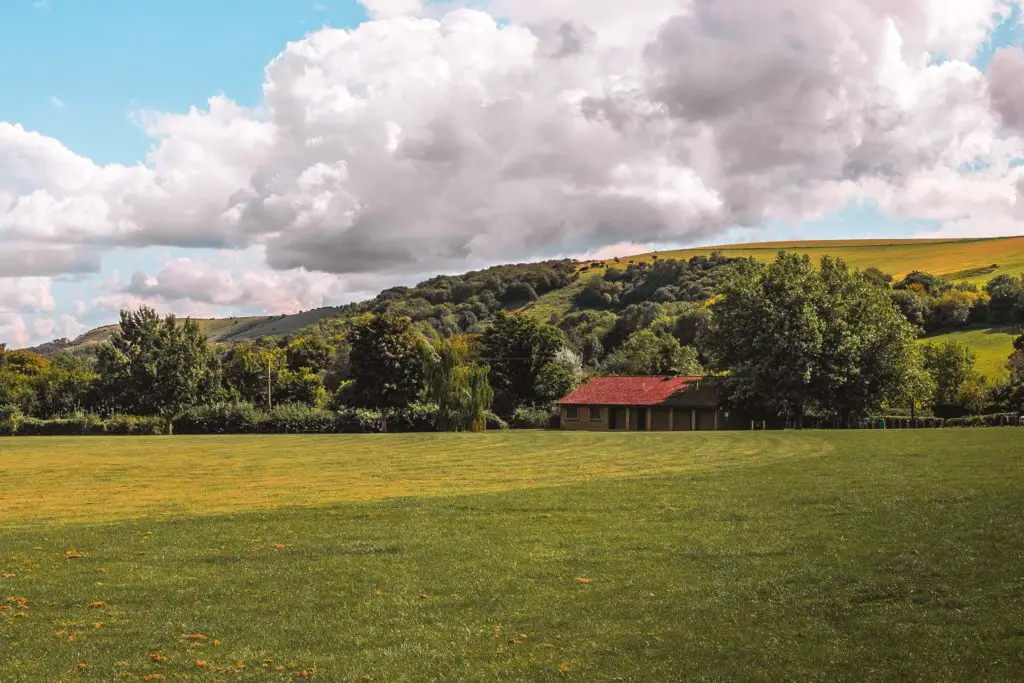 To the right of the building, cross the road again and onto the path. The path will soon lead you to an open field with signage pointing you in 3 directions. Basically, just walk up the hill then head left, keeping the fence to your right.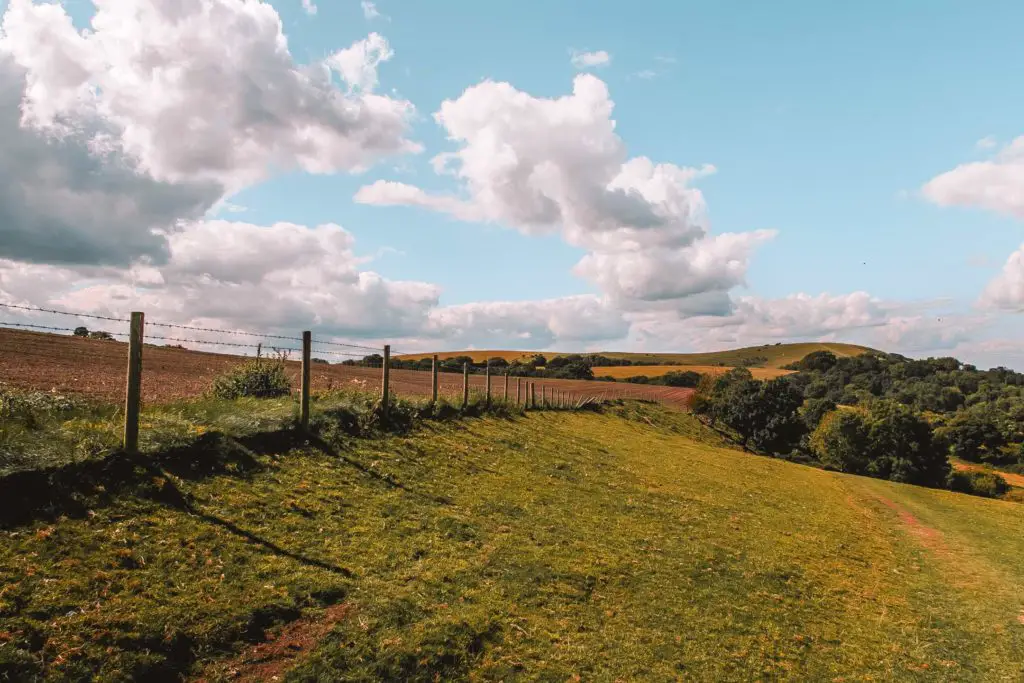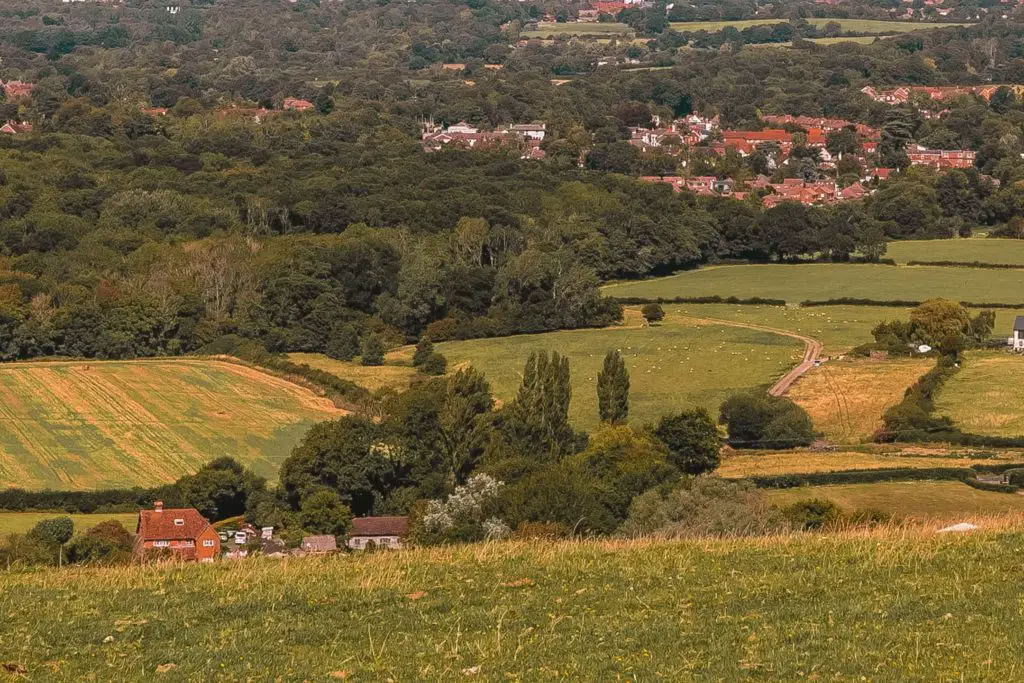 The Clayton windmills (Jack and Jill)
Continue walking up, keeping the fence to your right, and you should see a white windmill up ahead. That is Jill. Then just behind her, you should see Jack.  Head towards them….then take a photo with Jill 😉
I didn't name these windmills for fun, these windmills of Clayton are locally known as Jack and Jill.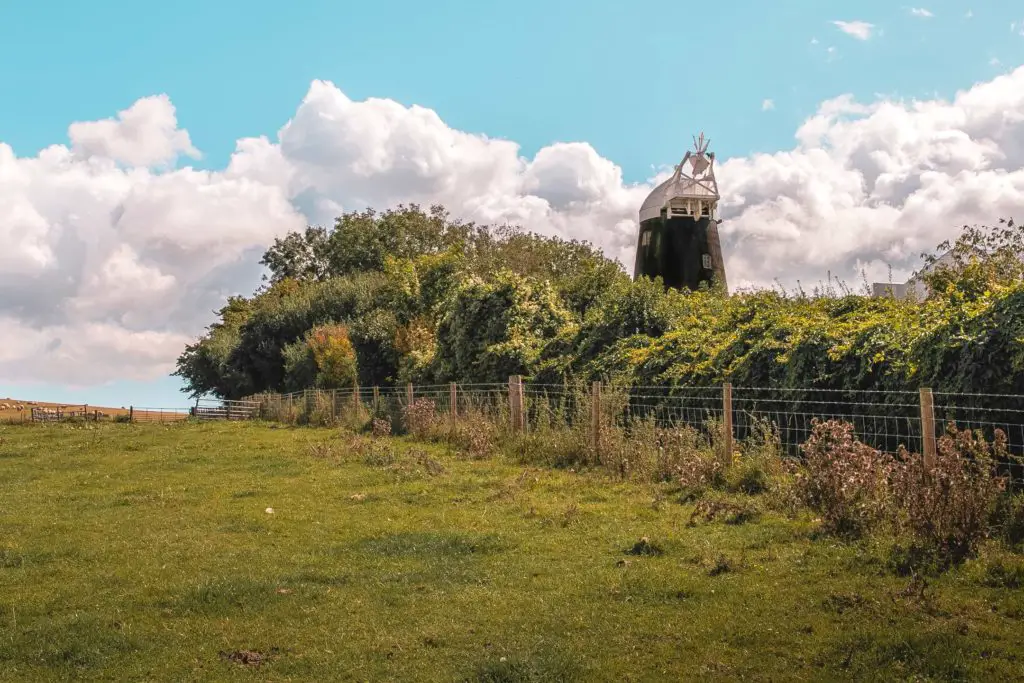 Facts about Jill: 
Built in 1821, she originally lived in Brighton. Then in 1852 was moved to Clayton by horses. She stopped working in the early 1900's, has suffered damage by storms, and decades later was restored to working order. When the wind is blowing enough she is able to produce stoneground wholemeal flour (from local organic wheat), which you can buy if you visit her. She is open to the public on some Sundays, which you can find more information about on the Jack and Jill Windmills Society website.
Facts about Jack: 
Jack is one of the few male mills in England, and he stopped working in the early 1900's……That's all.
Jokes, Jack is actually privately owned now and the mill house is a family home. It is also sometimes available for location shoots, away days and holiday lets which you can find out more about on the Jack windmill website.
The wrong turn
You will see a gate to a path just next to the windmills. This is where you go. Don't walk left along the ridge. That's what I did, before finding myself at a dead end. I mean, you can go walk it, but it won't take you anywhere.
Nice views though.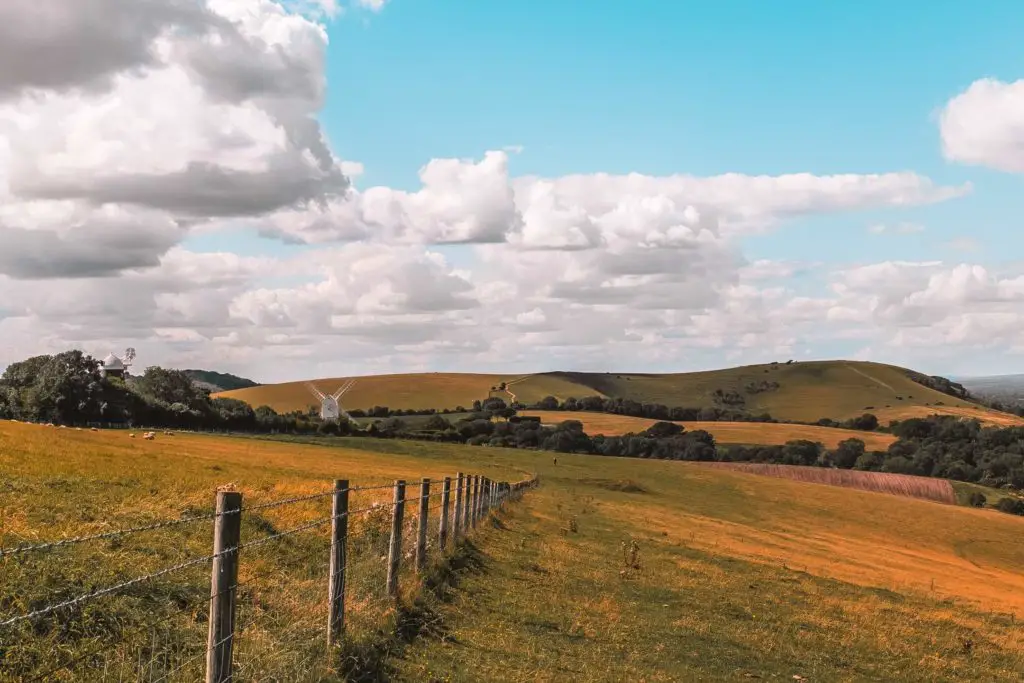 If you do decide to do the left detour then be wary of the stingers. I found myself walking straight through a large patch of stinging nettles. 
Well, it's not an English country walk until you get stung.
The correct path will lead you to a dirt road. Go left here, and shortly after, you will see two South Downs Way signage.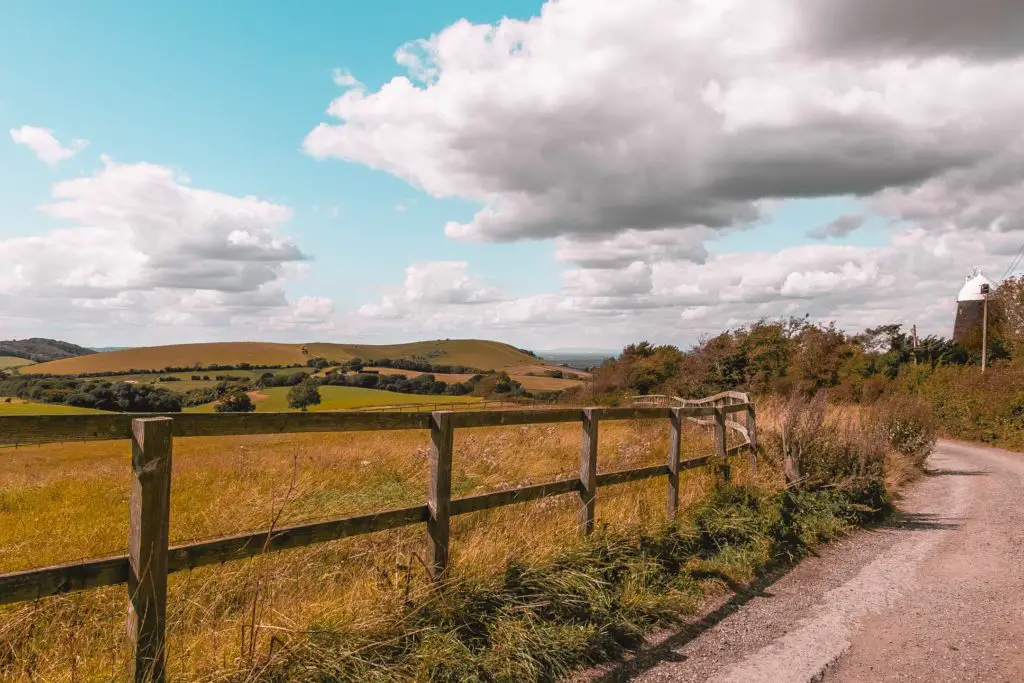 The South Downs Way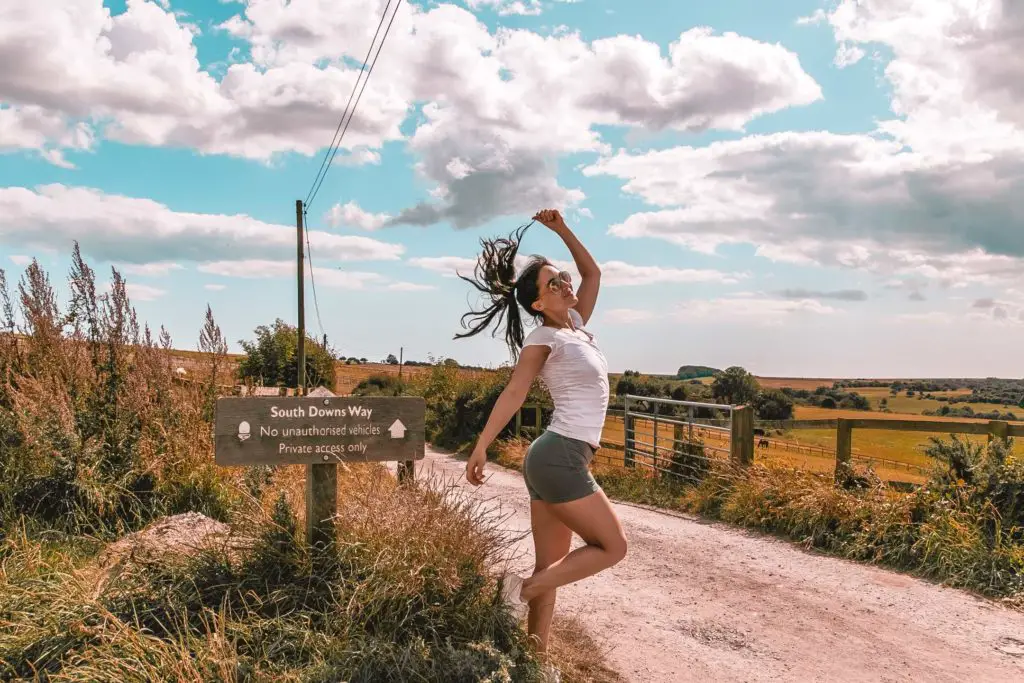 Welcome to the start of the South Downs way. It might seem from the signage that you should walk straight ahead. But no, you shouldn't. It's not very clear (or at least it wasn't to me), but you need to walk left, which takes you toward Ditchling Beacon and Lewes.
(The right turn is still pretty cool though. A year later I came back and walked it to Devils Dyke).
For the next 4 miles, the route is well signposted. Just follow the South Downs Way (SDW) marks. After that, you leave the route to walk to Lewes, but I will explain that more to you later.
As you continue along this trail, if you take a look to the right, you will get a glimpse of the sea and wind farm in the distance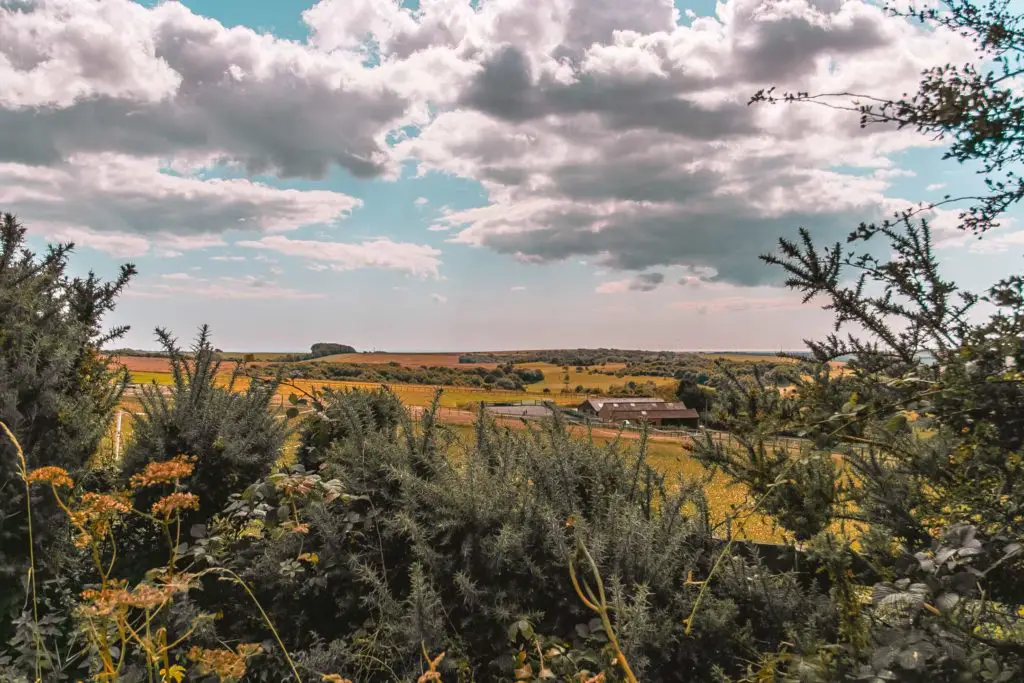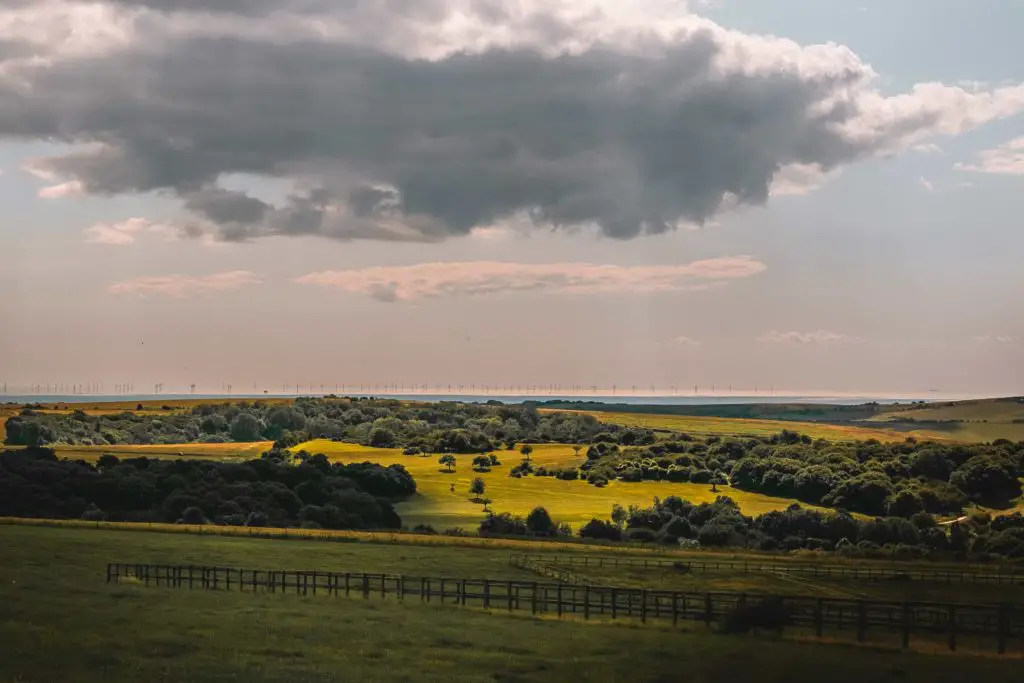 And then walk though open fields with lots of sheep……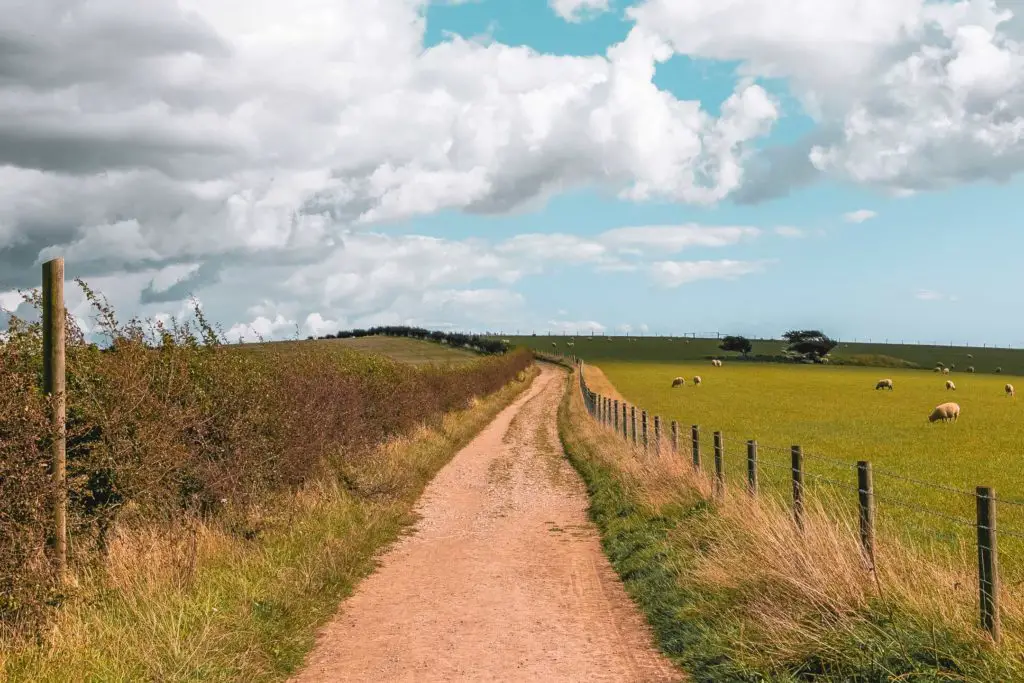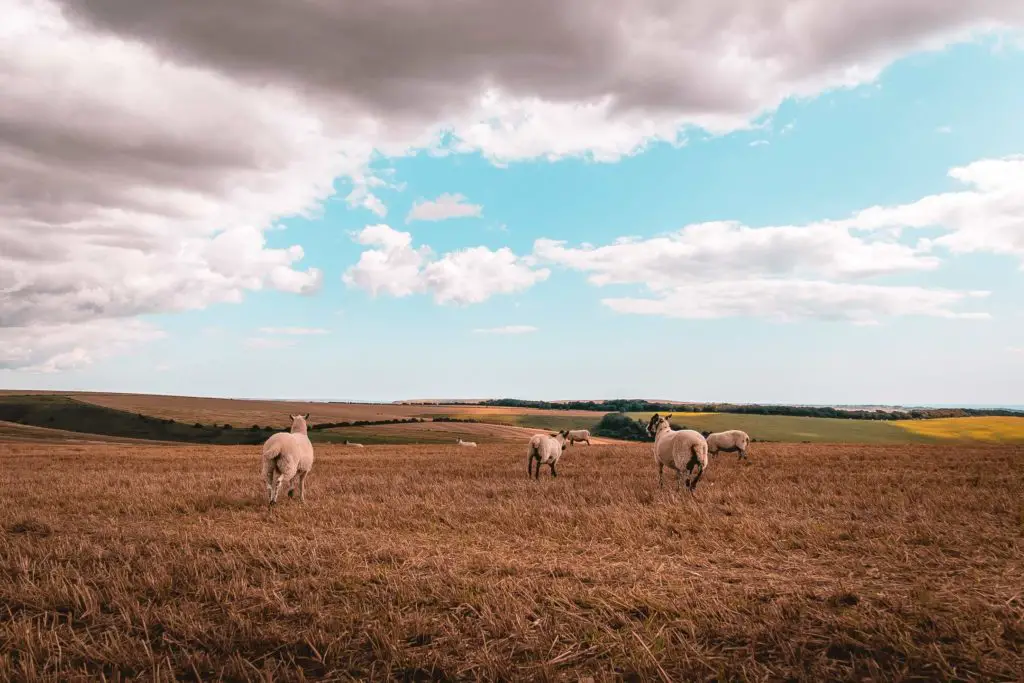 The cows
Now, I have a thing about cows in fields. That thing is fear. Yes, since childhood I have had this fear of being chased by animals in fields. Let me tell you the story….
When I was very little, I can remember being in a field of family friends. These family friends owned a dog. A great dane, which at my little age, was bigger than me. The beast was on the other side of the field and started galloping towards us. Man, I have never been so terrified. I have a memory of climbing up my dad to get away from it. Anyway, the seed was planted, and I'm going to let you in on a little secret…for a very long time after this I was scared of dogs. This fear lasted until I was into my 20's, and even then, it wasn't a fear I just got over suddenly. I had to train myself to not be scared of them. I mean, they are just so jumpy and unpredictable. 
So, let's get back to the cow thing….
Every time I enter a field, I scan it to see what's in there. If there are cows, I stick to the edge as part of my escape plan. If they decide to charge at me I can jump over into to next field. 
Well, today there were lots of cows. But these cows were different. They were chill. One cow was so chill I wondered wether he was actually dead.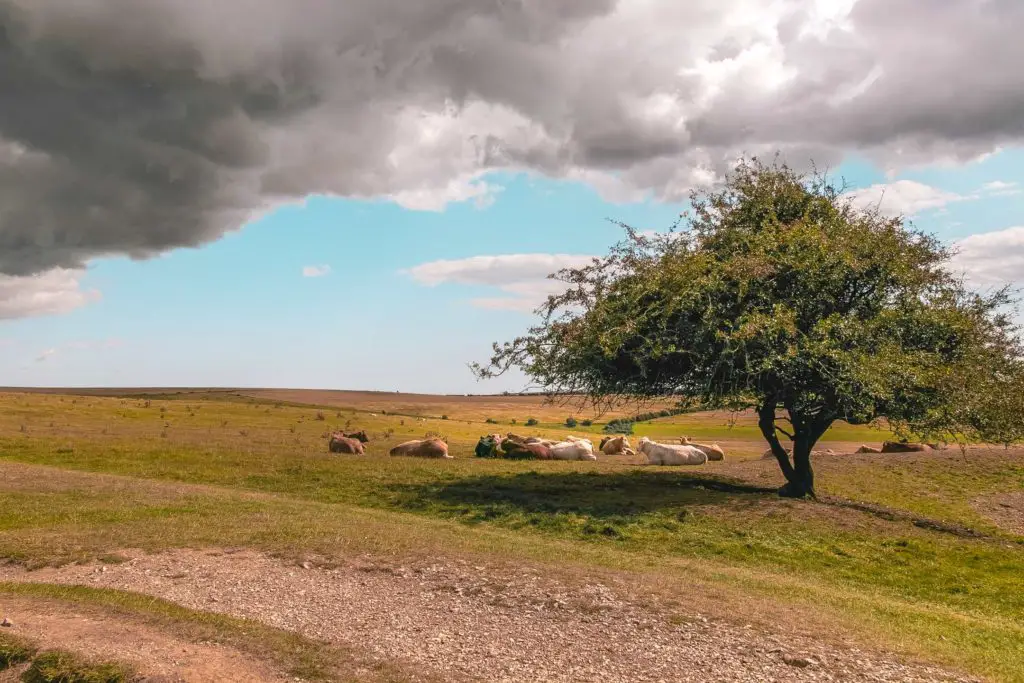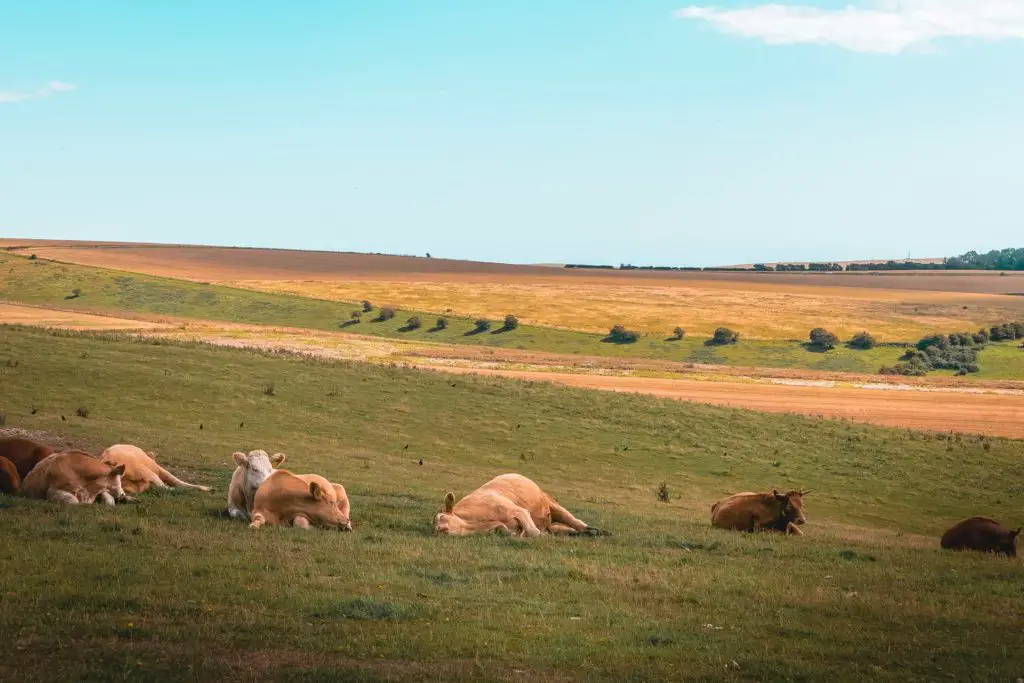 I had to google what cows look like when they sleep to see if this is normal. As it turns out, some cows do this.
Then one cow stood up. I froze. She started walking. I was 99% sure she was walking towards me. My heart started racing and I was prepared to have to dive over the bushes to my left. 
Then she turned into her cow friends and went and found a new resting spot.
Phew. That was close.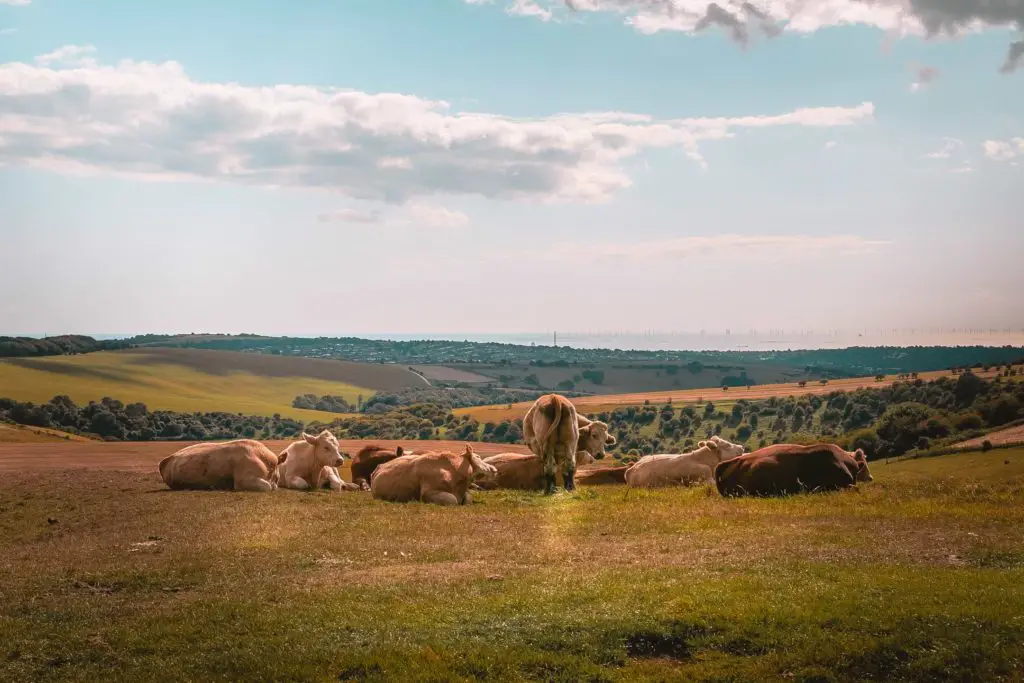 The trail continues on through open fields….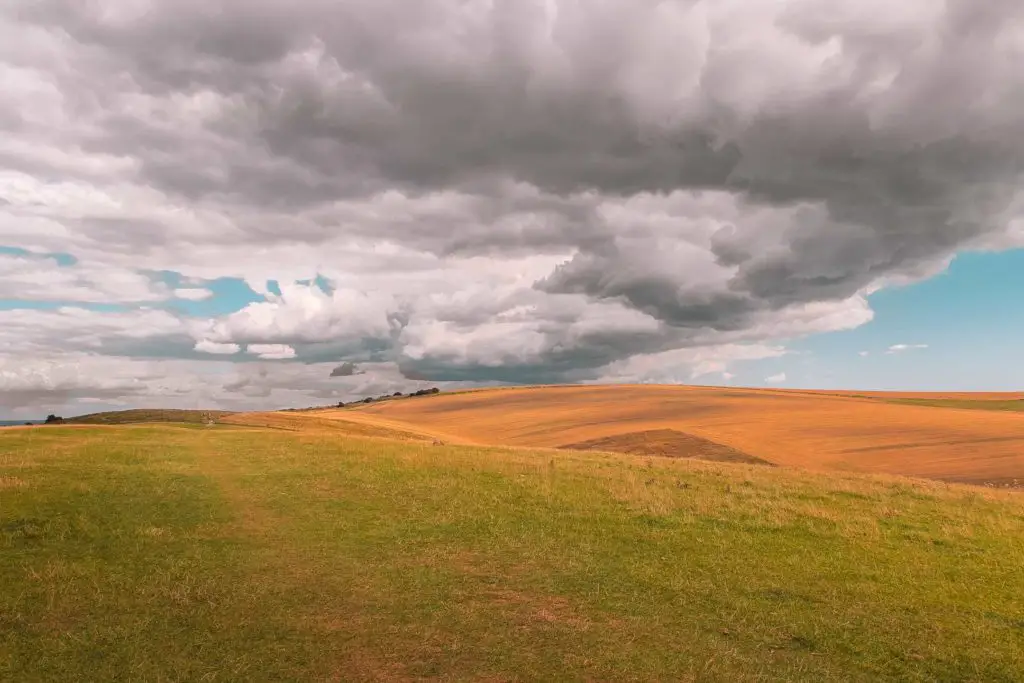 Until you reach a gate where you will walk to Ditchling Beacon.
Walk to Ditchling Beacon
As you walk through the gates to Ditchling Beacon, you will be greeted with vast incredible views down to the villages. There were a few people sat down taking in the sights, with their bicycles laying next to them.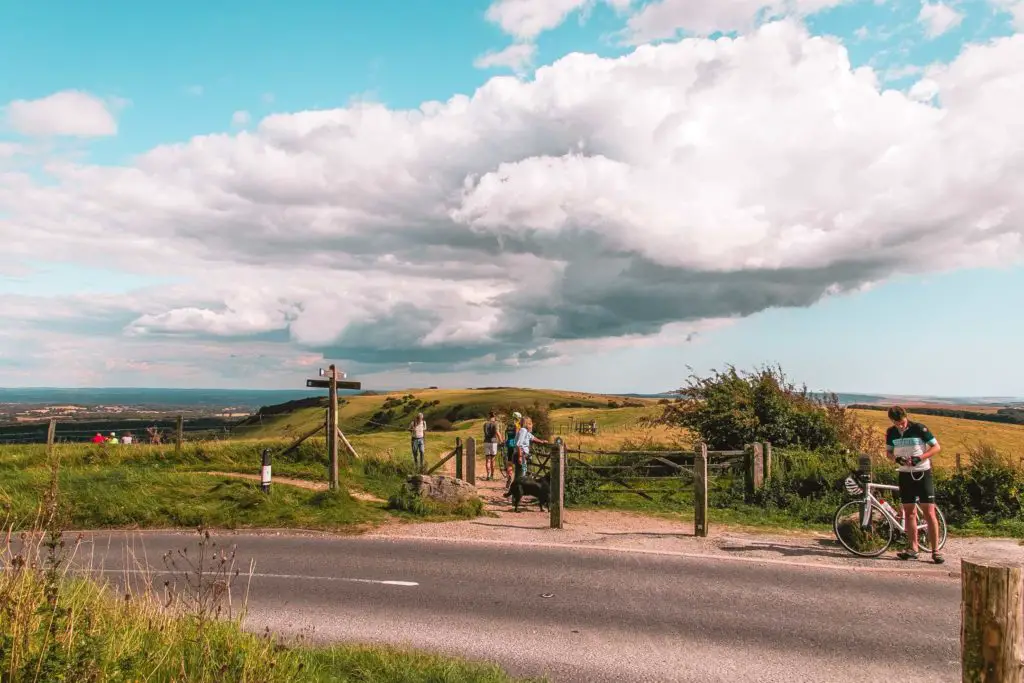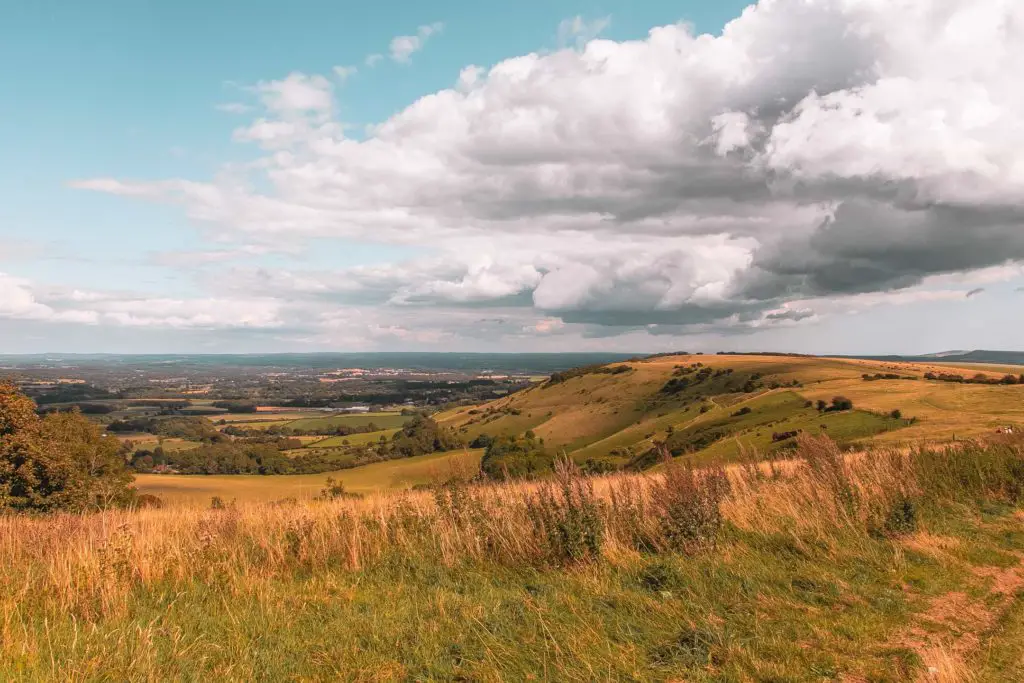 Fun fact 1: Ditchling Beacon is the 3rd highest point in the South Downs. Ok, third doesn't sound that impressive, but it is the 1st highest point in East Sussex. There, it wins at something. 
Fun fact 2: It is a well known cycle challenge route and is part of the official London to Brighton bike ride. 
Whenever I mention to someone that I plan to cycle from London to Brighton, they always warn me about a massive hill at the end. This is the hill they are talking about. I have to say, I would much prefer to walk up Ditchling Beacon than cycle it.
Walk from Ditchling Beacon to Lewes
Walk past Ditchling along the trail, where you will have views of the villages down the hill to your left, and the rolling hills of the South Downs to your right. You will also pass by plenty of South Downs Way signage, just so you know you are on the right track.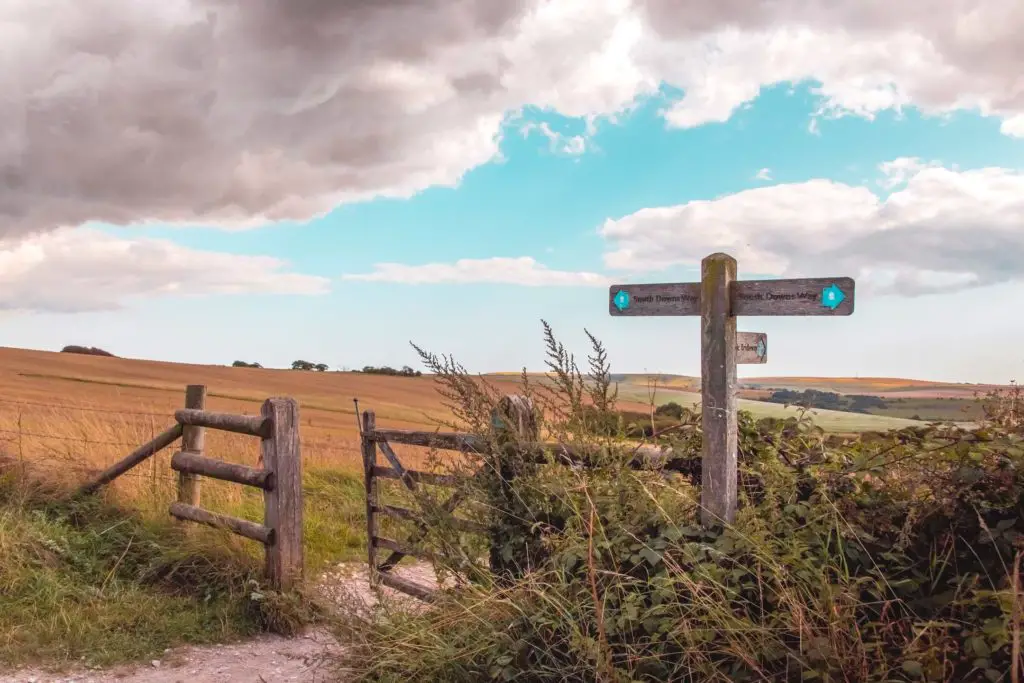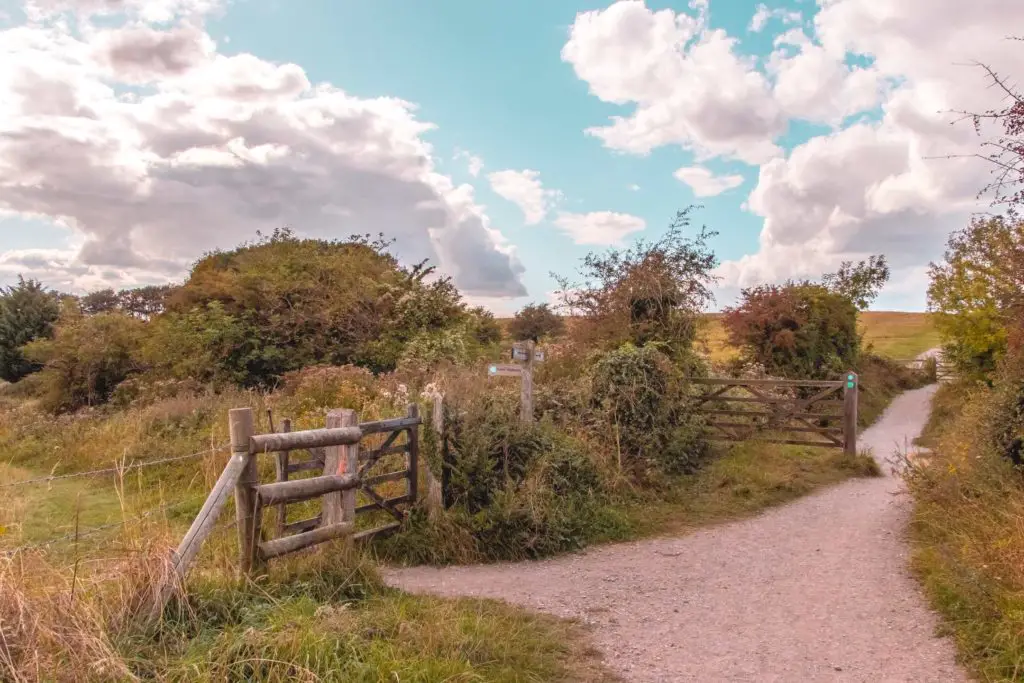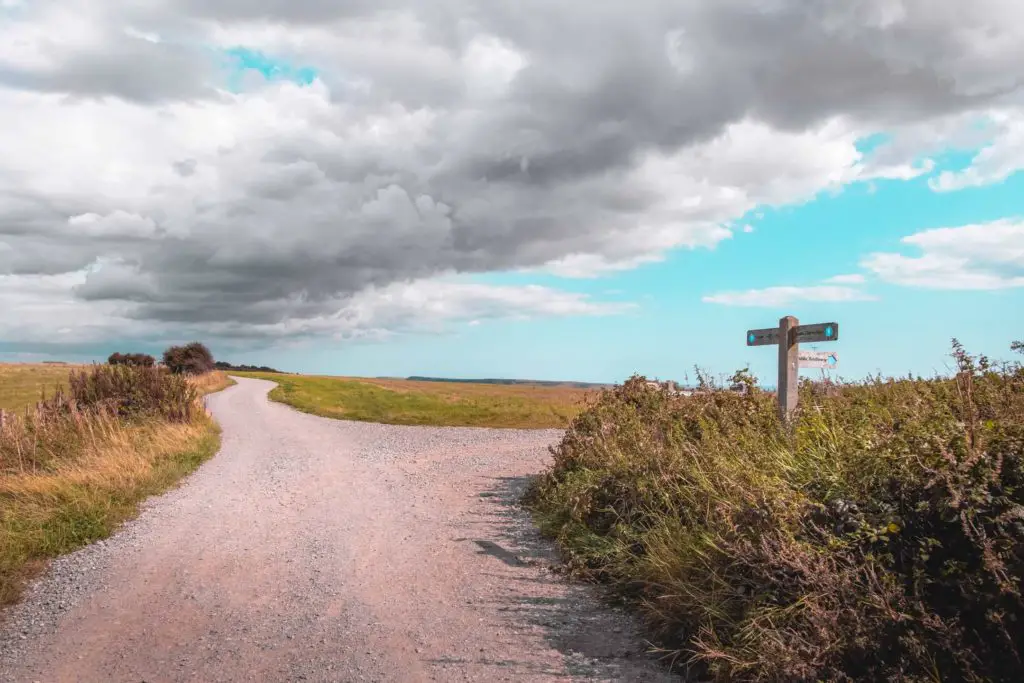 When you reach a hairpin bend, take the right one, continuing along the ridge. 
Leave the South Downs Way
The South Downs way signage will have been directing you straight ahead so far. Well, you will know when it's time to leave the trail when the signage directs you down a small trail to the right. It is here where you continue the walk straight ahead through a gate (not right), which will take you towards Lewes.
I came here on another day to continue my SDW walk and took that right turn to walk to Southease. It ended up being one of my favourite walks ever, so I highly recommend it.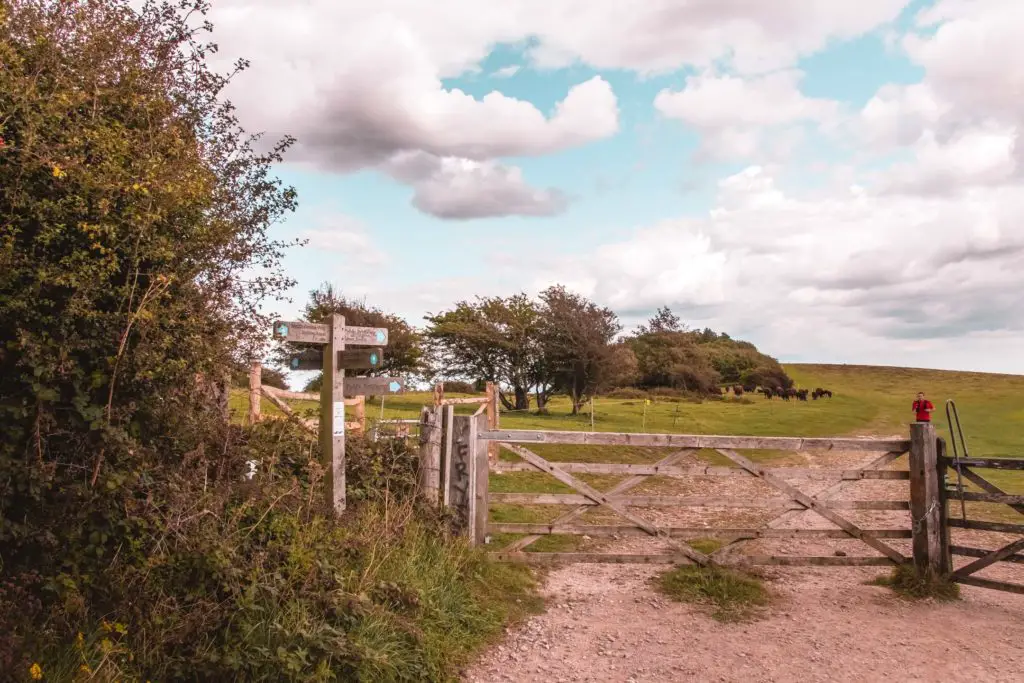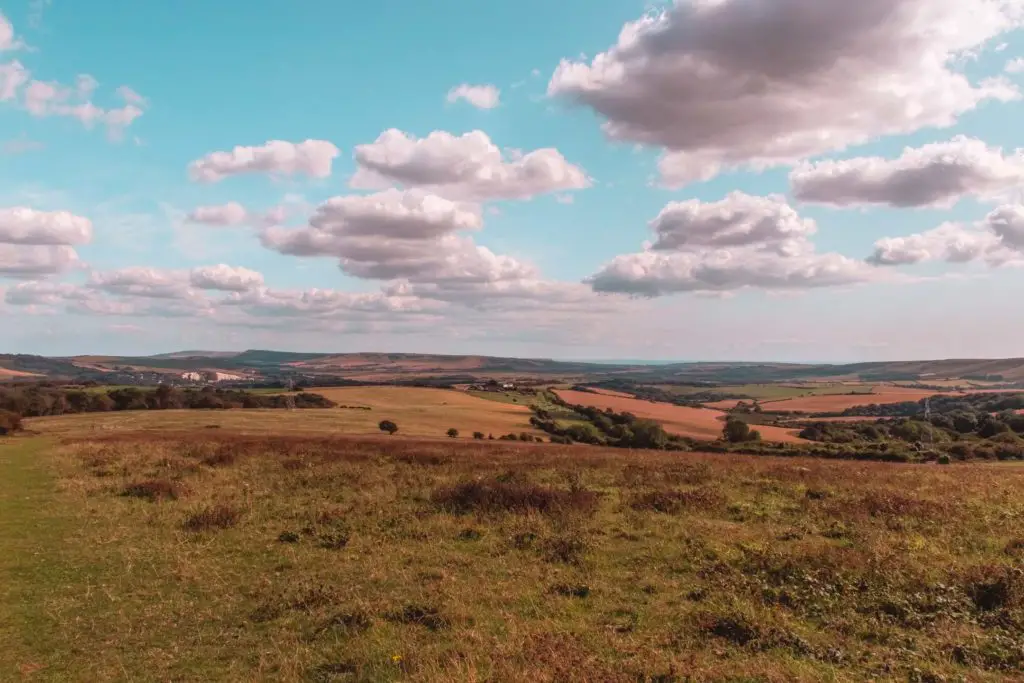 More ridge and the descent down to Lewes
You will be continuing along the ridge for a while before you start to make your decent. After you walk under telephone pylons, bearing right, you will leave the field along a small trail with a fence to your right.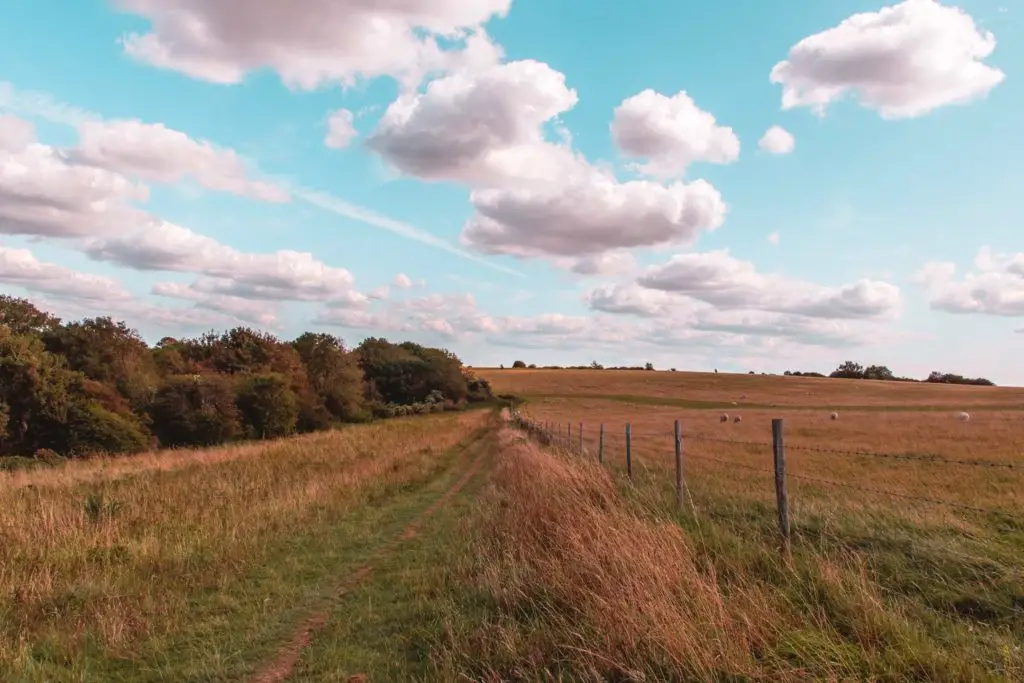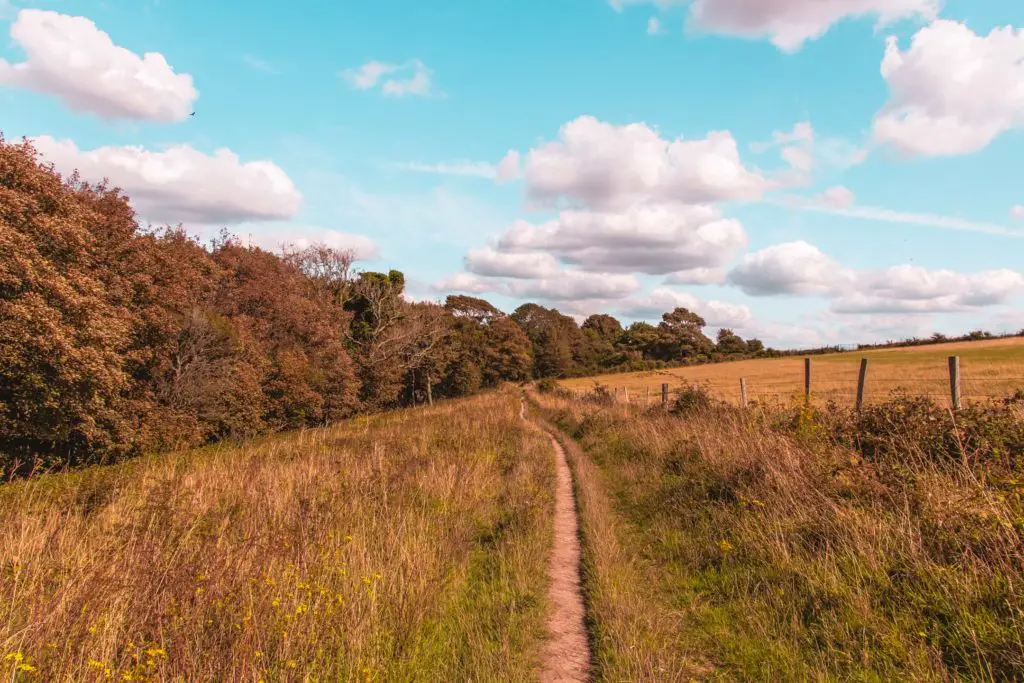 Turn right again when you reach the corner of the fence, and at the next turning take a left, which will lead you through a bushy area and down a steep hill.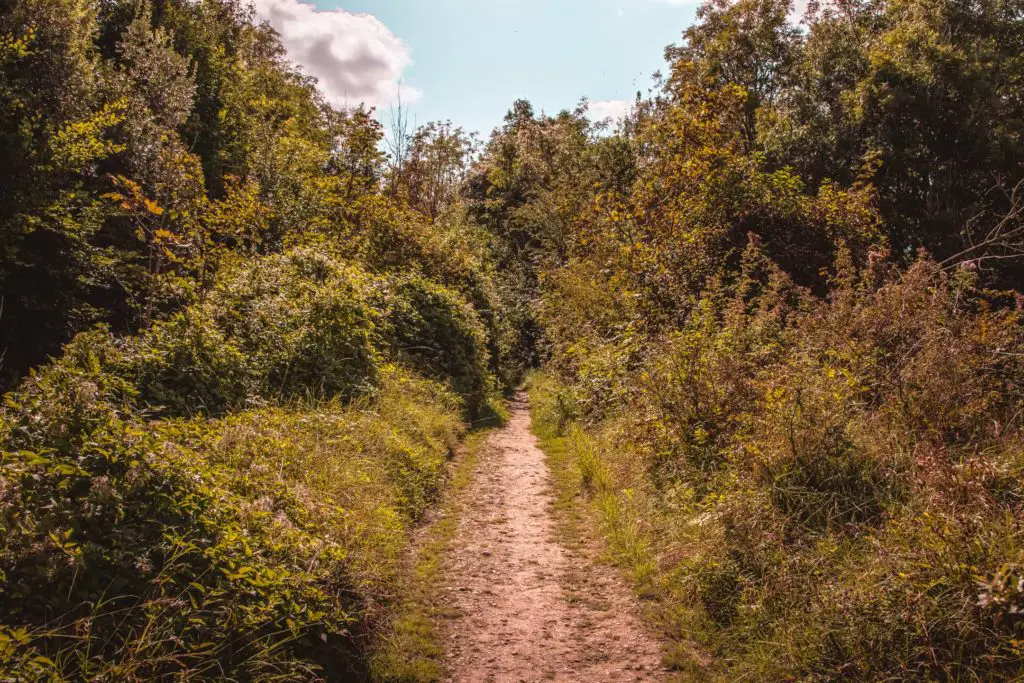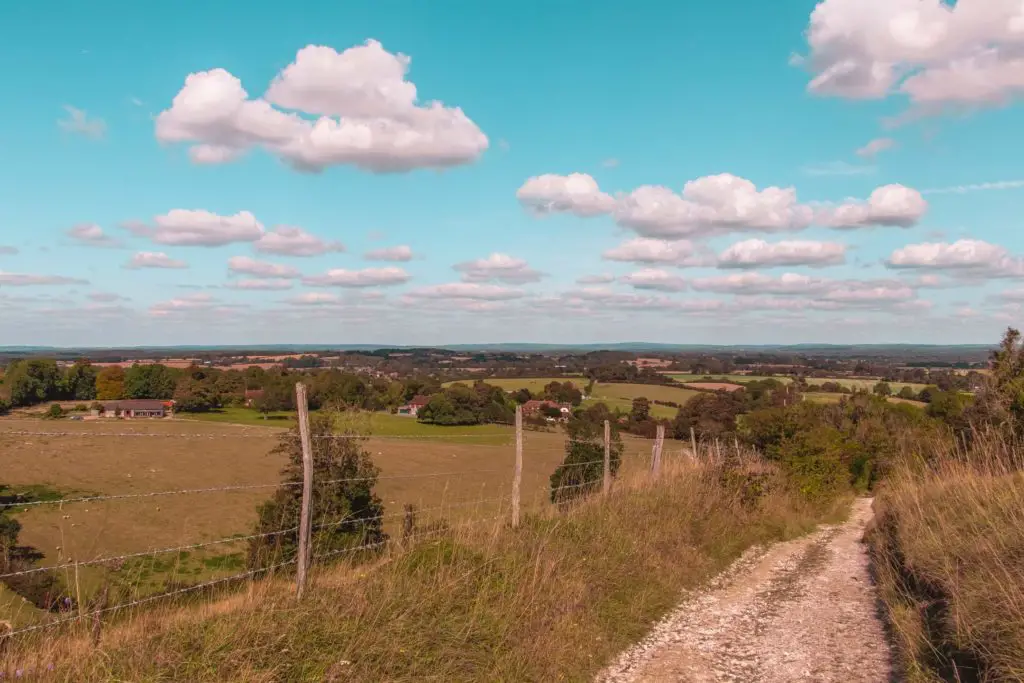 At a fork, keep to the left trail and at the end, you will reach a road. Take a left here, then a right at the next road.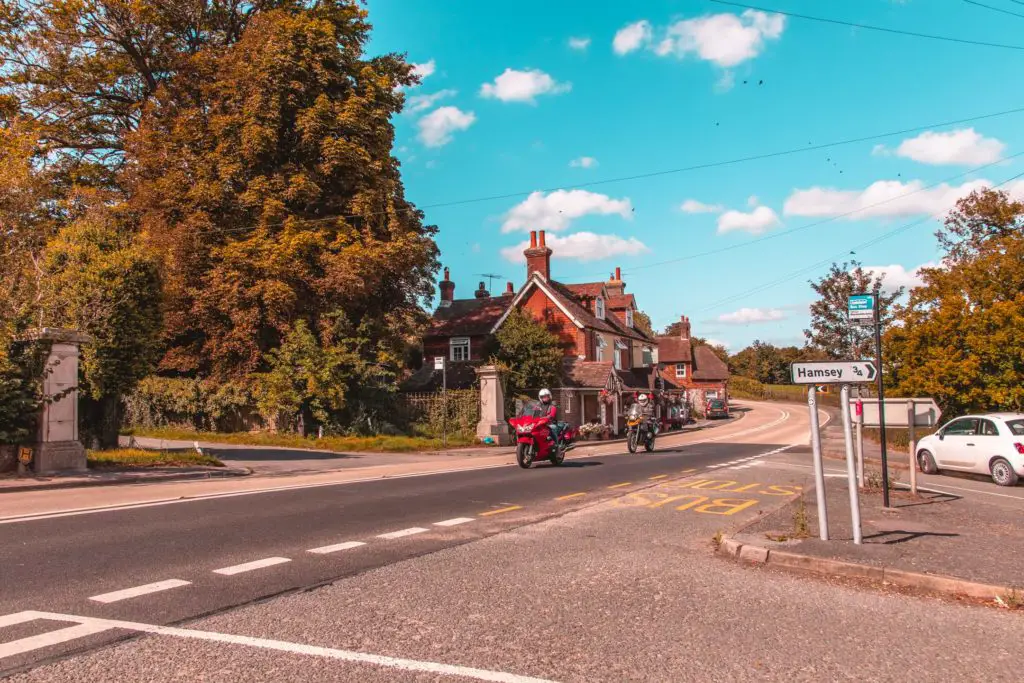 Keeping right you will reach another small trail, which will lead you even further down a steep hill and into woodland.
Keep following the trail past the telephone pylon and you will then reach a junction where you can continue straight on or go left through a gate to leave the woods. You can take either trail, they both end up in the same place. The river Ore.
I took a left out of the woods, into an open field.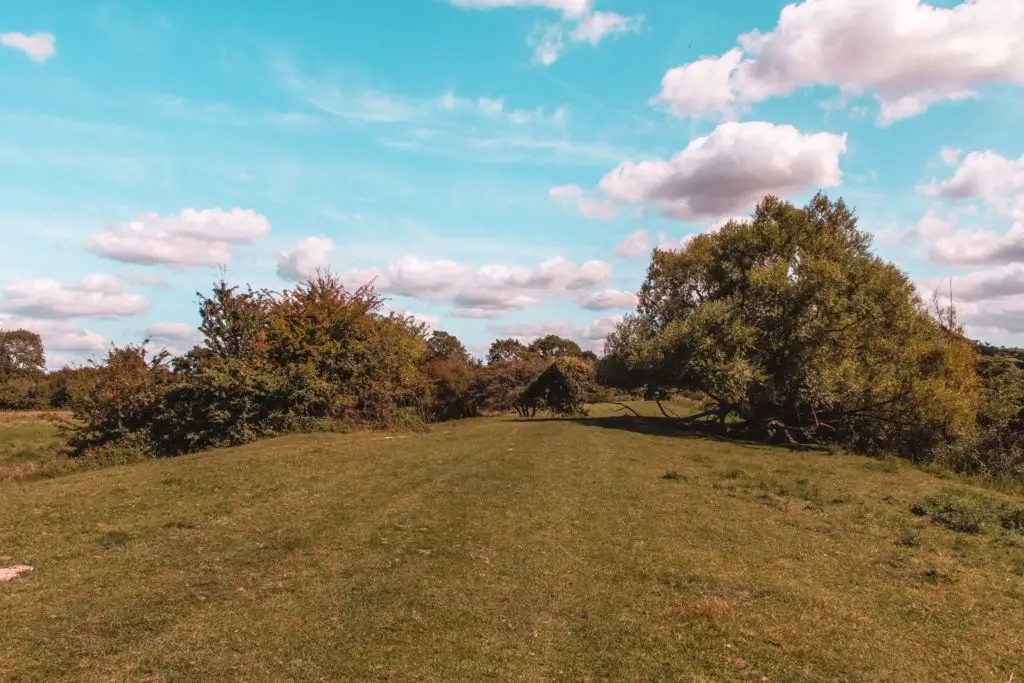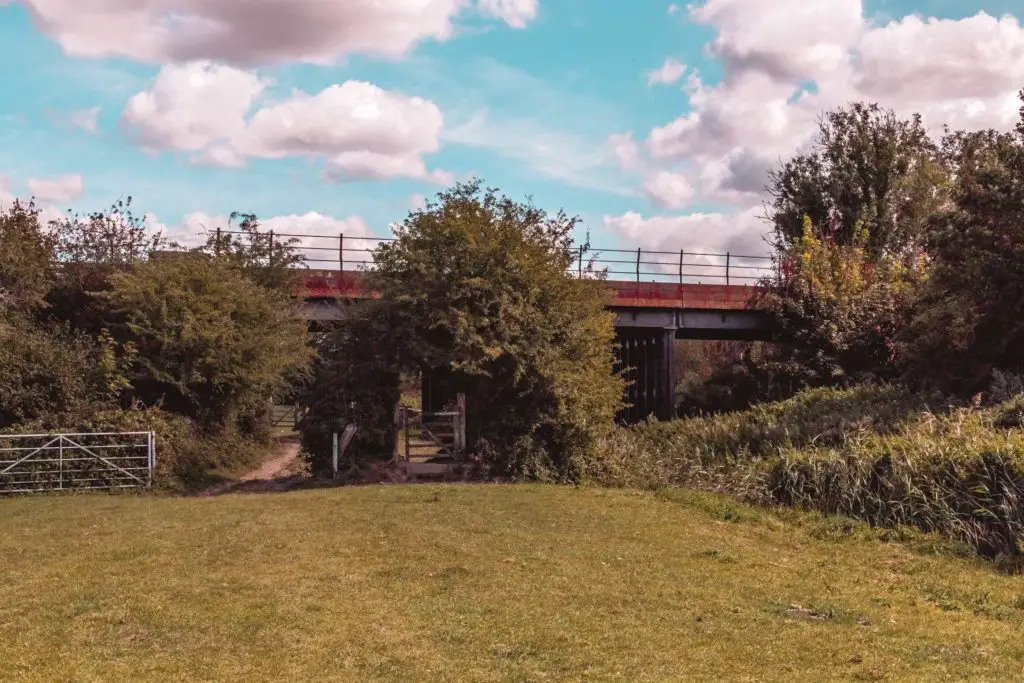 After you go under the metal bridge, take a right through a gate onto a small trail. I'm sorry, but there will be a few stingy plants along here. You only have to navigate the stingers for a short while before going through another gate into an open field.
Walk to Lewes
The River Ore should be to your left as you make your way through the field.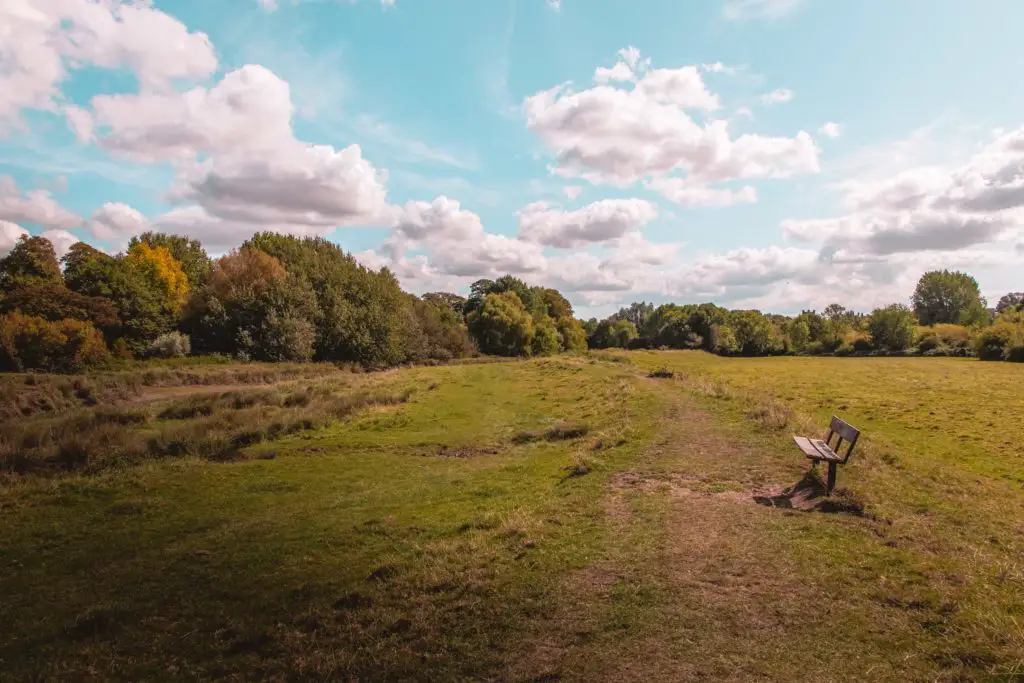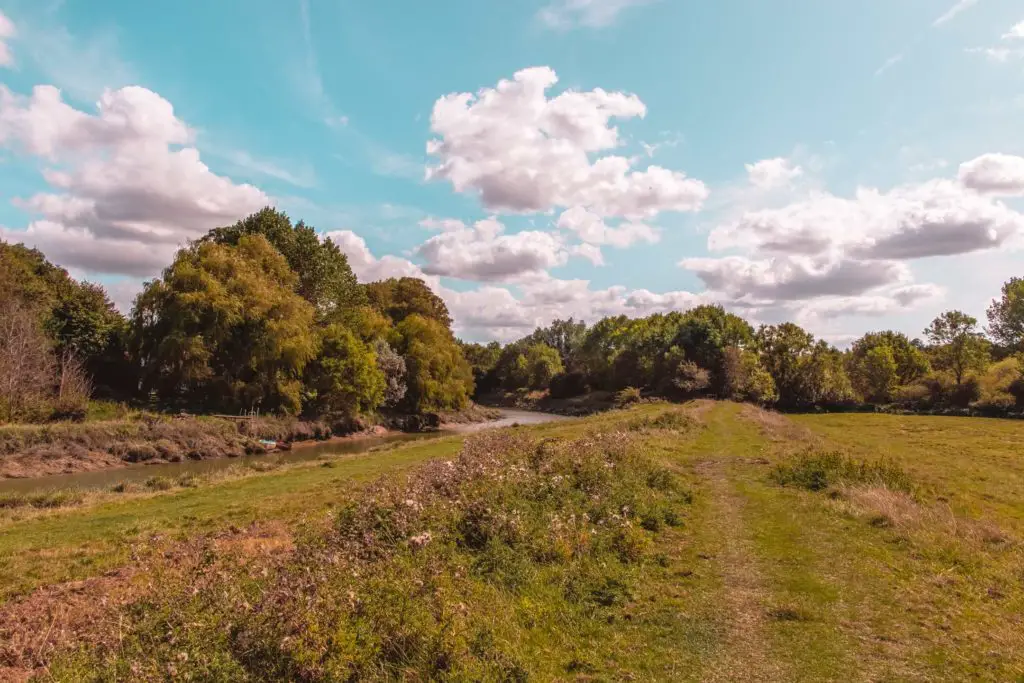 You may be sharing the field with some cows. Oh man. I can't escape them. I kept my eyes on them as I walked on by, and sometimes took a look back to make sure any hadn't decided to chase me.
They didn't
At the other end of the field, the trail will lead you under lots of trees and bushy goodness.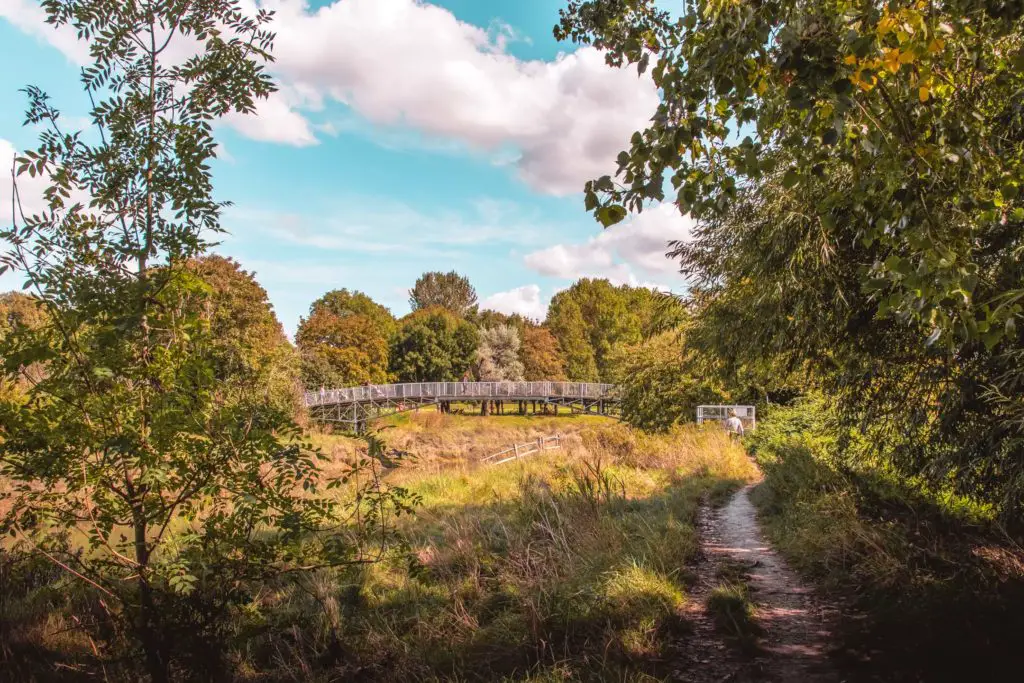 At the bridge turn right and you will start to find yourself in civilisation. To get to the station from here, you basically continue straight ahead, and up a hill. Continue past the church, and after the next street of houses turn left. Take the 3rd right along Fisher street, and this road will basically lead you to the station.
Voila. You made it 🙂
Final thoughts on the Hassocks to Lewes walk via Ditchling Beacon
I did this walk from Hassocks to Lewes on a Sunday, at the end of summer. I wouldn't say that it was too busy, but there were definitely people around, walking and cycling.  Particularly on the section of the walk at Ditchling Beacon. I find that people out on walks in the countryside are so much friendlier than the city. It's very normal to smile and say hello whenever you walk past someone (well, a quick hello then look down). It's just how things are done out here. And I like it 🙂
Logistics for the walk from Hassocks to Lewes
Start: Hassocks train station
Finish: Lewes train station
How to get there: The are a few train options so I have laid them out in the next section.
Distance: 11.4 miles (4.3 miles of that is the South Downs Way)
Elevation gain: Highest point 248m (813.6 ft). Total elevation gain 462m (1516 ft)
Difficulty: Generally easy. There is one steep hill at the beginning, but after that, it's a few gentle hills and flats, before heading downhill.
Terrain: Dirt trails, gravel trails, grass. 
Dog friendly: There is a lot of livestock around.
Amenities: Anything you might need in Hassocks and Lewes. Nothing along the walking route.
How to get there using public transport 
I have had a good look at all the different ticket options, and you have a few so I'm going to lay them out for you based on the cheapest.
There are direct trains to Hassocks from both London Victoria, and London Bridge. The London Bridge train, is half the price of the Victoria train. There are direct trains back to London Victoria from Lewes. All trains run through Hayward Heath, thus you have the option of switching trains here to make things cheaper. Confused yet? Don't worry, I will explain next:
Option 1: Buy a single ticket from London Bridge to Hassocks, and a single ticket from Lewes to London Victoria.
Option 2: If you want to travel from London Victoria only. Buy a return ticket to Hassocks, and a single ticket for the return section from Lewes to Haywards Heath, then the return ticket you already got will cover the remainder back to London Victoria.
Option 3: The cheapest option (about 1/2 the price). But it's also most complex, so you will only want to do it if you are being very cheap. Buy a return ticket from London Bridge to Hassocks. Then a single ticket from Lewes to Haywards Heath. Now, this is important, unlike option 2, you will have to get off at Haywards Heath and get onto the train specific for London Bridge. 
Map for the walk from Hassocks to Lewes
---
More walks near Hassocks, Lewes, and Ditchling Beacon
If you would like to walk more of the South Downs Way, then as I mentioned earlier, you can pick up where you left the SDW trail to walk from Lewes to Southease. Then you could continue to reach the sea, by walking from Southease to Seaford. I also highly recommend the Seven Sisters walk. It's probably one of the most well known walks in the South East of England, and for good reason. It's stunning.
Another cool hike you could try from Hassocks is a 13 mile circular taking you to Devils Dyke.
Not technically in the South Downs, but just outside it, and not too far from here, you have the coastal walk from Newhaven to Brighton. It's quite an easy walk and you can choose to walk on the under cliff path or clifftop.
As I am walking the length of the South Downs Way, I will be letting you know about them as I make my way along. But, for now, if you would like more ideas for walks in the South Downs, you can check out the National Trails website.

Pin it for later – Walk from Hassocks to Lewes via Ditchling Beacon