This circular walk from Henley to Greys Court was a last minute decision walk. As in, I was on the train on my way to Paddington Station when I decided. I was deciding between a circular walk from Henley-on-Thames or from Marlow. The Marlow walk would be easy and pretty flat. The Henley walk would have hills. If you have been following along, you will know that I'm avoiding hills right now due to injury. 
I had been feeling pretty good so far. My injury hadn't shown it's face. Was I ready to try some hills? I'm actually moving to Devon in 1 week, where I would be faced with a lot more hills. This was my conundrum. If I played it safe, I wouldn't be flared up for when I start walking in Devon. However, if I wait until Devon and suddenly throw lots of hills at my leg without warming into them, I risk putting myself out. I reasoned that if I start out now, I have a week to rest, and my leg will be somewhat familiar to hills before I go.
That decided it. I would be walking from Henley to Greys Court. The original walk I had planned was about twice as long as the one I did. Once I arrived in Henley, I chickened out and decided to keep it shorter. There was no way my leg would flare up this way. 
What was the circular walk like from Henley to Greys Court?
It was brilliant. Getting up onto some hills to see the views, being right in the countryside without anyone around. Saying that, Greys Court was pretty busy, so I didn't stick around, and continued to walk on by. Plus, there was a specific train I wanted to get back to London and I was on a time limit. I liked what I did see though.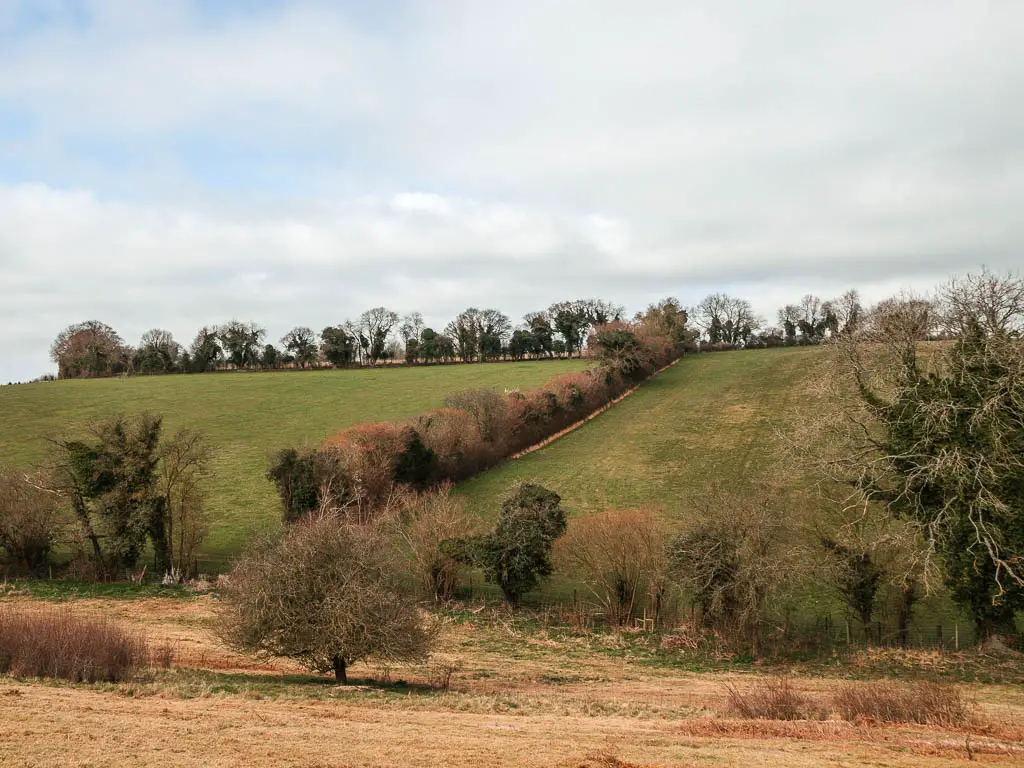 As well as the hills and views, you will walk through some woodland, across a golf course, and maybe see some lamas. 
How did my leg do ?
I was a little disappointed with my leg. The walk wasn't too long, and there weren't tonnes of hills, nor were they that big. But my leg did twinge a little. Nothing crazy, but enough that I knew this was my limit. Then for the following week, it was definitely noticeable simply by pottering around my flat. This didn't bode well for my upcoming move. 
---
Logistics for the circular walk from Henley-on-Thames to Greys Court
---
Start/Finish: Henley-on-Thames
Distance: 7.6 miles
Time: 2h 20m
Elevation: Highest point is 135m. You will walk uphill a total of 246m
Difficulty: Easy 
Terrain: Grass, dirt trail, some road. Potentially lots of mud (see tips).
Dog friendly: Some of it (see tips)
Time of year: I did this in early spring
Amenities: Everything in Henley, a tea room and toilets at Greys Court. There is a pub partway through, although it was closed for renovation when I was there. 
Map for the circular walk from Henley-on-Thames to Greys Court
More walk ideas near Henley will be at the end
---
Tips for the circular walk from Henley-on-Thames to Greys Court
---
This walk has the potential to be very muddy. It hadn't rained for a while by the time I was there, but there was a lot of just dry mud. If doing this in winter, or after rain, I would suggest wearing waterproof hiking boots.
Although I didn't do it, you could stop off at Greys Court to explore. It's not too long of a walk, so this would make a nice addition.
If you are able, then do this on a weekday so that it's less busy at Greys Court.
One field had livestock, another had birds nests on the ground. I will show you them when I describe the walk below.
There are a few stiles, but they are all either very gappy or have a little doggy hole. 
If you want to visit Greys Court, dogs are welcome in some areas on a lead. You can read more information here.
For general info about visiting Greys court, read here.
---
A guide to the circular walk from Henley-on-Thames to Greys Court
---
Starting from the high street in Henley, walk uphill and to the left of the clock tower (you can actually go to the right as well, I discovered this on the way back, but I will describe it all as I did it).
It's now a fair bit of uphill walking next to the road, and someway further up, you should see a trail signpost pointing left. Take it. 
You are still on road, this time one of those country lane types with no pavement and super curvy. It doesn't look like a busy one though. No cars passed when I was there. It's also super nice and green.
When you reach the entrance to a school, take the trail to the right of it.
It's a bit of a woodland walk along here, with the occasional view to the open field to the right. I wasn't sure what to expect from this circular walk from Henley. Was it all woods, or would there be a mix? I was hoping it wouldn't be all woods, I have had so much woods this year and I'm tired of them. The way this walk was going though, worried me. 
Walk out of the woods
When you reach a junction with a gate. Don't go through the main gate you see, but just ahead to the right, there is a trail leading off the main one. This is the one you want. 
This trail takes you out of the woods and down the middle of a valley. I was so happy to be out of the woods with hills around me. So far so good.
The calm
It's interesting. When on the train on my way out to Henley I suddenly got a weird sort of anxiety. You know, heart started racing and feeling lightheaded. I used to suffer from panic attacks and they would just come out of nowhere. This felt close. I tried to calm myself and breath like I had learnt to do before. Things settled but I still didn't feel good. It was around this point in the walk that I felt a wash of calm run through me. I guess that confirms what makes me happy. 
I'm not sure why it happened. I don't think I'm stressed. Maybe there is something underlying there, in my subconscious. 
The farm
Keep going, and you should start to see a cute looking house ahead. I think this must belong to a farm. 
There is a serious of 2 stiles coming up. After the first one, you are in a field with livestock, but not too long after, the next stile takes you out of it and along a big muddy track.
More fields and the hill
Keep going, and the trail will lead you into another big field.  I love trails like this where thin ones run parallel to each other. I wonder why these ones are the way they are. 
At the end, when the main trail curves left, you go right and over a stile into the field which has birds nests on the ground.
I didn't see birds nests, but the signs says they are around. 
Keep going straight, and I thinks it's the second field where there is a stile to the left through the trees.
Over the stile, turn right and follow the trail as it then curves to the left uphill. This was the first uphill I had done in a while. It made me so happy to see the views around. I could see a grand house in the distance which I think is Greys Court.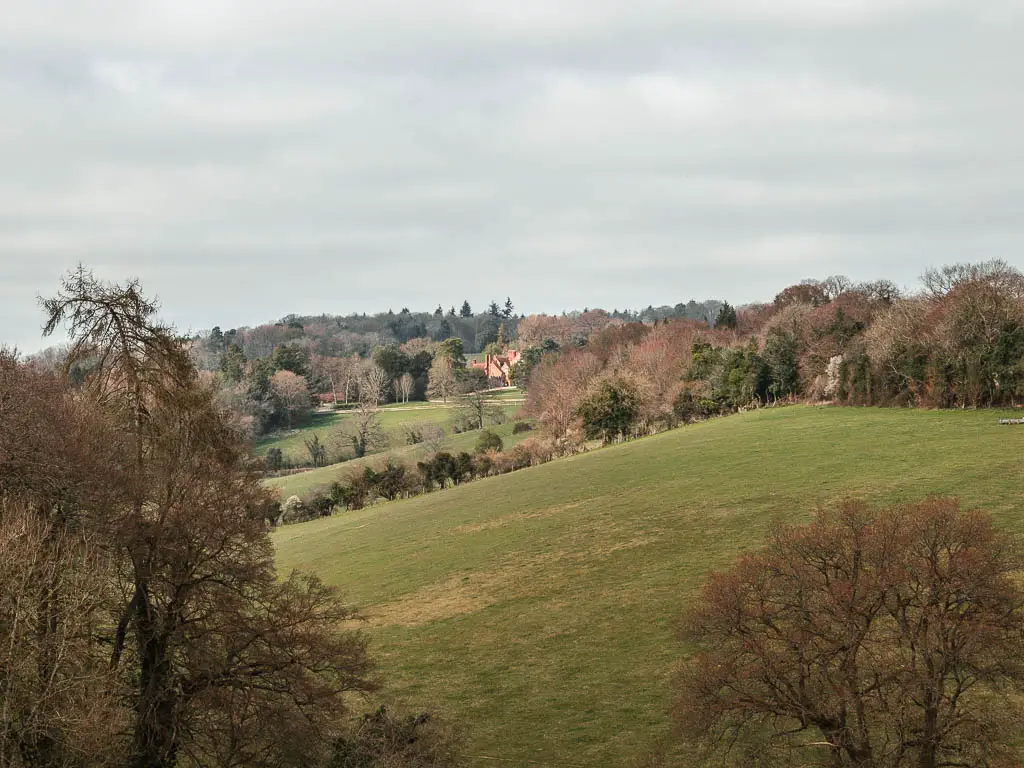 Keep on this trail as it levels out and takes you towards a village with a church. 
Walk through more fields and a tree tunnel
At the church, there is a trail to the right of it. This leads you alongside a brick and stone wall behind a house, and then a trail in between a field and tree plantation.
At the end, keep following the grassy almost not visible trail towards the trees on the other side. 
In the trees, turn right to walk along a long stretch of tree and bush tunnel.
At the end, cross over the road to pick up the trail leading right on the other side. This takes you to another road, where you do the same again. This time it takes you to the back of some houses, where you turn right to walk to the green.
The precarious tree
At the green, keep to the left and follow it around to the trail sign which points you left along a trail next to the house. Spring was starting to show with the daffodils, mixed in with the dead leaves on the ground still. 
Then something unexpected….
After a little bit of downhill and past the white arrow post, I took a photo at a junction so I could show you to take the left one. Honest to God, it's only now since looking at my photos that I see the tree is about to fall down. 
That could have been close….be careful of that tree. If it hasn't yet fallen, it probably will soon. 
The trail will lead you to a small bit of woodland on a hill and through two gates. The second gate leads into a field with livestock. 
Walk to the bottom of that field and up again on the other side, where across the road you will reach the entrance to Greys Court.
Walk to Greys Court, the halfway point in the circular walk from Henley
Through the gate, you will be on an immaculate driveway. Then further along, will get lovely views out to the hills on the right and some of the buildings of Greys Court to the left. As I said, I didn't go in there. It looked busy. 
Fun Fact: 13 women have owned or co-owned Greys Court. 
Fun Fact 2: There have been gardens at Greys Court since the 13th Century 
Continue on the road, and turn left through the car park just after the visitors hut to reach the trail and field on the other side.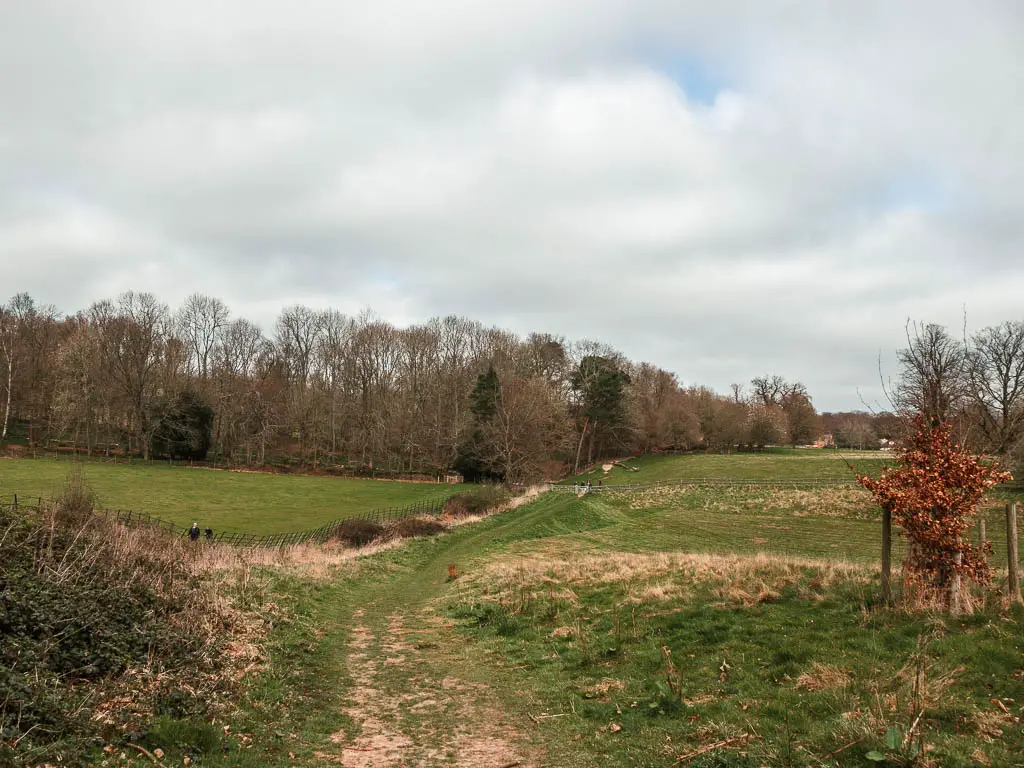 Walk from Greys Court, back to Henley-on Thames
Continue in the direction of straight through the field. You will be walking straight for a while now. Sometimes through a gate on the left, but still walk in the same direction once through the gate. 
Keep going towards this house when you see it:
Just before the house you will reach a junction, where you go right, and you can either stick to the road towards the house, or there is a small trail just on the left. Either is fine. Then just past the house, go through the gate and into the woods. 
Navigate through the woods
This next bit is potentially confusing. As you go deeper into the woods, two things happen. Lots of trail start to appear here and there, and the trail you are on sometimes feels like it disappears. All you need to do is make sure you keep walking around the perimeter of this field:
Some way in, it will lead you to this bit of trail (photo below). This bit looks different from the rest so you should be able to identify it. Then once here, keep going straight as it leads you to an open bit of woods and then straight up the hill. 
Again, keep going in the direction of straight, and it will lead you to the golf course. 
Walk through the golf course
I mentioned earlier, I had a specific train to catch. At this point I checked the time and realised I was ahead of schedule. I could relax. So I sat on the fence to have my snack as I watched some of the golfers. I didn't rest for long though, as it got cold really quick.  
The trail isn't obvious here, so you just need to walk and trust you are doing it right. Go straight. Keep in the direction of straight, and it will soon lead you onto a more obvious path. 
Top tip: As you pass a field on the left (after the golf course) look out for the lamas.
The final stretch of the circular walk from Henley-on-Thames to Greys Court
Past the lama field, look out for a gate on the left. I initially missed it and went too far. It's actually quite obvious, so you shouldn't need to miss it like I did.
Through the gate, keep going in the same direction you have been walking for a while. Along the road, through the pillars and downhill to a residential area.
Just past one of the houses, there is a trail sign leading you down a trail to the left. Follow this all the way down to the road.
The rest of the walk back into Henley is not very interesting. It's all residential. To get back, you turn right on this road, then right again on the next road (Hop Gardens), and this will lead you back to the main road you started the walk on. 
Top tip: Just before the main road at the end, you should notice a side road on the left that runs parallel to it. Take this one instead. It's much nicer to walk down and brings you onto the highstreet in Henley, on the other side of the clock tower from the beginning.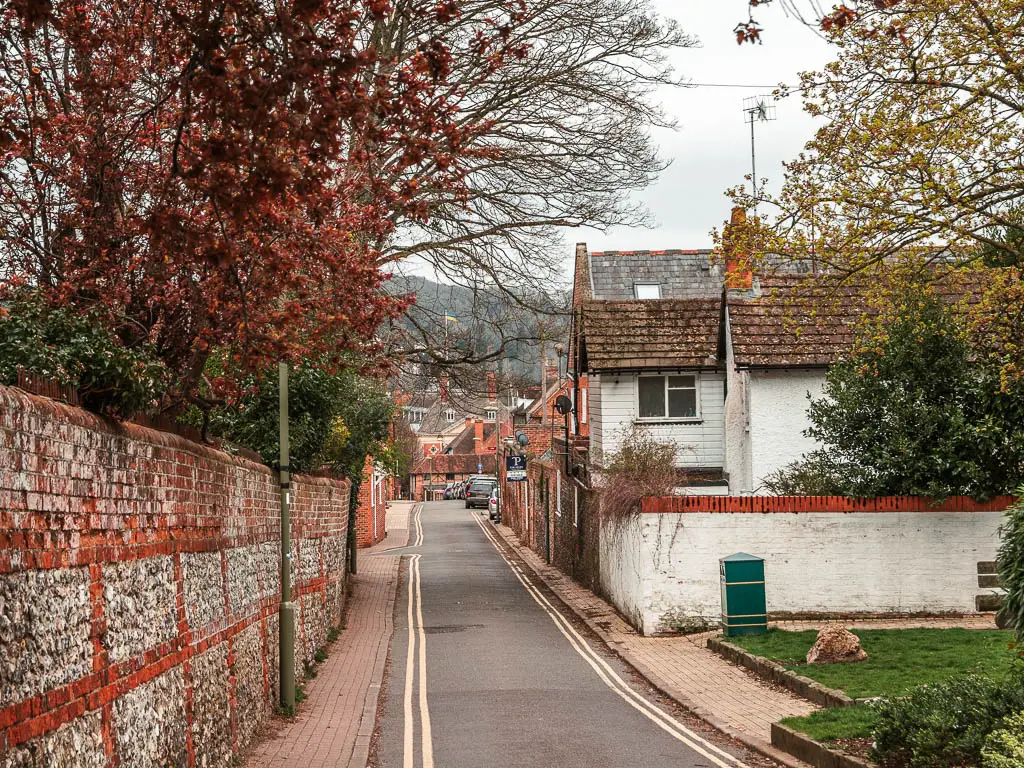 ---
More walks near Henley-on-Thames
---
Henley to Marlow walk – A pretty walk along the River Thames. Past lots of giants houses, swans and probably rowers. Henley has a few Michelin star restaurants, so would make a nice treat to finish with. 
Henley to Hambleden – If you are in Henley and would prefer something easier, then this one should do. It follows the River Thames, before heading across to the quaint village of Hambleden, where you can stop for a light bite at the post office, before heading back.
Little Marlow walk – This is a circular walk starting from Marlow, partly on the River Thames and around a gorgeous lake. It's dog friendly and will take you to a pub in Little Marlow. 
Hambleden and Medmenham walk – This walk takes you through a village with stone and flint houses, across some fields, and up some easy hills with lovely views before finishing up along the River Thames. 
Pin it for later: Circular walk from Henley-on-Thames to Greys Court