This river walk takes you from the beautiful Henley-on-Thames, along a very civilised path, past lots of giant houses, before finishing in Marlow. It is a 9 mile section of the Thames Path, a long distance walking trail. I decided to do this walk because my leg was still hurting from my last walk from Wendover. It looked easy (it was) and I could probably get away with wearing my soft comfy supportive shoes (I did). Now, that didn't stop the pain. It actually got worse. But I like to think I contained the damage. 
Henley-on-Thames
This 13th century town is a bit famous. Home to The Royal Regatta, one of the longest running sporting event in the country. If you look up Henley on Thames online, everywhere seems to say  it's one of the most beautiful towns in England.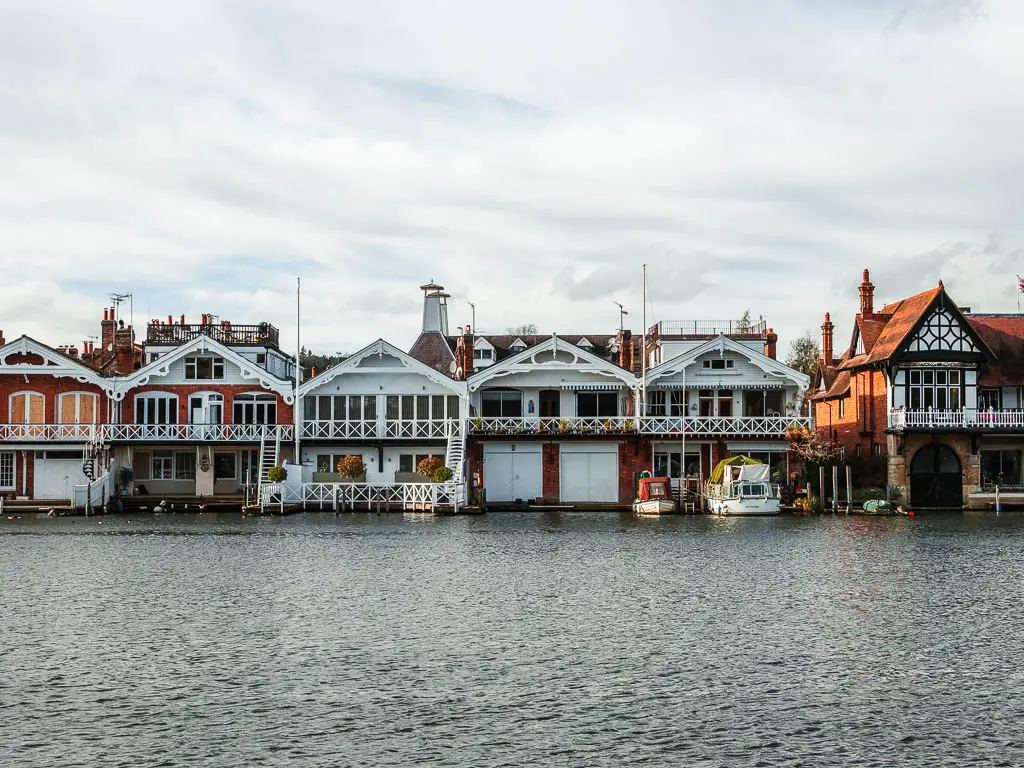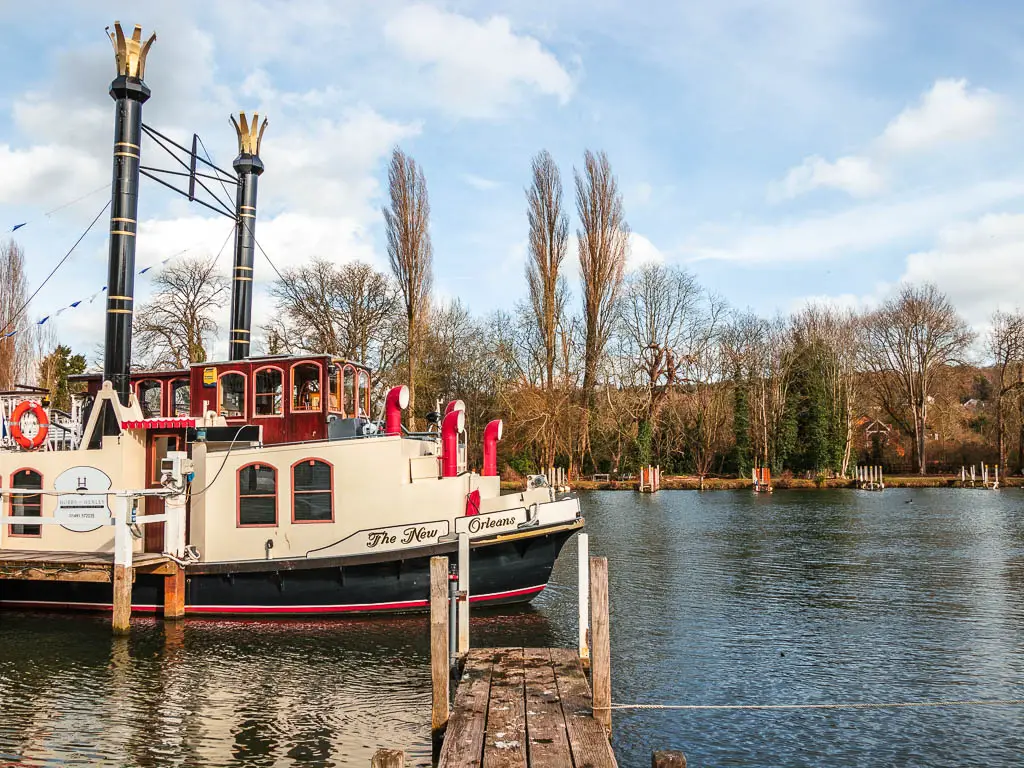 It has been voted as the best place to live in the English countryside, and that I can see. With its historic buildings, independent shops, and a thriving food scene, all with a riverside setting. 
It's also quite posh. Walking along the river from Henley, everything was just so neat. Almost too neat. Not quite my usual rugged roughness.  Saying that, the Thames Path from Henley is super accessible so lots of people can enjoy the river walk.
Marlow
Neighbour to Henley, Marlow is also a lovely little riverside town, with a gorgeous suspension bridge built in 1832. It was the first bridge to connect the two sides of the river over in these parts. The first time I came across Marlow was when Ollie and I were driving back to London. I was just minding my own business as he drove through Marlow and over the bridge. I suddenly perked up and was amazed by what I saw, and quickly looked on google maps. Marlow. This is Marlow. Ok Marlow, I will be back…..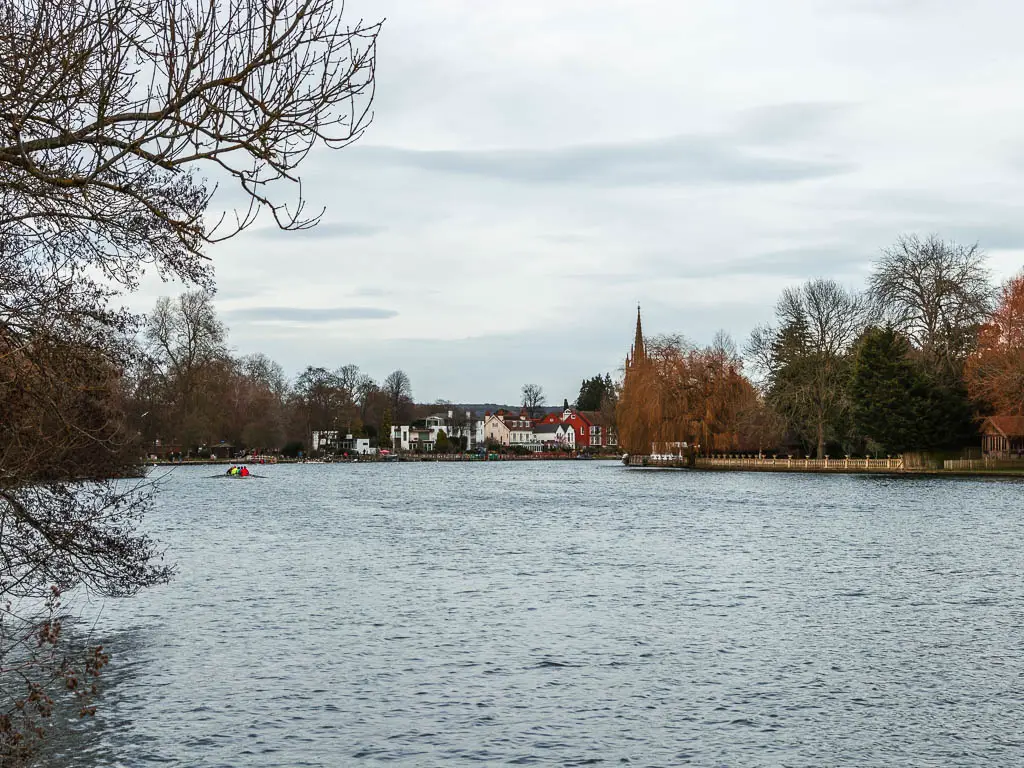 What was the walk like along the river from Henley to Marlow?
Simple, tidy, clean, calm, posh. Think manicured grass and swans.
The trail is a mix of path, grass, a small amount of dirt. For me personally, it was a bit more civilised than I usually like. But that's just me. You may see rowers training out of Henley, and the odd kayaker here and there.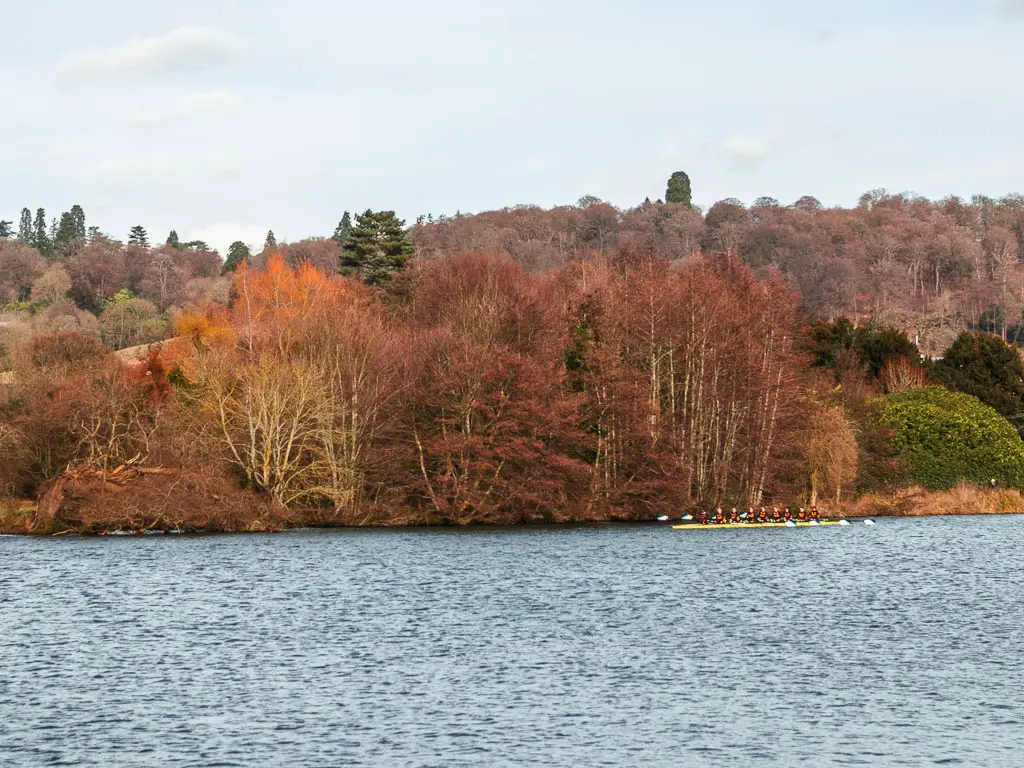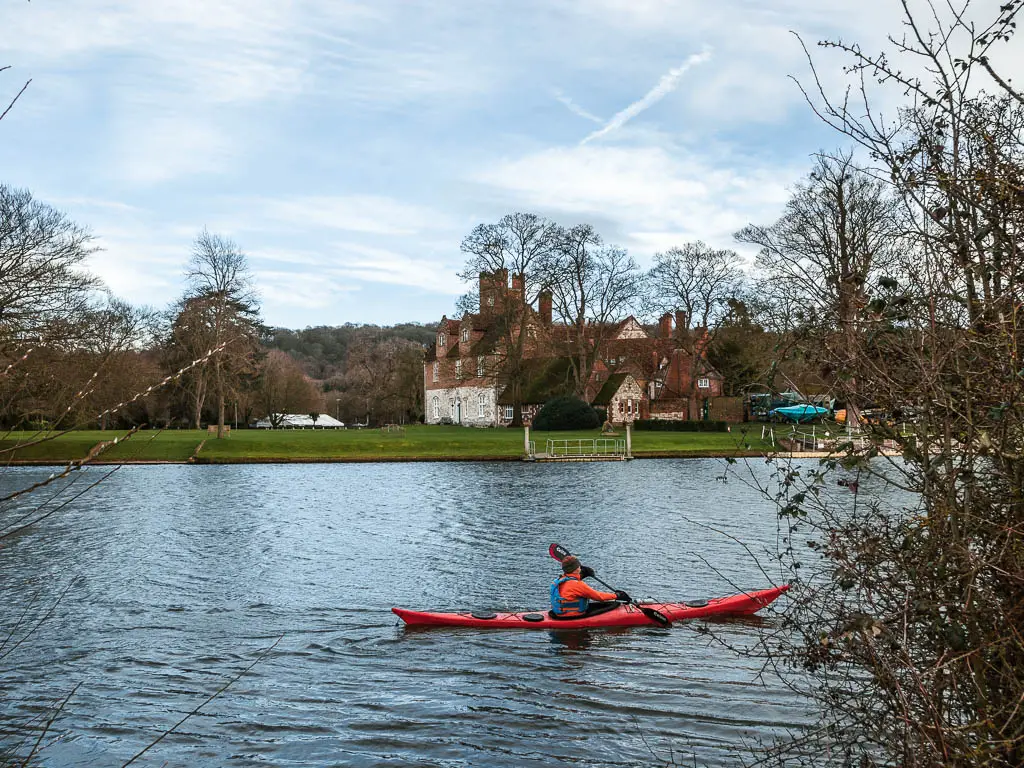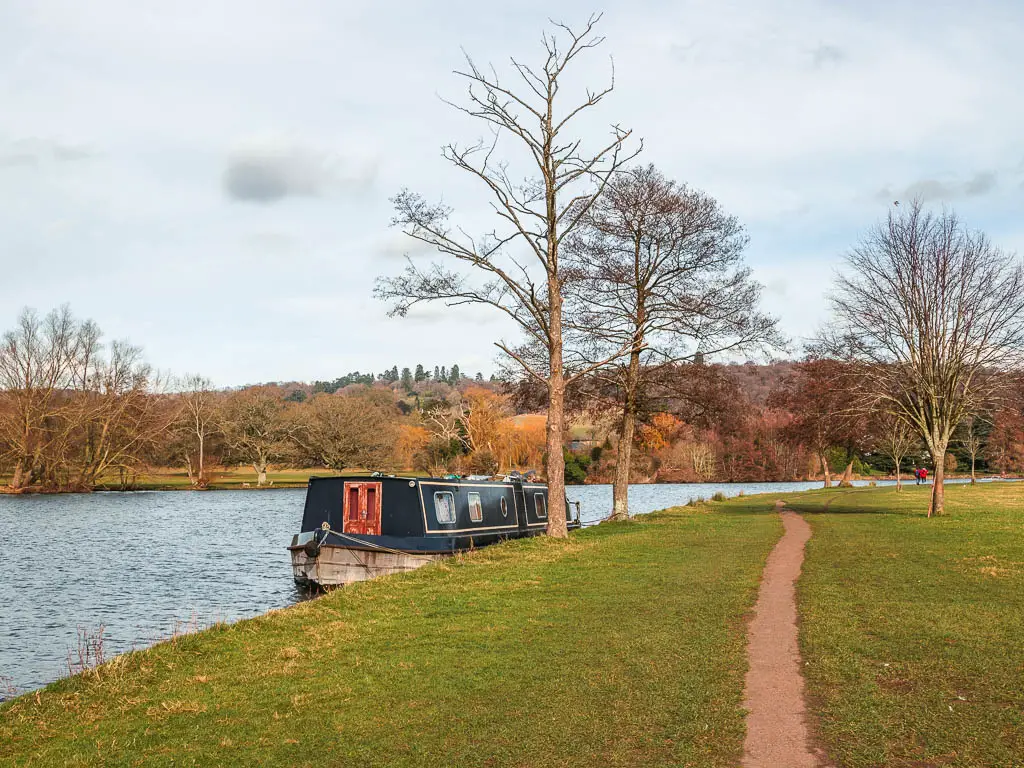 You walk along the river the whole way, except for a small detour at Aston. This was actually my favourite part. Aston is a quaint village, then past there you will be walking on the side of a hill with a lovely view down to the river and the hills beyond. 
There is also a high concentration of giant houses, usually on the other side of the river you are walking on. So you can admire from afar, and imagine what it would be like to live there.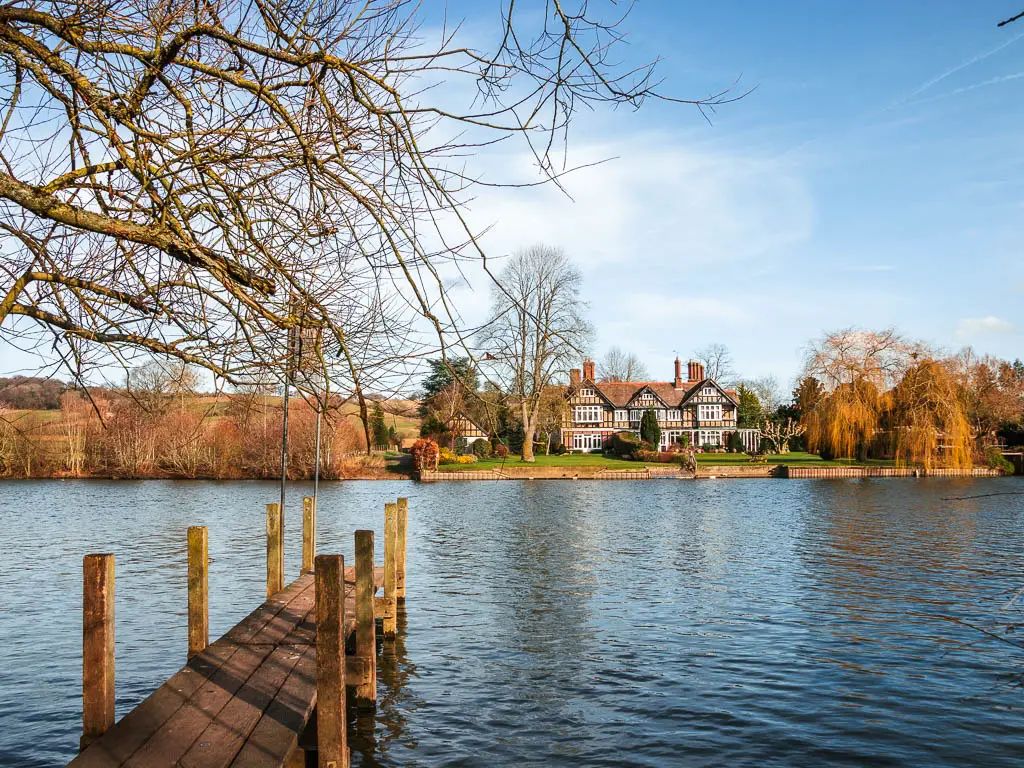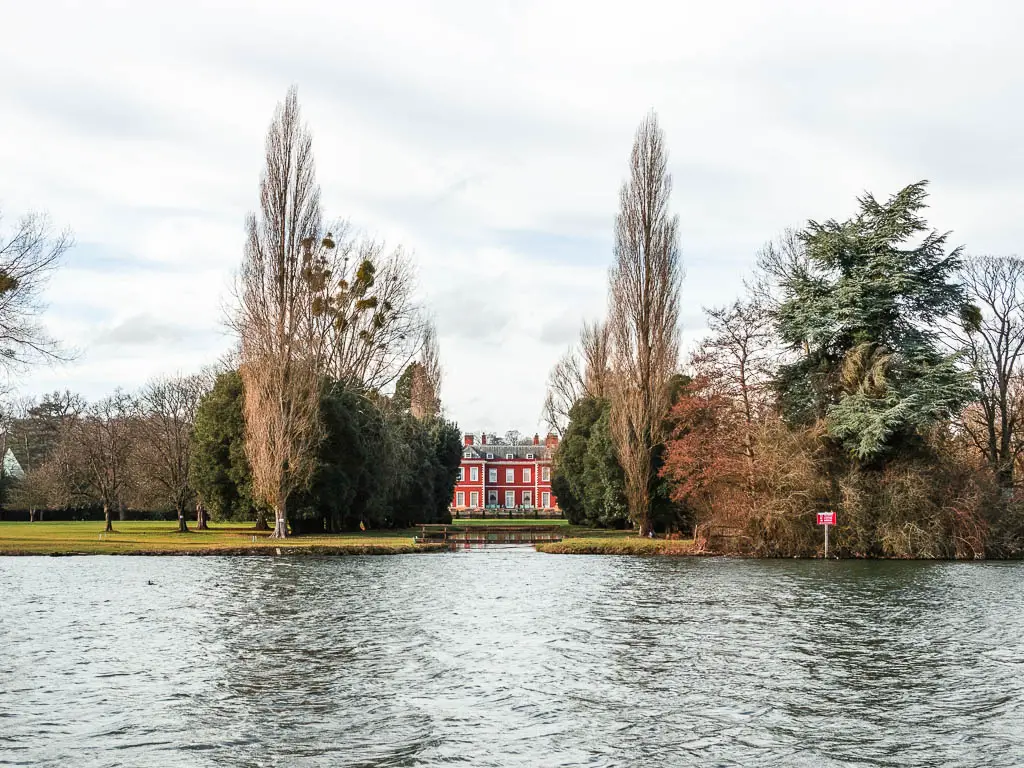 There was also quite a lot of danger signs about….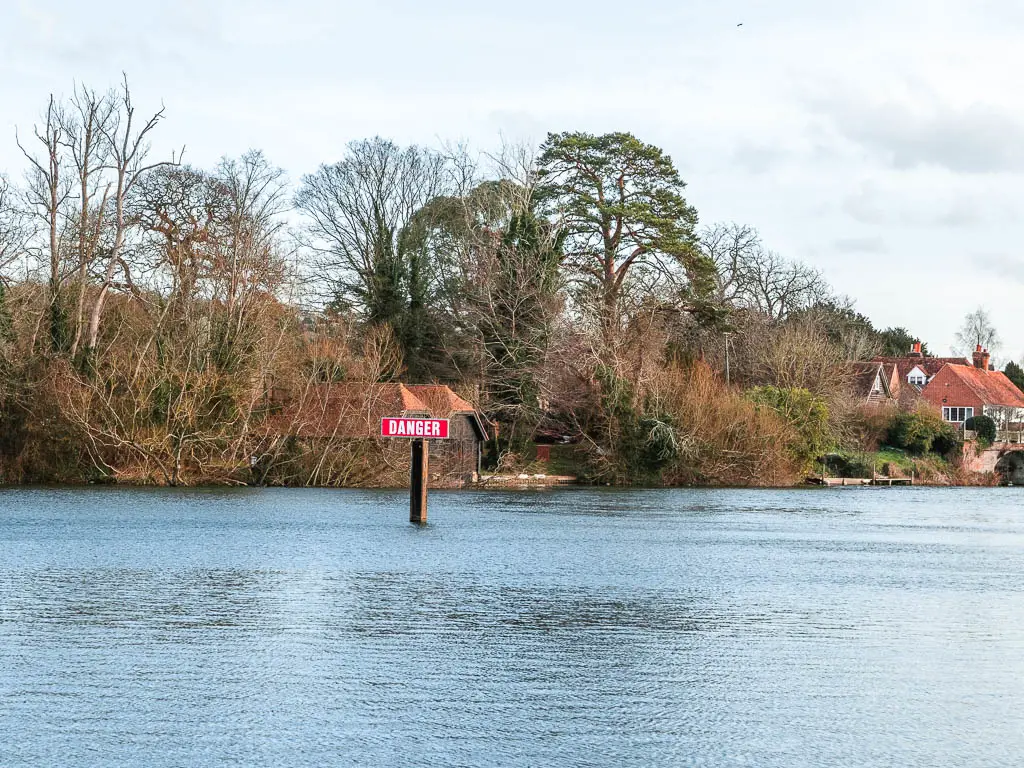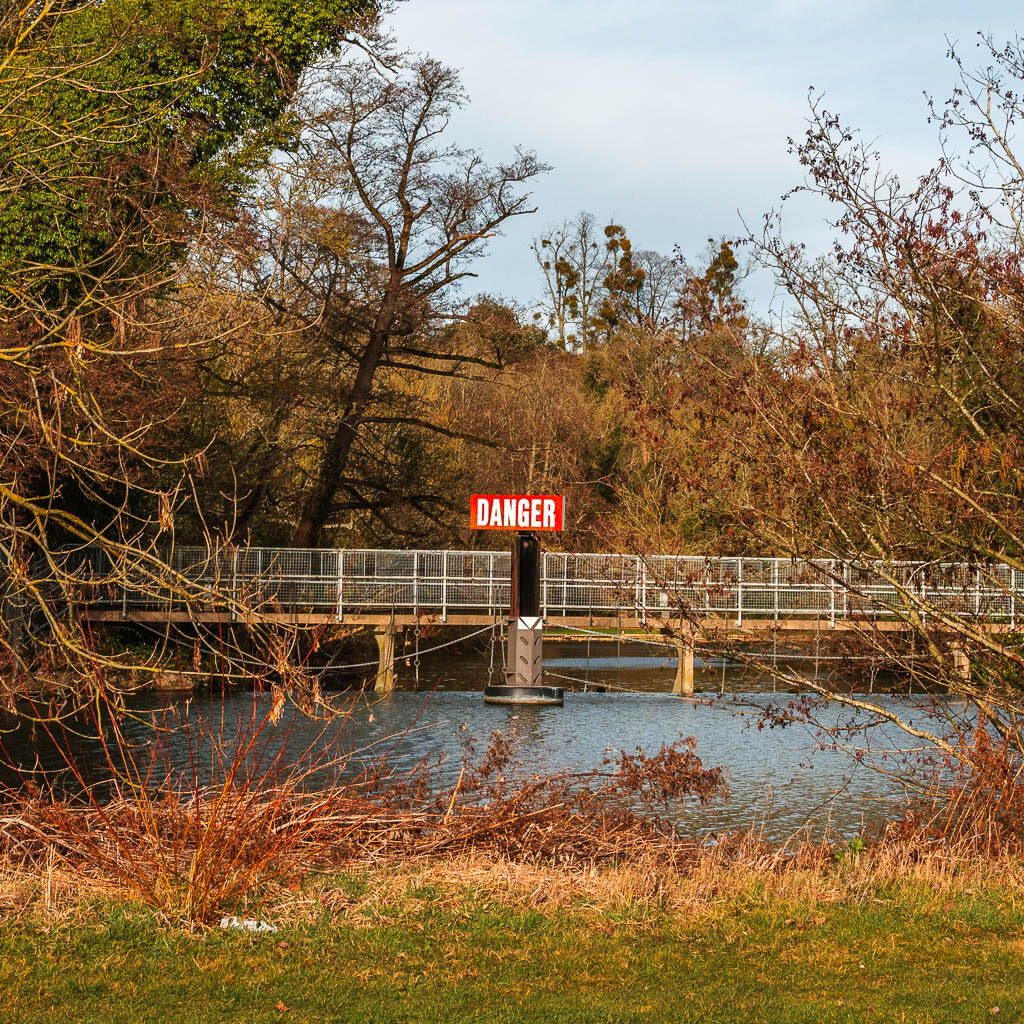 ---
Logistics for the river walk from Henley-on-Thames to Marlow 
---
Start: Henley-on-Thames
Finish: Marlow
How to get there: You can get a train to both from London Paddington in under 1 hour. Both involve a change. For Marlow, you change at Maidenhead, for Henley, you change at Twyford. Now, instead of buying separate single tickets for both journeys, you can do this: Buy a return from London Paddington to Henley, and a single ticket between Marlow and Maidenhead. When you arrive back in Maidenhead (from Marlow), your return ticket that you bought between Paddington and Henley will cover the rest of your journey back. This rule also applies if you want to walk along the river in the other direction from Marlow to Henley. 
How to get between the two: If you are already staying in Henley or Marlow, there is no train connecting the two, but you can get a bus 800 or 850 which takes between 15-20min.
Distance: 9 miles
Time: 3 hours
Difficulty: Easy
Accessibility: A chunk of the walk from Henley-on-Thames and on the other end near Marlow is level asphalt path. Some of the middle is grass. But its very neat grass.
Tips/Amenities: Both Marlow and Henley and lots of cafes, restaurants and pubs. Along the route there are quite a few sitting benches.
Time of year: I did this in winter
Map for the river walk from Henley-on-Thames to Marlow
More walk ideas near Henley and Marlow and along the Thames Path will be at the end
---
A guide to the river walk from Henley-on-Thames to Marlow
---
Arriving at Henley-on-Thames station, it's a short walk to the river, and from there, walk over to the bridge and cross over it.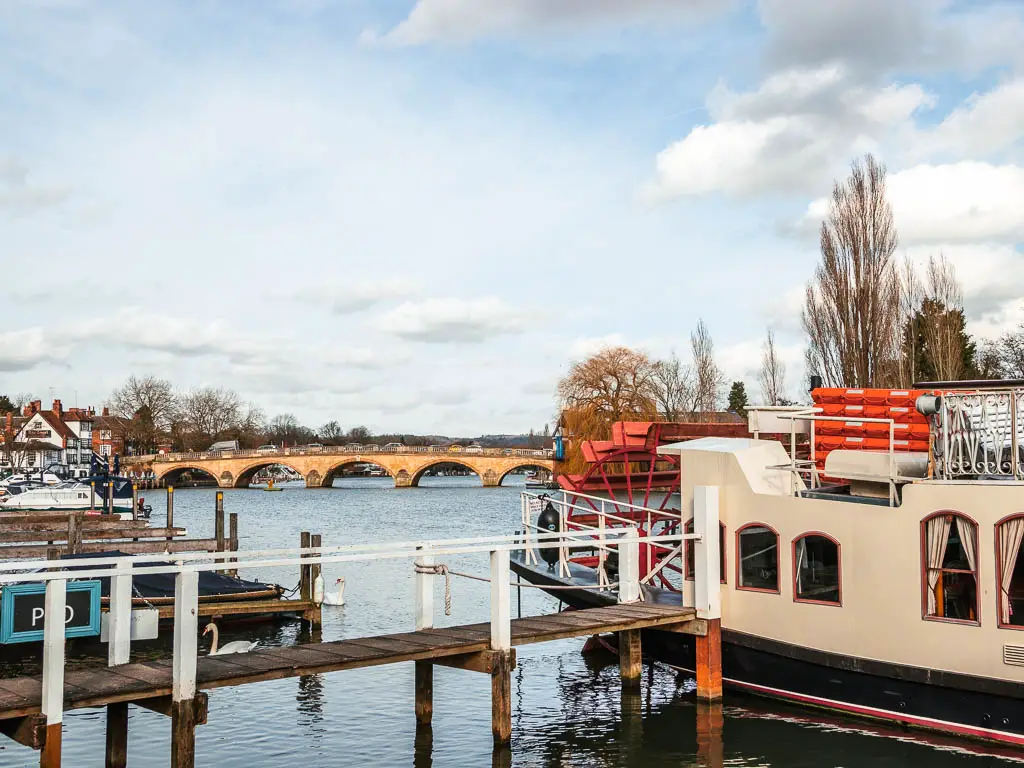 I had arrived at Henley with a bunch of other people coming in on the only train. So this first bit felt a little congested. I wondered if I had made the right decision coming here on a weekend, it is a popular little place after all. 
Over the bridge and along the path, it all felt very civilised and neat. There is a big green where all the rowers were prepping to get into the water. It was all funky leggings and posh accents.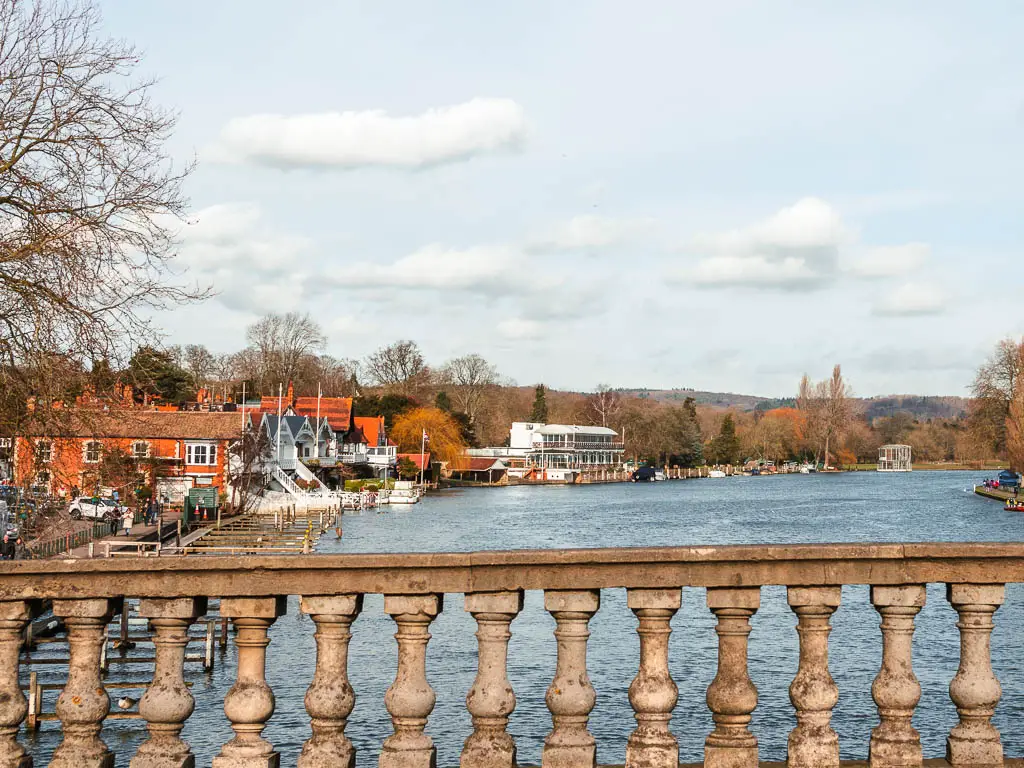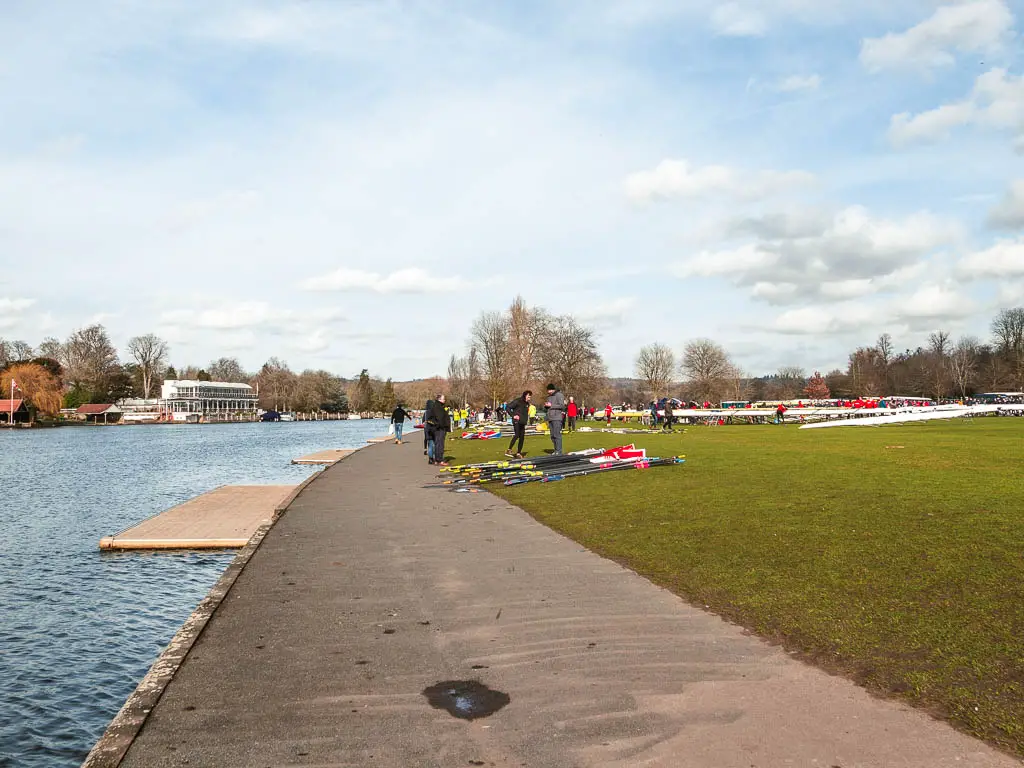 The path continues on, very neat, past some rowing clubs, with a view to the hills ahead in the distance. I thought about how much I would love to be going up those hills, but today was not the day.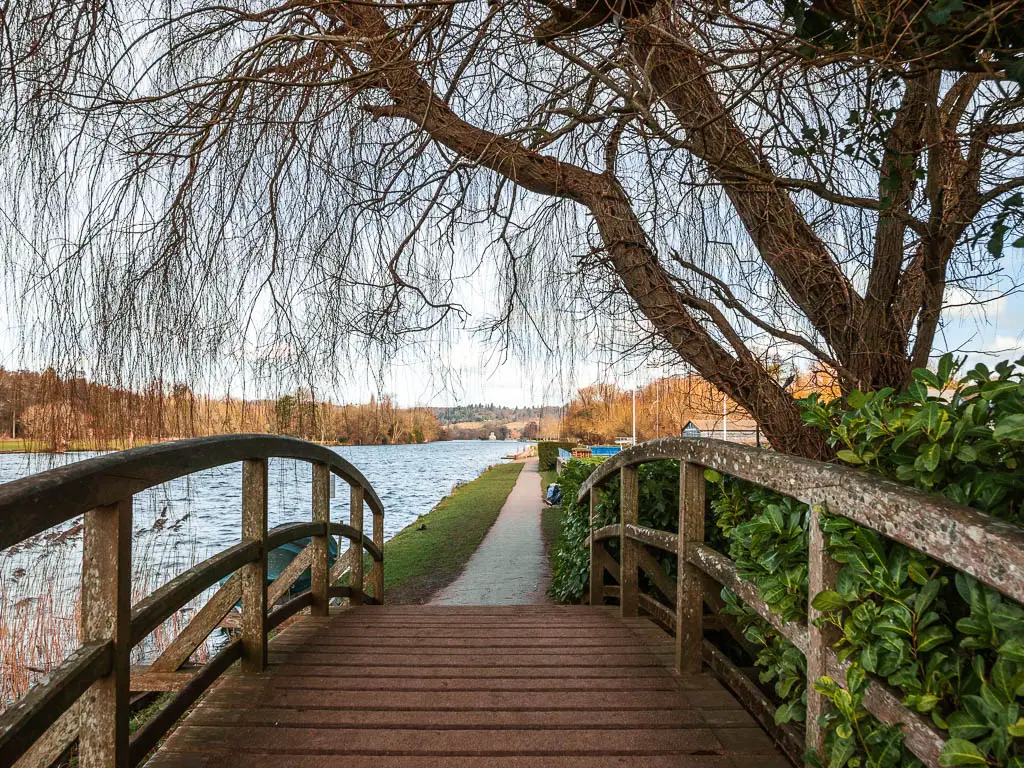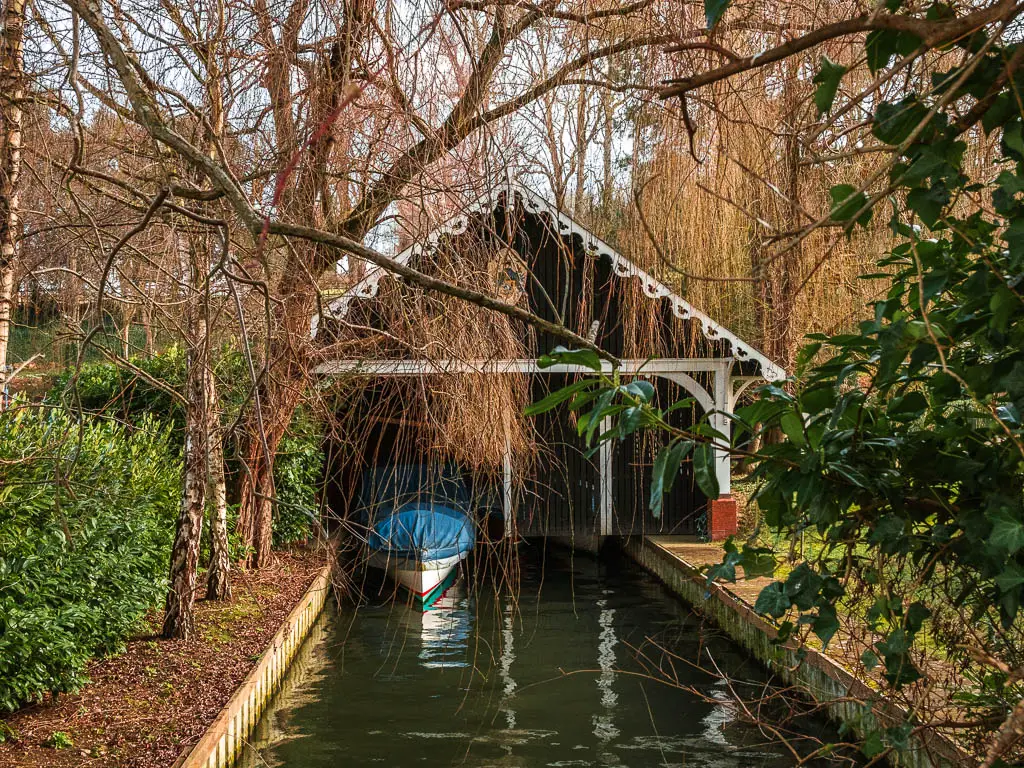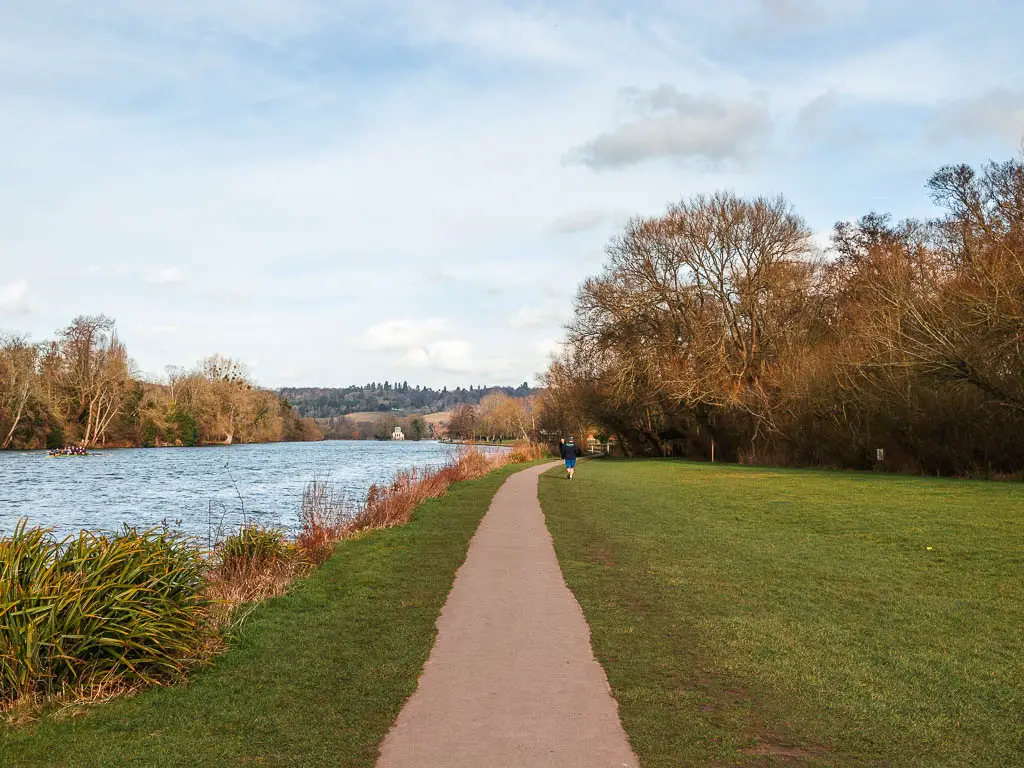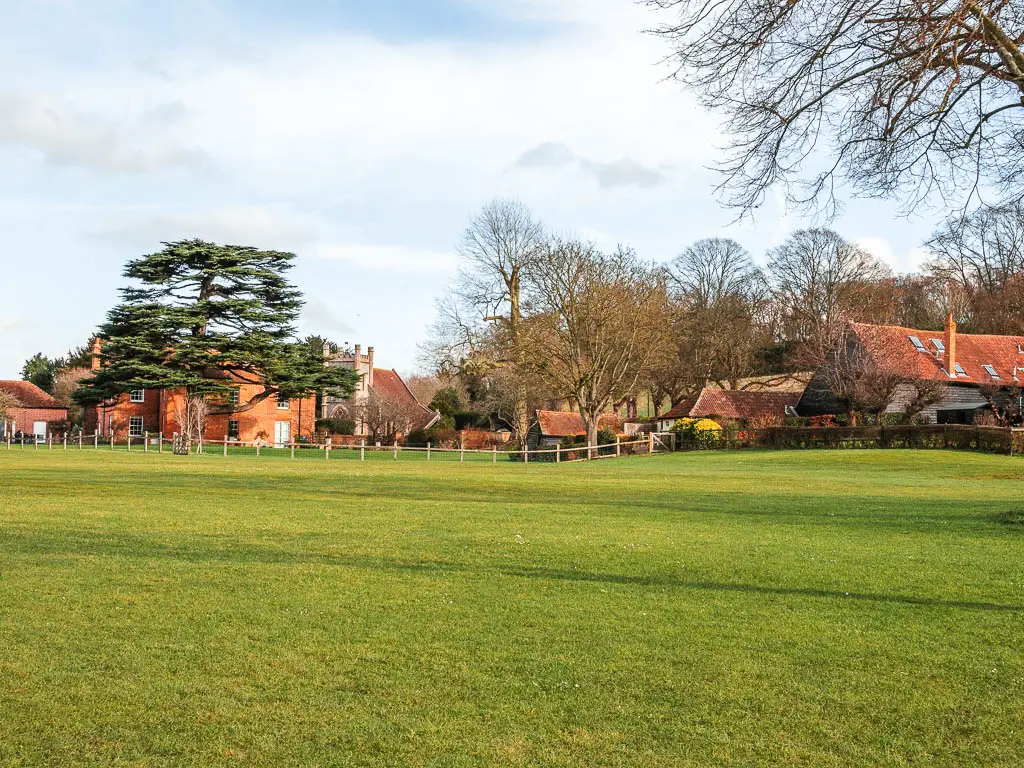 The river is very wide here, and with high tide, came right up to ground level. Like the ground was a continuation of the river. There isn't that much to look at on the other side of the river, apart from the occasional interesting tree. 
I haven't walked along the river from Henley to Marlow before, so wasn't sure what to expect, but I was hoping that this path wouldn't go on for the whole route. 9 miles of this would be a bit much for me. 
The grass and the big houses
Lucky for me, as I got further away from Henley, the path turned to dirt and grass. It was still very neat and clean, despite the fact that it had been raining. I wonder if this place has ever seen mud? It feels too posh for that.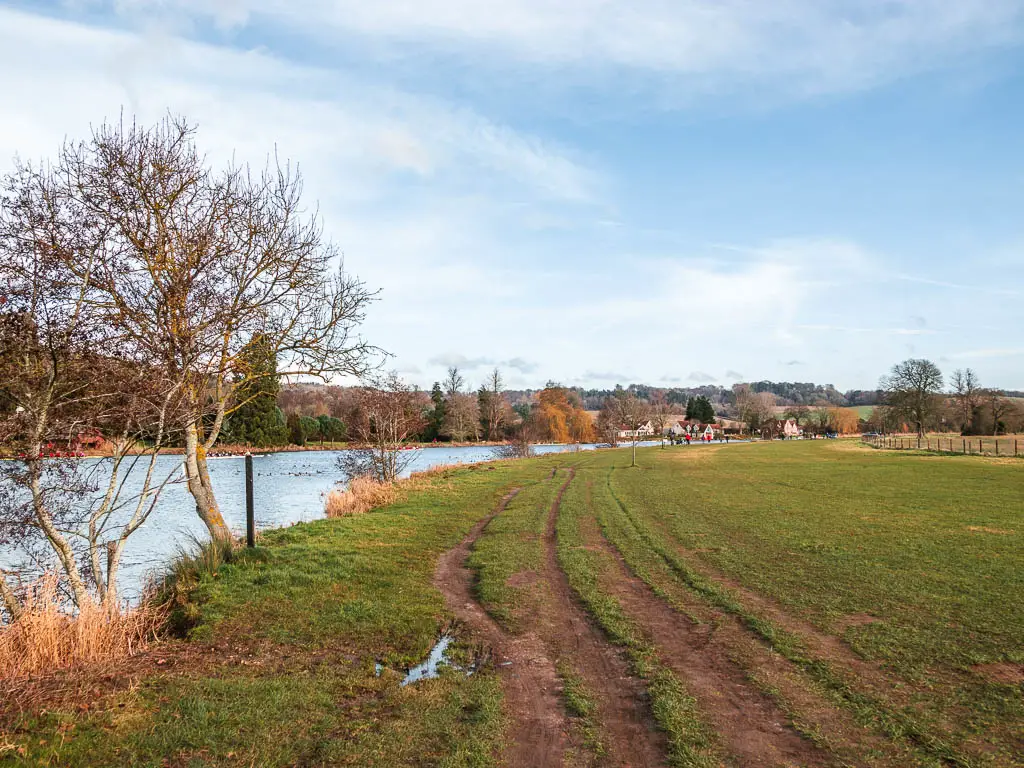 It was somewhere along here that the giant houses started to appear, along with the rowers from earlier. I gave it a good thought, but ultimately decided I wouldn't want to live in one of these houses. The rowers were loud. That might annoy me after a while.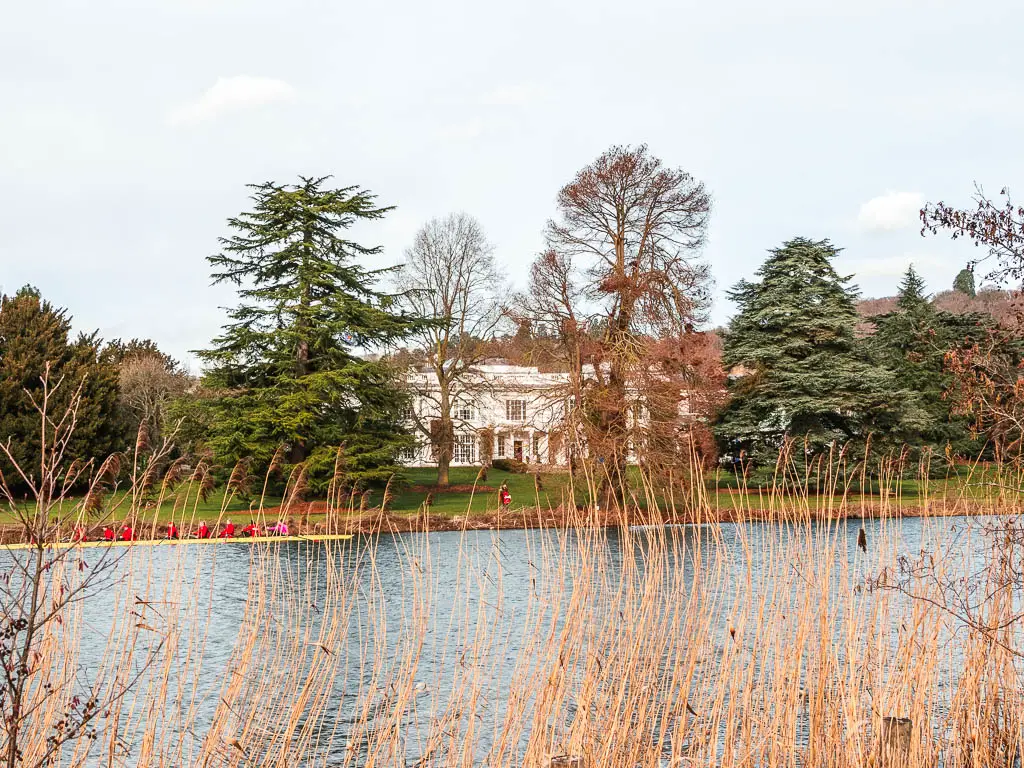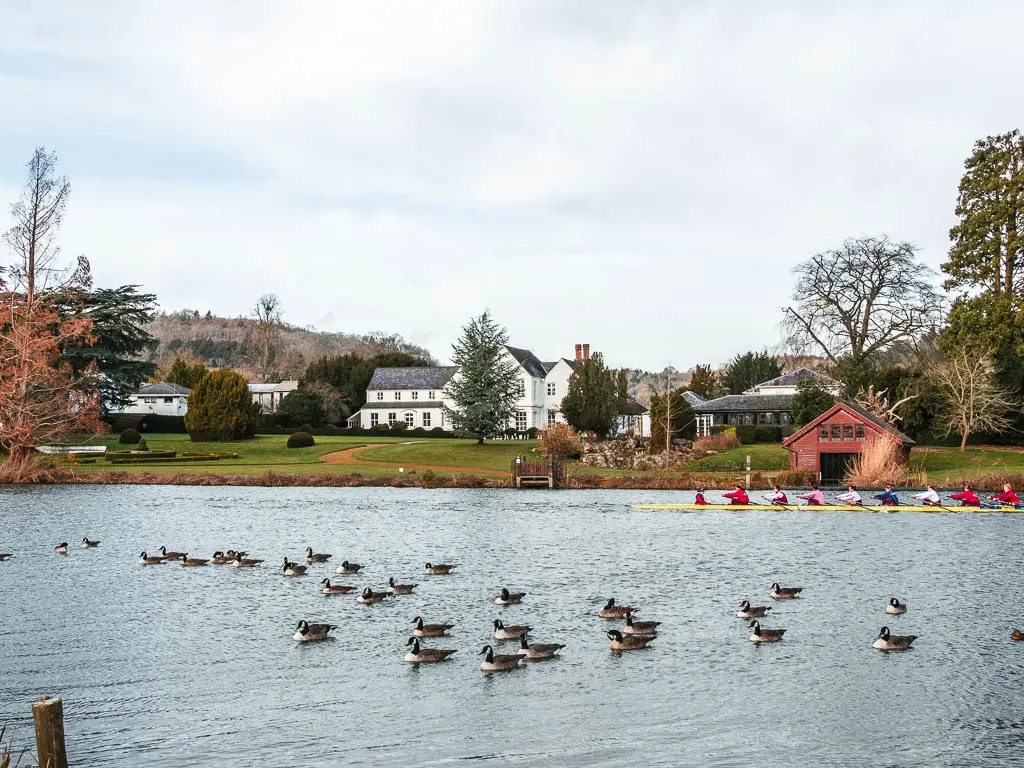 Hambleden 
Next comes Hambleden. Kind of. This walk from Henley to Marlow doesn't take you into Hambleden itself, but if you want to make this walk longer and add some variety, then this would be the perfect way to do it. Hambleden is a lovely little village made up of stone and flint houses. 
If you would like some route inspiration, you could read about my Hambleden and Medmenham circular walk here. 
Alternatively, you can see how walked there from Henley on my Henley to Hambleden guide.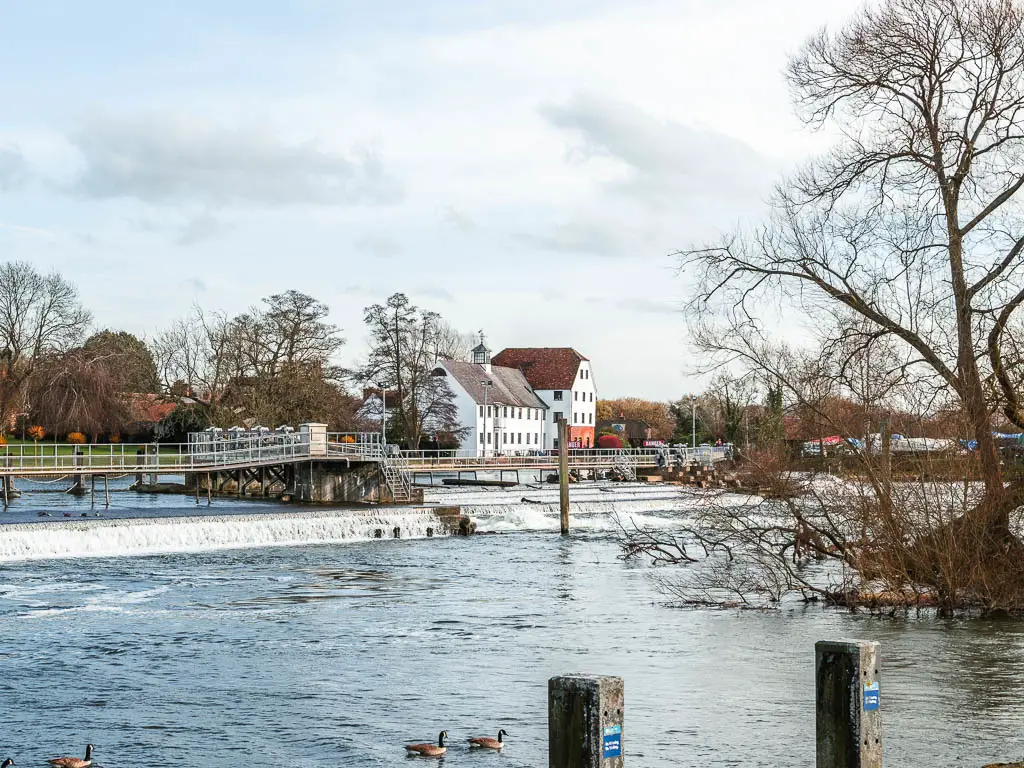 However, today I stayed on this side of the river and admired the mini waterfalls from afar. It gave me a sort of winter fresh vibe with the ice cold air. 
Aston and beyond 
The Thames Path continued as a mix of asphalt and grass to reach the village of Aston. I new from looking at the map that I would leave the river for a bit at Aston, and thought that this would be the bit I wouldn't like on the Henley to Marlow walk.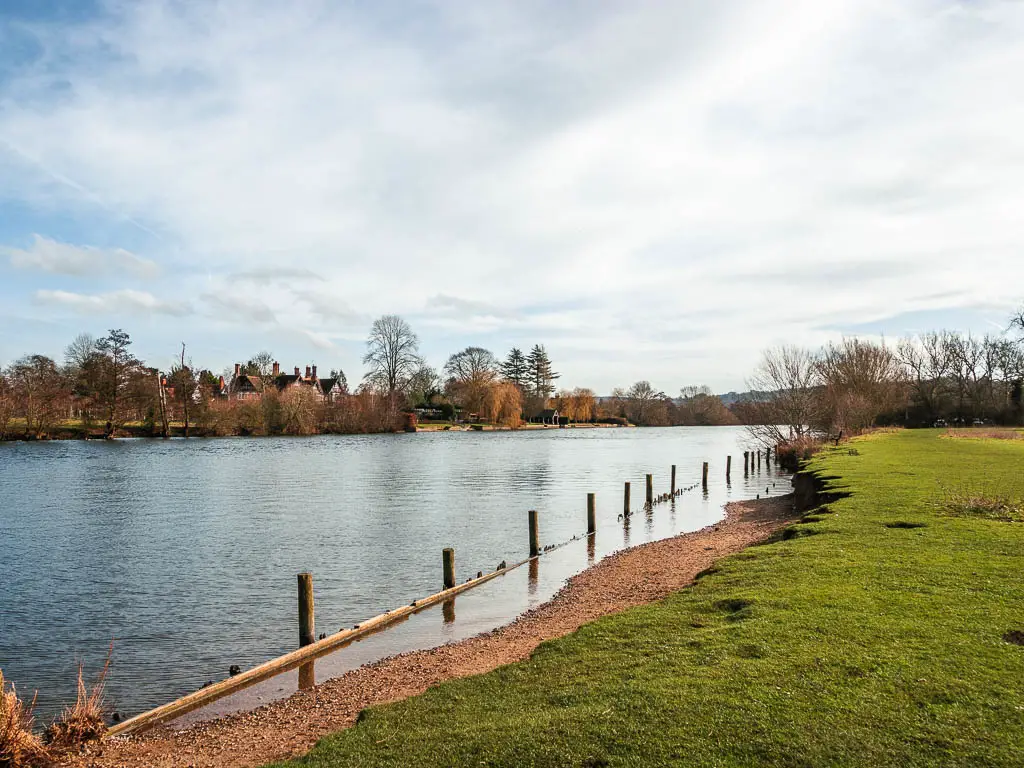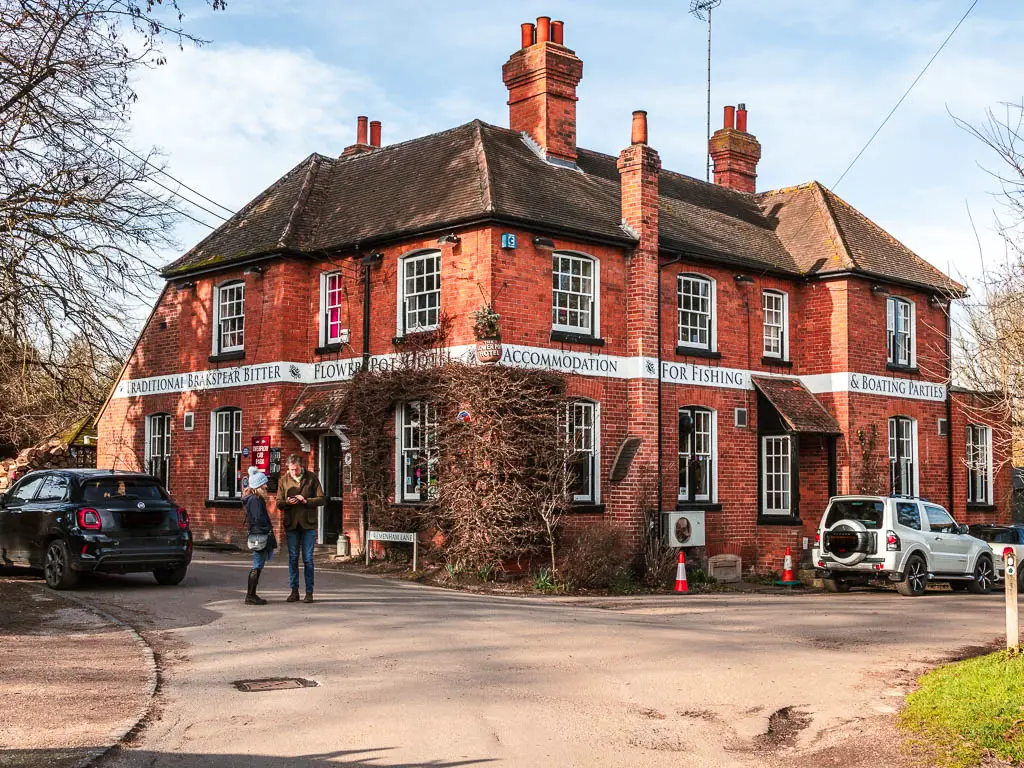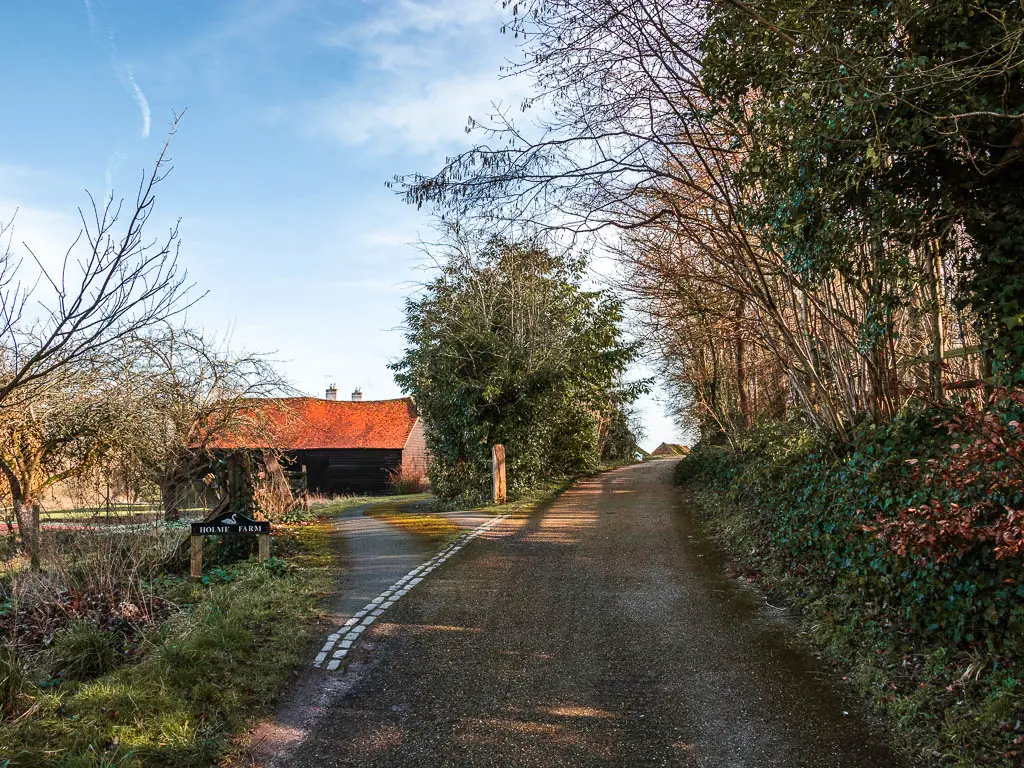 It turned out to be one of my favourite bits. What I saw of the village was cute (I didn't explore much, but just walked straight through), but then out the other side, and along the side of the hill, everything just opened up. A view down to the river and the hills on the other side.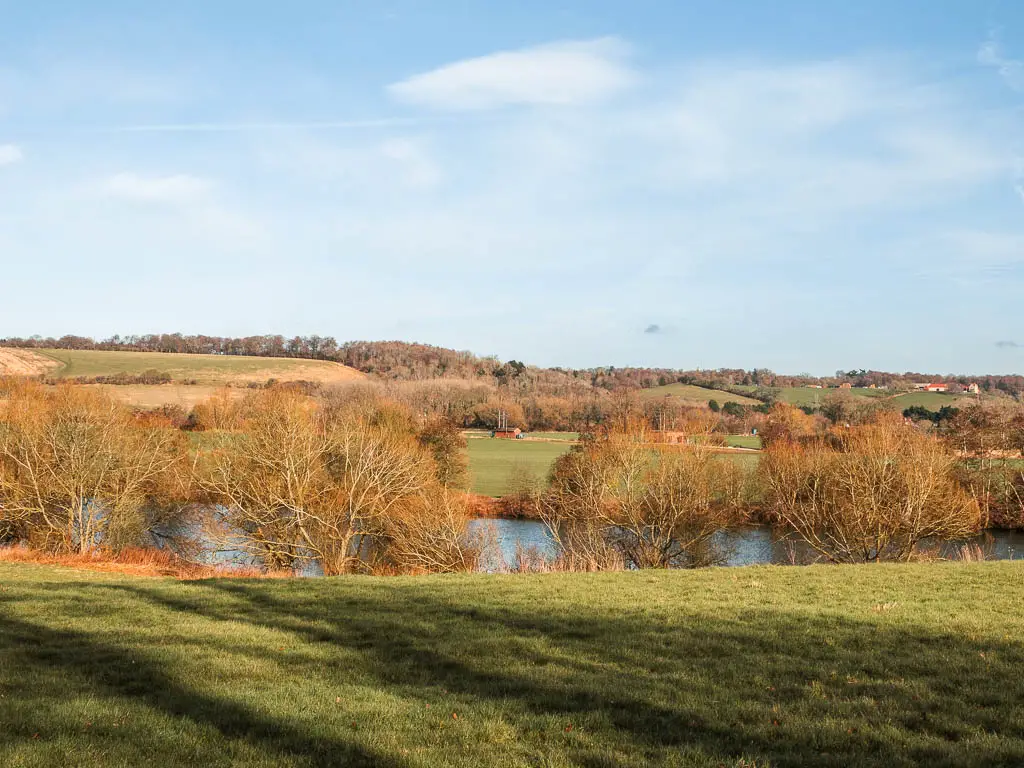 If you know me, you know I am a view person, so it was nice to have a change from being down on the river. 
Everything was a lot more peaceful along here. Less people. No more rowers. 
Walk back along the river towards Marlow
I followed the Thames Path signage as it did some turns, to then take me back onto the river to continue the walk towards Marlow.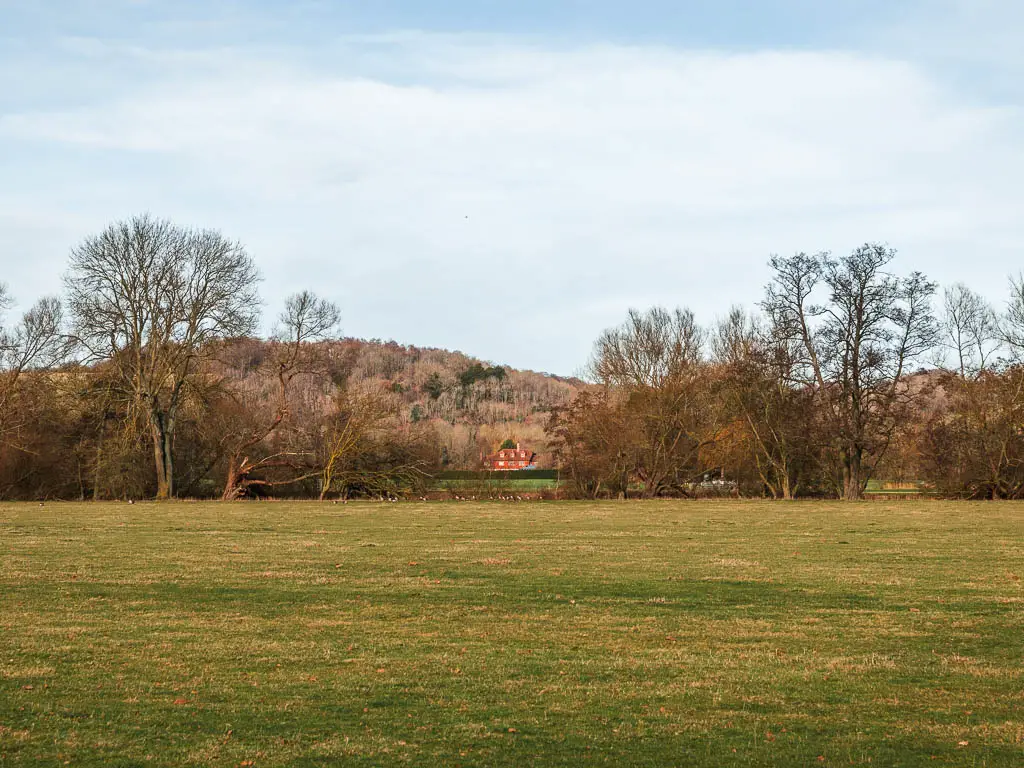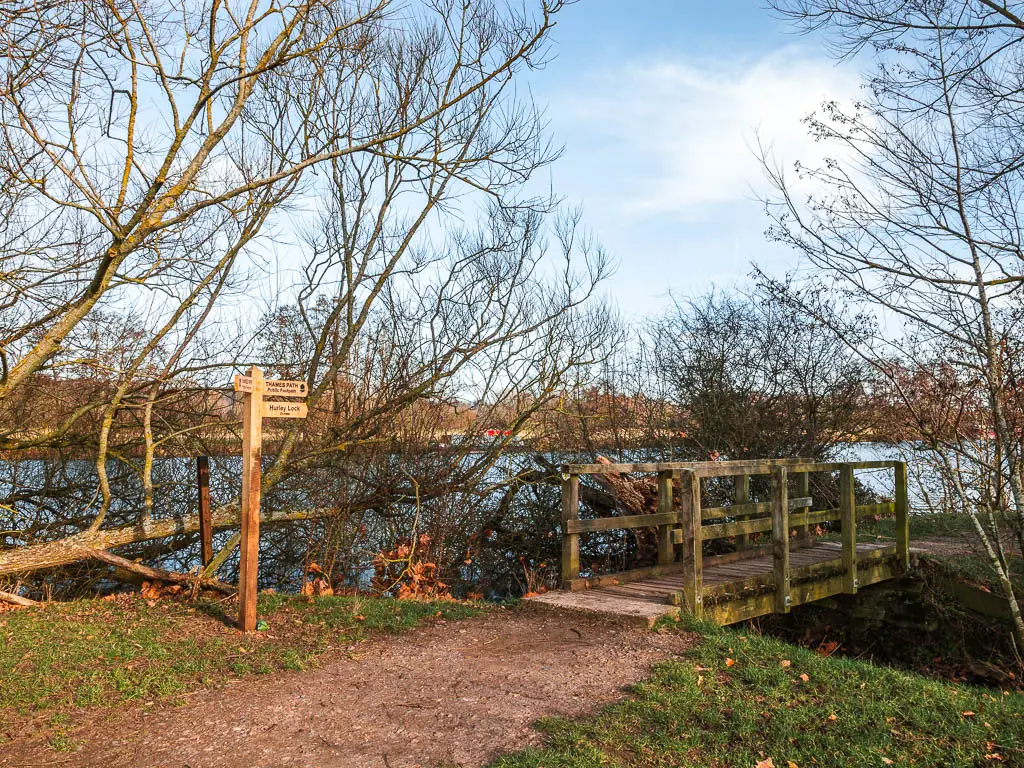 I then passed by some more houses and house boats, a bit of woods, a holiday park with goats, and a glimpse of the white cliffs on the other side of the river.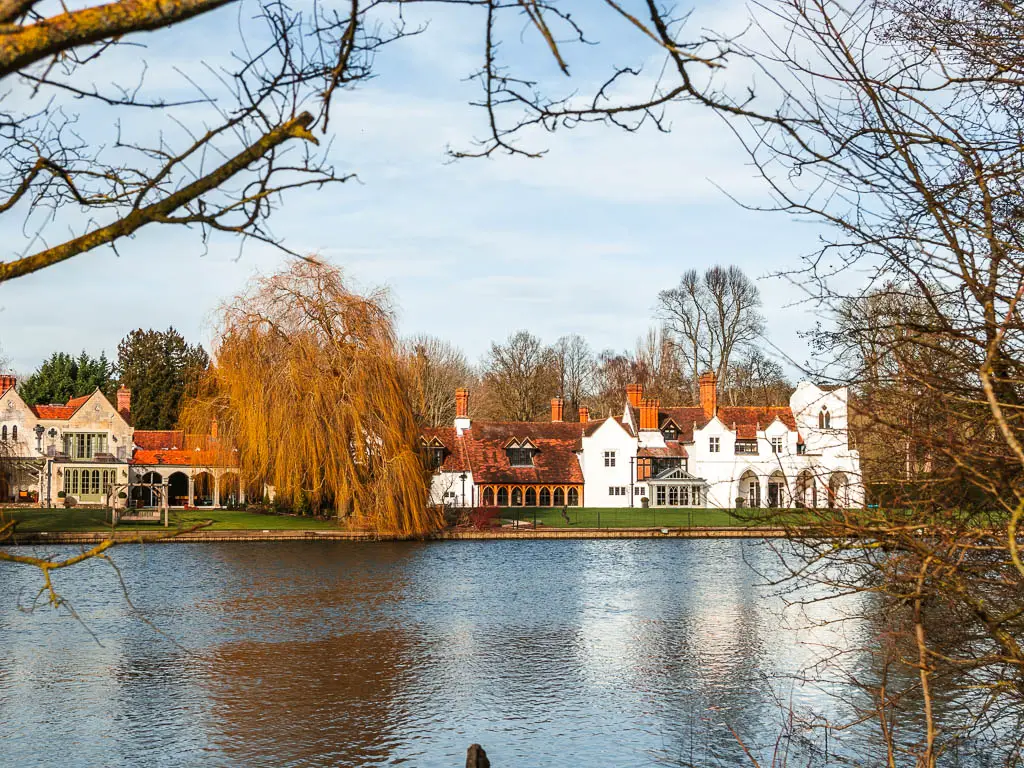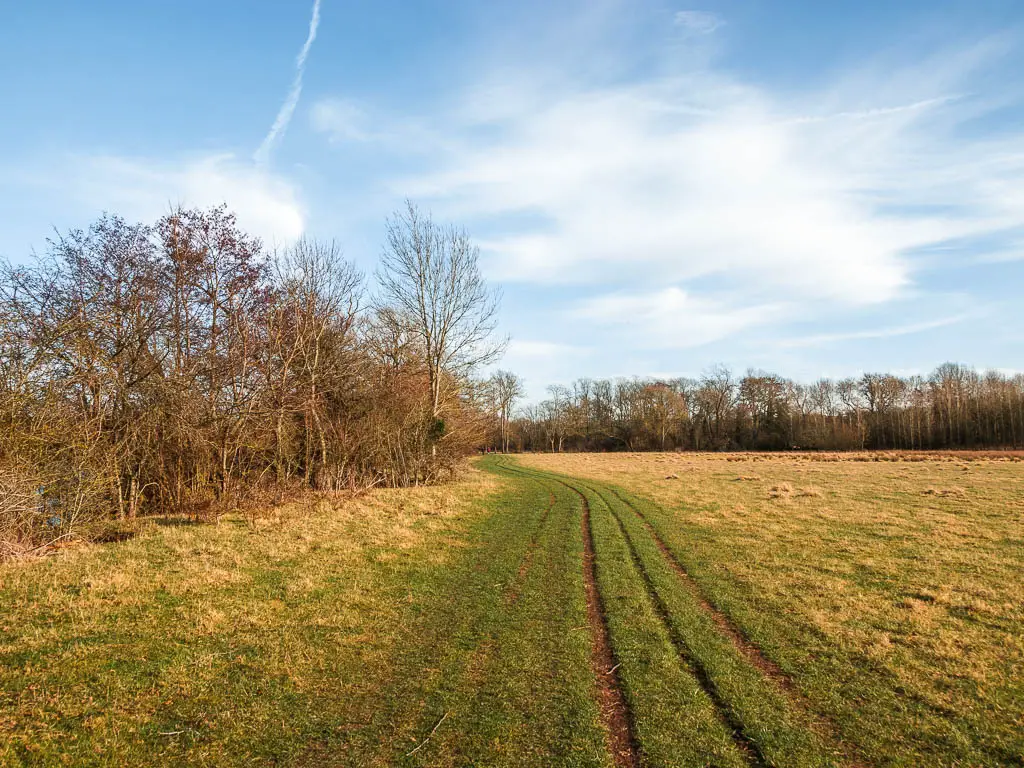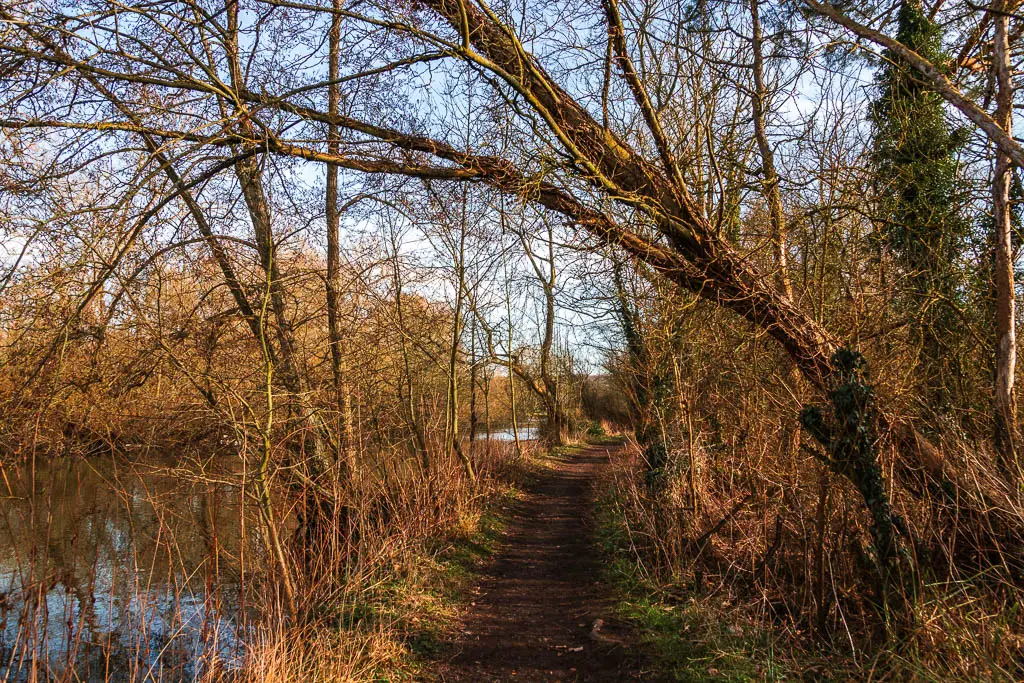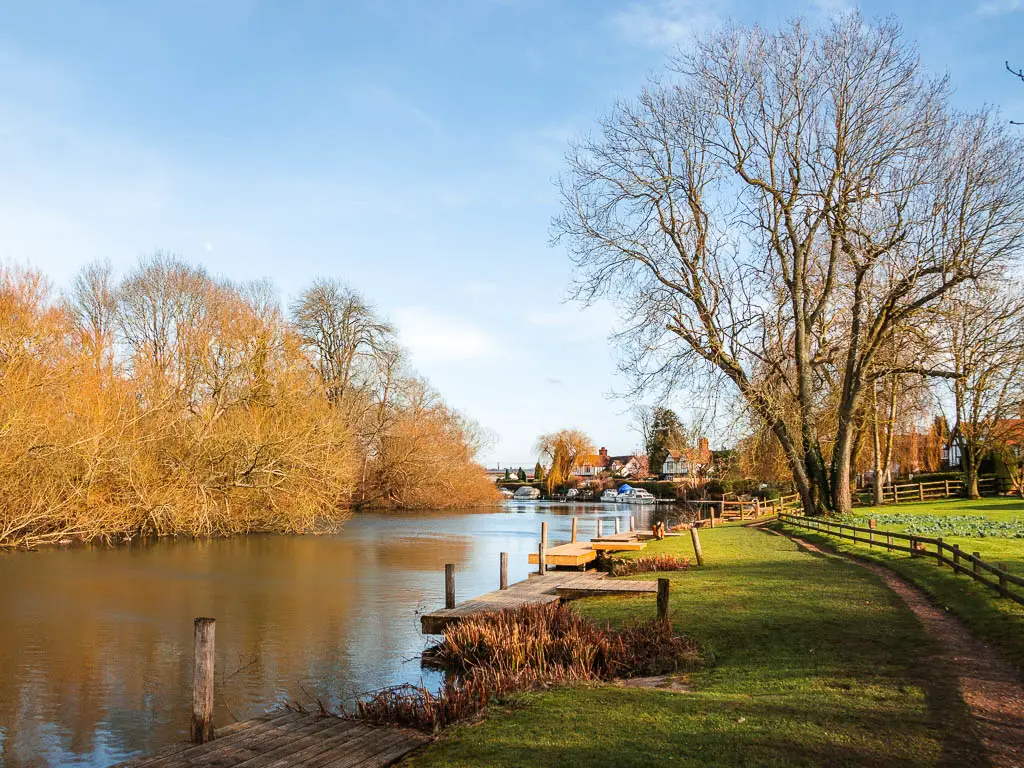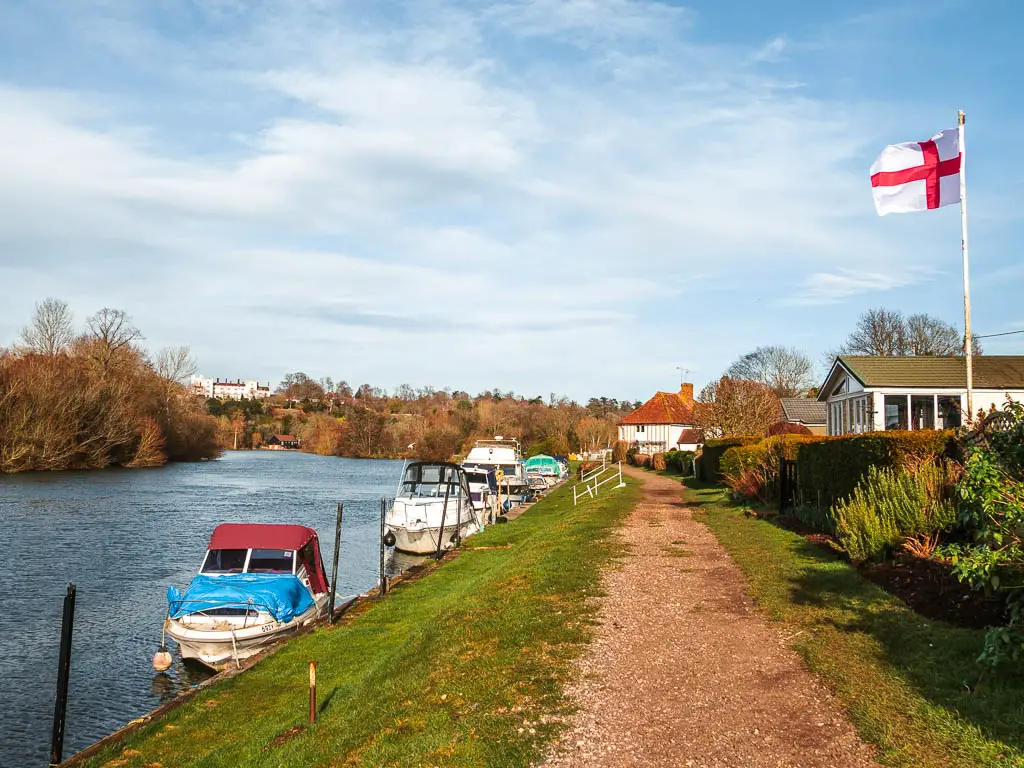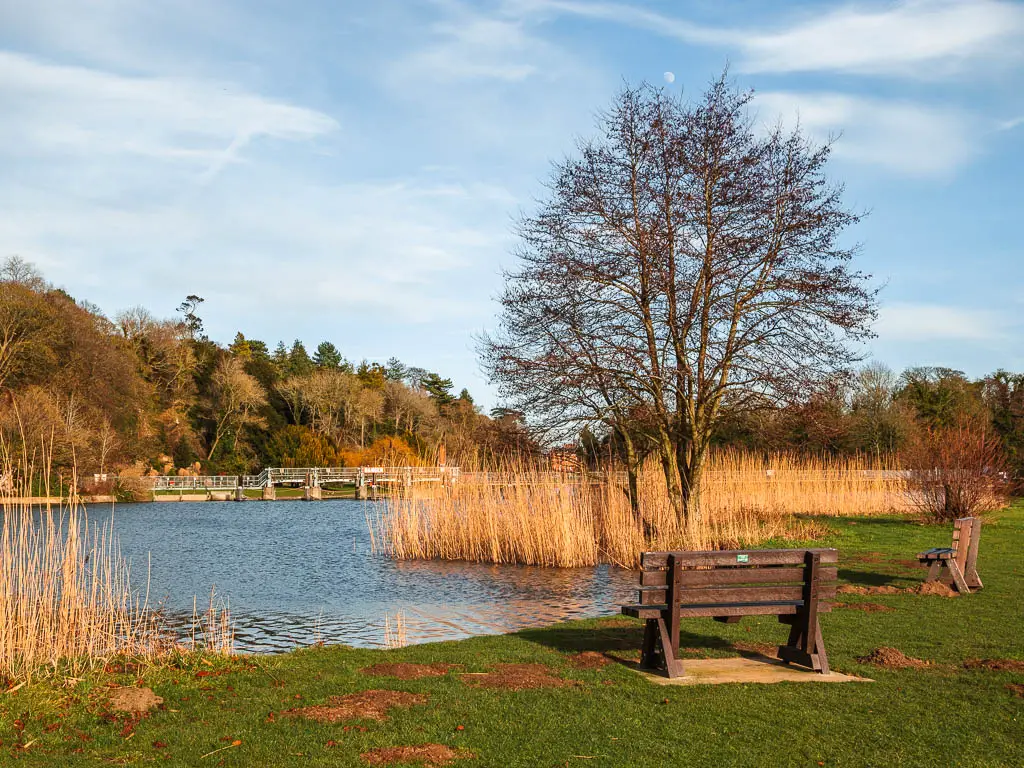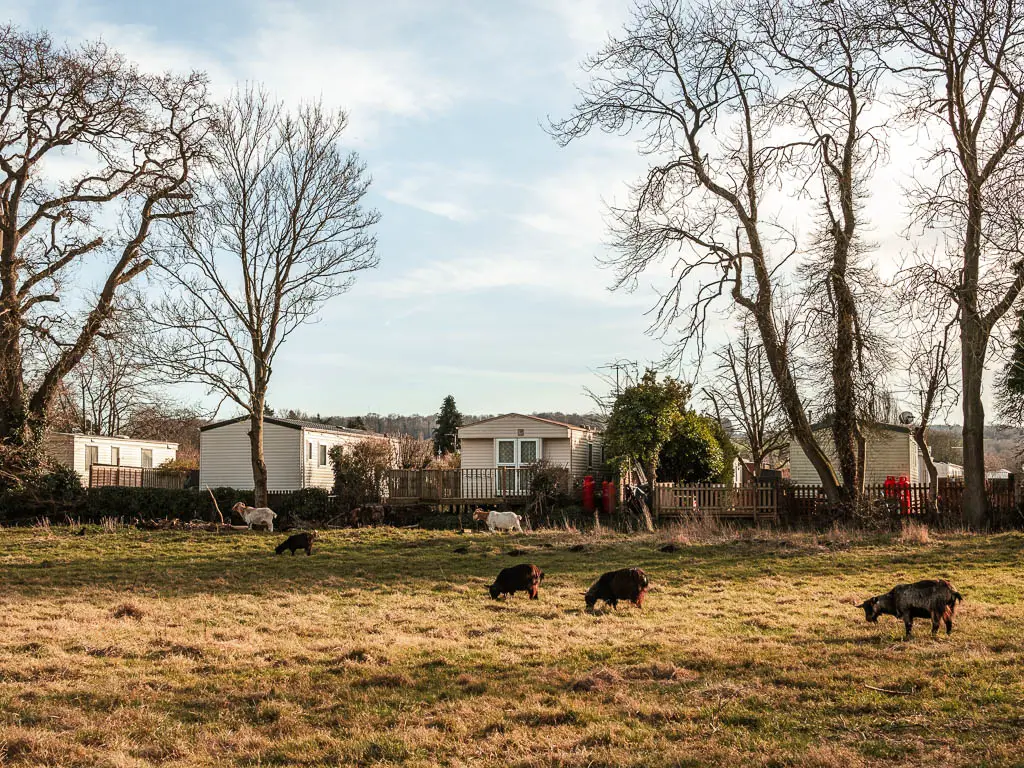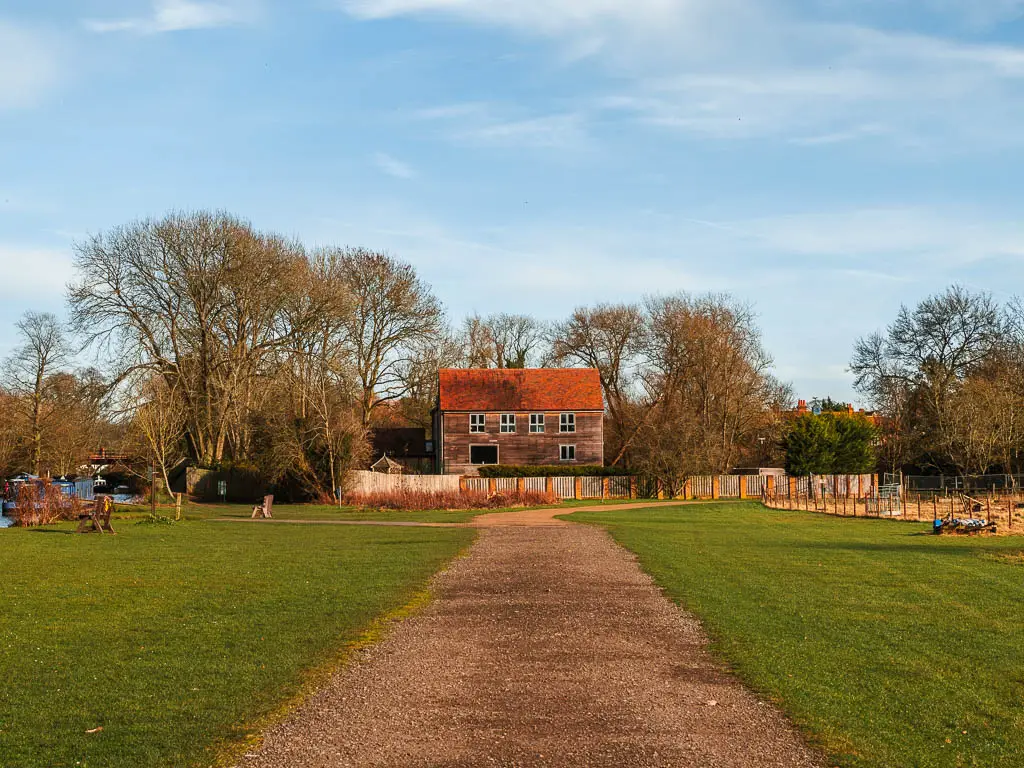 The bridge crossings
There are 3 bridge crossings coming up. All in all, you only need to cross over one, as you want to be on the other side for the final stretch of the walk into Marlow. I of course, decided I must cross over all 3. Bridges are fun after all. 
The first 2 bridges are cute little wooden ones, which take you around the lock. The next one, a bit further along, is the daddy wooden bridge.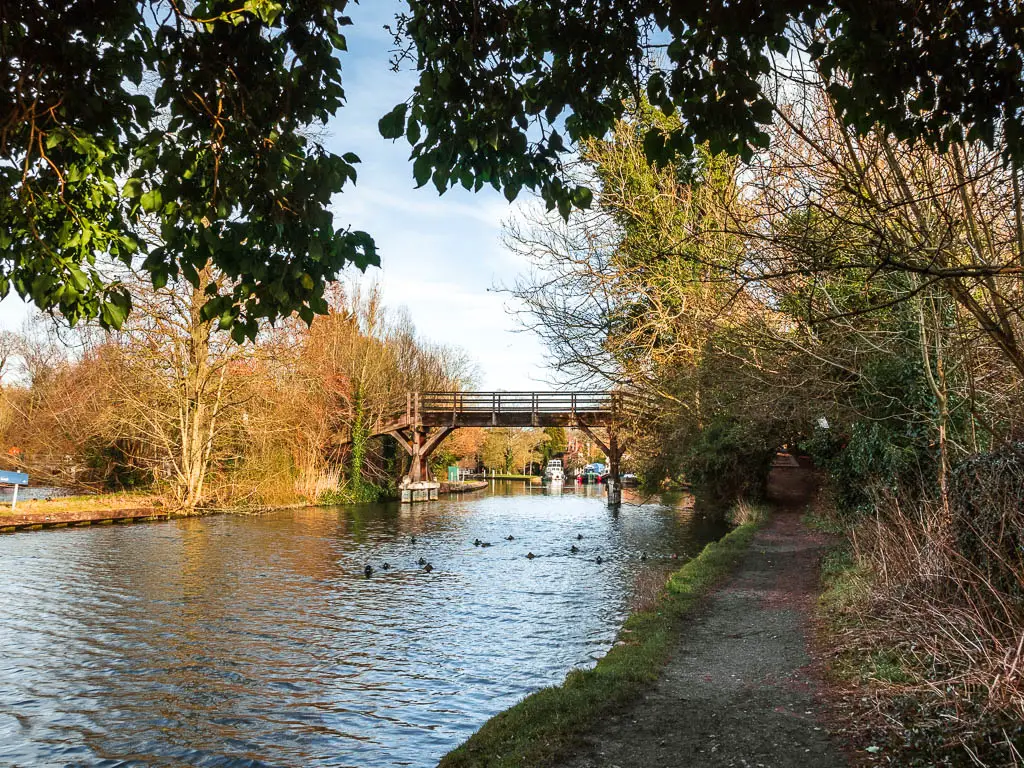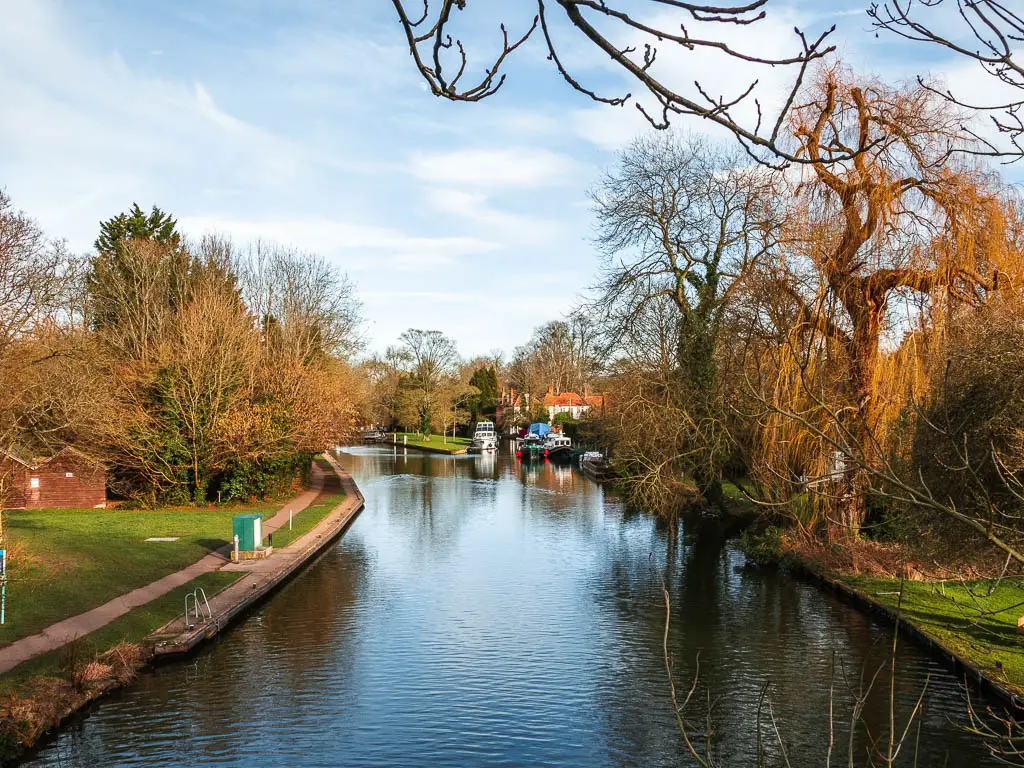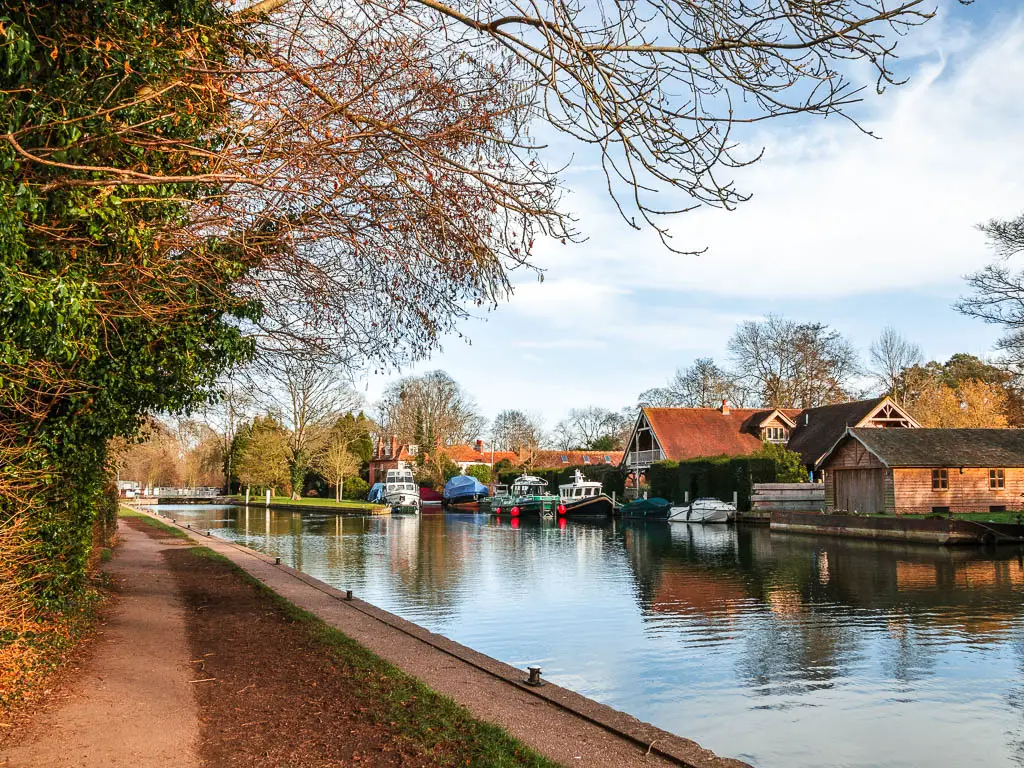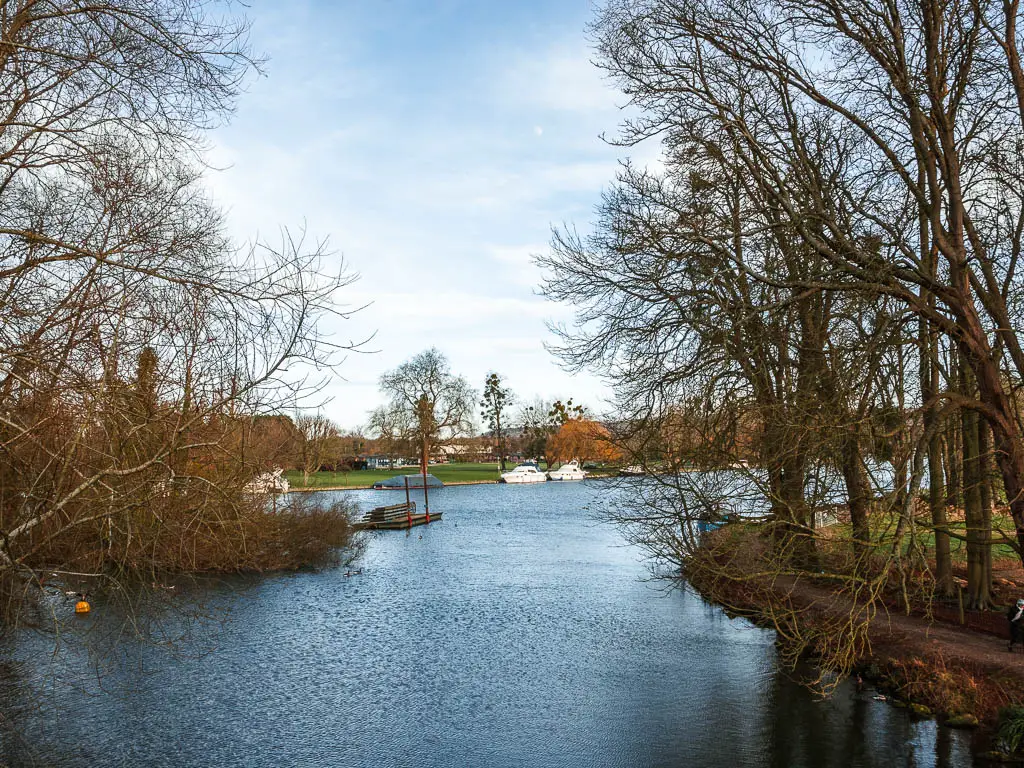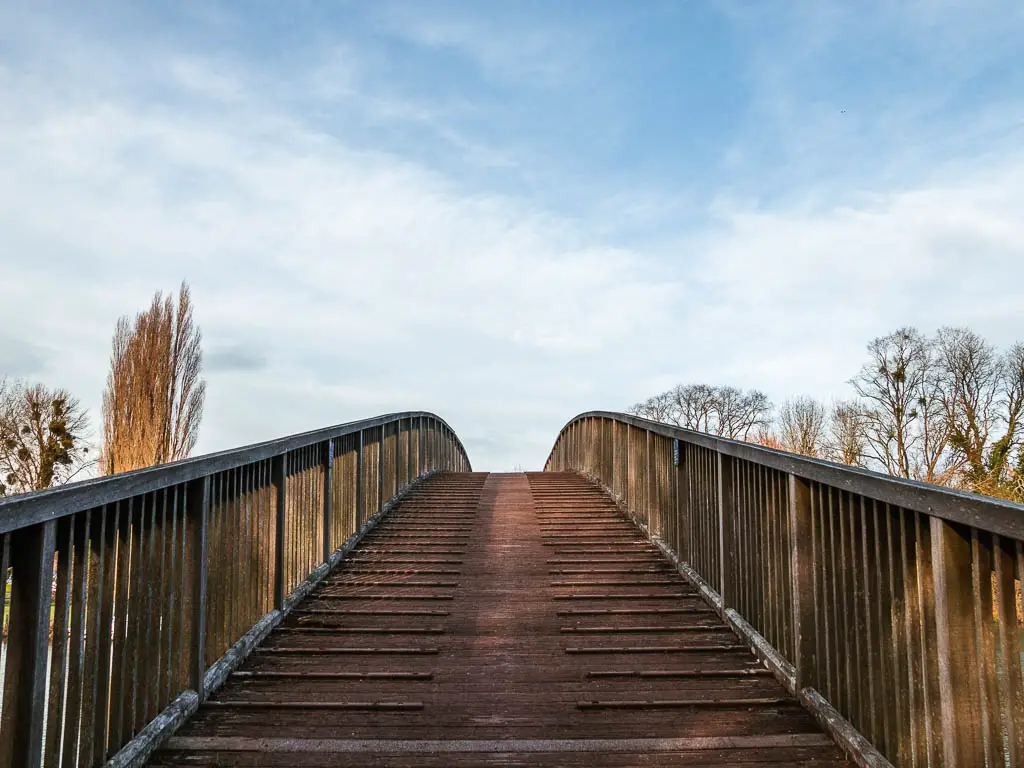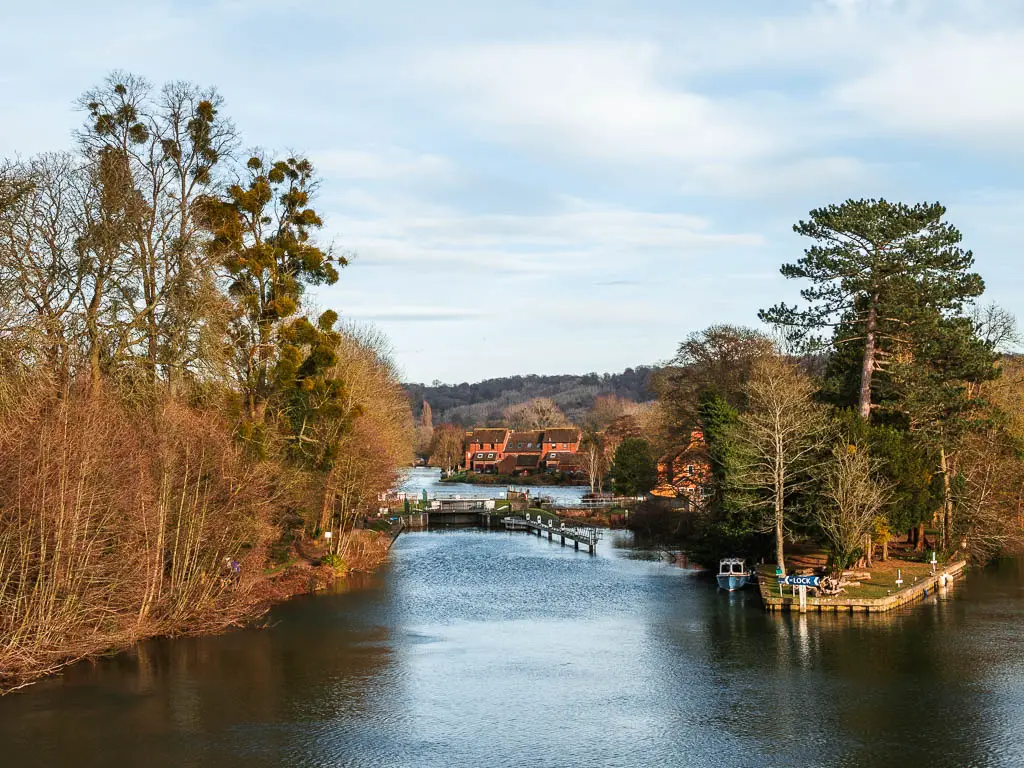 However you want to do this, make sure that by the last bridge, you are on the north side of the river for the final stretch of the Henley to Marlow walk. 
Walk to Marlow
Once on the north side of the river, the path goes from dirt to asphalt to dirt to asphalt for the rest of the walk into Marlow. This time, the impressive homes are now on the other side of the river, with a church thrown in for good measure.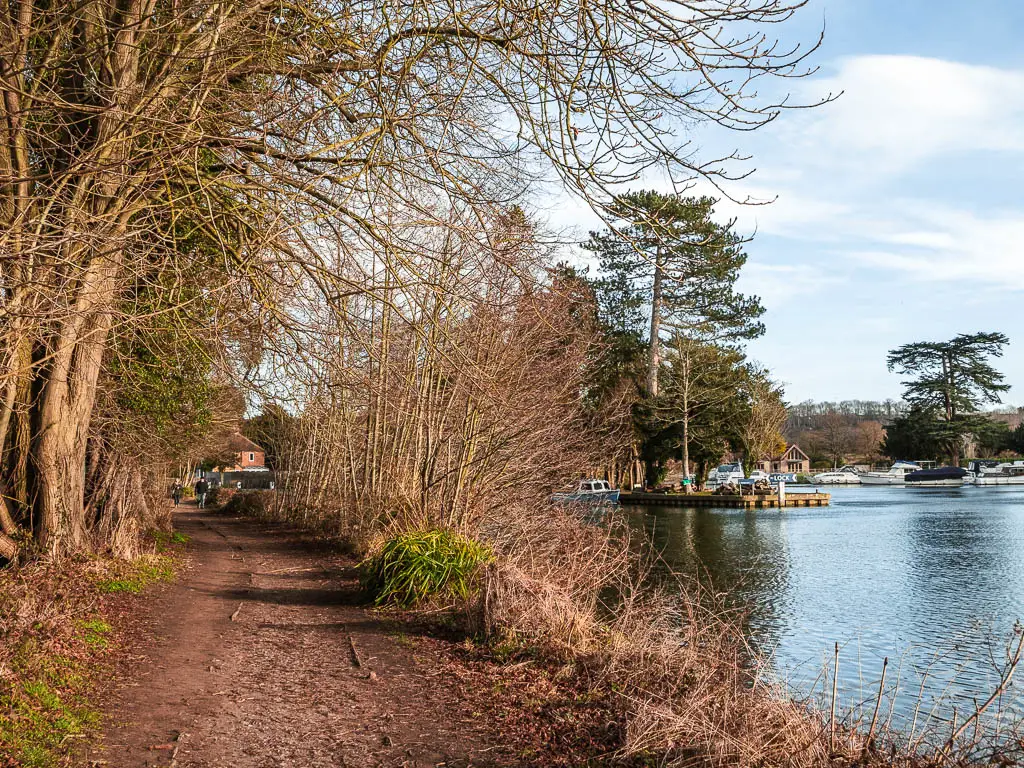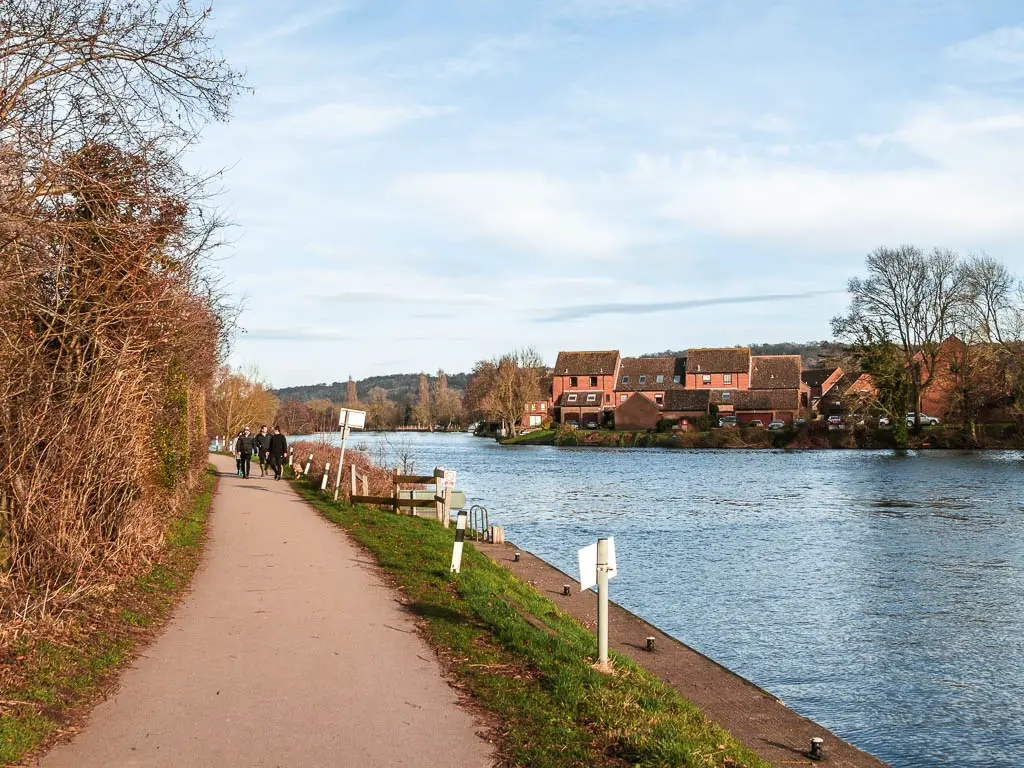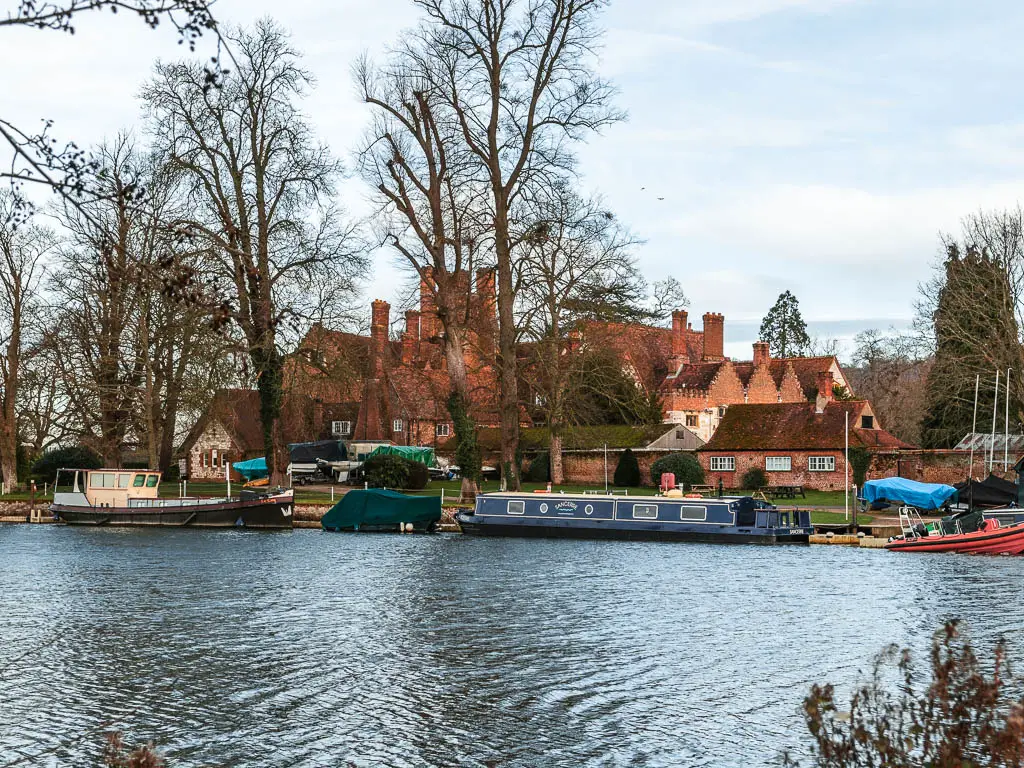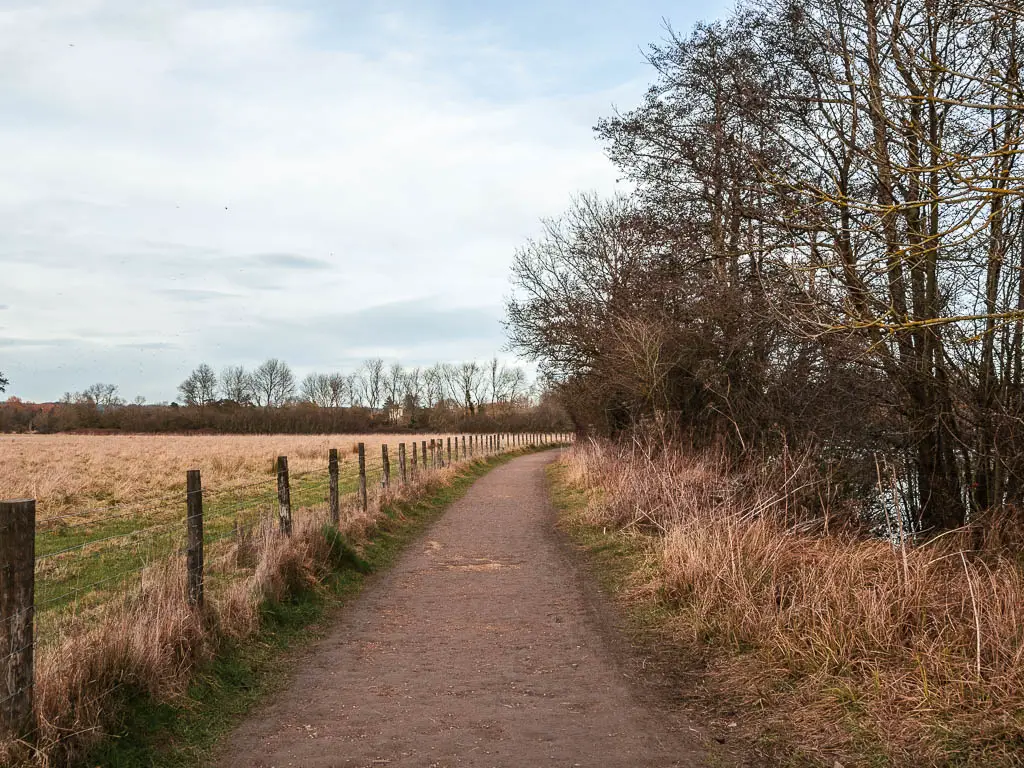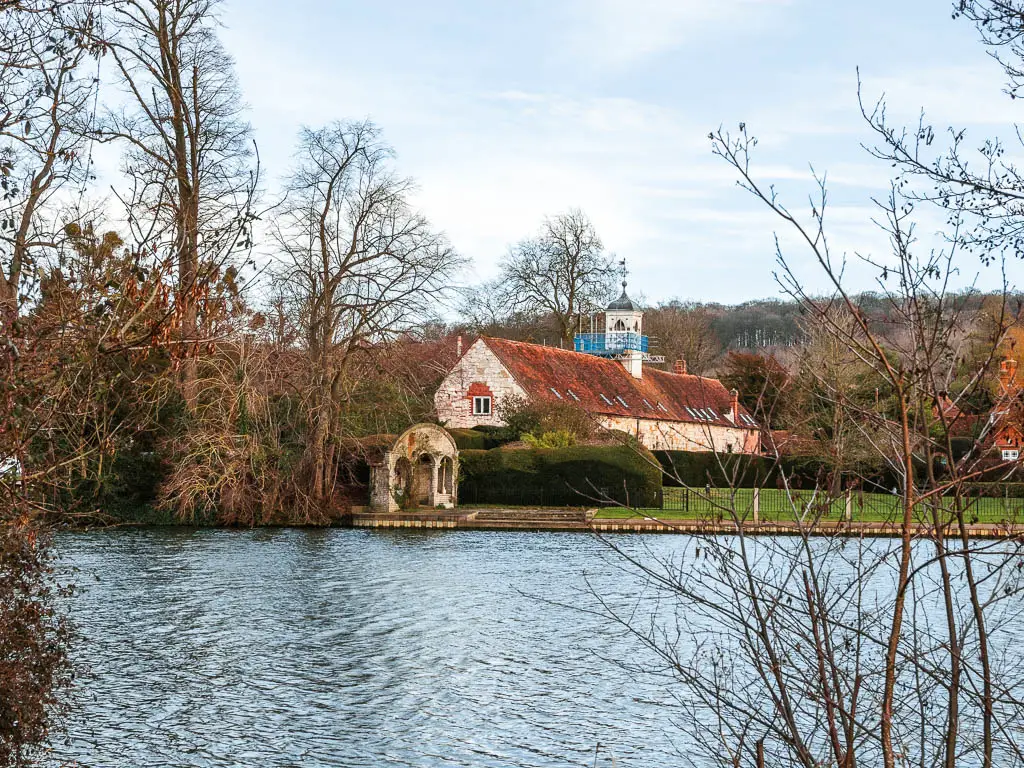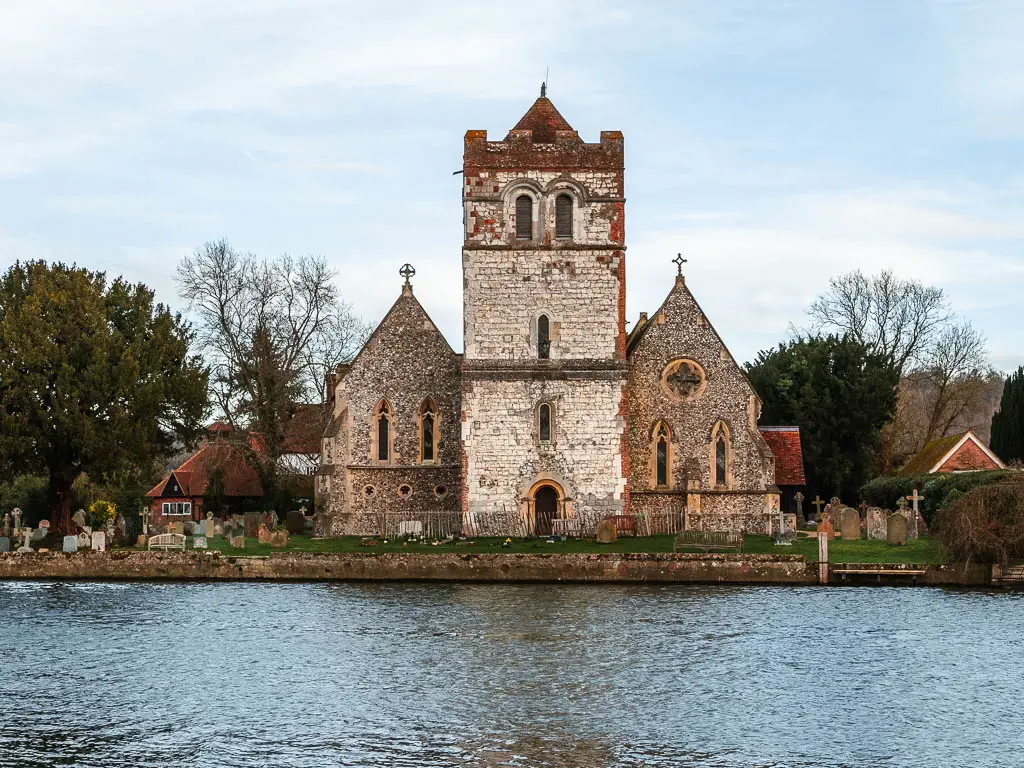 The people traffic got a little busier around here, which didn't surprise me as I was nearing Marlow. Then at some point, Marlow came into view down the river, looking all cute way off in the distance. 
When I got there, the seagulls were all flappy and squawky. I hung around for a moment but then realised I might get pooped on so quickly headed for the bridge.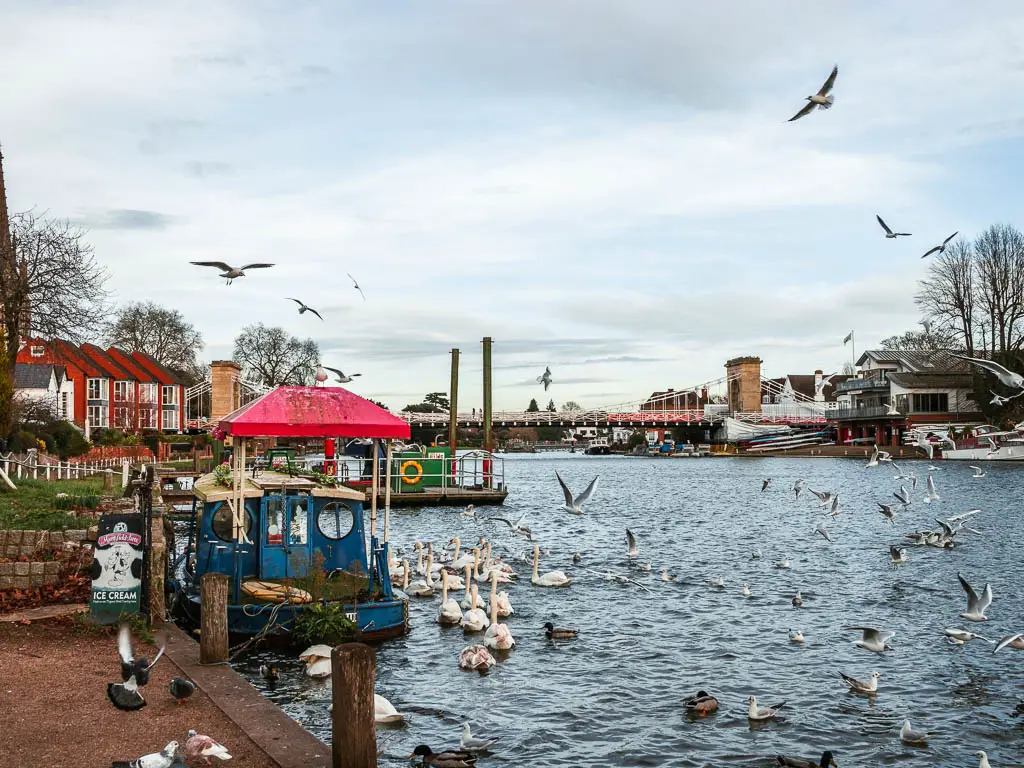 Leg update
By the time I finished the Henley to Marlow river walk, I was in limping mode. Not a good sign. Although, I did make it about 7 miles before the limping started. I will take that as a positive. I have a walk planned tomorrow. Should I do it? Probably not. Will I? Of course. 
---
More walks near Henley and Marlow or along the Thames Path
---
If you continue along the Thames Path from Marlow, you could try the Little Marlow Circular walk. It's a little more rugged and open, and you will walk around a pretty lake.
You could try out this walk from Henley to Greys Court. It's circular walk and takes you across the Chiltern Hills with lovely views, and an option to stop of at a National Trust Country house.
Sticking with Henley, you could do this circular route from Henley to Hambleden. It's an easy walk, and a bonus is its circular, which is much better if you have parked in Henley.
The Henley to Marlow walk reminded me a little of the Richmond to Hampton Court walk. Both quite pretty, both very green, both with enviable homes on the river. Although, some of the houses between Henley and Marlow were on another level comparatively. 
I mentioned earlier, the Hambleden and Medmenham circular walk. That takes you through two pretty villages, and up into the hills, then down along the River Thames. If you time it right, you may even see the cherry blossoms and lots and lots of lambs. 
More for information about other things to do around Henley and Marlow, which aren't walking, you can check out the Visit Chilterns website.
Pin it for later: A cute river walk from Henley to Marlow along the Thames Path