This walk takes you from Henley, along the River Thames, then across the river to Hambleden and back again on the other side. It's a very easy, and not too long of a walk. A perfect addition to a day visit to Henley on Thames.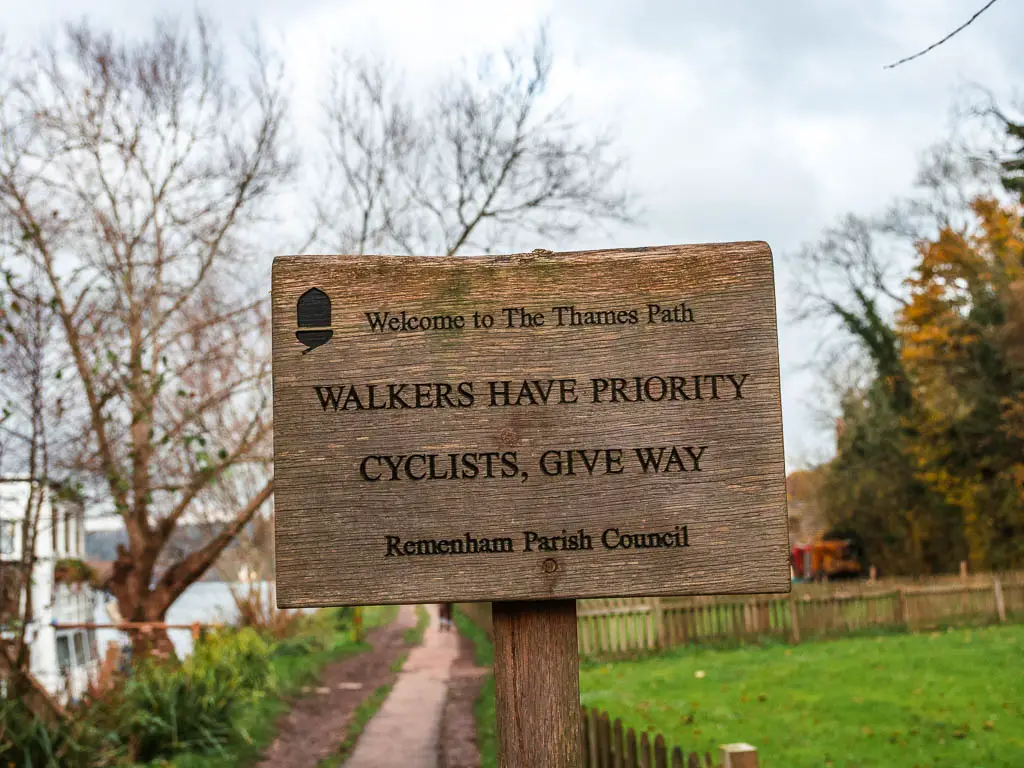 We had arrived in the Chilterns the night before, as a stop over on our way into London from the Peak District. Both a bit tired, and very unwashed after 2 months* of van life travel in the North and Scotland. We wanted something easy, with minimal navigation skills required.
*No, we hadn't not washed for 2 months. We were cleaning ourselves. But at this point it had been about 4 days since the last clean.
What to expect on the walk from Henley-on-Thames to Hambleden 
The first half of the walk from Henley to Hambledon is mostly on very civilised path, as you would expect anything to be from Henley. The trail does then turn to dirt and grass, but it's still very neat, before crossing over the weir.
From there, it's a short bit of field walking to reach Hambleden, which you can easily switch up for the pavement/road if you need the hard surface.  
Hambleden itself is a tiny village of stone and flint houses, with a church, and post office cafe shop. It's a cute little place to stop for refreshments, before heading back to Henley on Thames.
To get back, you then have two options. We chose to walk back to Henley from Hambleden, on the other side of the river. It is a little bit more rugged and unkept, with a hill and some bog. If you would prefer civilised, then I would suggest walking back the way you came.
---
Logistics for the circular walk from Henley to Hambleden
---
Start/Finish: Henley on Thames – The bridge
How to get there: There are trains from London Paddington to Henley on Thames, which take an hour and involve a change at Twyford. By car, Henley is located west out of London, just on the edge of the Chiltern hills. The big roads that get you out there from London are the M4 or M40. There are a few pay and display car parks in Henley.
Distance: 7miles
Time: 2h 20min
Difficulty: Easy
Terrain: Civilised path, grass, dirt, some bog and mud (depending on which route you take). Some bridges. A bit of road. Mostly flat, with the exception being a small hill for the walk back to Henley from Hambleden (which can be avoided)
Dog friendly: Mostly. There might be sheep in the last fields on the walk into Hambleden. There are some ducks and swans about along the river section of the walk. For the route we took back, there are some stiles without doggy doors, so you would be best walking back to Henley the way you came.
Amenities: Anything you could need in Henley on Thames. Post office cafe and shop in Hambleden.
Time of year: We walked this in winter
Map for the circular walk from Henley to Hambleden
You can find my more detailed route map for the Henley to Hembleden circular walk on AllTrails
---
Tips for the Henley to Hambelden walk
---
If coming by car, just be warned, it's a very popular place and parking could be an issue. Make sure you don't do it when there is some event on, like the Royal Regatta. 
If you take out the bog and mud, then trainers are fine for this walk. The bog and mud only make up a short part of the walk if you do the circular route from Hambleden back to Henley. It might not be so bad during summer though.
Stop off at the post office in Hambleden, wether for a bite to eat or drink, or to purchase some of the lovely artisan produce. 
If coming by car, make sure you pick the long stay car park (Southfields car park). It is significantly cheaper than the short stay. At the time of writing, it is £3 for 5h, or £4 for over 5h.
If you would prefer the walk to stay pretty and civilised, and be closer to the river, then walk back to Henley from Hambleden the same way you came out.
More route ideas for walks near Henley on Thames and in the Chilterns will be at the end
---
A guide to the Henley-on-thames to Hambleden walk
---
From Henley, you need to cross over the bridge, then walk a little further until you reach a path on the left. There is a sign there saying 'river and tow path'. This will lead you onto a path along the side of the river. 
You will get a view across the river to some very enviable riverside houses, with boat garages. I told Ollie as we were heading out, that we would be seeing some very big rich people houses along the river (more on that to come).
As I said earlier, this bit of the walk to Hamleden from Henley is all quite civilised. Along a well maintained path, with neatly cut lawns. 
The hedge, the views, the island
As you continue the walk from Henley to Hambleden, you will start to get a view ahead to the hills. You may see a hedge with a fence around it. What is the fence for? I cannot answer that. What I can tell you is that the hedge is very neat. I wouldn't expect anything less from Henley.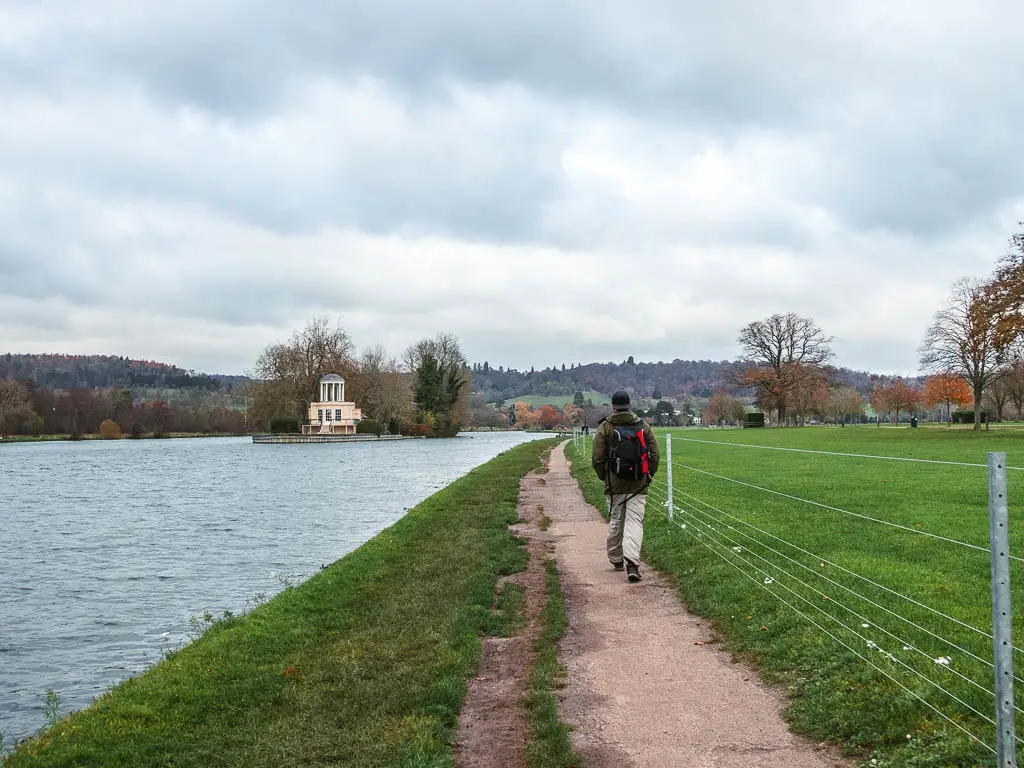 You will also get a view to an island up ahead in the river, with an ornamental folly. This is called Temple Island.
Temple Island
Built in 1771, it was originally a fishing lodge, as part of a nearby house belonging to the Freeman Family.
Over the years, ownership changed to the Mackenzie family, who did some work to it, including raising the ground to account for rising water levels.
Fun fact: In the late 20th century, with a large donation from Mr and Mrs Burrough, the Royal Regatta acquired a 999 year lease of Temple Island.
If you would like to go onto it, you would need to hire it for a wedding or something. It probably costs a lot. 
The houses
Just before Temple Island, and then after, you will get a view to a large mansion/manor type houses on the other side of the river. Ollie told me these aren't people homes, they are more likely hotels. This shattered my illusions. I have walked along here a bunch of times, and always imagined the people living in them. 
I had to prove him wrong, so looked them up….
Fawley Court
This is the property that Temple Island belonged to when it was constructed. It is a stately home, and for a few days of the year is open to the public to view the artwork and memorabilia inside…by application and invitation only. Not a hotel.
I don't have a photo from this side of the river because I missed it. Actually, there will be a photo on my guide Henley to Marlow if you want to see what it looks like from here. Not today though. 
I did get a photo from the walk back to Henley from Hambleden, along the other side of the river.  That was the first time I had seen it from that side, and it's damn impressive (you will see it when I get to that part of the walk description further down)
The others, I can't find anything about online, which I will conclude means they are people homes. 
Hambleden Lock
Before you reach Hambleden Lock, the path will turn to trail and grass. Still very neat and civilised though…with a few 'danger' signs thrown into the mix. 
The weir
At the lock, you will get to walk over a narrow bridge to cross over the weir (a low damn built across a river to help control the flow of water). It's quite unique and beautiful to look at.
Walk to Hambleden 
Once across, keep going and you should see public footpath signs, directing you through a gap in the houses, and then a right turn on the road.
Along the road, take the first left, then a little further along you should see sign which points to Rotten Row. This sign always makes me laugh.
At this point you have two options. You can stay walking along the pavement to reach Hambleden, or go through the gate and into the field.
If you take the field route, just keep going in the same direction as the road. This is the field that there could be sheep in. We didn't see any today, but I have seen them here before. 
To reach hambleden, you will go through some gates, from field to field, then at the very end, turn right on the road, and you will be there.
Hambleden
Last time I was in Hambleden, was around spring time. I remember the beautiful pink cherry blossoms. Today the trees were all dead looking.  
It's a very small village, so it's no extra burden to wander around, looking at the cute houses and St Mary the Virgin Church.
I would recommend popping into the post office, where they have a little cafe, and little bits you can buy. 
The post office has some very artisan type products. I was particularly drawn to the local Hambleden Honey. But after 2 months of travel without income, I was feeling a bit poor, and had already spent £12 on a jar of Scottish heather honey on this trip. I put the honey down and vowed to come back another time for it. When I am less poor. 
Walk back to Henley from Hambleden 
To get back to Henley from Hambleden, we decided to walk on the other side of the river. This was uncharted territory for me. 
Having now done it, between the two, I probably preferred the route we walked out on. I think because of how civilised it is. Civilised is not something I do that much, so it was an interesting change. Plus the weir is wonderful to walk across.
So, if you want an easy and civilised walk back to Henley, walk back there from Hambleden the way you came. 
Now I will go on and show you what the other route back is like, incase you decide you want to do it….
Walk back to Henley from Hambleden on the other side of the River Thames
First off, walk back out of Hambleden the way you came in, but stay on the road. When you reach the main road, turn left, then a short way along, you should see some railings and a path going uphill on the other side of the road on the right. Go up it.
Walk through the woods
It's a short uphill along a dirt path to lead you into the woods.
In there, you will reach a junction. If you take the left, alongside the fence, this should avoid the rest of the hill. If you take that route, keeping going, then follow the trail when it curves to the right at the end.
The right trail at the junction (see Ollie in photo below) will take you uphill some more, then at the next junction, keep going straight, to now walk downhill.
At the bottom junction, turn right, then immediately left to go down through a gate and into a field. If you look at the photo below, Ollie went wrong and stayed on the main trail, instead of turning immediate left to go down through the gate.
If you took the path that avoided the hill a bit further back, this is the path you will be on, so make a left turn to go down and through the gate.
The fields
Walk along the edge of the field, with the fence to your left, to reach the first of two stiles. Go over it, then on the other side of that field, go over the second stile.
The road
Over the second stile, turn left, then right to walk along the main road.
This next bit is my least favourite part of the Henley to Hambleden circular walk. It's road that goes on a little longer than is tolerable. 
Some way further along the road, you will see a trail signpost pointing left into a field. Follow the direction of the sign, which will lead you towards the river. 
Walk along the river towards Henley
Now to start, you don't walk right next to the river like you did when you walked from Henley to Hambleden. You will be a little further back, along a roughly marked trail in the grass. 
The trail should lead you over a little bridge through a gap in the bushes (see photo below).  
The bog and mud
This is where the bog starts. The trail is easy to follow, but you might have to hop around and zig zag side to side to avoid the boggy bits.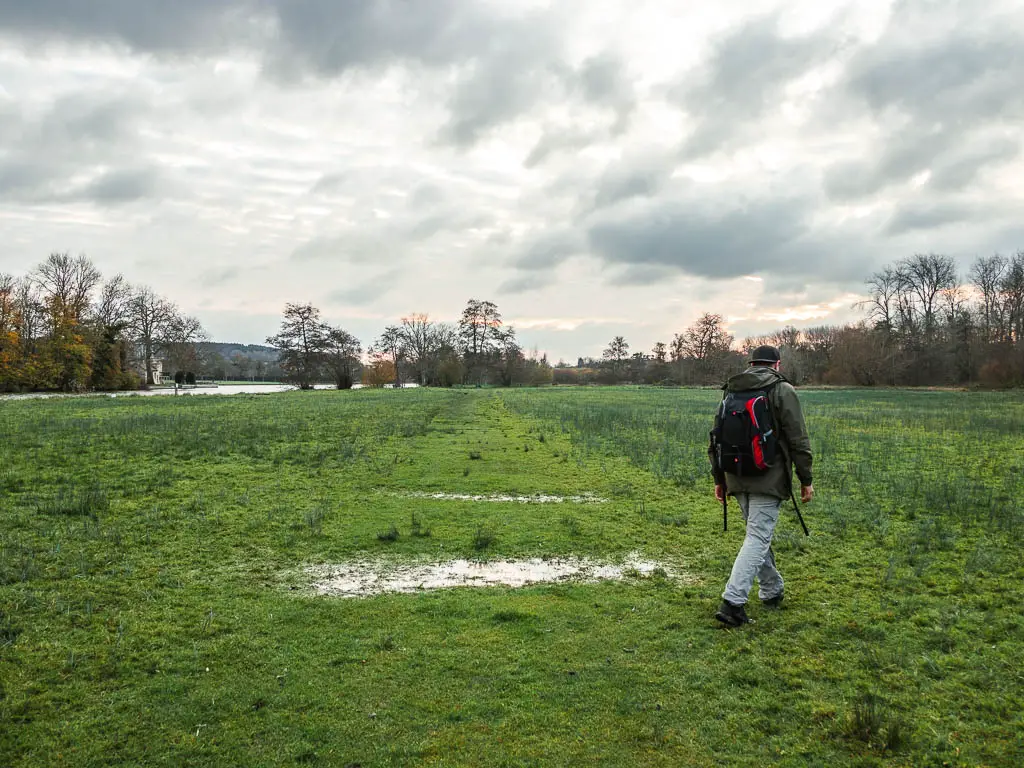 Keep going, past Temple Island, then over a little bridge, where you will have a spectacular view towards Fawley Court.I actually almost missed it again. I was too focused on the swan. Ollie had to point it out to me.
Things then (might) become a lot more muddy as you continue over more bridges and through a wall.
The final stretch of the Henley to Hambleden circular walk
The last fields aren't so boggy, as you start to get nearer to Henley. Good old Henley.
You will see there is actually a wide tidy path in this field. If you walk along it, at the end you can't go through the gate, and will have to take a bridge a bit closer to the river.
Further on, the path will lead you to the right, alongside a rugby field. Then at the road turn left, and this will lead you back into Henley.
---
More walks near Hambleden and Henley-on-Thames
---
If you have a car, then you can park in Hambleden and do this lovely circular walk to Medmenham. You know what, you could even add it to the Henley to Hambleden walk, if you want something bigger and more countryside like. 
Another route you could try is walking from Henley to Marlow. It's a few miles longer, but if you finish in Marlow, you could stop off at one of the Michelin Star restaurants (of which there are a few).There is no train directly linking Henley to Marlow, so you would be better getting a bus back, or even better, if you have come as a day trip from London, you could just catch the train back in to London from Marlow. 
If you would like something else that is easy and not too long, then you could try the Little Marlow circular walk. 
For more countryside, you should try Henley to Greys Court. Greys Court is a National Trust property, which you can visit. I didn't visit, but rather, walked around it. I knew I would be purchasing a National Trust Membership at some point, so decided to wait for that. 
---
More walks in the Chilterns 
---
Gosh so many. Ok, if you want to stick with the easy and pretty theme, then head up to Hitchen for the Offley Three Springs walk. This one finishes by a pub (or two).
For something historic, you should do the Tring to Ivinghoe Beacon walk. This follows the end of The Ridgeway trial, which is the oldest road in Britain (no longer a road).
If you want a real challenge, then you must do the Wendover to Whiteleaf Hill circular walk. This one tackles 3 (or 4) big hills, and lots of smaller ones. 
For more ideas of what's on and things to to in the area, you can visit the Chilterns AONB website.
Pin it for later: Henley to Hambleden walk guide