This walk takes you along the coast path from Littlehampton, a seaside town with a pleasure harbour, to Worthing, one of the largest seaside towns along the south coast of England. 
I chose to do this walk today for two reasons. 
It's another section down of my coast path journey.
I didn't have many other choices. Everywhere I really wanted to walk today either had rail replacements or were too hilly (can't do hills right now) 
Number 2 is the main reason. I haven't been very excited about walking this section of the coast path from Littlehampton to Worthing because I didn't think it would be very exciting or interesting….
What was the walk like form Littlehampton to Worthing?
Well, that's a few hours of my life I will never get back….jokes….hmmm, not really. Ok, let me explain. I was right that it wasn't very interesting, but that doesn't mean it's all bad. A walk like this has it's place. First off, it's very dog friendly (see tips below), so any dog people might enjoy it. Second, I got nice and deep into a podcast series. It's one of those walks you can do without having to pay too much attention to it. I did enjoy getting out by the sea, and having a good old long walk whilst listening to a story.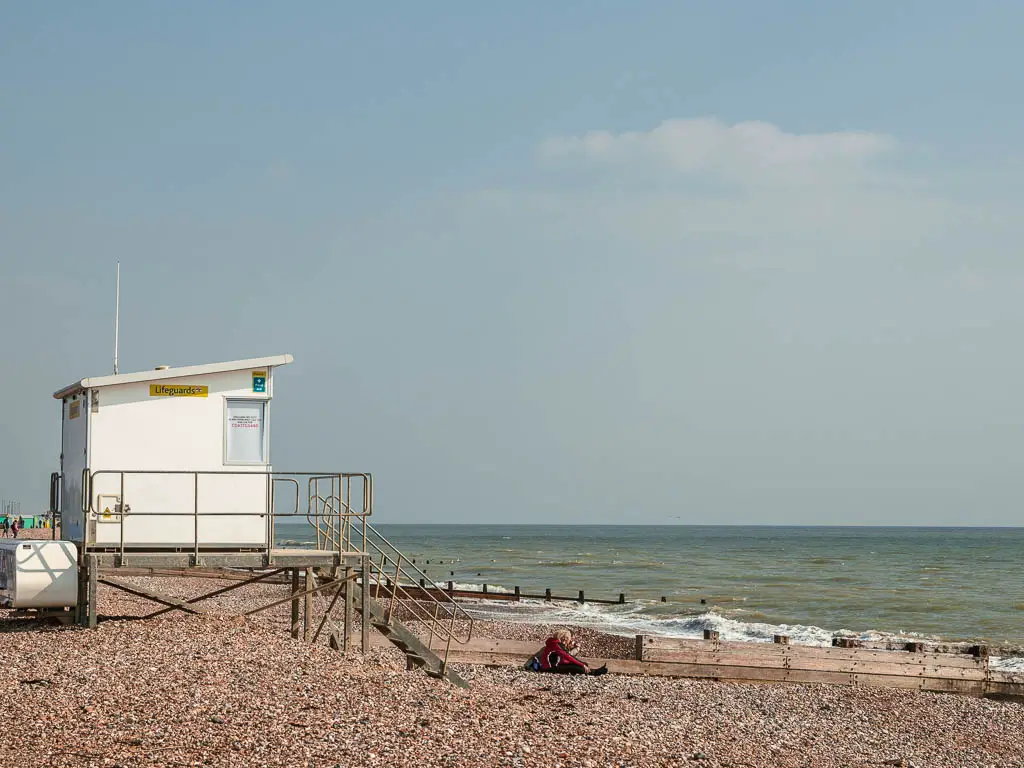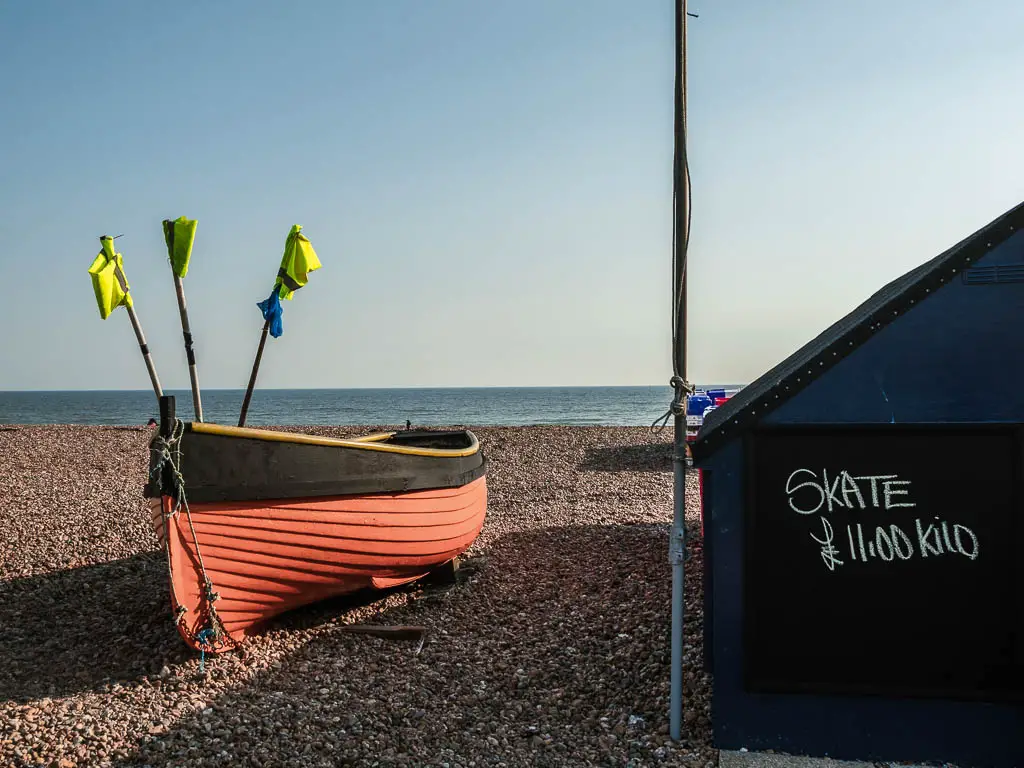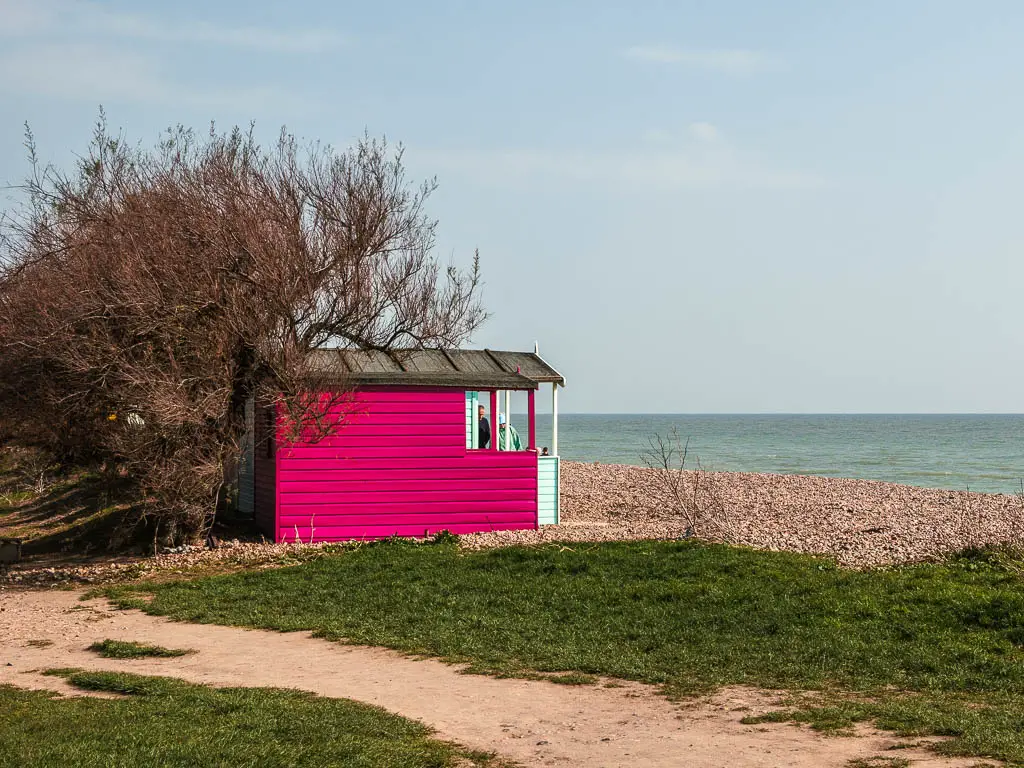 Fun fact: Littlehampton has the longest bench in Britain
Logistics for the walk from Littlehampton to Worthing
Start: Littlehampton
Finish: Worthing
How to get there: Littlehampton and Worthing are on the Southern train line and are a few stops apart if you get the direct train. You can get a direct train from London Victoria/Clapham Junction*
Distance: 8 miles
Options to shorten the walk: Along the route there are a few train stations, but all are a little bit of a walk inland from the coast. You can see more details on google maps.
Time: 2h 30m
Difficulty: Easy
Elevation: Flat
Terrain: Asphalt, shingle, grass
Dog friendly: Yes (see tips below)
Time of year: I did this at the start of spring
Tips for the coast path walk from Littlehampton to Worthing
Plan the direction you want to walk in, based on the time of day/sun. The route is east/west, so if you head out early, and start the walk in Littlehampton, the sun will be in your face. If you head out in the afternoon and start the walk from Littlehampton, the sun will be behind you. 
As I mentioned, it's pretty dog friendly. However, the beach near Worthing (Goring-by-Sea) has limitations. It is dog free from 1st May – 30th Sept. 
There are a few cafes/food places en route, so you don't need to worry about bringing food if you don't want to. 
Check the train times/details. On this particular day for me: There was a direct train from London to Worthing and Littlehampton, however, going back to London from Littlehampton, there were no direct trains running, and they took about 30min longer than it took to get there. However, from Worthing, there were direct trains and they didn't take longer to get home. That's why I decided to start from Littlehampton.
Buy a return ticket to Littlehampton and this will cover your journey out and back, regardless of which town you start from. Note: This is only for the direct train. The indirect train goes a different way.
Map for the coastal walk from Littlehampton to Worthing 
More ideas for similar walks, or walks nearby will be at the end 
A Guide To The Coastal Walk From Littlehampton To Worthing 
First you need to get to the riverside walk. Out of the station, take the street opposite (Terminus Place), and this will lead you straight to it. When you get there, turn left, and for the rest of the walk to Worthing, just follow the waterline. Simple. 
Now I will show you what to expect. 
Walk along the River Arun and East Beach
The walk along the River Arun in Littlehampton first passes by rows of colourful buildings to the left and lots of boats in the water to the right, before reaching Harbour Park. I made a mental note to make Ollie come back here with me so we can go play in there. At the end, turn left to walk along the promenade.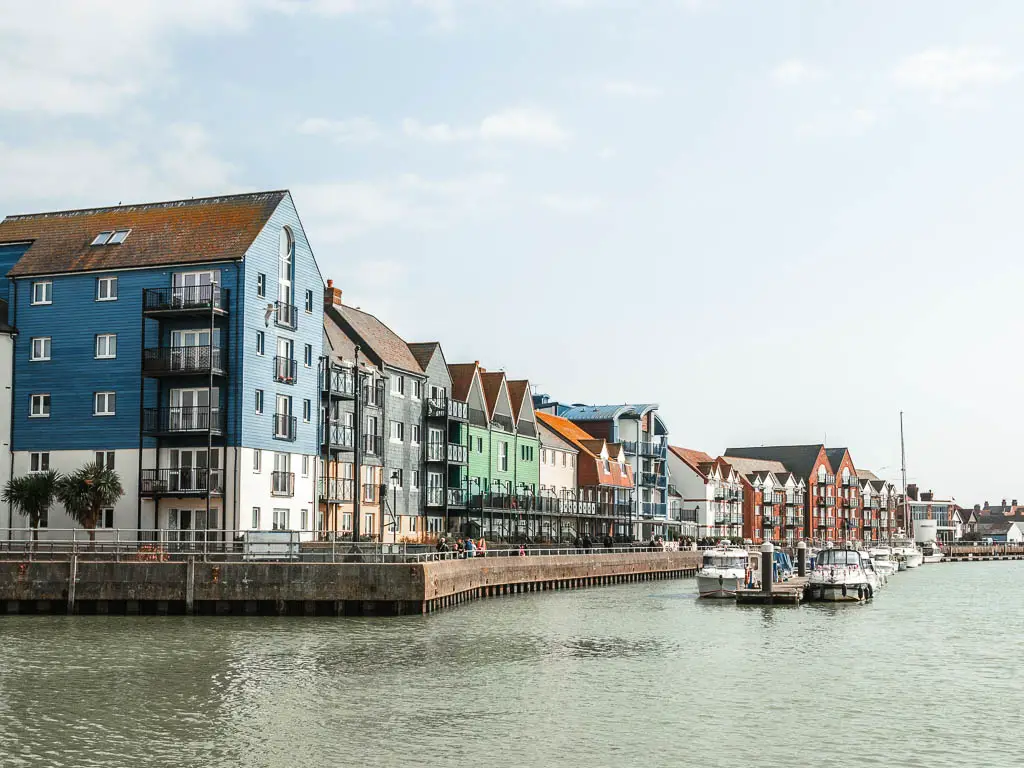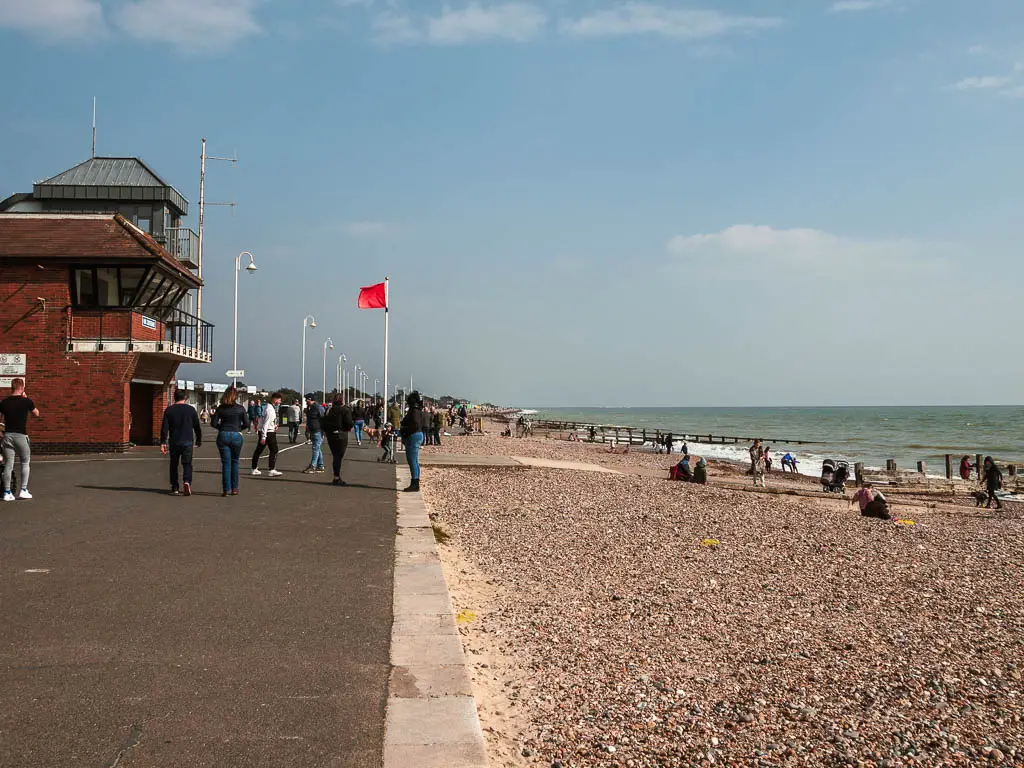 It was pretty busy along here, not surprising as it was a weekend on a sunny day. Not hot though, just sunny. Some brave souls were playing in the sea. This time of year is probably when the sea is at its coldest, just after the end of the winter months. 
Walking along the promenade in Littlehampton, you will pass by some unusual arty benches. One of these is the long bench I mentioned earlier. 
Then you will pass some organised colour coordinated beach huts. 
Things started to die down as I walked further away from the main hub of things, except now I was walking next to the road. I'm not sure which I like less. Lots of people or lots of cars. Probably lots of people. 
Walk across the green(s) 
As you walk away from Littlehampton, the pavement walking turns to green, with a few more beach huts, and then you have a choice to make. 
The green and beach are separated from each other, first by trees, and then bushes. So you need to pick which side you walk on. The beach is shingle, so you will probably want to pick the green. If you pick the shingle, good luck. 
I obviously picked the green and I actually quite enjoyed it. I had my headphones with me to listen to my podcast but didn't put them on yet as it was quite nice and peaceful here. I could hear the sound of the waves on the other side of the hedge. There was something quite serene about hearing it, but not seeing it. The green was pretty empty, and I felt like I was in my own little world. 
Walk across the shingle
After the greens, the shingle is forced upon you. It's not too bad though. It only goes on for a short bit. I passed by a house that had colour coordinated its shed, wall and boat. It was quite cute. 
More green, more shingle beach
After the shingle, you will have some green to walk on again. I can tell you that this bit of beach is Kingston beach and I only know that because the green is Kingston Estate green. The sign told me. Other than this, I couldn't really tell them apart. I think the whole walk from Littlehampton to Worthing covers 5 or so different named beaches, but they all kind of merge into one. One long stretch of shingle.
Things started to become a lot busier along here. I knew there must be a car park or a cafe of some sort nearby.
Cafe it is.  
This is when I decided to get the headphones on, where they would remain for (almost) the rest of the walk to Worthing. 
At the cafe, there is a bit more forced shingle and then some shabby chic beach huts.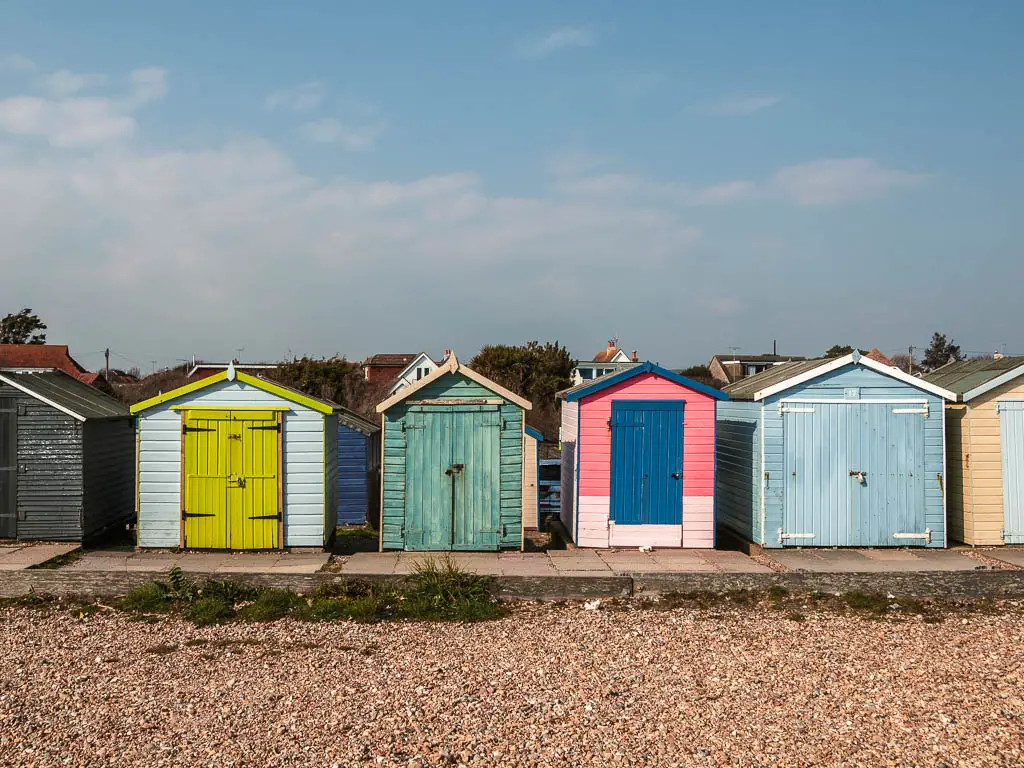 The rocks and tree tunnel
Once I had got far enough from the cafe that the crowds had died down, I came across some benches and large rocks. This seemed like a good place to take a snack break. I sat and took my headphone off to enjoy the sound of the sea again. 
Next comes a bit more shingle walking, some more green and a nice little coffee truck, and of course, more people. Headphones on. 
Past the coffee truck, I again stuck to the green side of the bushes (I won't walk on any more shingle that I need to), and found a nice little tree tunnel to walk though. 
Walk from Goring-by-Sea to Worthing
Next you will reach Goring-by-Sea Beach. That I know.  This is the beach that has the dog restrictions on. There was another little food establishment and things were now becoming a lot busier. I got myself off the shingle and back onto the path for what would be a long long stretch to reach Worthing.
The final stretch of the Littlehampton to Worthing walk
As you reach what I think is called the parade, things are quite lively, with the people, playground, roller skaters and general seaside stuff. There was a very instagrammable blue gin truck. I don't like gin, but if I did, I would have enjoyed that.
I had initially planned to walk all the way to Worthing Pier, but this stretch of walk had gone on for quite long, and I was ready to get off it. I took a left turn onto Prospect place (it's where my tracker stops on the map) as this would lead me somewhat to the station. I was pleasantly surprised to have picked a road that had some interesting graffiti. 
Walk to Worthing station
Now, the walk from the beach to Worthing station is actually quite long. Longer than you will think it will be. Bare this in mind when timing your walk to it, if you have a train to get. 
More easy coast path walks near London
Thorney Island circular walk – 9 miles. This coast path walk is made up of dirt trail and a very small amount of shingle. The area is owned by the MOD so you need to ring the buzzer to be let in, but that adds to the fun. You will see lots of boats, nature reserve, and if you are lucky, some seals.
Deal to Sandwich – 11 miles. The similarity is that they are both long stretches of shingle beach. However, Deal to Sandwich has a little more variety to it. 
Herne Bay to Margate – 12 miles. This is a mix of sand and shingle beach, but it's a lot more scenic with some cliffs and Roman remains. It also has a bunch of beach hut goodness. 
Whitstable to Herne Bay – 5 miles. This is mostly shingle beach but you don't need to walk the shingle, there is path next to it. This walk has the most beach huts I have ever seen on any walk ever. 
Margate to Ramsgate – 8 miles. This walk takes you past 3 historic towns and has lots of long stretches of sandy beach. It's a much nicer walk in my opinion.
For more options, you can read about the best coastal walks near London.
Alternatively, you can check out the National Trust website.
More walks near Littlehampton
Arundel circular walk – Just a few train stops north of Littlehampton you have Arundel. This walk is quite lovely along a river, around a castle and up a hill to a tower. 
Amberley to Arundel – This walk follows the River Arun the whole way. It's very easy and fairly dog friendly (see post for more details).
Pin it for later: Walk from Littlehampton to Worthing along the coast path