This area of the South West Coast path is fast becoming one of my favourites. Recently I walked from Looe to Polperro, and it became one of the top walks I will recommend. Today I came out to walk the coastal section next to it, from Fowey to Polperro and it was just as stunning. 
This post uses affiliate links. You can read the privacy policy or disclaimer for more info.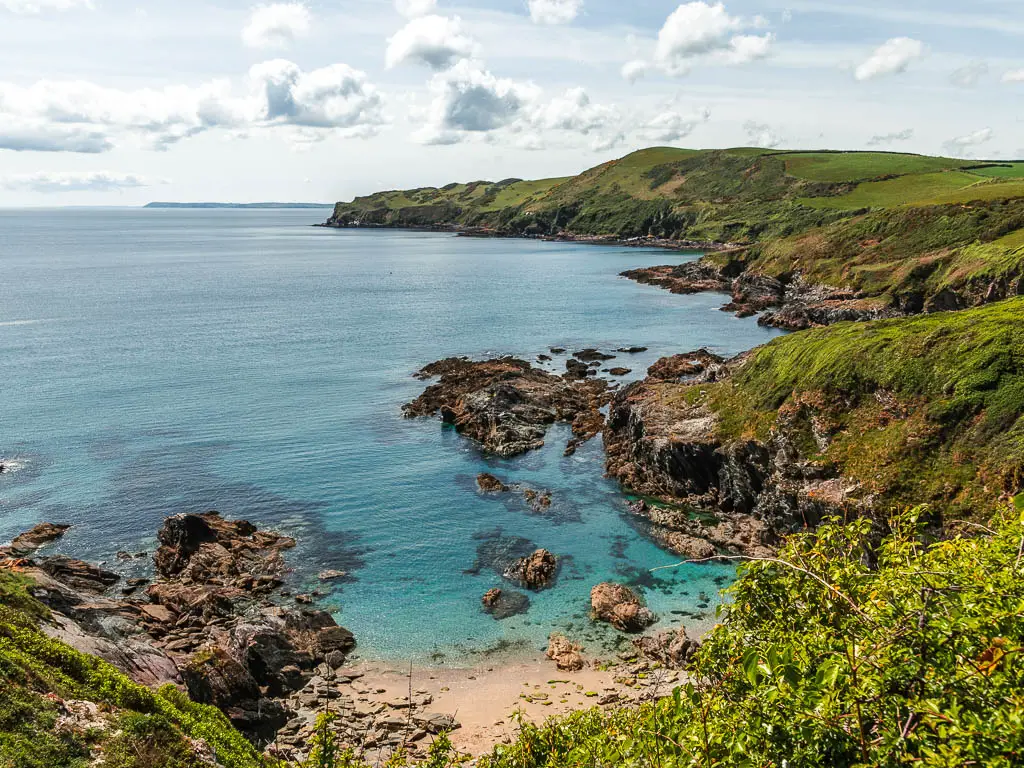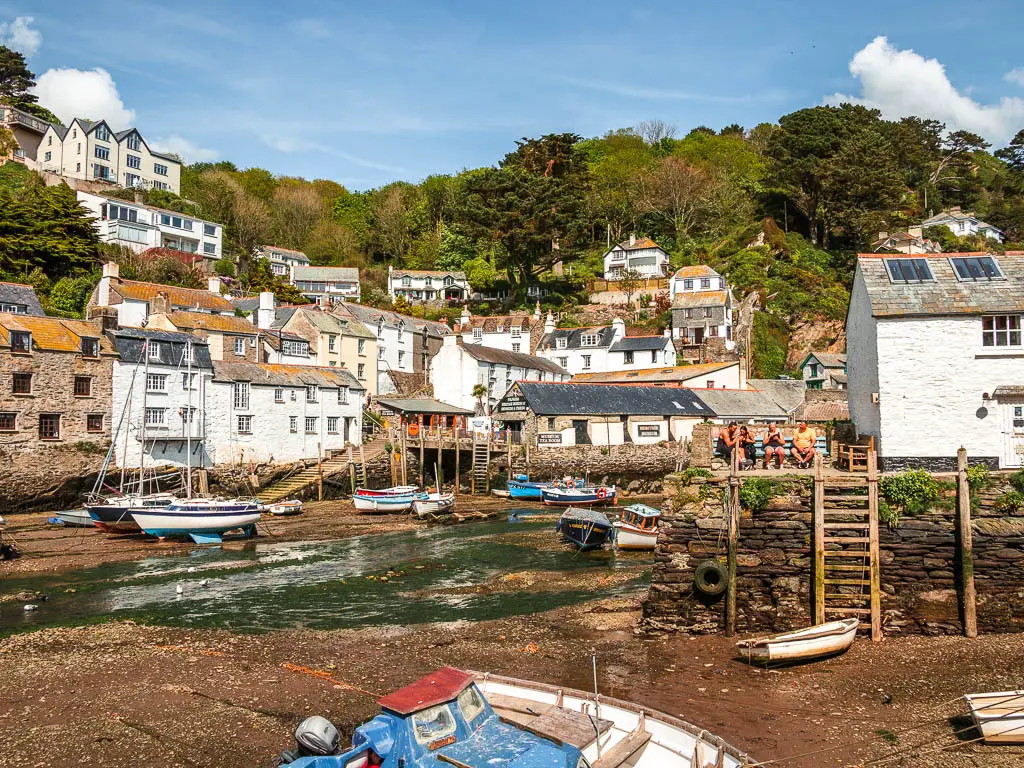 It was also pretty interesting seeing Polperro today on a sunny day, vs the foggy day when I was here last time. I loved being able to see it in different lights.
What to expect on the coastal walk from Fowey to Polperro
The walk from Fowey to Polperro is definitely more challenging than the one from Looe to Polperro. It's longer and much more hilly. When I did Looe to Polperro, I actually walked there and back which does make it longer than the walk from Fowey to Polperro, however, I still found this one more challenging. Saying that, it was a very hot sunny day, so that might have added to the challenge.
The trail itself is the usual narrow dirt trail. There is one section later on in the walk which is very narrow, uneven, and right on the edge. It even made me a bit nervous. There are some rocky bits, where you will probably need to use your hands to get yourself up. Not loads though. 
A couple of sections were seriously overgrown, such that I had to use my jacket to protect my bare skin from the stinging plants. 
There is a fair amount of steps, although I have done walks with more. 
Ok, I'm making it sound negative, I don't mean to. All of the above gave a real sense of adventure, like being out in the wilderness, sort of. 
Also, you have to cross the water on the boat, from Fowey to Polruan to start the walk. I will explain more in tips.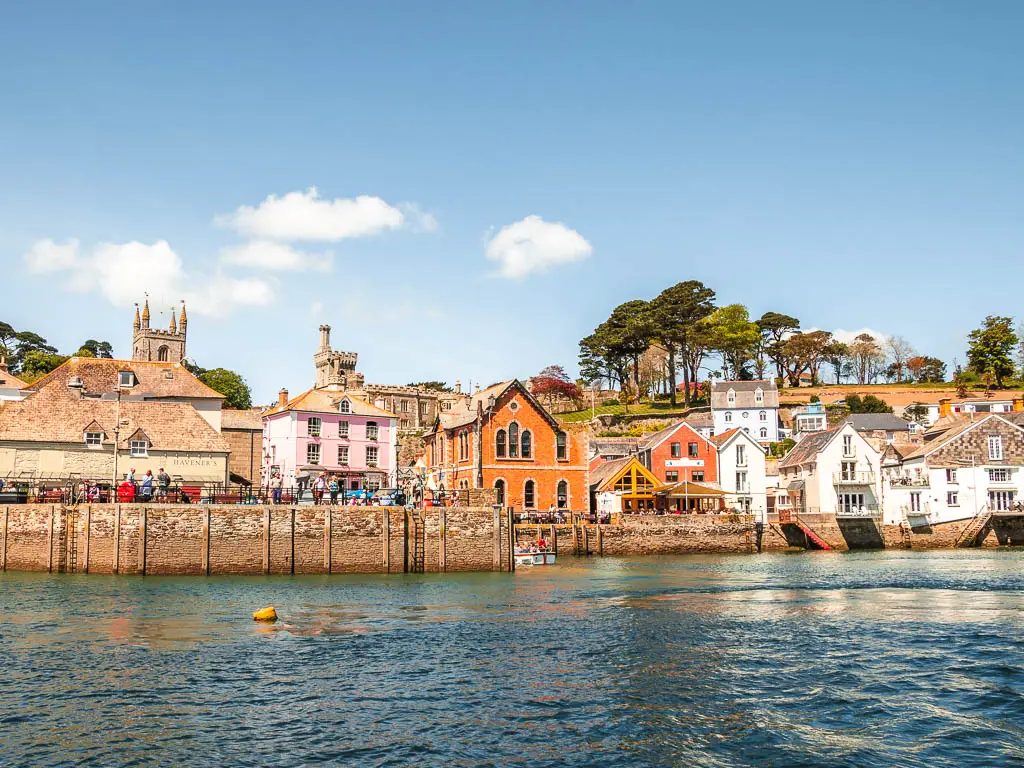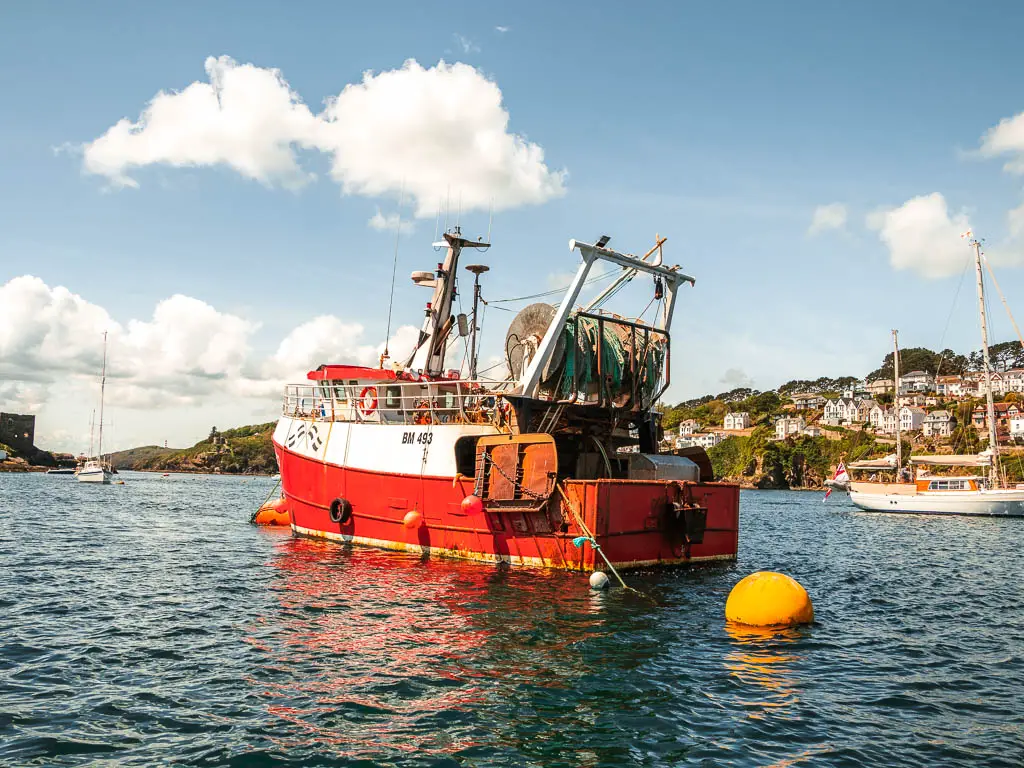 The views
One thing that made this coastal walk from Fowey to Polperro stand out, is the views. Gorgeous coastline, cliffy, hilly, rugged views, and some of the best beach cove views I have ever seen. The following photos are Lantic Bay and Lantivet Bay.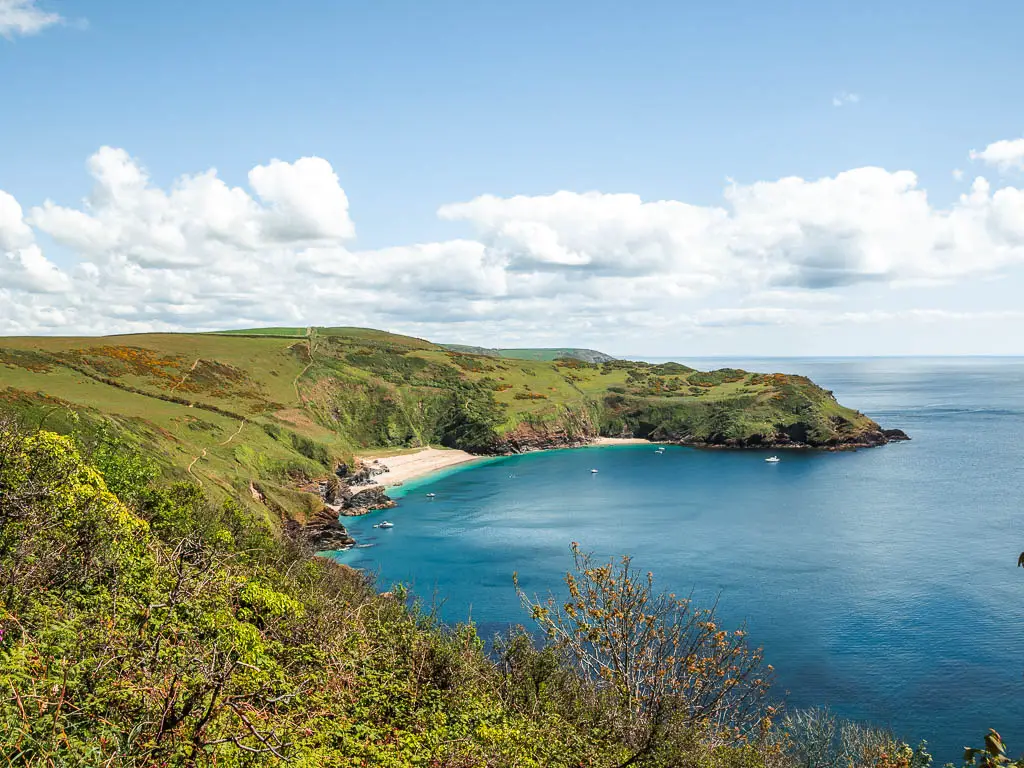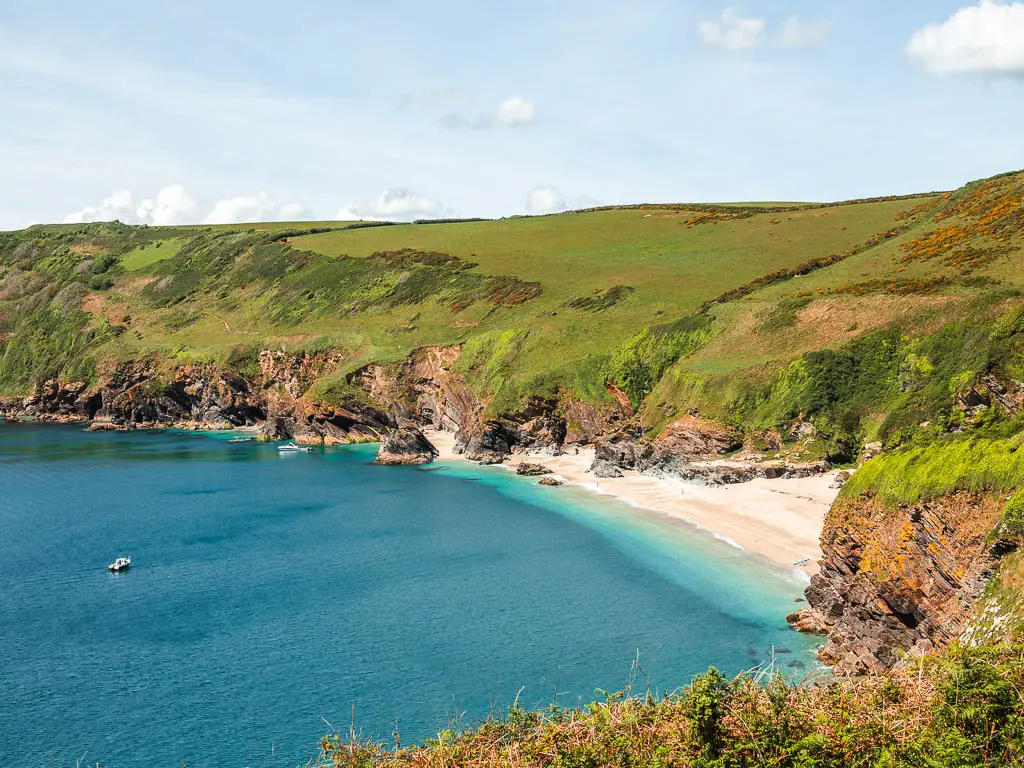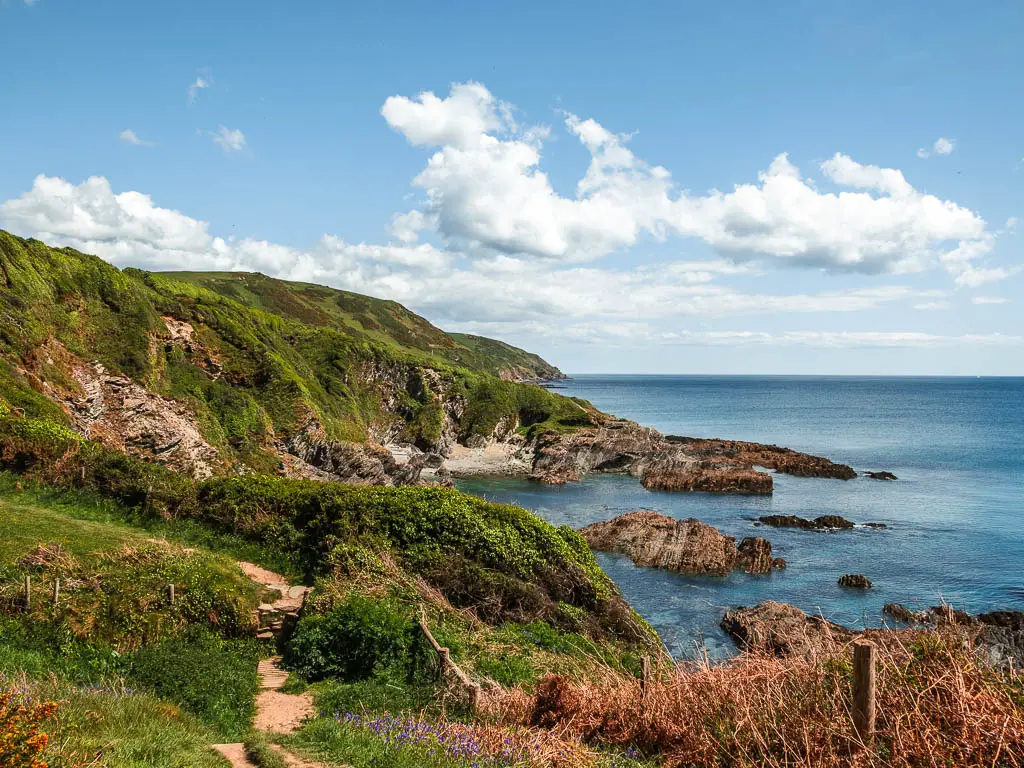 During the approach to Polperro, everything becomes a lot prettier. Not that the previous bit wasn't pretty, this is just a different kind of pretty. It reminded be of the approach to Polperro from the Looe side. 
One thing I must say about the walk though, is that arriving in Polperro from Looe, beats the arrival from Fowey. The way that Polperro opens up from the Looe side is just magical. Arriving from this side is still gorgeous though.
Logistics for the coastal walk from Fowey to Polperro
Start: Fowey, Cornwall.
Finish: Polperro, Cornwall.
Distance: 7miles
Time: 3h
Elevation: Highest point is 113m. With the ups and downs you will walk uphill just under 500m.
Difficulty: Challenging 
Terrain: Dirt trail, rocky, grass, steps, slabs of rock, sand. 
Option to shorten the walk: Well if you shorten it, then you miss out on something. So I'm not going to suggest this. But if you must, at Lansallos Beach (about halfway into the walk), when you take the trail inland (see description of walk below – Lasallos section), don't take the trail that turns back, but instead go straight, and this will lead you to Lansallos, where you can catch a bus to either Polruan or Looe – bare in mind that buses aren't that regular, so check first. There are also some car parks if you want to start mid route and do a circular – see amenities below. 
Amenities: Car parking near Lantic Bay, and again near Lansallos Beach. Car parking also at Fowey, Polperro and Polruan. En route, there are no other facilities apart from benches. Polperro has numerous eateries, tea/cake shops, pubs, and public toilets. Polruan has a pub, a convenience store and public toilets. Fowey is the bigger town and has a bit more of everything. 
Dog friendly: No stiles. Some fields with livestock. 
How to get to Fowey and Polperro using public transport
Located on the north part of the east coast of Cornwall. Neither Fowey nor Polperro are on a train line, but it's not too difficult by bus if you know how.
First of all, Polruan (next to Fowey) and Polperro are connect by the number 481 bus, so this is what you will do if you are already staying in one of them.
The nearest train stations are as follows: Par where you can catch the number 24 bus to Fowey. Journey time is 20min. Looe and Liskard are the local trains to Polperro. Bus number 73 will get you from Polperro to Liskard or Looe, journey time respectively is just over an hour, and 40min.
The 481 also goes from Polperro to Looe and takes only 15min. This one only runs on weekdays. Just a note, Looe is a branch off the main train line, it connects you to the main line at Liskard. Confused? See tips for how I did it/best logistical option.
Tips for the walk from Fowey to Polperro
If you are not already staying in Polperro or Fowey and are using public transport, then the best way logistically would be to get a train to Par, then bus (No 24) to Fowey. When you arrive in Polperro you can get a bus to either Looe or Liskard to catch the train back to wherever you are going. 
If you are staying in Looe, then I would still recommend the above logistic tips, as opposed to first getting a bus to Polperro and doing the walk in the opposite direction. See Below.
Walk the same direction I did, from Fowey to Polperro. Finishing the walk in Polperro is a beautiful experience. Plus, if you are walking in the afternoon, the sun will be behind you. 
Hiking boots/shoes. I really really recommend this one. Some bits of path are very narrow, uneven, and on the edge. Some sections are steep downhill, where you will want good grip. 
Take swimwear for a dip in Lantic Bay, or one of the other beach coves along the way. 
Take plenty of fluid/snacks as there are no facilities along the whole walk from Fowey to Polperro
From Fowey, you will need to catch a boat across to Polruan, to start the walk to Polperro. They run super regular, every 10-15min. Check the website or their Facebook Page for the operating hours, as they change from summer to winter (I can see that any updates/scedual changes are updated on the FB page). Journey time about 5min, cost about £2.50. They take contactless payment. 
For the boat crossing, there are two piers. The main Fowey pier, and Whitehouse Point Quay which is a bit out of the centre. The pier used is time of year and time of day dependant. You can find full details on their website, otherwise, pop over to the main Fowey Pier,as it's right in the centre, where you can ask one of the boat people. 
When in Polperro, to get a bus, will need to walk inland a bit to Crumplehorn. It's a short walk, and not uphill. There is also a pub here which has fantastic reviews. 
Map for the coastal walk from Fowey to Polperro
More walk ideas near Fowey and Polperro will be at the end
To explore more of Fowey, you could join this guided walking tour, where you will learn about the history and literary connections of the area. Your guide will also give you tips on the best places to eat and other things to see locally.
---
Route Description for The Coastal Walk from Fowey to Polperro
I mentioned in tips, to first go to the Fowey Pier in the town centre to find out where the boat runs from. This is me speaking from experience. I had checked the website before hand, which said that the daytime boats run from the Whitehouse Point Quay from May onwards. It was now mid May. That pier is a bit out of the town centre, so I got myself over there and waited. After about 40min of waiting, I realised something was wrong. Although it was indeed May, I thought about how there are other services out in the west who start their summer schedule at the end of May. 
I have since looked at their website again, and this time it's more specific of when in May they mean (the 16th…I was here just before that). Maybe other people got caught out as well.
So I went back to the town centre to the Fowey pier, where I found out that this is where the boats are leaving from.  I didn't mind the mistake too much. It was a nice day, and I picked myself up a coffee on the way.
The start of the walk from Fowey to Polruan and Polperro
Get the boat across to Polruan from somewhere in Fowey, to officially start the walk to Polperro.
On the other side, you will be hit with your first big uphill of the walk. Go straight onto the main road – Fore Street (from the pier it's left then right), and make you way uphill. It's quite some way up. 
You will want to turn right at St Saviours Hill. This is very confusing because the map says the road is called School Lane. But the sign in real life says St Saviours Hill. Walk right to the end, and just past the stone building, there will be a gate and trail on the left, to take you into a big hill field. 
When you enter here, you will notice 3 grassy trails. Any of them will do, as they all join up later. I picked the middle. However, saying that, you might want to pick the bottom when you see what is coming up next.
The first overgrowth on the walk
First off, walking across this hill, you will get a lovely view back along the coastline and to the Gribbin Head Daymark.
A bit further along, the middle trail starts to take you through some bushes. Nothing crazy yet, but soon it all becomes so overgrown that I'm having to crouch down to get through, and push big overgrowth out of the way. I noticed some people walking nearby but on a different trail, and then I realised there is indeed another trail (which would have been from the bottom grass trail from earlier) which was a lot more civilised. It was too late now. I had to continue to fight my way along this one.  This is the first of two overgrowths along the Fowey to Polperro walk. The next one comes much later.
Once out, the trails join together, but then you are presented with another option of splits. Again, any will do. I decided to risk the middle trail again. This time it wasn't so aggressive. 
The trail will take you down, up, and along the side of the hill. With a few steps and rocky bits thrown in, to reach a gate with a signpost.
The South West Coast Path signpost
The sign says 'Polperro Coast Path 5 3/4 miles'. That bothered me a bit to see that. Especially so early in the walk from Fowey to Polperro. I'd rather not know. I'm not the kind of person to check my distances along the way. It takes away the enjoyment for me, you know, counting down the miles. If I do check, it's always much later on, when I have walked what feels like a solid amount. It gives me a real sense of accomplishment when I see how far I have gone.
I decided now that I would no longer look at the trail posts.
Walk to Lantic Bay
Through the gate, it's a mix of level and uphill, to reach a viewpoint bench where you will get your first view to Lantic Bay. As you continue along the trail, the view just gets better and better. It took me quite some time to walk this bit, as I was stopping so much to look and admire the view (and take photos).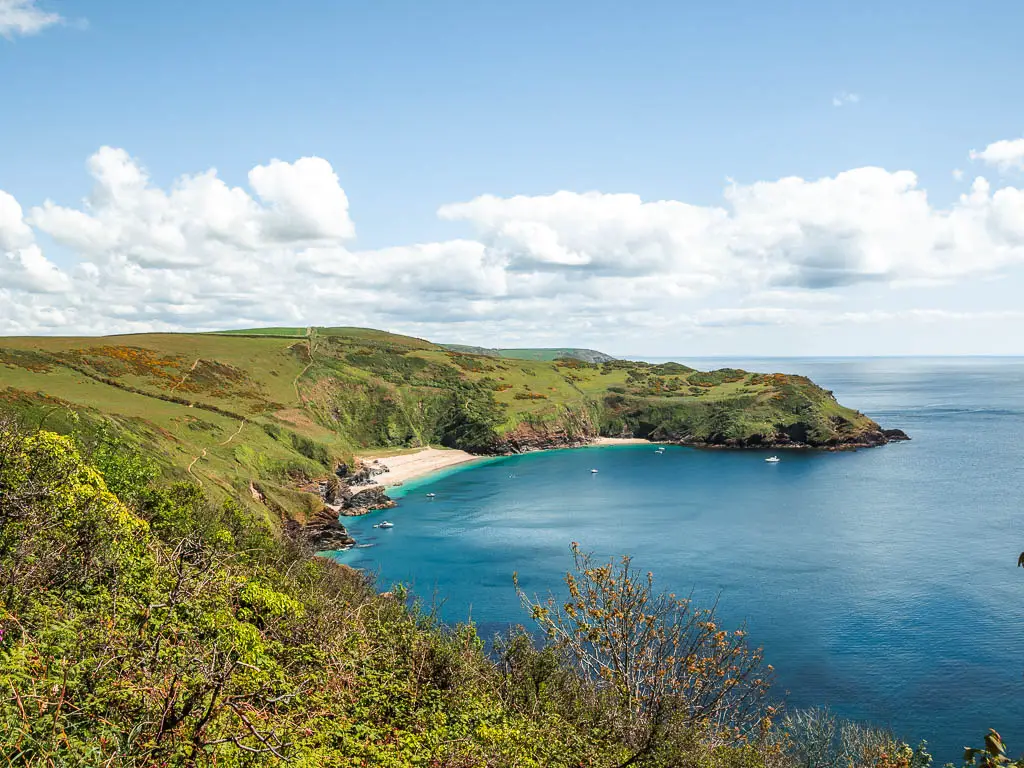 The trail itself gradually takes you down hill, but with the occasional small up thrown in. When you reach a junction with a trail signpost, take the right one to continue walking down. 
The trail will sort of level off, and you will see a view ahead to the trail going uphill on the other side. To get to Lantic Bay, you do have to go up that hill unfortunately. 
Two things to mentioned:
The hill is a lot steeper and more aggressive than it looks from here.
You don't walk all the way up to the top. Part way up, you turn right to walk back downhill.  
So, keep going straight and up the hill. Part way up, near the top but not quite, you will come to a wooden gate on the right. Go through that gate, and to the right you should see a Lantic Beach signpost. Follow this down the hill.
Further down, you will see a trail to the right to take you onto the beach. I decided not to go down. The water is too cold for me right now, and it would be a big hill to come back up. I will save it to come back to with Ollie. 
Walk around the peninsula to Lantivet Bay
The trail is relatively level now as it takes you around the side of the bay, and then it takes you uphill. As you go up, you may notice a trail split. Any is fine. You just need to go up to the top.
Up the top you will be presented with lots of gorse, and if you walk across to the other side, a view into Lantivet Bay. There was a group of elderly people up here, with their chairs, chatting. What a lovely place to come and hang out. 
When you are done with up top, take the trail that takes you across the other side and downhill. Again there will be a trail split, any of them will work.
The trail will first take you down, then it levels off, but it's not that long before it undulates again, with some rocky bits thrown in.
If you look along the coastline, if you look closely, you should be able to see the trail. It might look a bit daunting, but don't worry yet. The first bit is easy. The hills are small….for now.
Walk around Lantivet Bay – the halfway point in the coastal walk from Fowey to Polperro
As you make you way along the trail, there will be a bigger junction. Keep to the right one to take you around the cliffside of Lantivet Bay. The trail now undulates a little as it passes the coves.
It was around here that I had a sit down for snack time. I thought about how I didn't bring any sunscreen with me. It was a very hot and sunny day. I did put some on before coming out, but I was in desperate need of reapplying. I really hoped this wouldn't be a burning situation type of day. 
Lansallos Beach
After some more undulations, it's a solid down, through some trees, to reach Lansallos Beach.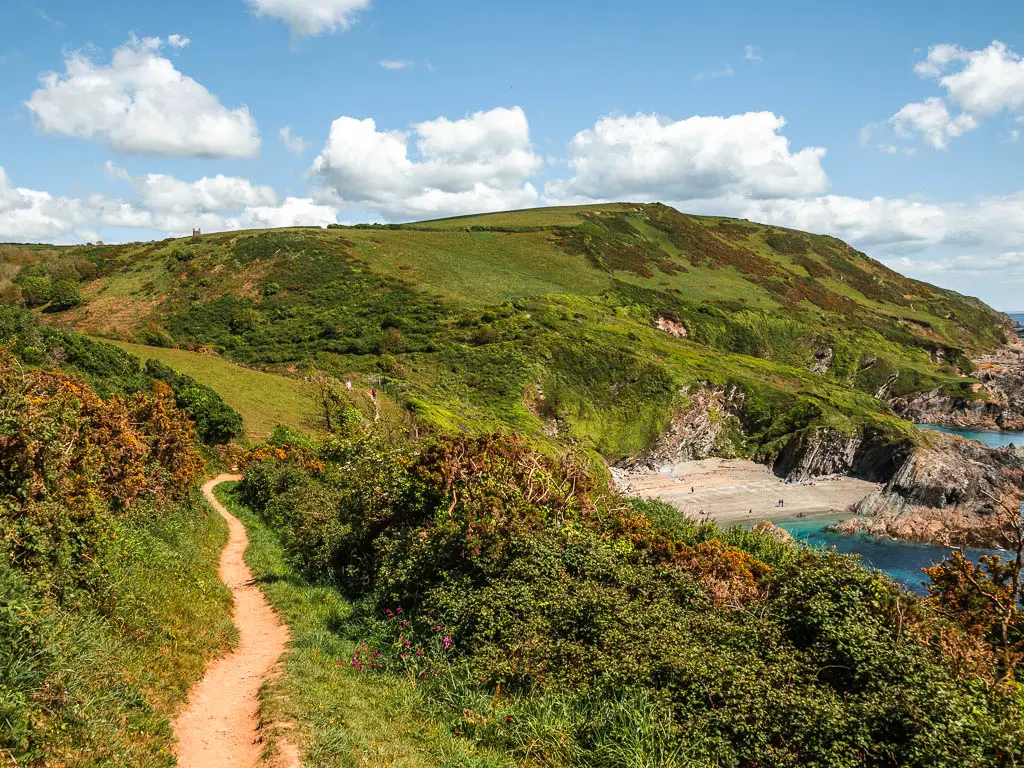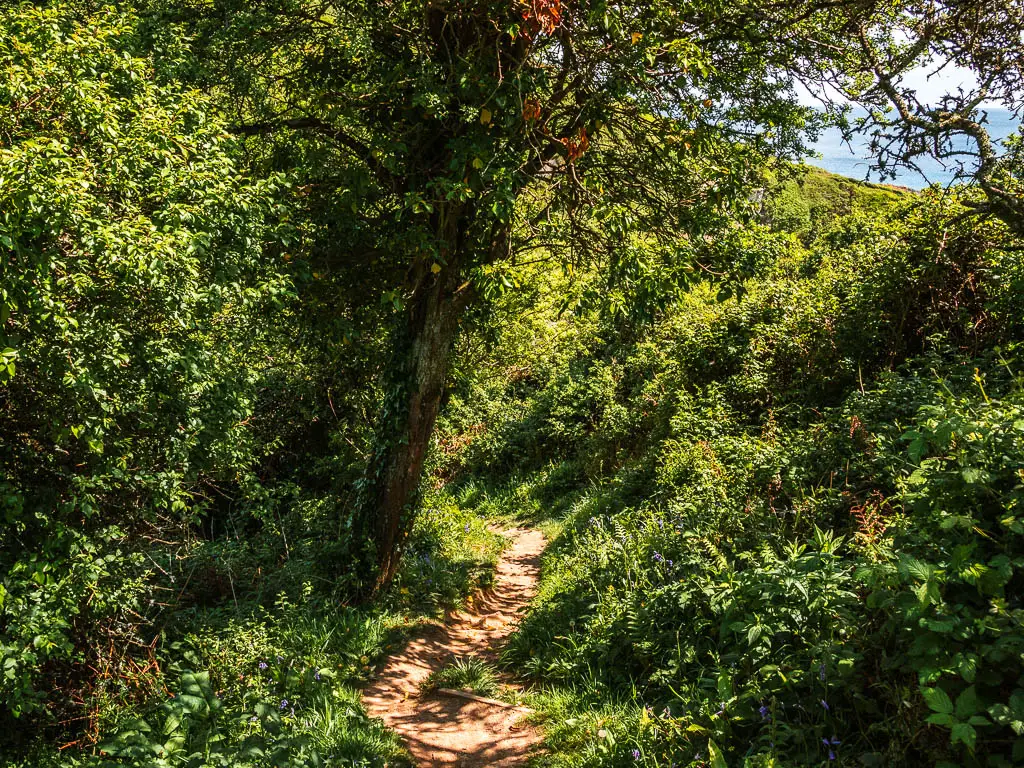 Getting onto the beach was interesting. You walk across this big slab of rock. This is a potential slipping situation, so I was careful.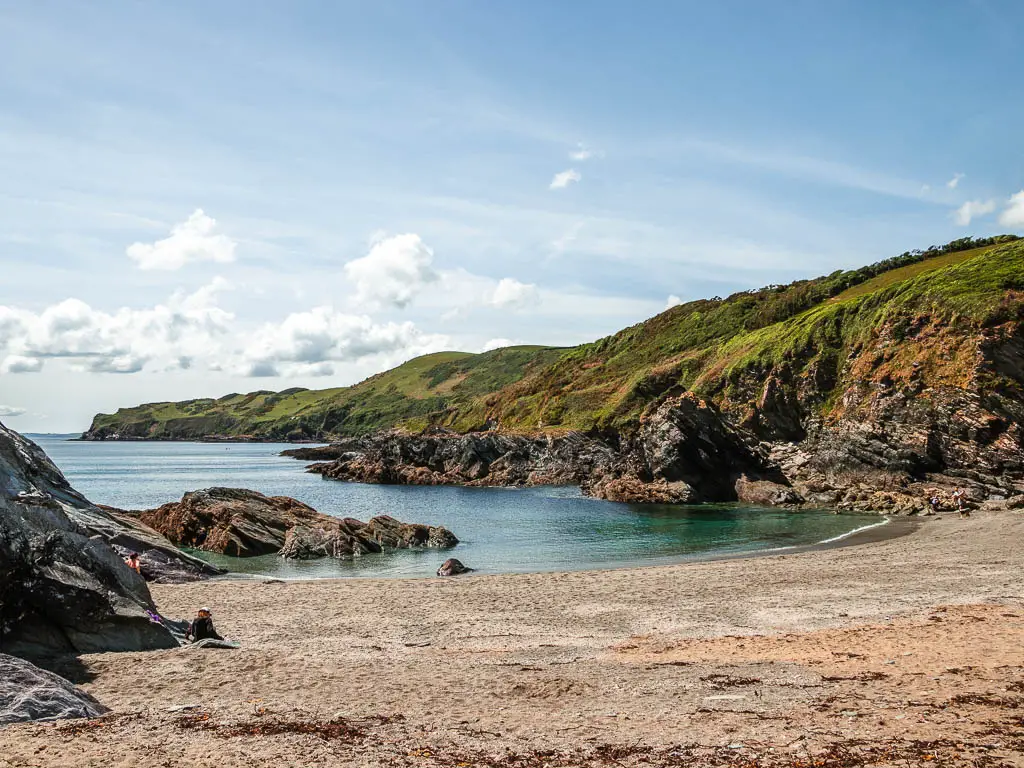 If you have wandered onto the beach, you need to go back up the way you got down there, to get back on the coast path trail. It was only when I made my way back up that I noticed the waterfall. 
When you walk up, take the dirt trail to the right of the wooden gate. This will take you away from the coastline momentarily, and then at the junction, before the next gate, take the trail that takes you back. 
If you want to get a bus from here, instead of turning back, go straight. This will lead you to the car park and then Lansallos, where you can get the bus.
Walk to the giant hills and second overgrowth on the Fowey to Polperro walk
As you continue along the coastline, the trail will undulate some more.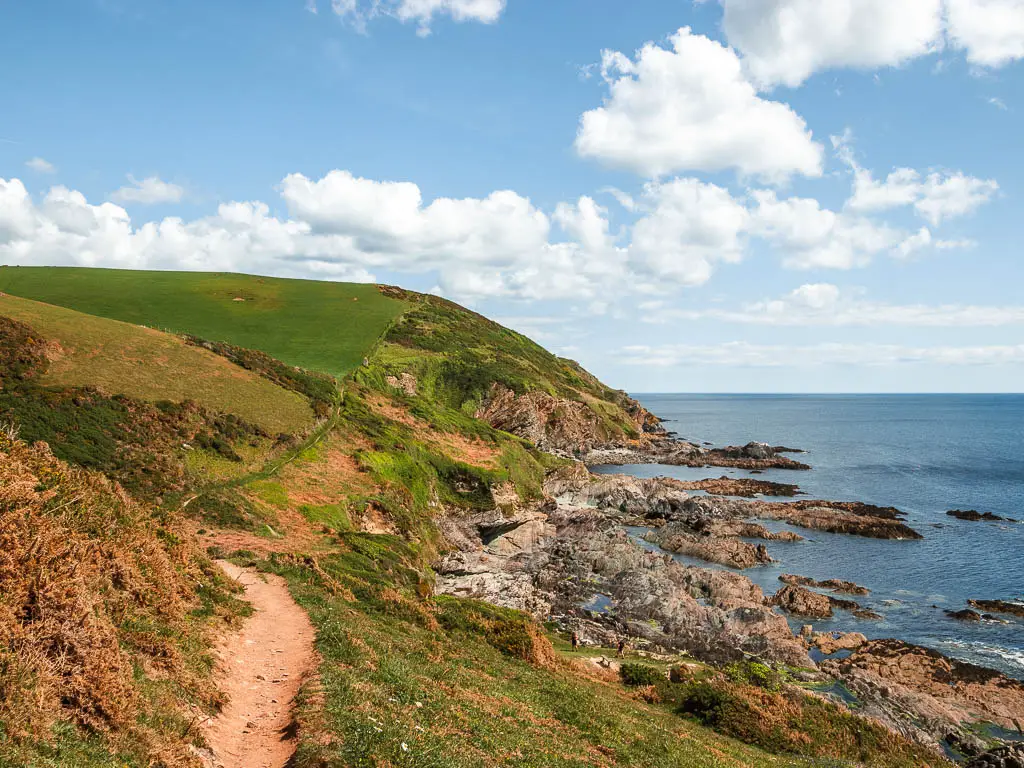 Once you reach a wooden bridge in a valley, cross over it…and then big hills begin. First it's a gentle one. Then things level off before taking you up the bigger one. This one hit me a bit. Steep with steps and hogweed overtaking the trail. I got my jacket and used it as a shield.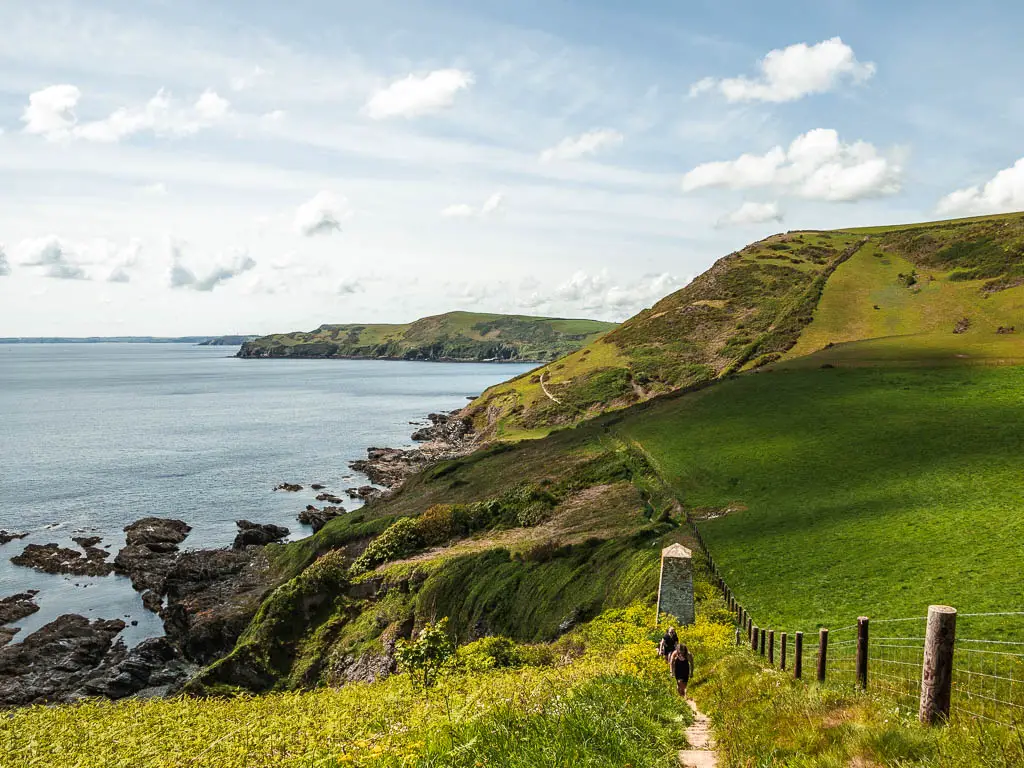 Up the top, and a little further along, the trail will take you down again. Down lots of steps. You will be able to see ahead, the uphill and steps to come. 
Now go and enjoy. 
Good luck.
Walk around Raphael Cliff
After you reach the top, just know that that is the biggest hill climb of the walk. The hard work is over. Now follow the trail as it takes you around Raphael cliff. I was bounding along this bit, enjoying the ease of movement, when I noticed just in time, the stinging nettles. They encroach on the trail enough, that if you have bare legs, you need to carefully navigate them. 
Once I walked around this cliff peninsular, I noticed some pointy rocks ahead. My thought process was, 'that's Polperro' the pointy rocks of Polperro. I'm there….Once I walked over there, I learned that it is not Polperro. There is still a bit of way to go. 
The trail on the edge
The trail will then take you down some steps, and then undulate a bit to reach the bit of trail which is super close to the end. It is also quite narrow and uneven. If you don't like heights, maybe don't look too close, and take it slow. 
You will then go up some steps, and some rocky, rugged bits of trail.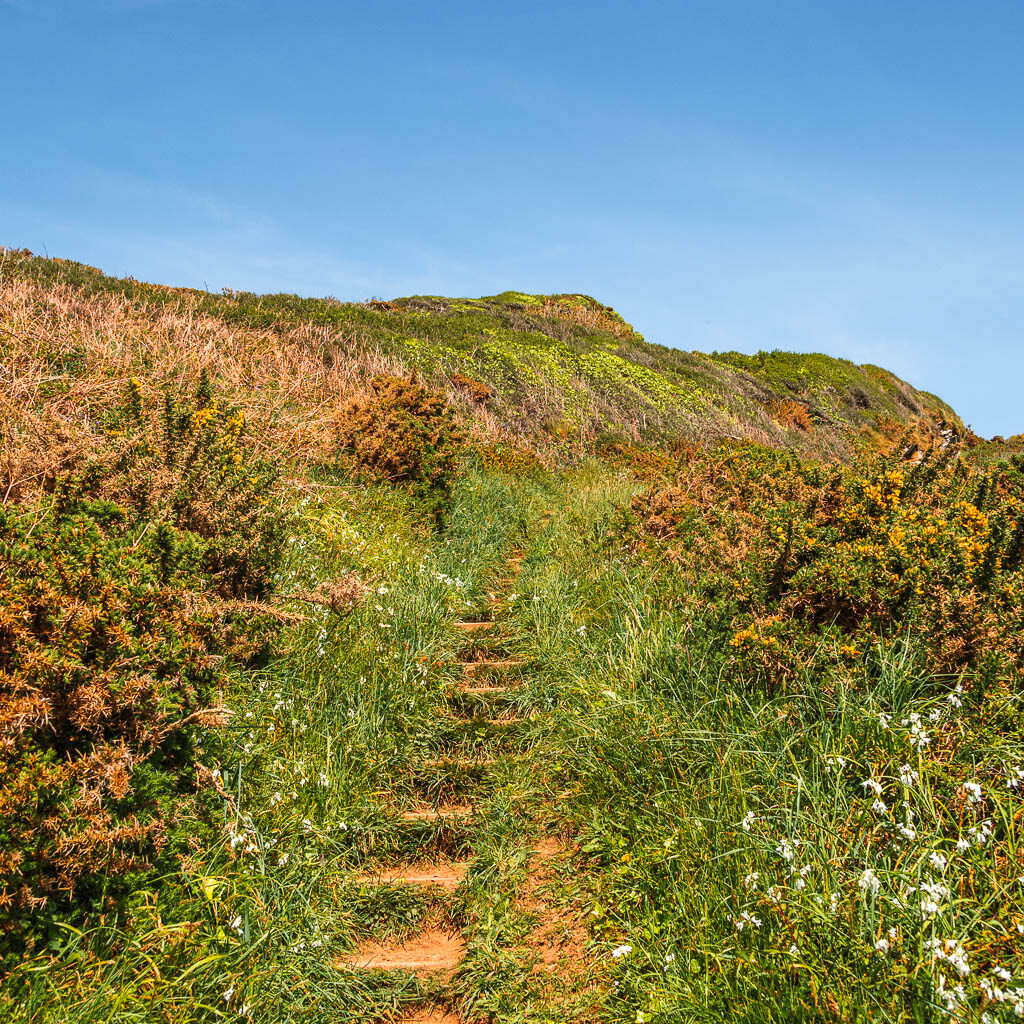 The final stretch of the coastal walk from Fowey to Polperro
The trail then levels off and undulates some more. Somewhere along this bit, things started to get more pretty. Similar to the pretty I experienced on the last stretch of the walk from Looe to Polperro. I knew I must be close. 
There is a trail offshoot coming up, but stay on the main one. There is also a trail signpost along here. I decided to look at this one. I was satisfied with what I had walked so far. Now it was time to see how far I had come. 
1/2 a mile to Polperro. That's what I like to see. 
The first sighting of Polperro is a little white house on the hill ahead. The kind of house that gives you home envy. You will pass another couple of Polperro signposts giving you two routes to walk in. I stuck with the acorn coast path routes.
It's the second one of the signs that directs you to the right. It is here that you will see the official pointy rocks of Polperro. Then as you get closer, Polperro starts to open up in all its glory. 
When you get down to the harbour, you can explore, stop in one of the pubs or cafes, and think about how the hard work to get here was all worth it.
Poplerro has a really special rugged sort of pretty vibe to it. Even the public toilets are pretty (from the outside at least, I didn't go in, so I can't comment on that).
---
More coastal walk ideas near Fowey and Polperro
Looe to Polperro – I have already mentioned this one a few times. If you want to experience this area of coast path but don't want too much of a challenge (like the walk today), you should choose this one.
Par to Fowey – A nice stretch of coast, taking your around the Gribben Head peninsular and Daymark. There are some hills, but it's not too challenging. Ok, maybe a little. It's also logistically a lot easier to get to. 
Charlestown to Mevigassy – Slightly further south along the coast path (one stop from Par). Unfortunately, at the time of writing, this bit of coast path is closed. I only learnt this when I got to the start of the trail….after having traveled for 1.5 hours to get there. 
Pin the coastal walk guide from Fowey to Polperro for later: