Today I am going to tell you about the coastal walk from Looe to Polperro. It's a really lovely walk taking you from one cute seaside town to another, in remote Cornwall. Well, technically one is a town and one is a village. But whose counting.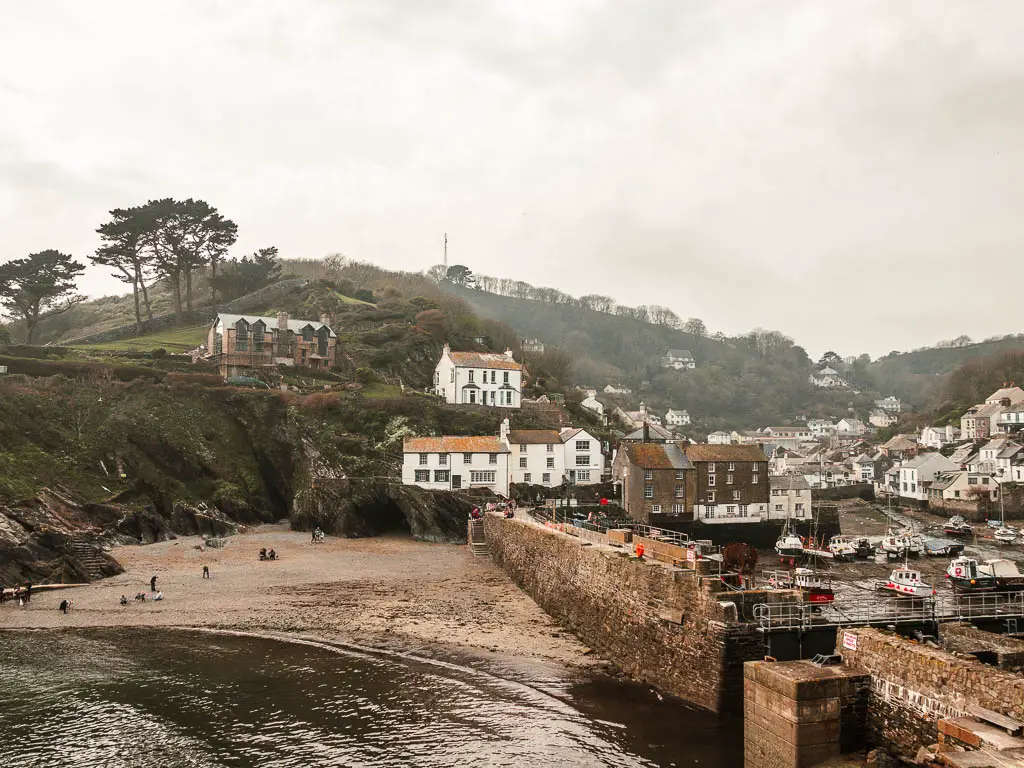 I have been wanting to visit both Looe and Polperro for some time now, and as they are close together, doing a little coastal walk between them is a perfect way to see both. 
I actually only came out here today because of the countryside bus situation. You see, it's Easter weekend. Buses where I am are basically non existent for these few days, so I can only go for walks anywhere I can get a train to. I have also already walked anywhere within my Devon area that trains go to. So I needed to go further out. This is where Looe comes in. You can get a train there. Polperro doesn't have a train, but you can travel between the two towns by bus. 
Oh wait, there are no buses this weekend. That's ok, because Looe and Polperro are only 5 miles apart following the coastline, so it's easy enough to walk there and back. 
What was the walk from Looe to Polperro like?
The walk from Looe to Polperro was beautiful and rugged like any good bit of South West Coast Path. There are a few hills, and some extra steep bits, but most of it is relatively flat with gentle undulations. You will pass by Talland Bay (a little hidden Hamlet of Looe) and as you turn a corner at the end, you will have the grand reveal of Polperro, and feel like you have uncovered a hidden secret.
It was super foggy when I arrived, and visibility was poor. Everything was grey and green. When I arrived in Polperro, the sun tried to come out, and created a gorgeous glow through the fog. For the walk back, the fog started to lift and I was now able to see things I hadn't seen on the way out. Colours started to come to life. It was really interesting seeing the difference. 
When I describe the walk below, I will show you both. 
Should you walk one way, or there and back?
To walk one way, I would class the walk as easy. If you want to walk from Looe to Polperro and back I would probably call it medium, just due to the length and doubling the hills.  Saying that, my judgement is probably skewed from the beast of a walk I did recently from Kingswear to Brixham. Everything is easy after that walk. 
I'm trying to decide which direction I think has better views, and it's tricky. They are both good. I would say, you get more far reaching views when you walk in the direction of Polperro to Looe, however, rounding the corner to arrive in Polperro is everything. Saying that, it was very foggy for my walk out, so maybe I couldn't see everything.
Wether you choose to do one way or both, you don't have to decide now. After arriving in Polperro, you can have a mooch, stop for lunch, and then decide wether to get the bus back or do the walk (unless it's Easter or Xmas, or another day when buses are having a rest, then you have no choice. You will have to walk)
Anything else?
Being that it's Easter, the coast path was a little busy today. I passed lots of families and their kids. For most of the way, the path is narrow, taking you around the sides of the hills which meant having to either wait, or do some nifty overtaking. I actually found that walking the section of coast path between Talland Bay and Polperro much busier than the section between Talland Bay and Looe. 
Oh yes, and I can't not mention the train out here. Looe is on a branch off the main line for Great Western Railway. It's just a few carriages and takes you on a scenic journey along the East Looe River, through the remote Cornish countryside. It also changes direction part way through. You know how when you step onto an escalator that isn't moving and your senses sort of jolt you. It was like that. My body was highly confused. 
Logistics for the Looe to Polperro coastal walk
Start/Finish: Looe/Polperro
How to get there: Looe and Polperro are located in east Cornwall. Trains run form Liskard to Looe. Liskard is on the main line for Great Western Railway. Bus number 481 runs between Polperro and Looe.
Distance: 5 miles one way
Time: 1h 45min (one way)
Elevation: Highest point is about 74m. With the ups and downs, elevation gain is roughly 218m.
Difficulty: Easy with a few short but challenging hills. 
Terrain: Grass, dirt trail, rocks, slates of rock.
Time of year: Spring 
Amenities: Everything in Looe and Polperro, and numerous viewpoint benches along the walk.  A cafe at Talland Bay.
Tips for the Looe to Polperro walk 
I do recommend hiking shoes/boots, however, there were a lot of people in regular trainers. Some parts are a bit rocky so you will just be more comfortable in proper hiking shoes. I also feel like some bits, particular the slabs of rock, could get slippy when wet. 
Just over half way in, stop for a coffee and sit in one of the beach huts at Talland Bay Beach Cafe.
Don't go on Easter weekend if you prefer quiet. 
On the train to Looe, sit on the right side. That way you are on the river side, and you get a stunning view into Looe during the approach. 
Map for the Looe to Polperro coastal walk
More coastal walk ideas near Looe and Polperro will be at the end
A Guide To The Looe To Polperro Coastal Walk
Out of the station at Looe, it's pretty easy to navigate to the coast path. Just follow the river, cross over the bridge, then keep going straight. 
You can see from the photos, it was low tide. When I arrived back into Looe later on, it was high tide. I will show you at the end some more photos of what it looked like.
Walk as far as you can go alongside the harbour, and then up to the road at the castle ruin looking thing. There is a painted walkway on the side of the road….to protect you from the cars.
Keep walking up, and follow the road around the corner. You will get a lovely view up here to East Looe Beach.
Past the viewpoint, at the second car parking area, there is a trail to the left to take you down to the walkway by the sea. 
Walk from Looe to the green with views of St George's Island (Looe Island)
You will now be on this walkway for a while, with a view ahead to St George's Island.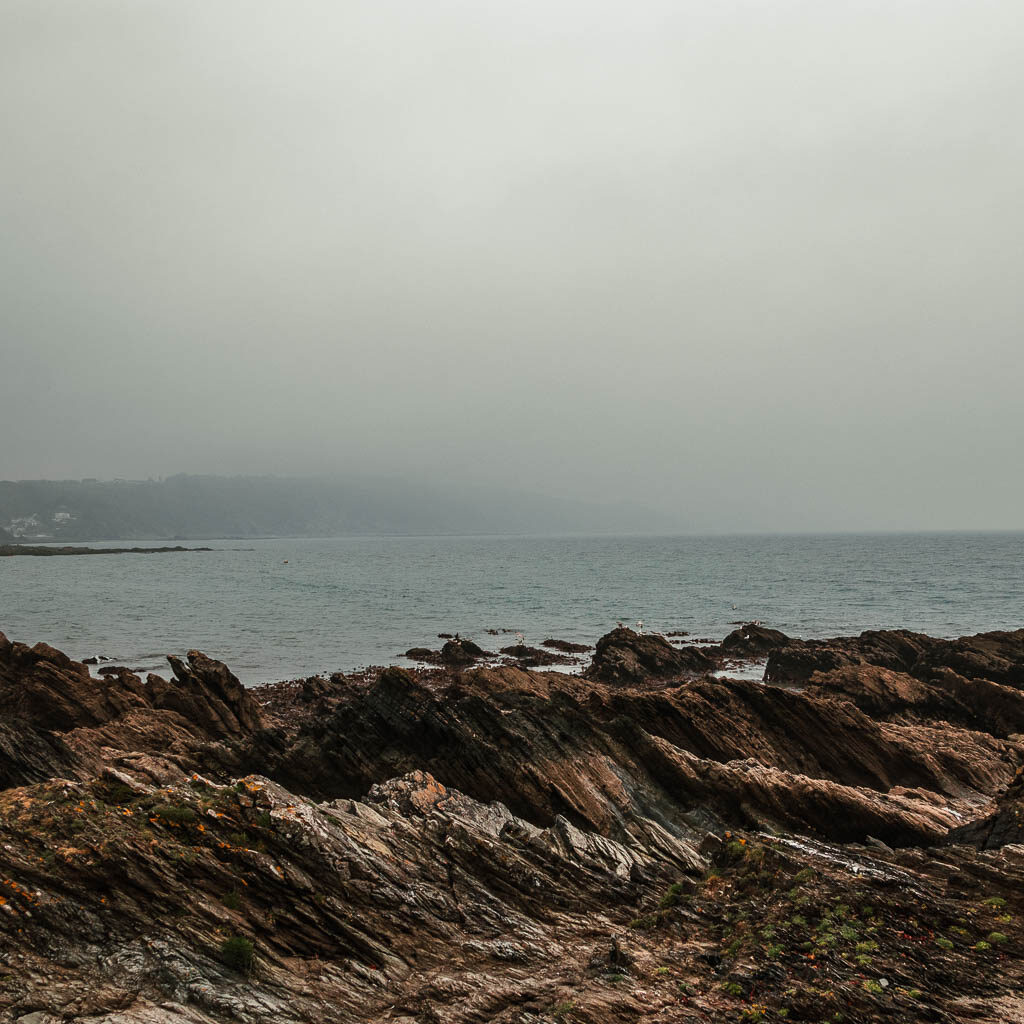 Fun Fact: The island has been through some names. It used to be called St Michael's Island and is now known as either Looe or St George's Island. Take your pick. 
Fun Fact 2: The waters around the island are a marine nature reserve. You can only go over there by an authorised boatman. 
Fun Fact 3: In the 17th and 18th centuries, it was used by smugglers.
Fun Fact 4: During WWII, the Germans thought the island was a ship and bombed it, leaving a crater in the summit. 
Ok, that's all the fun facts for now. 
At some point, you will need to go back up to street level. Don't worry too much, about when to go up, as there are a few opportunities to do so, including right at the end of the walkway. 
When you are back on street side, keep walking up the road, and you will soon reach a gate into the big green. 
Walk to Portnadler Bay and Samphire Beach
You will notice a trail along the bottom of the green, and one going up the hill. Don't panic, you can stick to the bottom. Save your energy for the hills later.
For the next while, it's all super easy and on a flat. Well, kind of. A flat on a slight slope. One of those ones where if you don't pay attention, you will suddenly realise you are walking into the bushes along the edge.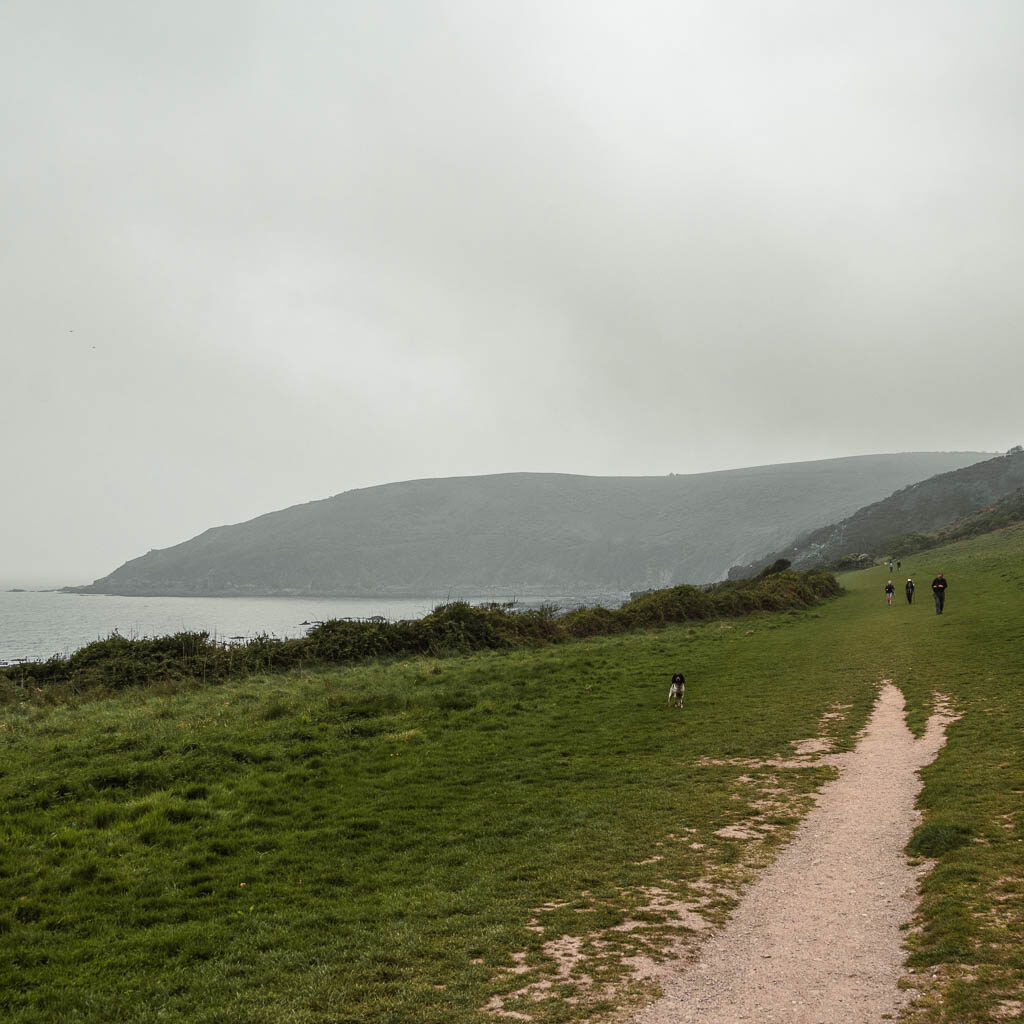 You will notice some big hills ahead, a little scary looking, although you needn't worry, as you never actually walk to the top of them. The trail takes you around the side. 
This is the flattest section of the walk, and you will go straight from this to the first steps. I mentioned at the beginning that there are a few steep bits on the walk from Looe to Polperro, well, this is one of them. From memory, I think you walk down again after these steps and then undulate. Don't quote me on this though.
You will then start to get a view to the beach, and will have another couple of hills to go up and down.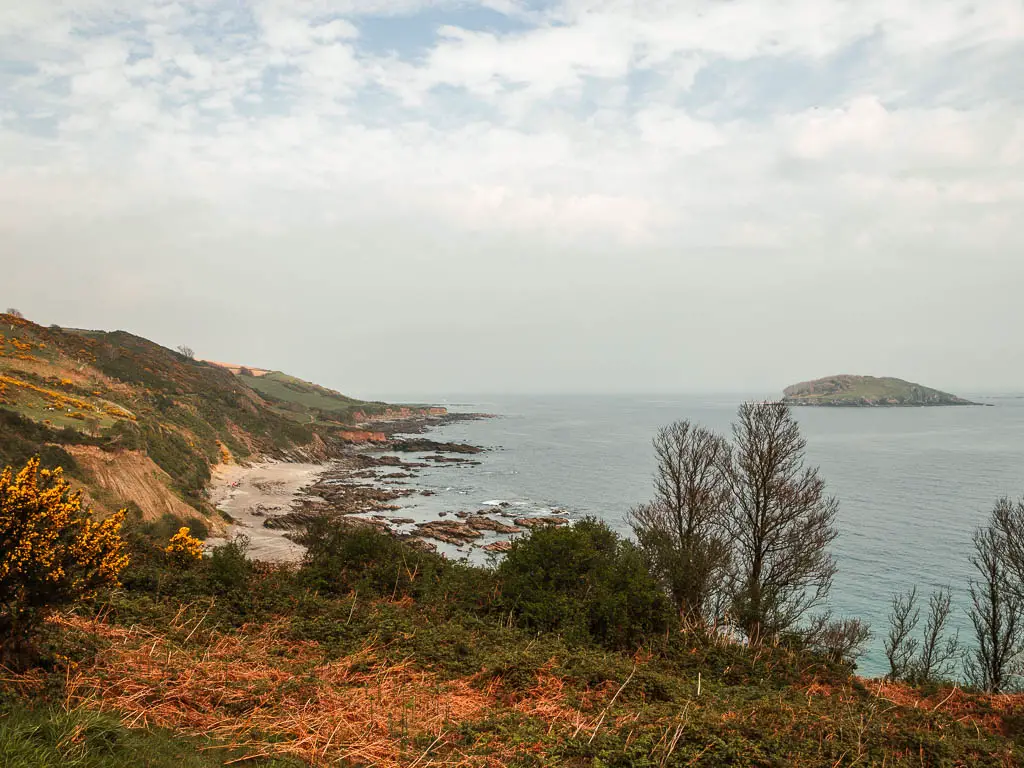 Walk to Talland
You then undulate some more, before a short uphill to the pointy rocks, which makes a lovely viewpoint rest area. On my walk back from Polperro to Looe, I took a break at this spot. The problem is, it's quite an obvious good rest spot, and the my peace was disrupted very suddenly by the sound of children, as a family plonked themselves next to me. That cut my break short.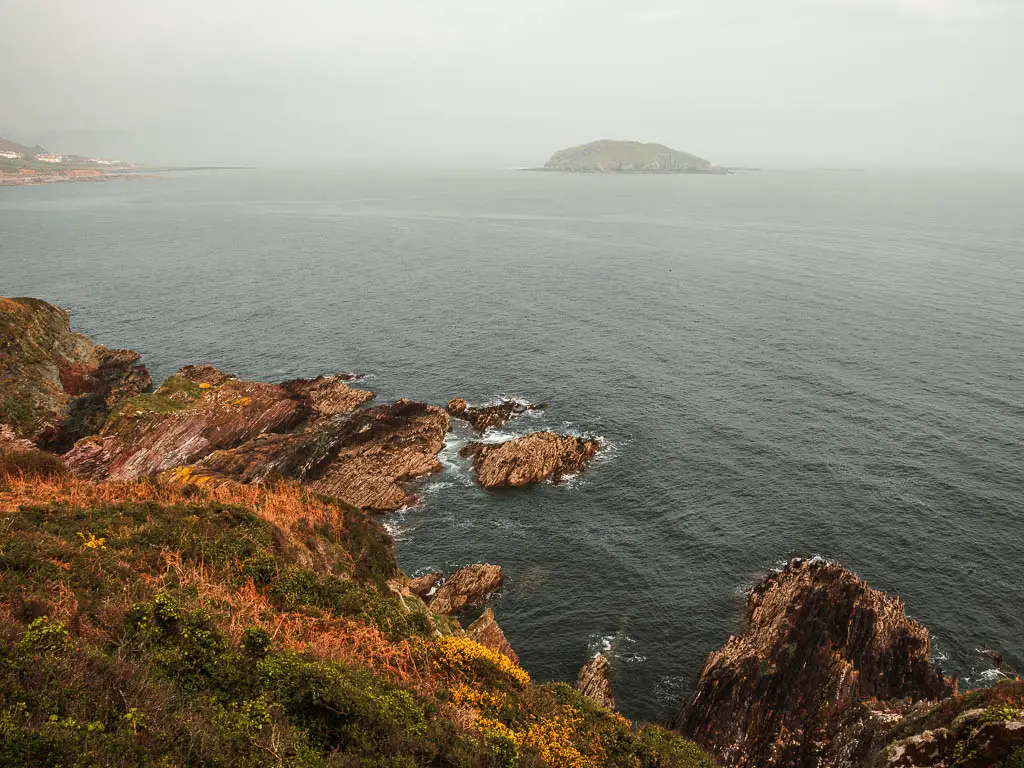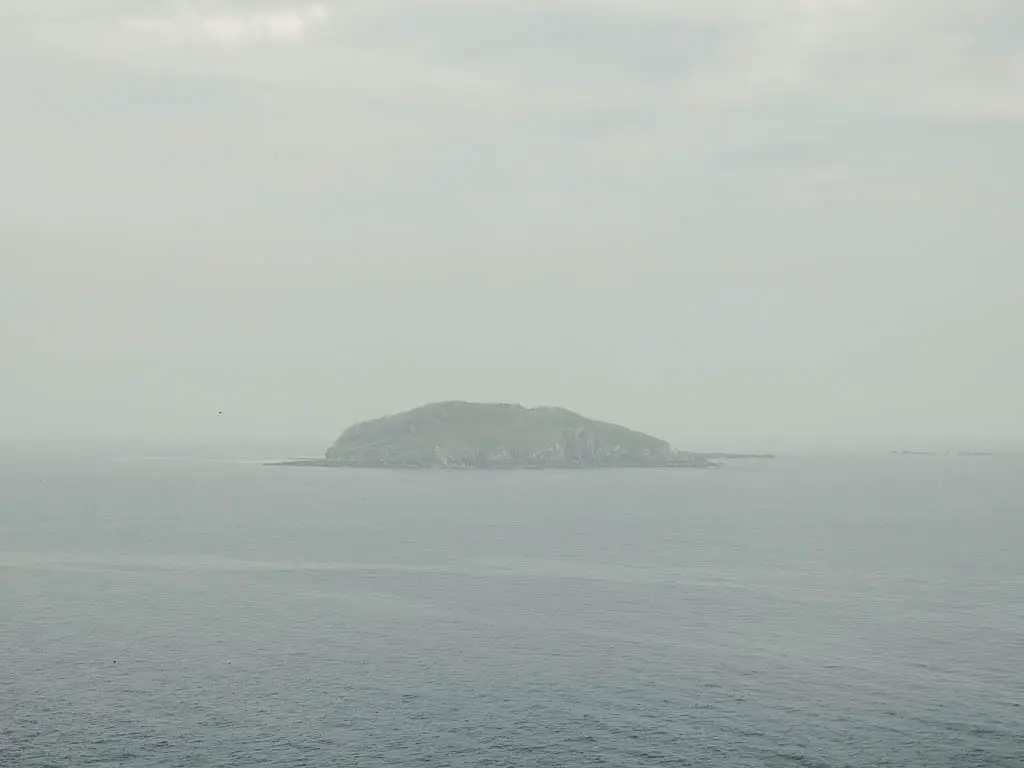 After the pointy rocks, there are some more steps (going down) and more undulations, as you make your way around the side of this hill and through the yellow plants, which I have learnt today is called gorse. I see a lot of this yellow stuff out in Cornwall and Devon, and have always wondered what it's called.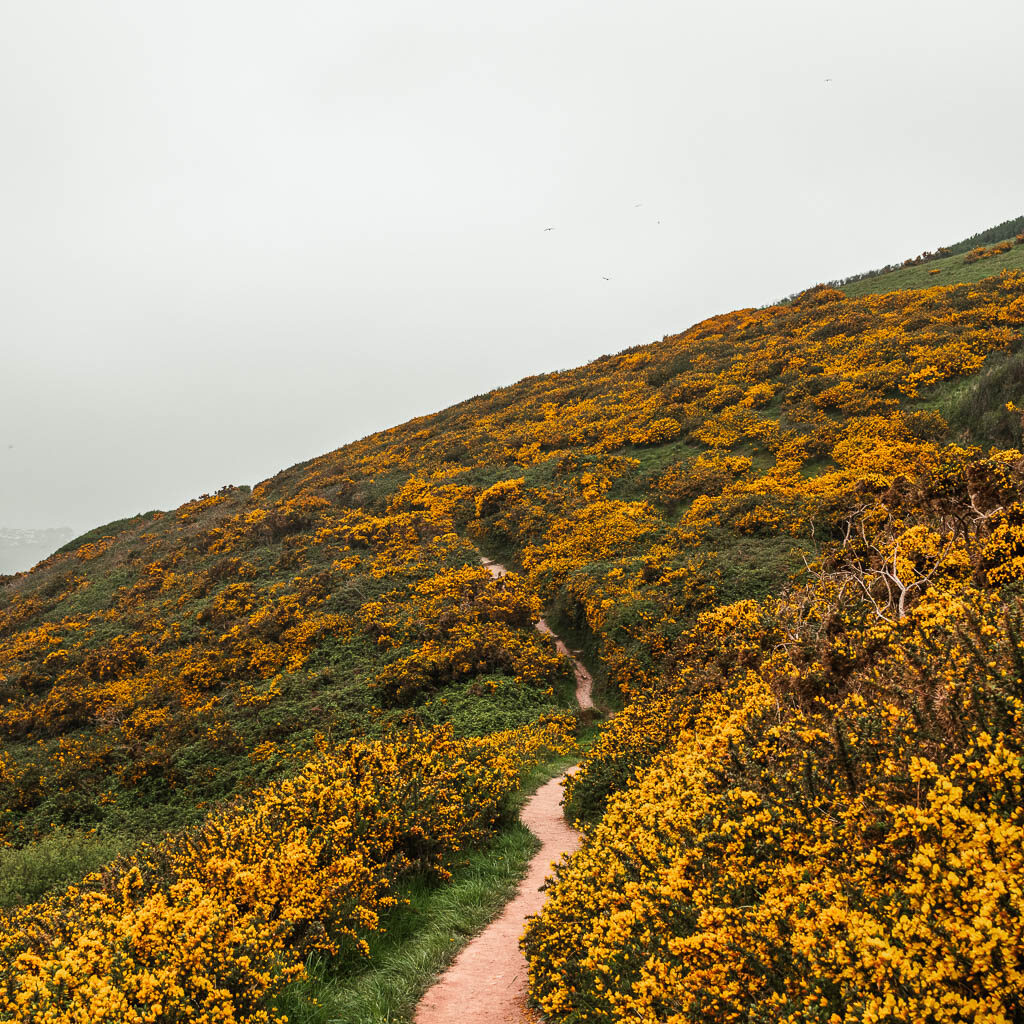 The first sign of Talland will be a white coloured house on the side of the hill in the distance, and then, as you get around the hill, you will see down into the bay. 
Now make your way down to it.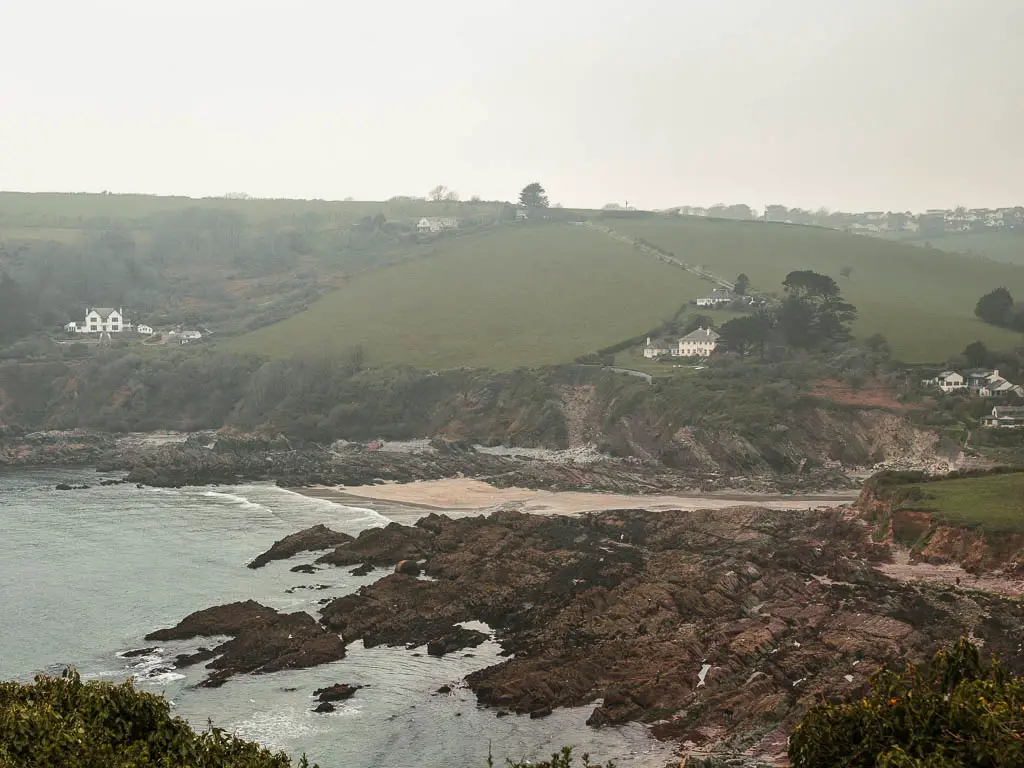 Talland – Just over halfway in the coastal walk from Looe to Polperro
Once down in Talland, it's a short bit of road walking. First you will pass by a cute white cottage with a blue gate and pink heart.
Walk to the end of the road and turn left, where you will walk by Talland Sand and the Beach cafe.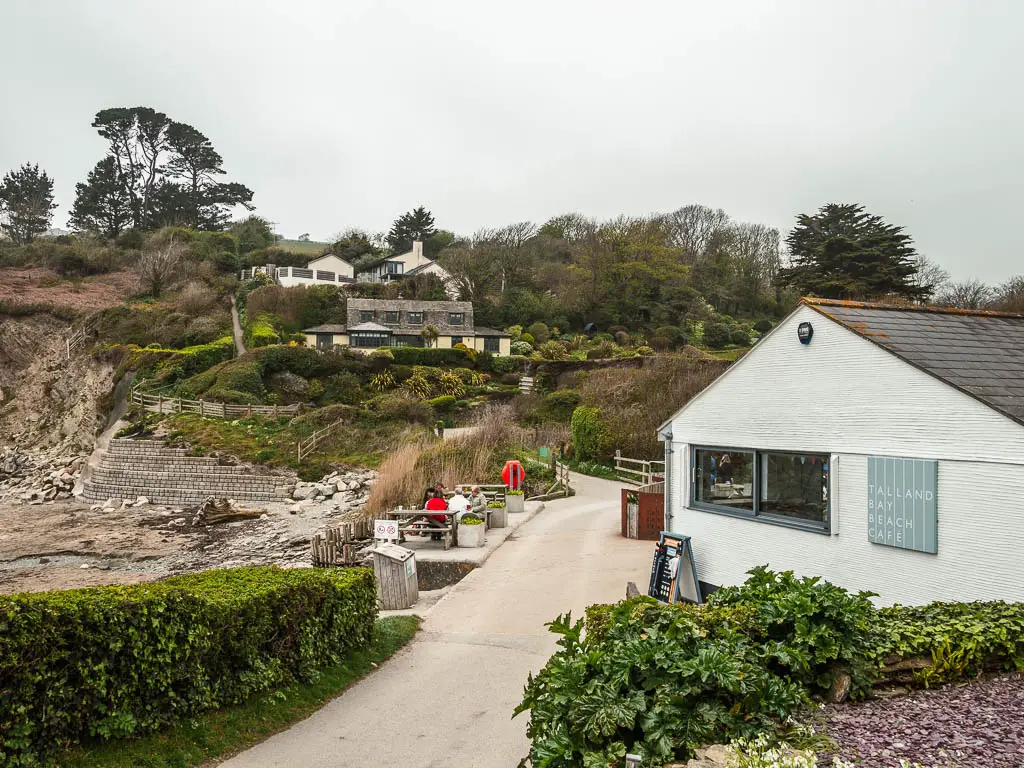 At the corner past the cafe, turn left, and then it's a very very steep but short uphill to the right, between the hedges. Part way up, look out for the opening and trail to the left. Along here, the trail levels out and you get a lovely view back down to Talland Bay, and the hills you came from on the other side.
Walk to Polperro
Somewhere further along here, you will hit the uphill of slabs of rock, and pass by the war memorial. This is where I suspect could get slippy when wet.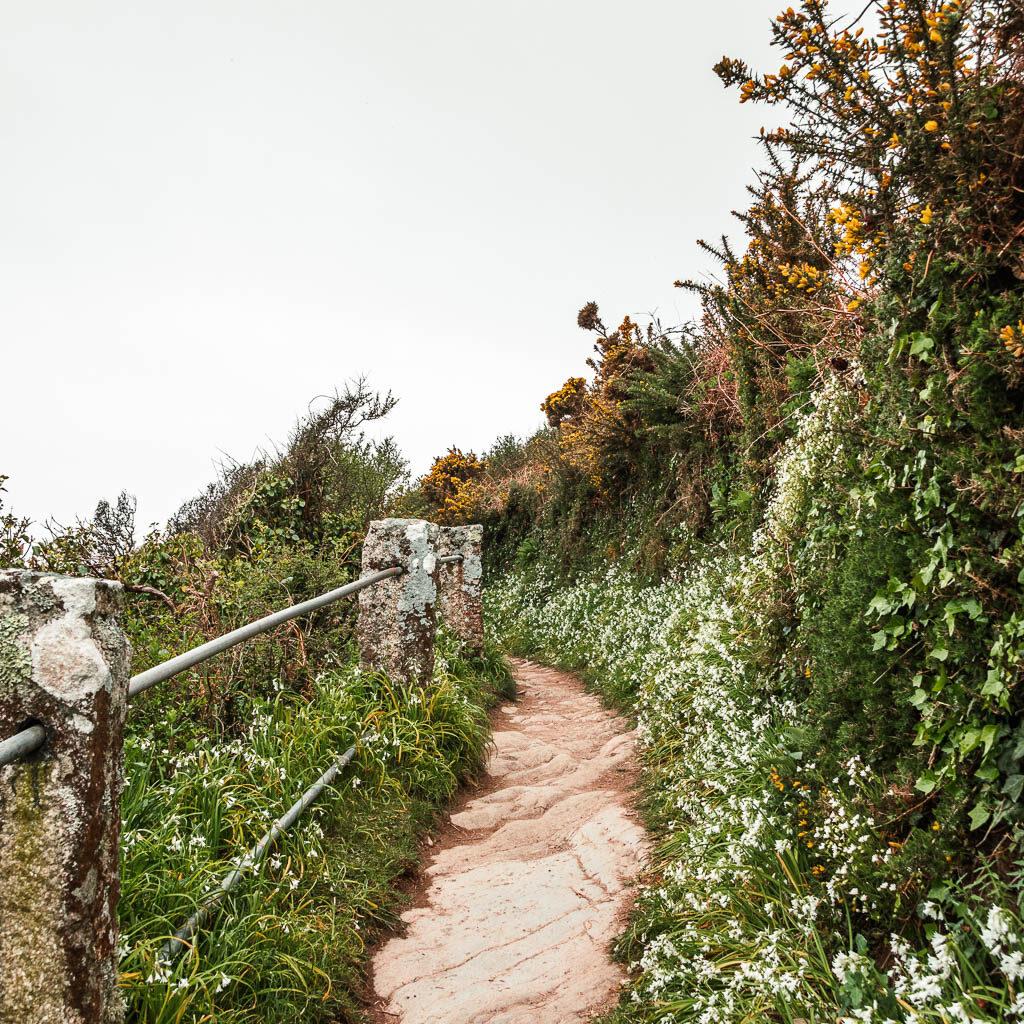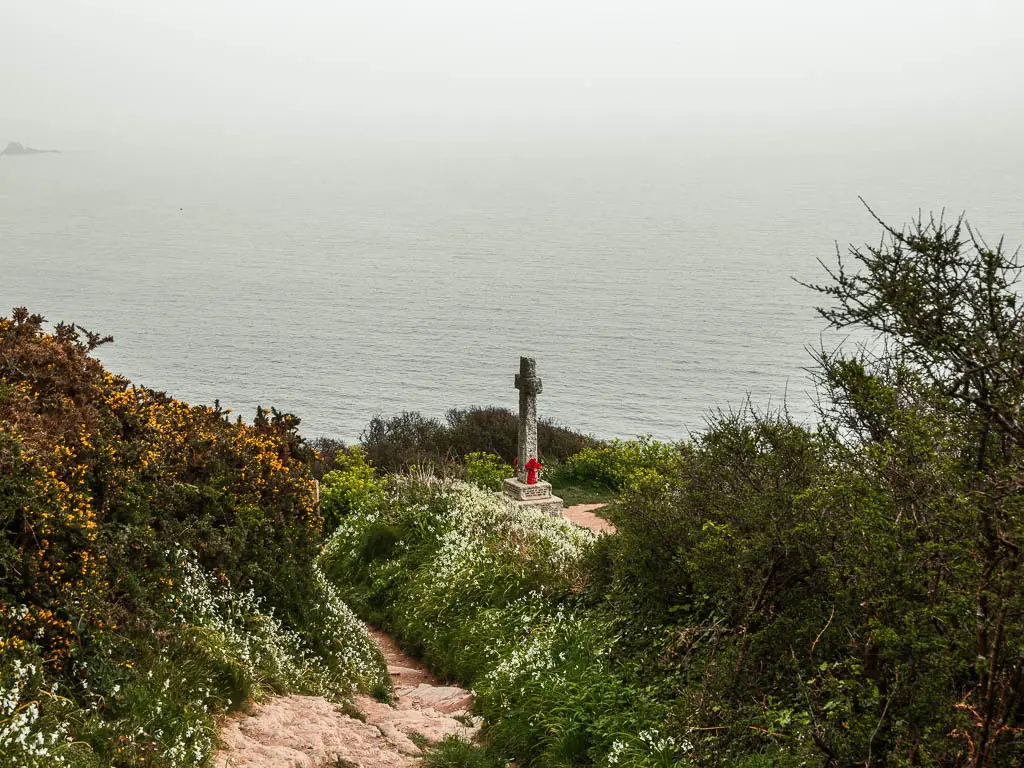 I noticed a real change in the scenery as I neared Polperro. Everything was a lot more pretty and almost fairytale like. I would also say that for this section, you are mostly walking uphill with a few downs. Then you will hit the peak, after which, it's downhill for the rest of the walk into Polperro. 
As you are making your way down, you will turn a corner and suddenly get a view into the cove with some pointy rocks at the tip. It's a breathtaking sight.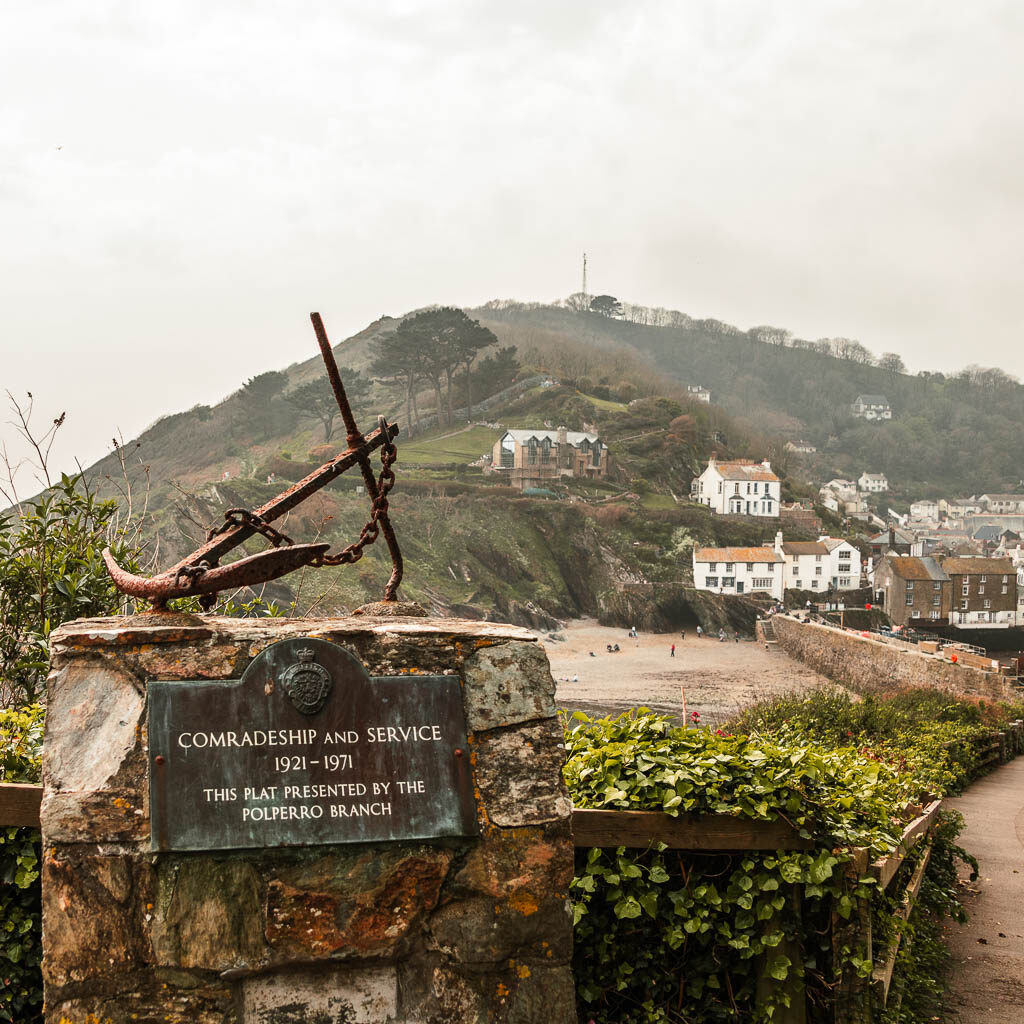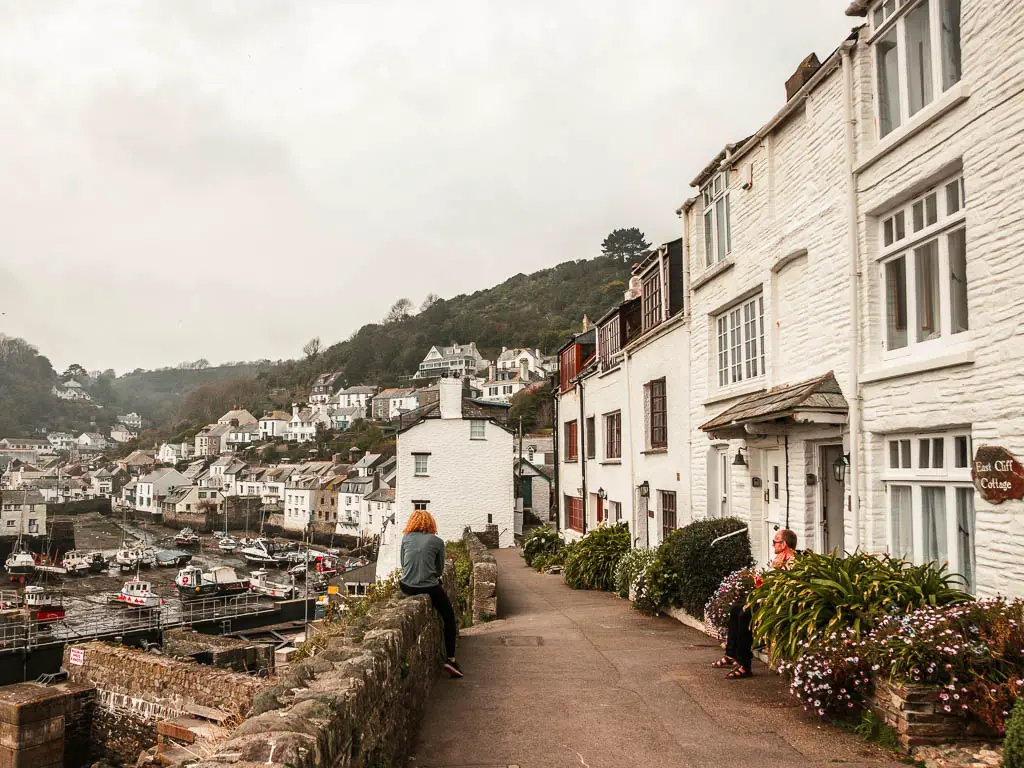 Walk back to Looe from Polperro
Now, after spending some time walking around Polperro, you may decide to get a bus back to Looe. As you know, I walked back. I will now show you some more photos of what it looked like, and then the photos of Looe at high tide.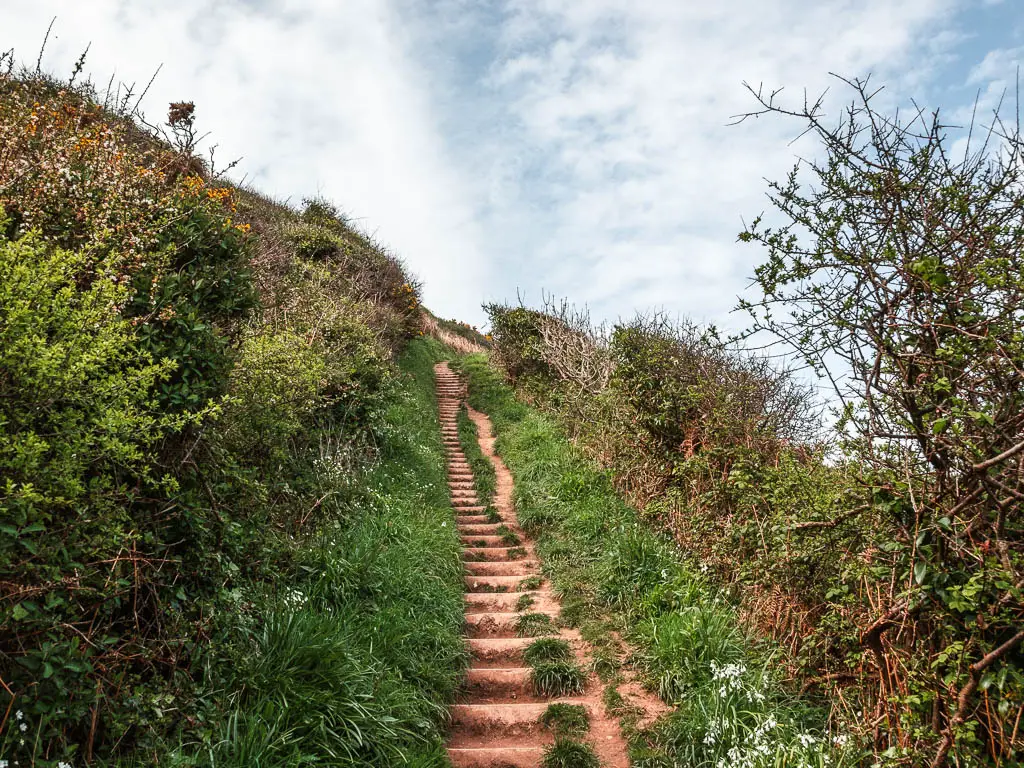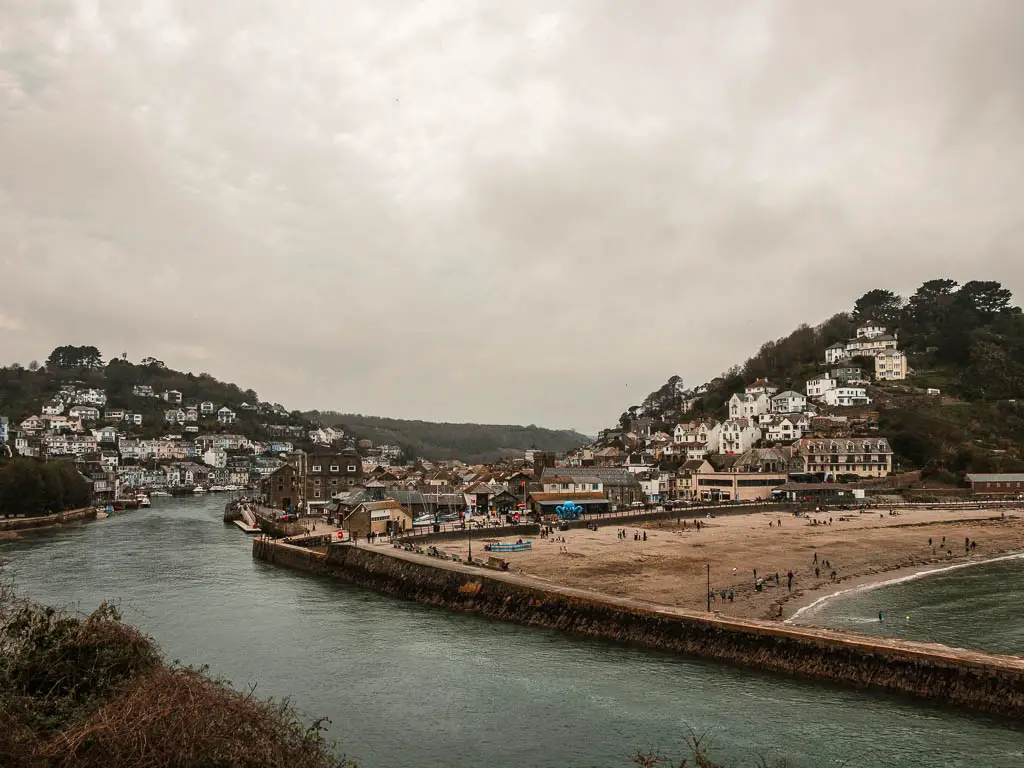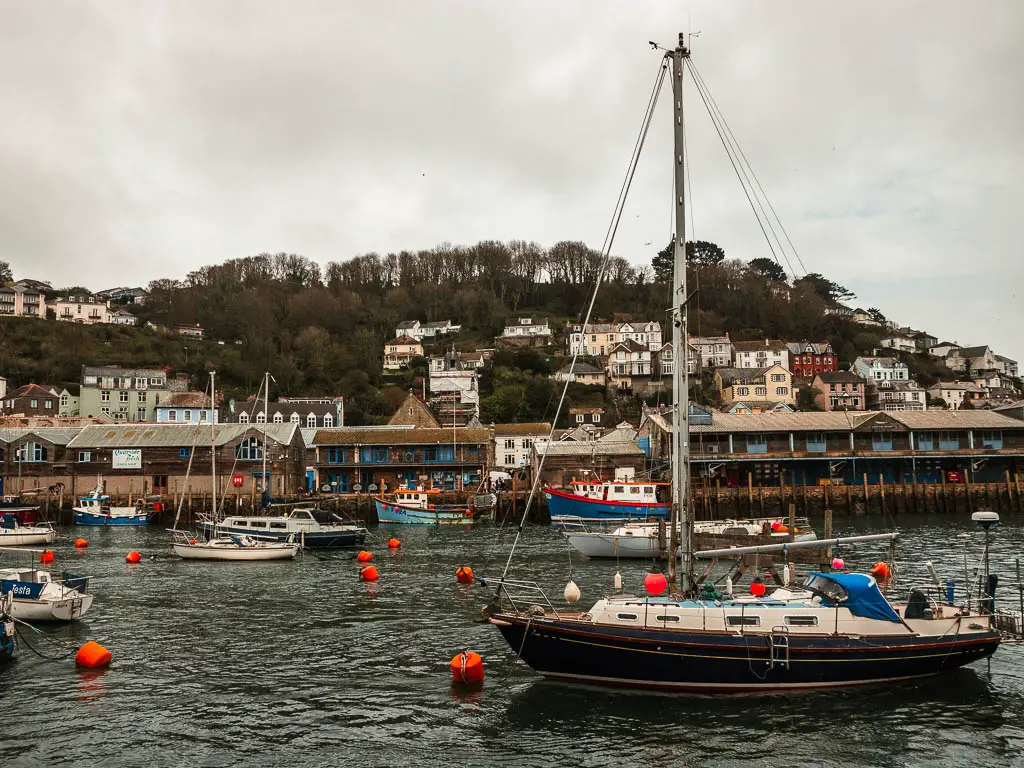 More coastal walks near Looe and Polperro, and similar walks
Fowey to Polperro – This is the next stretch of coast path along. I came back and did it a week or two later. It's definitely more challenging but just as stunning, with probably one of the best beach cove views I have ever seen. coming soon
Par to Fowey walk – This walk takes you around the Gribbin Head Peninsular where you can see the red and white stripped Daymark. It's not mega challenging (apart from some hills at the end), and has the usually lovely coast path views and beach coves. coming soon
Rame Head Circular – This is slightly further north along the coast, not too challenging and features 'wild' ponies. coming soon
Tintagel walk – Not actually nearby, but on the north coast of North Cornwall. I wanted to mention it though because it is one of my favourite walks ever. It also gave me a few similar vibes and was mystical in places. 
Salcombe to Hope Cove – This walk is also further away, over in South Devon. It reminded me a little of the end of the Looe to Polperro walk. The way Polperro opens up, is quite similar to the sudden opening of the gorgeous Hope Cove.
For more ideas for walks in Cornwall, you could check out the National Trust Website.
Pin it for later: A guide to the coastal walk from Looe to Polperro