This circular walk takes you from Birling Gap, across the Seven Sisters cliffs, and around Friston Forest before returning back.
Now, you don't walk across all of the sisters. Just a few of them. Making this a perfect walk to experience them, without doing the full lot. You will walk through open fields, with sheep and windblown trees. You will get a lovely view of Belle Tout Lighthouse. You will walk by an ancient pond (more on that later), and of course, the forest.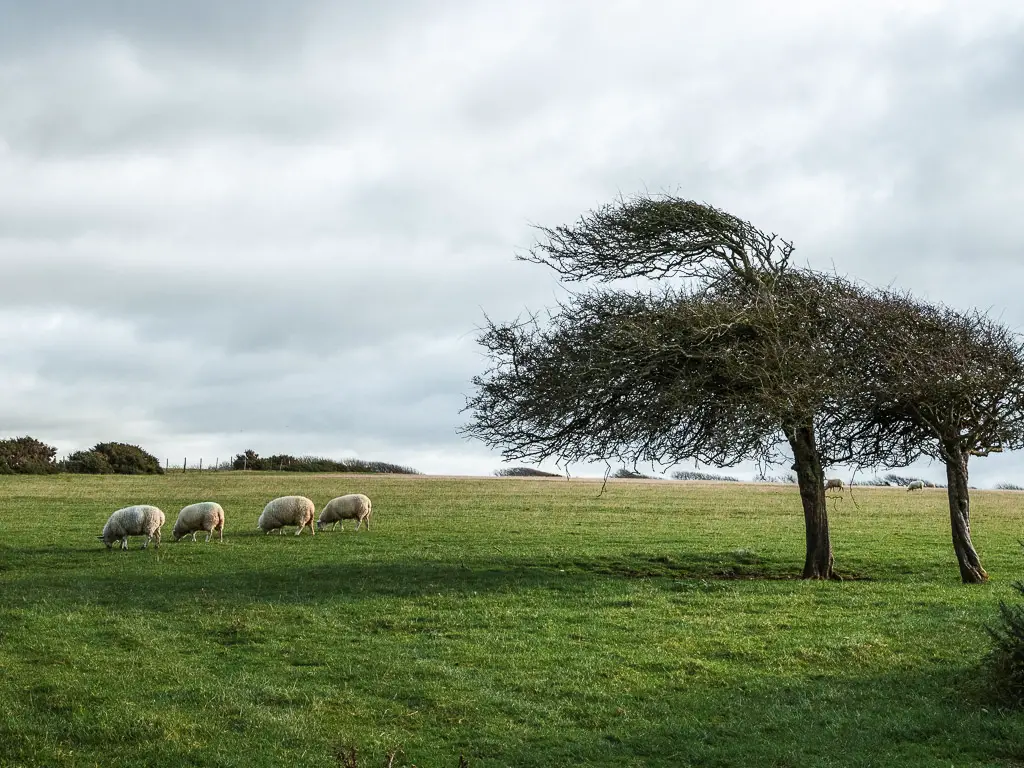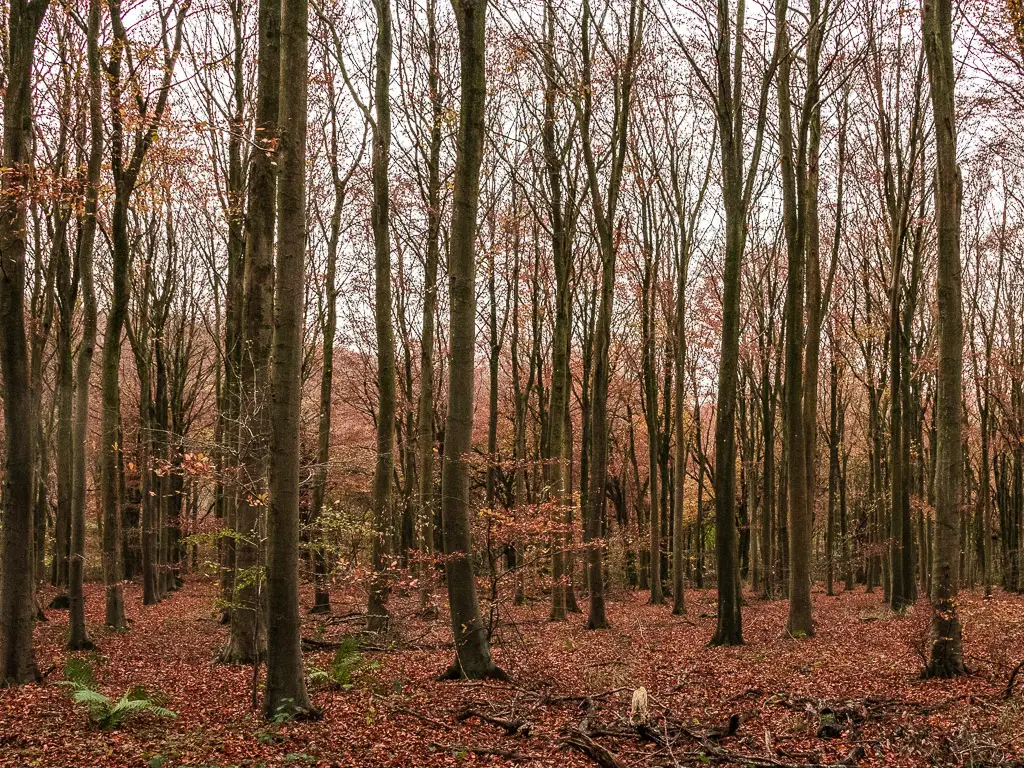 What is Friston Forest?
688.7 acres of woodland, mostly made up of beech trees. Now, it is man made. Ollie pointed this out to me, with the uniform rows of trees. On further research, I have learned that it was planted in the 1930's and 1940's, as part of the Forestry Commission's goal to increase the amount of woodland in England.
Logistics for the Birling Gap, Friston Forest circular walk
Start/Finish: Birling Gap
How to get there: If coming by car, there is a car park at Birling Gap. Alternatively, you can catch the no 13 or 13X bus from either Seaford or Eastbourne (Both of which you can catch trains to from London). Bus journey time is around 20min on 13X, or 35min on 13, give or take a bit. Note: I think the buses only go to Birling Gap on weekends, don't quote me on this though and check the day you want to go! If this is the case, the bus still goes to East Dean. This walk goes through East Dean, so you can start from there.
Distance: 8.7miles
Time: 3h 20min.
Difficulty: Easy/medium
Terrain: Grassy trail, dirt trail, a small bit of road. 
Elevation: Highest point is 122m. Although, you don't start at sea level. With the ups and downs, you will have walked uphill about 381m.
Amenities/tips: At Birling Gap there is a cafe, toilet facilities, and car park.
Map for the Birling Gap, Friston Forest circular walk
You can open this map in your Google Maps
Recommendations for other walks in the area, and similar walks are detailed at the end
Why we decided to do this circular walk around Birling Gap and Friston Forest
I mapped out this walk because Ollie and I were actually spending a few nights on the cliffs….literally. It has long been my dream to stay at Belle Tout Lighthouse, but it's always fully booked. After some research I discovered an Air BNB at one of the cottages next to Birling Gap. You know, those ones you pass by and wonder who the hell gets to live there. 
Well, for 3 night, we did.
My gosh, it was amazing. A cute little place, with its own private patch of clifftop. And half the price of the lighthouse. I highly recommend. If you go to Air BNB and look at the map view around Birling Gap, you should find it. 
You are welcome 🙂
A Guide To The Birling Gap, Friston Forest Circular Walk
Now, if you do manage to stay at the Birling Gap cliffside Air BNB, then you just walk out the front gate, and you are on the trail. 
If you are starting from the Birling Gap car park area, walk out of the car park and turn left to get on the gravel trail which will run along those cliffside cottages. 
This trail will lead you uphill slightly, to some bush trees at the end. Through the gate, the path turns right, and you then need to take the first left at the signpost directing you to the Seven Sisters Cliffs.
Keep going up and through the gate at the end. After walking through the gate, make sure to look back for a fantastic view down to Birling Gap
Walk across the Seven Sisters cliffs, away from Birling Gap
Keep walking up a little further to get your first view across the majestic Seven Sisters cliffs.
I won't talk too much detail about the Sisters, as I have written extensively about them in my Seven Sisters walk post. 
Read about the Seven Sisters hike here
What I will say though, is that you need to come see them in person at least once (or many times) in your life.
Now, for this next bit of the walk towards Friston Forest, I can't recall exactly how many sisters you walk across. Maybe 3? You basically keep going until you reach the stones (see photo).
And make sure to look back at the view the other way…..
Walk away from the Seven Sisters Cliffs towards Friston Forest
After a few ups and downs, when you reach the stones, you make your way away from the cliffs. 
Go through the gate, and continue along the grass carpet like trail and through the gate on the other side.
The field of sheep and windblown trees
Continue going straight through the next field, passing by the sheep, and a nice display of windblown trees.
I probably took way too many photos of these trees. It was hard narrowing it down for this post.
Walk to Friston pond
On the other side of the field, go through the gate and continue up the path to reach the Church of St Mary and Friston pond.
I had briefly read about recommendations to go to Friston Pond. I didn't know anything about it, other than it was marked on the map. Well, when I got there, it wasn't quite what I was expecting. I even wondered if it was the correct place. 
I was expecting some grand lake type thing. But it wasn't that. It literally is a pond. 
I wondered what was so special about a literal pond….
Well my friends, I found out it actually is quite special. It is a bloody old pond, like, so old they don't even know. There is evidence that is was around in the Saxon period (400 – 1066 incase you are wondering). 
There is actually a lot of history to cover here, so I will be brief…
It belonged to Lords, then had no owners, then it dried up during a very hot summer and the fish were put into a temporary holding tank to keep safe. 
During the war, the army surrounded it with barbed wire and concrete blocks incase of invasion. The Canadian troops used it to wash their vehicles. 
The parish council took ownership, and after years of negotiating, the MOD removed the concrete blocks. It became the first pond in the country to be listed as an ancient monument. 
So much history for such a little pond. 
In 2012 it was rejuvenated and is now home to a bunch of flora and fauna. When you are there, there is a board telling you about all the life in the pond.
Walk past Friston Pond and briefly into the woods, possibly Friston Forest
This bit is a little confusing, but I will explain as best I can.
So, if you cross the road to the island. The trail picks up across the little slip road on the left. See photo.
Now you are in the woods. I'm not sure what to call these woods. I feel like they belong to Friston Forest, like, the fringes of it. As I'm not sure, I will just call them woods.
Now, don't go straight like we accidentally did. Go to the right. The trail takes you through more trees and then downhill to reach a field. 
You see those woods way in the distance. I can say for sure that those woods are Friston Forest. That's where you are heading. 
Walk across the fields to reach Friston Forest
In this field, there is an obvious grassy trail leading downhill. Walk along it, then across the road on the other side and into the next field.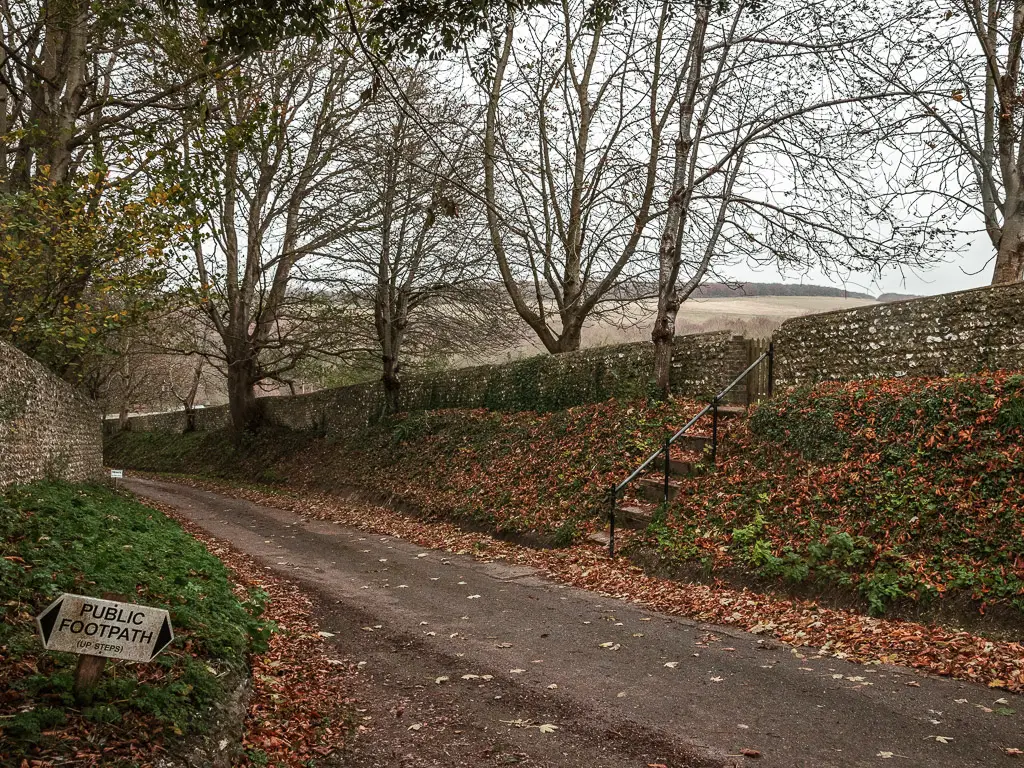 In this next field, the trail is less obvious. There is a nice big signpost though pointing the way.
Although, we still weren't sure. We couldn't see any gate on the other side.
Turns out the gate is there. The horses were blocking it. 2 horses in a massive field and they happened to be standing right in front of the small gate.
Walk uphill through more woods which are probably part of Friston Forest
You are not quite in the bulk of the woods of Friston Forest yet, but I suspect these belong to it. 
Once out of the horse field, turn left to walk uphill. There is a trail here next to the road. At the top junction, keep going up. The trail will take you slightly to the right.
You will then enter another field, with an obvious grass trail. Walk along it to enter Friston Forest on the other side.
Walk through Friston Forest
When you enter Friston Forest, walk along the trail in a straightish direction. You have some nice woodland here on either side. This trail mixes up between narrow dirt trail and wider grassy, muddy trail. 
Walk off-piste through Friston Forest
When you reach the big main trail, walk across it to the trail on the other side (see photo below). Here you have two options.
You can continue straight.
You can go off-piste.
We obviously chose off-piste. It joins back to option 1 later, so it doesn't matter which you take.
So, following us, once you have crossed the bigger trail, slightly ahead to the right is the off-piste trail. I got Ollie to go and stand next to it so you can see in the photo. 
The trail through here starts obvious, then becomes less obvious. Although, it might have had something to do with all the leaves on the ground covering it.
I'm pretty sure this is a mountain bike track. It's super winding, and looks very mountain bike like.
This whole section was fun. It gave a real sense of being deep in the forest.
Anyway, this winding trail will lead you onto a main trail. When you get there, turn left, and this will take you back to that option 1 trail.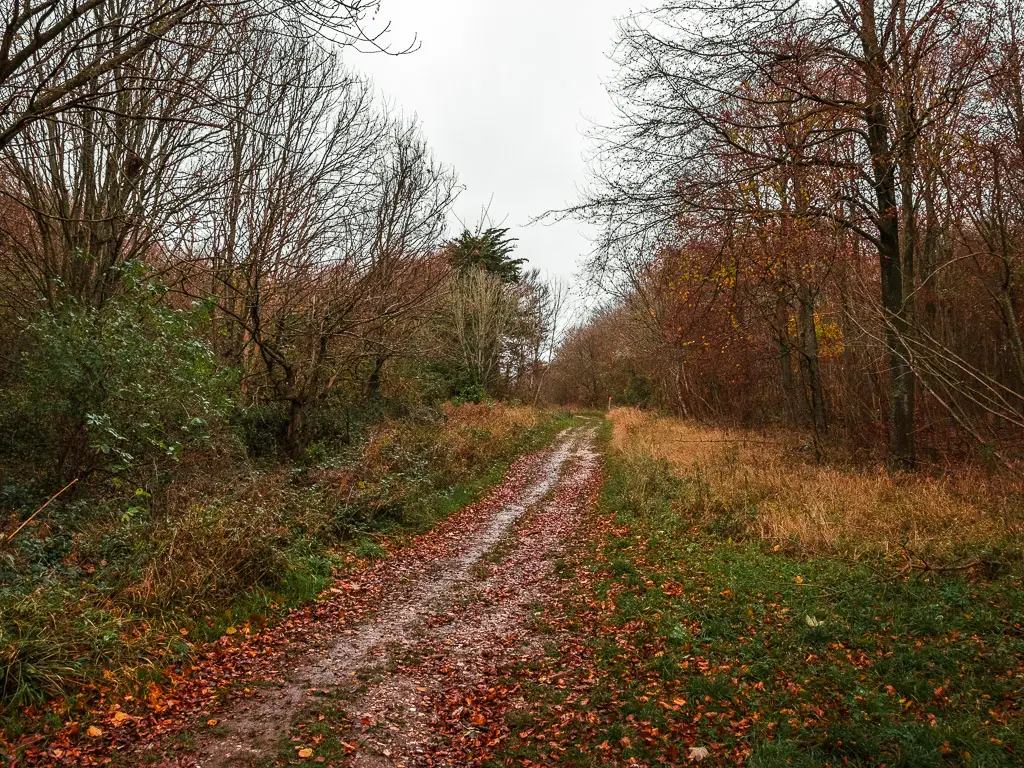 Follow the mountain bike trail 
When back on option 1 trail, go right. Then take the next left, by the mountain bike trail signpost. This trail is less off-piste.
Keep walking for a bit, then at the junction, follow the mountain bike sign right.
This trail goes from muddy, to grassy, to narrow dirt, then wide dirt. Apart from that, there is not much else to say, other than you will be walking by lots of trees.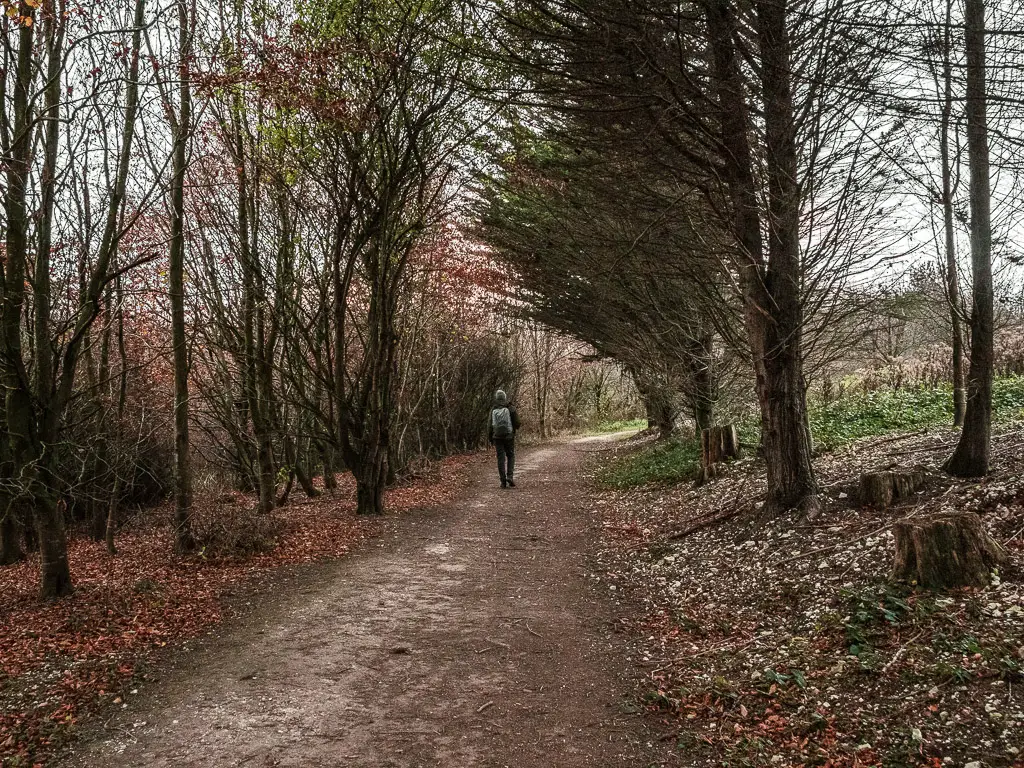 Ok, for this next bit, I really hope I give the correct directions. Honestly, I can't remember. When walking through woodland, everything sort of merges into one. I have studied the map, and photos I took, and this is what I think happened next:
At the junction turn left, then at the next fork, go right.
This will take you to a big path, could be a road.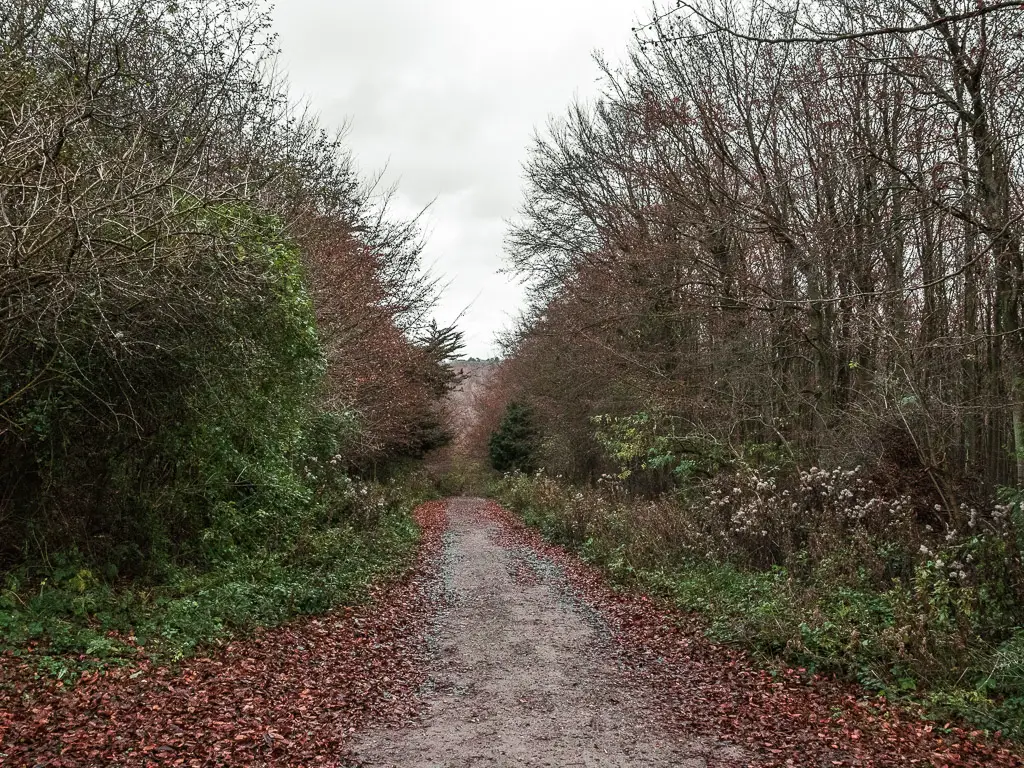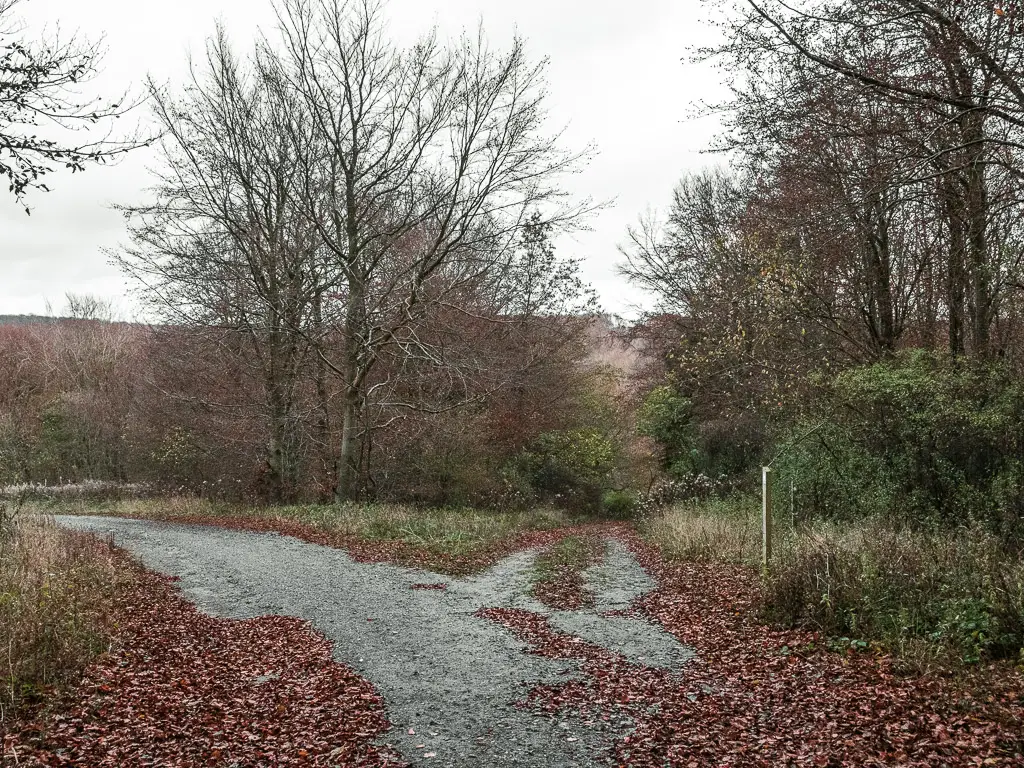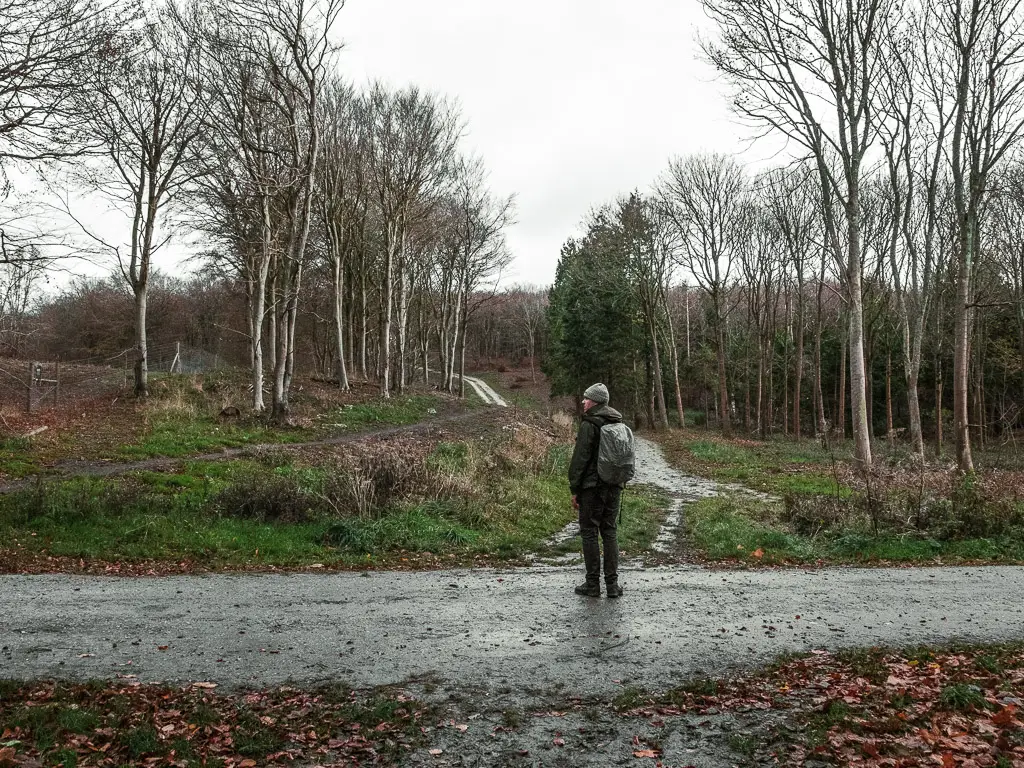 Cross over the 'road', and follow the trail which will take you uphill.
Keep following the trail straightish (what I mean by this is, don't go off onto any side trails).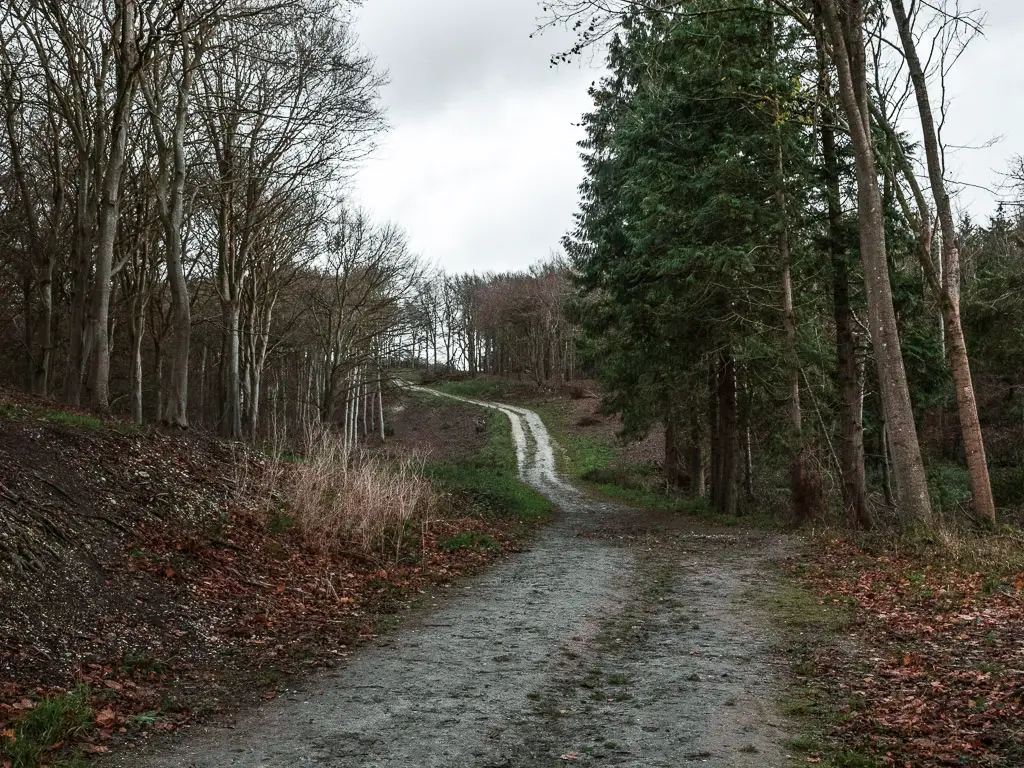 It might be safe to follow the map. At least I know that is accurate.
Walk through the field and back to where you were earlier
You should find yourself in a field. This takes you back to more woods for a brief moment.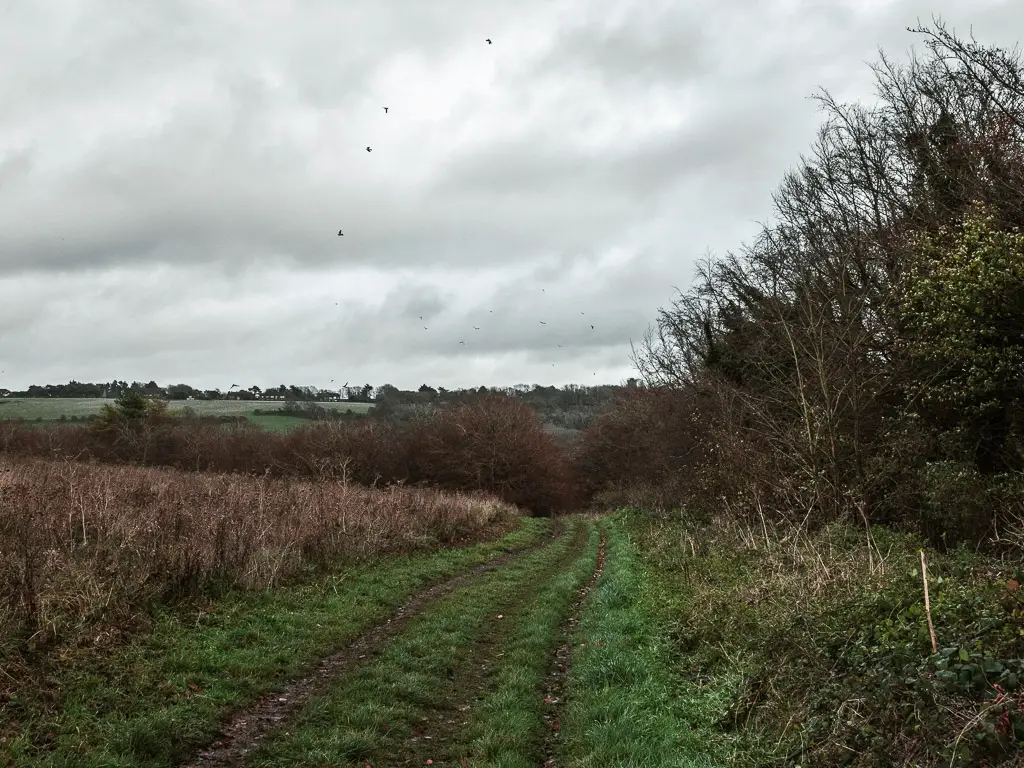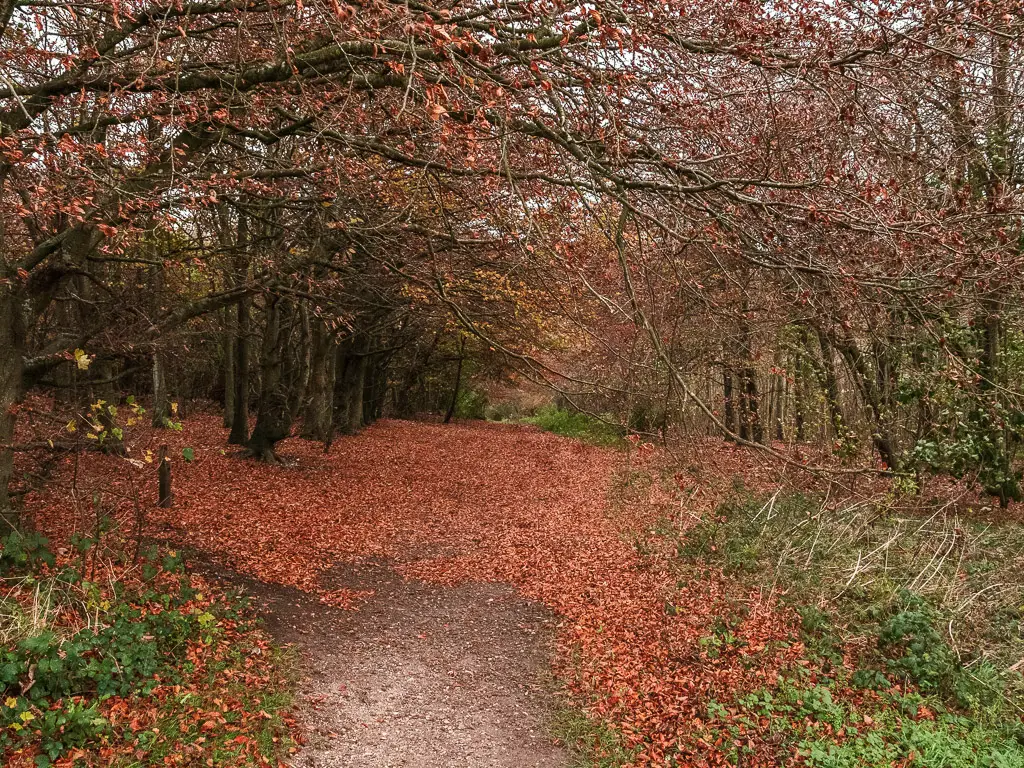 Keep going downhill to reach the road.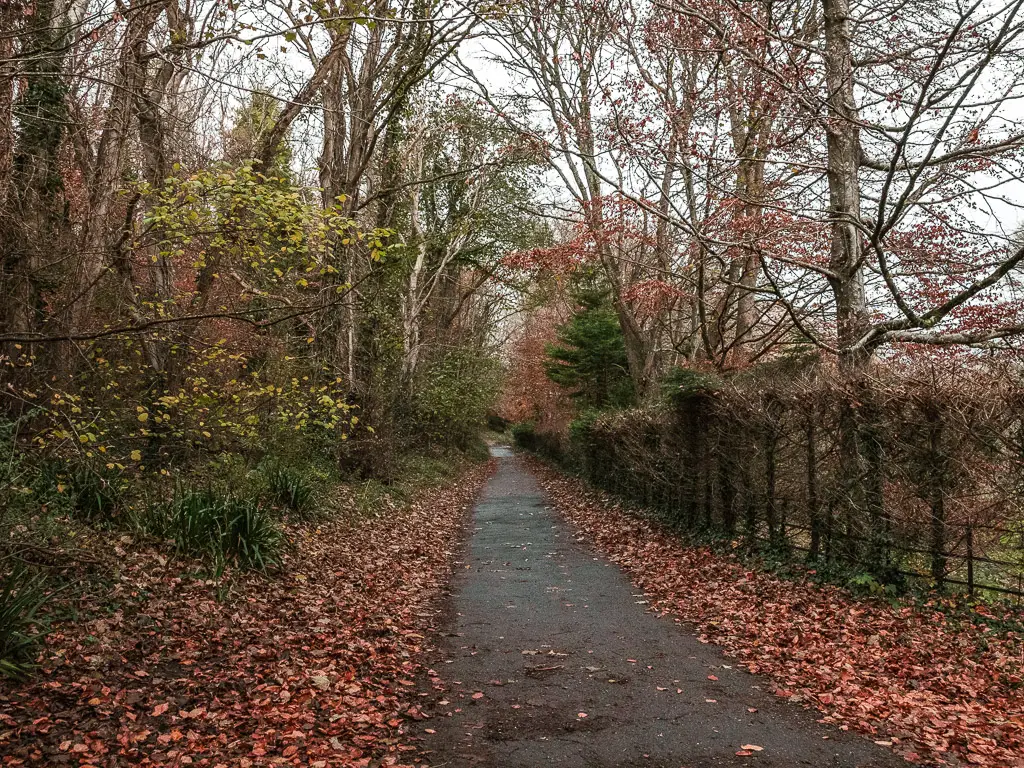 Ok, now I know where I am…..
From here, if you go left, I will be where you were earlier. Hopefully you recognise it, but if not, when you reach the bit where the road turns right, take the trail next to the road, leading further downhill.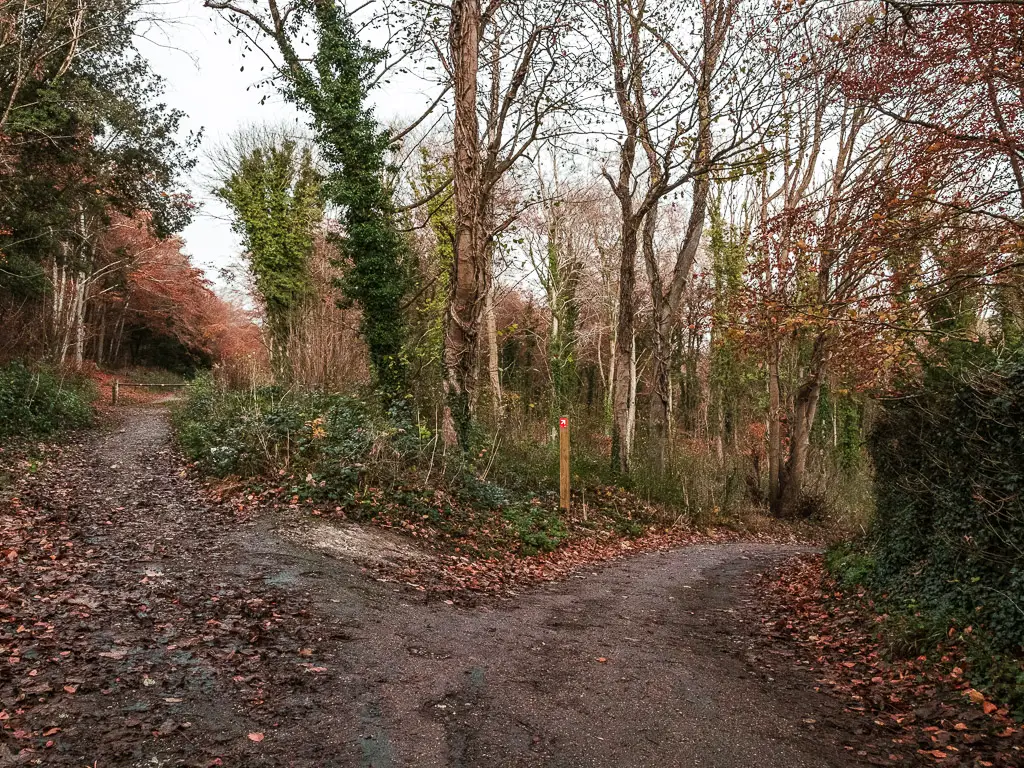 Walk back to Friston Pond
Here you retrace your steps, through the horse field, then another field, through the bit of woods, and out to the island, with Friston Pond and the church ahead.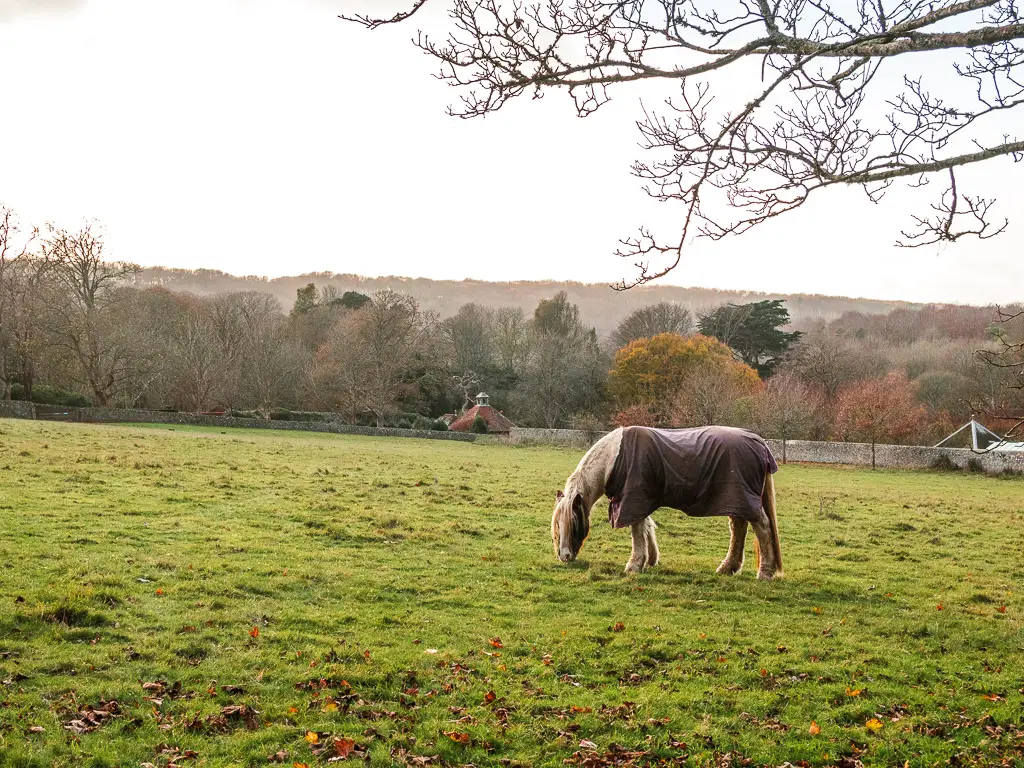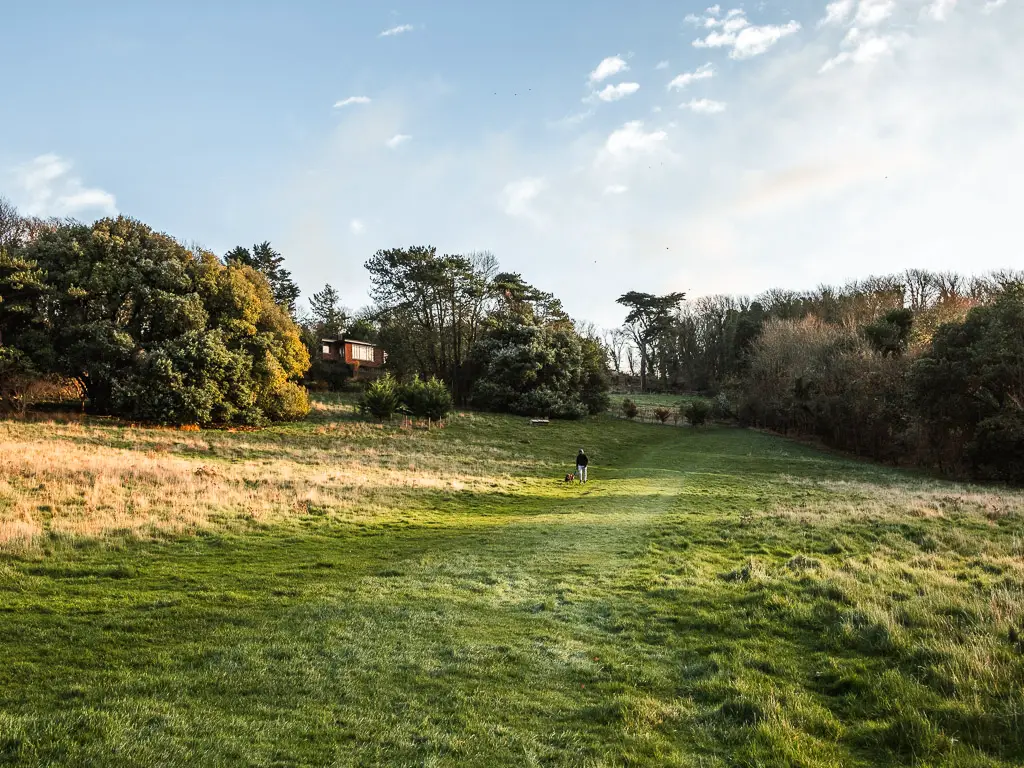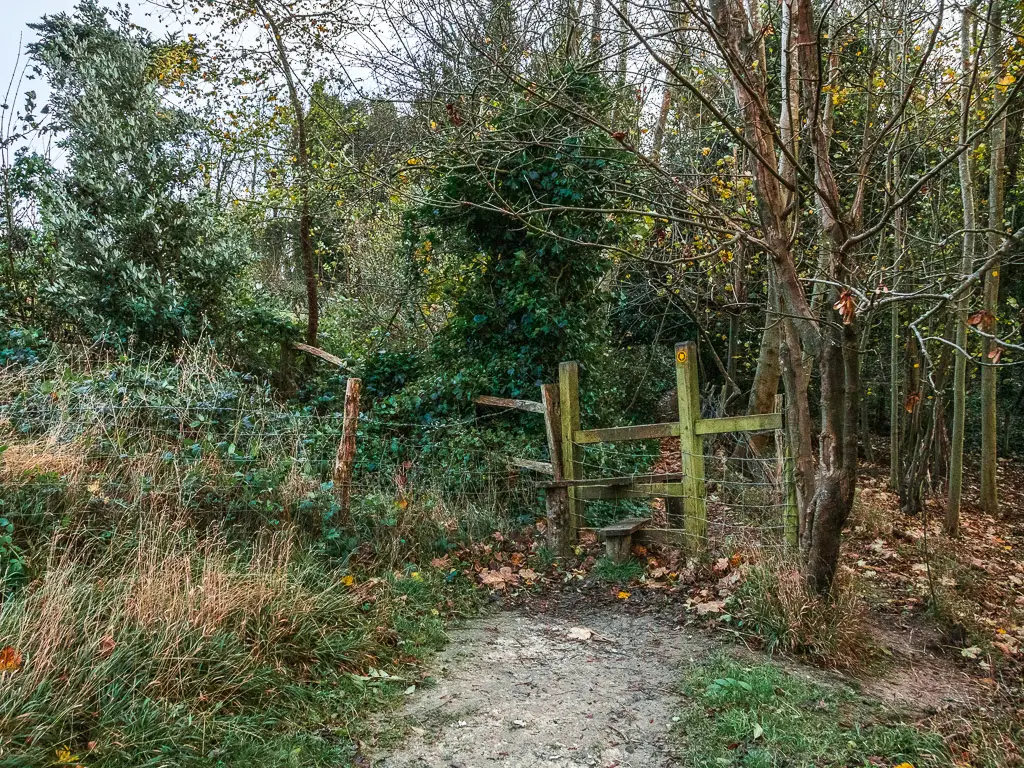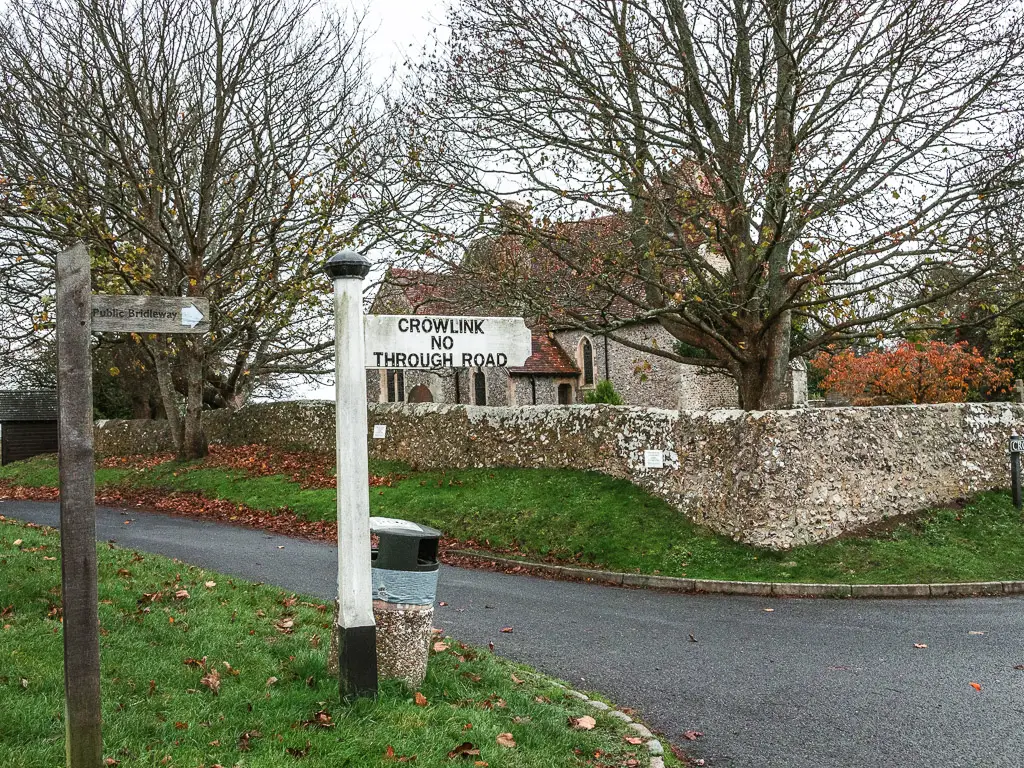 Walk from Friston Forest back towards Birling Gap
Ok, so you continue to retrace your steps a little bit more, to head back to the field with windblown trees. Don't worry, I'm not taking you back the same way. The windblown tree field is where things change.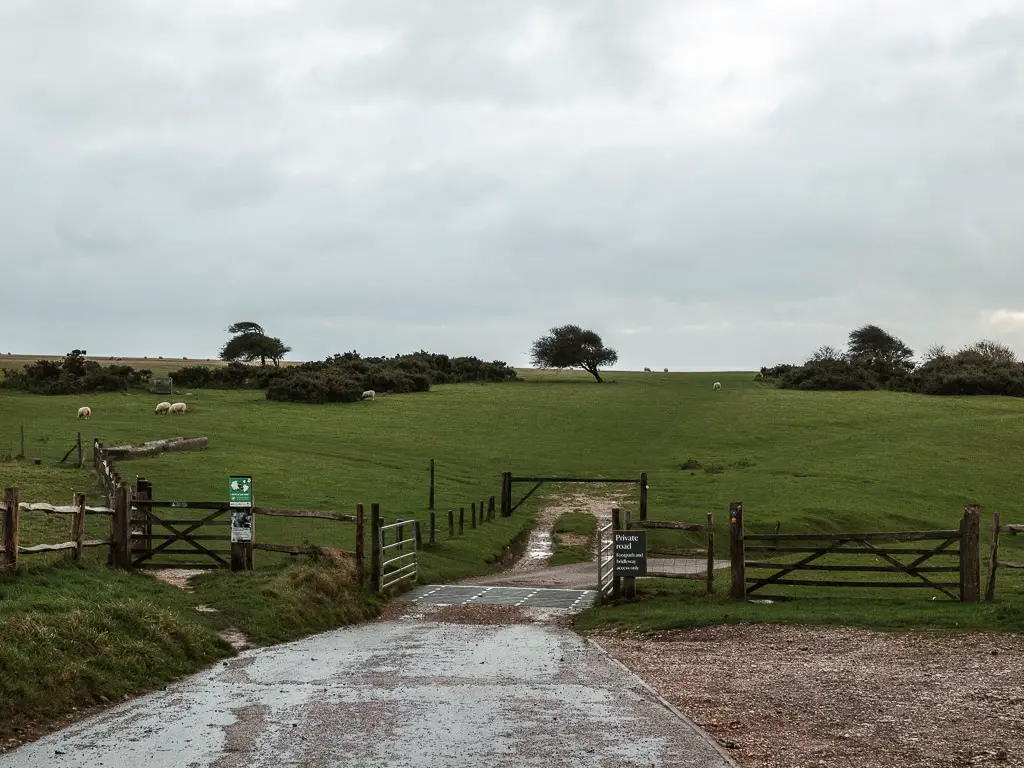 Once through the gate and under the wooden thing, you need to walk in a left diagonal direction (you can see a faint marking of the trail in the photo above).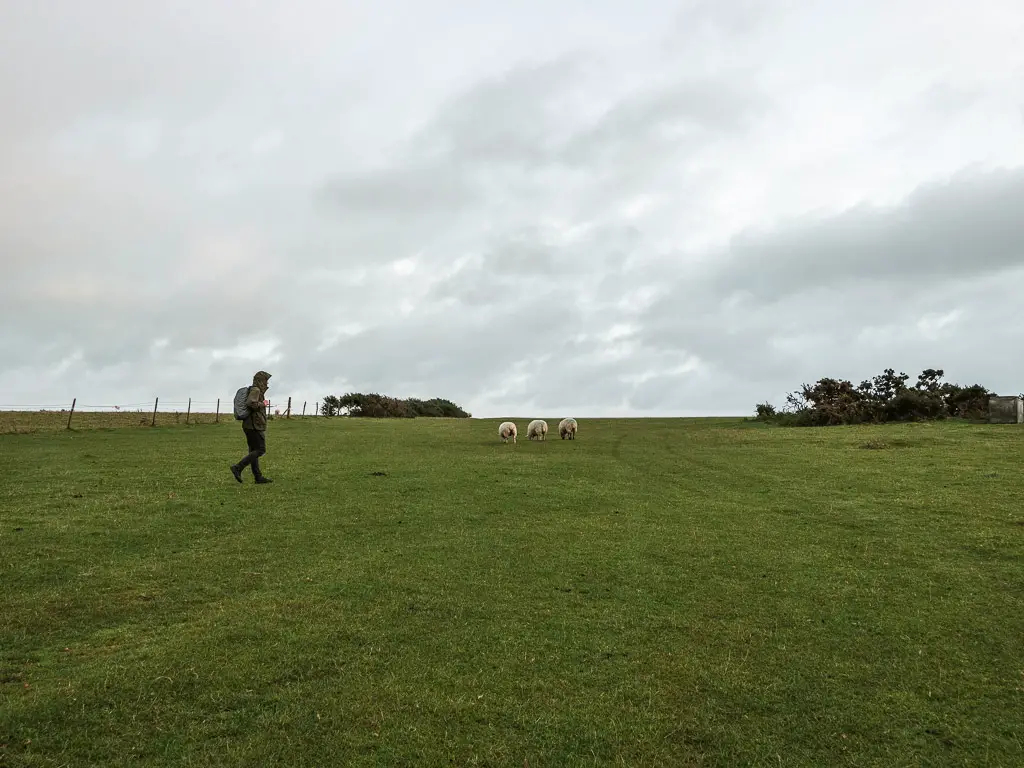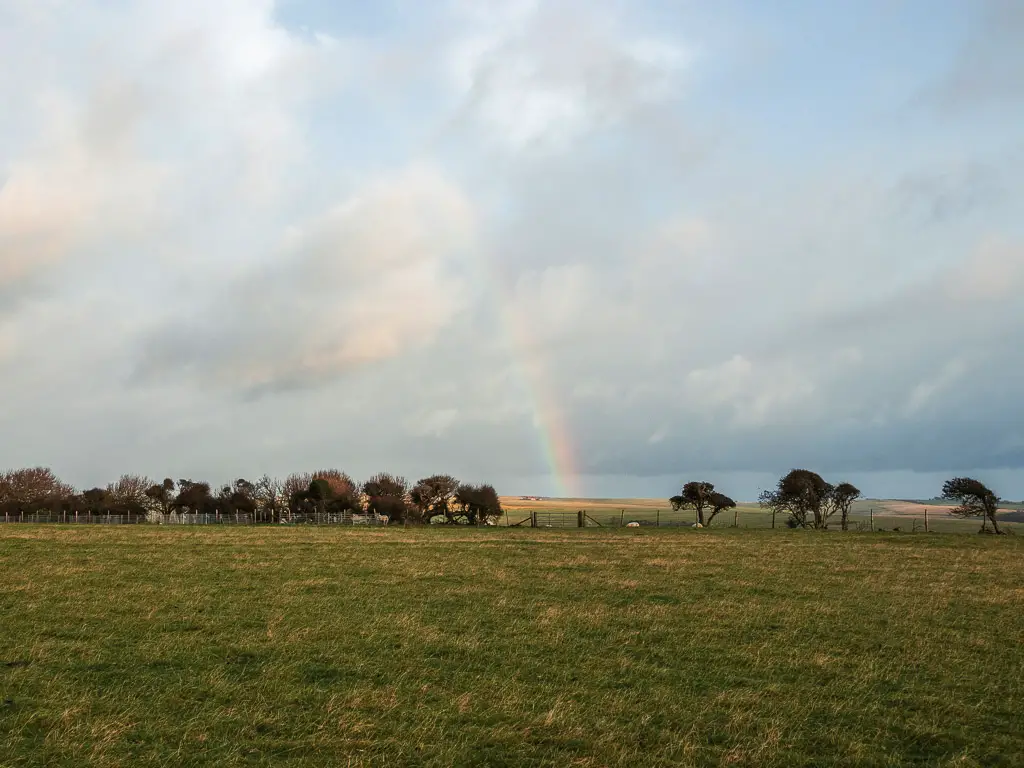 We caught a nice rainbow along here.
Walk to the red roofed shed with a view of Belle Tout Lighthouse
Find the wooden gate with the red roofed shed ahead, then head towards the shed, to walk along the right side of it.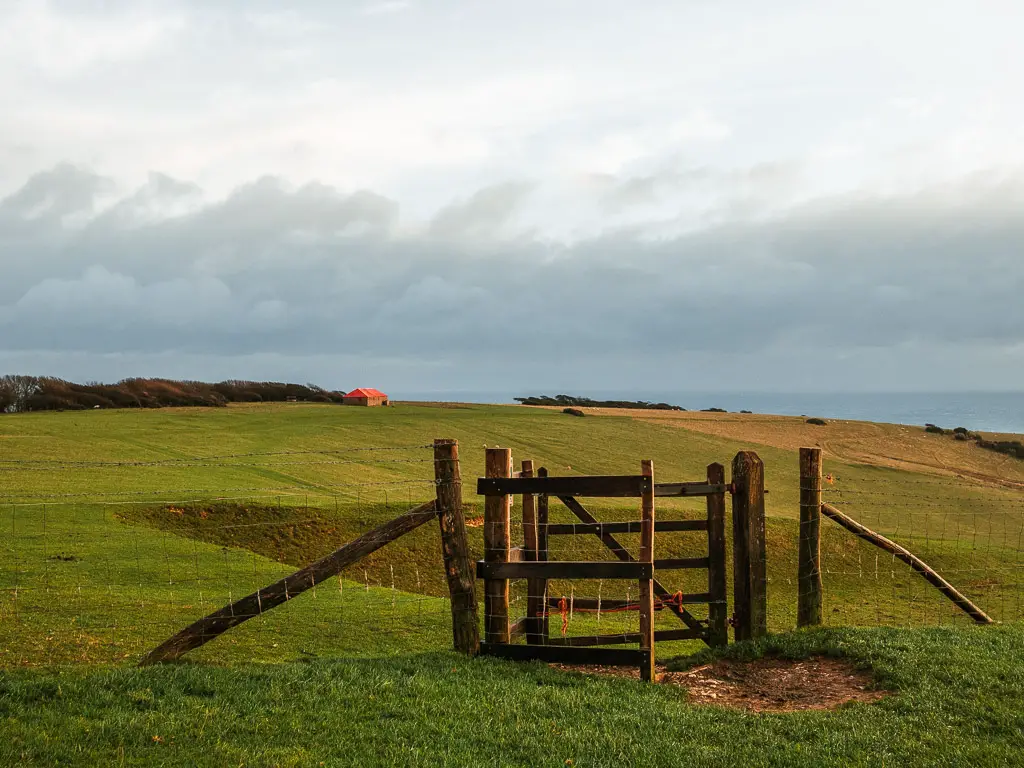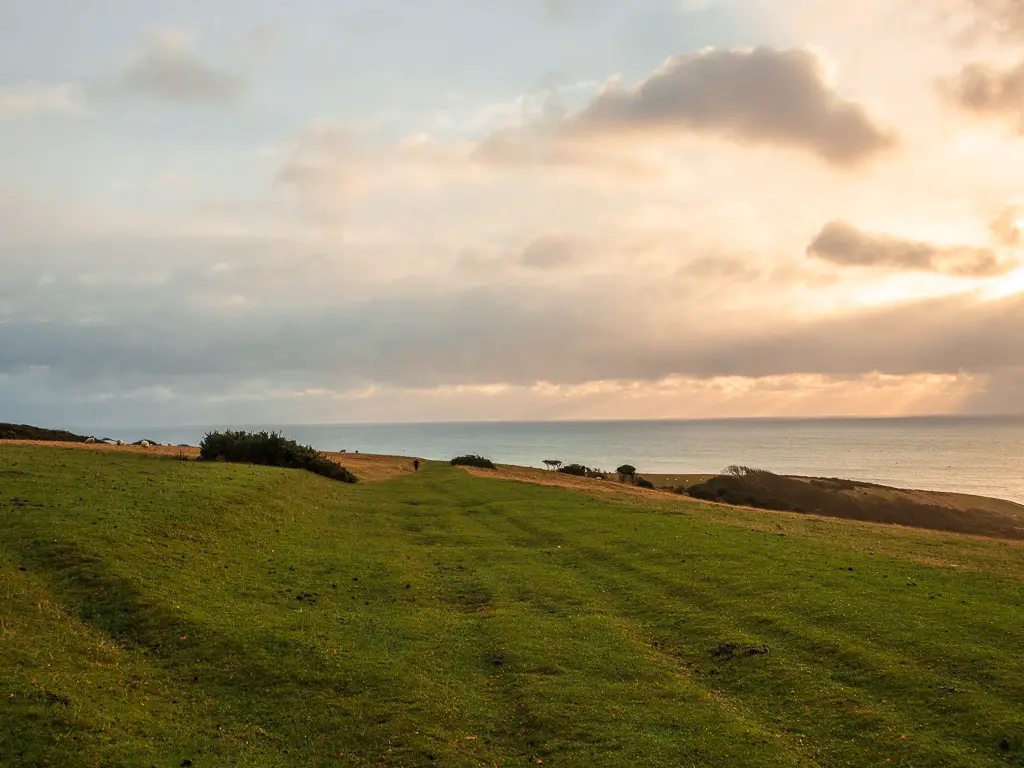 By now, the sun was lowing in the sky. At 3pm, the day would soon turn to night. That's winter for you. I did enjoy the nice orange glow though.
Oh, and this is where you get a lovely view of Belle Tout Lighthouse.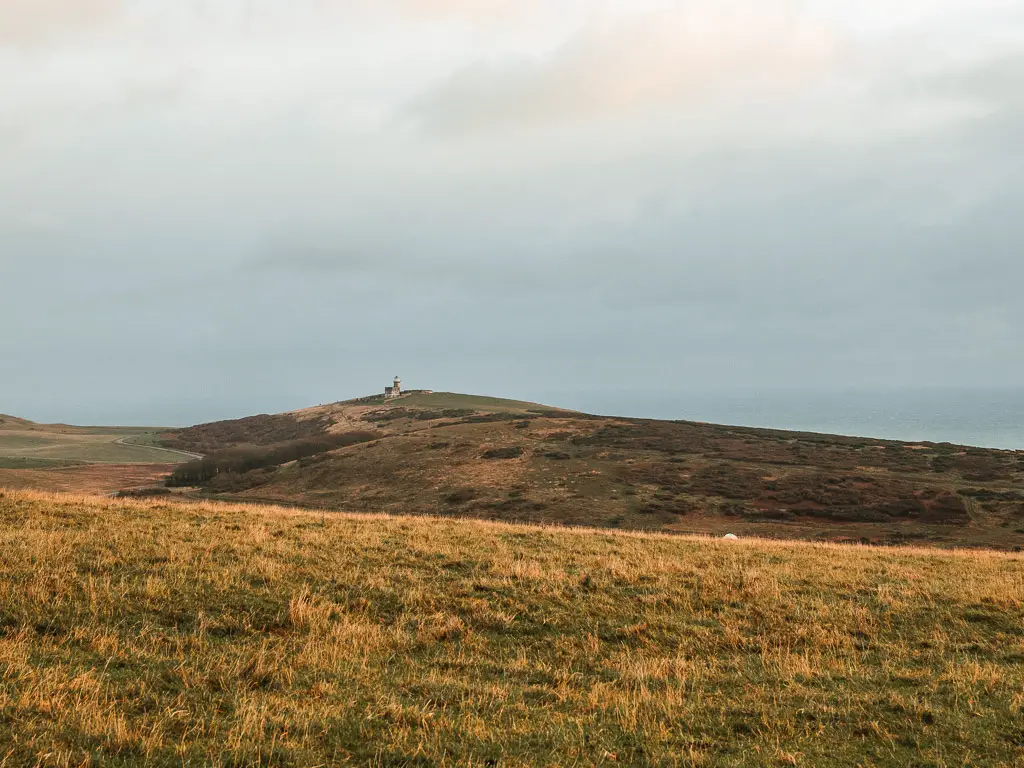 Walk back to Birling Gap
Keep following the grassy trail, as it takes you downhill. As you walk down, you will start to get a view of Birling Gap down below to the left. 
Walk through one gate, then another, and the trail will guide you down and around to arrive back at Birling Gap.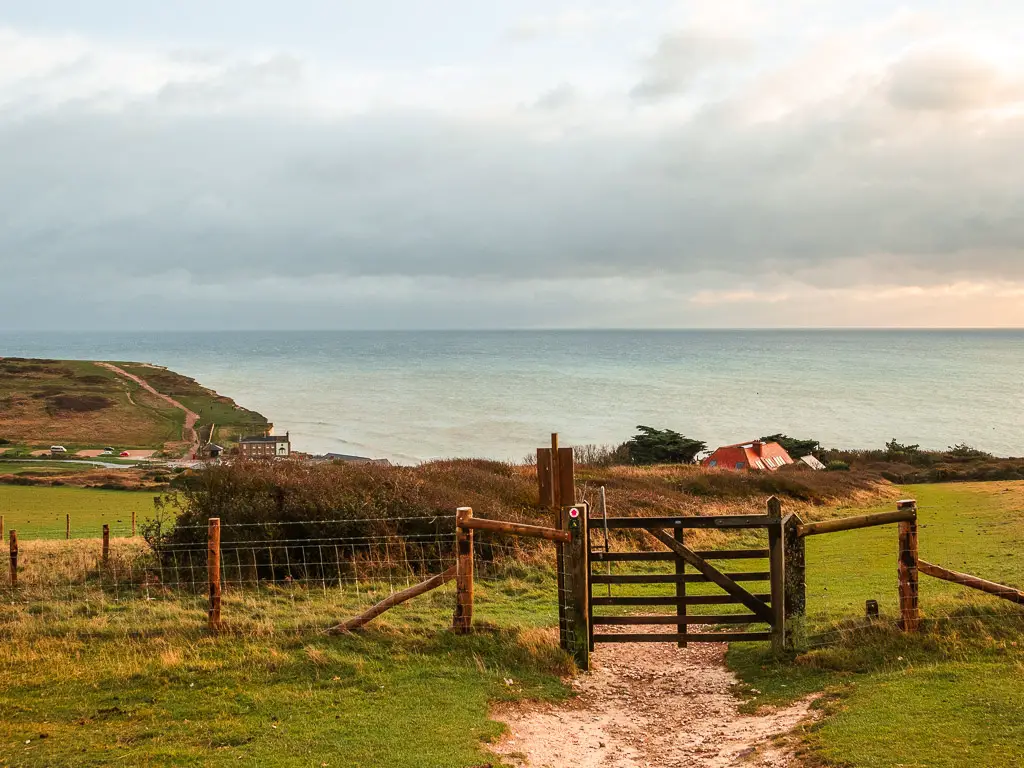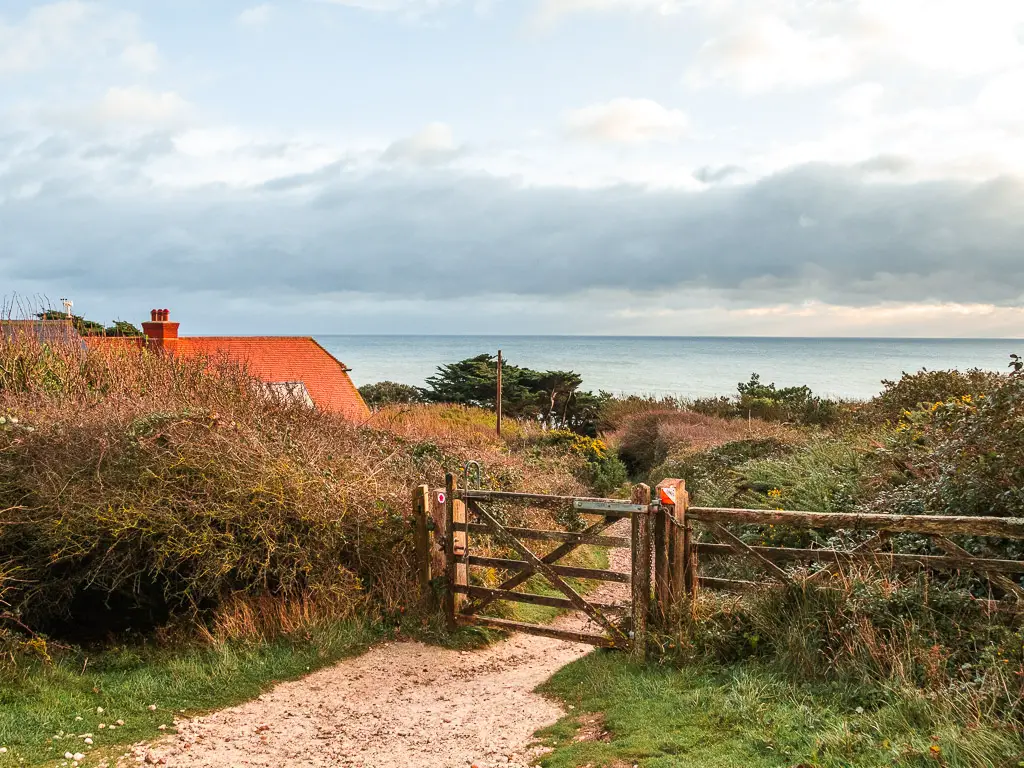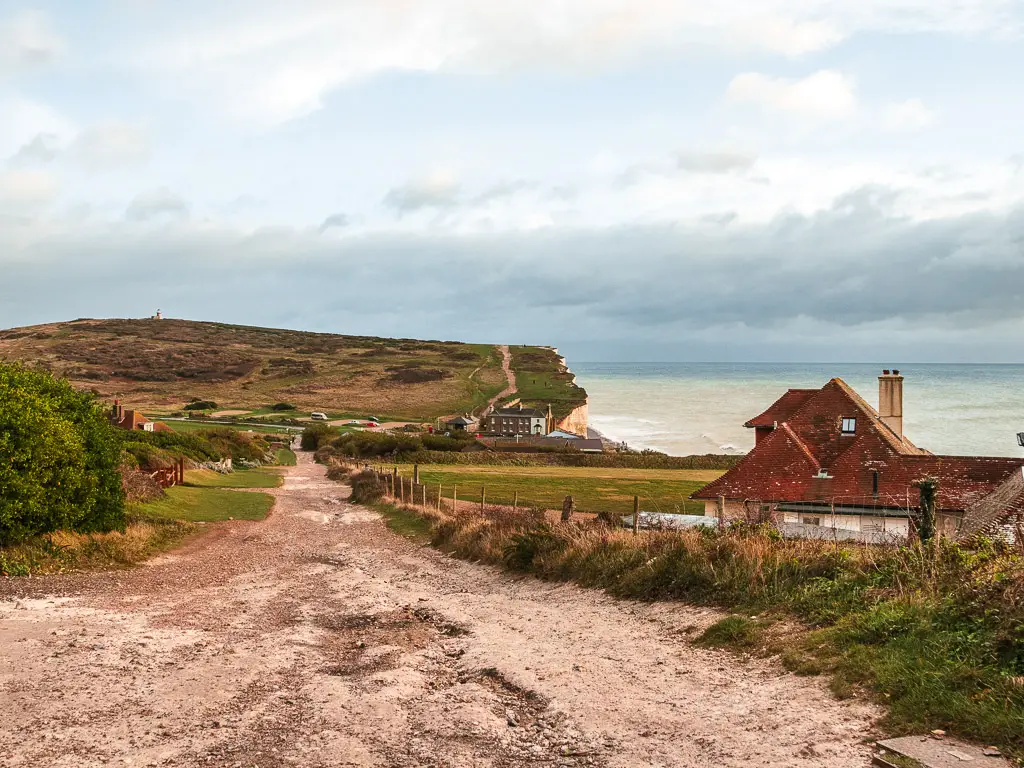 More walks near Birling Gap
Seven Sisters walk – 11-13 miles. I can't not recommend this one. It's a linear walk from Seaford, over all the Seven Sisters cliffs, past Birling Gap and Beachy Head, and finishing at Eastbourne. 
Birling Gap to Beachy Head – If you walk east along the cliffs from Birling Gap, you will reach Beachy Head. It's where the red and white stripped lighthouse is. I haven't written a blog post specifically for it, as it's self explanatory. However, I do intend to make a little circular walk for this route. TBC
More walks nearby in the South Downs 
Southease to Seaford via Alfriston – 14.6 miles. This one follows the South Downs Way, then comes off to finish at Seaford. You could make it an epic long walk and continue to follow the South Downs Way along the Seven Sisters cliffs, past Birling Gap, and into Eastbourne.
Lewis to Southease – 14.6 miles (How is this exactly the same milage as Southease to Seaford. That's strange). This one also follows the South Downs Way. It's one of my favourites. Surrounded by the rolling hills of the South Downs, with views across to the English Channel. 
More cliffy walks with woodland in South East England
I have done a bunch of cliffy walks, and a bunch of woodland walks. But there are few which combine the two. This is the closet I have:
Hastings to Rye –  13 miles. This one takes you along the coast path for most of the way, and though a little bit of woodland. It's not the same kind of cliffy or woody as this Birling Gap, Friston Forest walk. But it's a fantastic walk nonetheless.
Just Cliffy
Folkestone to Dover – 7 miles. If you want white cliffs like the Seven Sisters. This comes close.
Dover to Deal – 10 miles. Same as above. Between the two, I think I prefer Folkestone to Dover.
For more walking ideas, you could check out the South Downs website.
For a quick round up of all of them, and some others, you can read about the best coastal walks near London.
Pin it for later: Birling Gap to Friston Forest circular walk