Thorney Island in West Sussex is an interesting place in that for a good chunk of it, you are only allowed to walk along the coast path. A large chunk of the island is owned by the MOD, and is closed off by tall fence and barbed wire, and you need to ring the buzzer to be let in.
What I also found interesting, is that there seems to be no off limit days (although I stand to be corrected). I have walked in MOD areas before, and they usually have specific days which you can and cannot walk there on, and Thorny Island doesn't seem to have these restrictions. 
What is Thorney Island?
It's kind of an island, but kind of not. It's better described as a peninsular, jutting into Chichester Harbour. There is a narrow channel called the Great Deep, which runs between Thorney Island and the mainland, but there is also a public footpath that takes you across, without you even realising you crossed it.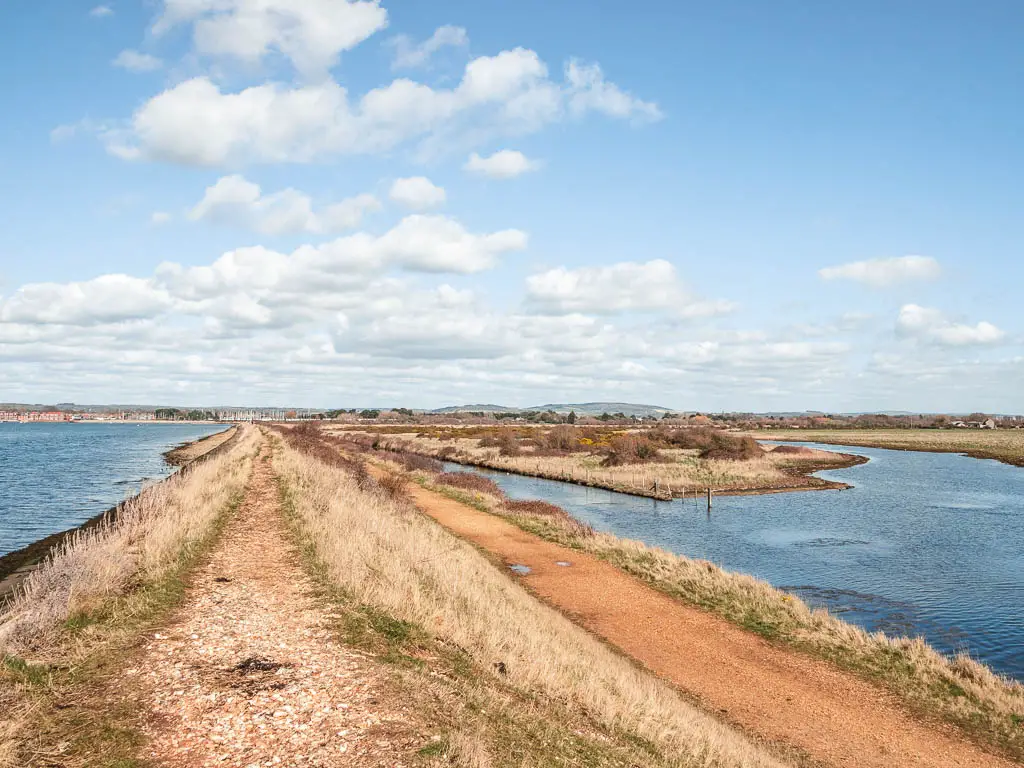 This was not always the case though. Until the 20th century, it really was a proper island, with a village. Then in the 1930's, the RAF discovered it. By chance really. It was when one of their aircrafts crashed onto Thorney Island, that they went to have a look, and realised this would be a perfect place to base themselves.
What to expect on the walk around Thorney Island
There was a lot more mud and mud puddles than I was expecting, and in an effort to keep my feet dry, shredded my clothes on the thorn bushes and slipped and fell on the rocks. It was all quite adventurous and I felt like I was in some sort of military training. You may also see the odd tank drive by, or helicopter circling above. 
The majority of the walk around Thorney Island is quite open along the coastal path, with a few bushy areas thrown in. The path is mostly dirt, with a section of shingle. Apparently seals like to hang out here. I didn't see any. But I did see lots of birds. The area is also a Site of Special Scientific Interest.
I found the east side, south side, and west side of Thorney Island to be quite different from each other, making for a different walk experience.
The west side
This side is quite open and exposed. It is the side I entered Thorney Island on, and I found myself walking into the wind with the sun in my eyes which was quite challenging. To be honest, I couldn't wait to get off this stretch (because of the sun and wind nonsense).
The south side
This is the more beachy side, although I daren't wander onto the beach incase the military came after me. I was keeping to the strict rule of staying on the coast path. There were some people on the beaches, who looked like they knew what they were doing, so maybe it is allowed. I'm just a wuss. This is also where the path started to become a little muddy.
The east side
This is the more bushy and muddy side. Despite that fact that this is the side of Thorney Island I fell on, and cut myself up with thorn bushes, and saw a sign warning of a dangerous brown caterpillar, I did prefer the walk on this side. However, that could have something to do with the sun no longer being on my face and the wind not pushing me back. 
Anything else?
Oh yes. My journey back home was quite tragic….
Logistics for the circular walk around Thorney Island
Start: Emsworth station
Finish: Southbourne station
How to get there: Both stations are on the Southern train line, one station apart. There are direct trains from London Victoria with a journey time of about 1h 40min (slightly quicker if you take the indirect train). There is car parking nearby if you want to drive (see below for more details).
Distance: 8.7 miles station to station.
Time: 3h
Elevation: Flat
Terrain: Dirt trail, lots of mud, shingle, a bit of road
Amenities: Around the bulk of the island, there are a few benches. That's all. Near the end of the walk, there is a snack bar at Thornham Marina. At the beginning there are a few places – cafes/pub.
Dog friendly: Maybe. See tips.
Parking for Thorney Island
There is the Thorney Island Car park, post code is PO10 8DB. This is a free car park, although, google maps says it's permanently closed. If thats the case when you get there, you can park at the Emsworth Yacht Harbour car park, post code PO10 8TB. This one you do have to pay for, which you can do using the RinGo app.
Tips and things to know before you walk around Thorney Island
Time it for low tide (or at least not high tide) as part of the trail is underwater at high tide. Check the tide times here.
If it's been raining anytime recently, then wear waterproof hiking boots or wellies. 
Thorney Island is owned by the MOD and has some strict rules in place for walking there. Ie. You are only allowed in the coast path, do not go inland. The rules are on a large sign as you enter.
One of the rules is to pick up your dog poo, but it doesn't say dogs must be kept on a lead. I saw a few doggies roaming around. That being said, there is an area that warns of possible bombs laying around, and the rules are strict to keep to the path. Make of this as you will.
To enter/leave Thorney island, you have to ring the buzzer at the gate.
Map for the walk around Thorney Island
More similar walk ideas will be at the end
---
Route Description for The Circular Thorney Island Walk
I'm going to tell this guide the way I did it, station to station. There is a little walk before and after Thorney Island itself. Oh, and a bunch of my early photos of my walk on Thorney Island are looking back, as the sun was directly in front of me. 
Anyway, out of the station, if you head to the main road and turn right, then it's the second left along Seagull lane. Keep going along here which will lead you straight to the trail.
Walk through Brook Meadow
As you enter the green area (Brook Meadow), go over the bridge and then take one of the rights. Any will do, as it all leads to the road. I decided to take the furthest right, as it would take me alongside a nature reserve pond. 
When you reach the road, turn left and walk past the Sussex sign to reach the junction area. Once here, you should see a body of water to the right. Go over to it. You will see a little walkway through the water. To get to the walkway, turn right and then left before The Lord Raglan pub. 
Walk across the pond to the boat yard
Follow the path across the water, then once through the gate on the other side, turn right to walk through the boatyard.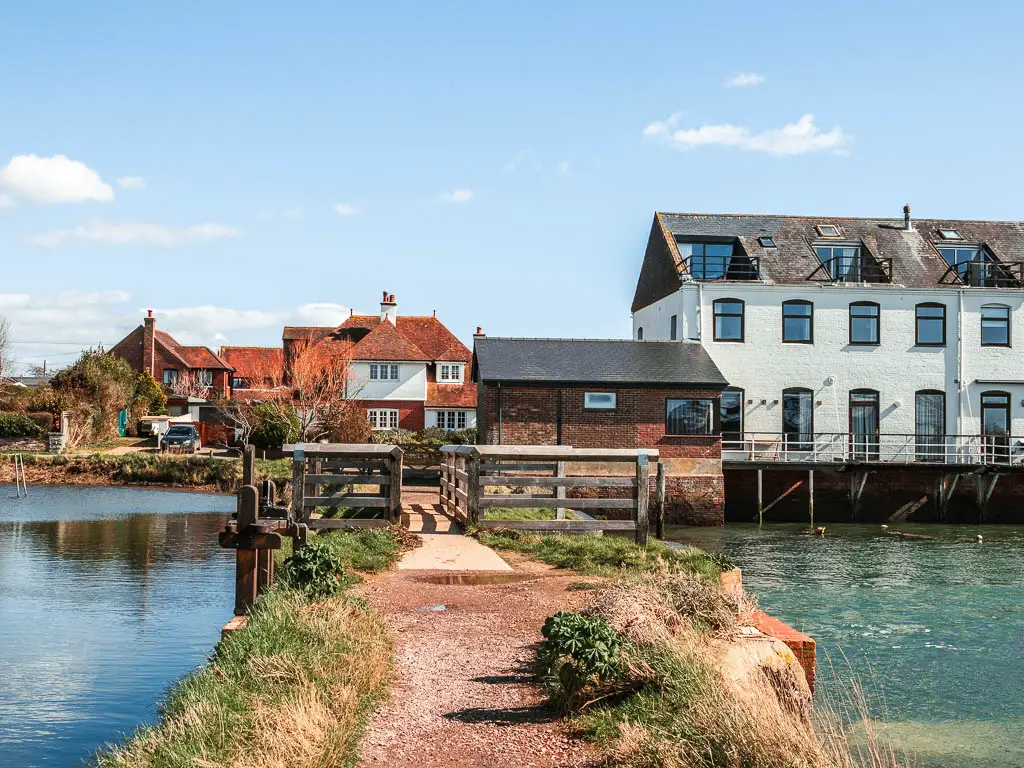 It can get a little confusing through here, and I thought for a moment that I was in the wrong place, but just keep going straight. First past the boats out of water, then the boats in water, and then enter another boat yard and turn right. This will take you to the sea, where you will see the walkway to Thorney Island on the left. 
Walk towards Thorney Island
When you hit the sea, turn left to make your way over to the narrow walkway which will be on the right. 
Now it's a long stretch. 
In this area you will be presented with 2 trail options, I chose the right one as it was closer to the water, and I hadn't seen water for a while. I wanted to enjoy every moment of it.  However, it ended up being harder to enjoy than I had anticipated as my eyes were squinting the whole way. A combination of the bright sun in my face and the headwind.
Other than this, it was lovely. The sea to the right, and nature reserve to the left.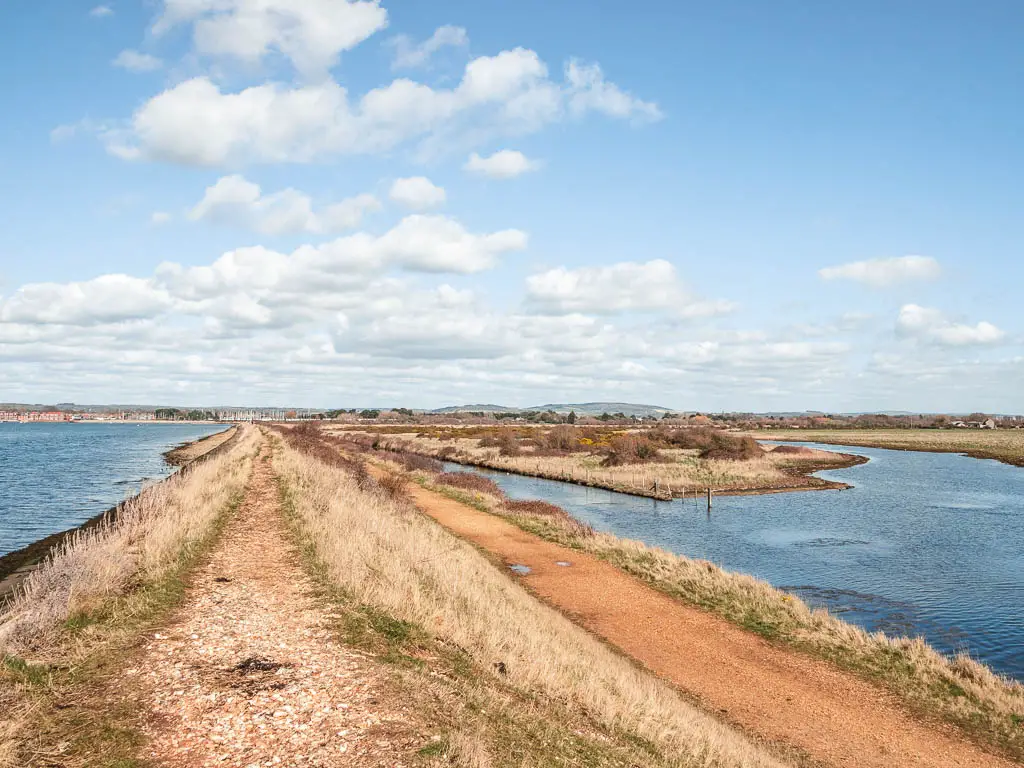 Walk onto the MOD part of Thorney Island
At the end of this straight path, you will reach the gates to enter the MOD area. I have to admit, I was a little nervous when I got there. What if they didn't let me in? I have a camera, what if they tell me off for having a camera? I didn't take a photo of the gate, for fear of retribution. Instead, I kept it by my side and pretended it wasn't there. 
I studied the board of rules then nervously pressed the buzzer. They let me in immediately. So I went in and hurried along the path before they changed their mind.
Once I entered the MOD area, the path was slightly more rugged and a bit more bushy at first, then things opened up a bit more. I noticed some of the path had bits of seaweed on it. This must be the bit that is underwater during high tide. 
It is also along this bit that I saw the first (of many) signs warning of guard dogs. That made me a little nervous, so I sat down and had a snack. 
Walk along the south side of Thorney Island
I was quite happy once I changed directions to walk along the south side. I could now see a little better without the sun in my eyes, and the wind no longer pushing me back. It was along here that I encountered my first mud. With some effort I was able to avoid walking in it, although, if I knew what was to come later, I wouldn't have bothered and just walked straight through.
FYI: I wasn't wearing waterproof boots. This is why I didn't just stomp on through.
It was also along here that I saw my first tank. I did not to take a photo. They don't like you taking photos of the tanks. I leant this from other MOD areas.
As I said earlier, it's more beachy along here. There is a section of shingle beach, with a sign warning of explosives. Although, it was really the shingle that kept me from vearing off path. 
The best bit is at the end though. With the tide out creating a sort of wavy effect. It was quite beautiful.
Walk along the east side of Thorney Island
Turning to walk along the east side was a totally different vibe. More variety, more bushes, and later, more mud.
After navigating myself around some some mud puddles, I came to the daddy of mud puddles. It took me a few attempts of backing my whole body into the thorn bushes, in an effort to keep to the edge and not get my feet wet. The sound of the thorns ripping my expensive outdoor clothes was a little heart wrenching. Some thorns made it through and touched skin. I had seriously considered just walking straight through and accepting my wet feet fate, but I had already made such an effort to get to this point avoiding the mud puddles, I wasn't about to give up now. I was on my little army mission. Mission keep feet dry. 
The next lot of mud puddles had a tire and some fallen tree branches. I already had some adrenaline going from the thorns, so without thinking too much, I hopped my way across without hesitation. Sometimes when you stop and think, it makes things harder. 
Once out of the danger zone I saw an older couple approaching the area. I thought about warning them of what was to come, then noticed they were wearing wellies. They know.
Walk past the army hang out area
Out of the bushy area, things open up for a bit before you walk along a narrow bit of trail towards some buildings.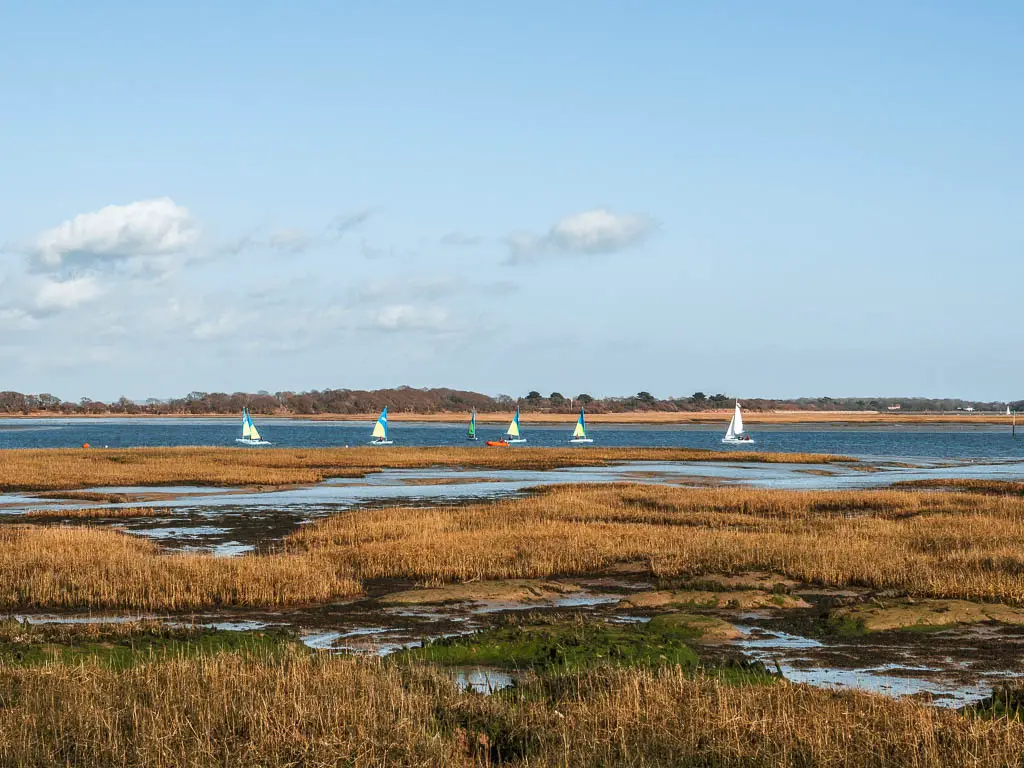 I think this is where the army people hang out. There are rules though about how you navigate through this bit which will be on the signs. Once through here, you will be back to walking in the nature area, and on a path which feels more similar to the path on the west side of Thorny Island. 
A bit further along, you will reach the exit gate where you need to buzz for them to let you out. I was feeling a bit braver this time and got a photo of the gate…from far away. 
Walk the final stretch of Thorney Island
It's this next bit where I fell. You see, there were a number of puddles along the narrow path, so I was keeping right on the edge of the slope. Then right when I reached a bit that was a little more rocky I slipped and fell dramatically. I was still within eyeshot of the gate with the cameras and hoped no one had seen me fall. I got up and proceeded as if it never happened. But oh boy did it sting. 
At the end of the straight, there is a V stile. Through here you have the option of going left or right. If you want to go back towards Emsworth station, you can go left. I was heading to Southbourne, so went right. 
Taking the right, the trail curves a little and goes over a wooden bridge and then onto the Thornham Marina. Head straight through the marina to the little bridge on the other side, to continue walking along the seaside trail. 
Walk around Prinsted beach and then back to the station
The walk isn't over, the next bit around Prinsted Beach is quite pretty. I noticed some cherry blossoms around. A sign of spring.
As you make your way around the cove, just as it curves back out, you should notice a trail signpost on the left. Go along it to walk away from the sea.
When you reach the junction at the end, turn right and then follow the edge of the field as it takes you around to the left. At the next trail signpost, keep going straight to leave the field and walk along the narrow pathway through the bushy tree bit.
This will take you back to the main road where you can then make your way to the station. 
(To reach Southbourne station, walk on the road between Boots and the church).
What happened next?
I had timed it perfectly. The next hourly train back to London was in 5 minutes….
Until it wasn't. I arrived at the station to discover all trains had been cancelled. Without going into all the details, I will just say, someone jumped. 
I am fully in the camp of people that feel sympathy and will get into arguments with people who call them selfish.
But the predicament remained. How do I get home? 
I was a long way from London. 
After some research, I could see that there were a few trains still running from Chichester. I google mapped the walking distance….2 hours. Ok, I would get the bus. This is what happened next:
Bus due in 5 min on the main road. I ran to the bus stop. I was not going to miss that bus. 
The bus came 20 min late. It was full (because all trains along the line were cancelled). The driver assured us (there was 'us' by this point) that another bus was 5 min behind. 
After over an hour of waiting, no such bus came. 
A rail replacement bus arrived, but wouldn't take us. It wasn't authorised to pick up from this stop.
A train was now scheduled in 30min. Not to London, but it's a start. After some more waiting for this 'bus', ran back to catch that train. 
Got the train to Havant where I could change to get a train back to London.
Train man checks my ticket. My ticket is not valid for this train. I'm now on Southwestern trains, not Southern. He then sees a message informing all train people to allow Southern ticket holders to use Southwestern trains and leaves me in peace.
It took me over 4 hours to get home. The Thorney Island walk was lovely, but I'm not sure it was worth all of that. 
---
More similar walks
Rye Harbour Camber Castle walk – Similar in that it's pretty flat, you have a bit of beach, some boats and a nature reserve. 
Faversham to Whitstable – The Thorney Island walk reminds me a bit of this one. A big boat yard, a nature reserve and some ridge walking.
Mupe Bay circular walk – It's actually a very different type walk and all the way over in Dorset. However, it is also through MOD land. This one has strict days for when you can and can't walk there. It's a fantastic walk and super hilly along the cliffs of the Jurassic Coast. 
For more ideas, you could read about the best coastal walks near London.
Pin it for later: A guide to the walk around Thorney Island