This coastal walk to Rye Harbour and Camber castle came about very last minute. I had actually fully planned out a walk from Rye to Camber Sands and back (update: We came back and did the walk to Camber Sands another time). However, on this day whilst in Rye and walking through the art shops, I saw some photos of Rye Harbour and a black house (or more like a shed) with a red roof. I new I had to go see this cute thing so decided todays walk would instead be to Rye Harbour. Then I figured, with Camber Castle so near, I might as well throw that in as well. 
nb: If you want to see the red roofed shed, we later found out that you do actually get a lovely view of it on the walk from Rye to Camber Sands.
The next important part to this story is that I wasn't in the mood for a long walk, so I planned out an appropriate route for my mood and off I went. 
Sorry, I am talking like I was on my own. I actually brought the boyfriend along with me. Neither of us was quite prepared for what was to come.
You see, once reaching Rye Harbour, I realised the house I wanted to see was further along the coast, not in the direction I had planned. So instead I changed plans and decided to make this a full coastal walk. The extra bit I added didn't seem like much in my head, but oh boy. What was meant to be a few miles walking turned into nearly 10. We were an hour late for our parking. As luck would have it, we didn't have a parking ticket. The walk was very pleasant, but not £100 pleasant. Or however much parking tickets are.
Anyway, full details of the walk are coming up……
Logistics for the circular walk from Rye town to Rye Harbour and Camber Castle
Start/Finish: Rye (Landgate)
How to get there: Rye is located in East Sussex, just on the outskirts of High Weald AONB

By train: There are no direct trains to Rye from London. You can get a train from St Pancras with a changeover at Ashford International. Journey time is roughly 1h 10min (give or take a few min)
By Car: It is located on the south coast (south east from London). Driving takes about 1h 50min (give or take a bit) from London.

Distance: 9miles/14.6km
Time: 3ish hours
Terrain: Some road, dirt paths, shingle, grass. 
Elevation: It's pretty flat. The only time I really a noticed hills was getting in and out of Rye town and then walking up from the beach. 
Time of year: We did this during summer (last year. I'm a little late getting it out).
Tips/Amenities: There are lots of nice places to eat in Rye (it's a little fancy) with plenty of shops to explore. There are also toilet facilities at Rye Harbour if you forget to go in Rye. Along the route there are a few benches dotted about.
Map for the circular walk from Rye town to Rye Harbour and Camber Castle
Google Maps – Click on the top box to open in your maps.
More walking ideas will be at the end
A Guide To The Coastal Walk From Rye Town To Rye Harbour And Camber Castle
I have officially stared this route from the Landgate. It's a big archway type fort thing at the top of the high street. There is a car park nearby, or if you are coming from the station you should see it marked on Google maps.
I wanted to start the route from here as you will get to walk along Rye high street and past all the cute quirky and wonderful shops, and art galleries. 
From the Landgate, walk up the hill which will level off as it curves to the right and then takes you downhill, past the cute shops I just mentioned.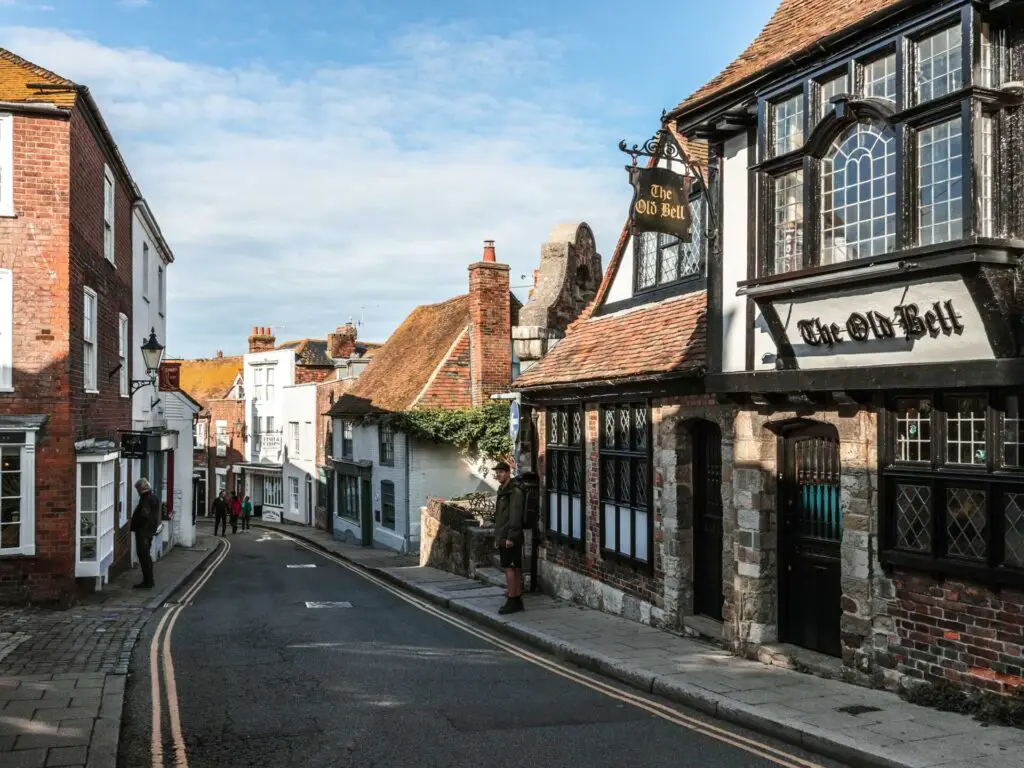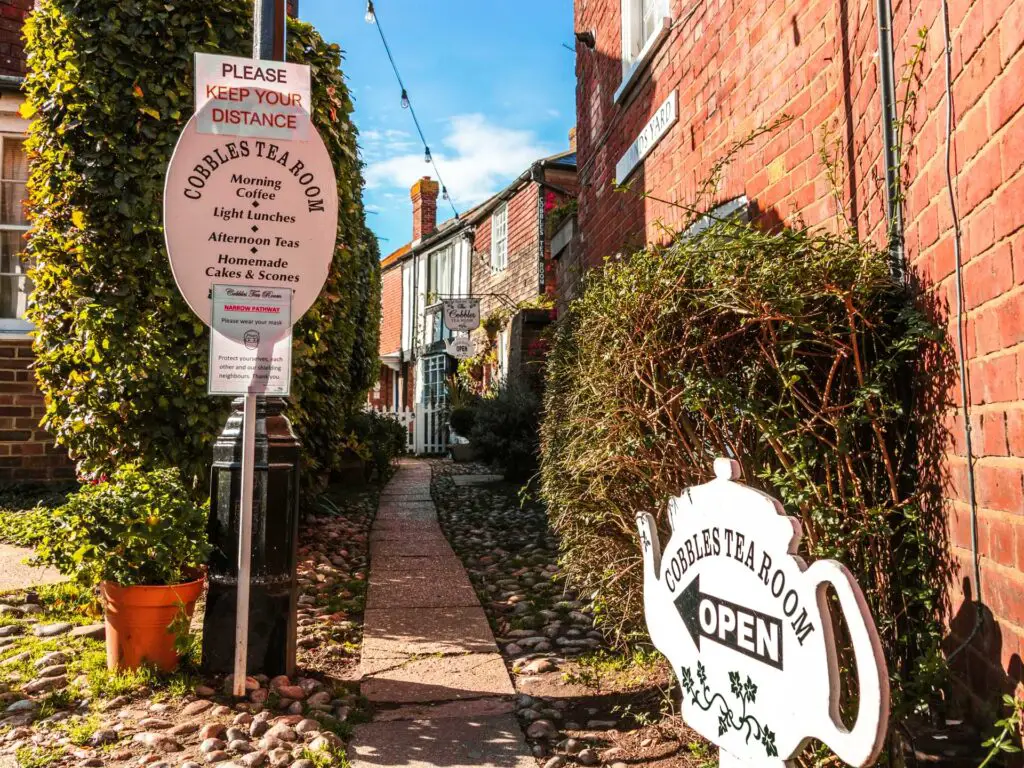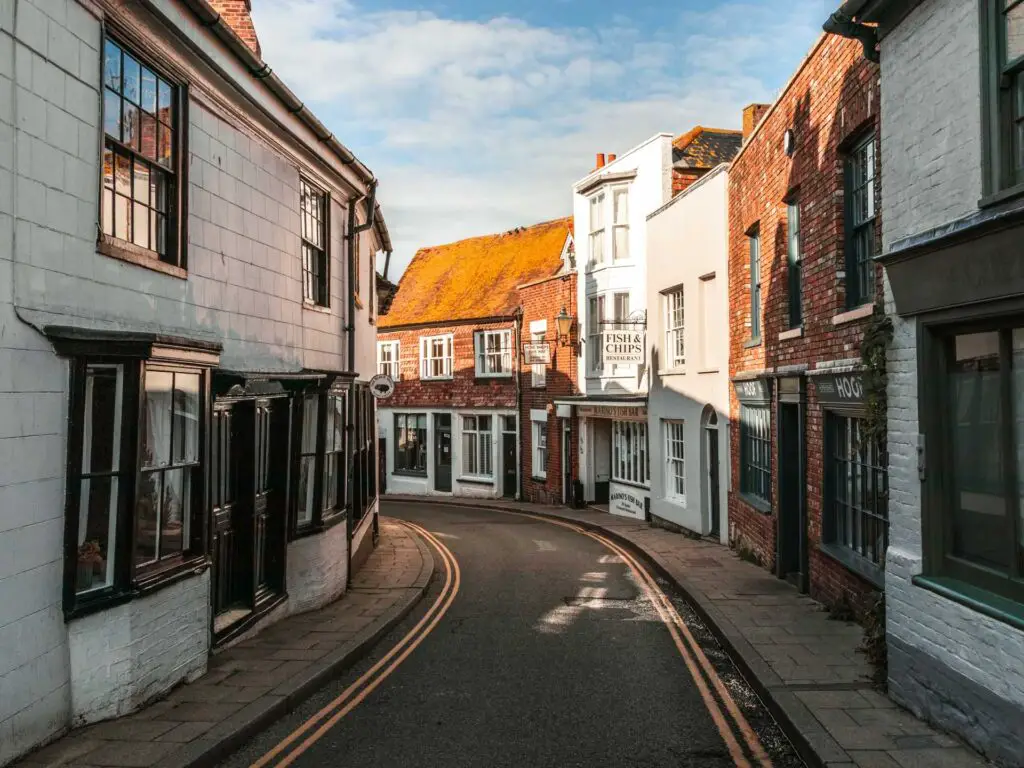 Mermaid Street 
When you reach the bottom of the high street, to your left will be the very famous instagrammable Mermaid Street, and to your right, a big black building with the main road on the other side.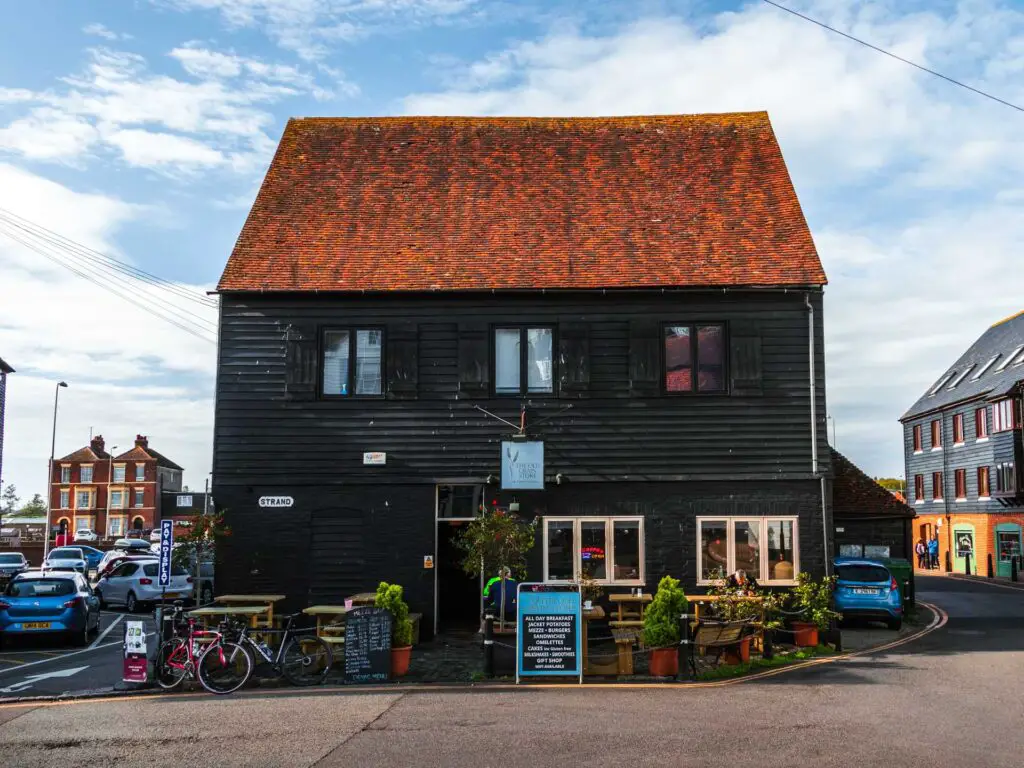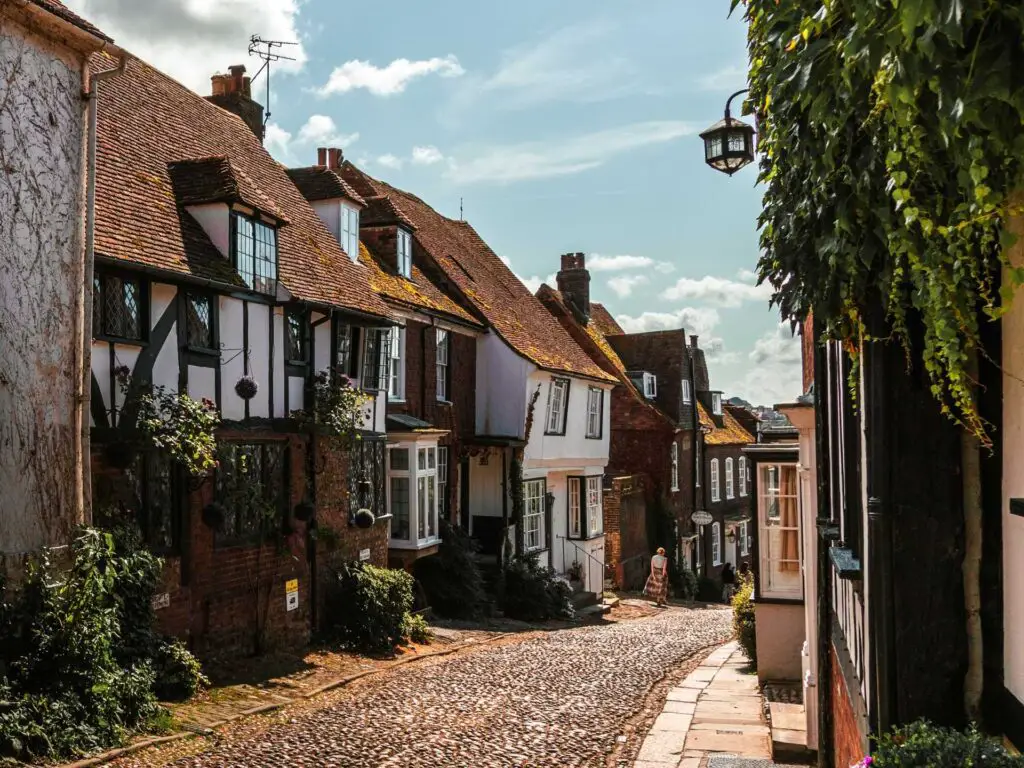 For this walk, I'm not taking you up Mermaid street, but feel free to have a wonder up to see what all the fuss is about. 
Onto the river
Now, back to this walk. Go to the main road (I walked to the right of the big black building), then cross over it and turn right, so that you are walking with the river to your left. Walk along, and then over the bridge and turn back keeping the river to your left.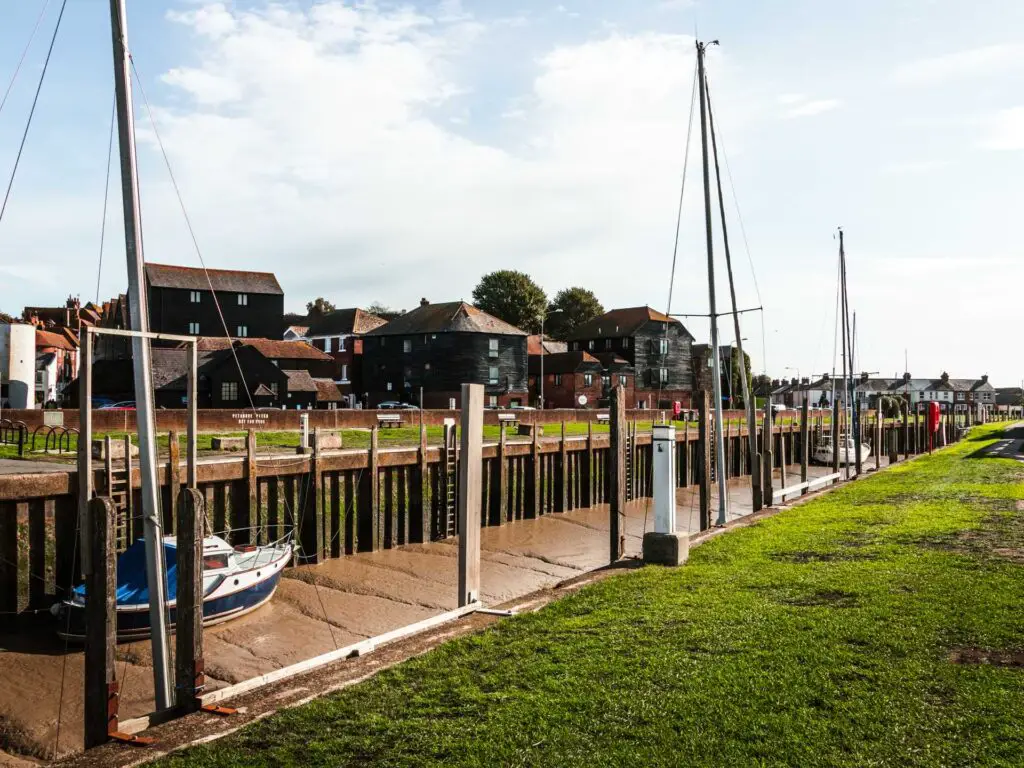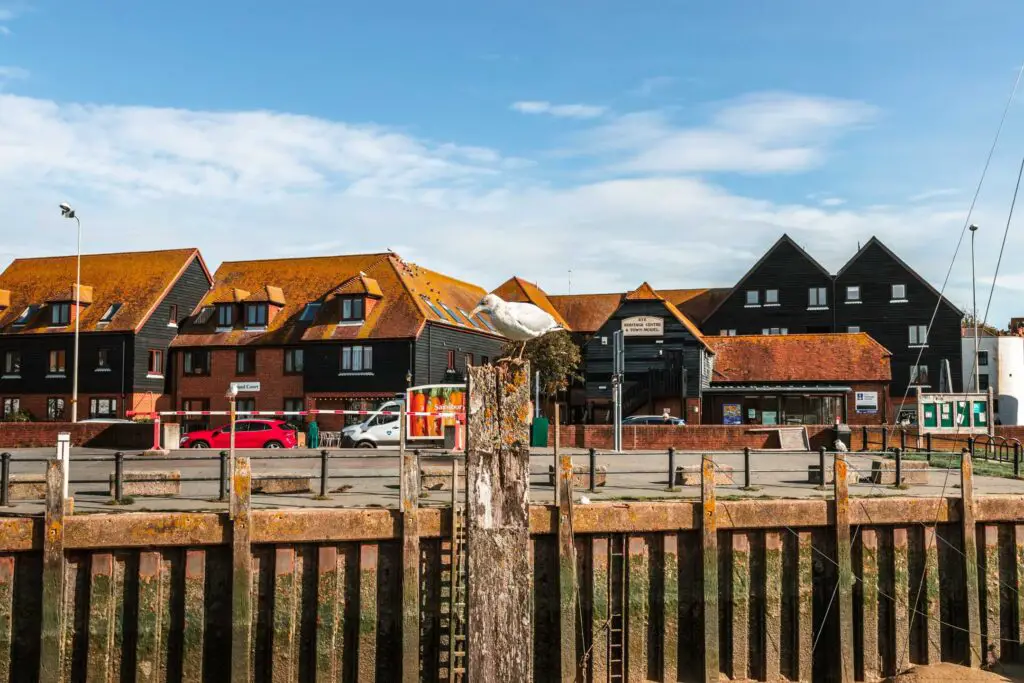 Now, there is a walking path right along the river. One might think this is the correct path to walk on. Well, If you don't mind climbing over a wall then go ahead and walk along here. We only realised this mistake once we reached a dead end and had no desire to walk all the way back.
If you are not in a climbing over walls mood, then keep to the road. 
When you see a sign pointing left to Rye Harbour, follow it and go over the little bridge.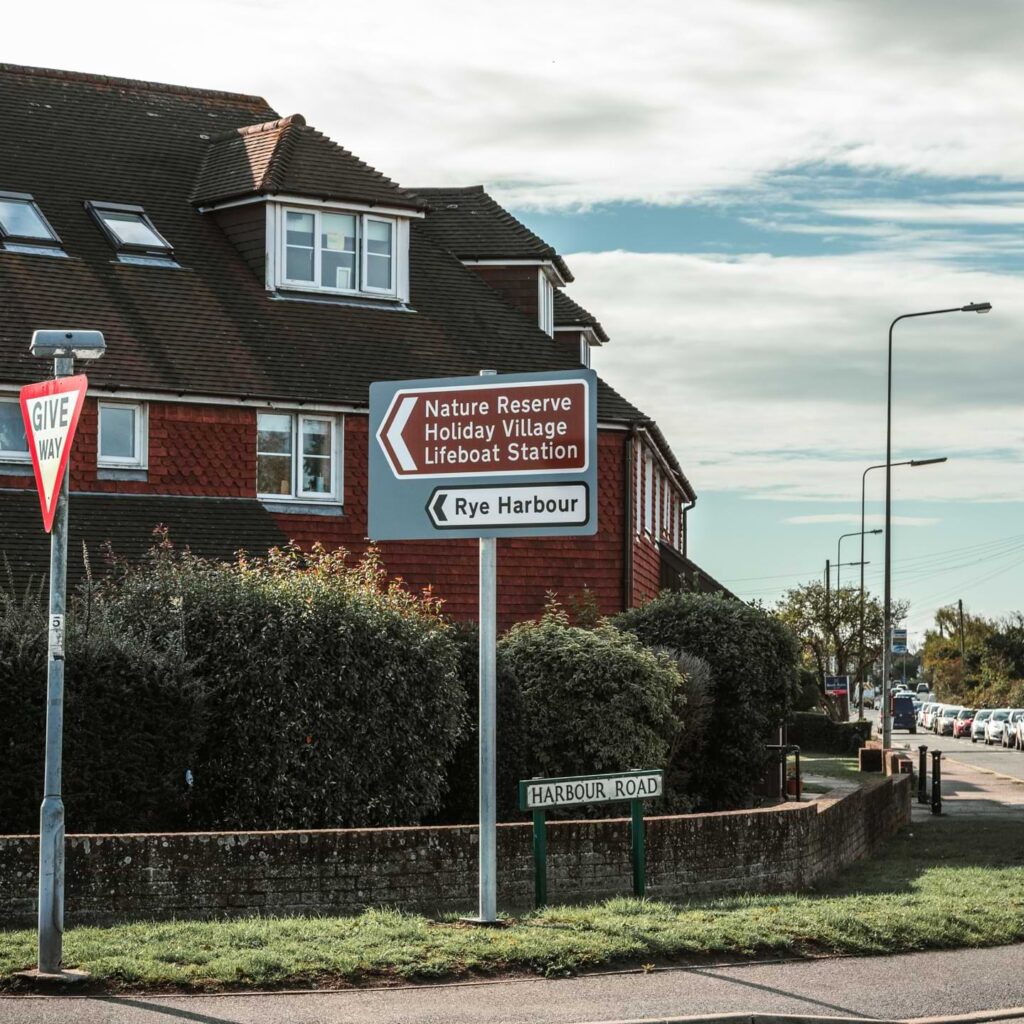 Now, again, one might think to take the trail right, along the river. One would be wrong. I instinctively wanted to walk along there but knowing how I often make wrong turns because I'm too lazy to check the map, I decided to check.
The correct trail is ahead at the curve in the road, through the gate in the photo below.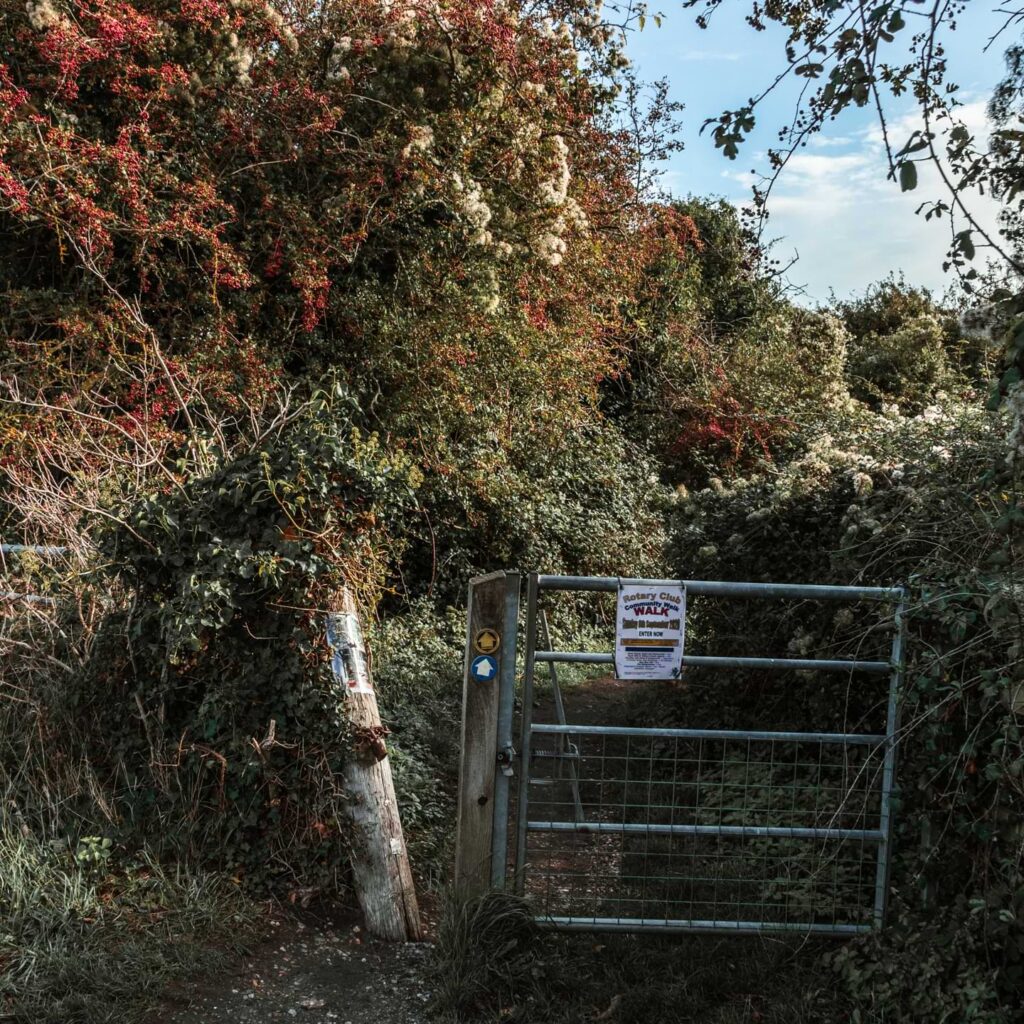 The walk through fields on the way to Rye Harbour
Walking along a dirt trail, you will get your first glimpse of Camber Castle to the right. Get a good look because it's quite a few miles before you see it again.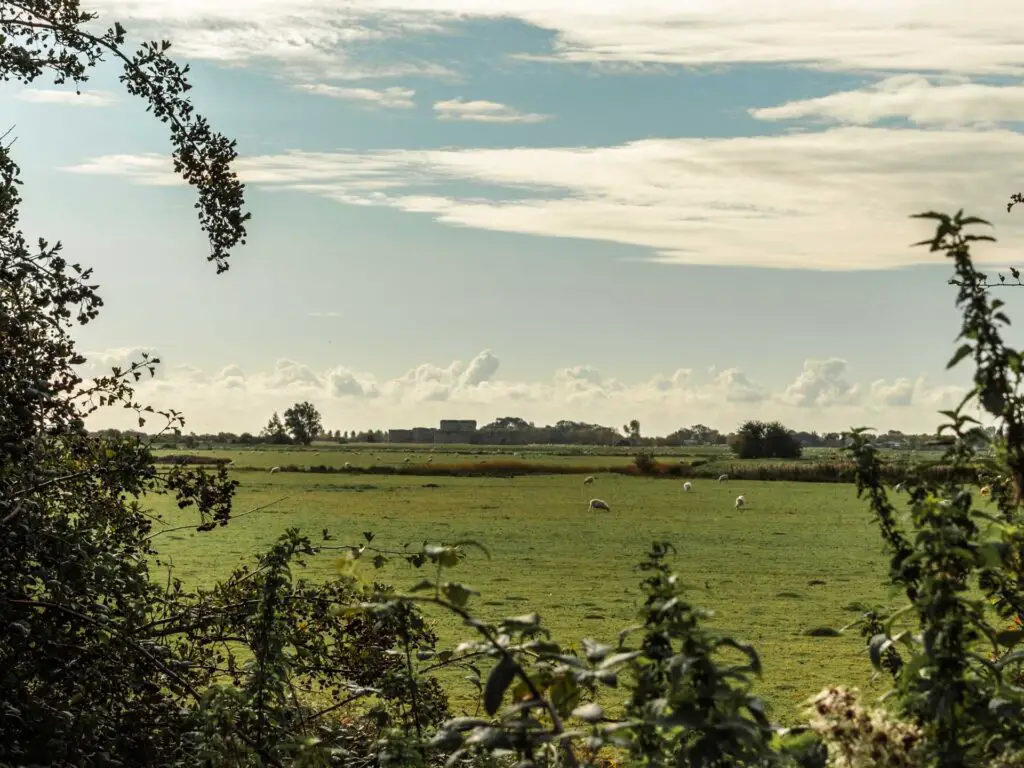 The dirt trail will turn to grass trail though an open green with lots of sheep. This section of the walk will take you through some gates, over a river, past a lake and along dirt trail.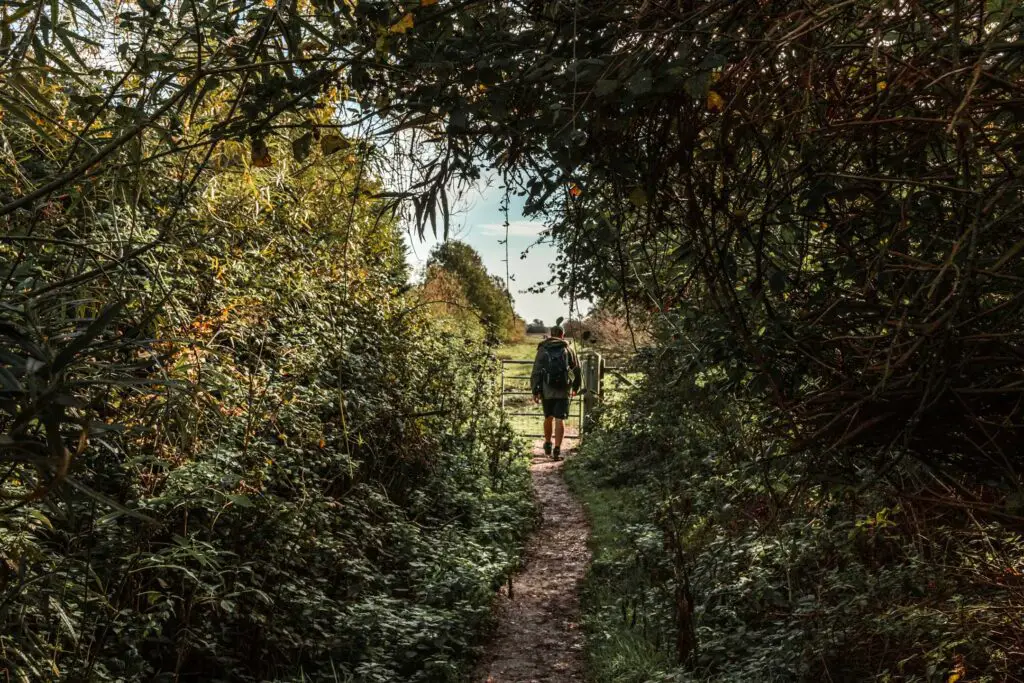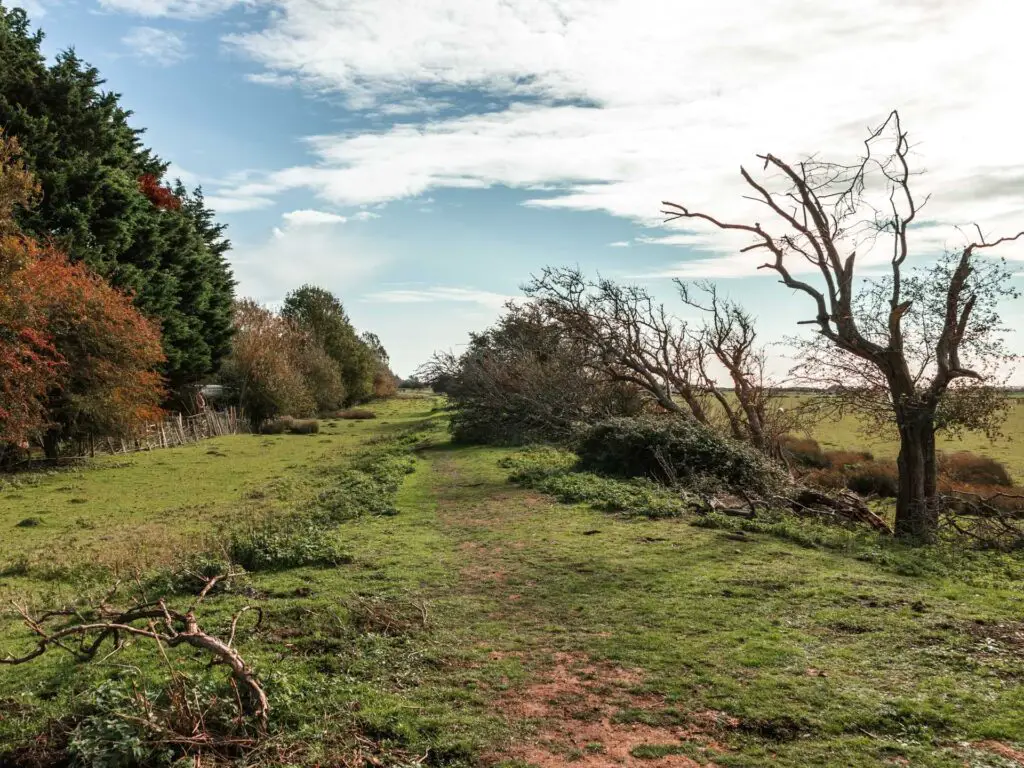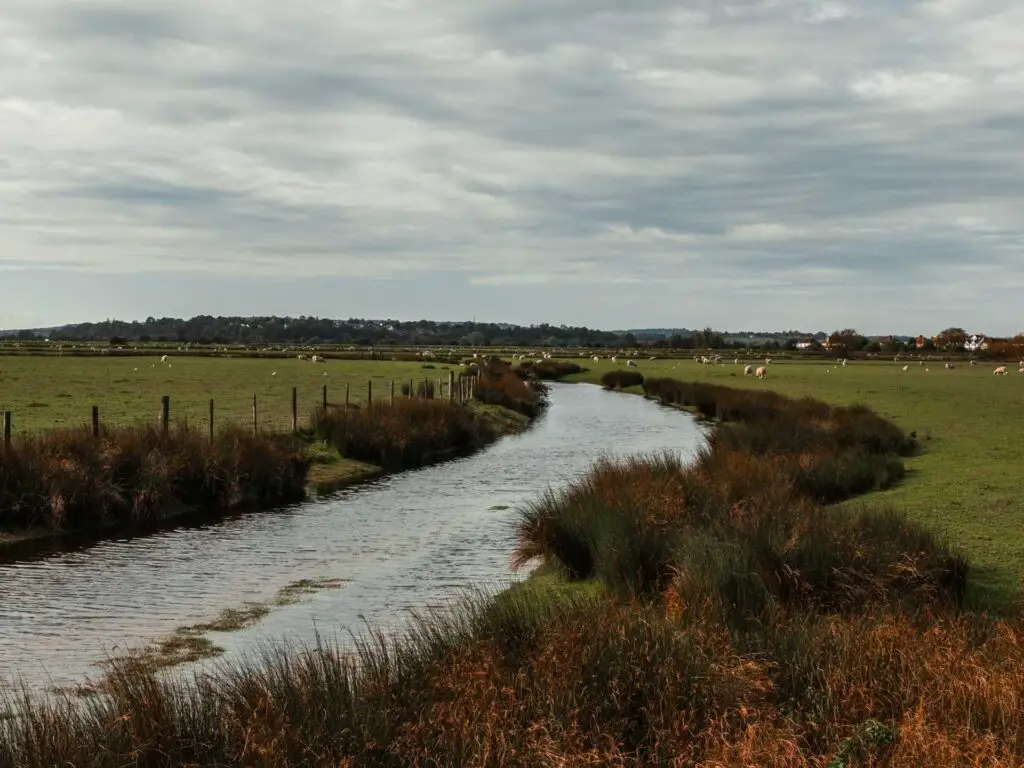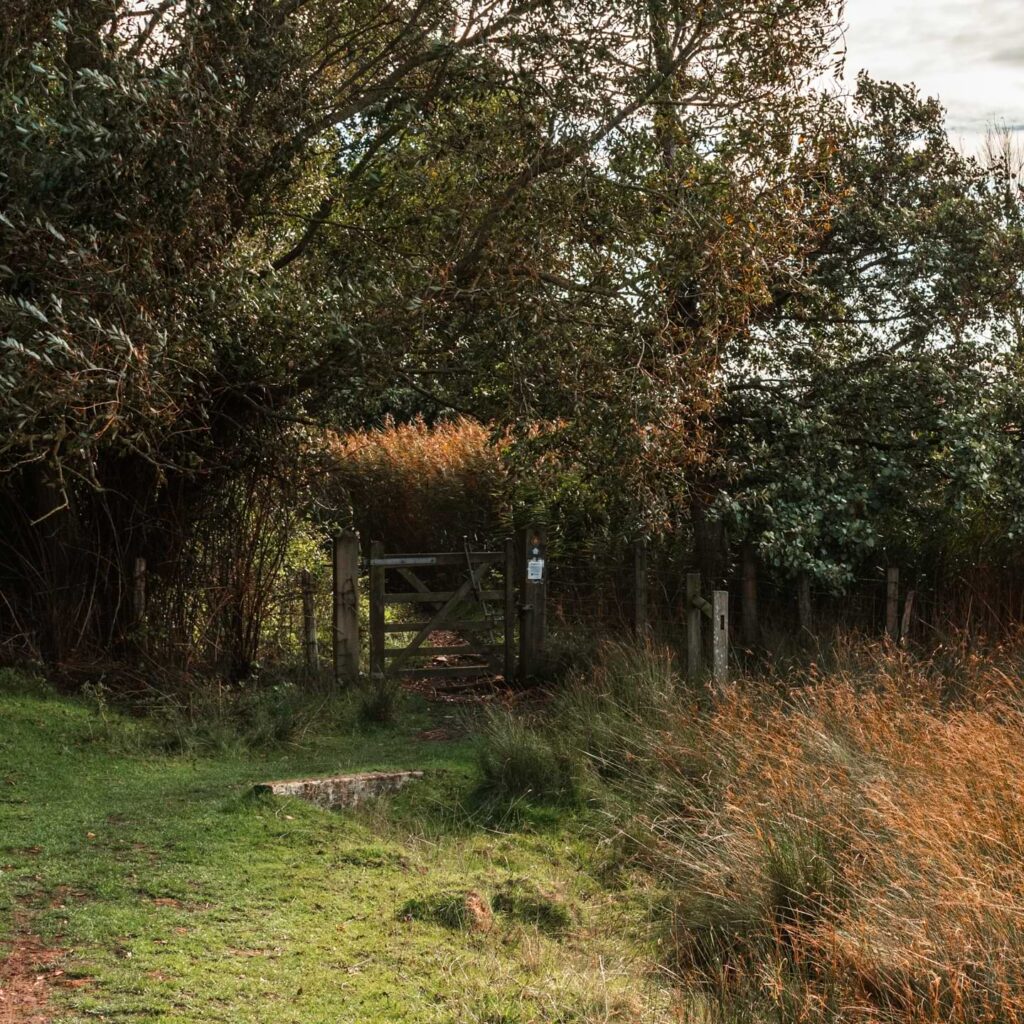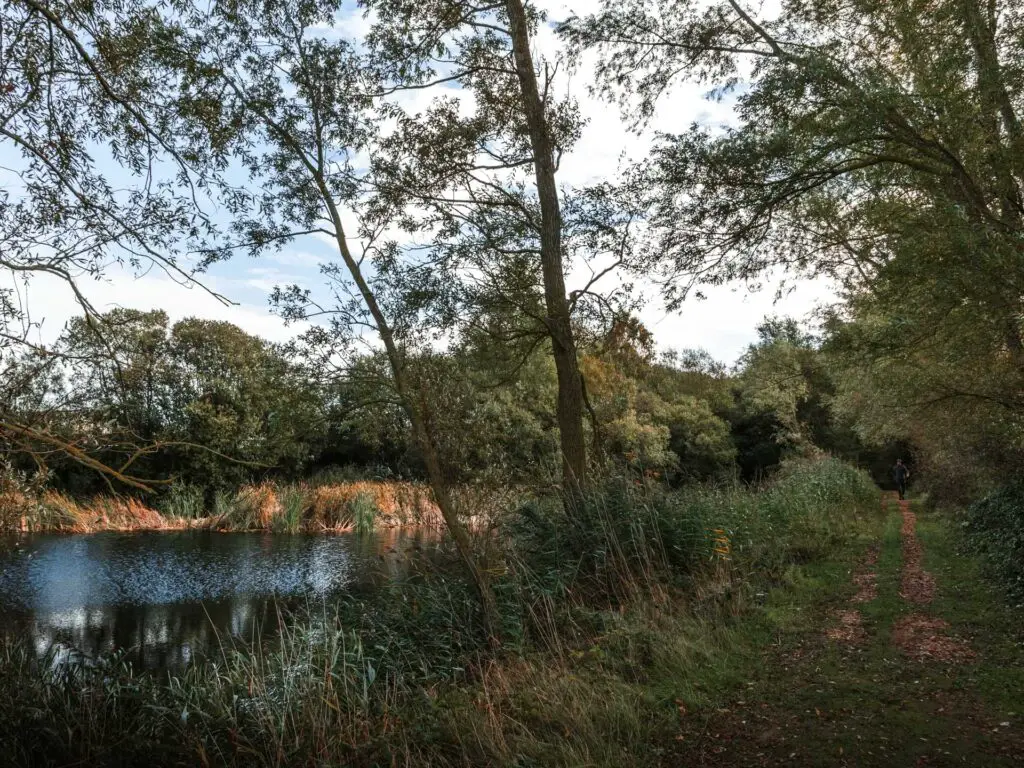 When you reach a grassy fork, take the left. You will then pass some metal railings before hitting the road.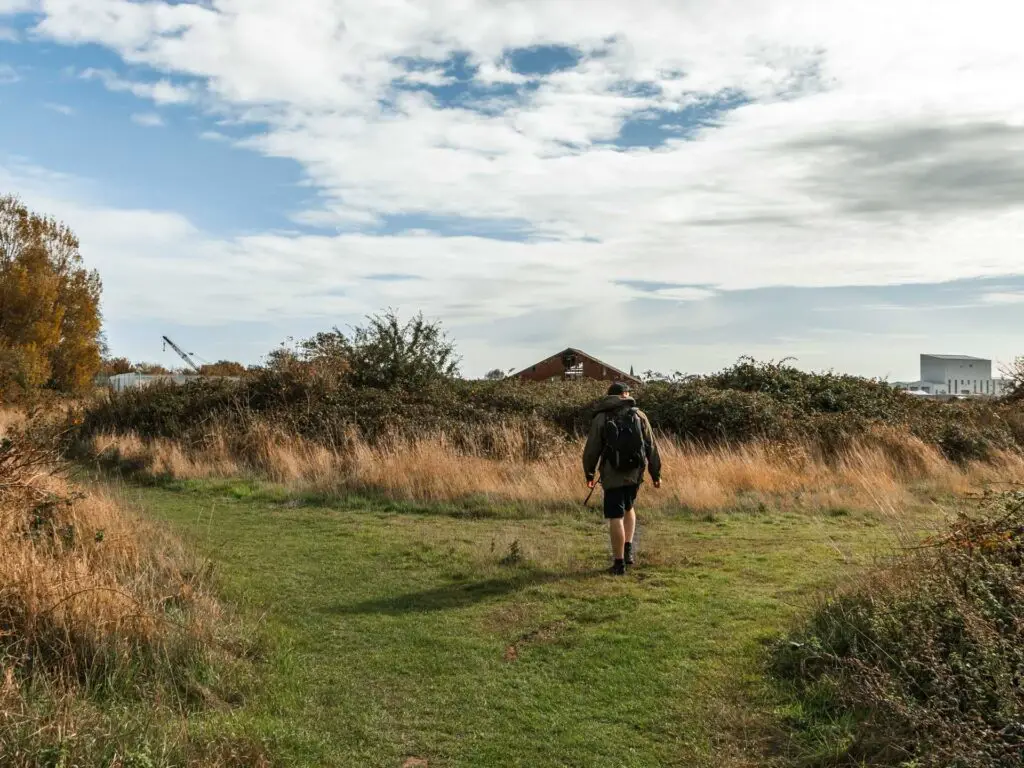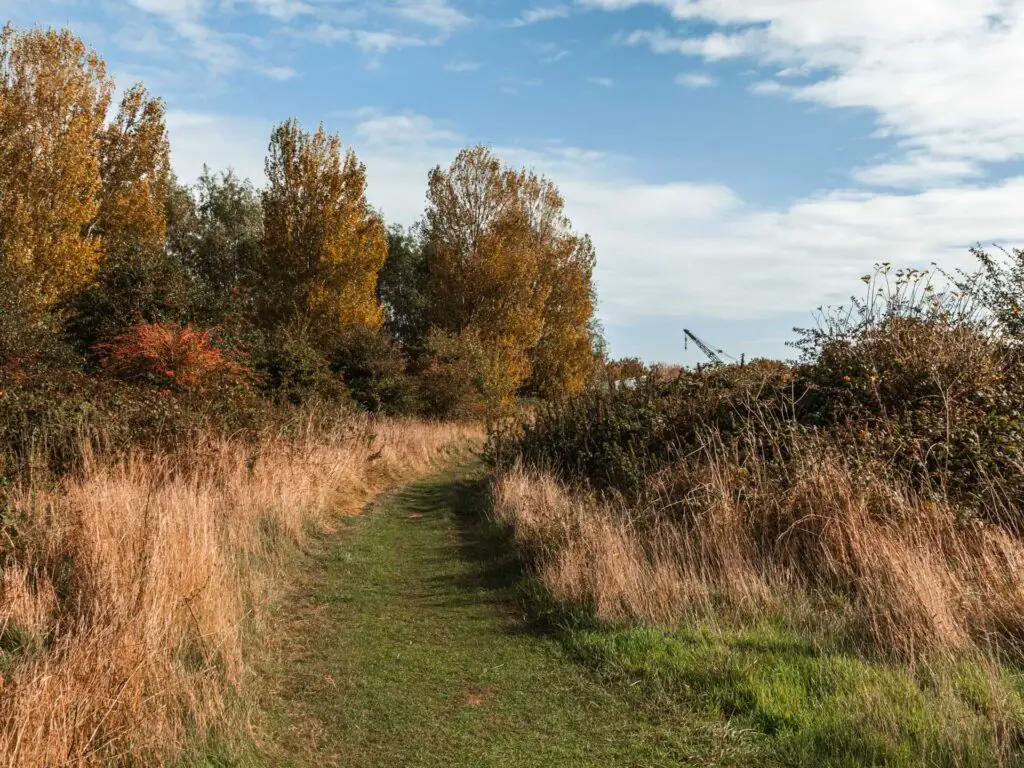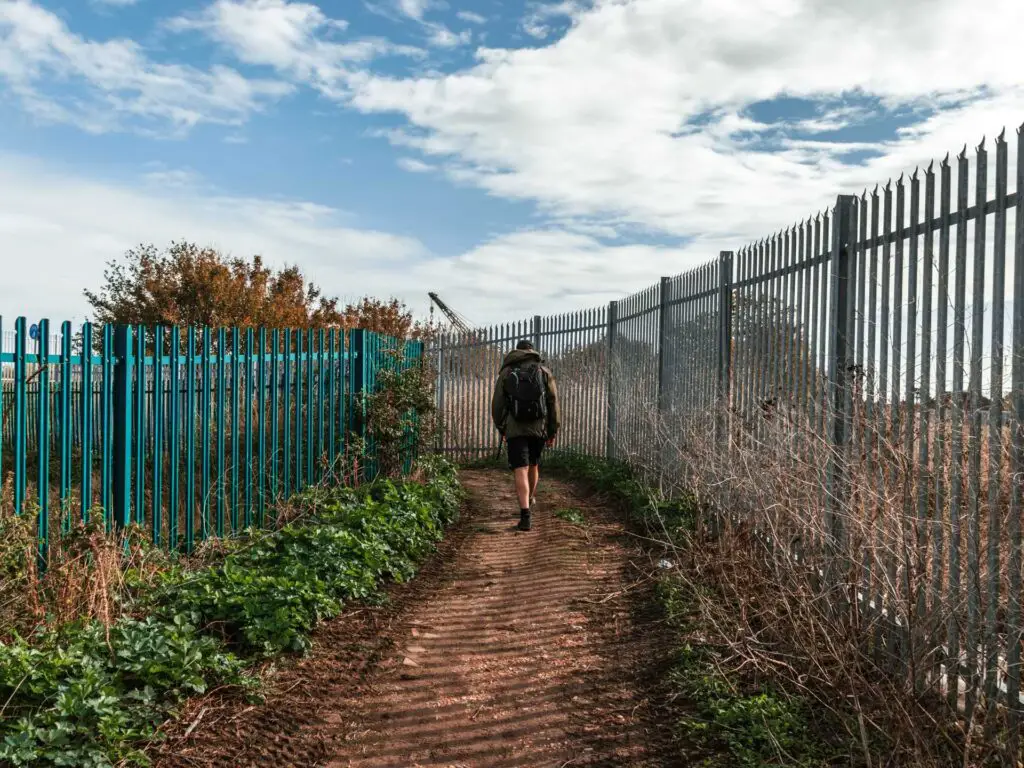 The boring bit of the walk to Rye Harbour 
This next section is the boring bit. When you hit the road, take a right and walk along it. You will basically be walking along here the rest of the way to reach Rye Harbour.
Reaching Rye Harbour
At the end of the road, turn left where you will walk past a monochrome house, then head to the end where there will be some benches overlooking the river.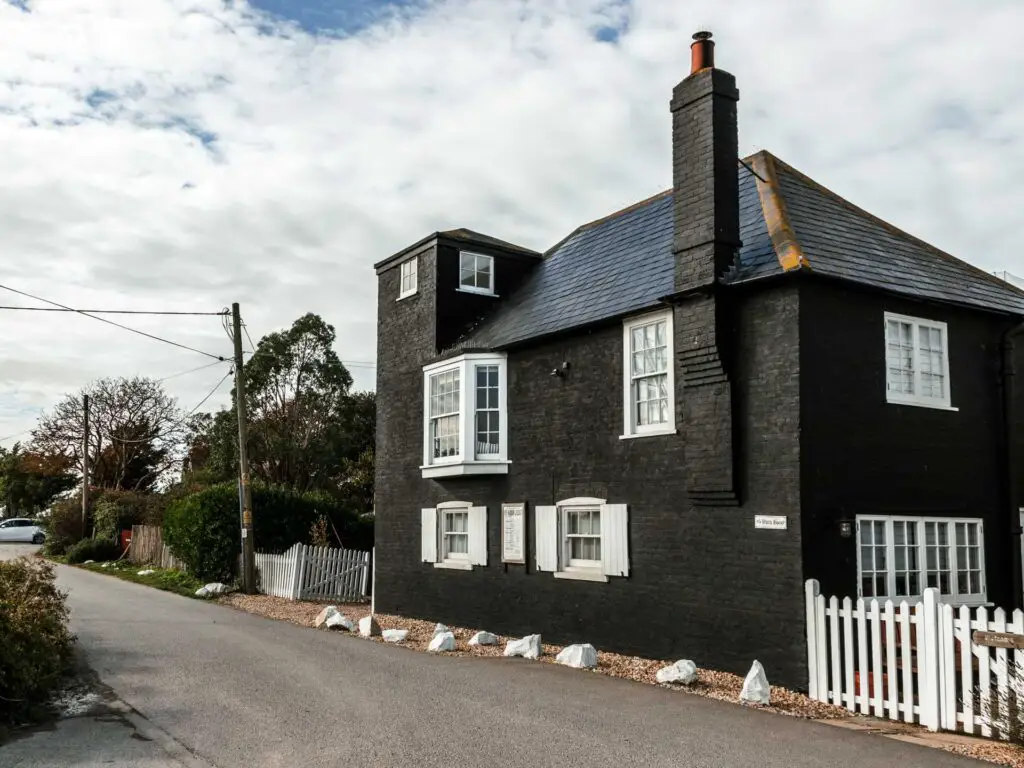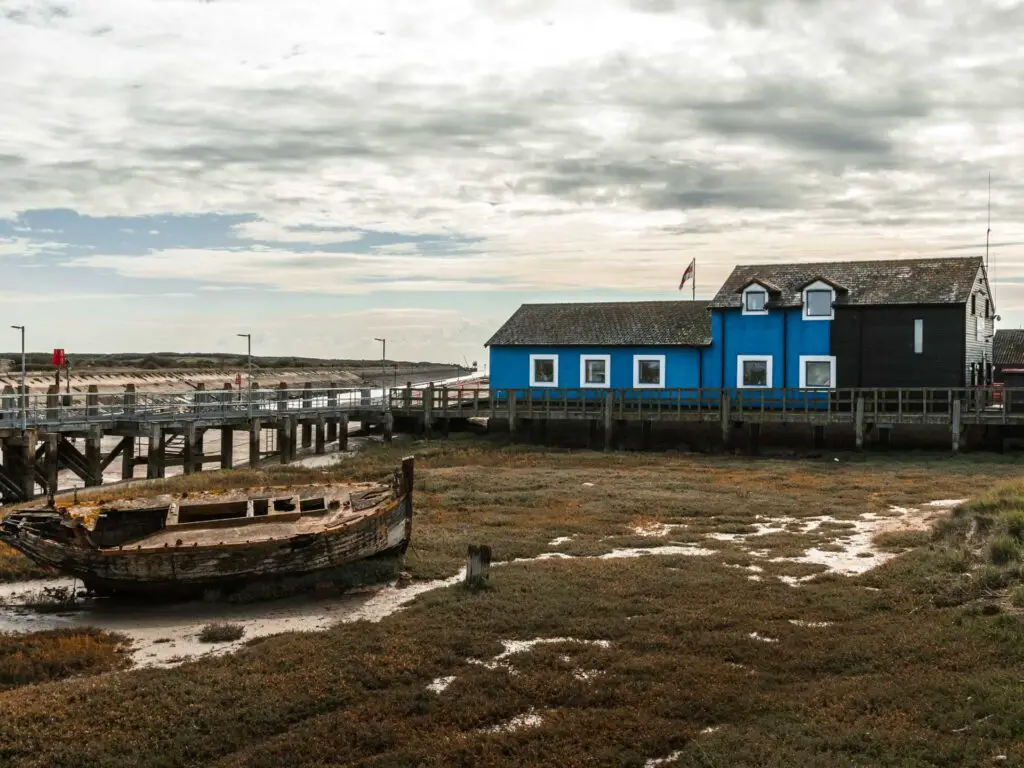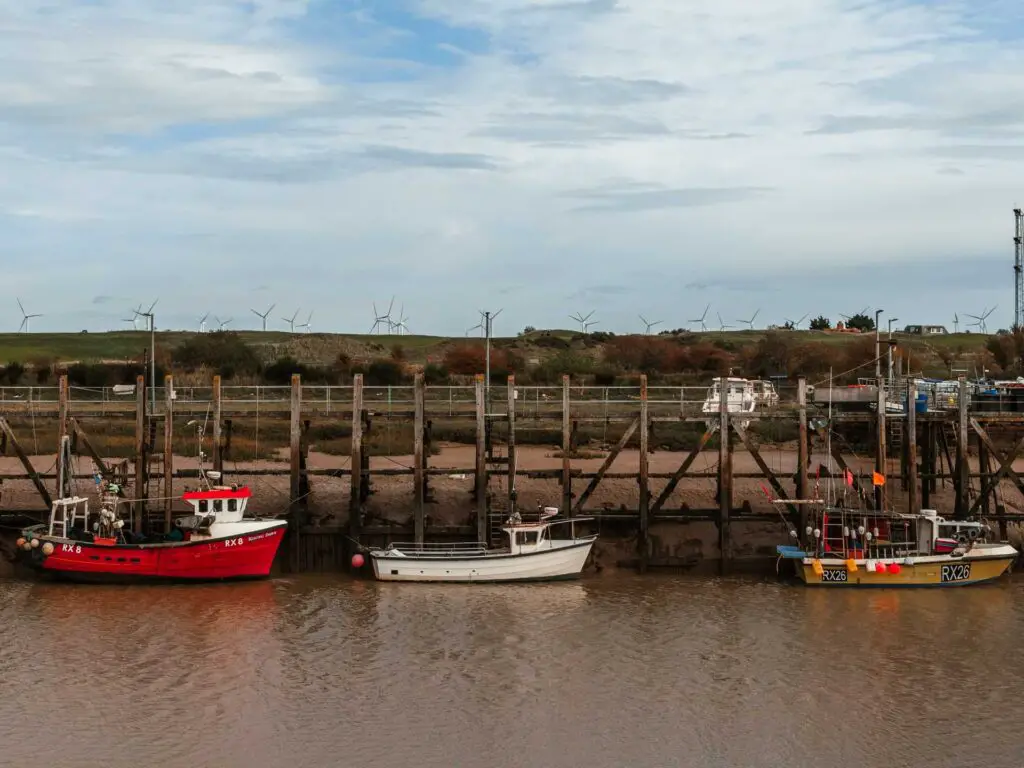 This is a nice little place to have a break and watch the boats. This is also where I made changes to the planned route…..and only told the boyfriend half of the story.
Walk past Rye Harbour to the busy path
From these benches, if you look right, you should see a trail along the ridge. Walk along it and cross over the road to join it again. You will then curve around to the left where the trail leads you to a proper path.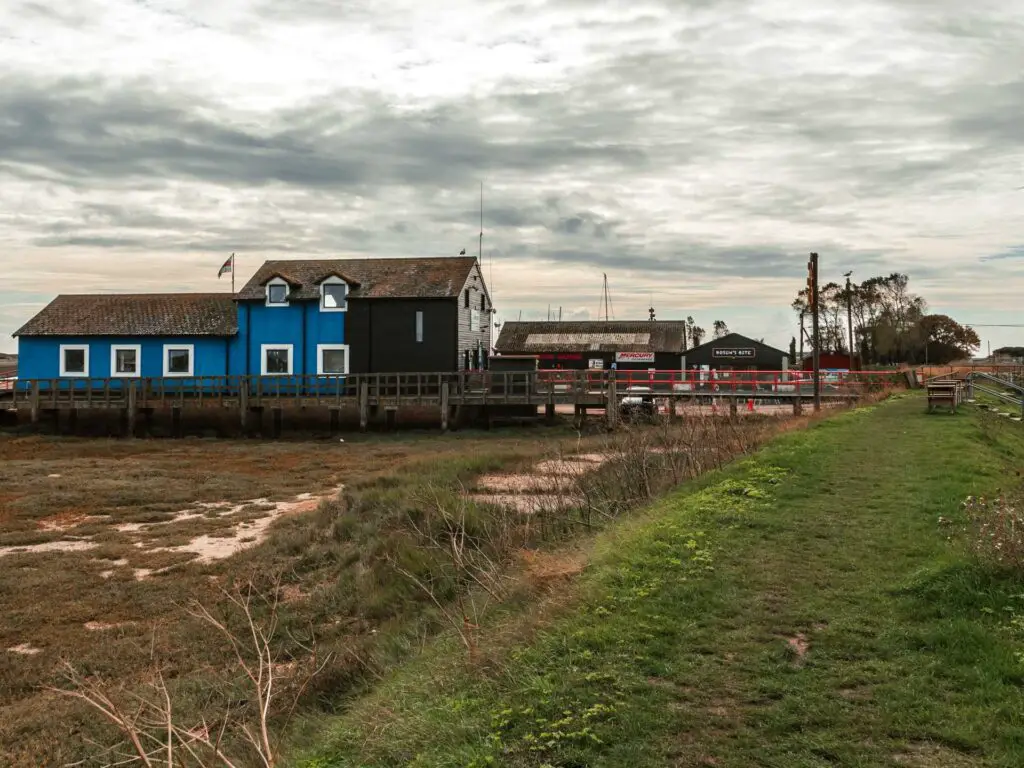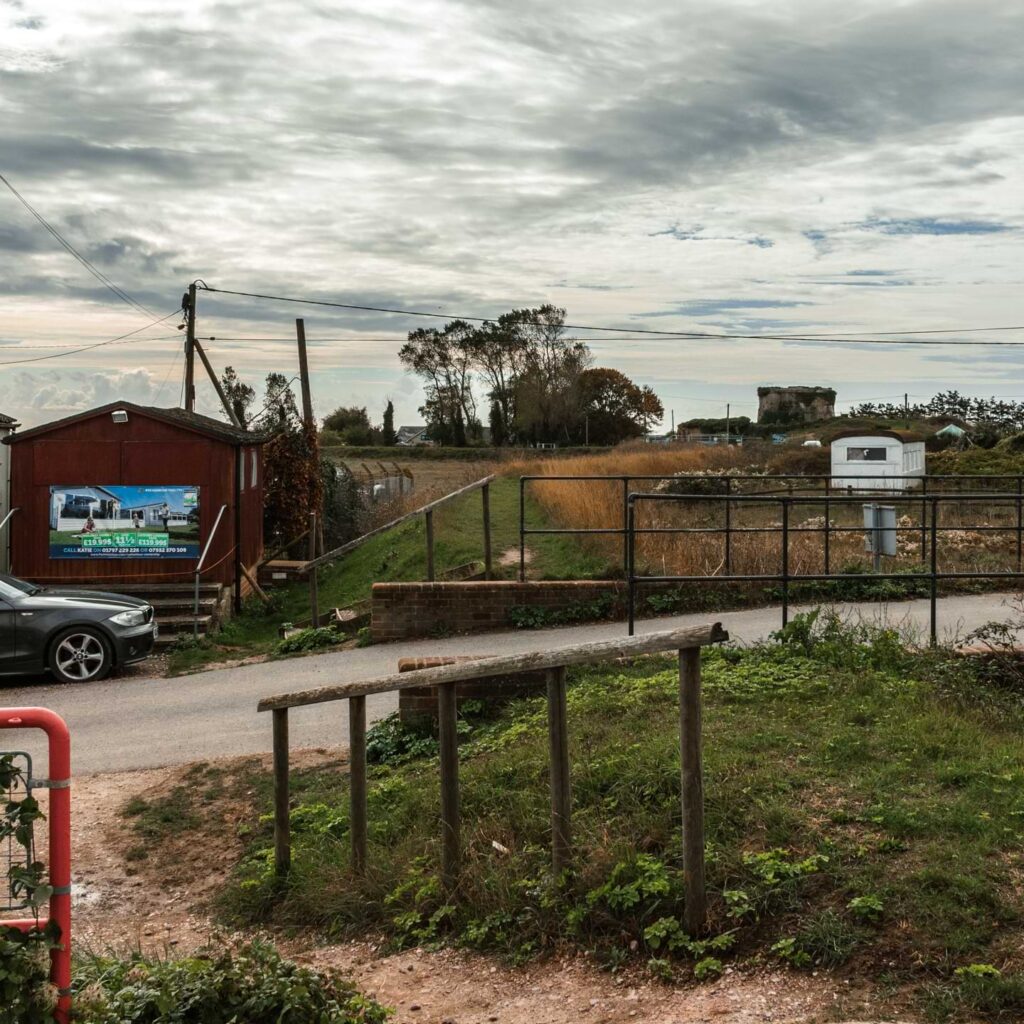 This little section of the walk is near a holiday park. As such, it is crazy busy (or at least it was when we were there). I can't say I enjoyed this bit too much. It was a little too crowded and the path was too civilised for my liking. But hey ho, it's only for a short while.
A spot of bird watching along the Rye Nature Reserve 
You will be walking with a nature reserve to your right. It's an interesting landscape. Kind of bleak and wet but beautiful at the same time. You should notice a hut on your right. This is actually a spot for some bird watching. A word of warning through, it can get quite windy in there. We didn't last too long before deciding it was too cold.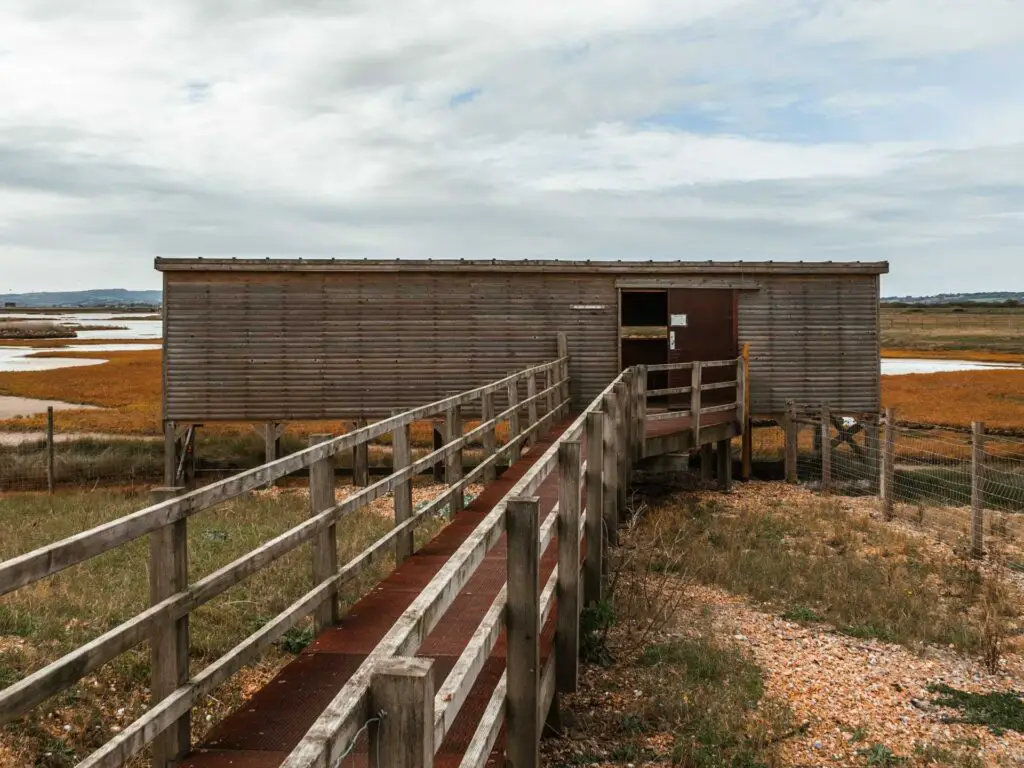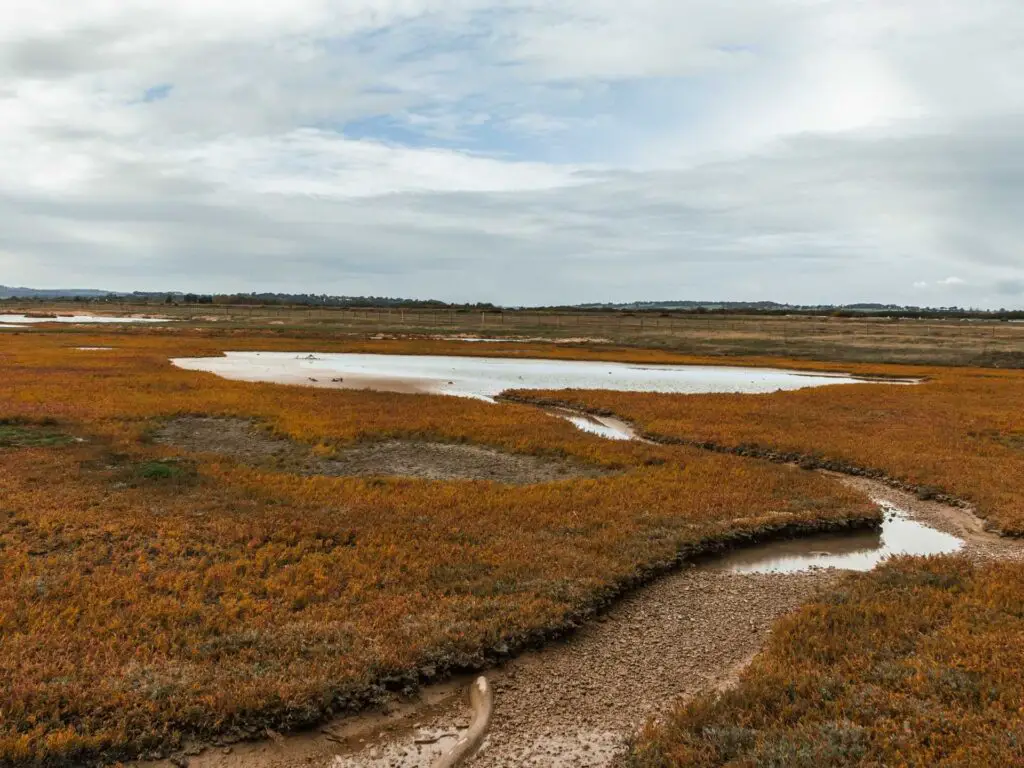 The cute black and red shed
Whilst walking along this path, you should see the back shed with red roof up ahead. This is the one from all those arty pictures.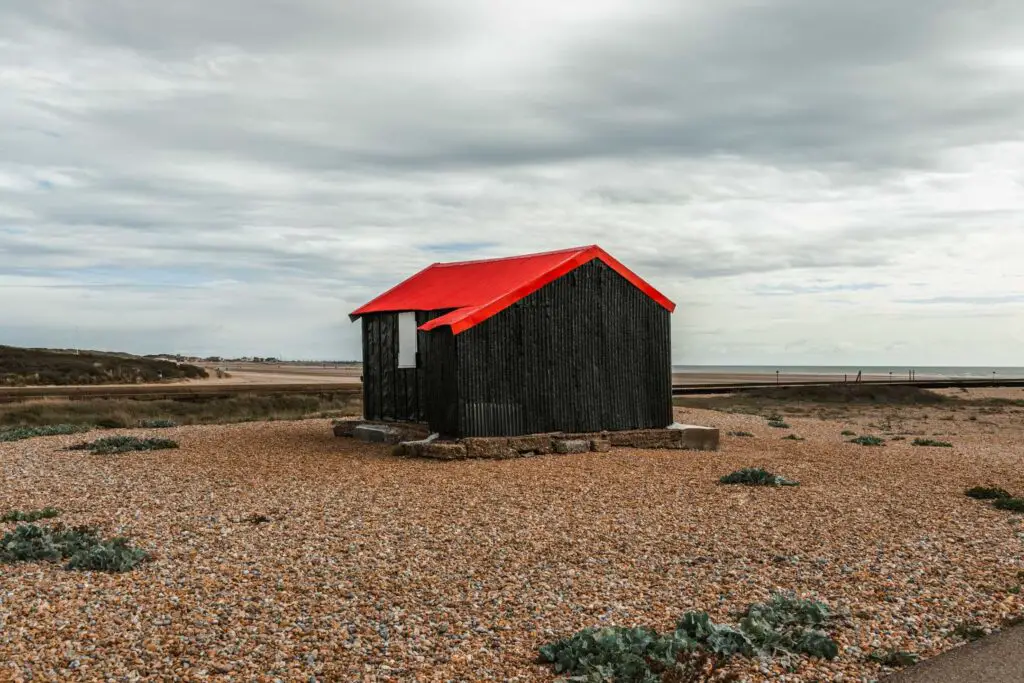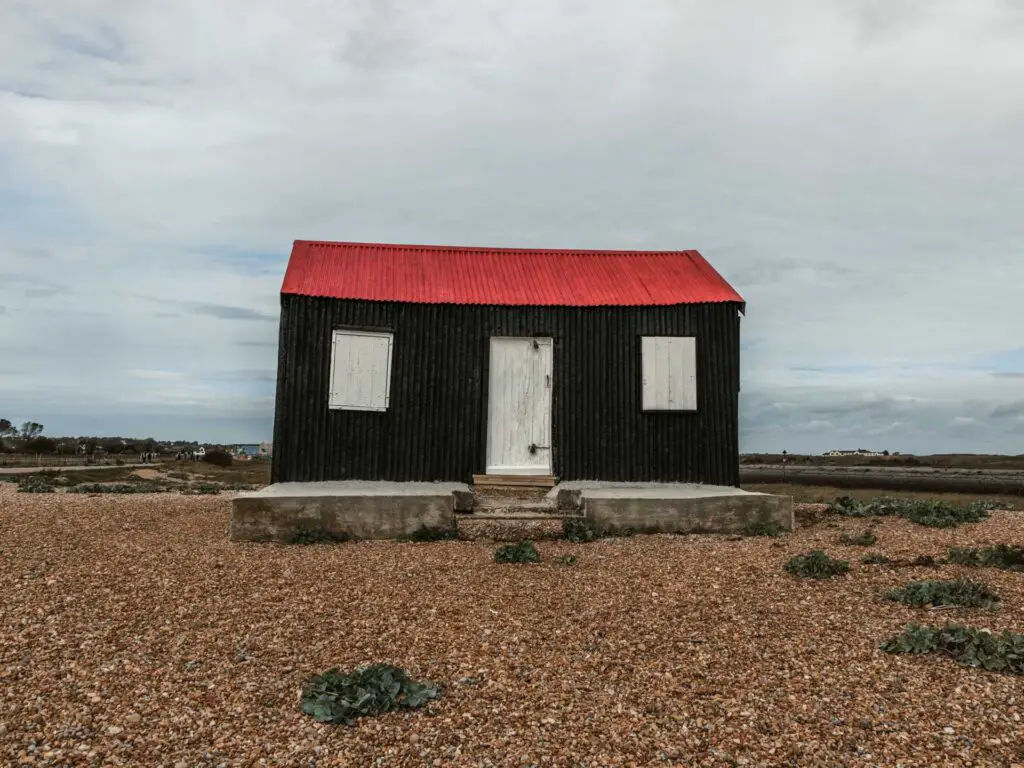 The boyfriend and I actually got into an argument here, and we ended up not speaking for the rest of the walk. I also hadn't fully told him of the change of walking plans…..Maybe I didn't tell him on purpose. 
Anyway, once you have enjoyed the cuteness of it, it's time to walk along to the next one. 
The walk along the beach from Rye Harbour
After walking straight for a while, the path will turn to the right. You will be walking alongside the beach, although you can't see it much from here. I started off on this path but after getting a bit bored and fancying a change of scenery, I ventured over the shingle to get onto the sand beach. It was actually low tide which made walking pretty easy. I'm not sure I would have lasted long at high tide, what with the shingle of death.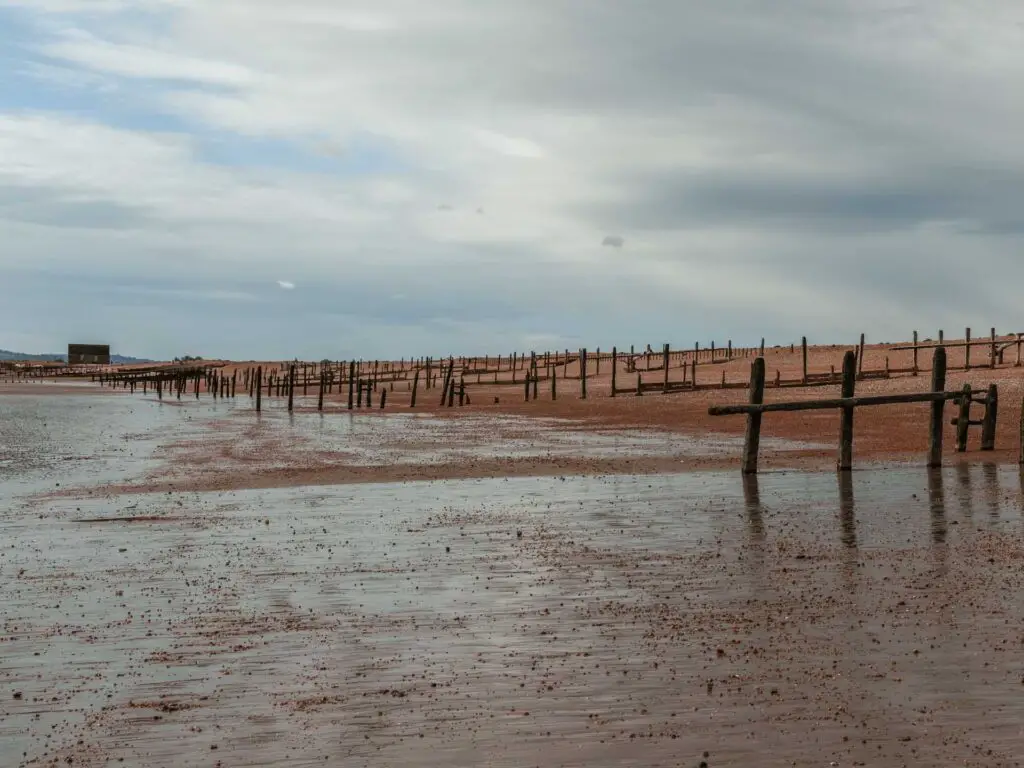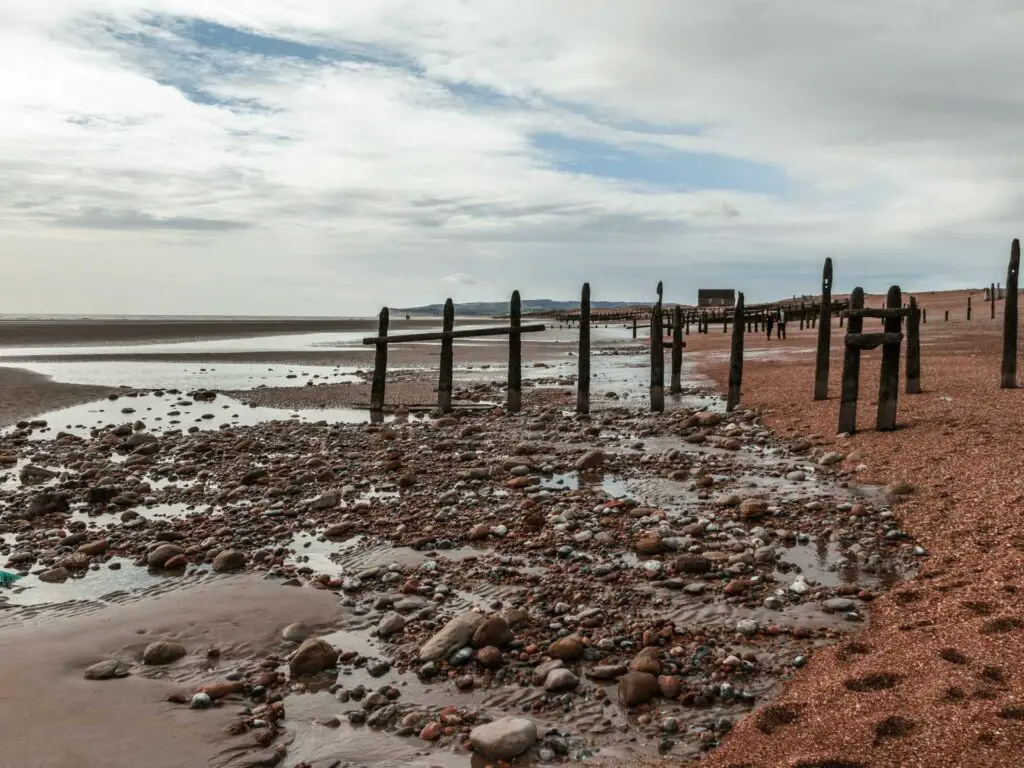 I really enjoyed this bit of the walk. Being by the ocean, with the view of the shed way ahead in the distance. Despite it being fairly overcast and cold, the sun got me in the face a little….you have been warned. 
Reaching the shed
Some might say this shed isn't worth a visit, but I kinda liked it. It had a sort of spooky abandoned feel to it. There are also some benches here for some chill time.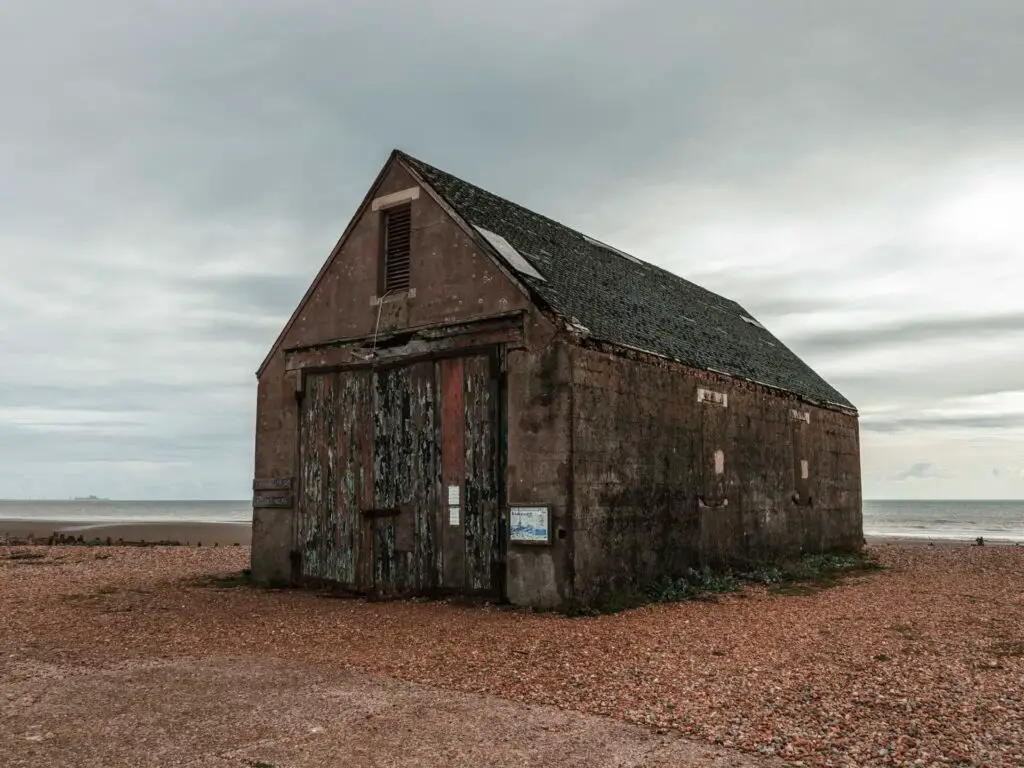 Leaving the coast to walk towards Camber Castle
If you continue walking along the path, you will come to a point where the trail sign points right, across some shingle. Take this path. There isn't too much shingle though, before getting onto a dirt trail.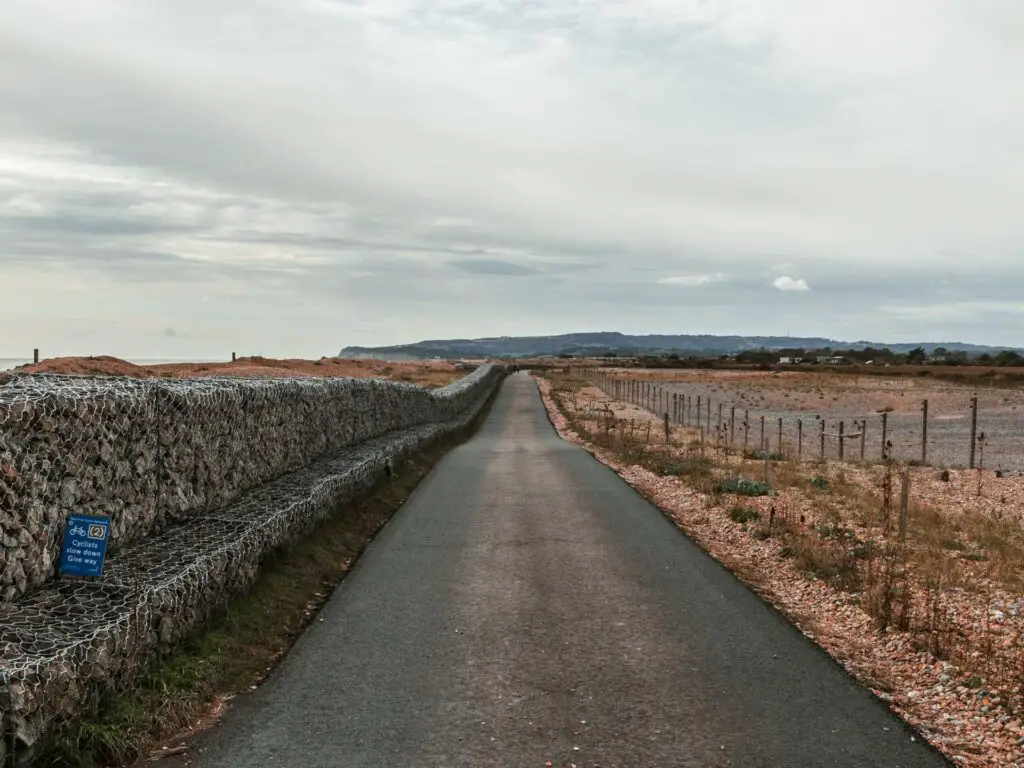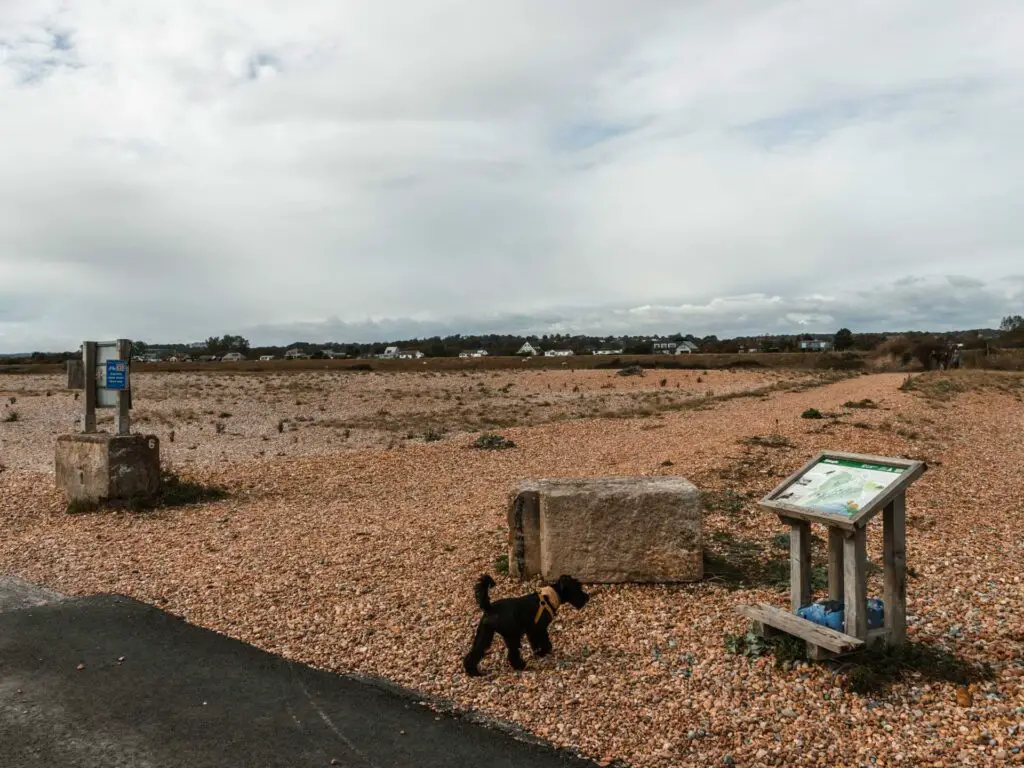 The next section of the walk, heading towards Camber Castle, takes you along dirt trails and grass, with the Rye Nature Reserve to the right.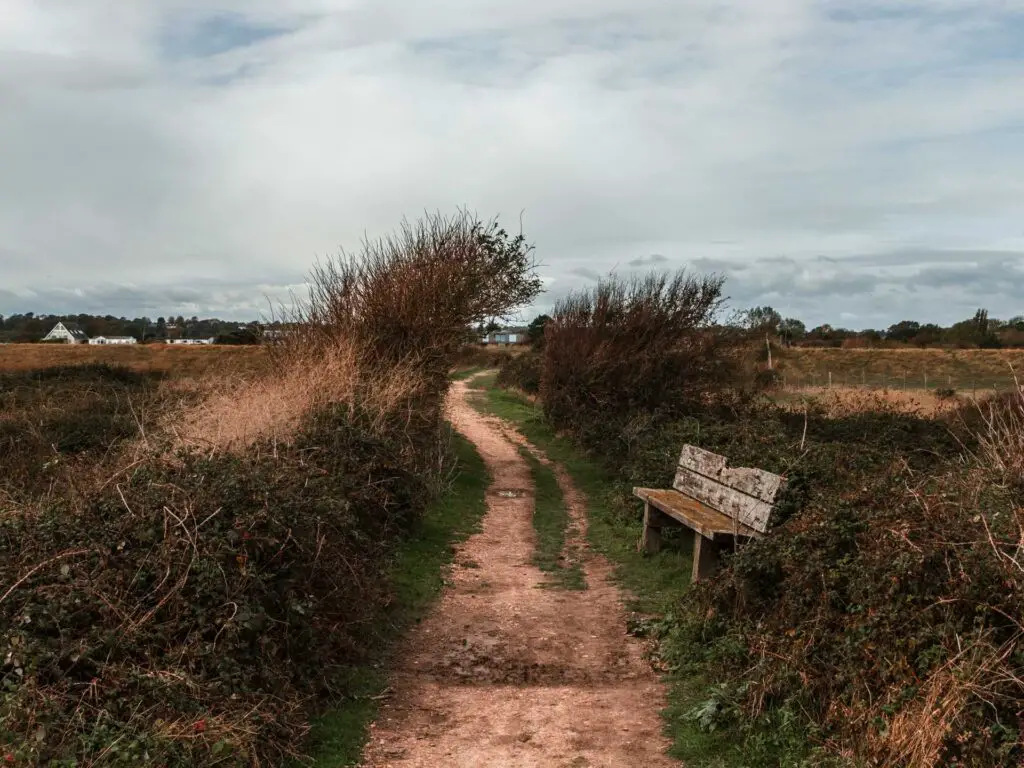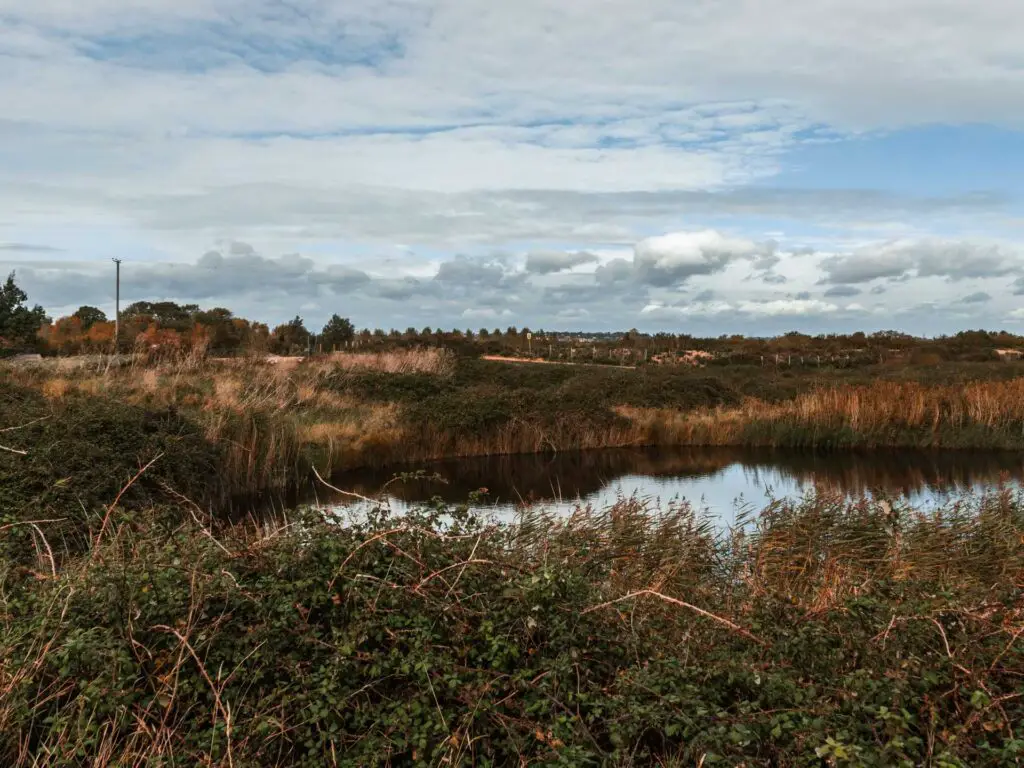 Then you hit a junction. Now, If you are following my map, you will see I turned right. Turns out this leads to a private area. So, don't turn right.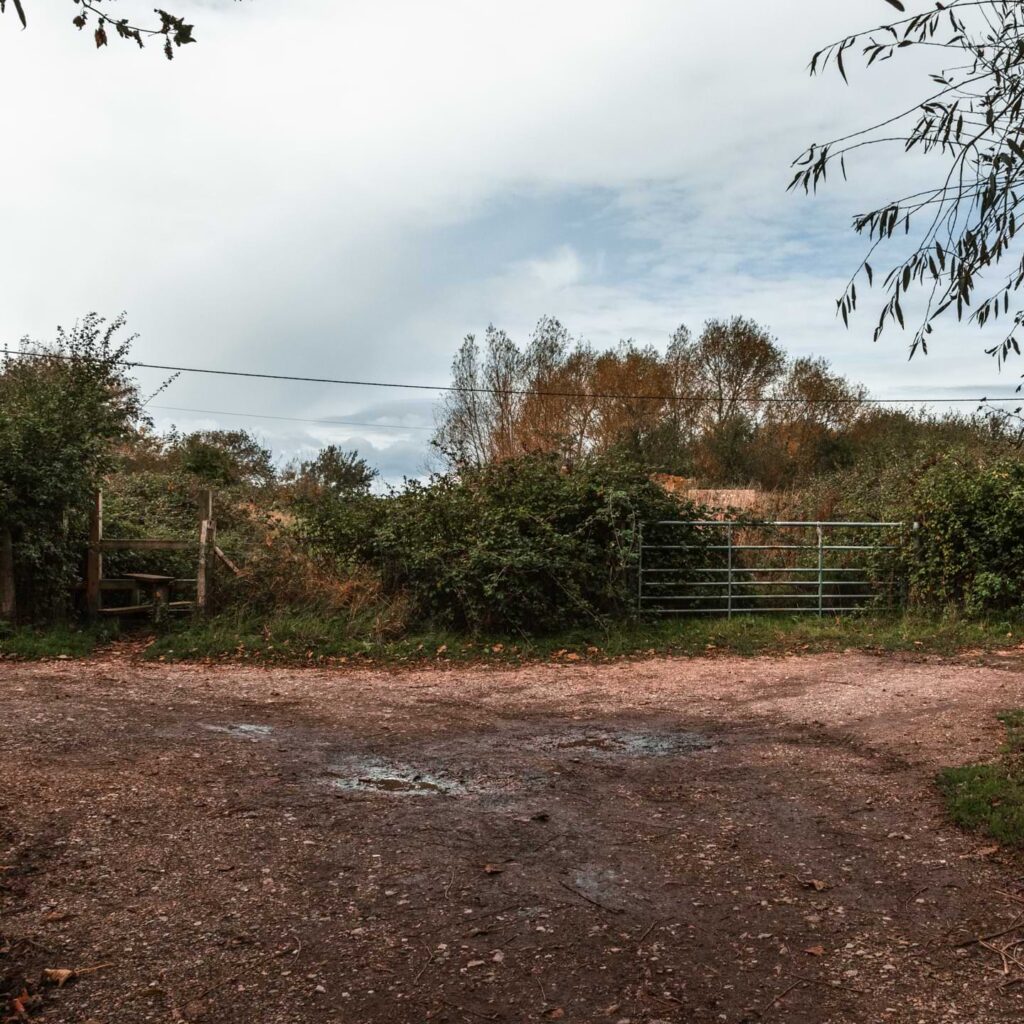 Instead, go over the style ahead of you (see photo).
The bit of the trail I cannot remember
Now, as I am writing this (nearly a year after doing the walk), I am struggling to remember what happened next. I have studied the photos and map but I'm still not too sure. So instead I will show you the photos of things you should see. If you are following my map, you should be ok.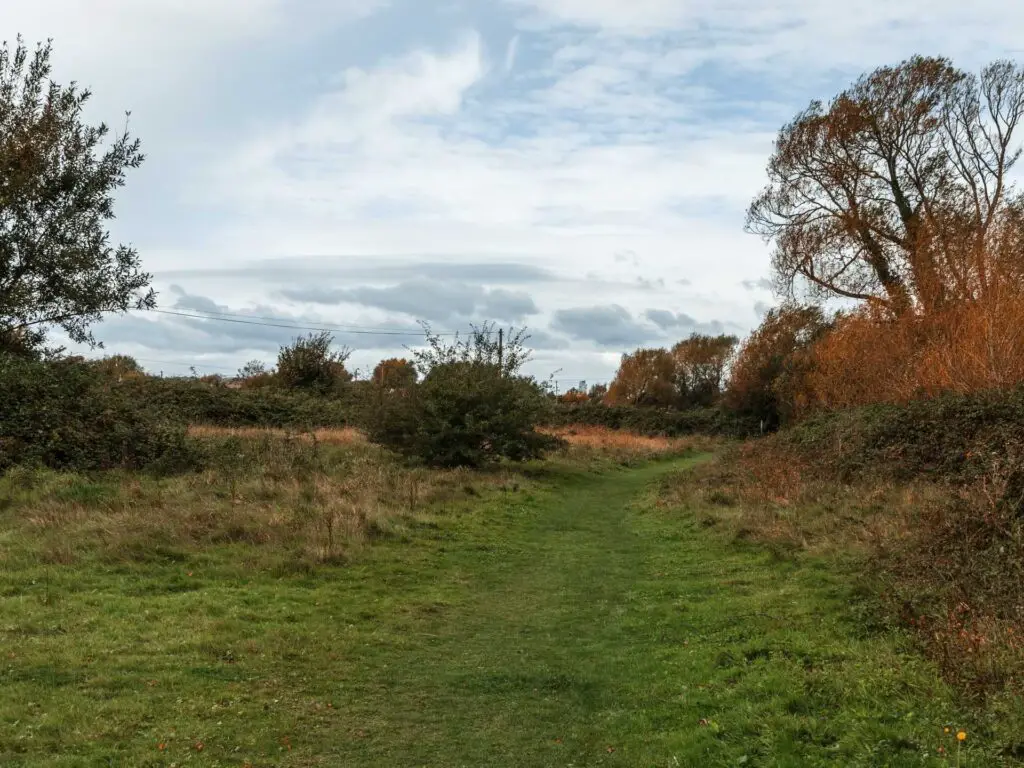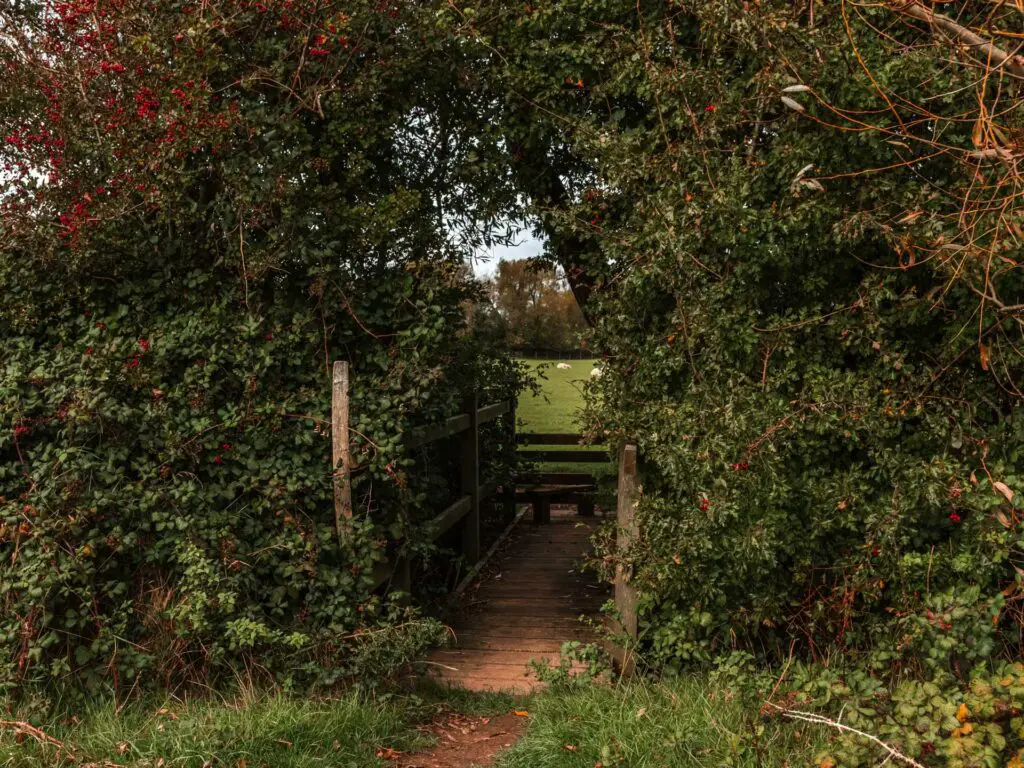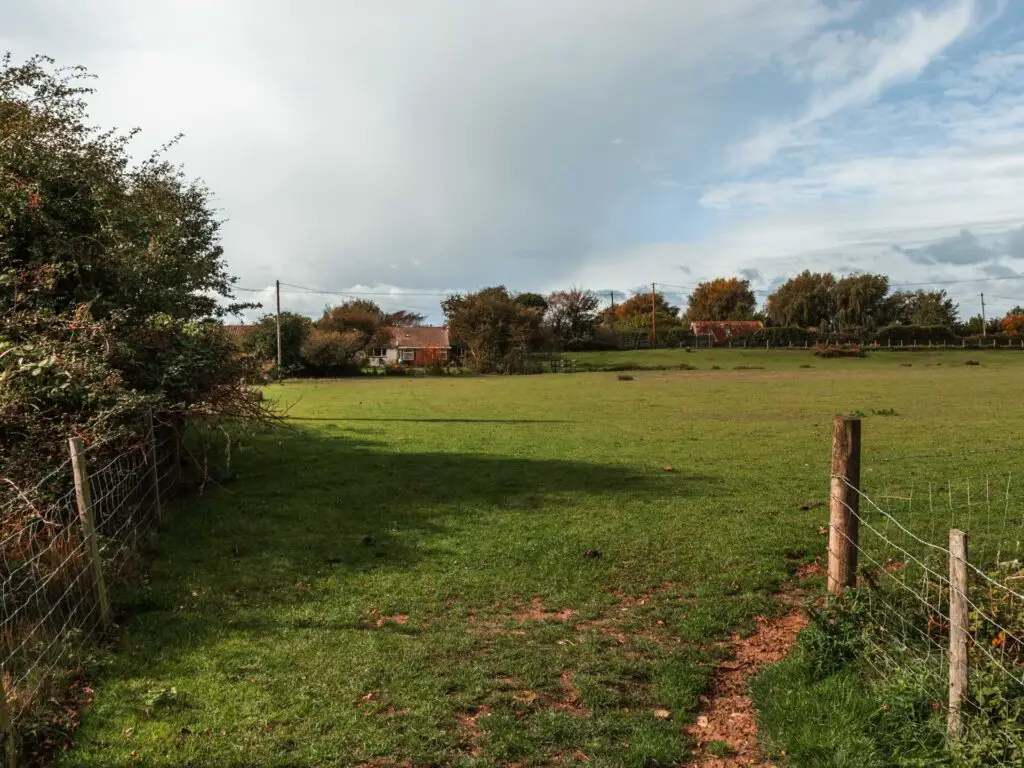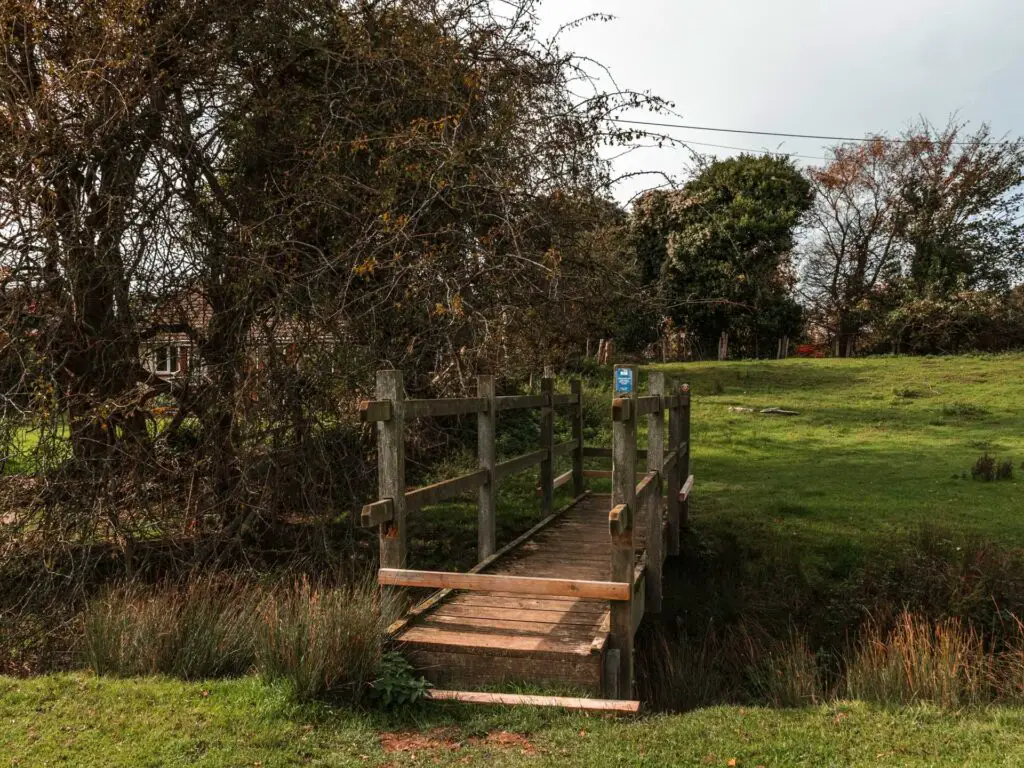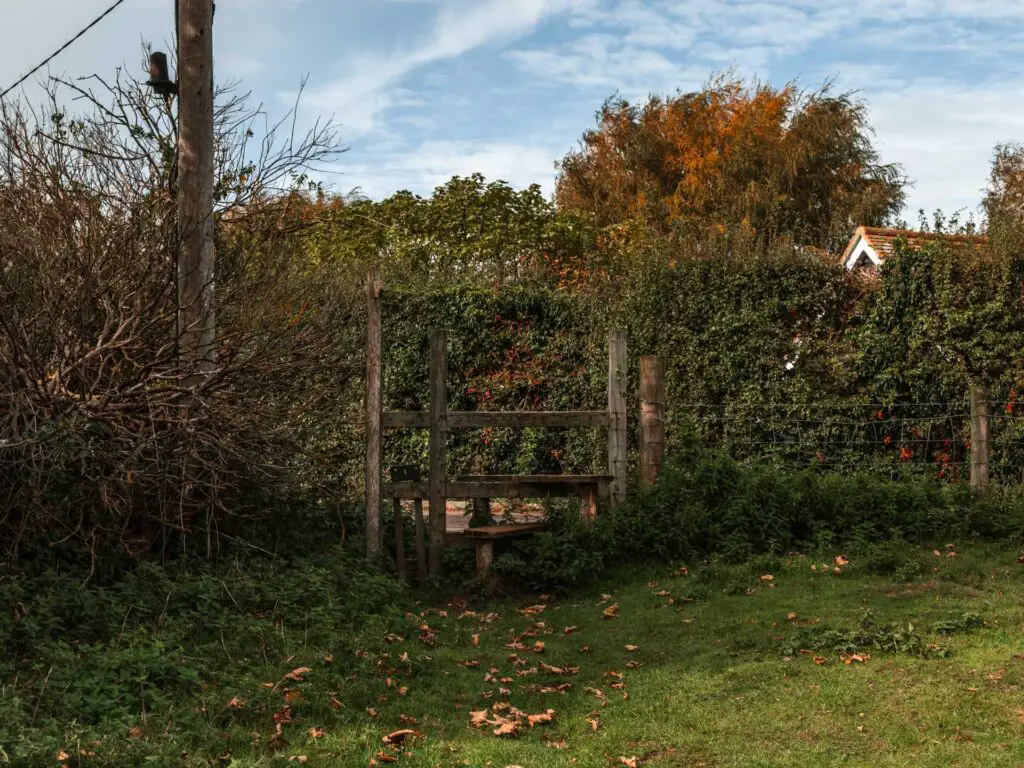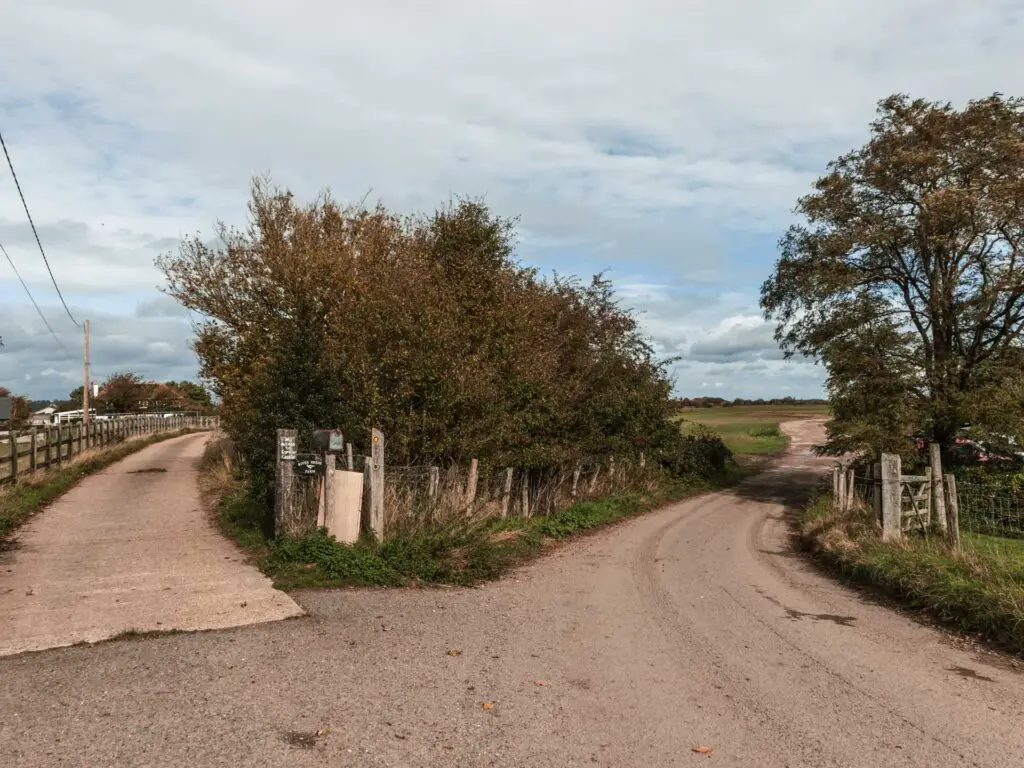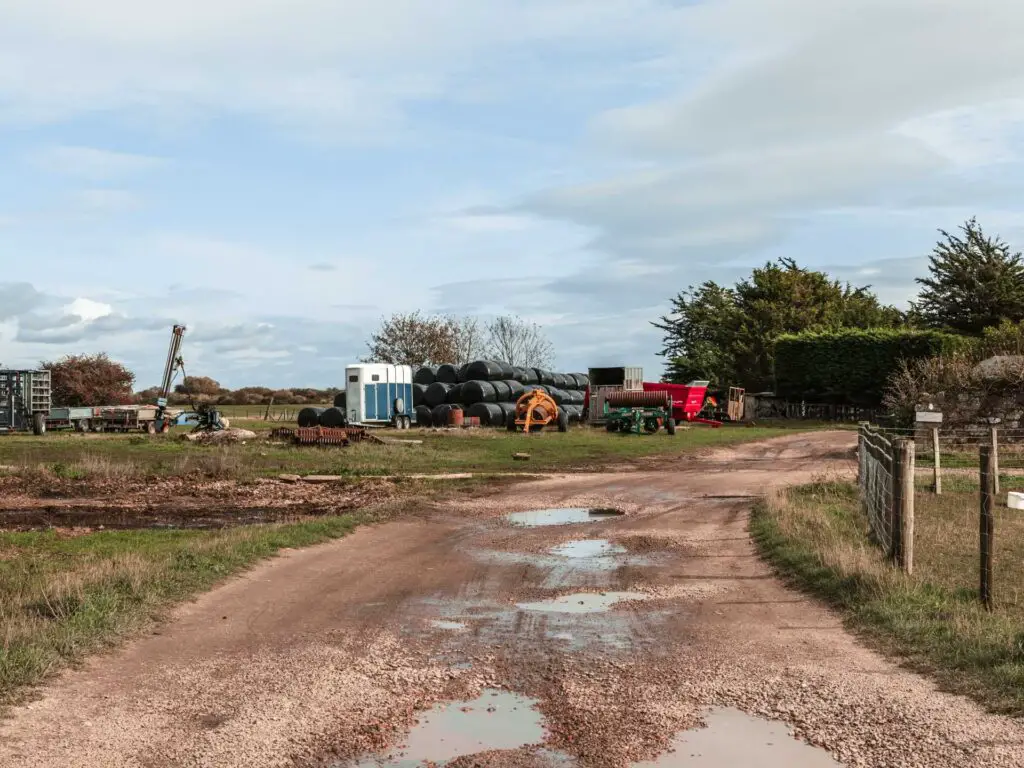 The walk to Camber Castle
Now, I can remember this bit. Once you walk through this gate: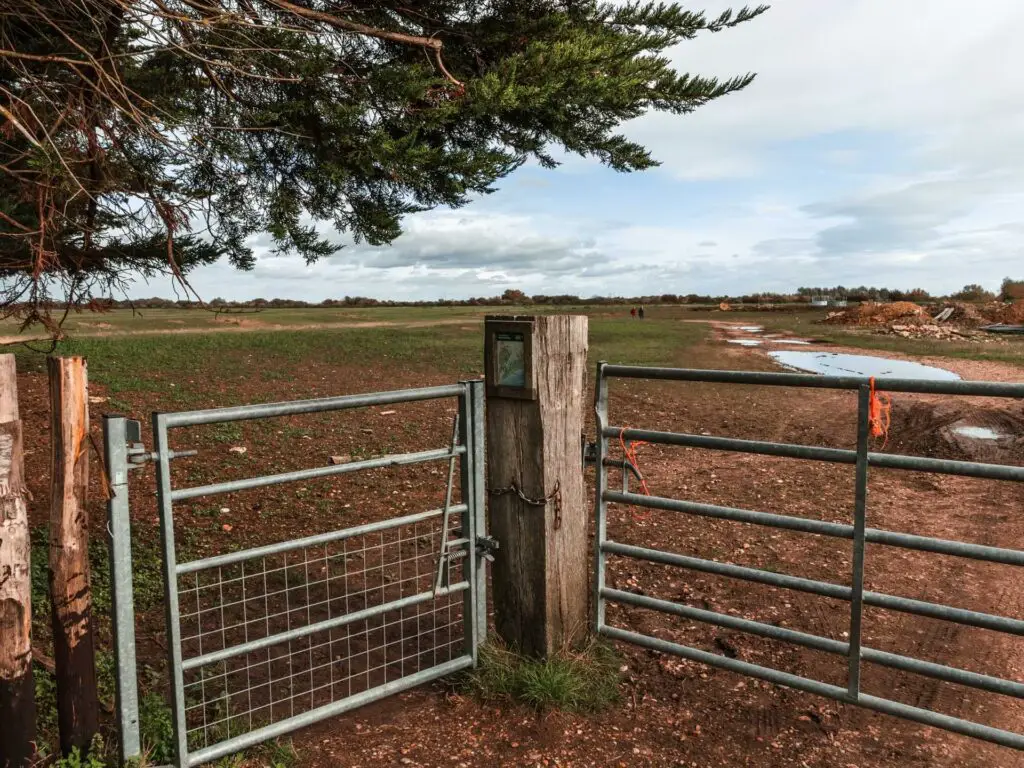 Follow the trail with the fence to your right. You should have a view of Camber Castle ahead to the left. You could cut this next bit out and walk straight there, however, this next bit is lovely with the water and stuff. Castle Water to be precise.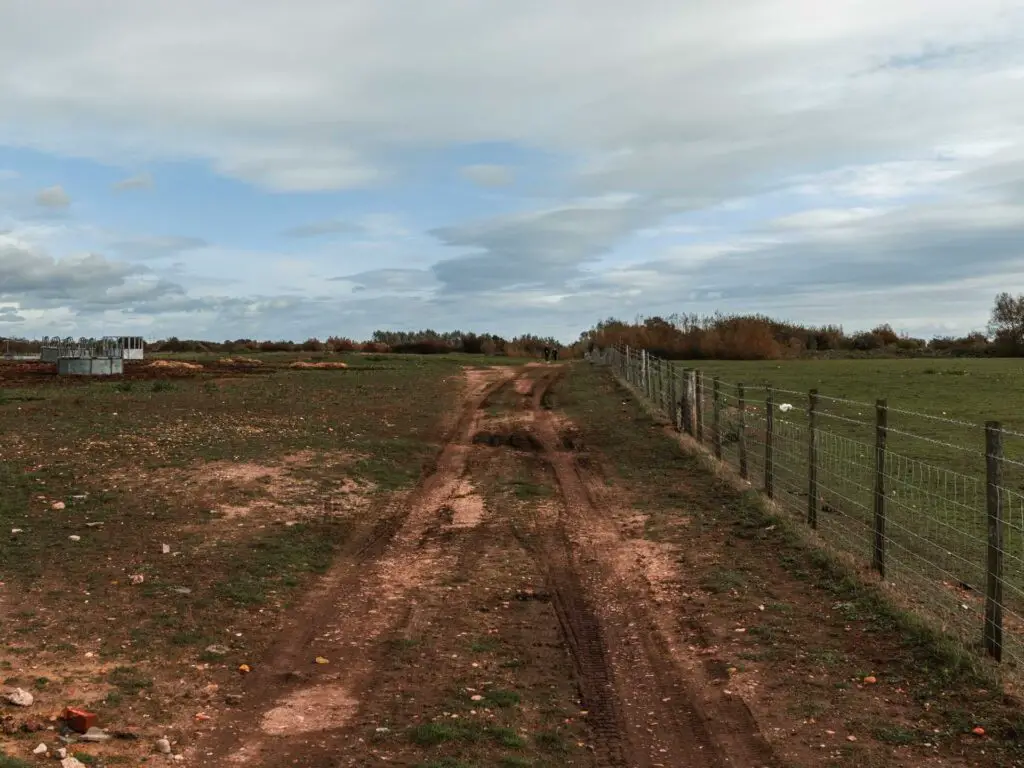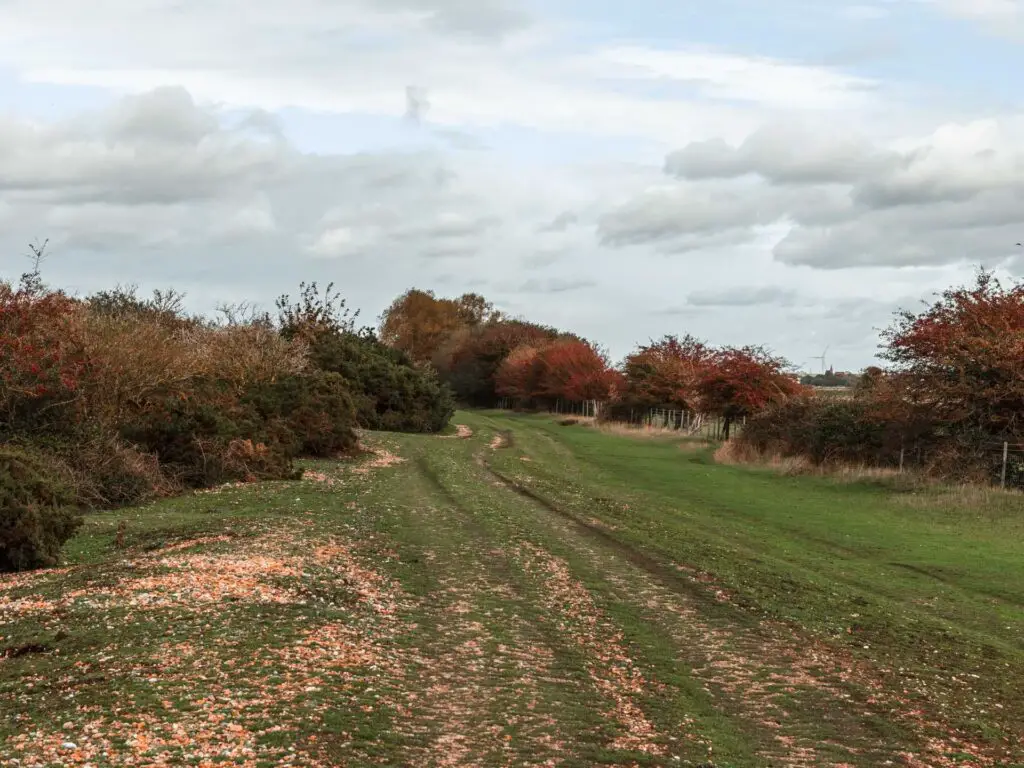 Now, continue along until you see what appears to be a lake. At this point take a left, and follow it around, keeping it to your right.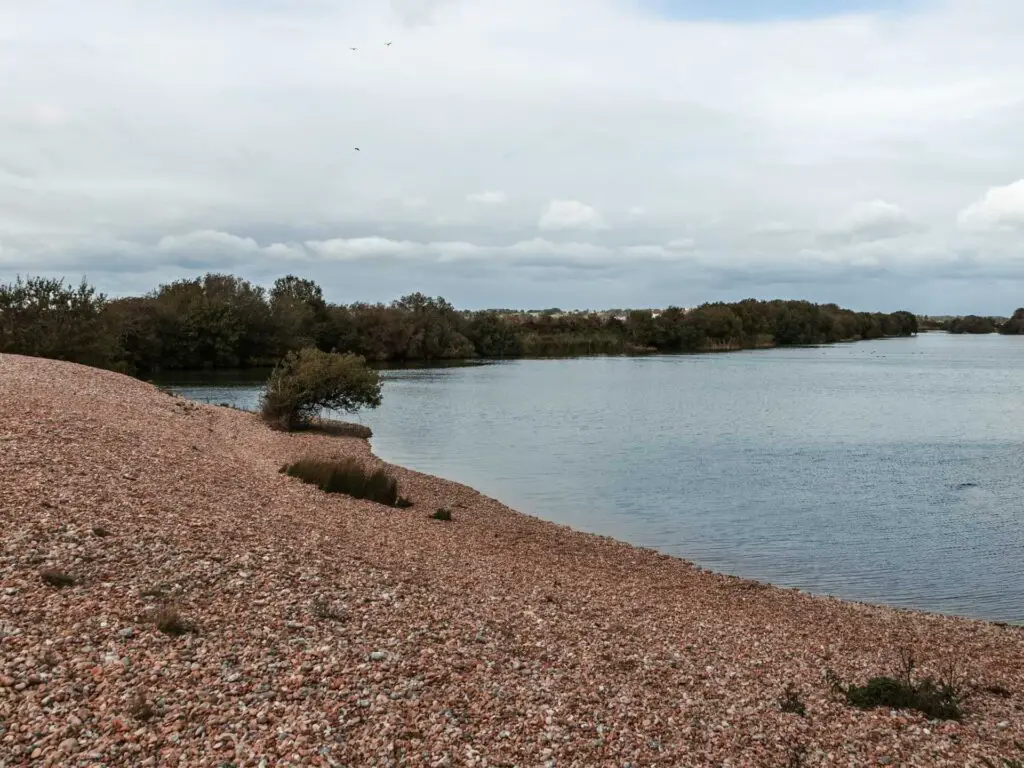 You don't have to walk right next to the water, but at least walk parallel to it. I mixed it up, as I also fancied walking on the grassy bit through the bushes.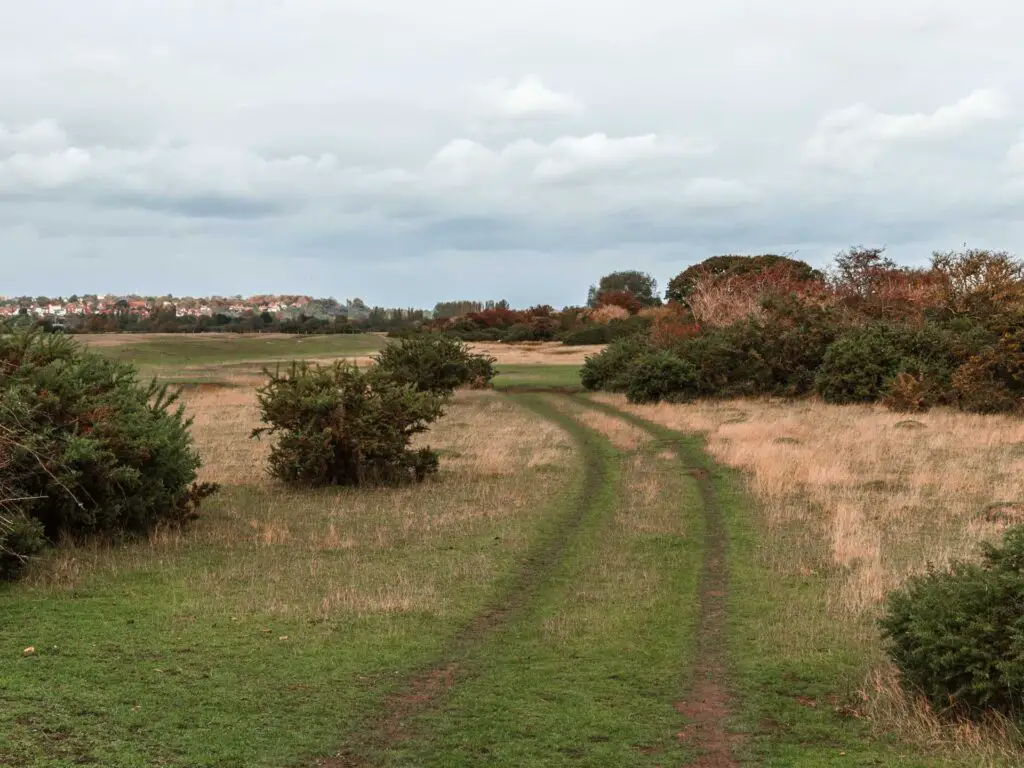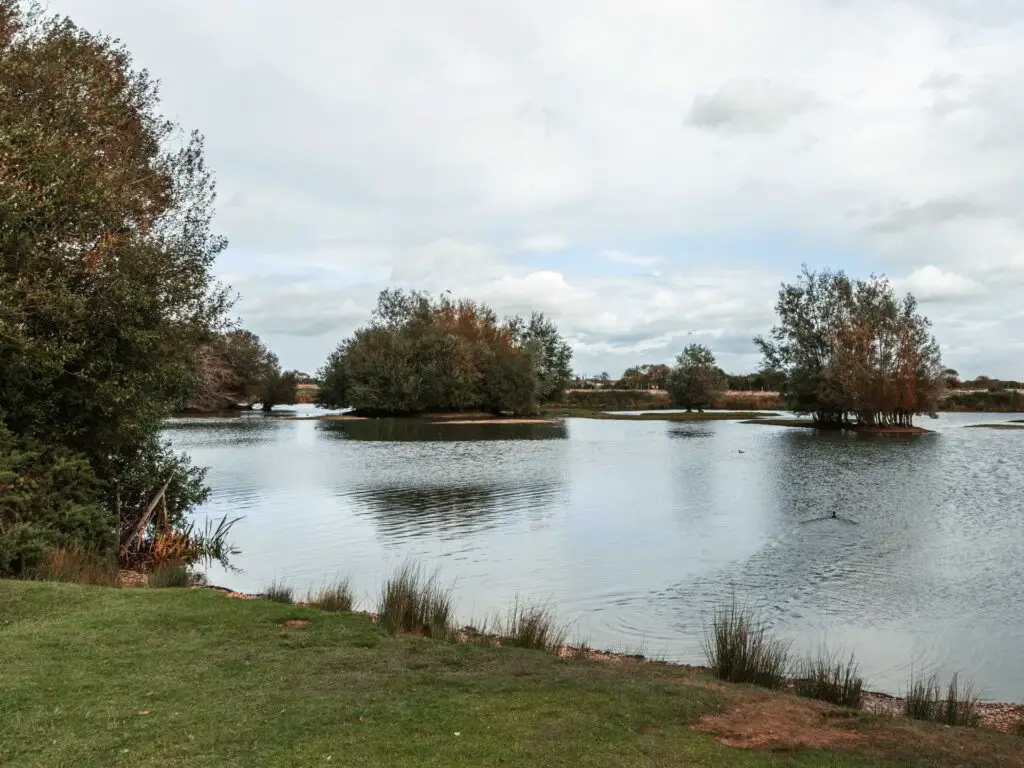 With Camber Castle right there, it might be tempting to walk straight to it, but hold on until you reach the barbed wire fence.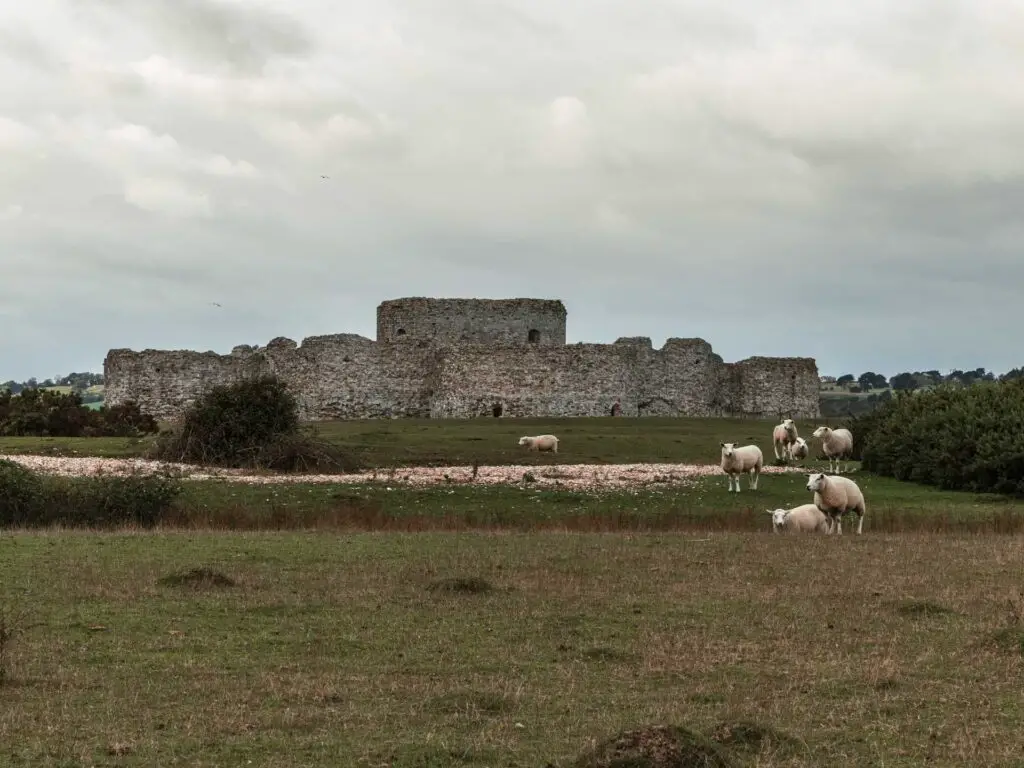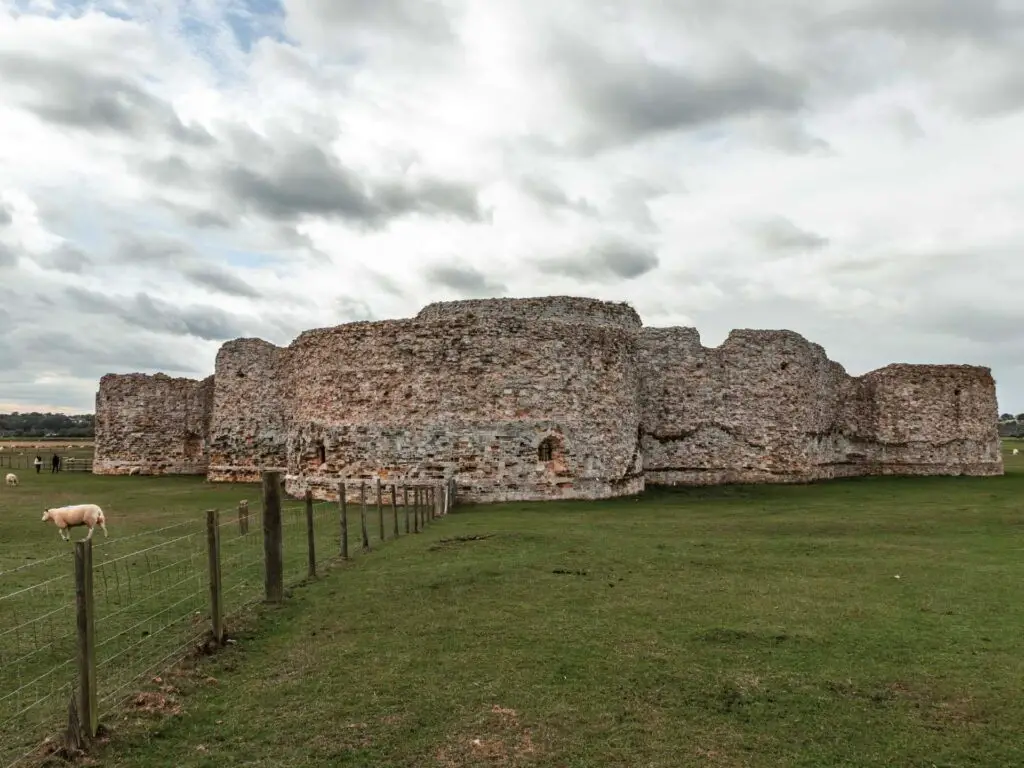 Once at the fence, go through the gate, turn left and there you go. Go ahead and walk to Camber Castle (with the fence to your left).
Camber Castle
It was built by Henry VIII (or his people), to guard the port of Rye. If you want to go inside, you need to book a guided tour. You can find details of this on the English Heritage website.
Fun Fact: Camber means safe haven – English ships could safely hang out behind the castle.
Walk from Camber Castle back to Rye
Once you have had enough castle, walk across the green field in a sort of diagonal direction towards the houses in the distance.
If you look at my map you should see what I mean.
You will walk through a gate, next to a little stream of water (and maybe sheep)…..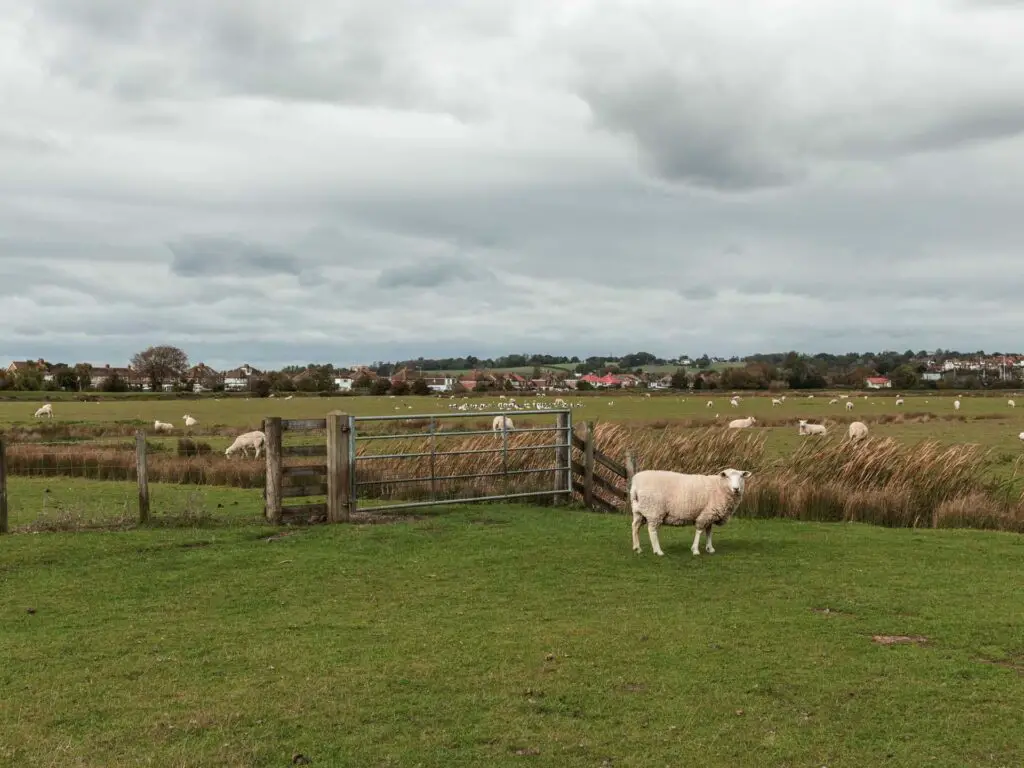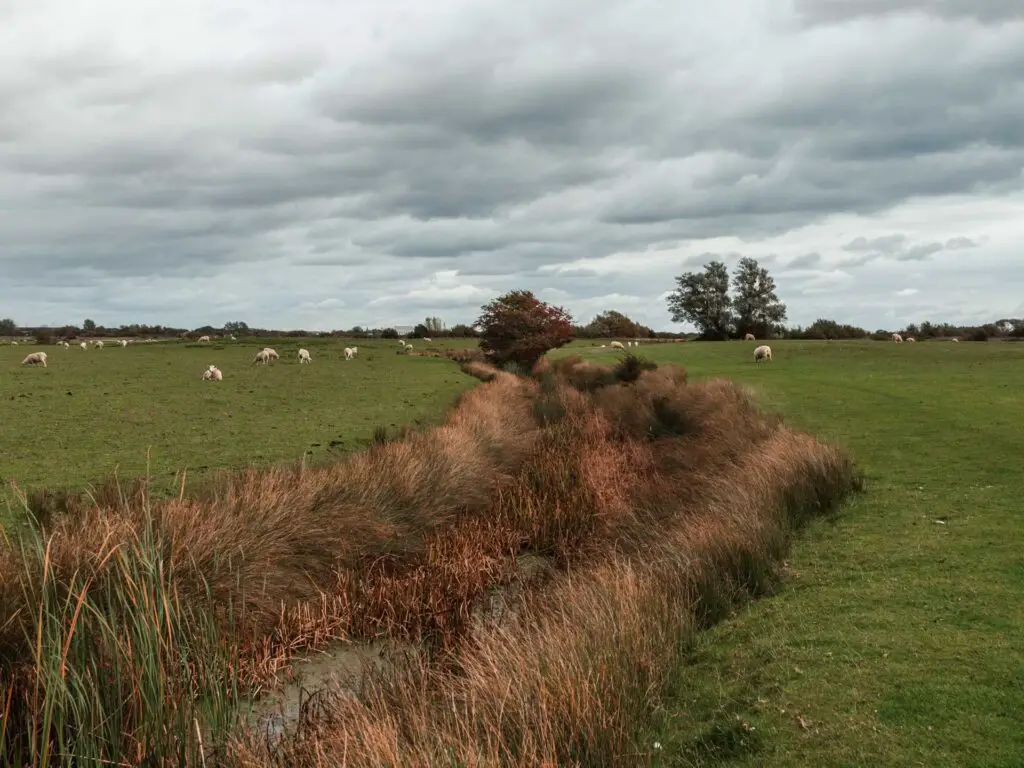 And then another gate next to another little stream of water.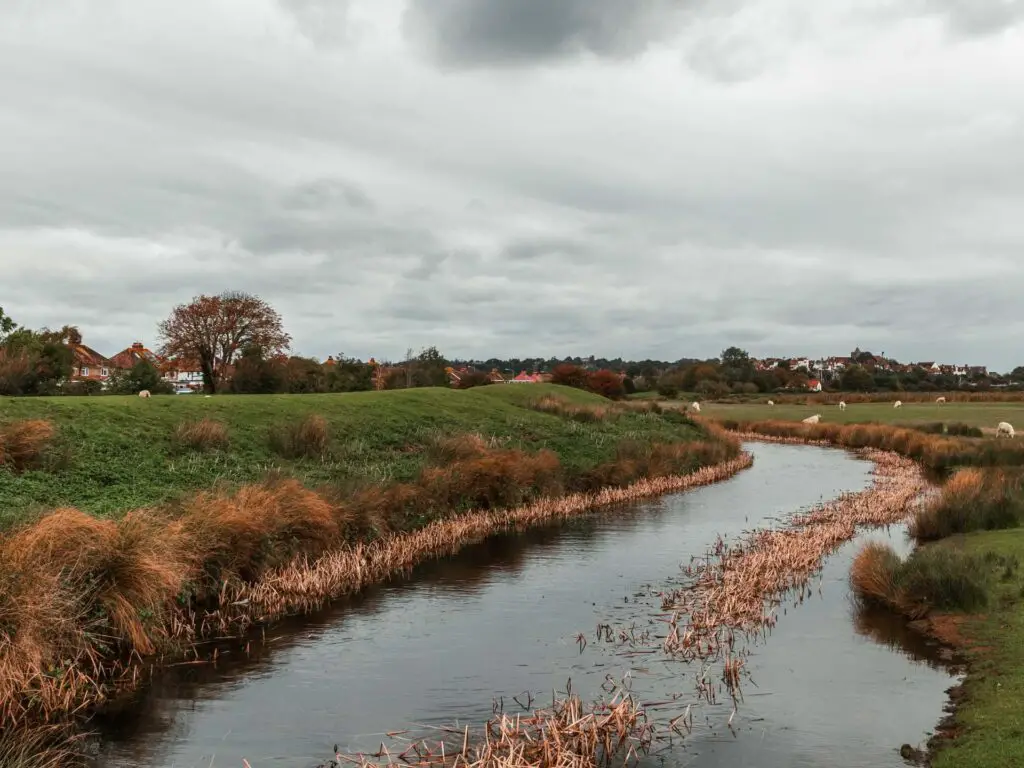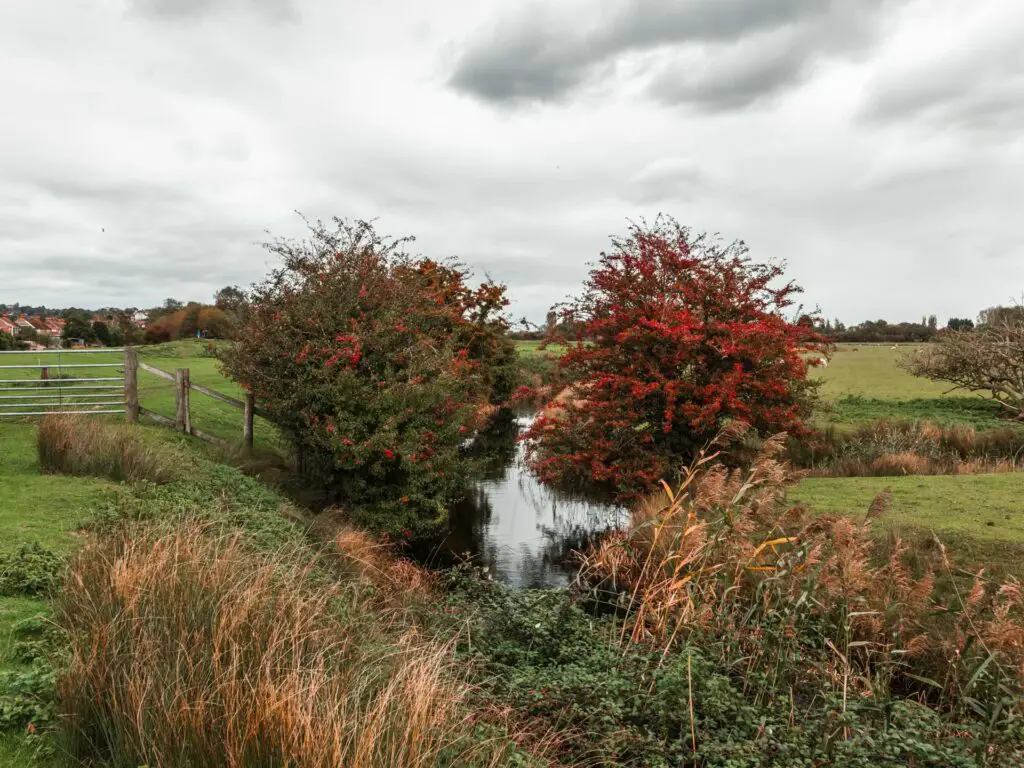 It was at this point that the boyfriend and I spoke for the first time. I commented on how long the walk ended up being. And then we laughed about it. That was us making up.
From here, walk to the right. You can do this alongside the main river or the stream (you will know what I mean when you are there).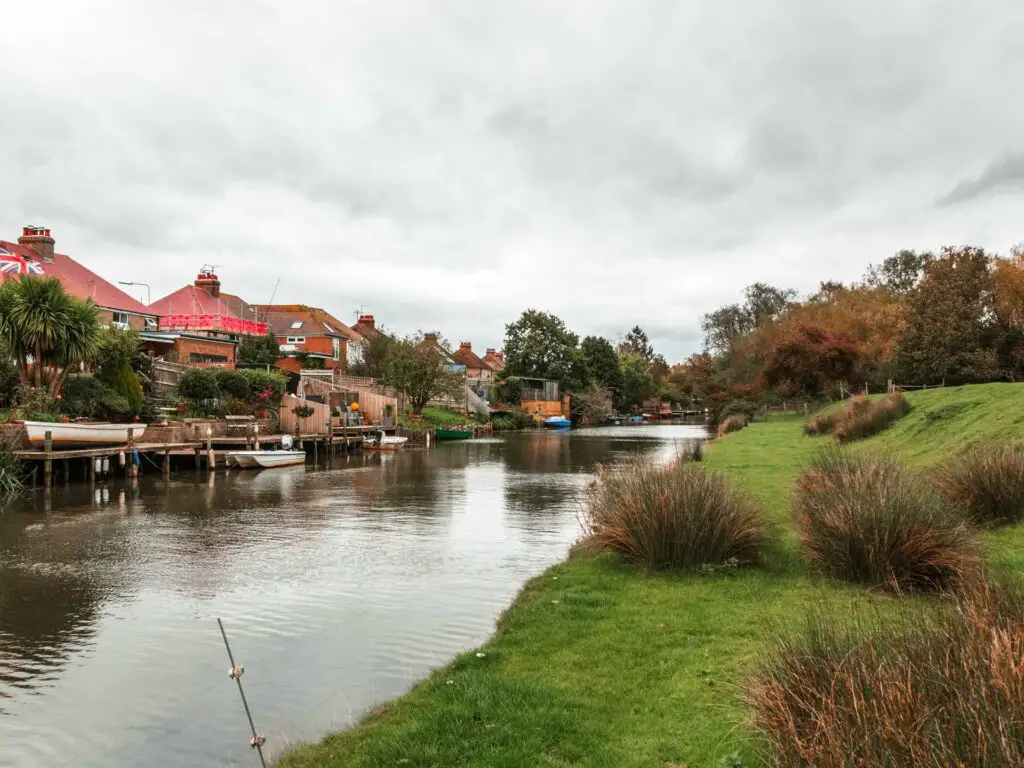 Go through another gate (if walking along the same bit we did, at those trees at the end in the photo above, walk to the right of them and you will see the gate). Then, when you reach the road, turn left. Follow this until you reach the junction you were at earlier in the walk when walking out of Rye town. From here just walk back the way you came.
Other walks nearby
Hastings to Rye – A fantastic coast path walk, and one of my favourites in the South East. For parts of it, you really feel like you are far away from civilisation. 
Rye to Camber Sands – 3 miles 1 way (6 miles round trip). This one is super easy, and takes you to the beach. You will get to see the Old Rye and Camber Tramway line. Plus a lovely view across the river of the red roofed shed.
If you head west along the coast you can do the famous Seven Sisters. 11-13miles along the white chalk cliffs.
If you head East to the next green area (the Kent Downs AONB) you could do the coast path walk from Folkestone to Dover (8 miles) or Dover to Deal (10 miles). Both off these walks also have castles ( a couple of them are were also built by Henry VIII – or rather, by his people) if you like that kind of thing.
Technically not nearby, but on the other side of the High Weald, you have the Ouse Valley Viaduct walk. It's an 8 mile circular walk which features a reservoir and a famous viaduct.
Also not nearby, but over nearer Portsmouth, I would recommend the Thorney Island walk. It's a coast path walk with some nature reserve. The walk itself is unusual in that you walk around land owned by the MOD and need to buzz at the gate to be let in. It felt quite adventurous.
If you would like more coast path walk ideas, you can read about the best coastal walks near London.
Pin it for later: A guide to the coastal walk from Rye town to Rye Harbour and Camber Castle