My plan for this hike was to head east along the coast from Lulworth Cove to reach Tyneham village. However, before heading out, I already knew I might not make it all the way.
That morning I had already done a circular walk to Durdle door, then I made a fatal error of stopping for Lunch in Lulworth. I was now quite sleepy. Sleepy enough that I quite fancied a nap, and was contemplating doing this, then spending the rest of time time wandering around the village. 
So I made a deal with myself, head out east towards Tyneham, then along the way I can decide to loop back round if I had had enough.
Well, from the title of this post, you will know I didn't make it to Tyneham, however, what I did do was truly amazing. 
From Lulworth Cove, everyone heads west to the famous Durdle Door. What I discovered on this walk is that not many go east. Yes, I did pass a few people, but not many in comparison.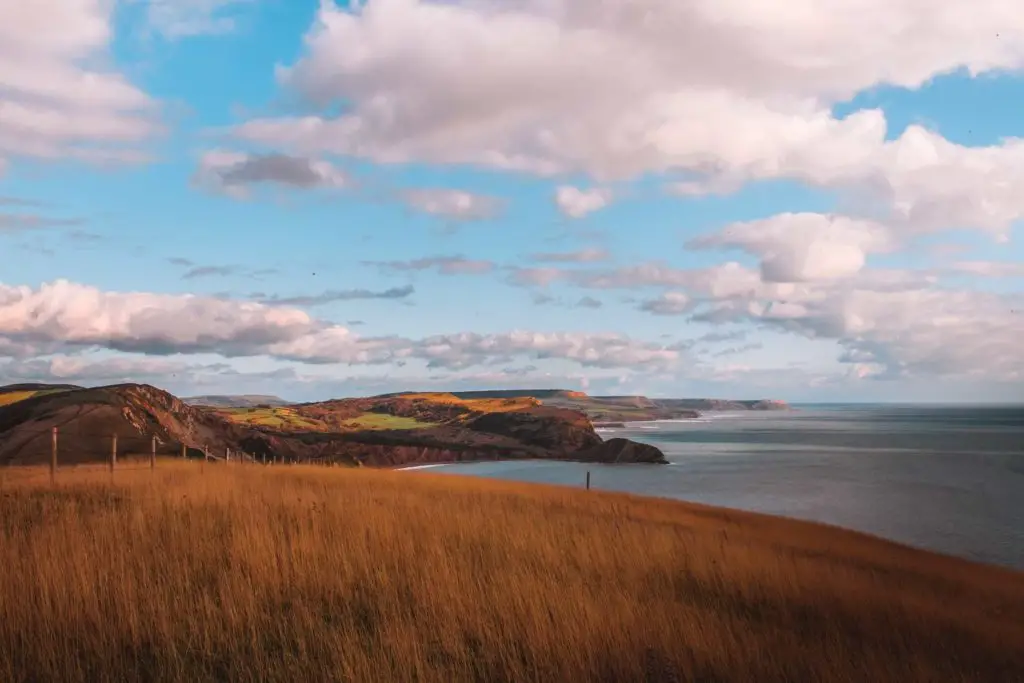 I reached a point in the walk where everything opened up and the views took my breath away. Views for miles of the hilly, cliffy coastline. I decided there that I would come back one day and walk all of it in 1 stretch. One day.
(incase you haven't gathered, it's a very very long way)
Logistics for the circular hike from Lulworth Cove to Mupe Bay.
Start: Lulworth Cove
Finish: Lulworth 
Distance: 4 miles
Time: 2 hours (more if you stop and explore the beaches)
Terrain: Shingle beach, sandy beach (if you go onto Mupe Bay), dirt trails, very muddy if it's been raining.
Elevation: There is one beast of a hill at Mupe Bay taking you to over 500 ft (152 m). Total elevation gain is 889 ft (271 m).
Difficulty: Medium (it's that big ass hill which raises the bar)
Tips: This hike takes you through army ranges which are open to the public most weekends only. Check before hand to see if they are open. If you aren't sure, then you can ask someone in the village. 
Map
Click on the little box in the corner to follow the trail in your Google maps.
Lulworth Cove circular hike
When I came out first thing in the morning, the tide was way in. Basically, there was no beach exposure. For this hike, I needed beach to walk on. Yes, I could have gone a different way, avoiding the beach, but decided to wait. I was in no hurry and instead went and walked to Durdle Door (blog post about that coming soon). 
It ended up being very good thing that this happened. My experience of walking to Durdle Door was very pleasant and I was able to beat the crowds, as by the time I made it back to Lulworth, the whole world was heading to Durdle Door.
In general, Lulworth was a lot busier than it had been a couple of hours earlier. I felt quite pleased with myself that I decided to spend the night here and not day trip instead.
Lulworth Cove hike – Take 2
Anyway, after some lunch I headed off for my second attempt. The tide was a little bit out, but a little bit is all I needed. 
Down on the beach I headed east on the shingle beach.
Ah, shingle. My good friend. 
(I don't like shingle)
About two thirds of the way around there are wooden steps leading up and away from the cove. It's very easily missable, so keep your eyes out. 
As the path leads around to the left and through bushes, I found myself at a trail T-junction.
Do I go straight or turn right?
The path to the right had what looked like a gravestone on it. I knew it was probably trail signage, but the inscription was faded out so I couldn't help but wonder.
It reminded me of that time when I was a kid, a friend and I were exploring and scrambling through bushes, looking for somewhere to make a fort. We found ourselves in a bush with a gravestone. Yes, this was a real gravestone and it was slightly terrifying. 
Anyway, back to this trail. I decided it probably was trail signage (because a lot of trail signage here looks like gravestones) and followed it along. 
There was soon another trail T-junction, and I was faced with the conundrum of wether to go straight or right again. 
(Just thought I'd mention, I did have a trail app running on my phone, but it was in my pocket and I couldn't be bothered to get it out to look)
The mud
That's when I heard howls of laughter. They were coming from the right, and my curiosity told me that I needed to go that way. 
I made my to the right and over a boardwalk to see what was going on. It was a group of hikers trying to navigate across the mud.
Yes, this is where it got very muddy. I thought it was a bit funny but also a bit dramatic. 
It's just a bit of mud. No problem I thought. 
I was once given the nickname mountain goat whilst on a mountain trek, and I pride myself on being able to navigate difficult terrain.
So I (seemingly) confidently made my way across it….
Hmmmm.
It then became apparent that slippage was a definite possibility, and this is where one of the hikers helped me.
Thank you Mr hiker.
Lulworth Cove viewpoint
I continued making my way uphill, feeling slightly less mountain goat like, to reach the top and some fantastic views of Lulworth Cove.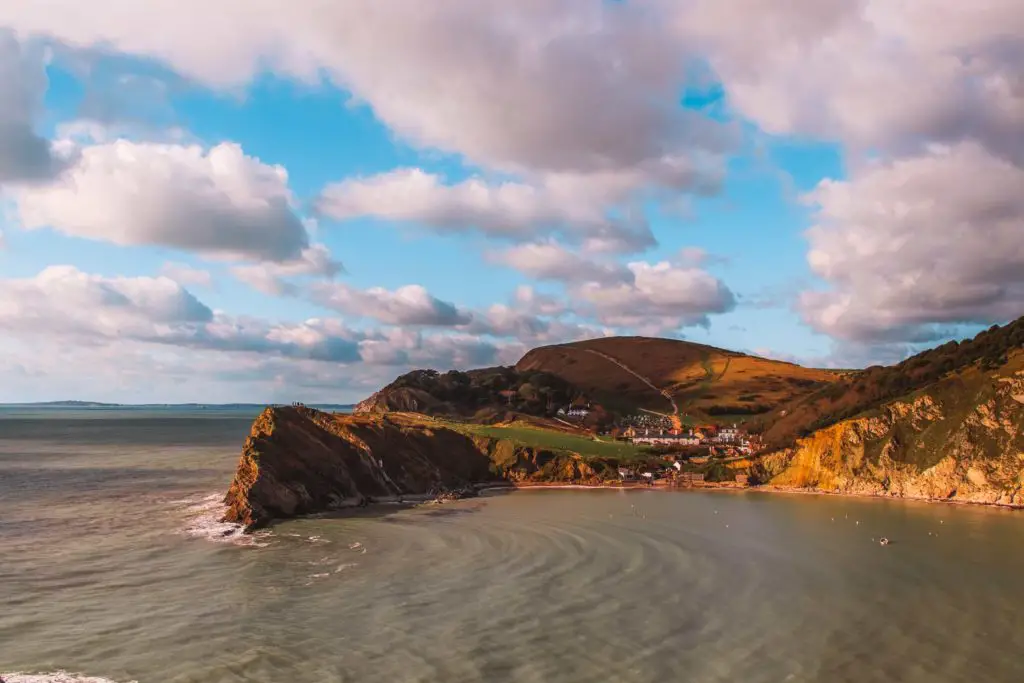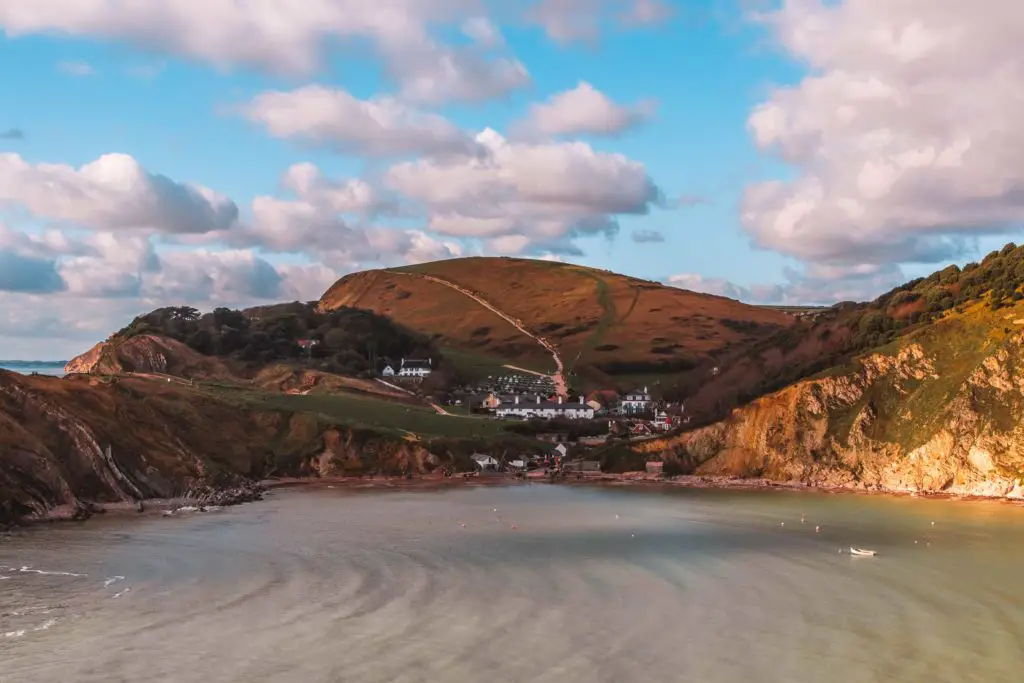 I have to say, I think the views from this side of the cove are better (there is a viewpoint on the other side).
Or it could be because I always find that views are just that bit sweeter when you have to work hard to get to them. 
The army ranges
Following the coast path, the fence marking the start of the army ranges comes into view. I felt a bit like I was heading to a forbidden area.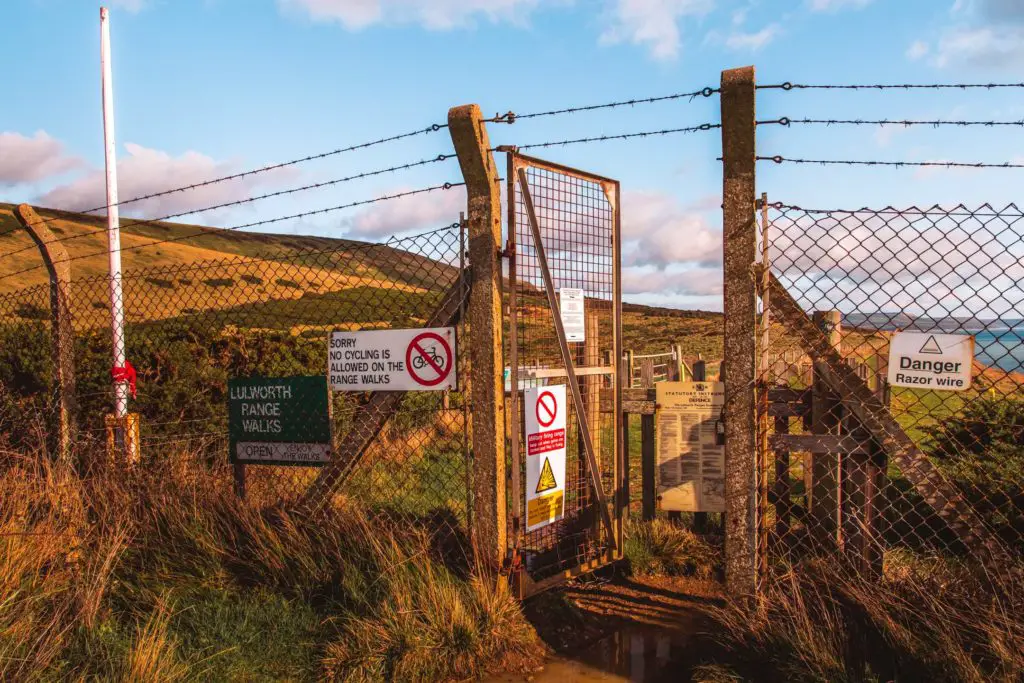 Following the path, heading left at the fence, a short distance along is the entrance. There was a sign saying open to the public, but also to enjoy your walk. I thought this was a nice little touch.
Yes military people, I will enjoy my walk. 
Fossil Forest
The first stop past the gates is Fossil Forest. Taking a right down the hill there will then be steps leading down to it. It was actually closed when I was there, something to do with erosions and safety. A sign explained that it was due to be re-opened in December 2019. Ah, I'm a month too early. Never mind.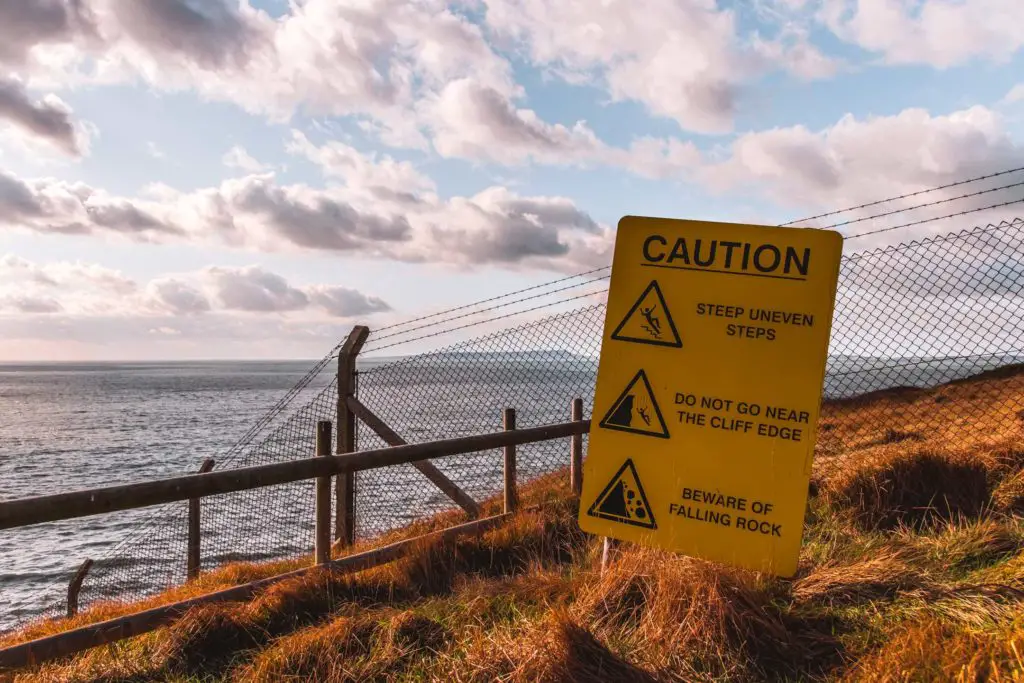 The magnificent coastline
I continue the hike, heading away from Lulworth Cove, along the grassy trail….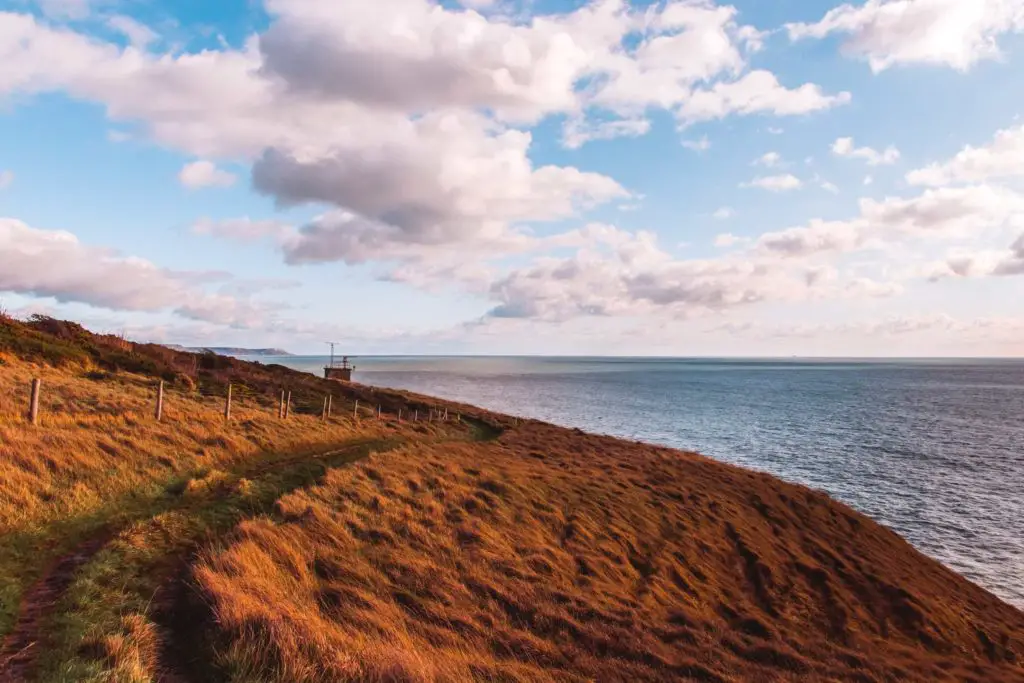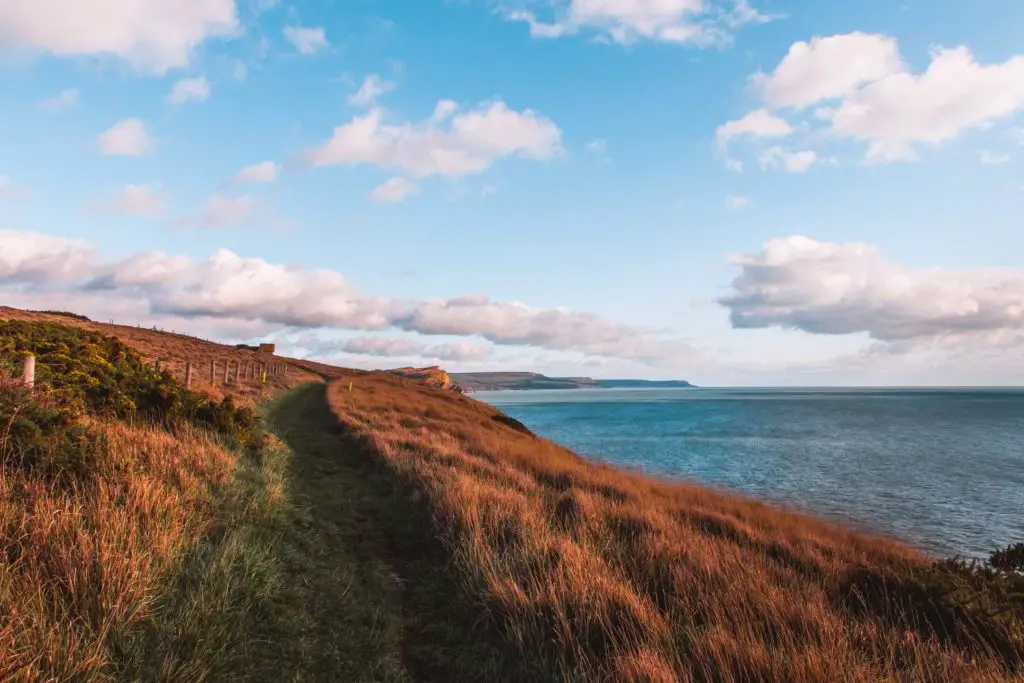 ……to reach an opening where I actually stopped breathing for a second. I mean, the photos really don't do it justice. Rocks jutting out of the water and a view of the hilly coastline for miles and miles. I found myself with a new wave of energy and knew I could make it all the way (well, we already know that didn't happen).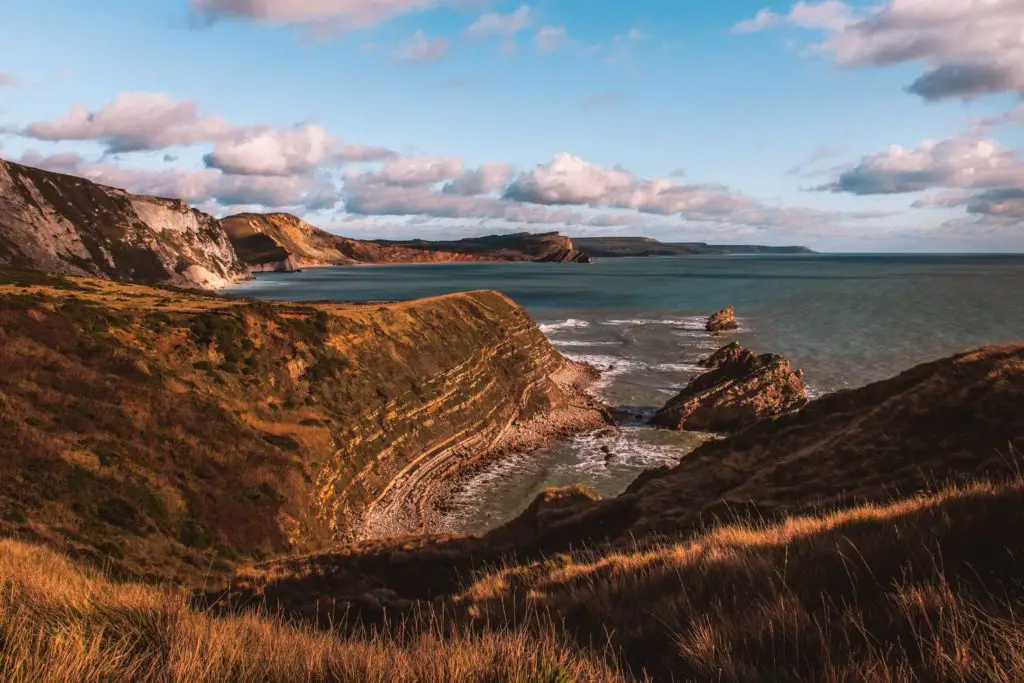 Mupe Bay
So I continued along passing by bushiness and giant mushrooms, heading towards the cove of Mupe Bay.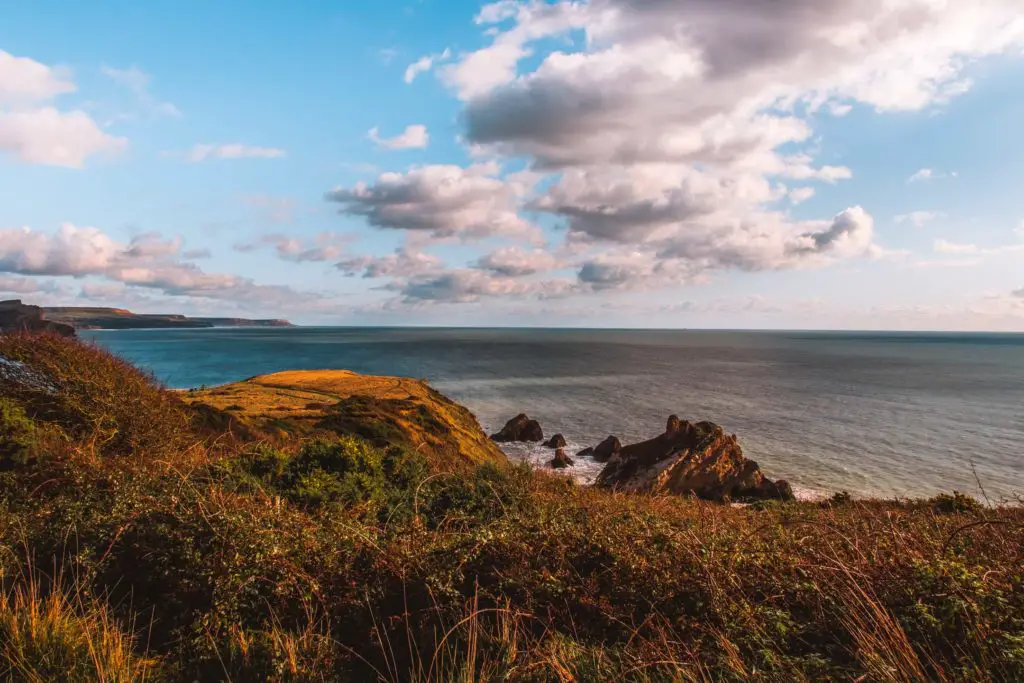 For the first time since mudgate, I come across some other walkers. First a couple, and then a group sitting on a picnic bench overlooking the bay.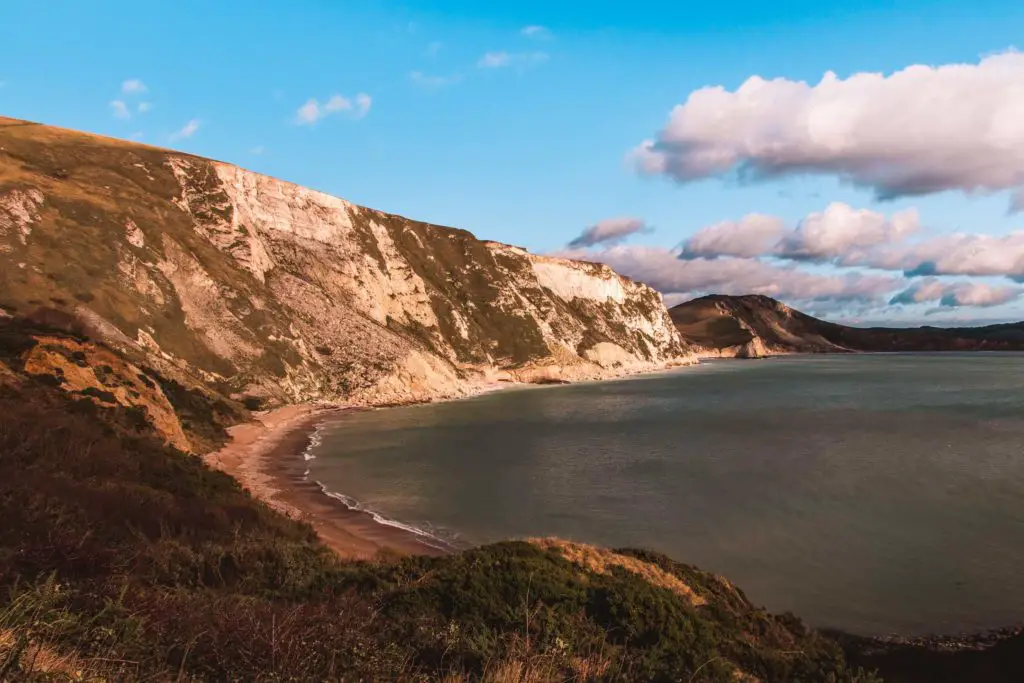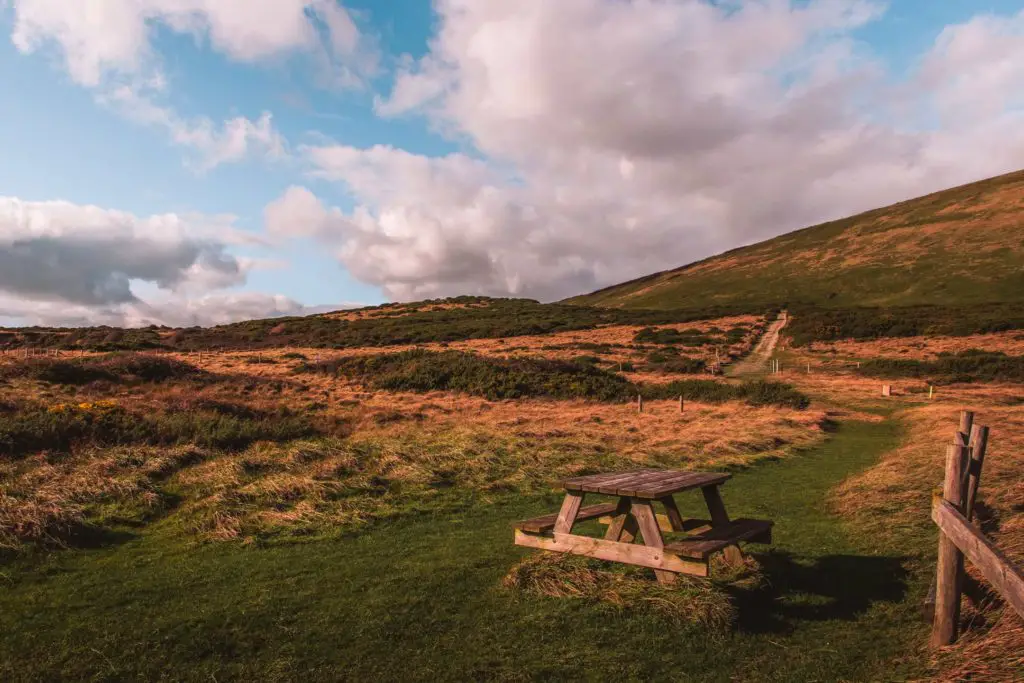 I thought about how someone(s) had carried the wood out here to make these benches and how thoughtful it was. Perfectly placed to enjoy the views.
From here there are steps leading down to Mupe Bay. I decided not to take them because I had also clocked a monster hill to the left of me. The one I would have to tackle next.
Monster hill (not it's real name. I just made it up)
After having a little break on the thoughtful picnic bench, I headed towards the hill. Again, this photo I have doesn't do it justice. It was seriously steep.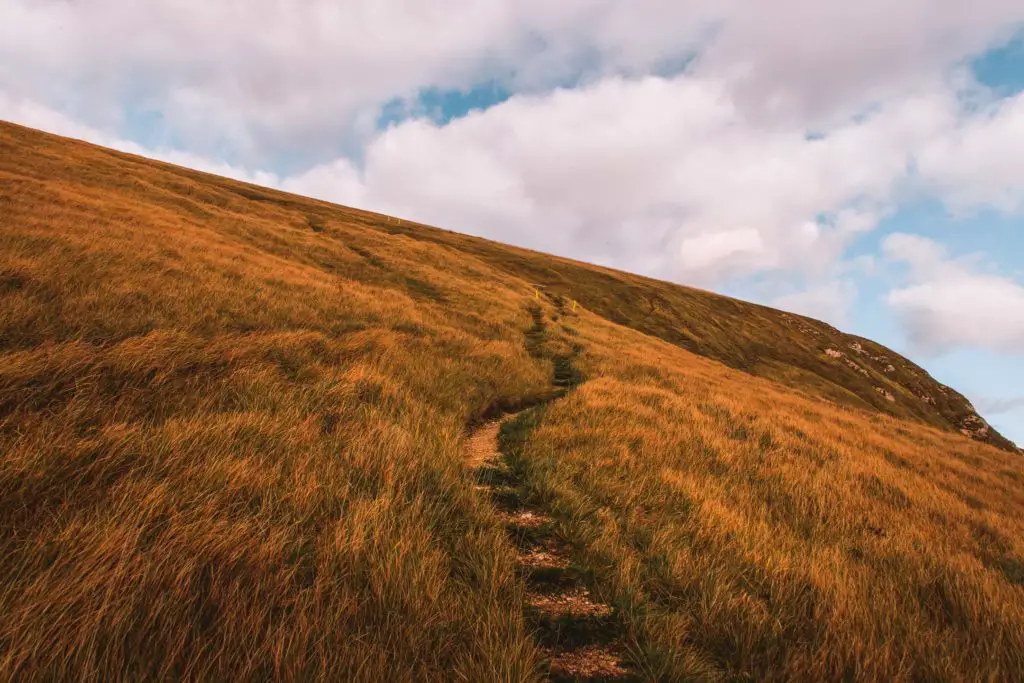 I could see someone appear at the top, a tiny speck in the distance. On my way up I passed her coming down, who in passing said to me 'good luck'. 
Thank you lady.
Once at the top and looking back, I realised the challenge was worth it. 
Just wow.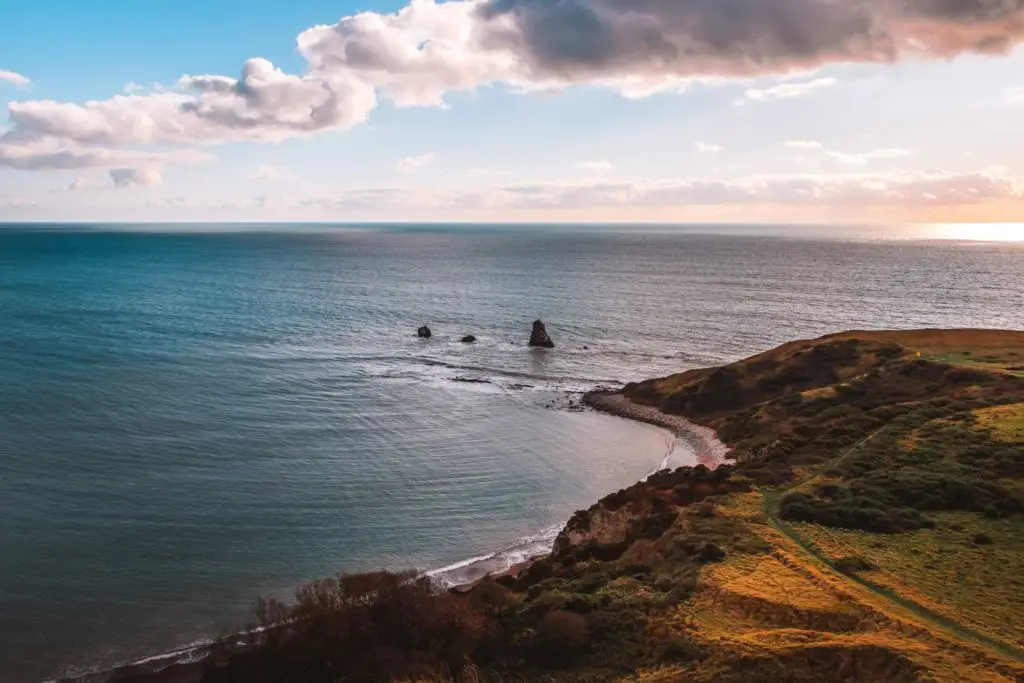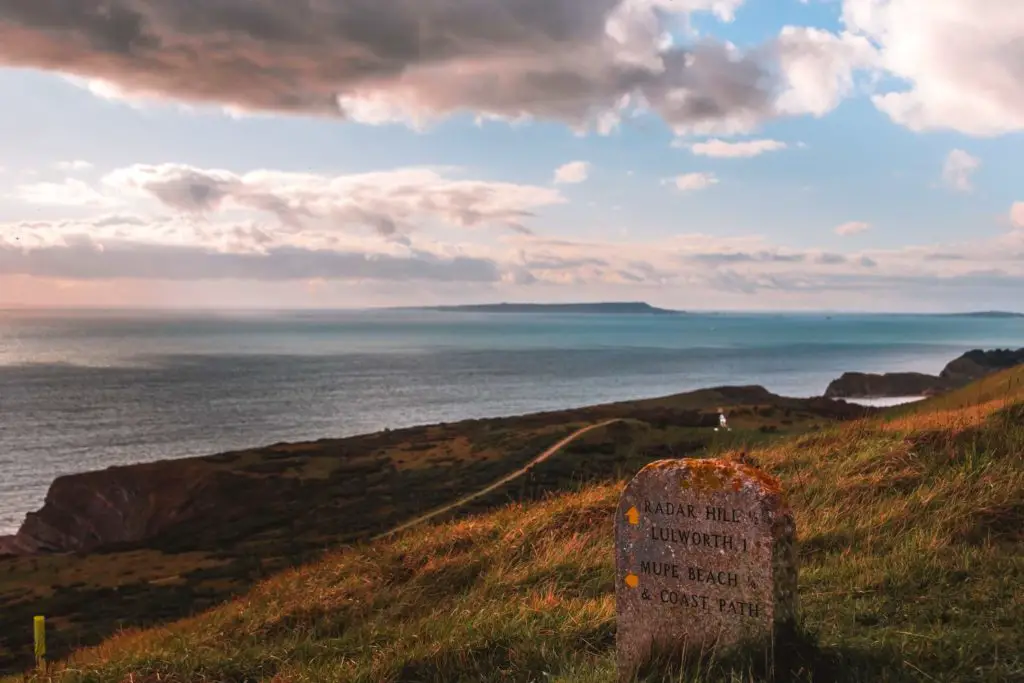 I sat myself down on another thoughtfully placed bench and thought about my next move. Ahead of me, the future hills I would have to tackle really looked quite aggressive. I was also aware of the fact that my hip was starting to hurt (for anyone that doesn't know, I had hip surgery last year). 
Anyway, after some deep thought, I decided I had done a good job and was satisfied enough to head back to Lulworth. 
The hike back to Lulworth Cove
The hike back to Lulworth Cove was a lot more gentle. Walking along the ridge, with a gorgeous view up ahead and cute clusters of houses to the right.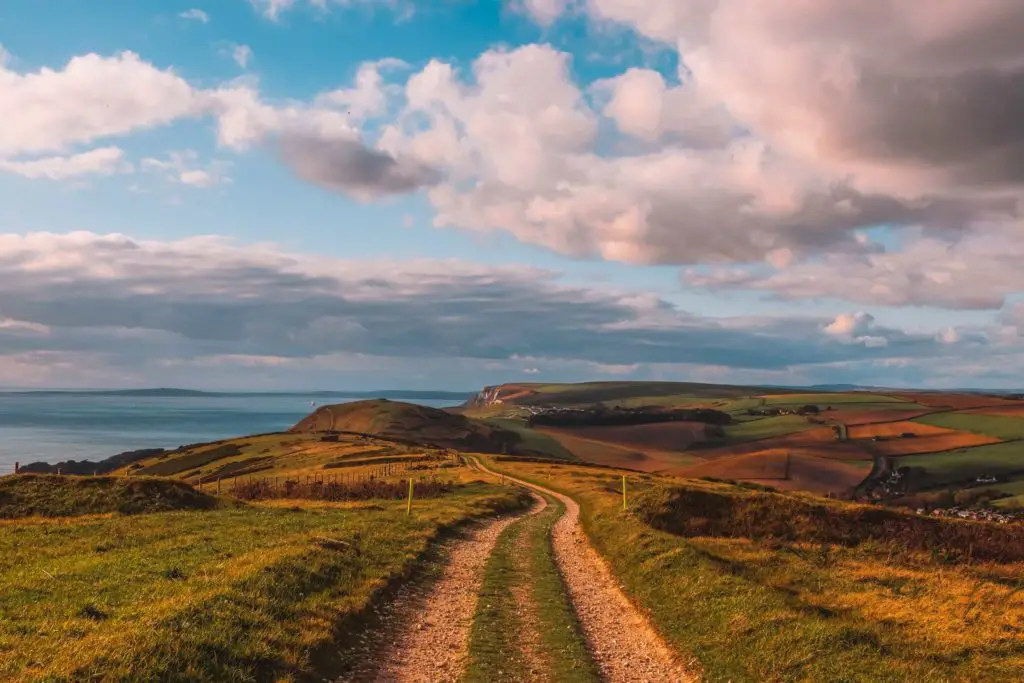 As I made my way over Bindon Hill I saw some horses up ahead. I decided they were wild horses (they probably weren't) and started to fear for my safety. Any animal (except sheep) in fields makes me nervous. I stood there as one of them looked straight at me. We stared at each other for a little and I wondered what he (or she) was thinking. Was he (she) going to charge at me?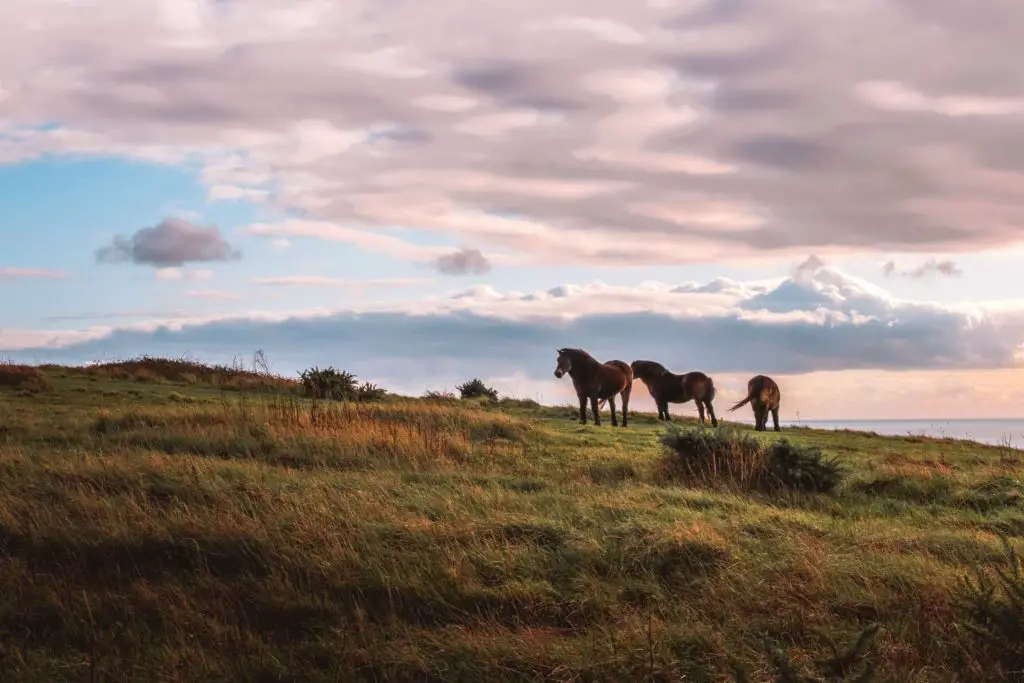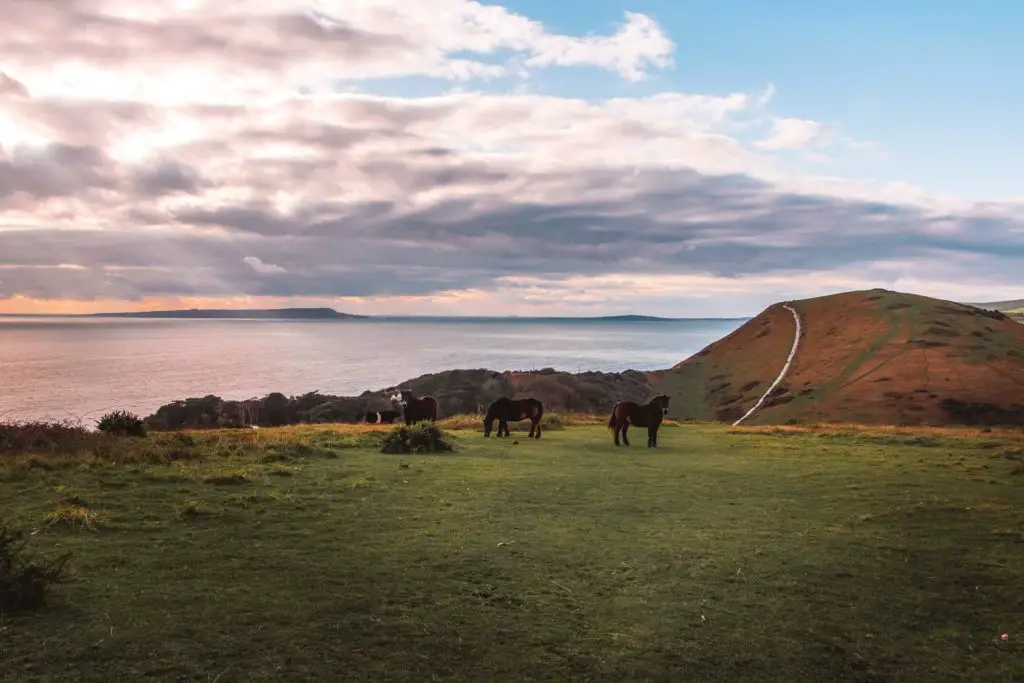 They were right in my path, so I made a bit of a loop to avoid them.
(If you are following my map, which will be up soon, you will come across the loop. You don't need to do this loop).
Halfway down the grassy hill I reached the path again and took a right, with a view up ahead of the trail leading to Durdle Door.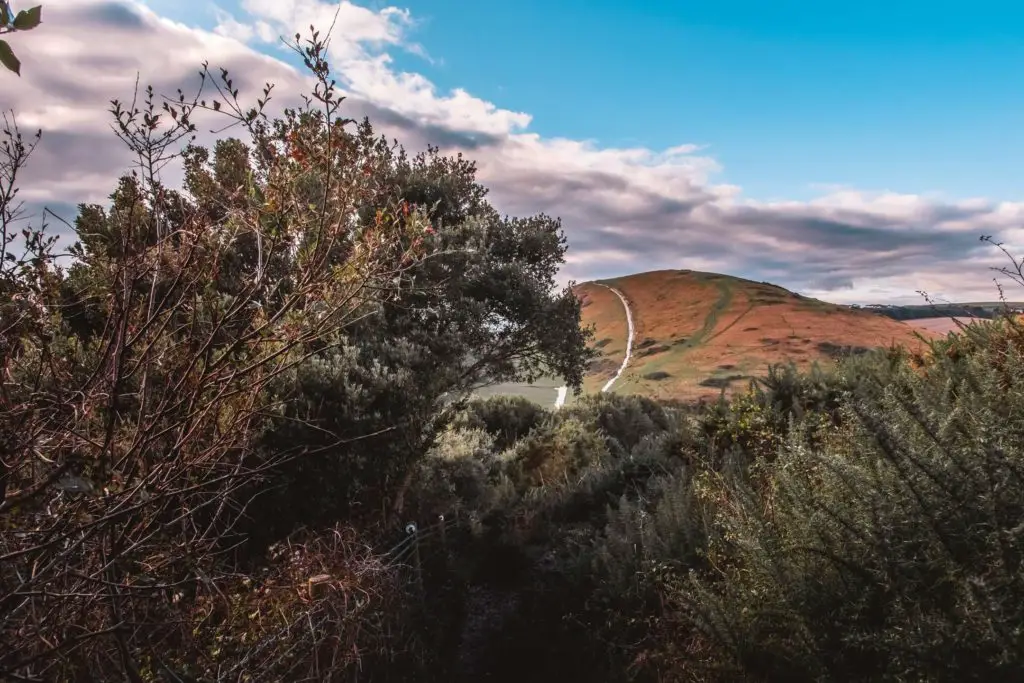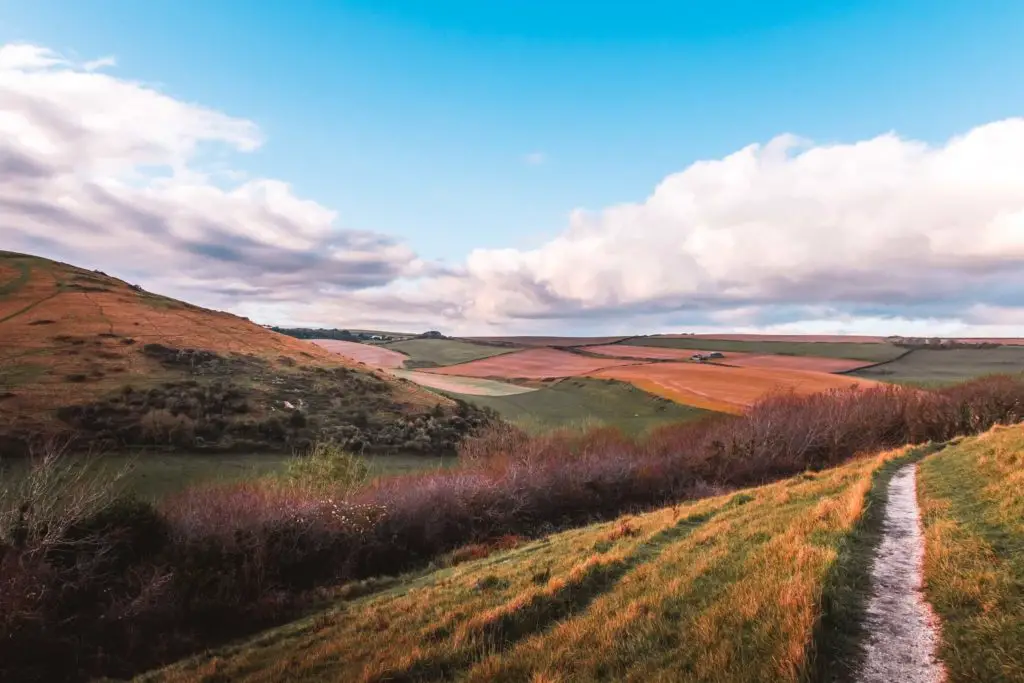 Reaching Lulworth Cove and the end of the hike
Upon reaching the battered signage, I had the option to continue on this path or take a left. I decided left was my path for today and made my way down a steep narrow dirt trail, half covered over by trees and bushes before hitting the road and my finishing point of Lulworth.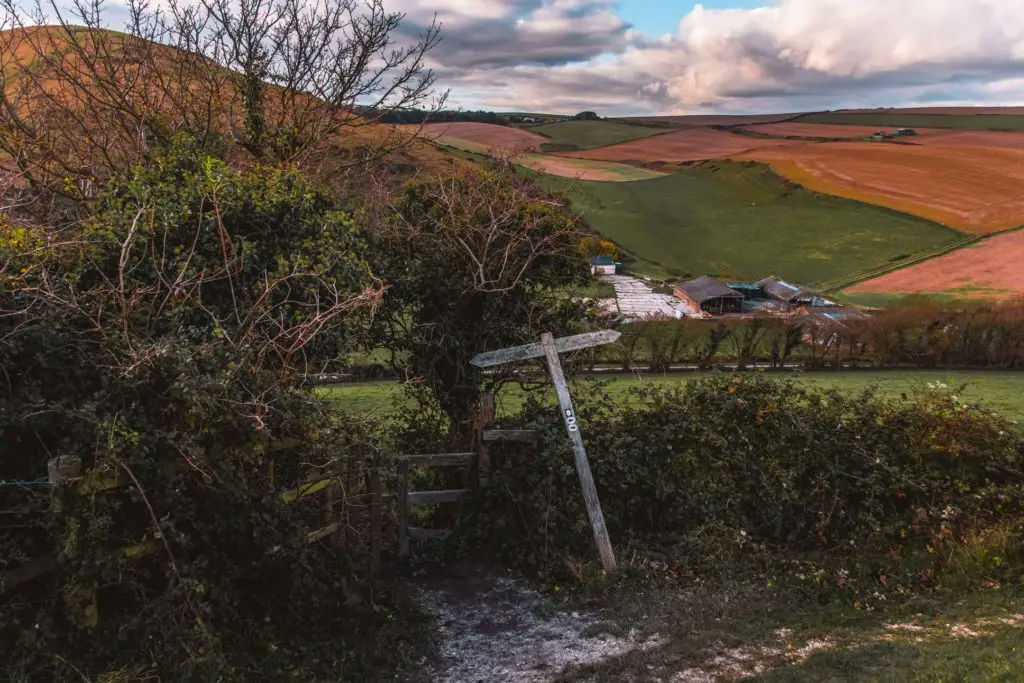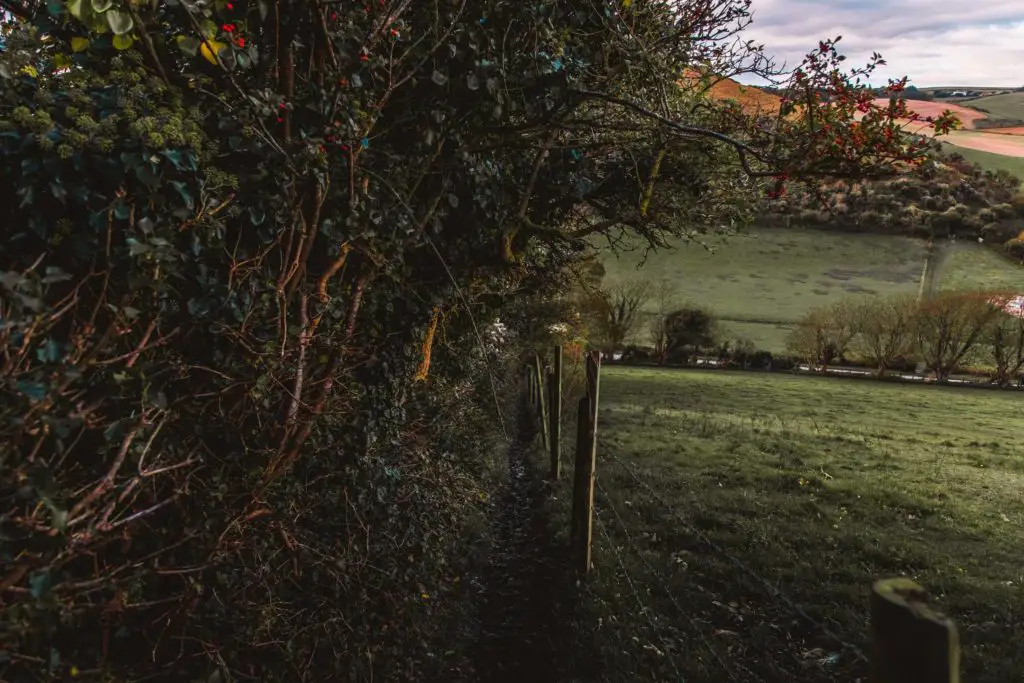 Final thoughts on hiking around Lulworth Cove
Well, this was my last hike of this trip (actually I lie, I quickly went and hiked up Hambury Tout . But it was a short little one for research purposes for this blog). 
So, after fitting in three hikes and walks around Lulworth Cove I was quite pleased with what I had achieved in my short time here but also had in my mind many other trails to take and explore. I'm planning to get myself back here before then end of the year to try them out (update: 2020 had other plans).
More walks in Dorset
If you fancy seeing another part of Dorset, I've got you covered (well, kind of). If you head further east to the Purbeck area:
6.5 mile circular hike to Old Harry Rocks. These are some famous rocks that are worth a visit. The route can be made much shorter. I detail this on the post.
10 mile circular hike from Kimmeridge Bay. One of my favourites. Some of the prettiest coastline views.
6 mile circular walk to Dancing Ledge. This is a fun one with a bit of a scramble and a tidal pool to swim in.
That's all I have for now, so if you would like other ideas of walks to do in Dorset, you can try out the Visit Dorset website. They also cover other activities and accommodation.

Pin it for Later: Lulworth Cove hike