There is a quicker way to walk to Bedruthan Steps beach, however, I like to make an entrance. Which brings us to this 5.7 mile coastal walk from Porthcothan to Bedruthan Steps and back. It's an interesting walk. A mix of dreamy beach and cliff coves, followed by a section of nothing. Then onto a far reaching view along the coastline with Bedruthan Steps in sight, before making your way to the beach (but not quite* ), before walking back. 
*The steps down onto the beach were closed when we got there. Something about rockfall over the winter and being dangerous. I have had a look online and it seems they have been closed since 2019. So you can see, it's been a while. That doesn't matter too much though, as the view of Bedruthan Steps from above is more than worth it. 
Update 2023: I have had a look, and the way down is still closed.
Now, you can get down to the beach, I saw others do it. It's a little bit more challenging and you have to be very carful of the tide coming in to not getting trapped. I will explain all when I describe the walk below.
Can I get to Bedruthan Steps without the big walk?
Sure. There is a National Trust car park right by Bedruthan Steps. If you do park there, I would still recommend walking a bit along the coastline, as there is a great view of Bedruthan Steps from the other side with some surprise beaches.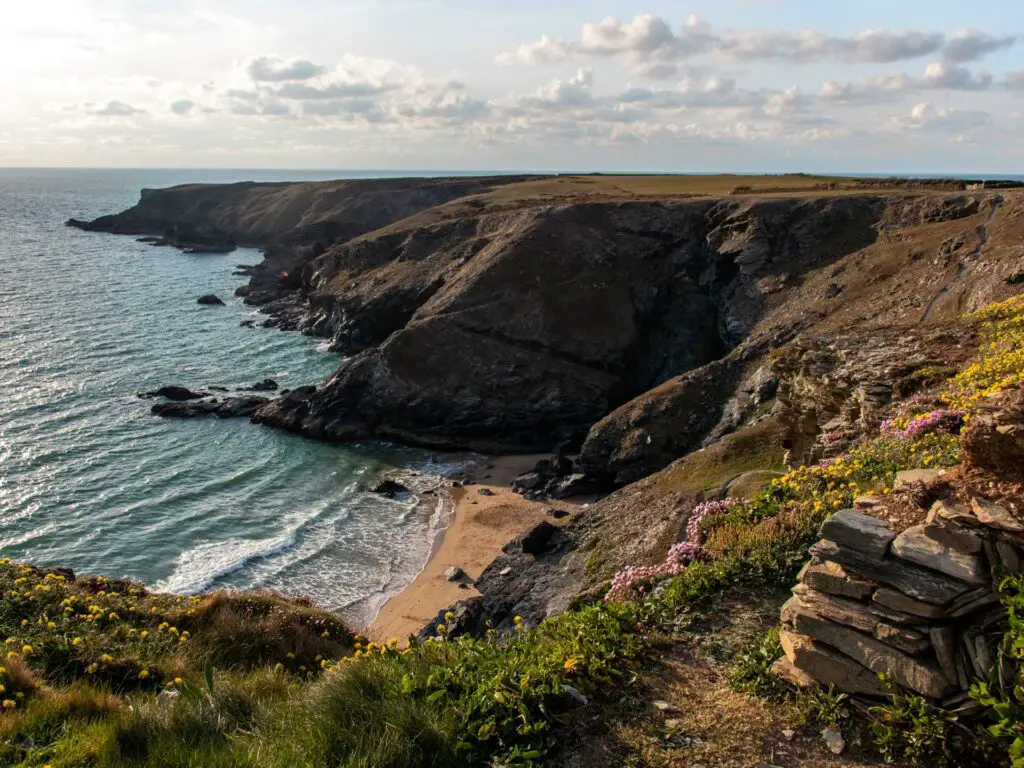 What is Bedruthan Steps?
A beautiful beach with some rocks. The legend is that a giant named Bedruthan used the rocks as stepping stones to walk across. Hence the name.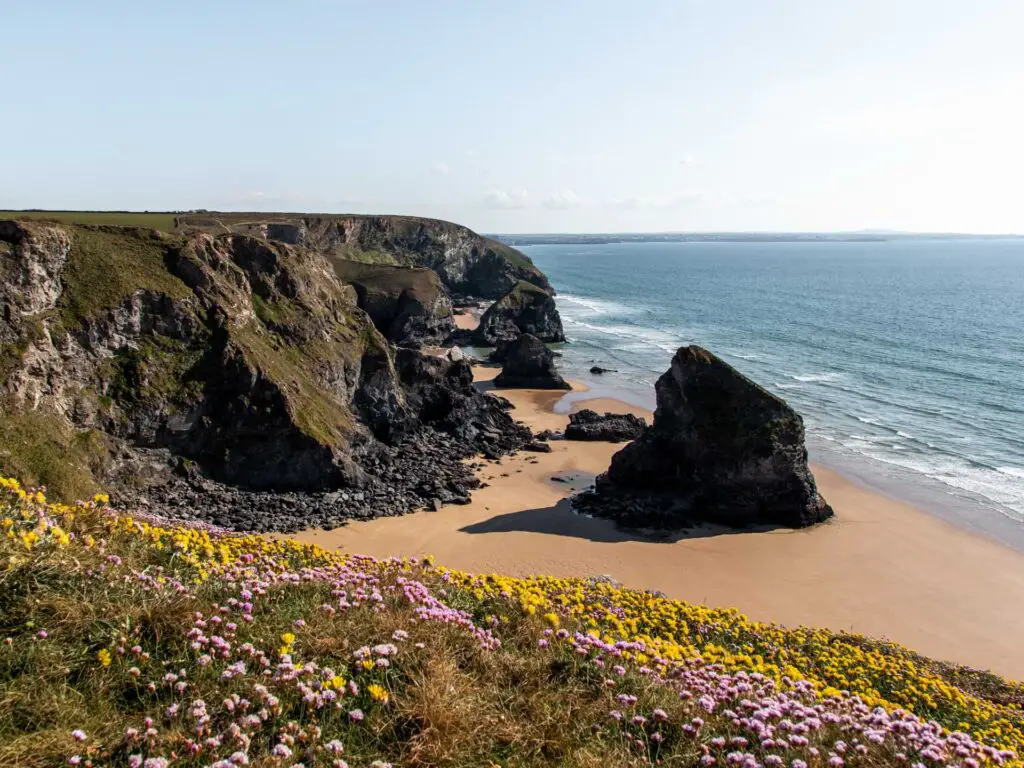 High or low tide
The walk from Porthcothan to Bedruthan steps and the walk back were totally different. We headed out at low tide, hung around for a couple of hours, then walked back when the tide was coming in. Calm water had been replaced with rough water. Some of dreamy little spots of beach with turquoise water had disappeared, but other beach coves had now appeared.
Seeing both was interesting, how different things could look. However, if you are flexible, I would recommend low tide.
Alternate way to walk to Bedruthan Steps Beach
By chance, I noticed on the map, that we were very close to Wine Cove, Pepper Cove and Warren Cove. I had seen photos of these coves before, but kind of forgot about them….until now. I knew that this would make a fantastic walk starting in Treyarnon, walking past the coves and then on to Bedruthan steps. 
If you want to make the walk longer, this would be the way to go.
The thing is, we didn't end up doing it this way, for a number of reasons. 
We were tired. We had now been camping for a while, and going on hikes every day. With 1.5 days left in Cornwall, we decided to split it into two shorter walks. 
Today was a mega sunny day, no clouds in the sky. Tomorrow would be cloudy and moody. Ollie prefers taking photos on moody days so it made sense to do something tomorrow.
Probably the most important…Parking in Porthcothan was free. Anything free gets my vote. Now, it's not free all the time. At the time of writing, parking charges apply from April to October. We actually weren't quite within the free parking range, but the start of the charge period had been delayed by a bit. Basically, we got lucky.
Alternate way 1 (to lengthen the walk)
Start at Treyarnon, then walk along the coast path, past the coves, onto Porthcothan and then Bedruthan Steps. The walk will end up being roughly 10 miles there and back.
Alternate way 2 (to lengthen the walk)
Start in Porthcothan, walk south along the coast path to Bedruthan Steps and then back (this post).
Once back in Porthcothann, walk north along the coastline to Treyarnon and the coves, and then back.
Doing it this way gives you options. If you are tired when you return to Porthcothan, you can simply end there. If you still have energy and want to do more, you can go straight onto the other walk.
Treyarnon beach vs Porthcothan Beach
Both are quite different, which might factor in your decision about where to start. 
Treyarnon has more facilities and more scenic parking. The car park is a big field on a hill overlooking the beach. The car park as good toilet facilities and a food and drinks hut serving warm or cold milkshakes. It would be a great place to finish the walk with immediate access to the beach and sea to cool off. You could even just hang out on the grass by your car admiring the view. The downside is that it's a lot busier.
Porthcothan also has a little cafe serving food and drink and a great selection of ice cream. The car park, although just next to the beach, is hidden away from it. This is great if you are on the beach, so you don't see the cars. You will have to cross a road though to get to the beach. 
One more thing
I took photos on the walk both ways. On the walk out, when the sun was high and bright in the sky and the tide was out. Then on the way back, when the sun was much lower nearing sunset and the tide was in. I will be using photos from both bits. With the totally different lighting, this means the photos will look different from one to the next. 
(Just wanted to throw this out there in case you got confused)
By showing you a selection of both, you get an idea of what it looks like, when the tide is out vs in.
Ok, I have rambled enough. Lets get onto the walk….. 
---
Logistics for the Bedruthan Steps walk from Porthcothan
---
Start/Finish: Porthcothan Bay car park (it's free parking during the winter months)
How to get there: If you don't have a car, there is a bus stop right next to the beach. Bus number 56 will get you here from Padstow or Newquay. It also stops via Bedruthan Steps so you can catch it back if you don't want to walk back. Although, if you are staying in Newquay, you could actually walk along the coast path from there to Bedruthan Steps (I can't comment on what that walk is like though). 
Distance: 9.3km/5.7 miles there and back
Time: 2ish hours. Depending on how much you stop. Allow more time if you want to go onto the beach.
Difficulty: Easy. There are some very short steeper bits. Because of how short they are, I wouldn't say this is difficult. 
Terrain: A bit of sand at the beginning. Dirt trails, grassy trails, some rocky bits and steps.
Elevation gain: The highest point is 62m. There are a few ups and downs, so you will gain a total of 219m (more if you walk down to Bedruthan Steps Beach).
Time of year: We did this one in Spring.
Amenities/Tips: Walk at low tide. There is a cafe for food and drinks at Porthcothan. Car parking at Porthcothan (free over Winter). National Trust parking at Bedruthan Steps.
Map for the Bedruthan Steps walk from Porthcothan
Click on the top box to open in your maps.
---
A guide to the Bedruthan Steps walk from Porthcothan
---
Staring from the car park, cross over the road and take the path next to the red telephone box. The path goes along some sand dunes before becoming a narrow trail leading gently uphill.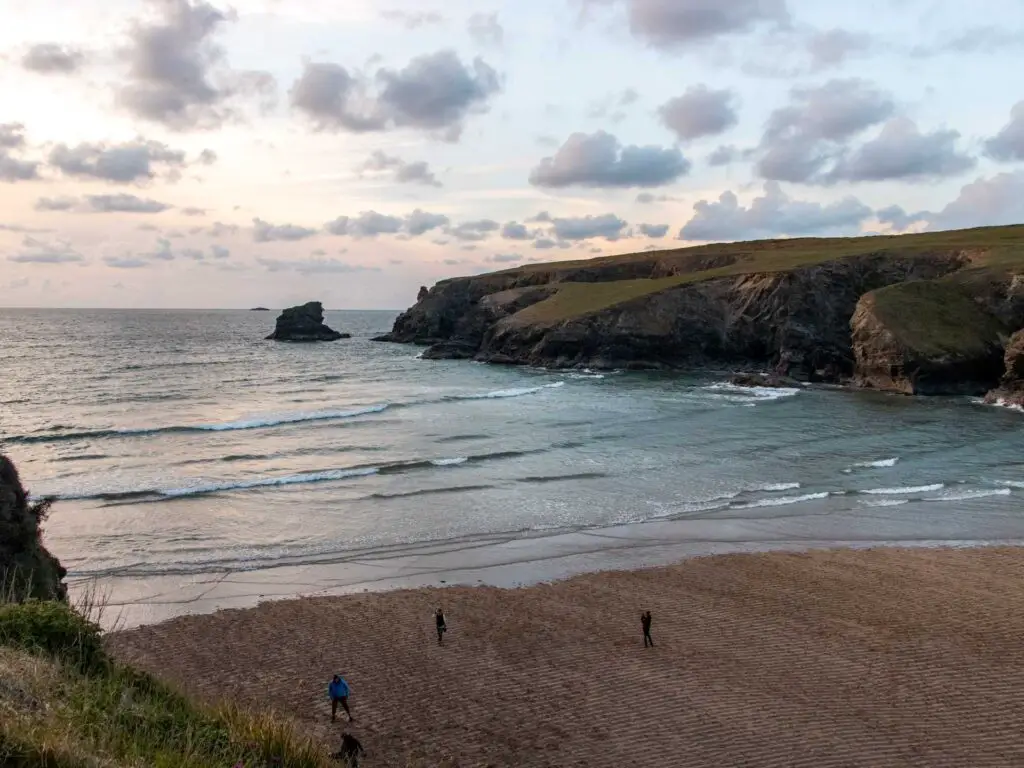 You will pass by a cute little beach cove, completely secluded when the tide is in, and a very fancy/rustic wooden bench.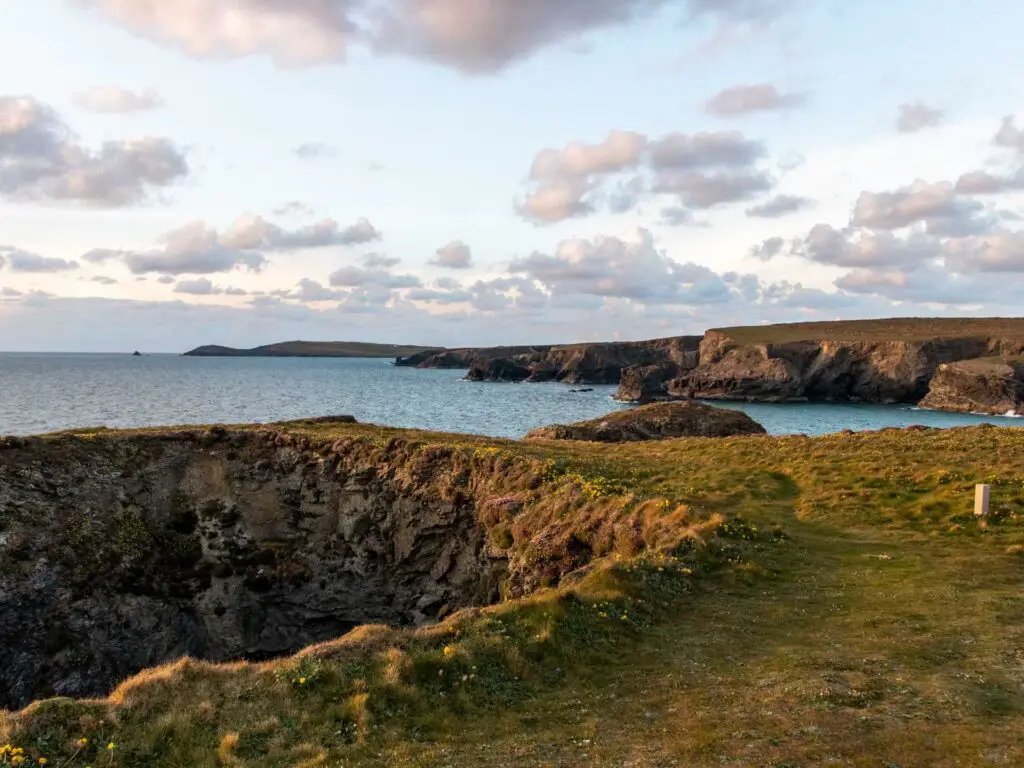 As you round the corner you will then descend onto another beach. Walk through the gate to join the trail on the other side.
Trescore Islands
The next bit kind of took my breath away. Following the trail, it's a mix of grassy and dirt, and will lead you to Trescore Islands. Wow. A series of rocks, with some sandy bits and that turquoise water reminiscent of the Mediterranean. This is an example of how different things are then the tide is out vs in. I will show you both. 
Following the trail, you will walk past some more rocky coves and scenic benches. You will notice at times, there are small grassy trails leading away from the main trail to give you different viewpoints.
Porth Mear Cove
Next you will descend into Porth Mear Cove. You will go through one or 2 gates (can't remember exactly. But not important) then at the bottom, there is a little bridge leading you to the trail on the other side.
Park Head
As you make your way up the trail on the other side, you will be entering Park Head.
Here it's a narrow dirt trail taking your uphill. Nothing too aggressive. You will pass by some more rocky cove-ness before the nothing I mentioned earlier comes.
This bit was strange. So far, all the walks we have done in Cornwall, had a constant view of something scenic. Then here, there was just nothing. Not bad though. The contrast was interesting. It was kind of peaceful actually. A little break for the senses.
Note: If you look back, there is a great view. I didn't look back, and only noticed this on the walk back. I have been doing this for long enough that I should know better.
The trail is also less obvious for this bit. There is a wooden signpost stub which was kind of useless as it told us nothing. Basically keep walking up.
Walk to the first Bedruthan Steps Beach viewpoint
Once you get over the hill, you will start to get those cliffy finger like projections in view. You will walk past their little coves, one with an arch.
When you get to the coastline on the other side, you will get a great view all the way down the coast, including Bedruthan Steps Beach. 
The trail towards Bedruthan Steps takes you left, however, there is an option here to walk right. This gives you a different viewpoint. I had a little look. I do think it's worth the detour. 
It was at this point that I noticed that Bedruthan Steps Beach was empty. I was a little confused. It's quite a famous beach, it's a glorious sunny day AND it's a bank holiday weekend. Where are all the people? 
I didn't know at this point that the steps down to the beach were closed. It all made sense though once I got there.
Walk to Pentire Steps Beach (and possible access to Bedruthan Steps)
Following along the coastline you will pass a series of black rocks and passed Pentire Steps beach. It is the sandy cove right next to Bedruthan Steps Beach. You will notice a tiny little trail here, making its way down the cliffside. 
Closer up, there were a handful of people down on the beaches. This must be how they got there. You would have to be very carful though and be attune to when the tide starts to come in or you could get trapped. Pentire Steps Beach is just as lovely though. I would have no problems spending my time there (except today. I wasn't in the mood for steep).
Walk to the second Bedruthan Steps Viewpoint
If you continue on, you will walk through a gate, alongside a wall and out the other side of another big mass of green.
The trail will curve around to the left, and a fantastic view of Bedurthan Steps Beach will appear to you.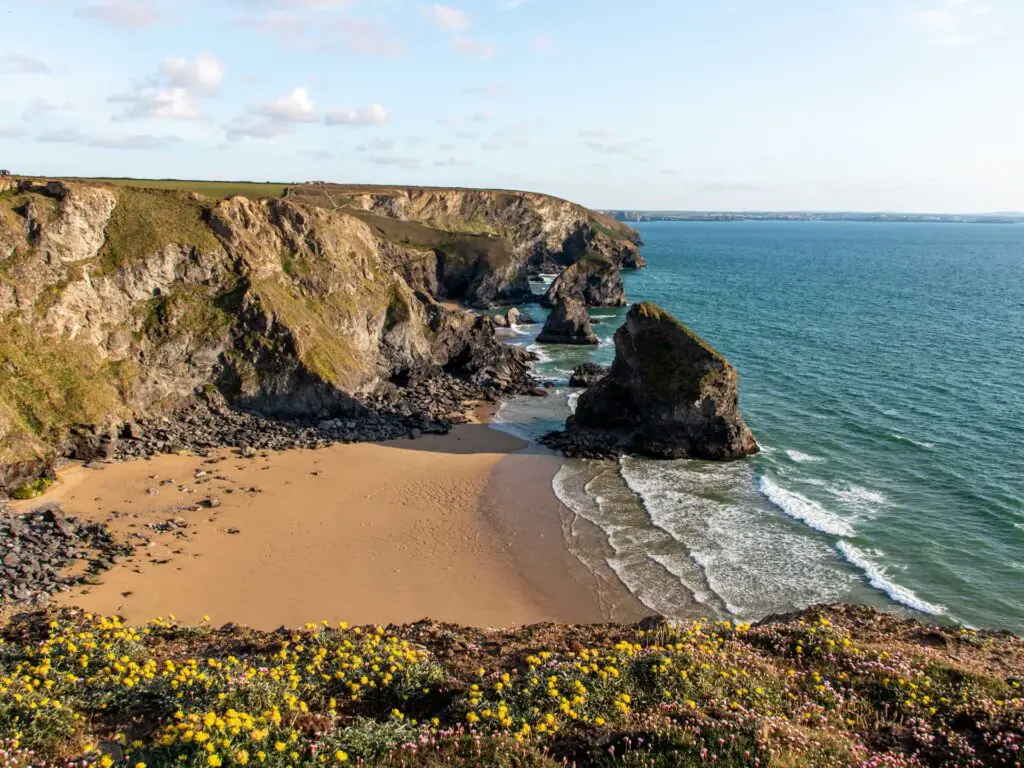 (This is where we hung out for a couple of hours after finding out the steps down to the beach were closed).
Walk to the steps to Bedruthan Steps Beach (and another viewpoint)
Simply continue to follow the trail, making your way to the other side of the beach. Whenever the trail splits, take the path that keeps you closed to or leads you towards the coast.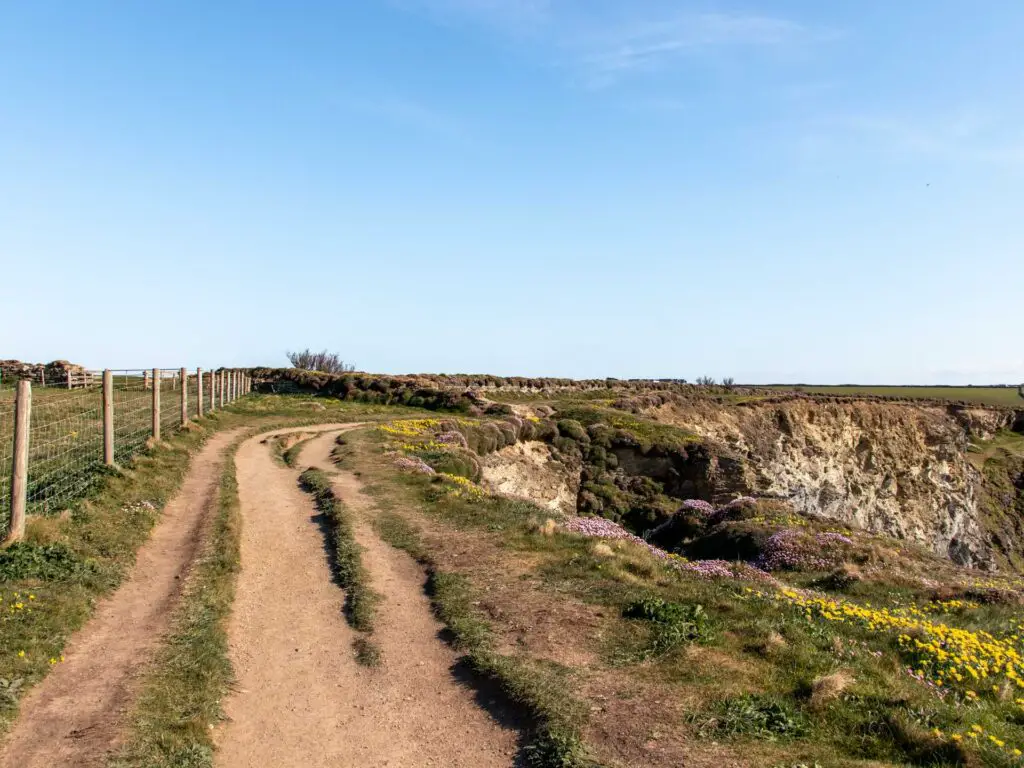 You will start to see some steps ahead of you. When you reach them, go right down the path. 
At the fence at the bottom you will have another lovely view of the beach. The steps to them are to the left (remember, at the time of writing, these steps are closed).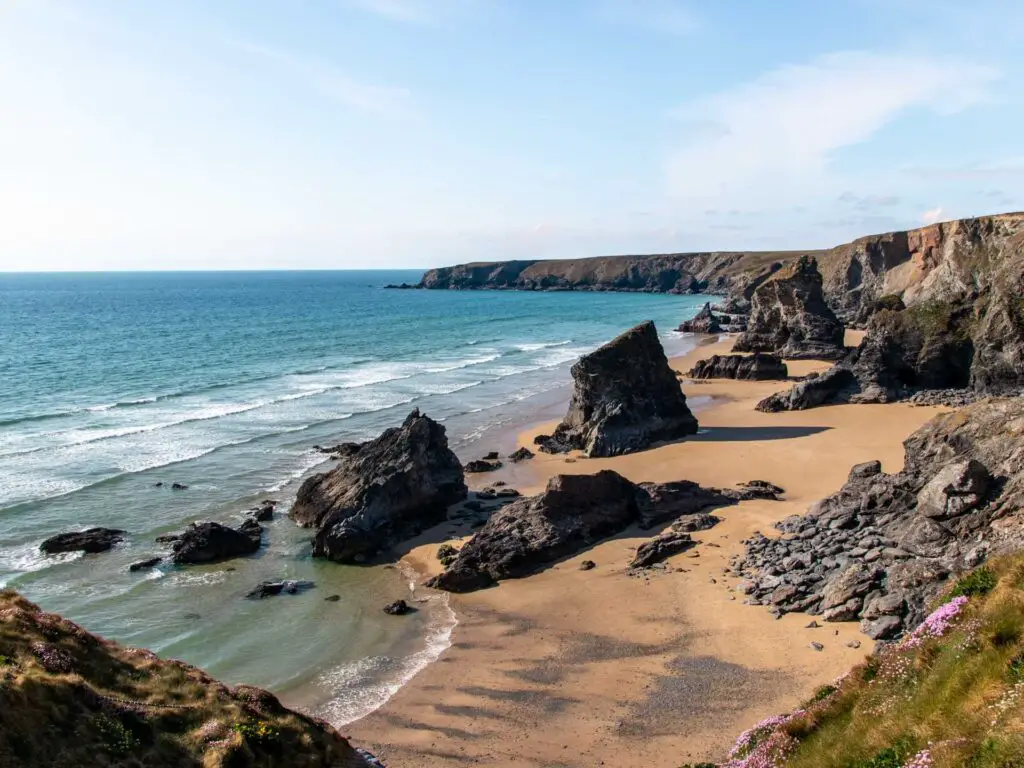 Walk back to Porthcothan
To get back it's simply just the way you came along the coast path. We were actually quicker walking back (50min). So if you really go for it you could do the whole walk in under 2 hours.
---
Other walks I recommend in Cornwall
---
As I have mentioned, the Treyarnon coves walk is right next to this one, so you can make this into one longer walk.
If you go a bit further up the coast, you could try the walk to Gunver Head Stepper Point. That one is a 5.5 mile round trip. With that one you could easily do it a bit different from what I did and walk a bit further along the coast path to Padstow.
If you go even further north, you will find a fantastic bit of coast path from Tintagel to Bossiney. It might actually be one of the best walks I have done. Ever.
If you like beaches, then you have to try this walk from Fowey to Polperro. This walk is also at the top of my list of best walks. It is a bit further away, on the east coast of Cornwall.
If you want to see some of the tin and copper mine engine houses, head further south for the Rinsey mines walk.
Pin it for later: How to walk to Bedruthan Steps Beach in Cornwall