This circular walk in Arundel takes you along the River Arun and up to Hiorne Tower with spectacular views of Arundel Castle along the way. For the most part, the Arundel walk is pretty flat, with one hill at the end.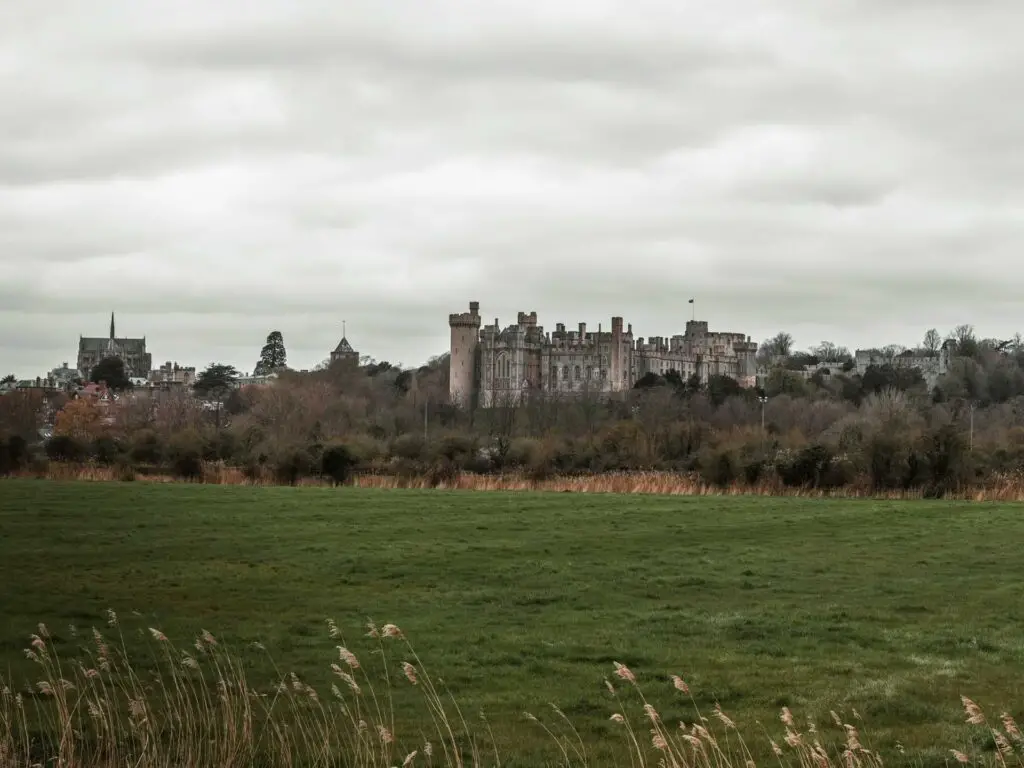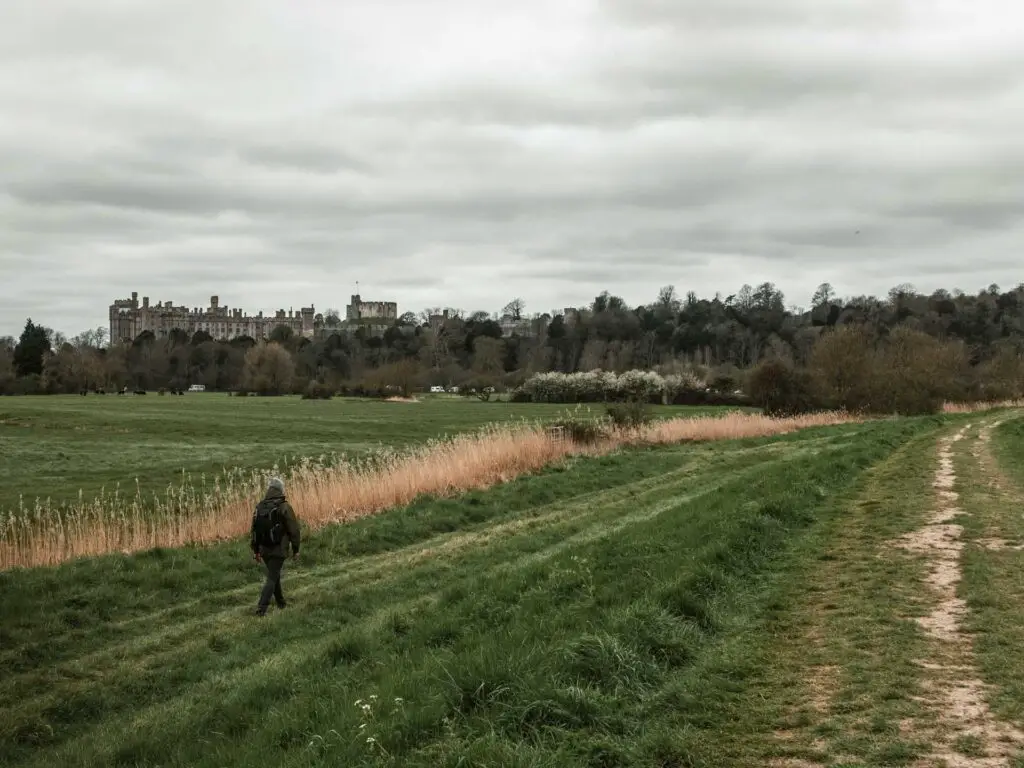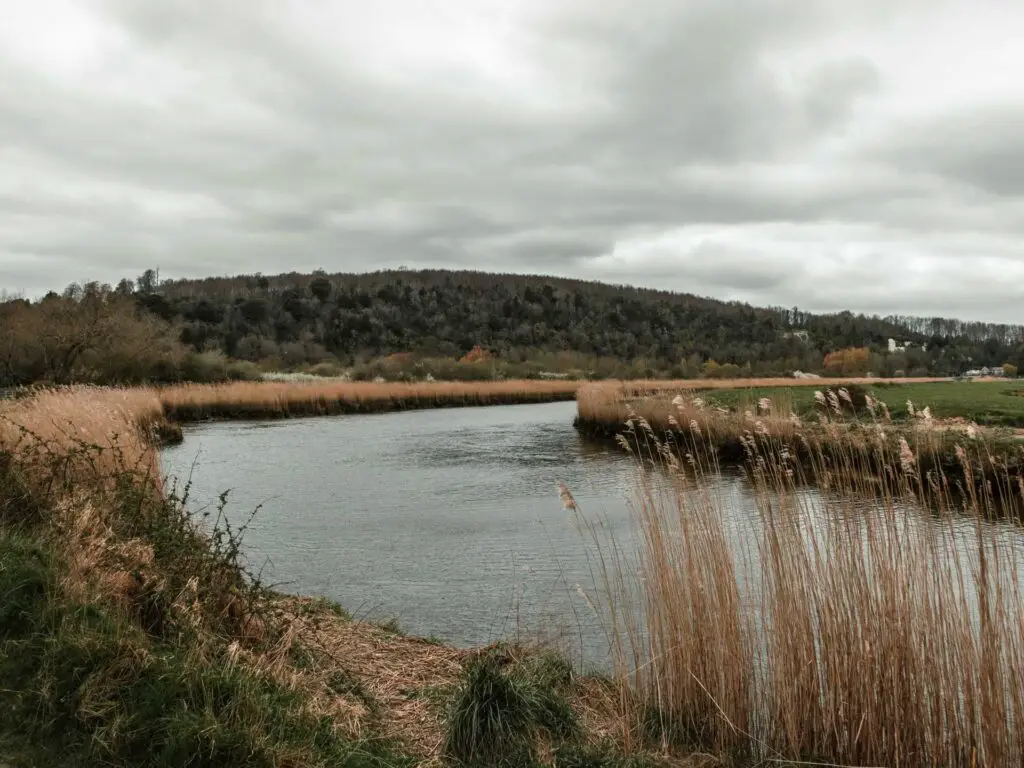 When we went to do it, nothing was open yet, however, once things open up (which should be once this post is up) it would make a lovely late morning walk before stopping for some lunch in the historic village of Arundel. 
Logistics for the circular walk around Arundel
Start/Finish: The River Arun next to the Blackfriers ruin/Mill road car park.
How to get there: Arundel is located in West Sussex, on the edge of the South Downs National Park.

Train – There are direct trains from London Victoria to Arundel which takes around 1h30min. 
Car – It's roughly 1h 30min if coming from central London. Mill road car park is right at the start of the trail. You should see it on google maps. Or, the street next to the car park (Mill road) is free parking. Double check when you get there though. We didn't see parking restriction signs. Maybe we just didn't look hard enough and got lucky. We did notice on other streets that there are no parking restrictions on Sundays. 

Distance: 4 miles/7km
Time: 1h 40min
Elevation: Highest point is 57m (which is the Hiorne Tower)
Amenities: Arundel is a small town with all you will need (shops/food/toilets)
Map for the Arundel circular walk
Google Maps: Click on the top box to open in your maps. AllTrails: Click on the trail name to open in your app.
A guide for the Arundel circular walk
Pre – walk
We headed off for the Arundel walk pretty late (around 3pm), so it was nearer to 5pm once we actually started it. I wouldn't usually like to go this late for a walk, but my boyfriend and I are on pretty opposite schedules. I'm a morning person (I usually wake up at 4am – not on purpose. It just happens), whereas, he is an evening person. We are still trying to figure out how to do things in a way that pleases both of our body clocks. Really, someone needs to compromise. I think I'm winning, however, as it was his birthday I let him pick the time we headed out.
Start of the Arundel walk
The trail starts along the River Arun. If you are in Mill End car park, just head out the back of it to get to the river. 
From here, you just follow the trail with the river on your right. It's pretty lovely actually, an easy trail to follow, with small boats moored along the river bank.
To our surprise, you get a pretty cool view of Arundel Castle when walking along here. Another surprise was that the trains pass along the other side of the river. I thought it was pretty cool, although, I'm not sure that the people living along there will think the same. 
The nature reserve
At the second signpost (the second one. Not the first), you turn left through a gate and follow the narrow trail, as it runs alongside a branch of the River Arun and under some trees.
This bit is on the edge of a nature reserve, so you may get to see some interesting wildlife. We did spot an exotic looking duck. Tuns out it's a Mandarin Duck (I had to post a video of it instagram to find out what it was). You should also be able to spot the more common normal duck and some swans.
The walk around Swanbourne Lake
When you reach the end, turn right to walk over the bridge (either bridge is fine). If you take the lower bridge, then once over it, walk up the steps and walk across the road towards Swanbourne Lake on the other side.
Swanbourne Lake is pretty picturesque with ducks and swans swimming about, row boats up for hire…and nuisance seagulls. There is a tea room by the lake for refreshments. I can't say what it was like because, you know, restrictions and stuff. 
From here you need to walk around the lake. You will notice I took the right trail, but either is fine, as they connect later on. 
I found that the view of the lake from this trail wasn't as good as I was hoping (the other trail runs right along side the lake) however, you do get a pretty cool peak at the Hiorne Tower a bit further along. So each trail has it's purpose I guess. 
A short cut to the Hiorne Tower?
Once you reach a gate, you will see a left trail and a hillside trail leading up to Hiorne Tower. I suspect you can get to the Tower this way, although, can't say for sure as I didn't take it.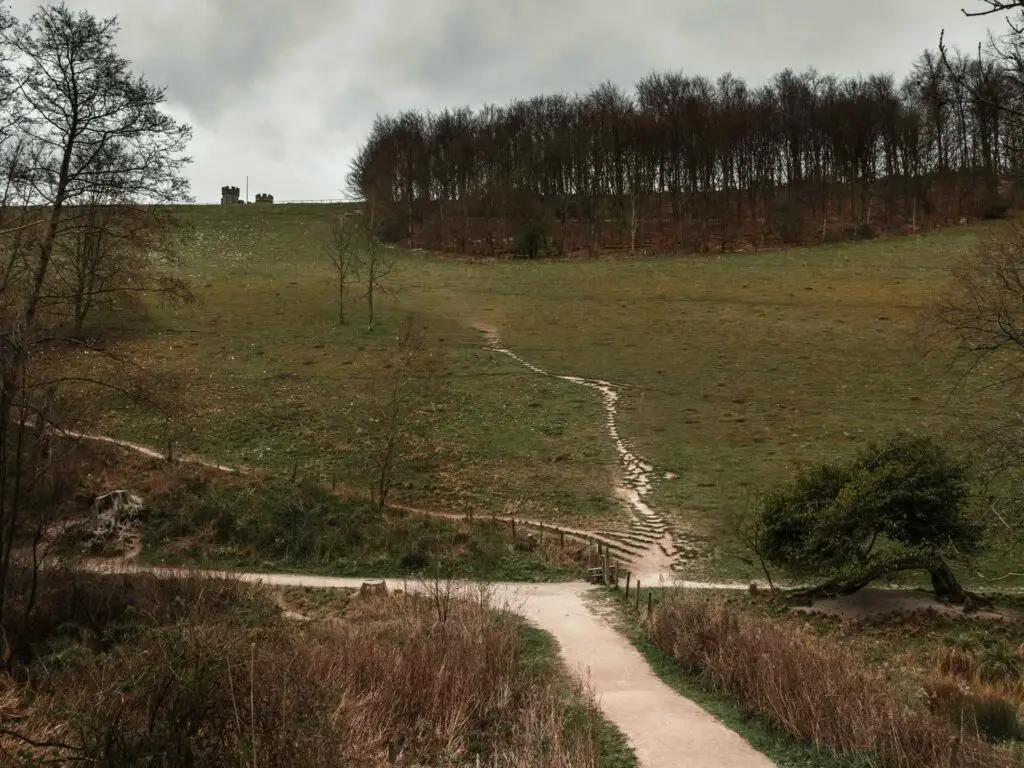 If you continue with me this way though, you will be rewarded soon with a fantastic view which won't be quite the same if you take the short cut (or so I think).
So, following me, continue through the gate and keep going through the valley.
When you reach this signpost (in the photo below), turn left and walk up the hill sort of back on yourself.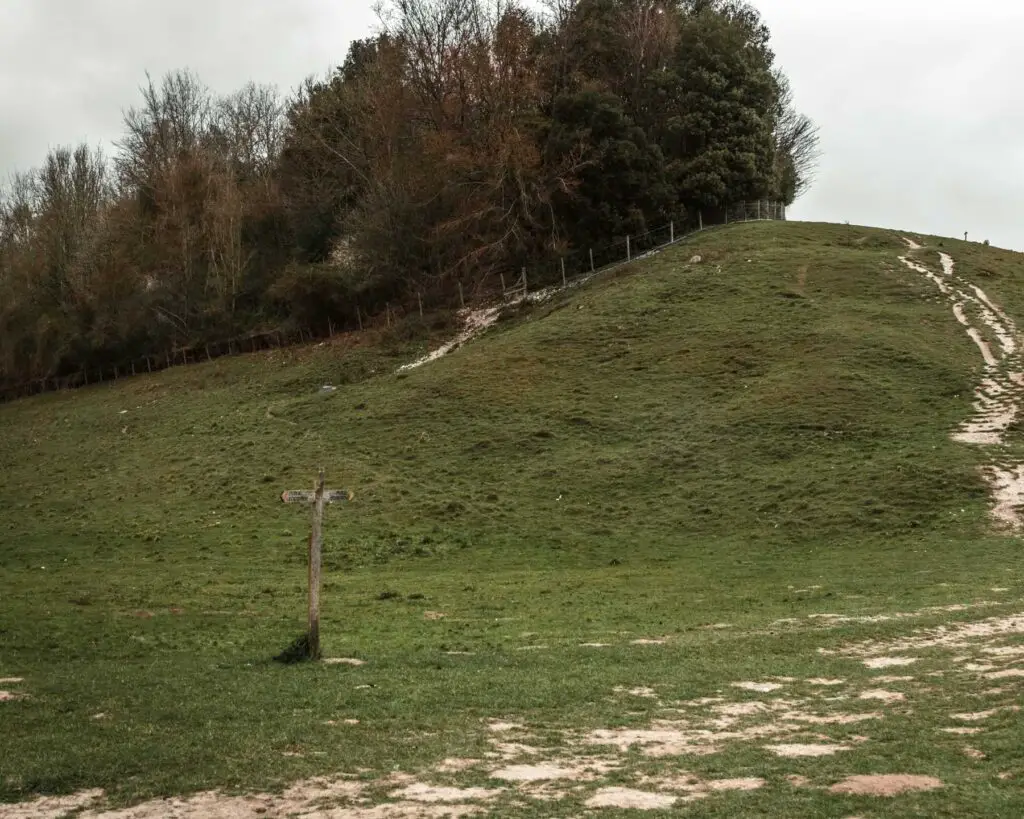 Walking up this hill you will be rewarded with stunning views of Swanbourne Lake and hills of the South Downs.
Reaching Hiorne Tower
At the next gate, turn right past the sheep sign and up some stick steps to reach Hiorne Tower. On my map you will see a gap on the trail. This is where the tower is. I paused my tracker here whilst we wandered around it and took some photos.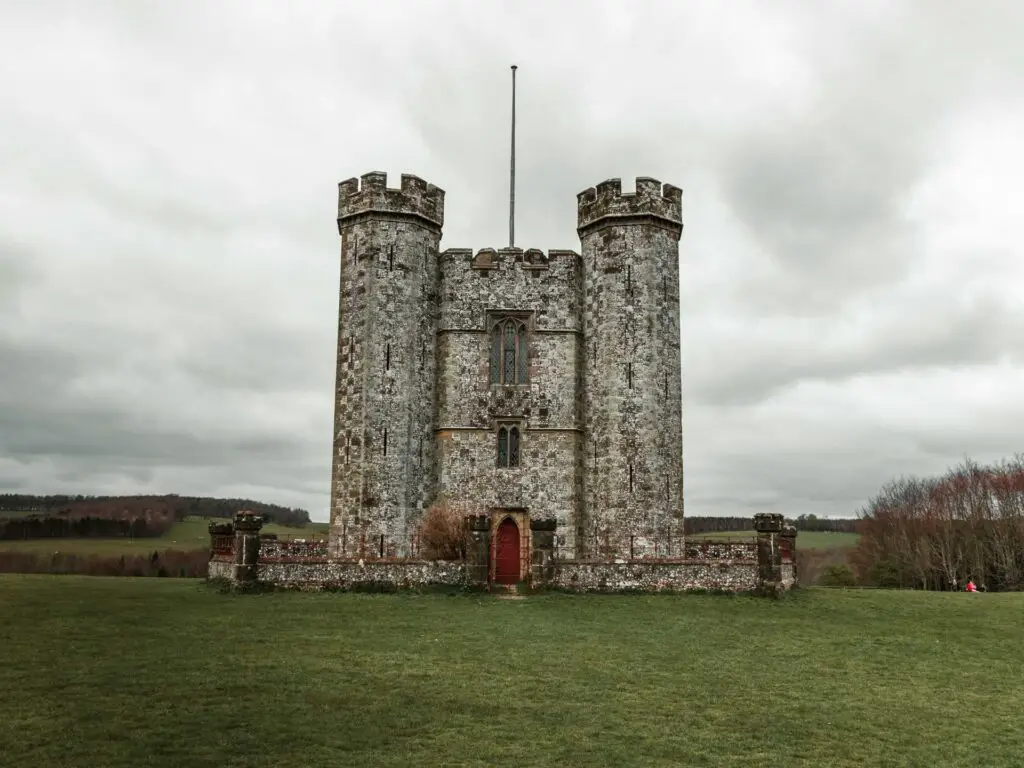 Hiorne Tower was built by a man named Francis Hiorne. You'd probably think it was built to guard the castle in some way. Well, you would be wrong. He built it for the 11th Duke of Norfolk to prove his building abilities and win the bid to work on the castle.
He lost.
Fun Fact: The Hiorne Tower has featured in Doctor Who.
Walk back to Arundel
There are a couple of trails here which take you back in the direction of Arundel. You could take any really. We took the one on the other side of the tower (from where we entered). Walking along this trail, things were a lot more civilised. The path was clean and well kept as it led us back down to the main road. 
At the main road turn left and follow it along, passing by some more lovely homes and Arundel Cathedral, until you reach the town centre.
Other walks in the South Downs
The South Downs has plenty of trails to enjoy. Here are a few suggestions: 
Amberley to Arundel – Staying local, this walk is nice and easy and follows the River Arun for about 5.5 miles.
Amberley to Pulborough – Another local walk, this one roughly follows the River Arun for 7 miles. Also easy, but quite wild at the same time.
Seven Sisters – One of the most popular walks near London, and for good reason. It has some of the best cliff views around. It is part of the South Downs Way. 11-13miles depending on the tide.
Hassocks to Devils Dyke –  A challenging 13.5 mile walk/hike. It has stunning far reaching views of the rolling South Downs hills and over to the English Channel.
Hassocks to Lewes – 11.4 miles, mostly a walk along a ridge. It's hard work getting up, but once at the top it's all easy. You will walk by a windmill on this one
Lewes to Southease – A part of the South Downs Way. At 14.6 miles it's long, but has some of the best views I have seen out here.
Alternatively you could get some walking ideas from the National Trails website.
Pin it for later: A short circular walk around Arundel, with castle views