This walk takes you along the South West Coast path with gorgeous rugged coastline views and finishes at Start Point Lighthouse with a bit of scrambling at the end.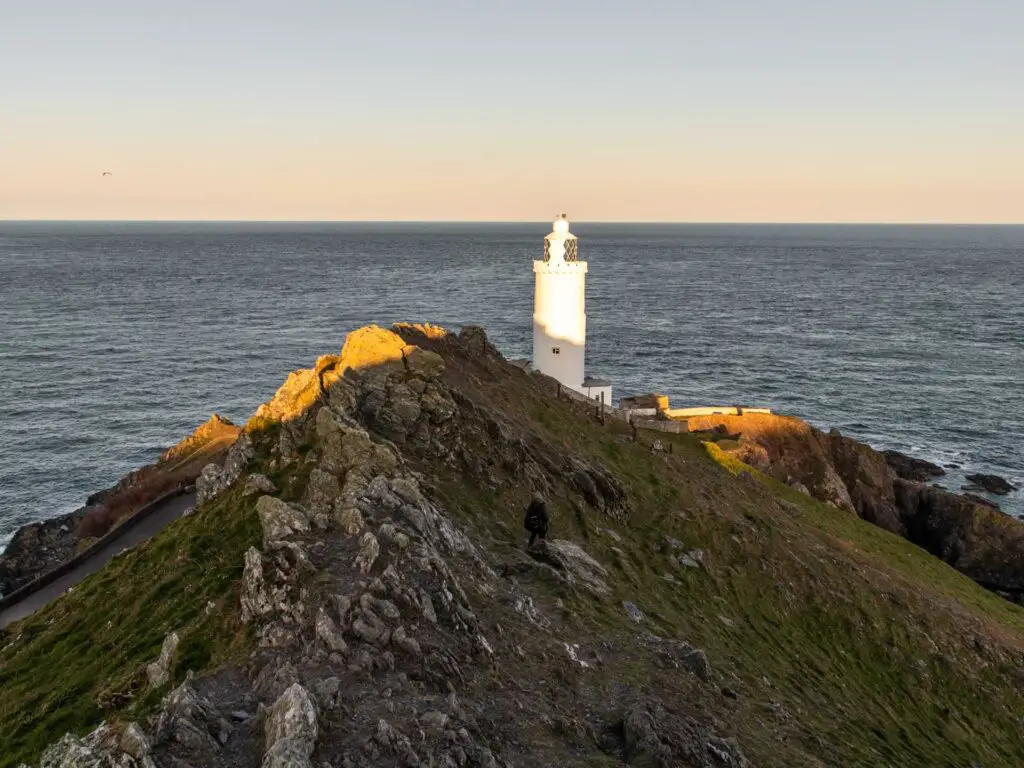 Now the Start Point lighthouse walk can be done a number of ways and I will explain a bit more about your options so you can plan the walk the way you like.
Option 1
You can do a small circular walk from the car park, down to Great Matticombe Sand and around to Start Point Lighthouse and back. I say small, but it's actually the most challenging part off the walk and involves scrambling. It's quite technical, and if you are not a confident walker then you might not want to do this one. 
If you look at my map, it is the loop bit at the start. 
Option 2
You can simply walk from the car park along the comfortable easy road to get to the lighthouse. I would suggest though, walking down to Great Matticombe Sand first, then back the way you came to get to that road to the lighthouse. The view down to Great Matticombe Sand is simply stunning and should not be missed.
If you look at my map, walk on the trail from the car park down to the coast, then back along it and take the north loop of the trail.
Option 3 (what we did)
From the car park, walk down to Great Matticombe Sand and continue west along the coast path, before heading back and looping around to Start Point Lighthouse (or option 4, taking the easy road back if you don't want the scramble).
How far west do you walk? Well, that's up to you. I went as far as Matticombe Sand (different to Great Matticombe Sand). The South West coast path goes on forever, so the world (or path) is your oyster.
Why did I walk back along the same trail I walked out on?
Well, after studying the map, there wasn't really a continuous trail to loop back on. It was largely roads. I can't say what those exact roads are like because I didn't walk on them, however, when driving to the lighthouse (on the country roads of the area) I new these were not roads I would want to walk on. Extremely narrow, tall hedges, no pavement. Basically death traps for walkers. 
Although, I stand to be corrected. If you have walked around here and know if there are safer bits of road to walk on, I'd love to know.
Walking back the same way you came isn't bad at all though, as you get to see the coastline from the other way. Which makes it feel like a completely different hike.
Logistics for the Start Point Lighthouse walk
Start/Finish: Start Point car park
How to get there: It's located in South Devon AONB. You need a car for this one. If you google it, you will see exact location. It's about 30min drive south from Dartmouth. 
Distance: Roughly 2.5 miles/ 4km for the loop, then anything you want above that. We did 5.5 miles/9km.
Time: For the 5.5 miles we walked for about 2h20min.
Difficulty: The loop around the lighthouse is precarious and not for the faint hearted. The rest of the walk is pretty easy with a few hills but nothing crazy (unless you walk down to the beaches).
Terrain: Dirt path, some road, rocks.
Amenities: I think there are toilets at the car park. I didn't see them but I saw the sign.
Tips: Wear hiking boots. Not just for the scramble lighthouse loop, but it will also make it easier if you want to walk down to the beaches.
Map for the Start Point Lighthouse walk
You may notice a gap in the trail I have provided. That's because my tracker decided to stop without my knowledge. Anyway, it's no issue as it's easy to connect the dots (also, I will give you the description below).
I have provided more walk ideas near Start Point Lighthouse (with a link to the full guides) at the end.
A Guide To The Start Point Lighthouse Walk
This walk was kind of a last minute decision. This was our first day in Devon and we had set out for a different walk earlier in the day. However, pretty early on in that walk I suddenly got the most unbelievable cramping pain in the side of my body. So bad that I could barely walk. I made it as far as Sugary Cove (which you can read a bit more about in that blog post) before deciding to call it a day.
We then came to the lighthouse for Ollie to shoot for sunset. By the time we got there, my pain had gone and we were too early for sunset, so decided to make a walk out of it.
The start of the Start Point Lighthouse walk
From the car park, there will be a gate in the hedge. Walk through it and turn right to be greeted by a stunning hill view with a peak down to the sea.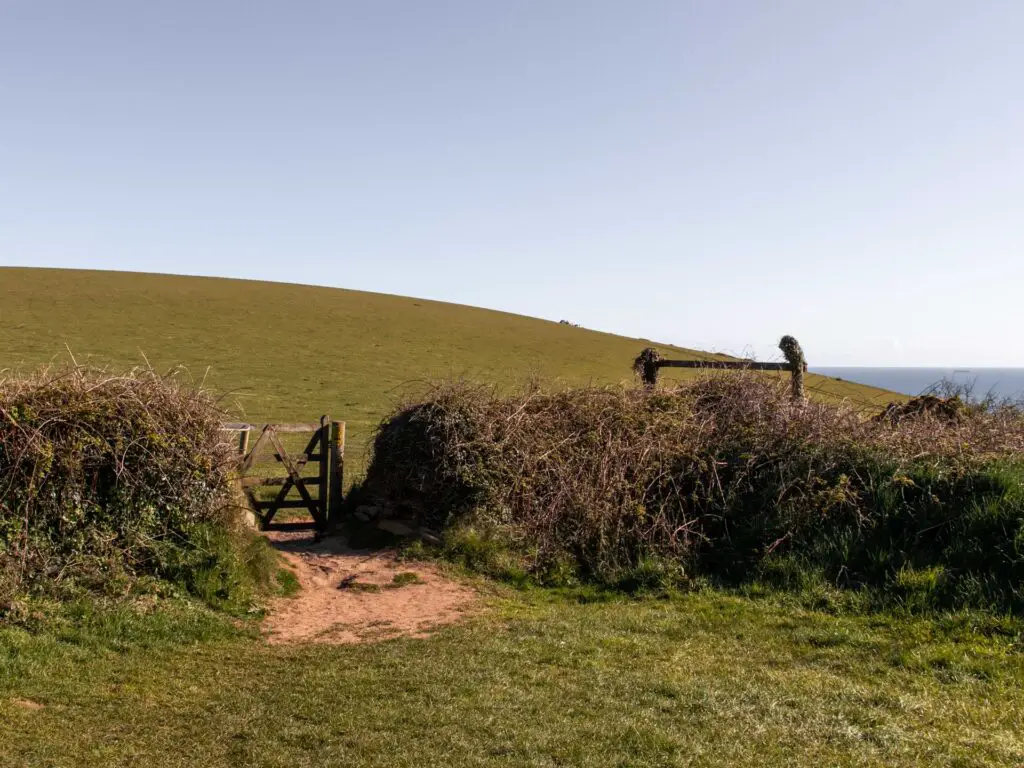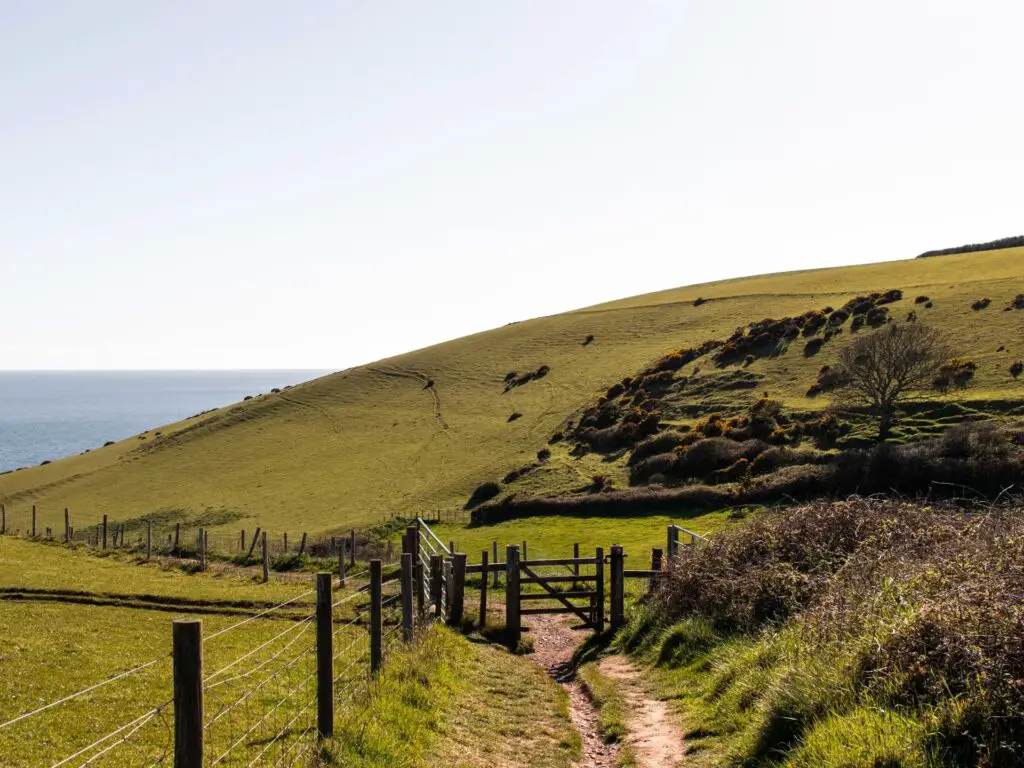 I was feeling a bit sad that I didn't get to do the other walk, but after seeing this, with the sun shining brightly, illuminating the hills in front of me, I was filled with unbelievable excitement again. If you know me, you know I love hilly, cliffy coastlines, and this looked like it was going to be a good one.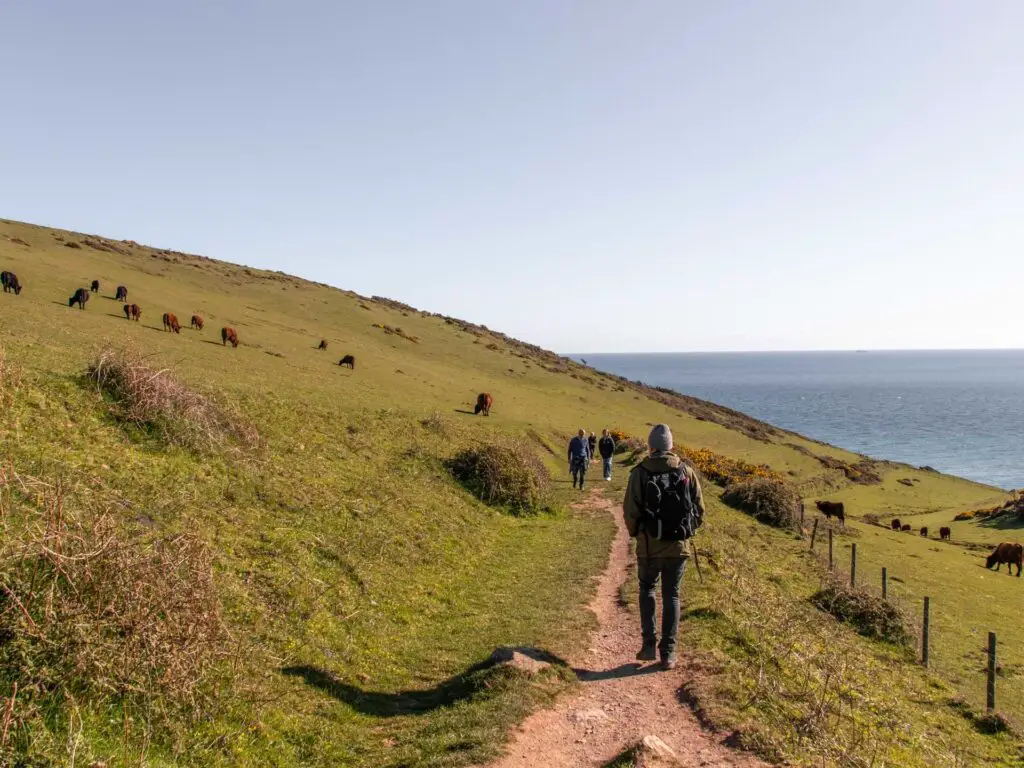 Walking down the hill and through the gate, the trail curves to the left to lead you down to the sea. There were a lot of cows along here. Some sort of popped up randomly in the bushes by the trail.
Great Matticombe Sand
As you walk down the trail, through some gates (I can't remember how many. There might have only been one, but who knows) you will reach a sort of opening to the right giving you an insane view along the coastline.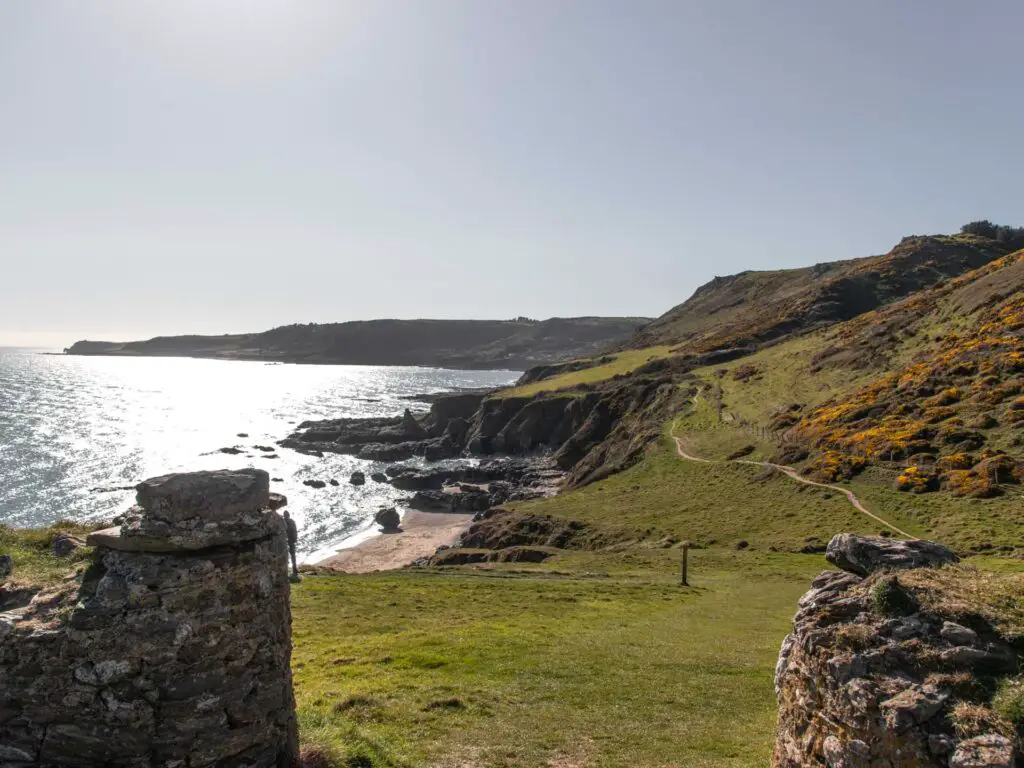 Following the trail downhill, Great Matticombe Sand will be on your left. If you want to go down to it, you walk to the left. We instead went straight. We knew we would back later. 
Walk west along the South West Coast path
The rest of the walk its mostly self explanatory. You just follow the trail all along the coastline. So what I am going to do now is mostly show you photos of what to expect and tell you about little bits along the way.
One thing to note, for the walk west, the sun was directly in front of us which made it quite challenging to take good photos, so sometimes I will show you the view looking back. It was a shame really, as from what we could tell through the constant squinting and semi-blindedness from the sun, the view was really picture perfect the whole way. 
Walk from Great Matticombe Sand to Lannacombe beach
Continuing west, you will have a view of black jutting rocks ahead, and will pass by some more little sandy beach coves. We didn't go down to any of the beaches, but if you look around, you should spot the trails to go down to them.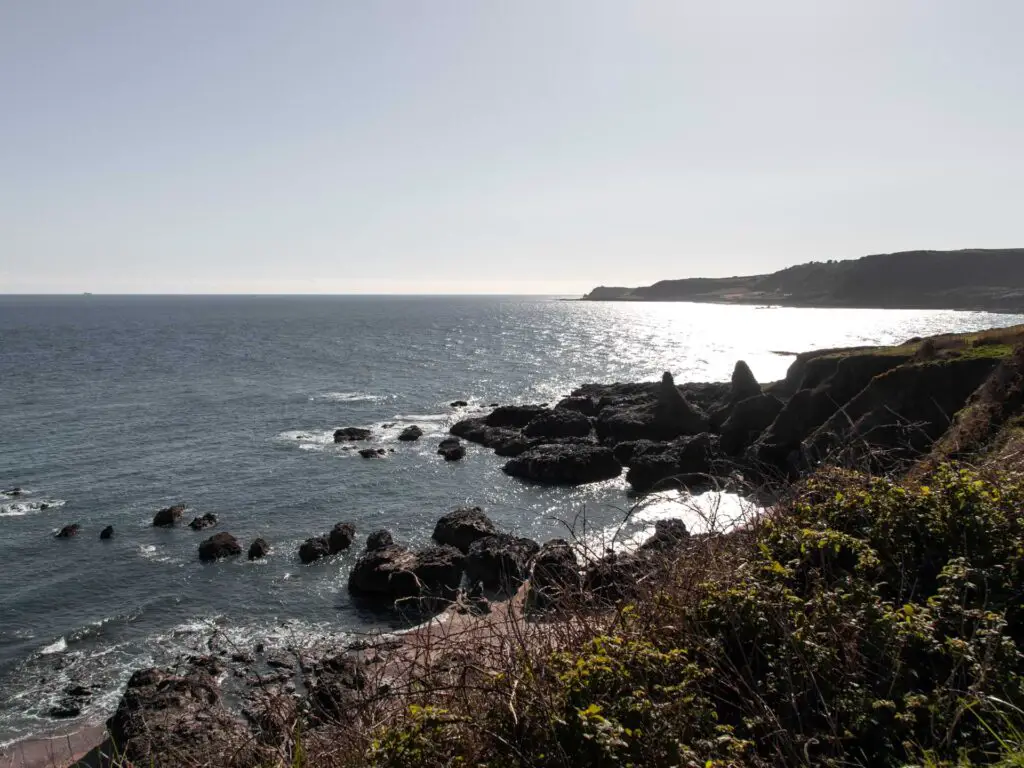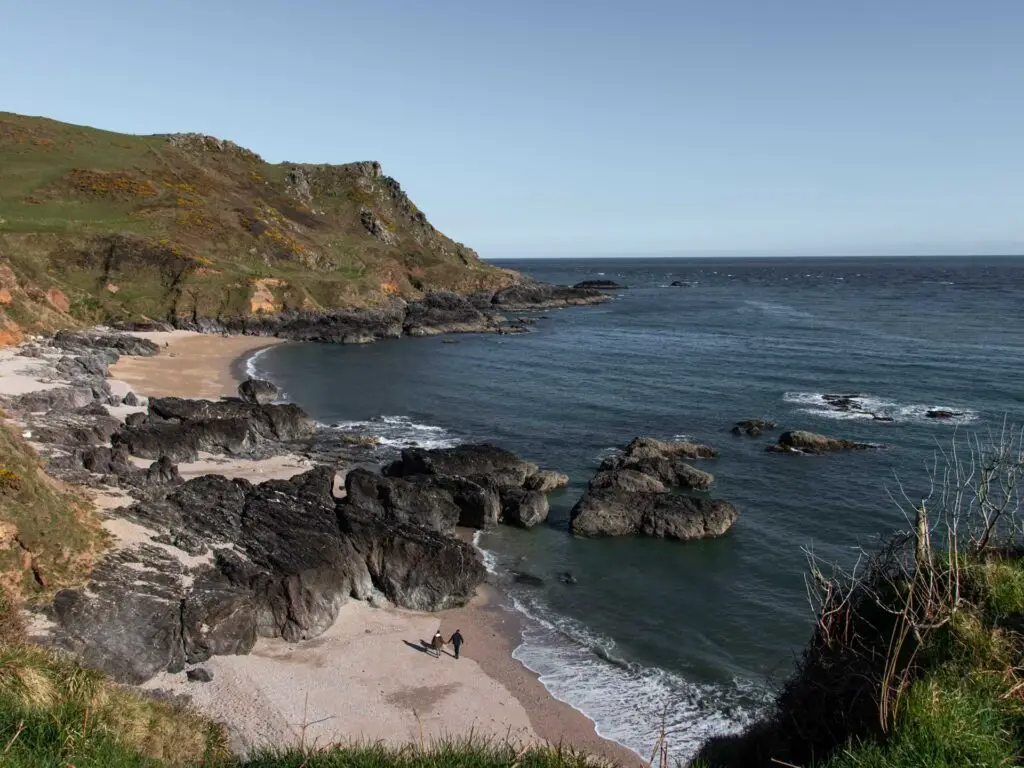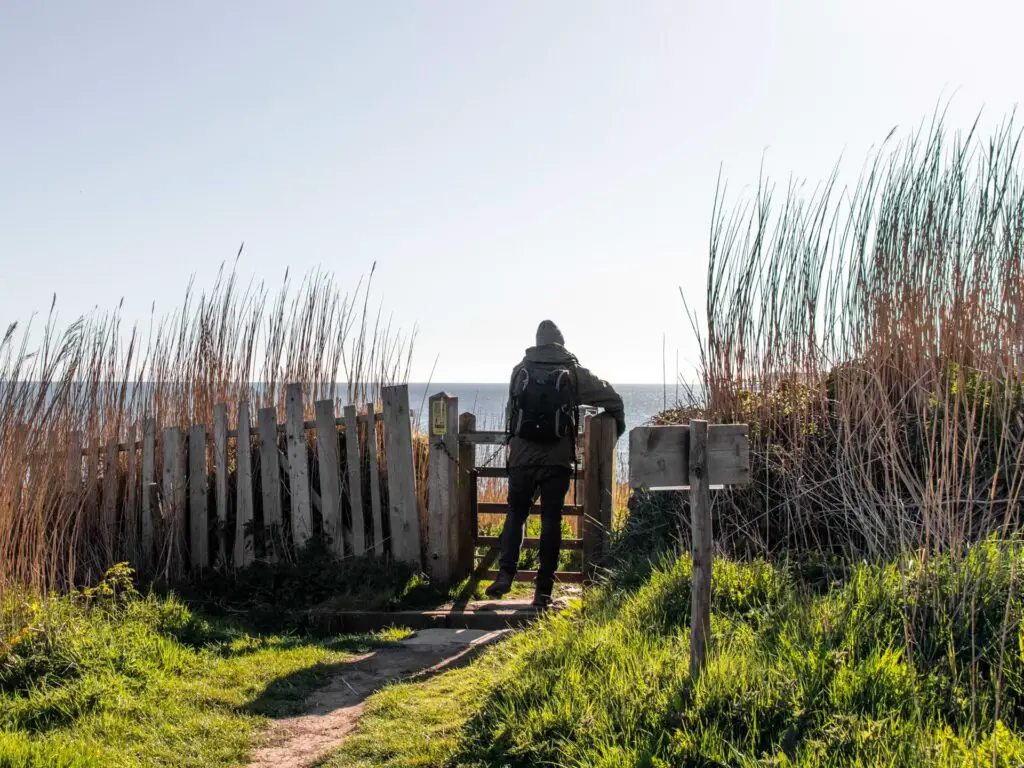 You will pass through gates (or gate. Can't remember how many) and walk across a small rocky water bit.
With sea to your left and hill to your right, the trail snakes though and is a mix of grassy and dirt. You may be surrounded by lots of yellow flower bushes (not sure if they are here all year around. Probably not).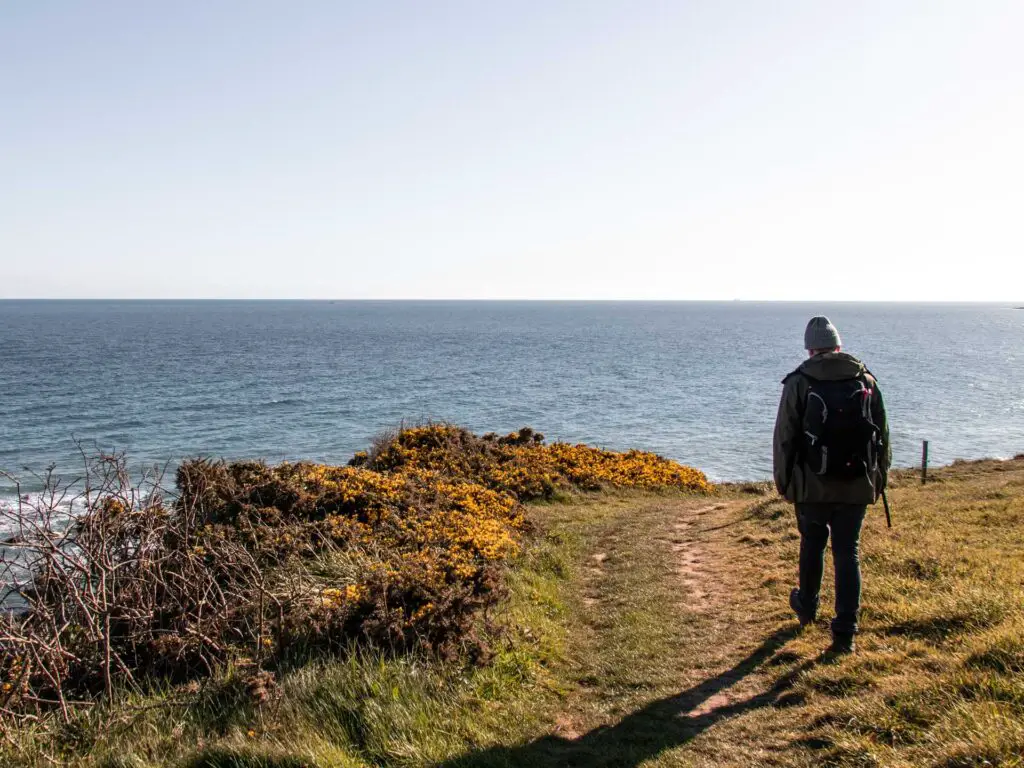 You will notice (what I think is) a farm building up ahead with a lovely hilly backdrop. Then as you get closer you will be greeted by the beautiful Lannacombe beach, enclosed by cliff and black rocks.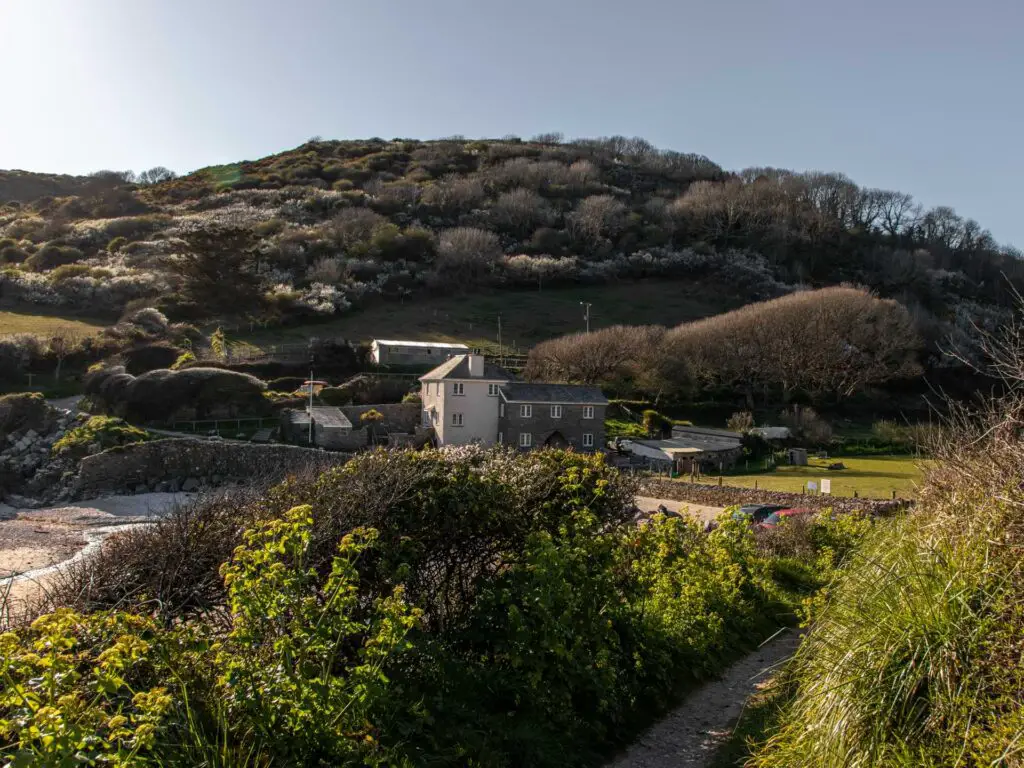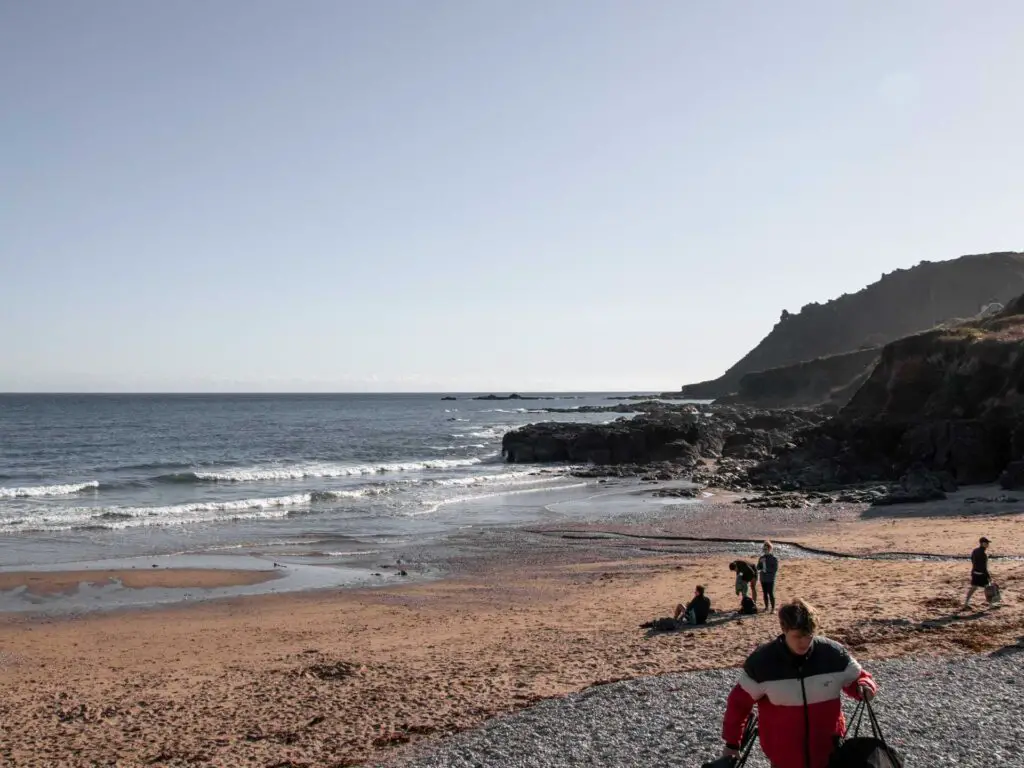 Walk from Lannacombe beach to a cool viewpoint
After you have enjoyed the beach (I suspect this is a busy one during summer as you can drive to it), continue past it and up the wide gravel road.
Along the route you will see coast path signage every so often….incase you are lost. Actually, I found these signposts rather amusing and cool at the same time. They do the usually thing of telling you where you are heading and the milage, but sometimes letting you know about somewhere which is 100's of miles away. I had to explain to Ollie that some people walk the whole of the South West Coast path in one go, so it totally makes sense. Although, I'm not sure I would feel encouragement seeing in writing how far I still had to go. 
(Just a note, it is in my life plan to walk the whole South West Coast path).
If the trail ever splits, there should be signage telling you which way to go. Even if it's just a stump with a yellow arrow.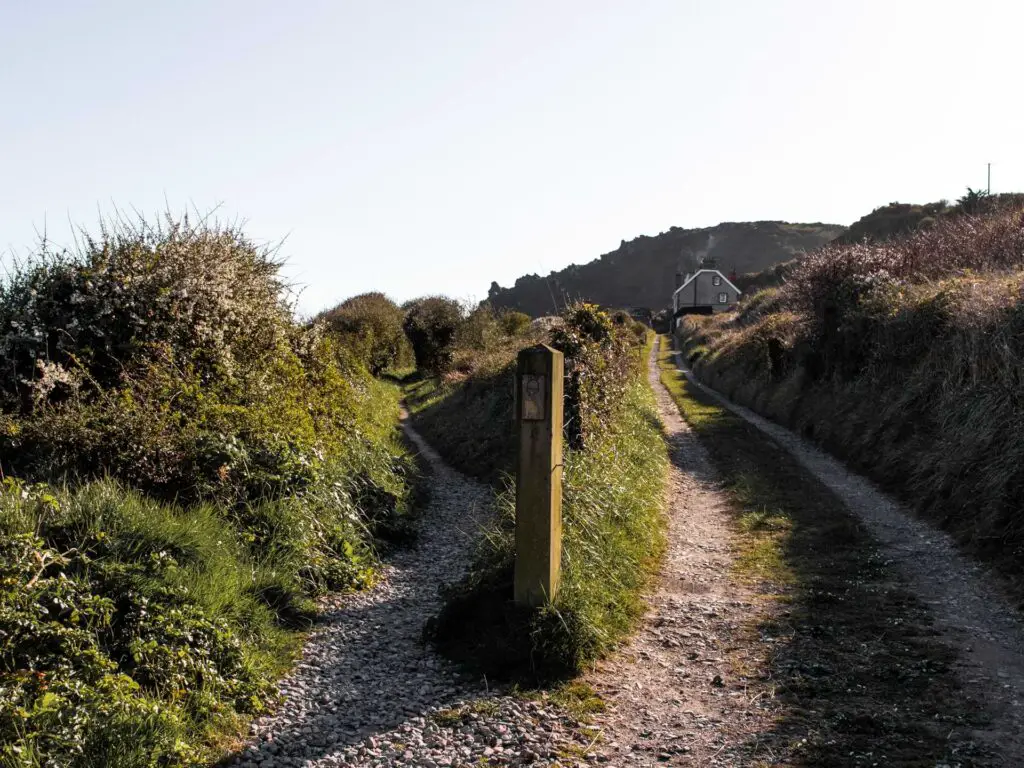 Anyway, the trail continues winding along and you will reach the viewpoint up a hill and past a bench. When you get past the bench, go through the gate on the left. For more views of cliffy coastline goodness.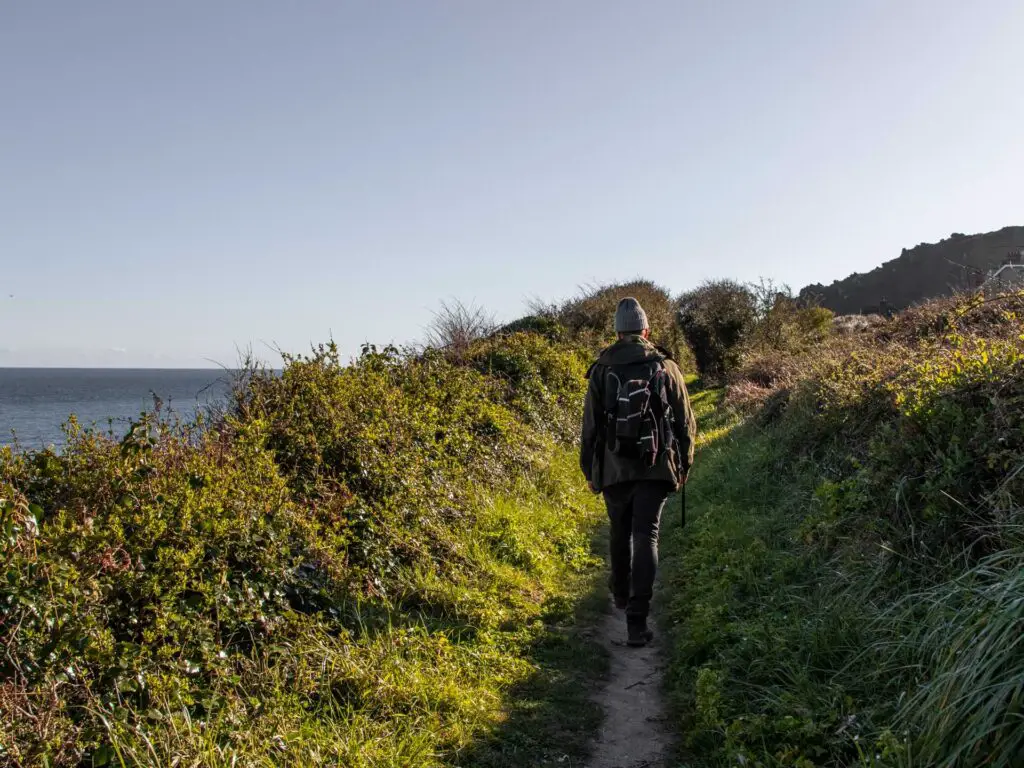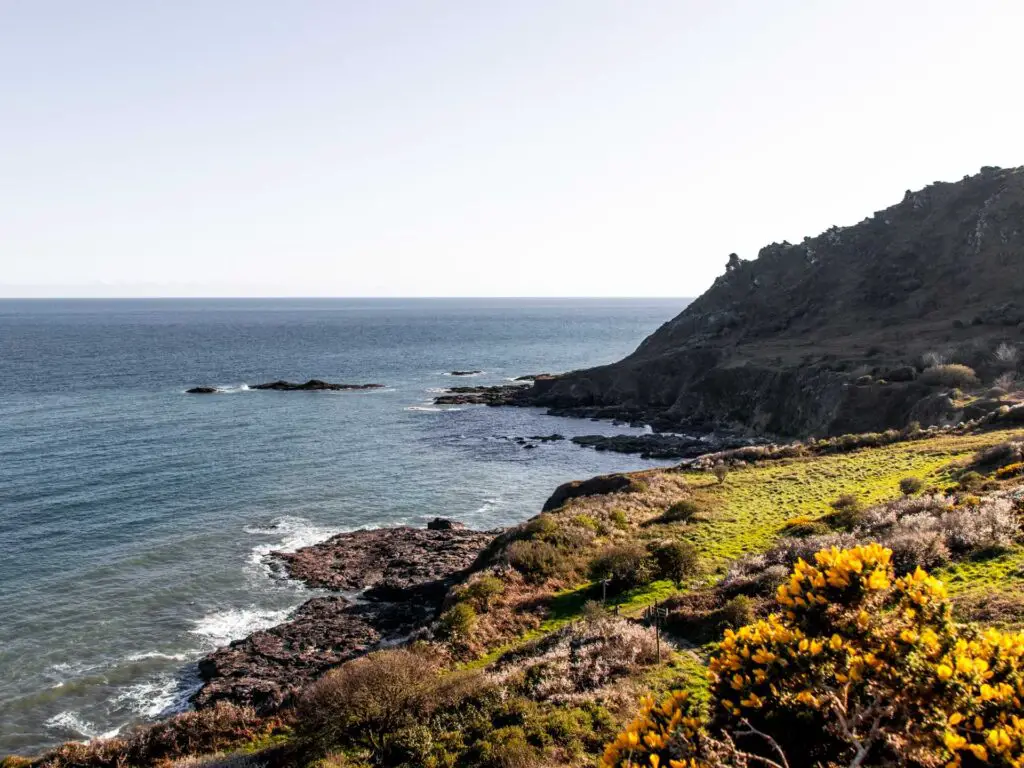 Walk to Matticombe Sand
It was at this point that I left Ollie on that bench by the viewpoint, to do the remainder of the walk alone. He was ready for a break and to turn back but I had it in my mind that I was going to make it to Matticombe Sand. To be honest, I think this point would actually be a good place to turn back. I wouldn't say the views get any better going that little bit further. However, Matticombe Sand seemed to be quite secluded with no car access, so if you want a little private beach moment then keep going.
From the viewpoint, you head downhill down a rather steep bit (remember my tip about hiking boots). At the bottom of the hill you will go through another gate where you will have a decision to make.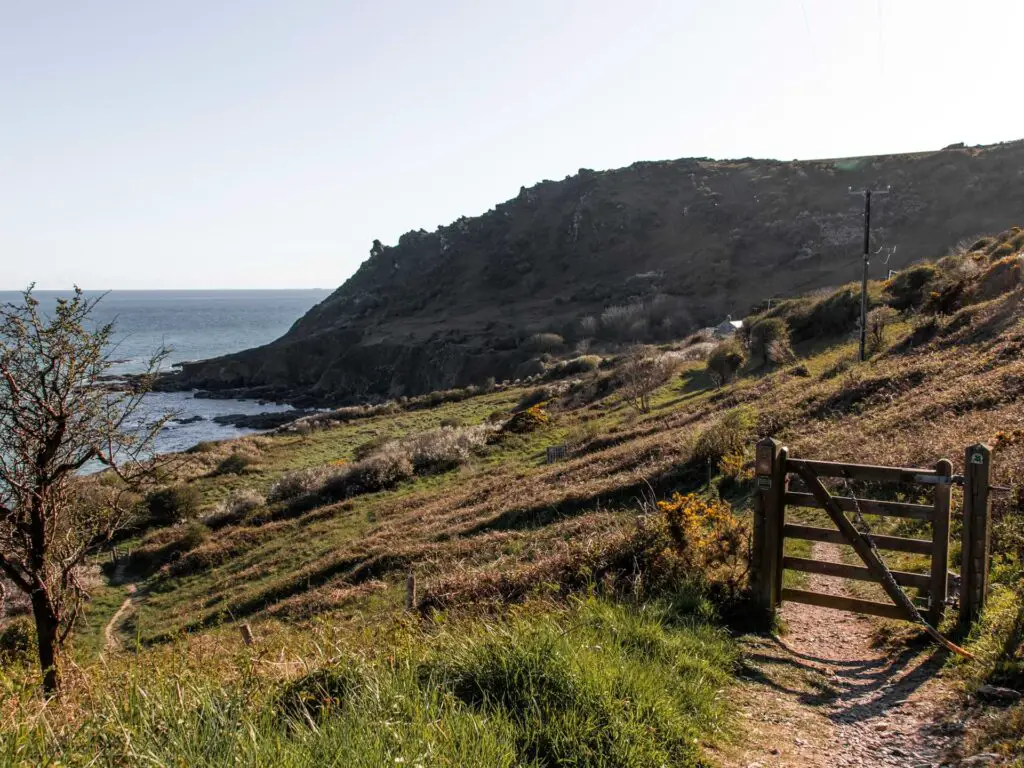 Possible detour
There is signage here, pointing you left to a beach.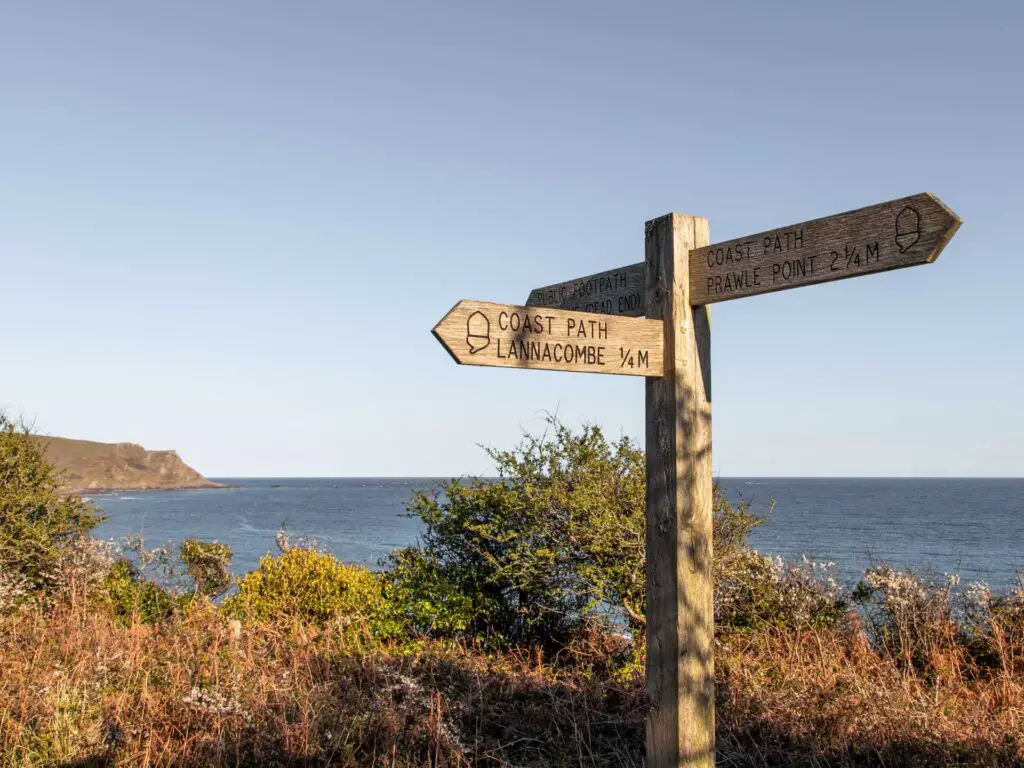 I pondered for a moment about wether to go and check it out. Actually, if you are following my map, you will see I did start to walk down that way. Then I remembered the real reason we came to Start Point Lighthouse. For sunset for Ollie. Time was getting on and I realised that at this point, there was a good chance we wouldn't get back to the lighthouse for sunset, so I turned around and rushed along to get to my planned destination as quickly as possible.
To Matticombe Sand
If you continue along west (the sign points to Prawel Point) the trail continues being narrow, then opens up and leads you onto a bit of road next to what looks like a home. Lucky person.
You will notice a fence up ahead, don't go through there, but instead get onto the grassy bit to the left of it.
This bit takes you through some shrubbery and isn't quite as pretty as the rest of the walk. It felt a little gloomy here actually. It suddenly got quite a bit colder. There isn't much in the way of views along this bit either.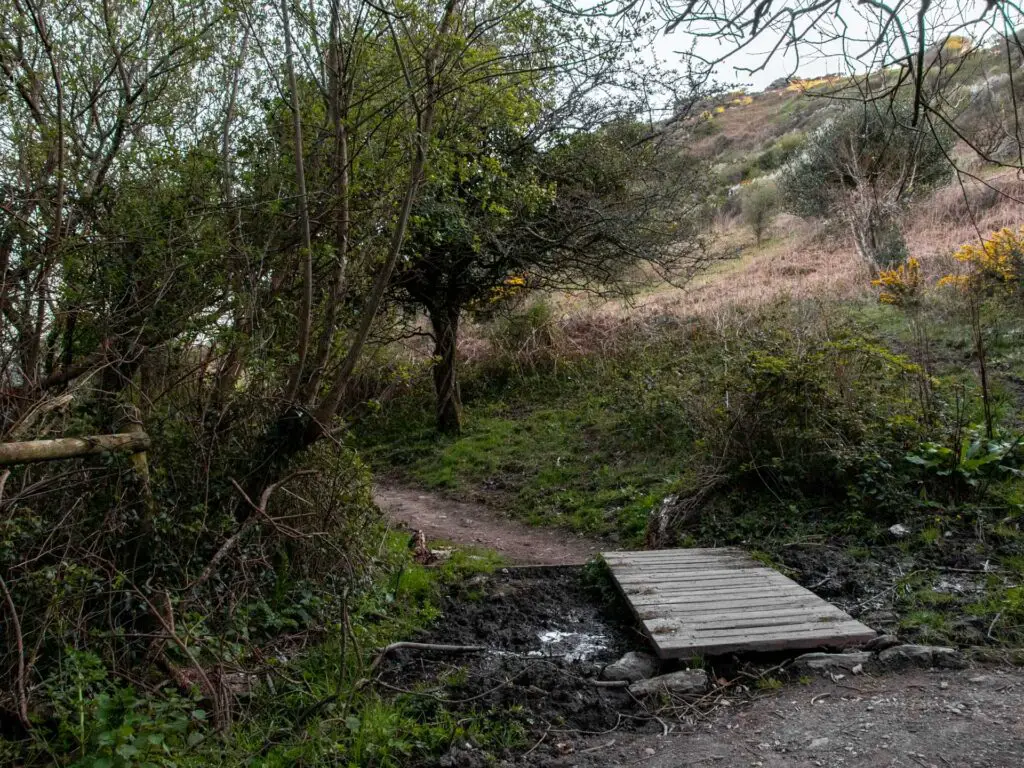 This section might actually be quite nice though, if you come and do this walk on a hot day. Being sheltered under the trees will be a welcome break from the heat.
After walking through the trees, things open up briefly giving you a lovely view back to the coastline you came from.
Keep going, and when you see this post with yellow arrows, take the left trail leading off this one.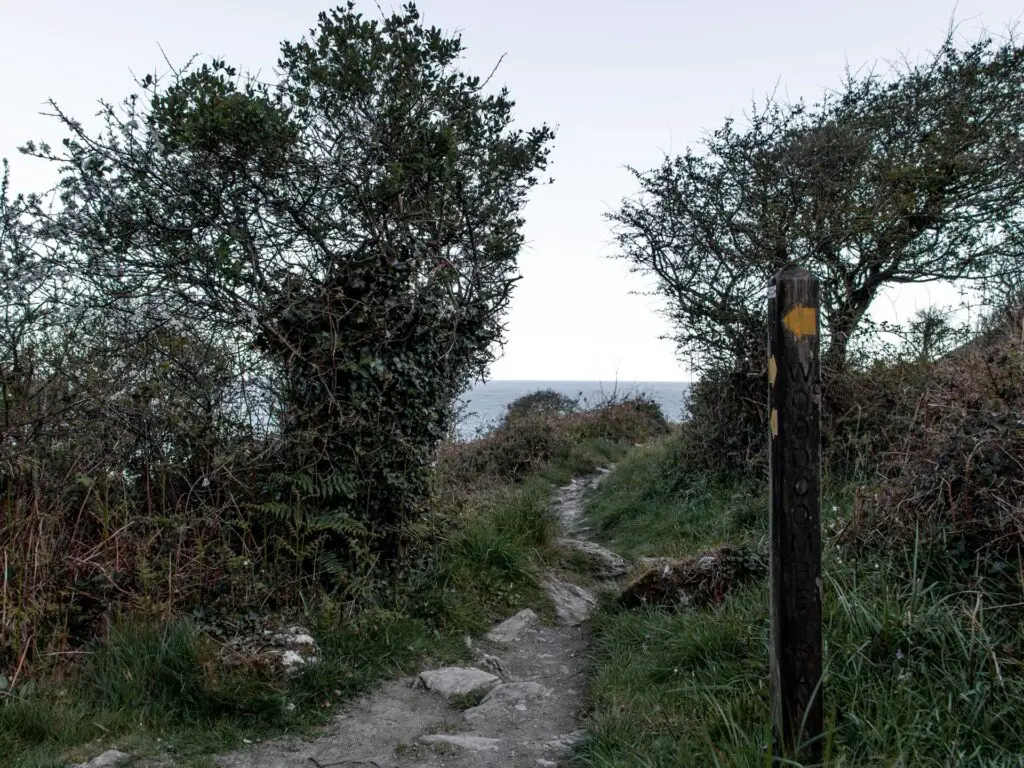 You will now head down a small/narrow dirt trail to get to Matticombe Sand. At first, sort of surrounded by trees, then things open up and you will see the narrow trail as it curves its way down to the beach.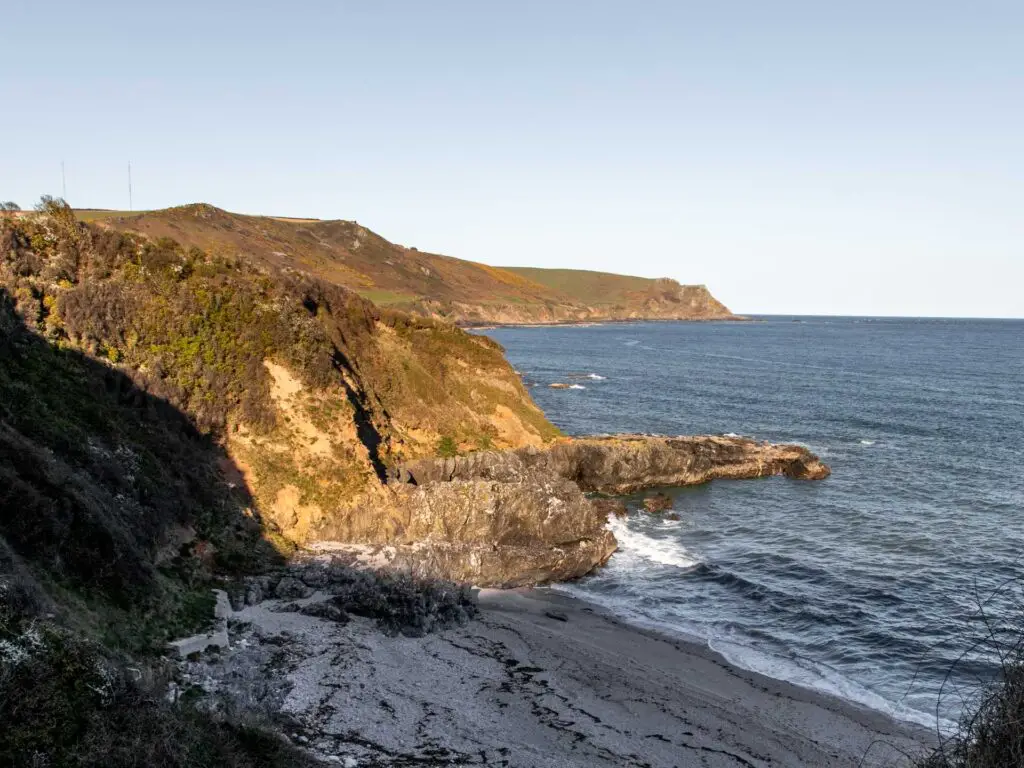 This is where I decided to stop and turn back. I was super aware of the sun going down and being late for Ollie. Plus, the beach wasn't super inviting as it was all shaded by this point. No offence to the beach. I'm sure it's super lovely. I just wasn't feeling it right now.
The walk back to Great Matticombe Sand and Start Point Lighthouse
So now (or at whichever point you walked to) you simply walk back the way you came. Giving you a view of the gorgeous coastline from another perspective.
Walk from Great Matticombe Sand to Start Point Lighthouse
Once you are back at Great Matticombe Sand, up the hill you should see a wood stump signpost. Follow the yellow arrow right. After this, where the trail splits, take the right one to lead you to a perfect viewpoint for the beach (and access to walk down to it if you so wish).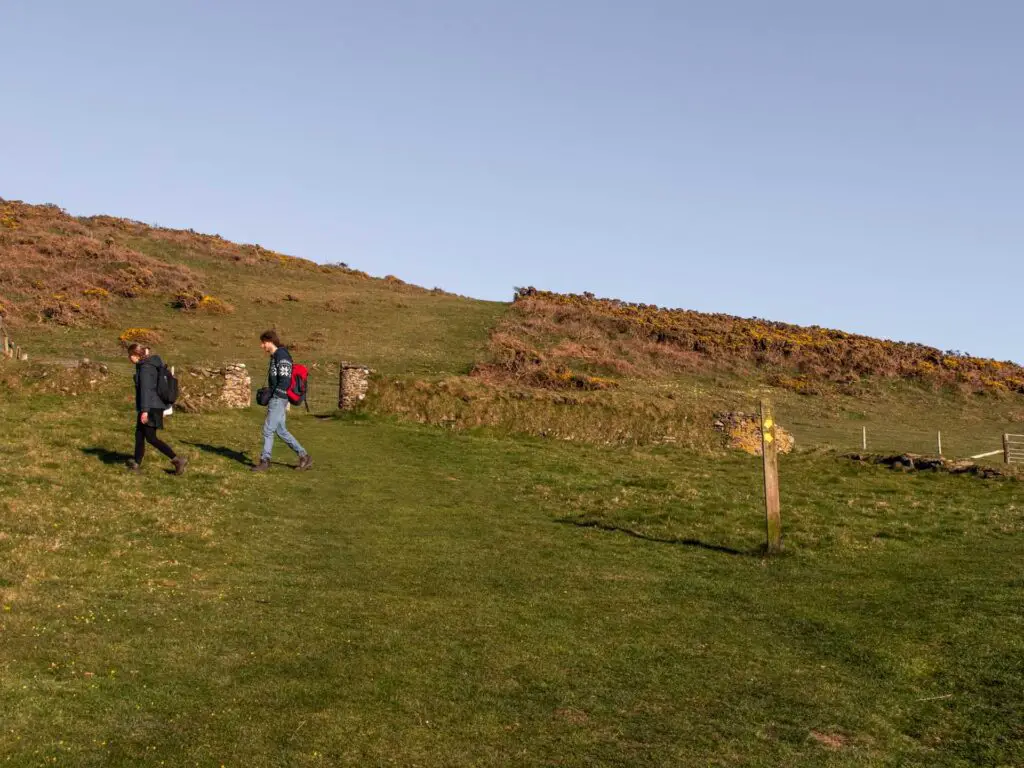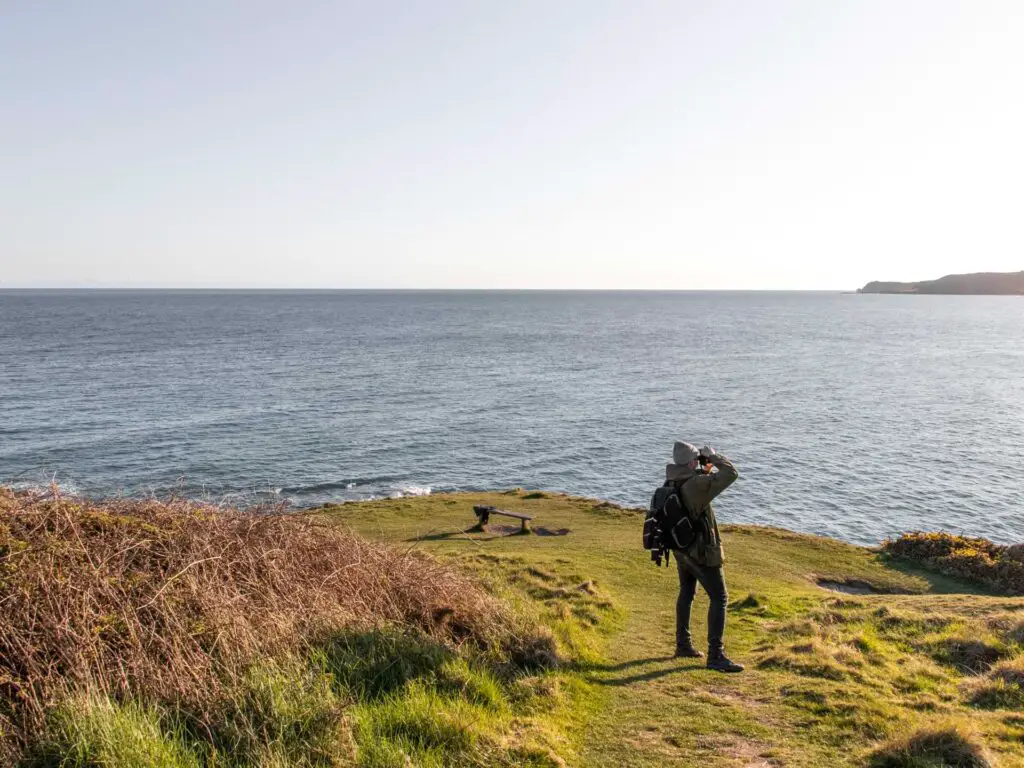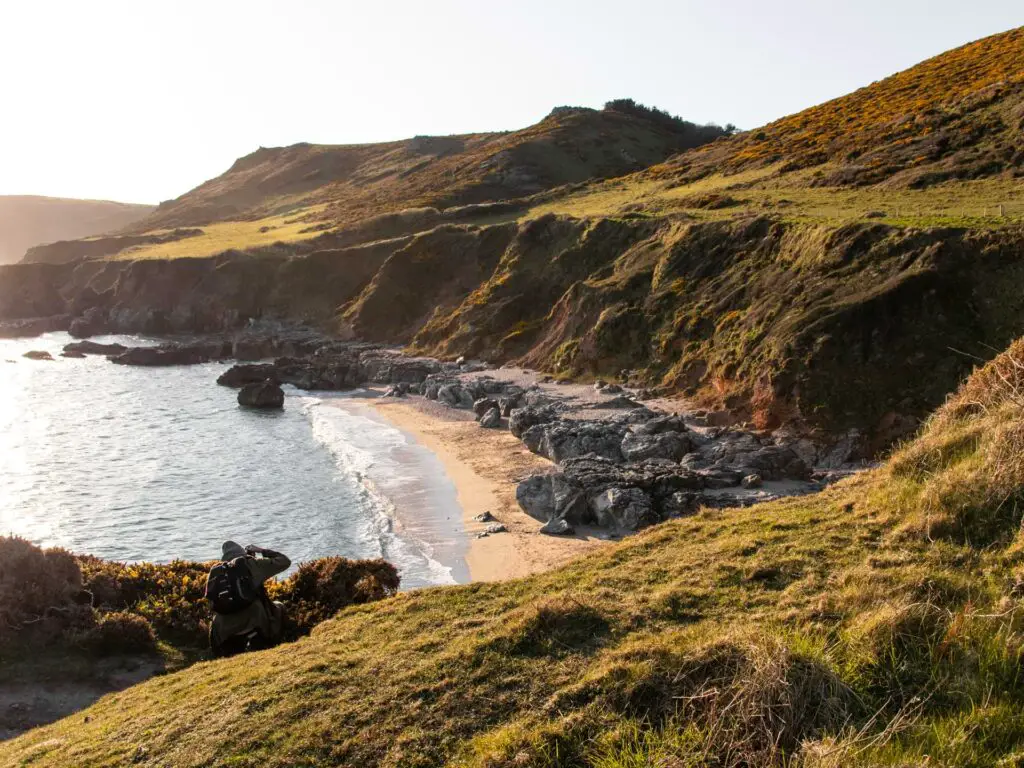 From here, follow the trail along the coastline (east).
Once you walk around the corner, you will get a good view of Start Point Lighthouse in the distance. Now just head towards it.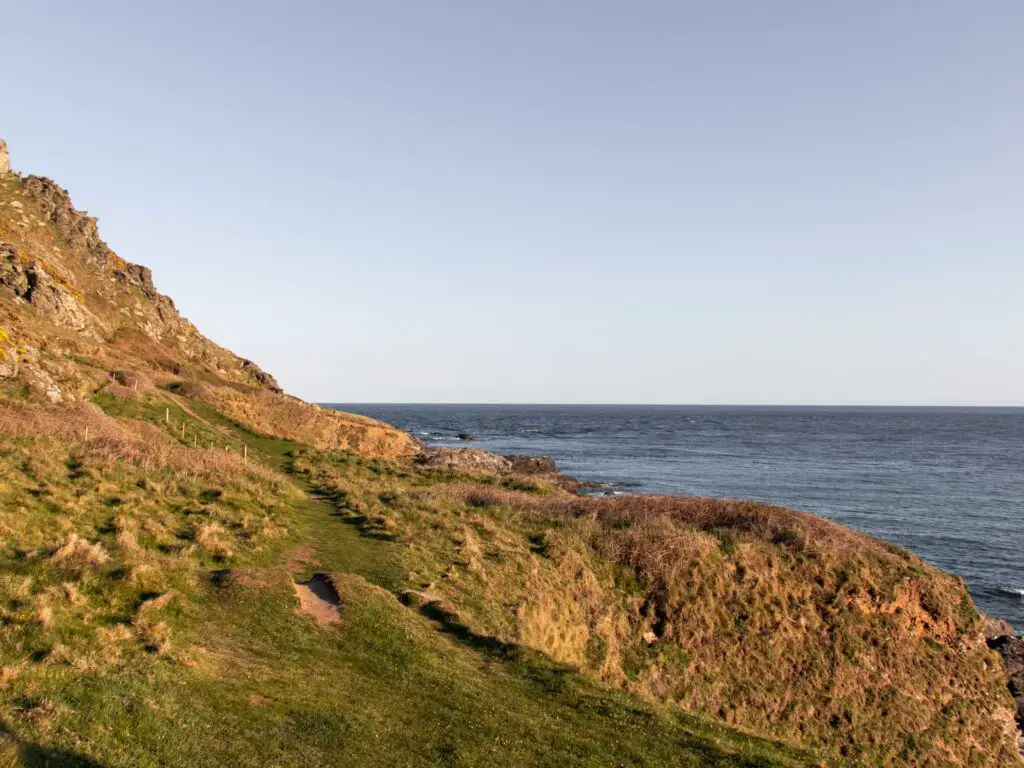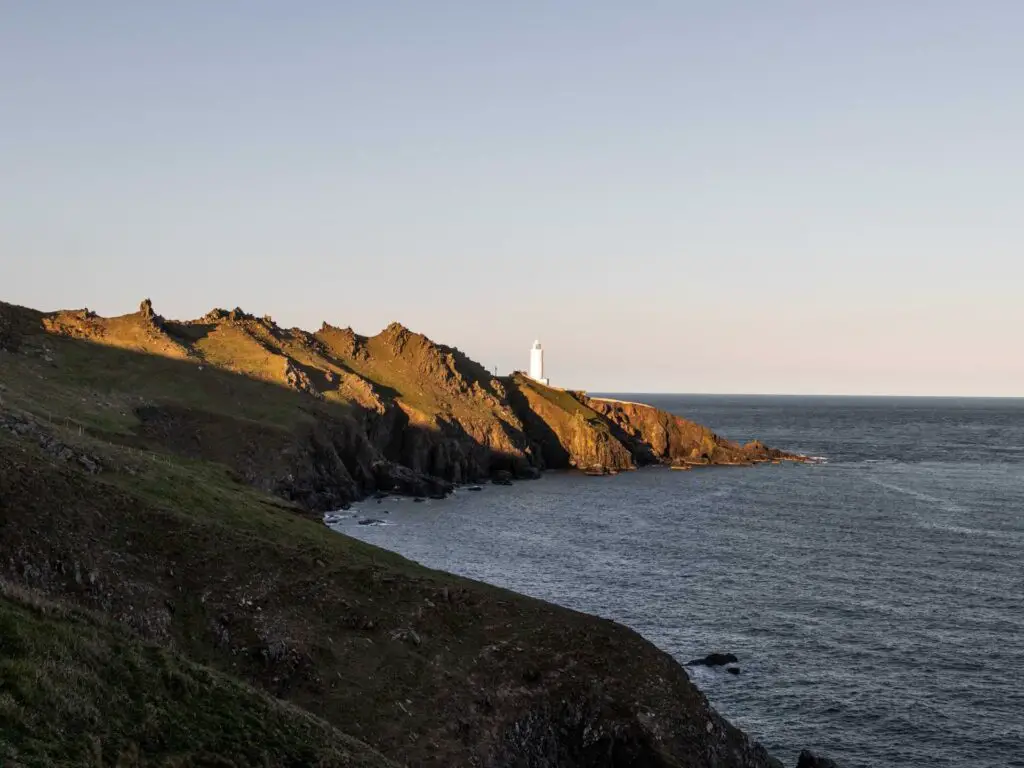 The scramble 
Things start off pretty simple. At this point, we hadn't yet realised what we were in for. It just sort of slowly crept up on us really. A small bit of ruggedness, a bit of a scramble, and before we knew it we were full on making our way precariously along the side of the hill. 
This turned out to be one of my favourite bits of the walk actually. But as I mentioned earlier, it's not for the faint hearted. If you aren't careful, or even if you are but happen to slip, well, things might not end so well.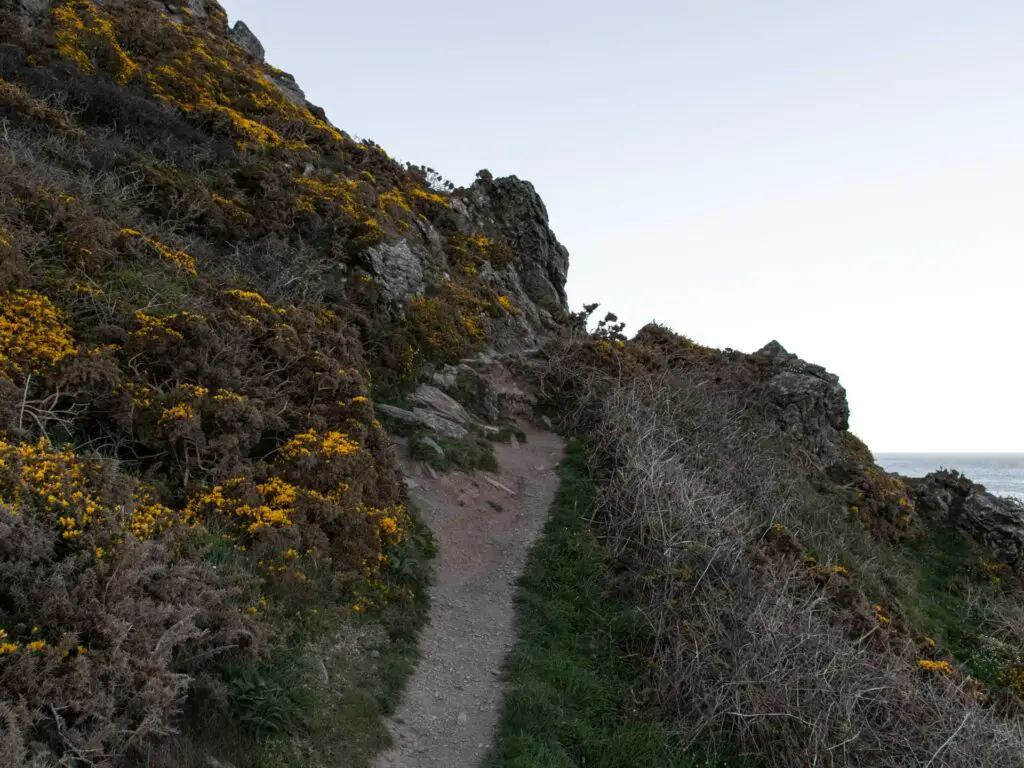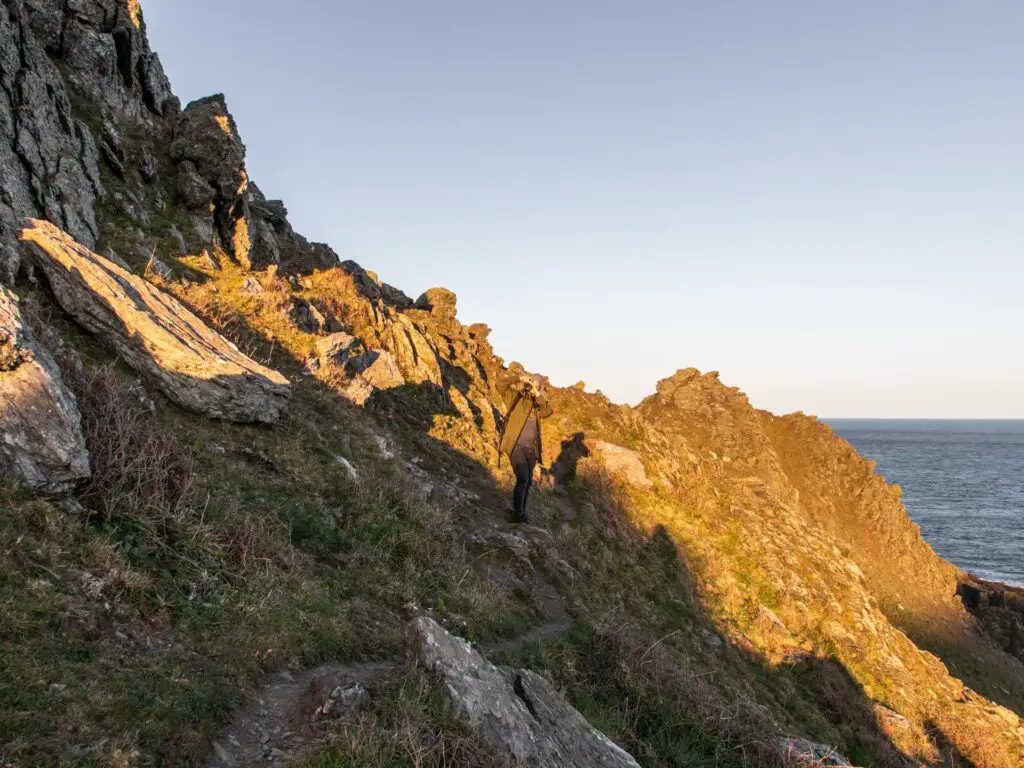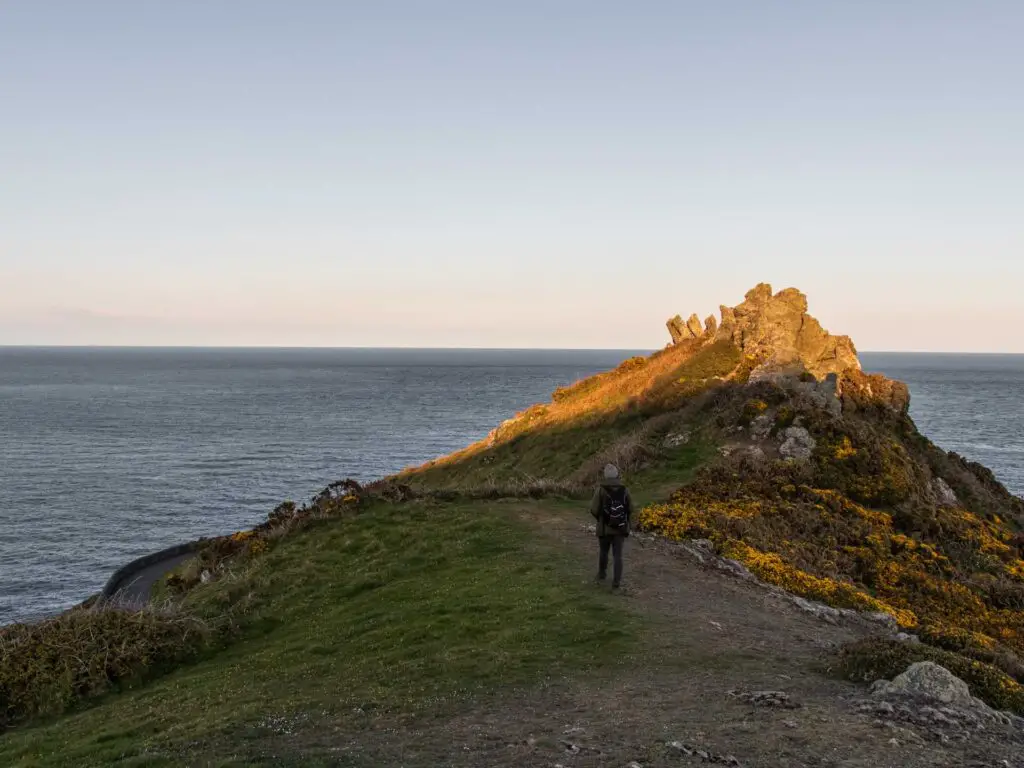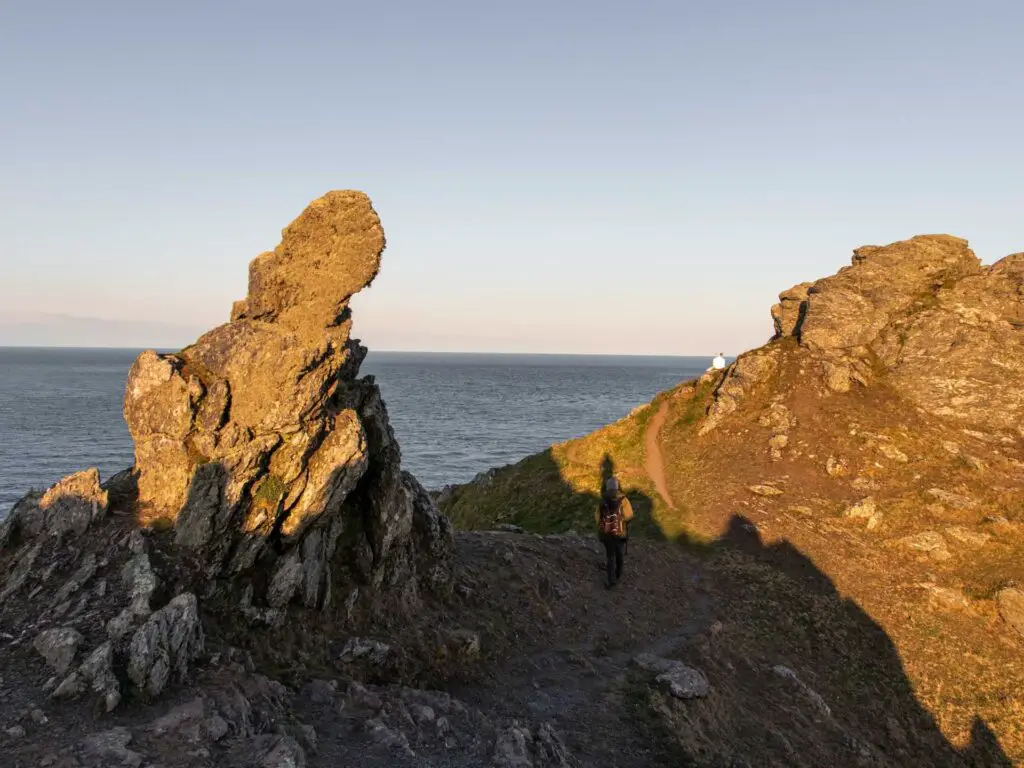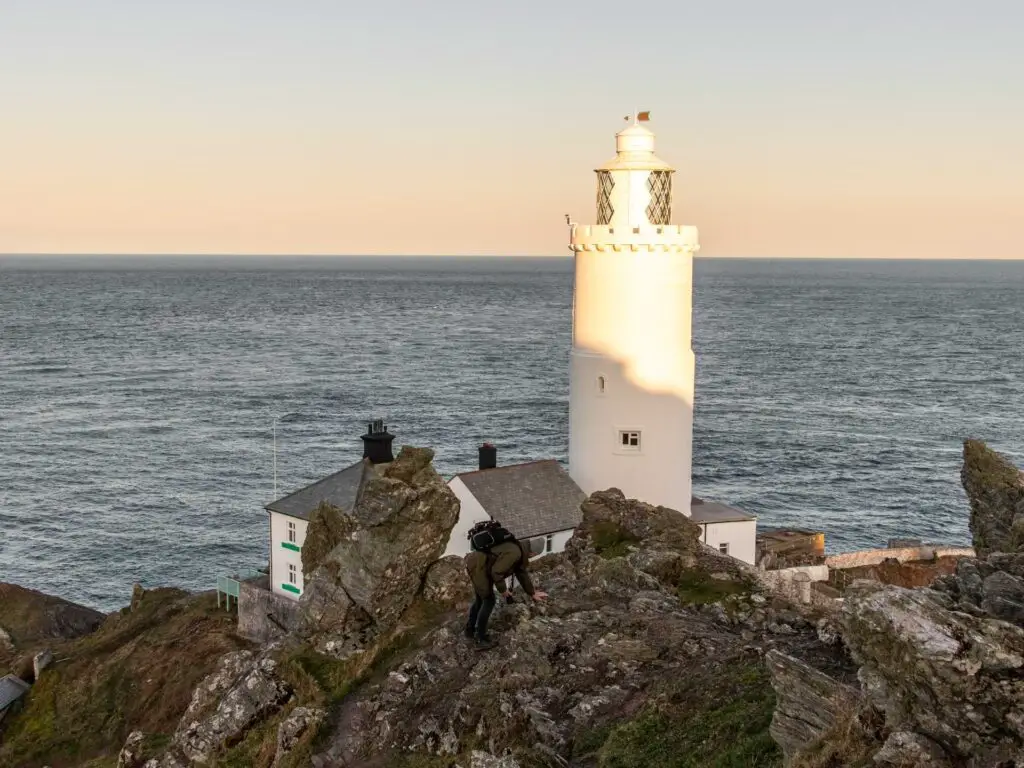 It is somewhere along here that my tracker app failed me. But to be honest, I wouldn't be looking too much at my phone for this bit anyway, but rather, focus on my footing. 
You should be able to just about make out the trail. It will be the bit that looks 'safer'. 
The walk back from Start Point Lighthouse
To walk back, we got ourselves down onto the road and walked back along it to the car park, with a lovely view of the other coastline to finish us off.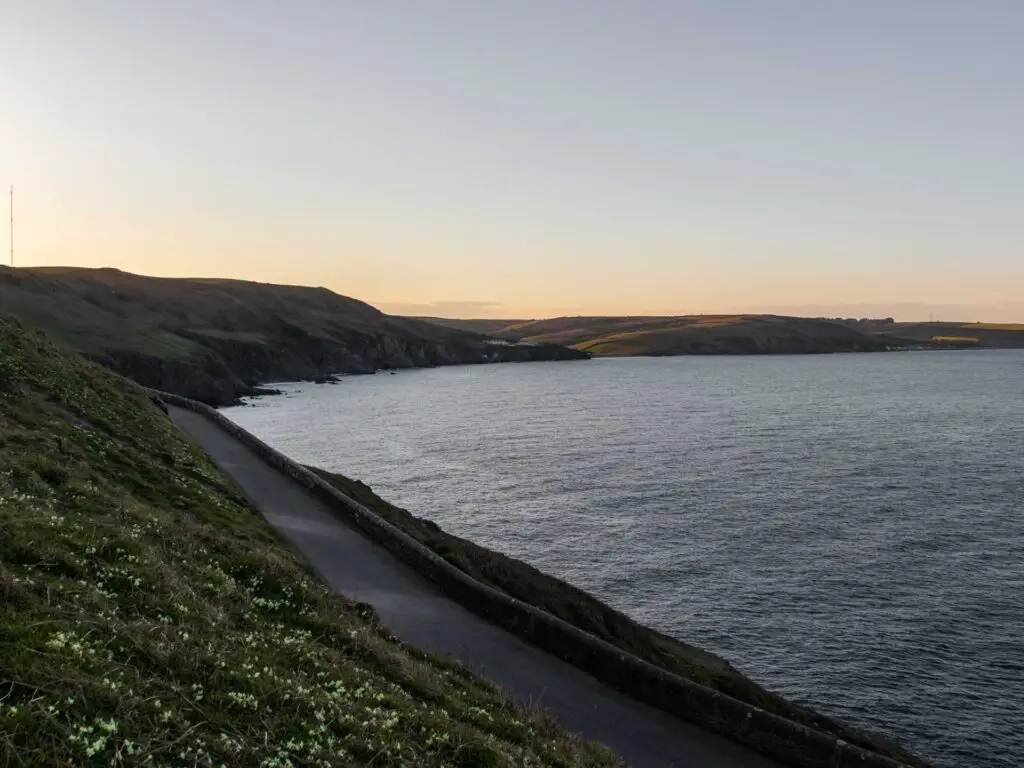 You don't have to walk back on this road, you can continue scrambling back on this big rock/hill. 
We had just had a solid walk, and felt it a rather lovely end, to finish on a calm easy road, with the long stretch of coastline view. 
(I say easy, It was uphill)
Other walk ideas nearby in South Devon
The main towns near Start Point Lighthouse are Salcombe and Dartmouth. You can see a detailed side by side in my posts about the best walks around Dartmouth and best walks from Salcombe. Below is a quick look at a few of the walks on those guides.
Quite near to Start Point Lighthouse, you have the Salcombe area which has a number of great trails you can walk on. In fact, if you continue following the coastline, you aren't far from the section between Salcombe and Prawle Point. Fun fact: Prawle Point is the most southernly point in Devon.
One of my favourite walks is over by Salcombe. It's the coast path walk to Hope Cove. Beautiful flower lined trails, jagged pointy tor outcrops, gorgeous gorgeous beach coves.
If you head slightly north to Dartmouth, then the little Dartmouth walk is lovely. You also have the option of making that one longer and walking to Blackpool Sands.
You could also do a a short walk from town to Dartmouth Castle and a little beach cove. Across the river you have more cliffy coastline to explore and could try out the Daymark Coastal hike.
If you like a challenge, then the walk from Kingswear to Brixham fits. It's one of the most challenging bit of the South West Coast Path I have done so far.
If you like lighthouses, then the Brixham Berry Head walk features two. One of them is a bit famous being the highest but also shortest lighthouse in Britain.
Alternatively you could look for stuff on the Visit South Devon website.
Pin it for later: The Start Point Lighthouse coastal walk