This is a short little coastal walk from Ilfracombe, but you get a lot of bang for your buck. In total we walked 2 miles (for the marked route below), but you can make it shorter or longer to suit your mood (or energy).
We had just arrived after a long drive from London and wanted to walk long the coastline and up to the Ilfracombe viewpoint for sunset. Once we reached the top we had some time so added a little bit more to the walk, around the Torrs and circled around back down to the car and then went up again. 
You know what though, I'm so glad we did it twice, as the second time we discovered even more by changing it up a little, which is why I'm going to recommend that you freestyle this one a little. 
My map and guide below will show you exactly how to get up to the top, a suggested walking route, and what you can do to mix it up.
Nb. There is a quicker way to get up to the top, however, going this way gives some incredible views which I strongly suggest you don't miss. 
Logistics for the Ilfracombe viewpoint and Torrs coastal walk
Start: Ilfracombe/Torrs car park
Finish: As above
How to get there: I got to Ilfracombe by car, but if you don't have one, don't worry. You can get the National Express coach direct from London (and other places). Train/bus is a bit more complicated, but doable.  The Visit Ilfracombe website explains it all nicely, including driving instructions. 
Distance: 2miles +/- some
Time: For the 2 miles we took about 50min. This included stopping a lot to admire the views and take photos.
Elevation: Highest point is 138m
Tips: Go for sunset. Sunrise will probably be nice too, although I can't accurately comment on that because we didn't do it. Sunrises tend to be nice though so I can't see it going wrong.
Amenities: Anything you want will be in Ilfracombe. Nothing on the trail itself. But it's short…so you can wait.
Time of year: We did this one late April.
A map for the Ilfracombe viewpoint and Torrs coastal walk
Click on the top box to open in your maps. I started the tracker from the car park, so that should help you find it.
A guide to the coastal walk up to Ilfracombe viewpoint and Torrs
From Ilfracombe you basically need to walk to the coast and head south/west. If you are driving, there is a car park that will get you right to the start of the trail. We had actually driven to what google maps has marked as a National Trust car park, however, upon arriving, there didn't seem to be any such thing. However, a bit down the road at the junction we saw what was marked as the Torrs car park so we settled on that. 
Starting the walk up to Ilfracombe Viewpoint
So, from this car park you have 2 trail options. One you will see if you walk down the hill on the other side of the car park area. The other goes straight up from near the entrance of the car park space. 
We took the trail that goes straight up. I think the other route will be really nice though (more on that later).
For starters you will be walking surrounded by trees on a gravel type trail. We lucked out, because the time of year meant we got some bluebells on the walk. 
As the trail curved its way gradually uphill, everything suddenly opened up and we started to get the lovely coastal views. I was super excited at this point, I had no idea it was about to get tonnes better.
You will reach a junction on the trail. To go up to the viewpoint, you take the left trail. The right trail will take you back down and around to the car park, or Ilfracombe. This is where the other trail from the car park leads to.
Alternate route? 
On our second time up, we got to this point and decided to have a look down the right trail and oh boy I'm glad we did. We didn't go all the way, but from the looks of things, if you take the other trail from the car park, to lead you up this way, it might be even better.
Up to Ilfracombe viewpoint
Anyway, back to that junction. If you head up the trail (in the direction of Lee) it will then take you on a super winding, hairpin bend type walk all the way up to the top.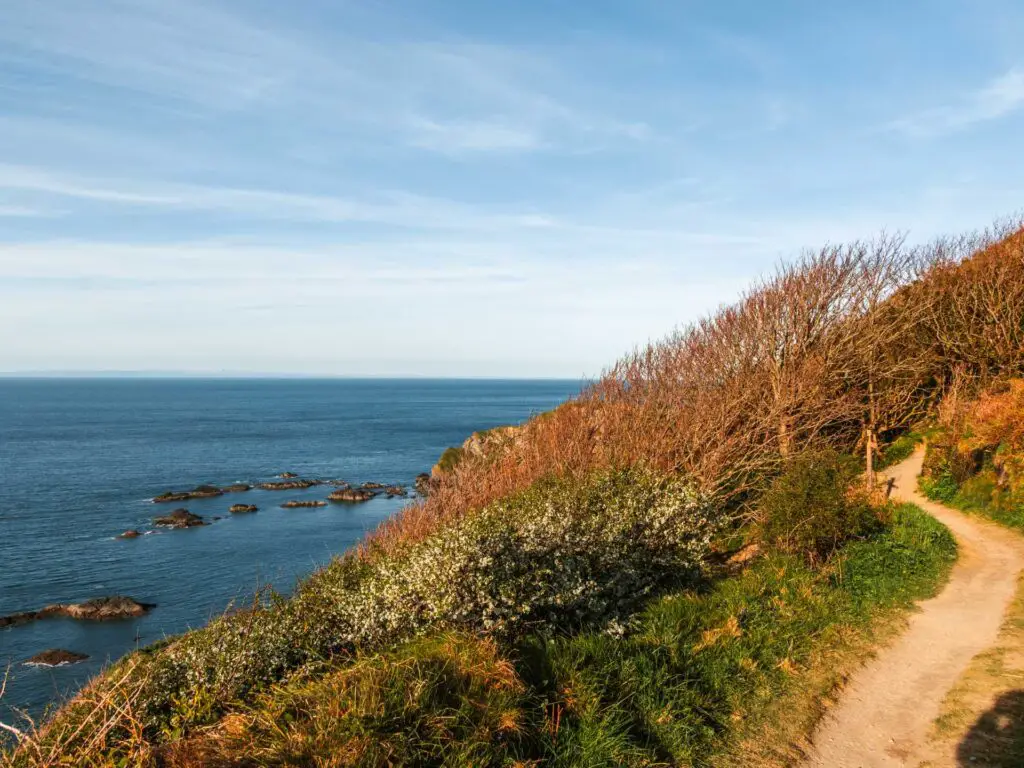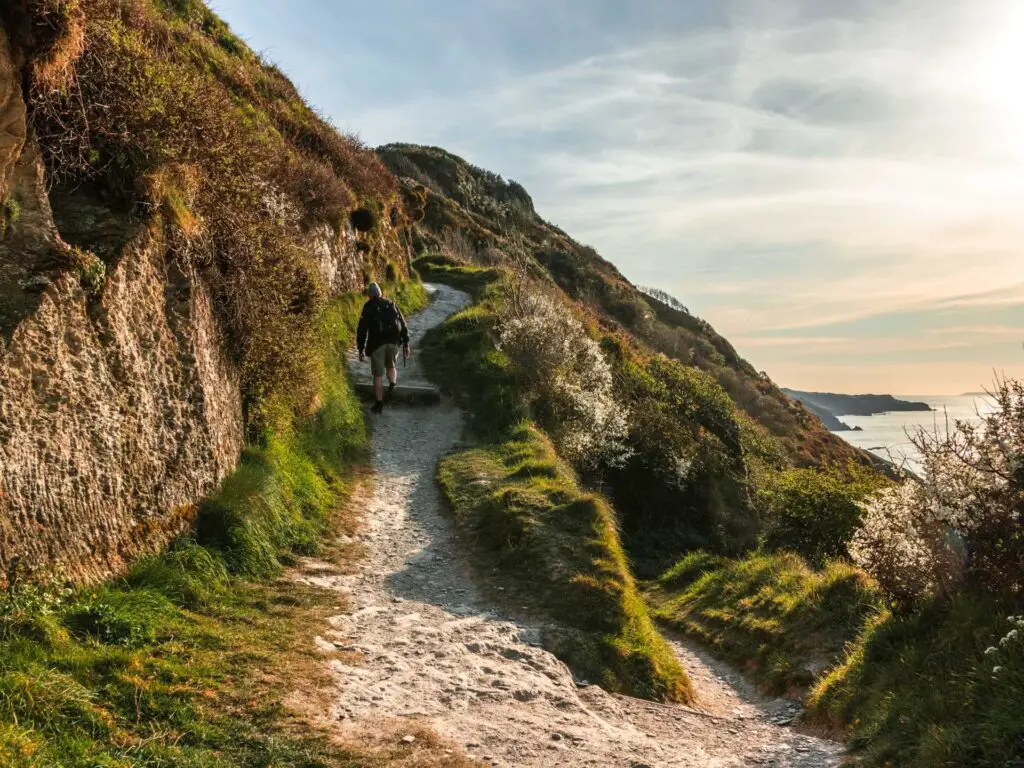 There are regular well placed viewpoint benches as you make your way up. Although you are facing the same direction for views all the way up, it gets different the higher you get. Things that were hidden behind hills gradually come into view.
Reaching the top – Ilfracombe Viewpoint.
As you near the top you will walk through a gate. Once through, take a right and you should see some steps up ahead. Go up them and you have reached the top of Ilfracombe viewpoint.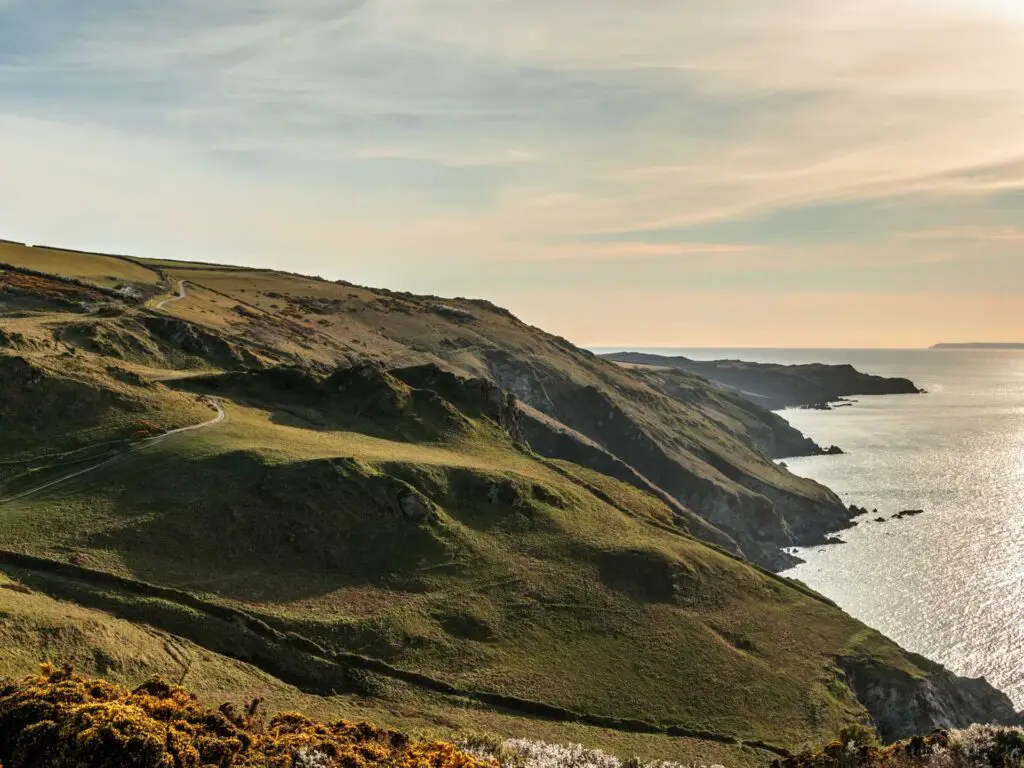 Looking South/West you will get a dramatic rugged coastline view (the photo above). You can also make out a trail running along the hills. If you follow that trail, it will actually take you Woolacombe and further along to Croyde. 
Looking North/East you will get a view over the town of Ilfracombe.
Leaving the Ilfracombe viewpoint to the Torrs
From here you can pretty much explore however which way you want. We headed onto that trail I showed you (in the photo) leading to Woolacombe. We kept going until we reached some steps, then looped back.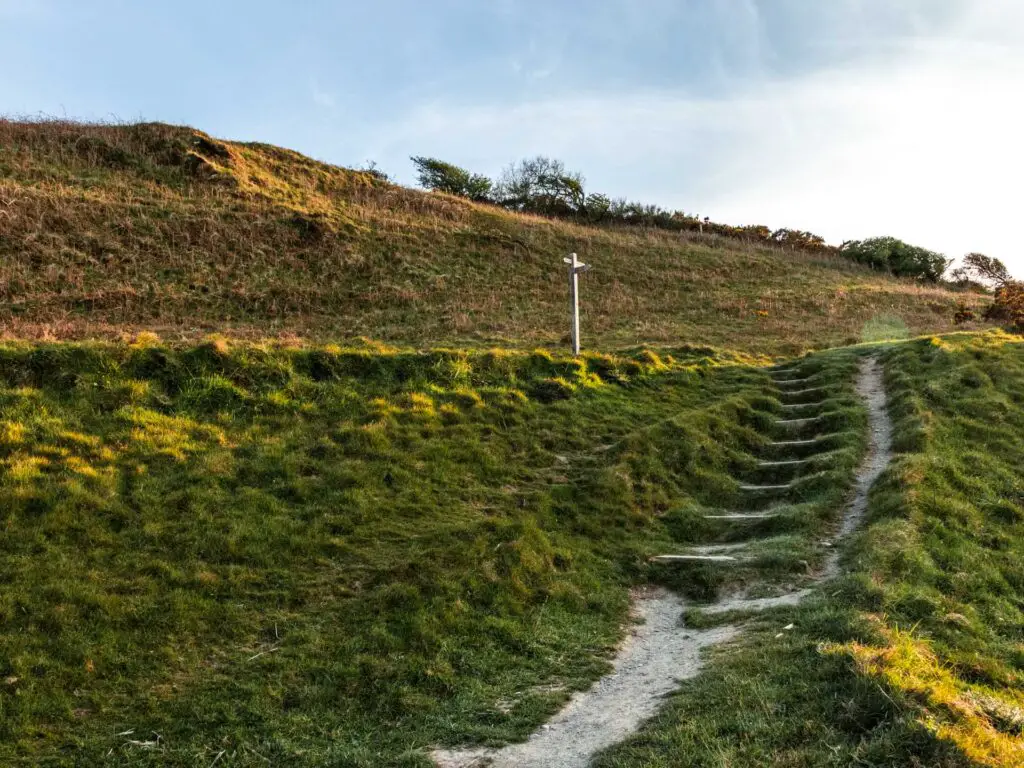 If you go this way (turning back at the steps), you will go through a gate on the other side of the field. Then once you reach the road junction walk along the left road and it will take you right back to the car park (or back into Ilfracombe). I'm not sure I have explained this well enough, so just take a look at the map at the top of the post.
Alternate ways to explore
Once at the Ilfracombe viewpoint, looking down, you will notice the main trail. It's a sort of grassy trail. However, as you walk down from the viewpoint, you will also notice other bits of smaller grassy trail leading off it. On our second time up at the viewpoint we sort of just wandered around the Torrs park without much plan or guide, which gave us those views from a slightly different perspective. It's not really easy to get lost, as Ilfracombe is just there, so when you are done, just walk on a trail that heads down that way. 
If you want something more adventurous, you could follow that main trail and keep going to reach Woolacombe, or even further if you so wish. Obviously keep in mind how you will get back 😉 .
Other walks in North Devon
This was our first stop of the trip, and things were about to get even better. The next day we did a hike to Watermouth and Broadsands beach which you can actually start from Ilfracombe.
There were actually so many trails I wanted to try up here, but alas, we didn't have the time. With one more day left before I had to get back to London for work, we went to Blackchurch Rock for Ollie (about an hour drive south from here). 
But wow.
It is defiantly worth the trip down for the walk.
Obviously, there are many more walks to do, beyond what I know or have written about. You can get some ideas and inspiration from the National Trust website.
I will of course be back. Those trails are calling my name.
Pin it for later: A short coastal walk up to Ilfracombe viewpoint and Torrs