This is a great little hike near Dartmouth. It's just under 3miles in length, but with enough hills to feel like you had a good workout, plus with fantastic views.
I had first wanted to do a much longer hike involving the Daymark, however, I had literally just come off a 10mile pretty aggressive hike which involved scrambling across rocks to get along the river. I was tired, filthy, and had run out of water…..so we kept this one short.
What else will I see on the hike?
Some rocks. Google maps tells me they are called Shag stone and Mew Stone. I can't really find much info about them apart from that seals like to hang out here. We didn't see any seals but the rocks are still pretty cool.
Anything else about this hike?
You will be walking along the South West Coast path, so expect cliffy goodness, beach cove views and a narrow winding trail.
Logistics for the Daymark coastal hike
Start/Finish: Brownstone car park
How to get there: If in Dartmouth with a car, you can get the car river ferry across to Kingswear. From there you can see the location of Brownstone car park on the map I have provided below. If you don't have a car, then don't worry, get the ferry over and walk south along the coast path and join this trail further long. I have provided an AllTrails map so you can see (obviously, your walk will be much longer than mine). I have actually walked this little bit, I will publish it soon.
Distance: 2.7miles, 4.4km
Terrain: Road, dirt trail.
Elevation: Hmmm, so you are obviously high up, but you don't walk right from the sea up to the top. The highest point is 168m. With all the ups and downs you do walk, you end up walking about 199m in elevation.
Difficulty: Medium. It's not too challenging as it's pretty short. I'm putting medium because it does have some steeper hills and the trail gets pretty narrow next to downhill bits (so you will need to be careful not to slip and fall down the side)
Tips: Hiking boots. They just make the trail easier to walk along. 
Amenities: Nothing but the car park.
A map for the Daymark hike near Dartmouth
Click on the top box in Google Maps to open in your maps. Click on the trail name to open in AllTrails.
More walk ideas nearby, with links to full guides, will be at the end
A Guide To The Daymark Hike Near Dartmouth 
So, the trail starts from the Brownstone carpark heading south. You will first off be walking along an easy path where you pretty immediately have a view of the Daymark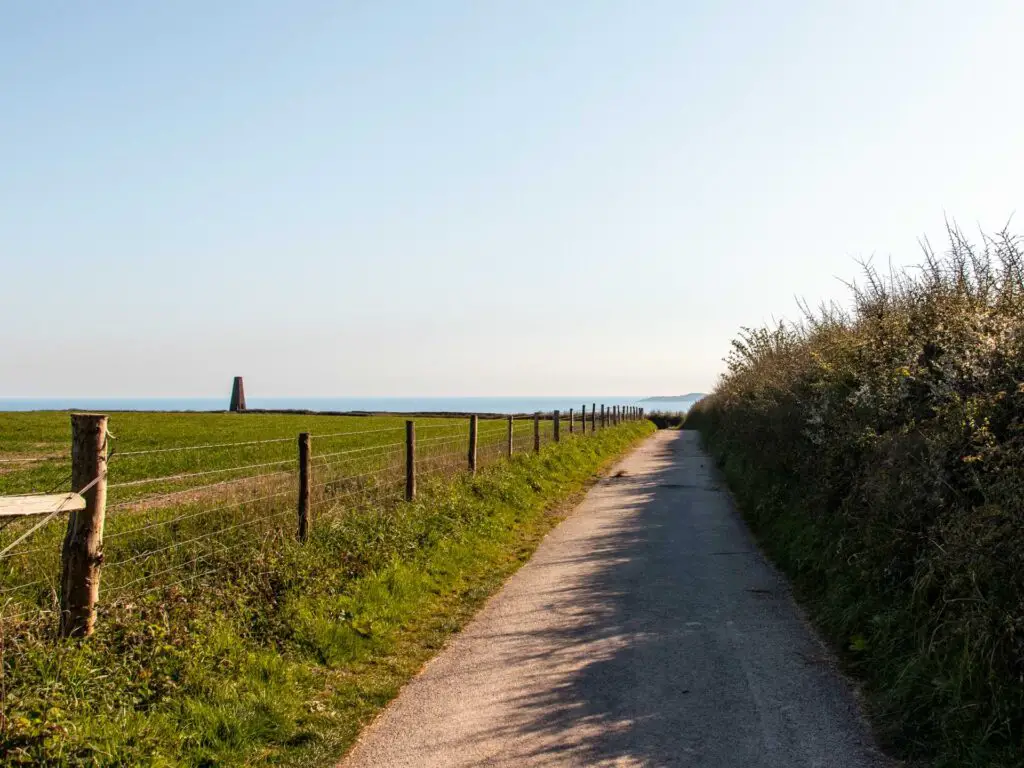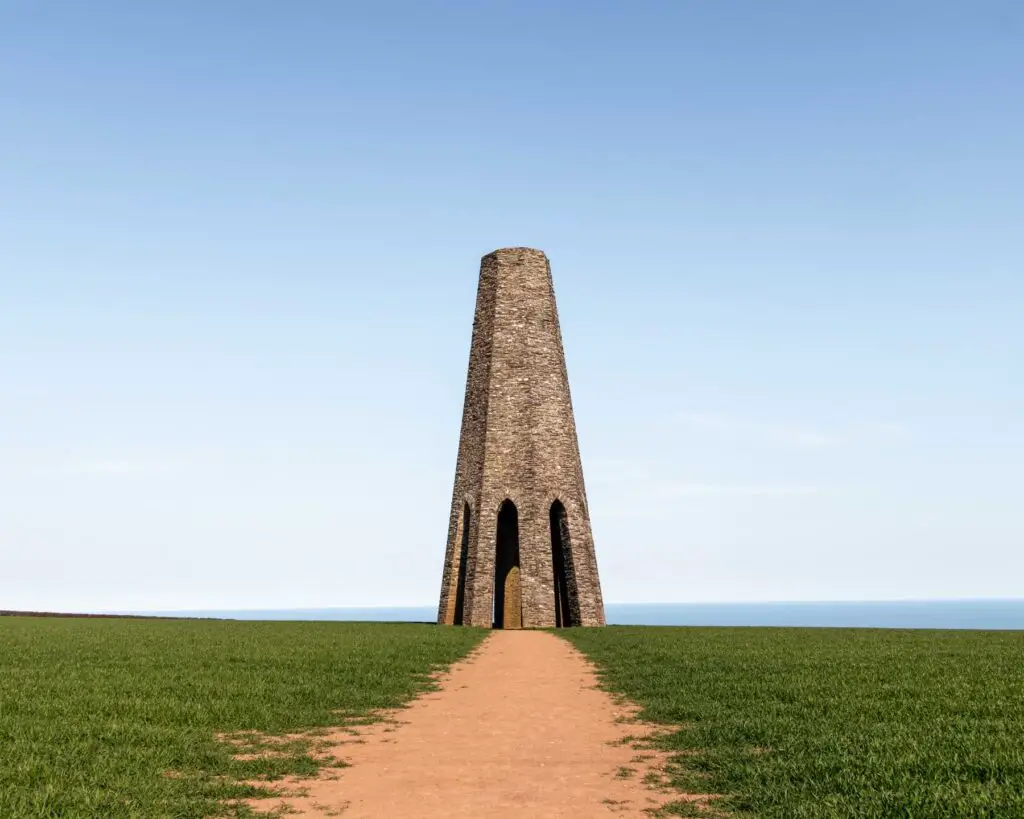 Keep following this trail as it takes you on a few turns and begins to descend down towards the sea.
After walking through a gate you will reach a signpost. Here take a left following the direction to Brixham. You know, I think I would like to do this one day. Come back and walk all the way to Brixham.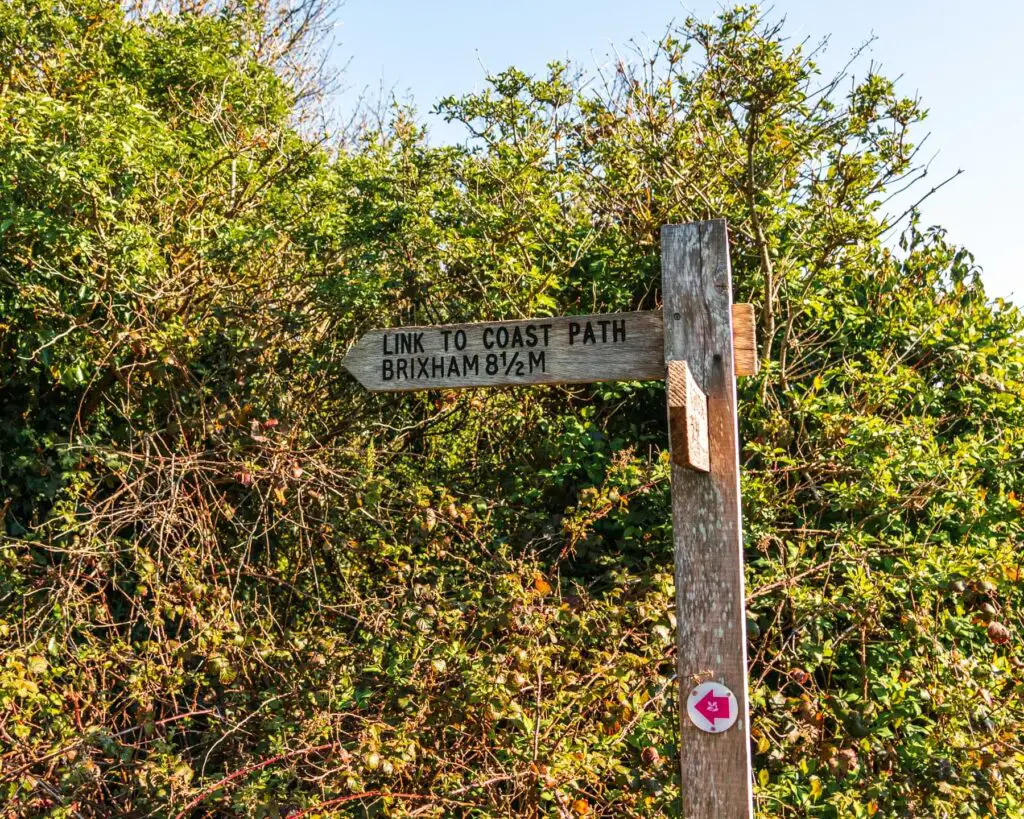 It's now added to my long list of hikes to do.
The start of the dirt trail
When you take a left here you will now be on a dirt trail with what I'm going to say is a fort ahead of you. I'm not sure if that is what it is. If someone else knows, then place tell me :).
You will walk a little bit through the trees before things open up and you get that wow, oh my gosh feeling.
The rocks
You will now see those rocks I talked about in the distance. Here the trail becomes narrow and goes steeply downhill before levelling up as you start to walk parallel to the sea.
Walk along the coastline
At the bottom, you take a left and continue following this trail as it winds its way left and right and up and down. The ups and downs are pretty small here, sort of undulating. You will have brilliant views in both directions of the cliffy/rocky coastline.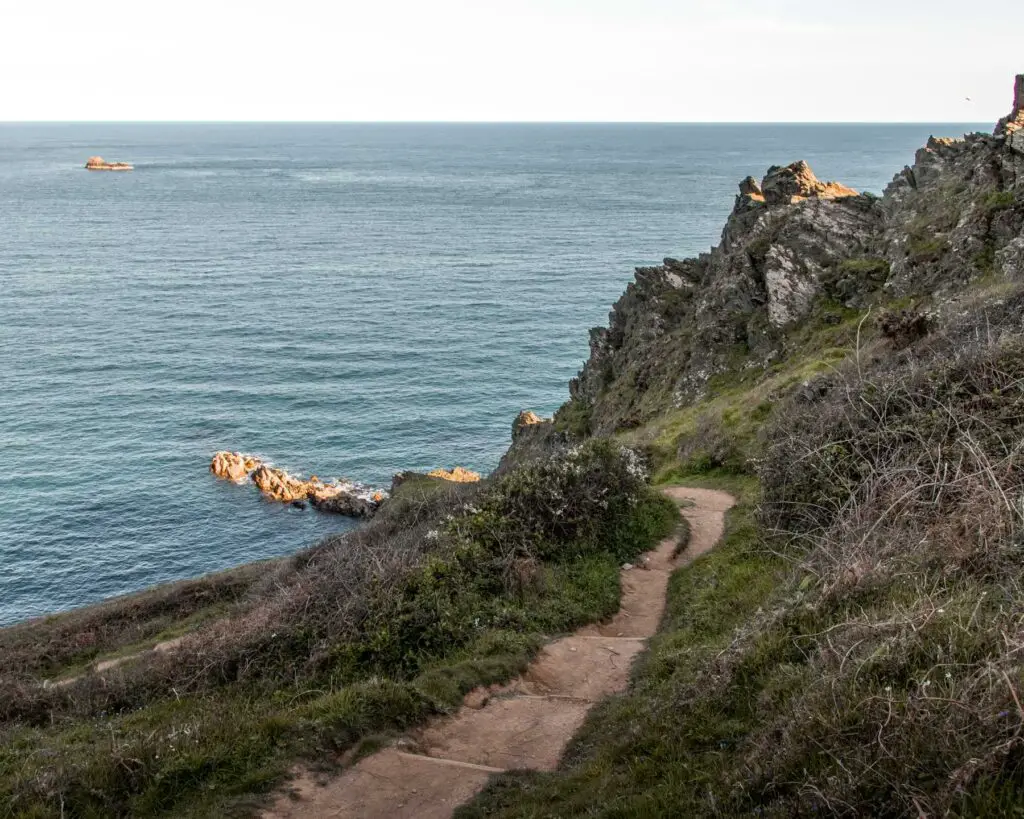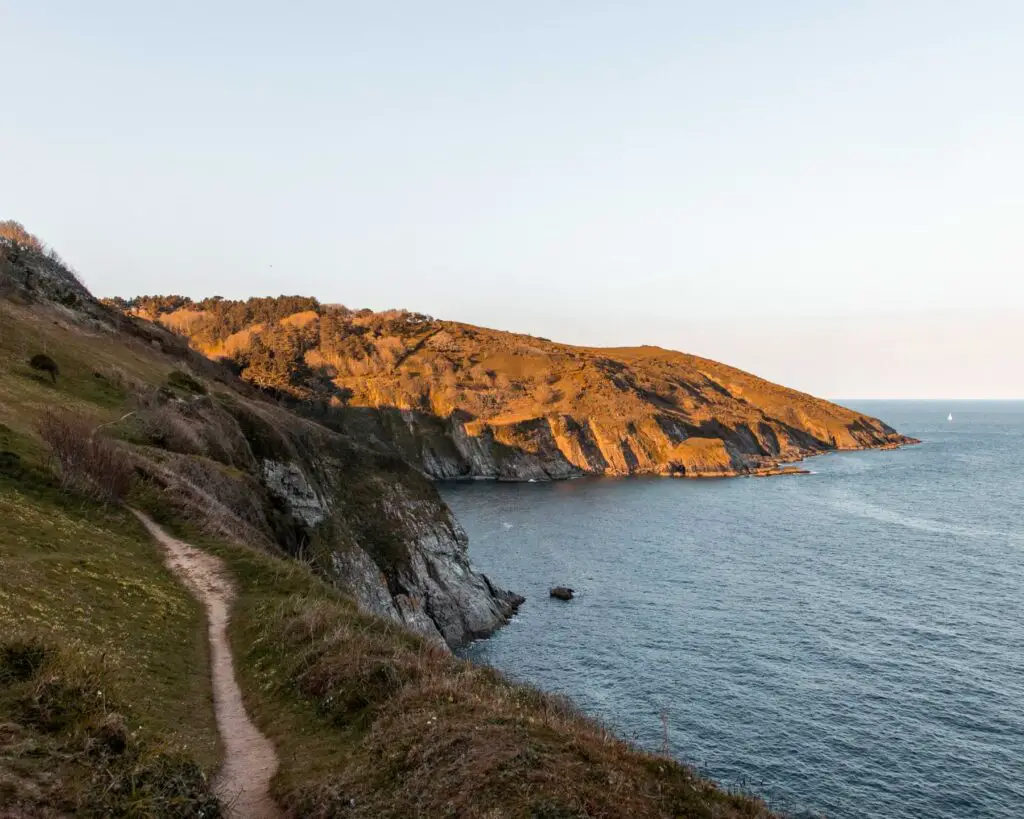 The walk back up to the Daymark and car park
You will reach some steps with a signpost pointing up to the car park. To finish this hike, this is the way you go. You can of course continue along the coastline, and if I had more energy I would have. 
If you do take the steps, go up them and through the gate at the top. Make sure to keep looking back though at the views.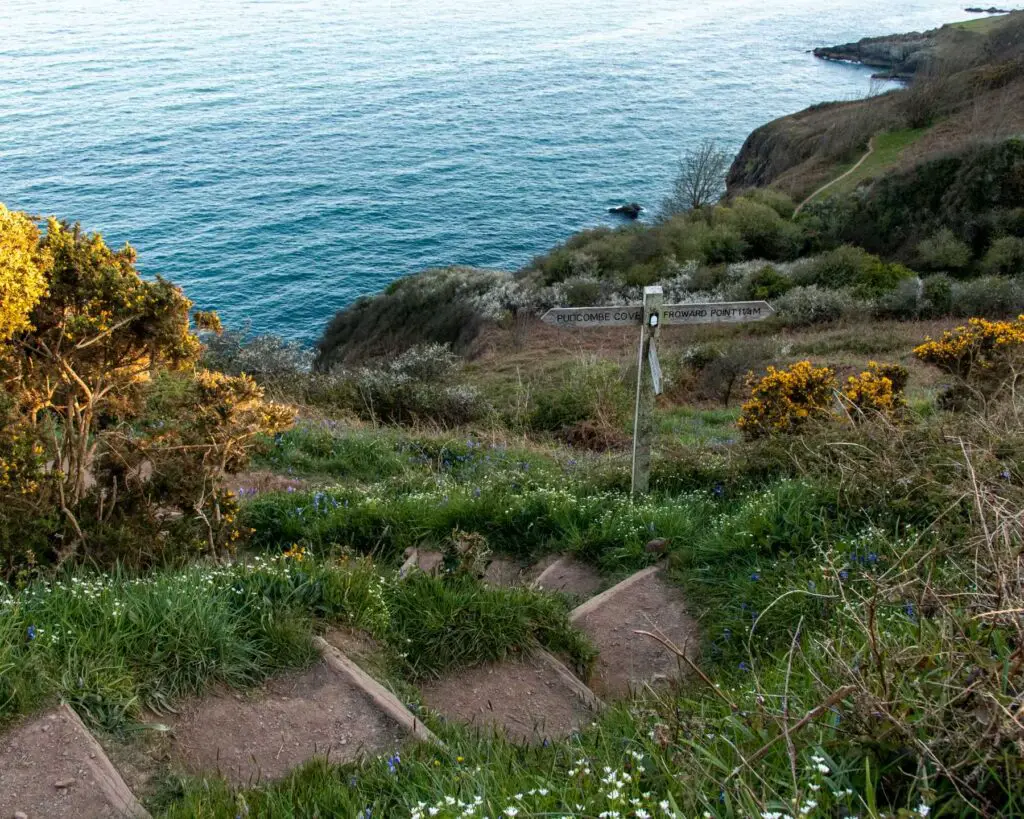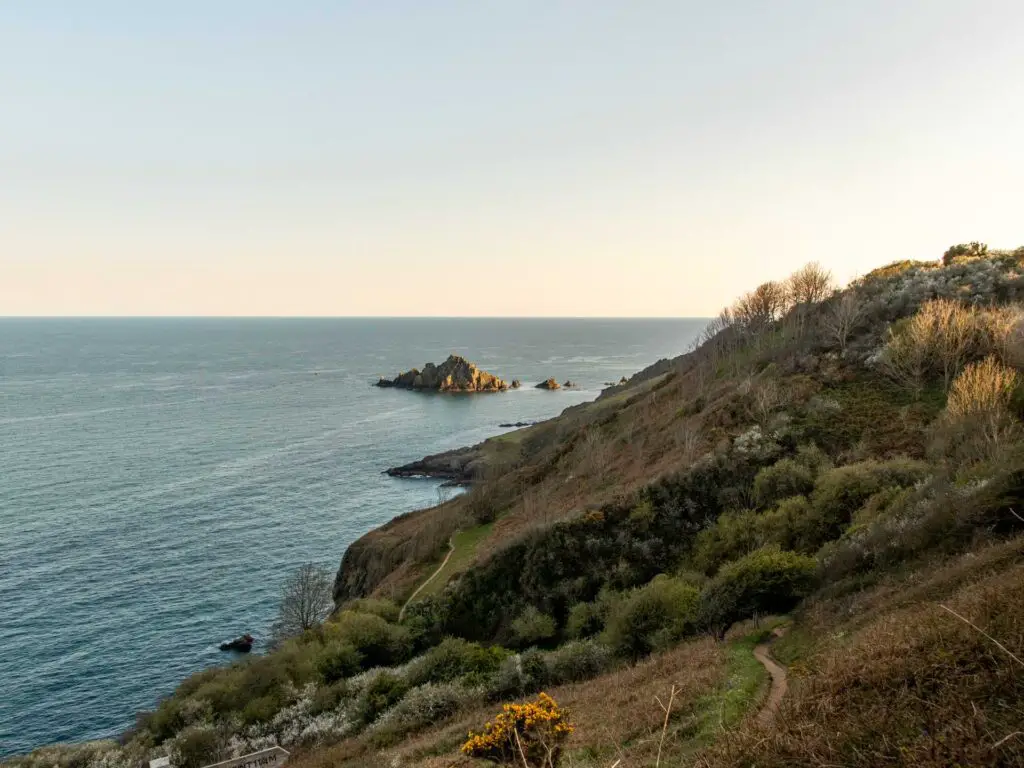 Once through the gate you will be in a field. Keep going up (keeping to the left) and through the gate at the other end.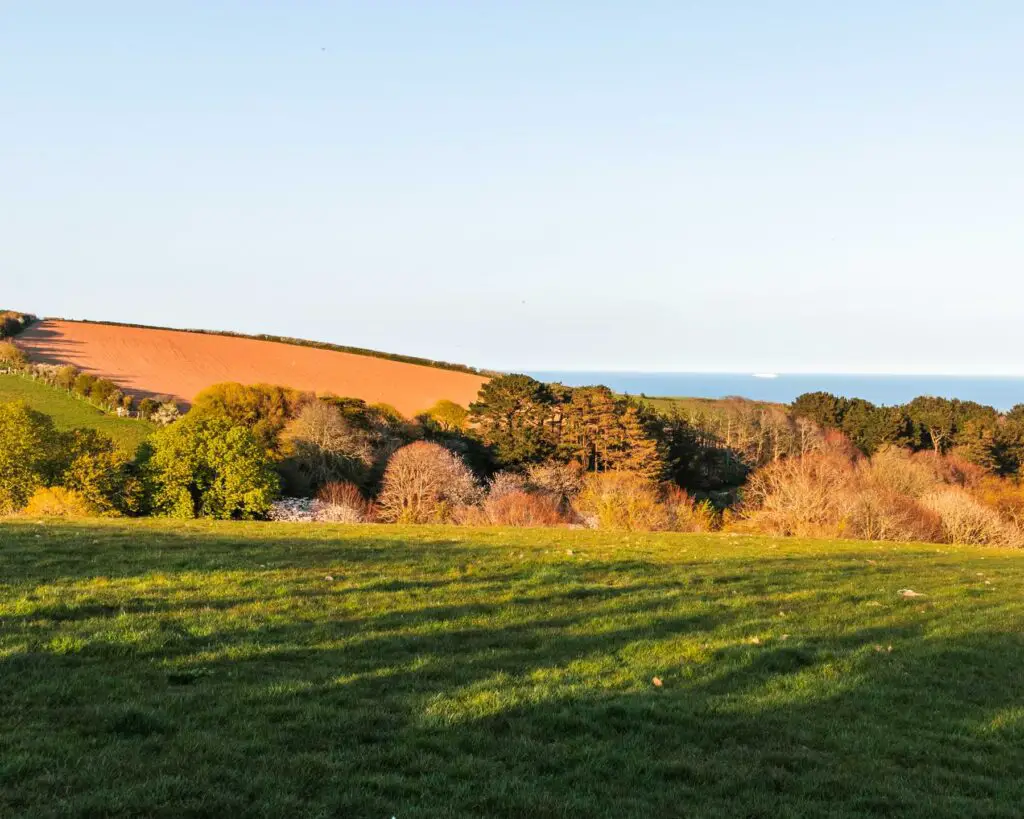 Continue along the track, with the bushes and trees on either side. Then at the end, when you see a barn, the trail splits off to the left. 
Next you will be walking on a super narrow trail between the fences.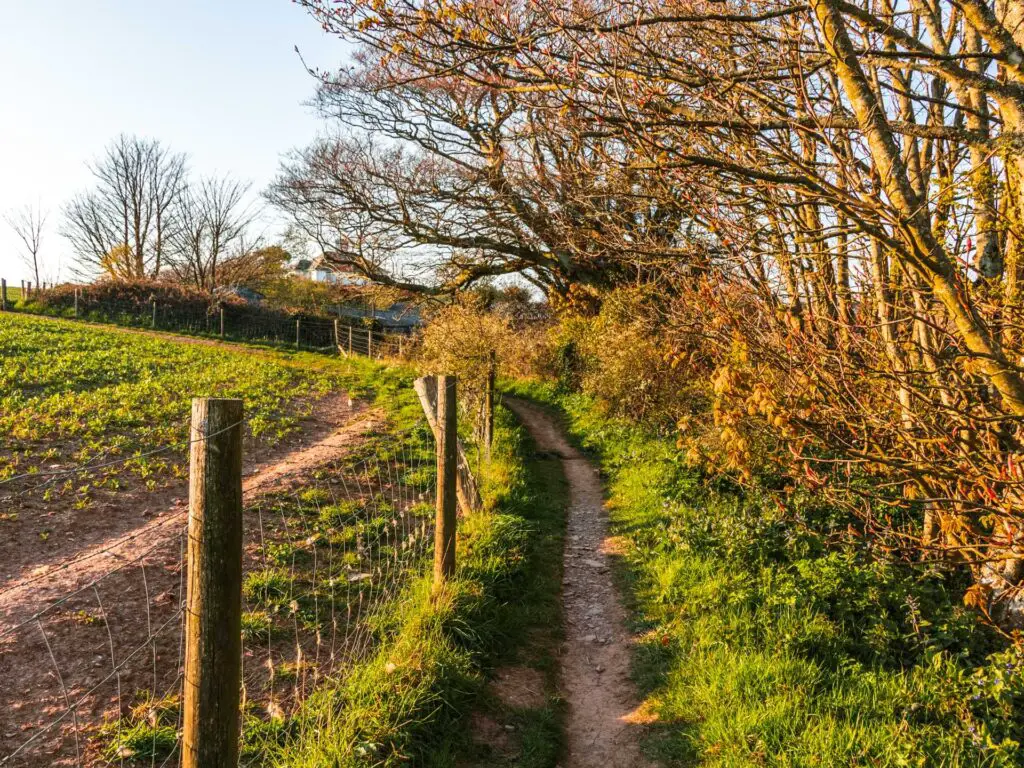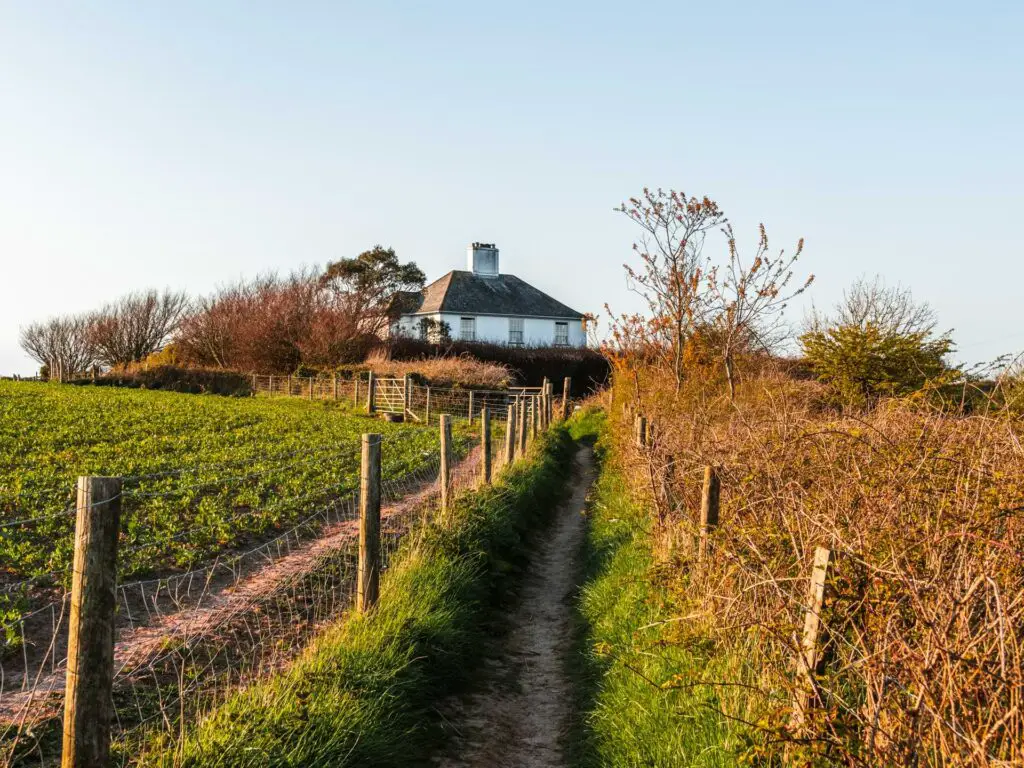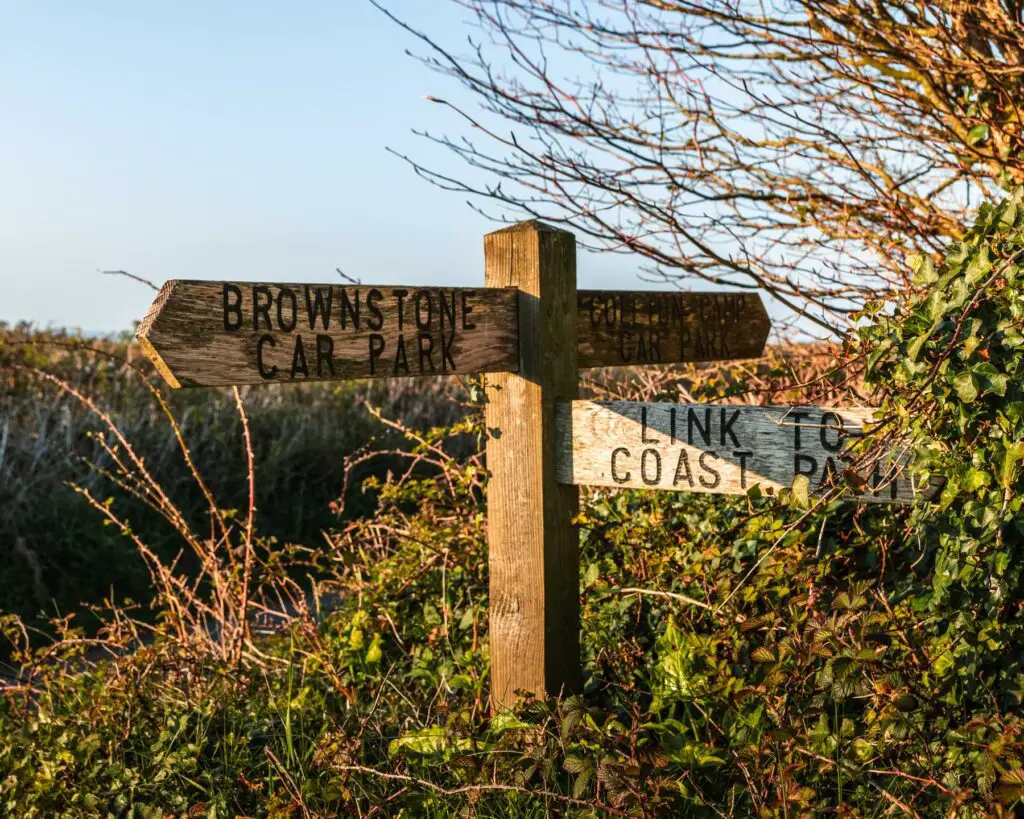 At the end you will see a signpost pointing to Brownstone car park. Follow this and you will be home.
Other walks near Dartmouth
The longer version of this walk is the full coast path from Kingswear to Brixham. It is by far the hardest walk I have done in the area. Maybe even ever. Coming soon.
On the Dartmouth side, you can do a loop to Little Dartmouth. It's about 5 miles long, and I highly recommend it. It follows the coast path and of course has the best views. 
If you want something short, then you could do this simple walk from Dartmouth to the Castle and Sugary Cove. 
There is another one which takes you to Dittisham and back. This is the one I was talking about earlier that I did before this walk.
I had read about it and how it's one of the best in the area. Having done it, I believe them. I think it might have been my favourite. However, I couldn't publish it. I did it wrong so I need to go and do it again to make it a bit more user friendly or I could get sued for causing danger to the public.
Update: It took a year, but I have now come back and properly done it. I tell you, it was worth the wait. Read about the Dartmouth Dittisham walk here.
If you go a little further north to the Brixham area, you could try out this walk from Paignton to Brixham. It's a lovely, not too challenging coastal walk. You can get a bus both to Paignton (no.120) and Brixham (no.18) from Kingswear.
Or if you want something even easier, but still with lovely views, you could try the walk from Brixham to Berry Head.
For more walk guides and a detailed side by side look, you can read about the best walks around Brixham and the best walks around Dartmouth.
If you want something else, you can get some walking ideas from the National Trust website.
Pin it for later: The Daymark coastal hike near Dartmouth