This walk takes you from the major ferry port town of Dover to the former fishing, mining and garrison town of Deal. I know, you are probably wondering what garrison town means…well, I was anyway. So I looked it up. It's a town with a military base nearby. You are welcome. Anyway, when walking from Dover to Deal you will see the famous white cliffs of Dover, pass through the small village of Saint Margaret's at Cliffe with its lighthouse and secluded bay. Then you leave the cliffs and finish off along the beach through the village of Kingsdown before arriving at Deal. This stretch of the South East Coast path and Saxon Shore Way covers about 10miles.
Logistics for walking from Dover to Deal:
Start/Finish: Dover priory and Deal
How to get there: Direct trains run from London St Pancras. The fast train takes about 1h 20min. Buy a return ticket to Deal which will cover the whole journey. Just get off 3 stops earlier to start in Dover.
Distance: 10ish miles
Elevation gain: 1781 ft.
Time to complete: 4 hours
Difficulty: Medium. There is a big (but short) uphill at the beginning. The rest of the route is pretty flat along gentle undulating cliffs, with a short down and up again at St Margaret's at Cliffe.
Terrain: Well maintained gravel path, dirt tracks, some steps, shingle beach and asphalt.
Map for walking from Dover to Deal
Click on the little box in the corner to view in your Google maps
For this walk, you will be walking along a trail for the South East Coast path (west to east). It is also a section of the Saxon Shore Way (another long distance walking trail). So if you are following signage, both take you in the right direction.
Now let's get into it.
Walking from Dover to Deal
Dover
The walk starts in Dover which has the nickname 'the Gateway to England'. It is the closest point of England to continental Europe (France) and is home to a major ferry port. I'm going to be honest, my whole life, whenever I think of Dover, the things that come to mind are white cliffs, ferries and France. And that's it. It wasn't until I planned to do this walk that I looked a bit more into what Dover is about. You have Dover castle, archaeological sights, forts……and a Banksy mural.
I went to none of these things because I had a 10mile walk ahead of me, but its definitely intrigued me to come back and explore.
So, the walk….
Arriving in Dover, just head to the coast and turn left. As you are nearing the end of the promenade you will see signs pointing you along the national trail. This will direct you left over the road and then right along a backstreet of houses.
For a short while you will be directly under the cliffs before reaching the steps.
Take these steps.
Good luck.
Nah, just kidding, it's not too far to reach the top.
The white cliffs of Dover clifftop
At the top, you will find a visitors centre and car parks. Yes, it's quite a popular area, but once up there you will see why.
With incredible views over Dover, the ferry port, the white cliffs and Dover castle.
On a clear day you can see France from here….I couldn't see France.
As you continue along the walk you will find yourself on an immaculate wide gravel path. I was here during a very hot bank holiday weekend so it was pretty busy. Busy enough that I suspected the whole route would be like this. However, it seems most people only walked as far as the lighthouse. We will get to that later.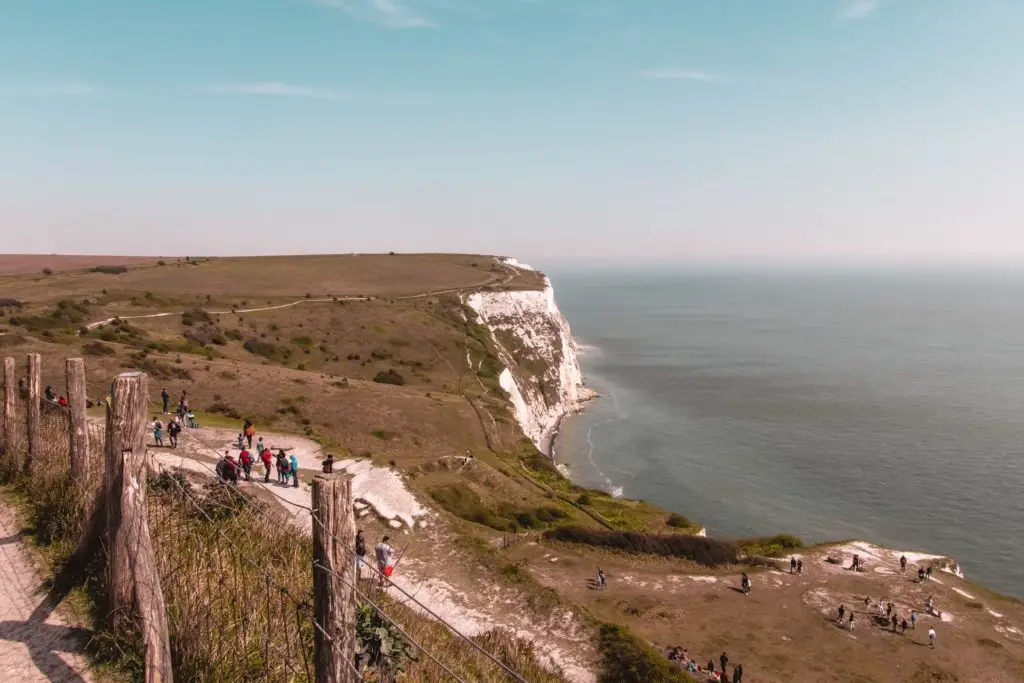 So, the immaculate gravel path soon turns into a narrow dirt track taking you along the undulating cliffs with stunning views back towards Dover….make sure you look back.
If you only come to Dover for a day trip then I would recommend coming to this point and having a picnic.
South Foreland Lighthouse
The next stop on the trail is South Foreland lighthouse. I'm going to be honest, when I did this walk I did not stop here. The area was heaving, so I just walked on by. A bit further on I realised I hadn't taken a picture to show you, it was still within my view so snapped this one quickly.
Saint Margaret's at Cliffe
After walking past the lighthouse it was immediately obvious how much less people there were. I guess they all stop there. Their loss.
After a little bit more greenery, the walk takes you through the small village of Saint Margaret's at Cliffe. If you follow the trail signs it will take you down to St Margaret's Bay.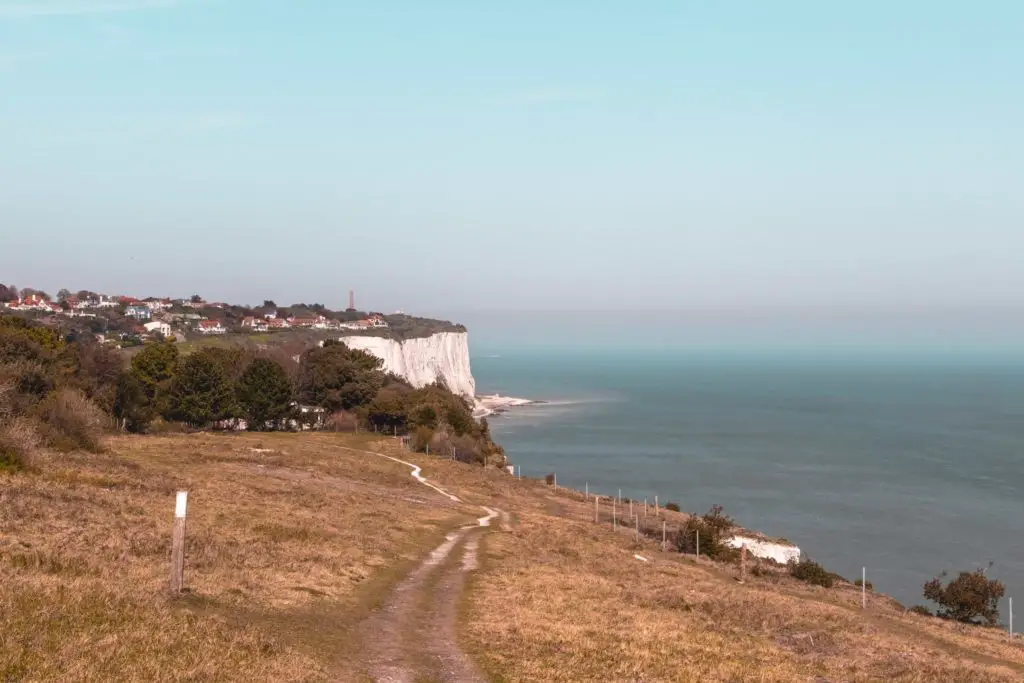 The walk down involves some very steep and narrow steps. You should probably walk sideways down the steps as each one is only as deep as half of your foot (unless you have small feet that is).
You will find yourself in a lovely secluded bay surrounded by cliffs (ok, yes it is accessible by car. So let's say its semi-secluded). This is where I stopped for lunch.
Just a note, the is no wifi signal down there.
After lunch – continuing on the walk from Dover to Deal
About halfway along the bay, you will see a sign pointing you back up the cliffs to continue along the South East coastal path. This is the last bit of uphill.
This next part of the walk leading towards Kingsdown, the views are less cliffy and more English countryside.
I loved this section, it was so peaceful with lots of green ahead of me and to my left, then open ocean to my right. I encountered not much people along this part.
At this point, I realised I hadn't taken my photo yet. Yes, it's for Instagram. Feel free to eye roll. But ya know, it's how I promote my blog….No shame. Why does the photo have to have me in it? Well, if you look at my Instagram you will see, lol.
Plus I'd been lugging around my tripod all day, so I was damn well going to use it.
Probably would have been more relevant if I'd taken my photo with the white cliffs in the background, but whatever.
Of course of all the spots I could have chosen to set up I picked one near to a bench where a couple were very heavily making out. Actually, I'm pretty sure they weren't there when I stopped. They appeared a bit after. I mean, that's ok if they want to make out there. I just found it funny that this whole section of the walk was pretty low on people yet we found ourselves together. Lol.
When I say they were heavily making out, I'm pretty sure they were on their way to….you know.
Kingsdown and Walmar
You will then descend off the cliffs to the coastal village of Kingsdown.
Fun fact: In 1926, the first women to swim the English Channel made landfall at Kingsdown. Her name is Gertrude Ederle, and she was 19 at the time, in case you were wondering.
From here on out the rest of the walk along the South East Coastal path will be along a shingle beach and asphalt path till you reach Deal.
You will pass the beach huts of cuteness.
Then the walk becomes very civilised…
Then the seafront path from Walmar to Deal is lined with many memorial benches.
The last stretch of the walk reaching Deal I would say was the toughest. I say this because of the wind and loooong walk on asphalt. Ok, comparatively it's not that long considering how far you have come. But on this day, it felt never ending. Way in the distance I could see Deal, the finish line, but it just didn't seem to be getting any closer. The headwind was relentless, there was no way to shelter from it. It was cold. My hip was starting to hurt (I had hip surgery last year and find walking on asphalt bothers it).
There was some more beach hut cuteness though.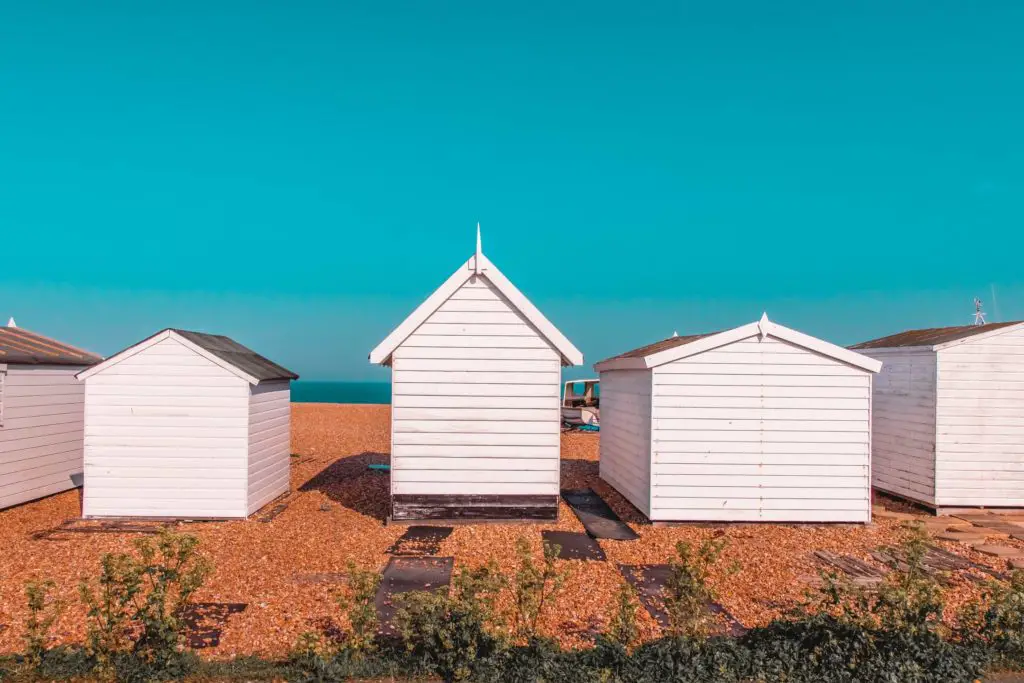 Arriving in Deal
I'd kind of signed off on the walk being complete a bit further back and this last bit to Deal was just to get to the train station to go home.
How wrong was I.
As I approached the main seafront, just past Deal castle I was greeted by a charming traditional seaside village. A buzzing English pub with a beer garden overlooking the ocean, a pier and……the smell of fish and chips. That's a good smell, in case you were wondering.
With 45min to kill I discovered the quaint streets, traditional fish and chips shops and had a walk along the Deal Pier.
Fun fact: The Deal Pier is the last remaining fully intact leisure pier in Kent and is a grade II listed building.
Well, that concludes the coastal walk from Dover to Deal. Is walking from Dover to Deal worth it? Absolutely.
More from the England South East Coast Path
If you'd like to check out another walk along the South East Coast path, then you have the section next to this one, Folkestone to Dover. Or you can catch a train heading to North Kent in just 18min from Deal to walk from Margate to Ramsgate, Ramsgate to Sandwich, or slightly further North for Faversham to Whitstable, and Whitsable to Herne Bay. Alternatively, you have:
Or, if you'd like more information on the whole of the South East Coast trail you can find that at the National Trail website.
Pin it for later – A guide to walking from Dover to Deal