Why this trail?
Coastlines are my favourite thing in the world (alongside nut butter. Yes, I'm basic). I'm currently on a mission to walk the whole of the England Coast Path. No, I'm not setting out on a massive voyage…..I gotta work to pay those bills.  I'm breaking it down, one small section at a time.  Today, I will tell you about that time I went hiking from Folkestone to Dover. A (roughly) 7 mile stretch of the England Coast Path. This trail is also part of the North Downs Way and Saxon Shore Way, trails which I am also working to complete. That's 3 for the price of 1.
Living in London, getting to the England Coast Path is pretty easy. In just over an hour you can be out of the hustle and bustle of the city and onto the south coast of England where you will find this trail.  Starting in the small port town of Folkestone and finishing in the large port town of Dover, with grand white cliffs and green English countryside in between. 
A little tip…
If you go and do this walk, do it the other way. Apart from the last bit when reaching Dover, most of the best views were behind me. As I did start at Folkestone, this blog post is going to reflect that.
So here we go.
Logistics
Start/finish: Dover or Folkestone
Getting there: There are regular trains from London St Pancras to Folkestone and Dover. The fast train will get you there in just over an hour.
Distance: 7ish miles depending on where you measure from. Add a bit in to include station to station. 
Difficulty: Varied. There is a solid uphill near the start (if you start at Folkestone), then steep downhill at the end. The middle part is pretty flat and easy though.
Elevation gain: 1168 ft
Time to complete: 3 hours
Map – Folkestone to Dover hiking route
Click on the little box in the corner to follow the trail.
More coast path walking ideas will be at the end
Hiking From Folkestone To Dover 
Out of the station, it's a bit of a walk to get to the coast. You start off by turning right, then left under the bridge, then left, then right then left…..Ok, just open google maps and guide yourself lol….or just follow everyone else. Chances are they will be walking that way. I think it's a 10min walk, but I can't be completely sure because I did stop in the town centre for a coffee and to buy sunscreen.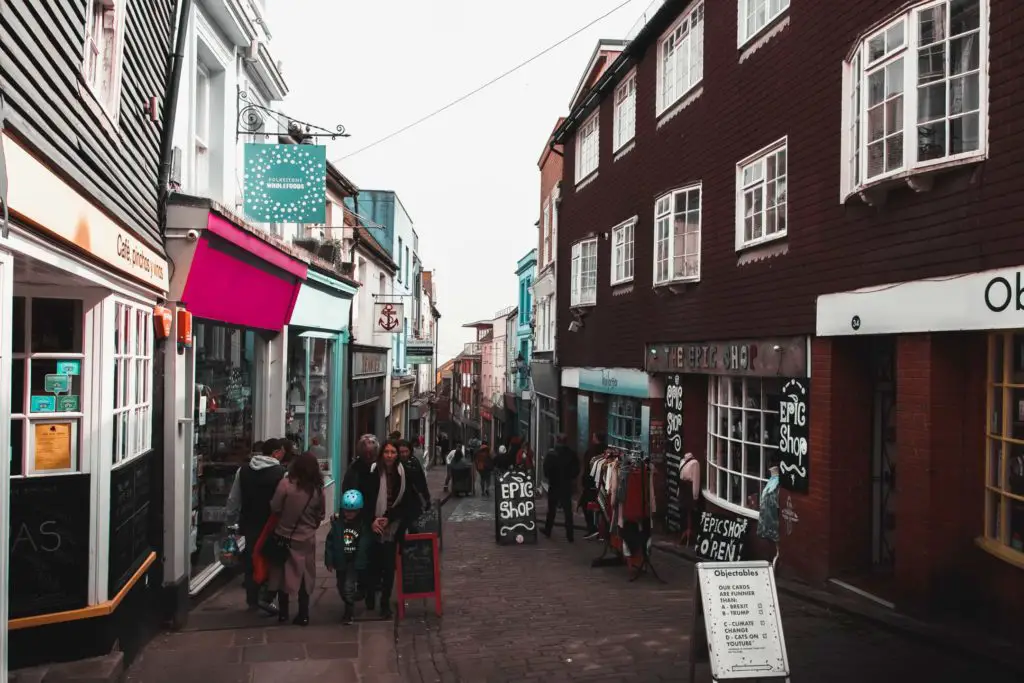 The first bit of coastline you will hit is a small port. It was a pretty misty overcast day which actually made for great photos. Later on, the mist was kind of magical against the backdrop of hills and cliffs. 
From here turn left and just follow the coastline. Soon you will find yourself at some steps, your first bit of uphill. Just to warm up the legs for the big uphill coming soon.
As you leave Folkestone centre, take a look back at the houses.
As you continue along you will come towards this beach. You won't be walking along there. Look up. That's where you have to go. Yes, the big uphill.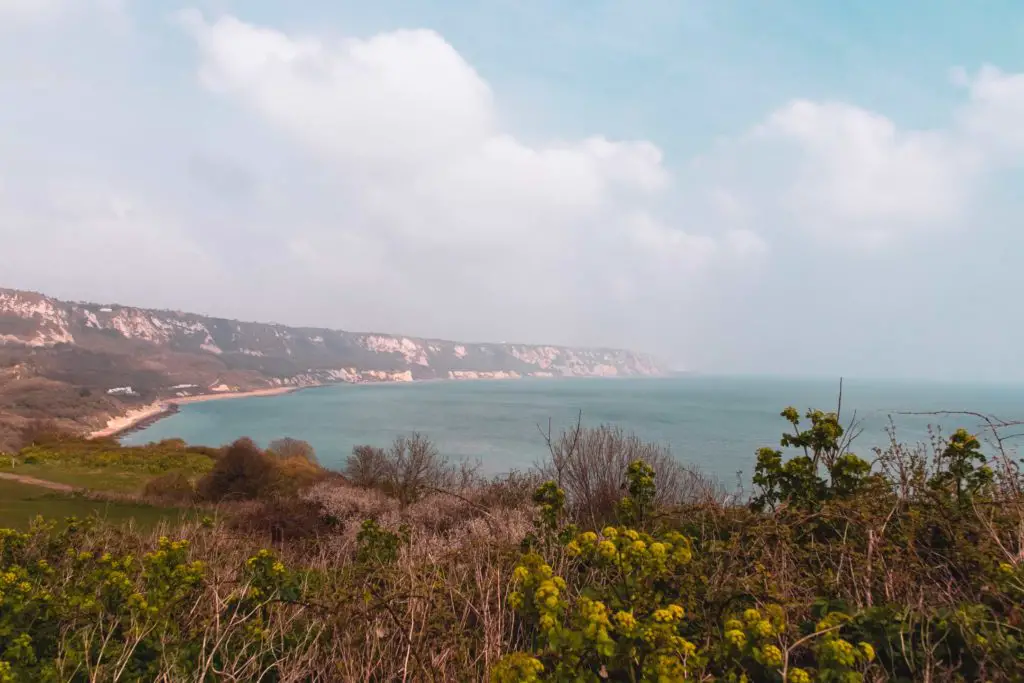 Every so often you will see a post with an England Coastal Path sign. So if you think you are lost, but then see this sign, congratulations, you are not lost.  
Just a note, there will be moments on this trail, after you reach the top of the next hill, where the posts say North Downs way. That ok, you are still on the right track. For this walk, they are the same thing. 
In fact, this is the very last section of the North Downs Way, a long distance walking trail. I'm currently working on completing it. If you would like to do the trail from the beginning, you can read about that in my post about walking from Farnham to Guildford.
The uphill
A mix of dirt track and steps, you will build up a solid sweat. You do walk away from the coast for a bit, but don't worry, this is correct. Then at the top is when you get your first epic views. Bonus if it's a misty day.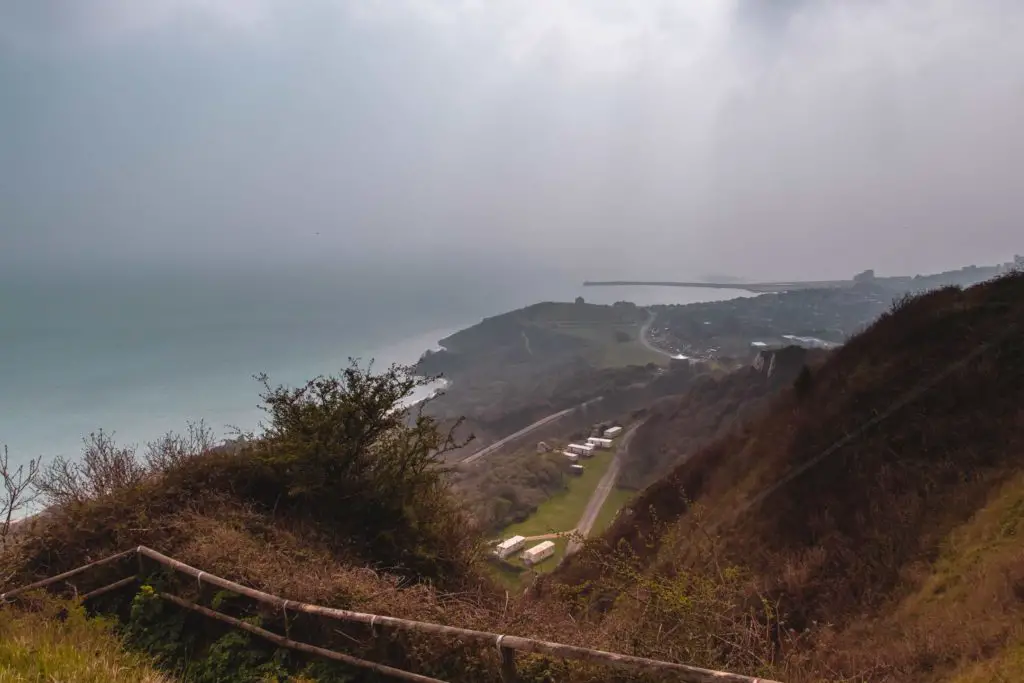 From here for most of the rest of the journey its pretty flat. Make sure you look back regularly because that's where some of the best views are.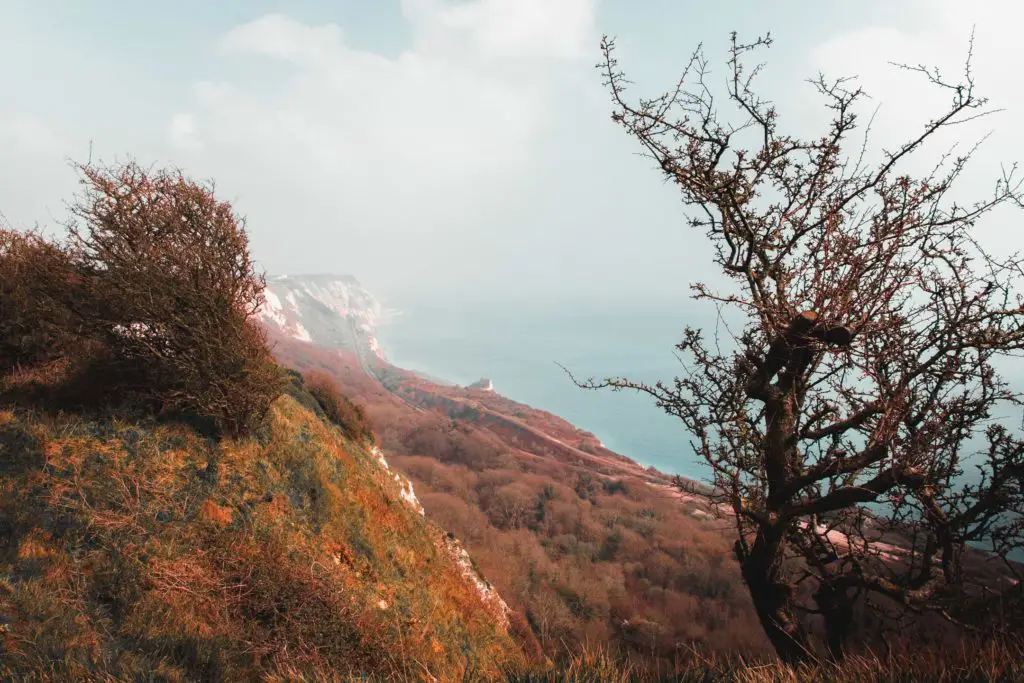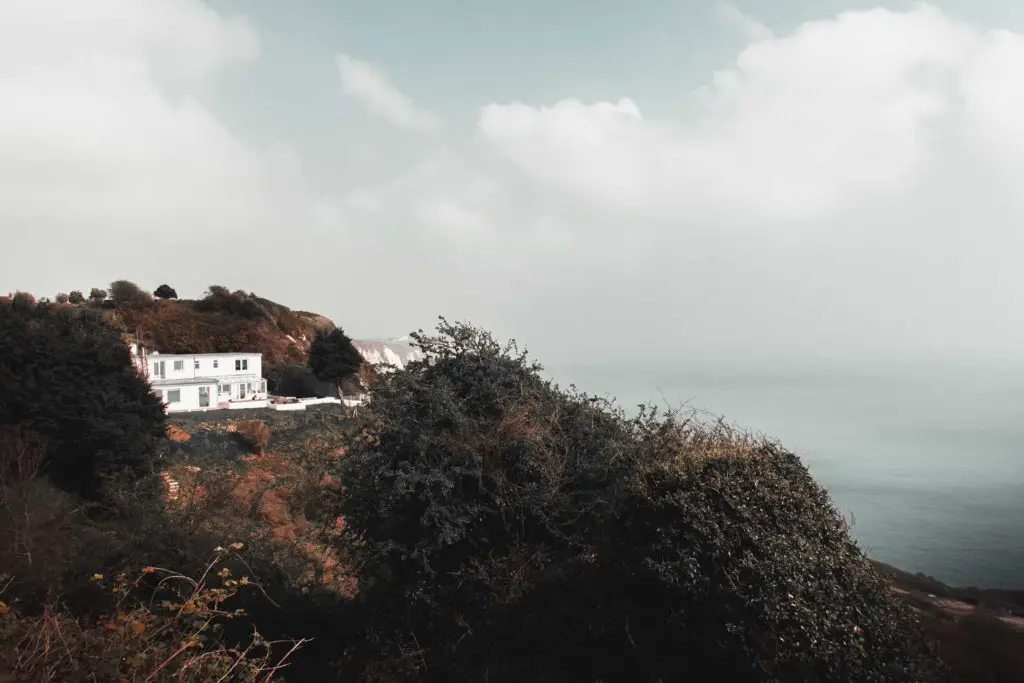 Actually, I lie about there being no more uphill, there is another small section where you walk down and up. Although, it's a pretty section so it's allowed.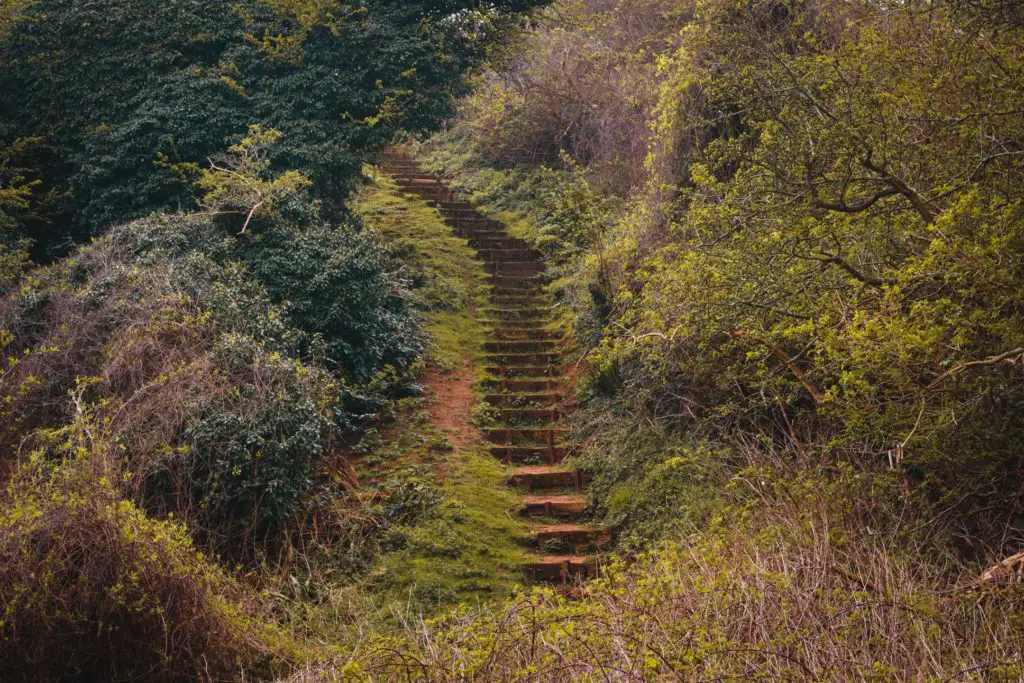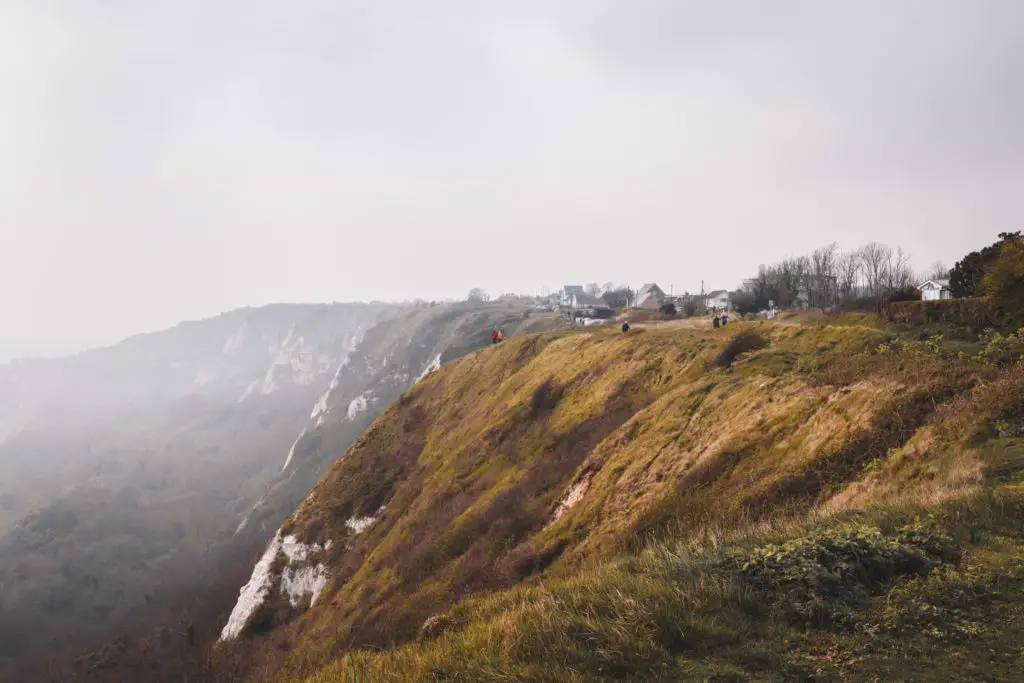 Half way in
For the second half, you are joined by a busy road which will travel with you for the rest of the journey. Don't worry though, it's not bad at all. There are still great views with a view of the railway line down below.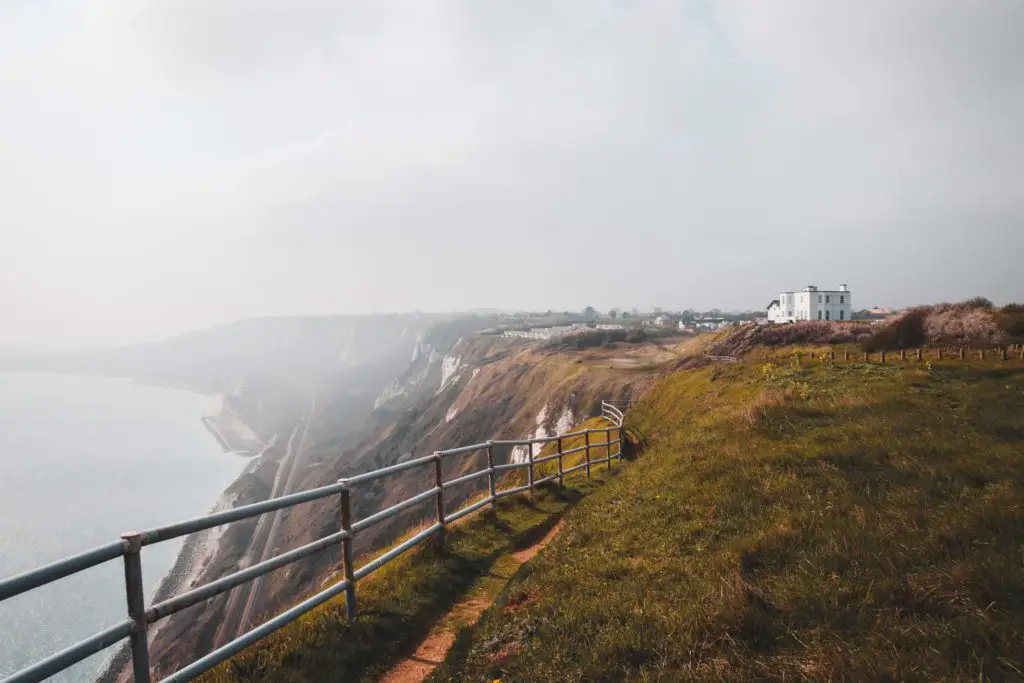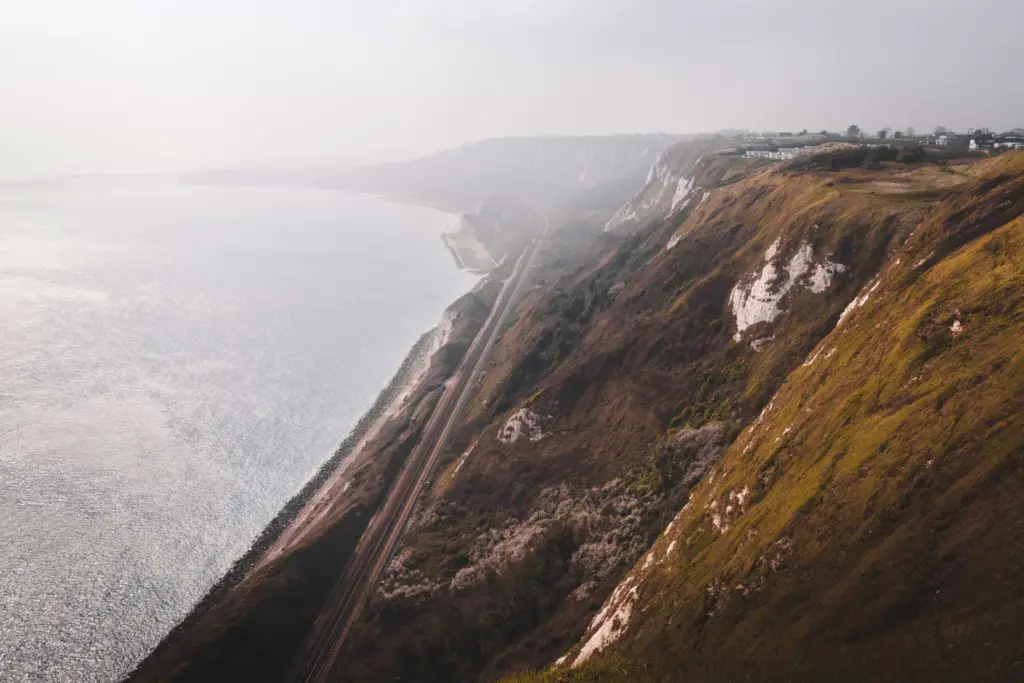 Reaching Dover
So, although I say walking the other way is better, this last bit walking towards Dover was pretty cool. Seeing the ships come in, in the distance, marking the finishing line.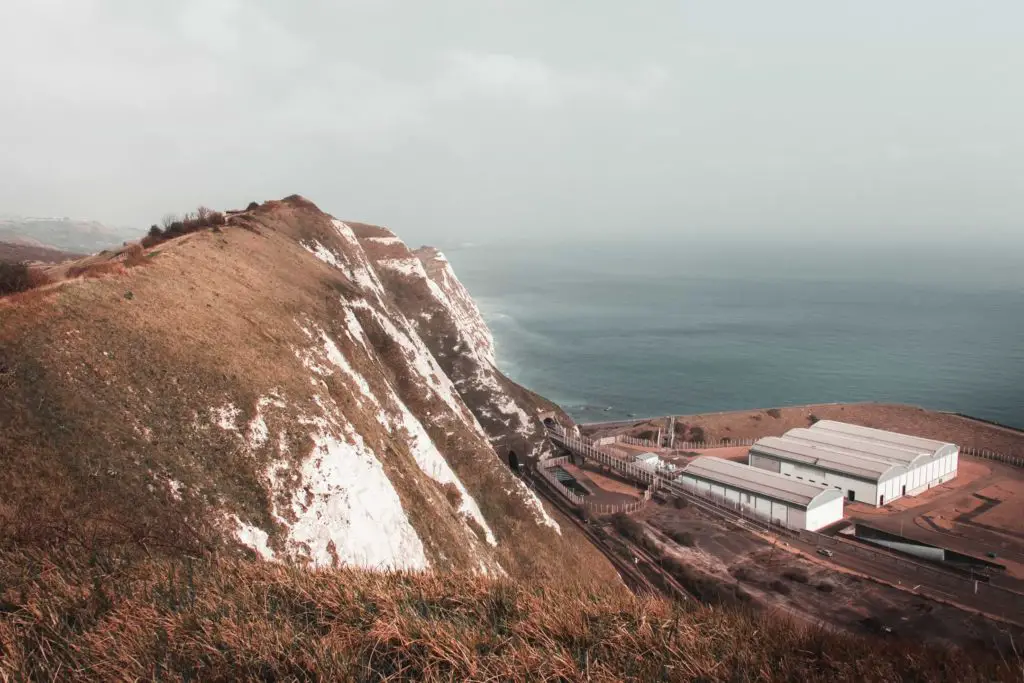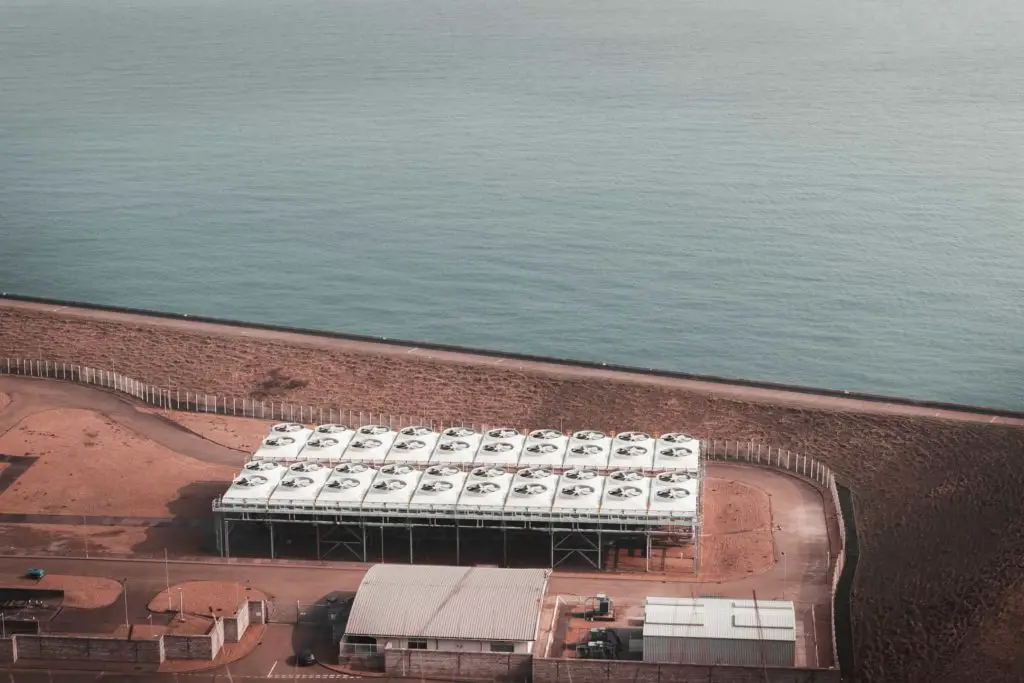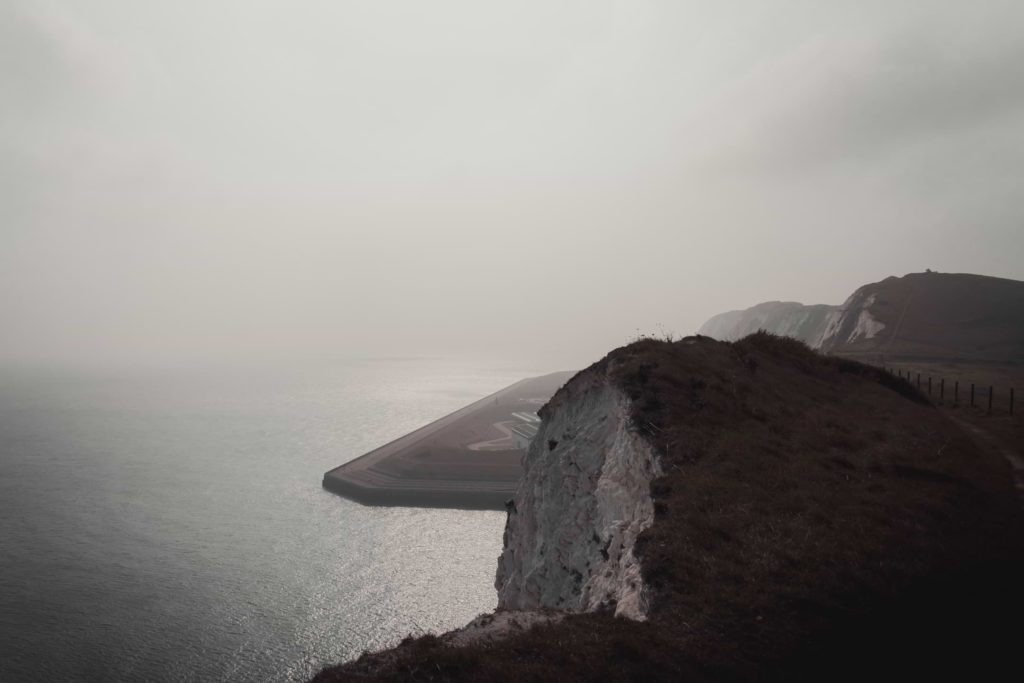 Just before you reach the end there is a very steep downhill….then up again, then down. However, it's relatively short. 
And that concludes my journey of hiking from Folkestone to Dover. I didn't stick around in Dover…I did, however, come back a couple of weeks later to walk the next section from Dover to Deal.
Tips for the Folkestone to Dover Hike
Check the train times beforehand because on the weekend they sometimes like to do rail works (don't get me started on that) so sometimes there are replacement buses. 
Buy a return ticket to Dover. Folkestone and Dover are just 1 stop apart so a return ticket will cover you to go out and come back.
Walk in the opposite direction to what I did. Ie. start in Dover and finish in Folkestone. Trust me, you will have better views ahead of you. 
Take snacks (obvs).
Take sunscreen. Even if it's overcast. The worst burns I have ever had were on an English coastal walk on an overcast day. By the water, you are more likely to burn, and as it can be very windy you don't realise you are burning till it's too late. 
More from the England South East Coast path
If you want more cliff goodness then you could try:
Less cliffy walks:
for a more detailed look, you can read my post about the best coastal walks near London.
If you would like more information on the England Coast Path then check out the National trails website.
Happy hiking 🙂
Pin it for later: A guide to hiking from Folkestone to Dover