If you just want to walk to Lud's church, this guide shows you how. There are options to make it a bigger walk. Whether by adding in some more woodland, or heading out further to the rocky outcrop of The Roaches, which I will show you how to do on my guided route description further down. 
I did do the full walk to both, so you can follow the Roaches walk guide if it's easier.
I walked it in the reverse direction though. So if you are undecided about wether you want to just walk Lud's Church or if you want to do the full big walk to The Roaches, then start from here anyway, and you can decide when out there, if you want to continue on.
What is Lud's Church?
It's an 18m deep moss covered chasm, in the depths of the Back Forest (not to be confused with the Black Forest), and was inspiration for the tale of Sir Gawain and the Green Knight.
Moss covered is an understatement. It's dripping in the green stuff, adding to the mystical vibe.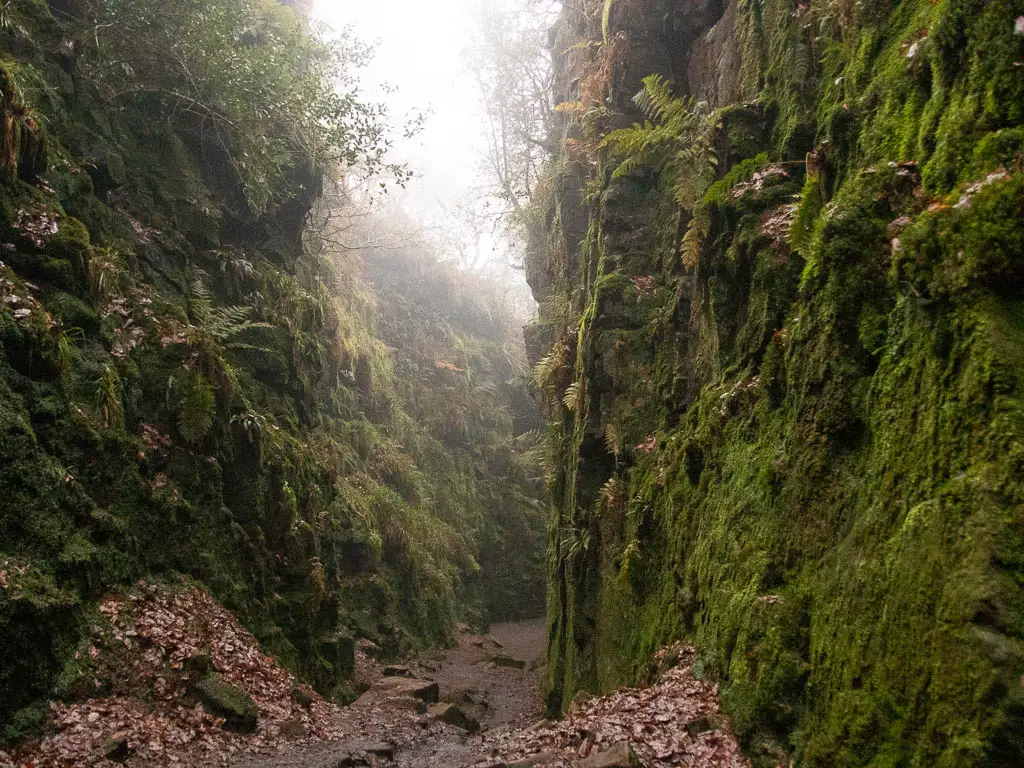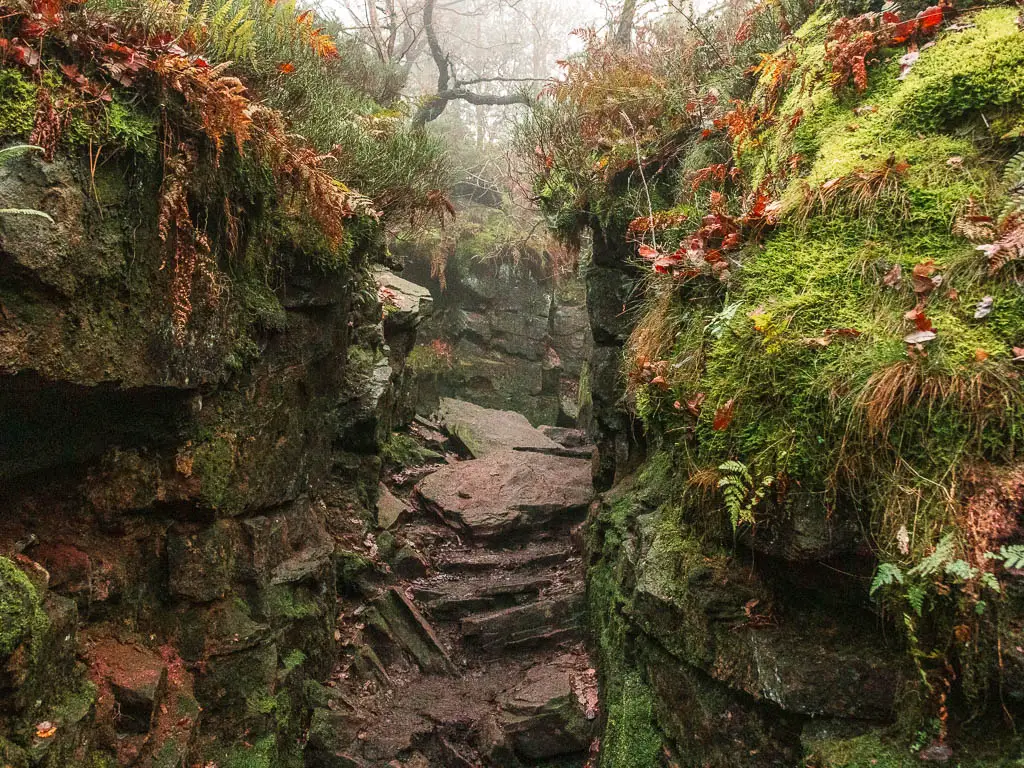 Historically it was used as a secret place of worship for Lollards, who were persecuted for their beliefs, in the early 15th Century.
Interesting Fact: The name 'Lud's Church' supposedly comes from a guy named Walter De Lud Auk, who was captured here during one of the worship meetings. 
Unsurprisingly, Lud's Church has also become the source of a number of myths and local legends. I mean, how could a place like this not be. 
My favourite is the devil story (I am always intrigued by how many of our nature places in England have a devil story). So it goes like this…the devil scraped back a part of the earth with his finger nail, to form the deep chasm. In reality, it was formed by a giant landslip.
Another story is that it was used as a hiding place for Robin Hood and Friar Tuck. If you are into Robin Hood, then if you head north to Northumberland National Park, you can visit Sycamore Gap. This spot was used as a filming location for Robin Hood the movie.
What to expect on the walk to Lud's church
At 3 miles there and back, it's a pretty short walk. However, you will have some hills to tackle on rugged, muddy terrain, and an optional river crossing over rocks.
The majority of the walk to Lud's Church is through woodland (Back Forest). It's an easy walk, but could also be moderate if you are new to hiking, based on the hill and the terrain.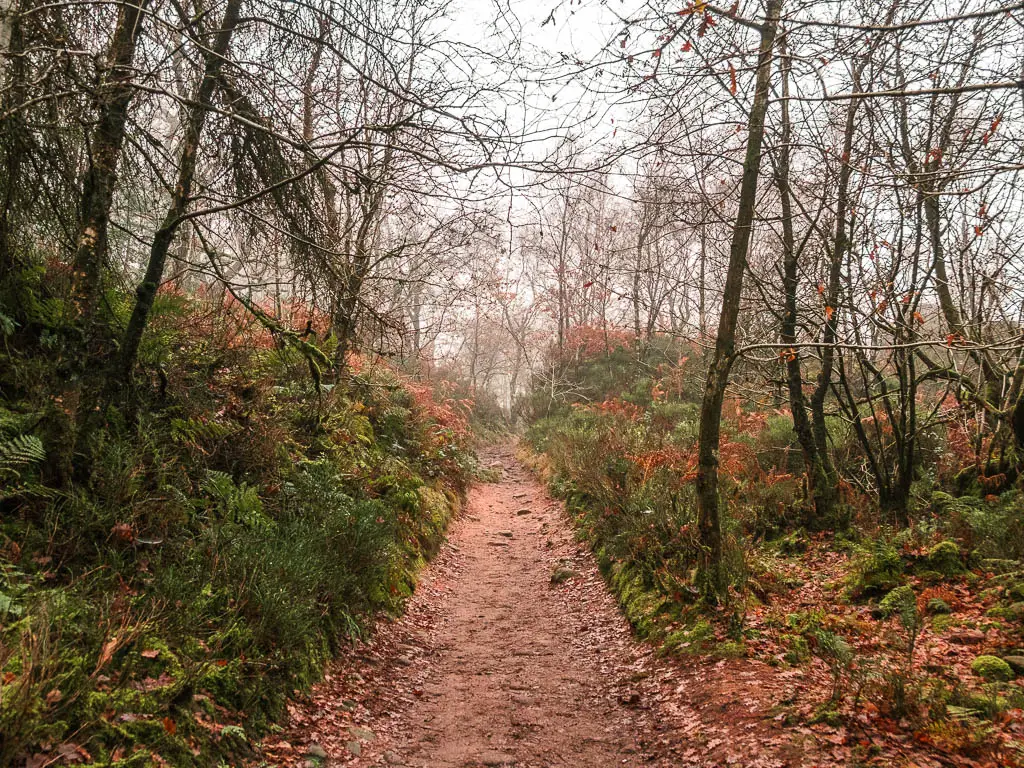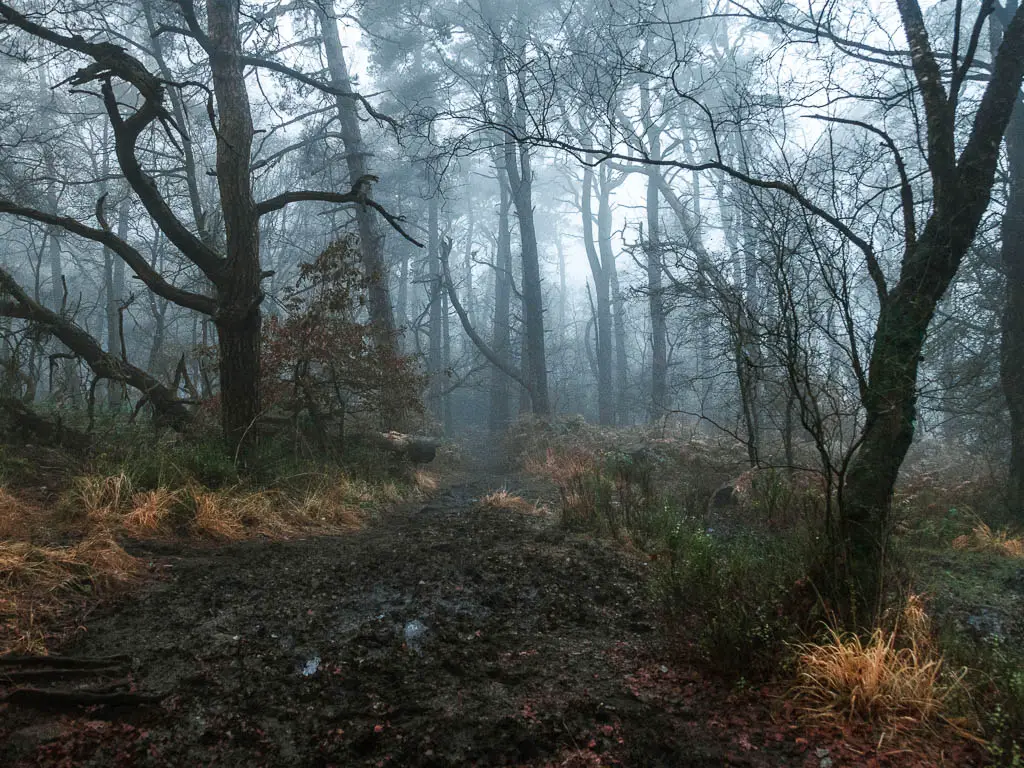 I did this walk on a weekday in winter, and the car park had a fair few cars in it, and although I did pass a few people walking on the trail, I actually had Lud's Church all to myself. I have heard it can get quite busy though, as it's a popular place. 
Fancy another easy gorge type walk? You should try out Padley Gorge. This takes you alongside a river, through mystical woodland, and then up for fantastic far reaching views.
Read more: Best walks in the Peak District National Park
Is the walk route easy to follow?
Yes. Lud's Church is easy to find, as it's signposted along the route, and there are also signs for The Roaches, if you wish to make the walk longer.
Parking to walk to Lud's Church
The start point for the walk to Lud's Church, is Gradbach car park. It's free (at the time of writing). It's a great place to park if you want the shortest route to get to Lud's Church. Post code is SK17 0SU.
If the car park is full, there is car parking on the other end of The Moss (road), although you will follow a different route to reach Lud's Church. Alternatively you can park over by The Roaches where there is a lot of roadside parking. If you don't want to include The Roaches, then park at Roach End. I walked past this spot on The Roaches via Luds Church walk, so if you go to that guide, you can see the route from there (scroll down the the heading 'Walk to Back Wood')
Logistics
Start/Finish: Gradbach car park.
How to get there: Lud's Church is located in the Staffordshire Peak District National Park (south west section). The car park is along Gradbach Mill lane which is a side road. Post code: SK17 0SU.
Public transport: There is no public transport to the start point for this walk. There are, however, buses over by the Roaches. I detail this more in my Roaches guide.
Distance: 3.2 miles there and back, with a little circular.
Time: 1h20min
Option to shorten the walk: A little. From Lud's Church, turn around and walk back. I added on a small extra loop.
Option to lengthen the walk: Yes. Add in some extra woodland at will. Or add in The Roaches, which will bring it out to about 6.5 miles.
Terrain: A bit of road, dirt, rocks, mud, a river crossing, some steps
Difficulty: Easy (could be moderate in parts).
Dog Friendly: No stiles, no livestock spotted.
Amenities: No toilet facilities or anything fancy like that. Basically nothing other than the car park.
Time of year: I did this walk to Lud's Church in winter.
Top Tips for walking to Lud's Church
Hiking boots are recommend due to the mud. Especially if there has been a bit of wet weather recently.
Maybe take spare shoes and socks to change into after, just incase. 
It's quite a popular walk, so the best time to do it would be in winter, or early in the morning. I have read the car park gets full quick.
If it's been raining a lot recently, the river crossing could be tricky, so maybe skip this bit. I will show you how, when I describe the walk below.
Map for the Lud's Church walk
You can find my more detailed route map for the Lud's Church walk on AllTrails
More walking routes similar to Lud's Church will be listed at the end
---
Route Description for the walk to Lud's Church
---
Starting from Gradbach car park, exit and turn right. This first bit of the walk to Lud's Church is along the road. It seems to be a quiet road, so don't worry.
Stick to the road when you reach the entrance to Gradbach Mill, and again, stick to the main path (right side) when you reach Gradbach House Farm.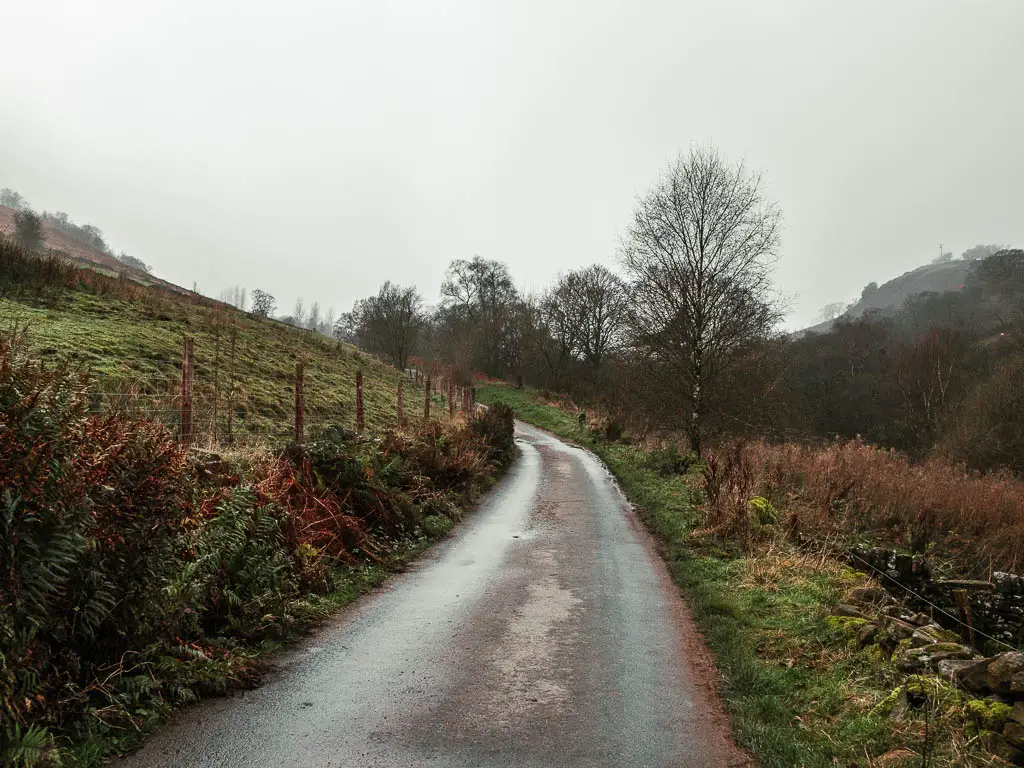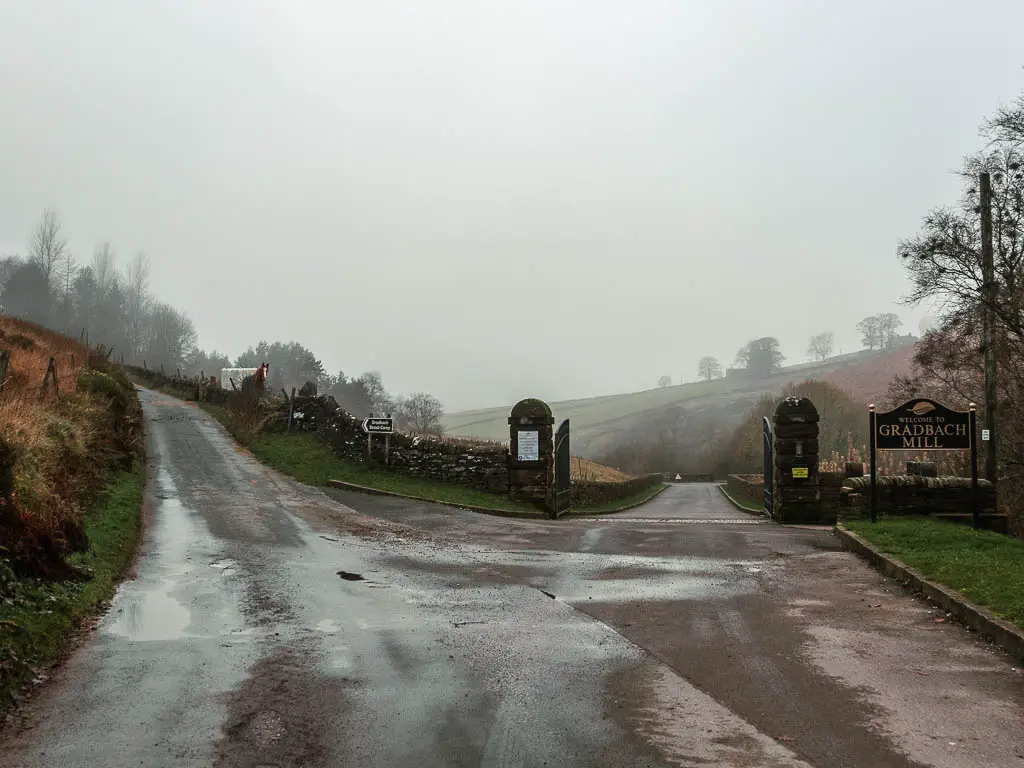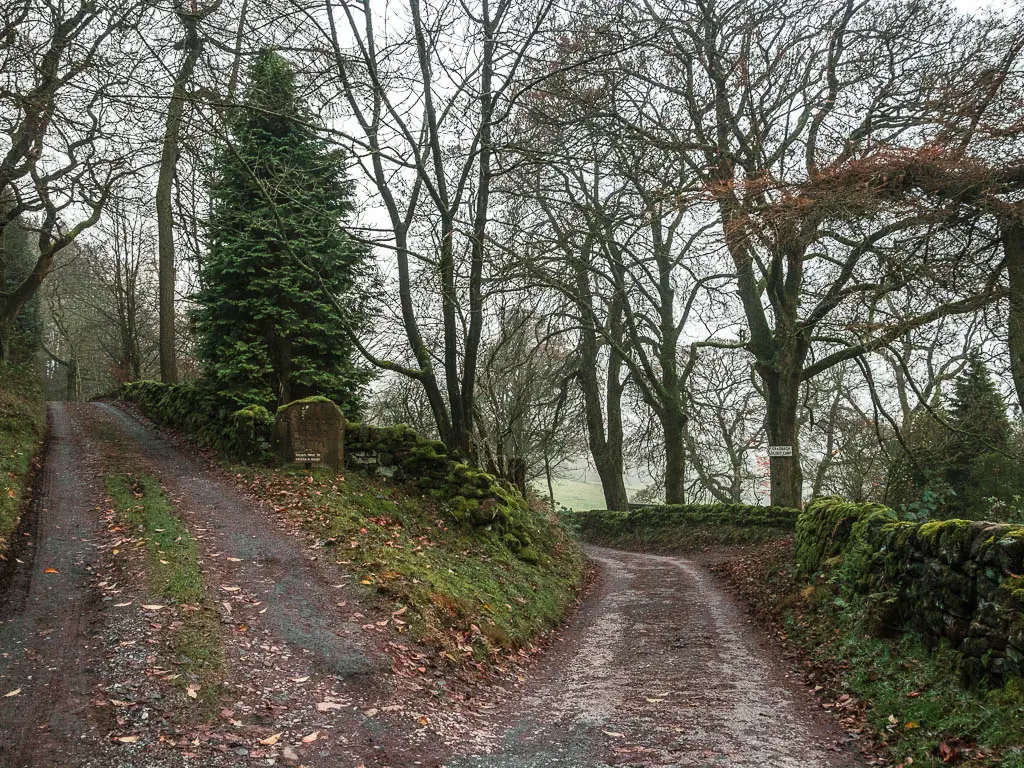 Keep following the rugged narrow road, passing by a house on the left, around a corner, and then stick to the right trail at the next junction.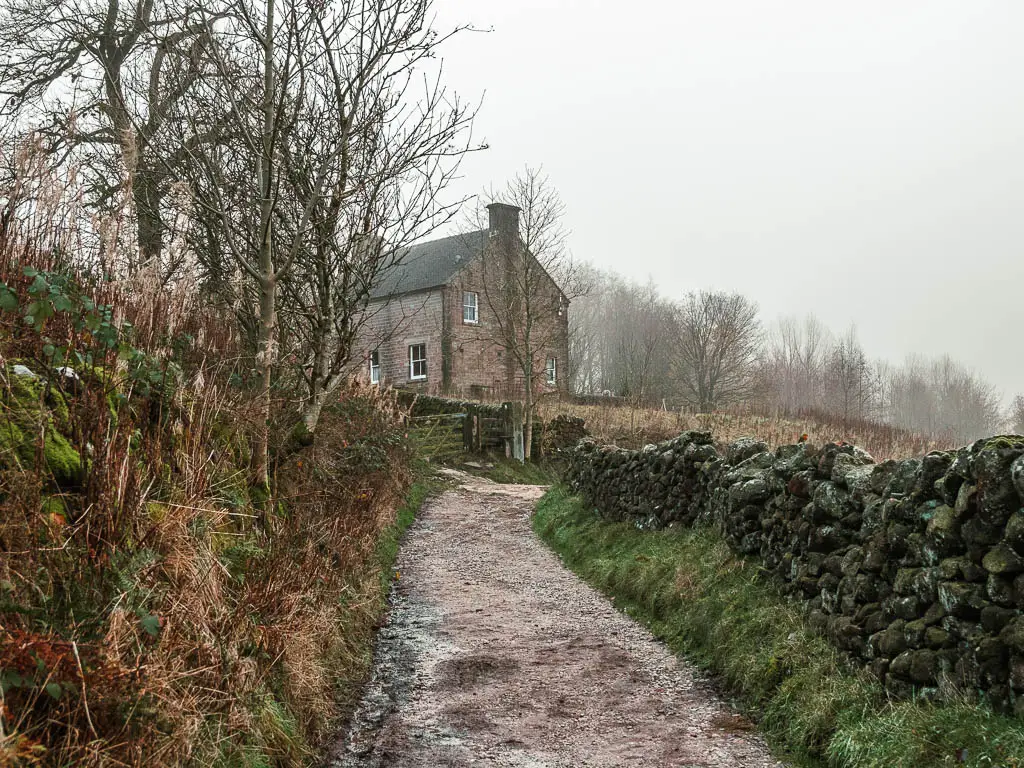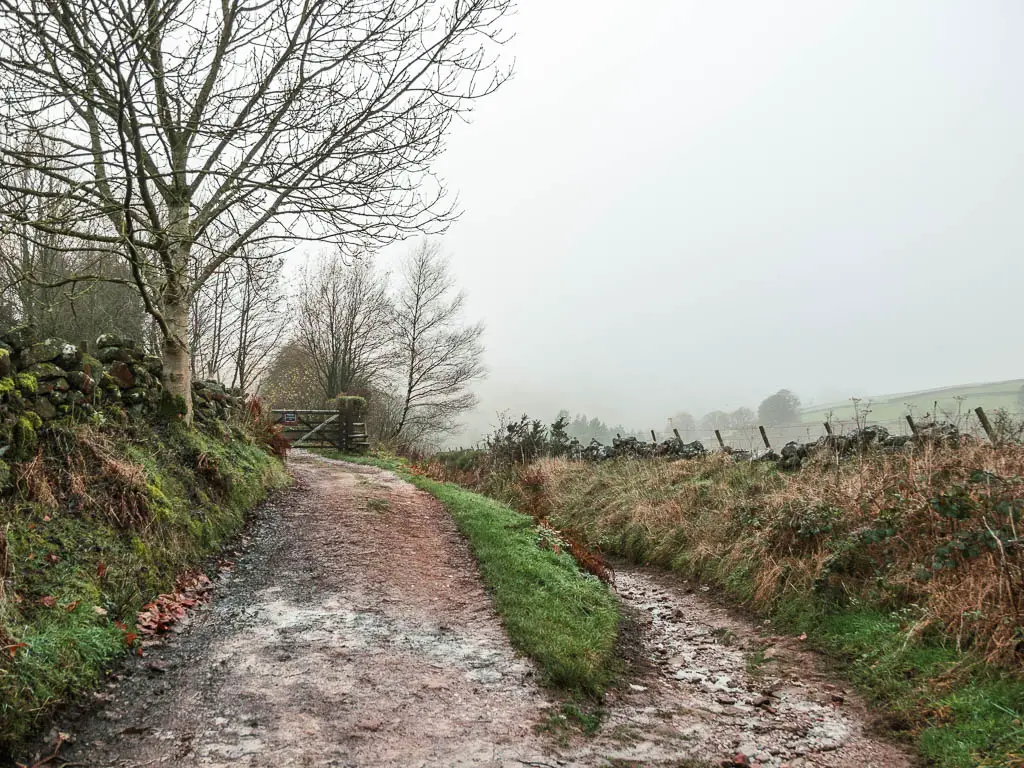 This might all sound confusing, but don't panic, just stick to the path/road that doesn't take you into private places. 
Enter the woods
By now, the path will have become a bit more rugged and rocky, as it leads you into the woods, where you will remain for the rest of the walk to Lud's Church.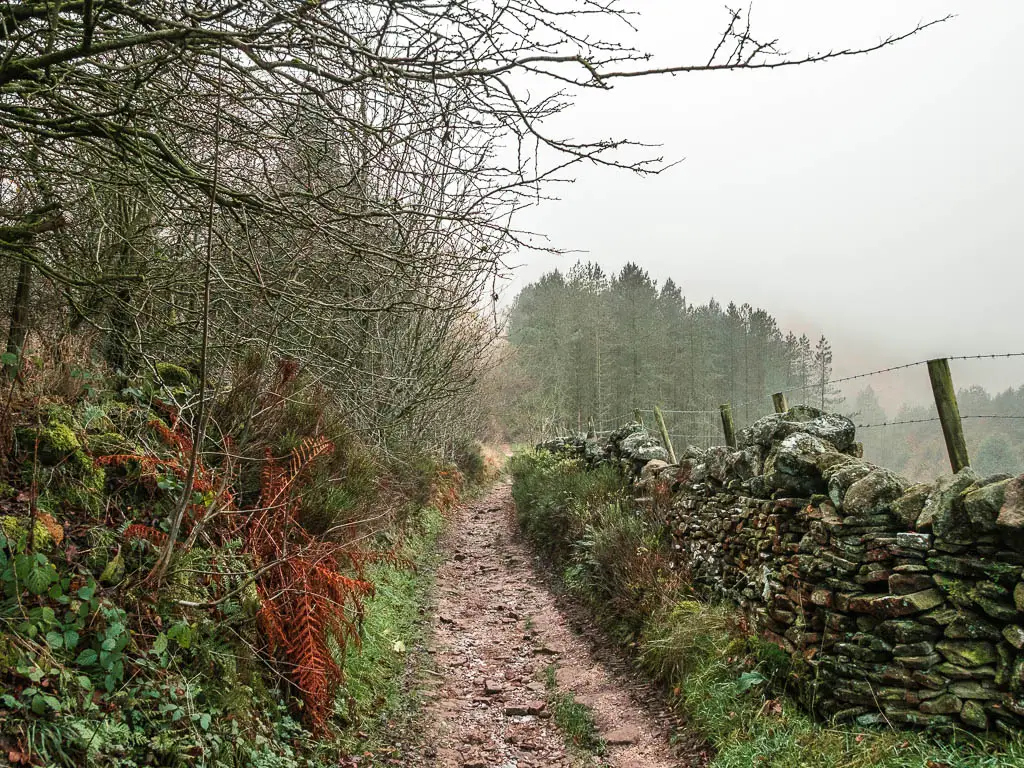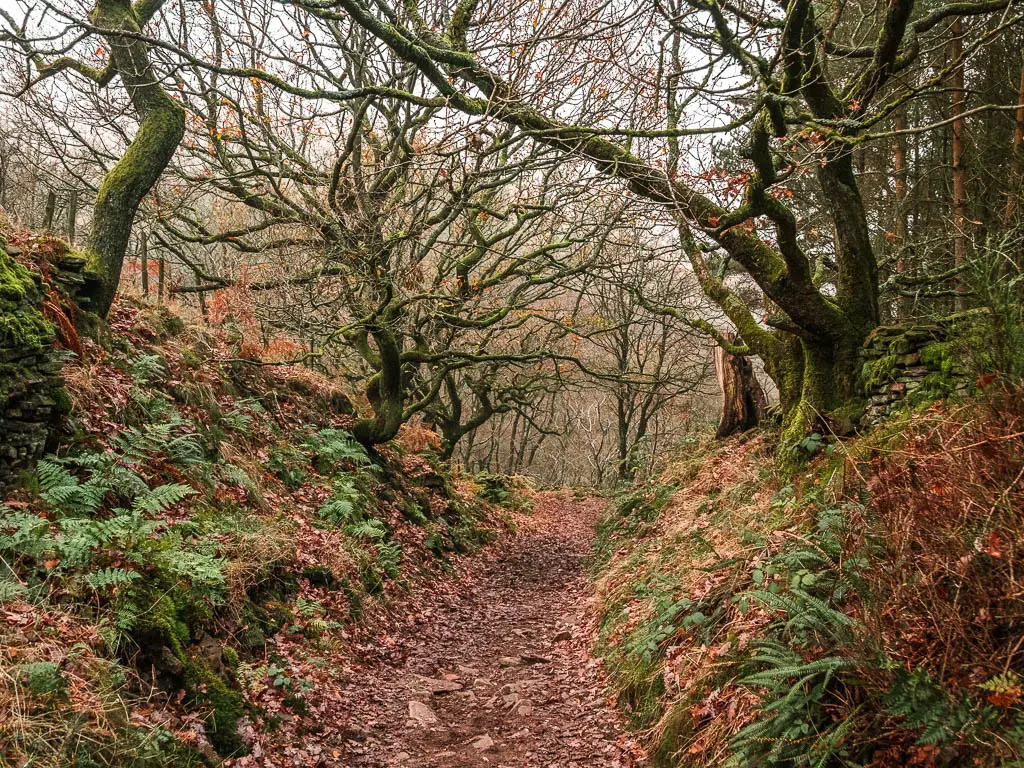 It's easy to follow at first, then you will reach a point where the path curves left, with a slightly less obvious trail leading off it downhill to the right (see photo below).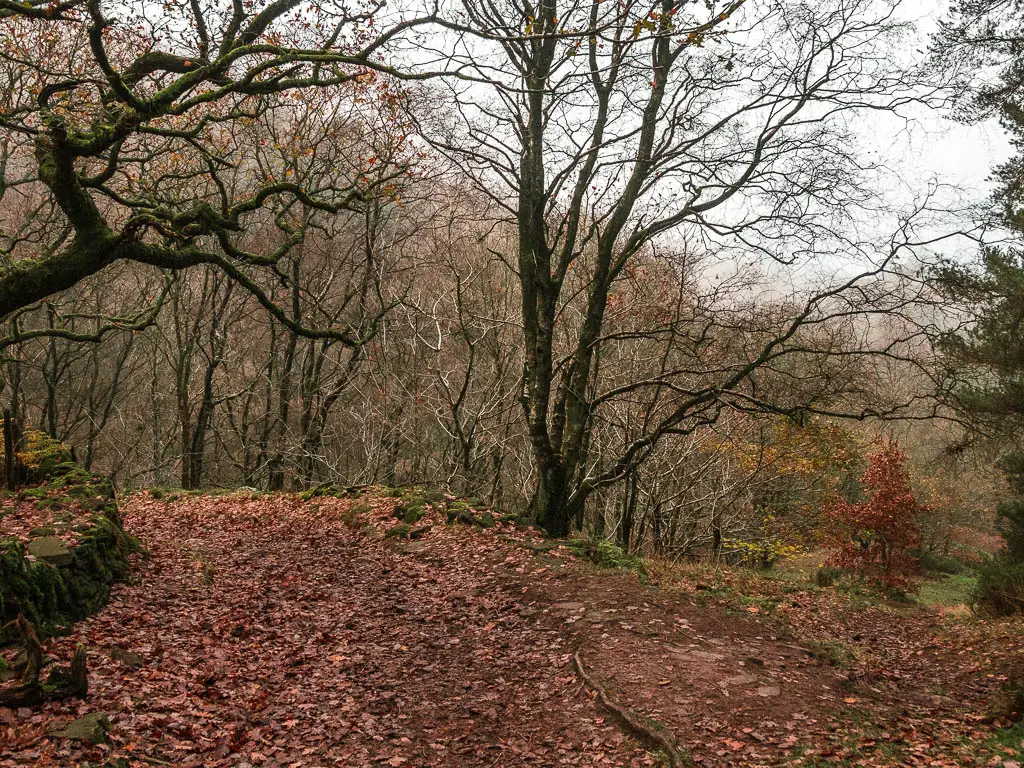 Choose your route
At this point you can take either trail. Sticking to the main public footpath as it curves left seems like the obvious easy one, however, this takes you to River Dane.
If you don't fancy walking precariously over rocks to get across, then don't go that way. I took that route on the way back, so you can have a look at it further down in this guide. 
If you want to go that way, then I will show you were we meet up in a moment (because I took the right).
Taking the right trail
If you take the right trail, it will take you immediately downhill on a dirt path. Keep going all the way to the bottom, to reach the gate and bridge.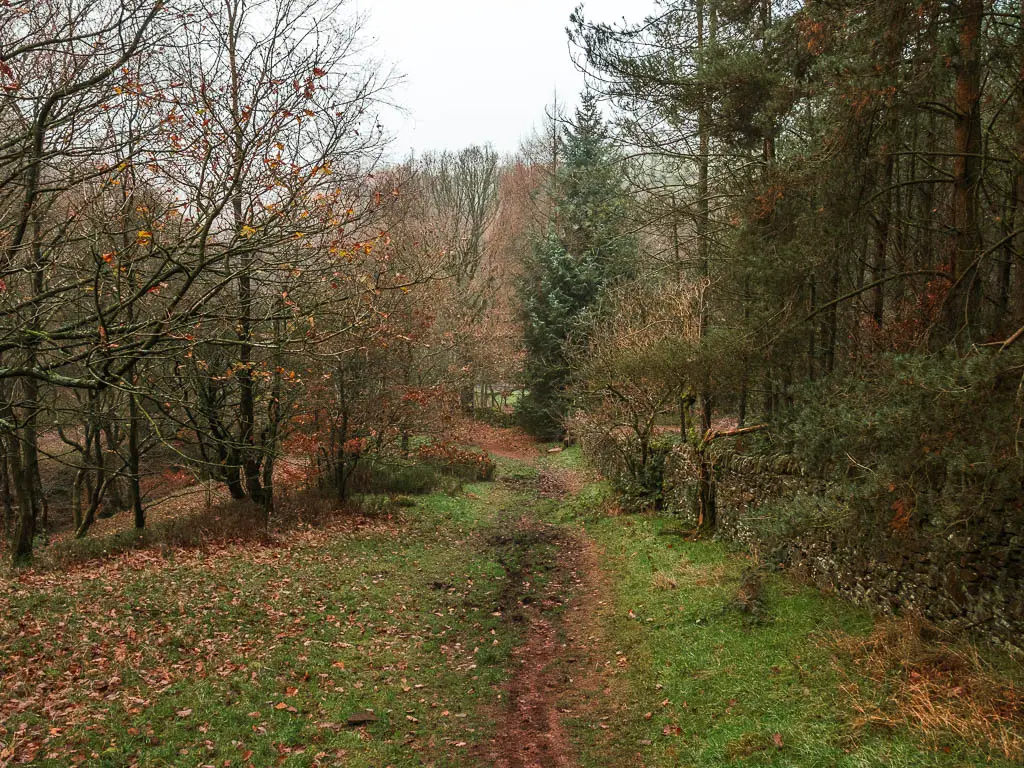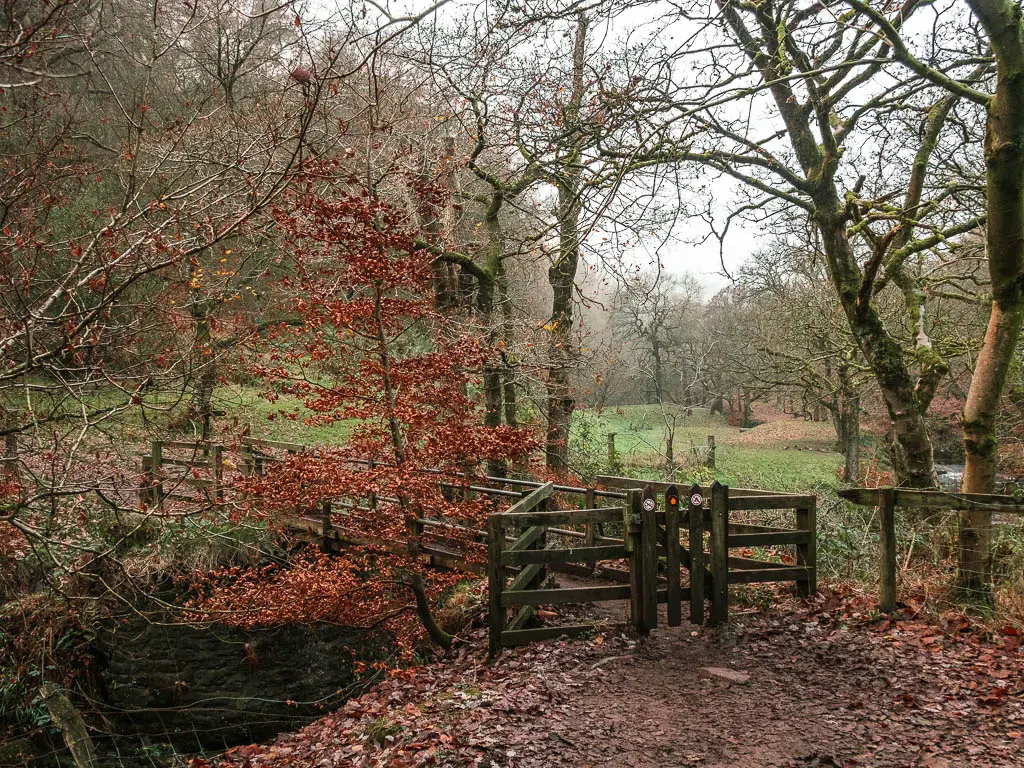 Through there you will see your first sign for Lud's Church. Follow it up the hill, then up a few steps to reach the main trail, where you turn right. If you took the river route, you should end up here.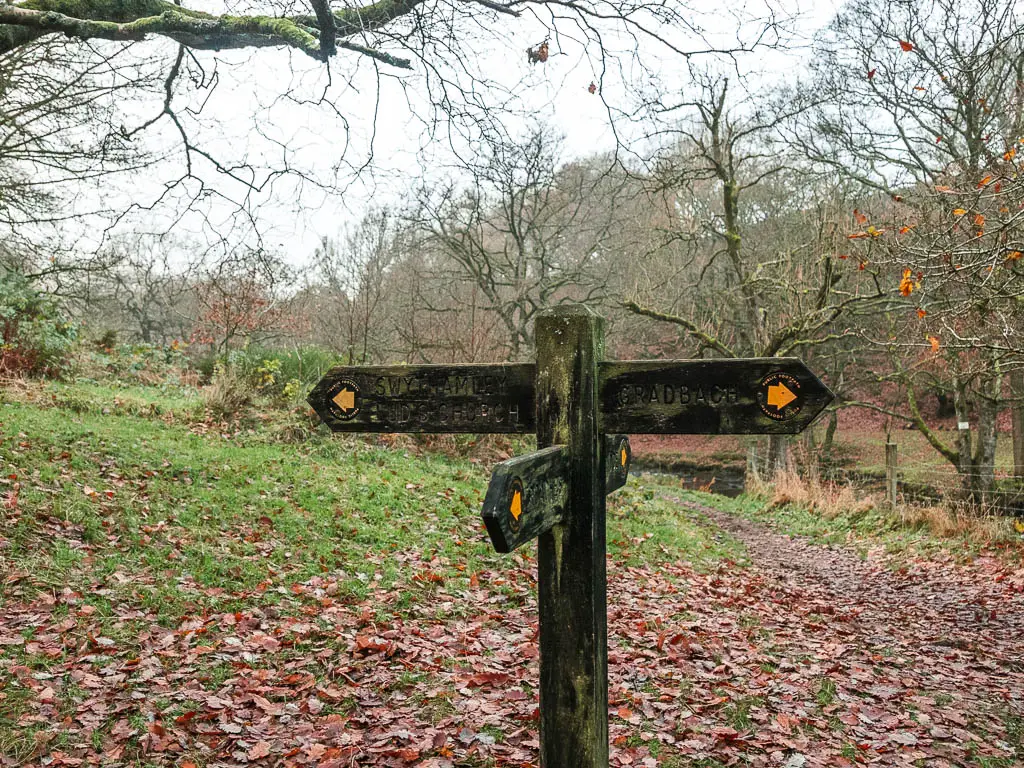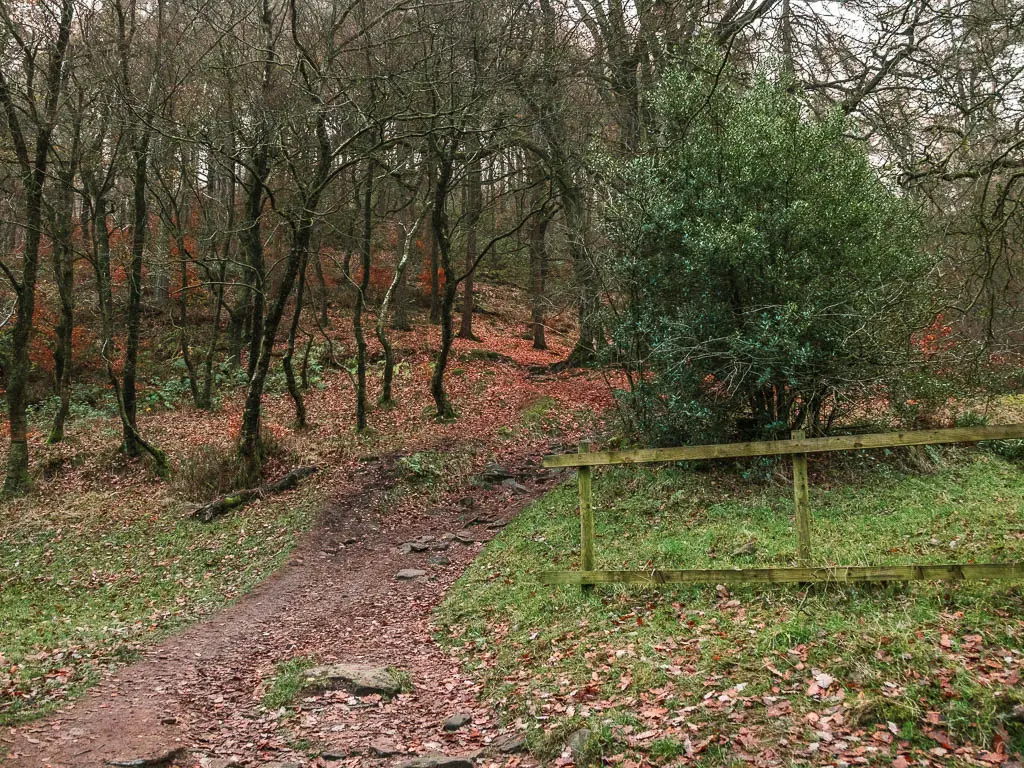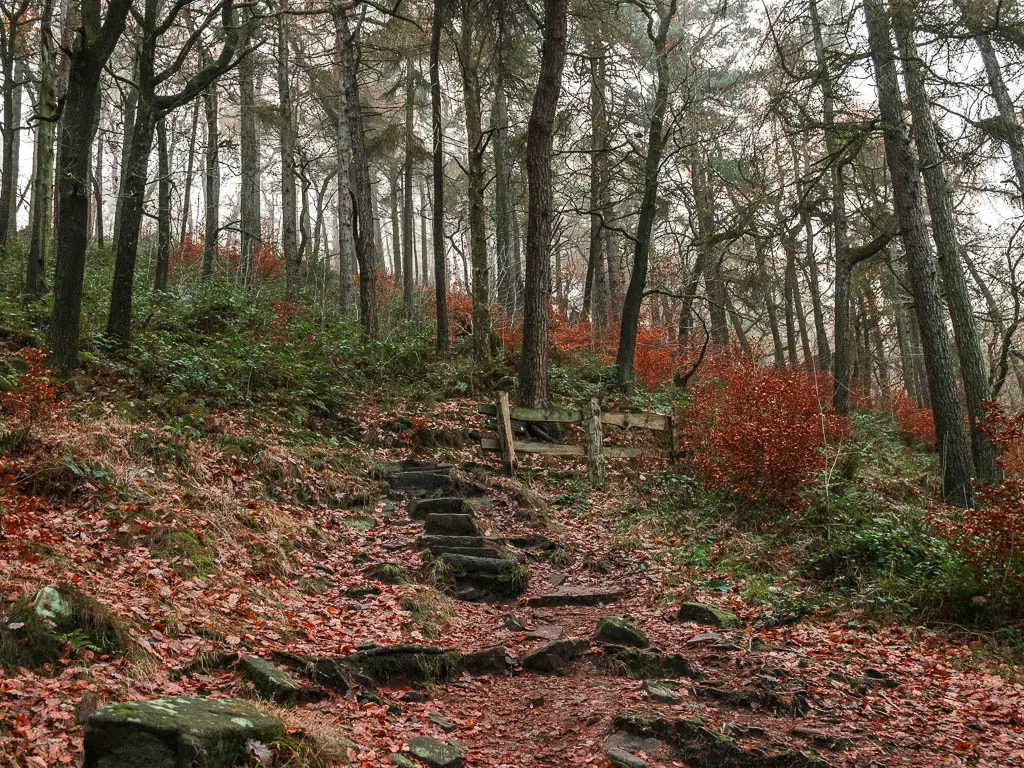 Walk to Lud's Church 
The route is now super easy to follow. Just keep walking along this main trail to reach the big rocks.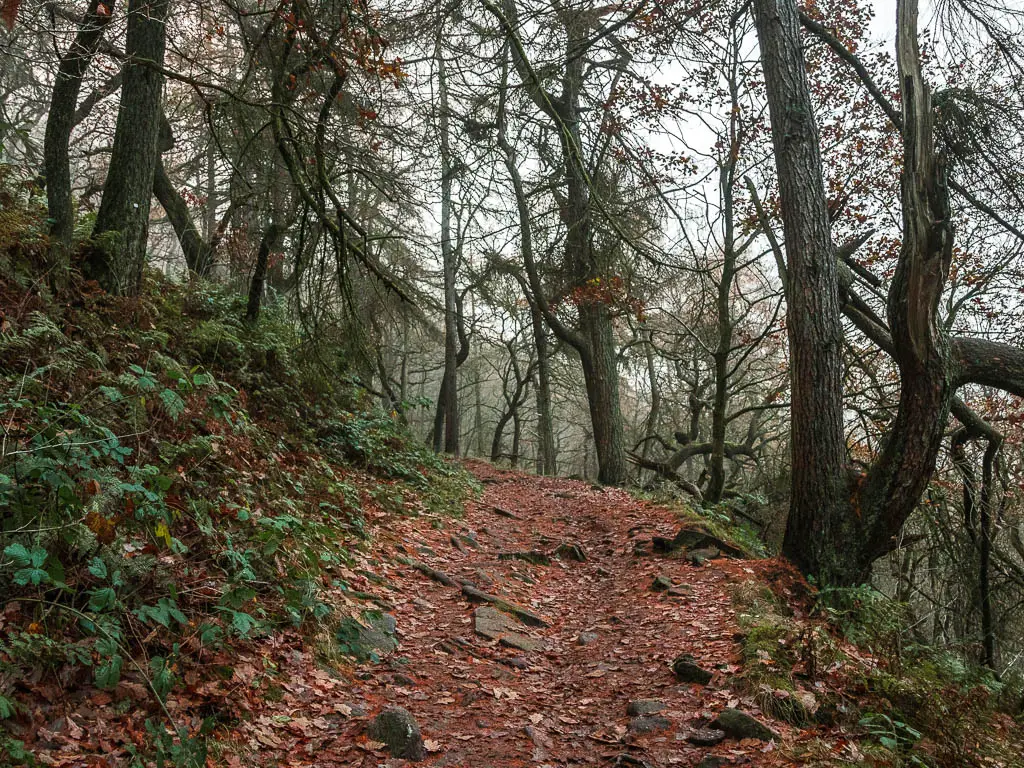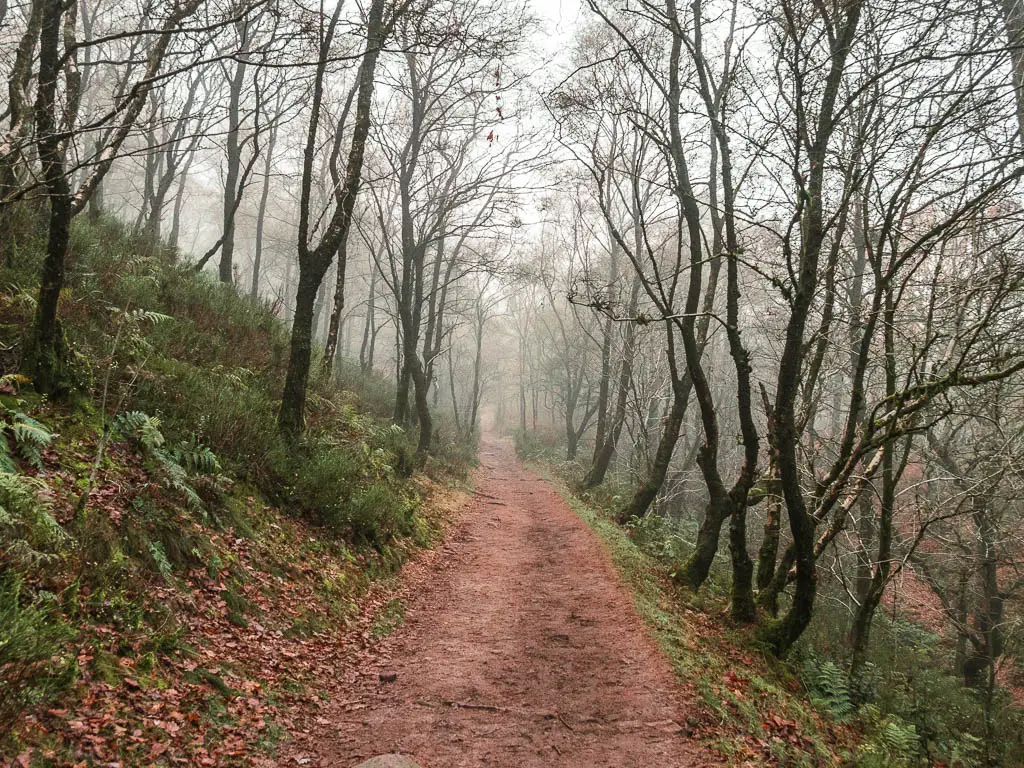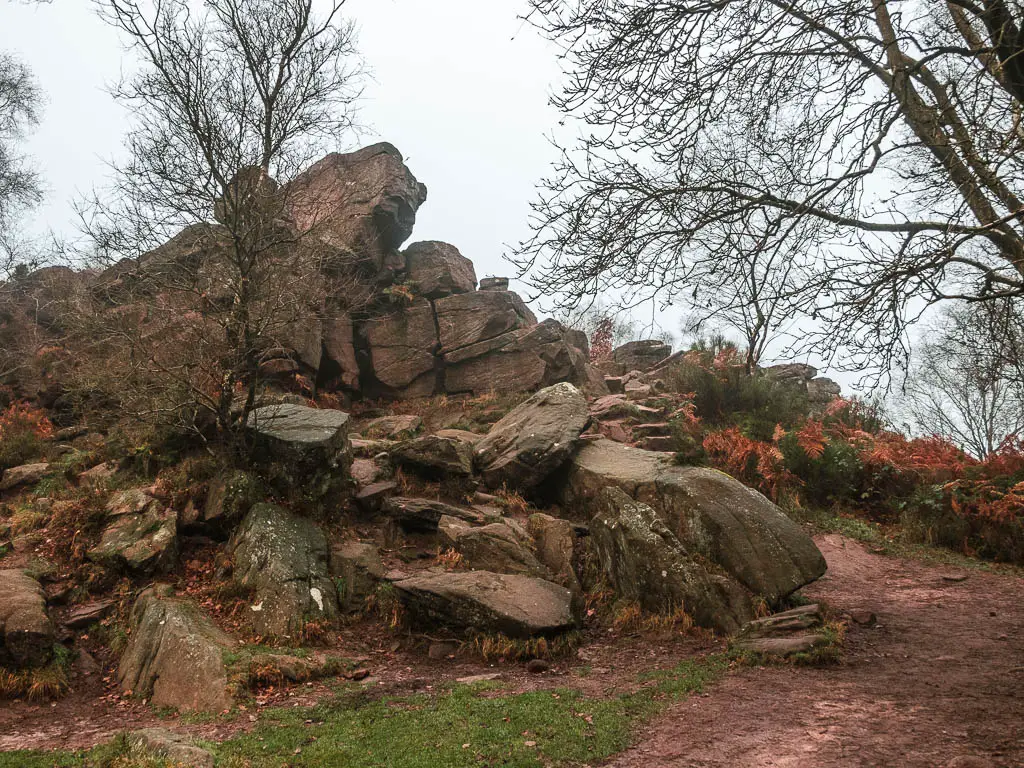 I went and stood on the top of those rocks, hoping for a view. But all I saw was white. It was a very foggy day, which will become more evident later. 
At these rocks, there will be a trail making a sharp left. Like a V. Follow that.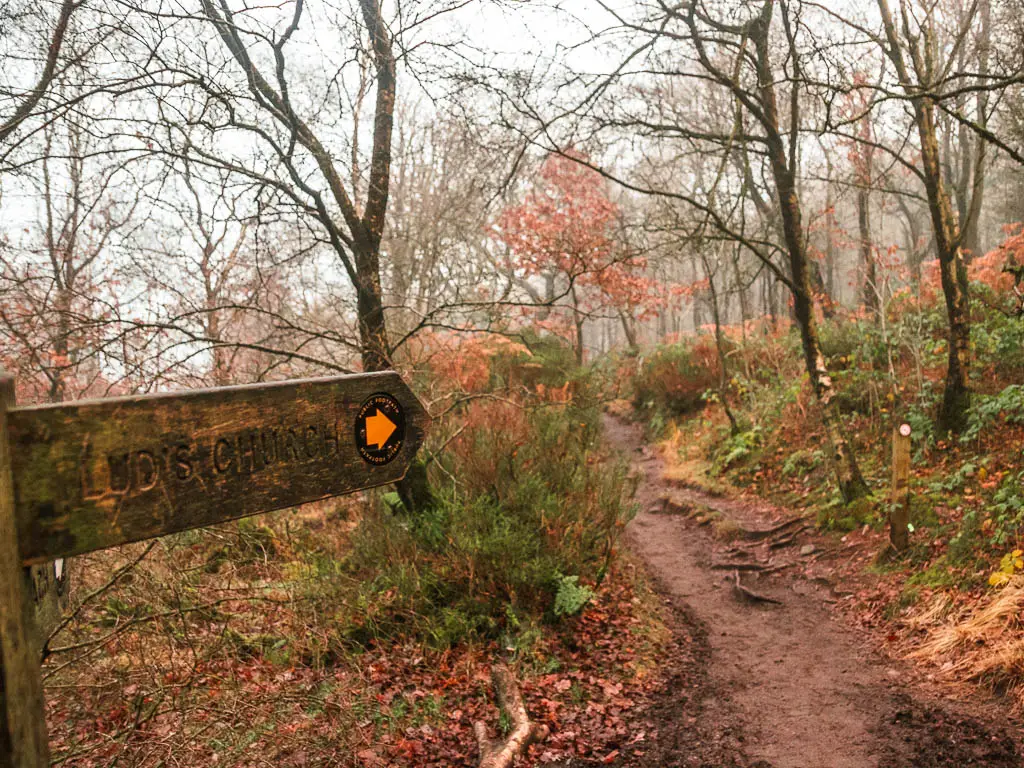 Continue walking further uphill, and when you reach an opening on the right, you have reached Lud's Church.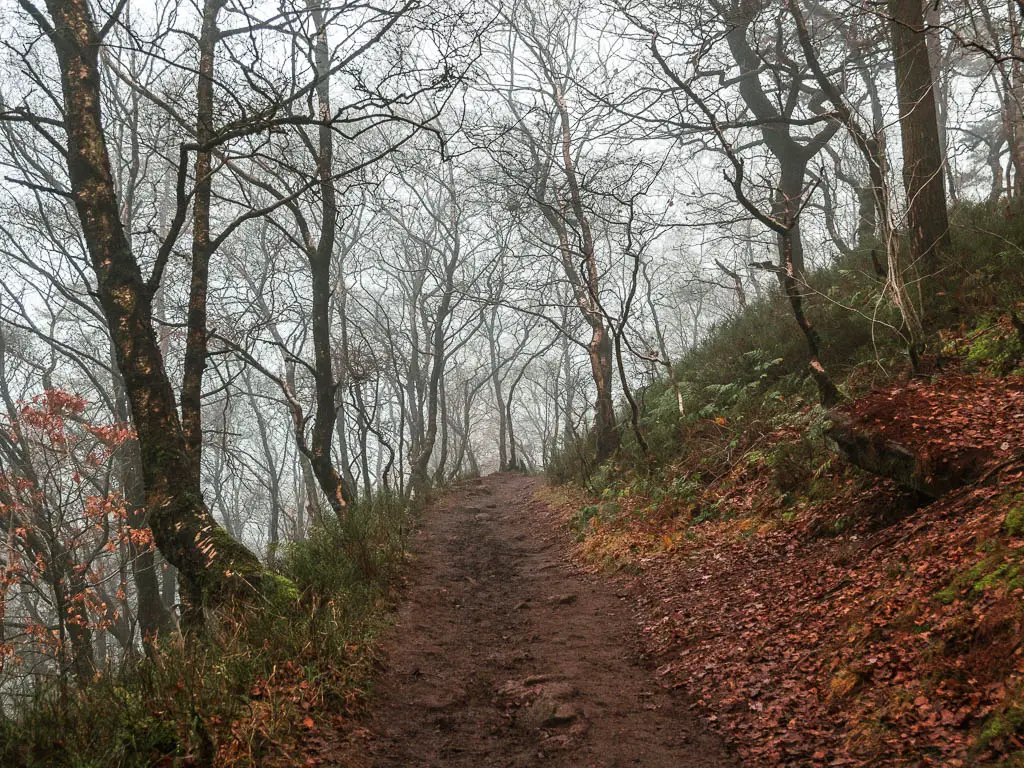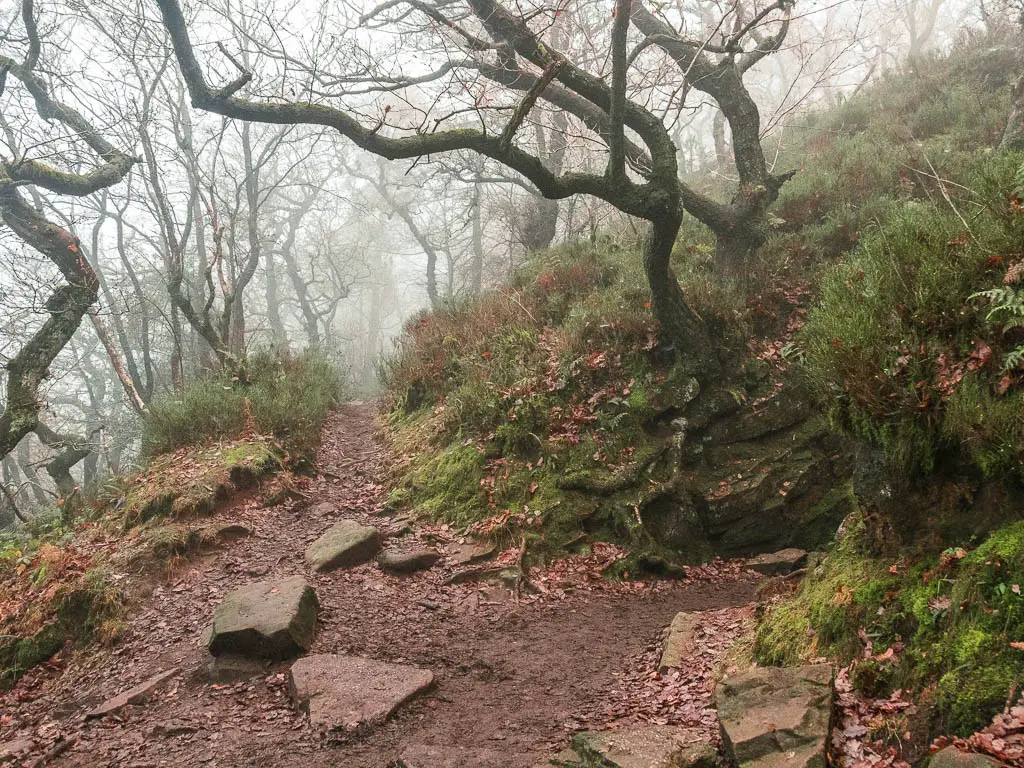 Walk through Lud's Church
As you walk through the deep chasm, it will be a little rocky, and there is one section which can be very very muddy. Once you get passed the mud, and deeper inside, the terrain will be easier briefly.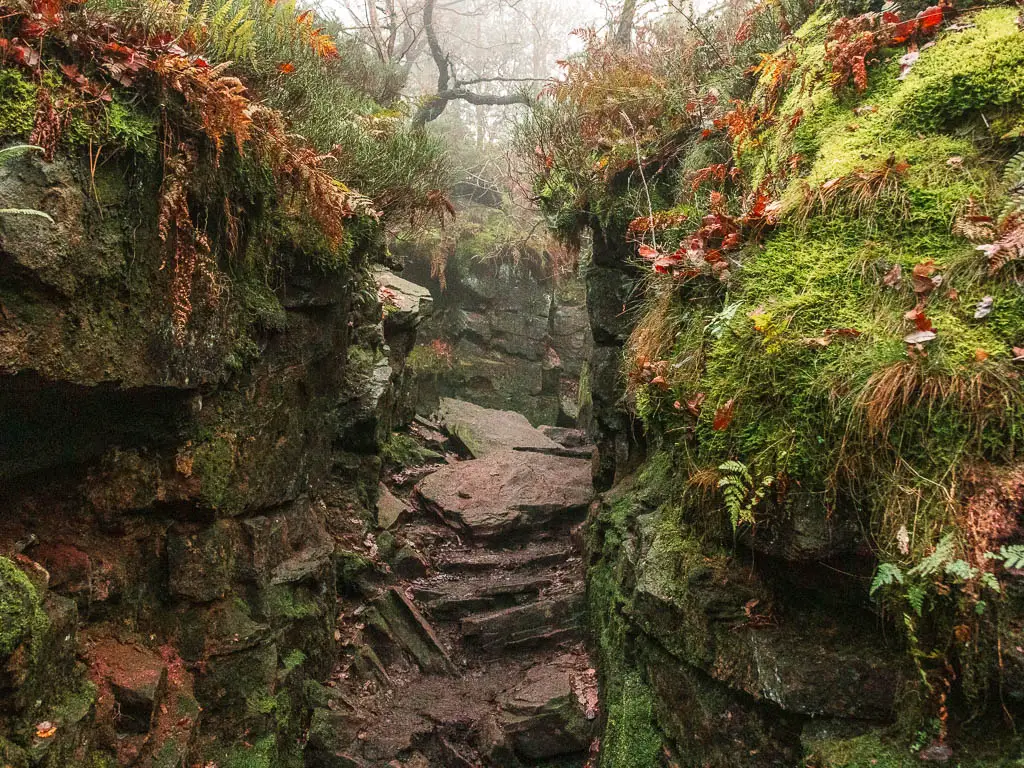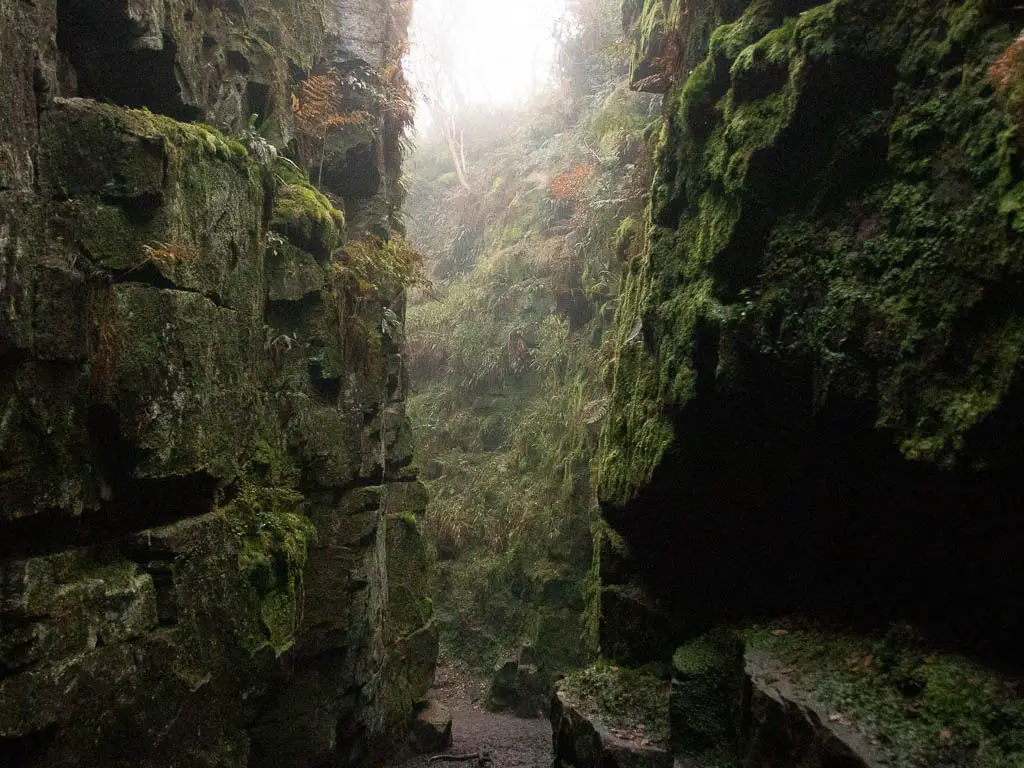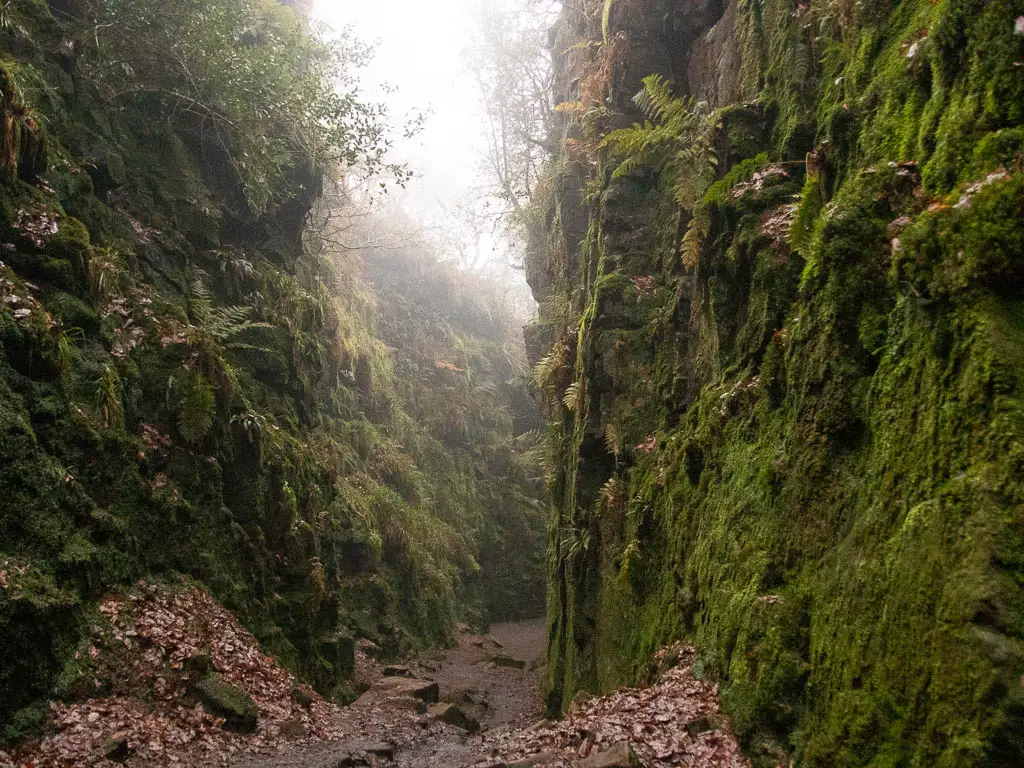 You would think that being in a place like this, all alone, on a foggy day, might be a little scary. Well, it's the kind of thing that would usually make me nervous.
However, today I didn't feel like that. It was just so magical, standing at the bottom of a deep gorge, with moss covered rocks, and the way the light shone down. I was mesmerised. 
To get out, walk through to the other side, where you will have to go up some rocks. You will see there is a split in the gorge. Either way will work, but the main exit is to the right.
You will need to go up a few stone steps, then again a few more to get out and to the top.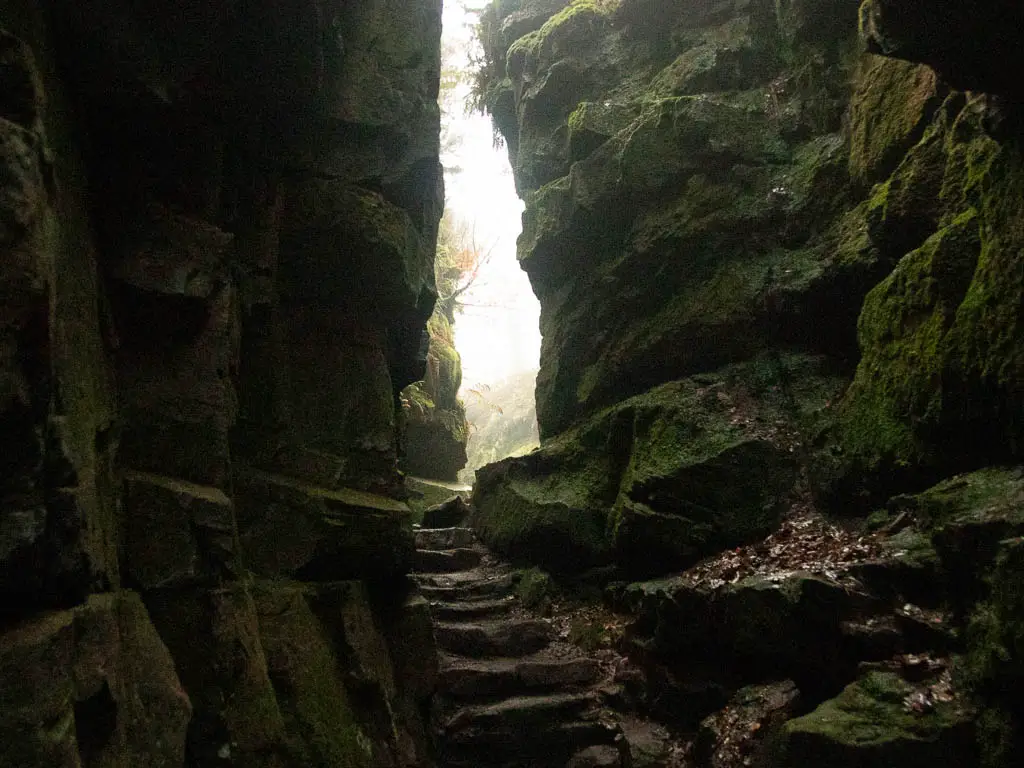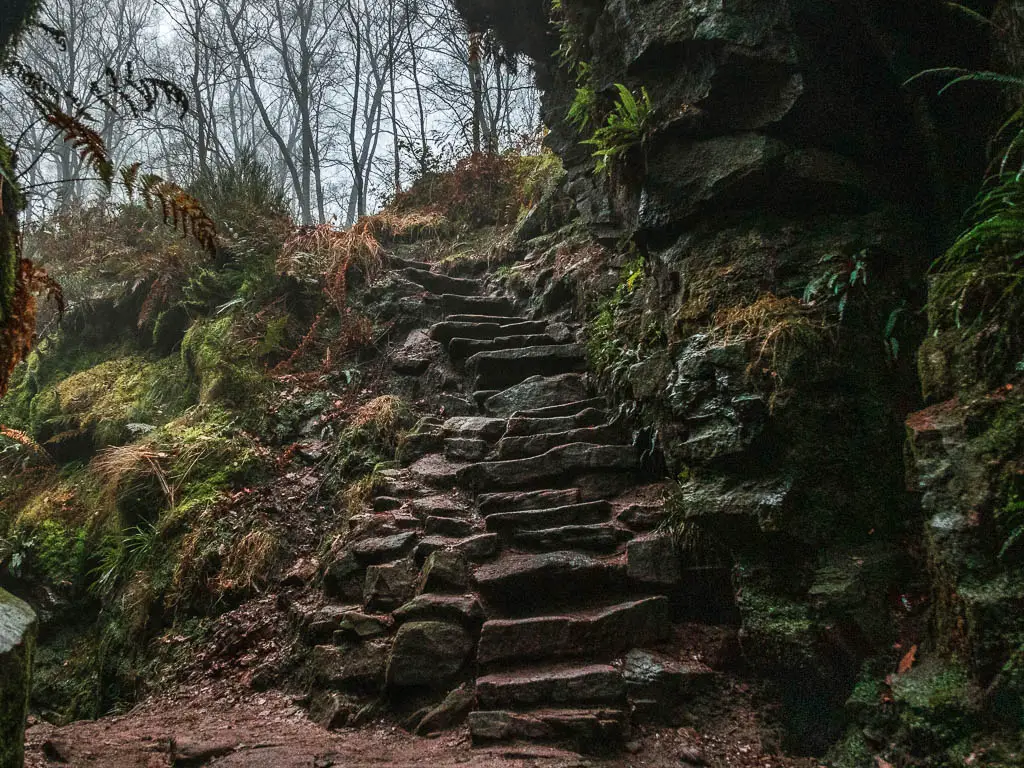 Loop through the woods, or turn back
From here, you can go back the way you came, or go for a little woodland wander (or even further to The Roaches).
I did a little woodland wander, which was as simple as just following the main trail. Which starts off as dirt, then there are a series of wooden planks to mix things up.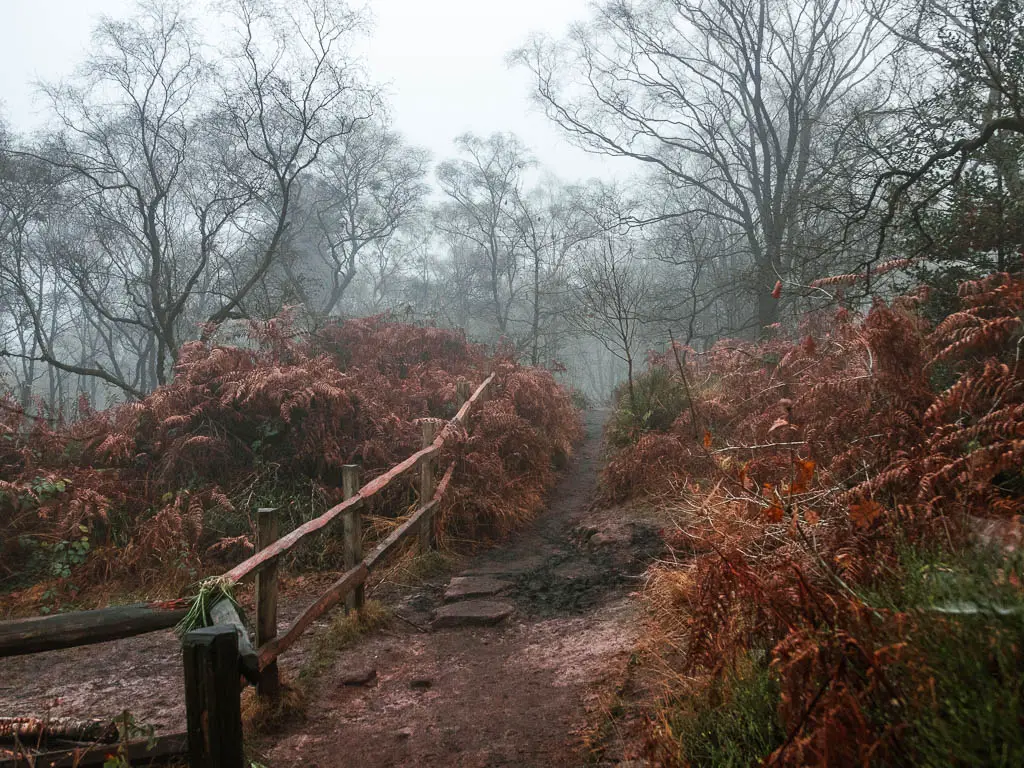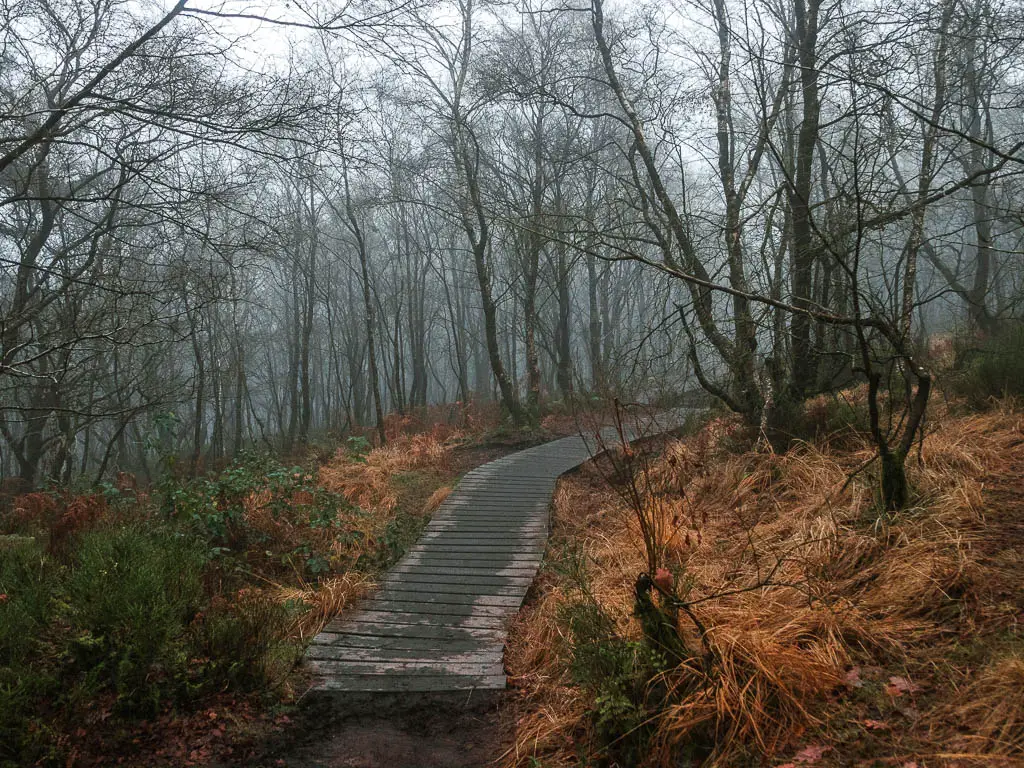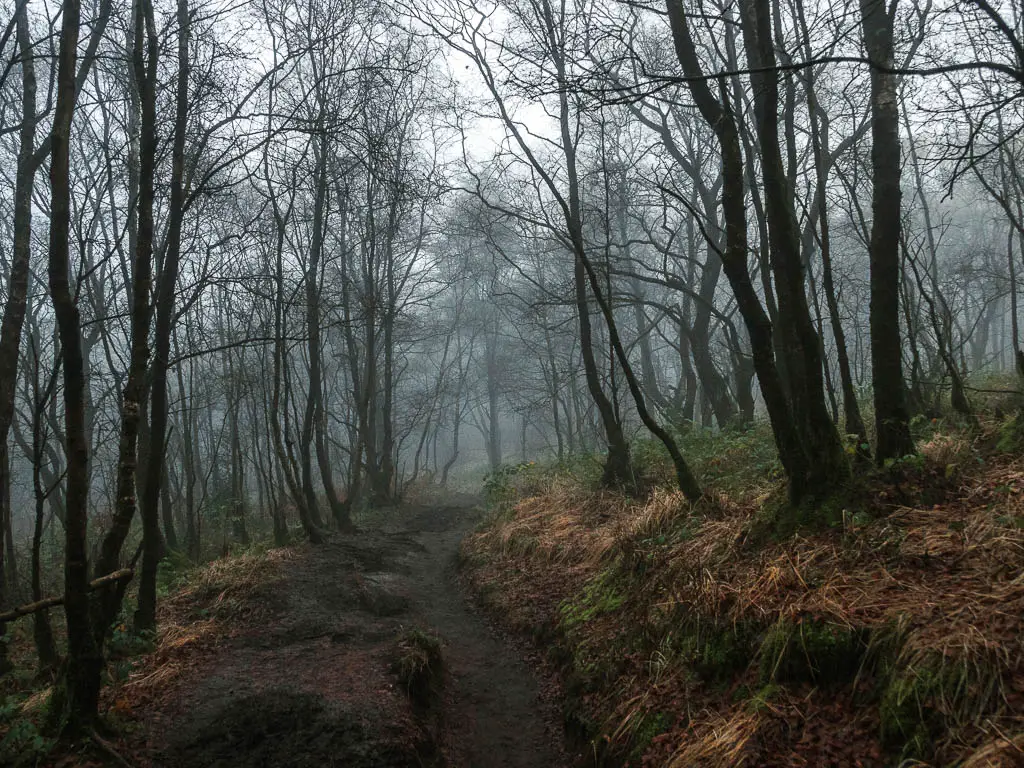 When you reach the next wooden trail signpost, you will see it points left for The Roaches. I went left (although not to the Roaches), to make a loop back.
I must warn you though, this next bit gets very very muddy. So if you want to avoid the mud, turn back here. Saying that, it might not be so bad during summer. 
Circular walk back to Lud's Church 
If you are following me, go left here, then at the next junction with a trail signpost, go left again. (note: If you want to head to The Roaches, you will turn right. Just follow the signs and they will lead you there).
Taking the left path, it will lead you back to Lud's Church. As I said, some bits are very very muddy, and I had to do a bit of hopping about to try to avoid it.
There are some bits where there is an open area where I felt the trail wasn't so obvious, but just look around and you will find it. When you spot it, it will then become obvious.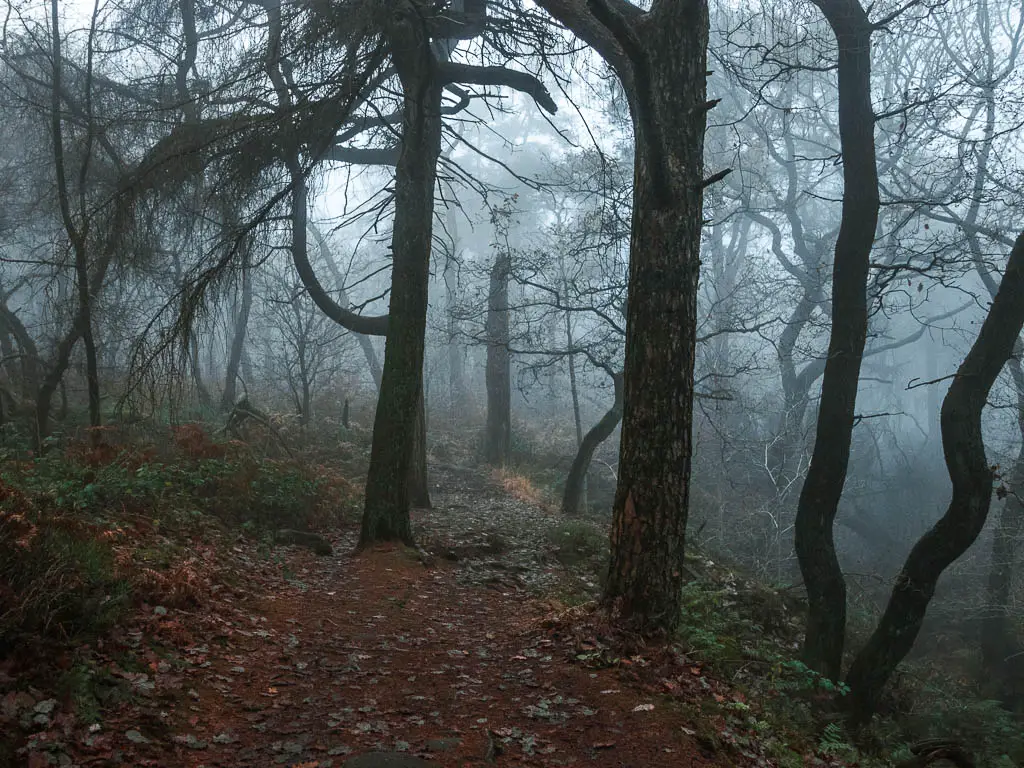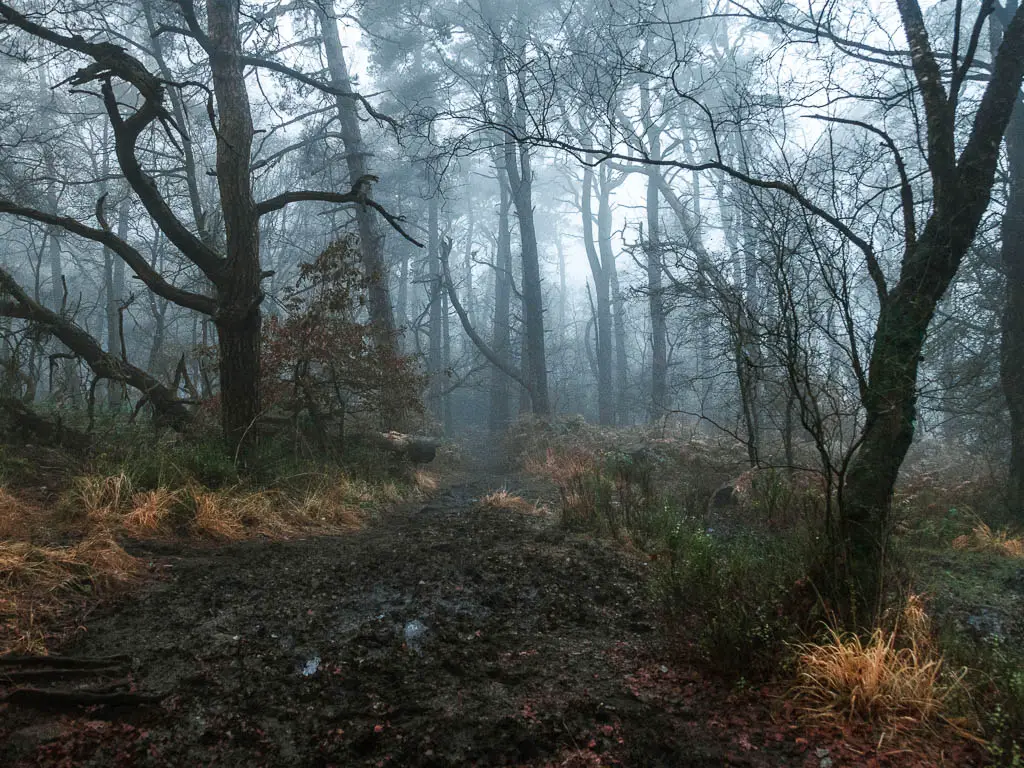 You can see from my photos, the fog had really set in, which added to the spooky woodland vibe. 
Once you rich the entrance to Lud's Church, keep walking straight along the trail you got here on, remembering to turn right at the V turn at the big rocks. 
The river crossing
Continue following the trail, then when you reach those steps from earlier, you can go down them to go back the way you came, or stay on this main trail to cross the river.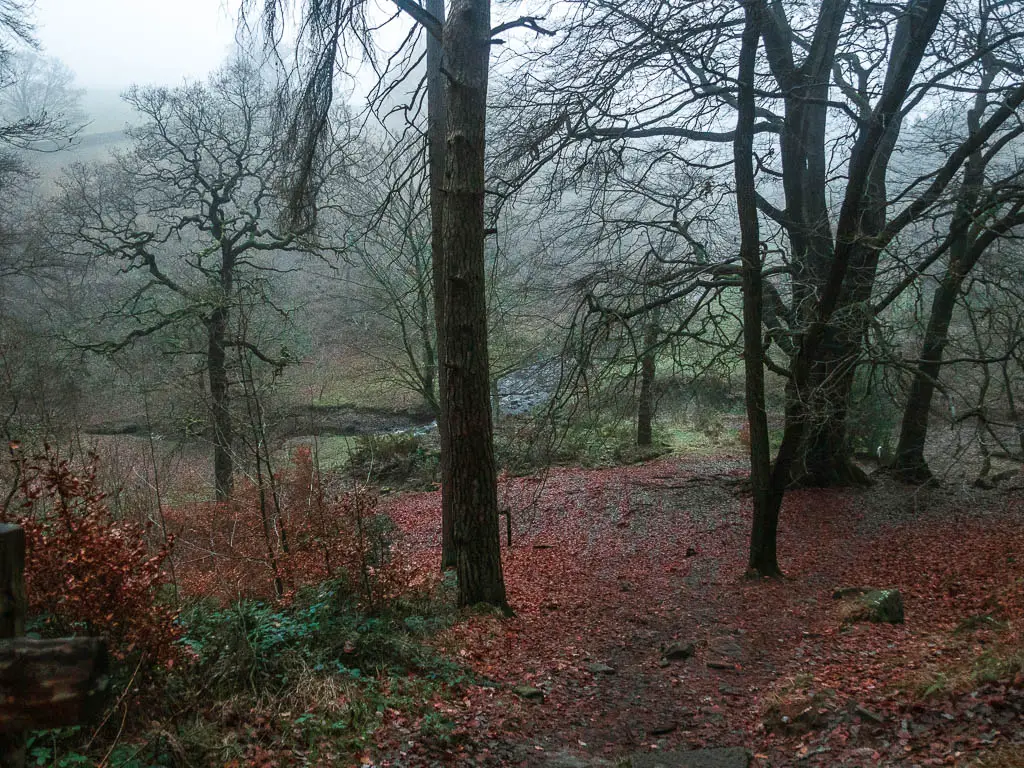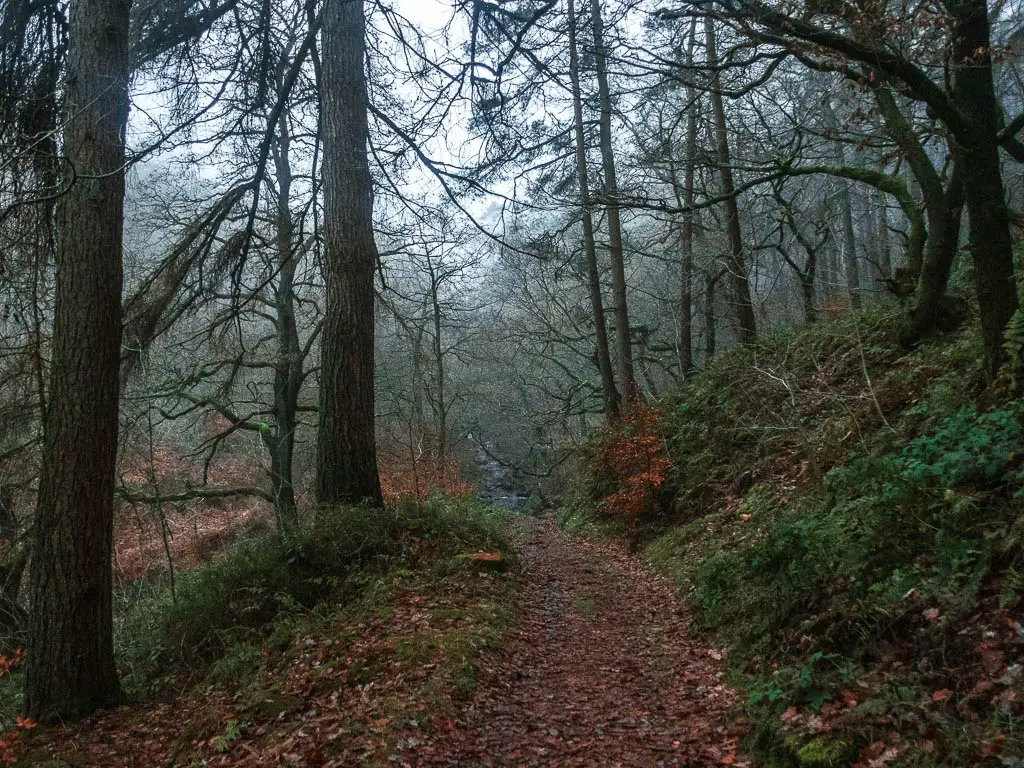 As you already know, I crossed the river. It's just a bit further along this main trail. I found the river to be just about passable today.
Some of the rocks I needed to step on did have water running over them, but it was just low enough that I could get across (my waterproof hiking boots might have helped a little).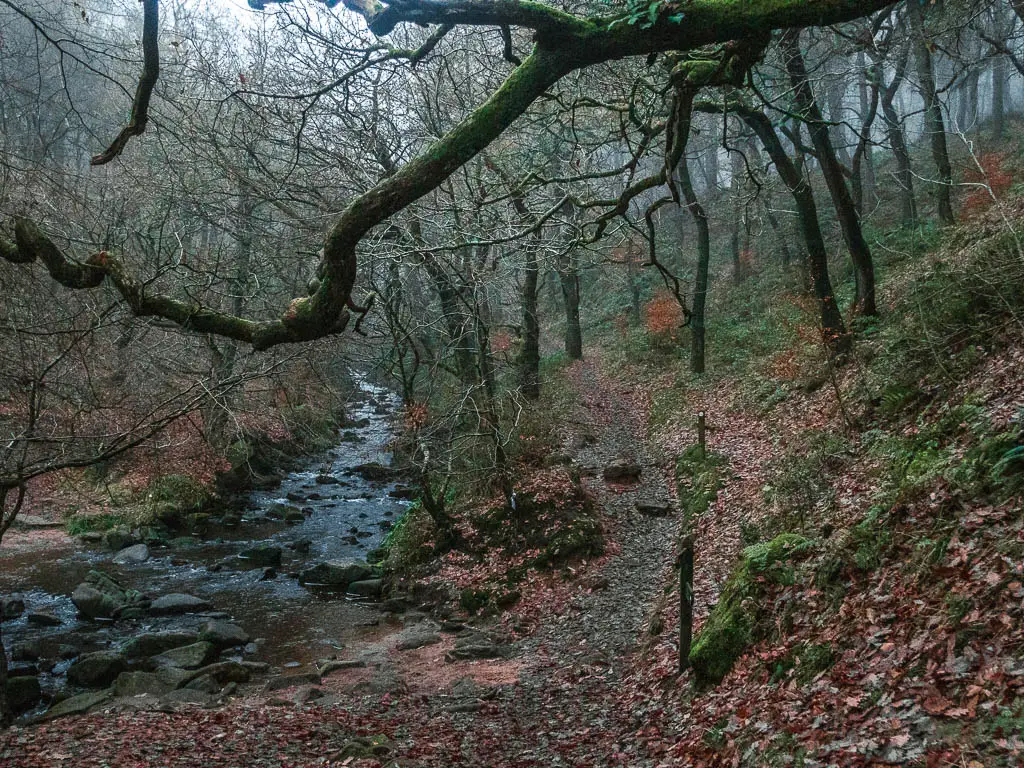 Once across the river, the trail takes you fairly steeply uphill, then around to the right to take you out of the woods.
The end
Now just follow this path and road to get back to the start. Make sure that when you reach the group of houses, don't turn left towards the scout camp like I did. Stay straight.
I do sometimes find, walking back the way I came can get a little confusing, trying to remember things in reverse.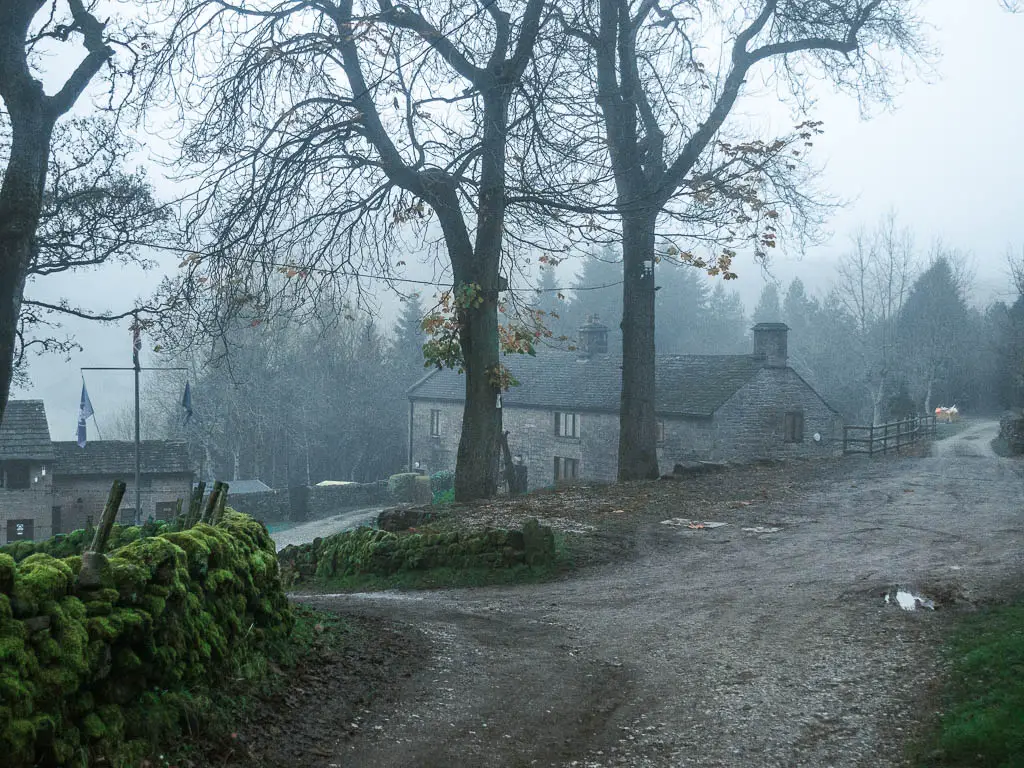 ---
More walks similar to Lud's Church
---
For more gorge vibes, you could try the walk through Winnats Pass. It's also a short route, and not too challenging (apart from the start). 
For gorge vibes with stepping stones, then this walk through Chee Dale is a must do. The circular route I took is a little longer than the one to Lud's Church, but still fairly short.
If you would like to see something really impressive without walking too far, then you might like Thor's Cave. You can walk there and back from Wetton in less than 2 miles. I show you how to do it in this guide. I also show you the route to take if you want to make it a bit longer, by walking through the valley.
A really lovely place you should definitely see, is Cave Dale. It's a tucked away limestone valley, with hidden secret vibes. Now, I only walked Cave Dale as part of the circular walk to Mam Tor, which made it a long one. But if you want to keep things short, you can easily get to Cave Dale from Castleton. Mam Tor is a great one though. You can walk along the Great Ridge with a gorgeous view down both sides into the valleys. 
For more walks in the Peak District, you can find a detailed guide on all the ones I recommend here.
Pin it for later: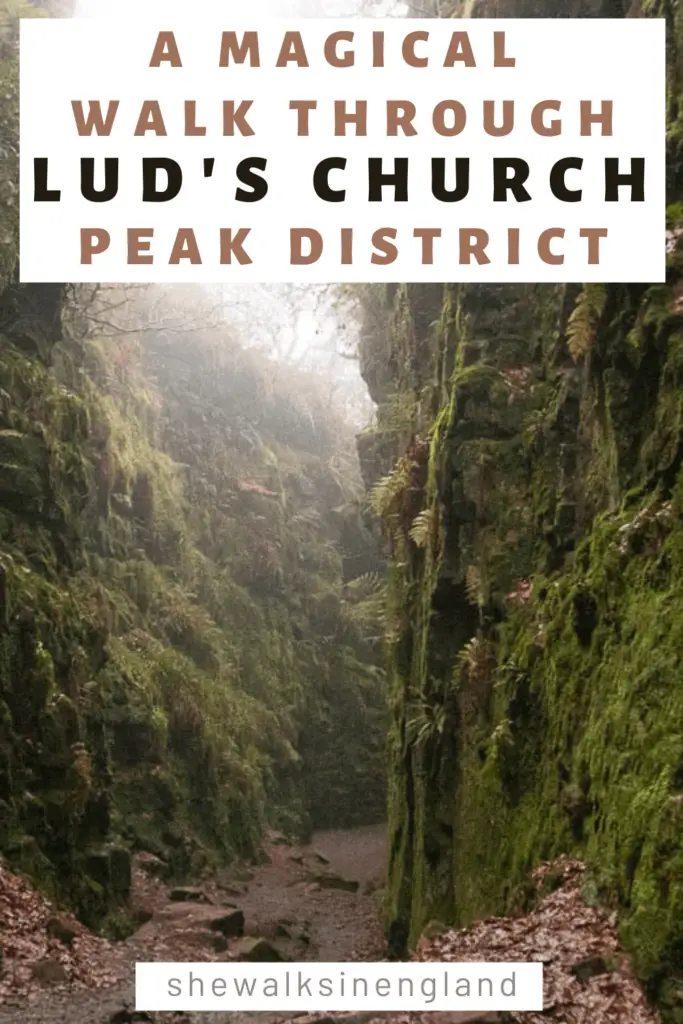 For more information about things to do in the area, you can take a look at the Visit Peak District website.