Sycamore Gap is a tree located in a dip in the hills along Hadrian's Wall, and this walk from Steel Rigg takes you right alongside it.
Apparently it's the most photographed tree in the whole county, and in 2016 it won the award for the 'English tree of the year'.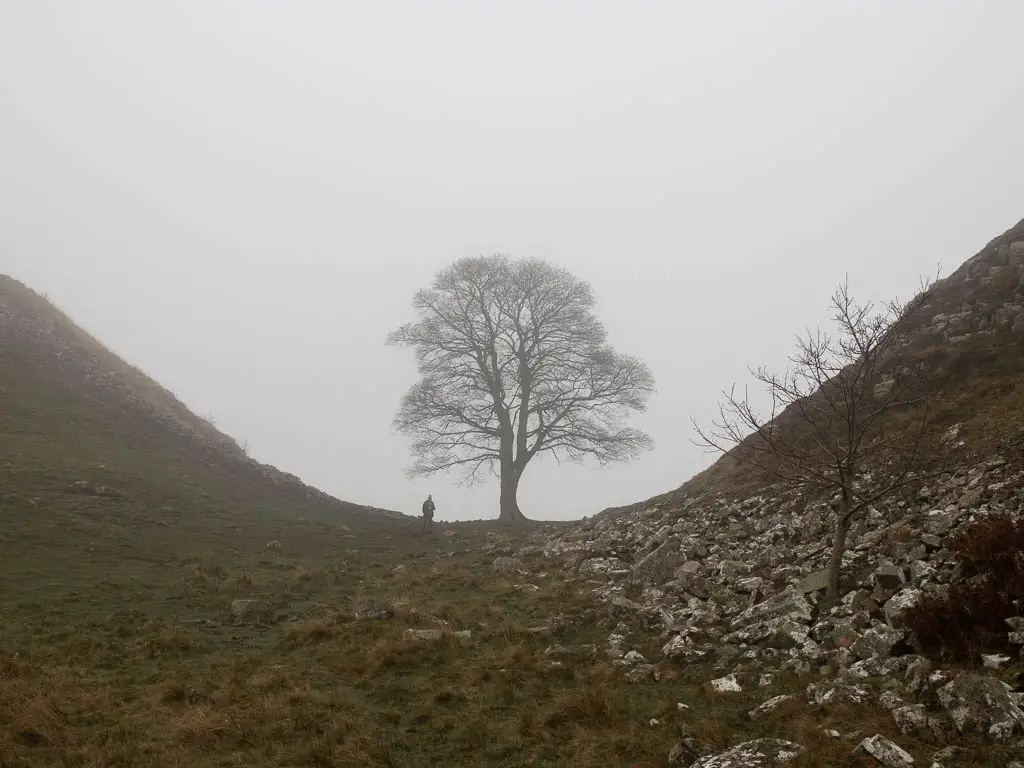 Fun Fact: The tree is also known as the Robin Hood tree, since it featured in the Robin Hood movie.
This walk isn't just about the tree though. This section of the route along Hadrian's Wall, is said to have the best viewpoints of the whole 73 mile trail.
Don't worry, this isn't a 73 mile walk. It's a much more manageable 3 miles. 
Before heading out on this walk, I didn't know it has the best views. I was just going for the tree (or rather, Ollie wanted to go for the tree, and I was tagging along). As you will gather from my photos, it was a very foggy day, so we couldn't see much at all.
However, I actually said to Ollie 'I think this walk has some really good views, but the fog is in the way'. You see, we had glimpses through the fog. Glimpses of what looked to be something special. 
What to expect on the Sycamore Gap circular walk
The first half of the walk takes you alongside Hadrian's Wall. It's quite hilly, with some rock steps early on, and then again when you walk down the hill to Sycamore Gap. A warning, these steps can be slippy.
The terrain for this section is mostly dirt. I think this section is where some truly great views are, from what I could make out through the fog. Dramatic cliffs with a peak to the water of Crag Lough.
Past Sycamore Gap, the trail levels out somewhat, as you walk past Crag Lough to reach some woodland.
Through the woodland, the trail undulates a little, with some tree roots thrown into the mix.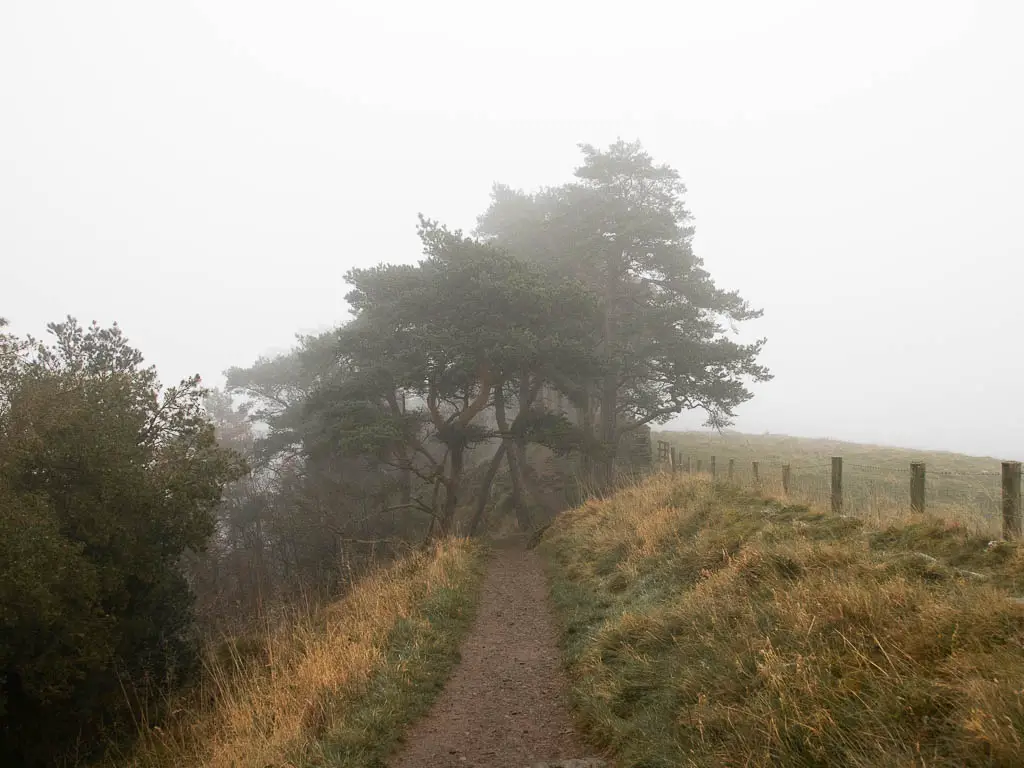 Out of the woods, you circle back along an easy grassy trail to return to Sycamore Gap, where you can view it from a different perspective. From here, you continue along the grassy trail to take you back to the start. 
This grassy trail is easy and avoids the hills alongside the wall. However, it can be little boggy in parts.
If I was to do this Sycamore Gap walk again, I would actually walk back the way I came, because I prefer rugged hilly walks. If you don't fancy hills again though, then this route back is perfect. 
---
Logistics for the circular walk from Steel Rigg to Sycamore Gap
---
Start/Finish: Steel Rigg car park. 
Location: Located on the southern end of Northumberland National Park
Distance: 3 miles
Time: 1h 20min (can be done faster. We moseyed about)
Difficulty: Easy (with a small challenge near the start)
Terrain: Dirt, grass, tree roots, rocks, some bog, some small ladders
Dog friendly: There is livestock. The rock steps near the start might be challenging. The ladders can be avoided if needed (I think).
Amenities: None along the route
Time of year: We did this in winter
Tips for the walk
The Sycamore Gap walk can be done in trainers if that's all you have, however, be wary of the bog if you take the grassy route back.
I personally would walk back the same way, as I found the grassy section a bit boring. But that's my preference. Saying that, it was so foggy, I couldn't see much, so I can't say if there are any nice views on this bit.
On the other hand, if your knees aren't fond of the hills, then the grassy route back might be perfect.
On our way back, near the end, we left the grassy trail to walk down the steep rocky steps section, you can avoid this by staying on the grass trail 
Map for the circular walk from Steel Rigg to Sycamore Gap
You can find my more detailed Sycamore Gap route map on AllTrails
---
A guide to the circular walk from Steel Rigg to Sycamore Gap
---
From the car park, follow the trail signpost pointing to Hadrian's wall. A little further along, go through a gate on the left, and into a field. 
The trail through here starts off gravelly, then sort of disappears into grass. You should see a big hill and cliffs ahead. Just head towards that and you will pick up a stone paved path. 
We had set off before sunrise (that's what happens when you are with a photographer heading for a lonely tree). It was dark and foggy. But those cliffs. When I saw those cliffs I felt my excitement level rise. 
As I stopped to look and take photos, I realised Ollie was gone. I'm usually the faster one on a hike, but when he was a lonely tree in his sight, he is off. 
The hills
When you reach the bottom of the hill, you will have some rugged rock steps to walk up. It's quite steep, but rest assured, this is the hardest part of the walk. You get it over and done with quick. 
At the top, turn left, and from here you just follow the wall.
You will now walk up and down a series of hills, with the terrain mixing up between dirt and stones.
I got my first view of Crag Lough from here. It was pretty special, as I wasn't expecting it. Since looking it up online, I think you can actually see it from earlier on in the route, it's just the fog was in my way. 
Sycamore Gap
Sycamore Gap comes quite suddenly, as you walk over one of the hills, it's immediately presented to you. Be careful though, as the way down can be a little slippy. So watch your steps and not the tree. I say this because I was watching the tree and slipped.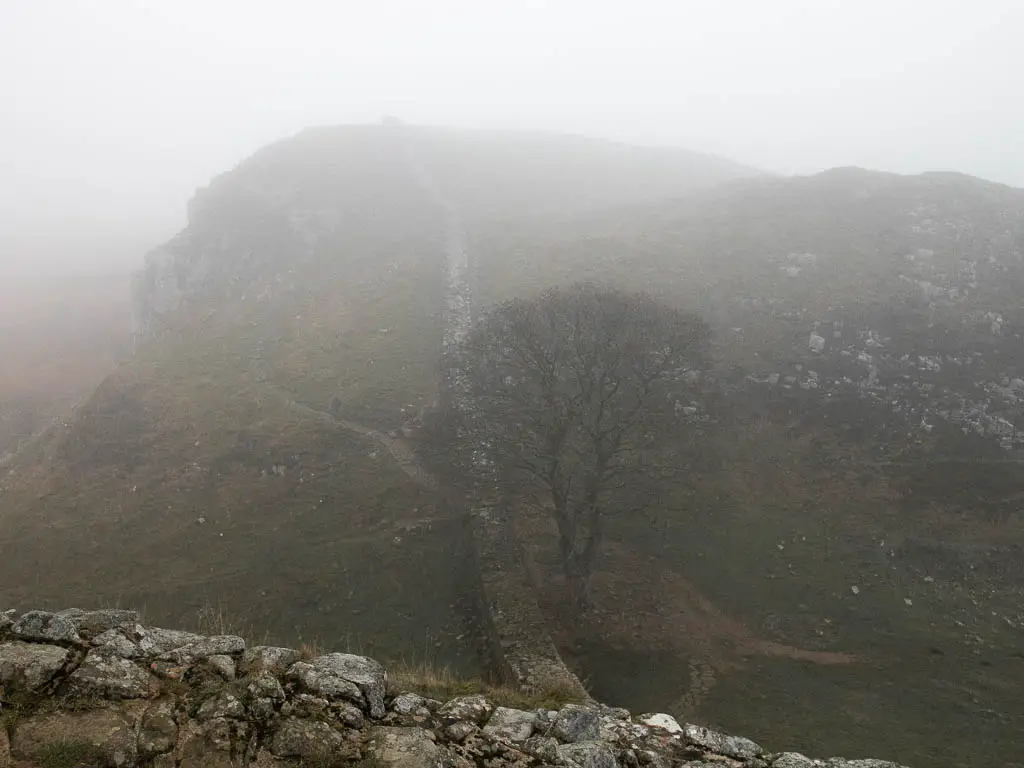 This is where I found Ollie again, as well as some other photographers. I must say, looking at the tree I wasn't wowed. I said to Ollie 'its just a tree. What's so special about this tree?' He looked at me in disgust. I was more interested in the cliffs and Crag Lough. In my defence, it was very foggy. The annoying kind of fog, as opposed to the mystical moody fog.
I decided to keep on going, whilst Ollie stayed with the tree in hopes the fog would lift a little. 
Walk from Sycamore Gap towards Crag Lough
Past Sycamore Gap, it's another short uphill walk, but make sure to cross over the wall now.
Once you reach the top, the trail levels out, and if you want, you don't have to walk any more big hills for the remainder of the walk. 
From the little I could see, there are some nice views of the cliffs from up here, as you continue to walk past Crag Lough towards the woodland.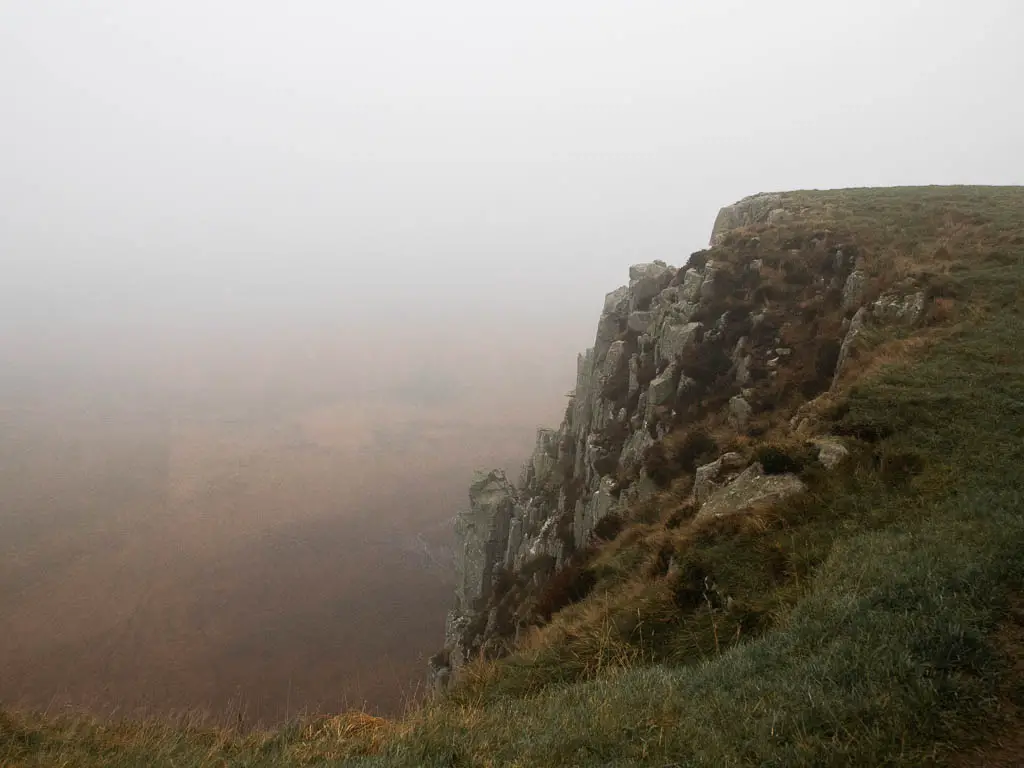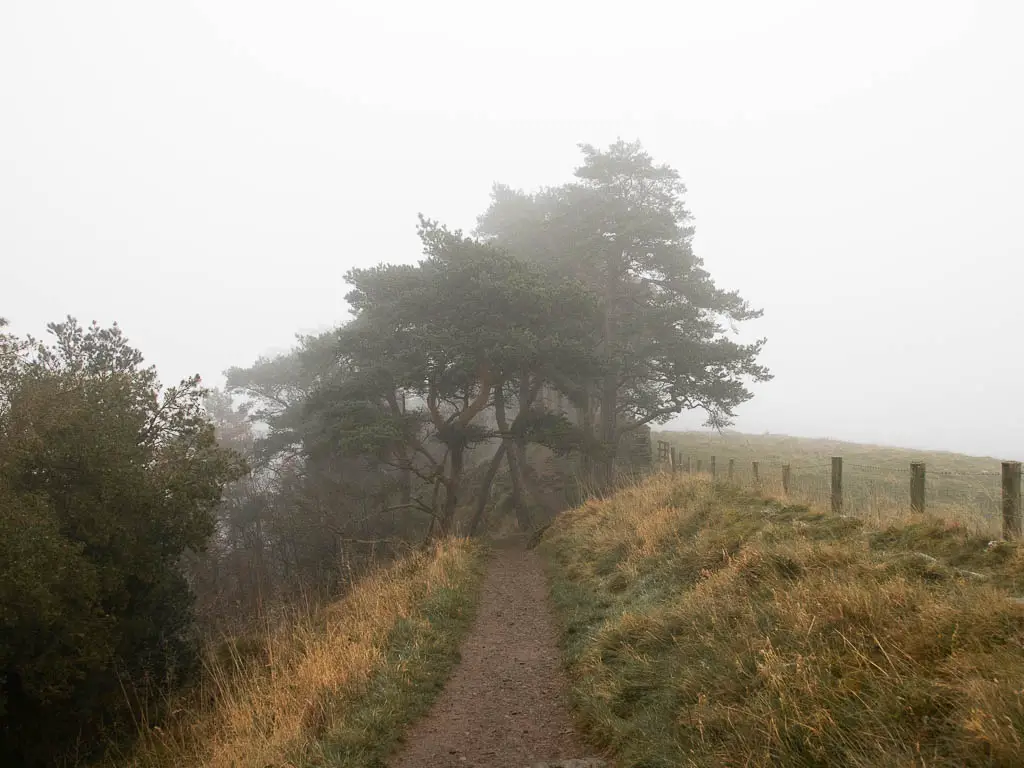 Funny story. I turned around and saw Ollie coming along the trail. Maybe he gave up on the tree. I waved to him. He didn't wave back. I started filming him, as he looked cool emerging from the fog. As he got closer, I realised it wasn't him. It was some other random guy.
I quickly turned around and continued walking….Now at a faster pace.
Walk through the woods
In the woods, the trail undulates a little, on a trail of dirt, tree roots, and rocks. There are little trails to the left, if you want to get a bit closer to Crag Lough.
Through the gate on the other side of the woods, you will walk a little further with Hadrian's wall still to your right, to reach a gate. 
Go through the gate, and don't turn immediately right as the trail would have you think. Stay on the road, and just past the hill, you should see a trail and signpost pointing right. Follow this.
Walk along the grass trail back to Sycamore Gap
This next section of the walk is as simple as following the wide grass trail.
It undulates a little, but I wouldn't call it hilly. I couldn't see any views, but that's not to say there aren't any. As I said, I got a little bored along here, so I used this opportunity to stick my hands down my pants to warm them up. 
I did have moments of excitement though with the ladders. I think you can use the gate instead, if you don't fancy the ladders. I only realised this later on when Ollie chose to walk through the gate. 
Also to note, I didn't find any bog on this part. That comes later.
You will know you have reached Sycamore Gap when the trail takes you through a dip in the hills, and just like earlier, the tree appears very suddenly.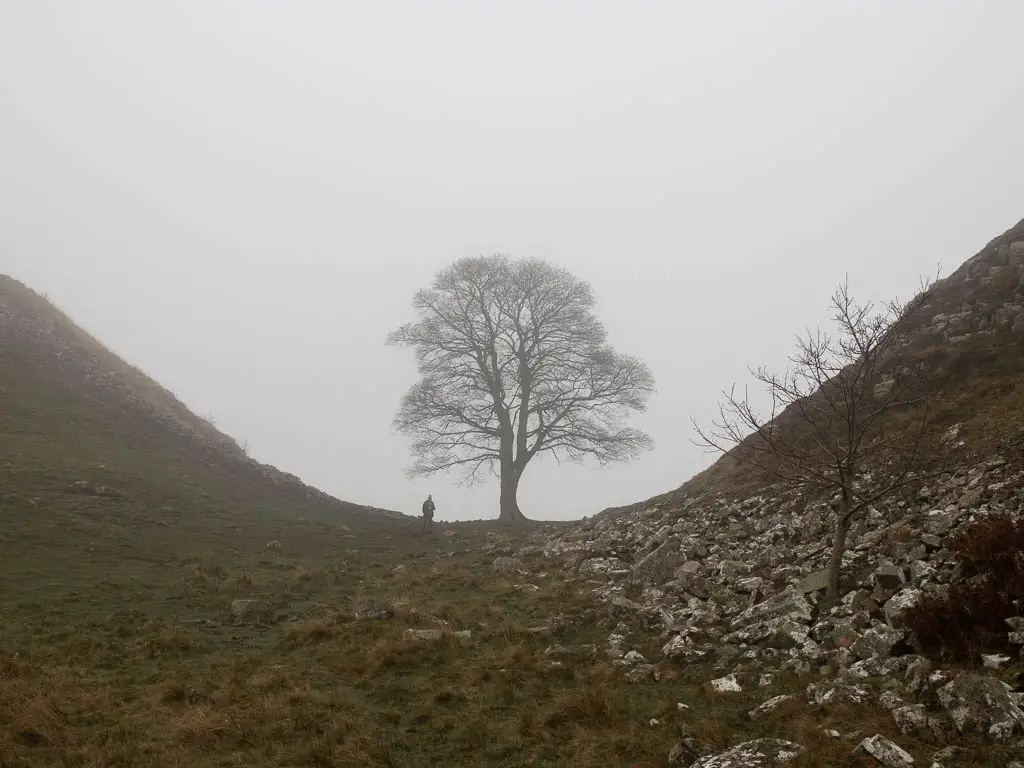 I could see Ollie under it, so headed straight towards him which was a mistake. Leaving the trail, I found myself in ankle deep bog. I continued going, thinking it was a small patch, only for it to get worse. 
My advice: Don't leave the trail. Keep walking along it, and it will lead you onto a proper trail to Sycamore Gap.
Walk back to the start
From Sycamore Gap, you can return to walk along the hilly part of the trail next to Hadrian's Wall, or you can stick with the easy grass trail. 
We stuck to the easy grass trail. This part turned out to be quite boggy. But there were more ladders to keep me interested. 
There is a junction coming up (see photo below). We took the right trail which leads to the big rocky steps hill from the start.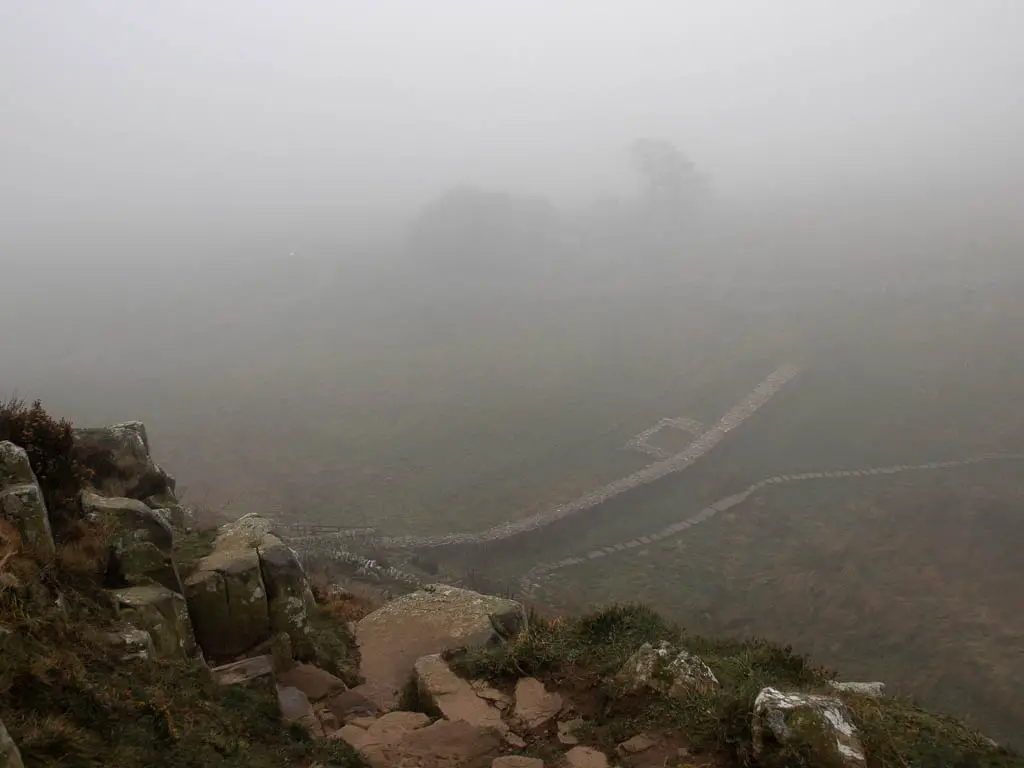 If you want to avoid this, stay on the main grass trail. This will take you past the steps on the other side of Hadrian's wall. If you do that, make sure to cross back over to this side of the wall further along.
Whichever route you took, you should know where you are to be able to follow the way back to reach the car park. 
More walks near Sycamore Gap
We were only passing through Northumberland on our way back to London from Scotland. If it wasn't so damn cold, we would have stayed a little longer.
After two months living in a van during autumn/winter without heating, I had reached my limit. I wanted to get home as quickly as possible. As such, I have no more guides yet for this area. 
However, you can check out the Northumberland National Park website for some ideas. Maybe even tackle the full route along Hadrian's Wall.
Some elements of this walk did remind me of the Cauldron Snout walk in the North Pennines. The rocky cliffs, and rocky hill. Baring the fact that that walk is much harder/longer than this one (and much better in my opinion).
Pin it for later: A guide to the circular Sycamore Gap walk along Hadrian's Wall