This walk takes you up to Mam Tor, with spectacular views into the valleys on both sides and along the Great Ridge. You will then walk from Mam Tor, along the Great Ridge to Back Tor and Lose Hill, before descending down to Castleton.
From Castleton, you will walk uphill through the hidden Cave Dale, before finishing off the circular route with some field walking to get back to Mam Tor.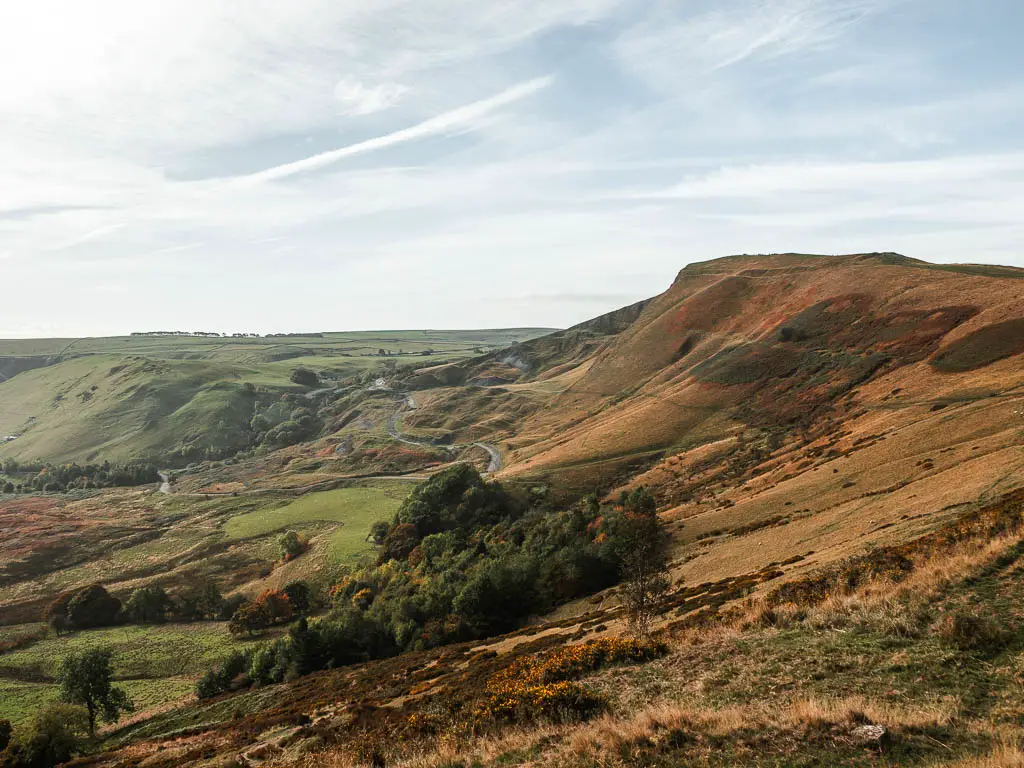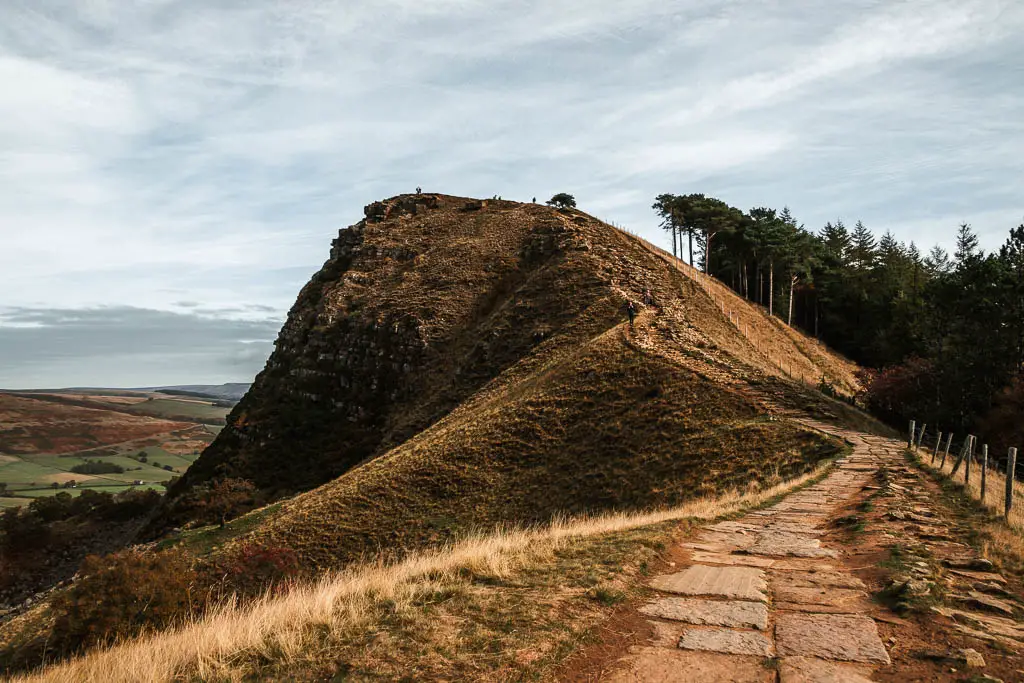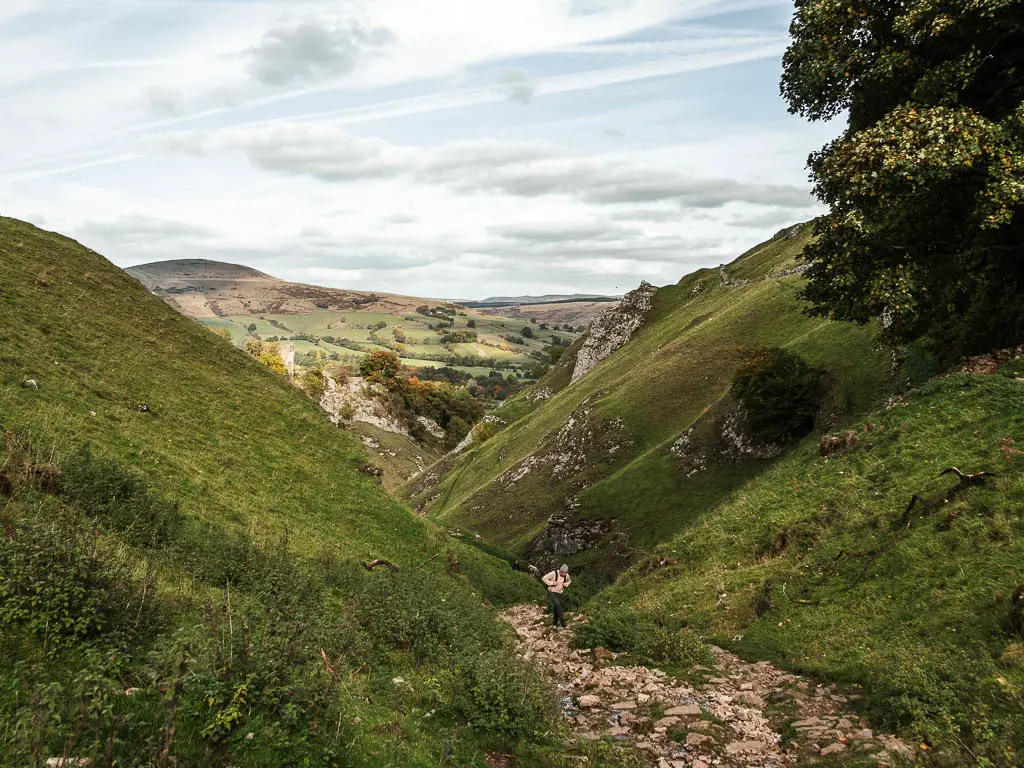 In this guide, I'm going to give you an overview of what to expect on the walk along Mam Tor, with tips, full logistics and a map. This is followed by a detailed route description with photos.
What is Mam Tor?
It is a 517m hill in the Peak District National Park. Mam Tor means 'mother hill'. It is named such due to landslips off it, which have resulted in some mini hills. So it's basically the mother to the little ones.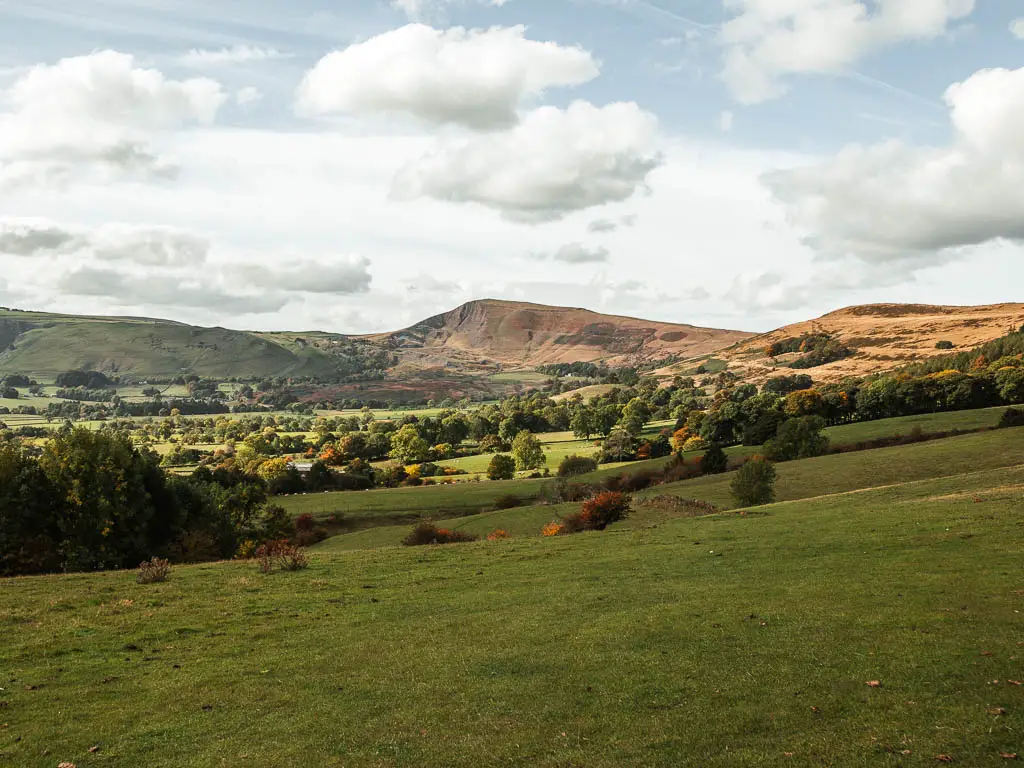 Mam Tor sits on the Great Ridge, which is a fantastic place to come for walks, with views on one side to Edale, and the other to the Hope Valley. Apparently you can see as far as Manchester on a clear day.
What to expect on the Mam Tor walk
The first walk up to Mam Tor from the car park is pretty easy and short. It is uphill, but shouldn't take more than 10min. 
With Mam Tor being a popular tourist spot, it is known to always be busy. We first came to try this walk on a weekend, but the area was so packed, we left and came back on a weekday. Whilst there were less people, it seemed the weekdays were for the school field trips. I'm not sure what is worse, the tourist crowds or children.
From Mam Tor, the walk along the Great Ridge is very easy, along a paved trail. There are a couple of hills along the ridge, with Back Tor being on the steeper, rockier side. I must also say, I did prefer the view from Back Tor compared to Mam Tor.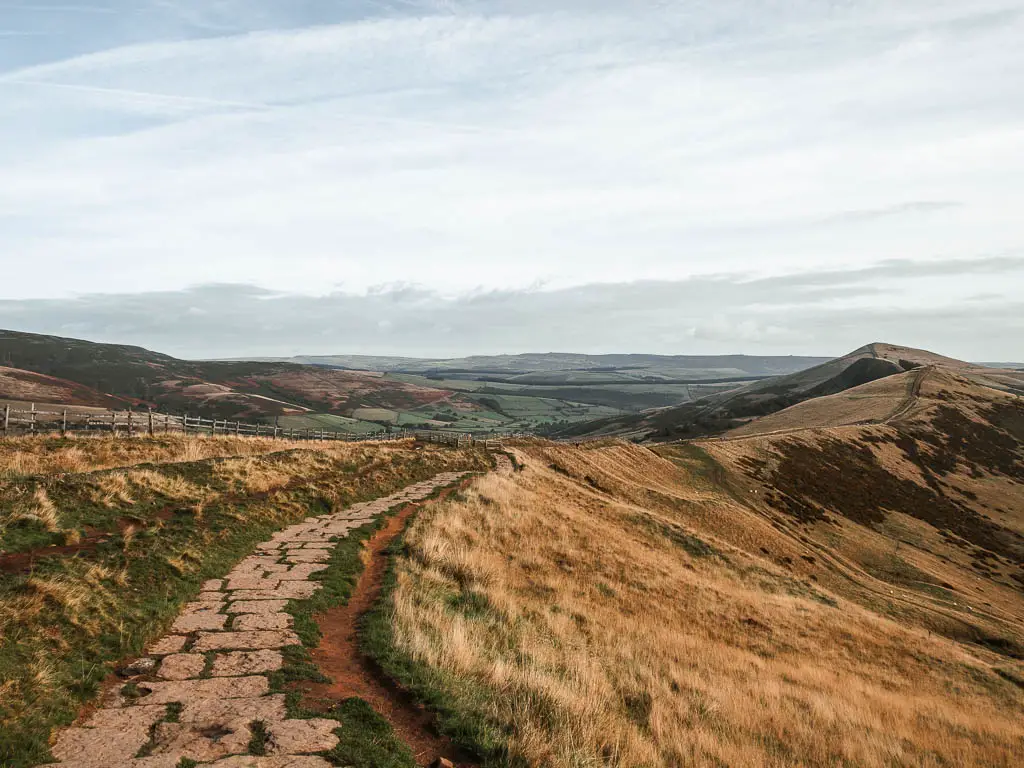 If you don't want to do the full circular route, you could simply walk from Mam Tor and along the Great Ridge and back, and call it a day. That would make a nice little walk in itself.
Another option would be this shorter circular route, which takes you up to Mam Tor and through Winnats Pass
The descent to Castleton is fairly easy, on a mix of path and grass fields, which may or may not have some cows. 
Cave Dale
From Castleton, the route takes you through Cave Dale, which is a dry limestone valley. It feels a little like you have uncovered a hidden secret. I was really blown away by this section. It felt like a more peaceful secluded version of the more famous Winnats Pass. 
It's fairly rocky through Cave Dale, particular as you get higher up.
Fun Fact: Cave Dale was used as a filming location for House of the Dragons.
Another cool limestone gorge you could try, is the route through Chee Dale. It's another quite famous walk out here, and features some fun stepping stones.
Read more: Best walking routes I recommend in The Peak District National Park
Logistics
Start/Finish: Peak District National Park – Mam Nick car park, or on the road leading to it (we parked on the road, I explain why in tips). 
How to get there: It's very near Winnats Pass. If driving uphill through the pass (driving away from Castleton), once through it, at the next junction turn right, and follow the road along and to the left. The parking will be just ahead. If you have issues with parking here, then you could also park on Old Mam Tor road/Buxton Road. There is free parking all along the road, with trails taking you straight up to Mam Tor. I started my Winnats Pass walk from there. That walking route guide leads you passed Mam Tor, so you can check it out to see the location. 
Distance: 8 miles circular
Time: 3h 23min
Options to shorten the walk: If you just want to see Mam Tor, then I would at least suggest doing a bit of a walk along the ridge. To go from Mam Tor and along the Great Ridge towards Lose hill, then back along the ridge, will be about 4.5 miles. You don't even need to walk all of that, you can make your mind up as you go along. Go with the flow if you will. 
Terrain: Rocks, dirt trail, rocks steps, some road, grass.
Difficulty: Mostly easy, with one challenging bit.
Time of year: We did this is autumn
Dog friendly: Lots of livestock about. Some signs warning that your dog will be shot if found amongst the sheep. Don't panic, I saw lots of dogs about. Just make sure to keep them under control/on a lead. No stiles on the ridge, but some for the rest of the walk. 
Amenities: In Castleton, halfway through the walk, you have tea rooms and cafes, fish and chips, pubs, public toilets, outdoor clothing stores, more car parks. No other amenities along the route. 
Tips for the Mam Tor walk
Mam Nick car park is pay and display. For free parking, there is a parking lay-by on the main road leading to the car park. That's why we parked there. Or you could try Old Mam Tor road, which is also free (see my Winnats Pass guide for details)
Avoid on a weekend if you can. It will be busy, and parking will be more tricky. If you must go on a weekend, go early.
I recommend hiking boots. You don't need them for the walk from Mam Tor and along the Great Ridge, but they will give good grip when walking down off the ridge, and then Cave Dale later. The ground will be wet and slippy in parts if it's been raining.
Take a windproof jacket for when up on Mam Tor and walking along the Great Ridge. It can get windy up there. It wasn't actually windy when we did this walk, but when I came back the next day, the wind god had arrived. 
Map for the Mam Tor circular walk via Cave Dale
You can find my more detailed Mam Tor walking route map on AllTrails
More routes and walking ideas similar Mam Tor will be at the end. Or you could read here about all my favourites in the Peak District.
---
Mam Tor Walk guide
---
Starting the walk from Mam Nick Car park, you should see a very obvious route up the Tor. If in doubt, follow everyone else.
If starting from the lay-by on the road (where we started), there is a gate in the opposite wall. Go through it and make your way up. We followed the main grassy trail, to reach the gate on the other side, which led us to the main path up.
The view back to the ridge on the other side is pretty cool. I made a mental note to come back and walk that another time. 
As I mentioned, it's a short walk up to reach the top of Mam Tor. We didn't stay long up here, due to the children. But the view doesn't go away, so we could enjoy it further along, where I actually think the view gets even better. 
Walk from Mam Tor along the Great Ridge
You will be able to see all along the ridge from the top of Mam Tor, where you will be walking next. The first part of the walk from Mam Tor is along a paved stone path, with the occasional gate. It's a very easy gentle stroll type of path.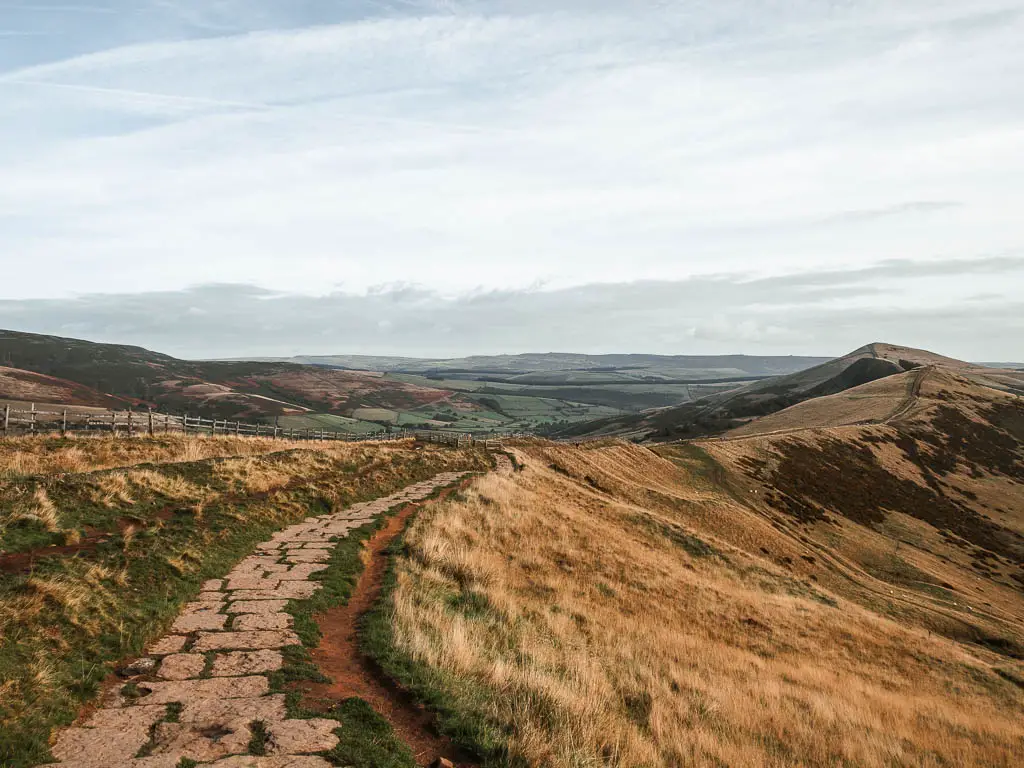 When you reach the first mini hill, the terrain does become a bit more rugged and rocky, then turns to dirt once over it. 
The next hill you will see is a bit steeper and more rocky. That is Back Tor. My favourite views of the walk are from up there. Probably partly due to the fact that there weren't many people about, so it felt a bit more special.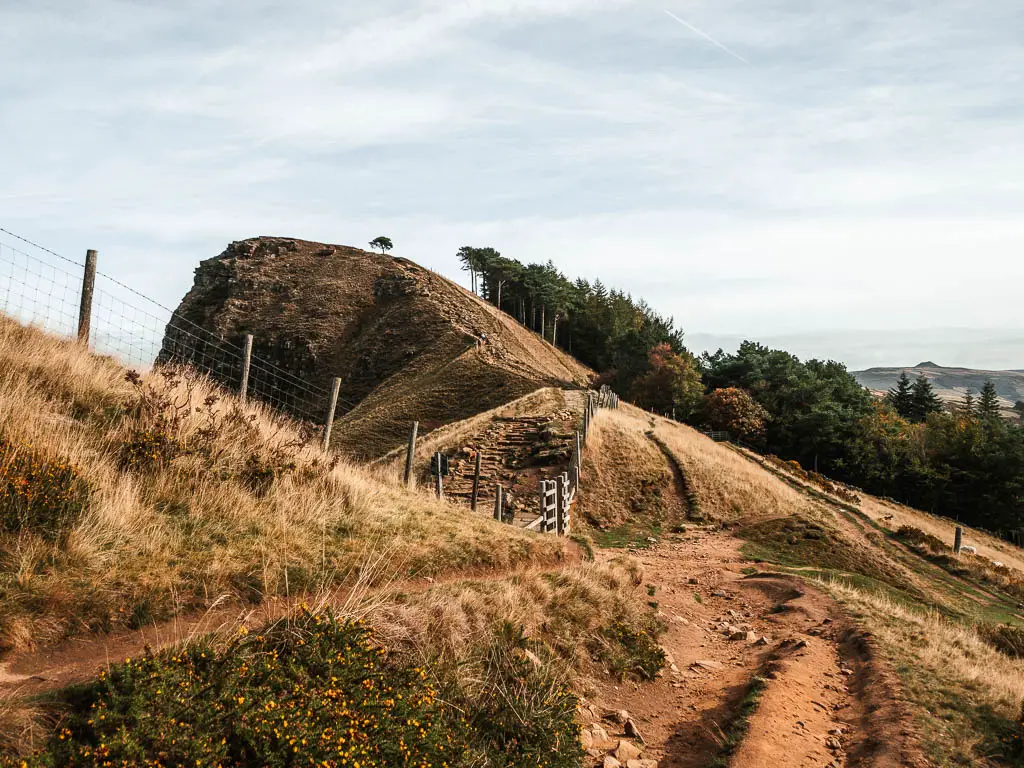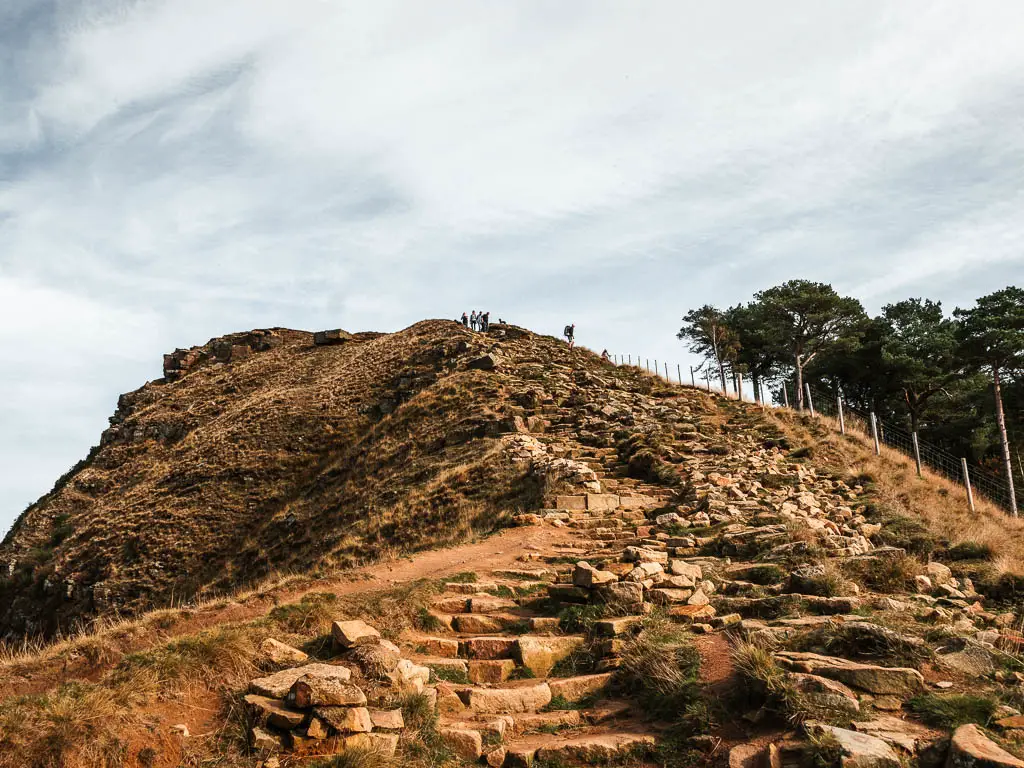 After Back Tor, the next hill along the ridge is Lose Hill. Once up there, you will get a view to some pointy peaks on the other side.
Descend off the ridge
Take the trail down off the ridge, which is ahead to the right from the top of Lose Hill. It starts off as paved rocks, which we did find a little slippy due to the recent rain. 
At the bottom and through the gate, continue straight for a short distance, then take the right trail in the split, to go through another gate. Through that gate, turn left to walk down alongside the fence.
The terrain here is more dirt, and you will get a nice view back to Mam Tor as you walk down.
Continue walking through the brief tree section, and when you reach the wooden trail signpost, which points ahead and back, you be a rebel and go right, and then through the gate at the bottom.
Walk through the fields
Through the gate, walk through the field with the fence to your right. When you reach the next wooden trail signpost, which points ahead and back, you be a rebel again and go right, through the mini gate.
Walk straight through this field, in the direction of Mam Tor which you will see ahead in the distance. Basically, keep going in that direction, through more fields until you reach the next miniature gate. Through that gate, turn left.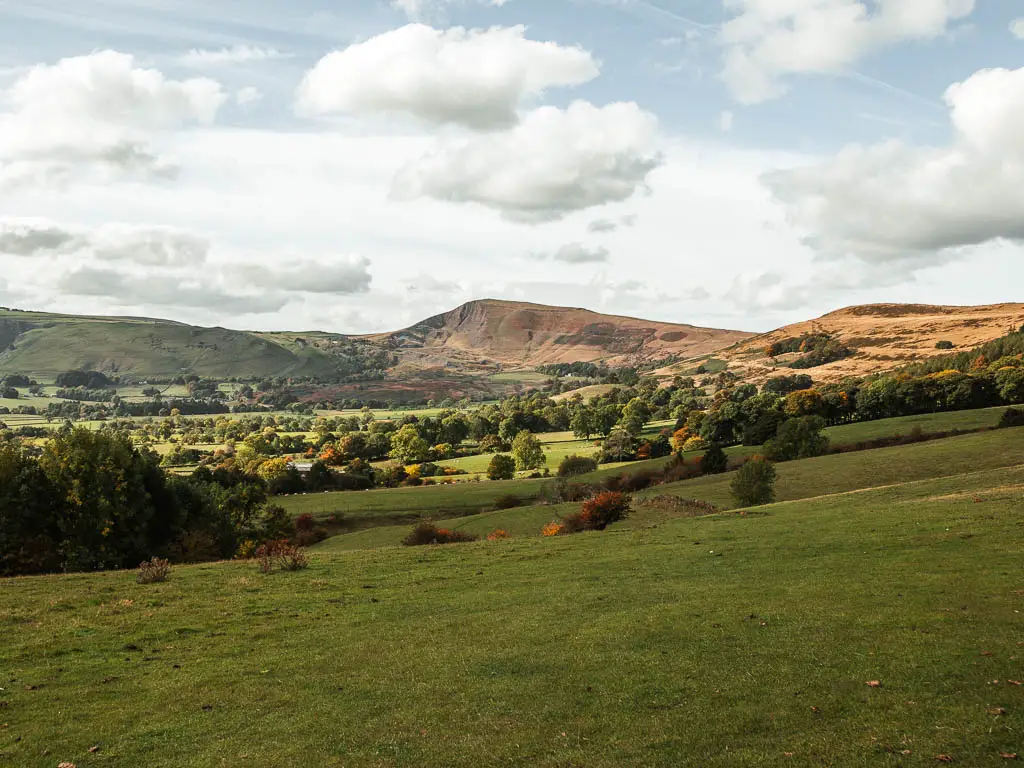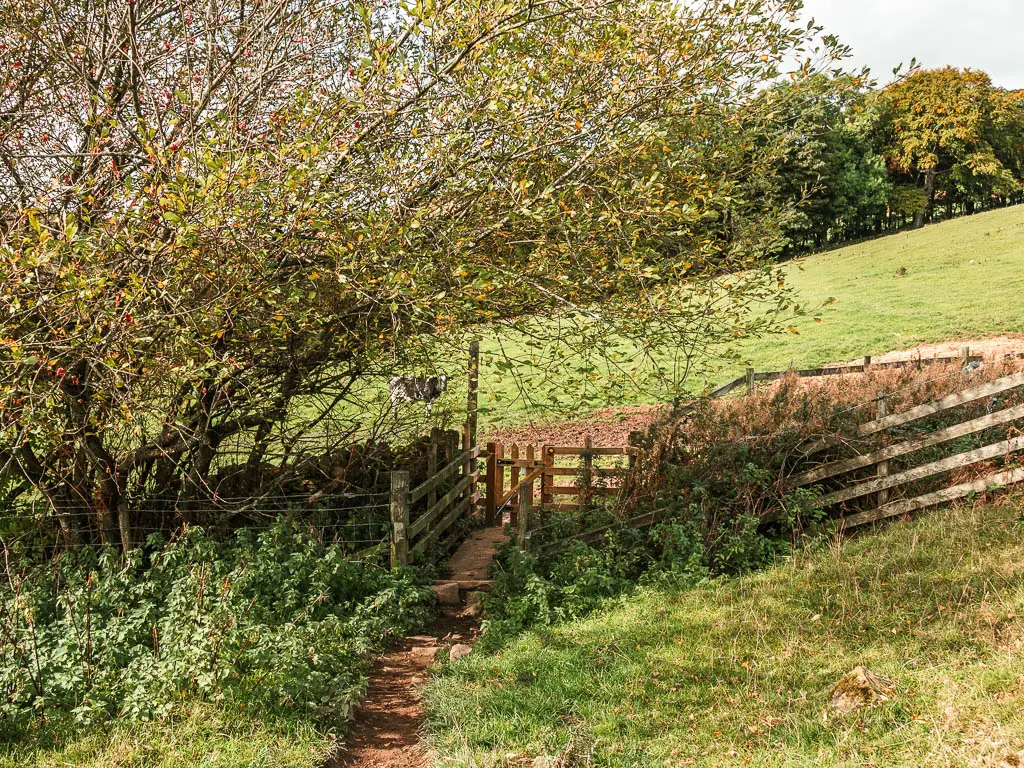 Cows
Through this gate is where we encountered the cows. Some were distracted by food the other way, but some were standing on our path.  There was no way around this, so we had to keep going. I put my head down to avoid eye contact with the beasts, and rushed through this bit.
More fields, some woods, and the sirens
At the end of this field corner is a stile, with a footpath sign on the big tree. Follow the sign, along the narrow dirt trail in the next field to reach the woods.
Continue under the woodland for a bit, next to a stream, and then over the wooden plank bridge and up the steps to the next field. 
It was along here we heard sirens. Like in the war. I looked at my German boyfriend. Did they know he was coming? Suddenly we heard a loud explosion. It gave me a bit of a fright as I ducked for cover. 
Nothing happened.  
I don't know what it was. Ollie thinks they were blowing up buildings.
Anyway, keep walking along the trail through some more mini gates, with more views to the right of the peak of Mam Tor, until you reach the road. 
Walk to Castleton
At the road, turn right. When you reach the big metal gate which says no footpath, look to the left of it and you will see a mini gate. This is the footpath. They do love their mini gates out here. Ollie wasn't so fond of them. Yesterday he got caught in one and ripped his jacket. 
Through this gate, turn right to follow the well laid out gravel type path to reach the next gate, leading you onto a wider gravel type path.
This will lead you all the way to the road again, where you bear left with it. 
We hadn't passed by anyone else during the field walking, but along here is where the families were. Taking a stroll along the road with their prams. This road will lead you all the way to Castleton. 
Castleton
It's a quaint little village, although I didn't take many photos as there were road works all over the place, which spoiled the quaintness a little. Continue walking straight through, and at the corner of the main road, continue straight passed the school on your left. 
At the next corner, go straight again, which will lead you to a more quaint area of houses with a triangle square grassy area with benches. This is where we stopped for our lunch, and watched the cute buildings without roadworks obstructing our view.
Cave Dale
The next stop is Cave Dale. From this square, walk up the road (it's the direction of straight if you didn't stop). You will be walking to the houses as opposed to the street with shops.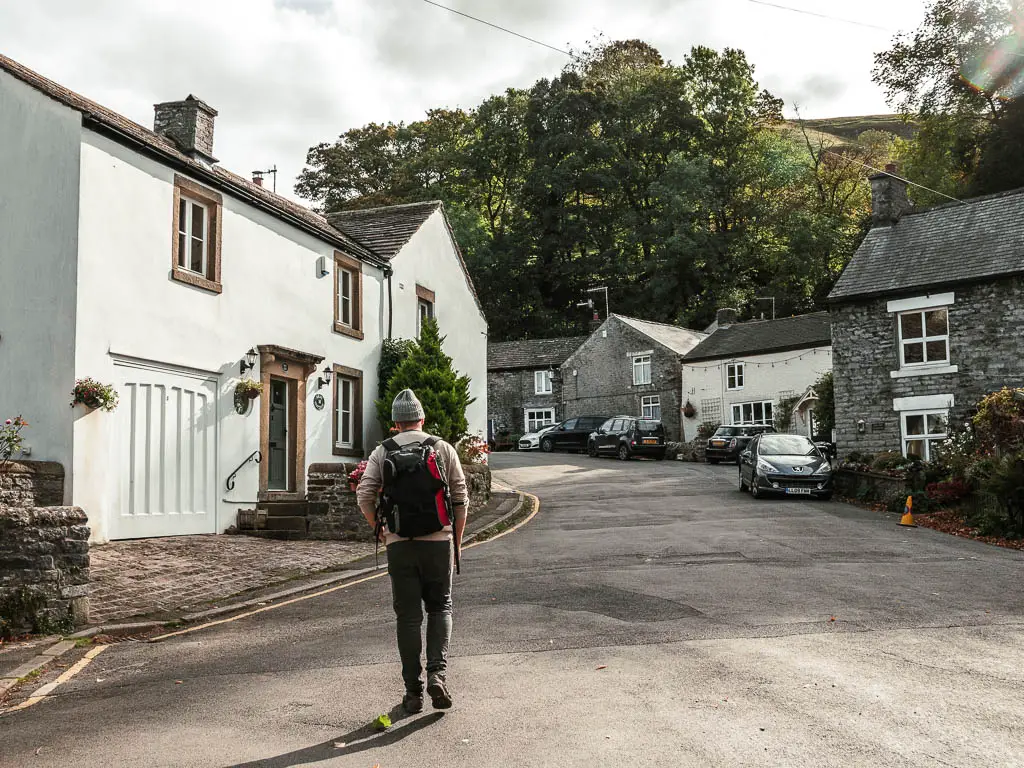 A short way up, you should see a sign pointing to Cave Dale. Follow it. Now the magic begins.
The entrance into Cave Dave is sort of caverness, and I felt an immediate drop in temperature. This then leads you to a gorge type valley. Ollie an I were both in awe as we entered. This was not what we were expecting. I only chose this trail on the map because it worked for the loop, and didn't know it was an actual thing.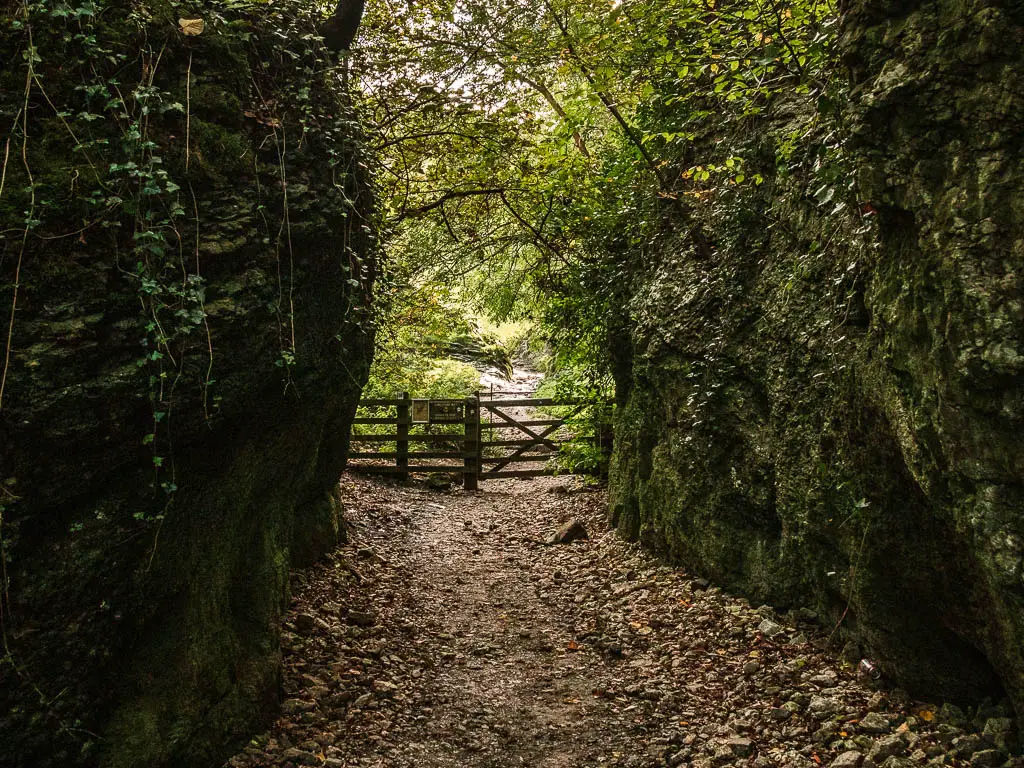 I definitely felt more impressed by Cave Dale than Winnats Pass. Probably partly due to the fact it felt more secluded and hidden, and partly due to the fact we weren't expecting it, and felt like we had uncovered a hidden secret. 
As you make your way through, it does get steeper and more loose underfoot with the rocks. 
Top Tip: Make sure to look back at the Peveril Castle ruins on the top of the hill.
The fields
As you get nearer the top, you will be walking with a stone wall to your right. When you reach a gate in the wall, go through it.
Follow the trail to the other side, and through the next gate in a stone wall. Through here, you will reach a wooden trail signpost. Follow the one pointing ahead and left. This will lead you onto a wide, strangely neat grass path. I wonder if someone comes out here and mows this. It's too neat to be wild.
At the end, go through the wooden gate, and then over the stone wall steps to reach the gravel road path, where you turn right.
The final stretch for the Mam Tor circular walk
Continue walking along the gravel road, with a view to Mam Tor in this distance to the right. It seems far away, but actually isn't too far. The end is near.
When you reach a right curve in the road, instead go through the gate straight ahead. Or rather, go over the stone wall steps.
Now you will be walking on a gradual uphill along the field edge. We found a lot of sheep in here. One of them was staring me in the eye, then squatted back to take a pee, all whilst keeping eye contact. So I took a photo of him.
Keep going, through the next gate, and onto a path between a stone wall and wire fence. Then at the stile on the right, go over it. 
Now you will be walking straight in the direction of Mam Tor, with no more turns. So keep heading in that direction, through a number of fields, over stone walls, and across a road, and you will make it. With one little surprise cave right at the end.
The poo
Just a note, we encountered a lot of animal poo through these last fields. When we got back to the van, Ollie was cursing it, and proceeded to clean the poo out of his treads with a knife. I had a laugh, then secretly looked at my shoes and realised they were poo trodden as well. I was planning on not telling him, but he caught wind and made me clean them before stepping foot in the van.
---
More walking ideas similar to Mam Tor
---
This circular route, through Winnats Pass, includes Mam Tor. It is a shorter route, and a good way to get in two must see places in the Peak District in one.
If you would like a mix of views, valley, and an impressive cave, then look no further than the Thor's Cave Circular. his has two route options. tThe short easy one to the cave, and the longer one which takes you through the Manifold Valley.
An absolute must see is Chee Dale. It's a deep gorge with limestone cliffs, and some fun stepping stones you need to walk over. You can read my detailed guide about that one here. I wouldn't say it's actually that similar to the Mam Tor walk, but I had to mention it.
If you like grand views, the Peak District also has a few edges which are perfect for walking along. Bamford Edge and Stanage Edge are some of the best. Between the two, I would say Stanage Edge is my favourite. Following this route, you get to see Stanage Edge from all different angles. This route along Bamford Edge does actually include a bit of Stanage Edge as well.
The Roaches is another type of edge you could try. This route along the Roaches also include Lud's Church which is an absolute must see. The walk is actually quite similar to Mam Tor. Part along a ridge with grand views, and part within a gorge. You could also walk to Lud's Church on it's own, if you would prefer to keep your walk short.
Another edge, looming over the Ladybower Reservoir, is Derwent Edge. It's a pretty cool one to walk along, and is right next to Bamford Edge. You can read more about the route along Derwent Edge here. That one finishes off down along the Ladybower Reservoir, which has a walking trail all around it.
For more ideas of things to do in the area, other than walking, you can check out the Peak District website.
Pin it for later: Mam Tor and the Great Ridge circular walk