This is circular walk in the Lake District, taking you around Rydal Water, to Grasmere, and back via Rydal Cave.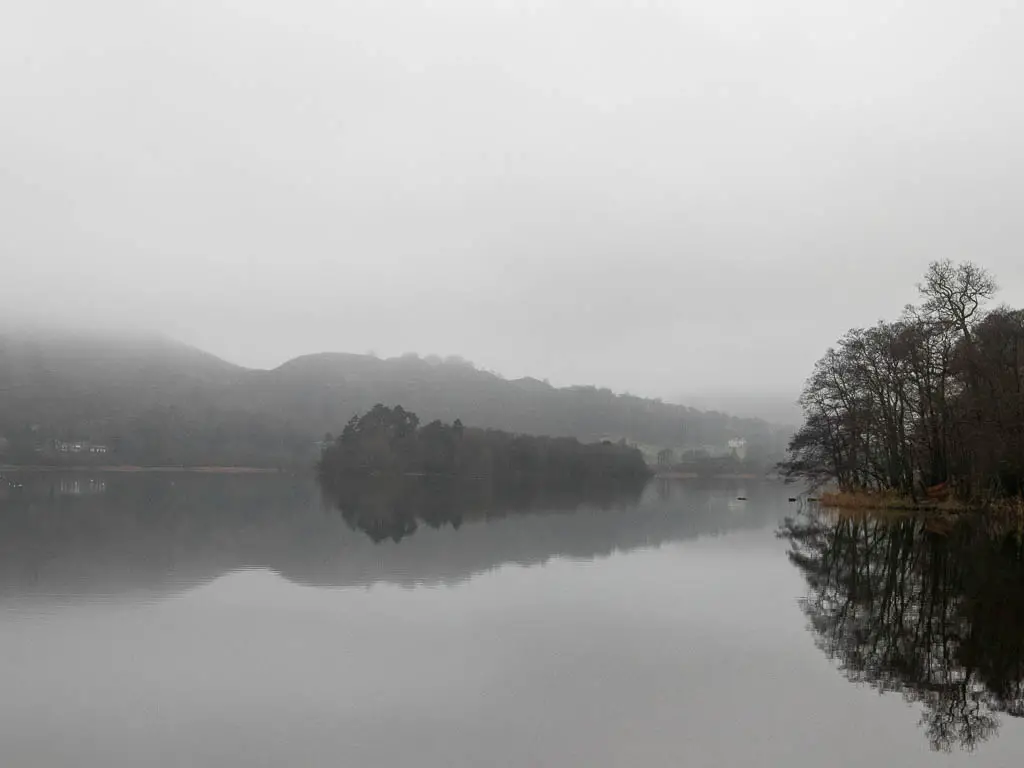 We were last in the Lake District one month ago, before leaving for Scotland. Now, on our way back down to London, we popped back in to break up the journey.
After two months of living in the van during autumn/winter without heating, I was tired and cold. However, I couldn't not come to the Lake District and not do a walk, so this one around Rydal Water seemed perfect. Short and easy.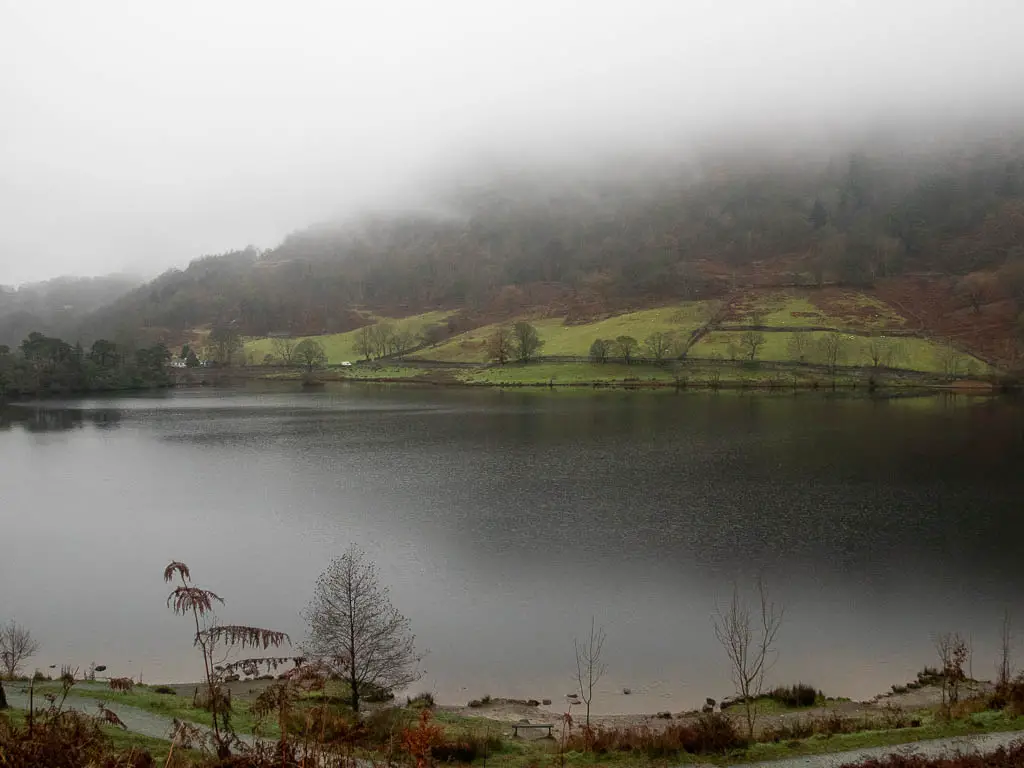 What to expect on the walk around Rydal Water
There is a bit of a hill near the start, after which it levels off for the rest of the walk (with a few small undulations). Up that hill, you will have a lovely view looking down to Rydal Water, first walking on an easy path, then slightly more rugged trail with some tree roots, dirt, and rocks about.
You will then go down the hill and walk alongside the River Rothay, to reach Grasmere, before looping around to get to Rydal Cave, where you can have a little explore inside.
After Rydal Cave, it's a short walk to get back to the start.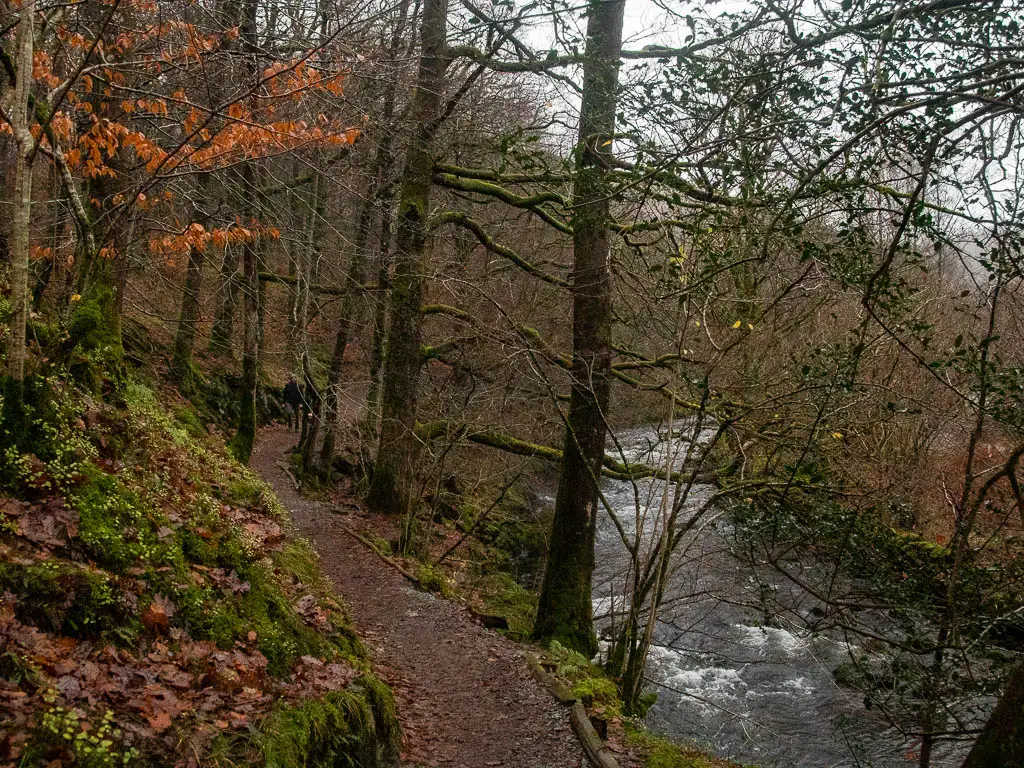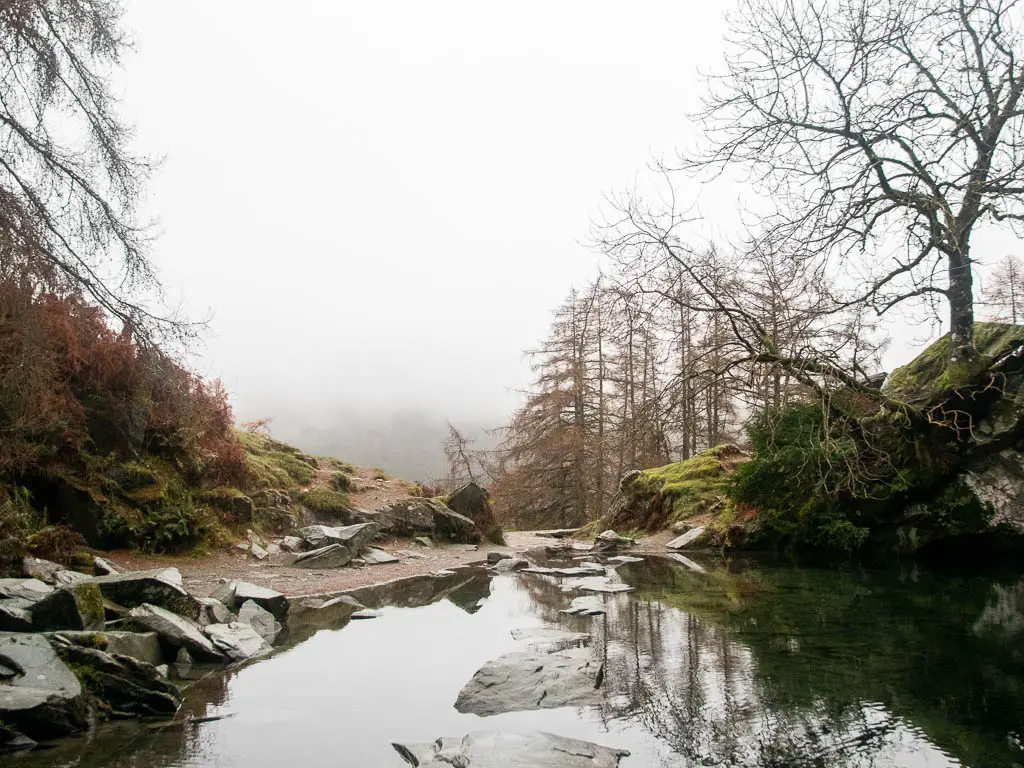 What is Rydal Cave?
I only recently learnt this, but it's actually a man made cave from slate quarrying. It's still nice and impressive though, with little stepping stones leading you inside.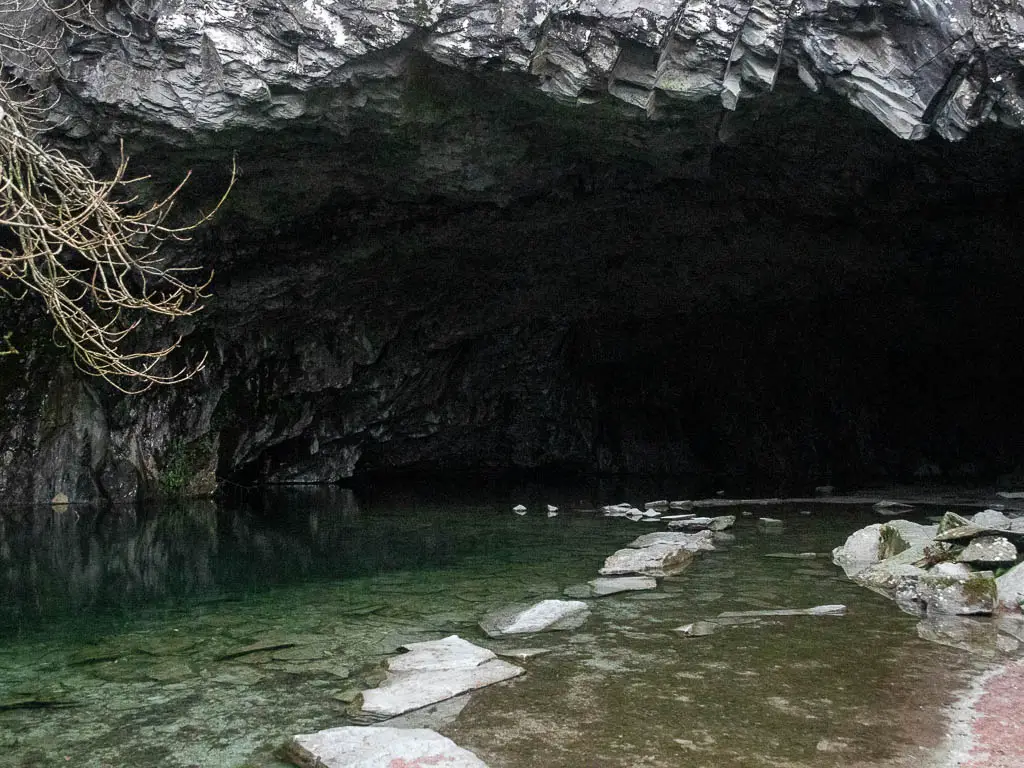 ---
Logistics for the Rydal Water circular walk via Rydal Cave
---
Start/Finish: Pelter Bridge car park (pay and display – accepts contactless), just outside Ambleside.
Alternate start: If you don't have a car, you can easily get here by bus, but you will be starting the walk from Rydal Mount and Gardens (which I show you in the walk guide below).
How to get there by car: If driving from Ambleside towards Rydal Water/Grasmere, take a left turn over the bridge (on a road called 'Under Loughrigg'), then an immediate right, and you will reach the car park. 
How to get there by bus: Catch the number 555 or 599 bus, and get off at the Church for Rydal Mount stop. 555 runs between Kendel and Keswick via Ambleside.  599 runs between Bowness on Windermere and Grasmere via Ambleside.
Distance: 4.3 miles circular
Time: 1h 50min
Difficulty: Easy
Terrain: Gravel, dirt, tree roots, some rocks, some mud.
Option to shorten the walk: Yes. You can skip out Grasmere and walk straight to Rydal Cave. This shaves off just over 1/2 a mile. I will show you where in my guide below. 
Amenities: Early on in the walk, there is the Glen Hotel and Badger Bar. Half way through the walk there are public toilets. A tea room just past the Church of St Mary, in the first half of the walk.
Time of year: We did this during winter.
Dog friendly: There was livestock walking about, on the first part of the loop around Rydal Water. No stiles.
Tips for the walk
I have read recommendations to take a torch for inside the cave, however, I have been a number of times and never needed one. Maybe I didn't walk in far enough? Big spiders live in caves, so I'm always cautious with them.
Some of the terrain is rocky and uneven, with some tree roots and mud. For this reason I recommend hiking boots. It's not a deal breaker though. The walk is short, and chunks of it is on easy path.
As it's the Lake District, take a rain jacket just incase.
I have read that the car park fills up quickly, so if you are here during peak season, you should get here early. It was fairly empty when we were there, although it was winter.
Map for the for the Rydal Water circular walk via Rydal Cave
You can find my more detailed route map for the Rydal water walk on AllTrails
More walk route guides near Rydal Water and in the Lake District will be at the end
---
A guide to the Rydal Water walk via Rydal Cave
---
Before I start, I must point out that the first lot of photos were taken with my iPhone, which is why they will look different. We set off on the walk around Rydal Water before sunrise, and it's less faff taking photos in the dark with the phone.
However, the phone also makes it look like full daytime despite the fact it was dark. This is why the lighting will suddenly change as I talk you through the walk. 
Anyway, starting from the car park, walk out of it and turn left to walk up the road. When you reach the house, you should see a gate and entrance to the trail on the right. Go through it.
Now walk downhill through the woods, then exit through the gate in the wall on the other side.
This will take you out into the open, along a gravel trail, with a white building visible ahead on the other side of the river. Walk towards it, over the bridge, to reach the road.
The white building is the pub. From here, turn right, then left into the Rydal Mount Gardens. This is where you will be starting if you took the bus.
Rydal Mount Gardens and Church of St Mary
Now, we took an unnecessary detour by accident here. If you are following my map, there is no need to do the loop (you can if you want to through).
You want to actually walk to the church, which will be straight up and right. At the church, go through the archway to the left of it. 
Through the arch you will see a green sign pointing into the church to 'Le Flemming Gallery'. We didn't go and look, but I'm curious what is up there. Maybe go and check it out and let me know 🙂
From here, keep following the path, and it will lead you through a gate and onto a road, where you turn left.
Slightly up the road, you should see a tea room (or a sign for a tea room) on the left. Keep going up the road, then turn left in the photo below.
Walk around Rydal Water
Walk through the gate, and along a trail by a stone wall, and you will soon reach a more open area, where you will get a lovely view down to Rydal Water.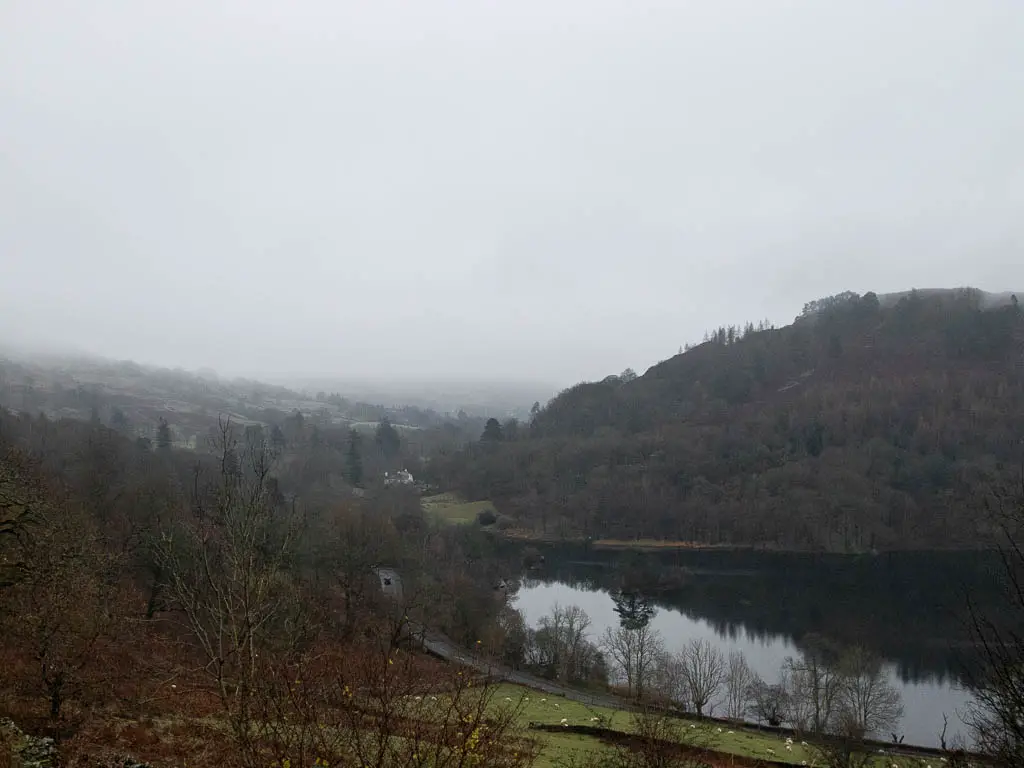 From here you simply follow the main trail. At first things will be quite open, with a view to Rydal Water on the left, then parts of the trail will be more enclosed by trees and a stone wall. This is where the trail becomes more rugged.
When you reach a point with an obvious left turn (photo below), turn left to walk downhill. Keep going all the way to the bottom where you might have a little stream to cross, before you reach the road.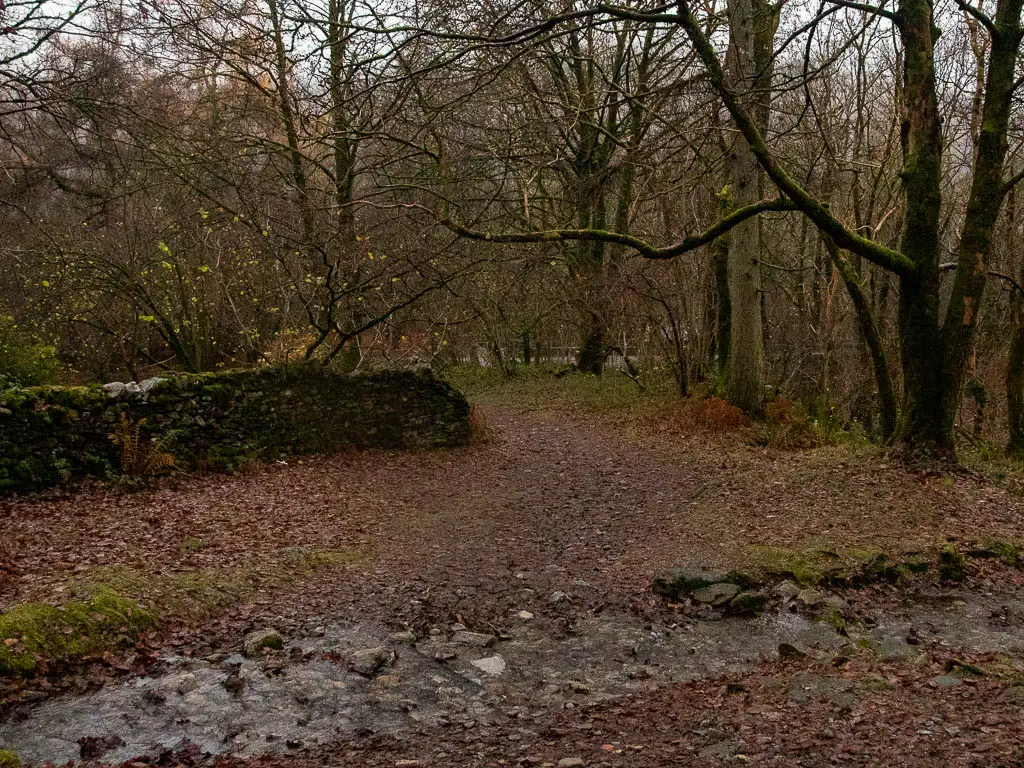 Top tip: Look out for a waterfall on the right
Walk to Grasmere (or not)
At the road, you should see a little hut on the other side, in the woods to the right. That's the toilet.
Cross over the road and walk around the toilet, then at the next junction, take the right. This will take you on a nice easy trail to reach a bridge. 
Cross over the bridge into White Moss Woods, and from here you can decide where you want to go next….
Turn right, and you will be at a junction (photo above), where you can turn left to walk towards Rydal Cave, or right to walk towards Grasmere.
I do recommend going to Grasmere first. It's only a little bit extra of a walk, and it's really lovely.
At first, the trail is less obvious (or it could just be the old autumn leaves were covering it), then it will appear and take you on a nice little journey alongside the river.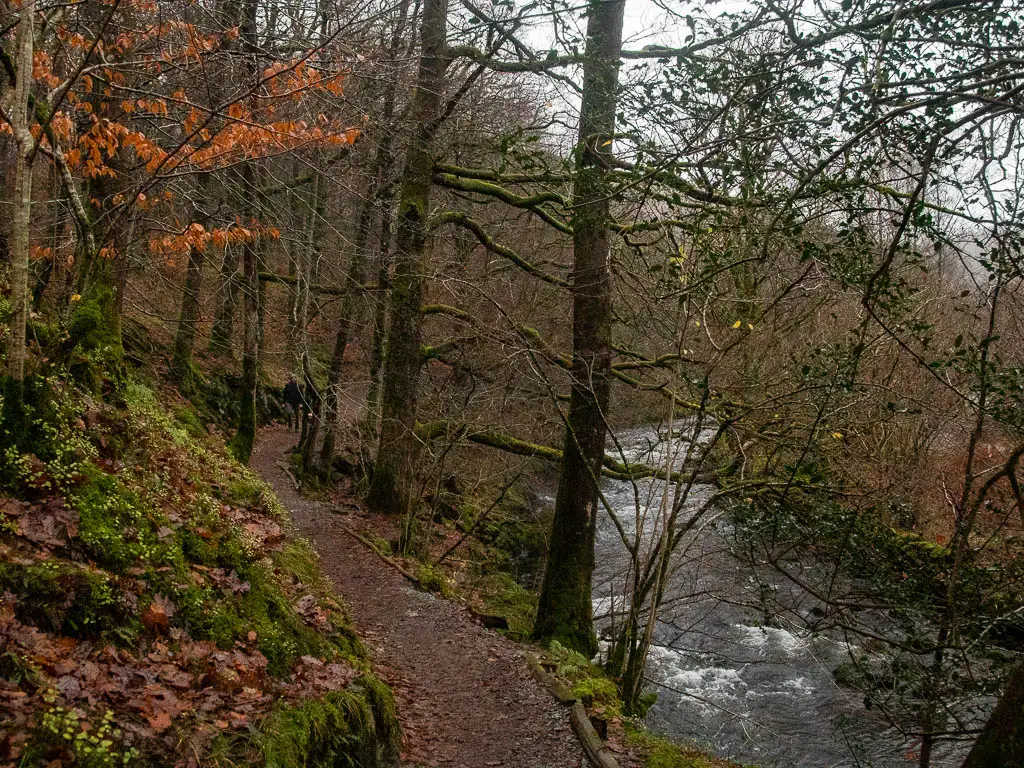 A bit further along you will walk through a gate in the stone wall, to continue walking alongside the river, this time on a stone paved trail. This will lead you all the way to Grasmere.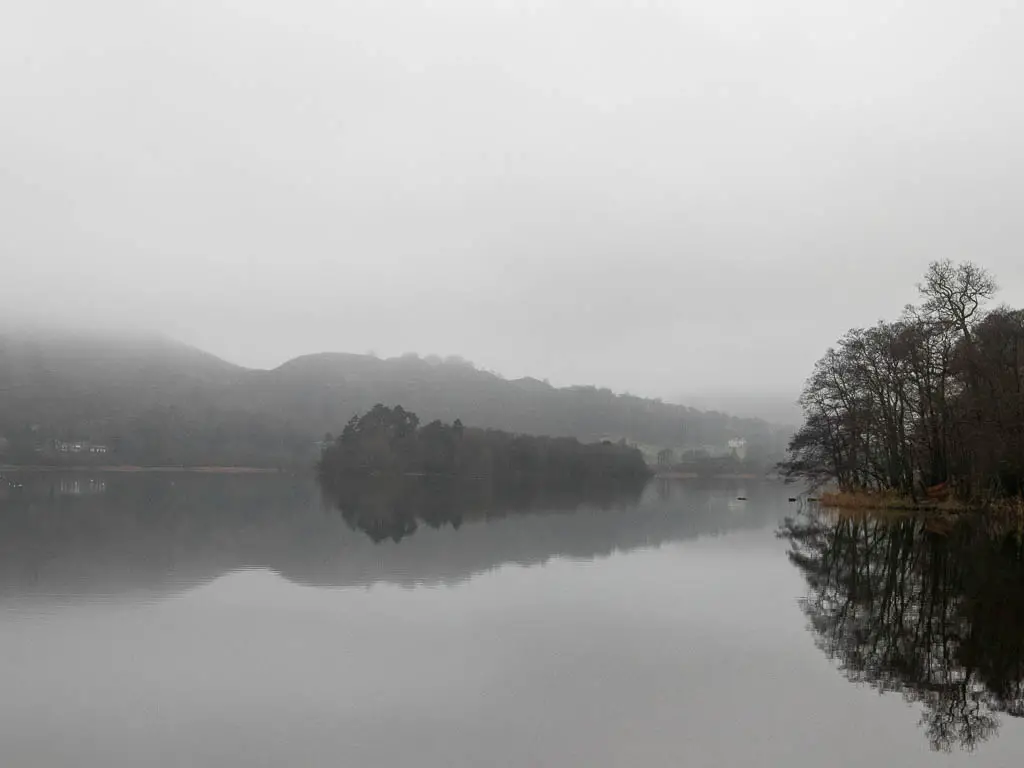 Walk to Rydal Cave
At Grasmere, turn back, and you should see a stone step type dirt path to the right. Go up and along it.
The trail will take you on some gentle undulations, and when you reach an open area with a few trail options, continue on the trail straight ahead, then moments later, take the right trail.
You will be able to see the trail continuing on in the distance on the right. This is where you will be walking to reach Rydal Cave.
The trail along here is a little rugged, and there are some rocky bits to climb down (nothing aggressive though).
As you continue walking, you will start to get a lovely view of Rydal Water to the left below, before reaching another open area.
Rydal Cave will be just ahead to the right. If you keep going straight, you won't miss it. 
When at Rydal Cave you can go and walk inside. How far inside is up to you 😉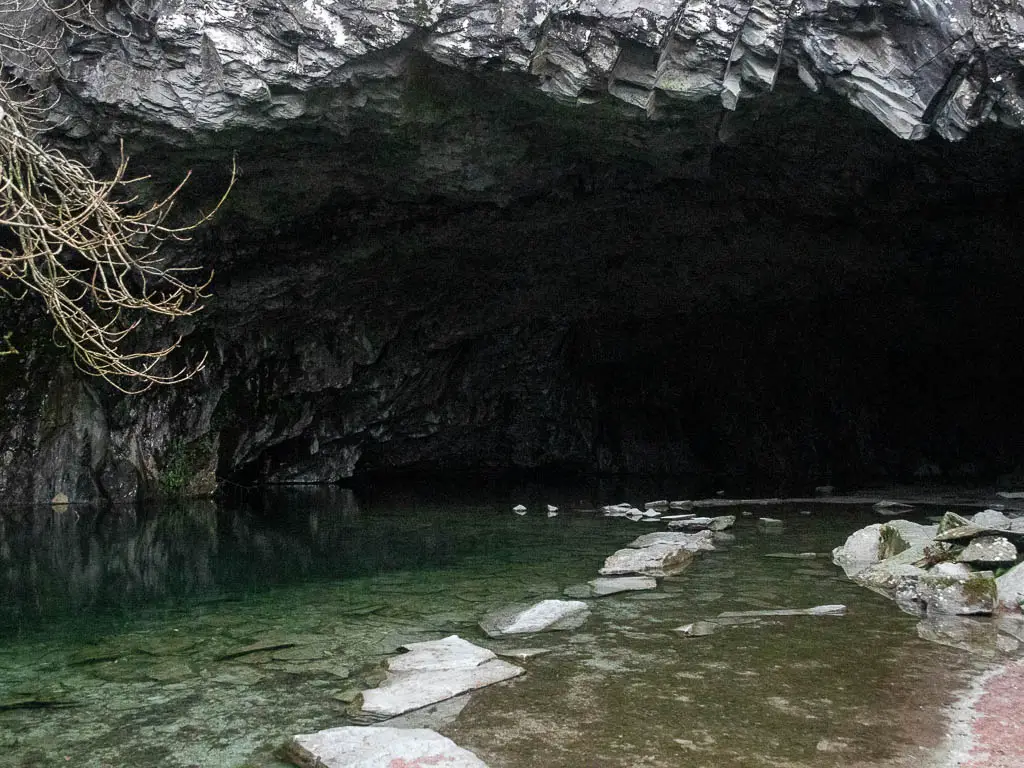 Leave Rydal Cave to walk back to Rydal Water
When you are done with the cave, stand so it is behind you, and take the trail that takes you straight ahead and down to the right (see photo below).
This will lead you around another cave, then when you reach the river stream, turn left.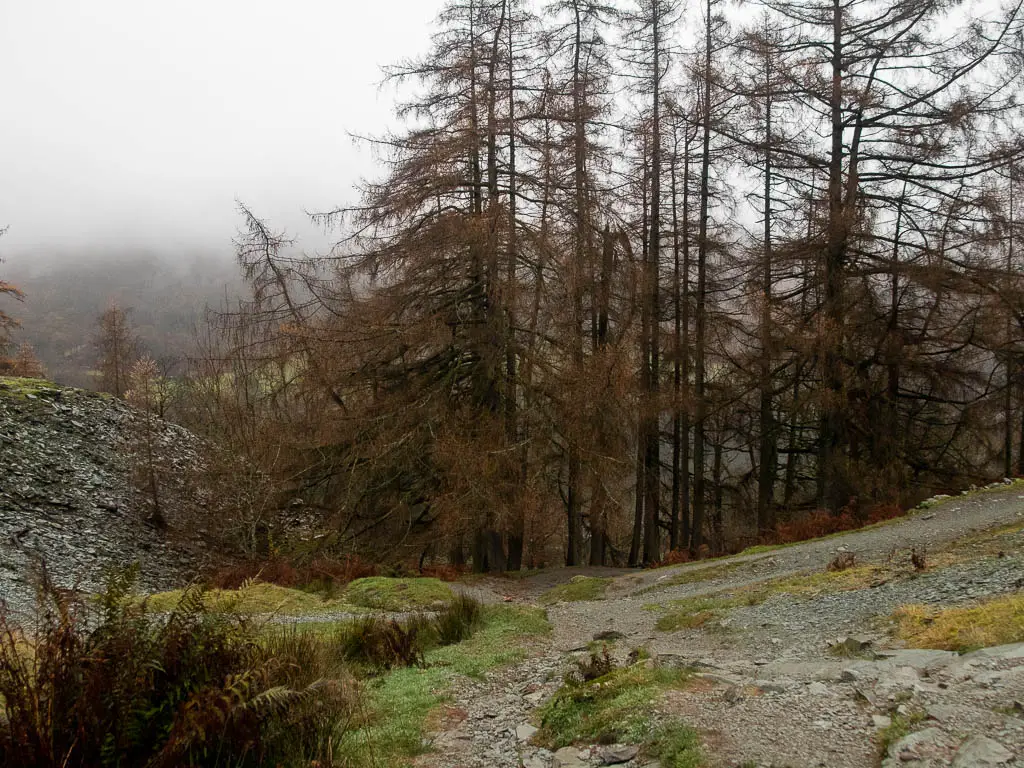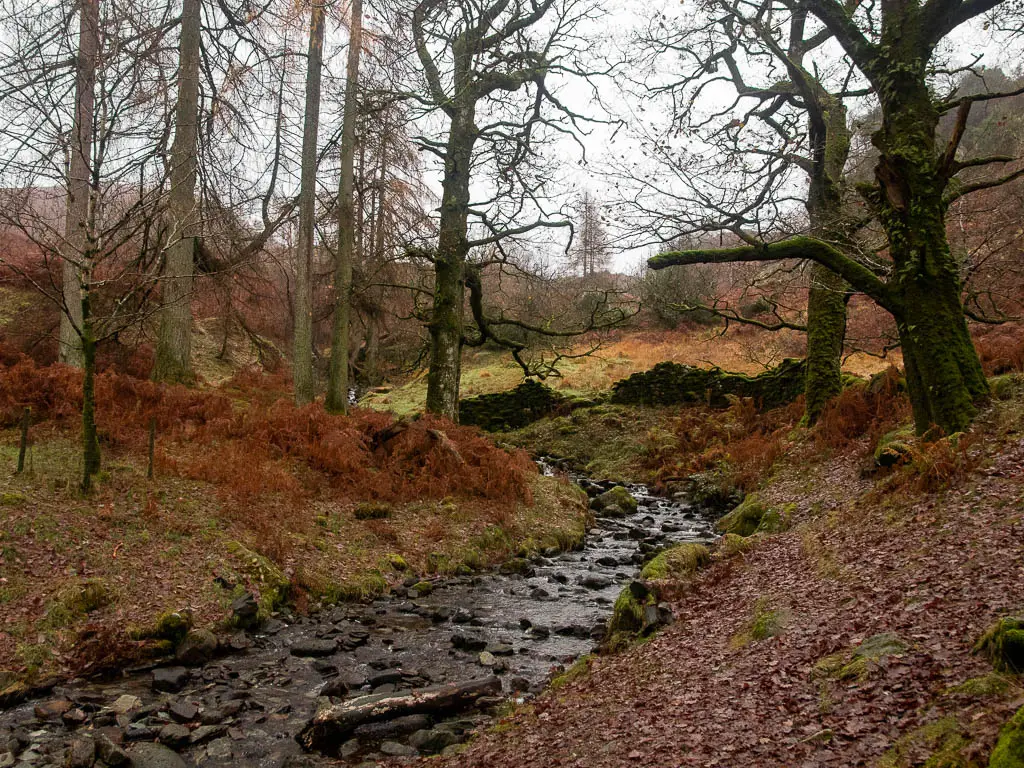 A little warning, it gets quite rugged and rocky down here. It doesn't last long though before you reach the nice civilised path again, which takes you around Rydal Water.
Continue to walk with Rydal Water to your left, and when you reach a junction with a gate, go through the gate, where you will the walk with a moss covered stone wall to your left. 
Keep going and this will lead you back to the car park.
---
More walks near Rydal Water and in the Lake District
---
If you fancy a tougher and longer walk which included Rydal Cave, then you could try this one from Ambleside to Elterwater. It will take you up Loughrigg Fell which gives you a breathtaking view down to Grasmere.
If you want to stick with the easier/shorter walks, you could try Ambleside to Sweden Bridge which does have a bit of an uphill slog, but then you go downhill for the rest of it. I really enjoyed this walk, and would happily do it more times. 
You could also try the Ambleside Waterfall walk. This is very easy and short, but potentially a bit more touristy. 
If you like views, but don't want a massive hike, then I recommend the Walla Crag Walk near Keswick. It won't take up your whole day, but its still long enough that you feel you have had a nice little workout.
For something a bit more special, then you should head to the Old Man of Coniston. This is a tough one, both in terrain and elevation. But if you are up for a challenge, then you will love this (I think).
Pin it for later: Rydal Water circular walk via Rydal Cave