This walk follows the England Coast Path, from Deal and around the Pegwell Bay Nature Reserve, before finishing in the very Medieval town of Sandwich. You will walk past the famous Royal St George's golf club with the option to shorten the route by walking through it to get to Sandwich.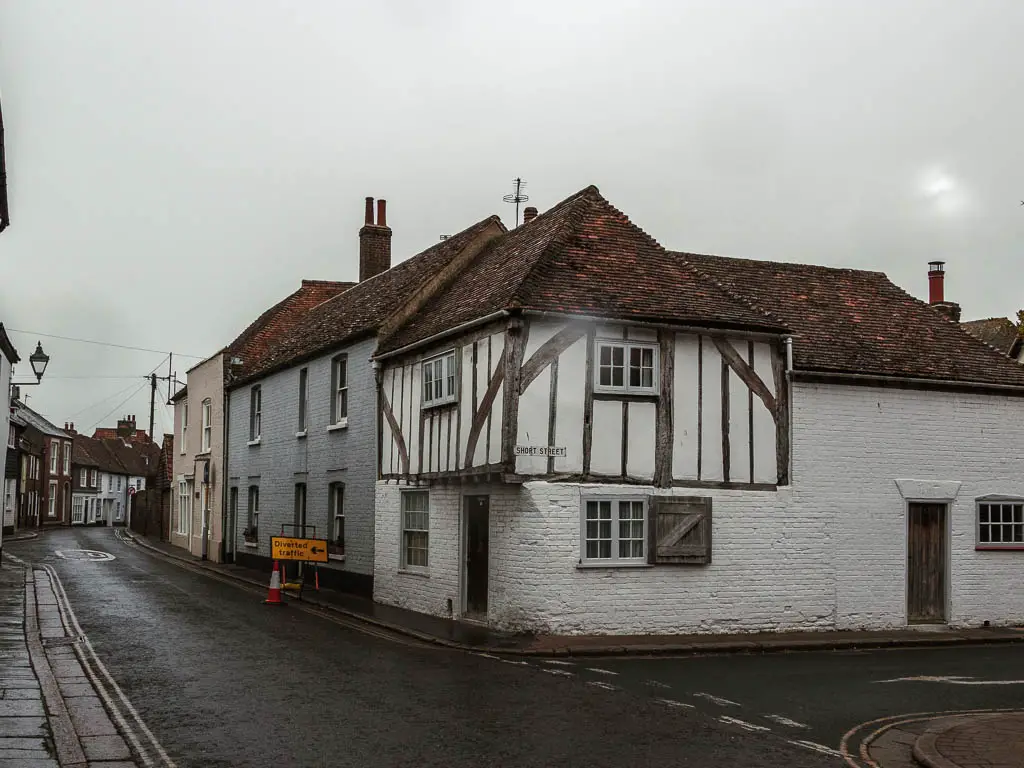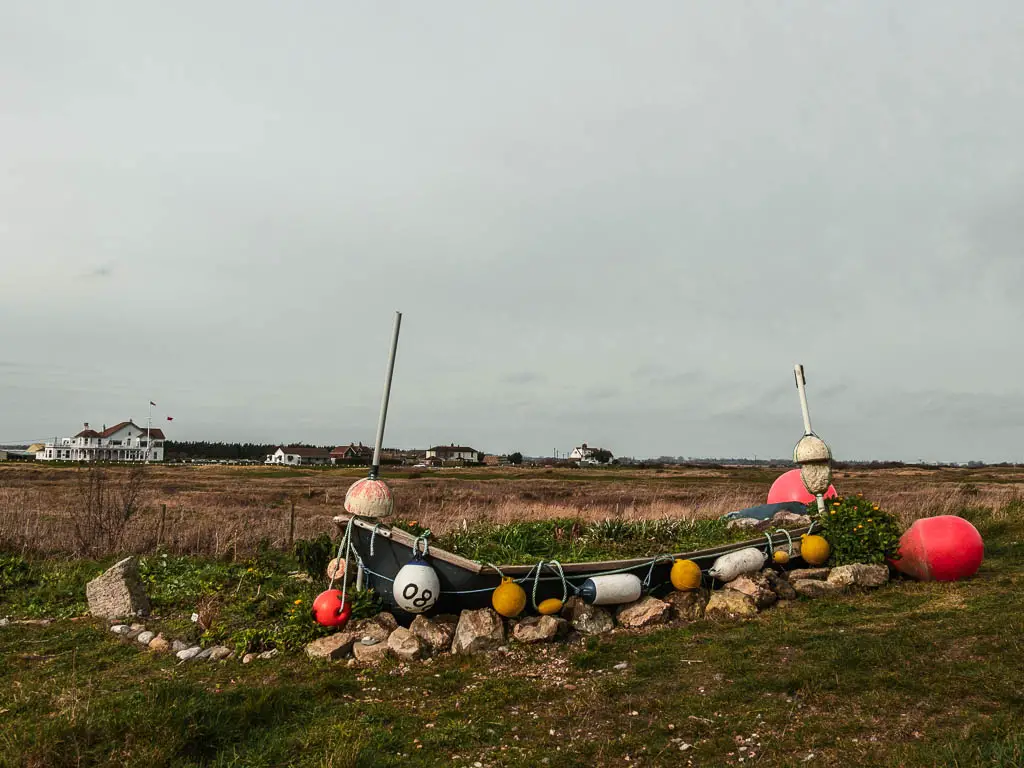 Before heading out, I wasn't sure which route I would take. Do I walk the whole way around the Pegwell Bay Nature Reserve, or do I skip it and walk the shortened more direct route from Deal to Sandwich through the golf course? 
Do I want to be official or do I want to be famous? I kind of wanted to be official, but I wasn't sure how my leg would do, so I decided to wait and see what happened. 
What was the walk from Deal to Sandwich and Pegwell Bay Nature Reserve like?
I need to be honest, I wasn't looking forward to this walk. I only wanted to do it to connect the dots. I have so far walked a fair chunk of the Kent Coastline, and this bit was missing. I knew that it would be flat, shingle beach, and not much to look at. Which it was. 
Would I do it again? No. 
Am I glad I did it? Yes.
Apart from getting that sense of completion, I got deep into a podcast series which I really enjoyed. So I guess this kind of walk does have its place. Something to do if you want to switch off and just walk. Or if you have an audiobook or podcast you have been wanting to listen to. 
Ok, what was the walk like then?
You start off out of Deal walking along a concrete path, then a bit of shingle, then some asphalt, and a touch of grass here and there, which is what it's like for the majority of the walk to Sandwich. That's if you decide to walk on the path next to the beach. The beach is pure full on shingle. Do with that as you will. You will walk past three golf courses, The Royal Cinque Ports Golf Club, The Royal St George's Golf Club and the Prince's Golf Club.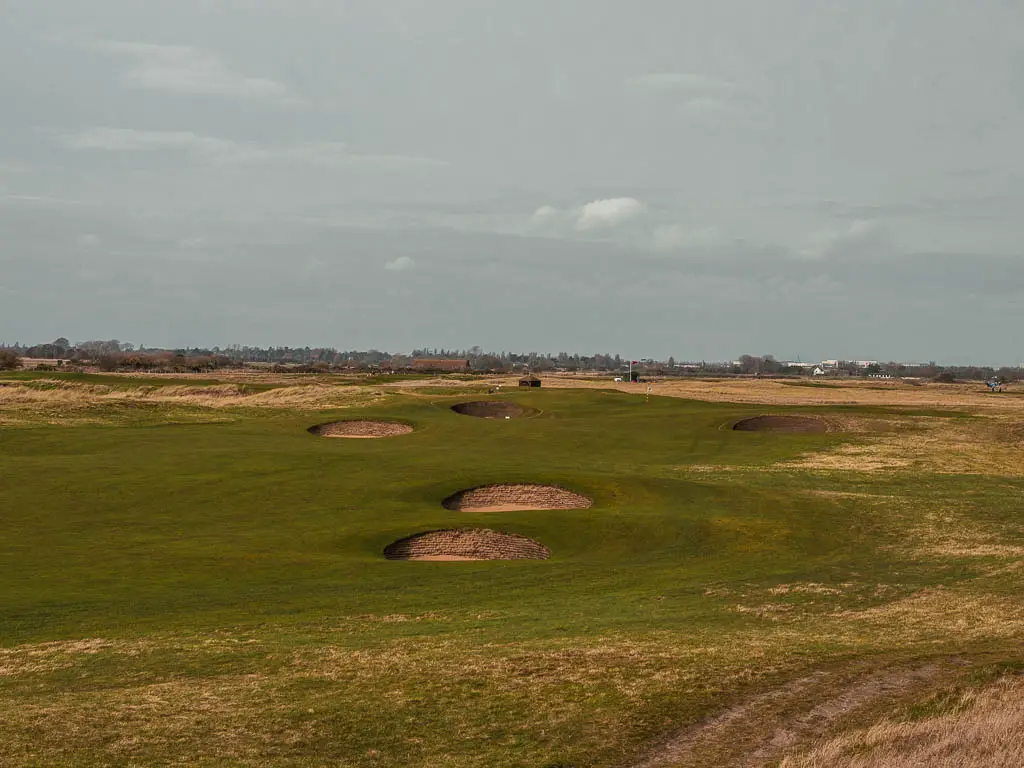 Everything is very samey. If you decide to do the full walk around the Pegwell Bay Nature Reserve, this is where things change. It's a bit more green, and you mix it up between walking in a ditch of sorts and along a ridge. 
Note: There were lots of signs about saying that this area is liable to flooding. So if you do this walk from Deal to Sandwich, you should probably miss out the bit around the Pegwell Bay Nature Reserve if there has been a lot of rain recently. 
When I made the decision to include the Pegwell Bay Nature Reserve in this walk, I was very happy with my decision, and I continued to be…for a little bit. Then I ended up regretting it and couldn't wait for it to end. I will explain in more detail later in the post. 
Logistics
Start: Deal Pier
Finish: Sandwich
How to get there: Both Sandwich and Deal are on the same train line (just one stop apart). You can get to them from London St Pancras, London Bridge and Charing Cross stations. There are two types of train you can get. The high speed train (from St Pancras) or the slower one from the other stations. The high speed one is slightly more expensive, but not much, so I personally think it's worth it. The fast train can get you there in 1h30min, and the slow one can take as long as 2h30min (there will be slight variations of these times on weekdays vs weekends). On the high speed train, Sandwich is the stop after Deal, so you can buy a return ticket to Sandwich, then get off one stop earlier at Deal to start the walk. 
Distance: 10.8 miles
Shortened distance: 6.5 miles
Time: 3h 30min (for the full route)
Difficulty: Easy in theory. Can be challenging if the wind is against you. 
Tips/Amenities: Both Deal and Sandwich have pubs, cafes, supermarket. Deal is a bigger town so has more options. If you do this walk in the summer, you could have a splash around in the water. Well, you could also do that in winter, but if you do…who are you?
Time of year: I did this in winter
---
Map for the walk from Deal to Sandwich via Pegwell Bay Nature Reserve
---
More suggested walks nearby will be at the end
---
A guide to the walk from Deal to Sandwich via Pegwell Bay Nature Reserve
---
Things didn't start well for me on this walk. On the way to the station I was already limping. If I was limping now, it was probably going to get worse. I couldn't really go out for a 6-11 mile walk like this could I? Well, it was going to be rainy all of next week (storm Eunice was coming), in fact, the rain would start today. It was due to hit the Deal, Sandwich area around 2pm. So I set off early, to beat the rain. My theory was, do this walk, then I can rest my leg all of next week. 
Arriving at Deal to start the walk to Sandwich
Starting from Deal Pier, I began my journey along the concrete path. My leg was already getting worse. With every step, it felt like I was being stabbed in the leg. I really wasn't sure how I would make it through the walk. If I hadn't just paid over £20 for a train ticket and traveled for over 1.5 hours to get here, I would have turned back. 
I made a deal with myself. Go slow and cut the walk short by walking through the golf course to reach Sandwich….
So I stuck my headphones on and started playing my podcast. Maybe that would distract me. 
Walk past the Royal Cinque Ports Golf Course
The path stays concrete for a little while before changing to sparse shingle after the Sandown Castle Community gardens. There is a little coffee truck here. It's cute, and I love my coffee. But now was not the time. It was windy, cold, and I was hurting. I didn't want to prolong the hurt for any longer than I had to. 
Next, is the Royal Cinque Ports Golf Course to the left, the shingle beach and sea to the right, and a long stretch of path ahead and into the distance. 
Way off into the distance to the right, you can see a peninsular and some cliffs. It's not very exciting to look at though. The peninsula is Ramsgate incase you are wondering.
The wind and my leg
It was somewhere along here that my leg pain started to ease. It was still definitely there, but a low level that I could ignore. This confirmed that I was dealing with a tib ant tendinopathy. This is how they tend to behave. I also knew that later on and particularly after the walk, the pain would increase and get worse. But I would deal with that when the time comes. For now I was thankful that I was no longer wincing in pain with every step. 
The wind was also a help. It was strong. Very strong. Very strong behind me. Mother Nature was on my side today, pushing me along the coast. If it had been blowing the other way, I'm not sure I would have survived.  
The Royal St George's Golf Club
After the first golf course, the path turned to asphalt and I passed by what looked like wall ruins, before reaching the Royal St George's Golf Club. Apparently this is one of the best golf courses in England.
You can walk a bit on the grass here, but as my leg was feeling pretty good, I didn't want to confuse it by changing walking surface. So I kept to the road.  
Golfers were out playing their rounds. It always amazes and confuses me when you see golfers out on very windy days. How does one play golf on a windy day? That would annoy me, the ball not going where I tell it to go (not that it would anyway if I ever played).
Walk to Sandwich now or walk to Pegwell Bay Nature Reserve?
Once I reached the point where I could walk through the golf course towards Sandwich, I stopped and thought about my next move. I had reached this point quicker than I thought, my leg wasn't too bad anymore, plus I was really enjoying my podcast. That was it. I would do the full Deal to Sandwich walk and go around the Pegwall Bay area. So off I went. 
Stick to the trail or make a detour?
So far, the walk had been along the outside of the golf courses. However, a bit further along, the trail then took you inside and along the perimeter. The thing is, there was a big sign saying 'strictly no unauthorised access'. 'No through road'. Etc…
I was highly confused. The trail goes through there. How can it be no access? I have yet to meet a golf course in England that you cannot walk through. It's like a right of passage. You have never really done a country walk in England unless you have walked through a golf course. 
I was 90% sure this sign was put up to deter people, when in reality, you are absolutely allowed to walk through. I have seen this done before. 
However, I'm a bit of a wimp and decided not to risk it and made my way over to the beach, hoping I wouldn't reach a dead end later on, and unable to access the trail. 
Walk along the beach
With the beach having been super shingle so far, I was dreading this bit, however, it actually turned out to be rather lovely. There is a large area of grass you can walk on, then when that ends, the beach is actually less shingly than earlier, and even turns to complete sand. The way the wind blew, from behind created a mist of sand running along the surface. It was really pretty. 
At the end is a fence stopping any further beach walk, as that is the Nature Reserve area. And thankfully, there is a gate to the left to give access to the trail. From this point, there is nothing saying you can't walk along the trail which had said no access earlier. However, I really liked this bit of beach walk and would definitely recommend it. 
Walk along the Pegwell Bay Nature Reserve 
The trail then becomes grass with the golf course to the left and nature reserve to the right. So far so good. I was enjoying the change and still not regretting my decision to walk this extra bit. Now I will be official and walk the full stretch of the England Coast Path between Deal and Sandwich. There is also a lot more England Coast Path signage along here, so you know you aren't lost.
Over some cute wooden bridges (I think 3), and past some big trees, there is a T-junction. Right follows the England Coast Path trail. I'm not sure where left goes. I obviously took the right, and this is where things started to change for me.
The ditch
The terrain became a little more tricky here. It was still grass, but very bumpy and lumpy grass. My leg wasn't happy and started to let me know. The trail runs inside a sort of ditch, so you can't really see anything except a wall of green to the left, and natures shrubbery to the right. 
Somewhere along here, the route takes you through a gate and back to join the ditch walk. Then a bit further along exactly the same. For a moment, I thought I had walked in a big loop. It looked exactly the same. It was not a loop. Everything is just the same down here.
After the second lot of gates and a bit more ditch walk, the trail leads up to join the ridge.
The ridge
When I reached the ridge, it was like I was being presented the world again. The views weren't much, but it was still nice to have some views. You do get a proper view of the River Stour from up here which was nice. What I was also presented with up here, was the wind. Being protected down in the ditch, I had forgotten about it.
The trail then leaves the ridge for a bit to join the road.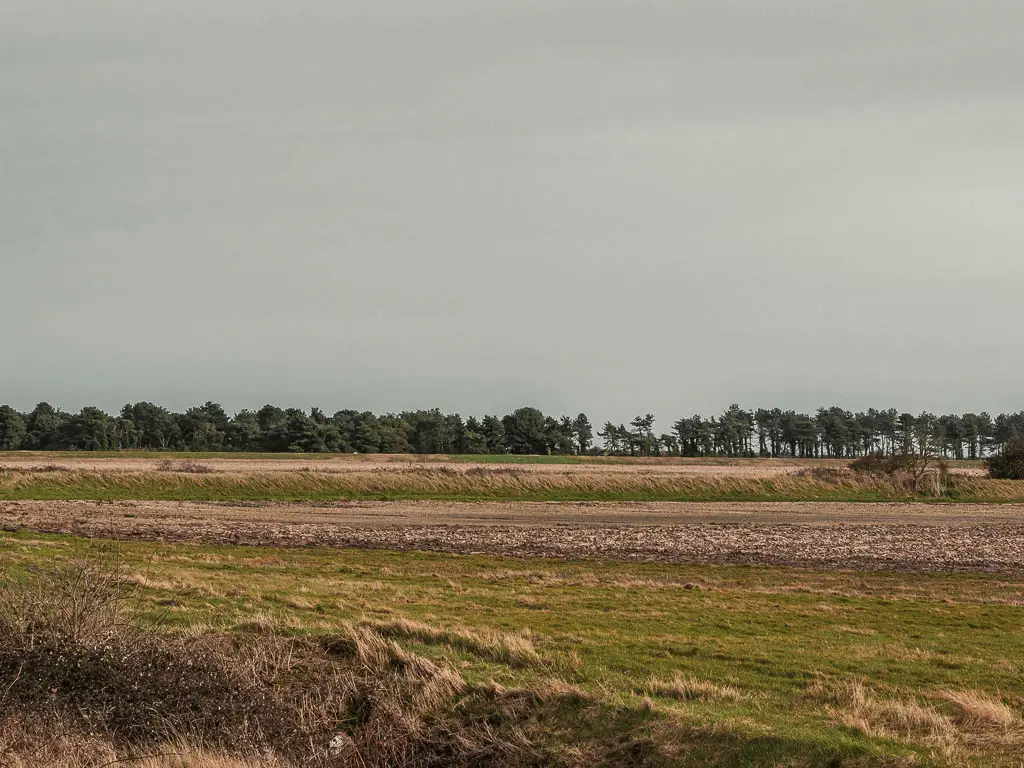 Now, back to the wind. So far in the walk from Deal to Sandwich, the wind was with me. Now it was against me. I was really fighting my way to walk forwards. I kept my head down as I pushed my way through, however, in doing so, I missed the turn. Once I realised, I did make my way back to it, however, I'm pretty sure that extra bit cost me making my train back home and having to wait an extra hour…later you will understand.
The turn is actually signposted, so make sure to keep an eye out for it. It will lead you back up to the ridge. 
Walk the final stretch towards Sandwich 
Back on the ridge, it's all grassy, with views of the marshy land and industrial buildings. The trail curves it's way along, and with every curve I got a moment of relief from the headwind, only to be thrown back into it with the next turn. At this point I was in severe pain. Limping along whilst fighting against the wind. I knew I was near Sandwich, and had about 35min until the next train. If I missed that train, it was an hour wait until the next one. It was also due to start raining soon. I had had enough and just wanted to get home. So I powered on as best I could. 
This curvy trail seemed to go on forever, and despite being near Sandwich, I couldn't see it….
It was after I walked passed the boats, that the rooftops of Sandwich came into view. I checked my phone. I had 10min to make my train. I checked google maps and it told me it was 15min of more walking. Google knows my walk speed, so I believe it. That, as well as the wind slowing me down, and the excruciating pain in my leg was enough for me to say f*ck it. So I sat down. I was going to get the next train. 
That missed turn from earlier coast me more than 5 min
Taking a break 
You know what though, once I sat down and really looked at my surroundings, I quite enjoyed them. It is actually a lovely area, and I think I would usually like walking around here, if it wasn't for the wind and the pain. I enjoyed a little snack as I looked out across the River Stour. I had lots of time to kill now, so I could have a chill and mosey about the town….I'd also forgotten about the rain.
The final stretch of the Deal to Sandwich walk
It was when I started to get cold that I got up to continue the walk into Sandwich. It was only a short way further to reach the town, passing by some green, a playground and lonely benches. 
Then it started to rain. 
My plan of a leisurely stroll through Sandwich, turned into a quick power walk to the station. There wasn't much point me stopping anywhere to eat as I still had my lunch, uneaten. 
Arriving at Sandwich station, the indoor area was closed which meant sitting out in the cold winter air for 50min whilst I waited for my train home. I was in too much pain to walk back and find somewhere warm to hang out.
Leg update
When I made it home, I inspected my leg again. It was bad. It was swollen. I couldn't move my foot. My tendon was catching and crunchy. I realised I was now in tenosynovitis territory. I wish I did have a stress fracture, it would be so much easier to deal with than this….. 
It might be a while before I can get out again. Stay tuned.
More walks near Deal and Sandwich
Ramsgate to Sandwich is the next section of the England Coast Path.  Not my favourite, but there are some nice bits. If you are staying in the area or nearby, then I would do it. However, if you are far away, I wouldn't travel all the way here just for it (unless you are trying to walk the whole England Coast Path)
Dover to Deal is the other section of the England Coast Path next to this one. This is a good one, with its white cliffs, and clifftop walking. 
Margate to Ramsgate is an easy route, and takes you past 3 historic towns. There is a mix of white cliffs, sandy beach and clifftop walking. 
My favourite walk nearby is, Folkestone to Dover. It's nice and cliffy and hilly with amazing views. 
All of the above walks are along the same train line, so if you are staying in one of these towns, you could easily move up or down the coast to try them out.
I want to tell you about another walk though, not nearby, but rather, over near Portsmouth. The Thorney Island circular walk. It is a coast path walk, also with nature reserve, but a lot more exciting. If you are lucky, you will spot some seals.
If you would like to explore other things to see and do around Deal and Sandwich, you could check out the Visit Kent website.
For more from the coast path, you can read about the best coastal walks near London.
Pin it for later: Walk from Deal to Sandwich via Pegwell Bay Nature Reserve