This walk takes you first along the clifftop to Ravenscar, and then all the way back along the beach to the small picturesque old fishing village, Robin Hood's Bay.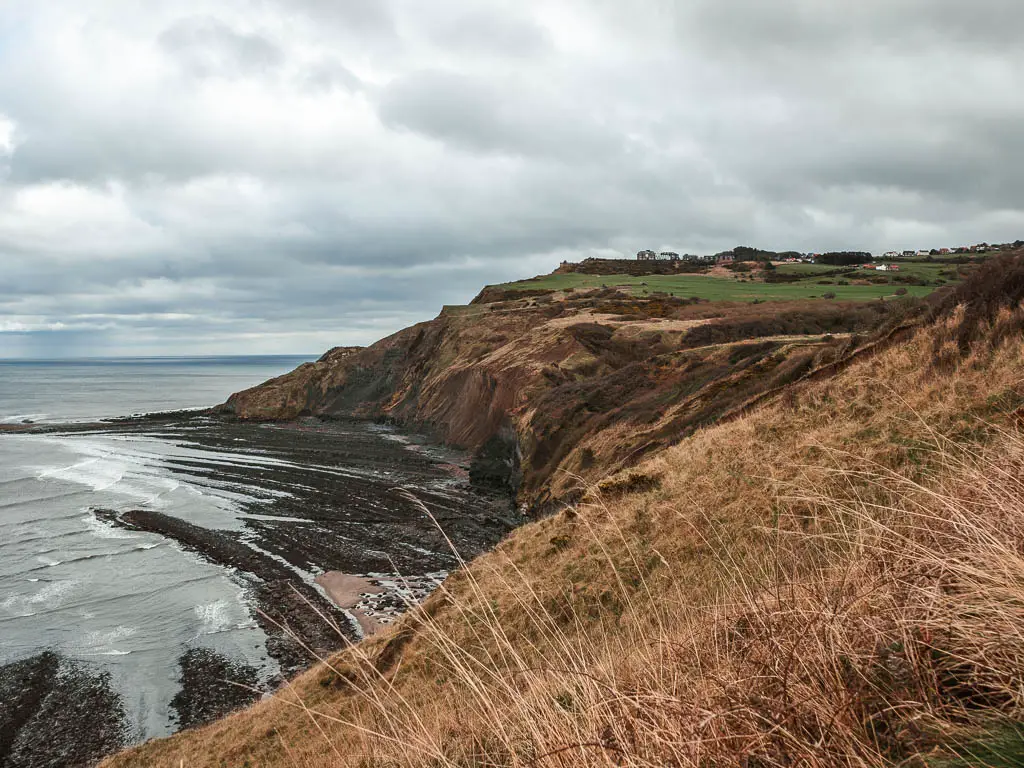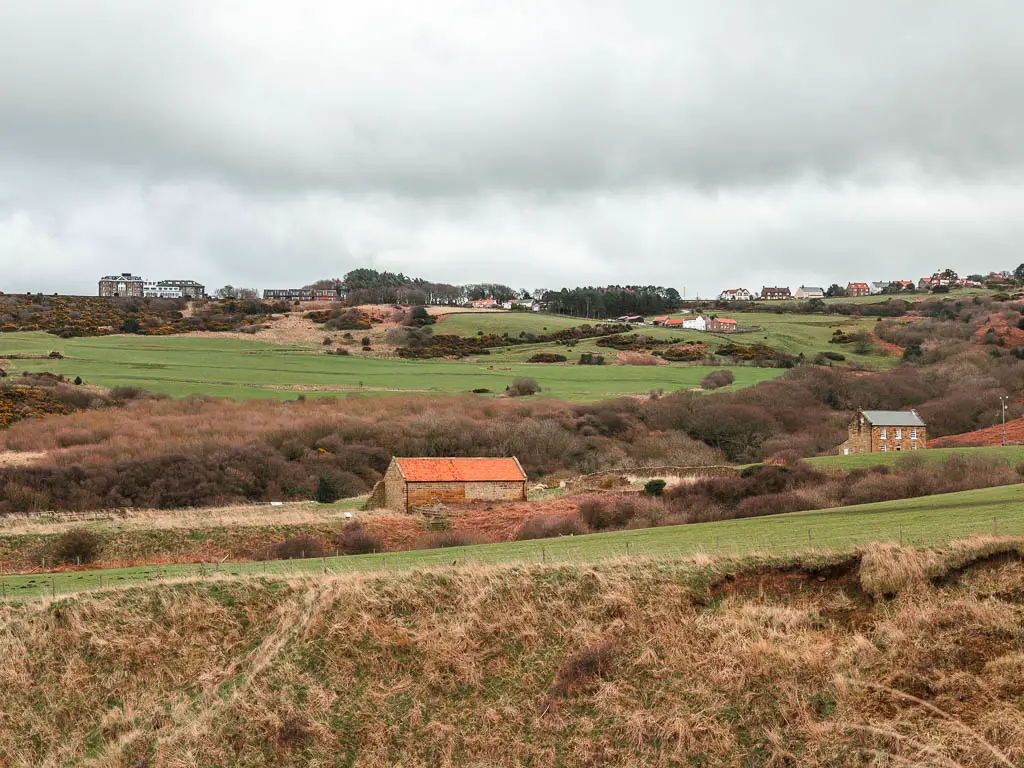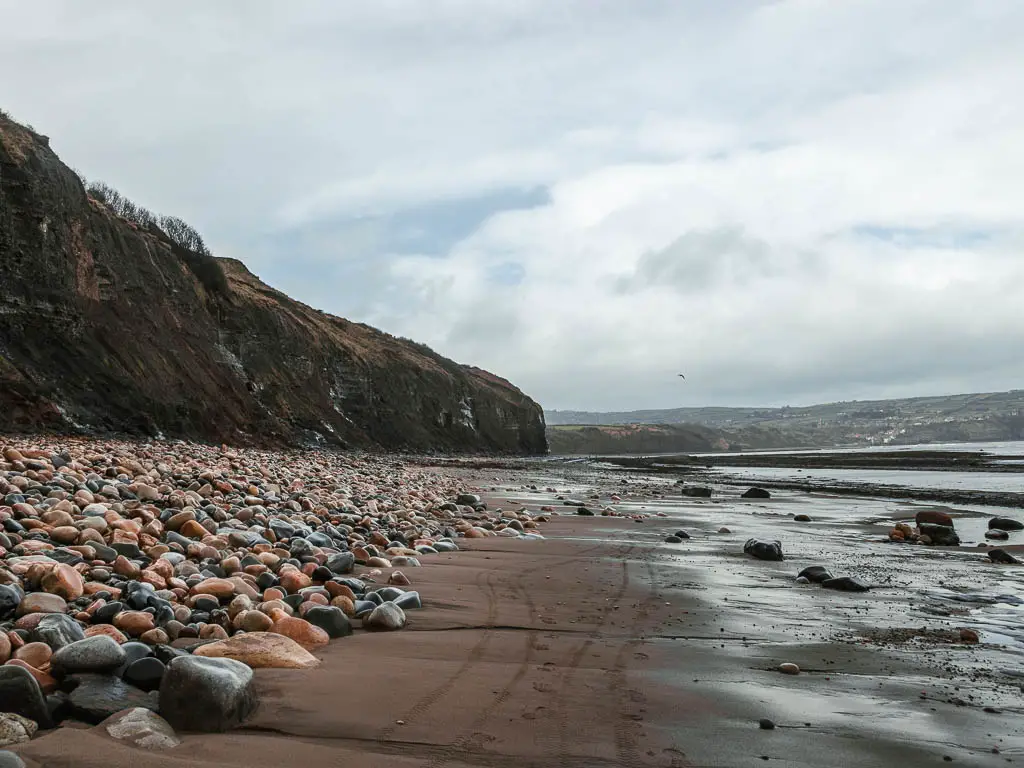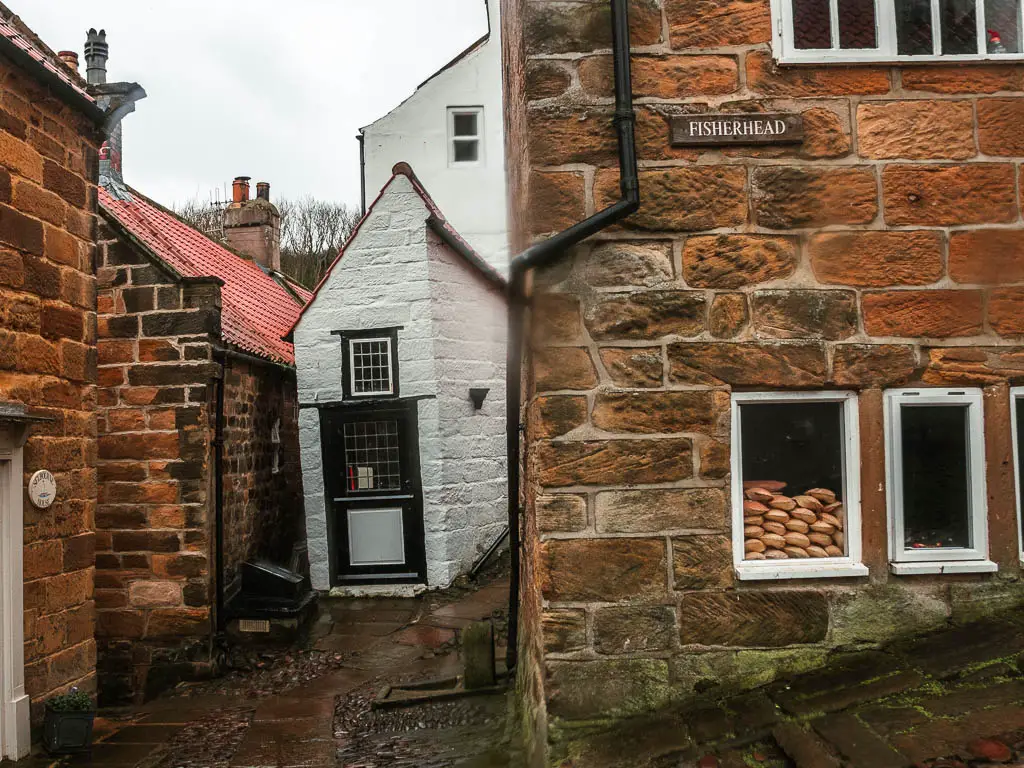 What I'm going to do in this guide, is first give you a bit of an overview of the walk between Ravenscar and Robin Hood's Bay, with full logistics, a map, and some useful tips. I will then go on to describe the walk route, step by step with photos. at the end I will provide suggestions for other local walks you could try.
The beach walk between Robin Hood's Bay and Ravenscar
There are two main things to know about the beach walk between Robin Hood's Bay and Ravenscar. First, you need to check the tide times before you head out. At high tide, the beach is inaccessible. Second, you will most likely walk through a seal colony.
You heard me. I had read that there might be seals there, but I wasn't prepared for what I saw.
The seals at Ravenscar
As I arrived down on the beach at Ravenscar, there was a 'seal watch' woman there. She told me a little bit about the seals, and prepared me for how to navigate through them. They key takeaways were:
Go slowly through the rocks, keeping an eye out for any hiding behind them.
If I see them, make sure to give them a wide berth.
If they growl at me, stop and back away slowly. They bite.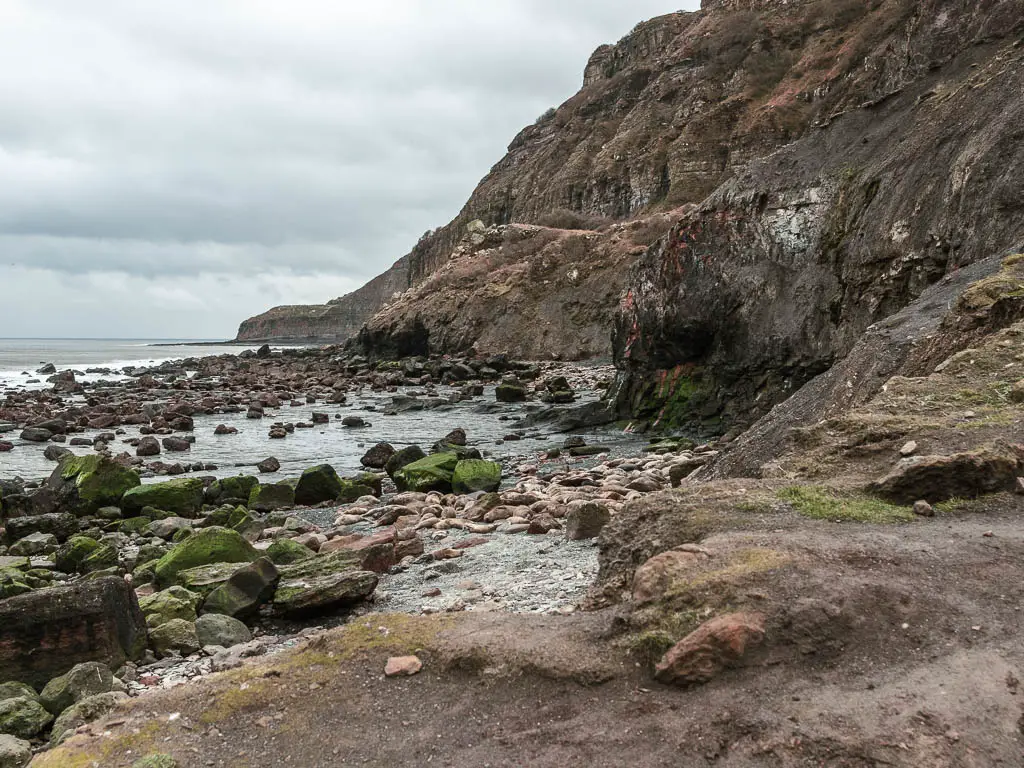 So off I went. As I navigated through the rocks, I'd suddenly have a group of them, a meter away to my right, then as I veered away, I'd hear one growling a couple of meters to my left. I'd look up and a couple would be flopping the way seals do just ahead. 
Almost every rock I passed had some sleeping just next to them. 
It was intense. 
How long is the walk between Ravenscar and Robin Hoods Bay?
The full circular walk between Ravenscar and Robin Hood's Bay, is a bit over 7 miles. Half on the cliff top, and half along the beach.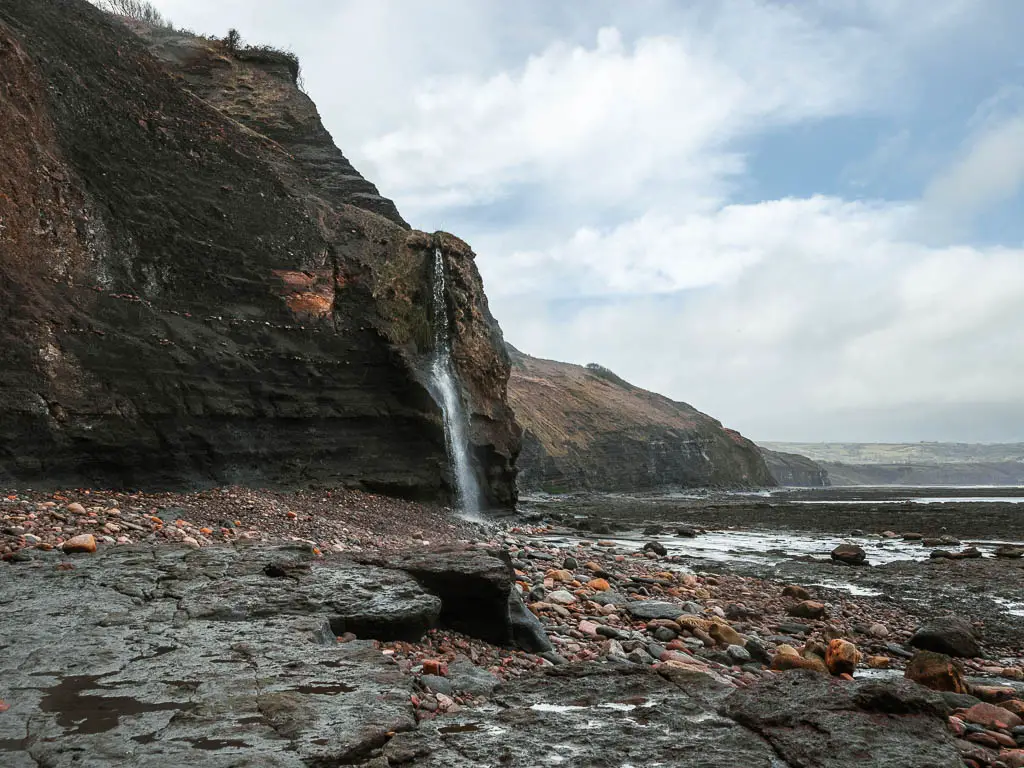 Is the walk challenging?
I would call this a moderate difficulty walk. The most challenging part was the mud. So much mud. Walking along the cliff top path, it was difficult to get any kind of pace going due to all the slipping and sliding.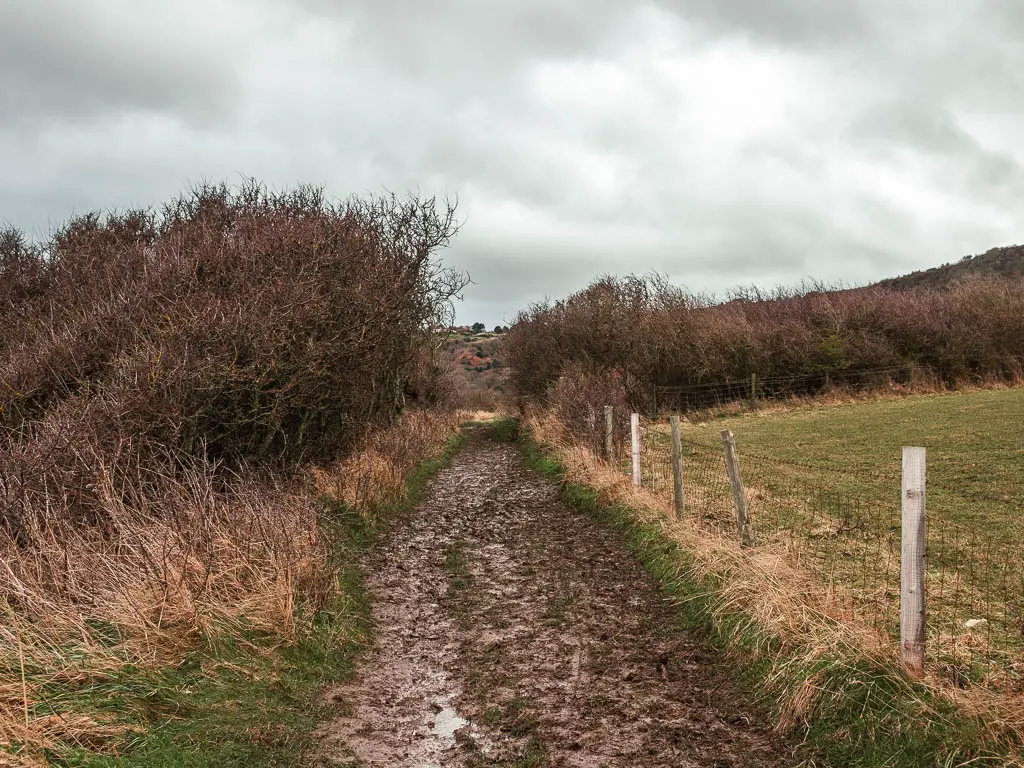 There are a couple of sets of steps, on the cliff coast path. Other than that, it's mostly gentle undulations. 
To get down onto the beach at Ravenscar, it's fairly steep in parts, with some steep steps, slippy rocks, and more mud.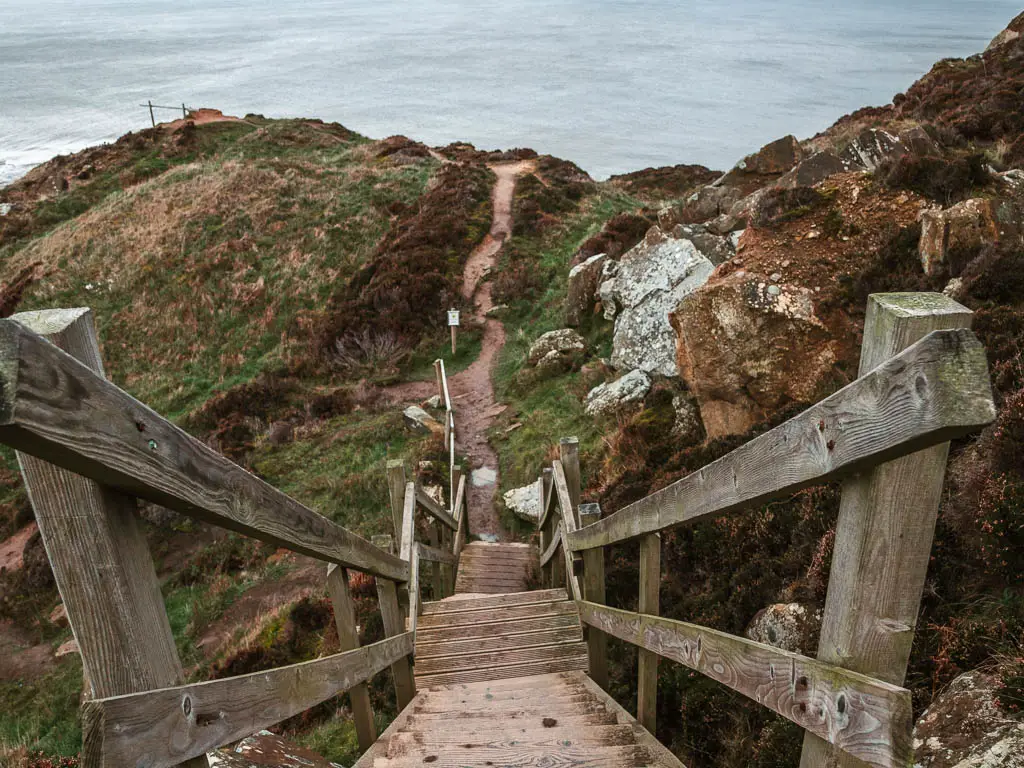 Walking along the beach from Ravencar to Robin Hood's Bay, it's a mix of big rocks, small rocks, rock surfaces, sand, and streams of water. At one point, I had no choice but to walk through water. The tide was making it's way in, and had already claimed some of my route.
Is the walk dog friendly?
Mostly. Dogs are allowed, but need to be kept on a lead. You need to be really careful when walking through the seal section. Not to scare or disturb them.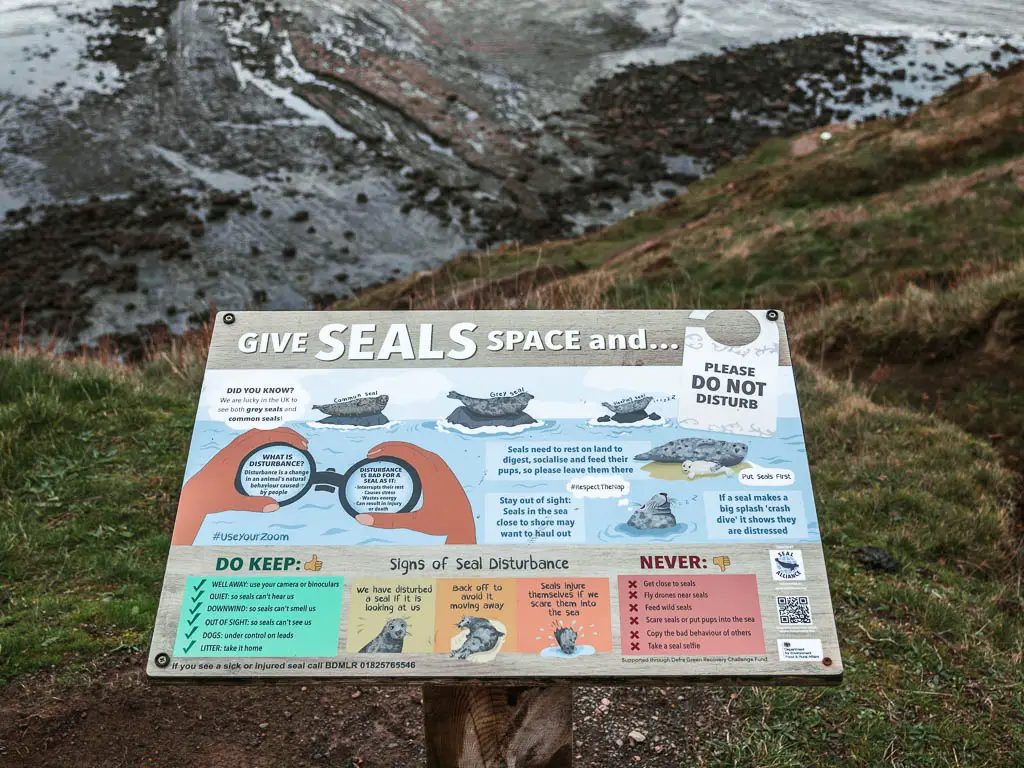 Logistics
Start/Finish: I started from Boggle Hole car park. As this is a circular walk, you could start where you please.
Public transport: Yes. Bus X93 Max goes between Middlesborough, Whitby, Robin Hood's Bay, and Scarborough. 
Distance: Just over 7 miles
Time: 2h 40min
Terrain: Mud, mud, more mud, dirt trail, grass, big rocks, small rocks, sand. A bit of road.
Difficulty: Moderate (due to the mud)
Time of year: Late winter/Early spring
Amenities: A couple of pubs, cafes, a chocolate and ice cream shop, and fish and chips in Robin Hood's Bay. Ravenscar Village has public toilets and a tea room. 
Where to park
There are two car parks in Robin Hood's Bay. Station car park, and Robin Hood's Bay Bank Top car park. Outside of the village, about 10min walk along the trail route is Boggle Hole Car park.
I chose to park in Boggle Hole as it's free. You know I like free. What I have since discovered, is that the car parks in Robin Hood's Bay are free during the off season/winter months. Kind of annoyed at myself for not learning this sooner.
Map for the Robin Hood's Bay and Ravenscar circular walk
You can find my more detailed Robin Hood's Bay and Ravenscar circular route map on AllTrails.
---
Tips for the walk between Robin Hood's Bay and Ravenscar
---
If doing this walk during high season, I would suggest parking at Boggle Hole. Apart from the free aspect, Robin Hood's Bay is a very popular place, and gets quite busy. During winter, you may as well park in Robin Hood's Bay. It would be a nice place to finish the walk.
Hiking boots for sure. Unless you do the walk during summer when it hasn't rained for a while, you will have lots of mud to navigate. Hiking boots will also be more comfortable under foot on the rocks. 
Be careful when walking through the seal section. Don't go up to them. Give them space.
Time it so that you will be walking along the beach between Robin Hood's Bay and Ravenscar at low tide. You can check the tide times here. In fact, time it so you start the walk as the tide is going out. This gives you more wiggle room.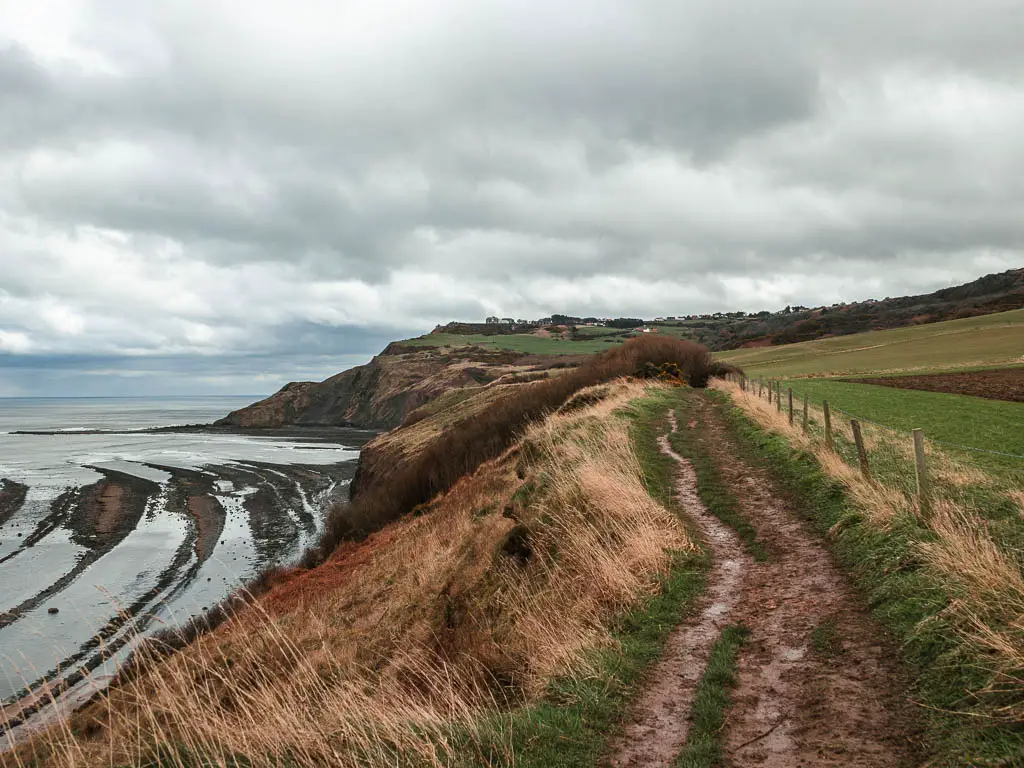 ---
A guide to the circular walk between Robin Hood's Bay and Ravenscar
---
I will be describing the route starting from Boggle Hole. If you are starting in Robin Hood's Bay, you can see the way to get onto the trail if you scroll down to the section 'Robin Hood's Bay'
From Boggle Hole car park, you should see a trail signpost directing you through a gate and onto a long track.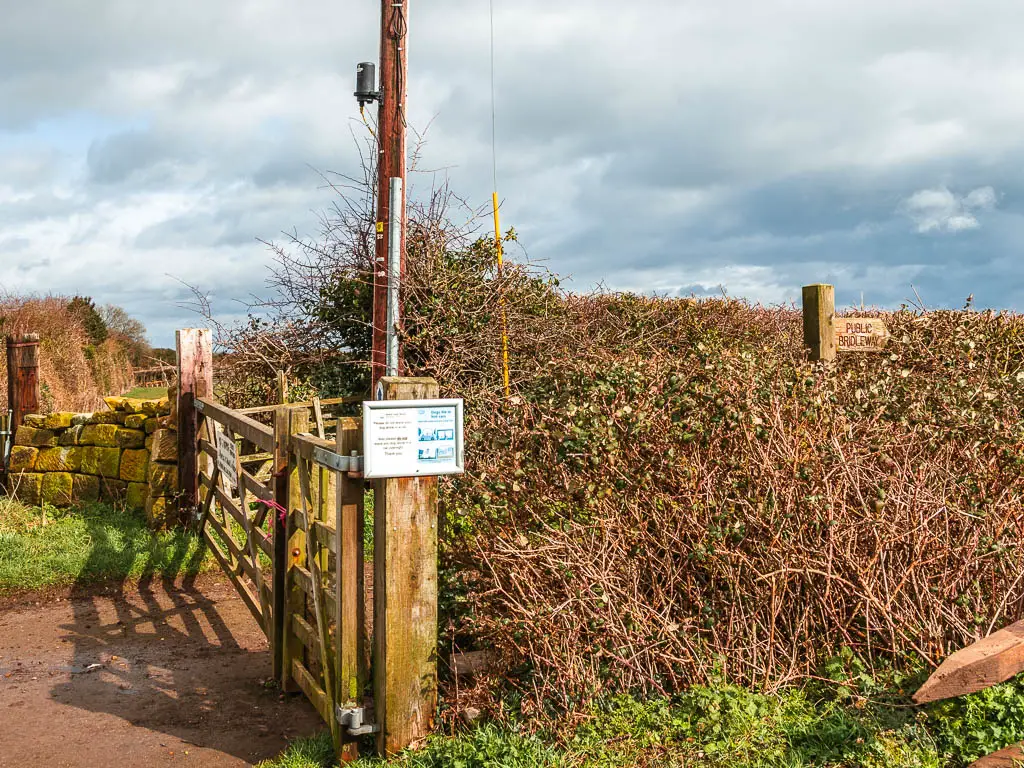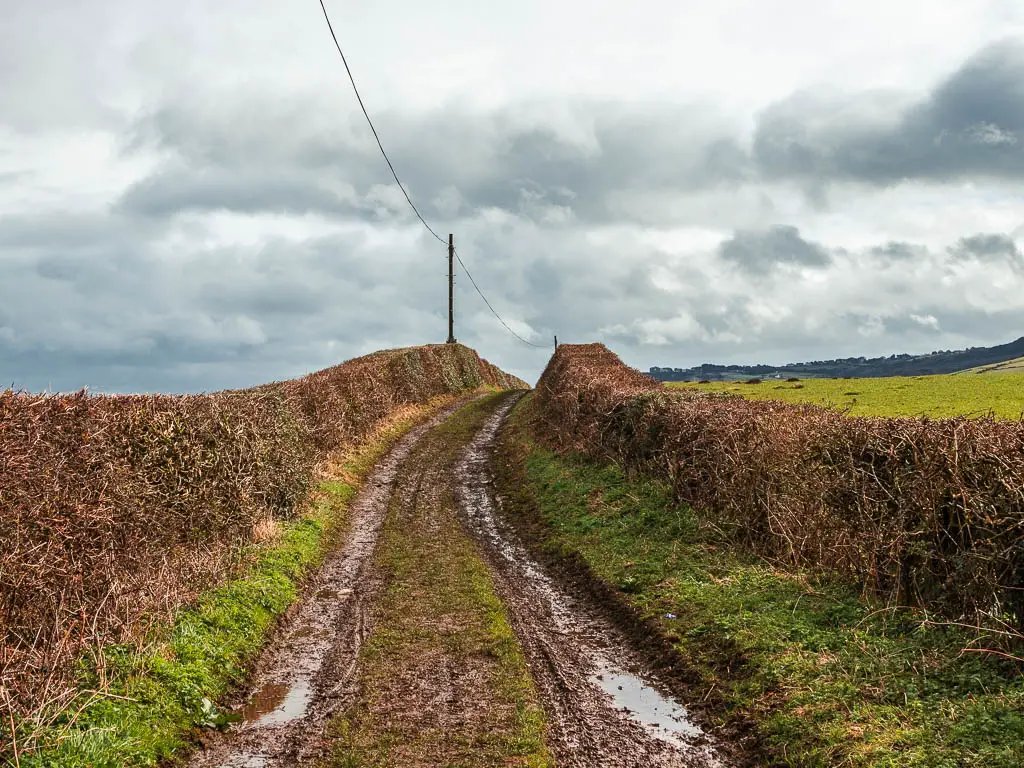 This is where the mud begins. It's a seemingly innocent bit of track, but I actually found this to be the hardest part of the walk. Due to the mud. Every step was slippy.
I could see a big big hill ahead in the distance. Was that where I was heading? I got flashbacks to my time along the south west coast past one year ago.
Walk down past the beach
Some way further along, the trail turns to the left through a field, and into the woods on the other side.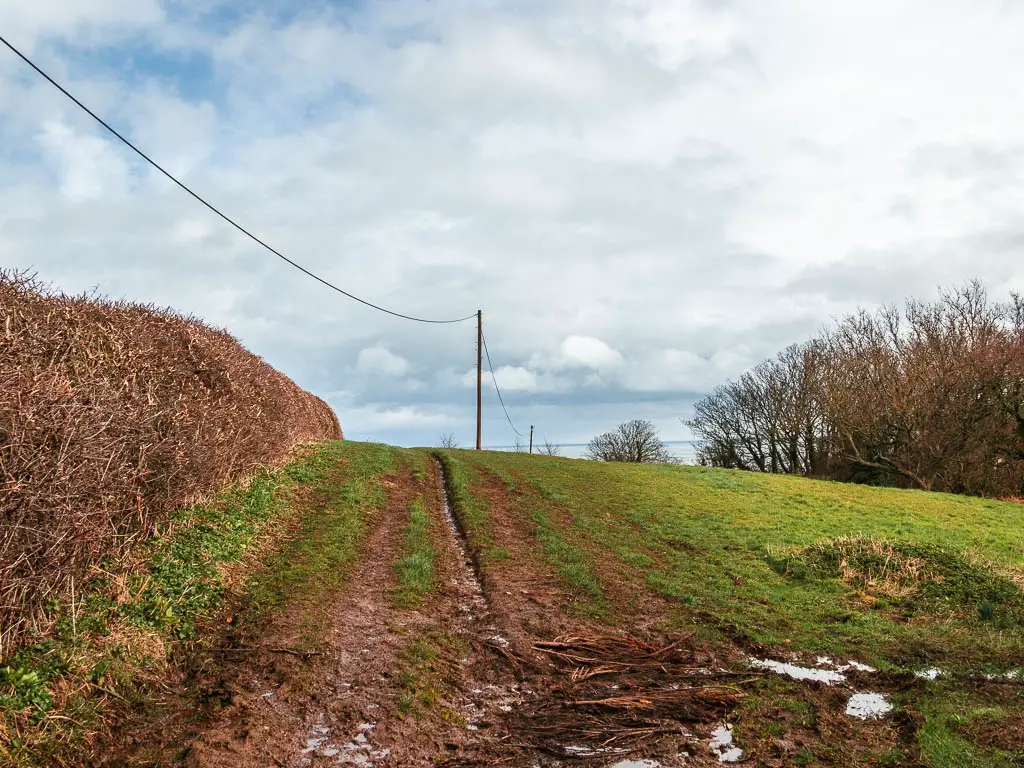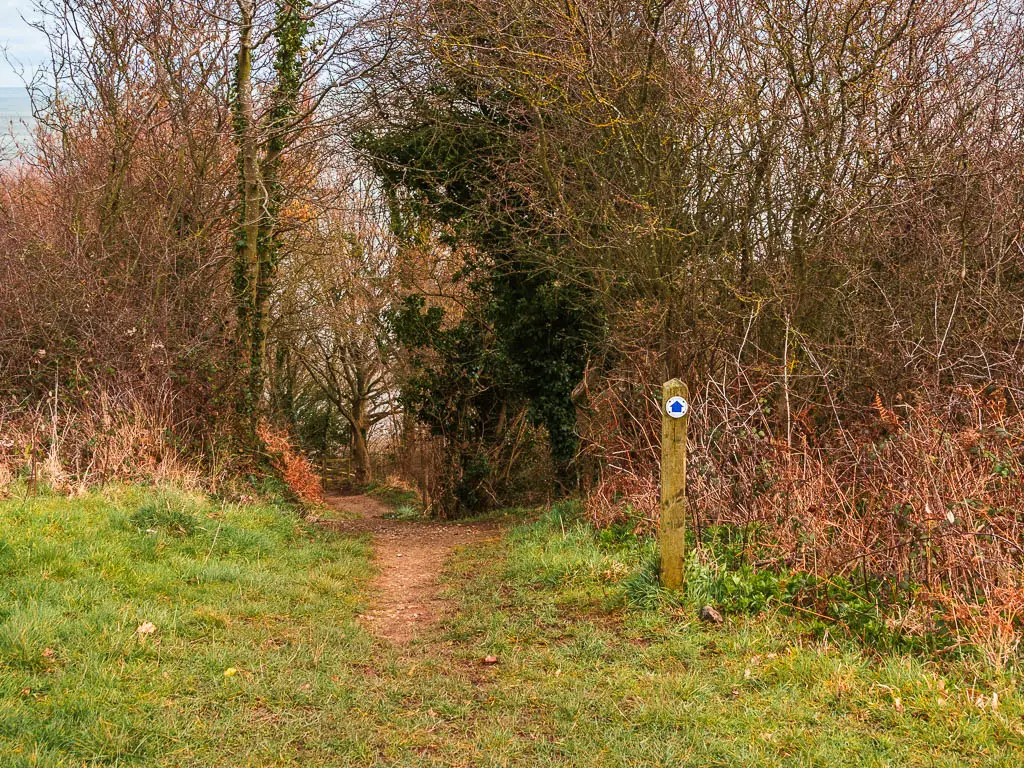 Next it's down a steep dirt section. Not muddy though. I let my guard down a little…and slipped. So switched tactics and went down sideways, holding onto the wooden railing, thinking about the splinter potential.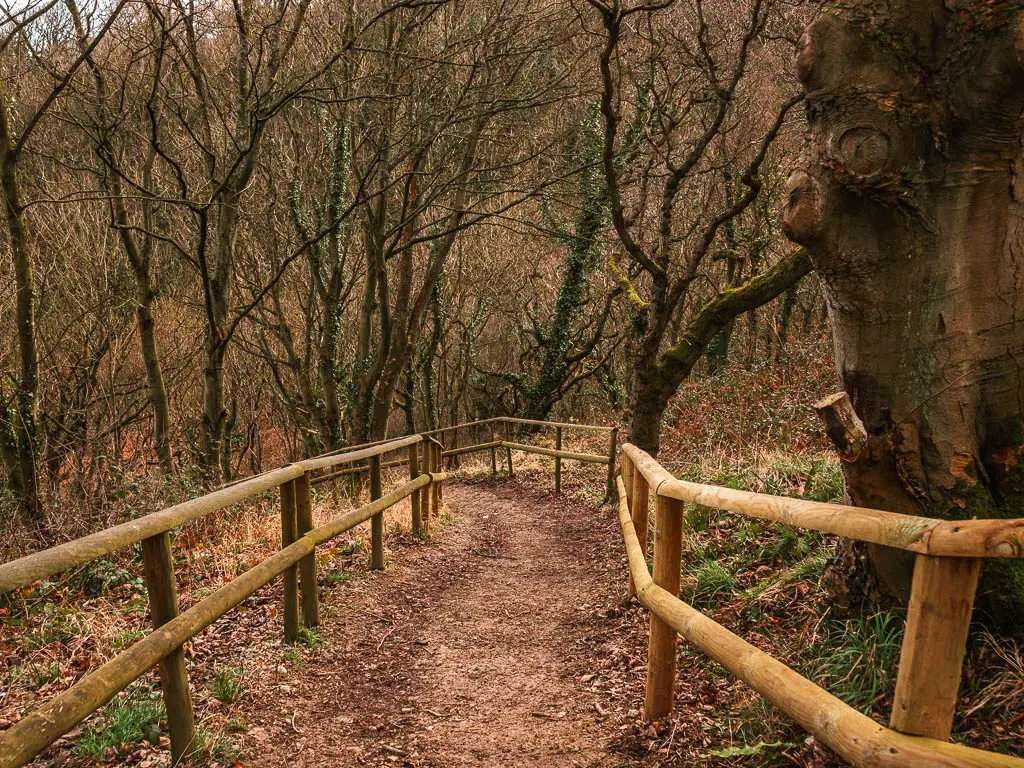 At the bottom, when I reached the beach, although tempted to go onto it, I knew I would be back again soon, so instead, I followed the trail as it took me up lots and lots of steps. Very south west coast path like.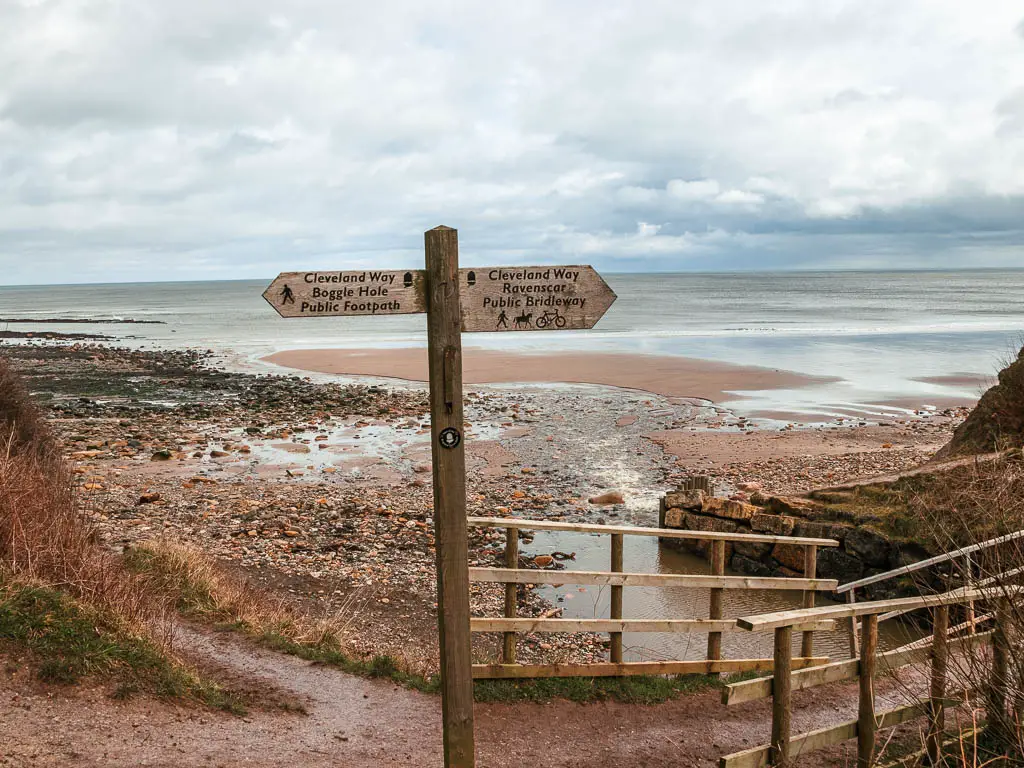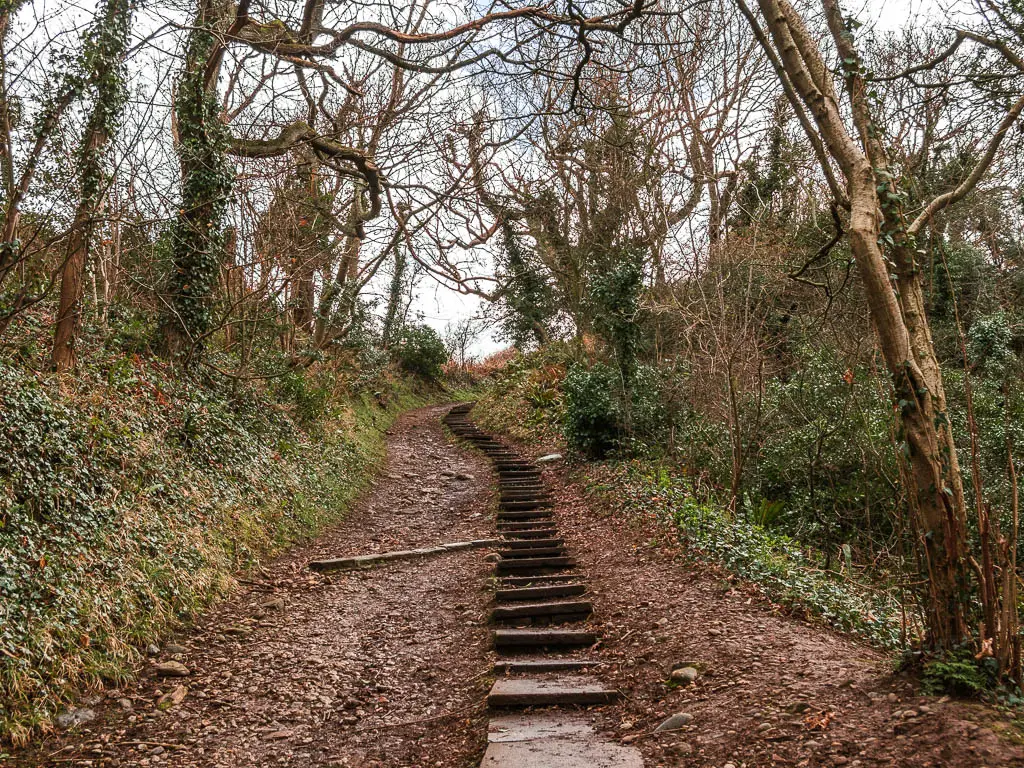 Walk along the road
At the top, it's a left turn onto the road. Walking along the road, I got a view to that big hill again. I still wasn't sure if thats where I was heading. Secretly, I hoped it wasn't. I wasn't in the mood for a big hill today.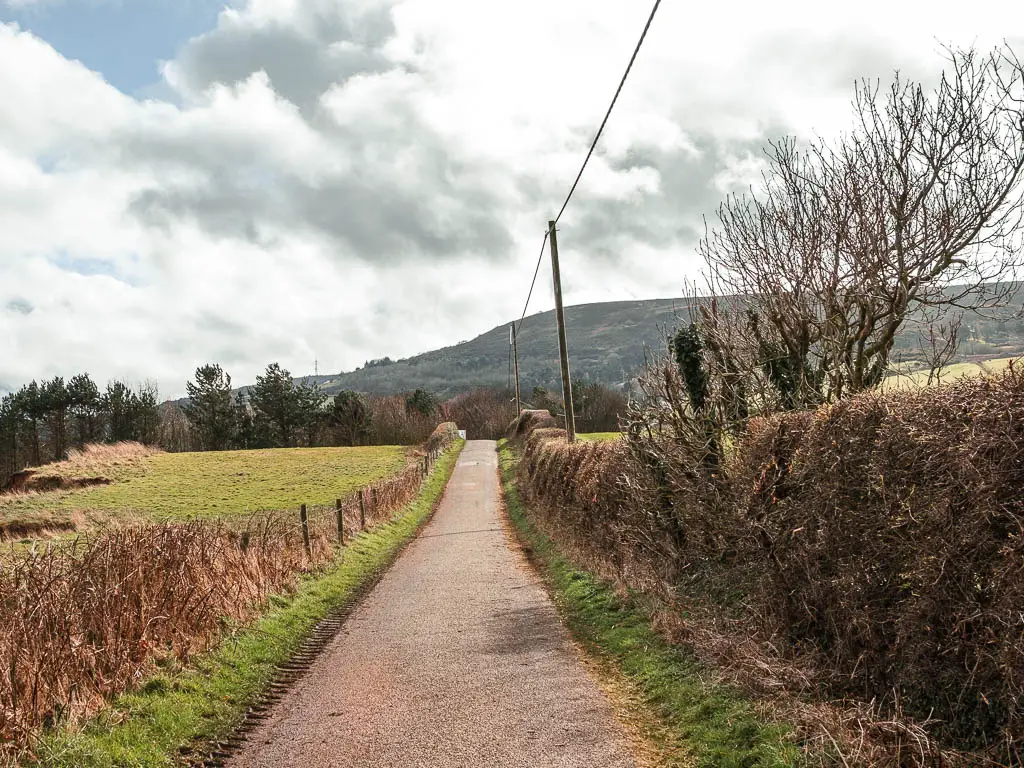 I needed to finish the walk between Ravanscar and Robin Hoods Bay quickly. It's a long story, but the gist is, my phone battery was at 40%, and I left home today to get here with 100%. I always take a power bank with me on a hike, but today I hadn't. I needed this 40% to last me tracking the walk and then for sat nav for the 1h45min journey home (I'm not from these parts, so don't know the roads). 
Oh, and it's an iPhone. 
I discovered that my tracker still works in aeroplane mode, so I switched to that and hoped for the best. 
When I reached a trail signpost, I followed it left, off the road and along another muddy bit of trail. I thought I was done with the mud. I didn't yet know that this would be the theme of todays walk.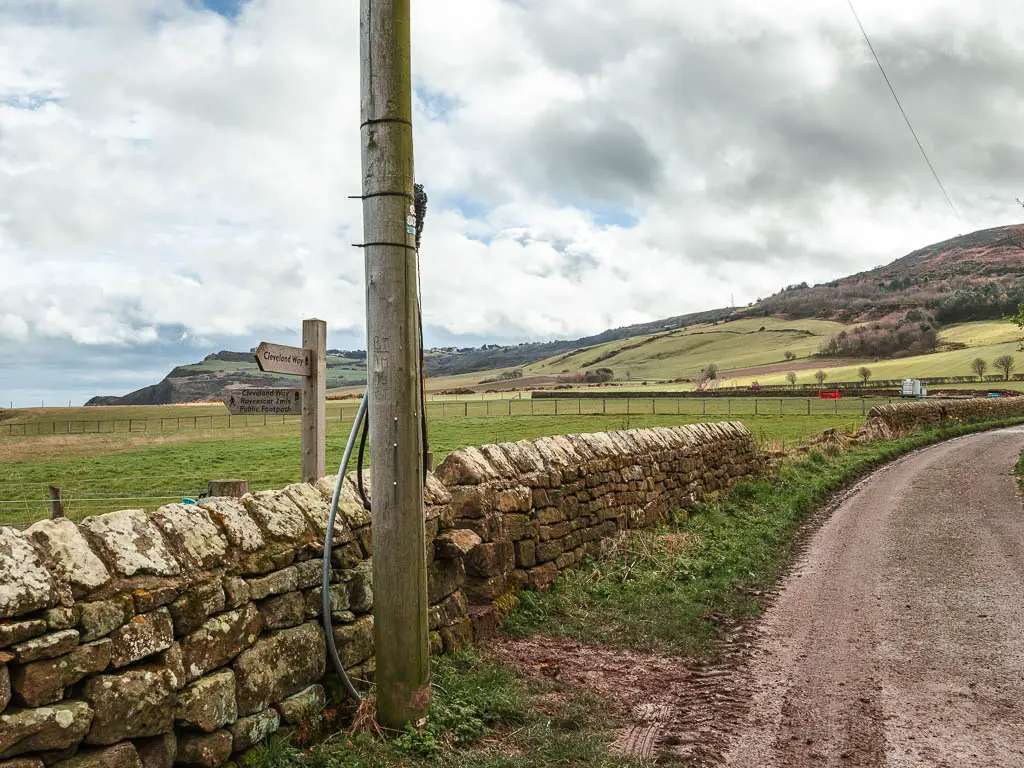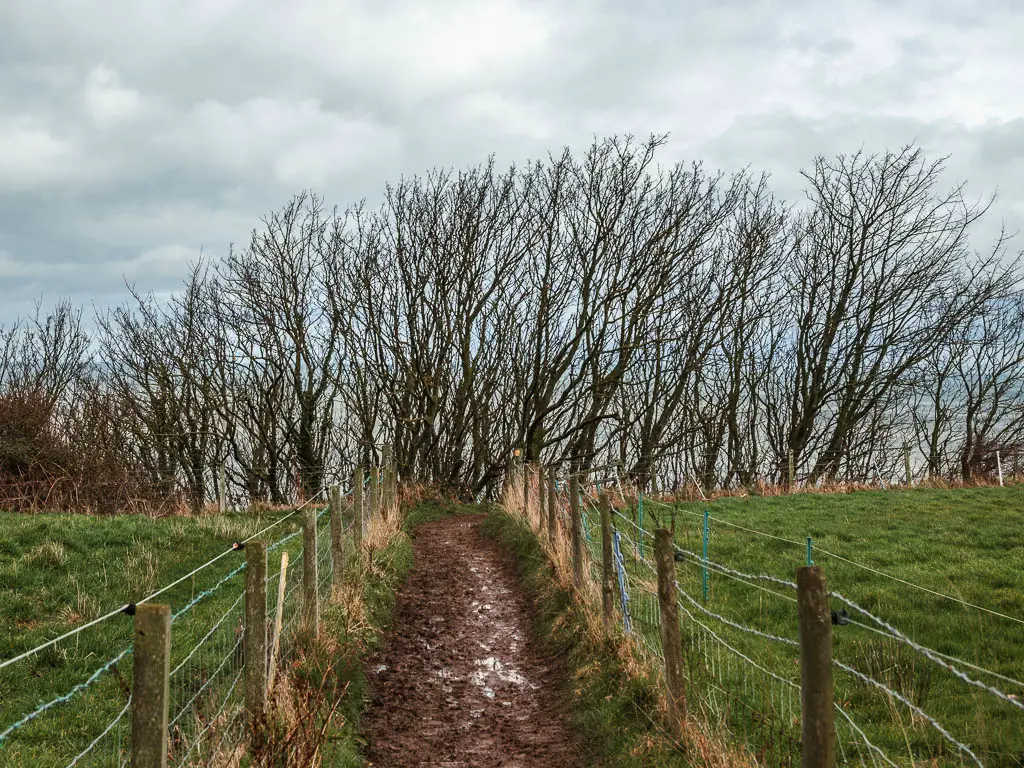 Walk along the coast path with a view to Robin Hood's Bay
The muddy dirt trail leads around and along the cliff edge, along a nice rugged bit of trail. This is where I got my first fantastic view down to Robin Hood's Bay.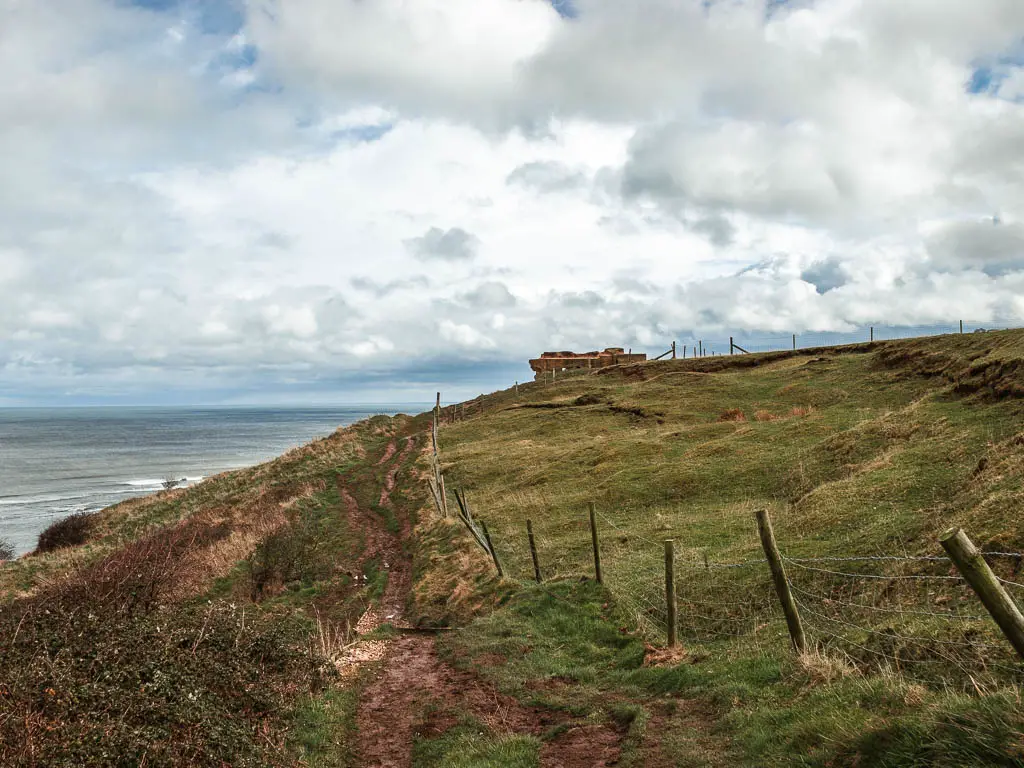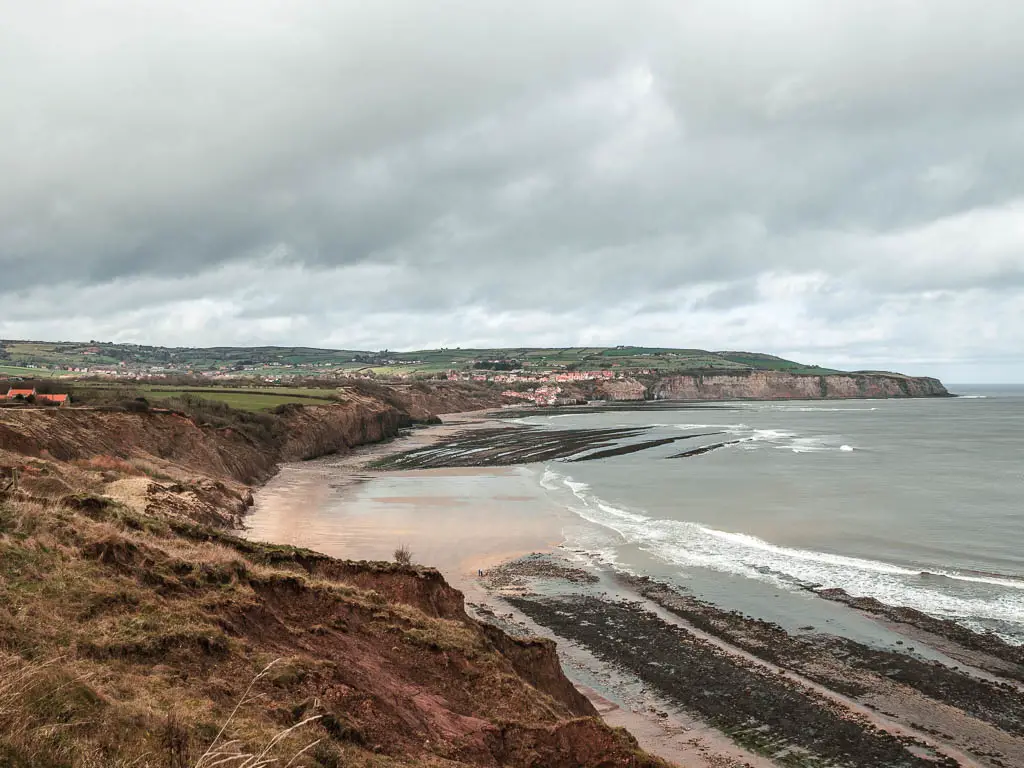 As I continued to make my way along the coast path, something else started to worry me….
The tide
I had set off for the walk at exactly low tide. So it was now making it's way in. Looking down at the beach, although the tide was out, there wasn't much space. There were large sections still covered in water. Did I have enough time? I knew it would be 6 hours until high tide. But how big was my window?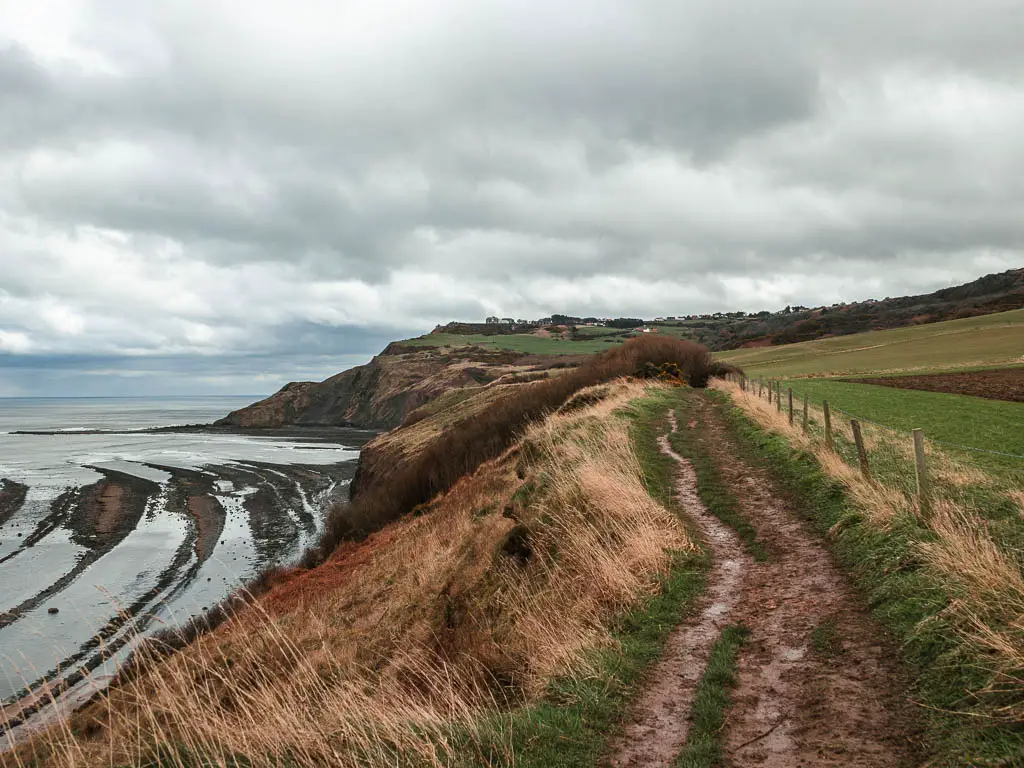 I tried to pick up my pace. I needed to get down to the beach at Ravenscar to start the walk back to Robin Hood's Bay quickly. But the mud. The mud was impossible. Occasionally there were side grass patches I could get onto. But these never lasted long, and I was forced back onto the slippy muddy mess.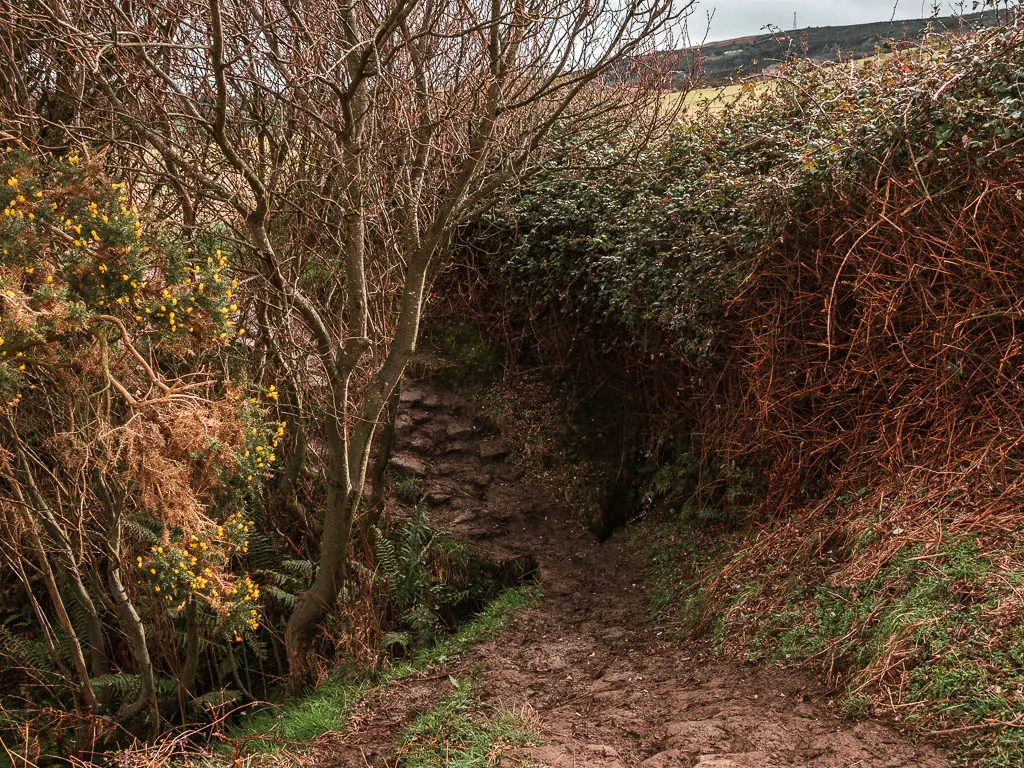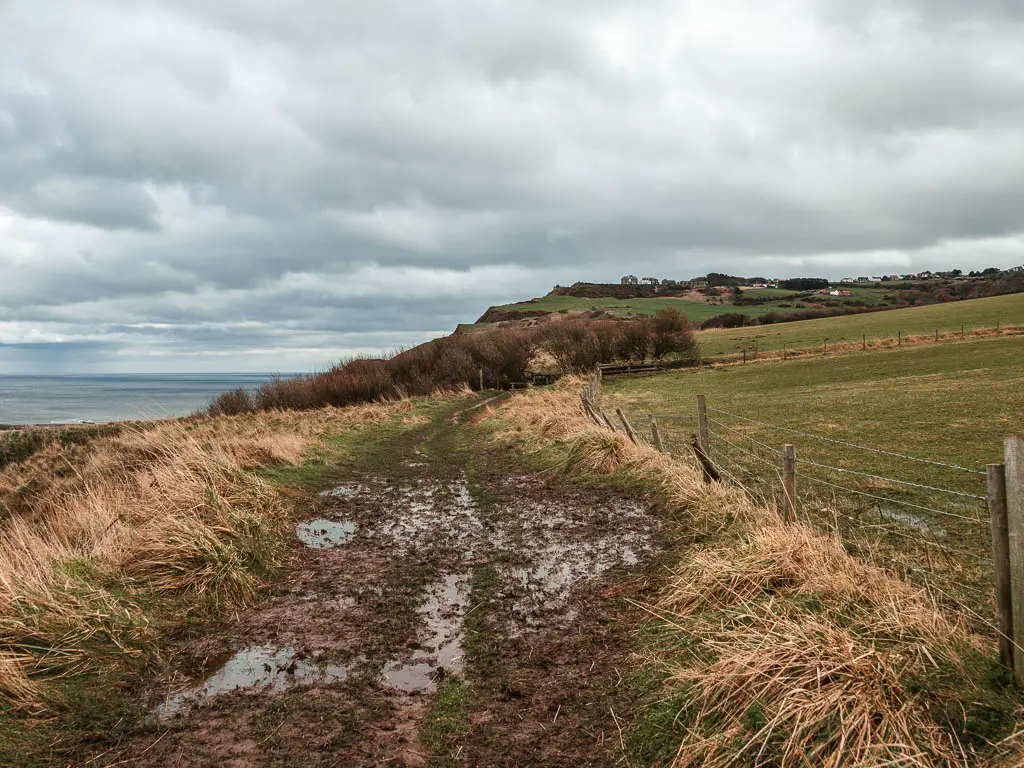 As I tried to walk faster, it made me slower, as I was constantly slipping and trying to catch myself. 
More mud, and fields
The trail of mud continued on, with a few detours away from the coast, following the signs for the Cleveland Way, and a bit of field walking.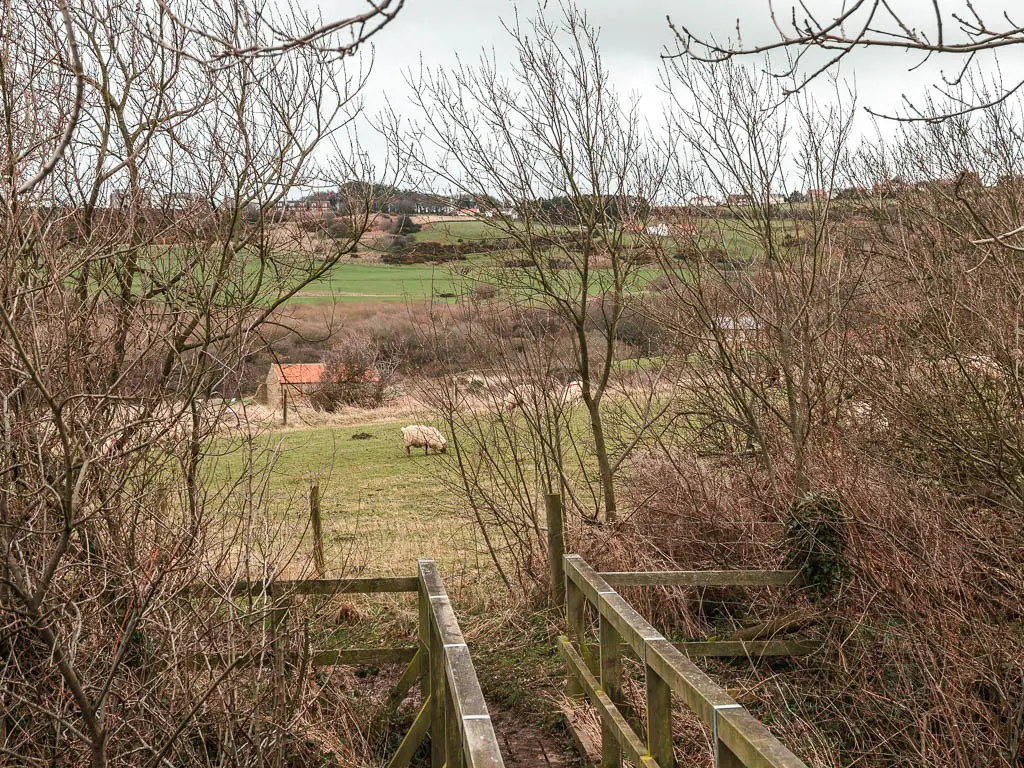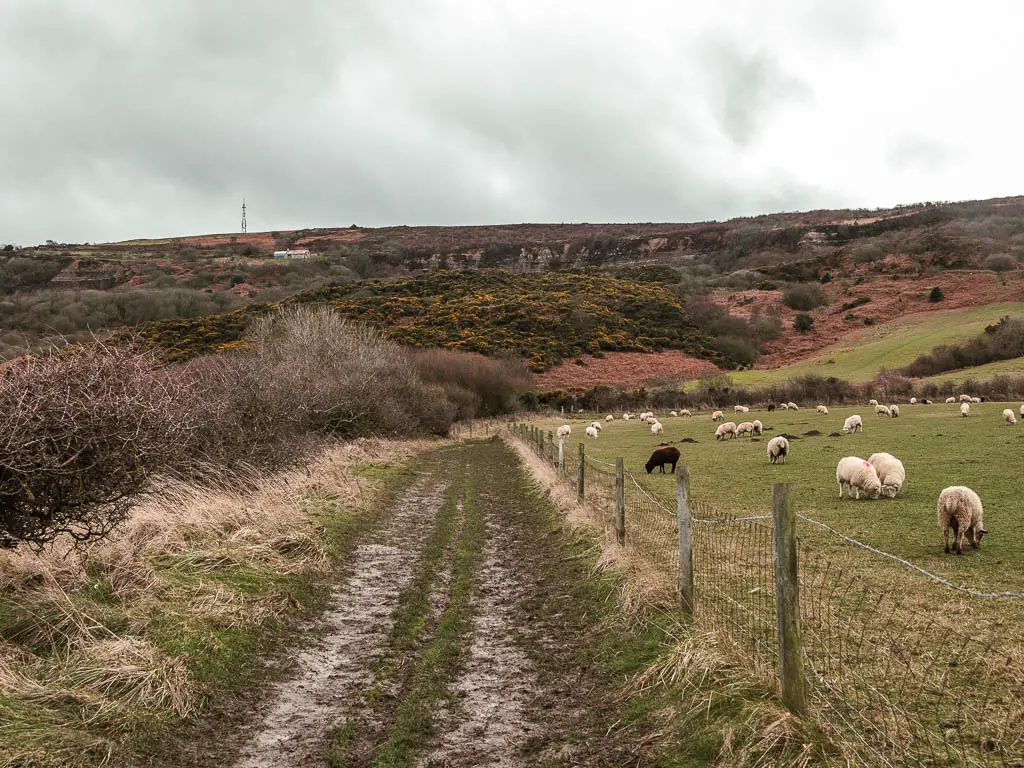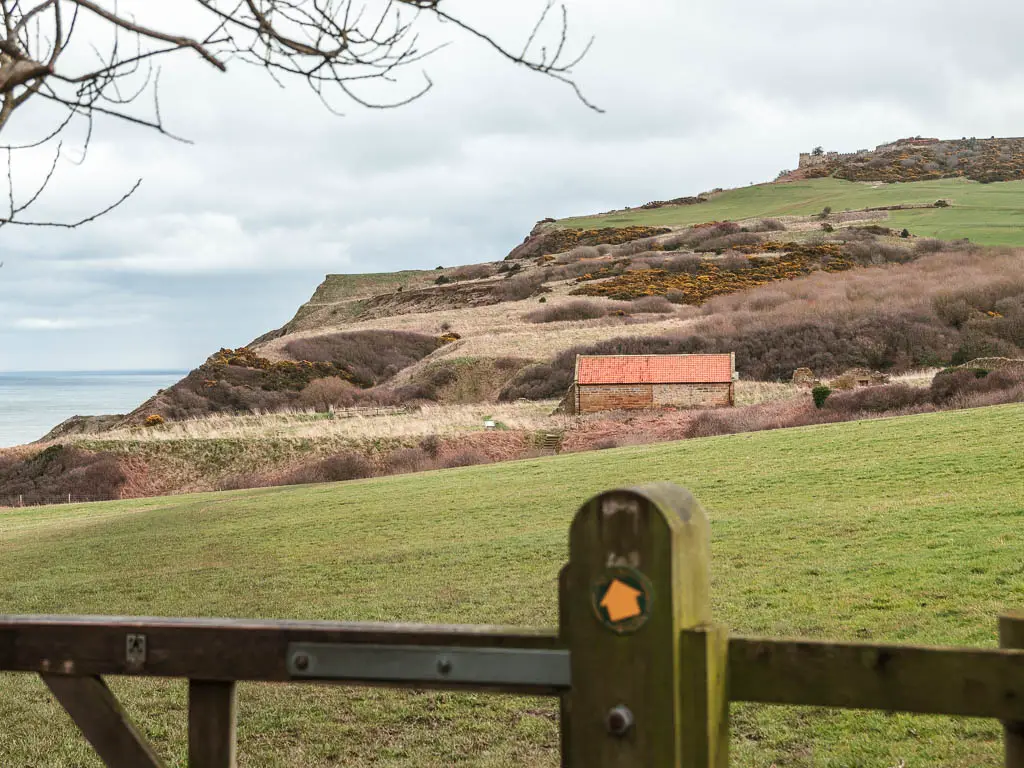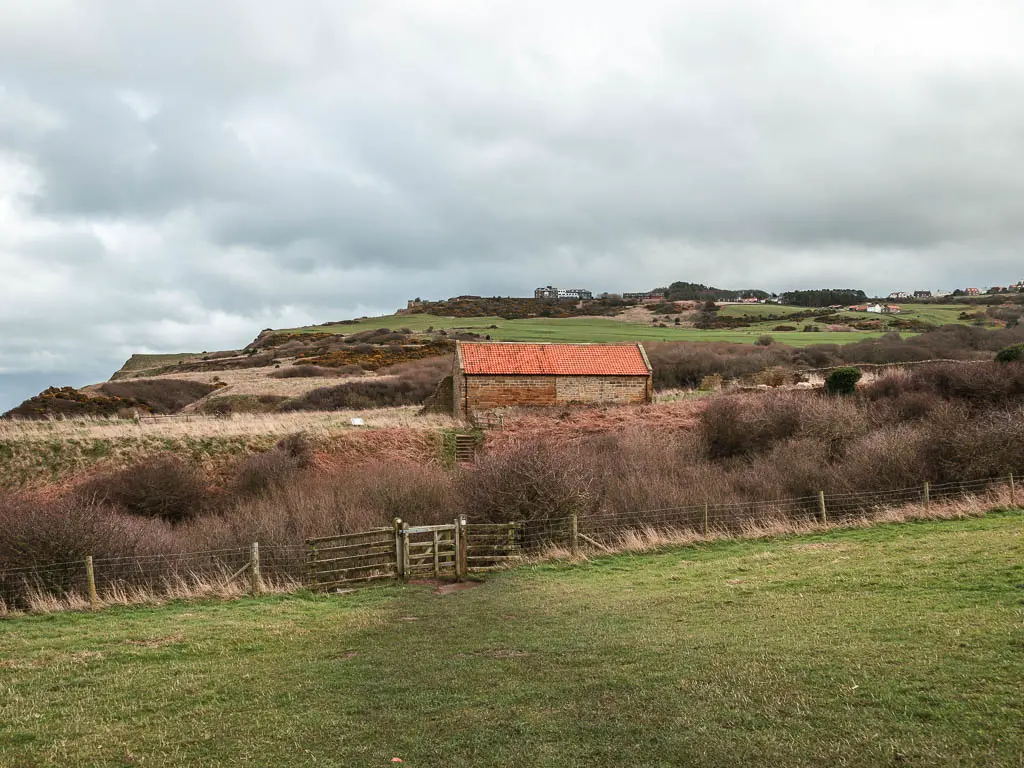 Peak Alum works
Across the field and down and up some steps, I next took the left trail, following the sign to Ravenscar. This trail also leads you past a bunch of ruins. These are the ruins of the Peak Alum works. Where Alum was made.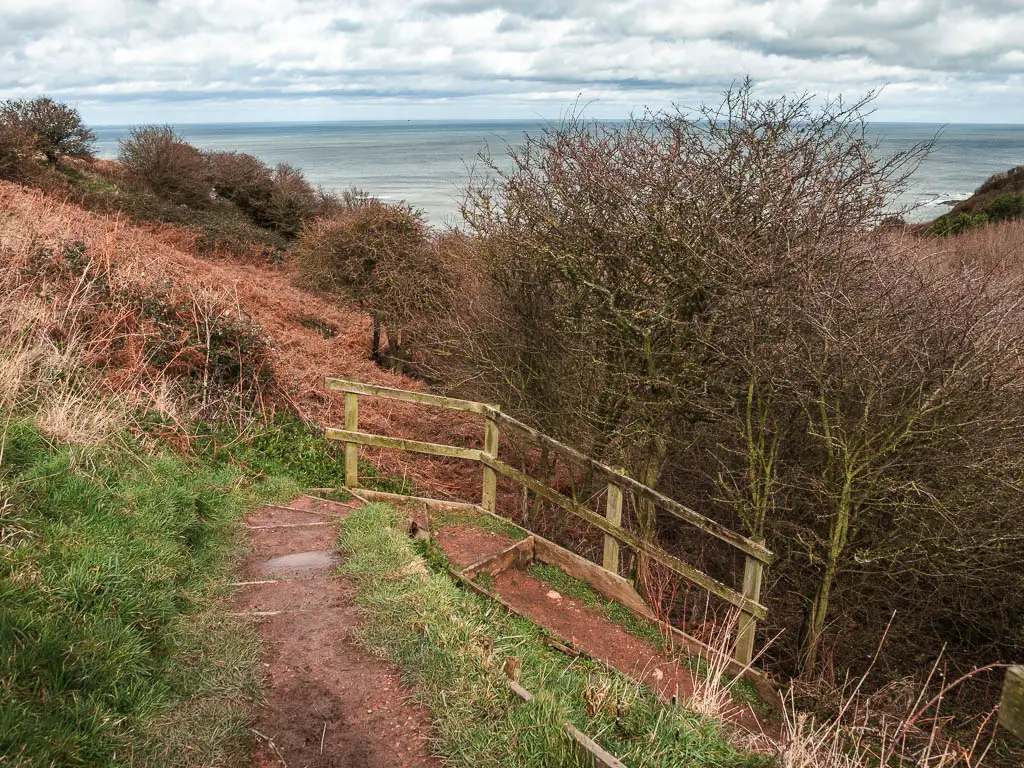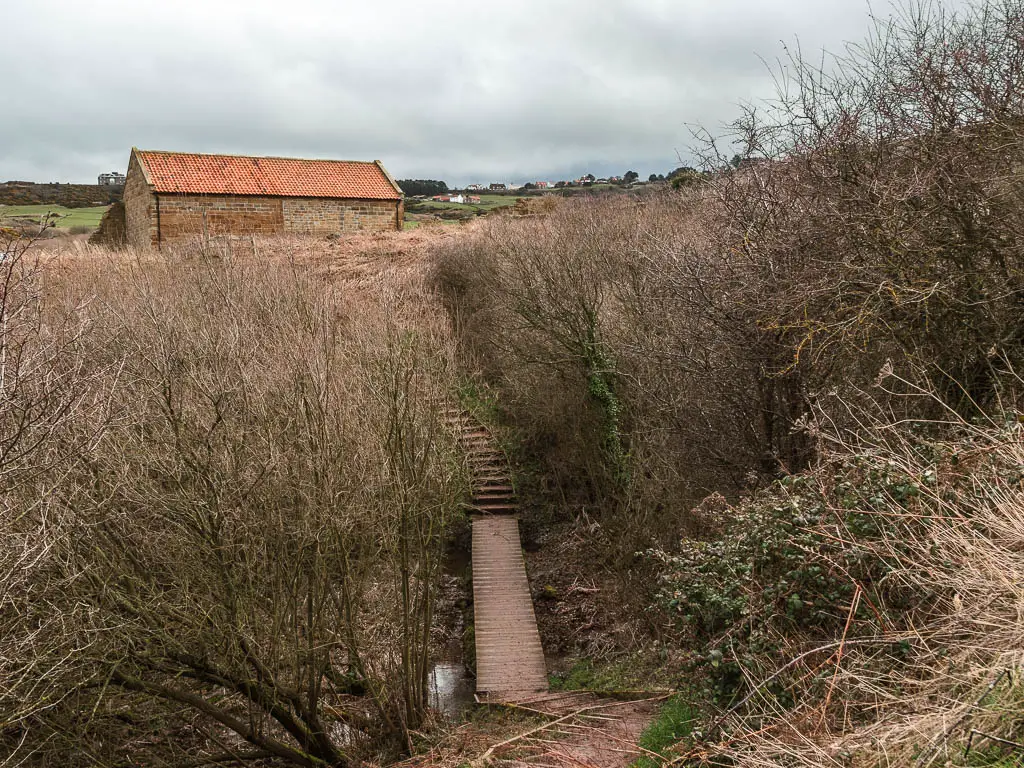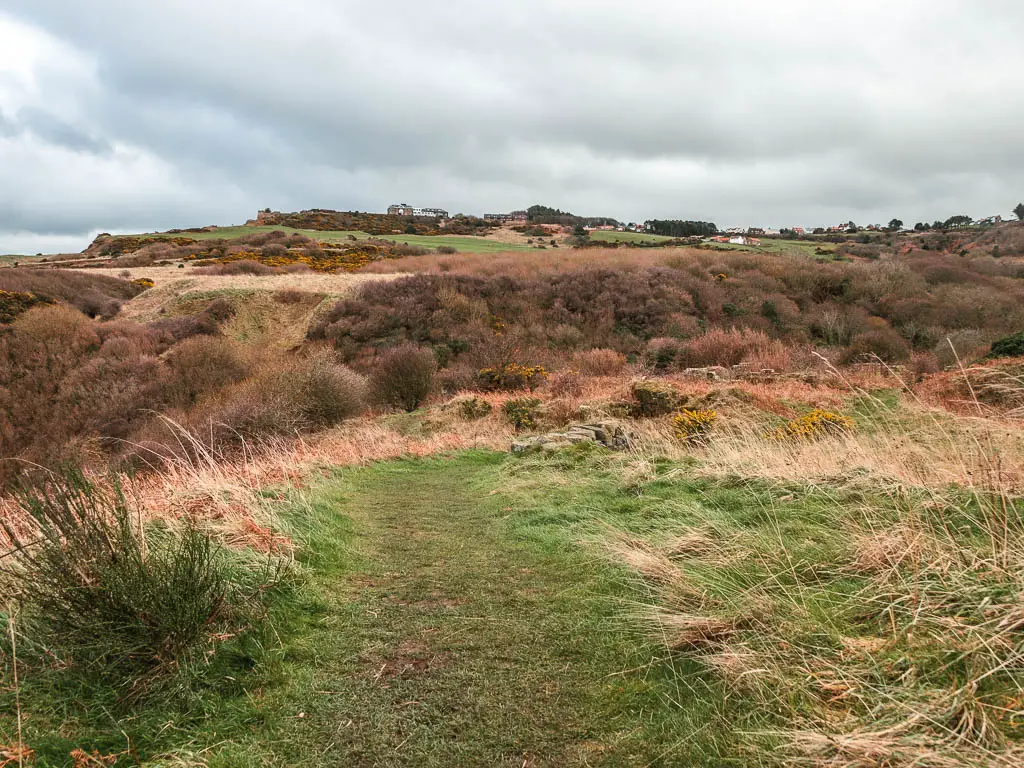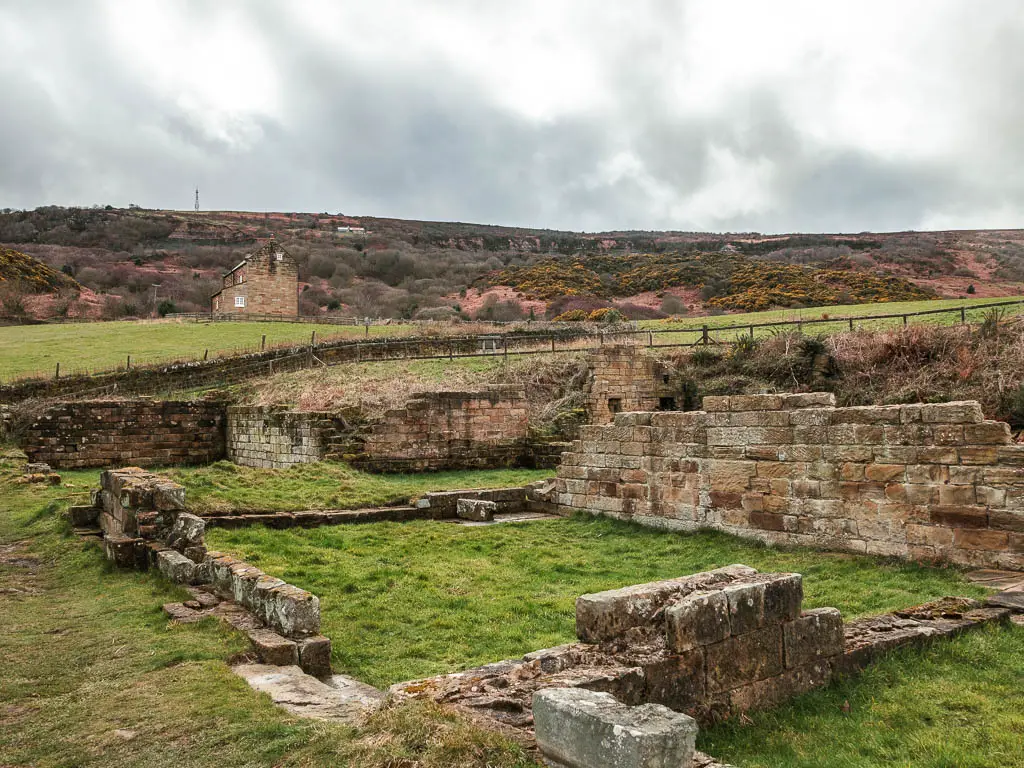 I have since learned that adders (those snakes) live here. I'm glad I didn't know this at the time. 
The road and golf course
The trail leads past the ruins and up a few steps to reach a road. Following the Cleveland way sign to the left, I continued on the slightly curvy road to reach a junction.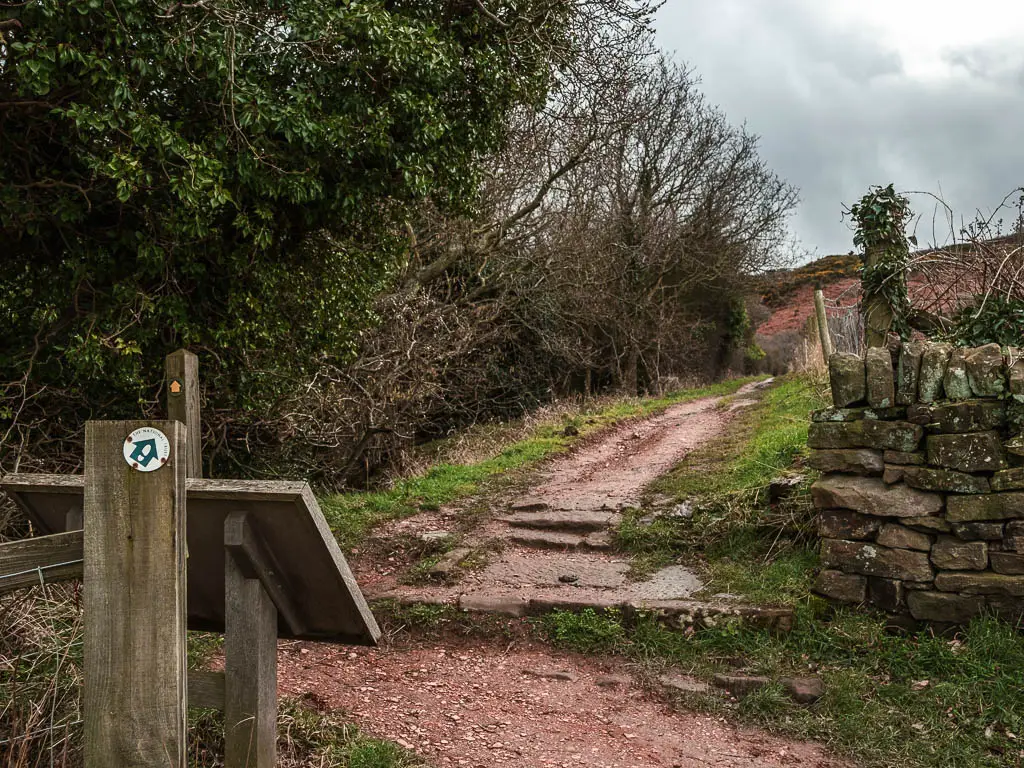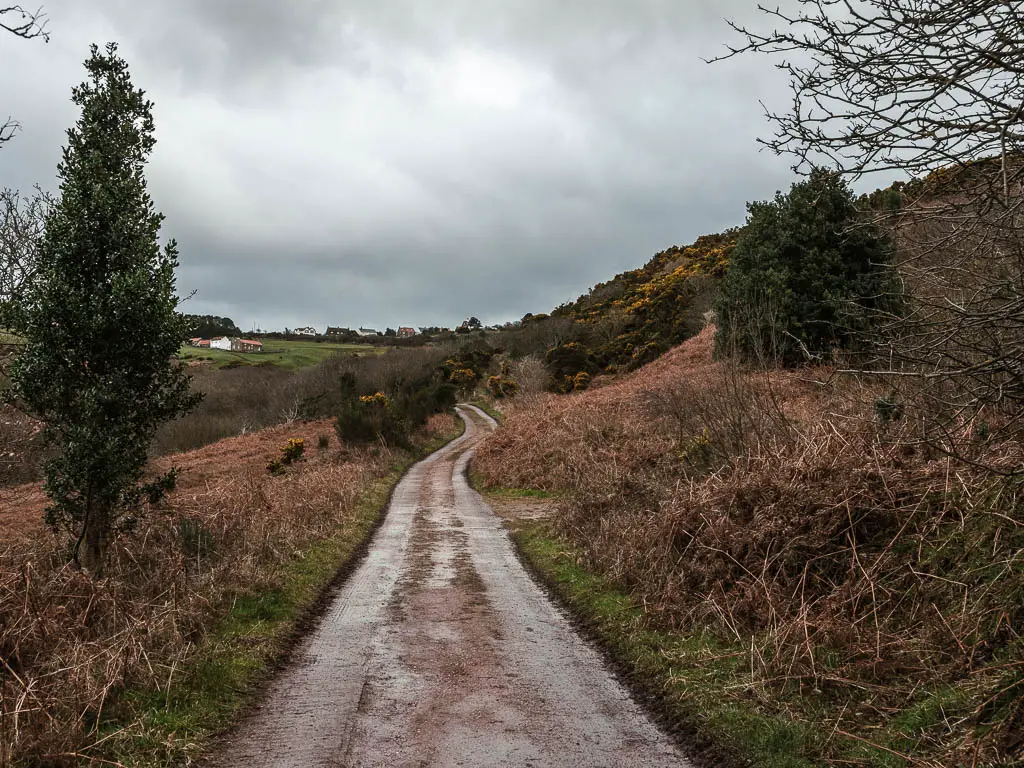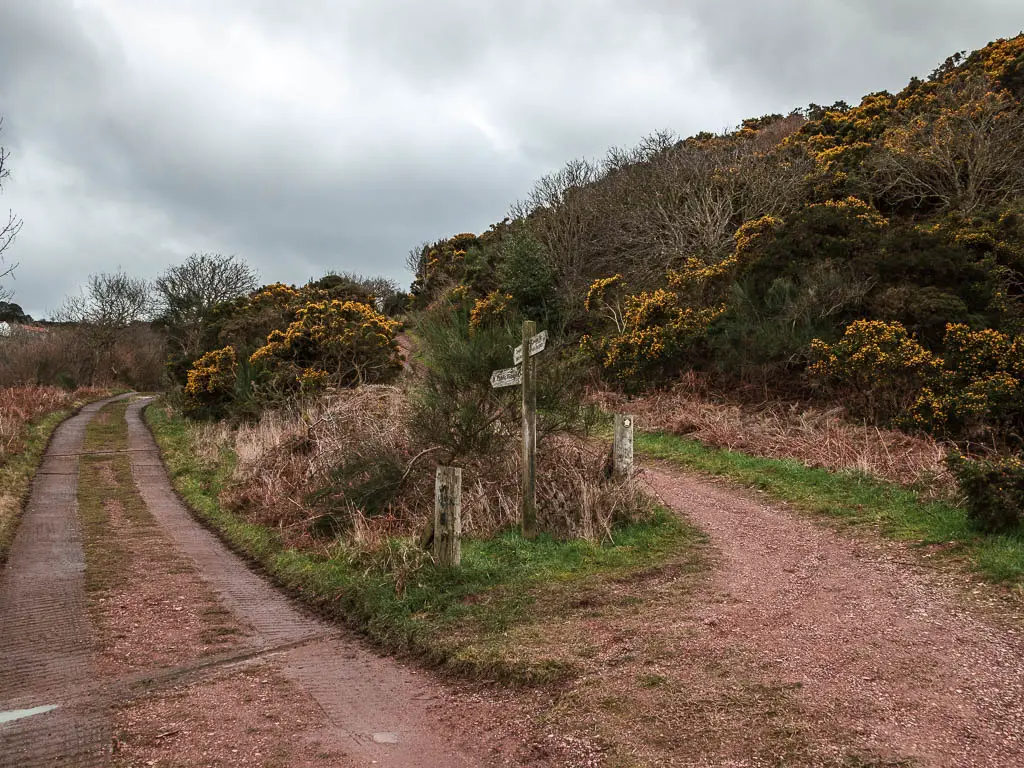 Looking at my map, I knew I could take either. It looked like the right trail would be the nicer one. It is also the Cleveland Way route. But the left trail was more direct. It would lead me down to the beach quicker. I already knew I wasn't going to go into Ravanscar Village at this point, I had a time limit to walk back to Robin Hood's Bay. 
So I took the left.
The left is pretty much road, but not a bad road. Pleasant enough to walk along. It curves its way uphill, and around to the left, to loop around a golf course.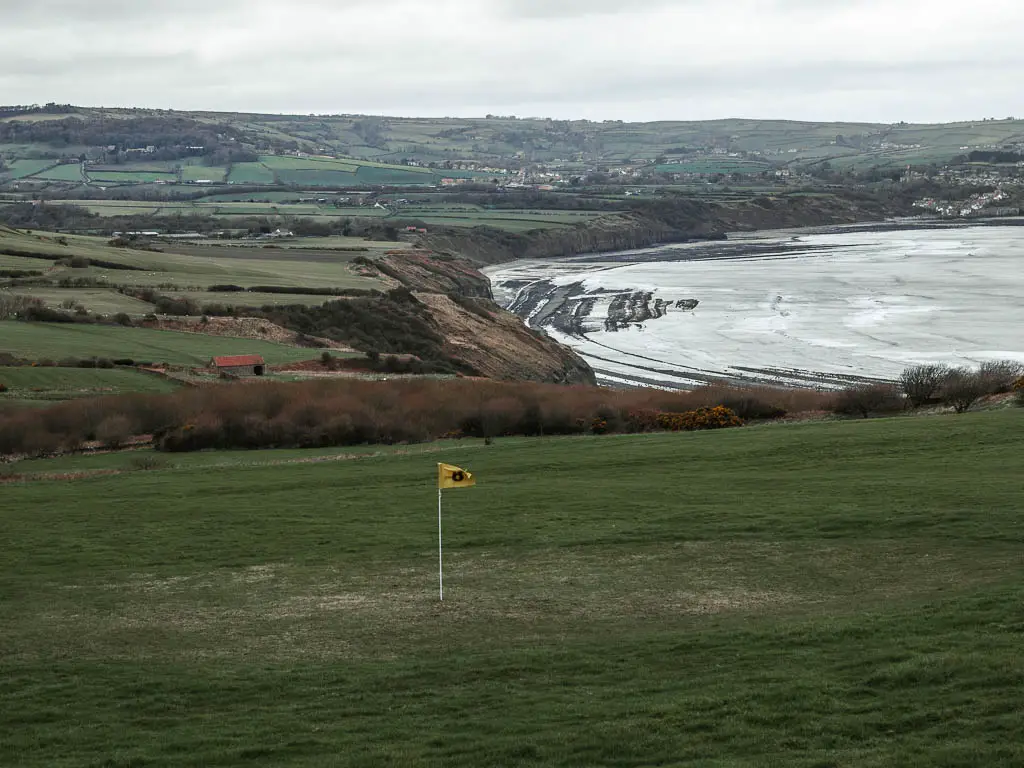 Good old golf course. A proper English countryside walk always involves a bit of golf course walking. 
I noticed a gate and trail leading off the road along here. I wasn't sure where it went. Would it take me where I needed to go? I didn't have time to find out. The road was good enough, so I stuck to it.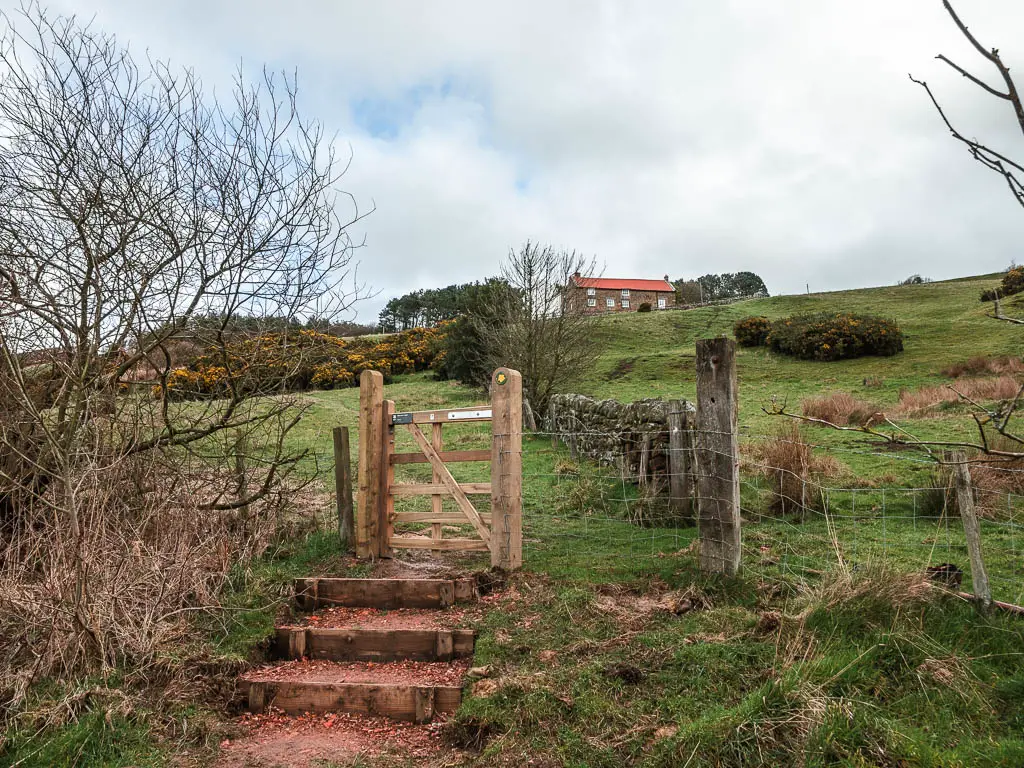 Turn to walk down to the beach
Walking along the road, now in the direction of the sea, I could see a trail sign in the distance, pointing left. I knew that must be it. My turning to get down to the beach. I was so close now. 
When I reached it, and looked down at where I was heading next, I realised something. That scary looking hill I could see at the start…I was on it. I had done the hill. I hadn't even noticed I had been walking up.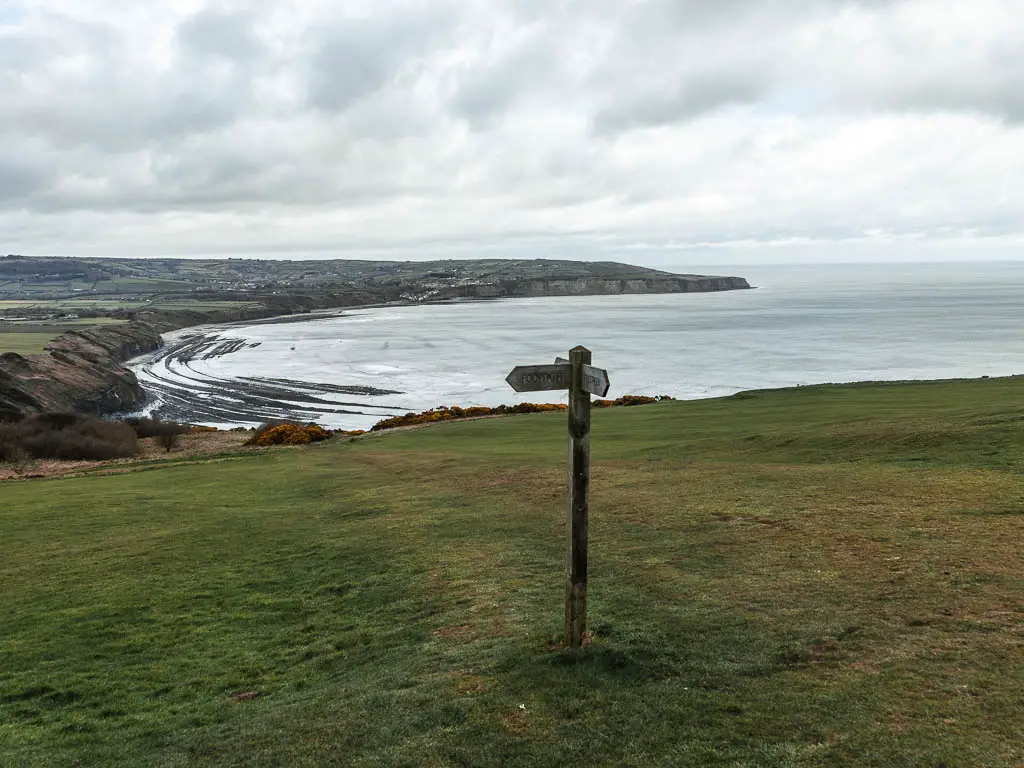 The long way down
To walk down to the beach takes a lot longer than you think it will. It starts off easy enough, along the grass, and only a little bit of mud. 
Then it gets steep very quickly, along a dirt trail with railings. Surprisingly not that muddy though. That's something at least. Trying to get down this in the mud would have been interesting. 
The trail is quite rugged and does various twists and turns. I kept thinking I was nearing the bottom, but would turn a corner, and realise not quite. 
There are also some very steep steps thrown in for good measure.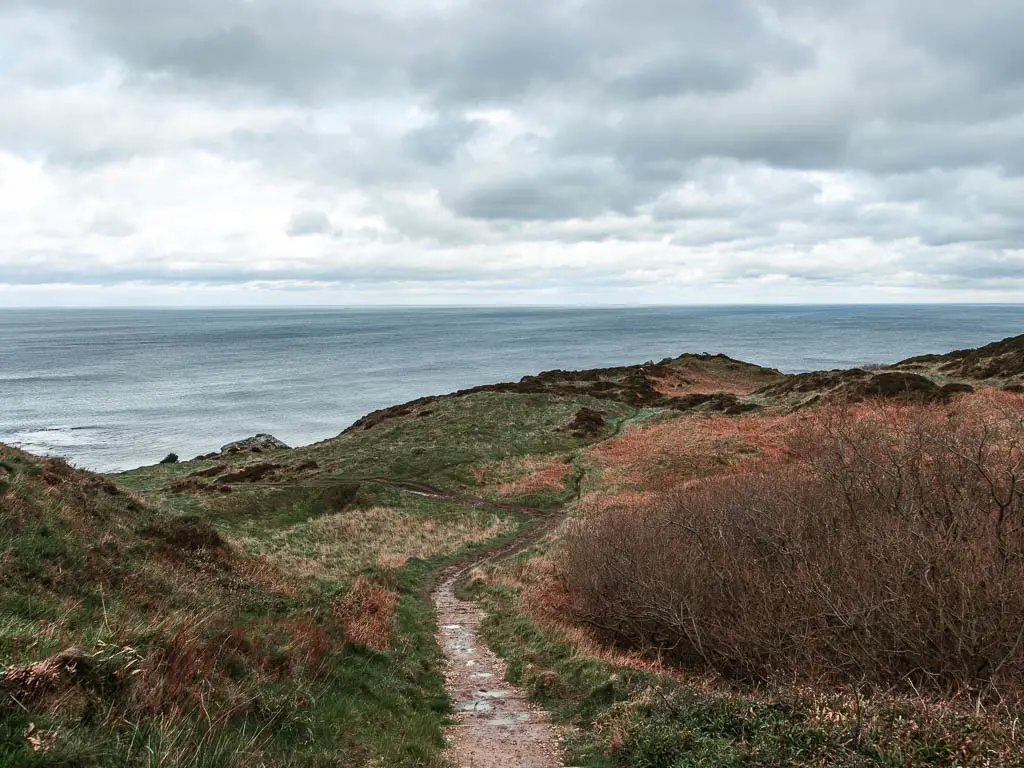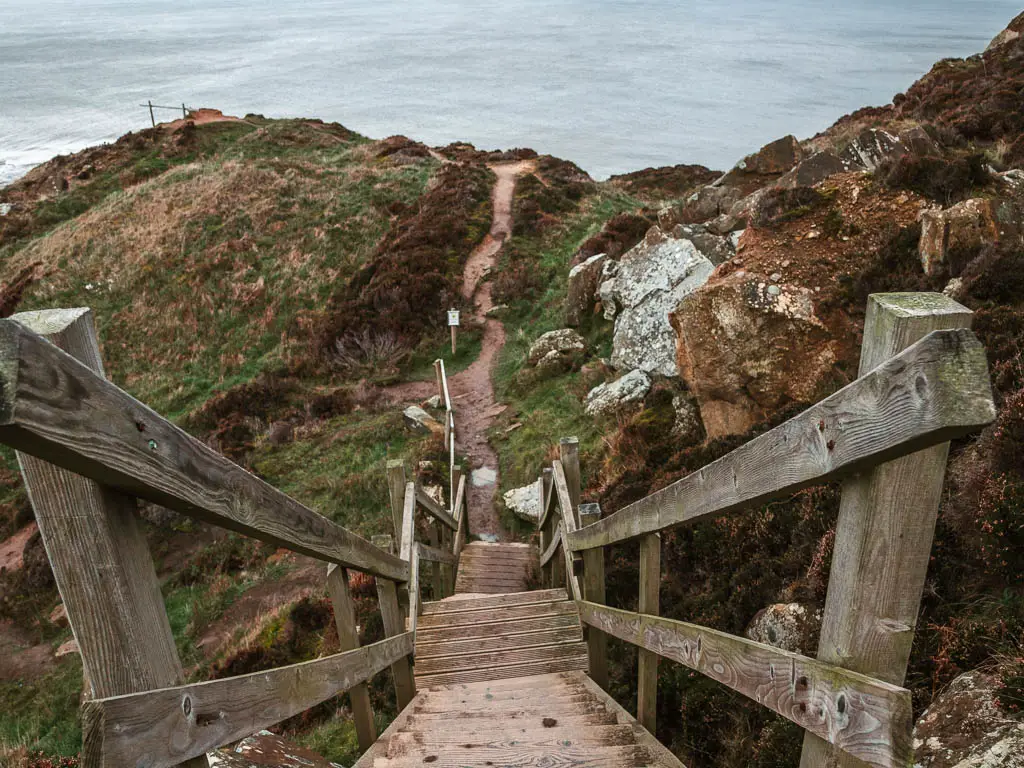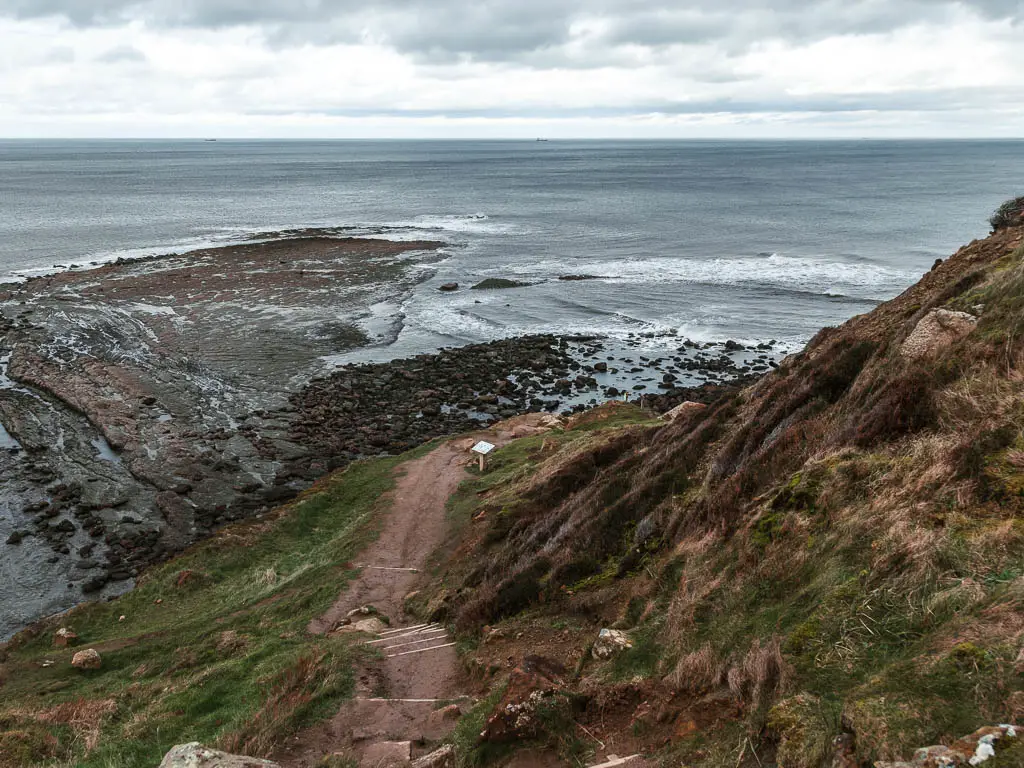 I knew the distance between Ravenscar and Robin Hood's Bay was roughly 3 miles or so, and as I looked out along the beach, wondering what the tide was doing, I knew that if I couldn't make the walk, I could probably make the run.
At this point I was not turning back. I had to make it from Ravenscar to Robin Hood's Bay before the tide, as there was no way I was going to walk back up this hill. And the mud. I didn't have it in me to walk through all that mud again. I was so looking forward to getting onto the beach where there would be no mud in sight. 
The seals
At various points on the way down, there are seal signs. Letting you know what's what, and the do's and don'ts. I knew there might be seals down here, but I didn't realise to this extent. With this many signs about, it must be serious.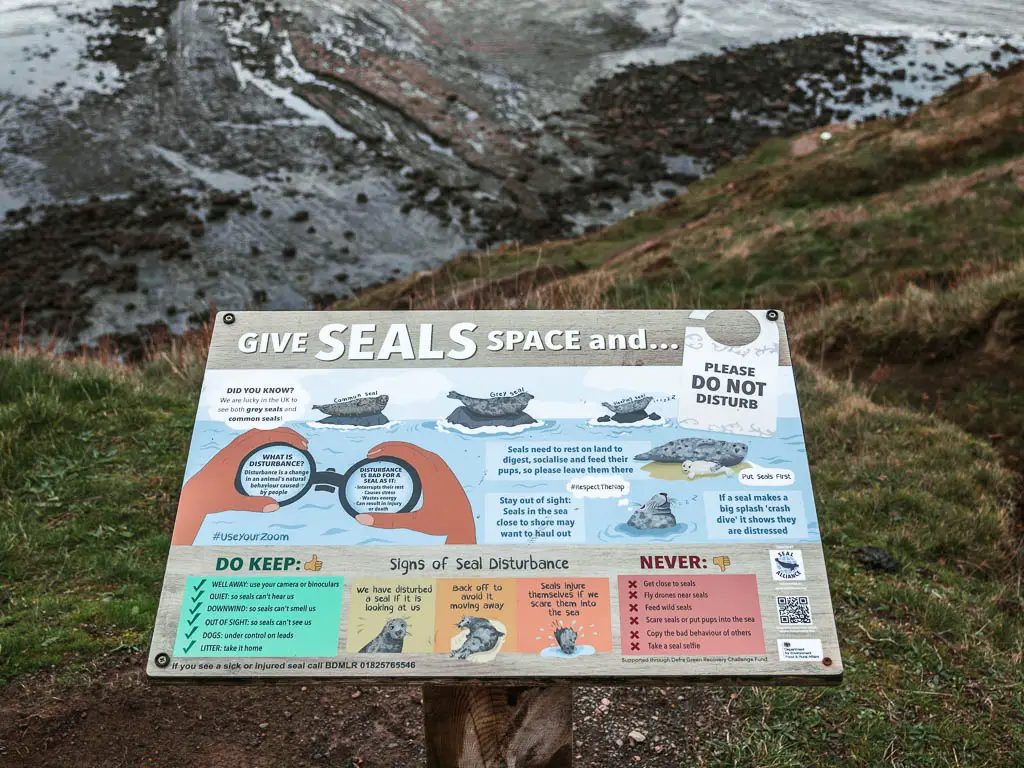 After I reached what I thought was the bottom, I realised it wasn't quite, and had to navigate down a muddy and slightly rocky mass. I could see a woman sitting down ahead. She said hello and came over to me.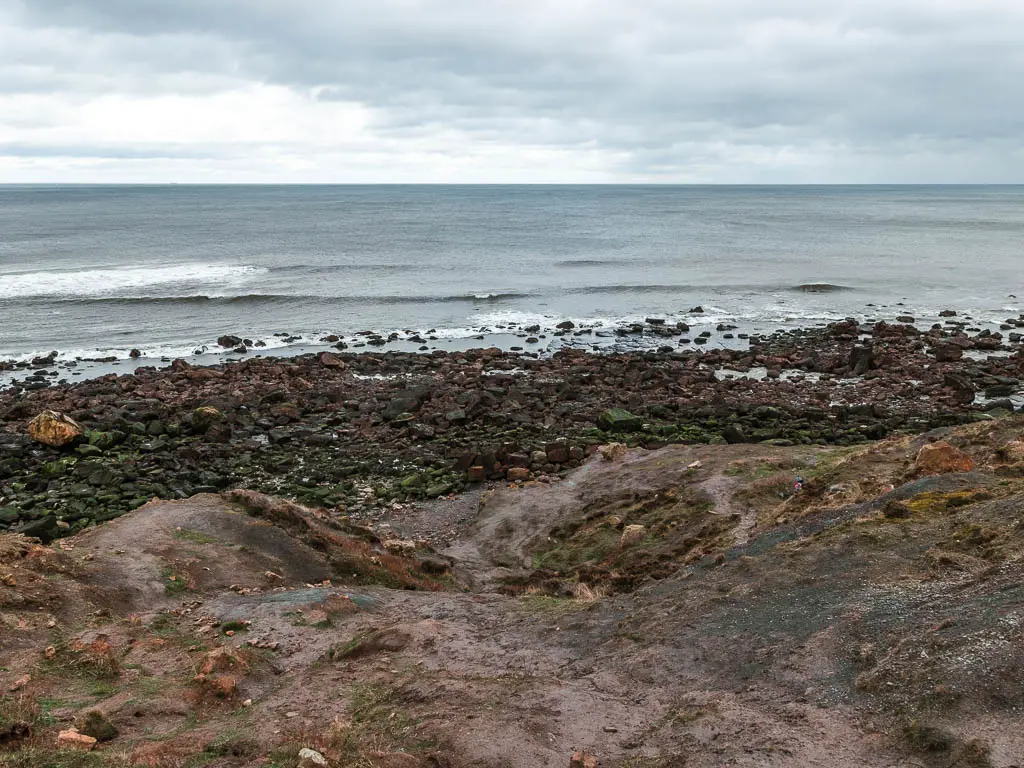 I thought it was odd. A random woman coming over to say hello. 
Turns out, she is the seal woman. 
After telling me a little bit about what to expect going forward, she walked me around the corner and I suddenly gasped. From what she had told me, I wasn't expecting this. A huge seal colony just a stones throw away. Then she told me to look left, and I saw this: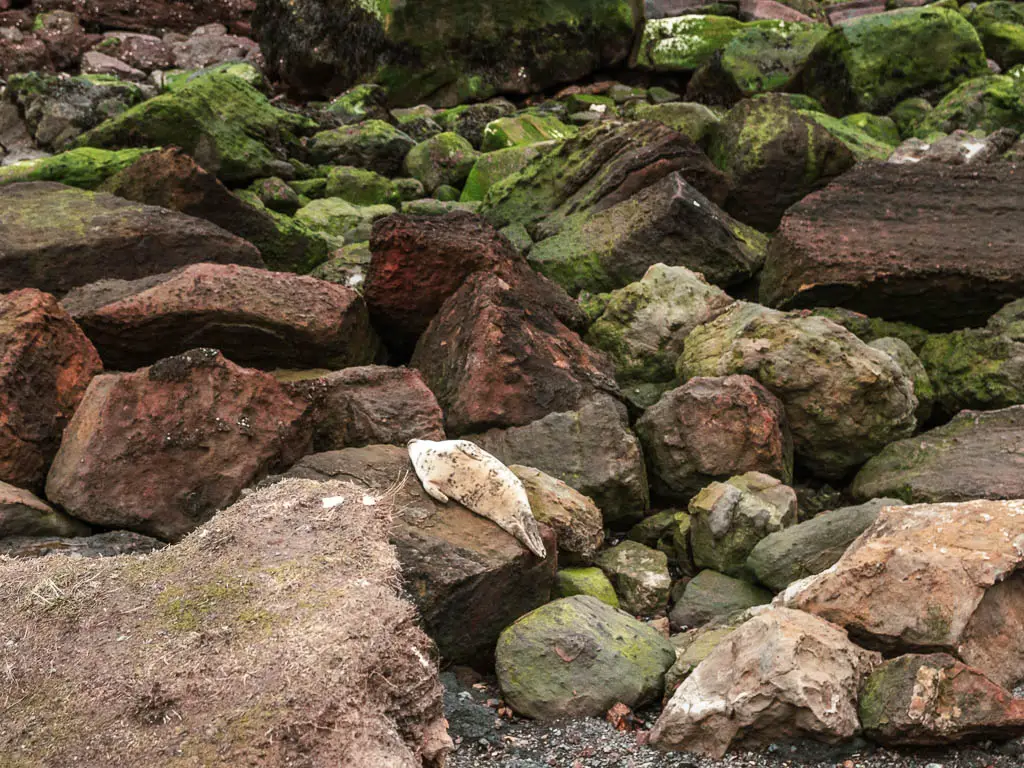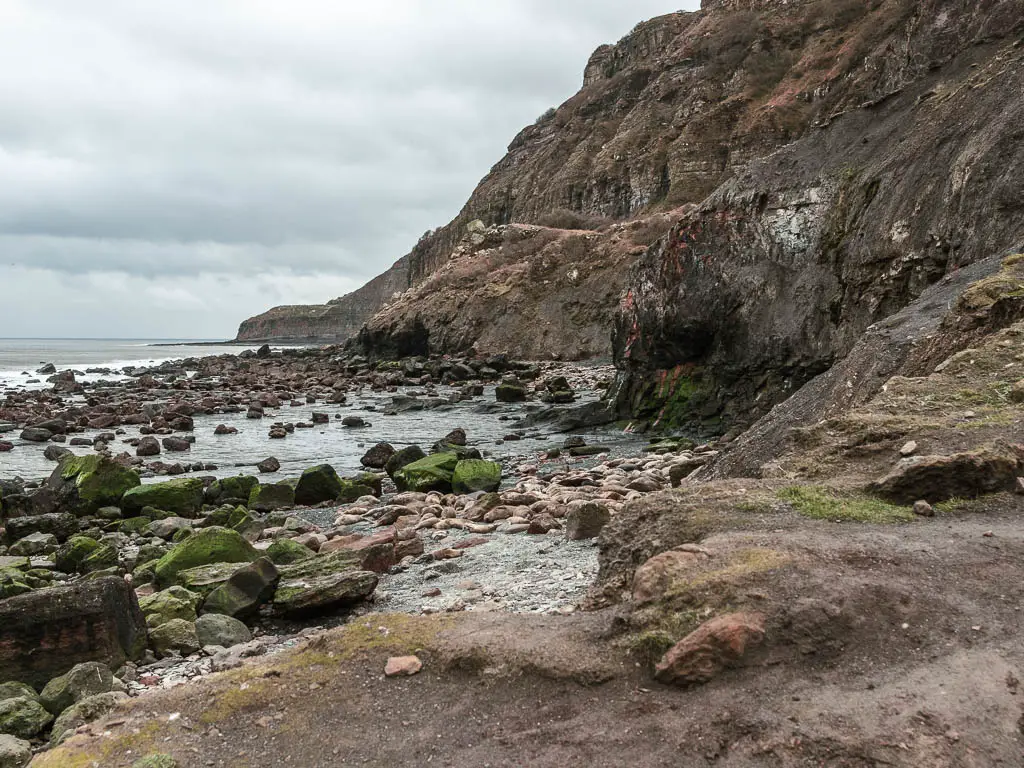 After giving me some tips about walking through the rocks, I then asked her if I had enough time to make the walk from Ravenscar to Robins Hood's Bay. She assured me I would. But also warned me that some bits of water stay in, like fingers, and if I could navigate those I would be fine. 
Excellent. I'm sure I could navigate some water fingers.
Walk through the rocks
I slowly started to make my way through the rocks. Peaking around each one carefully. I was expecting to pass by maybe one or two seals. 
What I instead found was seals everywhere. I was in a seal minefield. Some sleeping, some flapping, some staring at me and growling.
Unfortunately, I don't have many photos of this bit. I was more focused on watching out for the seals, and making sure I didn't accidentally walk on any. They do blend in quite well with the rocks.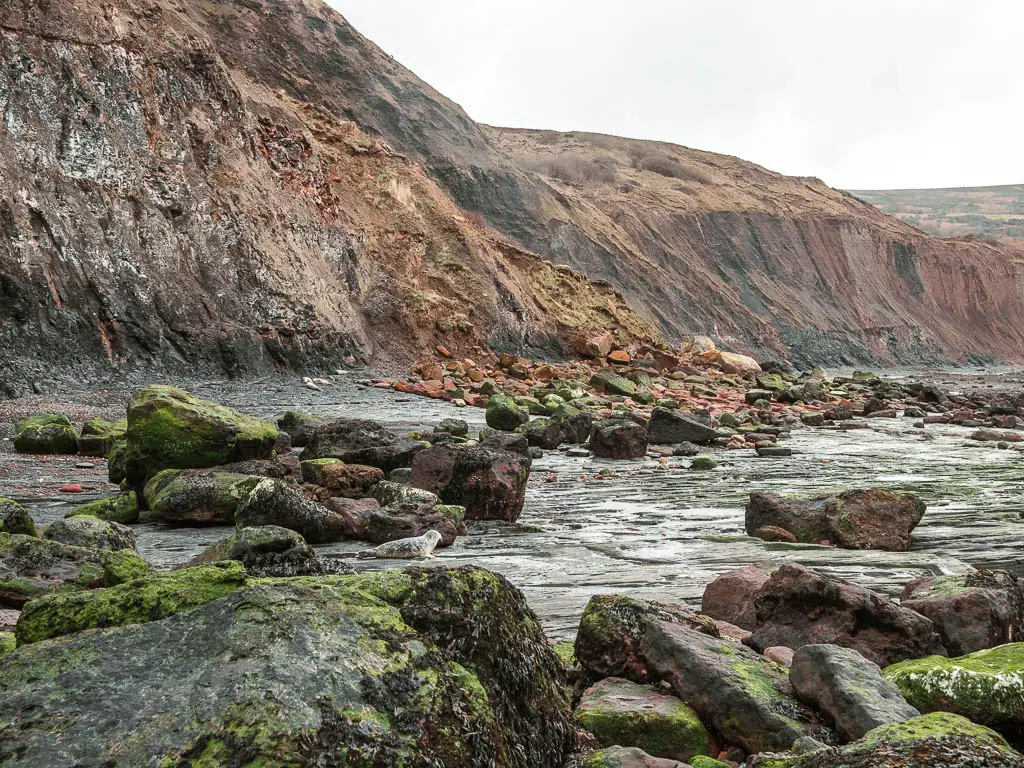 Walk along the beach from Ravenscar to Robin Hood's Bay
Once out of the big rocks, the rest of the walk from Ravenscar to Robin Hood's Bay, starts off as a mix of rocks slabs, small rocks, and a few more big rocks, with the occasional sand.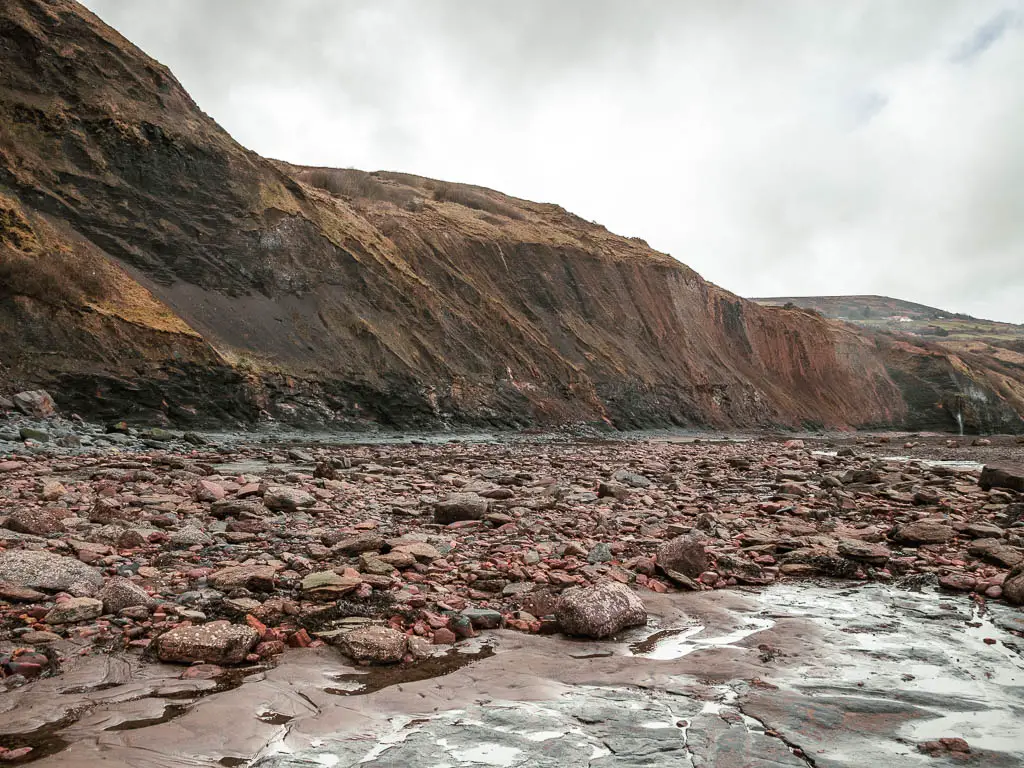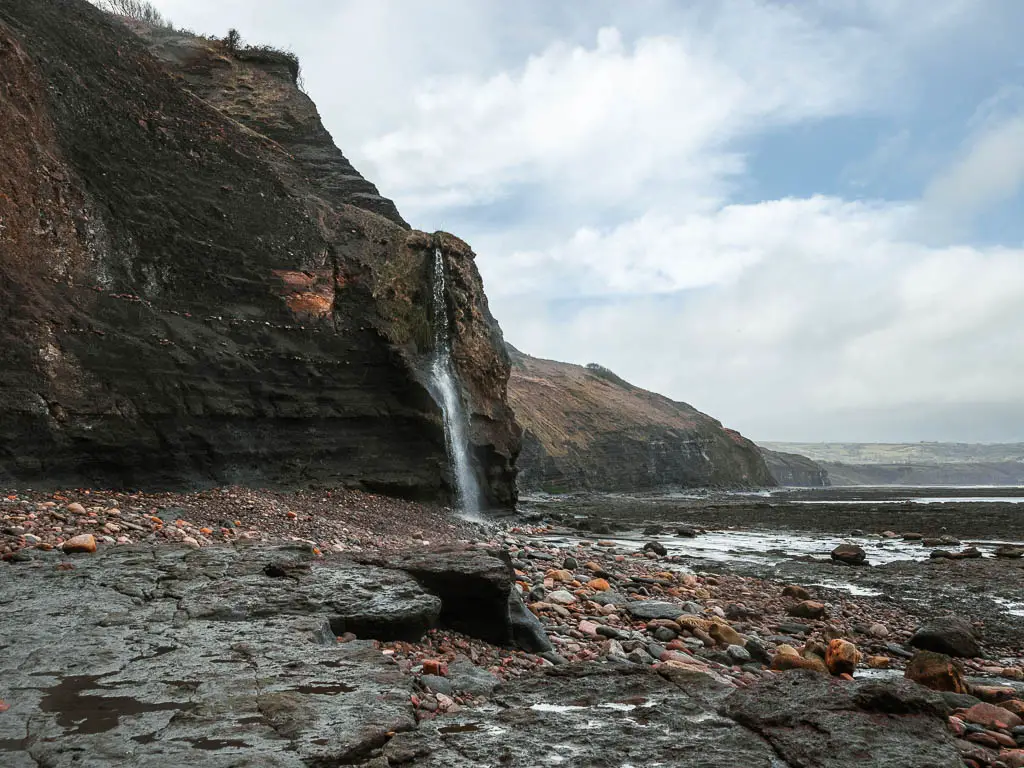 Once I reached the waterfall, the rain decided to show up. I had waterproof layers in my bag, but the rain didn't feel big enough to warrant them. Plus, I was too lazy to stop to put them on. Let's see how that worked out for me….
The nearer I got to Robin Hood's Bay, the more sandy the beach became…and the more people there were.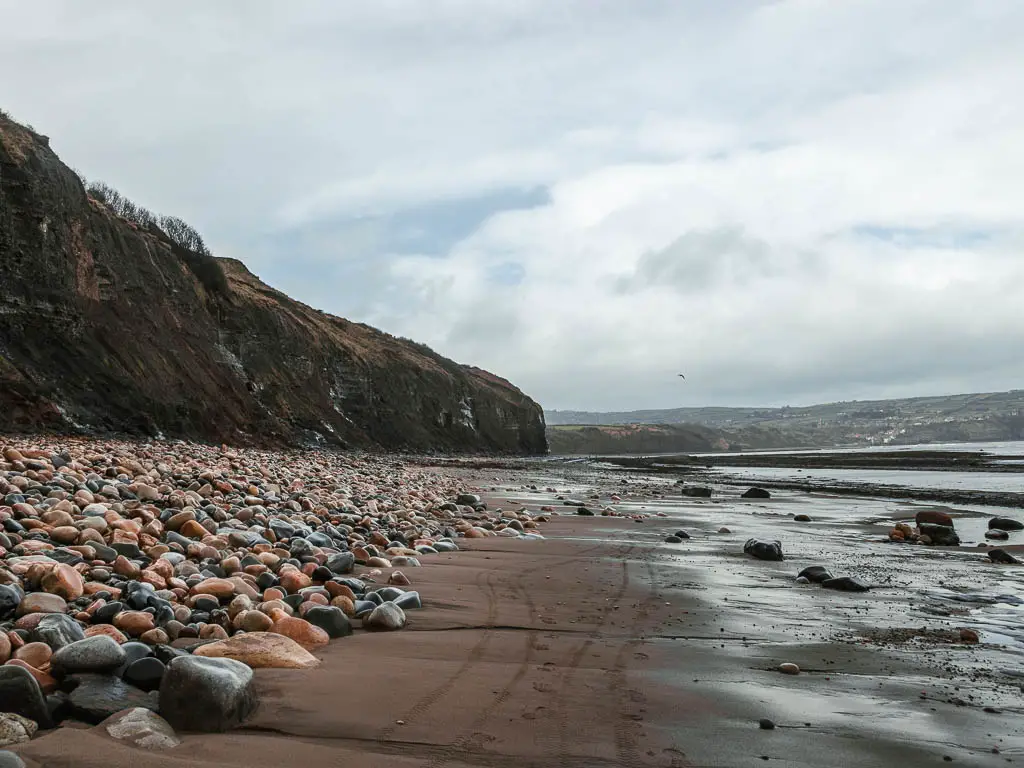 It shocked me a little. So far on the Ravenscar Robin Hood's Bay walk, I had passed one couple (and the seal lady). After a long stretch of almost no one, there was suddenly a mass of them. 
Then I got stuck.
The water
There had been a few moments along the beach walk, where I had to navigate around some water, but it was always simple enough. Until I got here.
I didn't think anything of it at first, and proceeded to look for a way to cross. However, I couldn't find it. I walked back and forth for some time (I wasn't the only one). The water level was also getting higher. The tide was making its way in.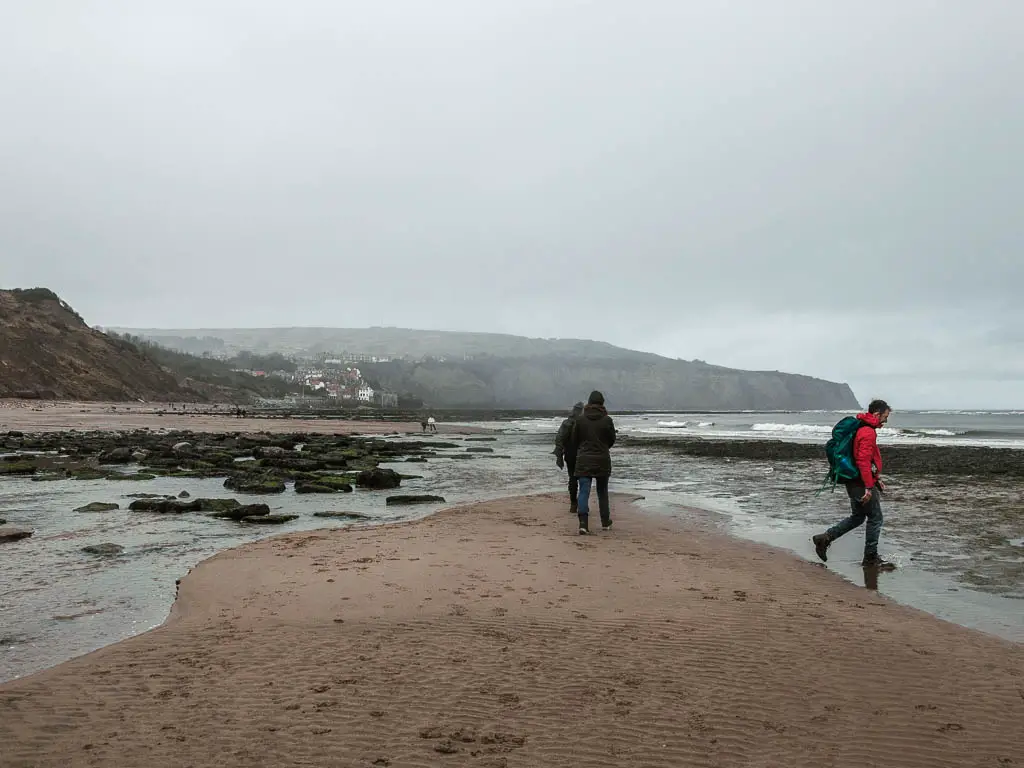 I realised that the only way would be to walk though it. So now it was more a case of finding the most shallow part. My boots are waterproof, so as long as the water was below ankle height, I might get away with it. 
The other thing to note is, the water was also gushing. Nothing was calm and still. 
After finding my spot, I went for it.
I'm pleased to report, that I made it through, and my hiking boots did me proud. My feet were still dry. I couldn't say the same for the rest of me though….
Robin Hood's Bay
As I made my way up and into the village, I had a brief wander around, then decided to leave to walk back to the car. The rain water had started to soak through my jacket and was making contact with my dry inside. My phone battery was dangerously low, so I didn't have the time to sit around in a cafe.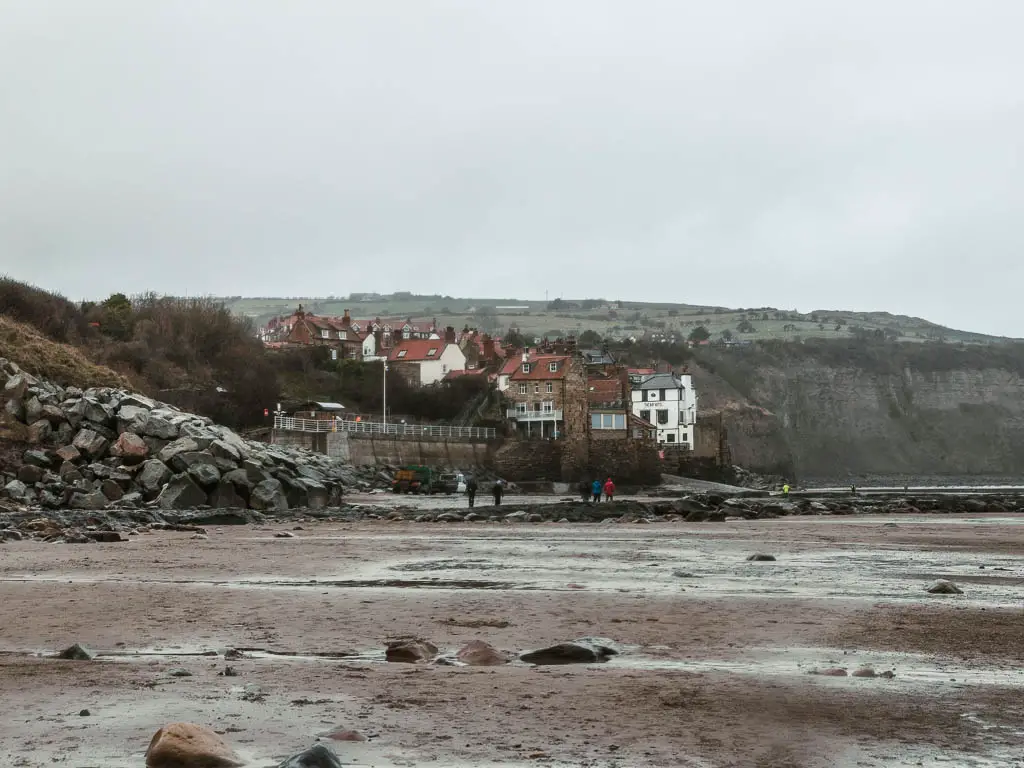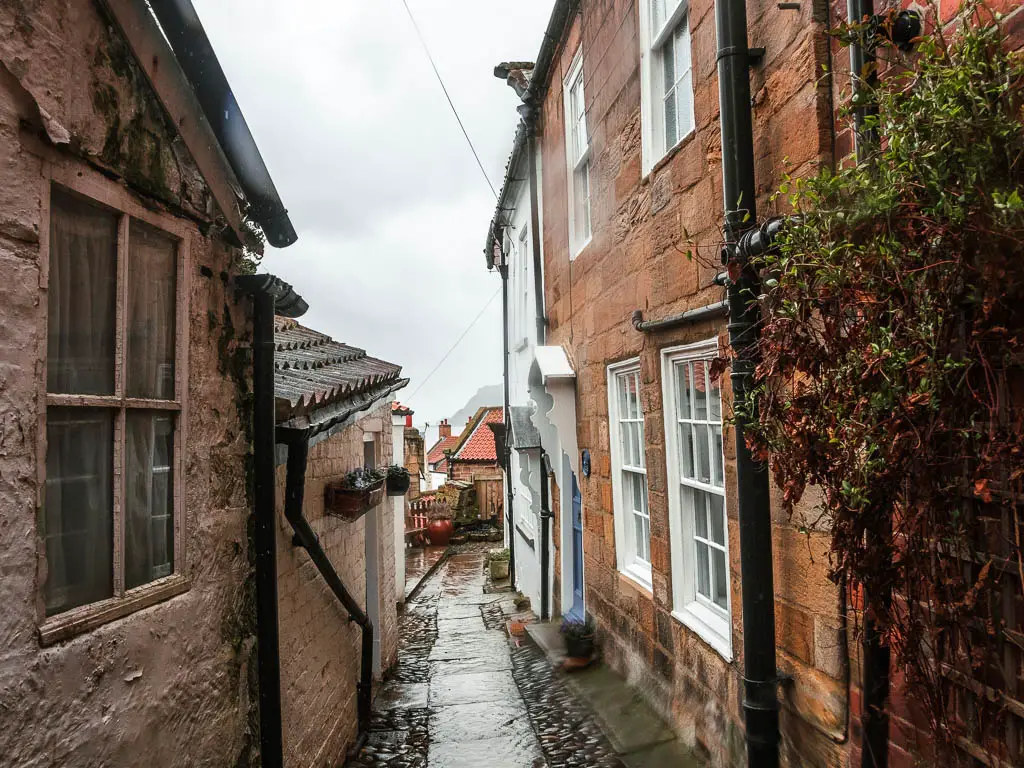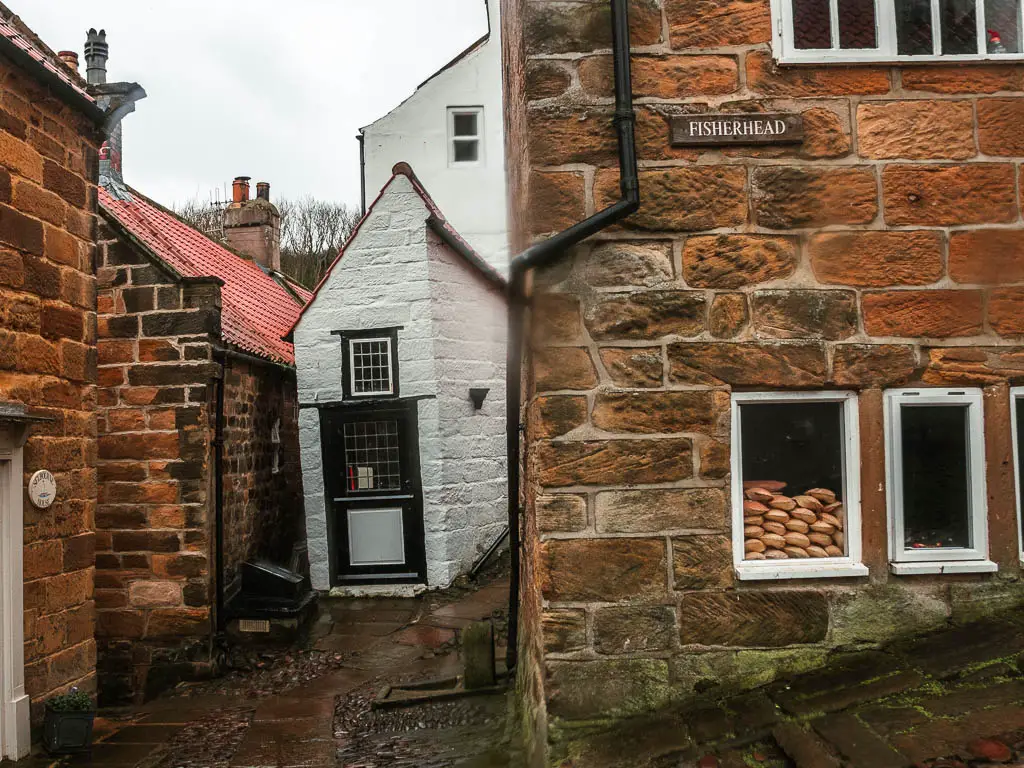 To walk back onto the coast path, just next to the ice cream shop in Robin Hood's Bay, you should see a sign for the coast path and Ravenscar. You need to follow this up the road, and then onto the steps past one of the cute houses.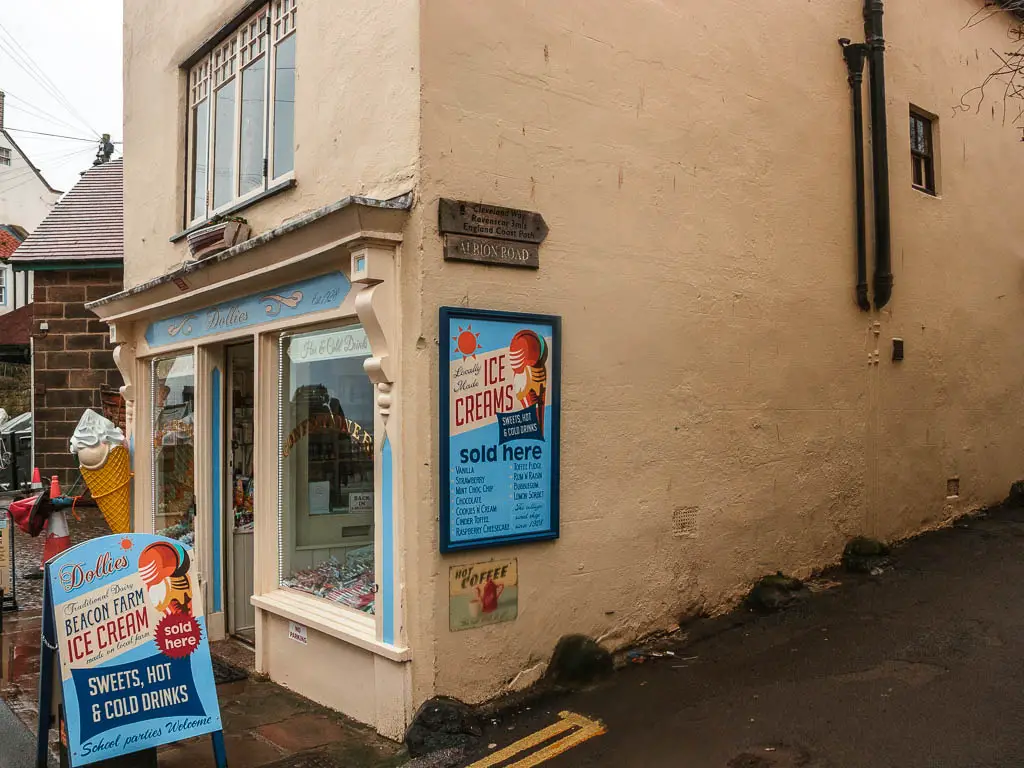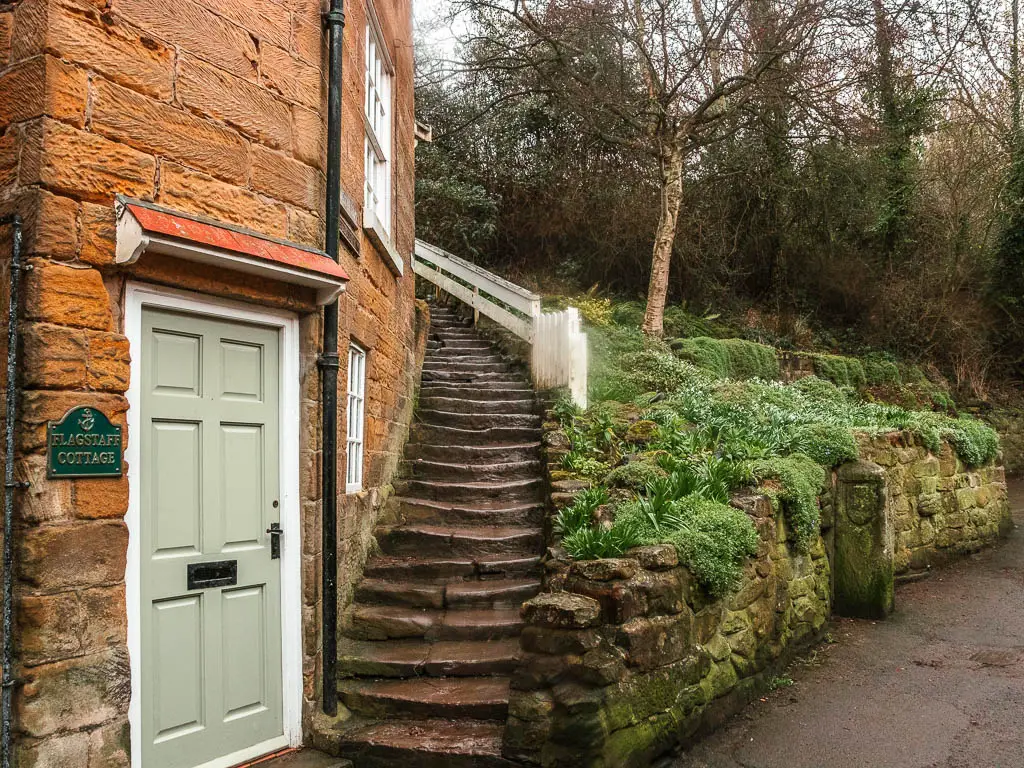 The final stretch of the Ravanscar and Robin Hood's Bay circular walk
After walking up more steps than you expect, the trail levels and leads along the cliff edge with a lovely view to the rooftops of Robin Hood's Bay.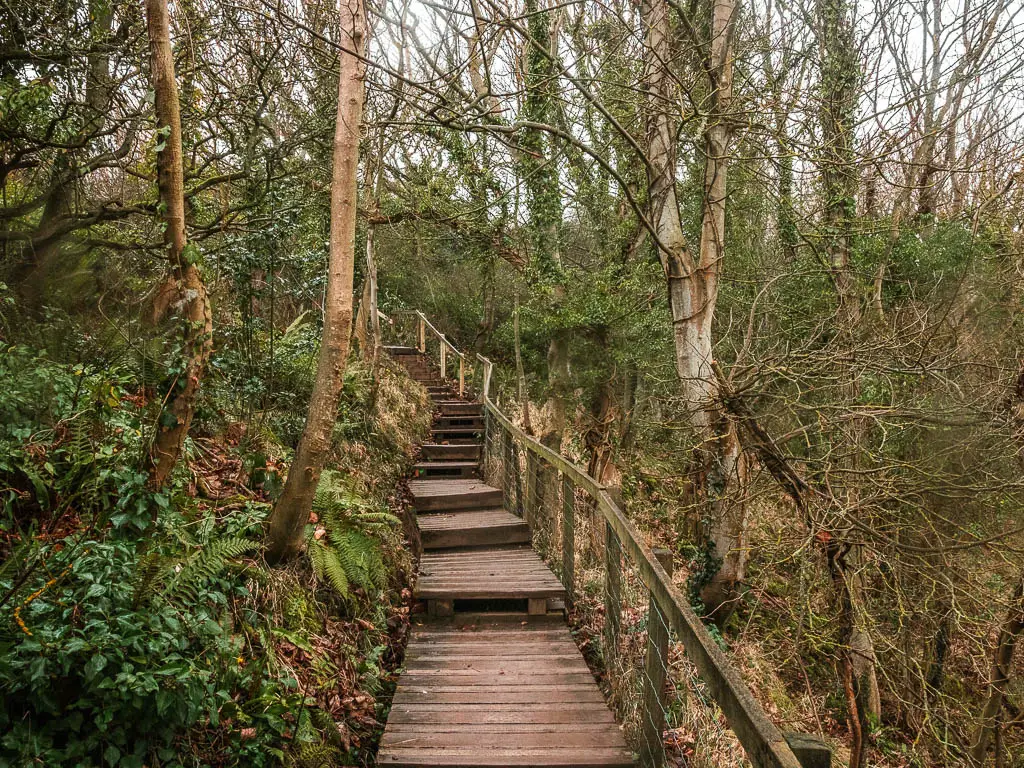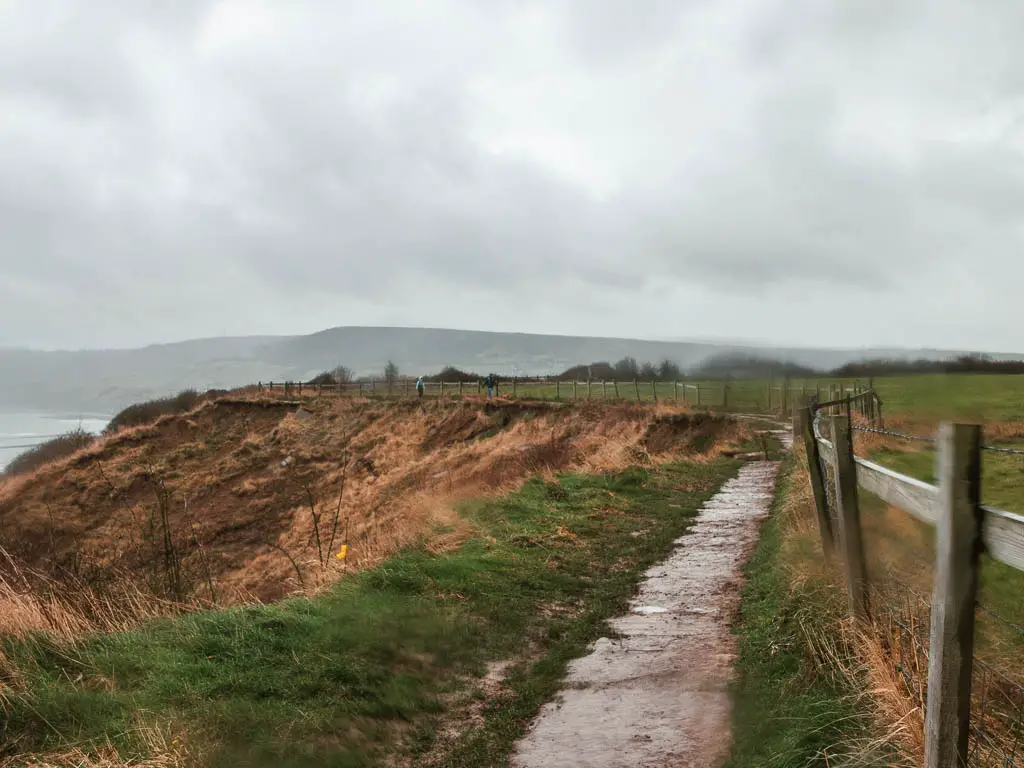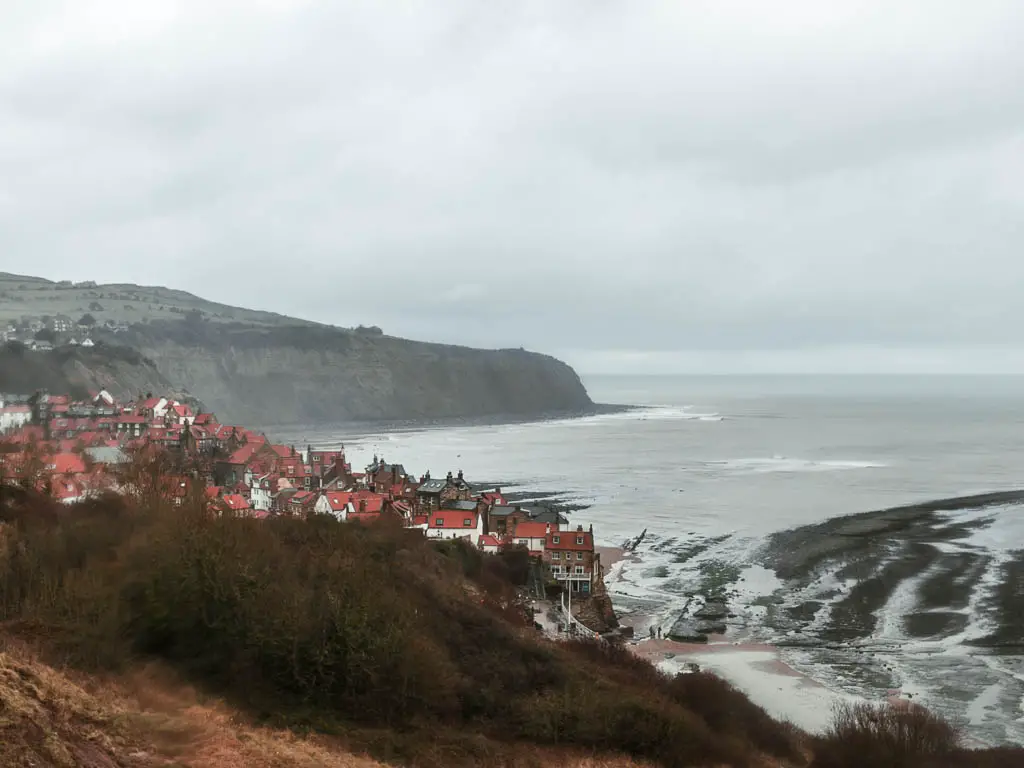 Up until this point, when I wanted to take a photos, I would have to dry the lens and take it quickly before the rain got to it. Now I stopped caring. 
At the next sign, it's a left turn, following the direction for the Clevland Way and Boggle Hole.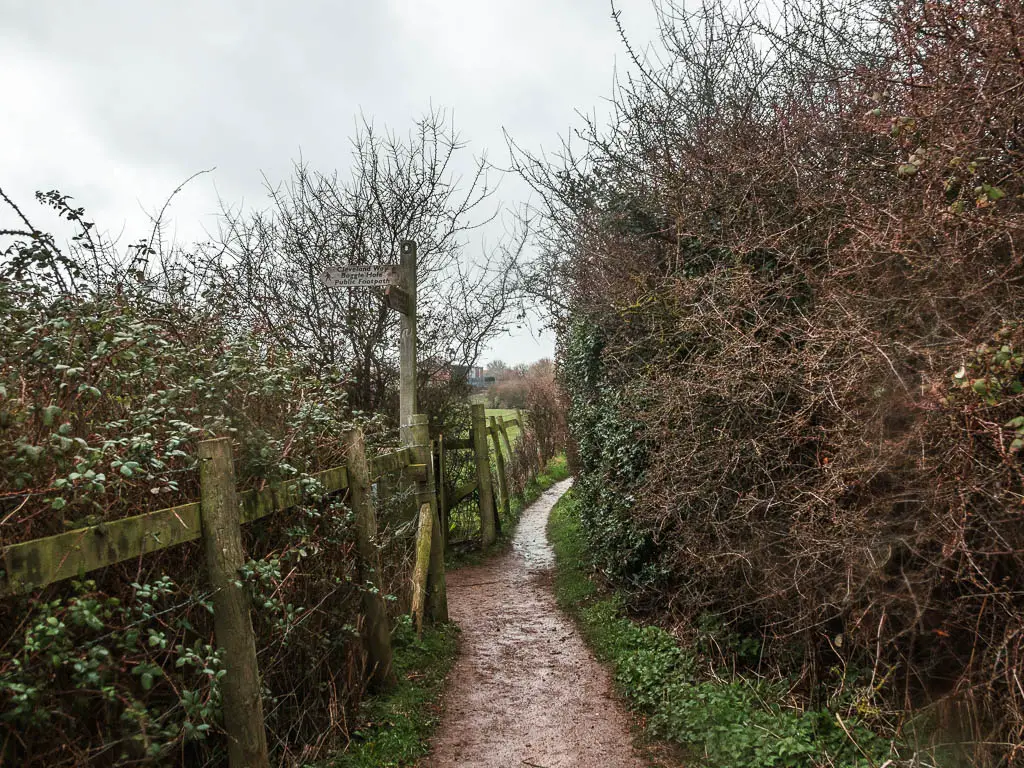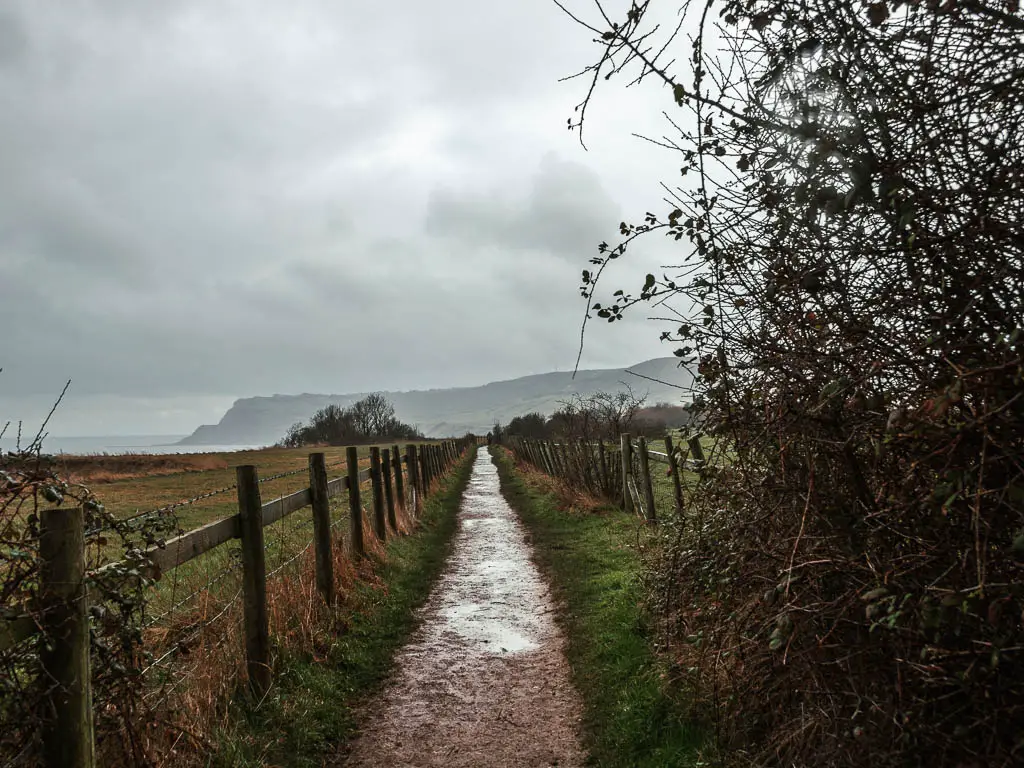 Some way further along, the trail leads down a mass of steps to reach the Boggle Hole youth Hostel. 
Cross over past it, and up the hill.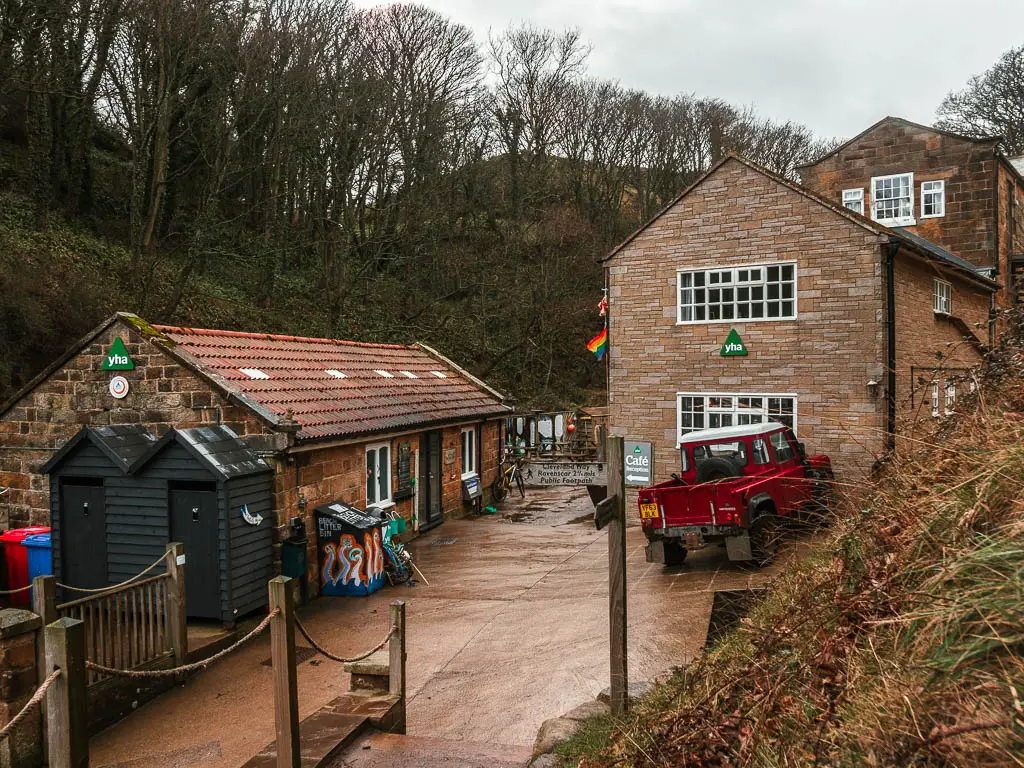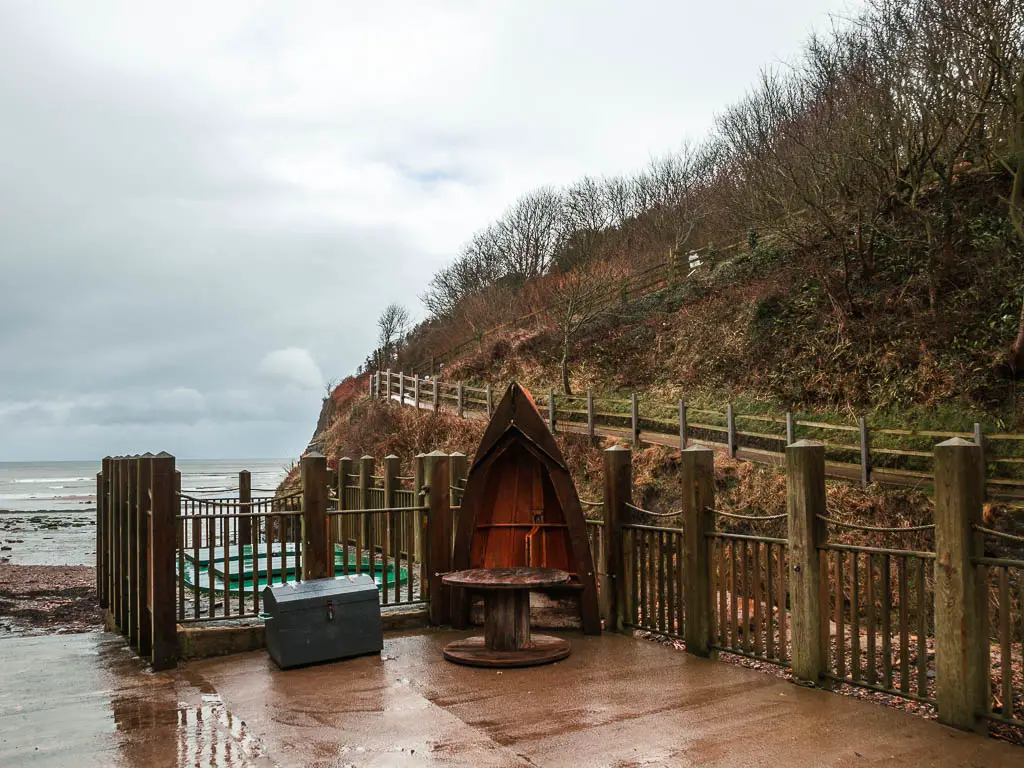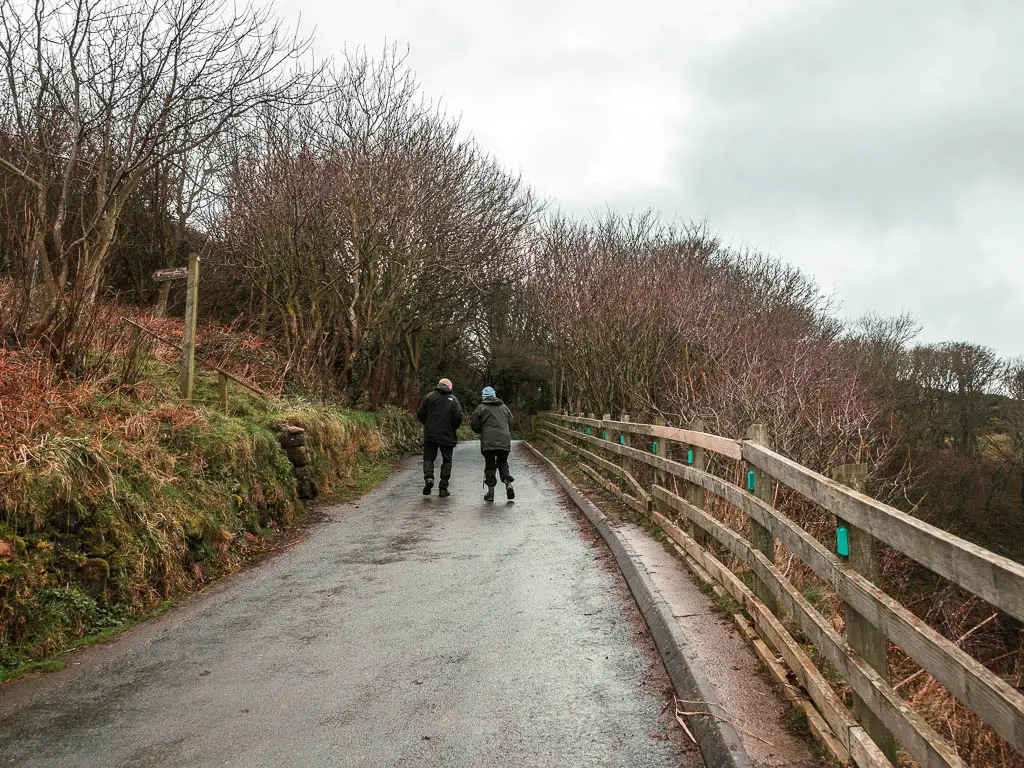 If you started the walk in Robin Hood's Bay, to stay on the trail to reach Ravenscar, follow the wooden trail signpost directing you left off the road. If you started at Boggle Hole car park, stay on the road.
It's a bit of a slog up here now to reach the car park. But you do get a view to a cool waterfall through the trees.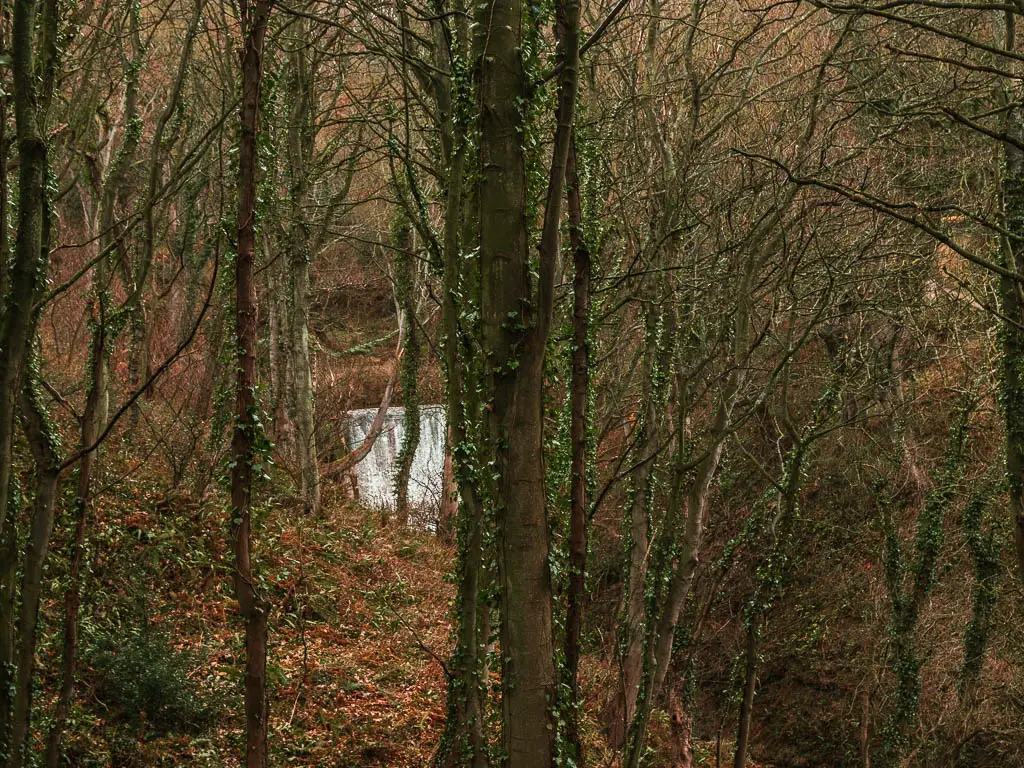 ---
More walks near Ravenscar and Robin Hood's Bay
---
I will be back to walk more of the coast path, but for now, here are a few I recommend:
My next walk in the North York Moors, was Goathland to Grosmont. It's an easy route along the rail trail, and the setting for the show Heartbeat, and one of the Harry Potter movies.
If you want to keep things easy, and you like picturesque towns and a bit of history, you could try this route to Rievaulx Abbey.
If you like views, then you should try out Sutton Bank. You can see all the way to the Yorkshire Dales on this one.
One that is quite mind-blowing is the Hole of Horcum. It's a massive natural amphitheatre, which you walk through and along the top. I first drove past it, on the way to Goathland, and did a double take. So I went right back the next day to try it out.
Pin it for later: Robin Hood's Bay and Ravenscar circular walk