This walk takes you from the picturesque market town of Helmsley, and along an easy path to reach the ruins of Rievaulx Abbey. You will have views down to Helmsley and the remains of a medieval castle, and if you time it right, will walk amongst the bluebells…I didn't time it right. Actually, I didn't know that bluebells live here, until I walked through a mass of green, with about 5 bluebell flowers coming through. I did see lots of lambs though.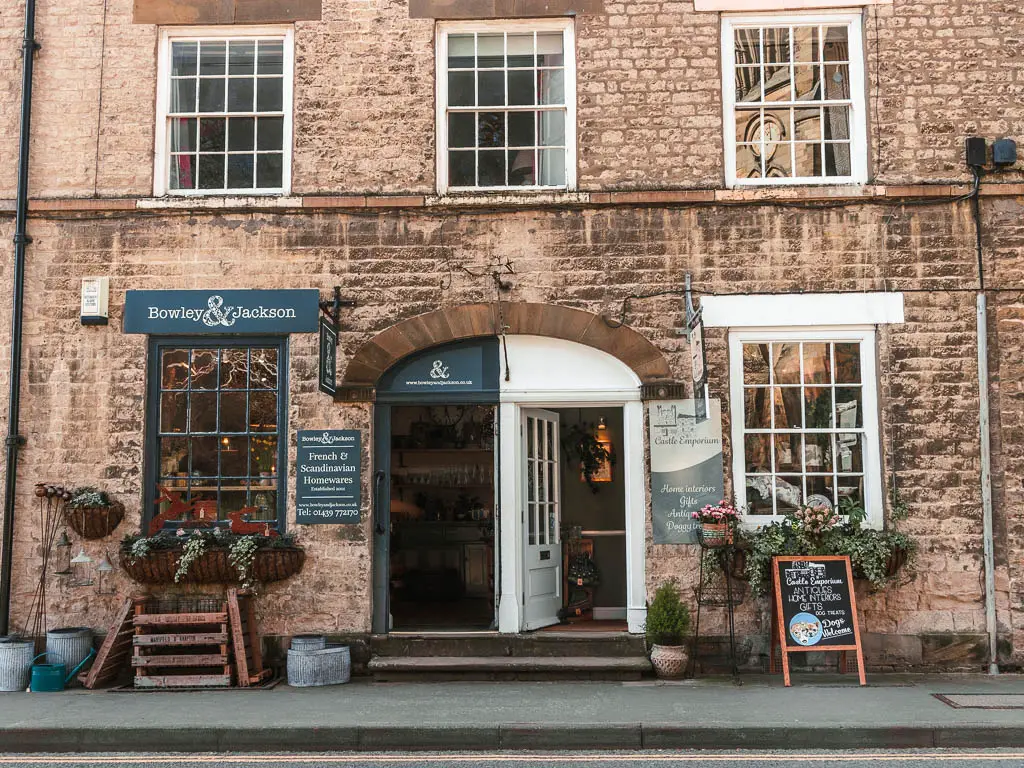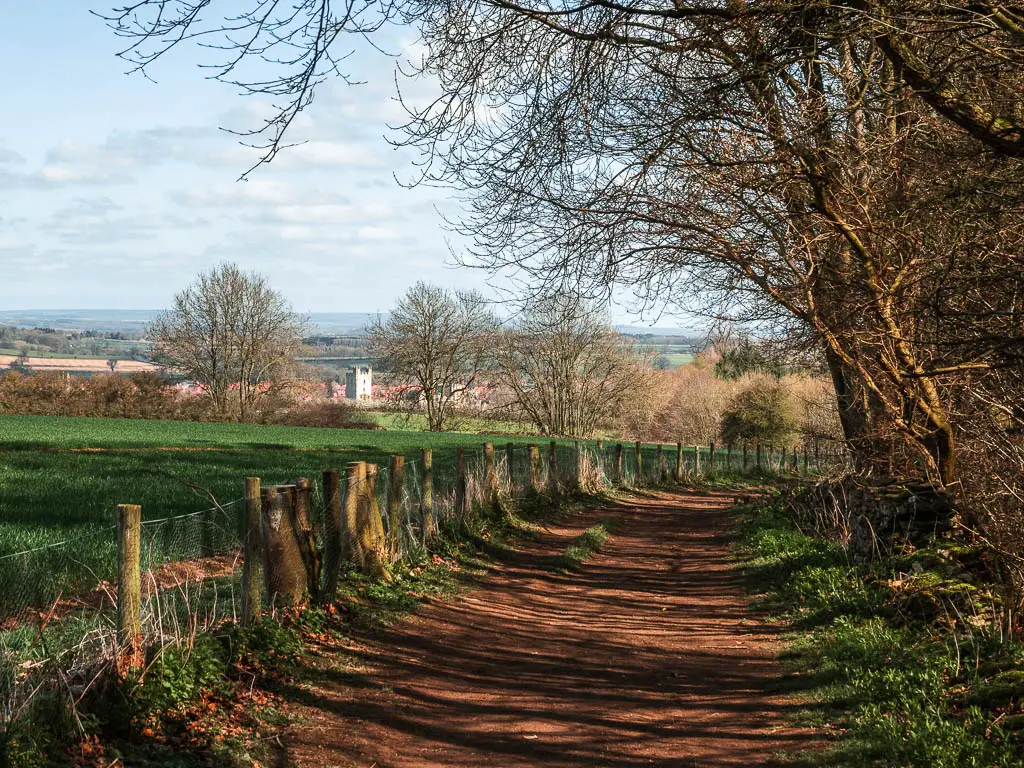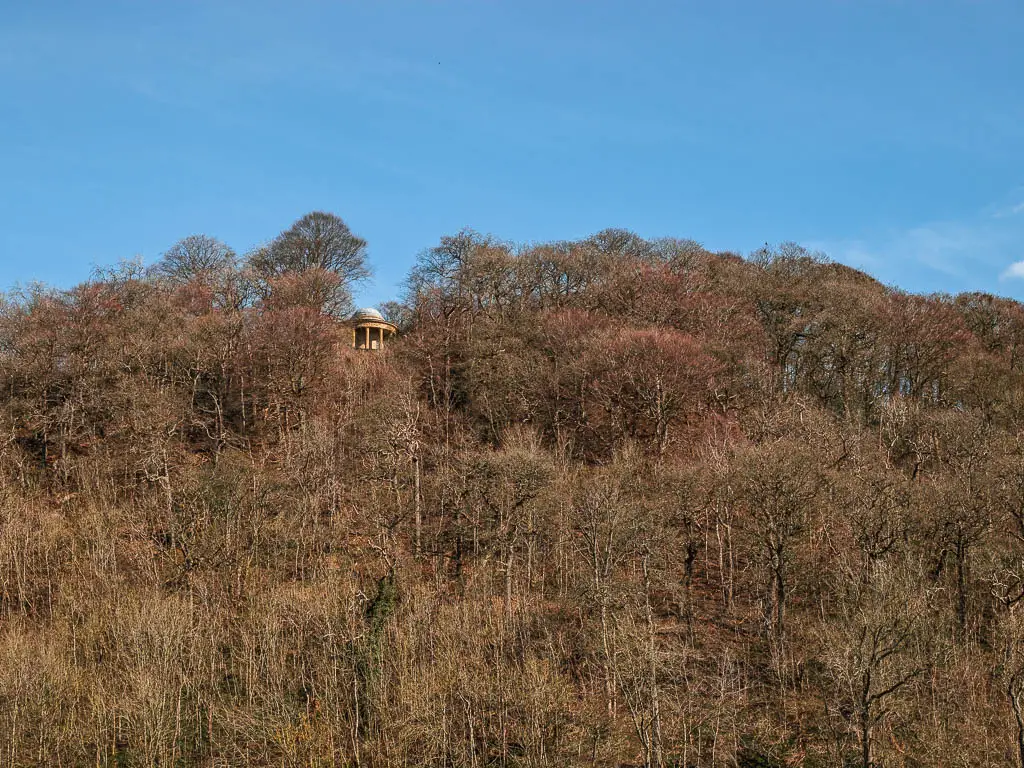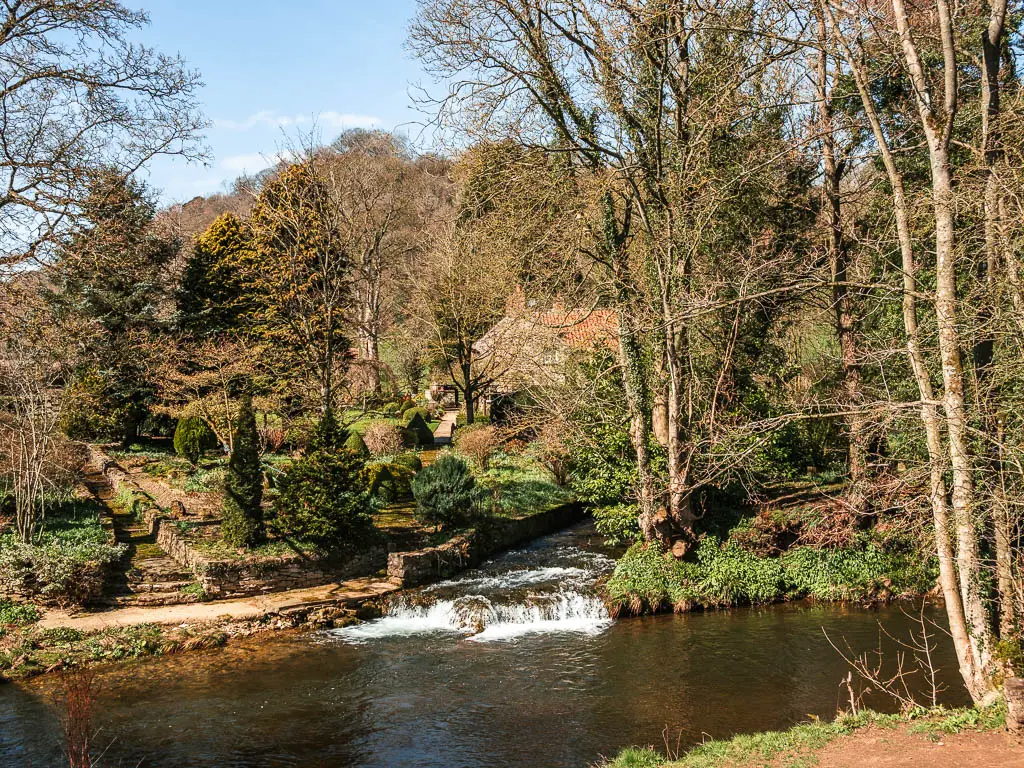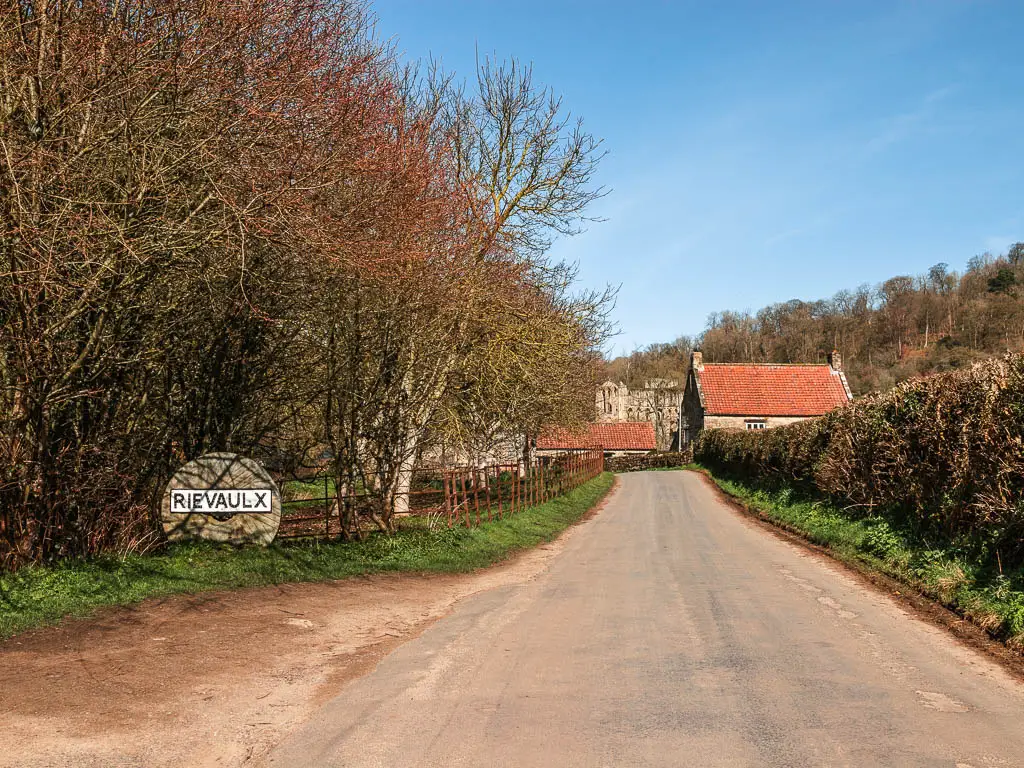 What I'm going to do in this guide, is first give you a little overview of the walk between Helmsley and Rievaulx Abbey, with full logistics, a map, and useful tips. Then I will go on to describe the route step by step with photos. At the end I will provide suggestions for similar walks you could try.
How long is the walk from Helmsley to Rievaulx Abbey?
The walk between Helmsley and Rievaulx Abbey is about 6 miles there and back. It's a very easy walk, with a few small hills, and mostly on well laid out path.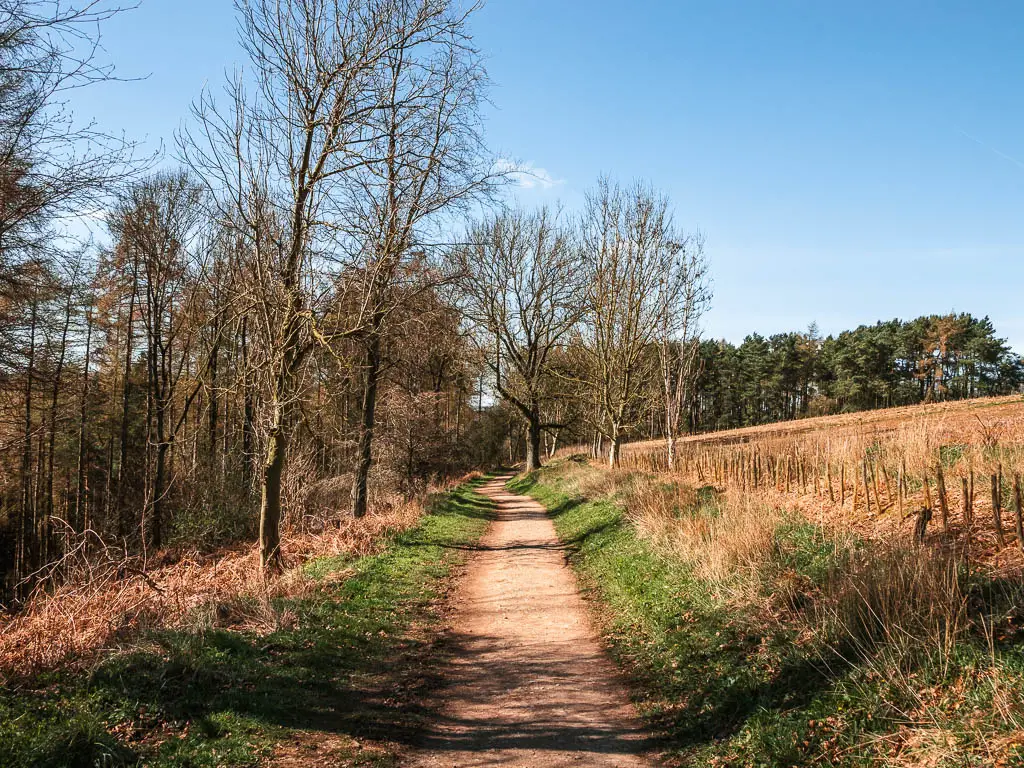 There is an option to make a bit of a loop, however, that takes you a little on busy road. I read into it, and the consensus I got was, that the loop isn't that great. It's better just to walk back to Helmsley the way you came. 
Is the walk between Helmsley and Rievaulx Abbey dog friendly?
Yes. The walk between Helmsley and Rievaulx Abbey is suitable for dogs, however, just be aware of the sheep in the fields at the start of the walk out of Helmsley, and then the road on the other end when approaching Rievlaux Abbey. It's not a busy road though. There are no stiles along the route.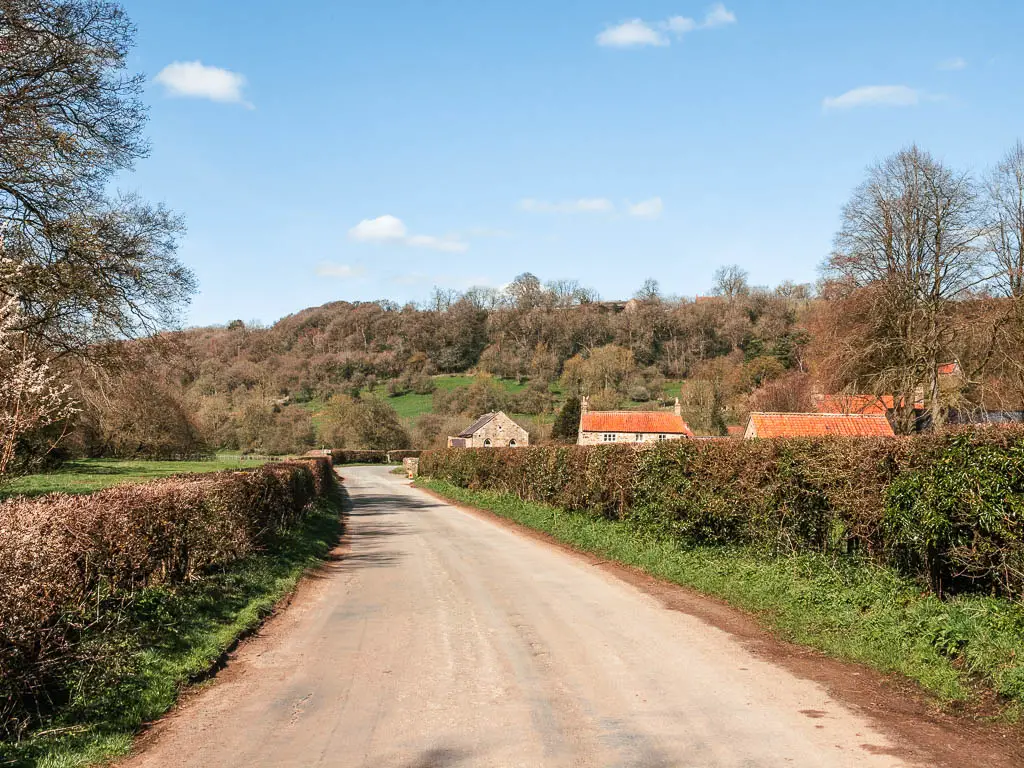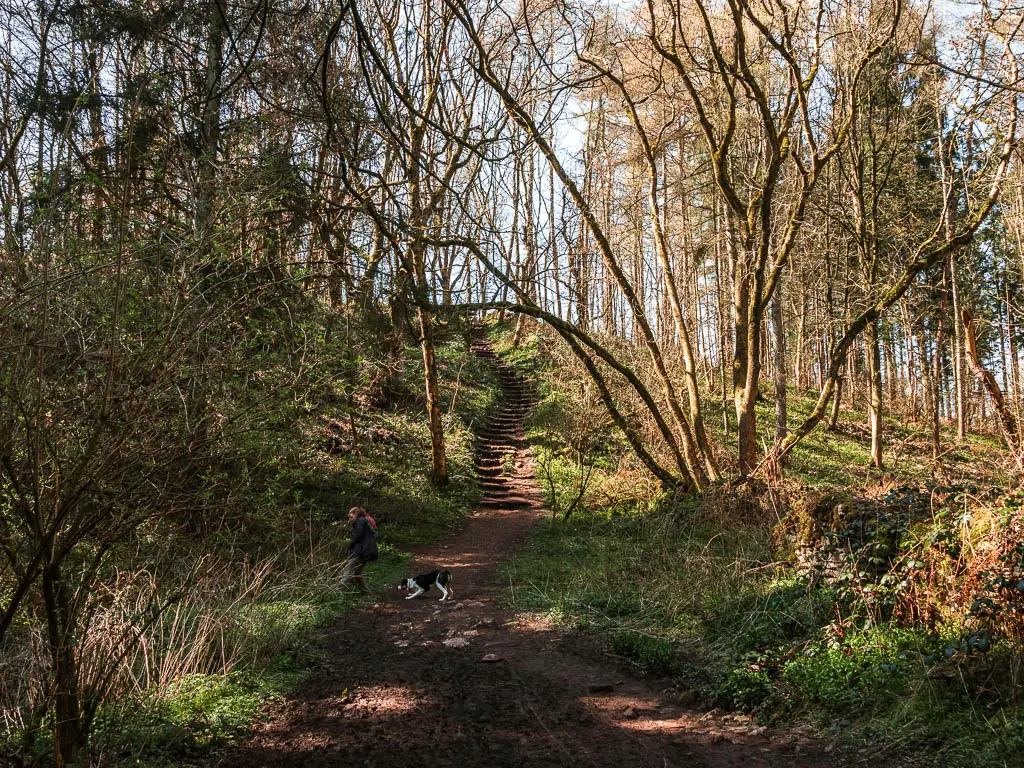 Is the walk family friendly?
Look, I don't have a family (you know what I mean), so I'm not the best judge, however, I think this is a very family friendly walk. I saw some people doing it with prams. The main issue would be the steps, but there aren't that many of them, so if there are two of you, it would be simple to carry a pram for this bit. The ground is a little rugged in places, but I think it's quite navigable.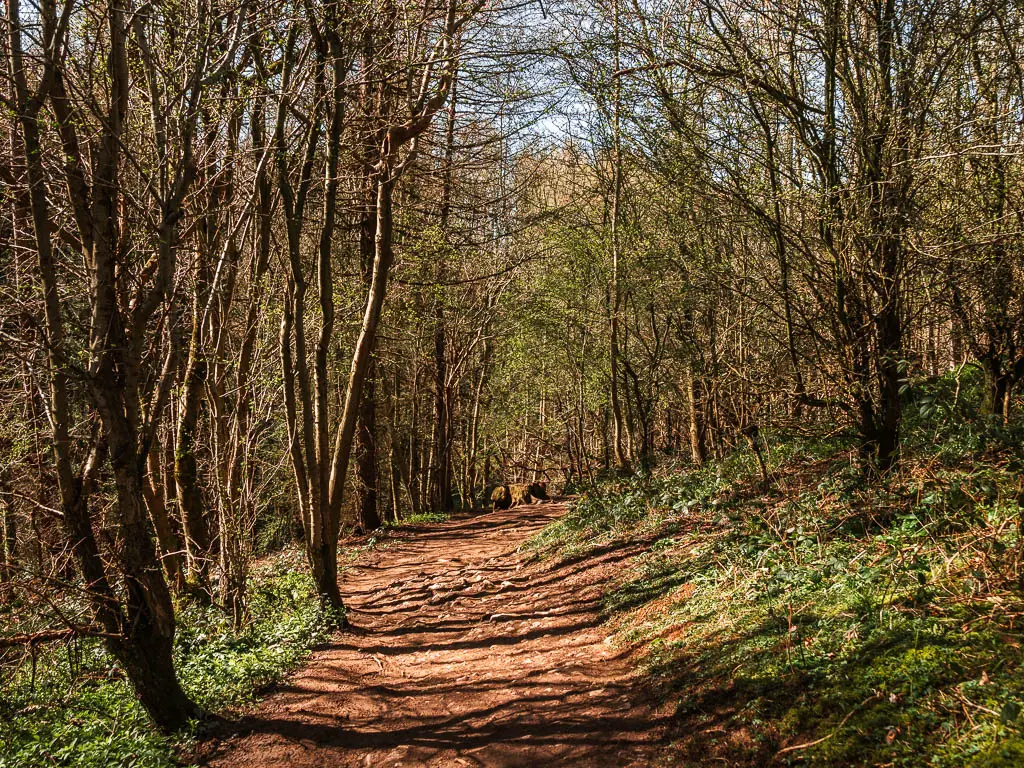 The thing that confuses me the most is that there are some swing gates with a small gap, which I do wonder how a pram would get through. These are near the start of the walk out of Helmsley, so maybe they started the walk from Rievaulx Abbey.
I actually passed a women breastfeeding by the side of the trail. I didn't realise that's what she was doing, and was staring for a little too long. Once I realised, I quickly looked a way and felt quite embarrassed that she might have thought I was staring at her (which I was).
Can you see Rievaulx Abbey without paying?
You get a great view of Rievaulx Abbey as you approach along the road, however, you do need to pay to enter. It is an English Heritage site. You can find out more about English Heritage here.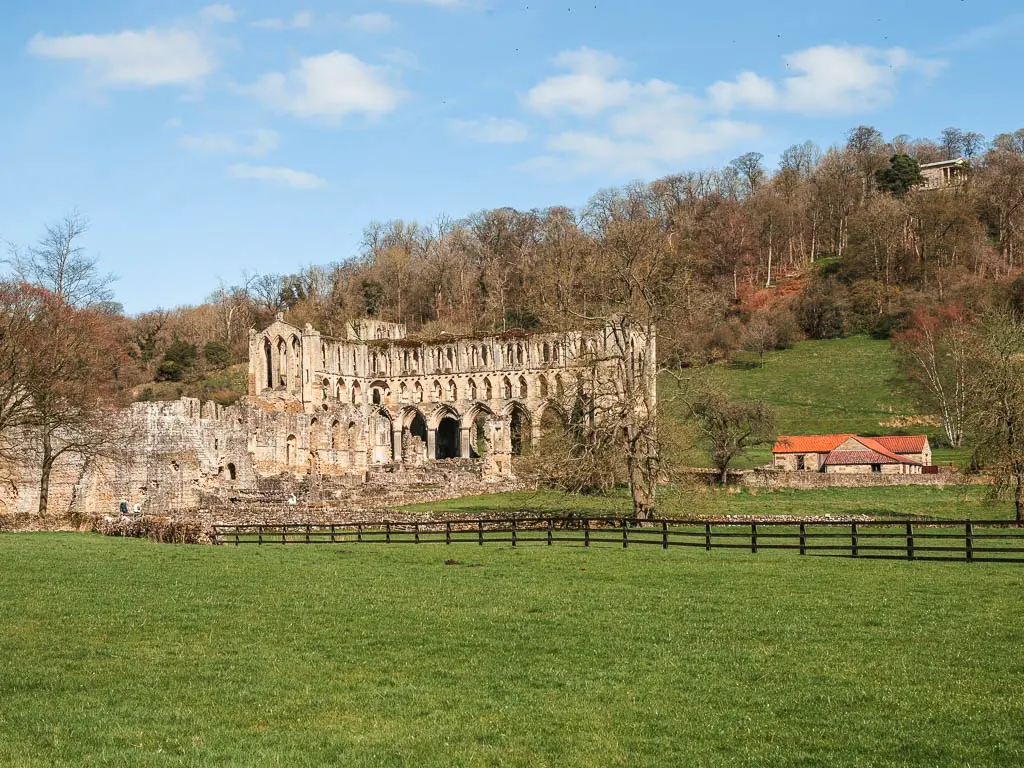 I didn't enter, as I always prefer seeing places like this from the outside….plus I was a little annoyed that it's English Heritage and not National Trust. You see, last year I got myself a National Trust membership, so I could use their car parks for free. I have used a total of three car parks. Since then, I have not found myself near any National Trust sites. I'm still waiting to get my moneys worth. 
If you head over to the Yorkshire Dales, you could try this route to Bolton Abbey. I really loved this walk. It's super pretty, taking you all the way along the river and past the Strid.
Parking for the walk
In Helmsley, there is a large pay and display public car park (Cleveland Way car park). It has electric charging and public toilets. There is also some free street side parking in the village (my parking of choice). Rievaulx Abbey has a small pay and display car park, which has public toilets.
Tips
Trainers will be fine for this walk. Note: There were a few spots that looked like they could be muddy at times, but these were few.
I have read that the area gets busy on weekends. I came on a weekday and it was lovely and quiet. So come on a weekday of you can.
Although I said that I have read that the loop back isn't that great, what was also said is that you get a good view of the Rievaulx  Abbey from up high, so if you want, you could walk up the hill to see it.
If you like visiting places like Abbey, and think you will see more, then it might be worth getting an English Heritage membership, which will give you access to all their sites. 
For bluebell goodness, time the walk for spring time.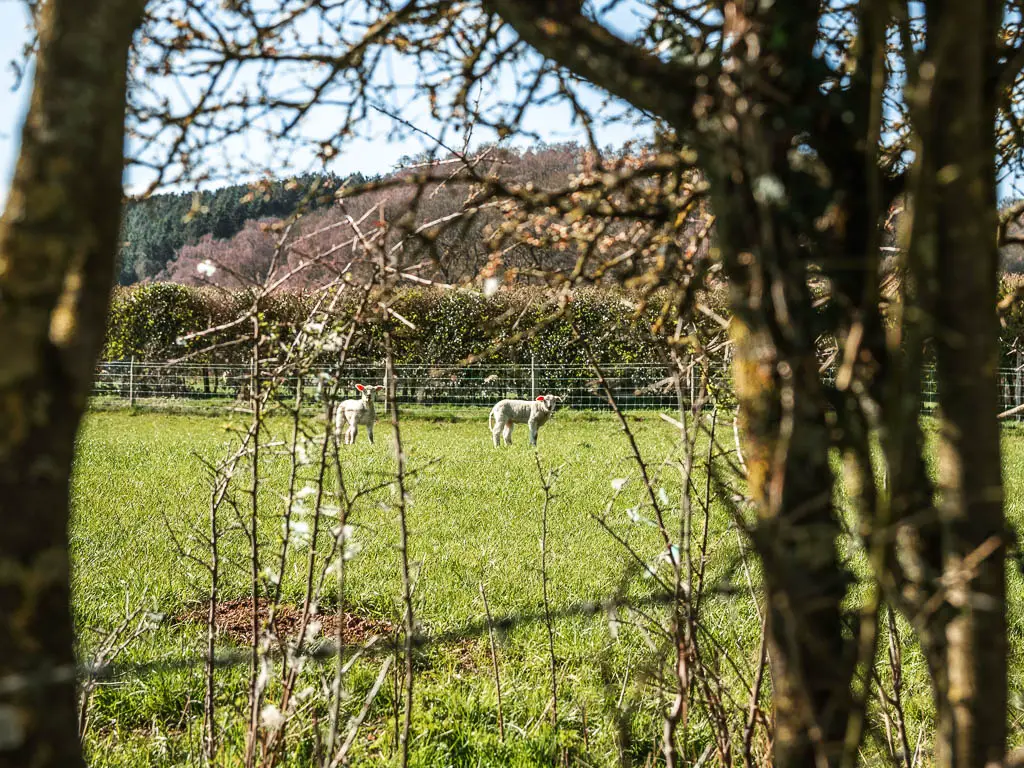 Logistics
Start/finish: Helmsley
Where is it: Located in North Yorkshire, in the North York Moors. Post code for the car park in Helmsley is YO62 5AZ
Distance: 6 miles there and back
Time: It took me just under 2h to compete
Terrain: Easy path, a bit of dirt trail, some steps, road.
Difficulty: Easy
Dog friendly: Yes
Amenities: Helmsley has a car park with electric charging and public toilets, a few restaurants, cafes, pubs. The usual. Rievaulx Castle has parking, a cafe, and public toilets
Time of year: I walked it in early spring
Map for the walk from Helmsley and Rievaulx Abbey
There is a little extra line on the map, which is where I went the wrong way, so ignore that.
You can find my more detailed route map for the Helmsley and Rievaulx Abbey walk on AllTrails
---
A guide to the walk from Helmsley to Rievaulx Abbey
---
If starting from the car park, the start of the trail is right next to the entrance. If coming from in the town, if you walk along the road with the church, look out for the sign for the footpath to Rievlaux and then the Clevland Way sign, and follow them.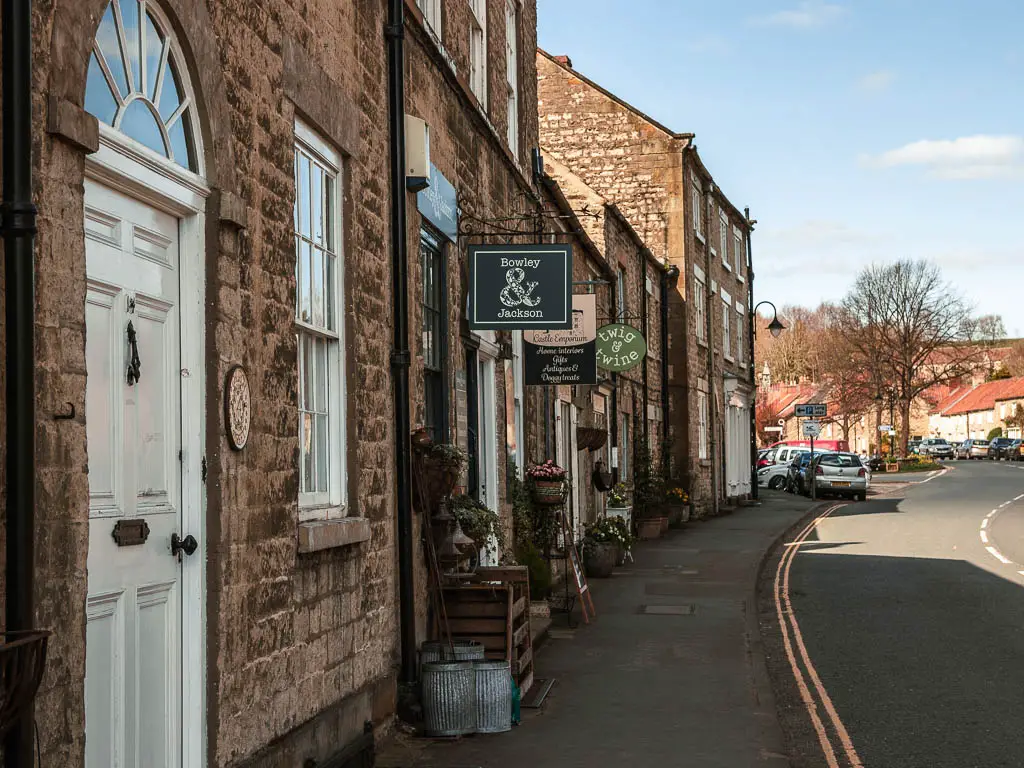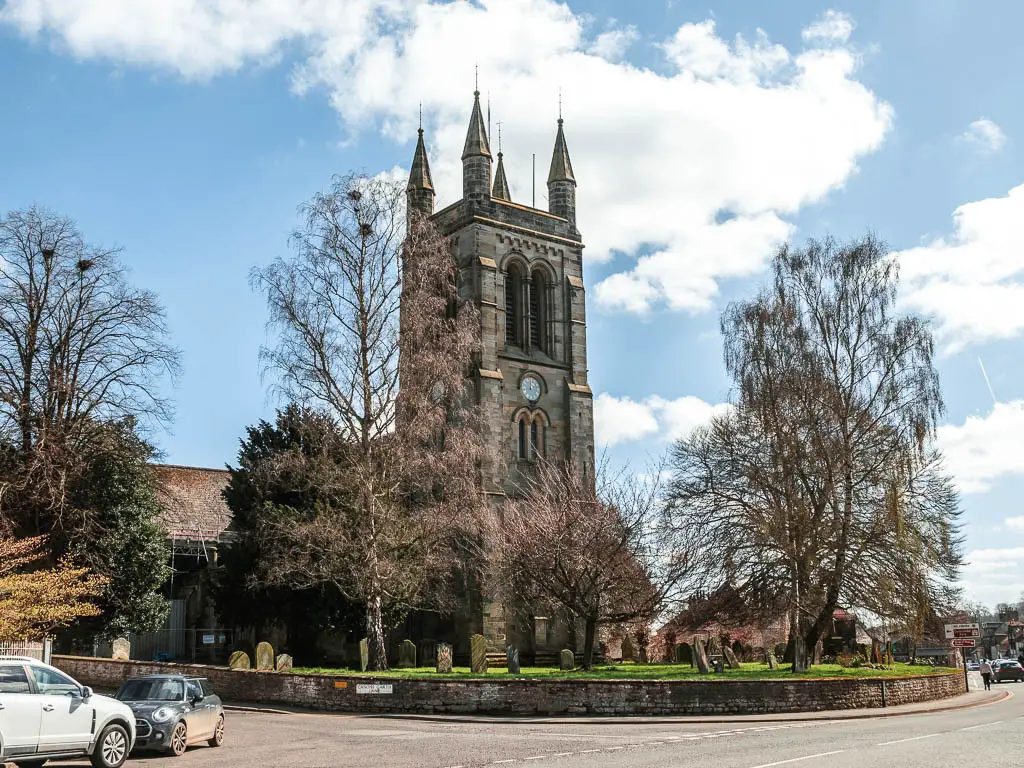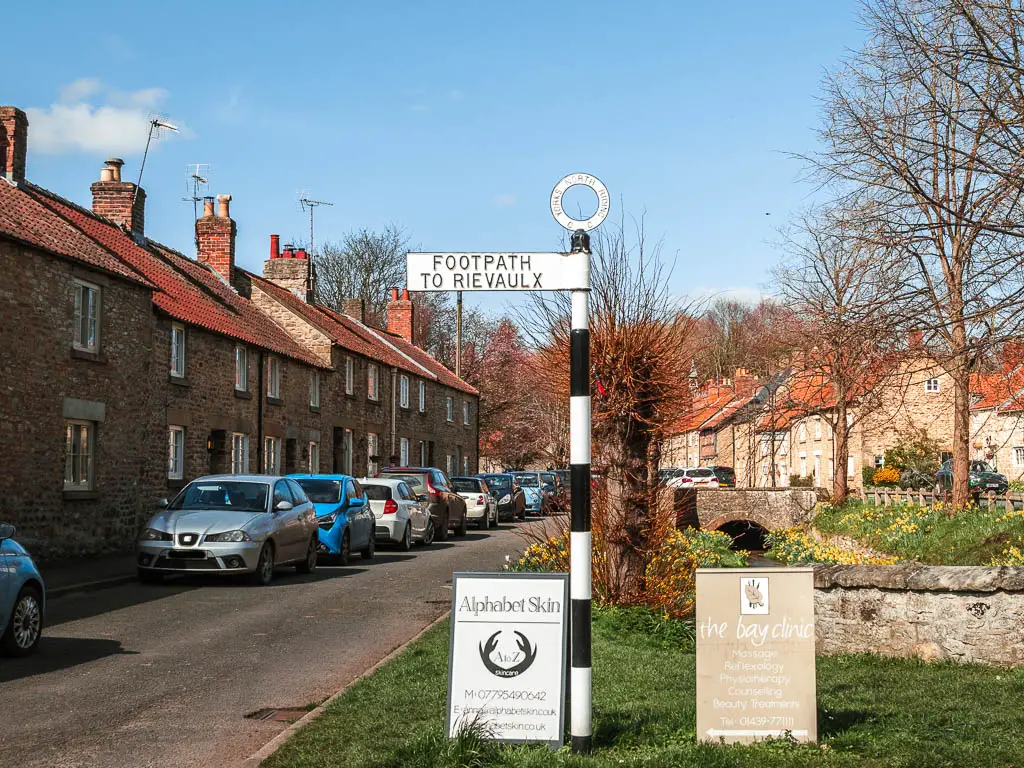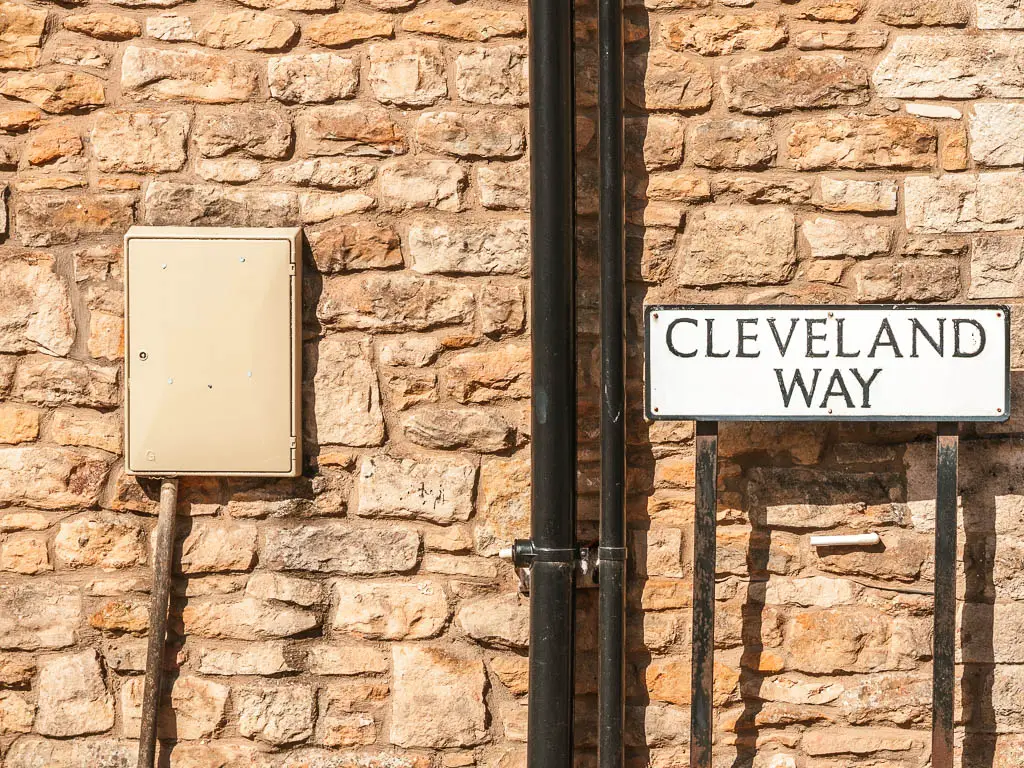 Along the road (after the signs), you will pass the car park on the left, and then continue on the road past it, and this will lead you onto the trail.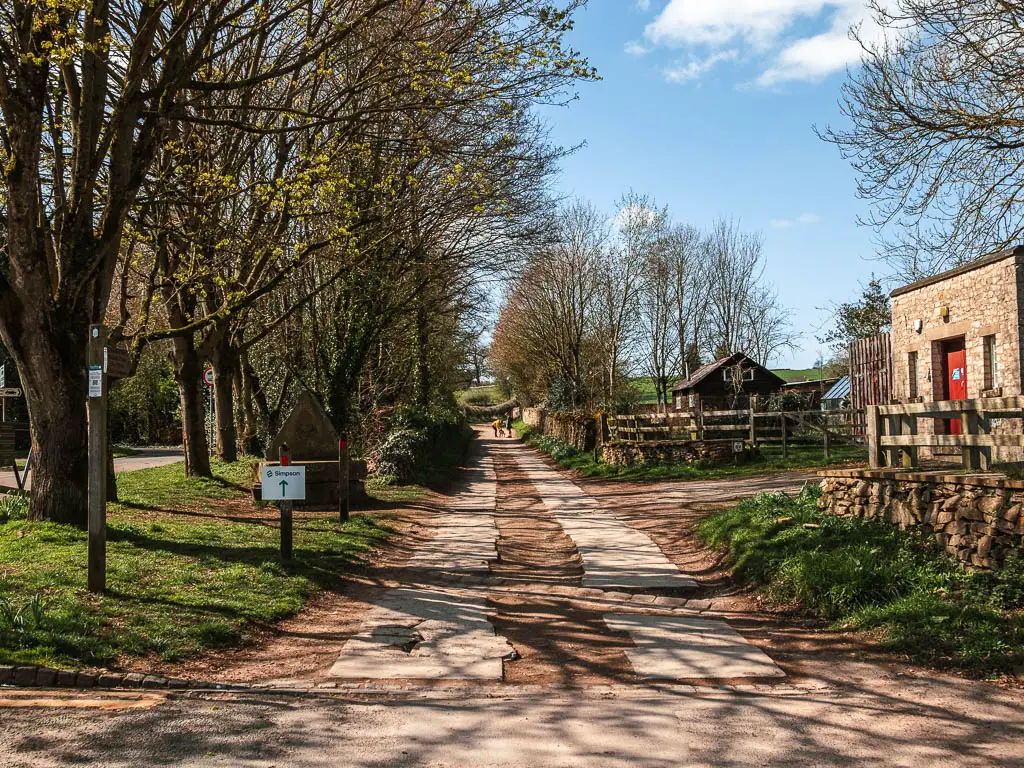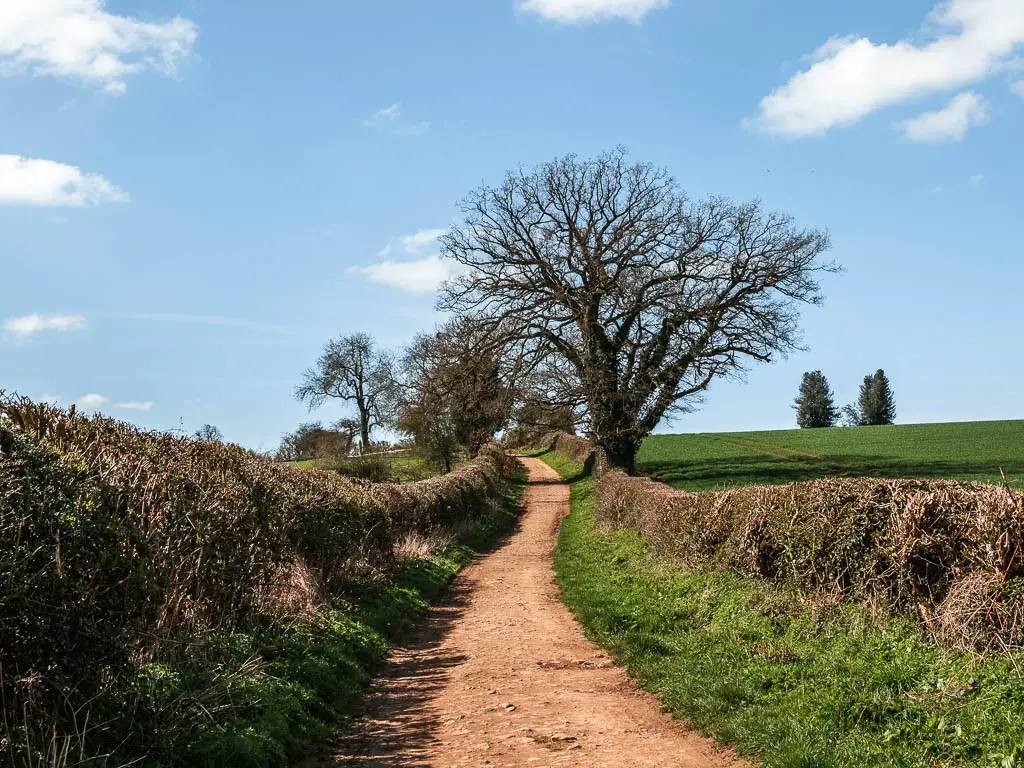 It's a little bit uphill, first along this path, and then through a few fields. It's a gentle incline though.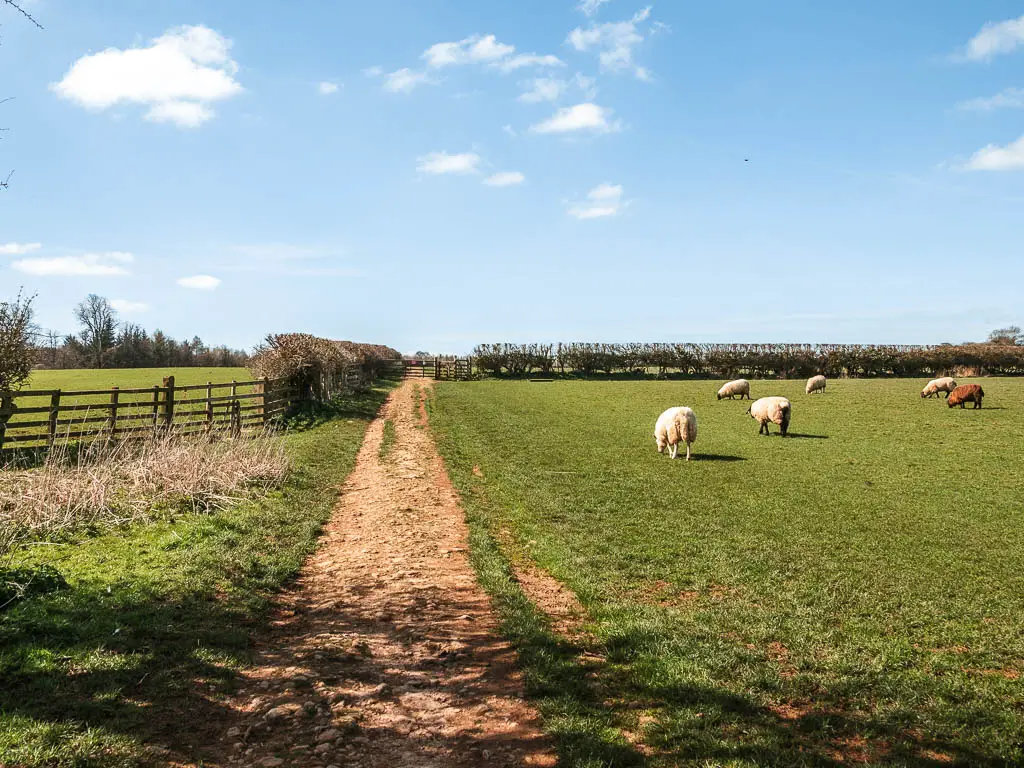 When you get higher up, take a look back for the view down to Helmsley and the castle.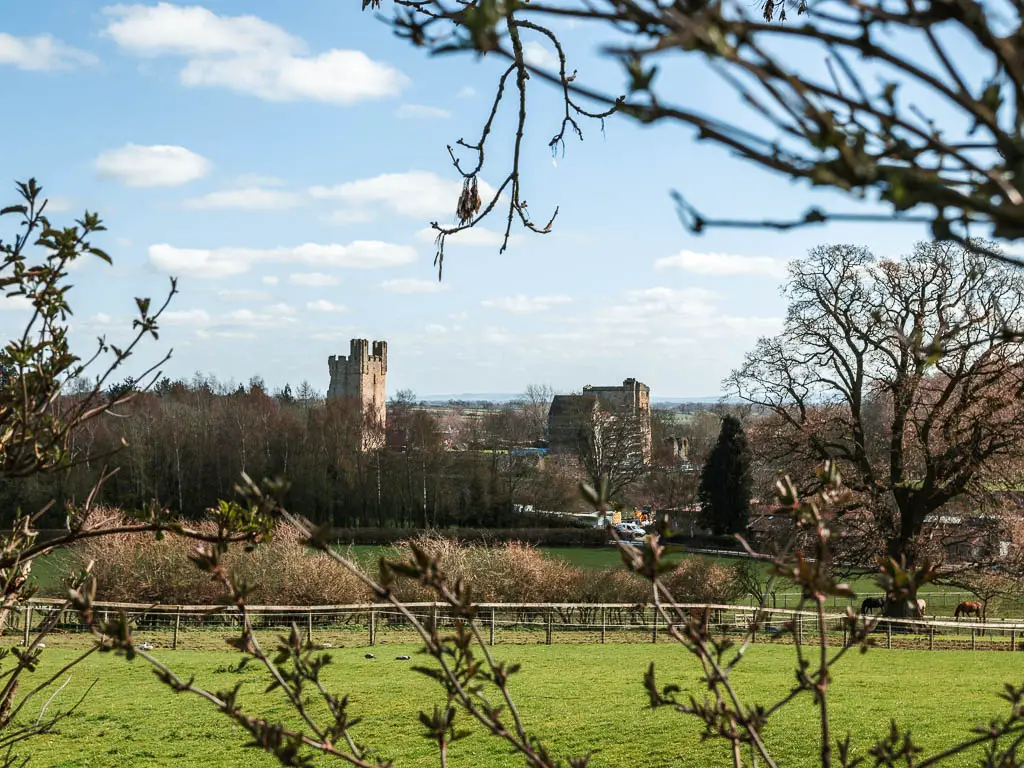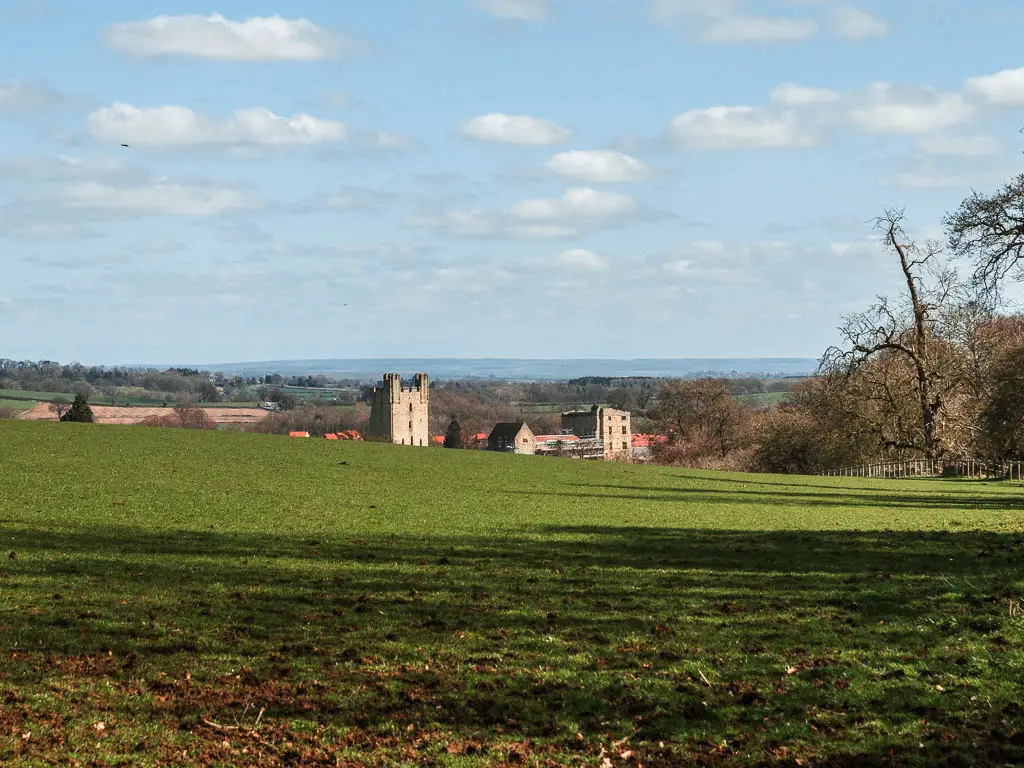 I was also looking out for the lambs. There weren't any about, however, some of the sheep did look a bit fat, so I suspect they haven't been born yet.
I thought back to that time that I was out on a walk and saw a sheep giving birth, and wondered if I would see that today….
I didn't. 
The woods
The path will then take you alongside the woodland before entering it. A short way after you enter, you will have some steps, first down, and then up.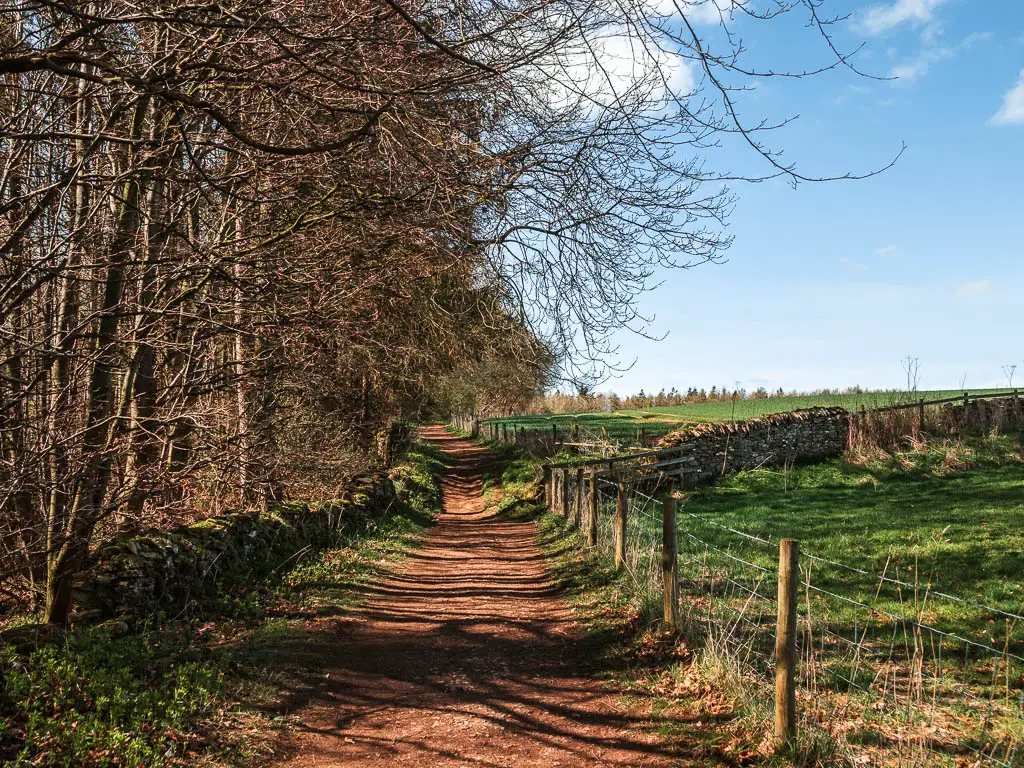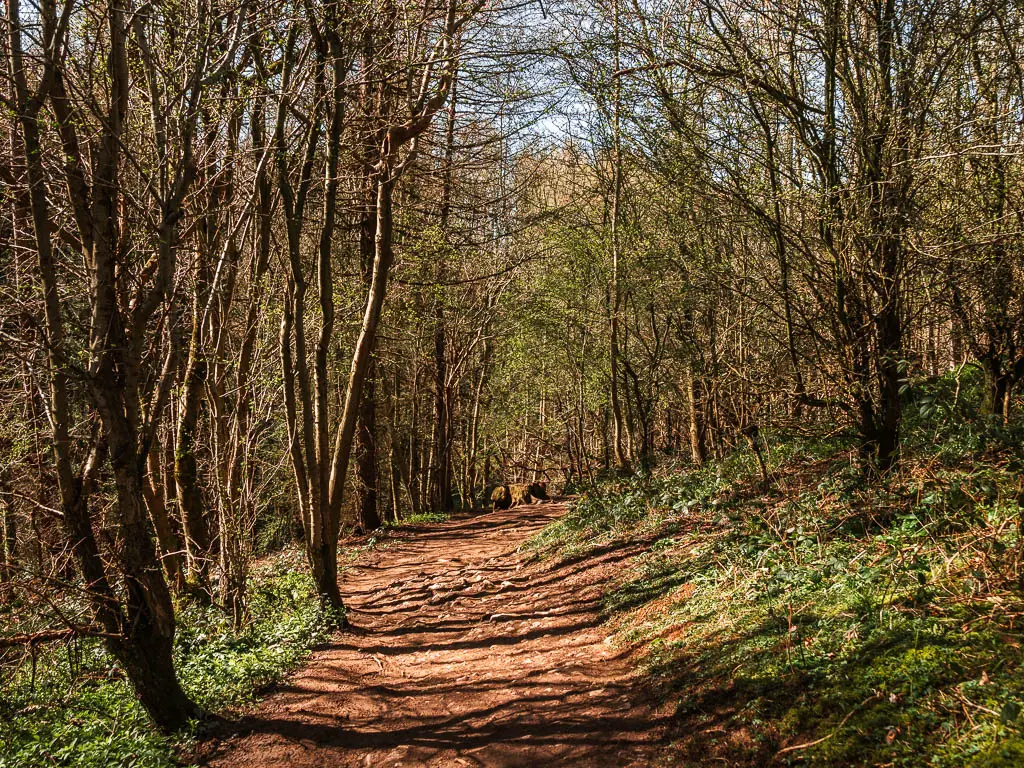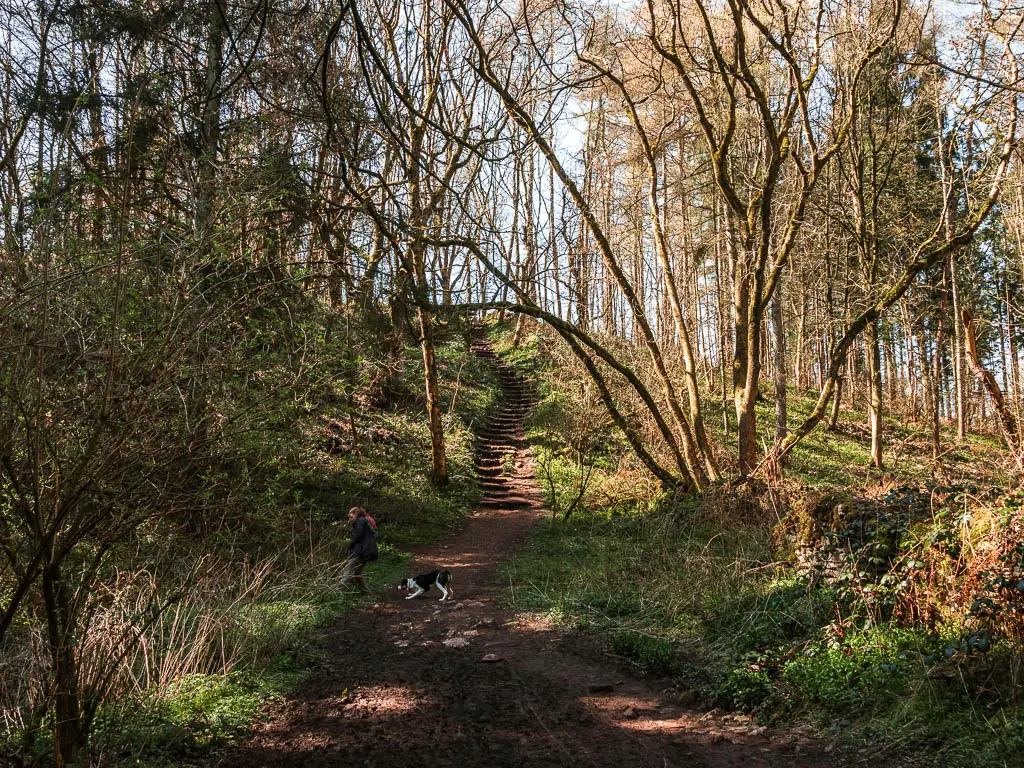 Once out of the woods, at the junction, keep following the main path, past a small outbuilding to your right, which I realised was someones house. What a quaint place to live.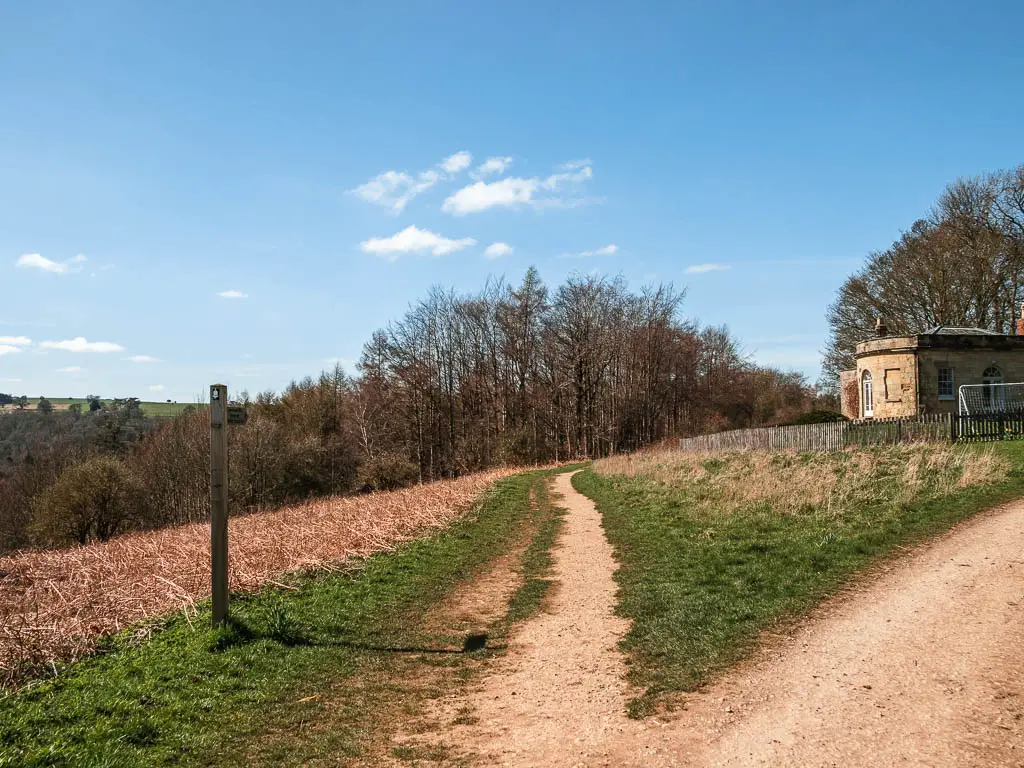 The path will lead you back into the woods, and now downhill. It is along this section where you will pass the bluebells.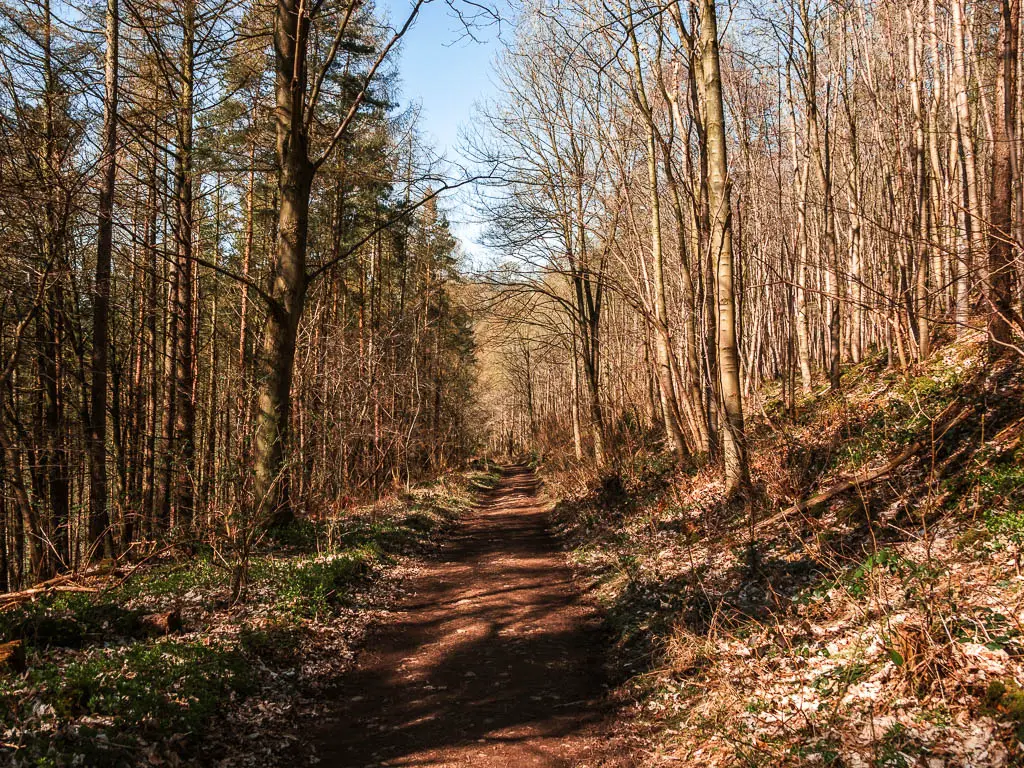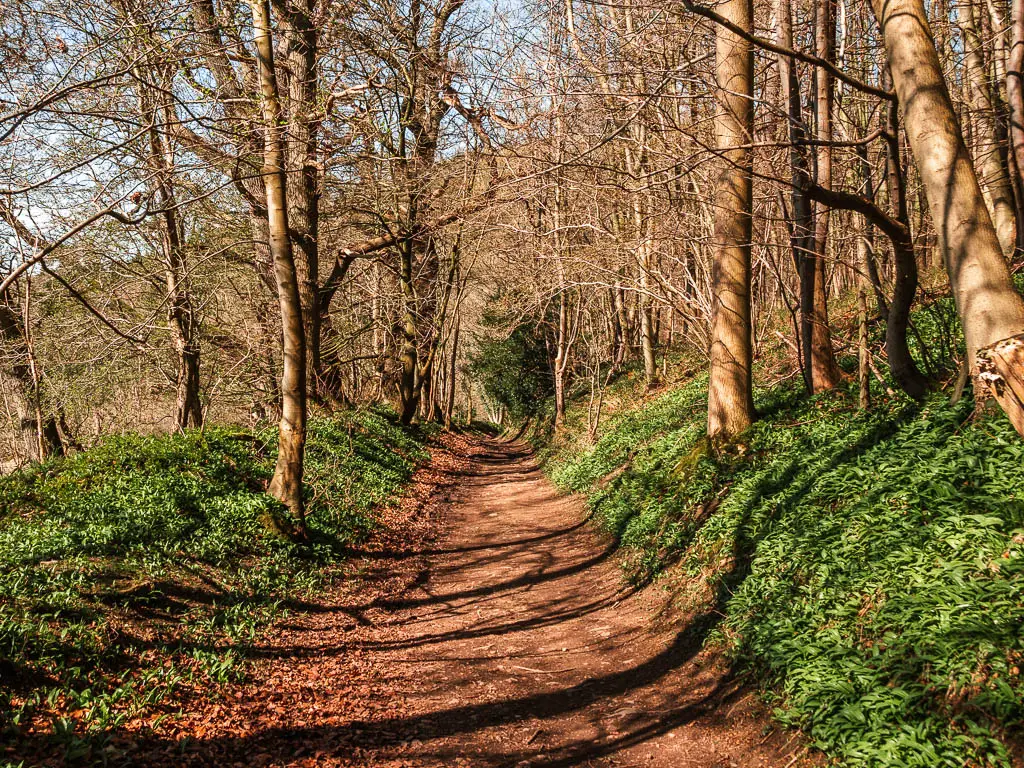 The road
At the bottom of the hill you will reach the road, where you turn to walk left, following the sign for the Cleveland Way and Rievaulx.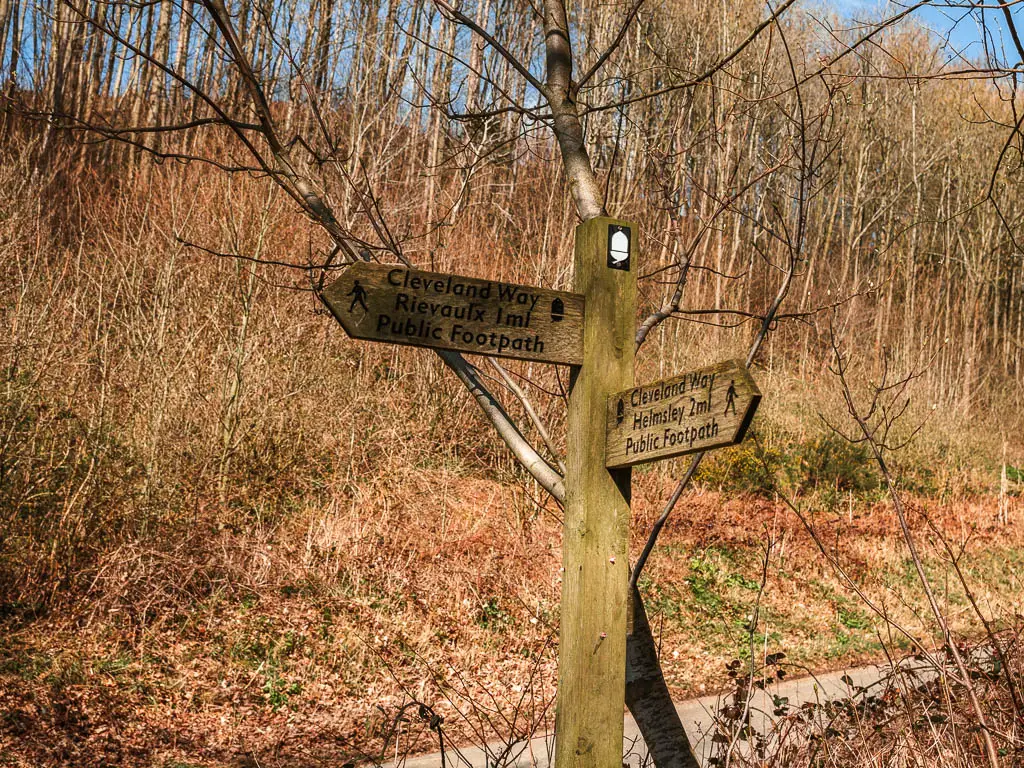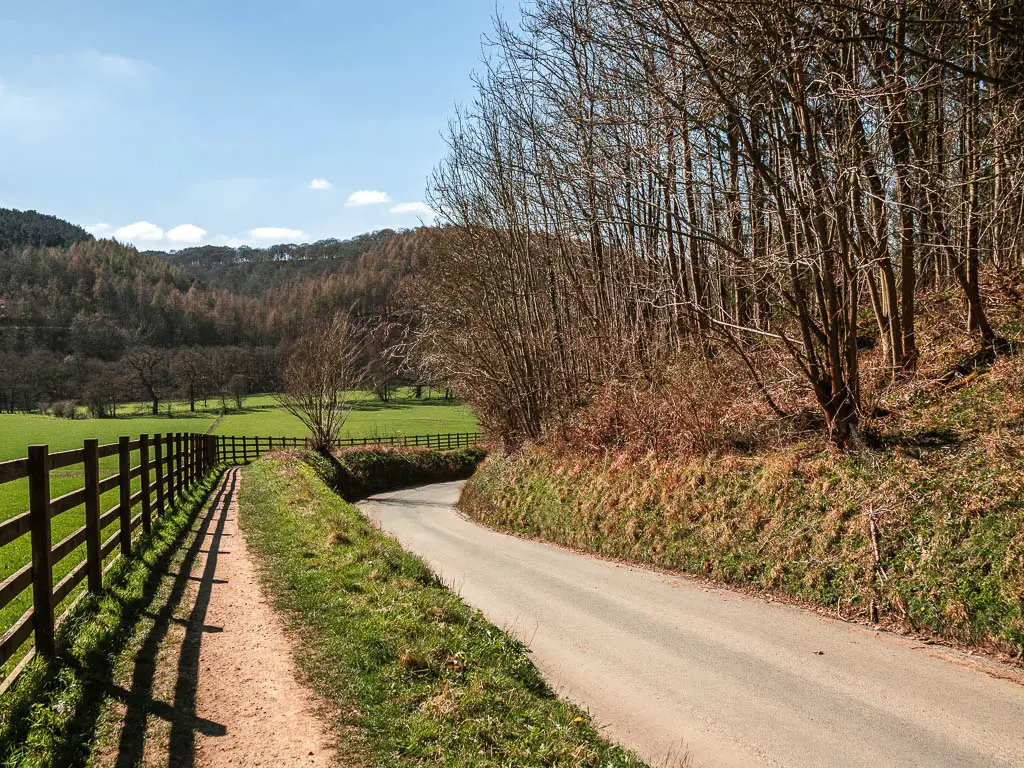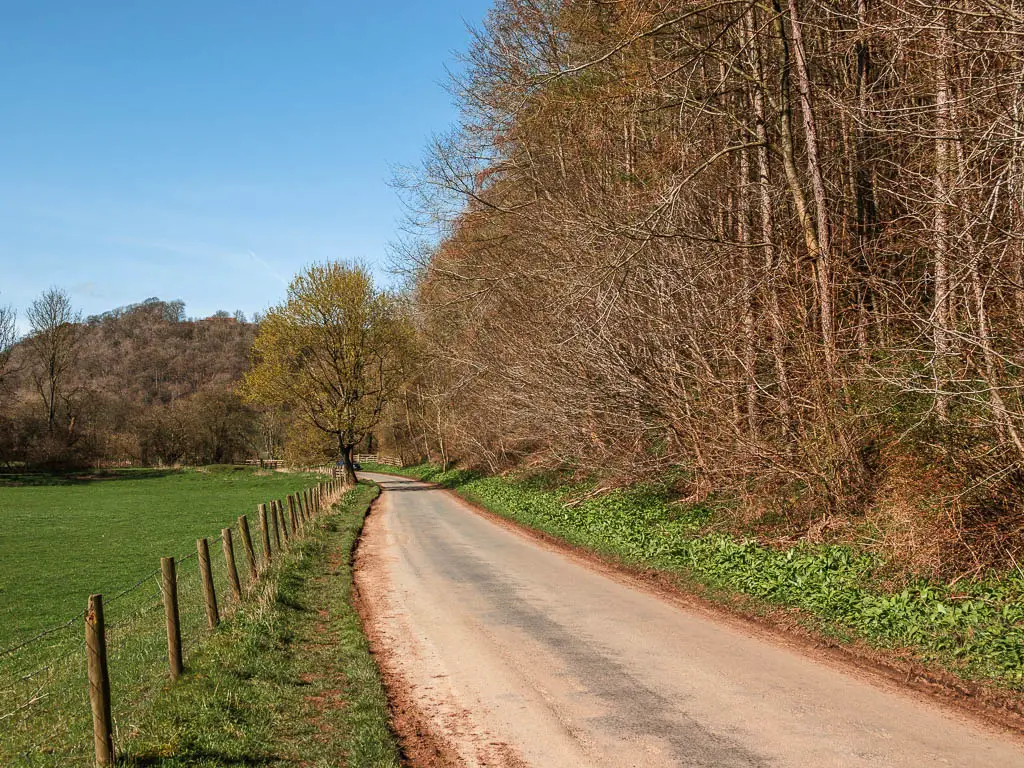 From here, for the rest of the walk to Rievaulx Abbey, you will be on the road.
Walk to Rievaulx Abbey
When you reach the bridge, make sure to turn right before it. I accidentally continued straight over, and didn't realise until I was quite a bit further along that I had gone the wrong way. On the plus side, I did get to see some lambs.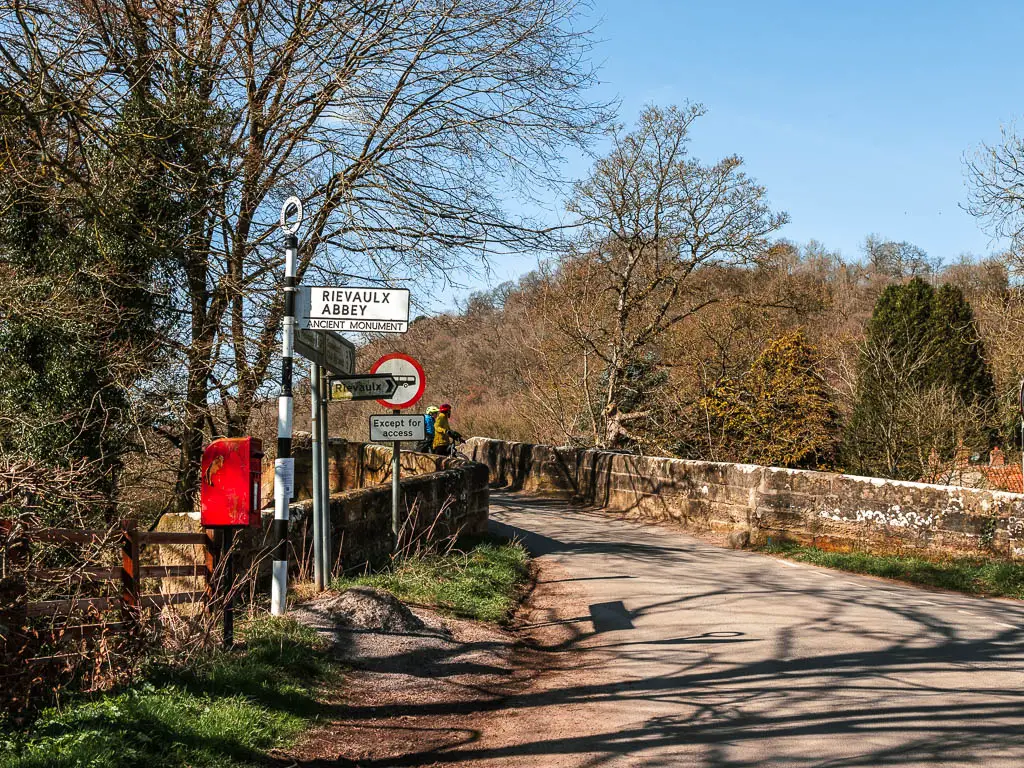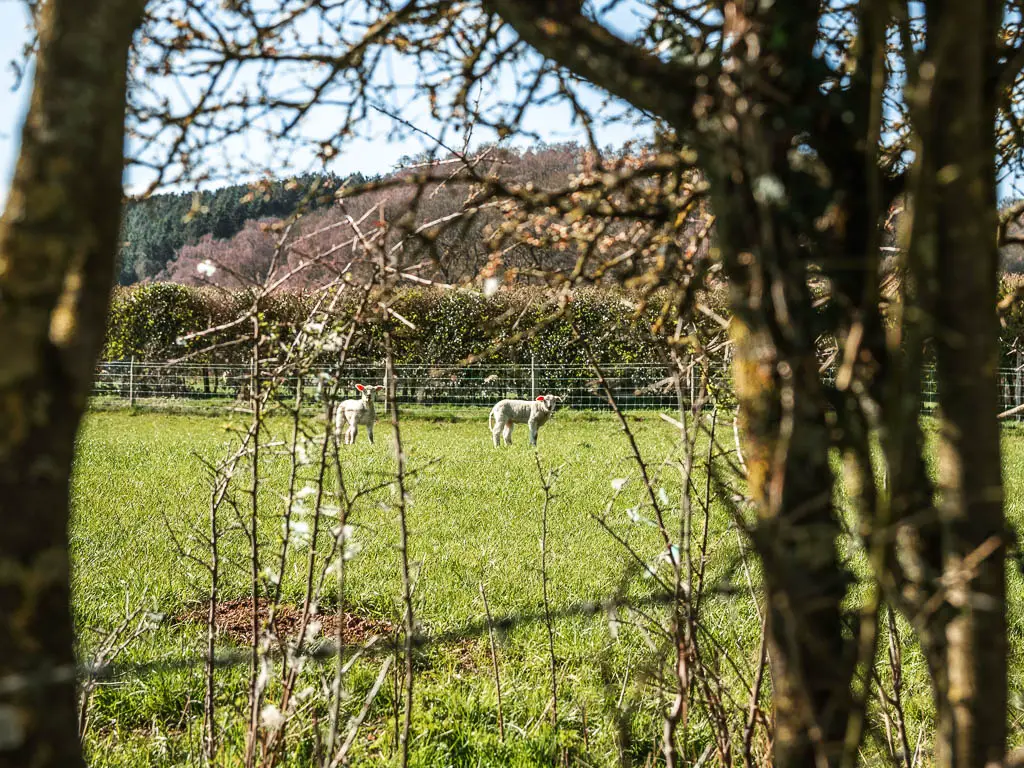 After turning at the bridge, you will be walking alongside the River Rye, and before you know it, you will get a view to Rievaulx Abbey across the fields.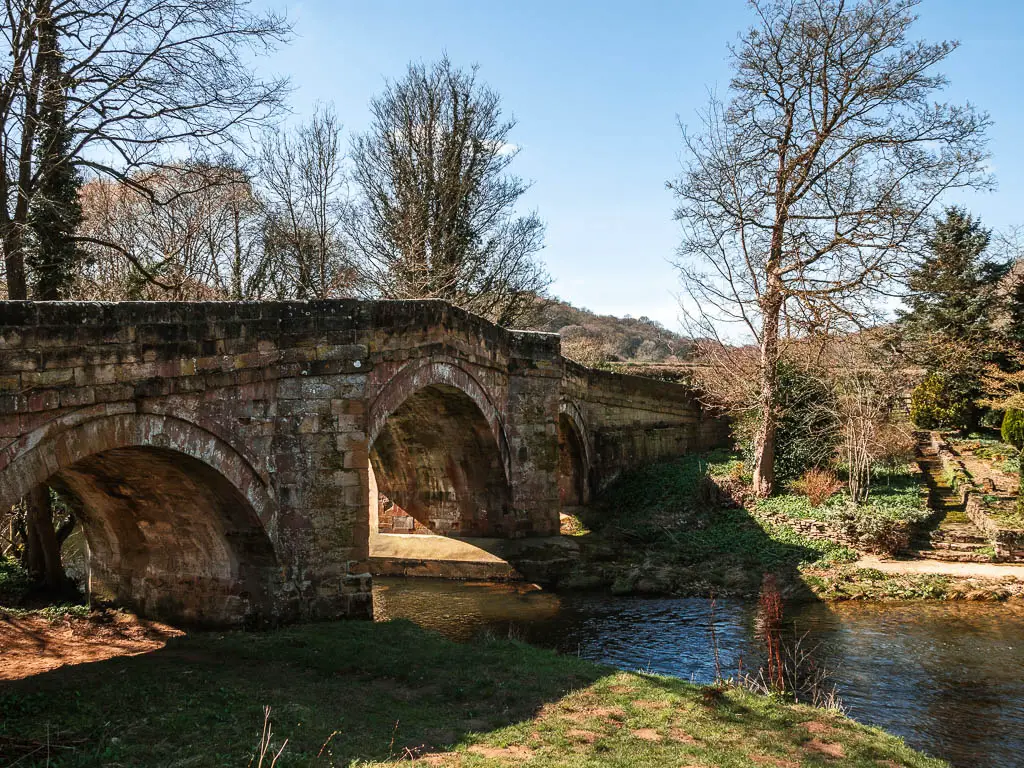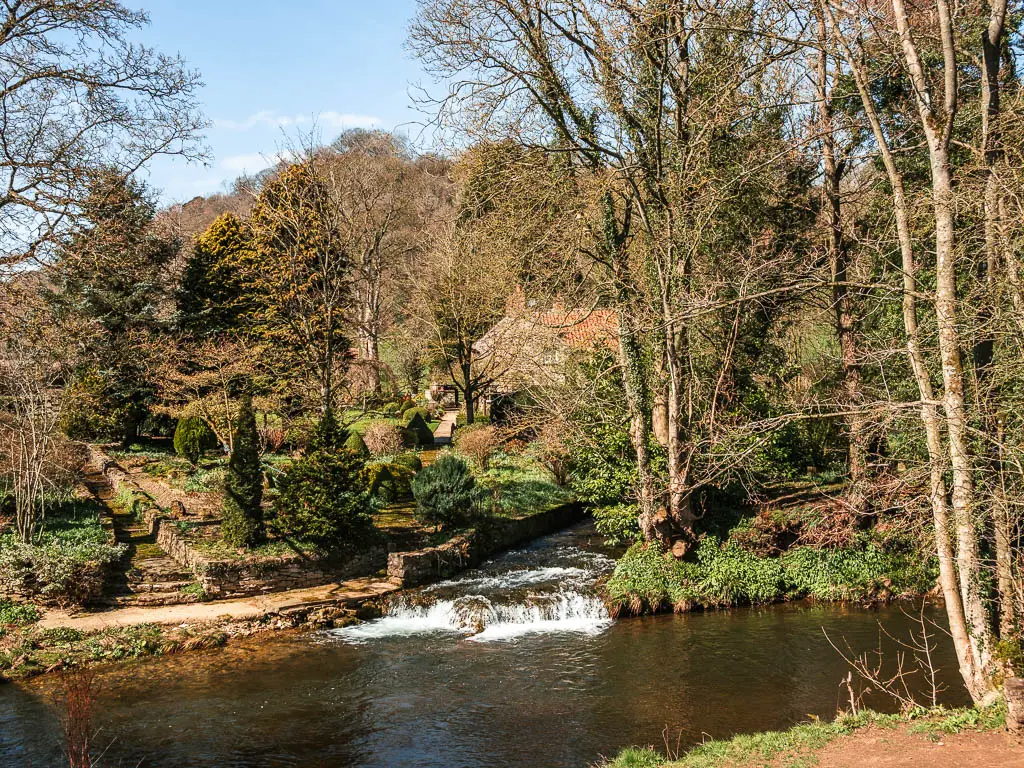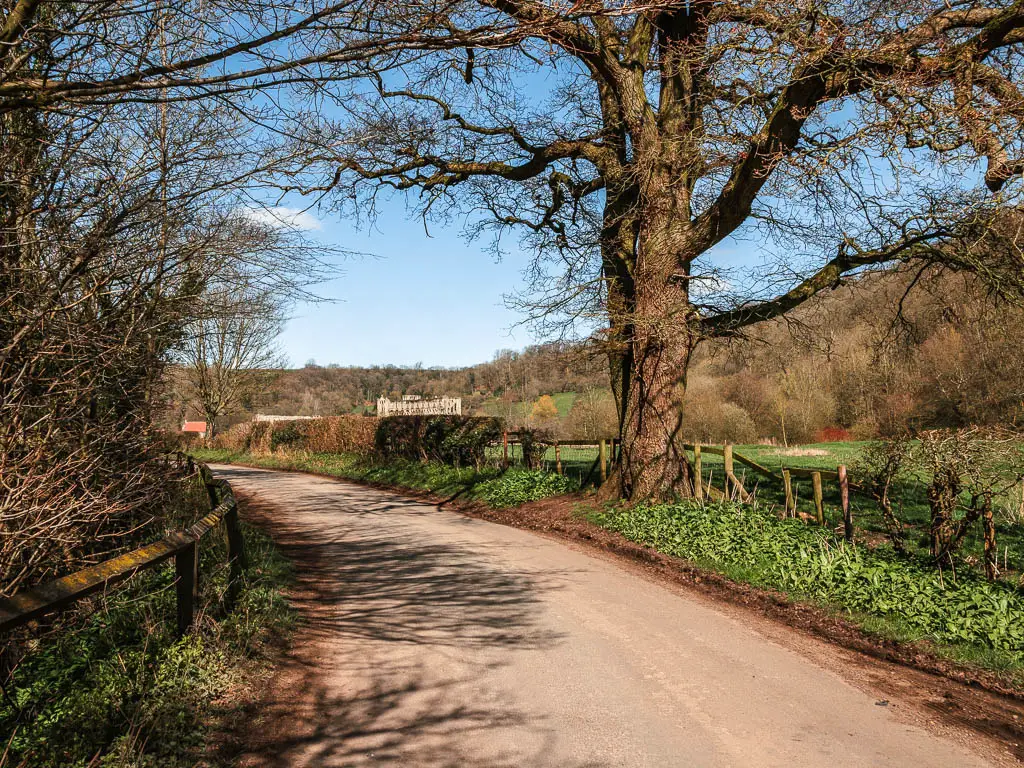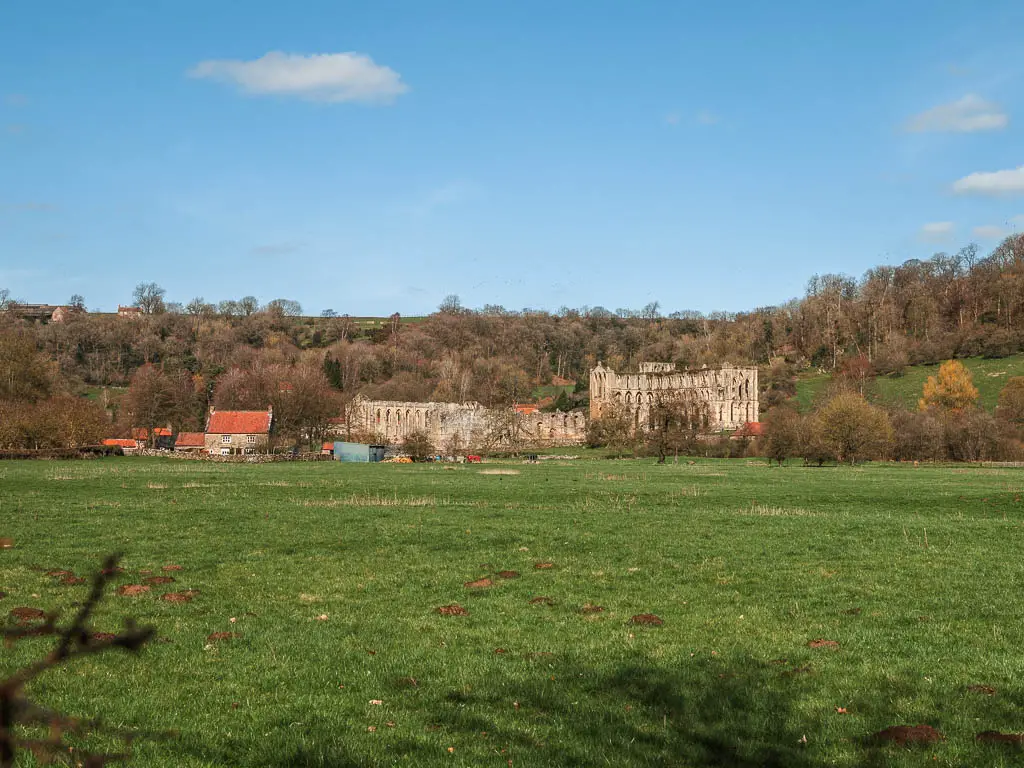 Walk back to Helmsley from Rievaulx Abbey
After you have finished exploring the Rievaulx Abbey, to walk back to Helmsley, just go back the way you came. 
One thing that hit me on the way back, was the big uphill through the woods. I hadn't realised how steep it was going down. It's not a crazy hill, but just enough to get your heart rate up.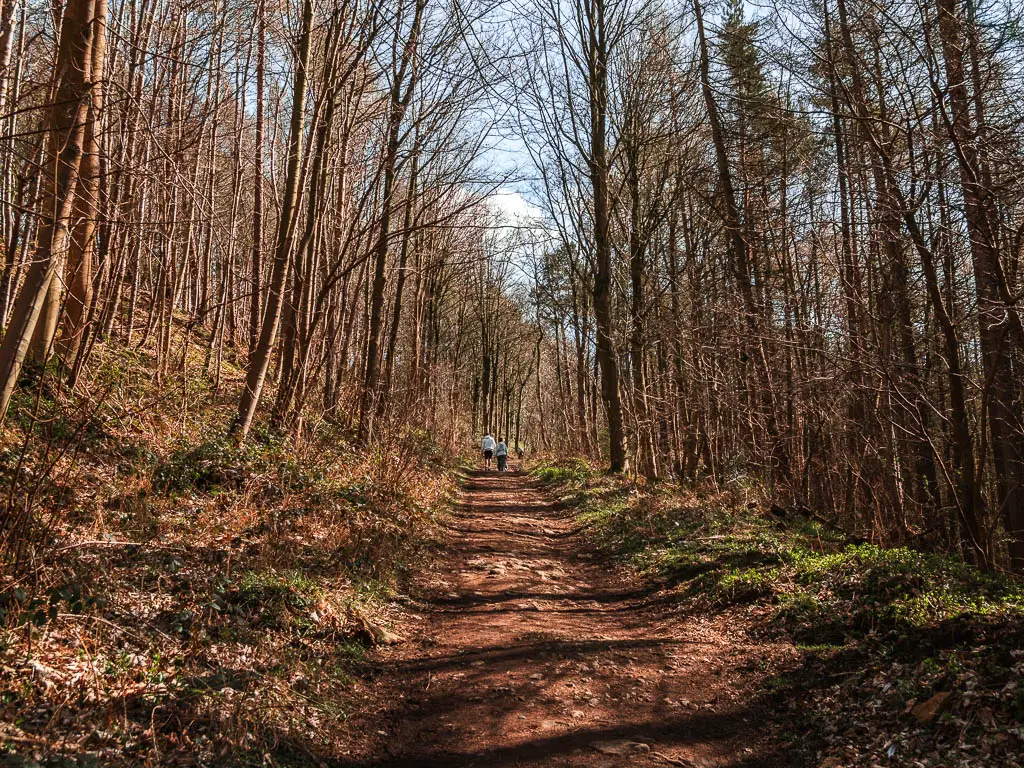 I actually preferred the walk back, as this way you get the great view down to Helmsley, instead of it being behind you.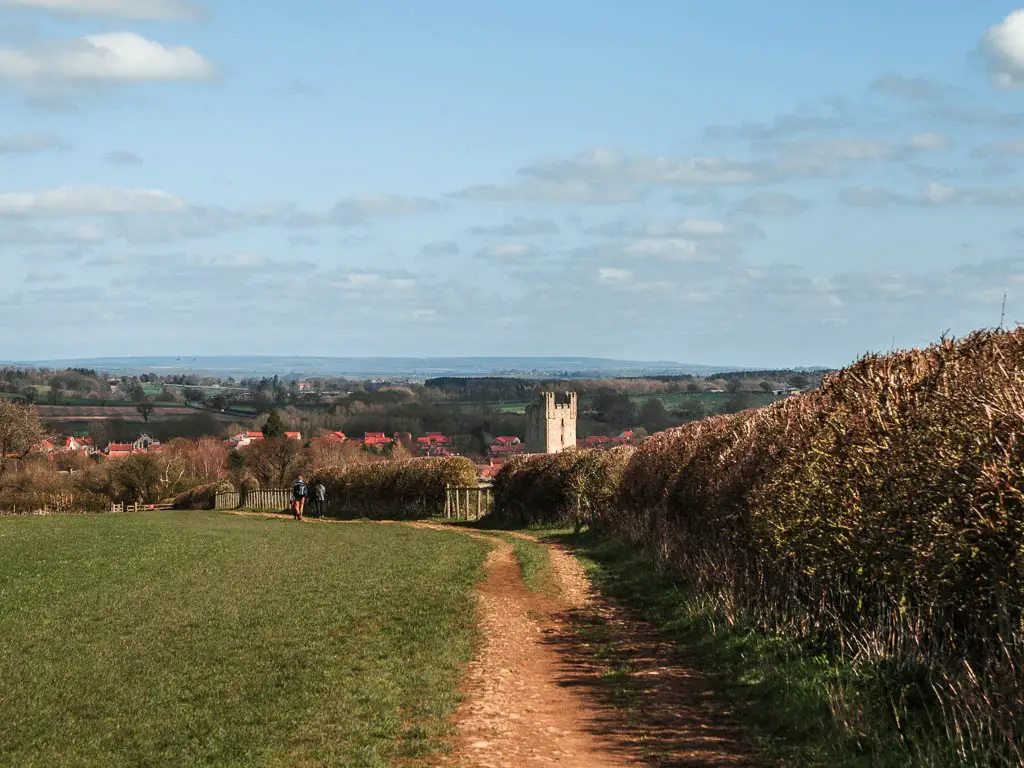 More easy walks nearby
On my way home, I passed by Sutton Bank, so I took that opportunity to see the Kilburn White Horse. It's only 15 min drive away. This walk around it is nice and easy (expect those steps), with a jaw dropping view. It's only 1.6 miles to do the circular.
If you want something a bit longer and harder, then you can do the Sutton Bank circular as well as the White Horse.
I quite enjoyed the Goathland to Grosmont route along the Rail Trail. Famous for the show Heartbeat and Harry Potter, this walk is along a well laid out, easy path. There is the option to walk up the hill for the way back, or you can just stick to the Rail Trail.
If you head to the coast, you could try this route between Robin Hood's Bay and Ravenscar. It's mostly easy, but does have some steep steps. If you walk the same way I did, you can walk down the steps so it's not that bad. You will get to see lots of seals on this one. 
The Hole of Horcum is wonderful. I would rate this circular route I took as moderate, however, if you stick to the Hole of Horcum area, then it would be easy. 
Pin it for later: