This walk takes you from the lovely town of Totnes, along the River Dart, and into the Dartington Country Park and woodland. You will visit the Cider Press Centre, and finish off with a viewpoint hill, before walking back along the River Dart to Totnes.
This post uses affiliate links. You can read the privacy policy or disclaimer for more info.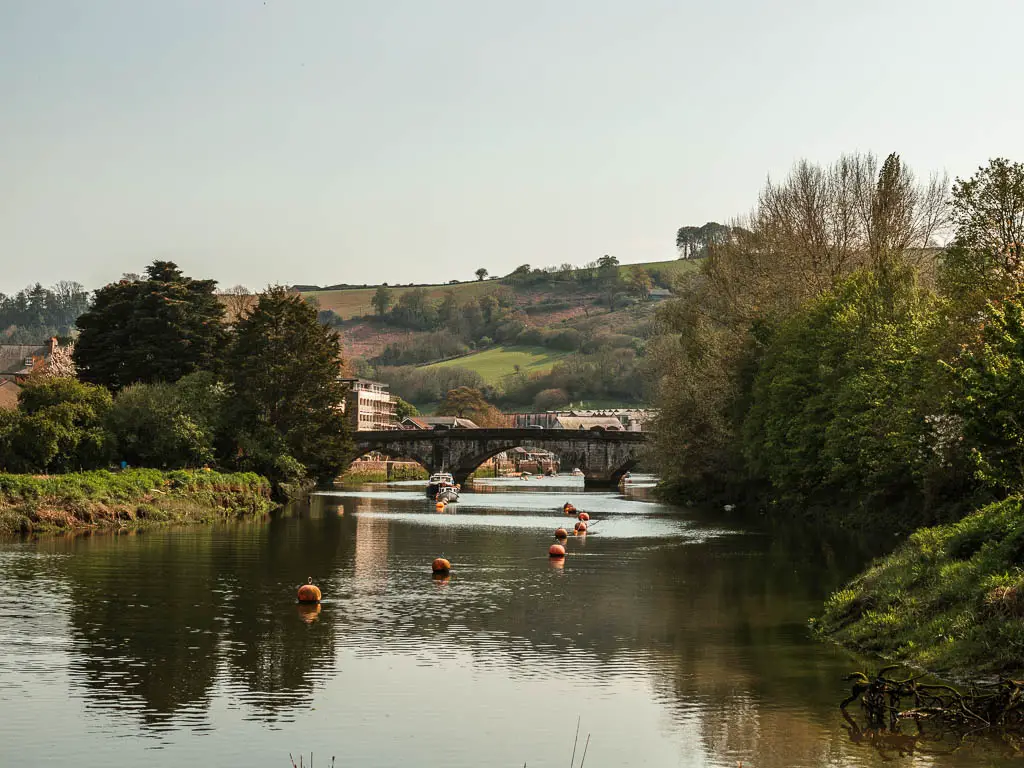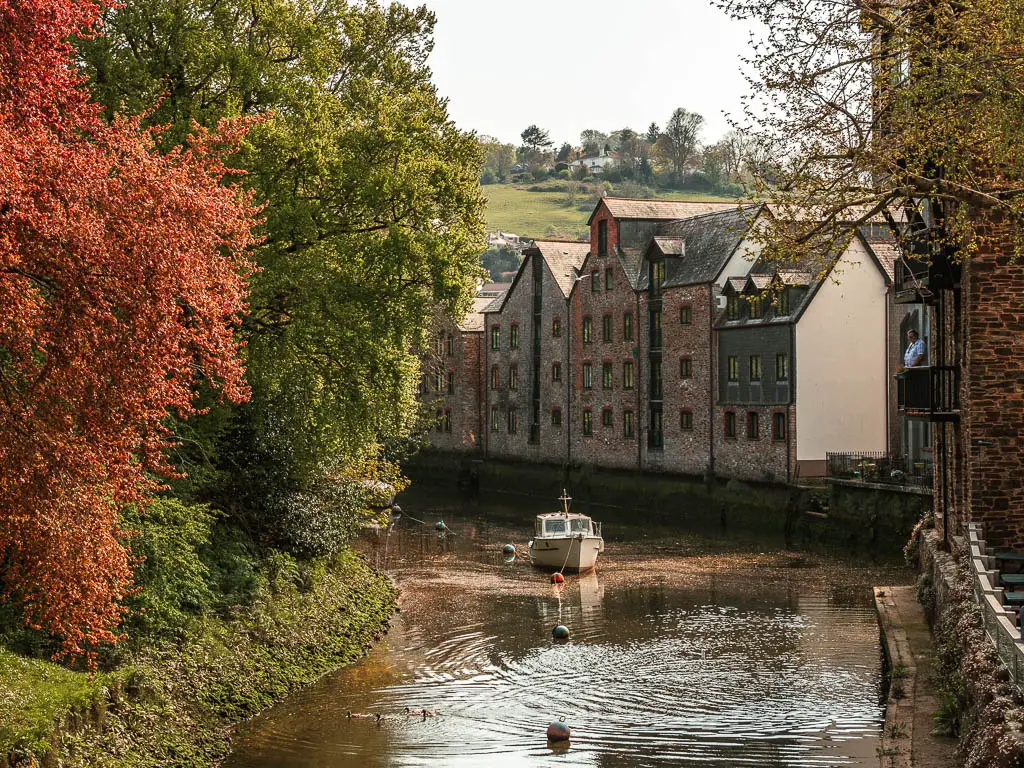 I actually almost didn't do this walk. Today I was having a very lazy day. I had been staying out here for nearly a month now and had been doing 4 hikes per week, and I just wasn't in the mood. I was tired. So I spent the morning watching trash tv (my guilty pleasure).
After some hours, the guilt kicked in. My time out here was limited, and I didn't want to waste any of it. I reasoned that I would treat myself to a coffee from the Curator (my favourite coffee shop out here), then walk along the river from Totnes to Dartington. I would track it and photo it just incase it was worth writing about.
What to expect on the Totnes to Dartington walk
The first section of the walk along the River Dart from Totnes is pleasant enough. It's a nice riverside woodland trail, although, you aren't deep into the wilderness or anything, so there is some road noise.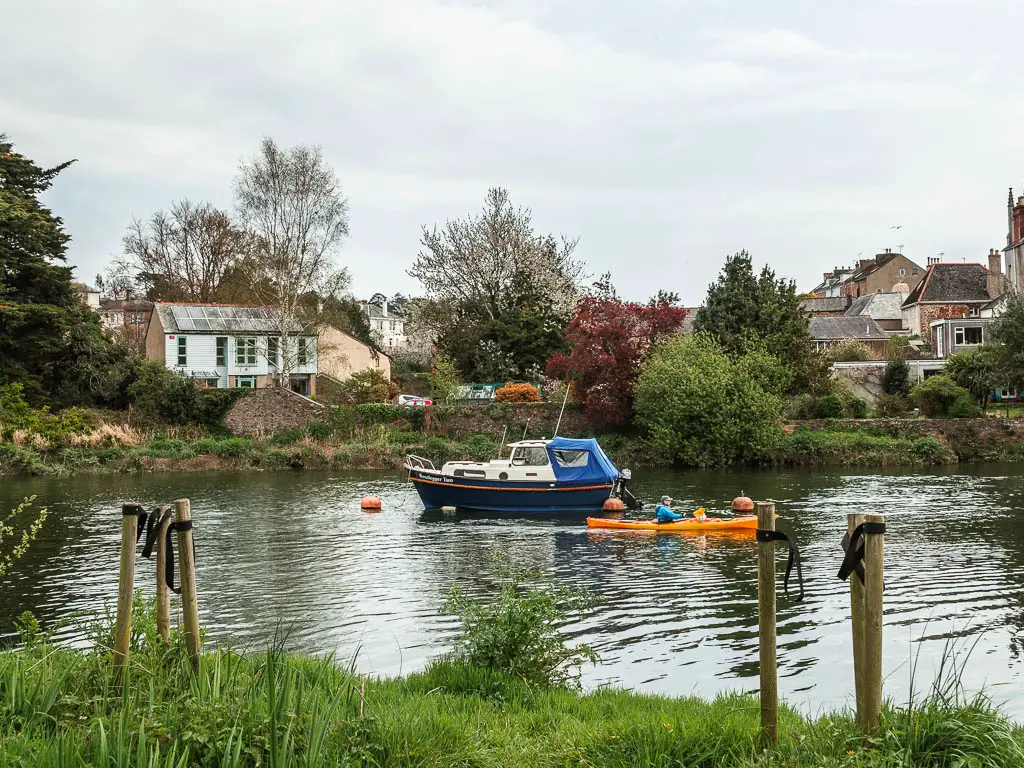 To be fair, most walks I have done so far out here have been along coastline, with only the sound of the sea, birds, and sheep. The other sections of the River Dart I have walked, were very countryside. In comparison, they made this walk from Totnes towards Dartington feel a little more suburban. 
Then the walk takes you into the Dartington Country Park with a mix of open fields and impressive woodland, with some deer paraphernalia along the way.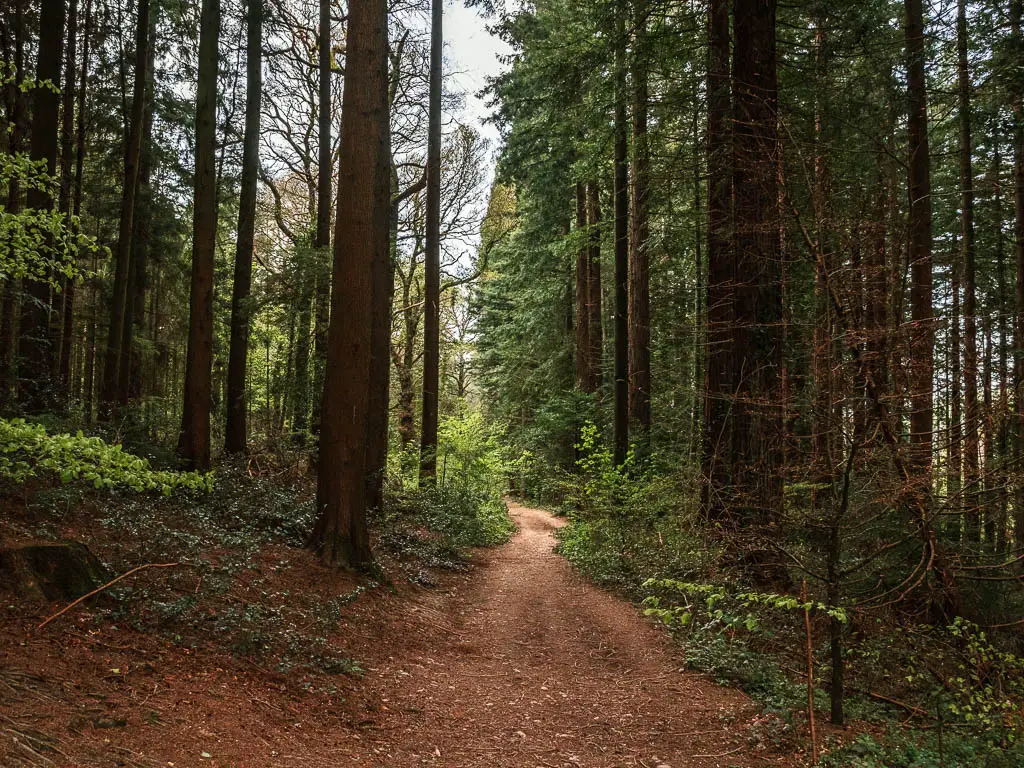 The Cider Press Centre
The bit of the walk I'm not sure about is the Cider Press Centre. It was nice to visit the centre, and I had to really restrain myself from buying lots of things from the shops.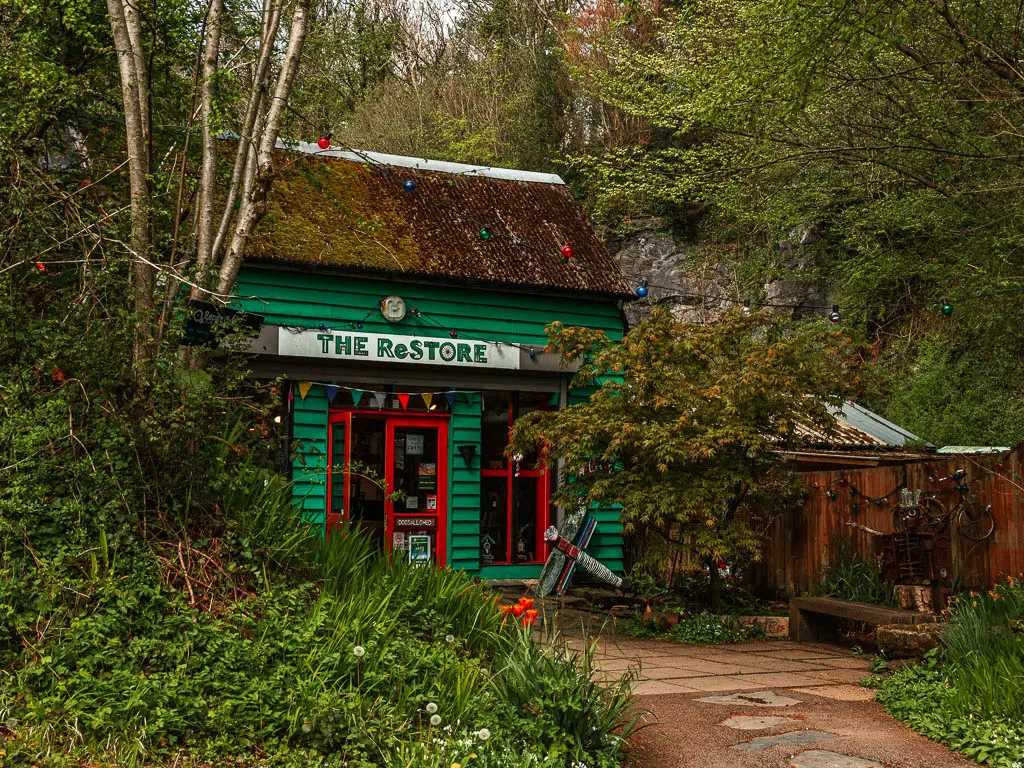 The problem was the road. Around the Cider Press Centre and for the section after, the trail is right next to a big road which was incredibly noisy.
The reason I chose to go via the centre, was because it would lead me nicely onto a viewpoint hill (plus I wanted to see what the cider place was about). I had walked from Totnes To Dartington before, and found myself on that hill. I new I had to include it in this walk (before you panic, it's not an aggressive hill, but rather a smaller hill with nice views).
Logistics for the river walk from Totnes to Dartington
Start/Finish: Totnes – The bridge at the bottom of the high street.
How to get there: Totnes is located in South Devon, on the Great Western Railway Line.
Distance: 8 miles
Time: 3h
Difficulty: Easy
Type: Circular
Terrain: Dirt, tree roots, grass
Dog Friendly: One stile at the end, but you could easily find another route. Some livestock in the Dartington Park area. There is an area which I walked through last time I was here (but didn't do on this walk) which seemed very dog friendly. It was a big field where dogs were playing. I will show you where it is, when I describe the walk below. 
Time of year: Spring
Amenities: Everything in Totnes – Might I suggest the Curator. It's a coffee shop just opposite the bridge. It's the only coffee shop I have found out here in the South West which gives me my London type artisan coffee fix. The cider press centre has coffee, eating places, specialty food shop, and toilets.
Tips for the Dartington and Totnes walk
The Cider Press Centre looks like it would be a busy place. Just be prepared for that, if you do this walk during high season. 
As mentioned, the road noise is quite aggressive at the cider centre and a bit past it, so you might want to consider taking headphones to listen to something during that bit. I found the road noise definitely tainted the walk a little.
I didn't visit the Dartington Hall on this walk. I actually tried to go there and to the gardens last time I walked around here. But then realised you needed to pay for the gardens…so I skipped it. Anyway, if you would like to visit, then you can change this walk up a bit – I will show you when I describe the walk below, where you can turn if you want to go there (I give 2 options).  
I was wearing hiking boots, but you could get away with trainers. Although, bare in mid that if it's been raining, it will probably be a bit wet – there is a lot of grass and dirt trail walking. 
If you like local food and drink, and independent craft shops, then be prepared to spend some money in the Cider Press Centre. 
If you would like to explore more of the river, then you could join this guided canoe trip. It's half day, and takes you from Totnes to either Dartington, or the other way past Sherpham. You will paddle with the flow of the tide, keeping it nice and relaxing.
Map for the Totnes to Dartington river walk
More walk ideas near Dartington, or similar routes, will be at the end.
---
A Guide To The Totnes To Dartington River Walk
If you are standing at the bottom of the high street, facing the bridge, walk a little onto the bridge, then left down onto the river. Now you follow the river for some time. It starts off a bit more open, then becomes more woodland like. You will pass under a bridge, and walk by another, and will likely see some little boats and swans.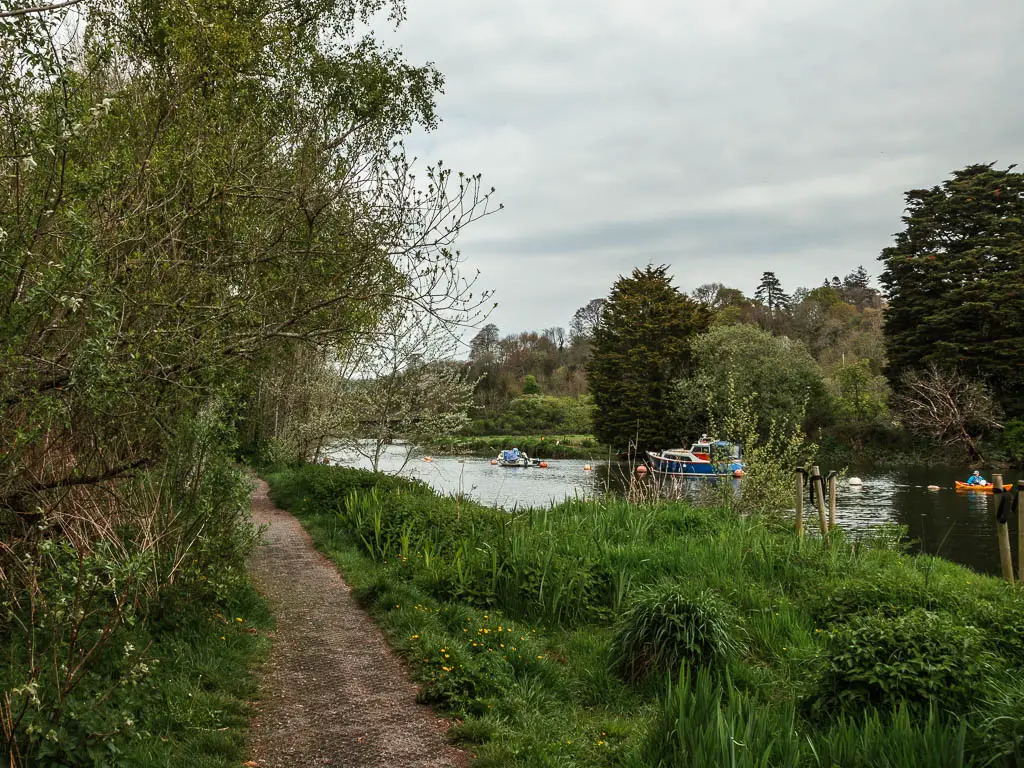 You will reach this thing which I think is a power generator (see photo below). I'm not 100% sure. As I was walking by, a women said she was pretty sure she just saw a seal over there. So we both stood and stared. For quite sometime. We didn't see anything. Maybe it was a floating log she saw.
Walk to Dartington Country Park
Past the generator water thing, you will walk over a bridge, then turn right. You will walk a bit more through some trees, and past the back of some houses. It was around here that I walked by a guy with music blasting out of his phone. 
You know, it does annoy me a little when people do that. In nice peaceful nature places. That's what headphones are for. 
Soon you will reach the entrance to the Dartington Estate. When you enter the area, keep following the road. Some trail options to the left will be coming up. Ignore those, and continue straight.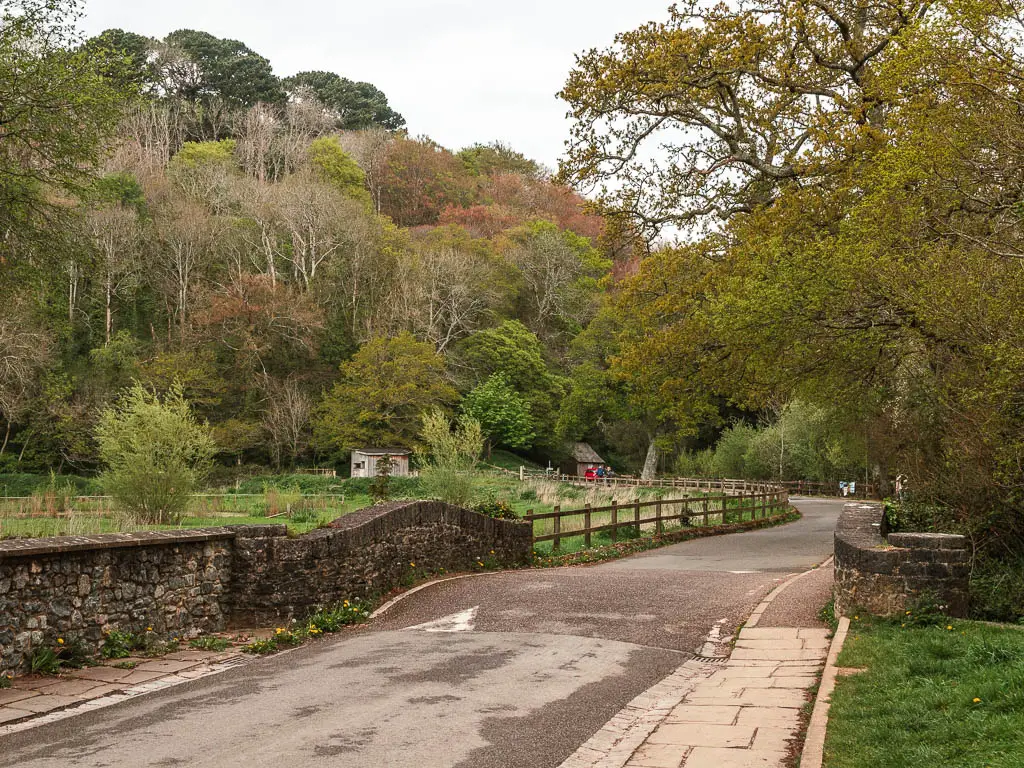 Some way further along, there will be a wooden gate on the right. Go through that to now walk on more of a dirt trail. This will lead you to a wooden gate, and into a field.
Walk through the field…and the cow encounter
As I made my way through the field, I saw what I thought was a group of deer ahead. I thought to myself how lovely that is. However, as I got closer, I realised that these were not deer. They were cows.
I had very recently had a scary encounter with cows. Funny enough, that was also along the River Dart between Totnes and Dittisham. I was not ready for this. Looking back, I saw a couple walking along the same trail. I waited for them, then told them they can go first. 
I'm kind like that. 
Walk along the riverside trail into the fields – And the option to walk to Dartington Hall
Through the gate, you will be out of the field and on a riverside trail again. I quite liked this trail. Some pretty flowers, and some rugged sections.
It's along here, where you can take a left turn through a wooden gate, to lead you towards the Dartington Hall. It's over there somewhere, where I walked in a dog playing field previously. There will be a few hill fields to cross to reach those areas. 
Sticking to this trail, it will lead you into a field with a small building which looks to be abandoned. I imagined owning it. Making it into my little home. That would be nice.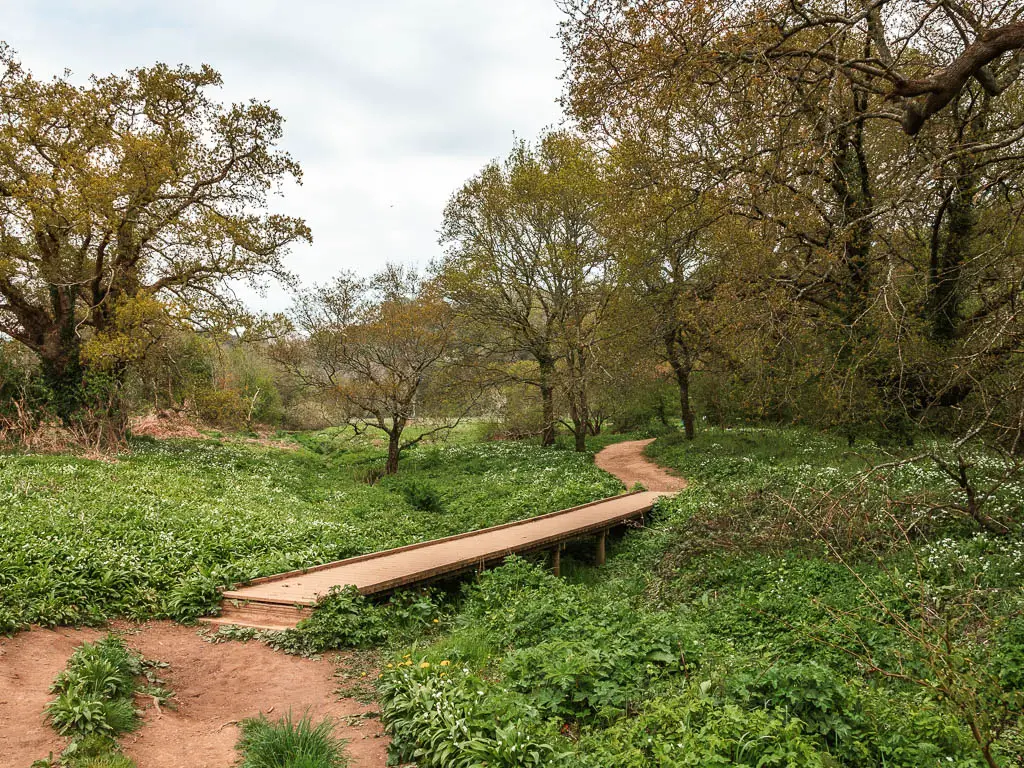 The trail will then take you through another wooden gate, and into the bigger field. This area reminded me of being in a park. I guess that's not surprising, because I technically was in one. 
Make your way through the field, roughly following the river, and it will lead you through a gate and brick and stone wall.
Fun Fact: This wall, and others you will see later, were build to keep the deer in.
Walk to the woods
Through the wall, you will be walking amongst some woodland, before going out into the open again, where you will see more woods to the left and ahead.
Keep going straight to reach the woods ahead. 
Walk through the woods and the deer stuff
Through the gate and into the woods, you will come across a wooden stump which points to the right, to a deer drinking well. I decided to go check it out.
This is what I found:
I was a little surprised, but also amused at the little deer structures. 
Keep following this trail you are now on, and it will lead you to some more walls and some little steps.
When you reach this junction below, turn right.
This trail will lead you to some steps further along. Go up the steps, turn right, then a short way further along, up some more steps.
At the top of these steps, turn right.
The trail split and the big woods
Now, there is a junction coming up, and I can't for the life of me remember which one I took. I almost feel like I remember taking the bottom one, then deciding it was wrong and going up to the top one. But I can't be sure. Maybe they lead the same way? At this point you will have to take a guess I suppose.
Hopefully you will end up at the really tall woods.
Walk through the tall woods
When I entered these tall woods, my intention had been to turn left. However, right looked a lot more interesting, so I went right instead.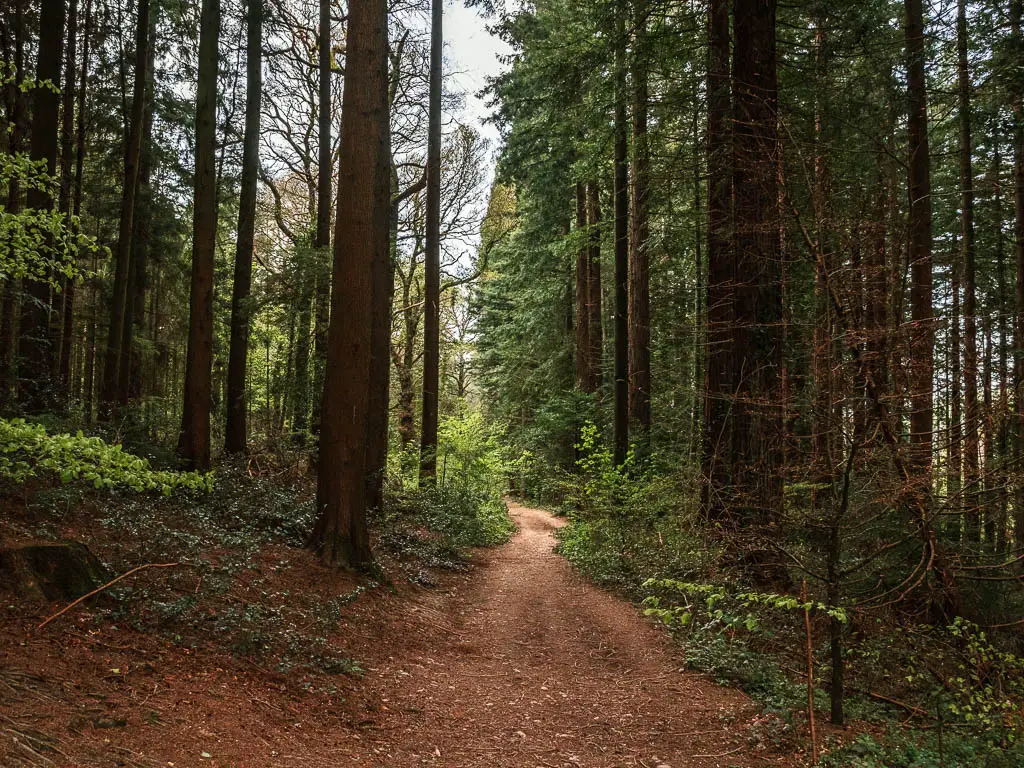 The right takes you downhill slightly and around in a loop, alongside the river. I knew at some point I needed to go left, however, every trail option that popped up was super steep and not inviting in anyway, so I kept going. Waiting for a more pleasant looking trail. After a while, I started to hear the road noise. I was getting nearer to the road than I had wanted. Time was running out, and I knew I would have to take the next left trail, however steep and aggressive it looked. 
As luck would have it, the next left was the kind of trail I had been waiting for. You will find it at the bigger junction, just past this sign:
The trail will be to the left and almost back in the direction you came from. 
This starts off as an uphill, but a gentle(ish) uphill, comparatively. Then levels off.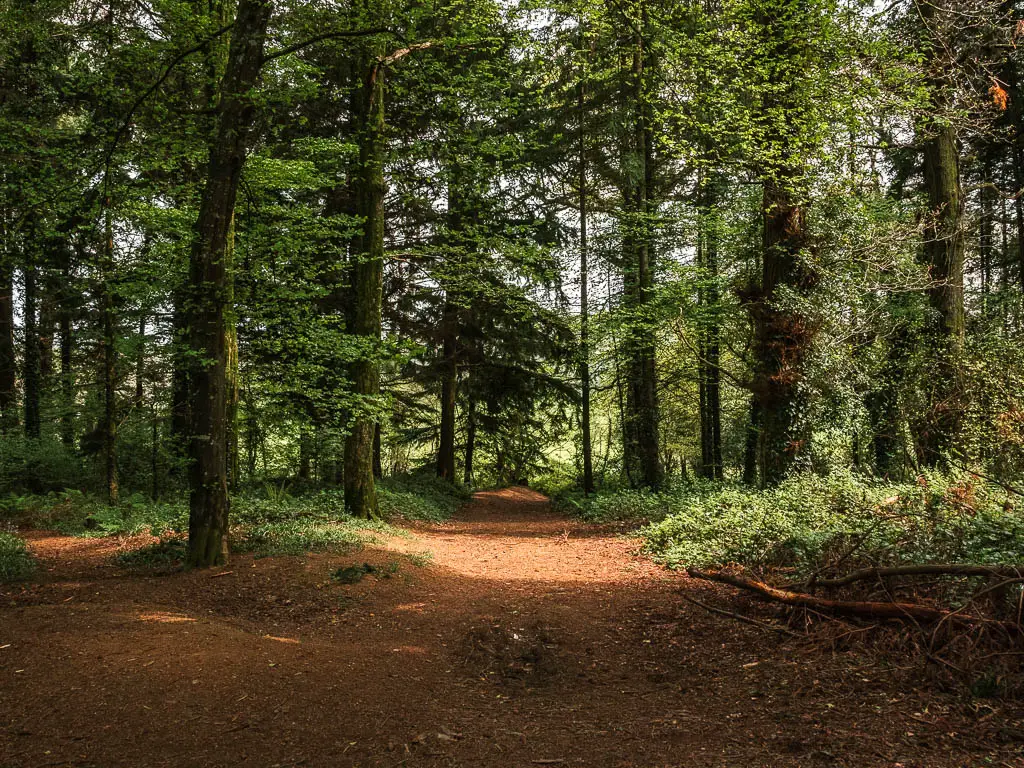 Keep going all the way to the end, then turn right, so the field is on your left. 
At the bigger junction, with multiple options (I think 4), you want to take one of the left trails. I think they all end up in pretty much the same place. I picked (I think) the third one from the left. It looked liked this:
It had what looked to be massive track marks. That's why I picked it. It looked interesting. When you reach the end, just to the right will be a wooden gate to exit the woods (If you took one of the further left trail, you will want to walk to the right at the end)
Walk out of the woods and to the Cider Press Centre – And another Dartington Hall route
Through the gate, turn left, and follow the trail which will soon lead you onto a road past a community of buildings. I'm not sure what this area is. But they had a little trolley where you can buy herbs and veggie stuff. I think you can just take what you want and put the money in the box. I've see a lot of this kind of thing in the countryside. I love how trusting they are out here. 
I then walked past a goat to reach the main road. 
Note: If you turn left of this main road, you can also reach the Dartington Hall and Gardens
Cross over the road to the trail entrance on the other side, and turn right. Follow this trail all the way around, and you will soon reach the entrance to the Cider Press Centre.
The Cider Press Centre
It's an interesting little area. With shops selling lots of cider flavour things, and various other locally sourced food and drink. There were also shops selling more artsy craft things. Cider is no longer actually made here, but they have one of the original apple presses on show.
If you look at my map, you can see the squiggly line section. That was me exploring.
Start the walk back to Totnes from Dartington
To leave to centre, to continue on the Totnes Dartington walk, you want to basically walk in the rough direction of straight from how you entered. This is potentially a bit confusing. For landmarks, I walked past a kid play area, a toy shop and the wool merchant. 
This should lead you onto a trail with a sign saying 'Totnes-Dartington path', after which you will walk past a cute little shop.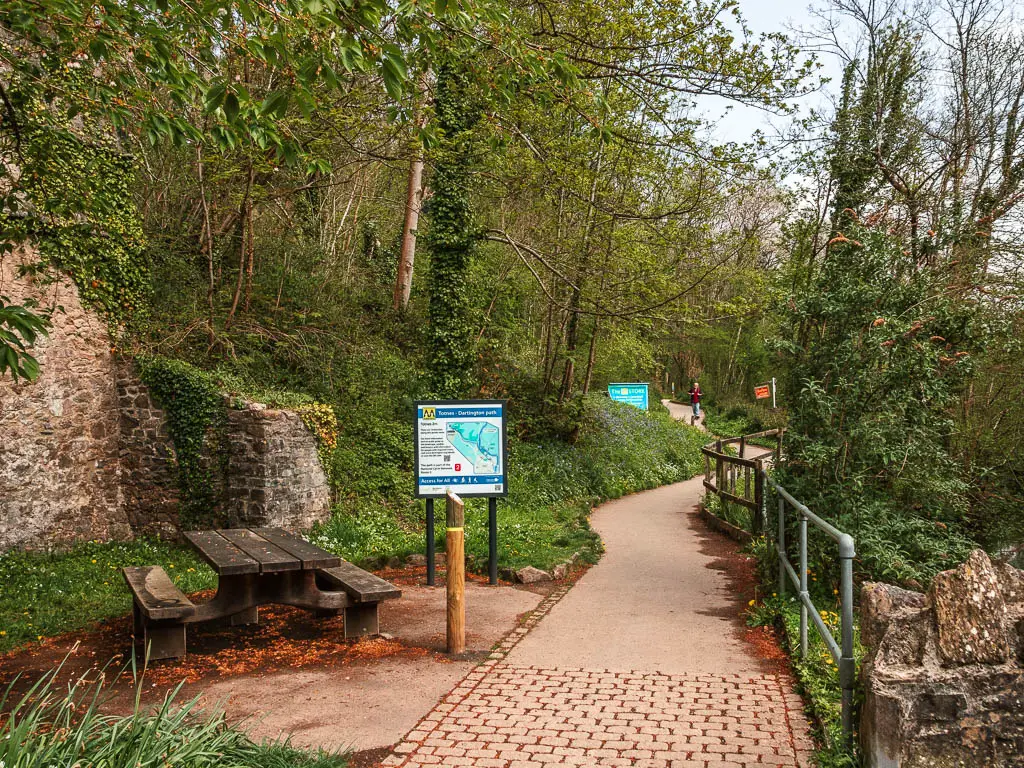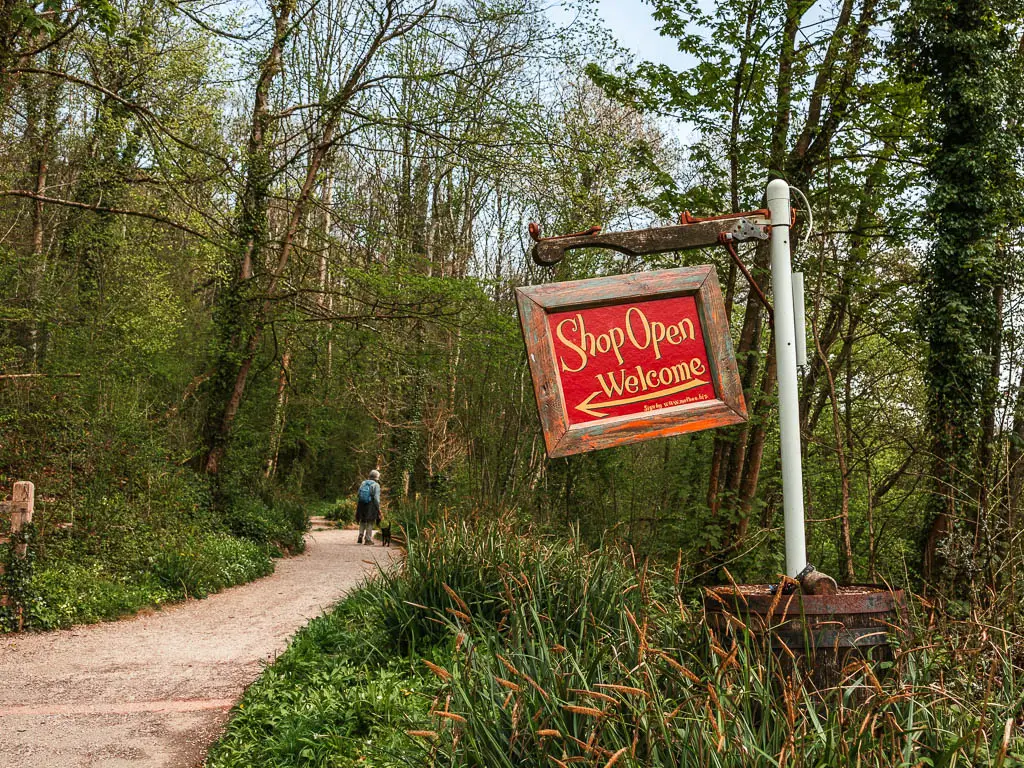 A short way along, there will be step options to the left. At this point, the road noise was pretty aggressive, so I took the steps hoping they would take me just that little bit further away from the noise. Did it work? I'm not so sure. The trails pretty much run parallel to each other. But it was worth a try.
You can take the bottom trail instead of the steps, as they both connect further along. If you took the steps, when you reach the end junction, turn left onto the lower path (not the steps this time) – see photo below.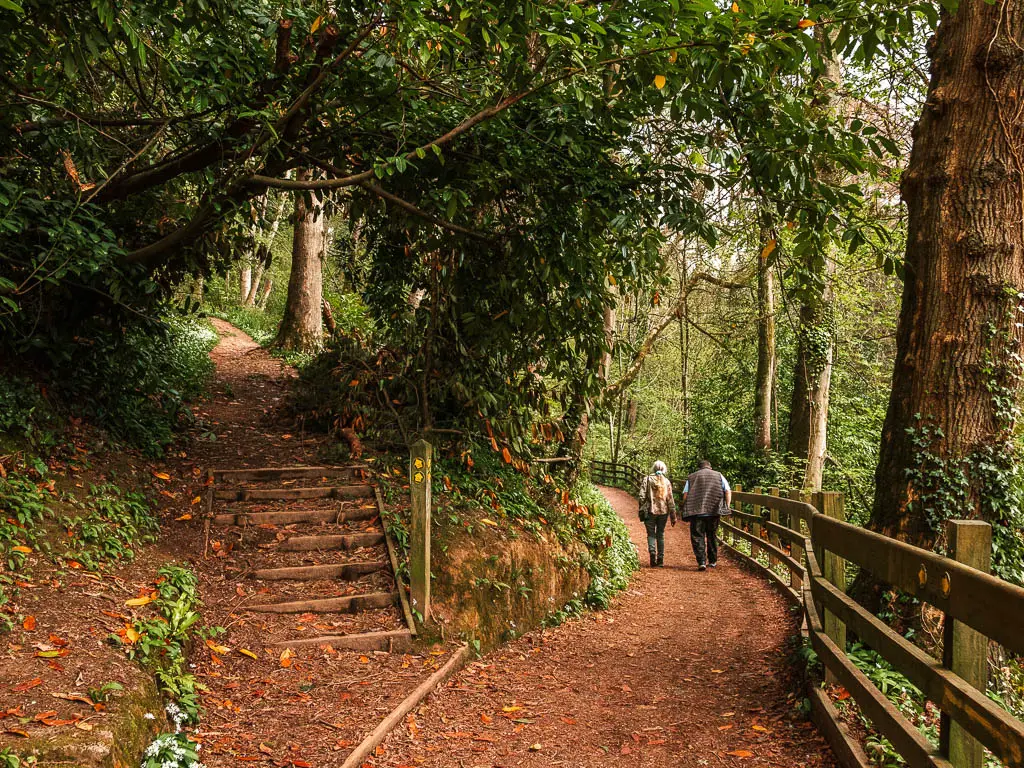 Walk to the viewpoint hill
There are some junctions coming up. Two I think. Take the right one each time, and this should soon lead you out of the woods, and onto the viewpoint hill. Continue walking along the hill a little bit further, where you will have lovely views all around. 
I had a little sit down here, to take it all in, before leaving Dartington to walk back to Totnes. After a little break and snack, I got my phone out and opened TikTok. I had thrown something up that morning. 100's of notifications. Oh, I seemed to be going viral. I had something else in my drafts so thew that up, and continued on the walk.
Walk back to Totnes from Dartington along the river
This hill will lead you through some more woods, then back to the road you walked on when you entered Dartington. Turn right to walk towards the gatekeeper building, and then walk back the way you came along the River Dart….
Remember how I wasn't in a walking mood today. I hadn't intended to walk as far as I did. But somewhere along the way, I got my second wind (maybe the coffee also helped). I felt very pleased with myself, and how far I ended up going. Today was a day well spent.
When I got home I had a look at TikTok again. I seemed to be going viral again. That was a surprise. That video ended up with close to a million views. 
---
More walk ideas near Dartington and similar walks
Totnes to Dittisham – This walk takes you along the River Dart in the other direction from Totnes. It is part of the Dart Valley trail. You have a much more countryside feel on this one, but it is also more challenging. 
Dartmouth to Dittisham – Loooved this walk. This is the other section of the Dart Valley Trail. You will have woodland, crazy hills, a steam train and the most adorable river boat crossing.
Torquay to Cockington – This one is a little further away, over by the coast. I wanted to include it because it has similar vibes to the Totnes to Dartington walk, but on a much smaller and cuter scale. 
Totnes to Sharpham – This is a short walk along the River Dart from Totnes. Perfect if you want to do a little exploring when in Totnes, but don't want a massive hike, 
For a more detailed comparison, you can read about the best walks from Totnes.
Pin the Totnes to Dartington walk guide for later: