This walk takes you from Torquay, along a lush green trail, and into the picture perfect, postcard chocolate box village of Cockington. From there, the walk then goes into and around the Cockington Country Park, before returning back to Torquay.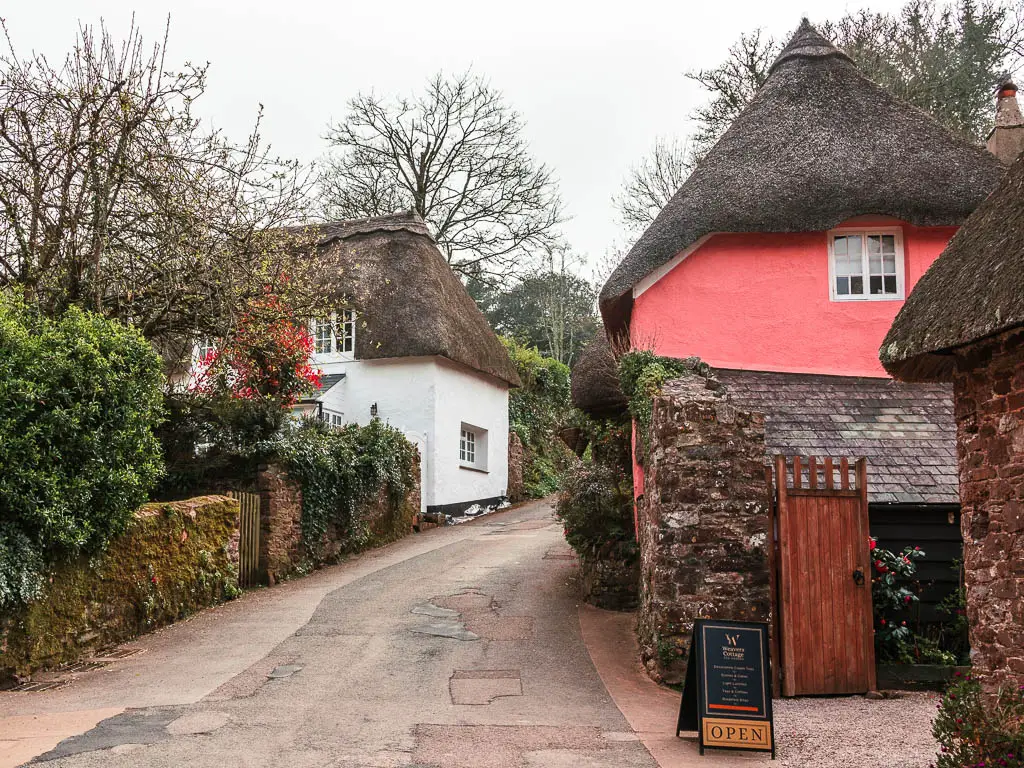 This post uses affiliate links. You can read the privacy policy or disclaimer for more info.
I learnt about Cockington from a hairdresser. I was way overdue for a haircut, and with it being half the price of in London, I thought I would take the opportunity whilst out here in Devon to tend to it. Through hairdresser client chat, I told her I was out here walking, and she told me I must walk to Cockington. 
It was on my list to do, but I had no specific plans of when. Today I had actually been on an Agatha Christie Walking Tour in Torquay, and our guide Graham, also recommended a walk to Cockington. 
The fog and the coast path
I still wasn't going to do it today though. I had plans to walk along the coast path from Babbacombe to Teignmouth. So after the walking tour, I hopped on a bus up there and arrived to this:
Although nice and moody, I would have absolutely no views. I want the views. So I jumped on a bus back to Torquay, wandered around, and then thought 'Ah' I can walk to Cockington. 
What was the walk from Torquay to Cockington like?
I was pleasantly surprised. I knew Cockington itself would be lovely, but I wasn't so sure what the walk there from Torquay would be like. I could see a little trail on the map, but it runs next to a main road. Usually not a good sign.
When I arrived at the trail, I was met with lush green foresty vibes, and no sign or sound of the road. This trail leads all the way to Cockington Village.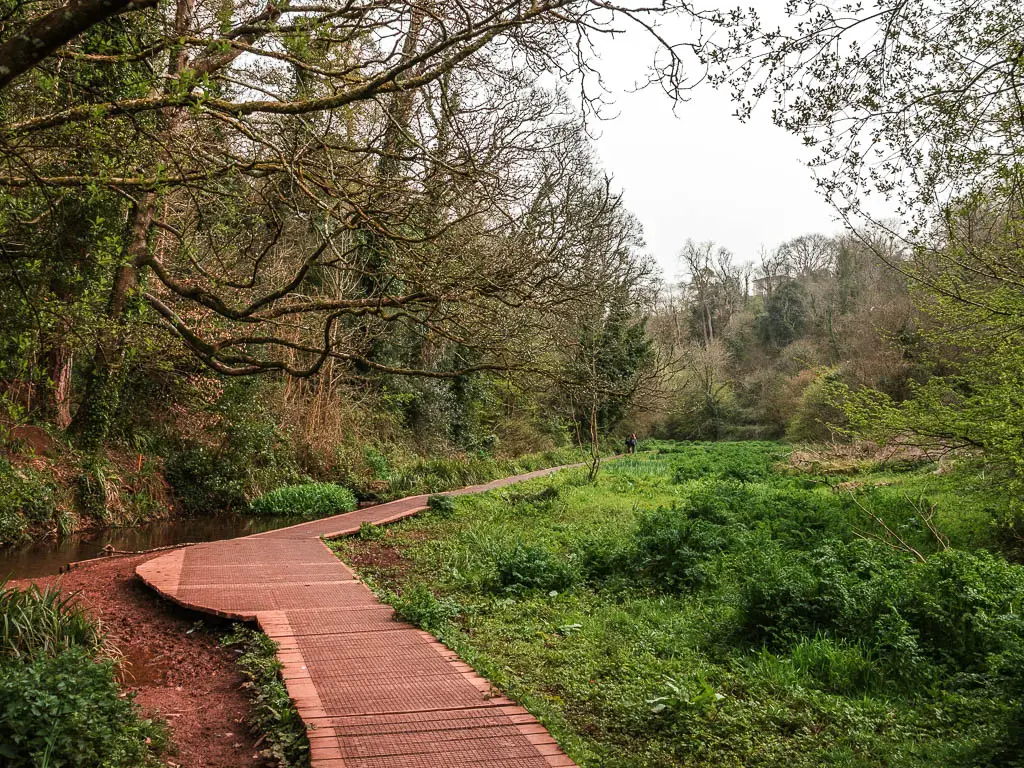 Cockington Village and Country Park
It's a very small village with cute thatched roofed cottages, lots of flowers and winding lanes. It sits right on the edge of a country park, with well manicured lawns, open parkland, woodland, ornamental lakes, a rose garden, a 12th century church and a historic Manor House.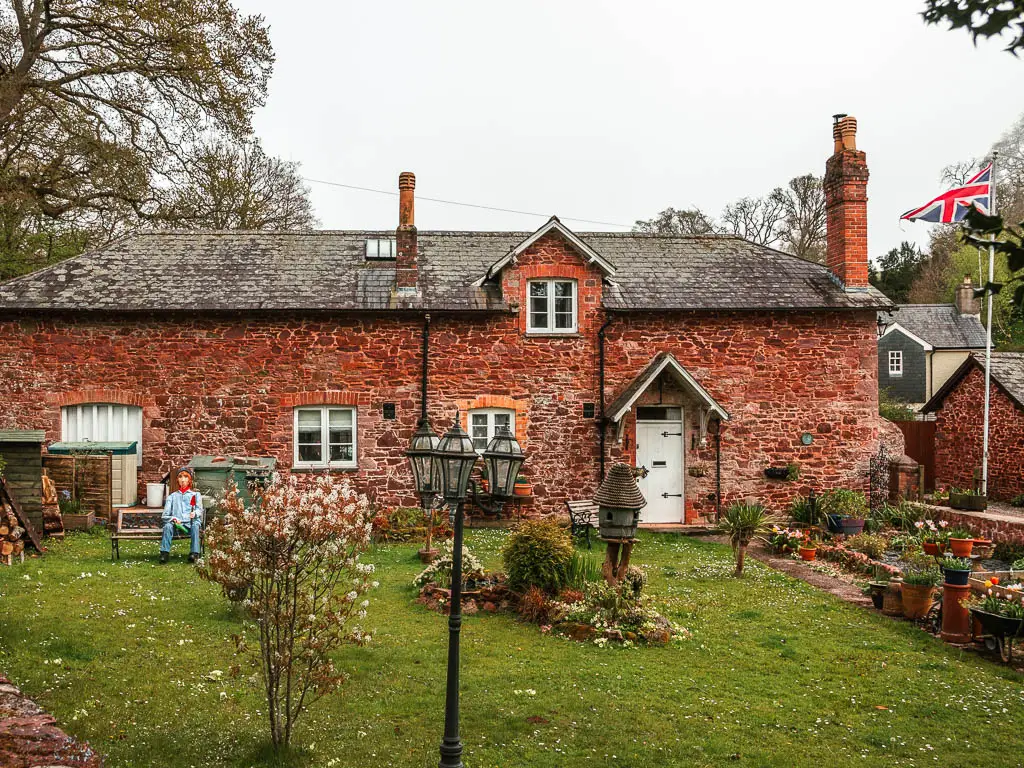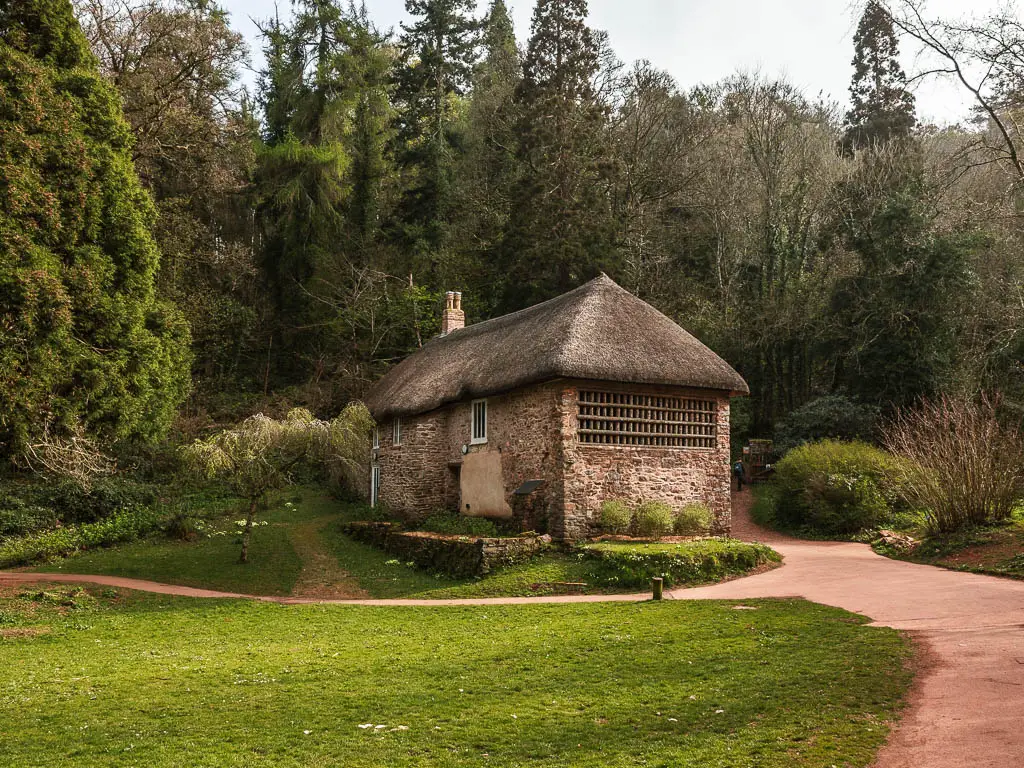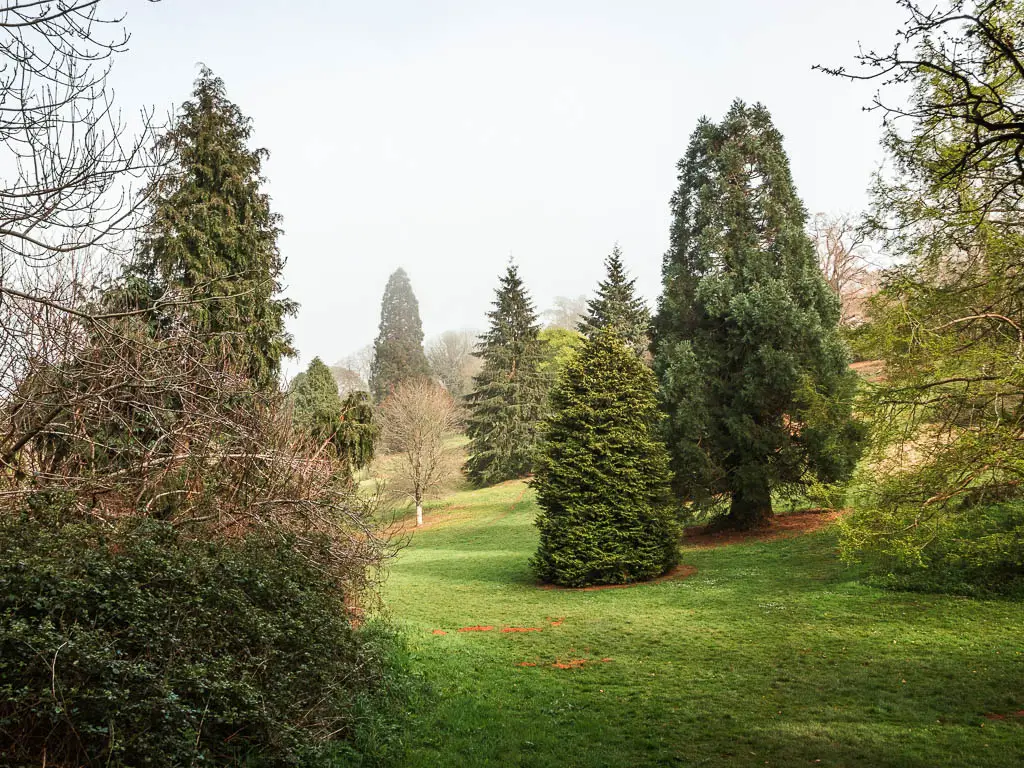 Now, this guide is mainly to show you the best way to walk to Cockington from Torquay. From there I recommend wandering around at will, through the village and country park. I am however going to provide my map and tell you the exact route I took for reference. I certainly didn't explore all of it, this was just a taster. 
Logistics for the Torquay to Cockington walk
Start/Finish: Torquay railway station
How to get there: Torquay is located in South Devon, part of the English Riviera. The station is serviced by Great Western Railway. 
Distance: From Torquay station to Cockington Village, the walk is 1 mile. I walked about 3.5 miles in total.
Time: There and back, it's under an hour. Add more for exploring.
Difficulty: Easy
Terrain: Gravel path, dirt path, a bit of road, grass.
Dog friendly: Yes. 
Amenities: Cockington Village has a tea shop and a cafe in the Manor House in the park. Both are dog friendly. 
Tips for the walk
Regular trainers are fine.
Stop for traditional cream tea at the Weavers Cottage Tea Shoppe (yes, that's how it's spelt) in Cockington.
Wander around the art gallery and watch the glass blowers at Cockington Court.
A map for the circular Torquay to Cockington walk
More walk ideas near Torquay will be at the end
A guide to the Torquay to Cockington walk
Starting from Torquay Station, go out and walk behind the Grand Hotel and over the bridge. From here, turn left and follow the road, first uphill and then down.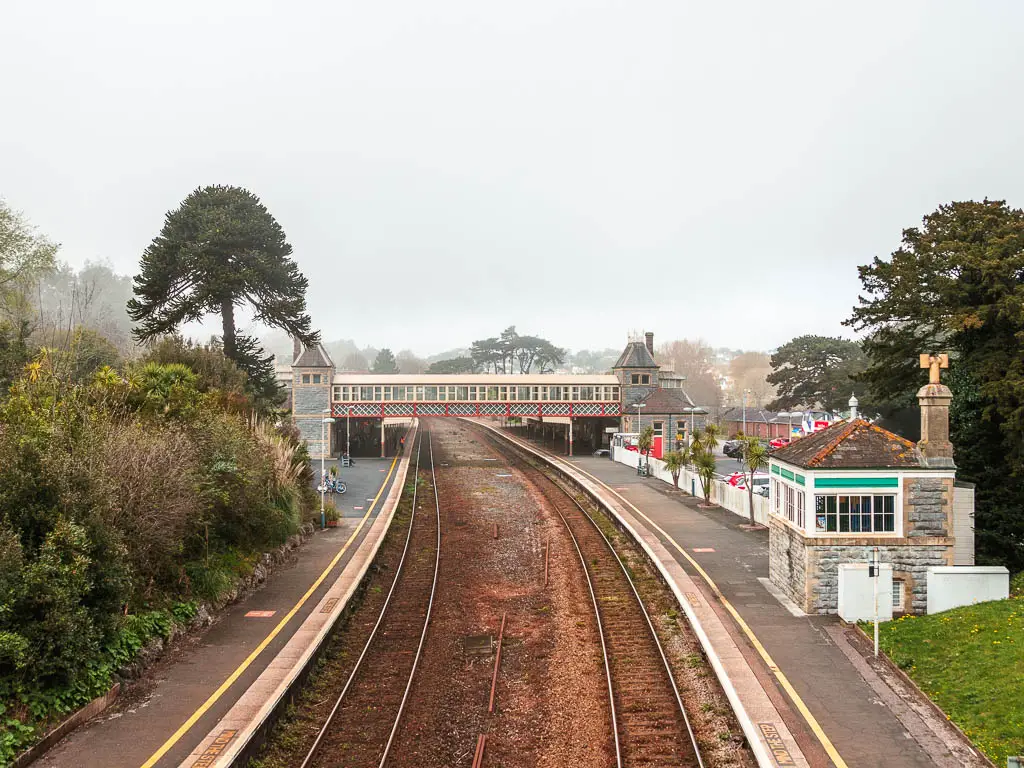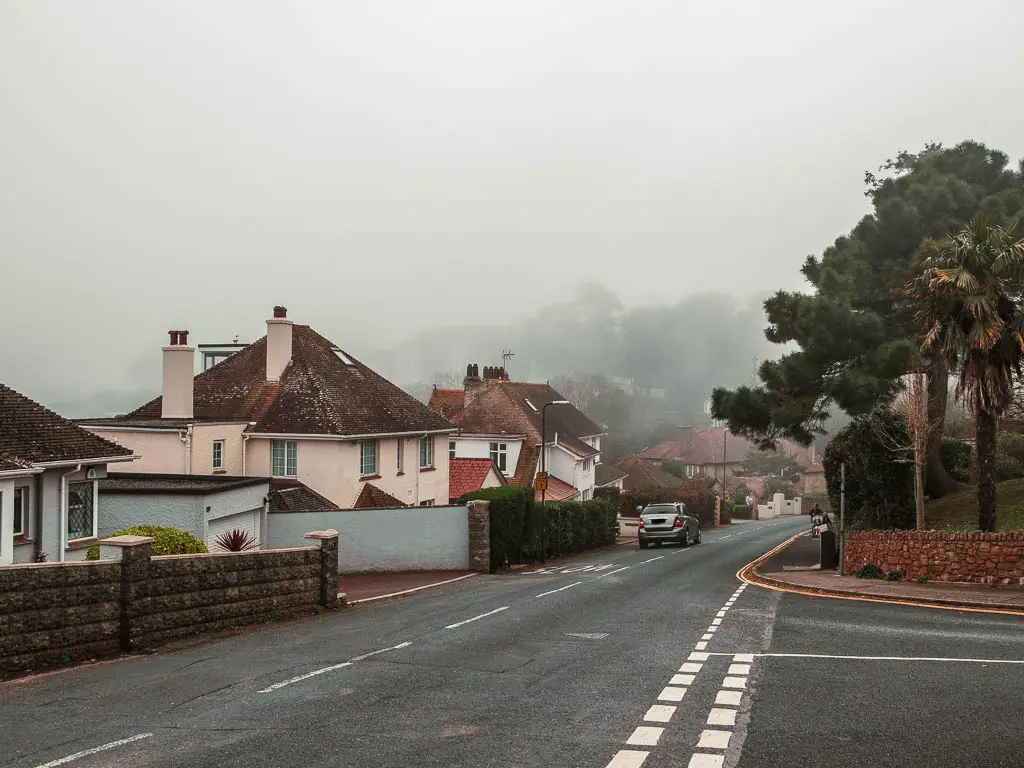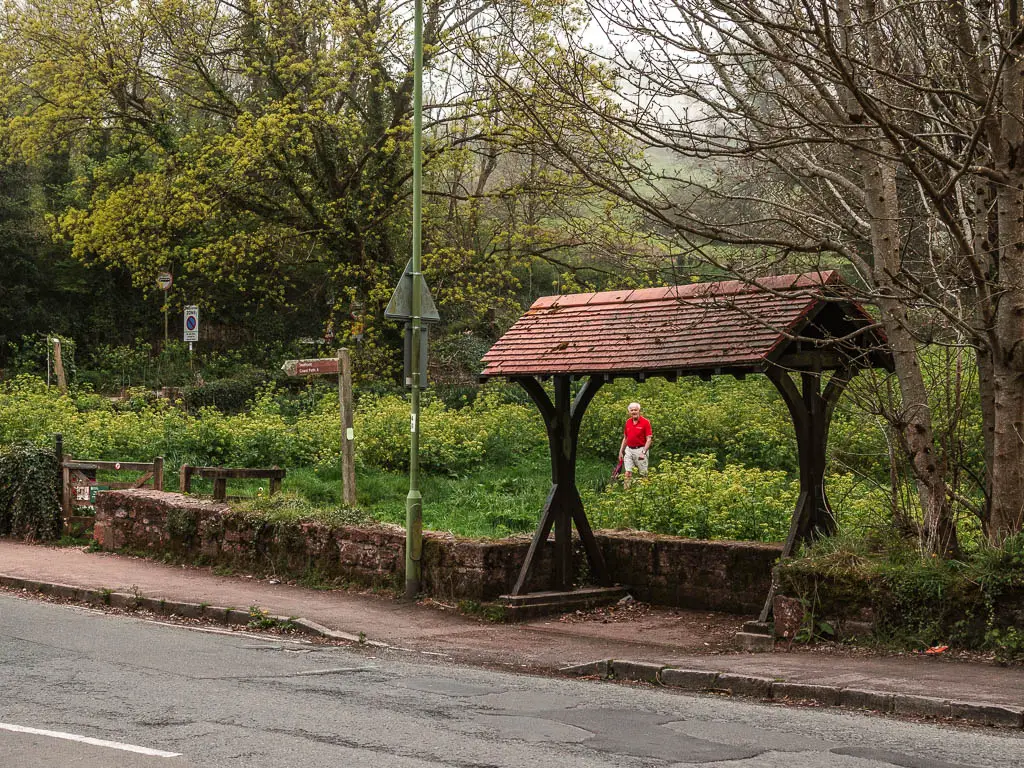 At the end, turn left, and then the trail is on the right just past the hut thing in the above photo.
Walk along the lush trail from Torquay
The first section of the trail is hogweed heaven. Then past here, it's lush goodness all the way to Cockington. It was a moody foggy day, which I think probably added to the vibes.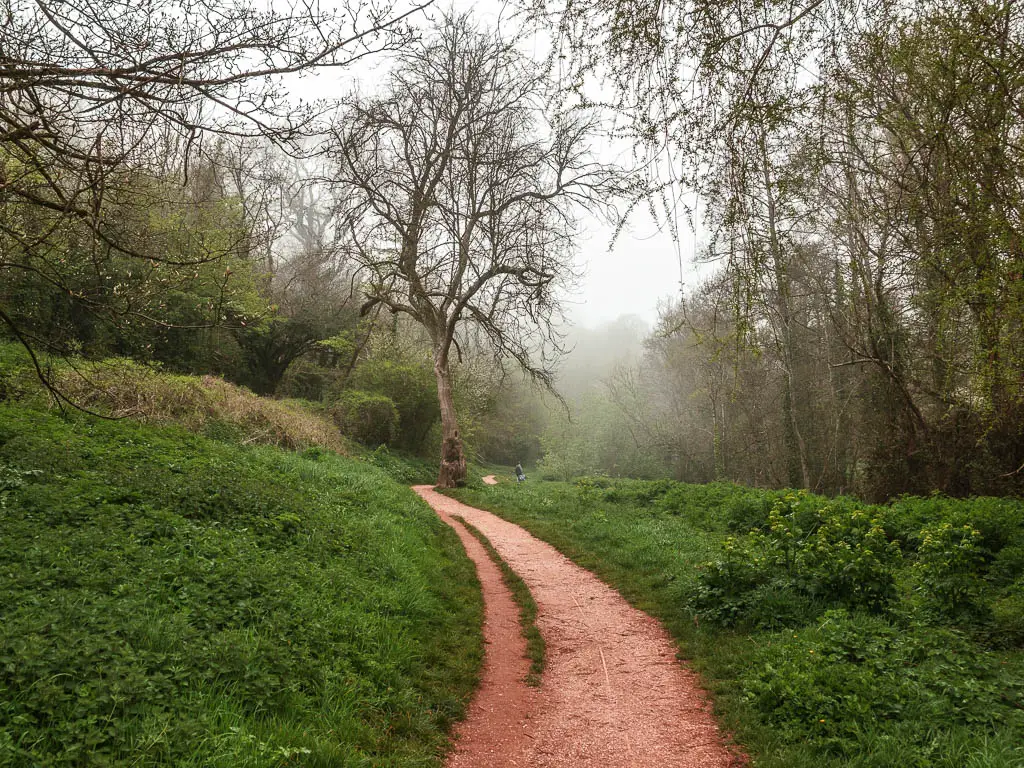 At the end you will go over a little bridge as you enter Cockington Village. 
Walk through Cockington Village
As I said, once you arrive here, you should wander around at your own pace exploring all the little areas. I will however, now be showing you where I went.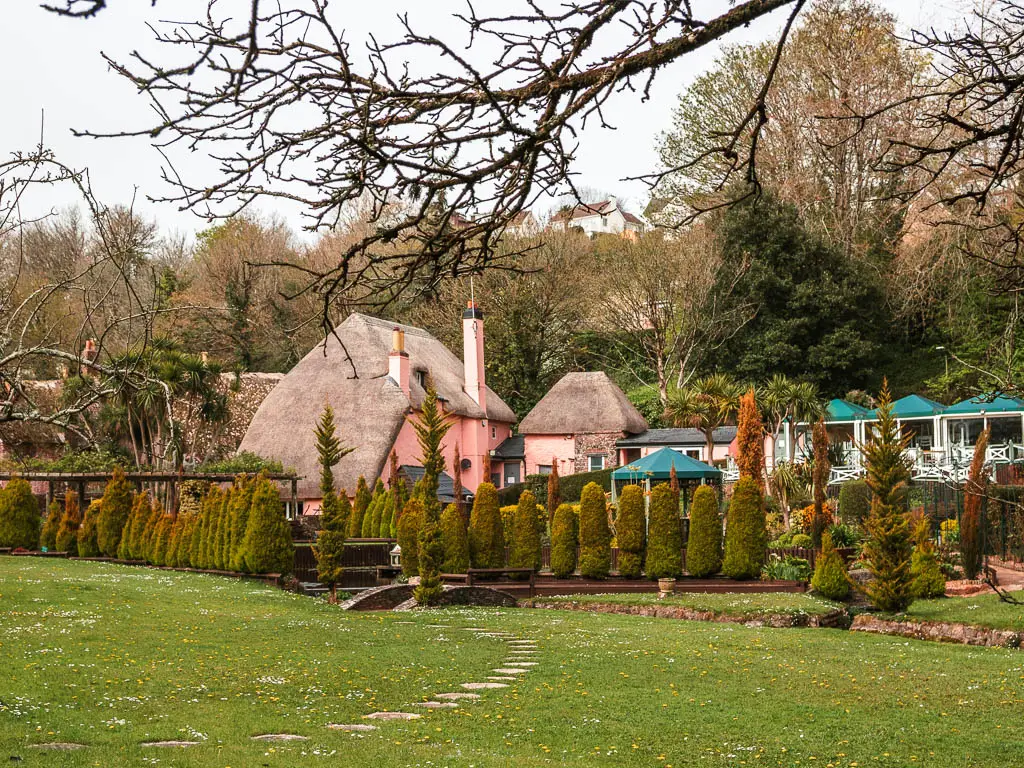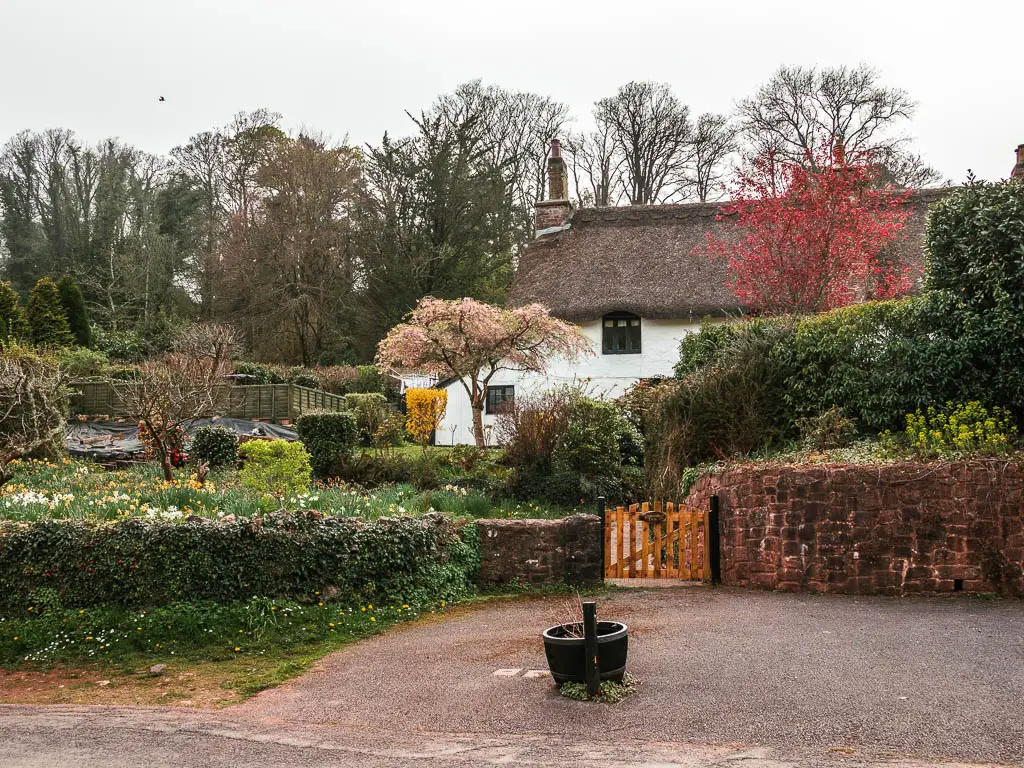 I wandered down the road, admiring all the cute thatched roofed colourful cottages, and then went into the visitors centre area. It's like a sort of courtyard, with a tea shop, ice cream parlour and watermill.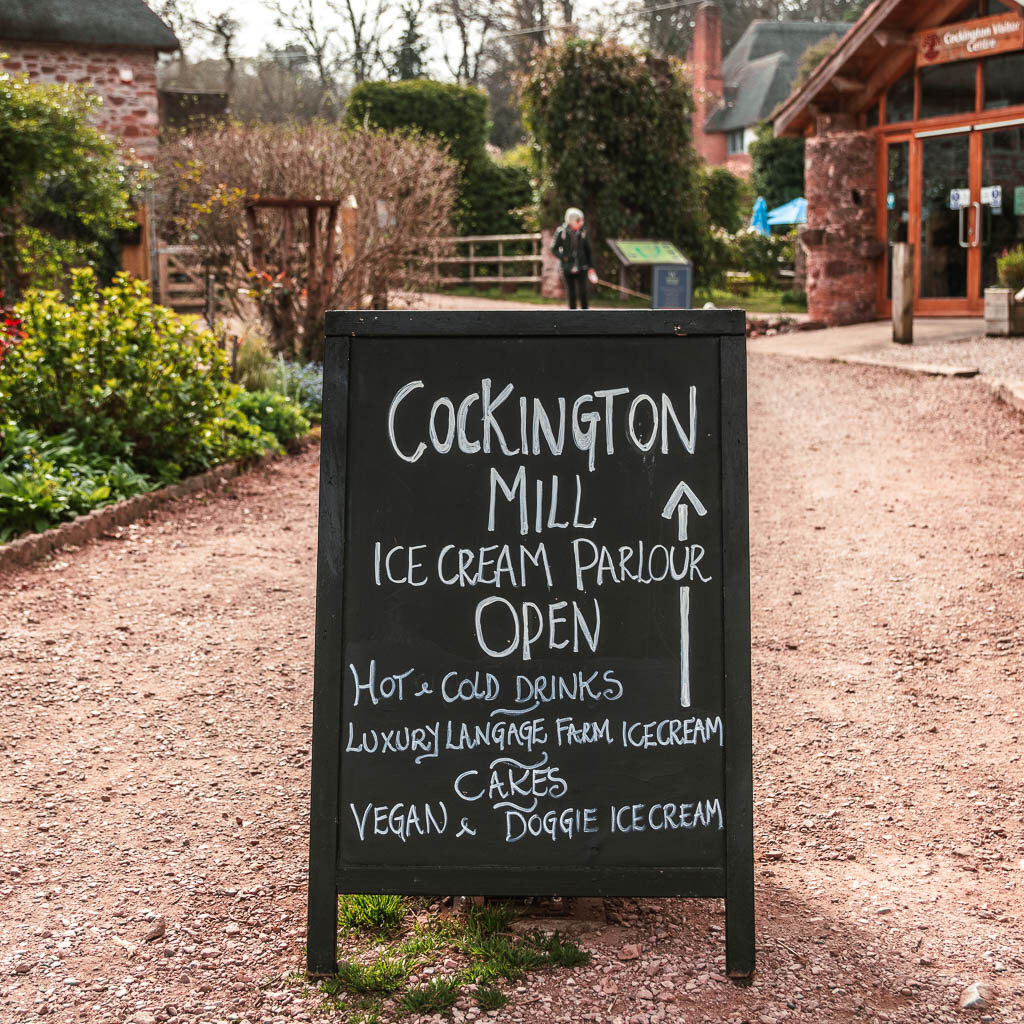 Through here and out the other side, is a large green with cherry blossom trees, and over to the left is the entrance to the Cockington Country park.
Walk around Cockington Country Park
In the park, I continued in a straight sort of diagonal, to reach the path on the other side of the green, leading to the manor house.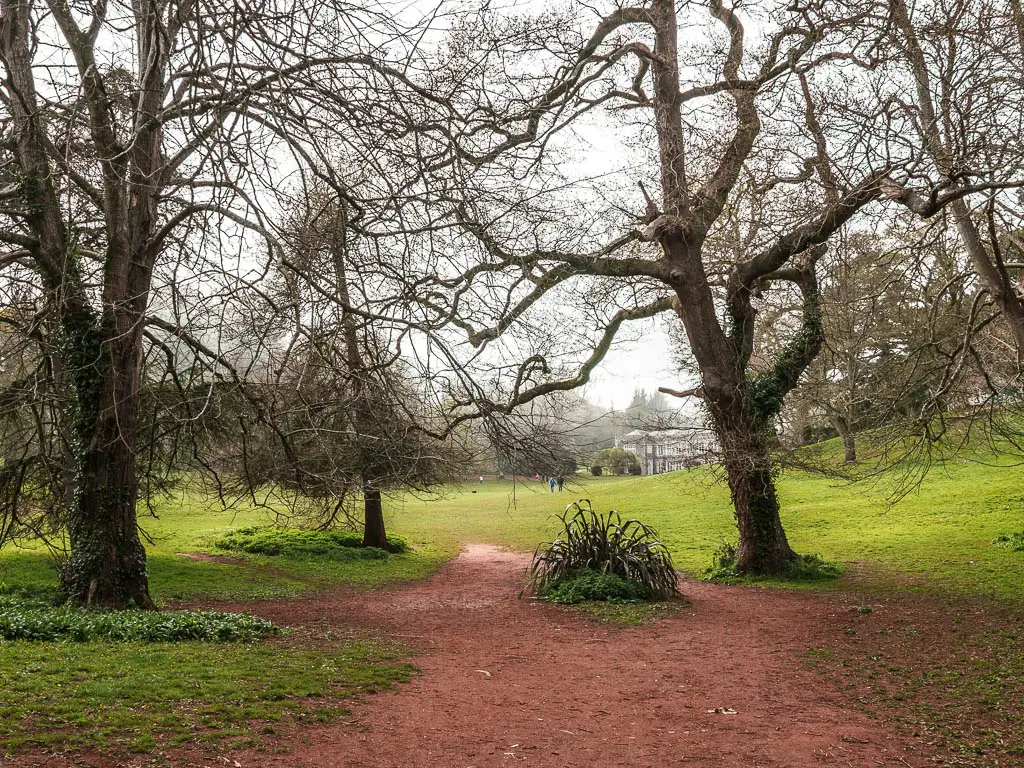 Behind the house, is a rose garden which I was looking forward to, although, it turned out not to be in bloom yet. Oh well.
A group of well dressed people, maybe from a wedding, noticed me with my camera and asked for a photo. I was happy to oblige. My good deed for the day.
I then walked around the back of the church to reach the steps leading into the woods. I followed the trail in the woods along and then down, to get back to the green which has all the flowers. I think this area is called the Arboretum.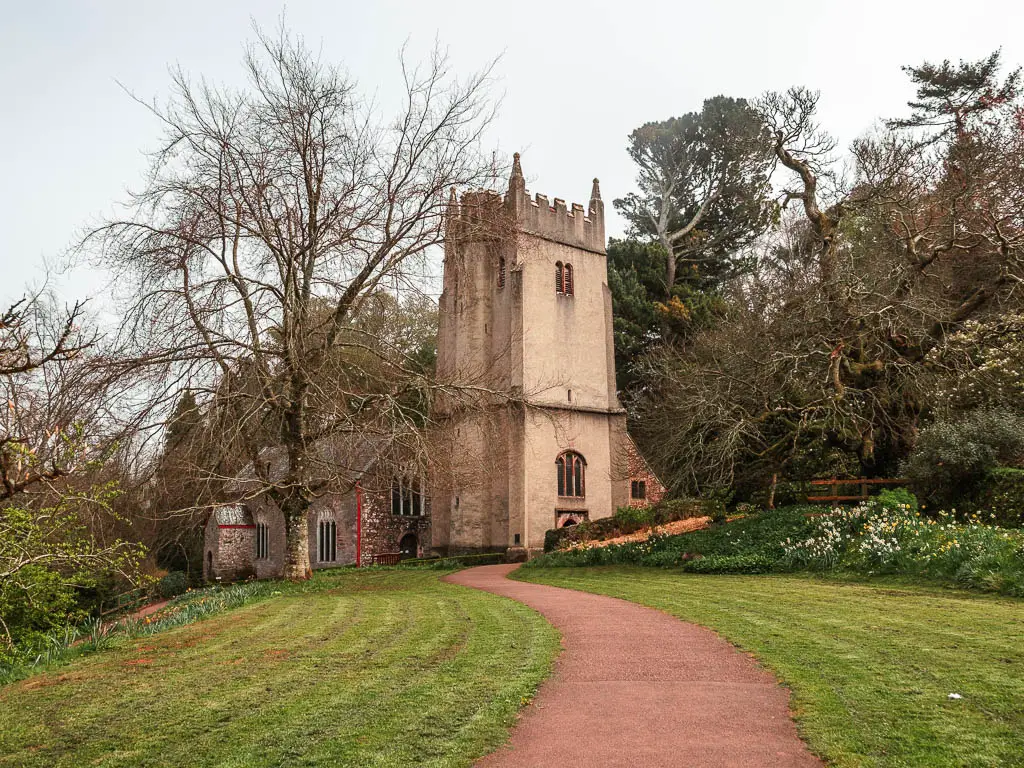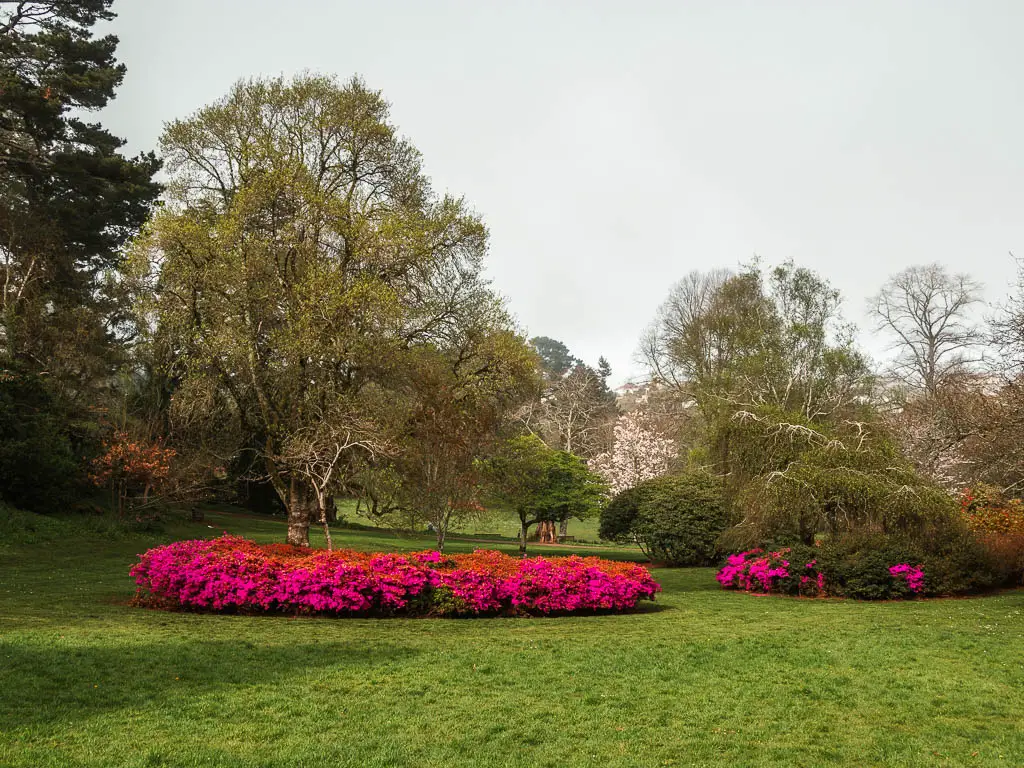 Walk to the lakes
I had now done a sort of loop, and was back on that trail from earlier. I took a right here, and at the junction, followed the sign directing right, to the lakes. Under a bridge type thing, I took another right turn, which took me all the way down to another lovely little house and all the pretty lakes.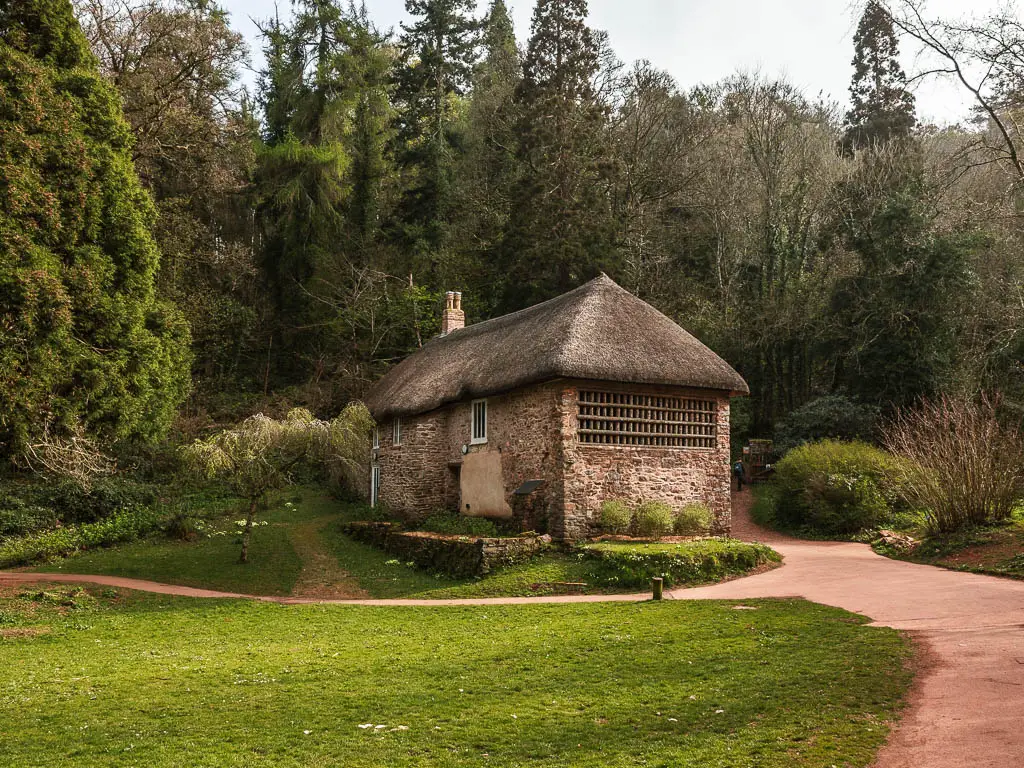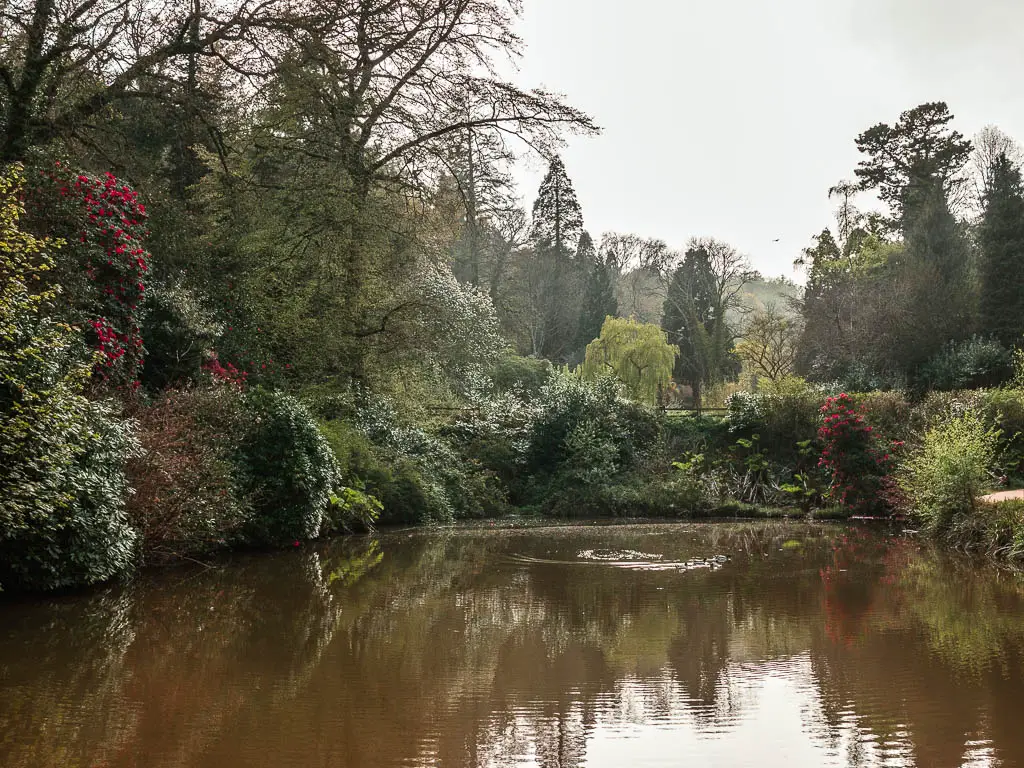 Walk back to Torquay from Cockington 
Past the lakes, I took a right turn which lead back to the road and the lovely lush trail from the start of the walk, to now head back to Torquay.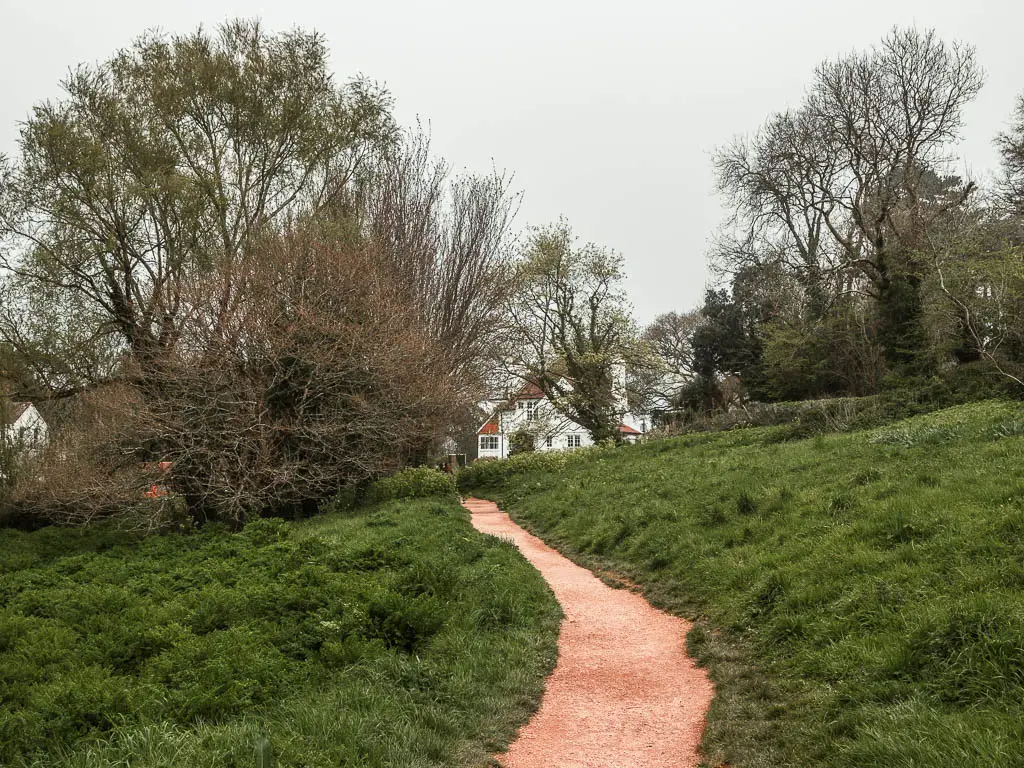 Once I reached the end of the trail, and had that short road walk back to the station, I had a look at the time. I had another 30min before my train back to Totnes. It was too soon to go back to the station, so I decided to instead take the road straight ahead, which leads to the seafront. I figured I may as well go and see more sea before I head home. 
If you want to avoid the chaos, then you might not want to go this way, as once back on the main road, it's an onslaught of cars and noise. I wasn't too bothered though. The views across to Torquay from here are great, and if you haven't seen this view yet, then you should. 
Today, I particularly enjoyed the misty goodness.
More walks near Torquay
Torquay to Babbacombe – One of may favourite walks down here in South Devon with gorgeous views, lots of green space and some pretty trails. 
Agatha Christie Walking Tour – If you have never read an Agatha Christie book, I would still recommend this tour. It's truly fascinating learning about her life and things that inspired her. Did you know she is from Torquay? I had never read a book, but after the tour I was a convert and went and bought my first one. 
Paignton to Brixham – A lovely walk past long stretches of red sand beach and the steam railway. Finishing in the colourful fishing town of Brixham. If you haven't been to Brixham yet, then you must. 
Brixham Berry Head walk – This is an easy circular walk from Brixham taking you to the peninsular with gorgeous cliffy views down the coastline. It also features Britains shortest and highest lighthouse. 
Babbacombe to Teignmouth – A short bus ride north from Torquay will get you to the start of this walk. Very hilly and cliffy. This is on the more challenging side of walks. You also get to cross the river on Englands oldest passenger ferry.
Totnes to Dartington – This one is a little further inland, but I wanted to mentioned it because it also involvess walking in a country park. Just on a much bigger scale. 
For a more detailed comparison, you can read about the best walks around Torquay.
Pin it for later: A guide to the Torquay to Cockington walk