I nearly did this coastal walk from Dartmouth to Blackpool Sands one year ago. It's a walk I had read was recommended in the area. However, I wasn't so sure about it due to the fact there would be a bunch of road walking, so I ended up doing the Little Dartmouth walk instead. I would save the walk to Blackpool Sands for another time, and now the time has come. 
What was the coastal walk like from Dartmouth to Blackpool Sands?
That bit of road walking I was worried about turned out to be not that bad. The majority of it was actually quite pretty. The road walking at the end though was a little questionable. I have a feeling I didn't take the best route, so I will tell you about an alternative when I describe the walk below. 
The first part of the walk to Blackpool Sands, out of Dartmouth, is lovely though. You have a lovely view over to Kingswear, Dartmouth Castle, a hidden beach cove and rugged coastline views. Later on you will walk through the cute village of Stoke Flemming, with an unusual post box (more on that later).
One thing I must make you aware of though, is that Blackpool Sands is a shingle beach. I didn't realise this until I arrived, and I must say I was a little disappointed. I am not a fan of shingle in any way shape or form. 
Logistics for the coastal walk from Dartmouth to Blackpool Sands
Start: Dartmouth
Finish: Blackpool Sands
How to get there: Located in South Devon. If you don't have a car, you can get to Dartmouth from Totnes on the number 92 bus. Totnes has a train station on the Great Western Railway Line. Alternatively, if you are in the Torquay/Paignton/Brixham area, you can get a bus to Kingswear, then a boat across to Dartmouth. Dartmouth and Blackpool Sands are connected by the number 3 bus.
Distance: 5 miles
Time: 2h
Elevation: Highest point is about 116m. Elevation gain is about 281m.
Terrain: Dirt trail, grass, road.
Difficulty: Easy
Amenities: Everything in Dartmouth, a corner shop in Stoke Flemming, public toilets and a cafe at Blackpool Sands.
Dog friendly: Apart from the roads, yes.
Time of year: Spring
Tips for the walk from Dartmouth to Blackpool Sands
Trainers are fine for this walk.
After Stoke Flemming, take a different route to the one I took (I will show you when I describe the walk below).
If you have the energy and want to keep going, then give it a go. You can keep going as far as Torcross and still catch the same bus back to Dartmouth. 
Be wary of the time. If you were planning on staying around Blackpool Sands (or further along) for sunset, just to let you know, the last bus back to Dartmouth (at the time of writing) is just after 7. 
I don't think bus between Dartmouth and Blackpool Sands runs on Sunday. I think I wanted to do it on a Sunday once, but didn't due to this.
Map for the coastal walk from Dartmouth to Blackpool Sands
More coastal walk ideas near Dartmouth and Blackpool Sands, with a link to the full guides, will be at the end
A Guide To The Coastal Walk From Dartmouth To Blackpool Sands
To start to walk from Dartmouth to Blackpool Sands, get yourself over the the harbour and turn right (so the water is on your left). You will be able to walk along the water side for a short while before it becomes a dead end, where you will need to follow the road to the right, and then left to get onto Bayards Cove.
This will lead you to Bayards Cove Fort, where you can go in and look through the holes. 
Fun Fact: Bayards Cove Fort was built in the 16th Century to protect Dartmouth from attack. 
If you walk through and to the other side of the fort, you will find the exit and steps to lead you up to the road, where you now turn left.
Walk to Dartmouth Castle
Now you just follow the road all the way along and past the colourful houses. You get a great view across the harbour and to Kingswear from up here.
After the road takes you down and around the corner to the right, you then need to take a left around a little beach cove.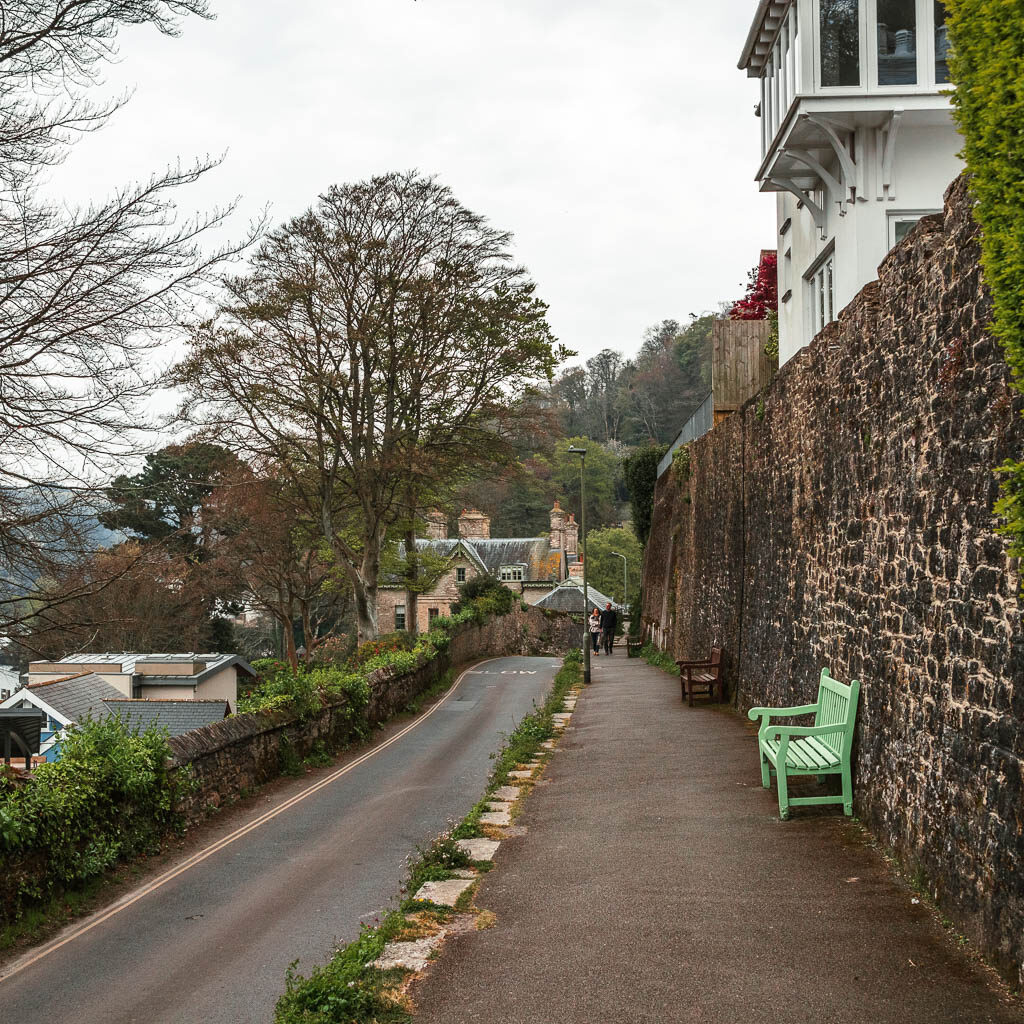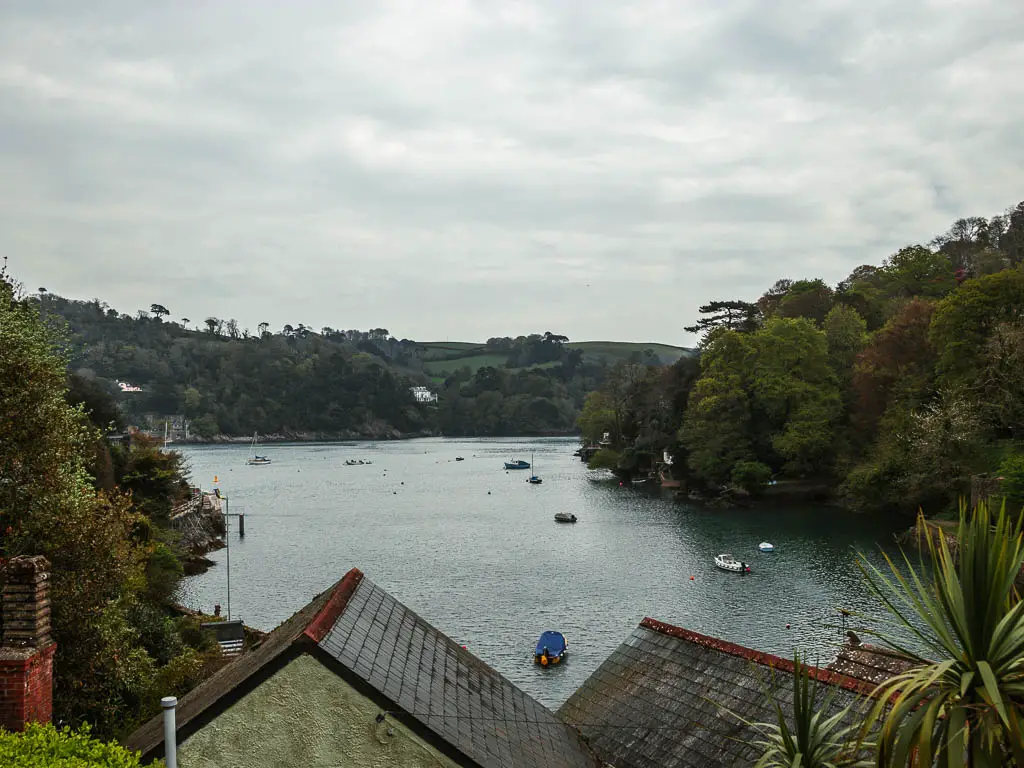 You will then walk uphill a little to reach the fork in the road. Left takes you to Dartmouth Castle. You can take the right if you want to skip the castle.
I was heading to the castle so I took the left. 
A little way further along, you will be presented with another fork. Keep left for the castle.
At this point I changed my mind. I have been to the castle a few times before, so decided to skip it. So I took the right.
Top Tip: If you take the left, then a little way further along, there will be a trail on your left which takes you down to a fantastic viewpoint for the castle. You can see it in more detail in my Dartmouth Castle walk post.
If you want to follow me, as I said, I took a right here, and then just ahead there is a trail on the right of the road which is nice and woody with a dirt trail.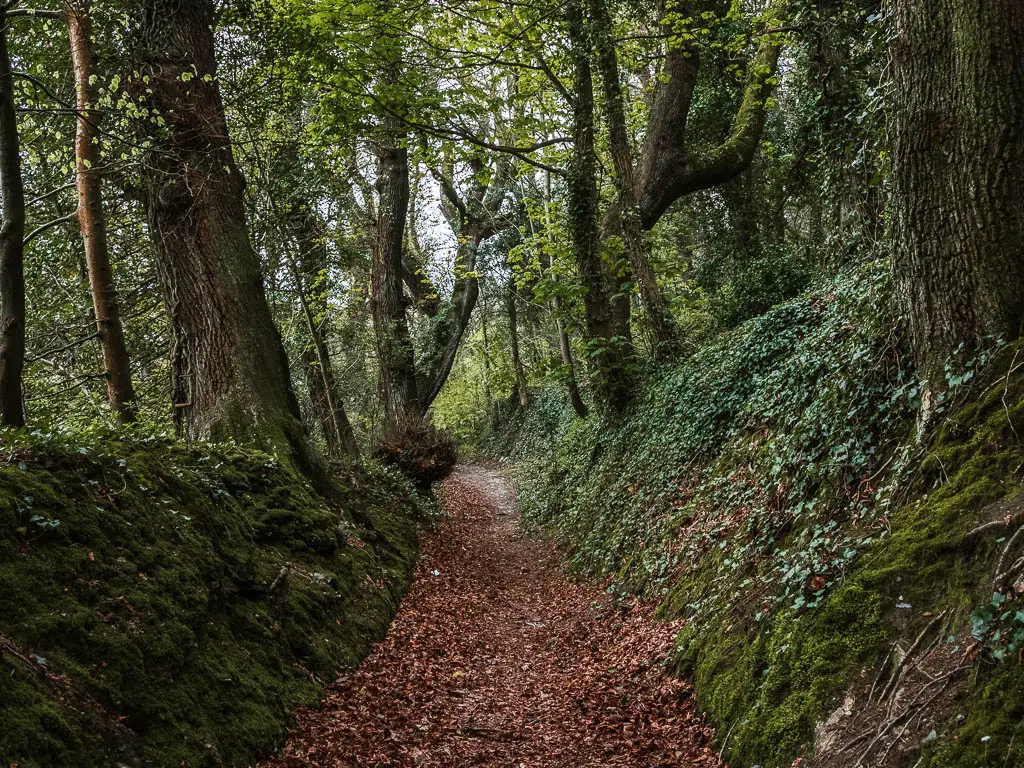 Keep going up to join the road again and continue straight. You will get a bit of a view of Dartmouth Castle below to the left.
Walk to Sugary Cove
Whichever route you took, they all lead to the same point. The entrance to the green nature area. Through here, stick to the main path and it will lead you to a dirt trail to take you down and around Sugary Cove.
If you want to go down to the cove, there will be some extra steps along here. I opted not to today. You see, my plan today was to not walk from Dartmouth to Blackpool Sands and stop there. I was actually planning on walking further than that. How much further, I didn't know. That would be decided by the bus timetable. I had a time limit to be able to catch the last bus back. 
Below is a photo of the cove from both sides.
At Sugary Cove, the trail takes you around and then up some steps to a rather pretty bit of trail. It's a bit steep and winding up here, then at the junction with the bench (unless the bench has been moved), turn left. This should take you up to the road, where you turn left.
Walk around the headland
You should see a house ahead of you. Next to it there is coast path signage pointing to little Dartmouth two ways. Follow the coast path way.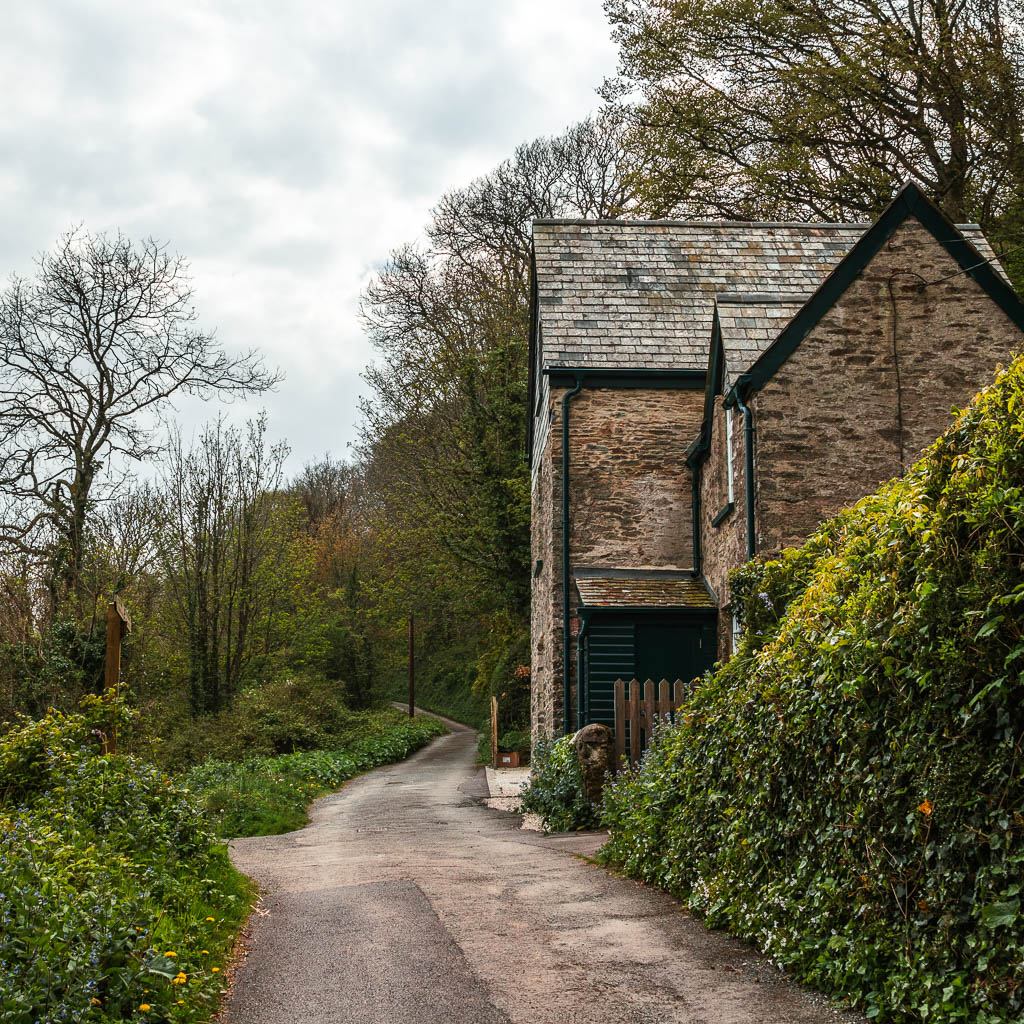 Next it's a bit of road with a lovely view to the peninsular on the other side of the sea, and then you enter the woodland.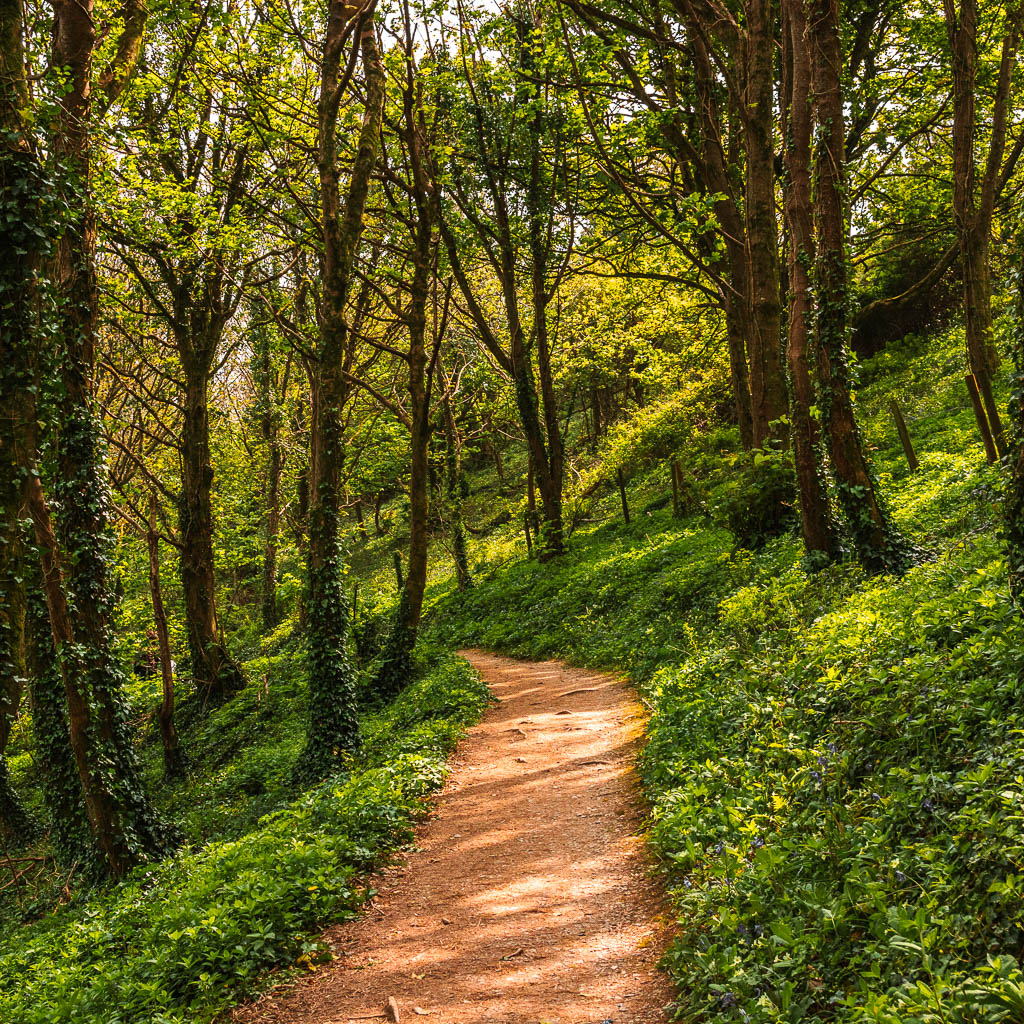 Through to the other side, the trail will look like it's going to take you over the edge. Don't worry, it doesn't. It takes you around to the right and along the coastline and side of a hill. You will soon start to get a lovely view to the rugged coastline ahead. 
At this point I was now facing the sun, so the photos aren't so great.
When you reach the trail junction signpost, you will have the option to go left to walk down to Compass Cove. It's a dead end down there, so you will need to then walk back up here to continue the Dartmouth Blackpool Sands walk.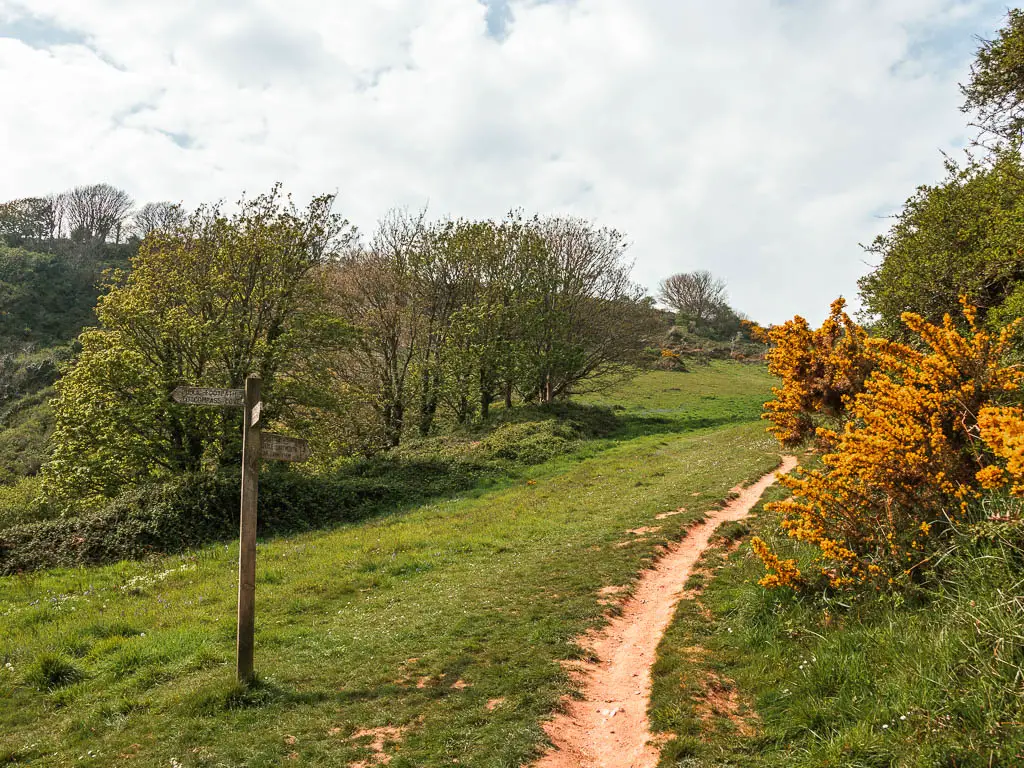 I opted not to go down there, because of my time constraints. Although, I thought back to the last time I walked this way. I'm pretty sure I didn't walk down there either and said I would do it another day. Well, I guess today was not that day. 
I started to hear a loud horn at this point. I couldn't figure out what it was. There is a steam train nearby, but that makes more of a high pitched toot toot sound. This sound was deep and heavy. It was a little ominous.
Walk to Little Dartmouth (kind of)
Sticking to the trail, you now have a steep uphill, then near the top, you need to turn left. In the photo below, see where that person is, go left around there. 
The trail will be a bit more level here with a mix of openness and woodland, and you get a lovely view back from where you came.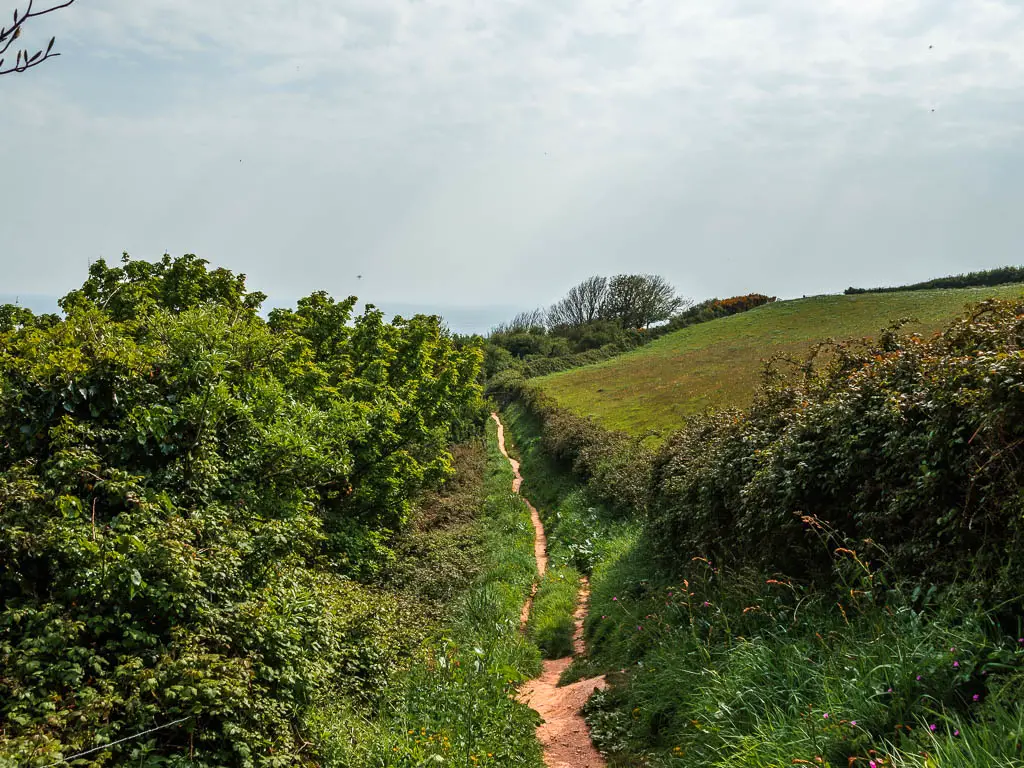 Further along, the trail will curve around to the right, and a bit further ahead, you will pass by a nice windblown tree with a view down to Willow Cove and Shingle Hill Cove.
The trail will continue to take you along the hill top, around these coves. It was around here that I saw it and heard it. That cruise ship from Dartmouth. That's where that horn noise was coming from.
I wondered where it is going. Probably France.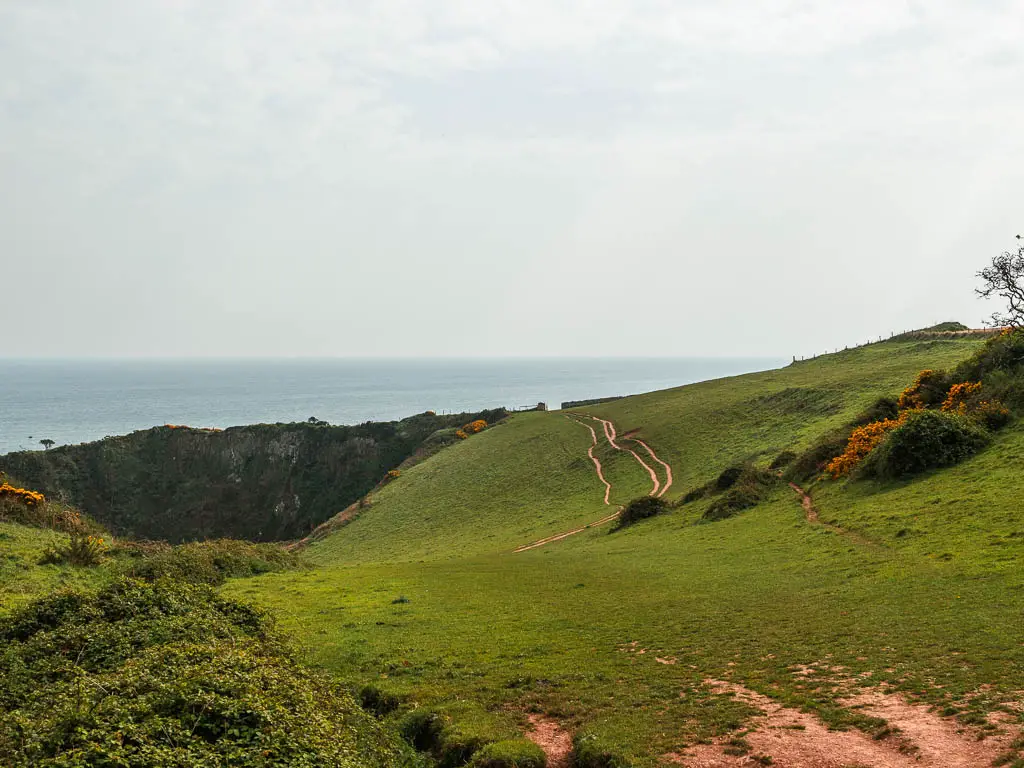 The trail will take you through a stone wall, and then you don't see much for a little bit other that hill and sea. When you do get over the hill, you will get a view all the way along the coastline, and the village of Stoke Flemming on the clifftop.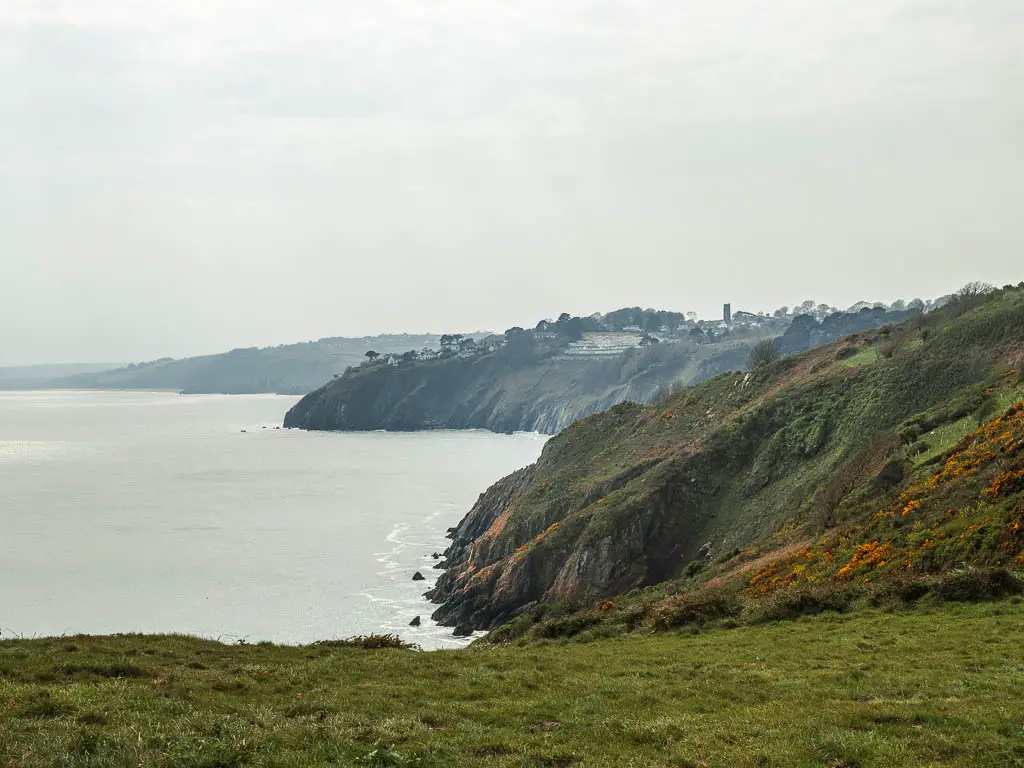 The trail will then direct you to the right and up a hill next to an orange field. I'm now assuming it's always orange. It was orange when I was here a year ago. 
Keeping to the edge of the orange field, it will lead you to a gate and onto the gravel path. This takes you up to Little Dartmouth car park.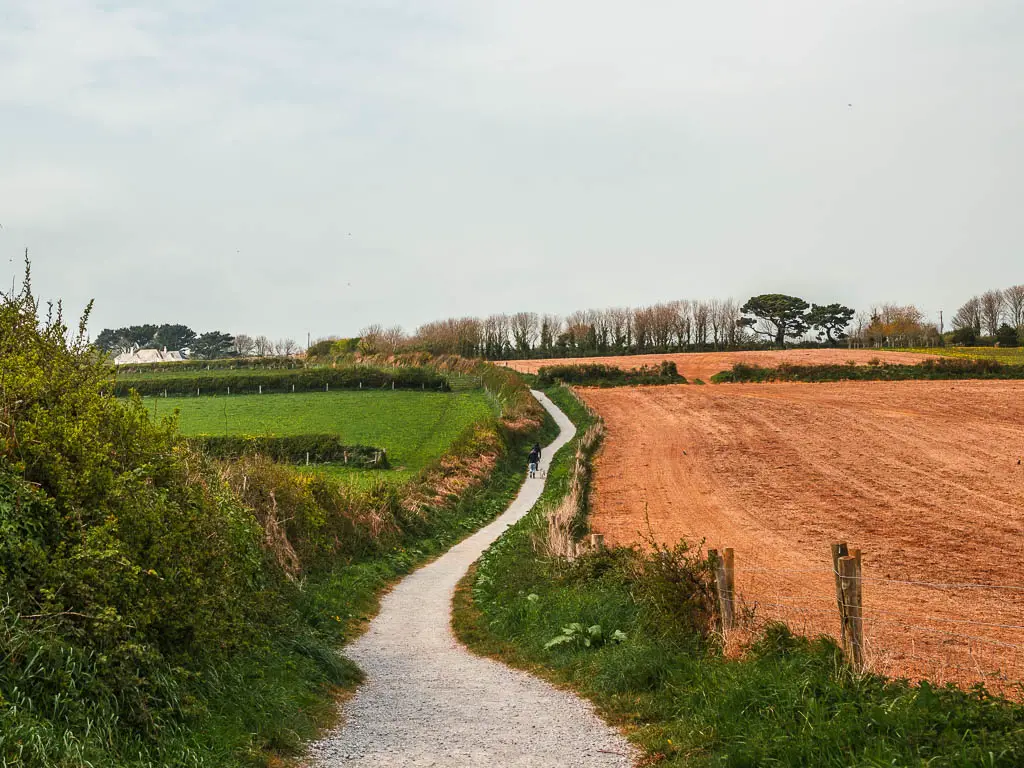 Walk to Stoke Flemming
Now is when the road walking begins. Through the car park, turn left and walk straight along the narrow country lane. I do worry about country lanes. They don't have pavements, are super narrow and winding, and often have the national speed limit. This one felt different though. I didn't feel unsafe, and parts of it where also quite pretty. 
Despite the fact that the road goes on for quite some time, not a single car passed by me.
Sometime a bit further on, and after a few curves in the road, you will reach the Stoke Flemming.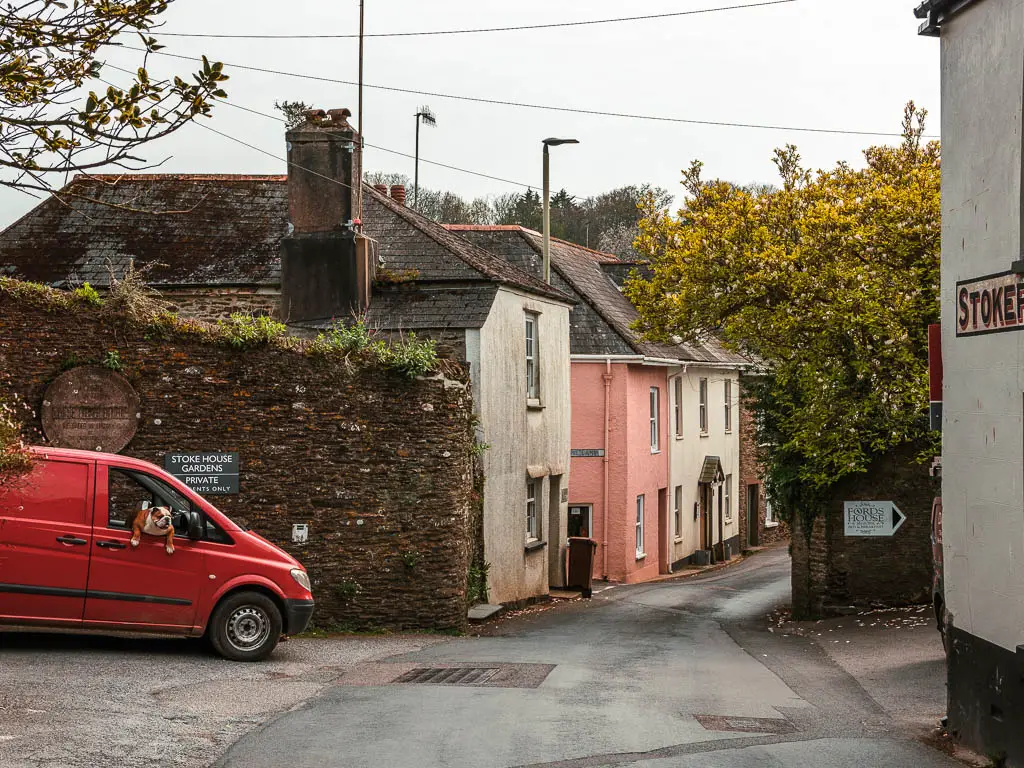 I was quite amused by the dog in the car.
Stick to the main road through Stoke Flemming to reach the village shop. If you look to the left and up, you will see the post box.
How and why? I have since had a good google search and can't find any information about it. I need to go back to that village shop and ask them . They probably know. 
If you know, then please please tell me. 
Alternate route to walk to Blackpool Sands
Now, this is where I might suggest something different from what I did. In fact, from here until Blackpool Sands, I didn't see any more coast path signage, so I must have gone the wrong way. What you can try from here, is continuing straight past the village shop, and then either take the first left onto Old Road, which will lead you to the main road a bit nearer to Blackpool Sands. Or don't take the first left, but keep going straight for a while, and take the next left which will lead you straight to Blackpool Sands. 
The route I walked to Blackpool Sands
I turned left at the village shop. At first all seemed well. It was rather pretty actually.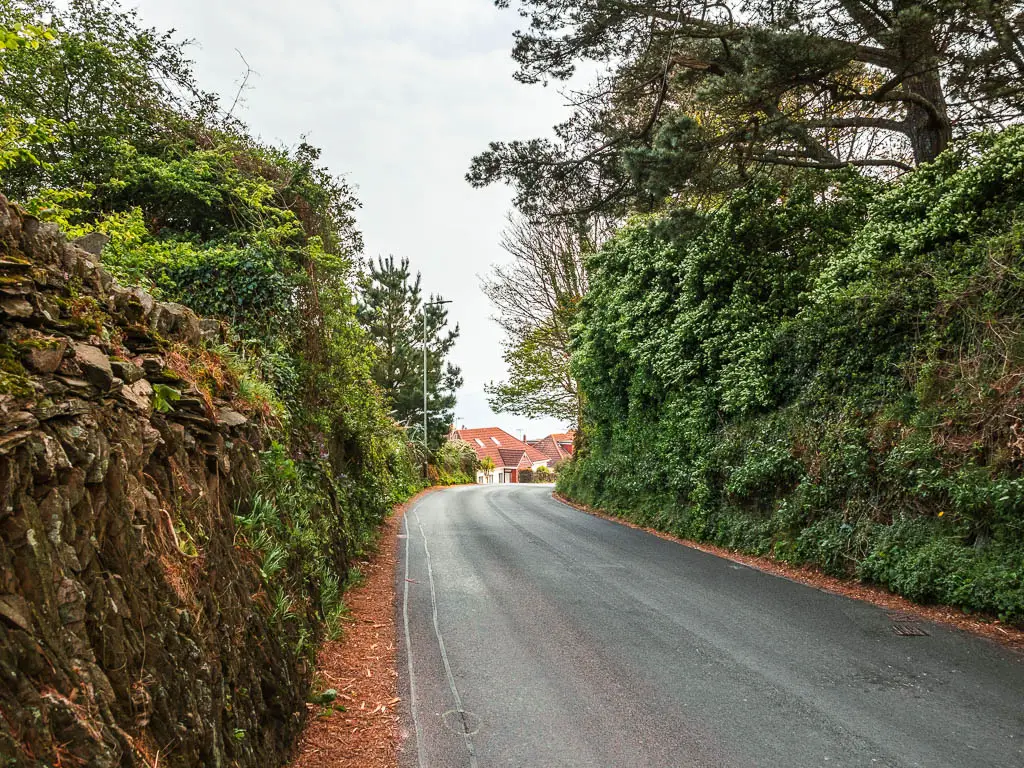 Then I realised I was now walking on a busier main road with no pavement. I say busier, not that many cars actually passed, but something still didn't feel right. Especially as I now realised I hadn't seen any coast path signs for a while. They are usually everywhere. 
I could see a long stretch of sand from up here, which I figured must be Blackpool Sands. It is not. I realised this a bit further along when a much smaller beach came into view. Blackpool Sands isn't actually that small, it's just that the other stretch of sand is huge.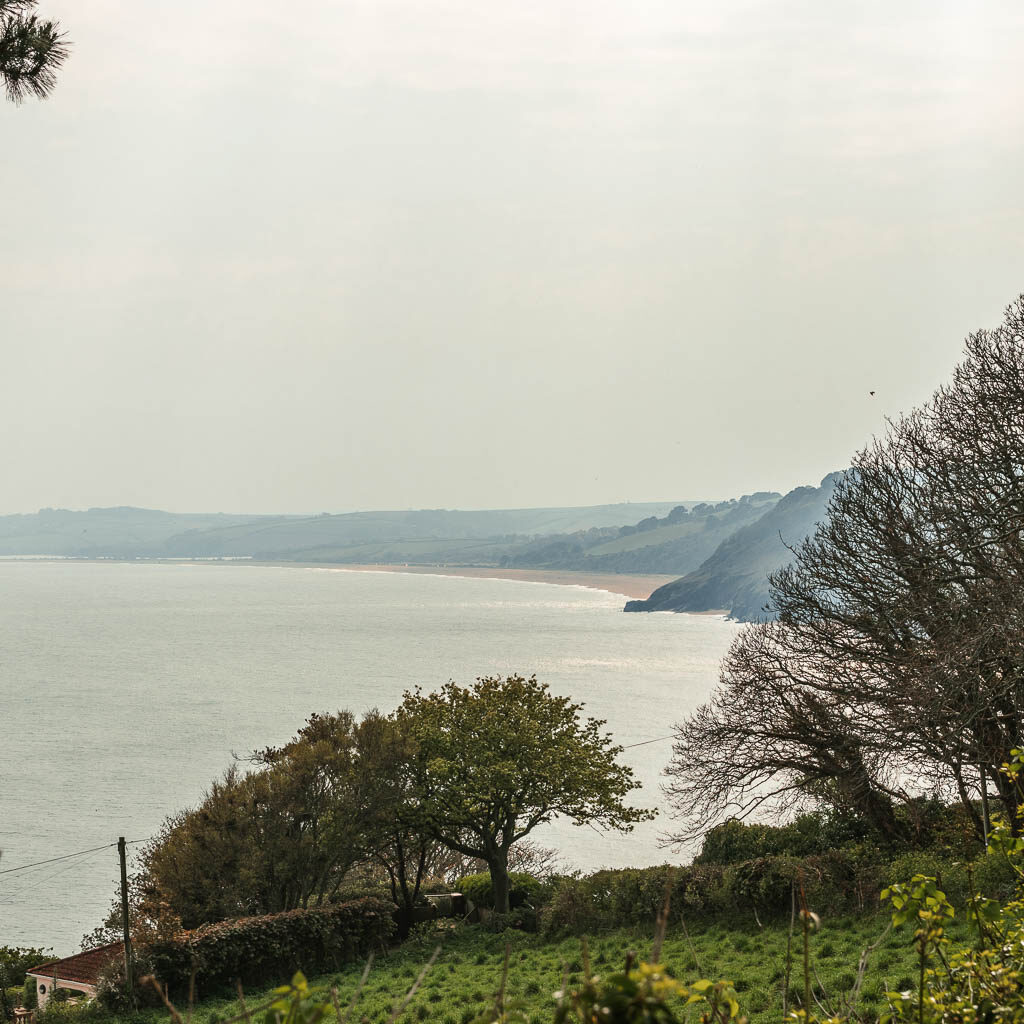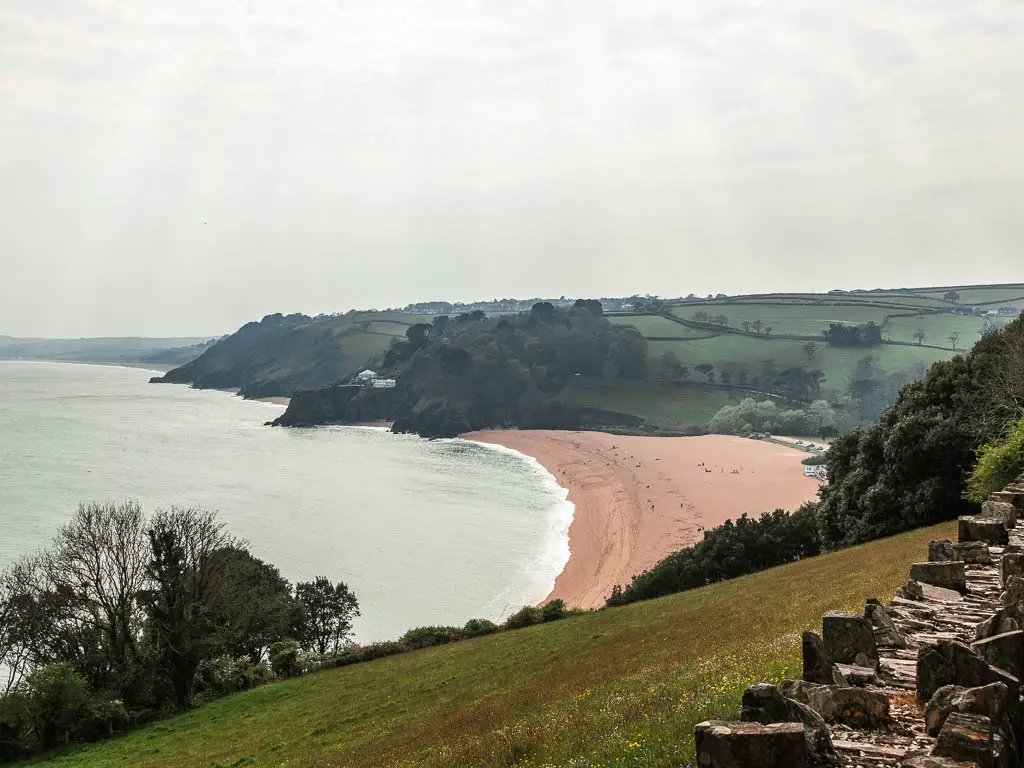 Just before you turn off this road and onto the trail, you are given a little bit of pavement to walk on. If you took the alternate route and picked the first left, then I think it will bring you out somewhere along here. 
Just past this bit, you should see the trail to the left of the road. Follow this and it will take you all the way down to Blackpool Sands.
What next?
Well, you know I had planned to keep going. I had about an hour to spare, so I could have. Except, standing on Blackpool Sands, I looked ahead at the hill I would have to walk up and decided that today would not be the day, and I would catch that bus back to Dartmouth from here. 
More walk ideas near Dartmouth and Blackpool Sands
For a detailed side by side look, you can check out the best walks around Dartmouth. Alternatively, see below for a quick look at a few.
Little Dartmouth walk follows the same route to Blackpool Sands as far as the car park, then turns back towards Dartmouth. The walk back is very pretty with a nice views towards the Daymark on the other side. It has the advantage of being a circular route, so you don't need to worry about catching a bus back to Dartmouth. 
Dartmouth Dittisham walk is a fantastic one following the Dart Valley Trail. It's more challenging but you do get to walk past a steam train and catch a cute little boat across the water. 
Dartmouth Castle and Sugary cove is a super easy walk, and actually takes you to Dartmouth Castle (unlike I did today), then over to Sugary Coves, before walking back. This is a walk to do if you aren't into the bigger hikes. Or you just want to take it easy. 
Start Point Lighthouse is further along the coastline, and if continue the walk along the coast from Blackpool Sands, you will reach Start Point Lighthouse. It is fairly far, and there is no public transport which is why I did it with a car. 
Kingswear to Brixham is the challenge of challenges. This is a monster of a walk, so if you want something that will push you, then try this one. I think it's officially the hilliest walk I have ever done. 
For more walk ideas in Devon, you could check out the Visit Devon website.
Pin it for later: Coastal walk from Dartmouth to Blackpool Sands