This coastal walk in Dorset takes you from Durlston Castle near Swanage, past Anvil Point lighthouse and on to Dancing Ledge with an opportunity for a bit of a wild swim. It then loops back around to return to Durlston Country Park.
Walking along the Jurassic Coast, you will get a view of Old Harry Rocks in the Distance, and even the Isle of Wight.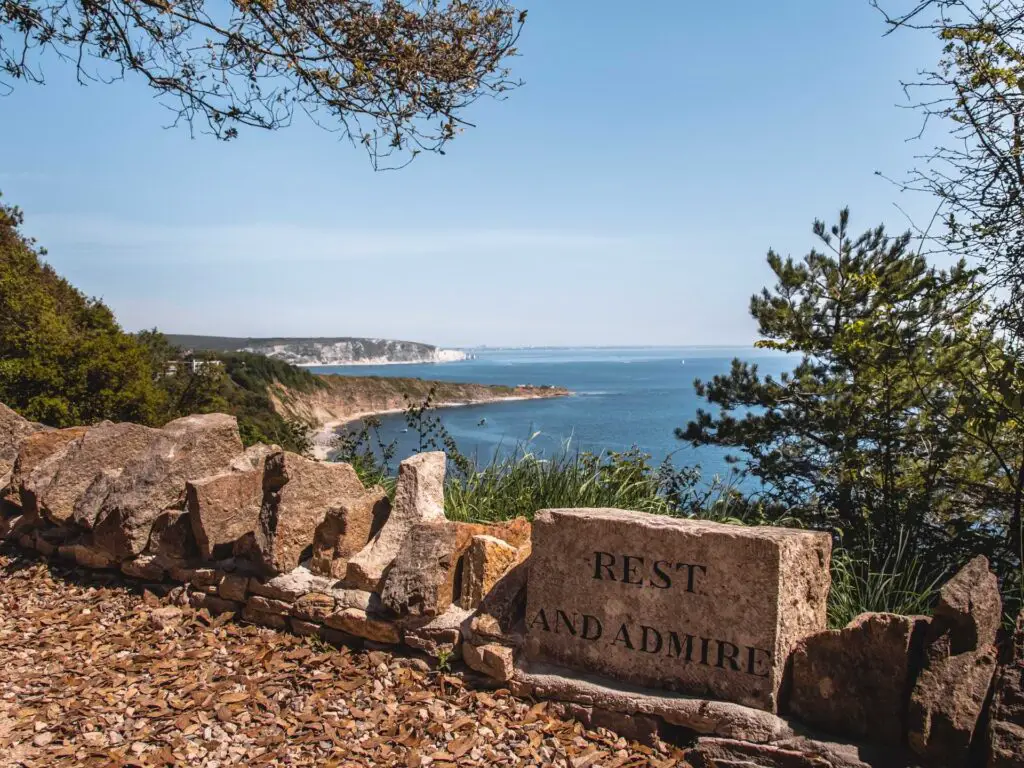 What is the coastal walk to Dancing ledge like?
Everything sounds to promising right?
Well, for a while there, I wasn't so sure. Let me explain. 
At the start of the walk, you get a lovely view to Old Harry Rocks, then you walk around the castle and towards the Lighthouse. Then things got a bit…bland.
It was a very easy trail. So easy, your granny could do it. I mean that literally, because all the grannies were doing it.
The view ahead was average (average for the Jurassic coast that is). I'm going to be honest here, I was a little bored.
NB. This walk was following in the footsteps of the walk from Kimmeridge which we did yesterday. The views on that one are hard to beat. So it had a hard act to follow. 
Then it got good…..
About 30min in, things started to get interesting. More shrubbery, better rugged cliff views, more hilly. As we approached one steep bit I screamed in delight. Finally a good hill.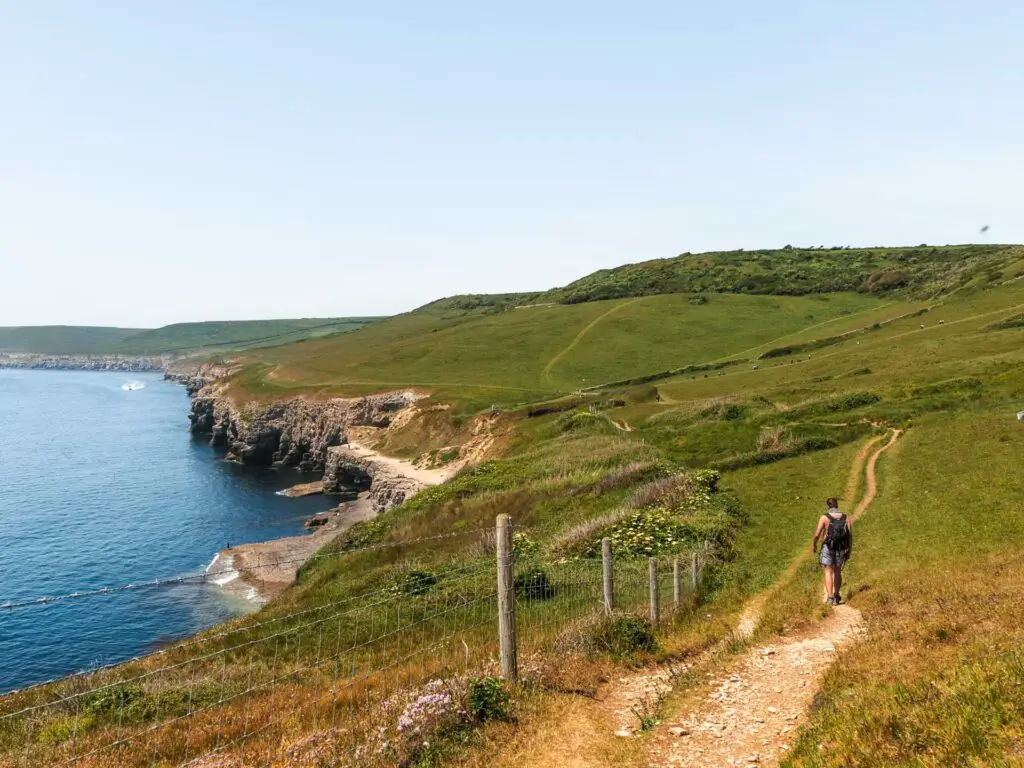 Once we reached Dancing Ledge, we realised we could actually climb down to get in the water. I didn't know this would be a wild swim walk until it actually happened. You could say I popped my wild swim walk cherry.
The walk back from Dancing Ledge was a lot simpler, but incredibly peaceful. For the chunk of it we didn't pass a single soul. This is also when we got that view of the Isle of Wight, and a viewpoint of the lighthouse.
Death hill
Oh, and there is another hill I should mention. The one just after Dancing Ledge. It's one of those hills that looks worse than it ends up being. But in this case it ended up being worse than it looked…..Maybe I was just tired from getting in the cold water and the rock climbing stuff.
What is Dancing Ledge
It's a flat rock surface at the base of a cliff. The dancing part comes from the way the water jumps about on it at certain tide levels.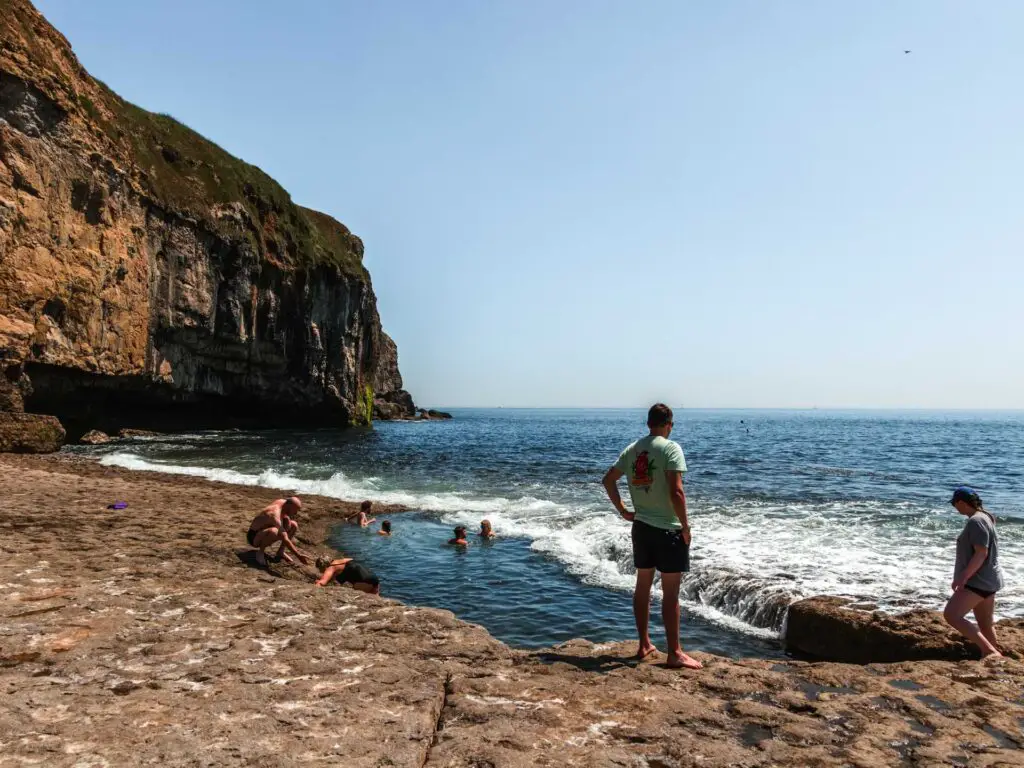 There is a hole in the ledge which makes a sort of tidal pool. This is actually manmade. It was blasted out way back at the beginning of the 20th century for school kids.
Tips for visiting Dancing Ledge in Dorset (and possible swim)
Dancing ledge really is the star of this walk, but there are a few things you should know before you set off.
It's not accessible during high tide, so if you want to climb down for a dip, then pay attention to this. We didn't know this when we set off. We got lucky. Check the tide times here.
It's not easy to get down. You actually have to climb/scramble down the rocks without any aid. So if you don't think you will want to do this, then just have your expectations set. It's lovely to view from afar anyway.
Due to the climbing/scrambling involved, good grippy shoes will be useful (I actually only had plimsoles and was fine. So it's not a deal breaker)
If you want to go for a wild swim/dip, then I guess all the usual things apply. Be a good swimmer etc. There are no lifeguards or anyone to help you if you run into trouble. There is no shoreline. Just a rock shelf. I have since read that the currents are strong there and people have not survived them. So, do this at your own risk. The little pool is safe though.
Following on from number 4, unless you know what you are doing, maybe best to do this in summer when the water isn't so cold. Mind you, it's still cold. I only lasted 1 minute before I had to get out. Also, if it's summer, you can dry off in the sun without the need for a towel.
Take sea shoes. The ledge is not very comfy to walk on bare foot. And getting in/out of the water is quite rocky and sharp.
Logistics for the wild swim walk to Dancing Ledge in Dorset
Start/Finish: Durlston Castle/Country Park (Purbeck, Dorset)
How to get there: It's located super close to Swanage. If that's where you are, then you could walk here. Just head to the coast and walk along the coast path south. Durlston Country Park has a car park if you are coming by car. You could also get a bus here from Swanage if you don't want to walk. It's the D5.
Distance: 6miles
Type: Circular
Time: 2 hours
Difficulty: Most of it is easy, and you can keep it this way if you so wish. If you want to follow my exact route, then there are a couple more challenging parts, but not excessively challenging. I'm specifically referring to climbing down the rocks and then one hill. You can easily skip both of these though.
Terrain: Dirt trail, gravel trail, rocks.
Elevation: Your elevation will range from sea level and up to 120m.
Time of year: We did this early summer
Amenities: Durlston Country Park Nature reserve has a car park and cafe and toilets. For the walk itself you are on your own.
Map for the wild swim walk to Dancing Ledge in Dorset
Click on the top box to open in your Google Maps.
More ideas for walks near Dancing Ledge in Dorset will be at the end
A Guide To The Wild Swim Walk To Dancing Ledge In Dorset
We started this walk Durlston car park/castle. If you are in the car park, just follow the castle signs. If coming from Swanage, just walk along the coast path and you will reach it. At the castle, the trail starts to the left of it.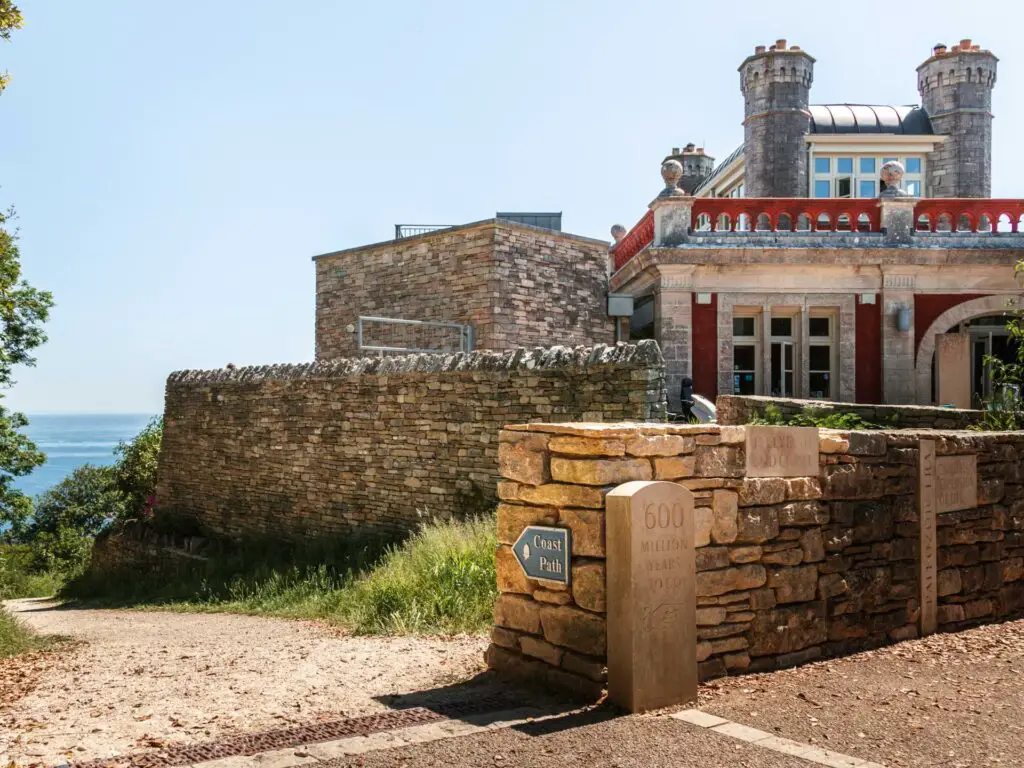 Following the trail, it takes you around the castle (from here you will get a view to the left of Old Harry rocks) and past the Globe.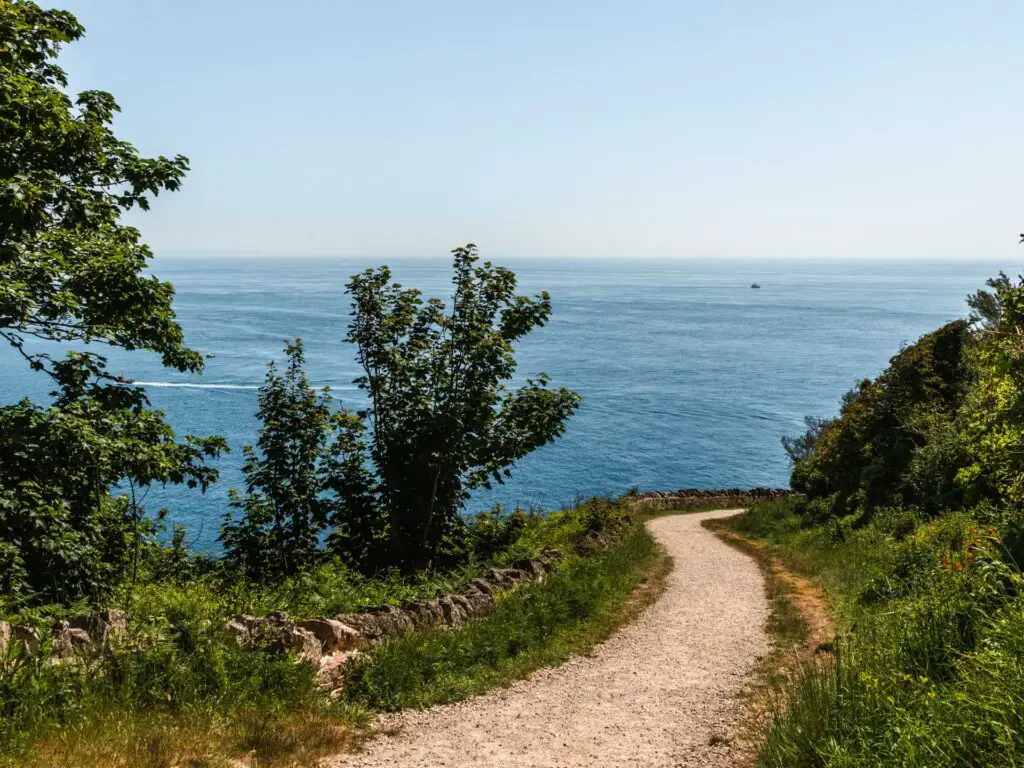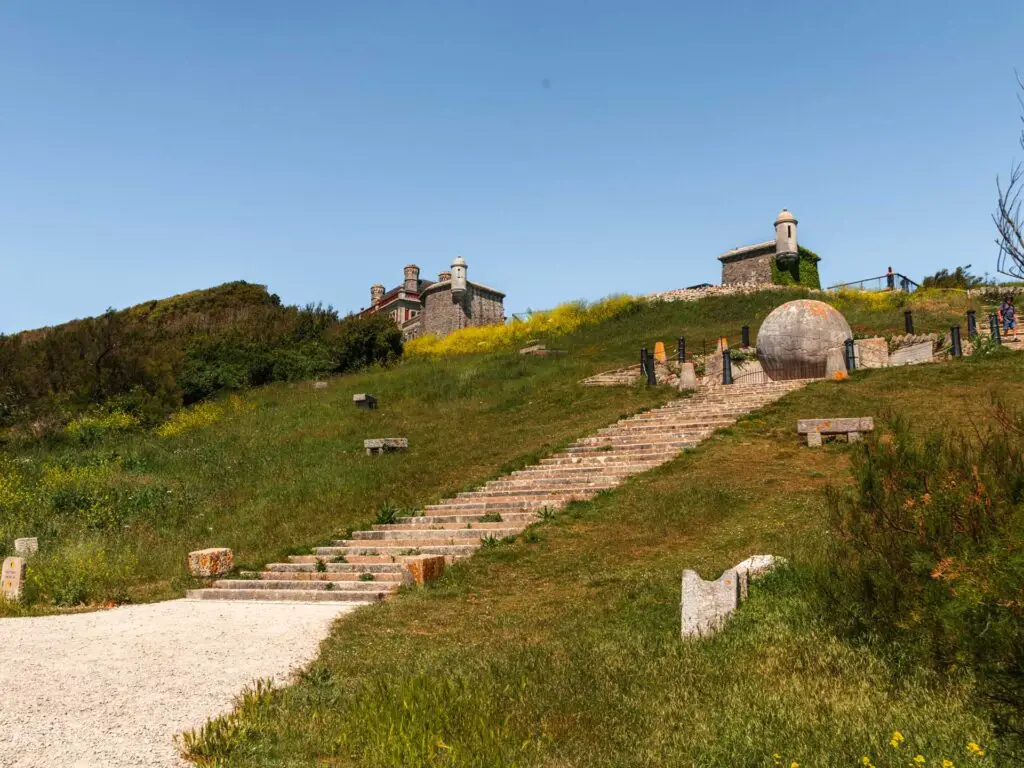 Walk towards Anvil Point Lighthouse
You should soon see Anvil Point Lighthouse ahead. This bit of the path is interesting. It's like it's trying to be rugged but is actually well kept. Gravelly, but neat with a craggy brick wall/glass panels blocking the cliff edge.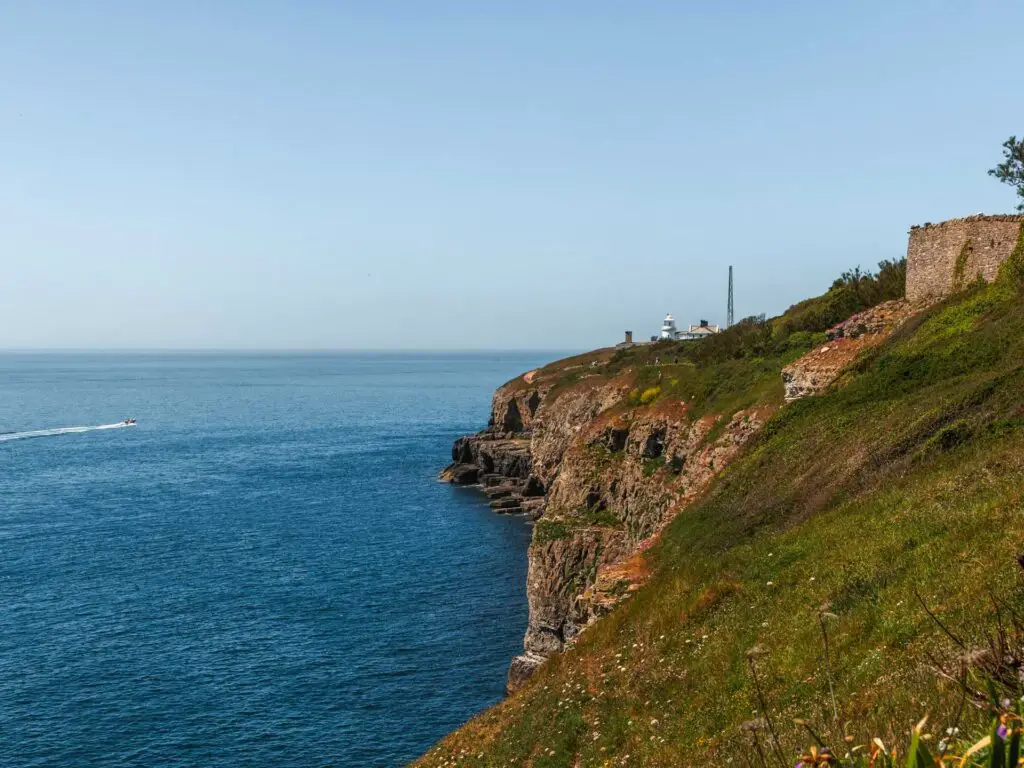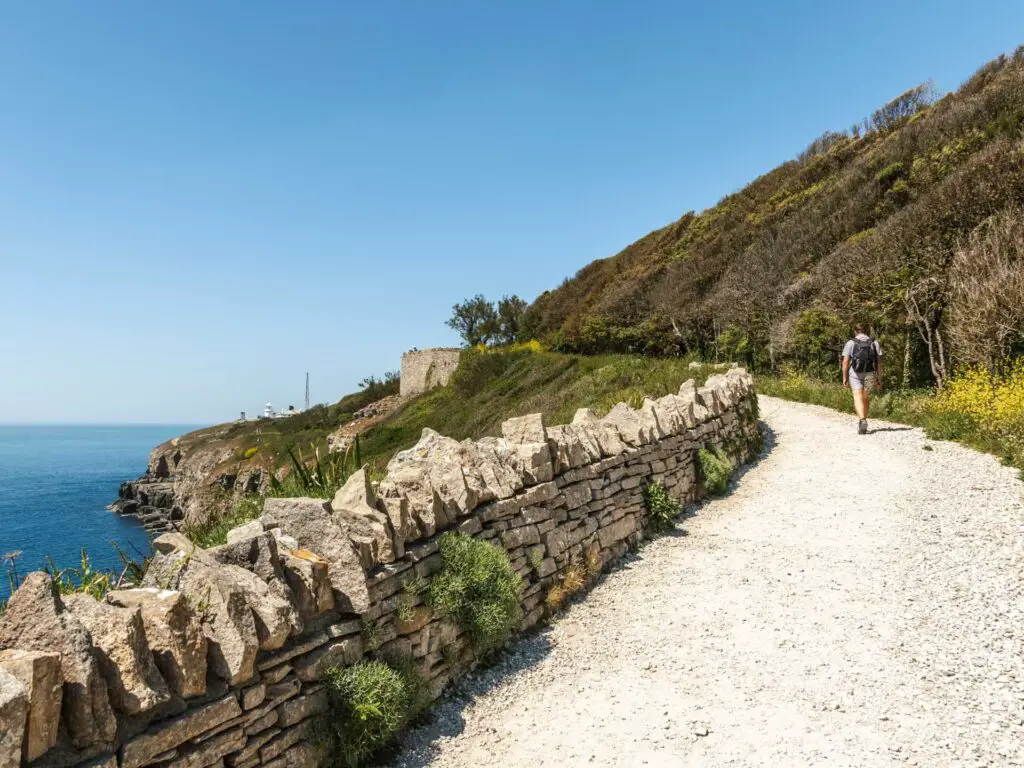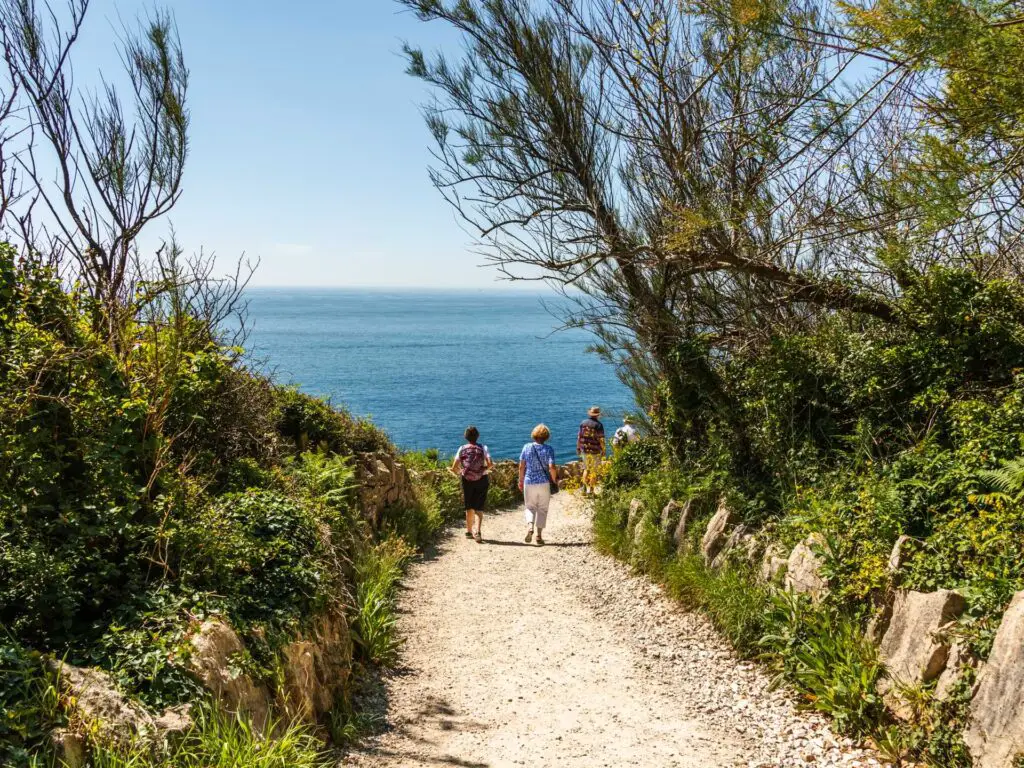 What was also interesting was the older crowd. We did this walk to Dancing Ledge on a Monday. We figured it wouldn't be so busy as most people would be back at work. Well, it kind of was busy, and everyone was…of a certain age. This must be what the retired do when we are all working.
Anyway, as you approach the lighthouse, things do become a bit more rugged as you make your way down a steep hill, and then up again.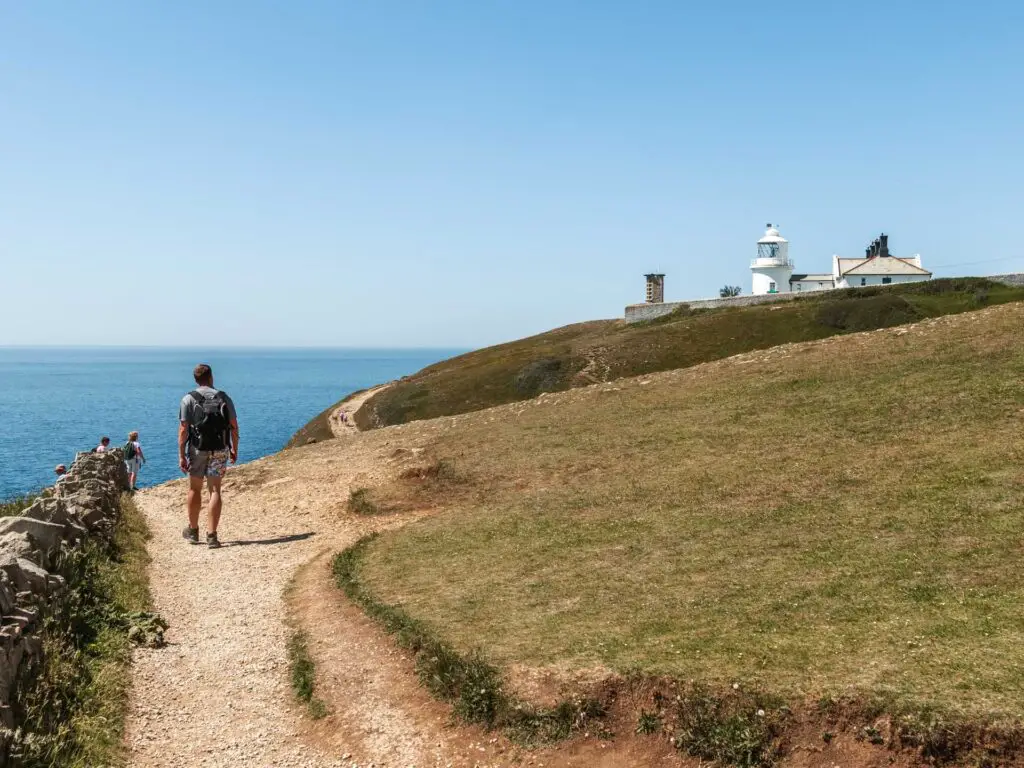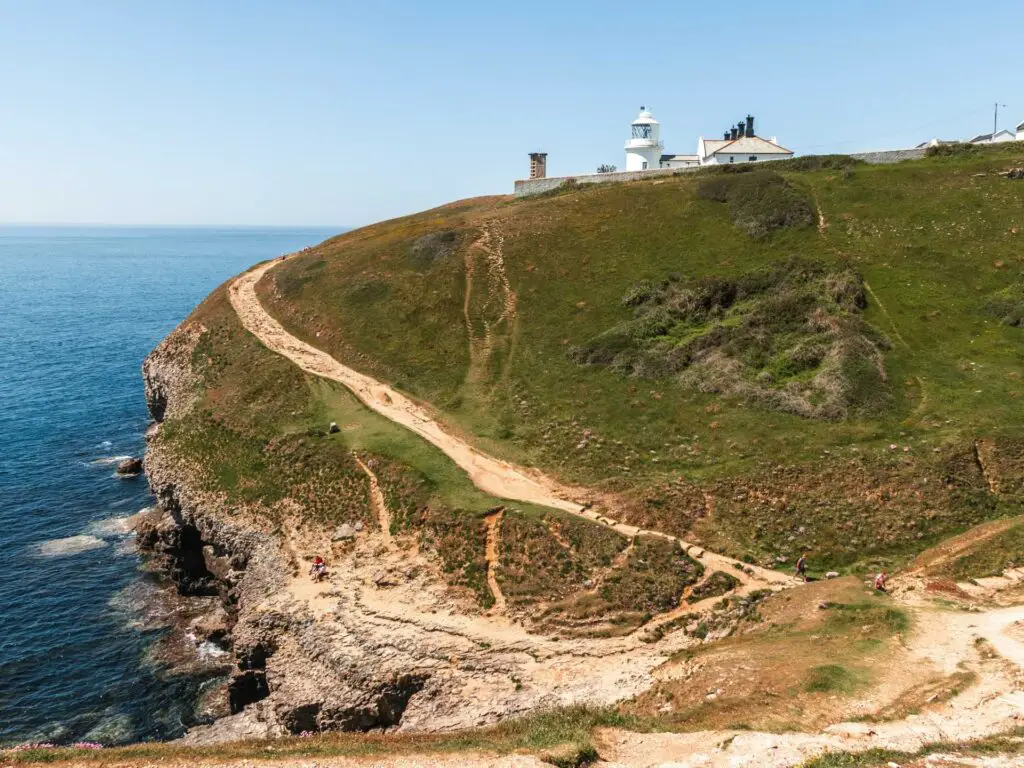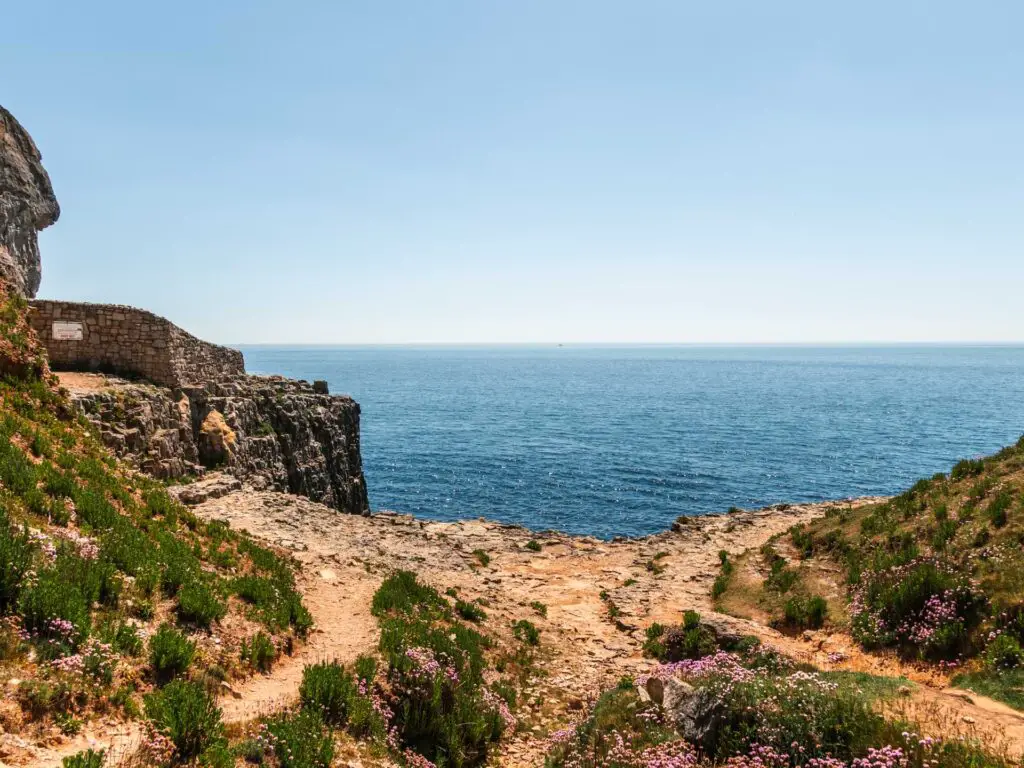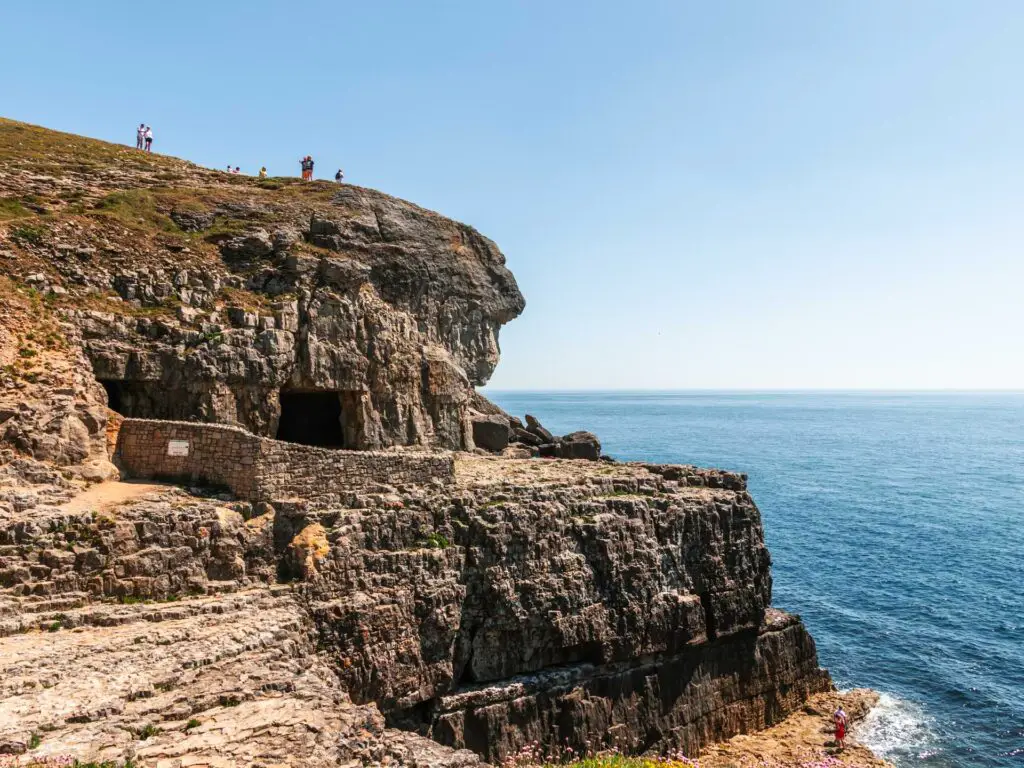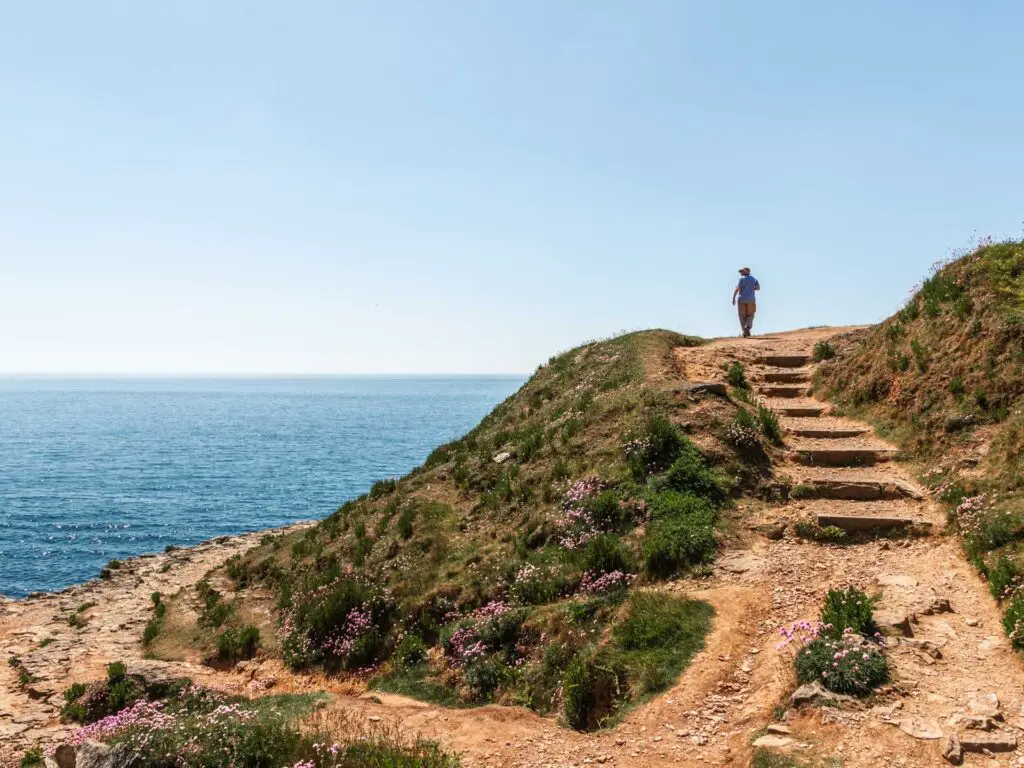 The easy bit of the walk to Dancing Ledge
The next section of the walk is pretty simple. A dirt trail along the clifftop, through a few gates. Very gentle and not a whole lot to look at.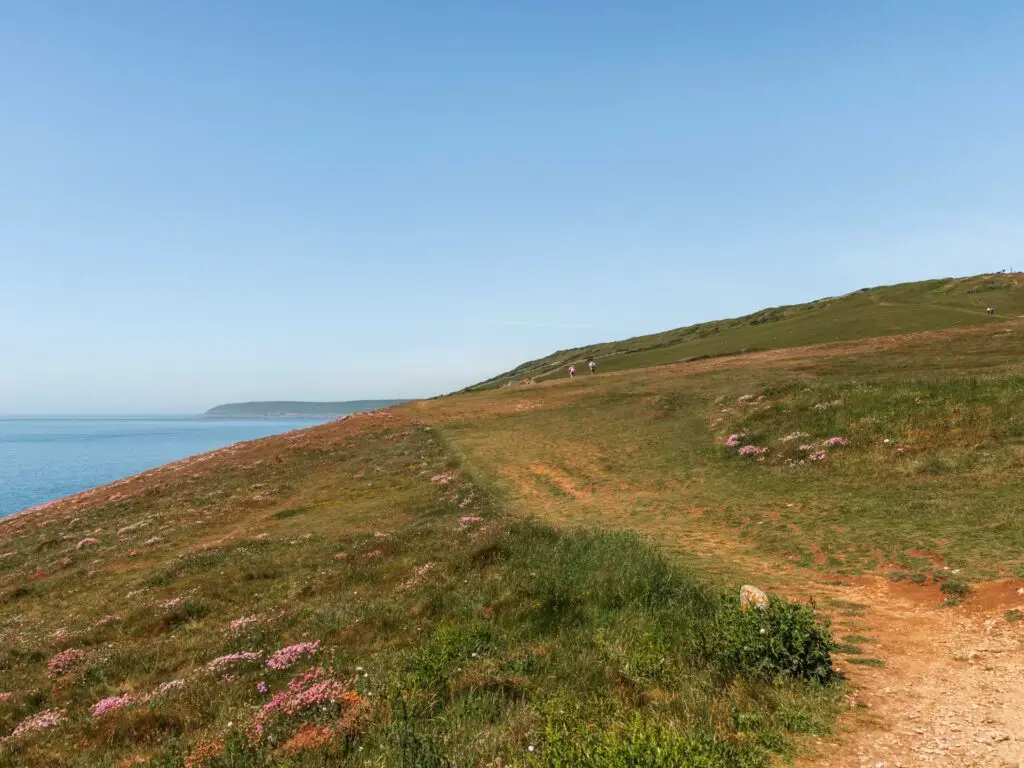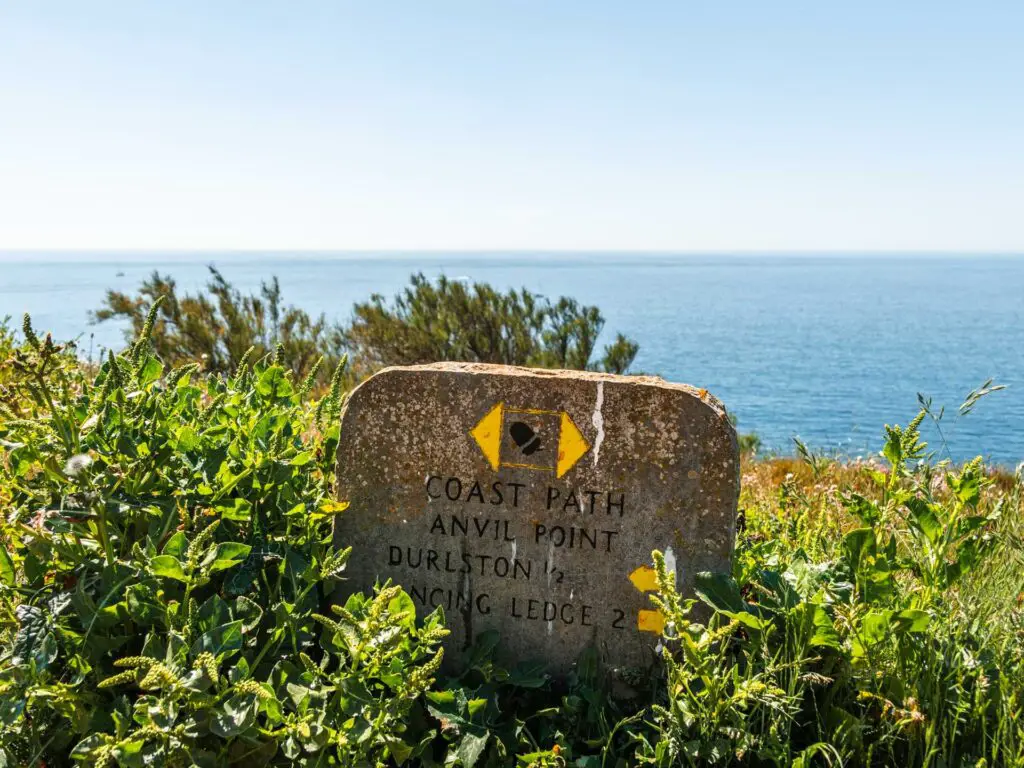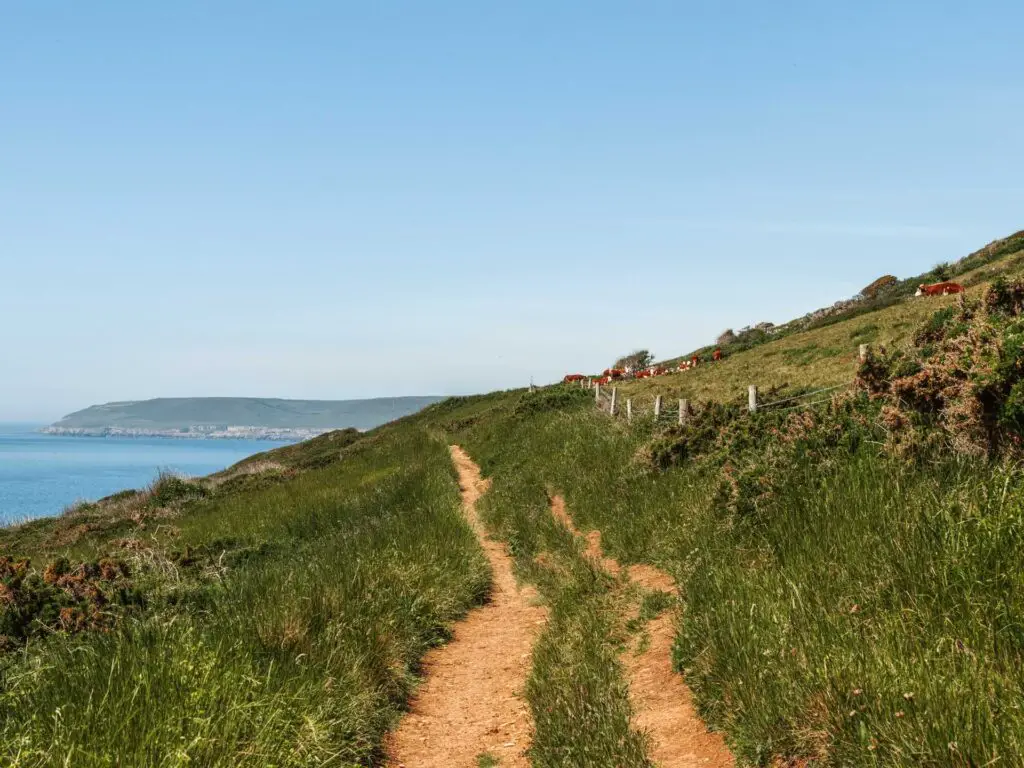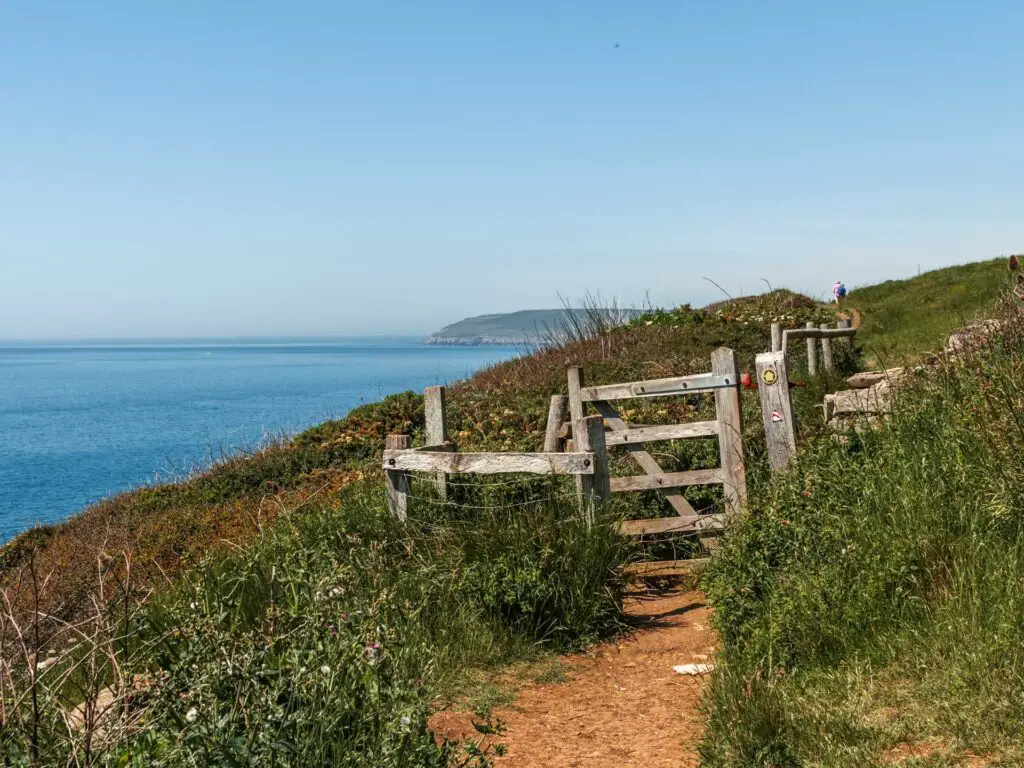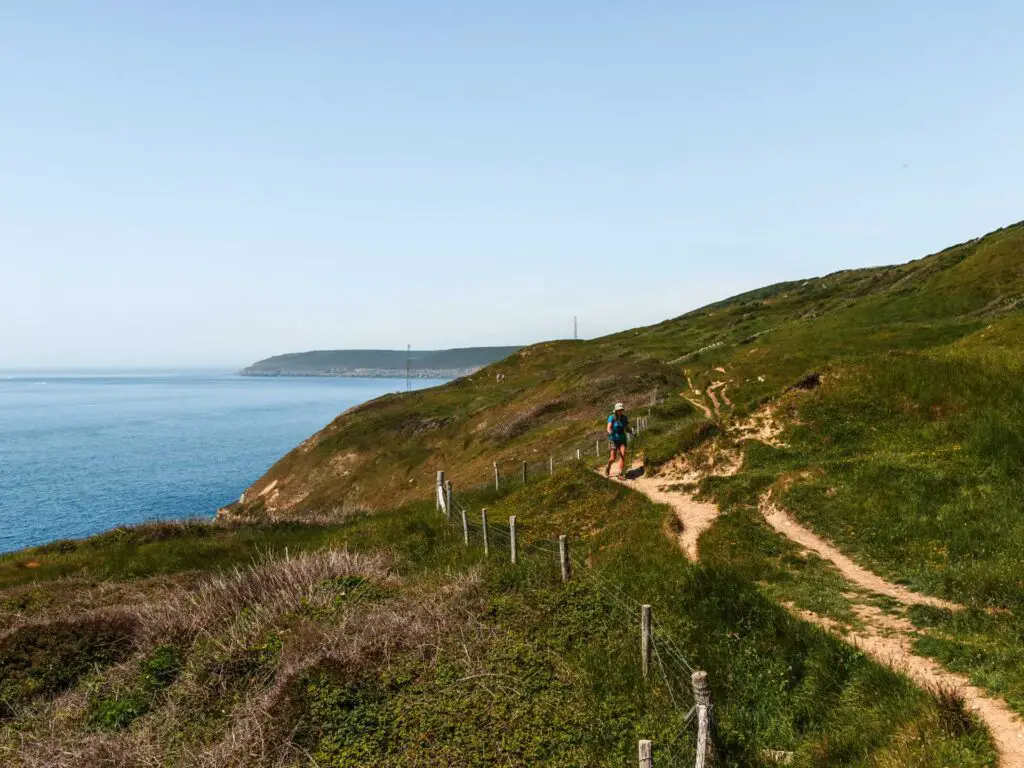 I mean, you can see way into the distance along the coastline, but it's not that exciting. Granted I have been a little spoilt with the amazing rugged cliffs I have seen in my time. It's not that bad really, I just went into this walk expecting a bit more.
Then things get interesting
Before the walk, I wasn't sure what dancing ledge looked like. So when we reached a cool bit of rugged cliff I figured that was it. I got all excited that we had reached it. Then I looked at my map and realised we still had a way to go.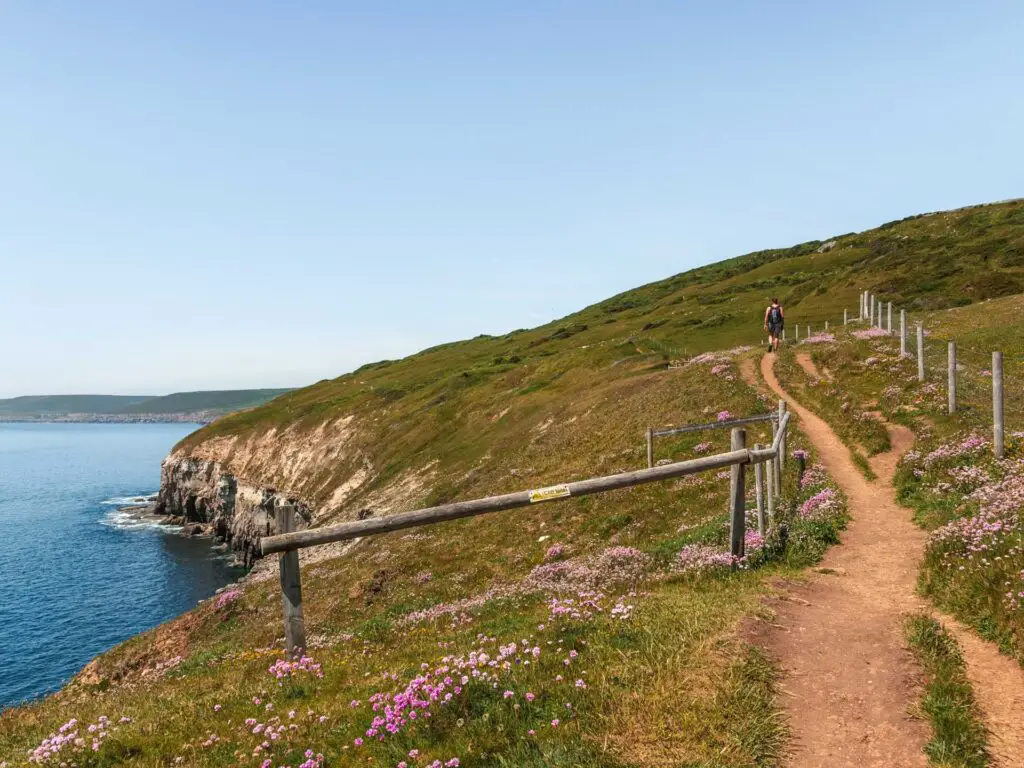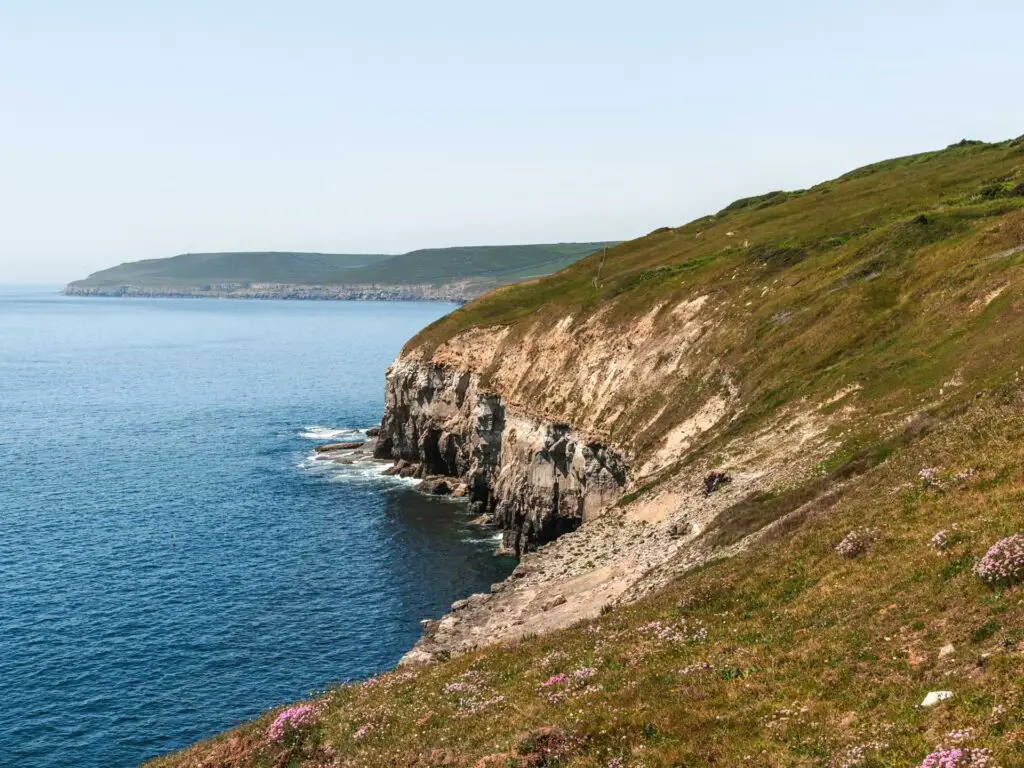 Soon after this there was a section walking through a concentrated area of bushes and shrubbery.  It was a nice contrast to the open area we had come from.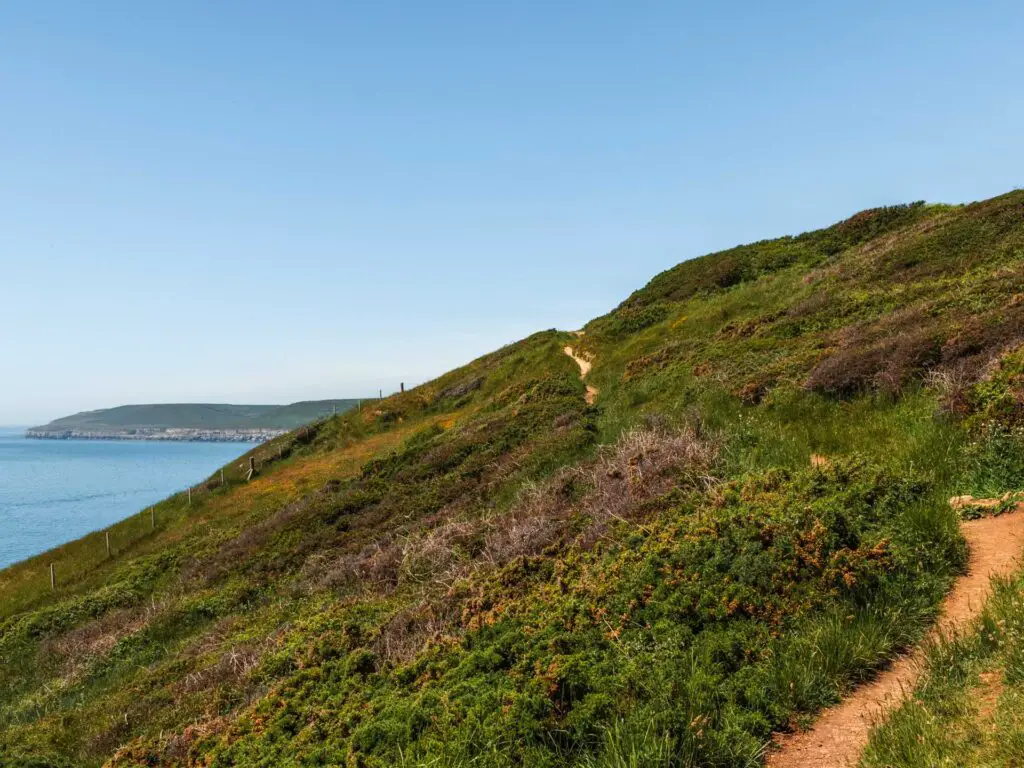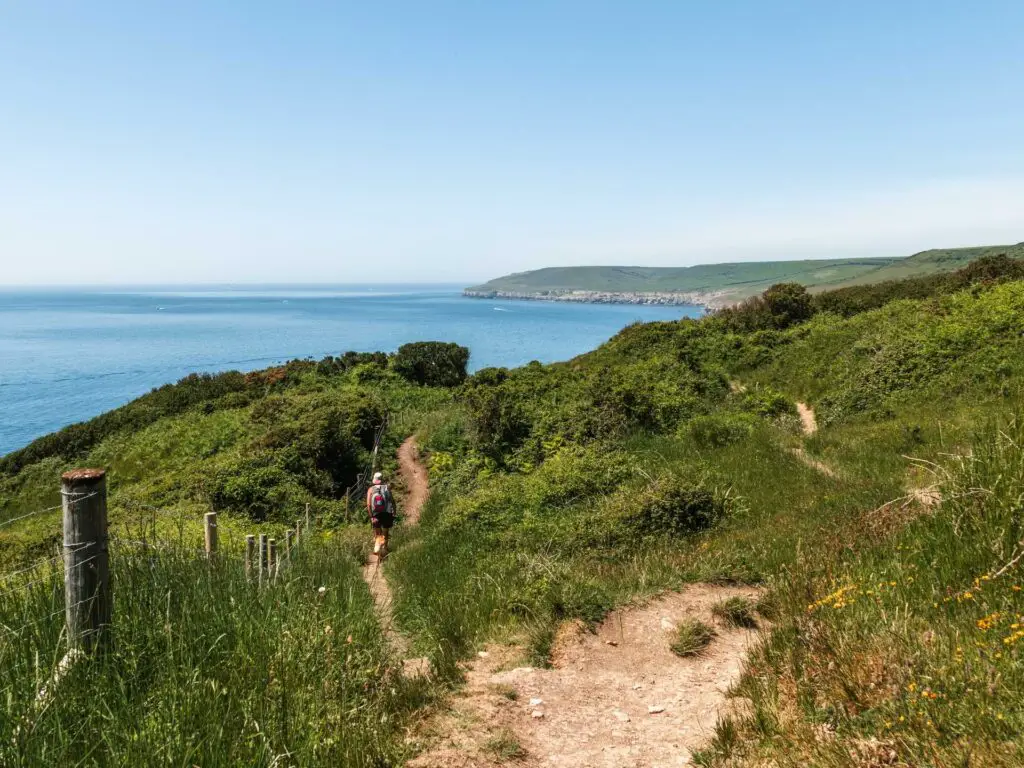 Walk towards Dancing Ledge
After things open up again, there is a good steep but short hill taking you down then up, after which you will get a view ahead of dancing ledge.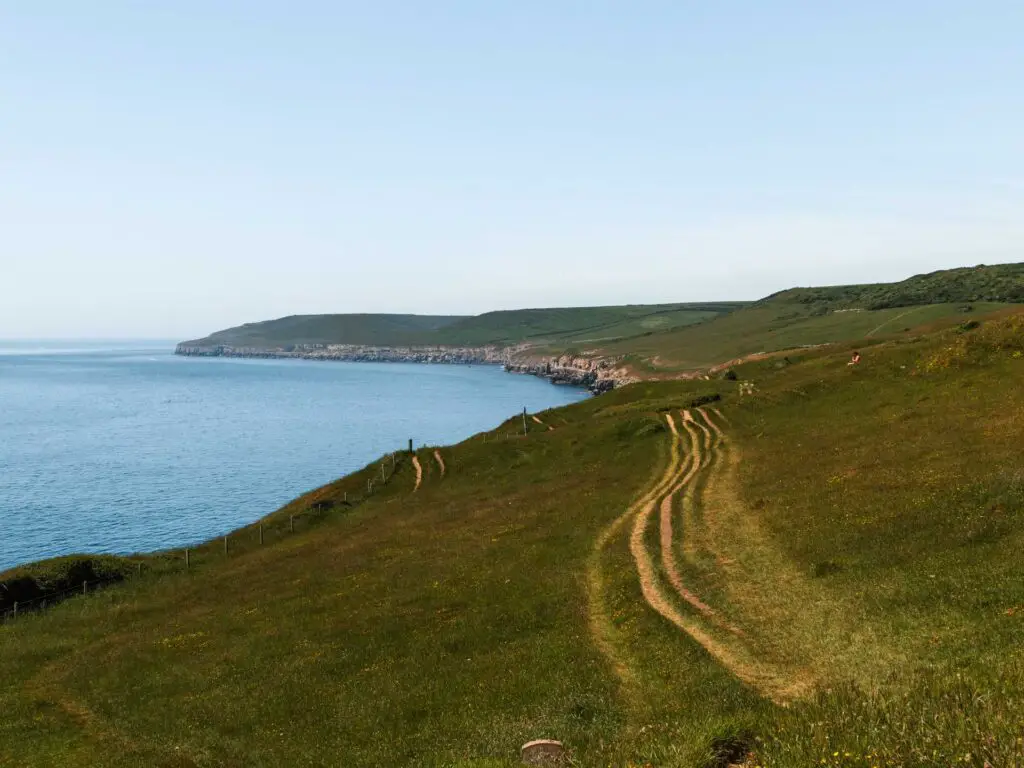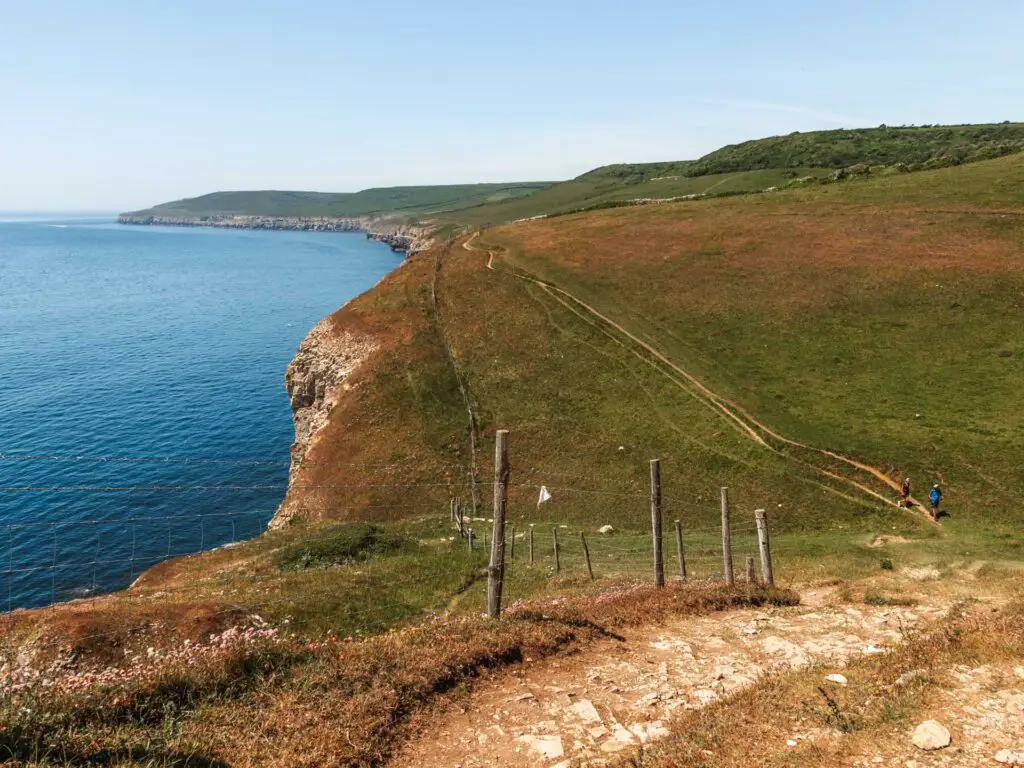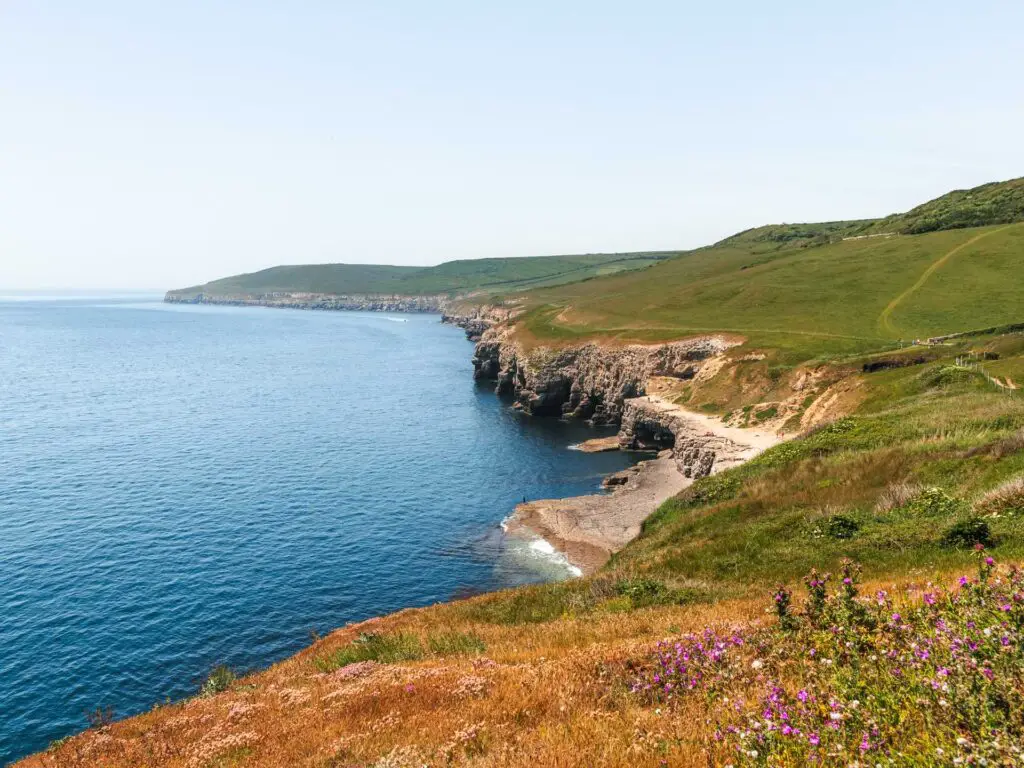 It's kind of obvious when you see it. Basically a ledge at the bottom of the cliff. We noticed a few people on it and got really excited to get down there.
(It was a hot day and Ollie was badly sunburnt from the Kimmeridge walk. He couldn't wait to get into the cold water).
The climb down the rocks to Dancing Ledge
What we didn't realise was that it's not that easy to get to. You can walk down pretty close, right to the cliff edge. Then you need to get adventurous.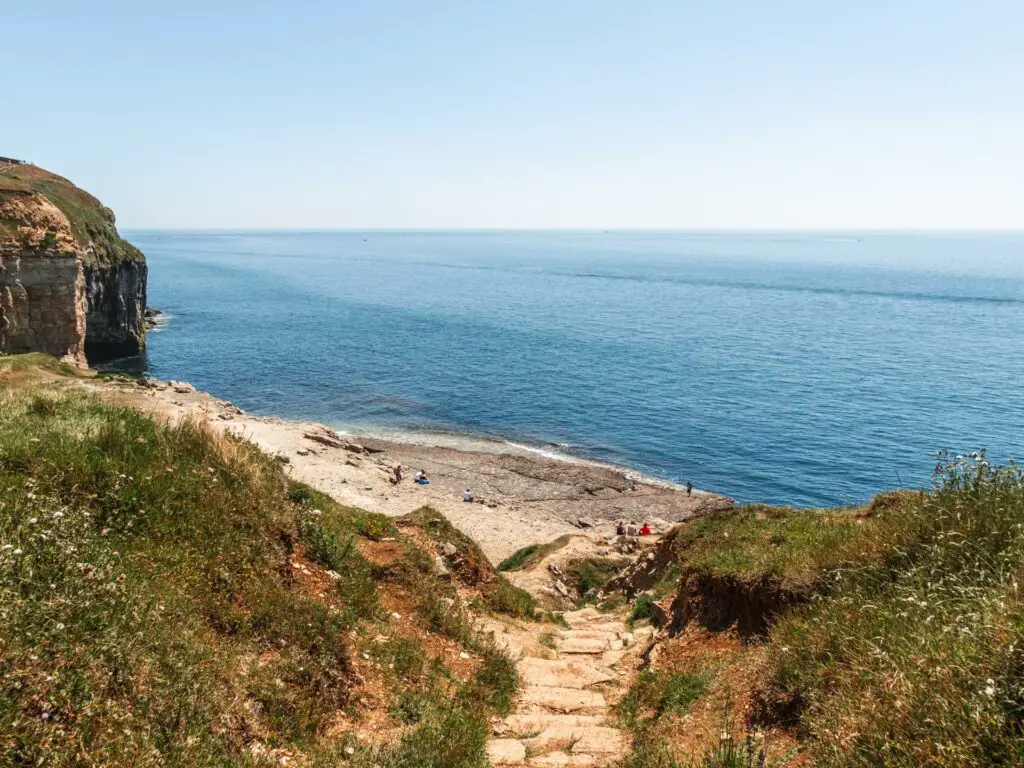 We started to make our way down the rocks but reached a point where we would have to jump to get the rest of the way. A little confused, I looked around before a guy down there pointed to which route to take.
Following his direction a bit further along to the east, we found the way. Still not simple, but we were able to at least get a bit further down to allow a much smaller safer jump the rest of the way.
Now, I'm kicking myself a little as I don't seem to have taken a photo of the bit you climb down to show you. Here is a video of part of it though:
Dancing Ledge
Down here, things are pretty cool. The tidal pool and waves crashing up into it.
On the other side, there were some kids making giant leaps onto another ledge. We wondered how the hell they would get back. 
But they looked like they knew what they were doing.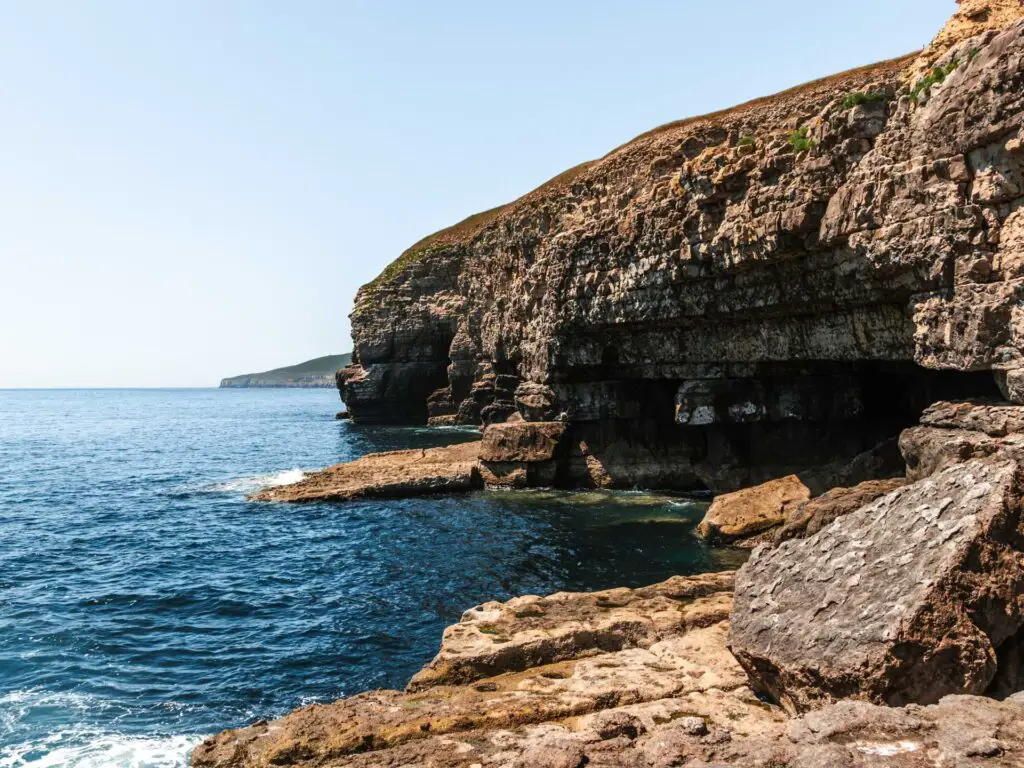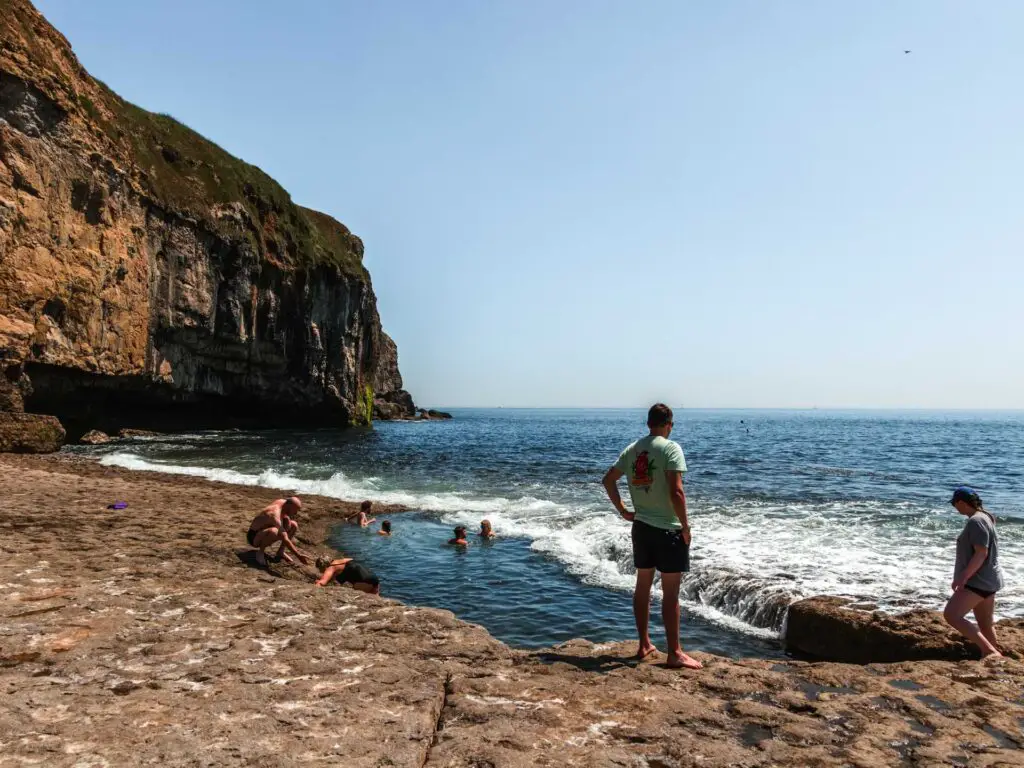 People were sort of coming and going from the ledge, some climbing down with their dogs. Most also challenged with finding the best route to get down, and me doing my part and guiding them the best way. 
Taking a dip
We actually decided to dip into the open water, as the pool was quite popular and a bit too busy for our liking. I didn't have swimwear with me, so for a moment considered going naked. Although, with all the people around that might count as indecent exposure, so I settled for topless.
Rock climbing and bouldering
We (and most others) took the 'easy' route down. There were also people proper climbing up. Some with ropes, some without.
The walk back up from Dancing Ledge
After making our way back up, we had a little think about which way to go next. Setting off on this walk, we didn't have the full thing planned out. I said to Ollie we would walk to Dancing Ledge and from there decide if we wanted to go further and on to Seacombe Cliff and Winspit Quarry. 
Well, at this point we were pretty content with what we had seen, so decided to head back.
The big ass hill
So, this next bit is that hill I was telling you about earlier. You can skip it though and just walk back along the trail you came on. 
Directly up from the entrance to Dancing Ledge, you should see an outline of grass trail on the hill. There are actually 2. We took the one on this side of the wall. It didn't look like much, but on the way up it seemed to go on forever. As I said, maybe I was tired….or that's what I like to think.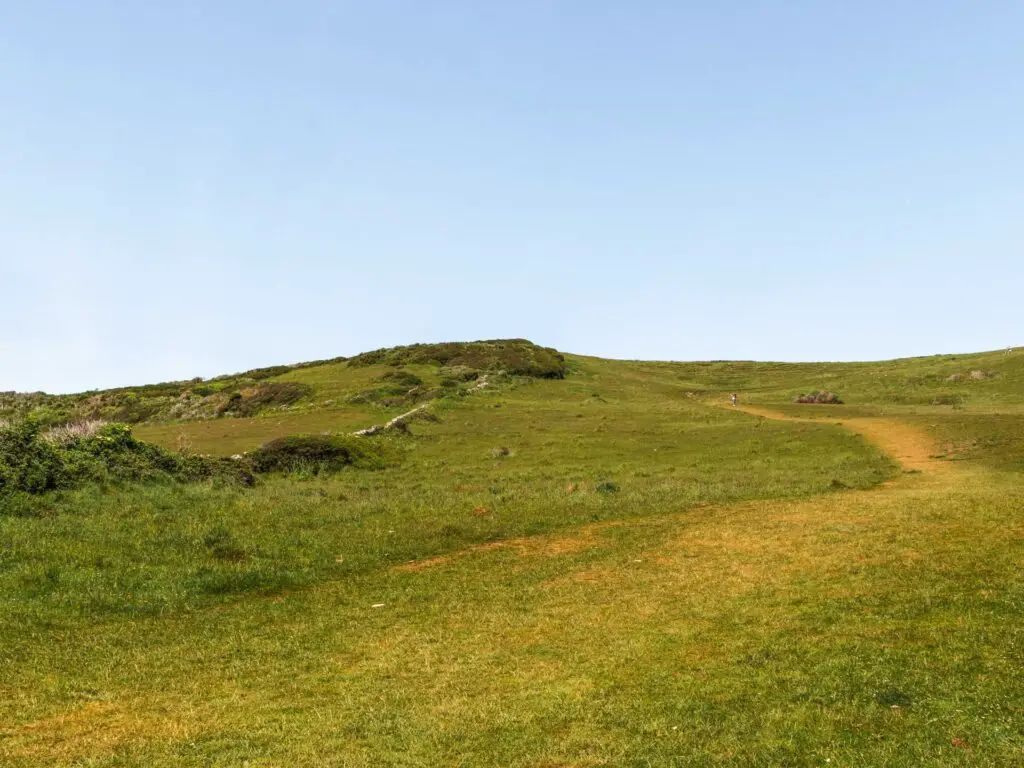 One thing to note. Once we got to the top we ran into a mass of school kids with climbing gear, ready to head down. So if you head here on a weekday, be carful as you may end up having to share the place with them. We were there around midday if that helps with timings. Maybe go early before they come. 
The walk back to Durlston 
Once at the top of the hill, there is a trail running along this side of a wall, or a trail going through it. We took the one on this side which ran parallel to the sea.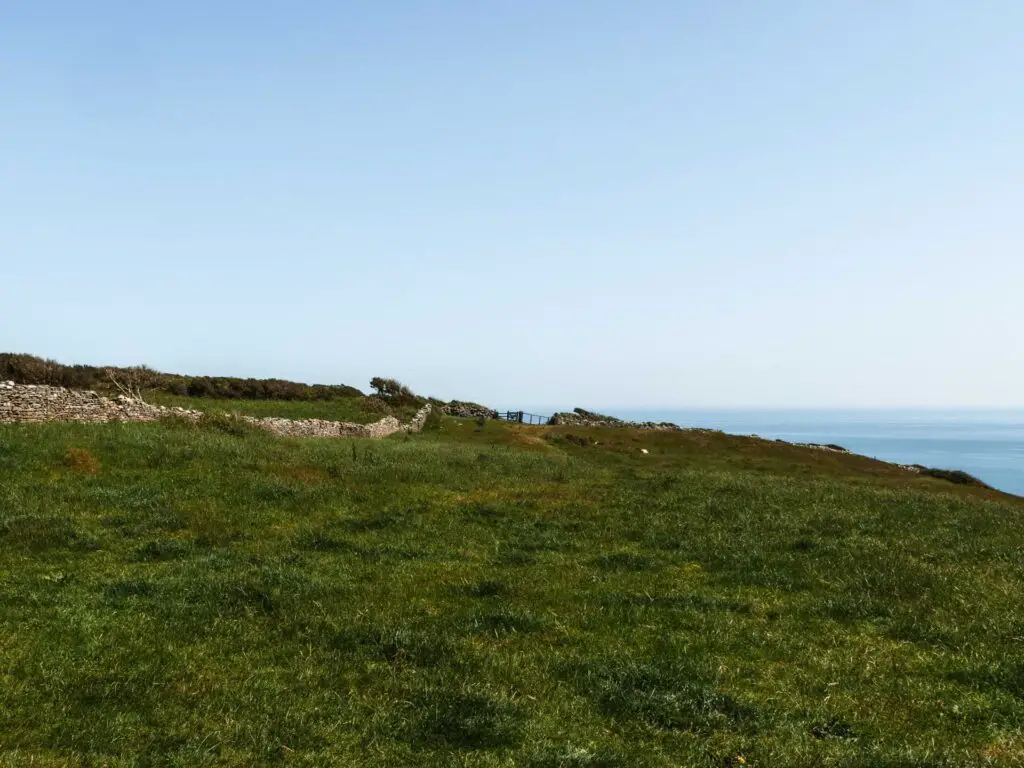 Up here, things felt very calm and peaceful. After the school kid fiasco we didn't pass another soul. The trail itself is very simple along the top of the hill. The view ahead is just the land, but the view back was lovely. I have to say, I actually preferred the view form up here to down the bottom.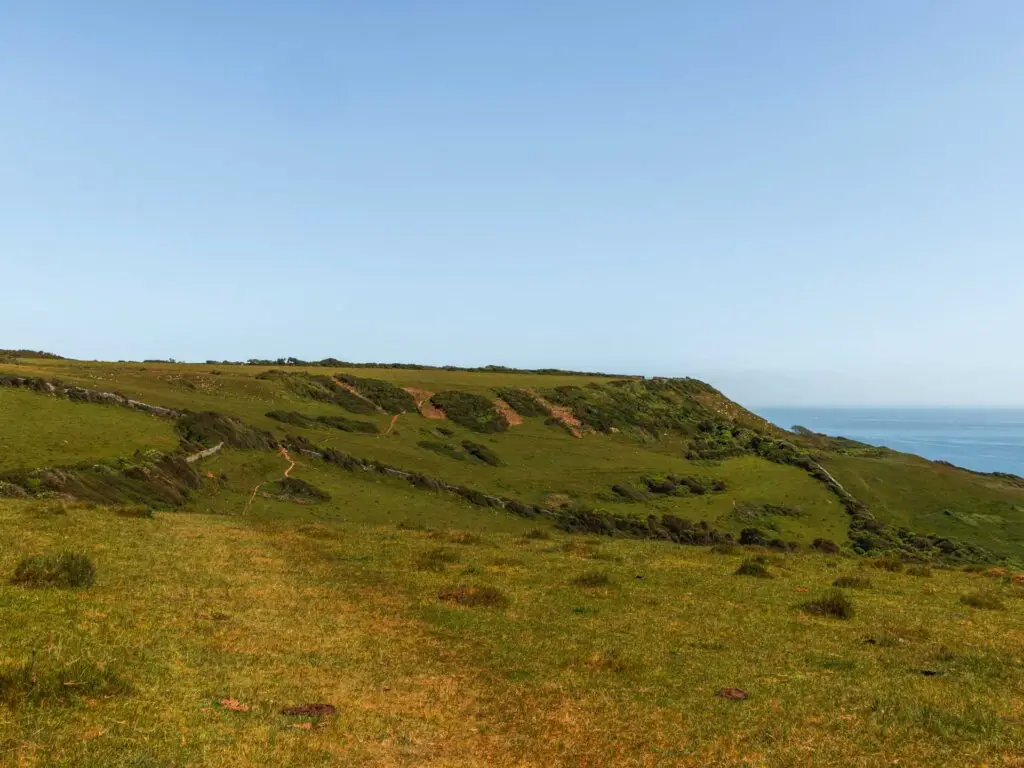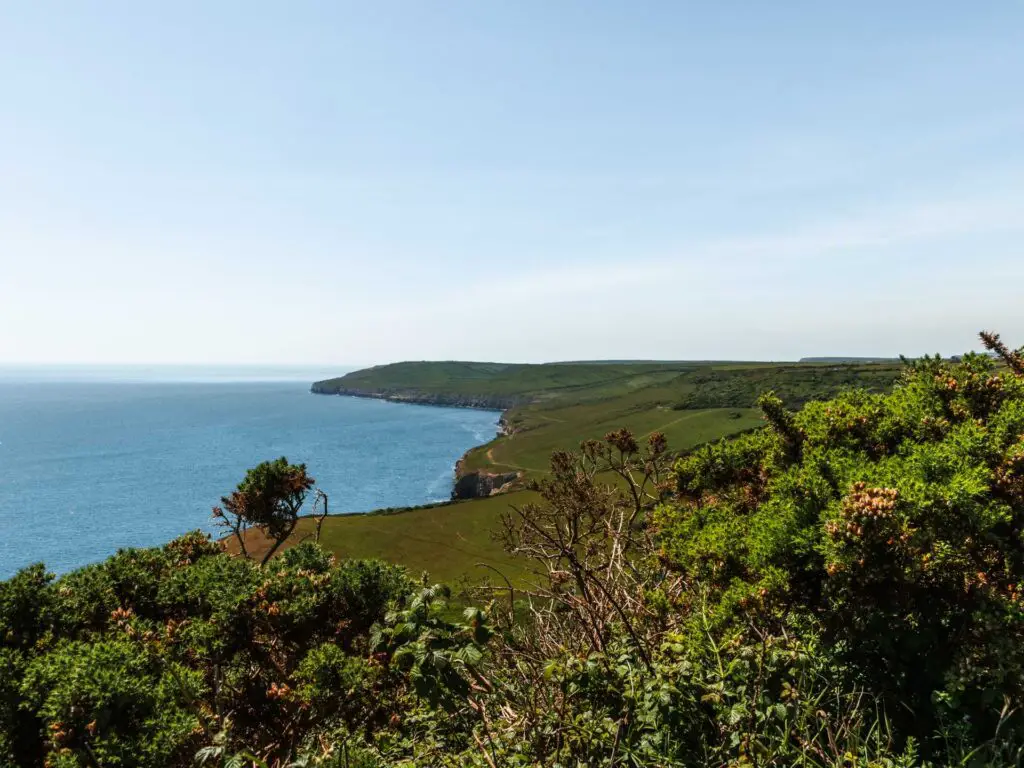 Trail split
At some point as you walk down a hill, the trail will fork. You can take either and they meet further along. I wanted to take upper trail, Ollie wanted to take the lower.
I let him win this time.
The gate
So, there are a few gates/walls you walk through along here. Most are obvious as they are straight ahead and the trail runs through them. Look out for one on the right though. See photo.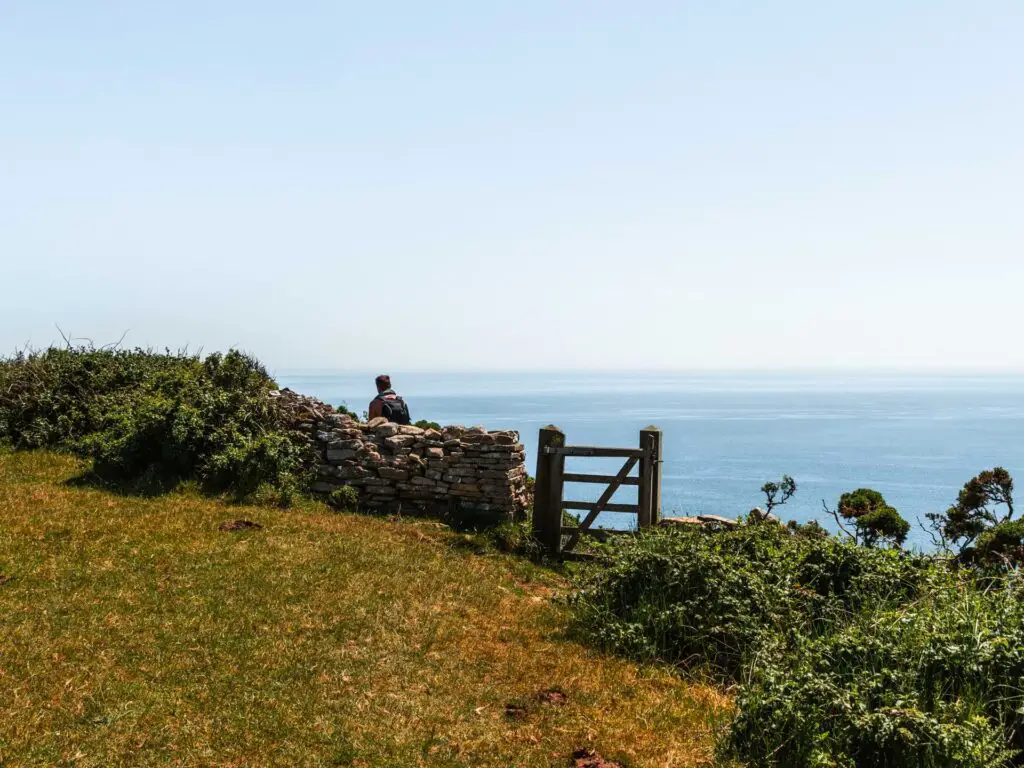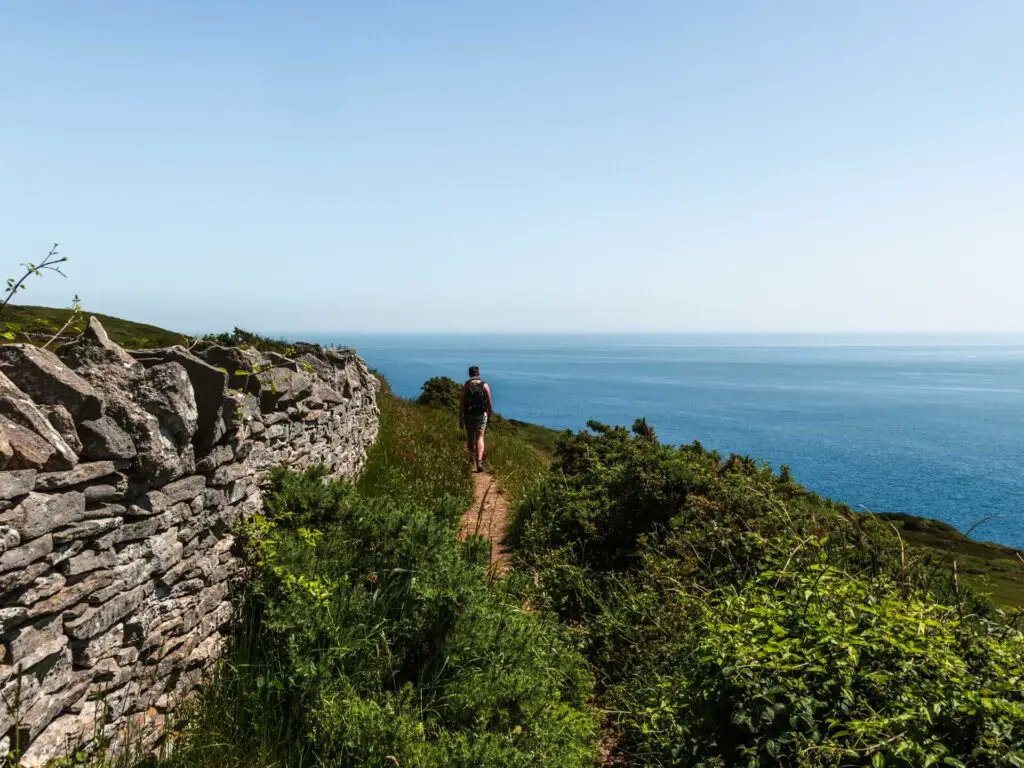 Go through it and continue walking with the wall to your left.
If it's a clear day, it's along here that you will get a view of the Isle of Wight. 
Through another wall there will be a serious of trails with this wooden stump (photo below). From here we went right and then left along the ridge.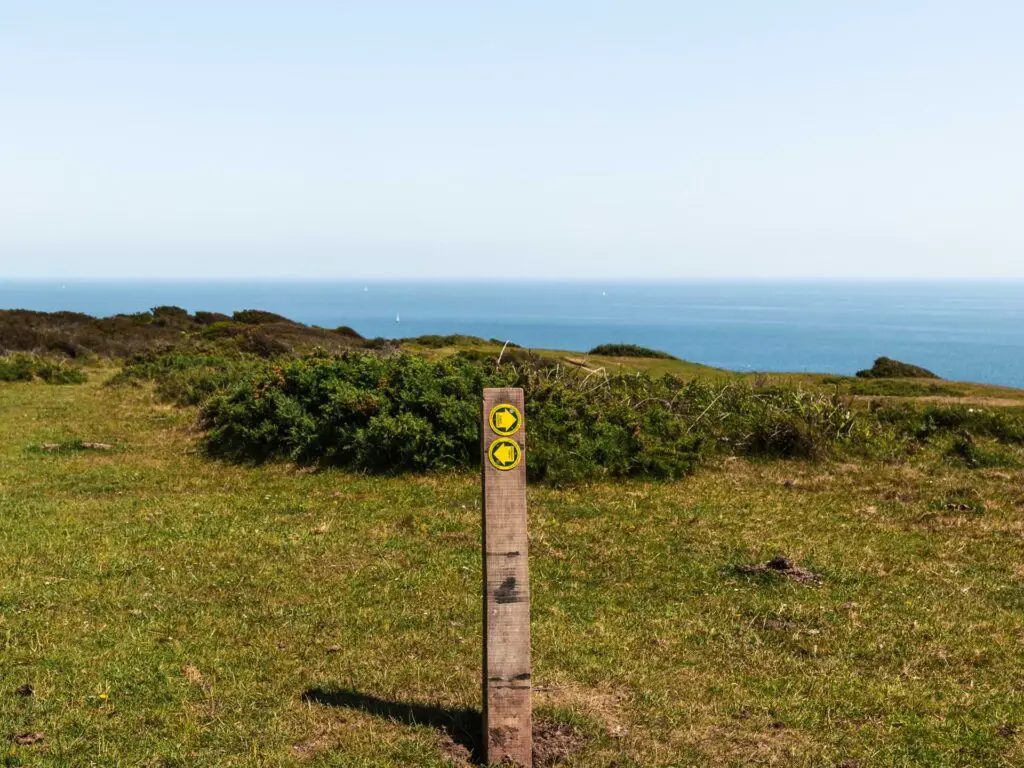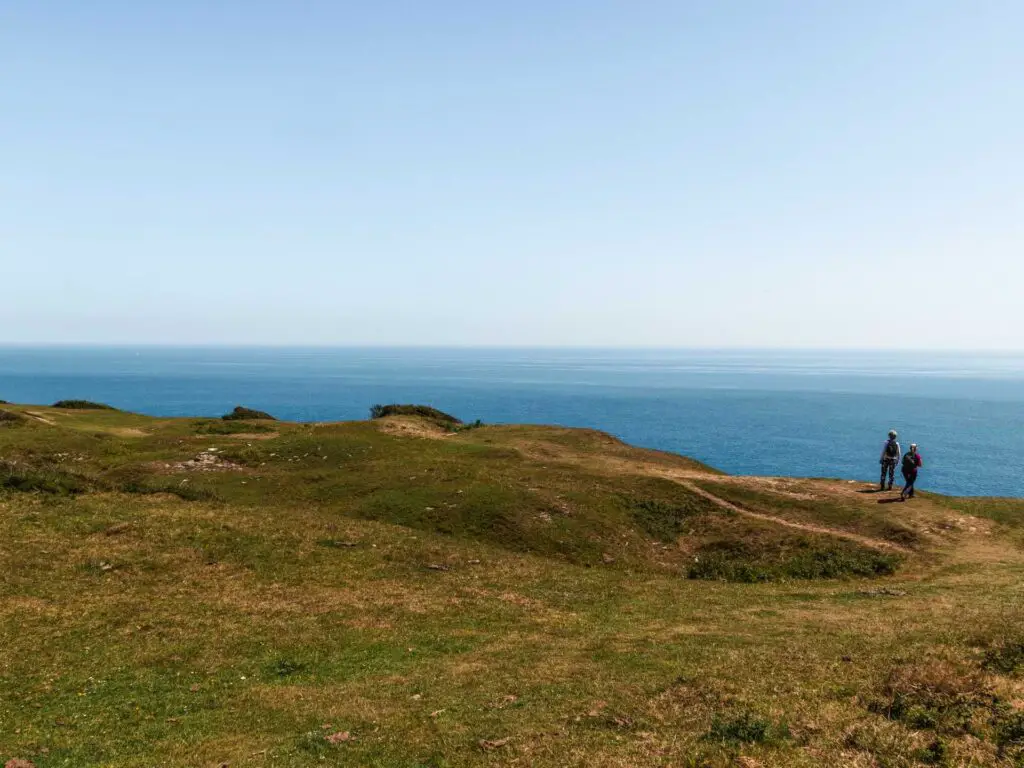 The walk towards Anvil Point Lighthouse
Soon the lighthouse comes into view. Simply head towards it whichever way you please.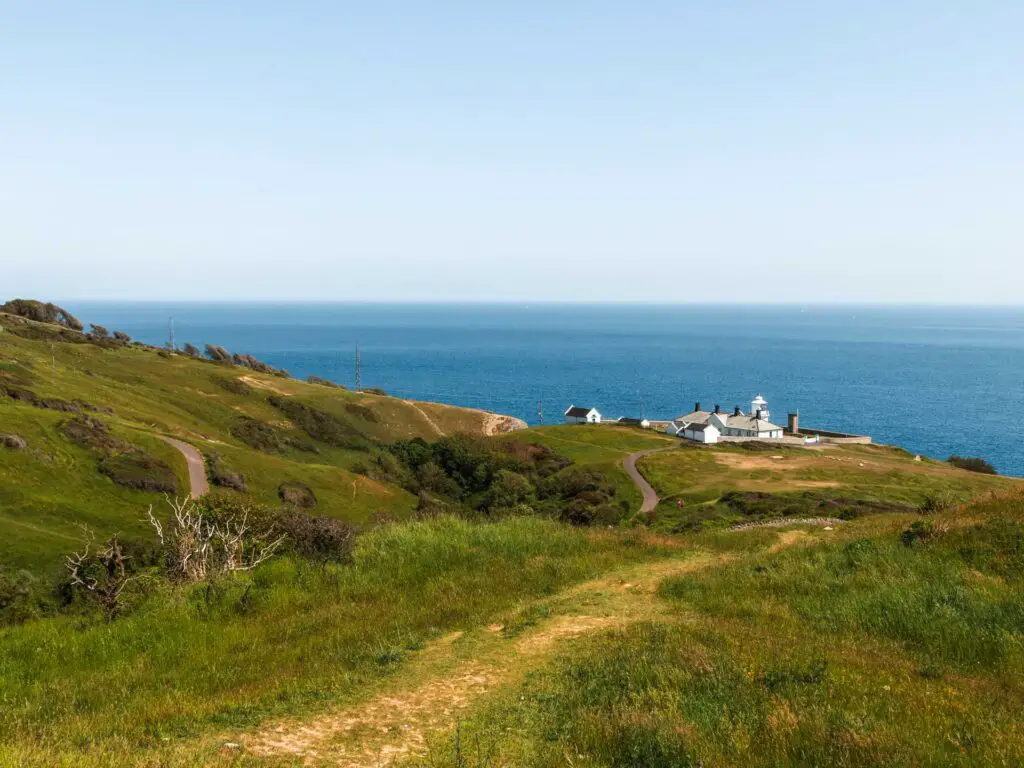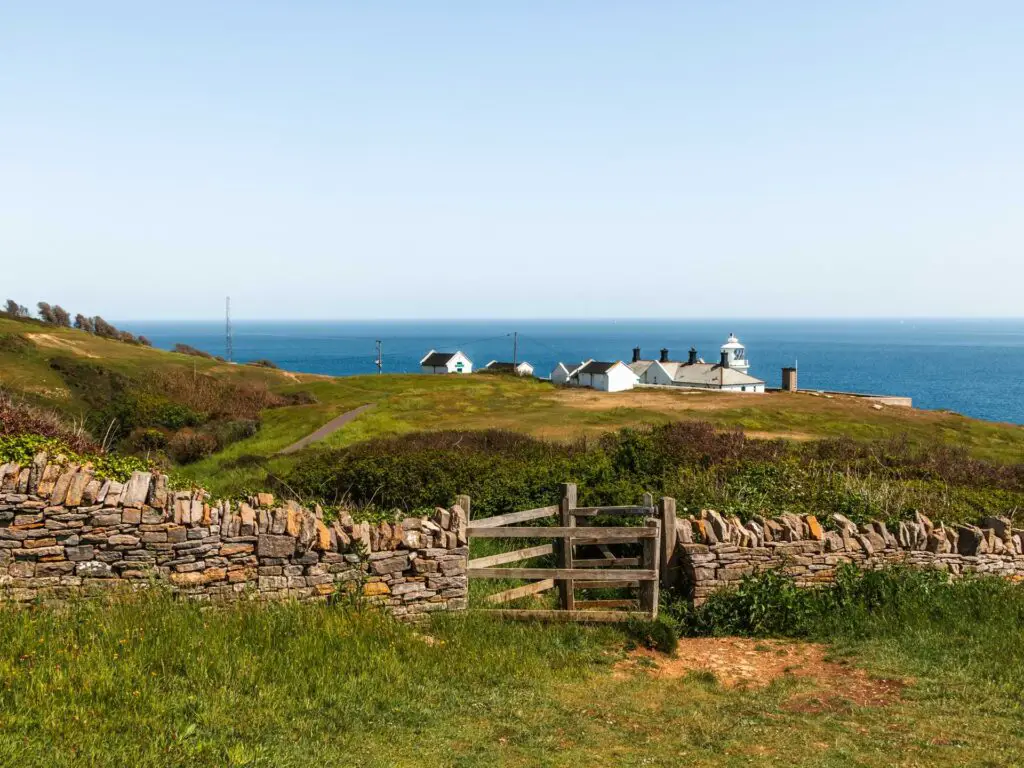 At the road, take a right and from here, if you go straight you will get back onto the gravel type path you were on earlier.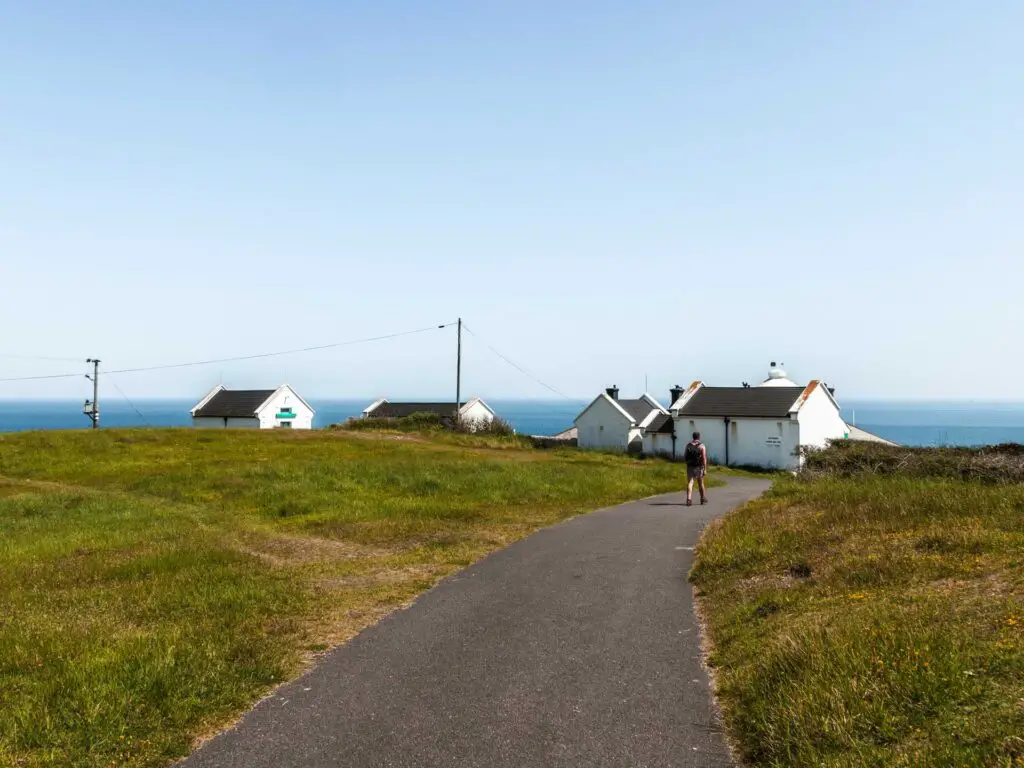 We mixed it up and took a left just before the lighthouse to walk around it that way.
Walk Back to Durlston Castle/car park
Once on the other side of the lighthouse and on the gravel path, you should recognise where you are so can just walk back the same way to get to the car park. We followed the same path for a short while, but then took a left at the car park sign (see photo below). This took us uphill on a trail surrounded by grass and a cute view of the top of Durlston Castle ahead.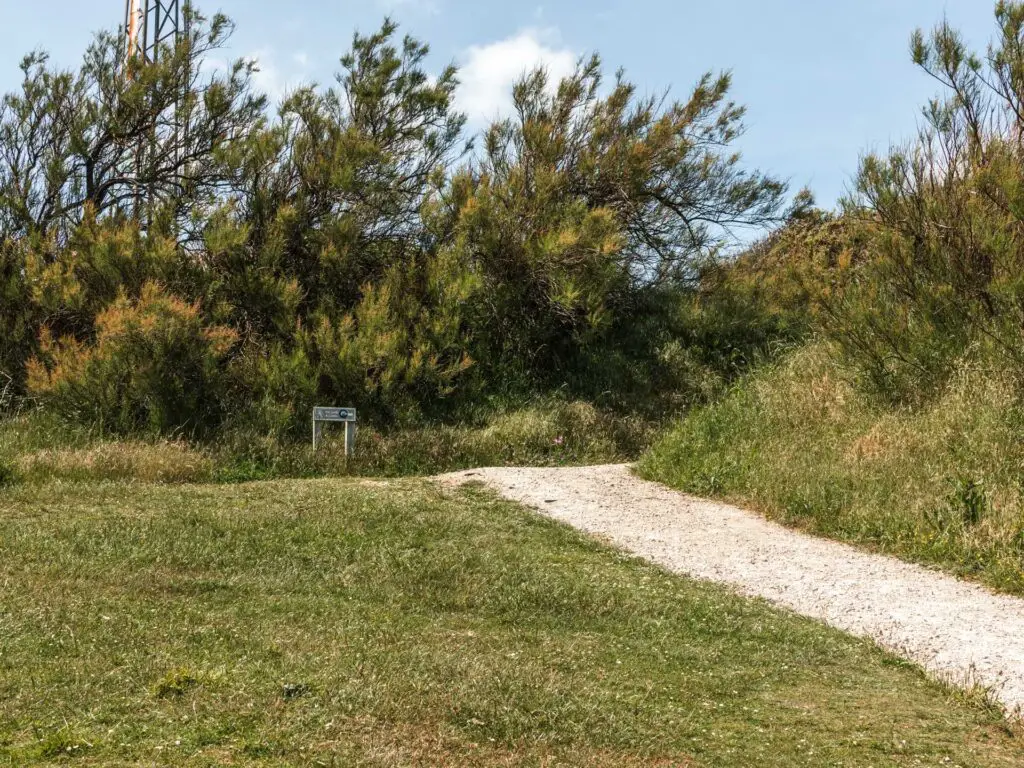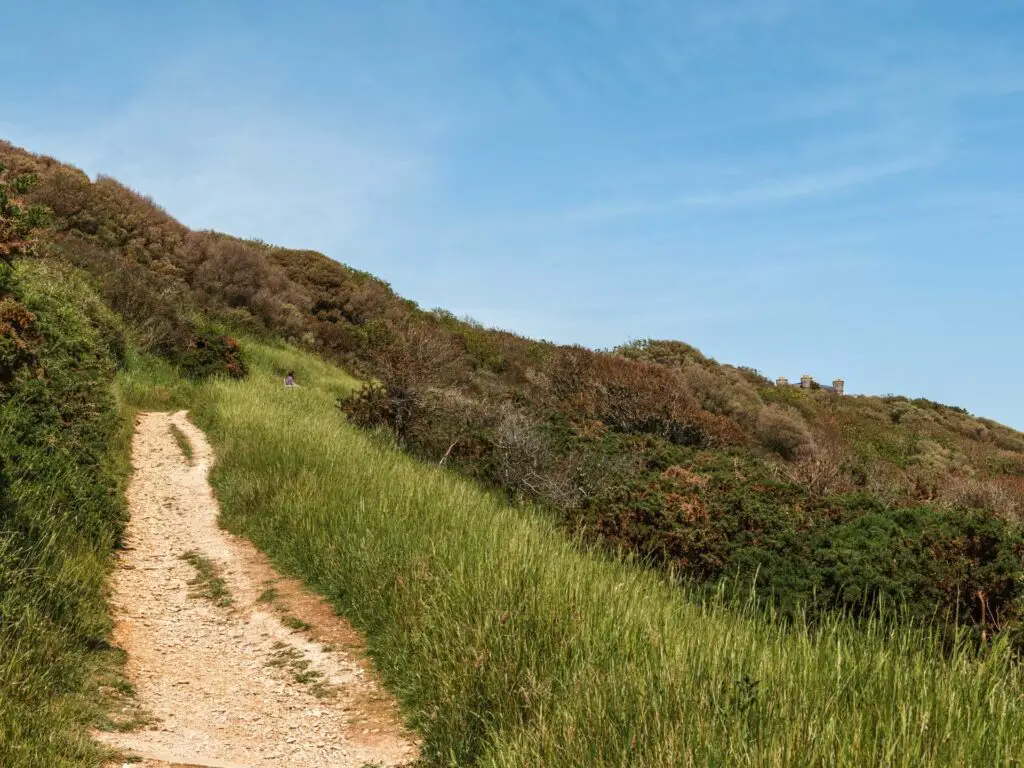 Final Thoughts of the walk to Dancing Ledge in Dorset
For a good chunk of the walk, I was so sure that this was going to go to the bottom of the list of walks I recommend in Dorset. But it managed to turn it around, so much so, that it now sits high up on that list.
More walks in Dorset
If you want to stay nearby, you could try out the walk from Swanage to Old Harry Rocks. It's about 6.5 miles long and takes you right up close to the famous rocks. It's mostly a coastal walk if you like that kind of thing.
Slightly further away, but still in Purbeck, I highly recommend the Kimmeridge Bay circular walk. It's now one of may favourites in Dorset. 10 miles, some big hills, and the best views.
A bit further away, but showcasing another famous landmark, is the walk from Lulworth Cove to Durdle Door. At 1 mile one way, it's one for the shorter ones on the list, which makes it perfect if you aren't into big walks but still want big rewards.
Another way to see Durdle Door would be on the walk from Weymouth to Lulworth Cove. It's the first hike I ever did in Dorset, and still one of my favourites in England. I did it way before I started this website so don't have it covered, but it's simple. Just walk along the coastline. It is a toughy though. It's very hilly.
Another one I recommend from Lulworth Cove, is in the opposite direction to Durdle Door. It's a 4 mile circular walk to Mupe Bay. Way less busy than the Door is, but just as beautiful.
Pin it for later: Wild swim coastal walk to Dancing Ledge in Dorset