This walk takes you from Kimmeridge Bay and along some of the most gorgeous coastline in the area. As you reach Kingston, you will have an optional pub lunch stop with a view down to Corfe Castle, before looping back around for even better views along the coastline.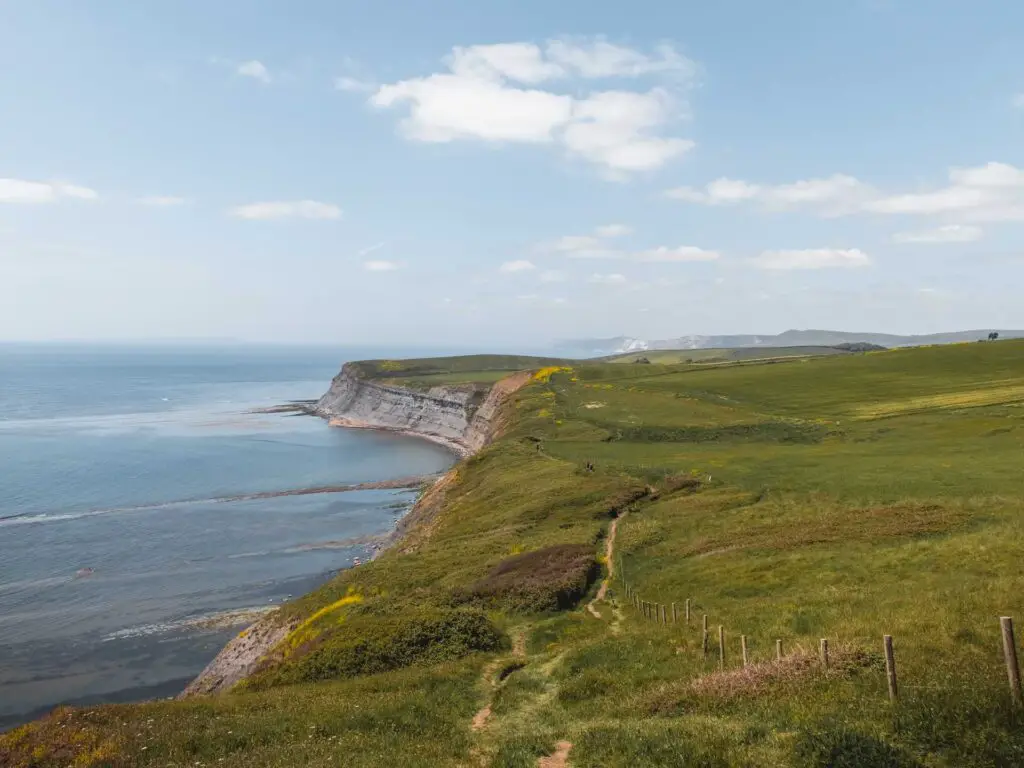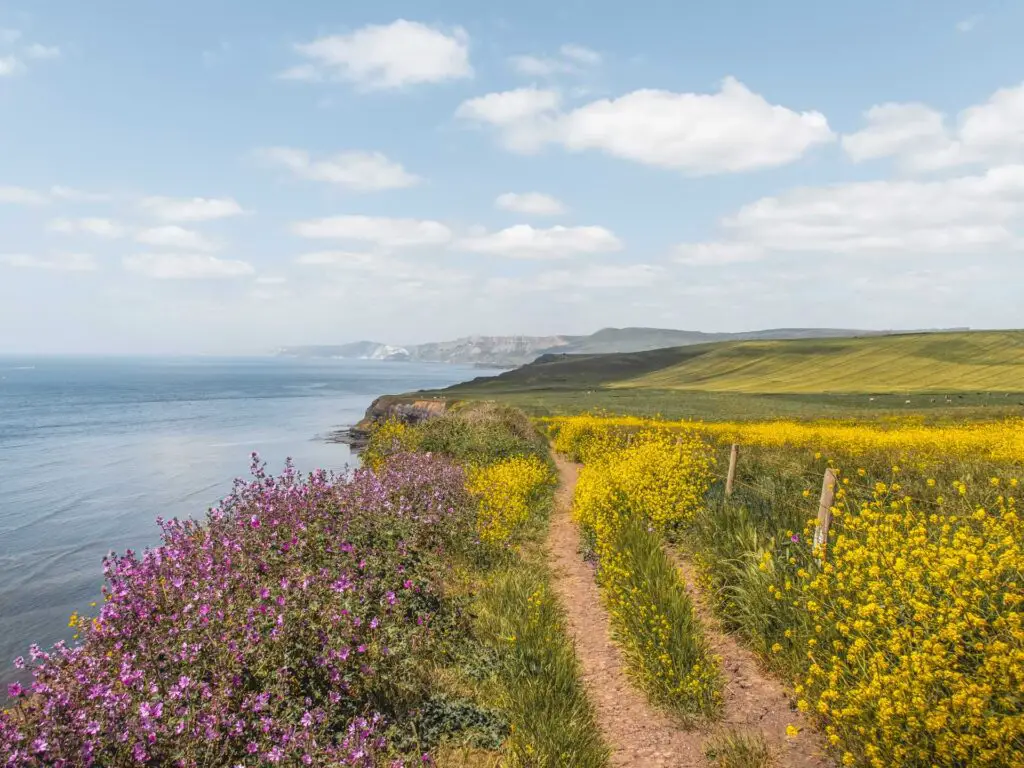 The walk from Kimmeridge Bay wasn't planned. I actually had other walks planned for this weekend. Here is what happened.
That morning….
That morning after packing up camp, we wanted to find somewhere with a nice view for breakfast. We knew were we would go. It wasn't Kimmeridge Bay. 
It was a car park with a lovely view. 
As it turned out, this particular car park is very popular. It was packed. Not the peaceful countryside view we had hoped for. As we were nearby Kimmeridge Bay, I suggested we go down there. So off we went.
It wasn't until we were in a queue nearing a gate that we realised you need to pay to go down there (this is car parking payment).
We like to do things for free, however, at this point we were hungry and didn't want to make a fuss by trying to reverse out of this queue so we sucked it up and payed the £6 fee.
Once down in the car park, it was actually quite nice (although a bit smelly). It's a large space overlooking the bay. We parked up on the grassy bit, got the chairs out and got cooking the porridge. 
Sitting there, looking at the cliffs surrounding the bay, I felt pretty content. I didn't really want to leave.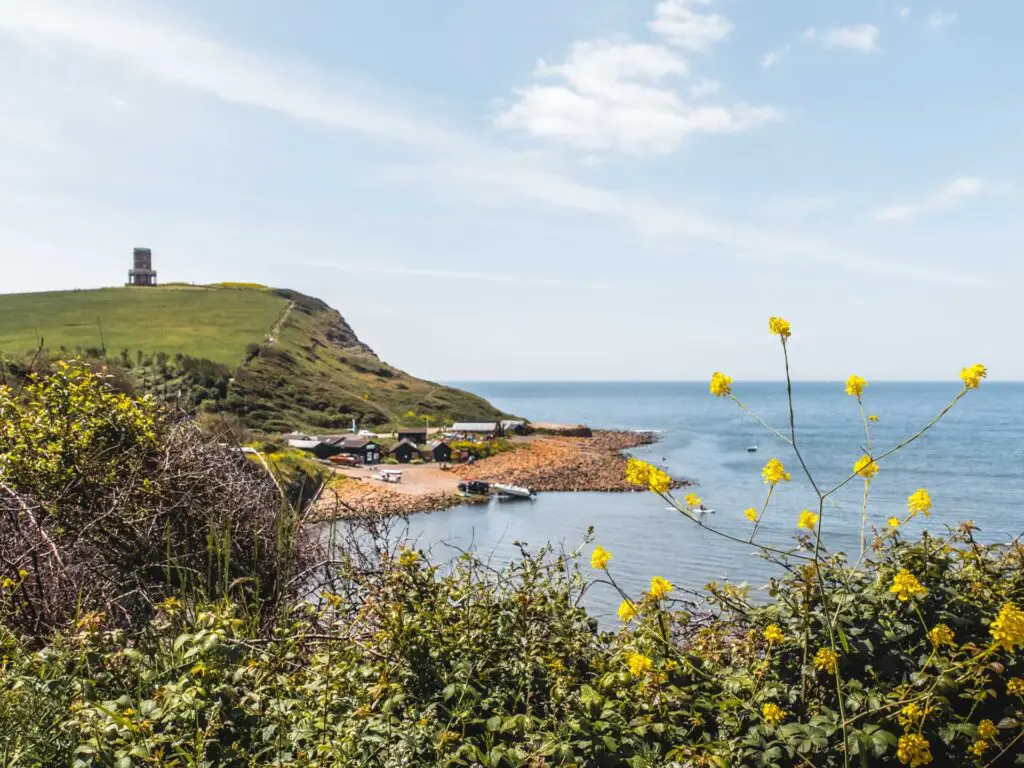 Then I had an idea. Now that we had paid for parking, we might as well stay for the day. Hang out for a bit and then do a coastal walk from here. 
When I suggested this to Ollie, he told me he thought that was my plan all along…
Things to know before visiting Kimmeridge Bay
You have to pay to enter by car. You pay for the day. At the time of writing, car fee is £6. The price goes up as your car gets bigger and becomes a van or trailer. They accept contactless payment. Walking in is free.
There is a toilet and outdoor shower. Take your own loo roll. At the start of the day the toilet was lovely, clean and well stocked. After we returned from our walk, there was no loo roll and the place was a bit gross. The shower wasn't working, but the tap to rinse your feet was.
Take supplies i.e food and drink.
Park on the grass bit. This is one of those places where it's actually nice to hang out by your car. You know, get your picnic table out and stuff. So the grass will be nicer to hang out on. Saying that, the place wasn't anywhere near full when we were there. Maybe if it's full, the car park won't be as nice to hang in.
Logistics for the coastal walk from Kimmeridge Bay to Kingston, Dorset
Start/Finish: Kimmeridge Bay car park (Purbeck, Dorset)
Alternate Start: There is a car park (not on Google Maps) which is free parking. As you drive down towards Kimmeridge, before you get to the town (it's about 2 road turns before) you will pass the car park on the left. It's just before the campsite. This walking route takes you almost past this car park, so you could easily start from this point. I will give you more details when I describe the Kimmeridge Bay walk below.
How to get there: You need a car to get even close. You can see location on the map I have provided. It's easier than me describing it. It's a short drive from Corfe Castle or Swanage.
Distance: 10 miles
Time: 3h 40min
Terrain: Dirt, gravel, grass trails. A bit of road.
Elevation: highest point is 300m. With the ups and downs you will have walked up a total of 536m
Time of year: We did this during early summer
Tips: Sunscreen, sunscreen, sunscreen. I was OK. Ollie was not…I did warn him.
Map for the circular coastal walk from Kimmeridge Bay to Kingston, Dorset
Click on the top box to open in Google Maps. Click on the trail name on AllTrails to open in your app.
A guide to the circular coastal walk from Kimmeridge Bay to Kingston, Dorset
The car park is quite large and there are different ones. Wherever you are though, you should see a big hill to the left with a tower on top. This is Clavell Tower. You need to head towards that.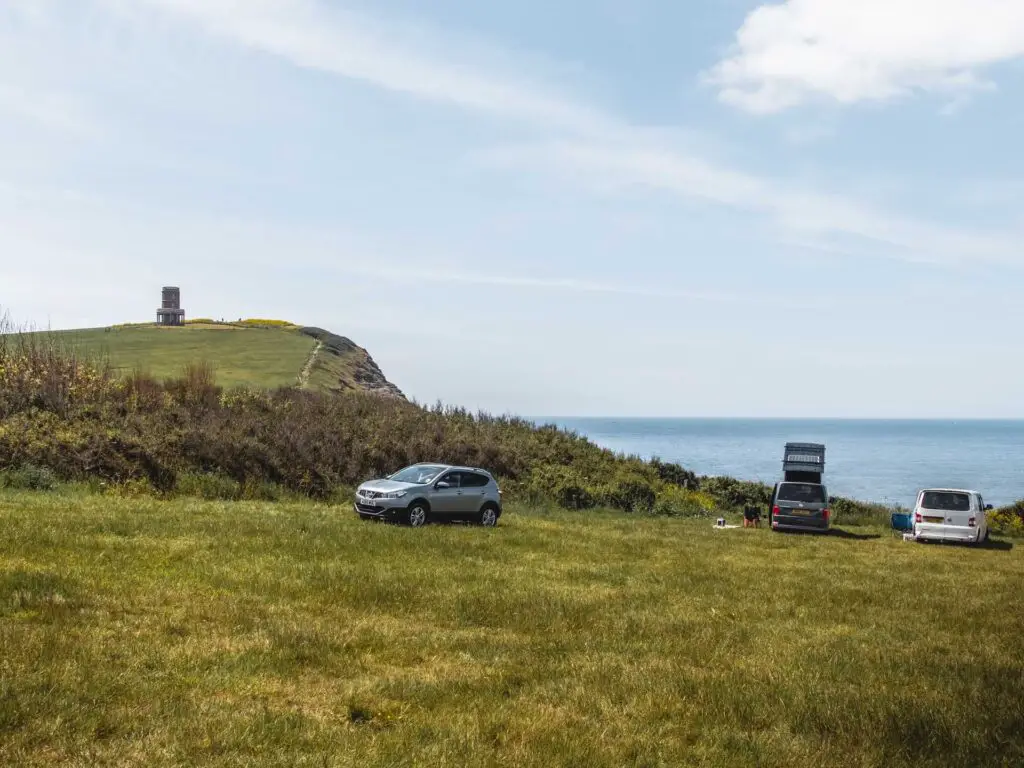 Walk up to Clavell Tower
Starting from the car park, if you head to the toilet block, there is path leading to the coastline. You should see a signpost pointing to Chapman's pool, then a bit further along this path are the steps.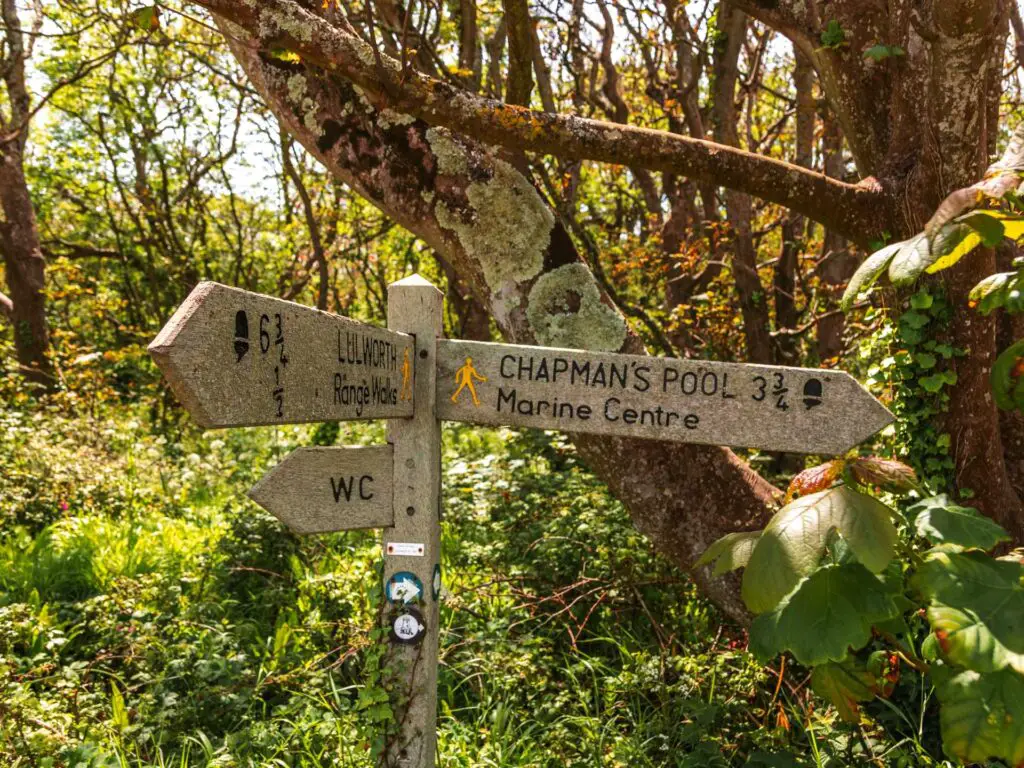 This was the first of many hills for the day….It was not the hardest one. It was a warm up.
All the flowers 
Once we reached the top we were greeted by a mass of beautiful yellow flower bushes. I can't be sure, but I suspect this is a spring/summer thing. 
There is also a lovely view back down to Kimmeridge Bay.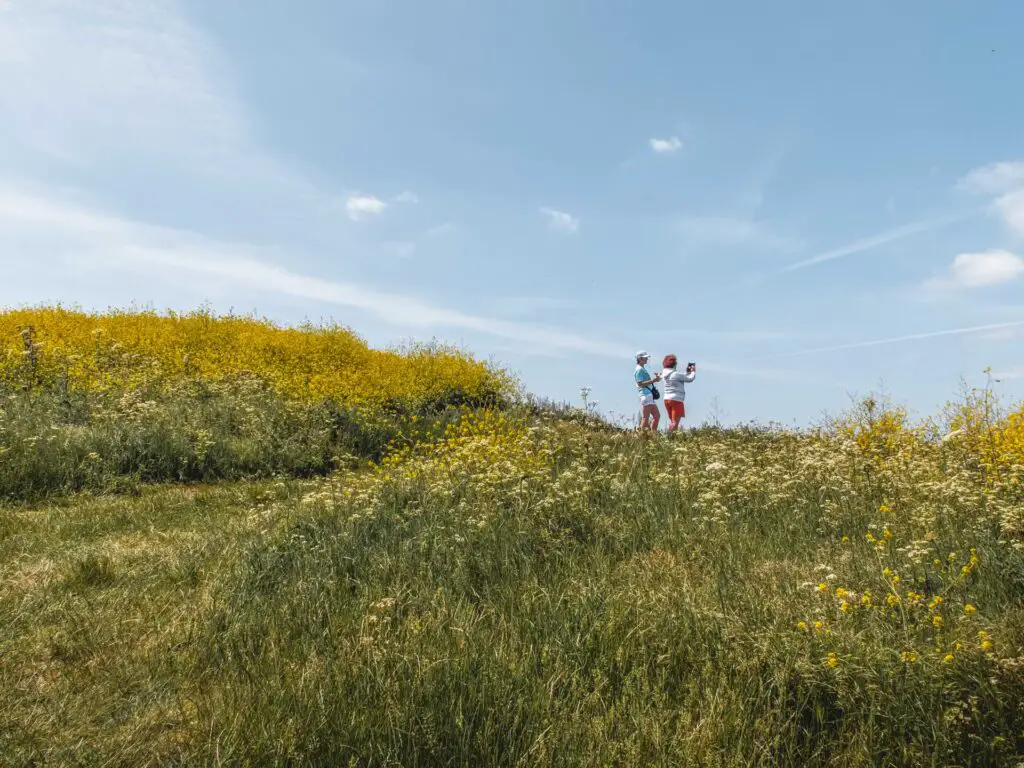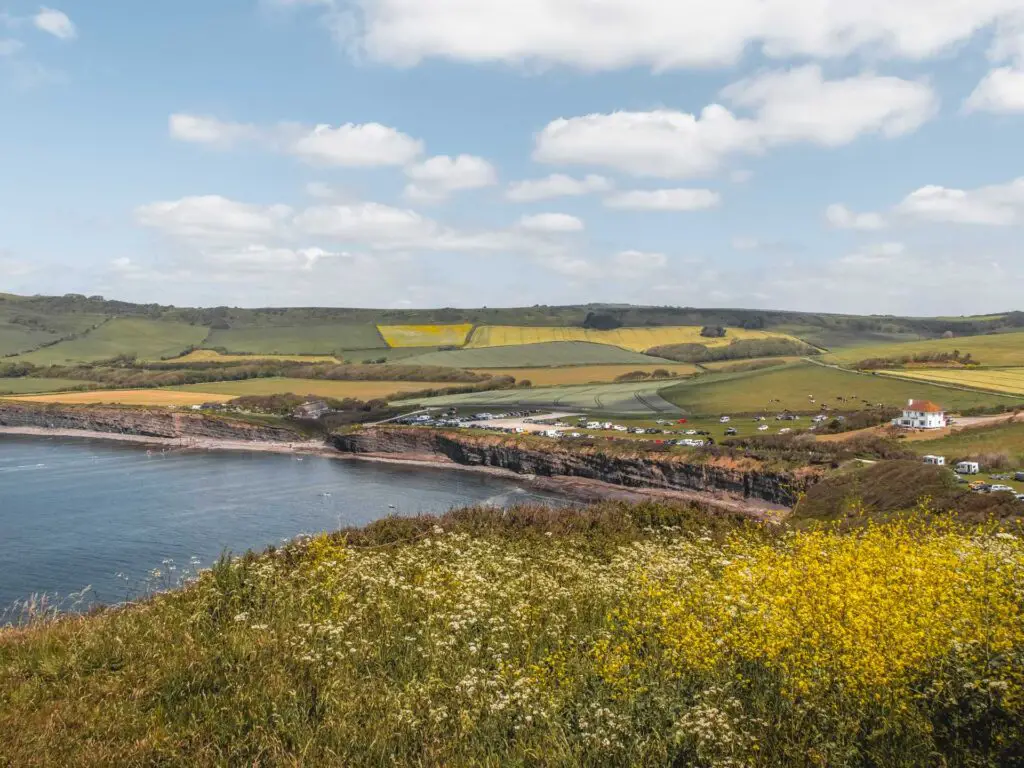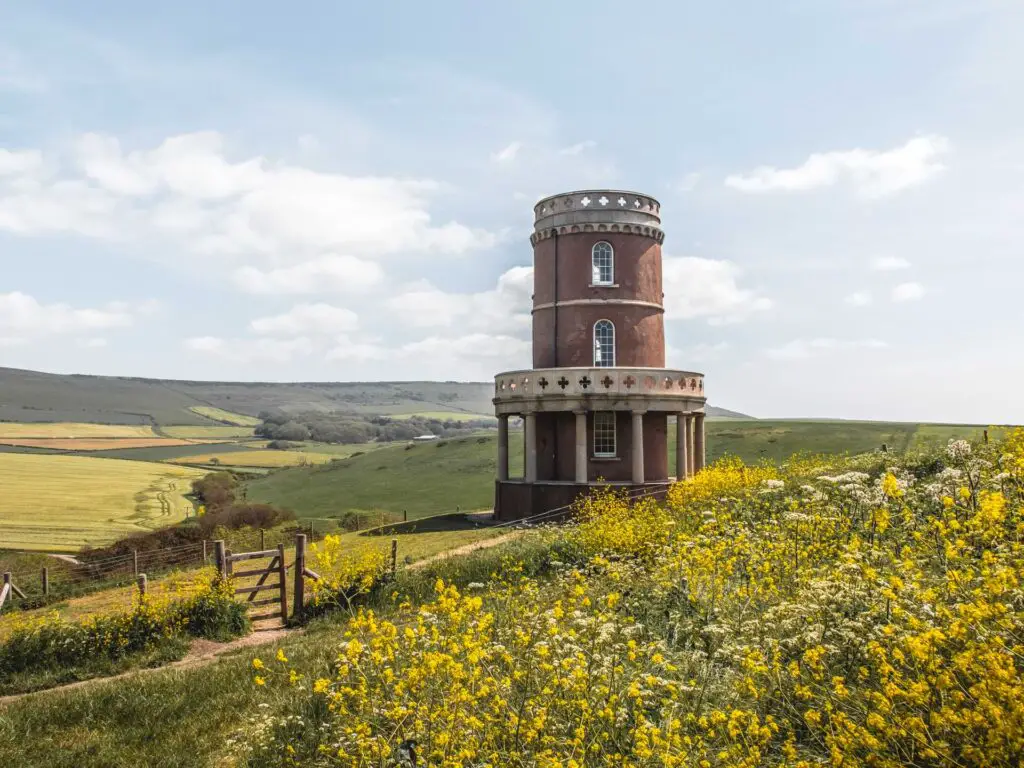 Walk along the coastline away from Kimmeridge Bay
From here, we took the trail that ran along the coastline.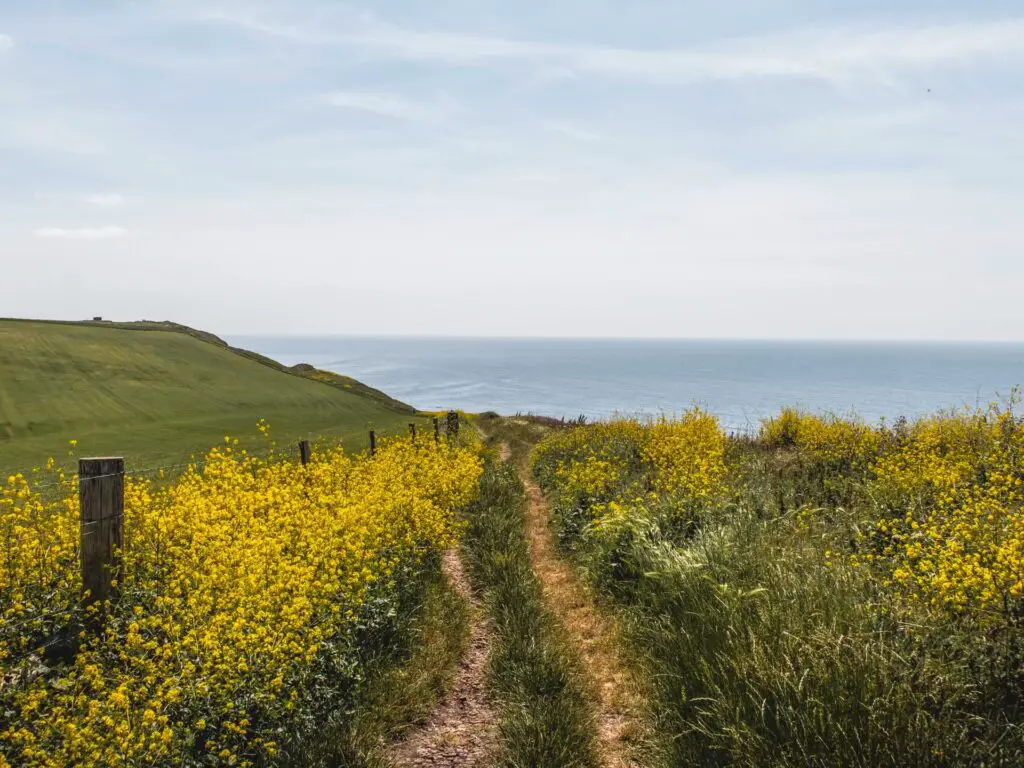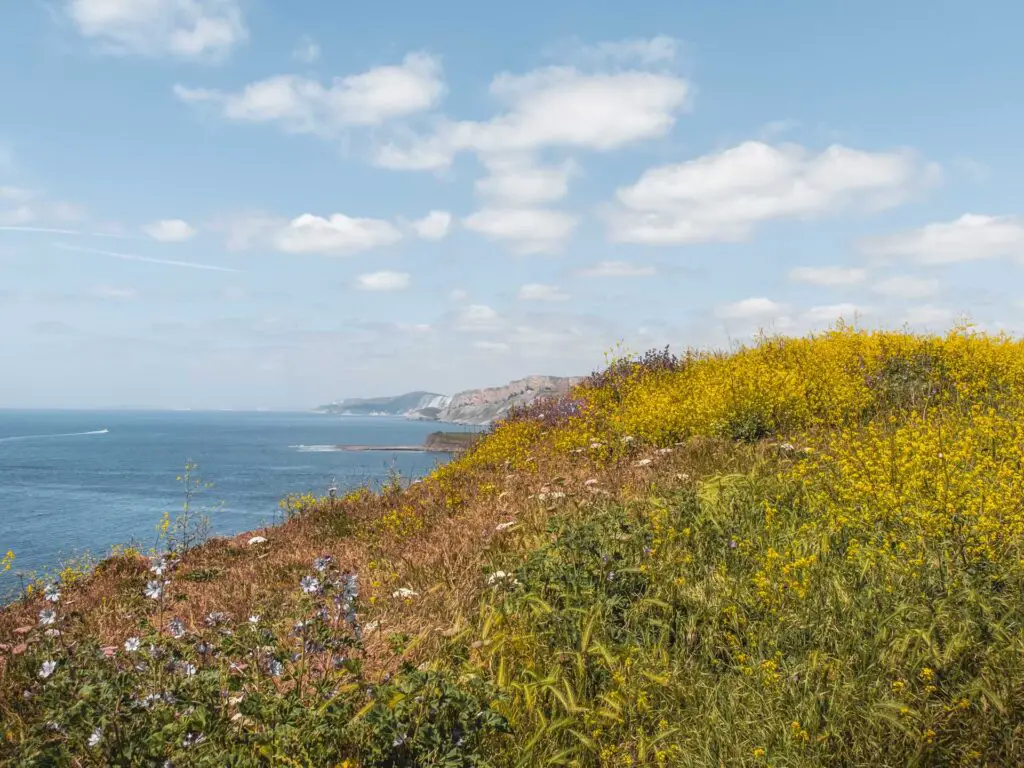 The whole thing was just super pretty. It was a glorious sunny day and I felt such delight with all the lovely flowers….then the flower bushes took over.
The bee flower bushes 
The trail became engulfed by the yellow flowers, and we had to fight our way through. I will tell you, there was a very real possibility of getting stung. The bees. The bees were buzzing all around, so I just kept my head down and powered through and prayed.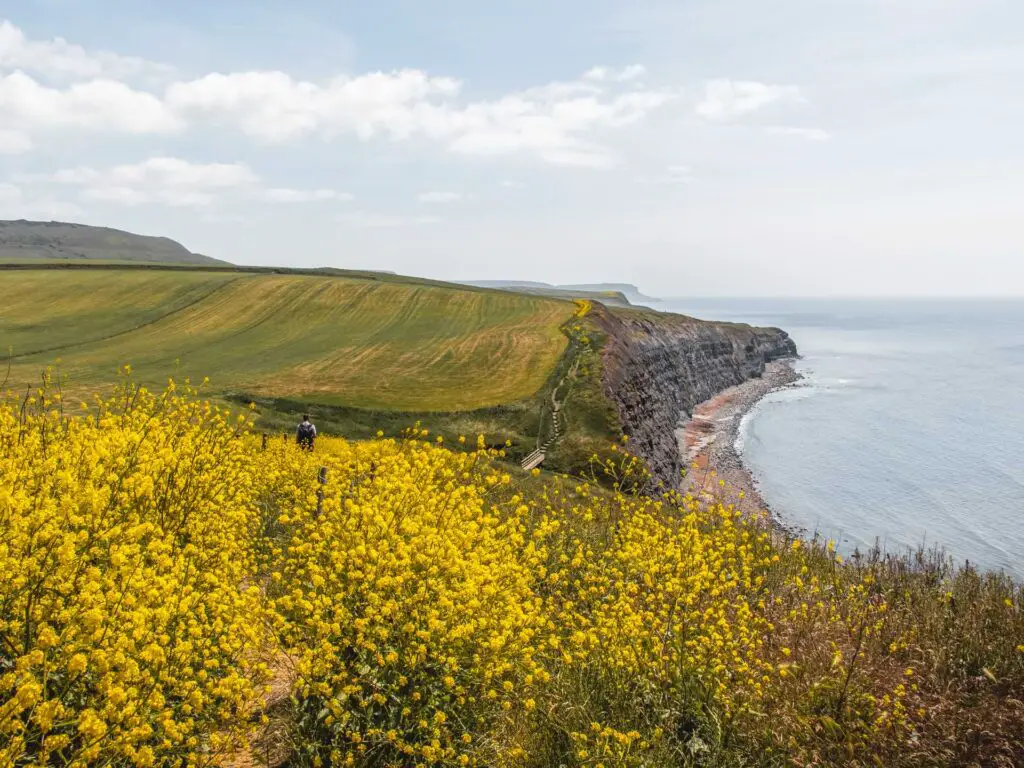 Once I made my way through, I thought the hard part was over. I survived. 
I would later find out that the flower bee bushes would take over again and again.
Continue walking along the coast path
The majority of the rest of the walk along the coastline is made up of gentle undulations, some slightly less gentle (but short).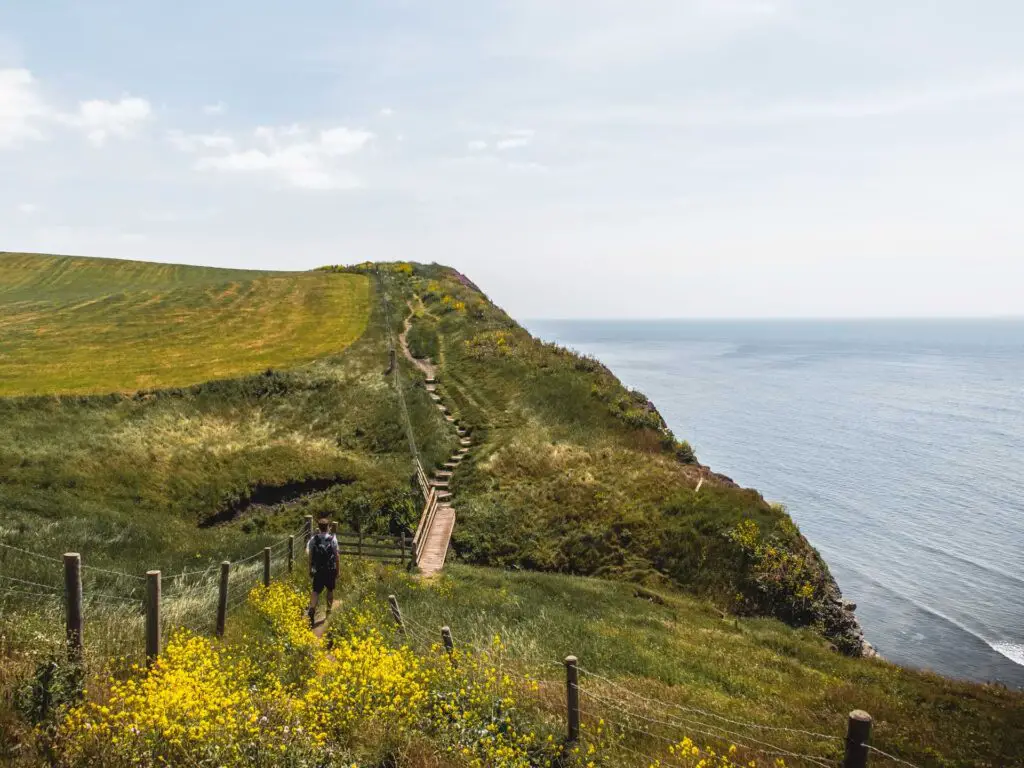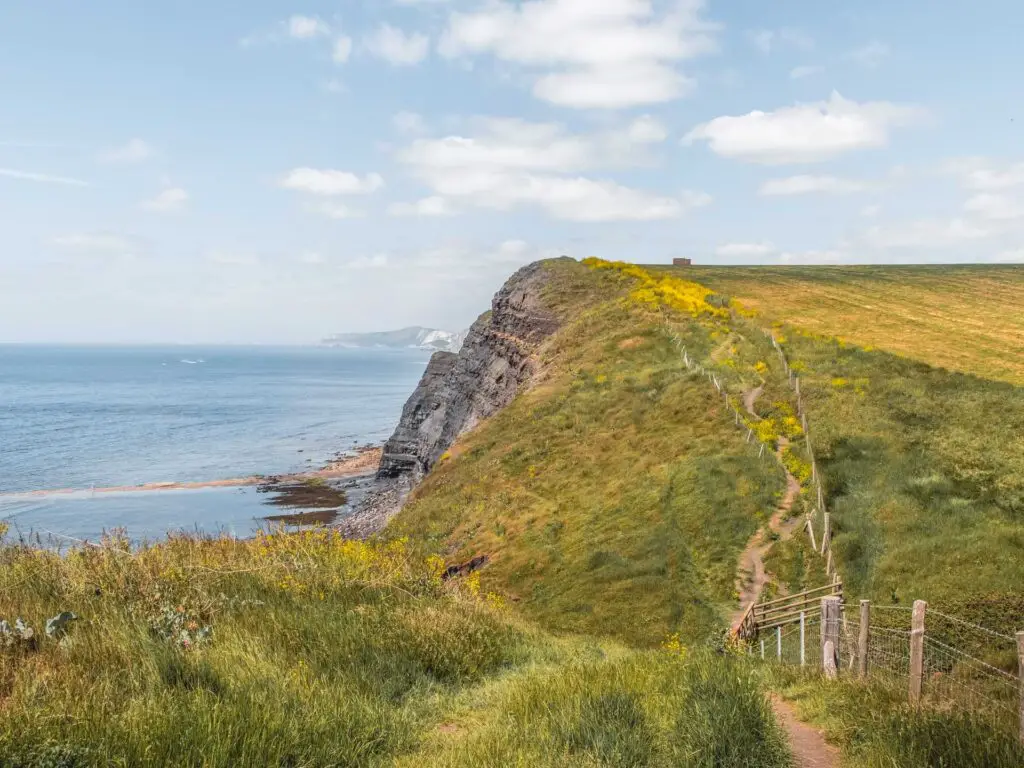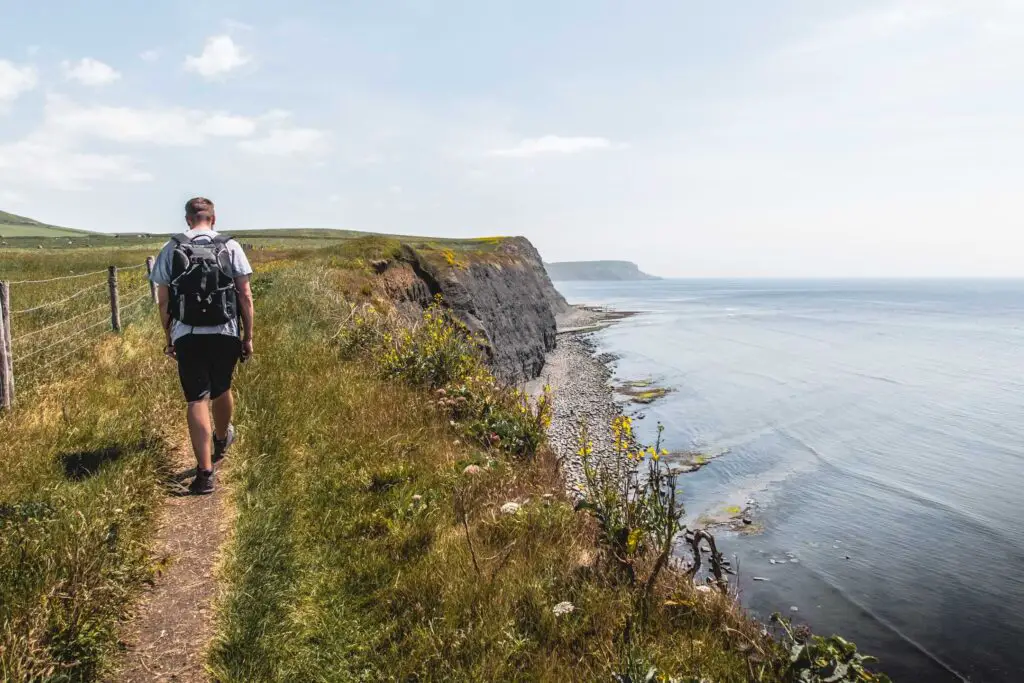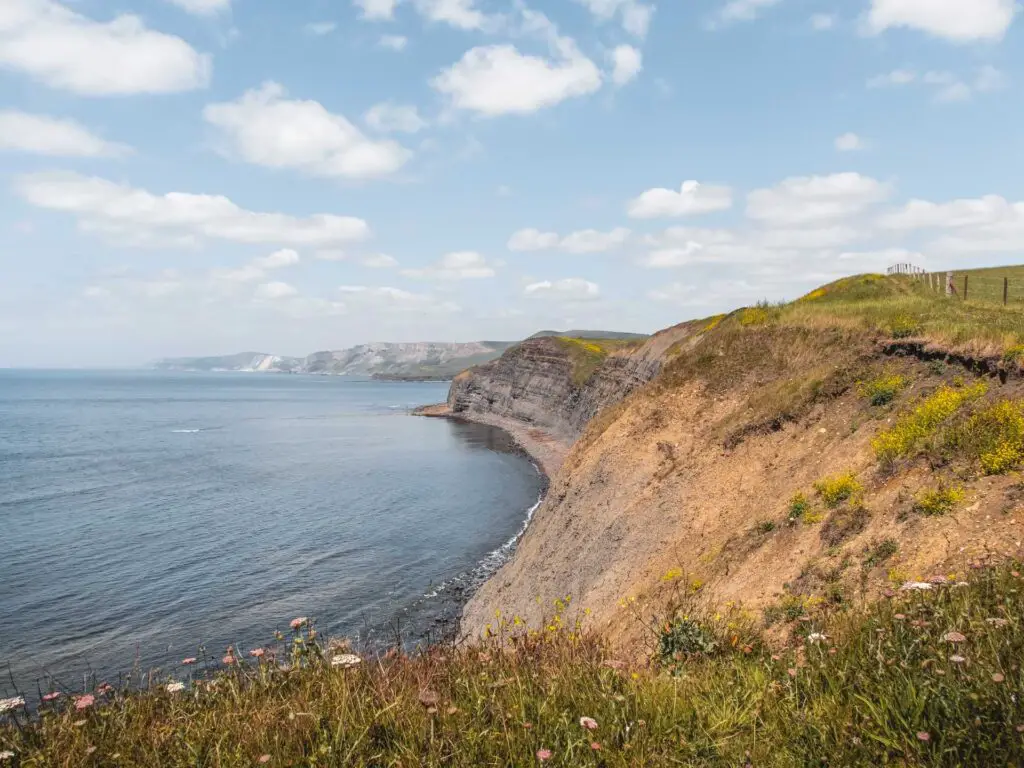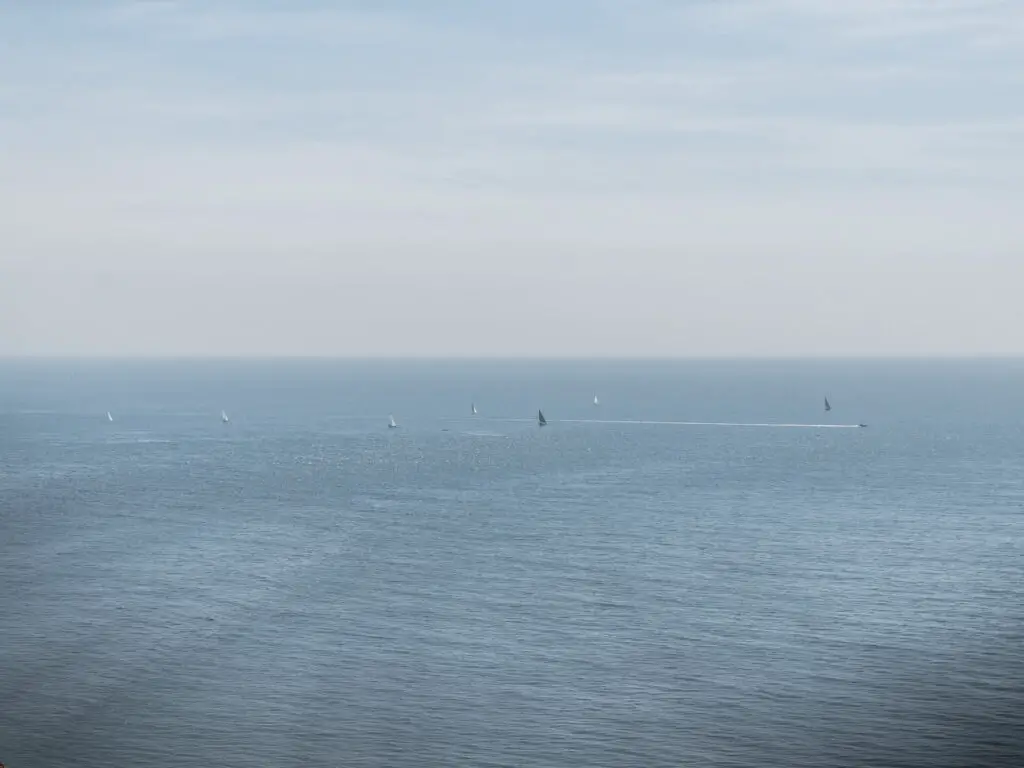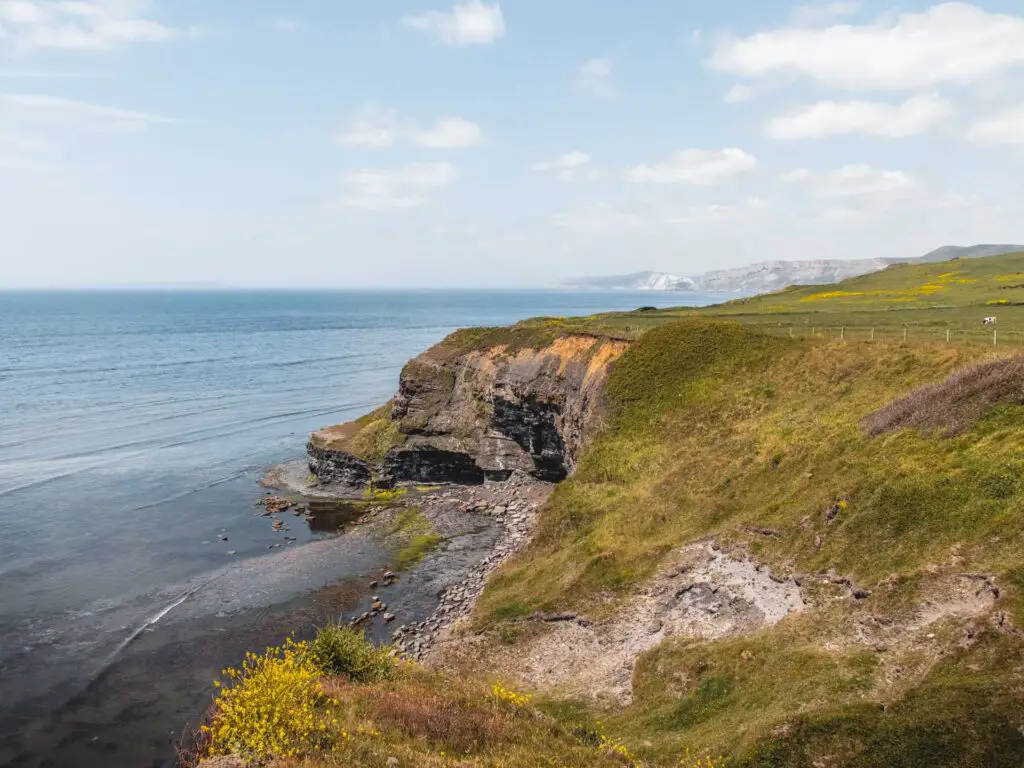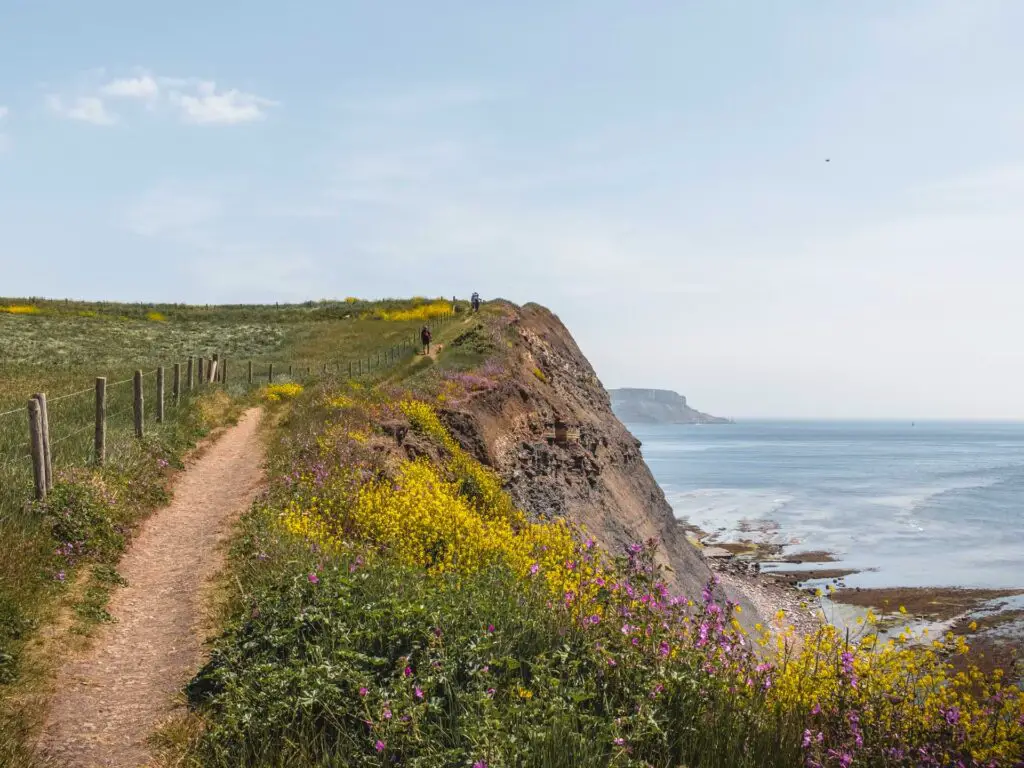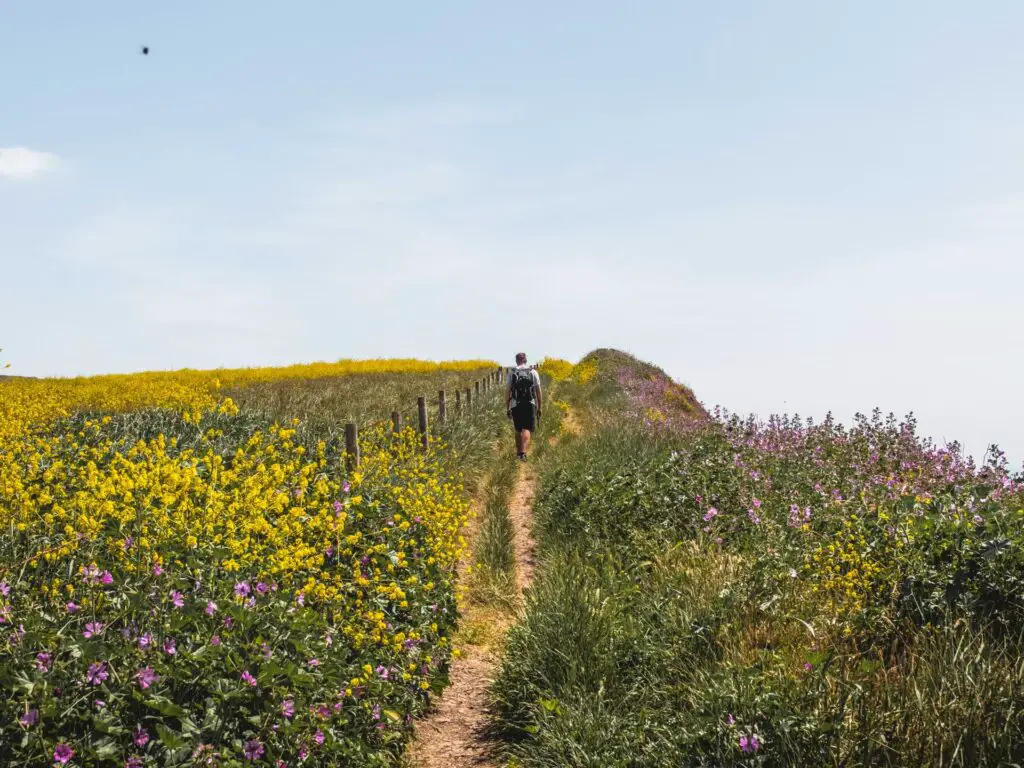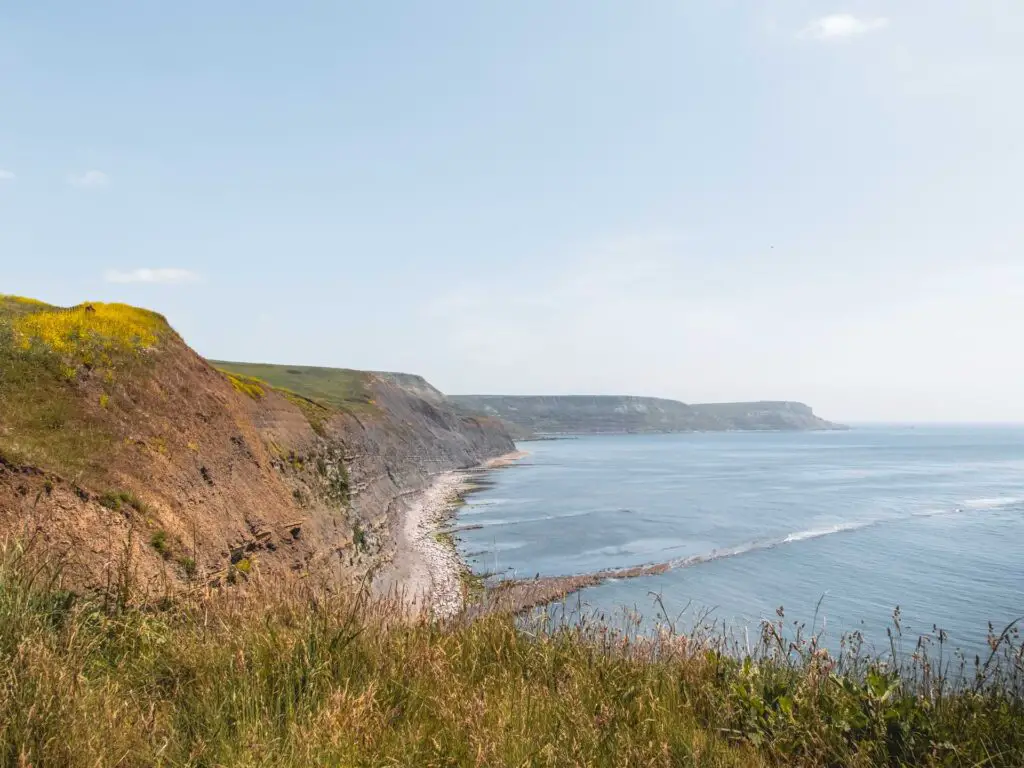 Stunning views both ahead and back. More flower bushes of yellow, pink and purple. I have said it before, and I will say it again. It was all just so pretty.
The daddy hill
As we were nearing the end of the coastline section off the walk from Kimmeridge, I could see a giant hill up ahead. I had a look at my map to see whether we had to go up that hill…
We did.
I didn't tell Ollie yet. I decided to wait until the last moment so he would have less time to protest. 
When I did eventually tell him, he did protest, but now he had no choice.
The trail gets a little bit naughty here. It decided, just before the hill, to take us further downhill. To maximise the up.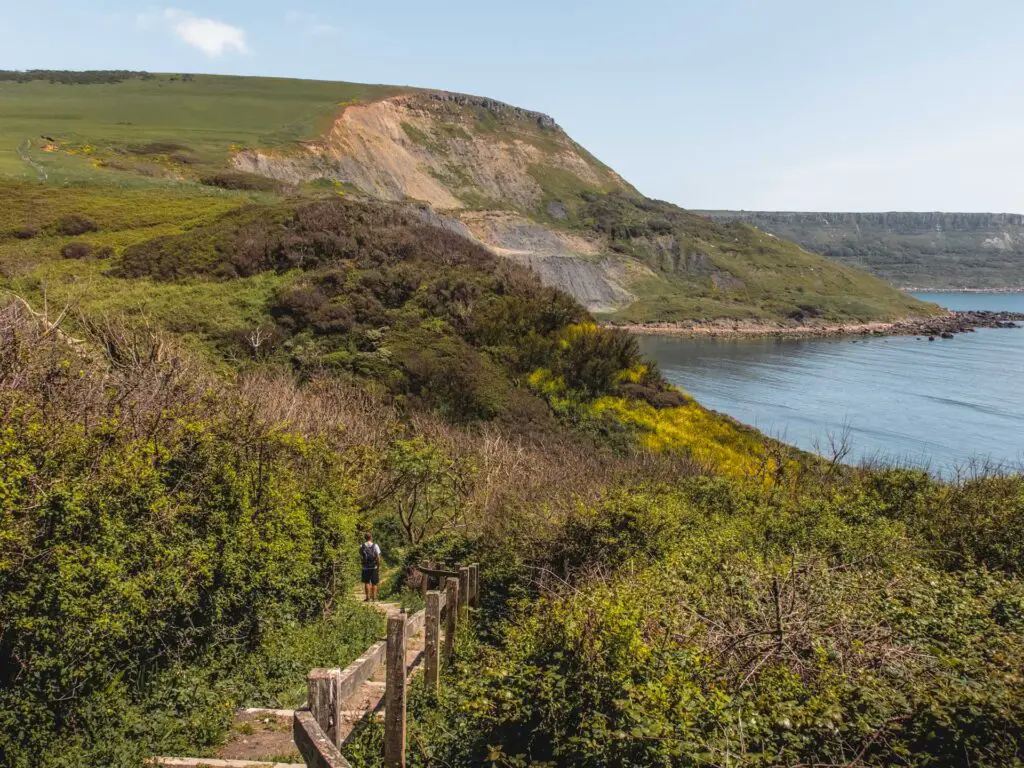 The hill isn't all bad though. It's just the beginning, middle and end that's challenging. You do get little breaks though, as the trail levels out for a brief moment before going up again.
Reaching the top
On the way up, when I took my first look back, I was blown away. The view all down the coastline was insane. You could see all the way back to Kimmeridge and Clavell Tower. That made it a little easier getting to the top. The reward I was getting from it.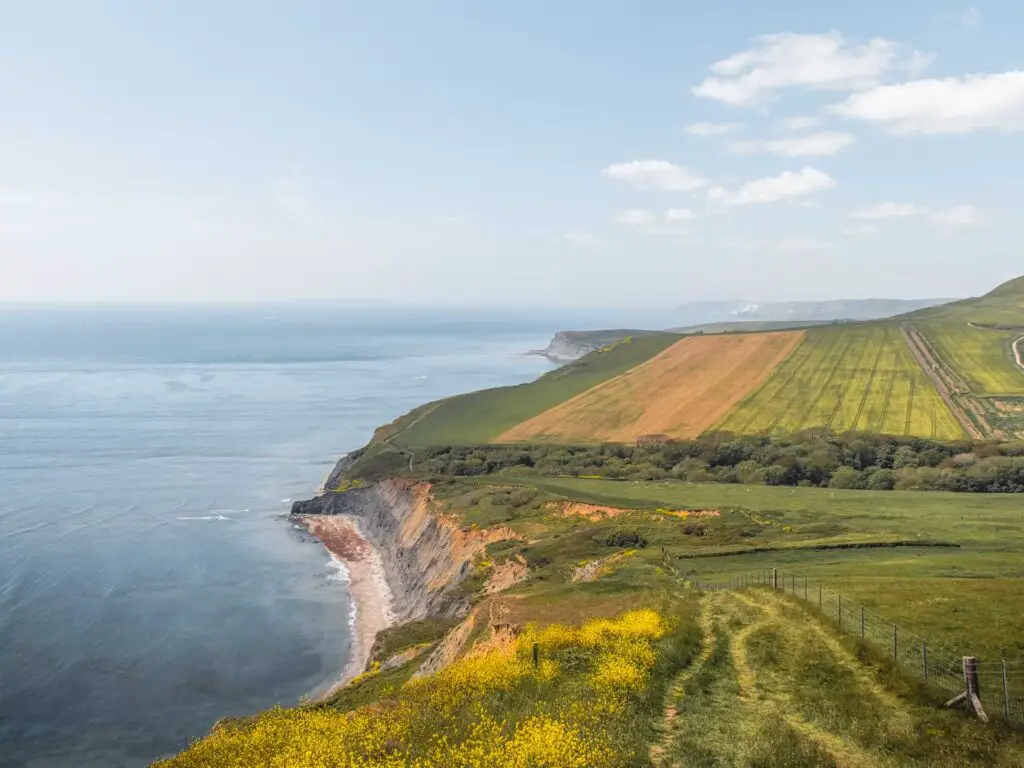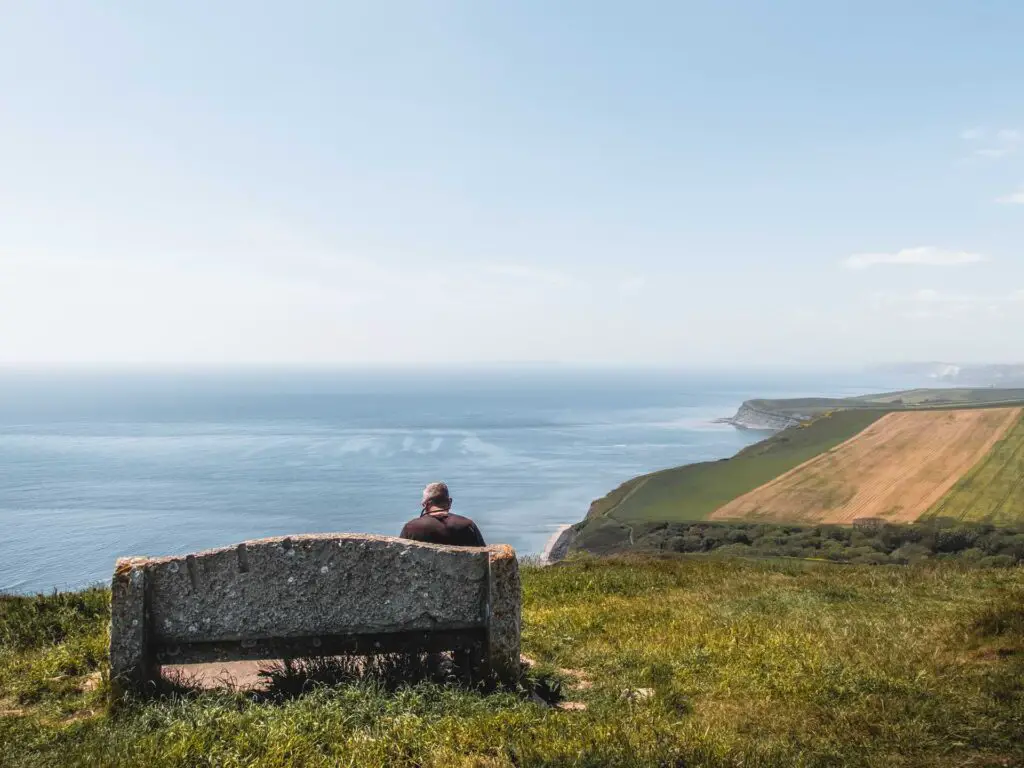 At the top there is a well placed viewpoint bench. It was in use, so we sat on the grass instead for some snacks.
Looking at Ollie, I noticed he had turned a little red. I tried to get him to put some sunscreen on, but he insisted his redness was from walking up the hill. I had actually tried to get him to wear some at the start but he wouldn't listen….he would later regret this.
Walk along the top of the valley towards Kingston
From here, we took the trail through the gate to walk with the wall to our right and the valley to the left, meanwhile fantasising about living here.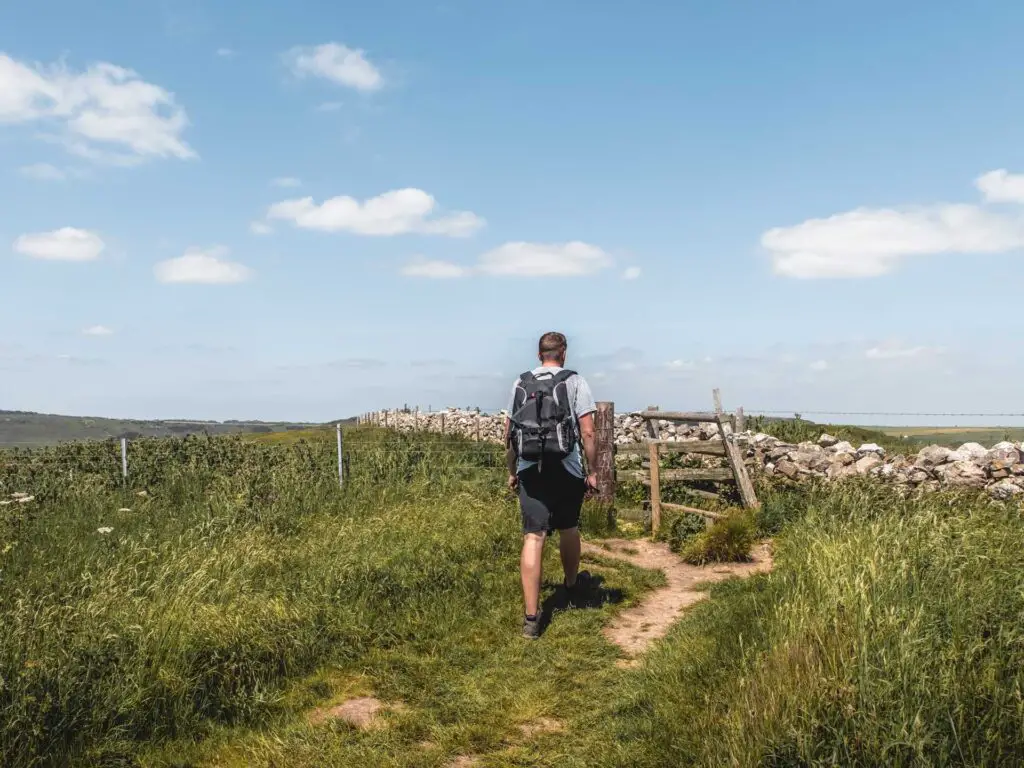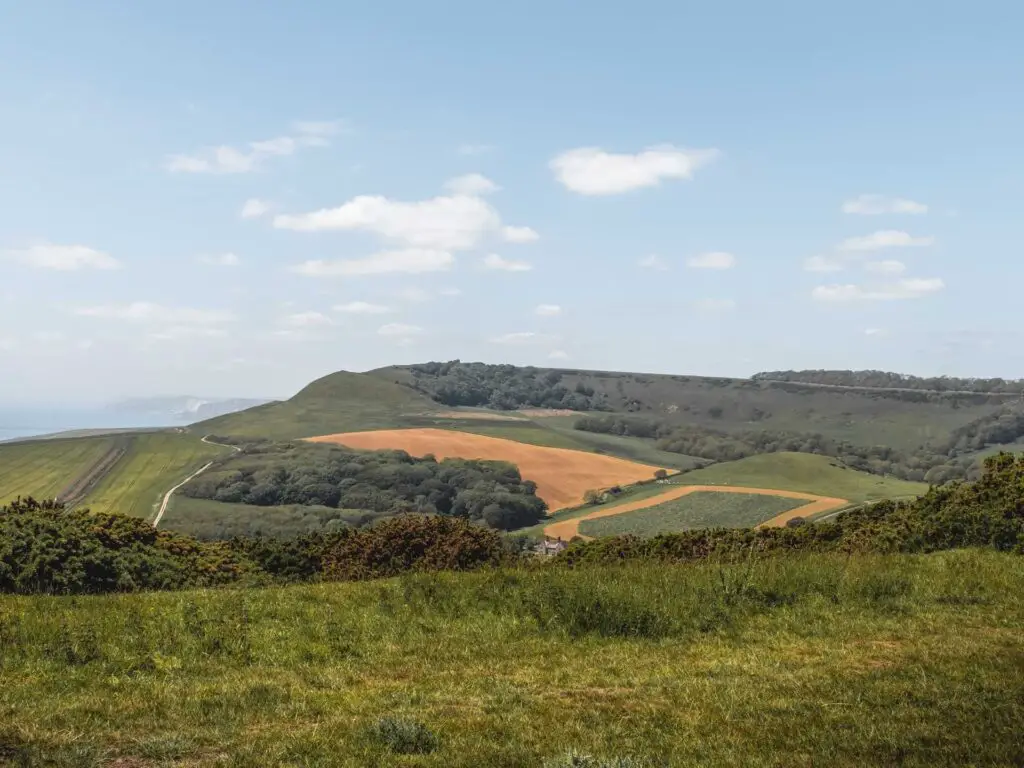 The cows
Oh it wouldn't be a proper English countryside walk without cows blocking the way. These cows did look super chill though. Although, I didn't want to push it, and rushed through as quickly as possible.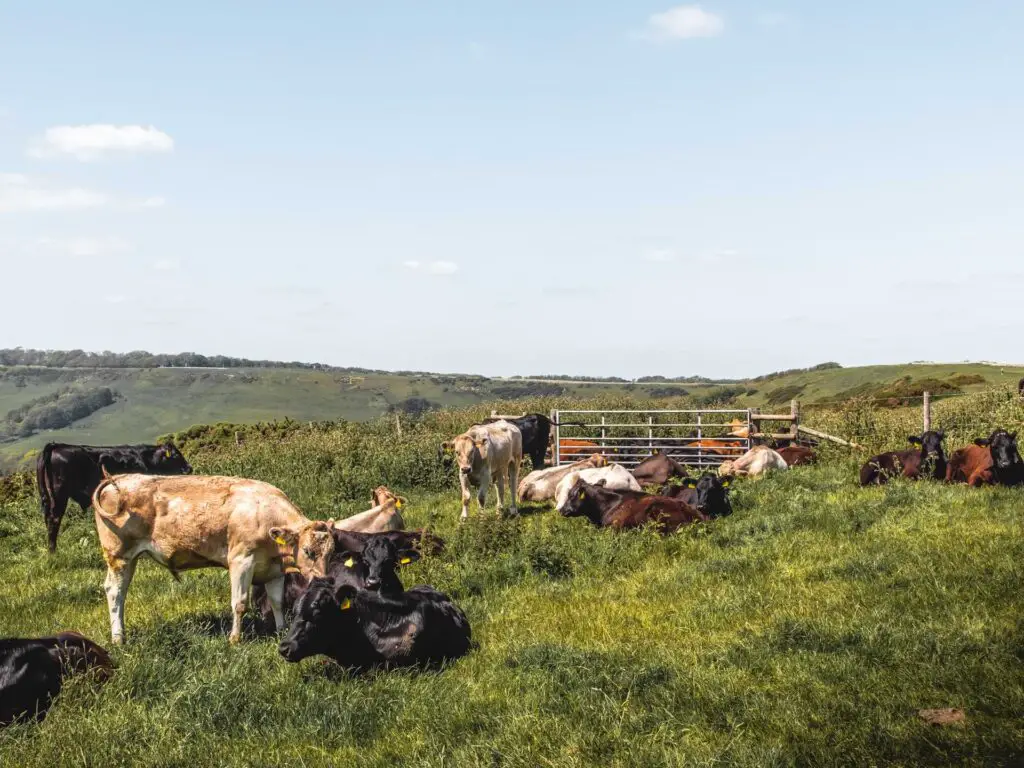 Walk through the woods
Walking along we noticed an obelisk up ahead on the other side of the valley. I can't find any information about it online, so please tell me if you know.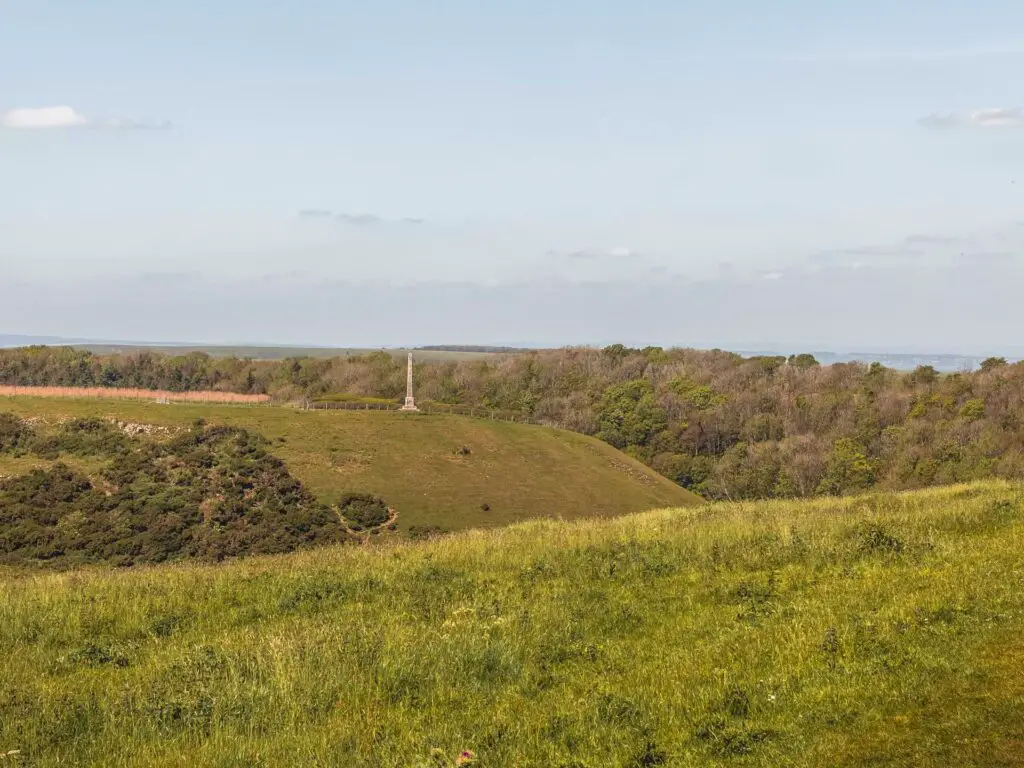 At the end we reached the woods. Ollie was getting a little hot and bothered by this point (he was burning, although he still wasn't admitting it), so he quite enjoyed this cool escape from the sun.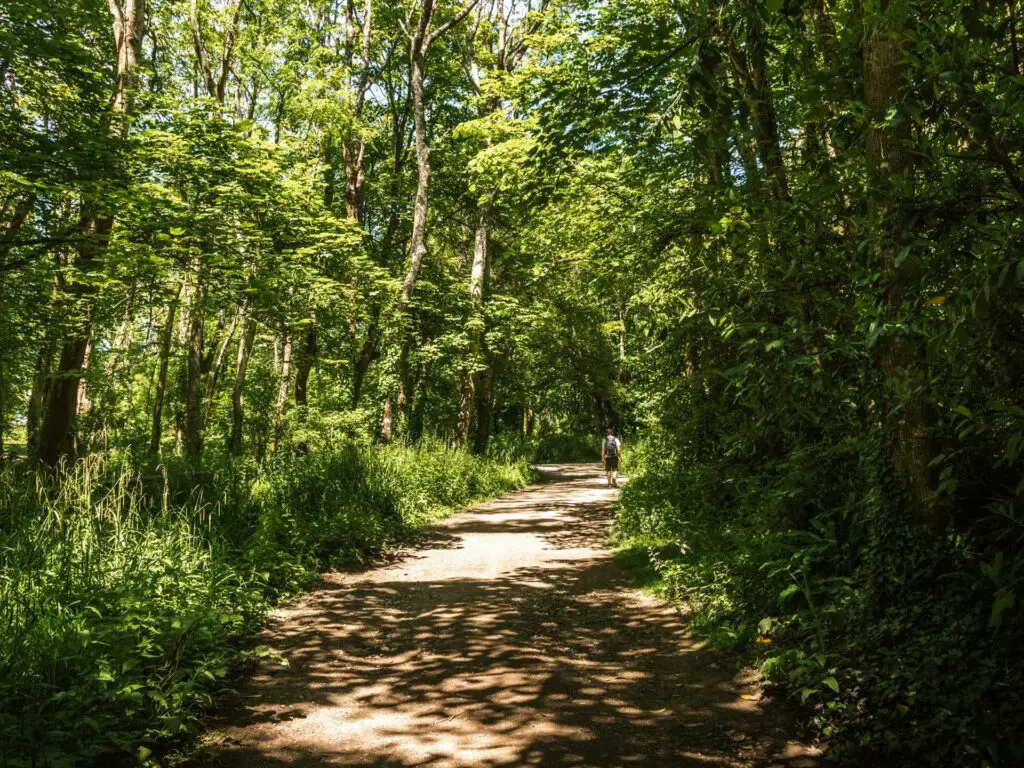 Walk into Kingston and the Scott Arms pub
The trail took us through a car park (this could be a place to start if you don't want to park in Kimmeridge) and into Kingston. Walking along the road, we got a view to the left of Corfe Castle way in the distance. I took a photo, but it's so far away that you can't really see it in the picture. 
It was cool in real life though. 
The Scott Arms is just a little further down this road. To get to it, you take a left just before it, and the entrance is on the right:
We actually hadn't planned to stop in the pub, but the food smell called out to us. So we made an executive decision to stop for refuelling. 
It's a lovely place actually, a lot off outdoor seating with that cool view down to Corfe Castle. 
Leaving Kingston to walk back to Kimmeridge Bay
If you don't want to stop at the pub, it's ok as the trail runs next to it anyway. When walking along that side road, instead of turning right for the pub, you turn left. See photo below for the trail.
After leaving the pub, we followed the lane as it took us past some cute little homes and then through a gate into the woods again.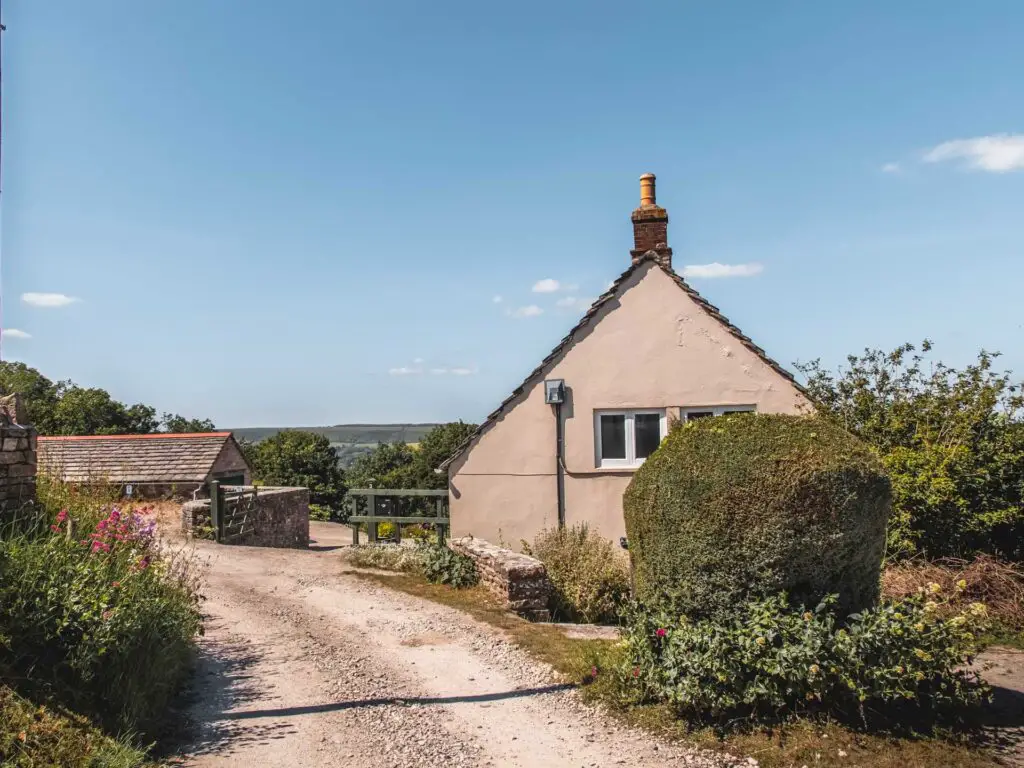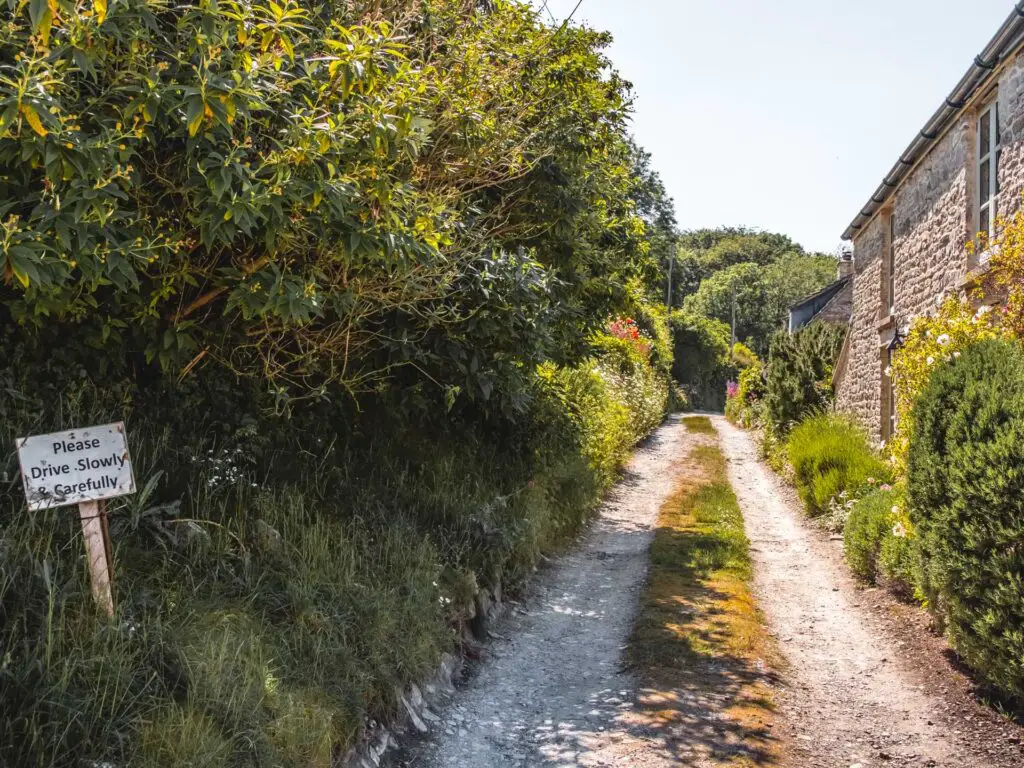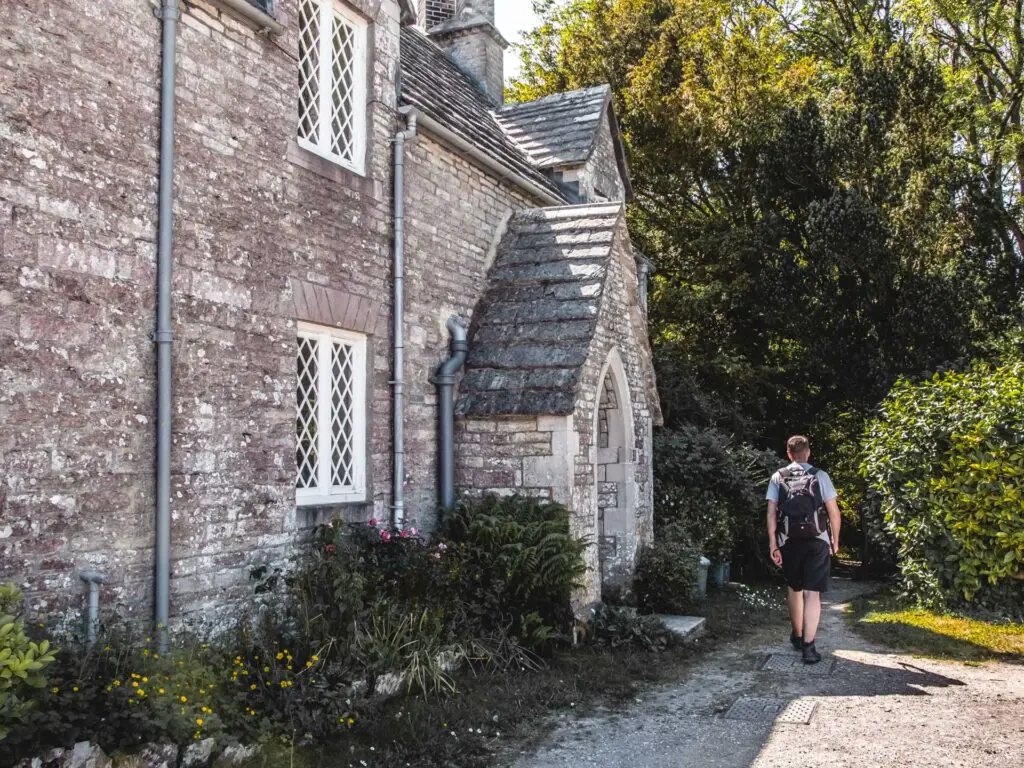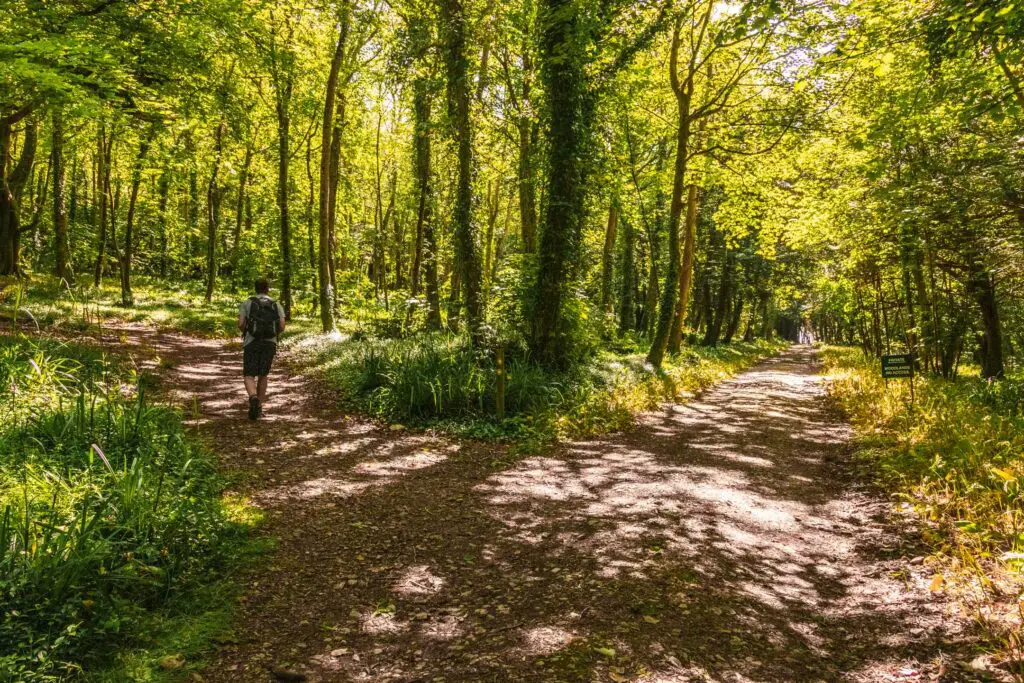 In the woods we took a left turn and a left turn again. This took us through the trees and along to the bigger trail.
Instinct was to turn right onto this big trail. Luckily I checked my map. That is not the way.  Instead we went left, then immediate right, to walk along the road and past the car park from earlier.
I hope I haven't confused you with my description. The map I provided earlier will guide you if you get confused.
Leaving the woods and out to the open
Out from under the trees, we walked along a long trail with green fields on either side and Corfe Castle visible in the distance to the right. Again, photos don't do it justice, so I haven't put one here.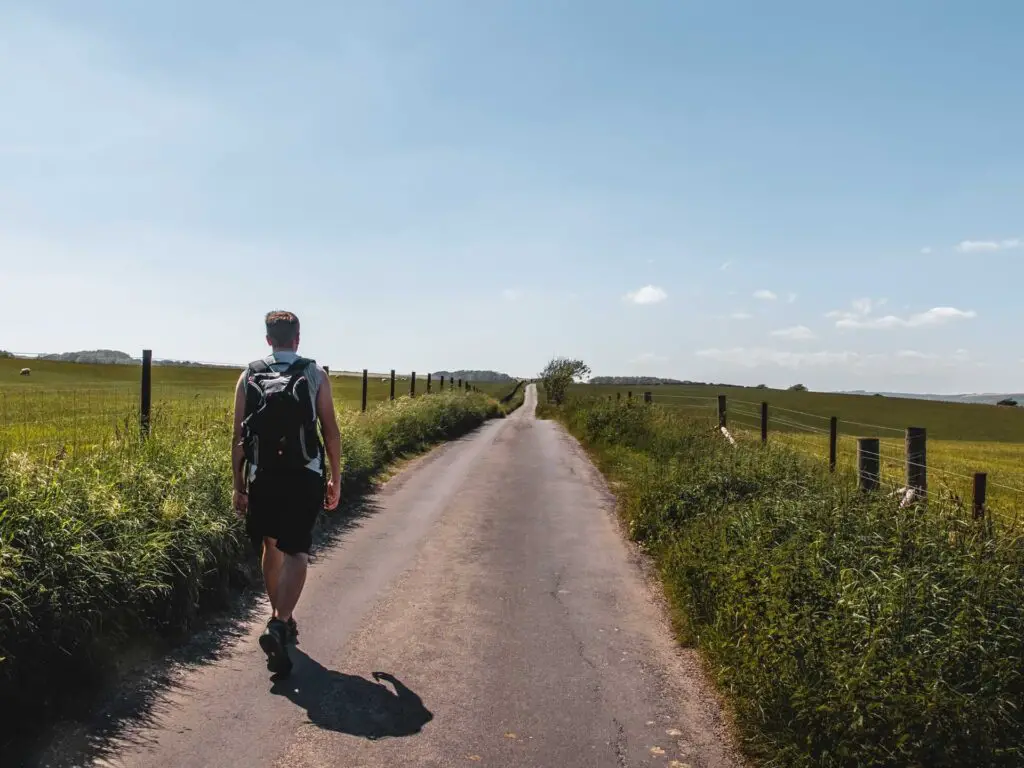 Sheep Pens
A bit further along the long bit of trail, there is the option to continue straight or take a left through Sheep Pens Car park (another possible start for the walk – Not on Google Maps) and into another field. 
We thought for a bit about which way to go. Ollie wanted to go left. I let him have this one. If I give him some 'wins' I have the advantage going forwards.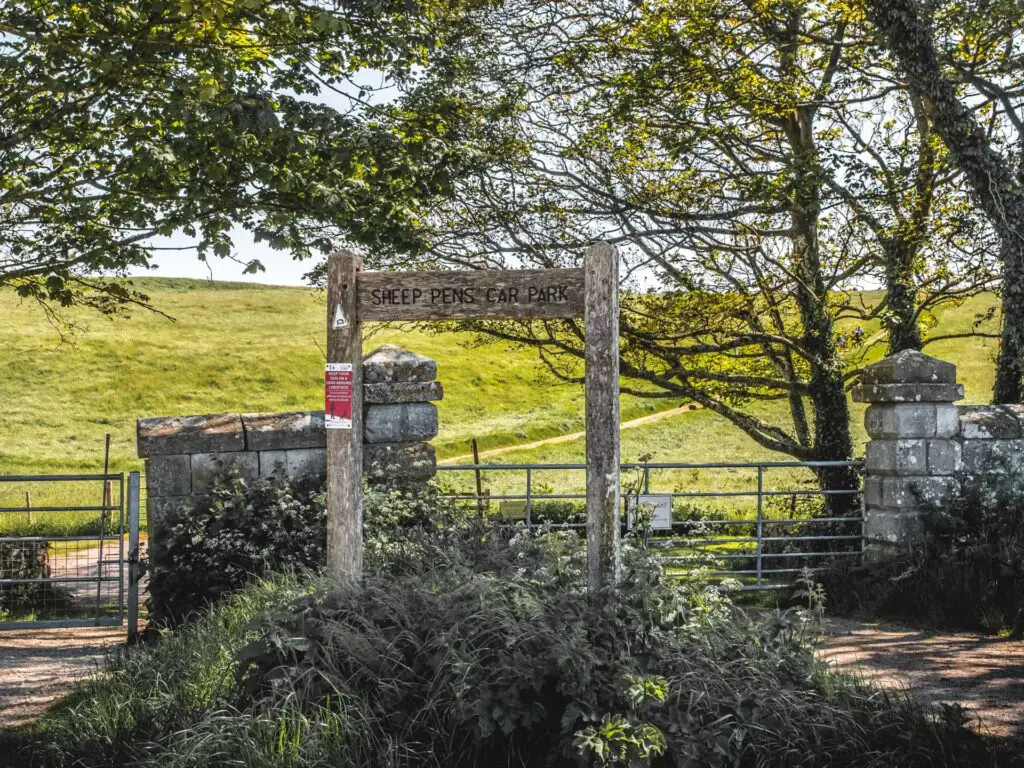 I didn't know it yet, but I would be glad we took this route….
Walk to the ridge and sea view
So, through the gate at Sheep Pens car park, we followed the trail uphill.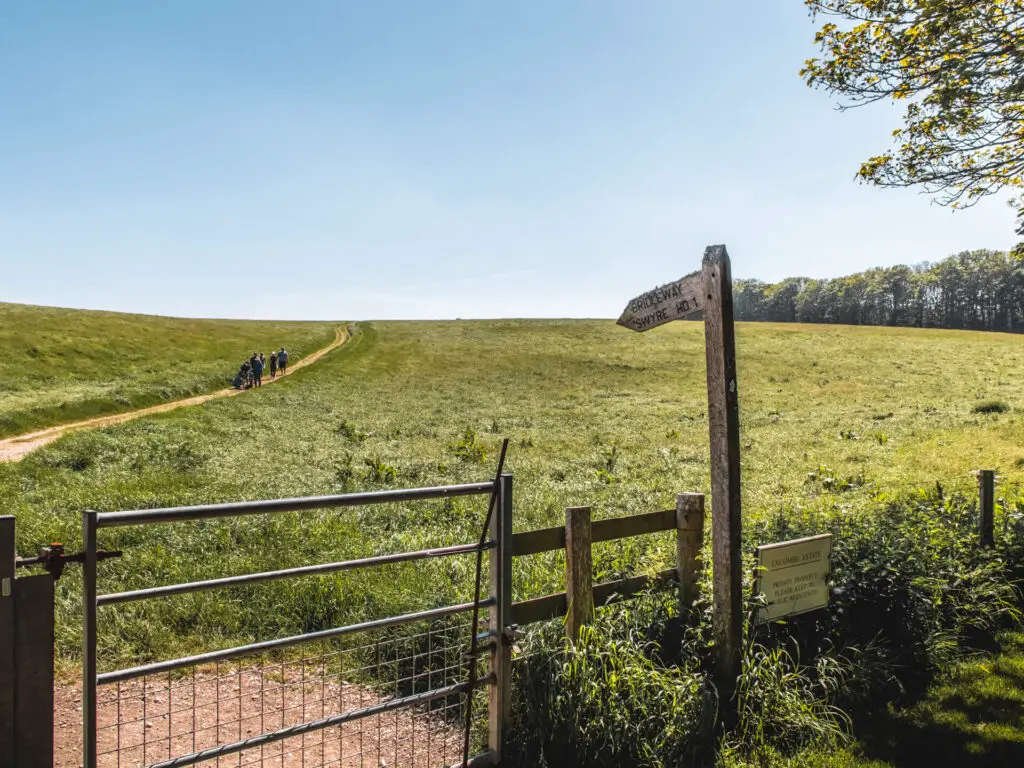 We couldn't see past the hill so weren't sure what was coming. The closer we got to the top the bigger the anticipation I had for the grand reveal on the other side.
And then we made it.
Through the gate at the top, we were greeted with a view down the valley from earlier and across to the sea. We were now on a ridge which I been hoping we would get to walk along.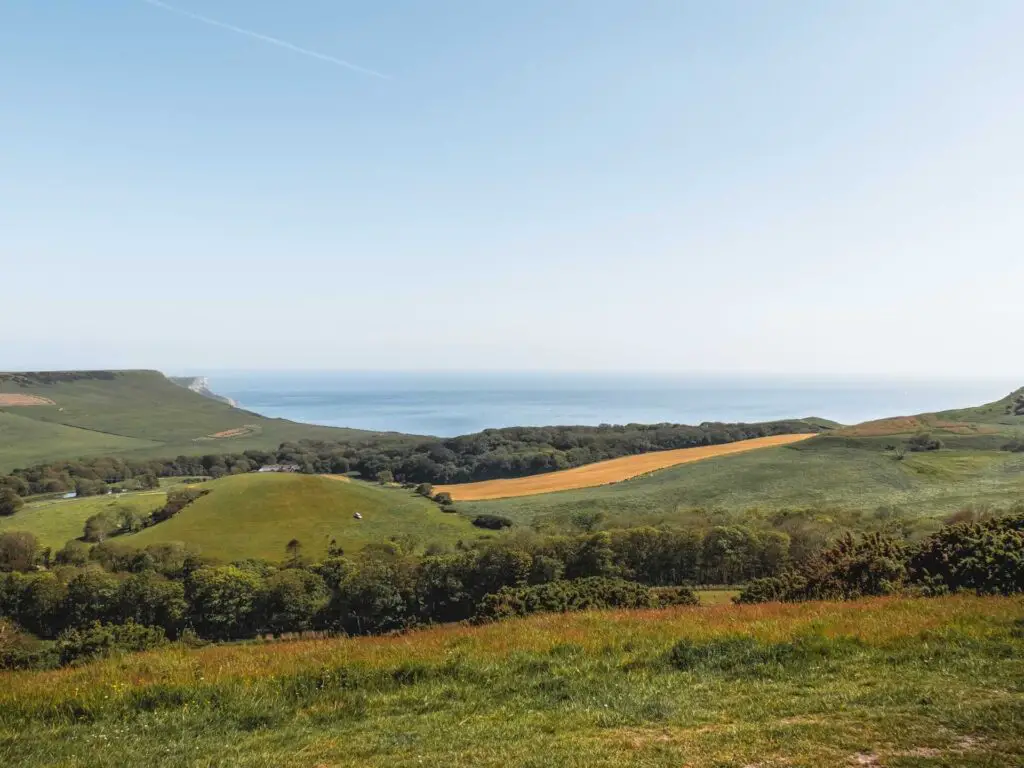 As we were walking away from the coastline earlier on in the day, I could see this trail on the other side of the valley and hoped we would get to walk along it.
Walk to Swyre Head
Through the gate, we turned right to make our way along the ridge as it gradually curved around leading us to Swire Head.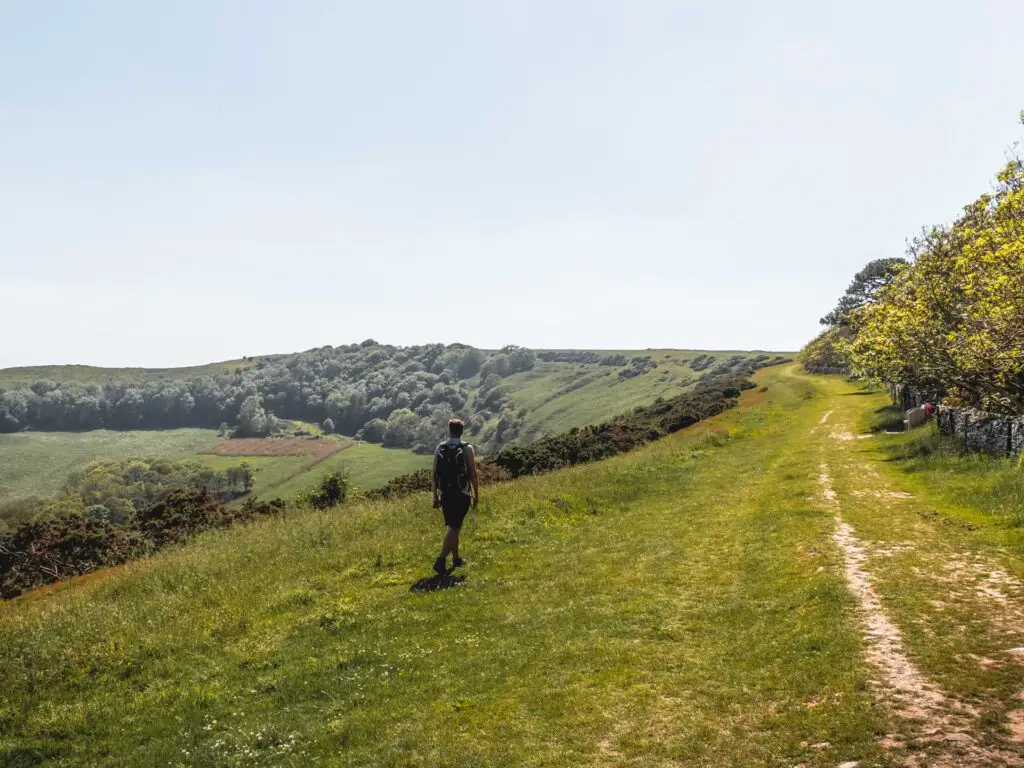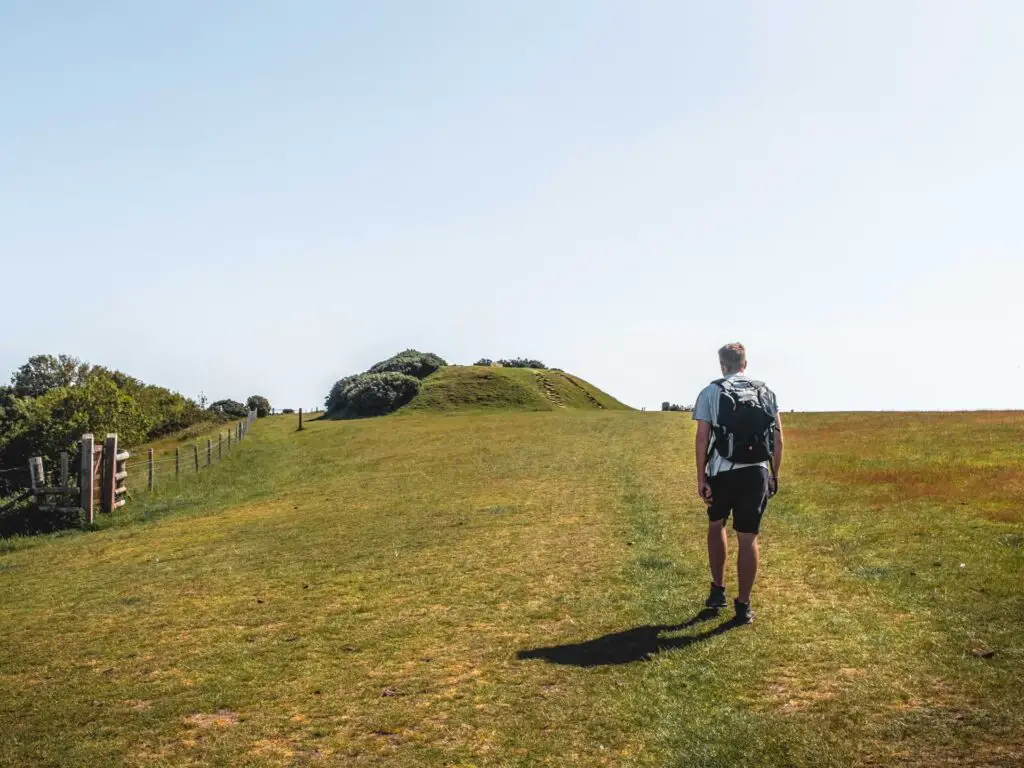 It was strange. A hill on top of a hill.
You don't need to go up to the top of the hill on the hill. The trail is actually in the other direction. But I decided I did need to go up it. 
I'm glad.
Once up the top I turned around and sat down and was blown away but the coastline view ahead of me. The view went on and on, to Kimmeridge and Clavell Tower and beyond. There was a mist settling in making the view sort of dream like.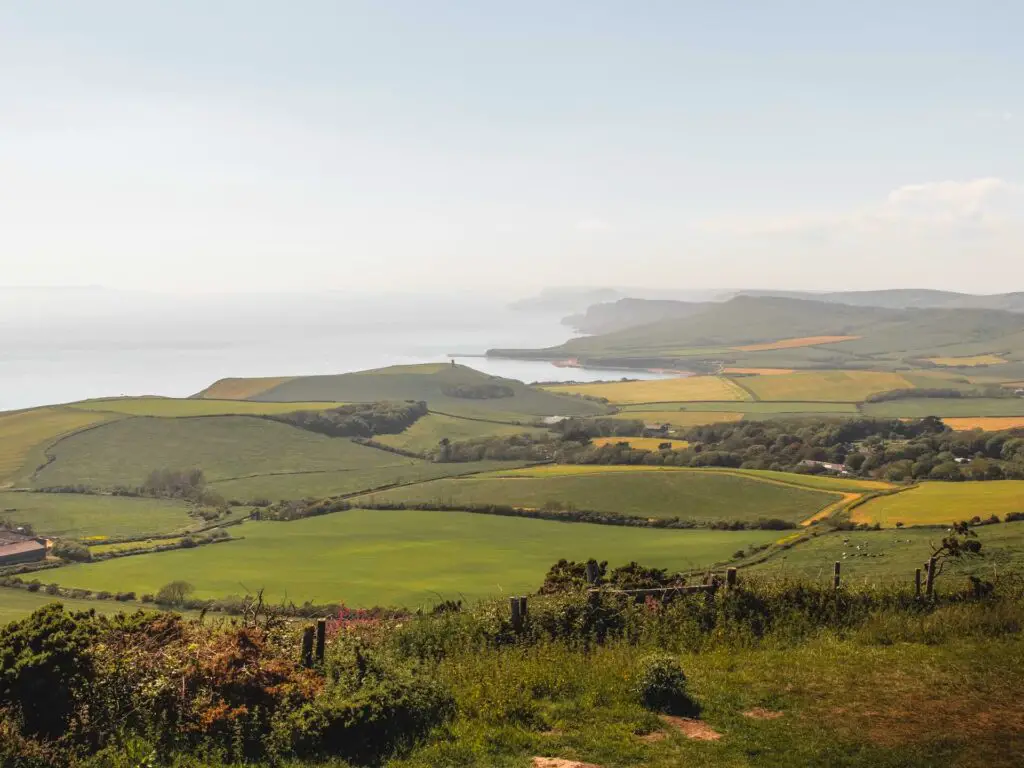 Walk along the ridge and down to Kimmeridge
Sitting on this hill on the hill, you also get a good view along the ridge which is the route back to Kimmeridge. To get to it, you go through the gate on the other side of this field.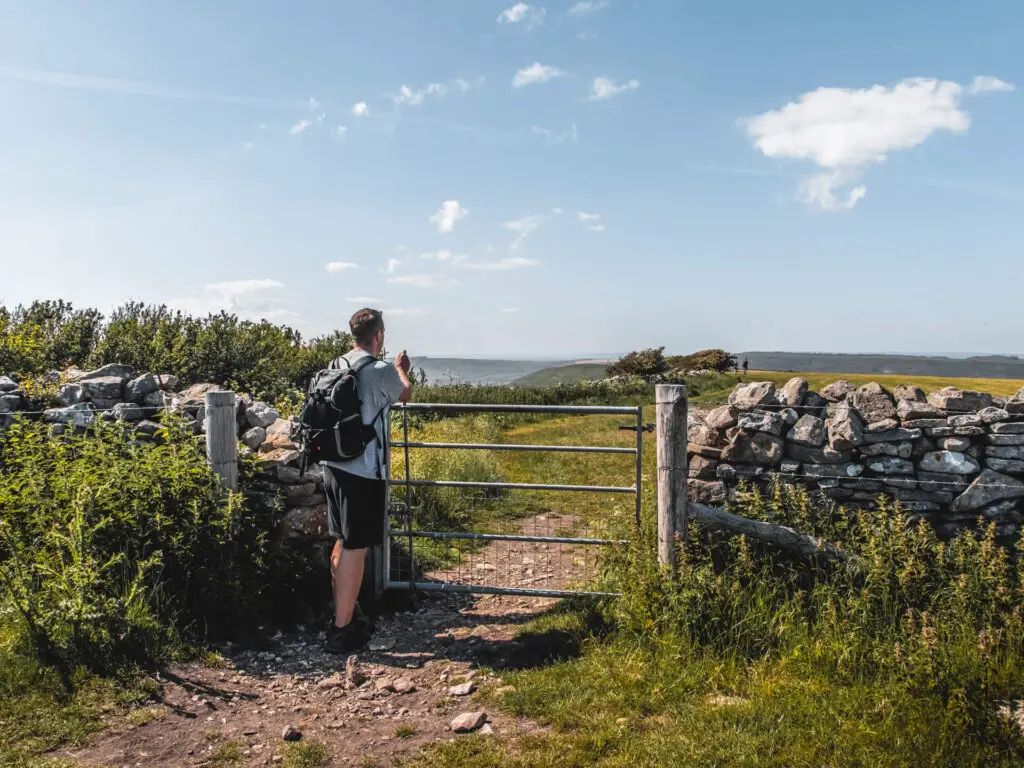 The walk along here was very easy and level with the dreamy view ahead to the left the whole way. there are a few gates to walk through, and the trail is a mix of dirt and grass, then turns a bit more to gravel as it goes downhill.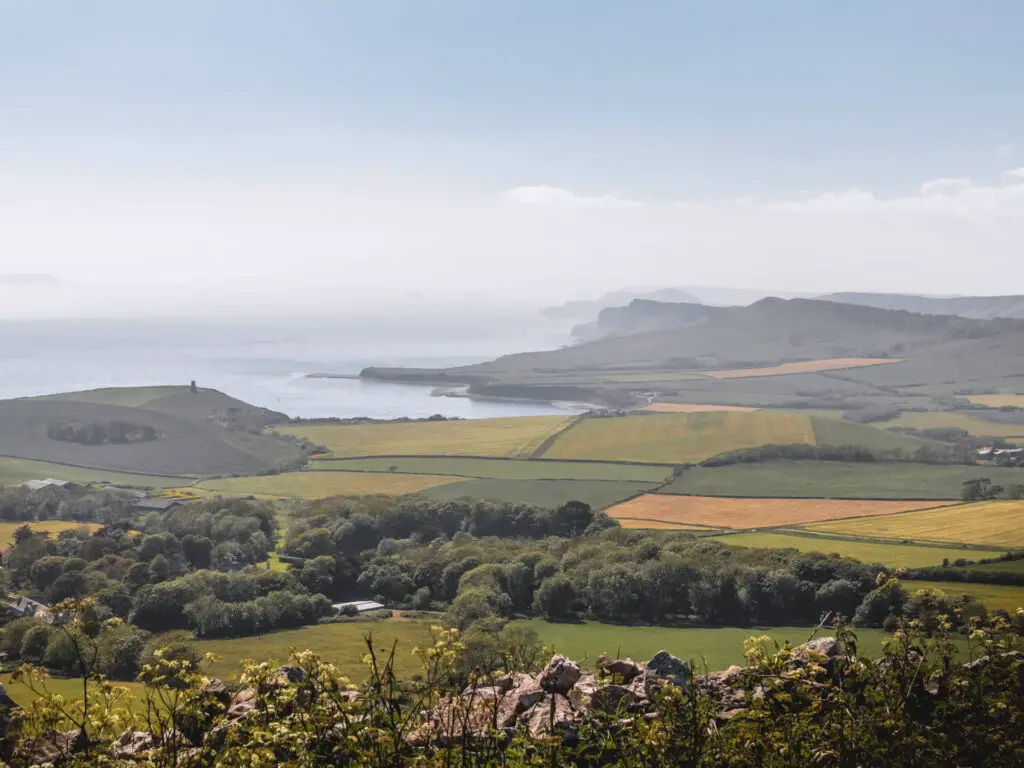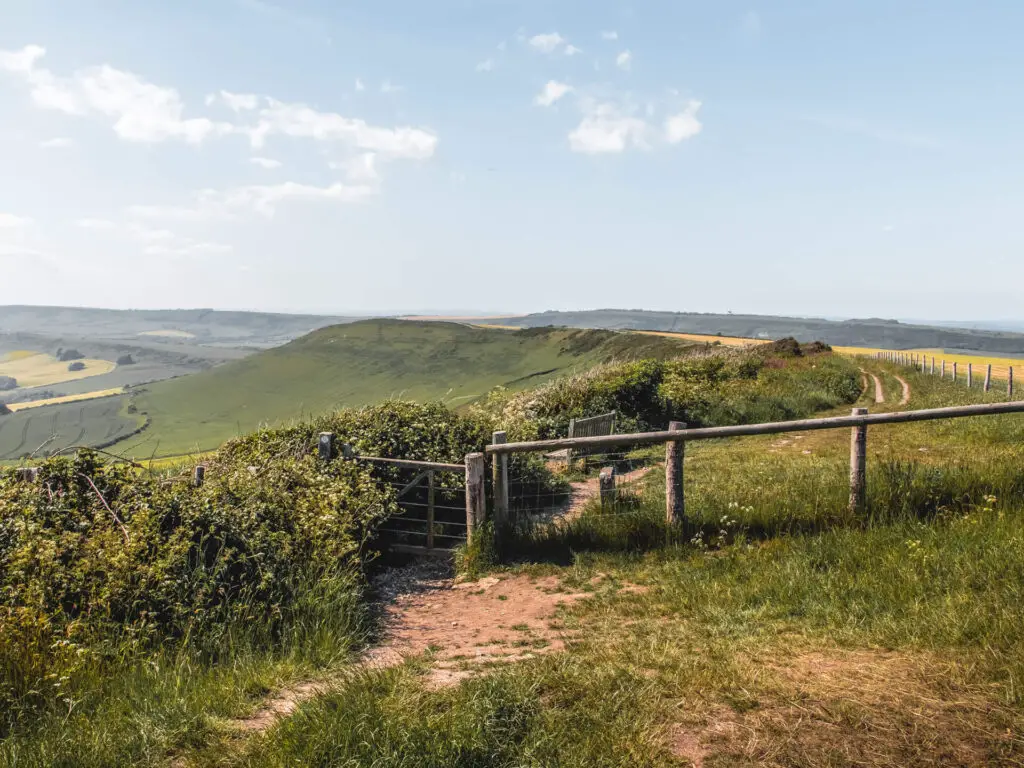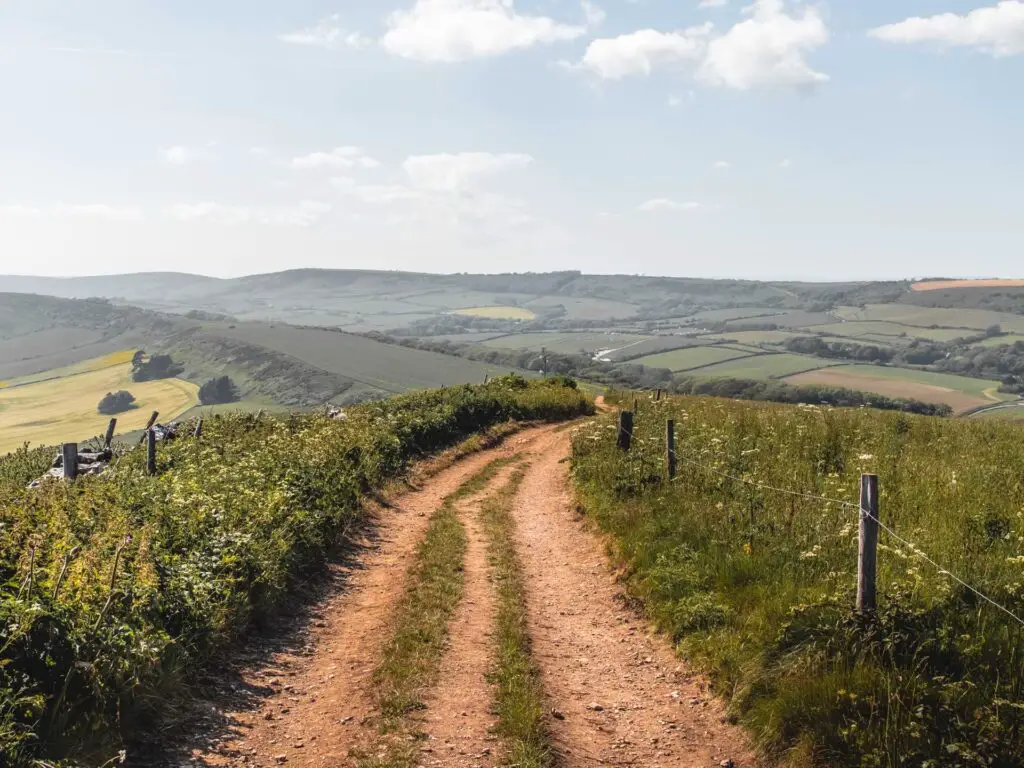 At the road at the bottom, we turned left,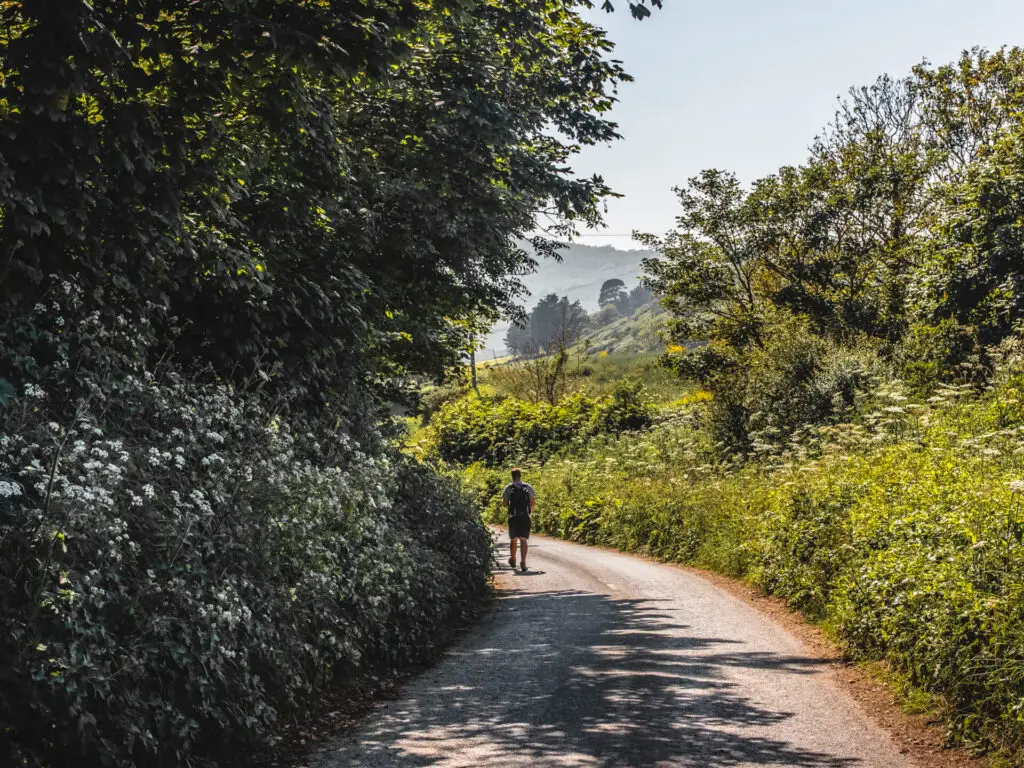 then at the next junction, went straight across to go over the stile to the field on the other side of the road. There is a signpost here to guide you down to Kimmeridge.
That car park I mentioned in the logistics section is just here. The one you can start this walk from. So, when you reach this road junction, instead of going straight across into the field, turn left, and the car park is just there a few meters down. 
Straight down and across this field, there is a small gate which will take you alongside a church and into the village of Kimmeridge.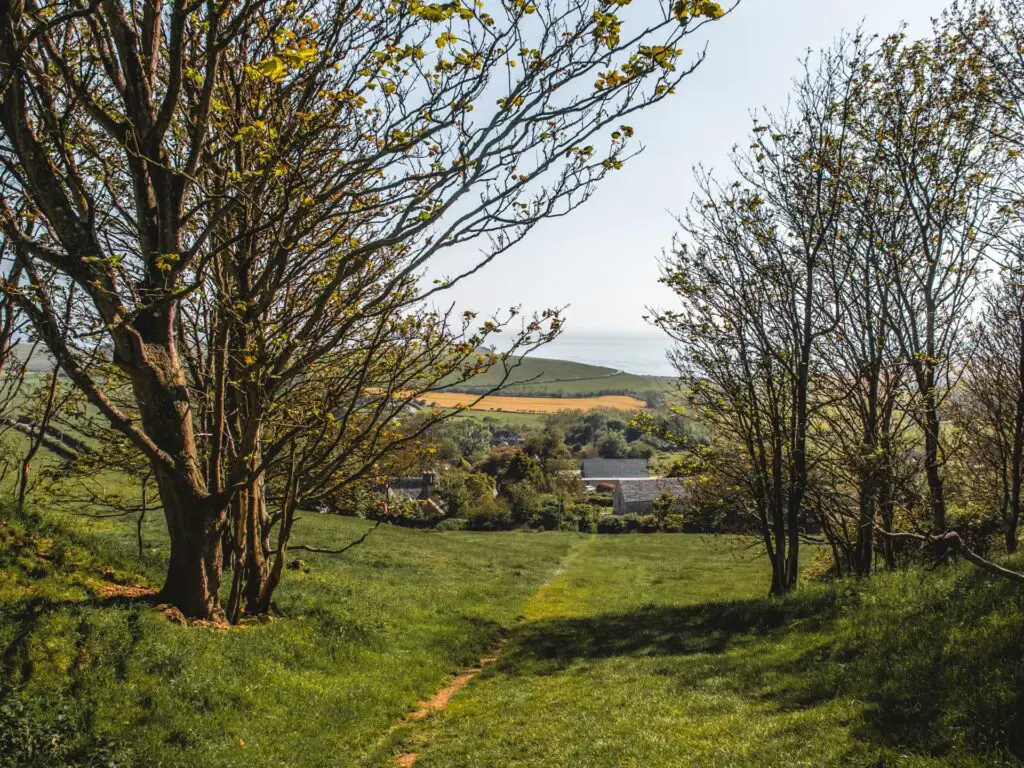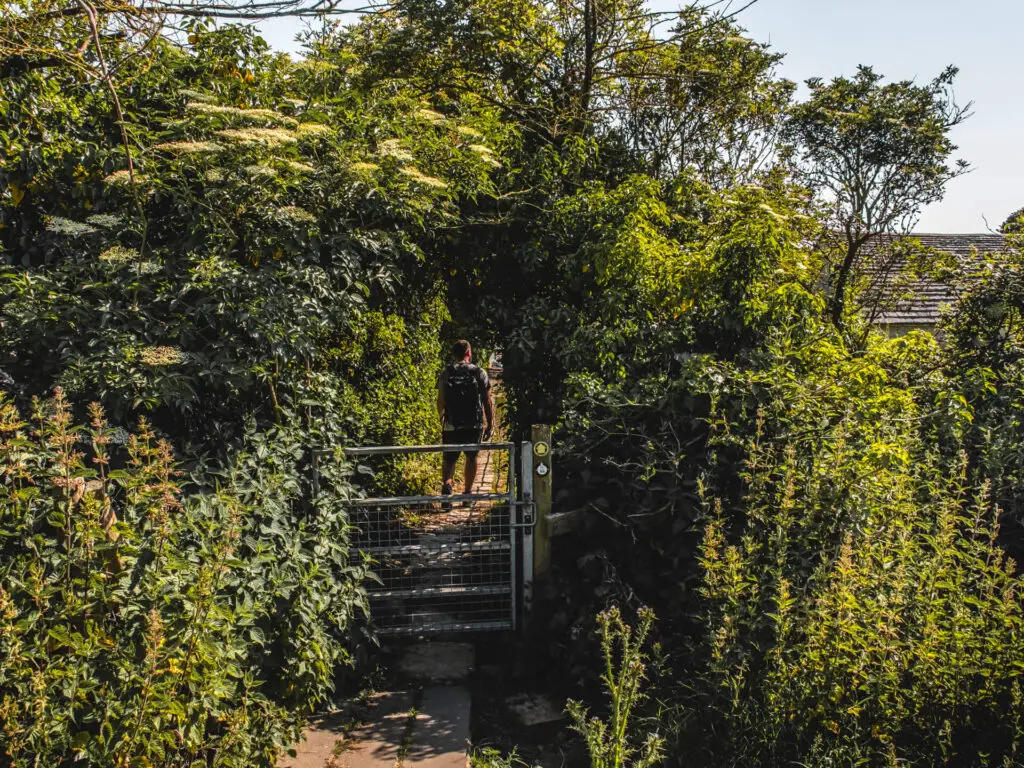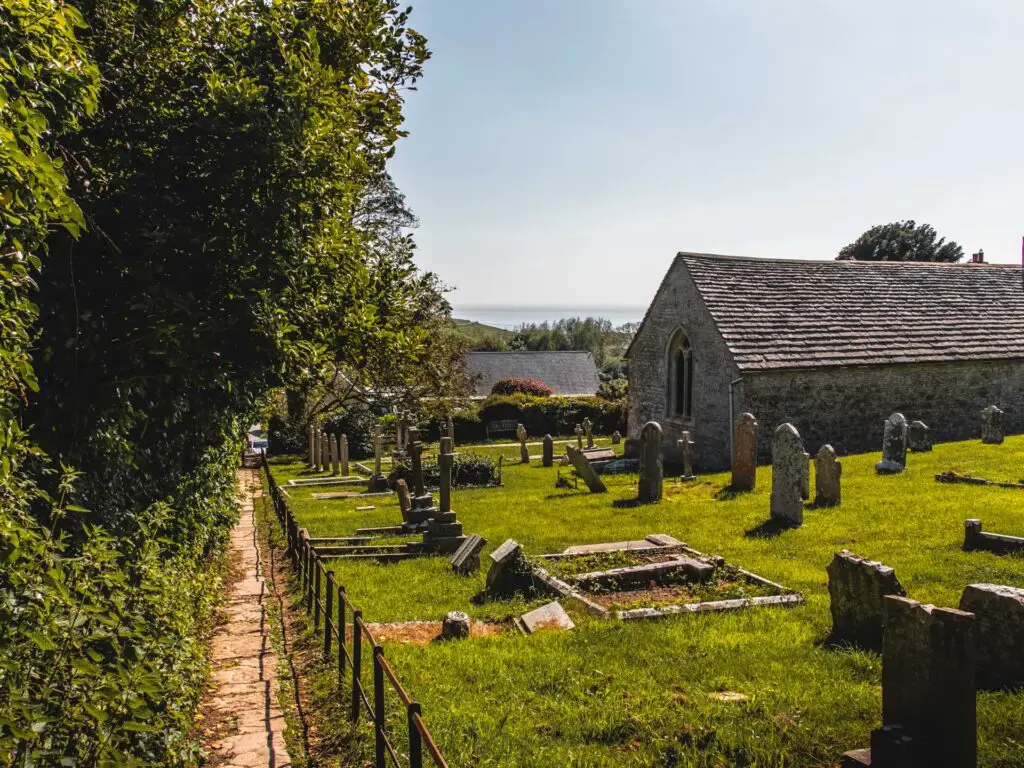 Kimmeridge
We didn't stay in the village for very long, but it seemed very quaint and lovely. 
Following the main road down, there is a restaurant called Clavell's which looked quite popular. As we had already stopped to eat, we gave this one a miss*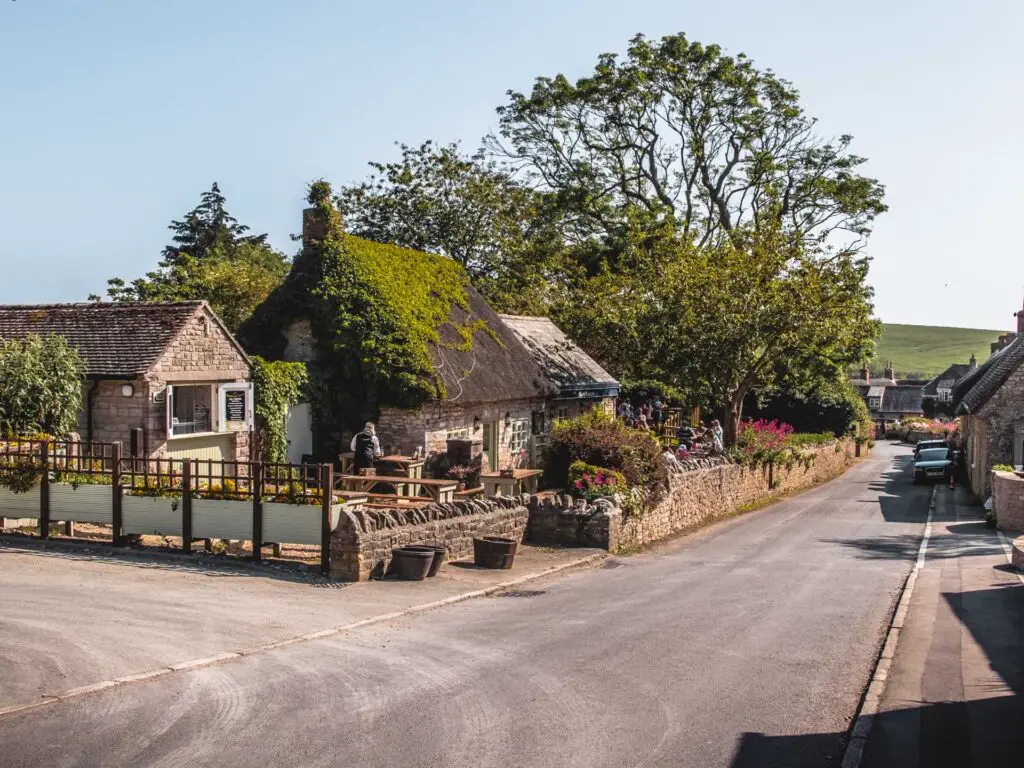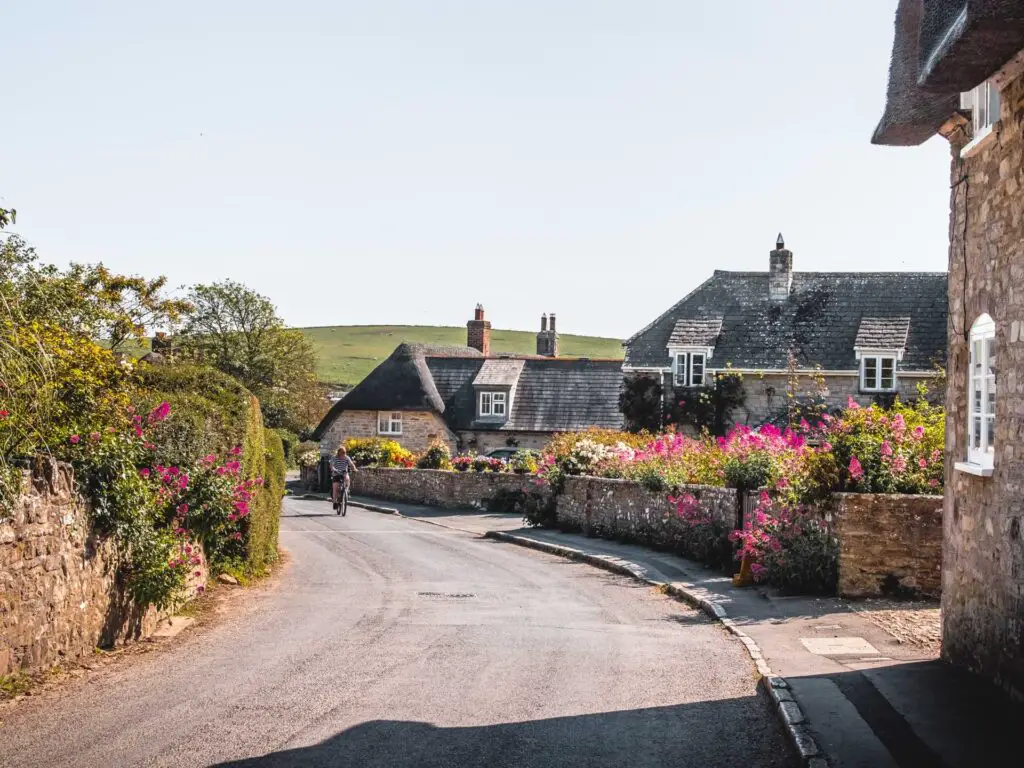 * The next day at about 7pm Ollie suggested we come here to eat. I told him it's Sunday evening so it's probably closed. He didn't believe me. He couldn't understand why a restaurant would be closed on a Sunday evening. I tried to tell him that's how things are in the countryside. 
He still didn't believe me, or the information we found online saying it was closed. He would only accept this truth if he saw it with his own eyes.
So we came back down so he could see it with his own eyes.
Anyway, following the road, there is a trail leading off it to the right, passed the thatched roof house. Through here and another gate, the trail continues on directly across the field, through another gate, and across a bridge of sorts.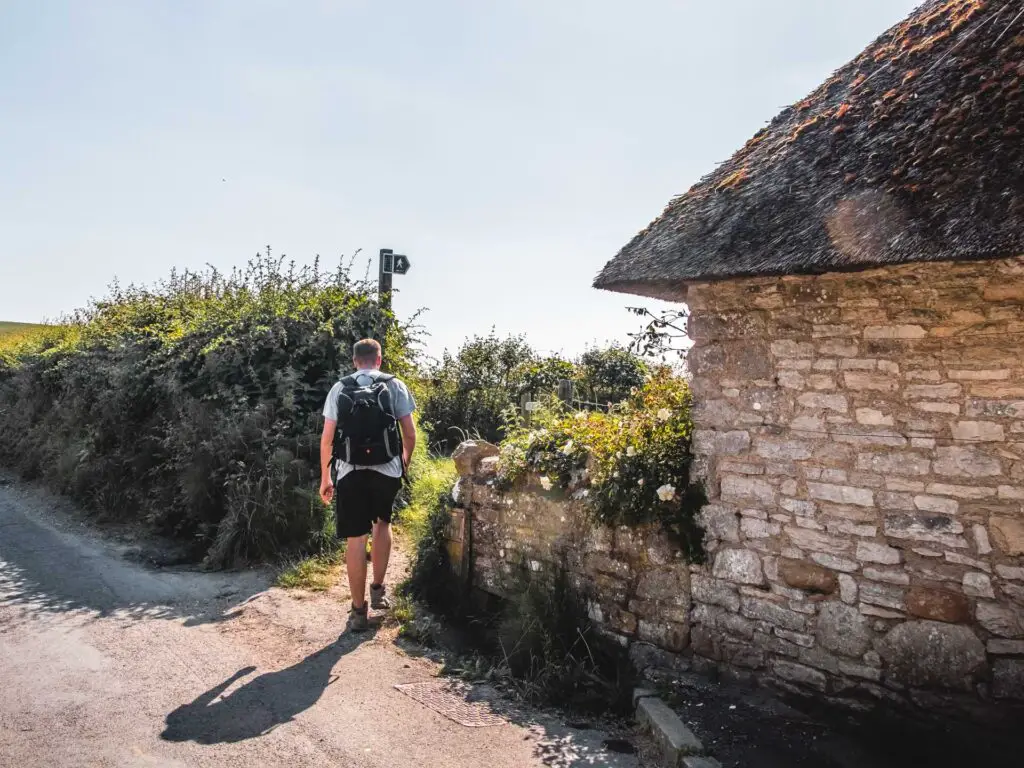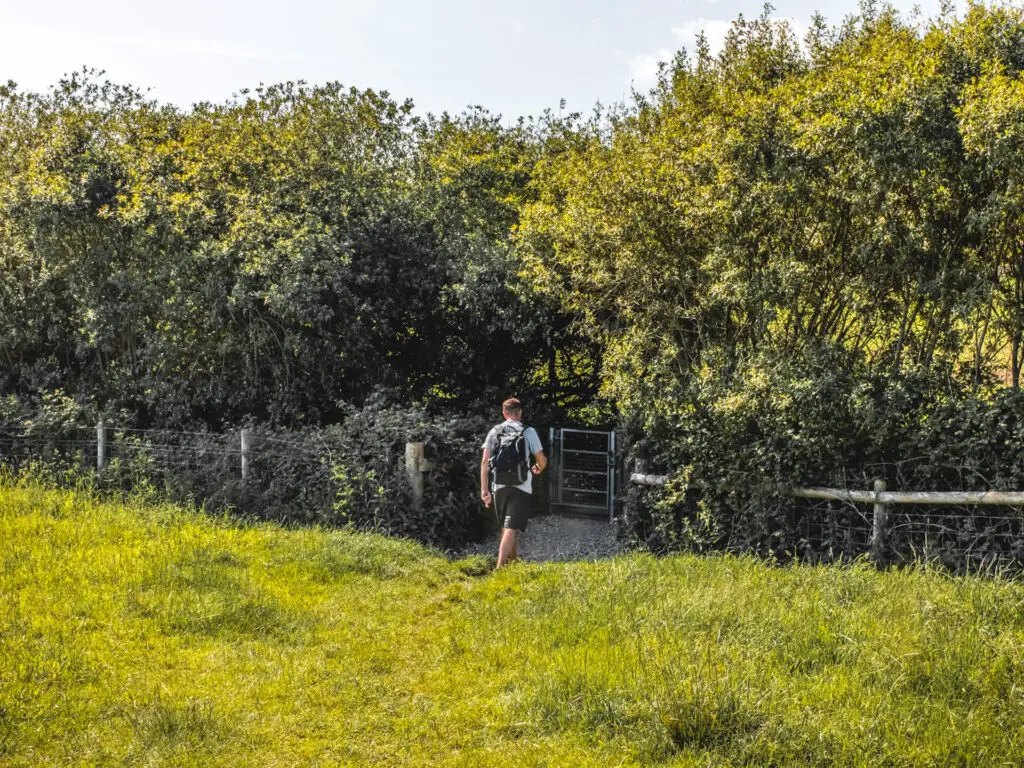 The long walk back to Kimmeridge Bay
This next bit of the walk was psychologically long. At this point, we had done the bulk of the walk, and now it was just about making our way back to the car park. I was very sweaty. Ollie was very burnt.
Taking a left after the bridge thing, the trail went through field after field after field. Whenever we thought it was the last one, we would enter another.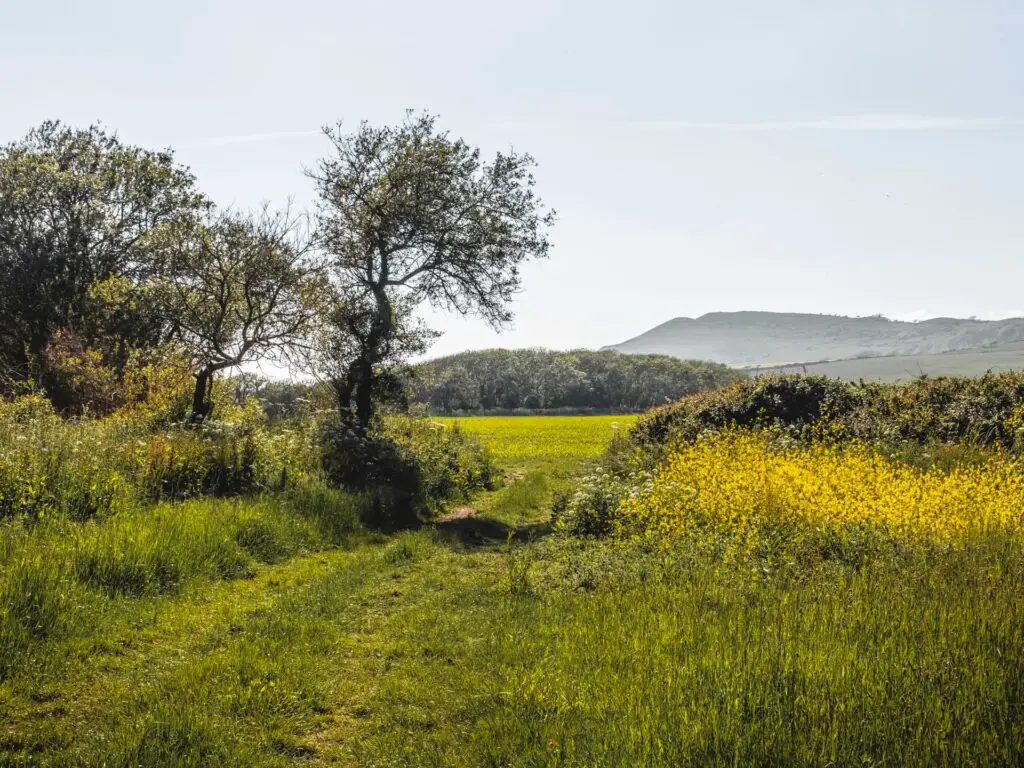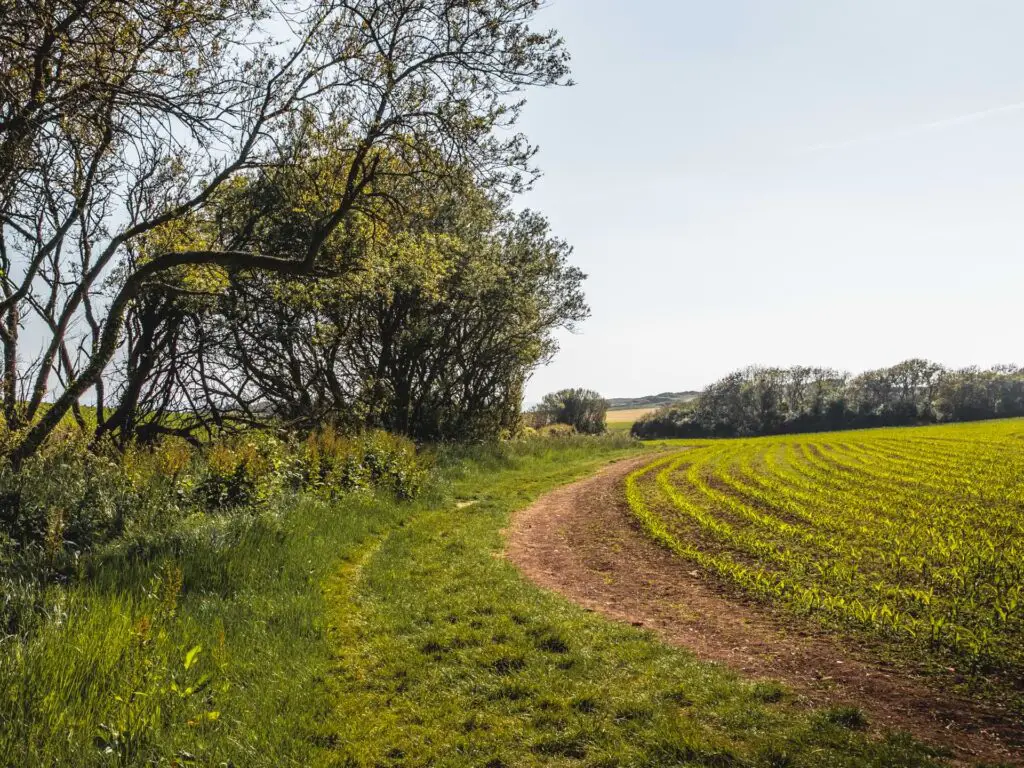 The fields do eventually end, and you will reach a road. At the road, left will get you back to the car park. I didn't tell Ollie this. I had a feeling that if we took a different route, things would be a bit more scenic. 
So instead we took a right.
If you do turn right, the road then curves around to the left, and a bit further along will curve to the right. It is at this point you leave the road to go into to the car parking area (see photo below).
Passed that row of cars, the trail will be to the left.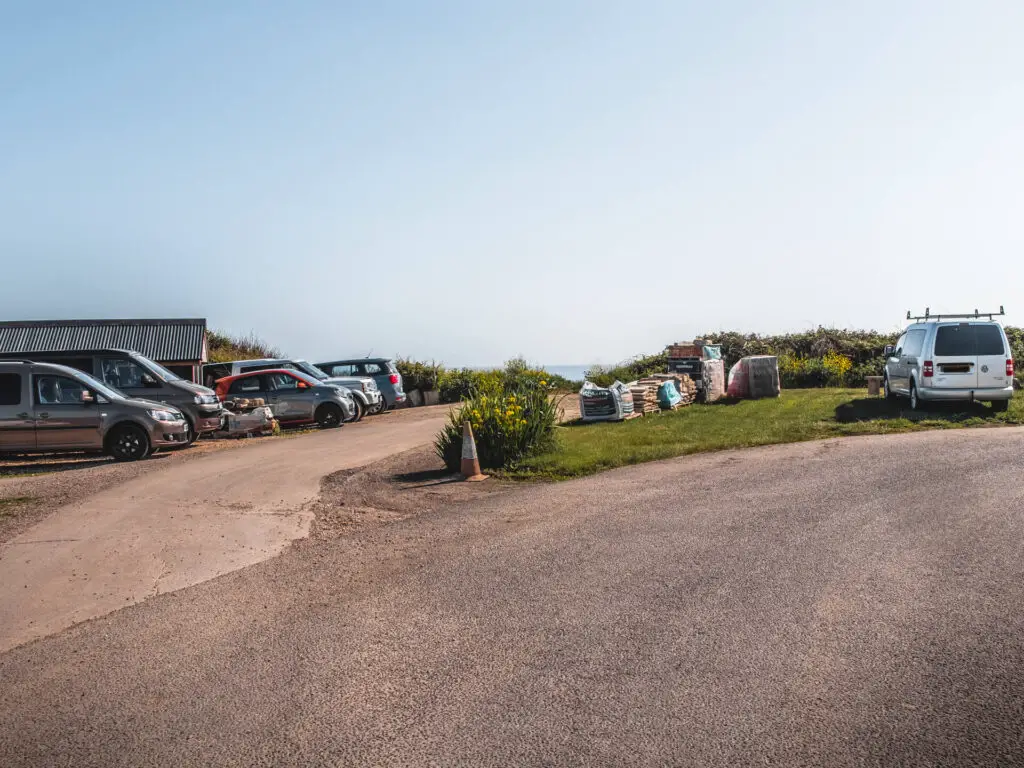 From here you will walk back along more overgrowth and along Kimmeridge Bay to reach the car park.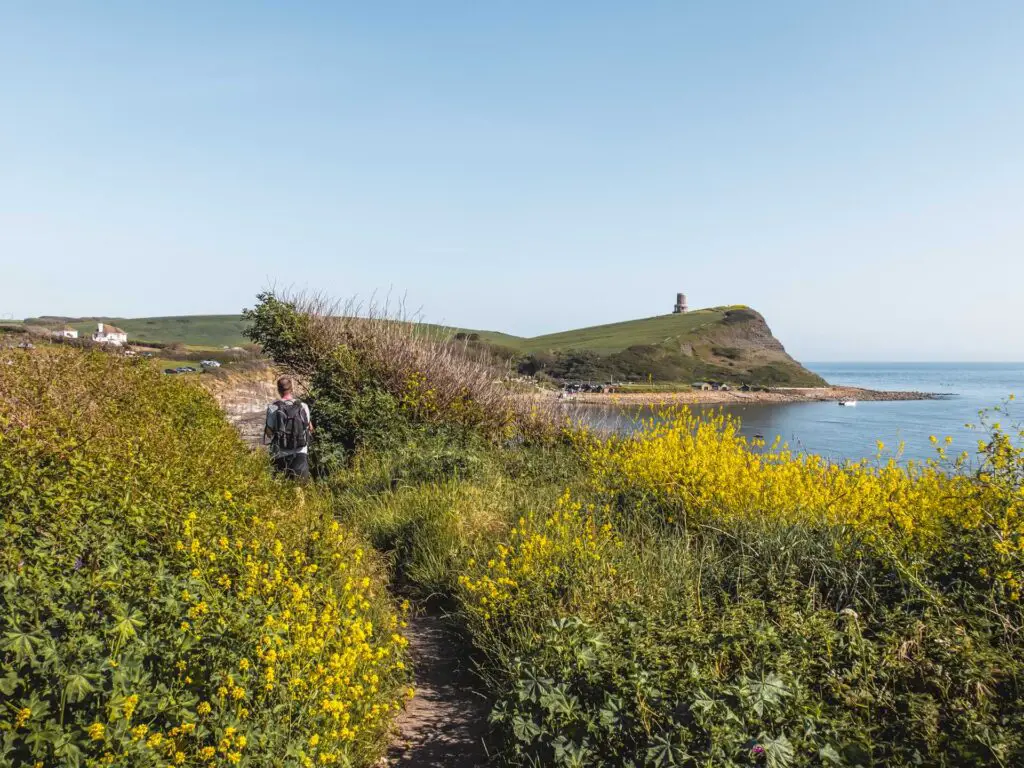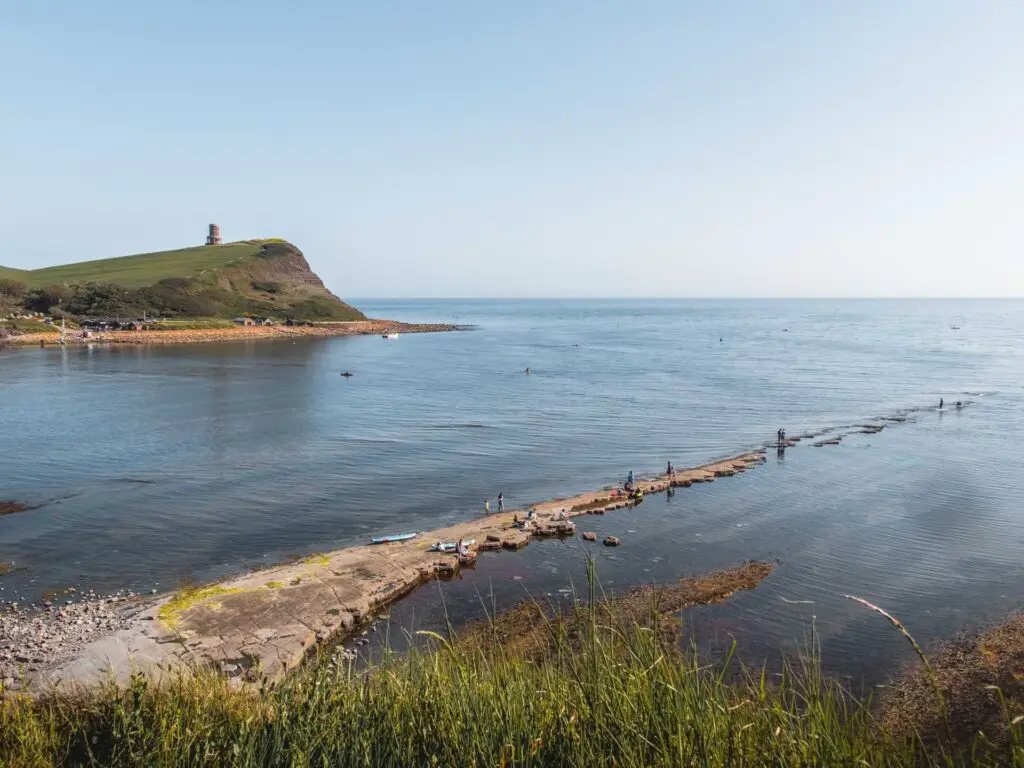 Final thoughts on the Kimmeridge Bay walk
Loved every minute of it. Even the big hill. I would definitely recommend doing it this way around, I think the views work out better this way. Although, both directions would be great. I think that big hill is better tackled from bottom to top. It could be a little slippy going down. Plus, you get the hard work in before the Scott Arms pub stop, then it's easy for the last stretch home.
More walks in Dorset
If you have come here (or are going here) then I'm going to take a wild guess that you have access to a car. This makes things easy.
You could pop over to Lulworth Cove where you will have some gorgeous coastline to explore.
Lulworth to Durdle Door is a must. It's very short, but has one massive hill to tackle. If you want to make it longer, then you could walk all the way from Lulworth Cove to Weymouth. I did this one many years ago before this website, so I haven't written it up. It is one of my favourites and the first hike I did in England which made me fall in love with it. I will get back to do it again, so I can put it on the website.
If you have the time, then I would also recommend the other direction, from Lulworth Cove to Mupe Bay. It's quieter than Durdle Door but still amazing.
Alternatively, if you head the other way to Swanage, you could try out the walk to Old Harry Rocks. It's a solid hike with more great Jurassic Coast views.
If you fancy a bit of a dip in the water, then you must try out the walk to Dancing Ledge and the tidal pool (also near Swanage). It's a bit of an adventurous one, as you need to scramble down a rock cliff face to get to it.
For more walking ideas, you could check out the Visit Dorset website.
Pin it for later: A stunning circular coastal walk from Kimmeridge Bay to Kingston, Dorset