The first time I saw a photo of Old Harry rocks (many years ago), my first thought was, where in the world is this magical place, and how do I walk to it? When I looked it up and saw that it is in Dorset England, just a few hours from London, I was stunned. At that time I had no idea we had such a dramatic coastline.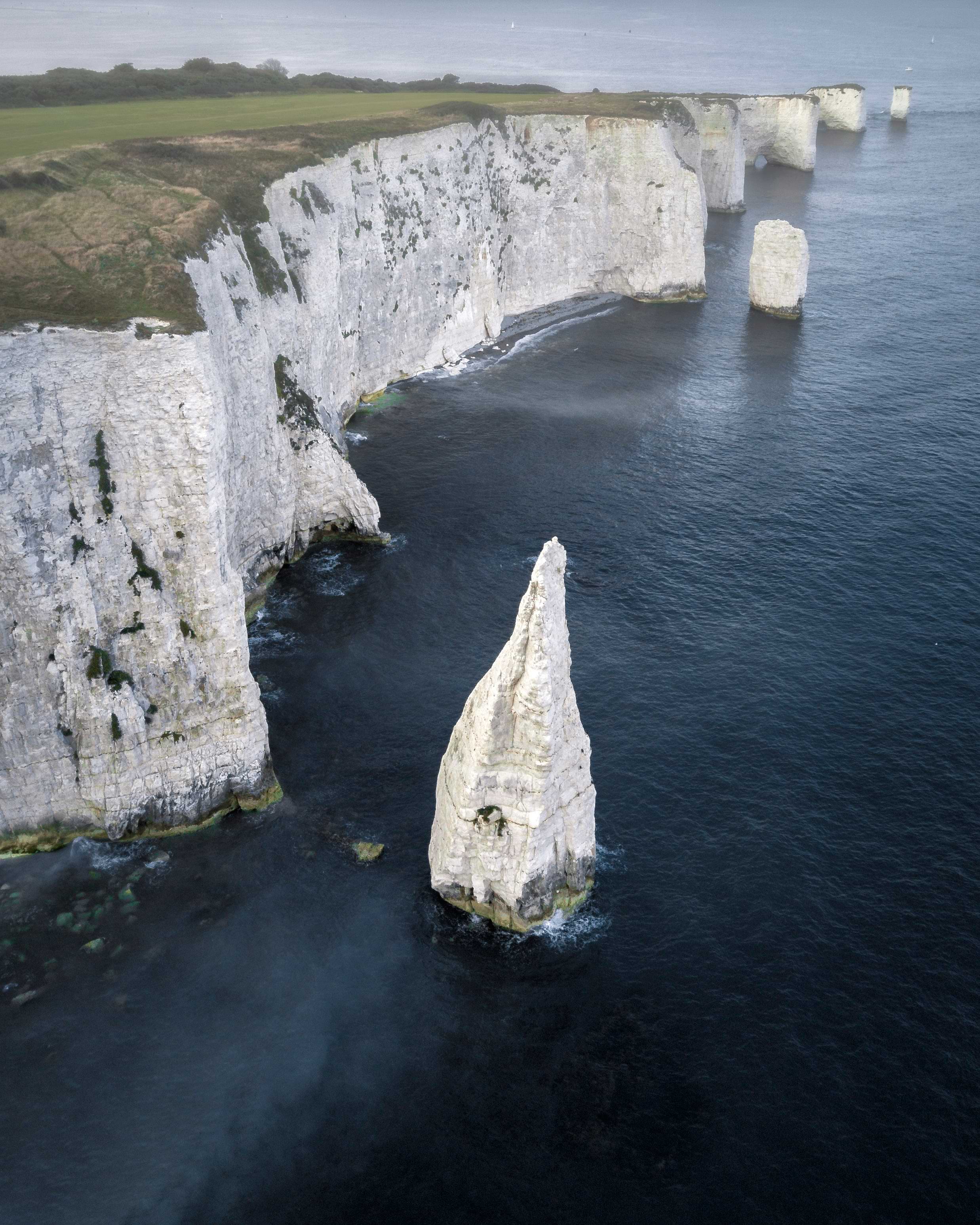 My discovery was around the time I was just starting to explore England more. A few years later, I finally made it to Old Harry. The thing with the rocks though, is that to get that out of this world jigsaw puzzle like view, you need a drone. 
Is it worth the walk to Old Harry rocks without a drone?
Of course it is. OK, you won't get the birds eye view of it, but you do still get some rocky, cliffy goodness. Then whenever you see a drone shot of the rocks (this shot has been knocking about on Instagram for a while), you can say that you have been there 😉
nb. I have since seen signs saying that drones are now banned. (At the time of writing) I have checked online for restricted and no fly zones and it seems they are not banned. So, I don't know the answer to this one.
Why called Old Harry?
As with a lot of places, there are a few theories as to how it acquired its name. One theory is that a devil named Old Harry, used to sleep on the rocks. Another is that the rocks were named after a pirate called Harry who used to hide in his ship behind them waiting for other ships to rob. I will leave it to you to decide which story you like best.
One bit of information that I found rather amusing is that Old Harry had a wife (Old Harry's Wife). She was another stack of rocks who eroded into the sea leaving just a stump.
Should you walk to Old Harry Rocks from Swanage or Studland?
The quickest and easiest way to walk to Old Harry Rocks is from Studland. The slightly more challenging, hilly, fun way with epic views, is from Swanage. If you would like a solid hike, then I would recommend doing the loop and walk from Swanage, to Old Harry Rocks to Studland then back to Swanage. 
I will give you logistics for both routes below.
Logistics for the circular walk to Old Harry Rocks via Swanage and Studland
Start: Swanage Bay, Dorset.
Finish: Swanage, Dorset
How to get there: See below (2 sections down)
Distance: 10.5 km/6.5 miles
Time: 3 hours including breaks
Terrain: Sand, dirt trail, grassy trail, road.
Elevation: Total elevation gain – 307m. Highest point – 143m
Time of year: I did this during summer.
Tips: Despite being there on a weekday, the section around Studland and Old Harry rocks was quite busy. We also checked it out at sunset and surprisingly it was much quieter. But very early could also work if you want to avoid the crowds
Logistics for the short walk from Studland to Old Harry Rocks 
Start/finish: Studland (South Beach Car park is a good access point).
How to get there: The trail leads off a road very near to South Beach car park. Out of the car park, go right along Manor Road, then take the left at the toilets (just before the road curves around to the right and becomes Watery Lane. If you have come by public transport, then you can get the 50 Breezer bus from Bournemouth (as mentioned below).
Distance: 2ish km one way.
Time: About 20min one way.
Terrain: Pretty level dirt trail and some grass.
Tips: If driving, take change for the car park.
How to get to Swanage by car and public transport 
The easiest way by far is by car (if you are coming from far away). If you don't have a car (I actually don't, but have found myself a boyfriend with a car), it is possible by public transport, but takes a bit of work.
Car: Google map Swanage and follow the directions 😉
Train and bus: The big main train line through Dorset is South Western Rail. If you are coming from London, you can take a direct train from London Waterloo or Clapham Junction to Bournemouth, Pool or Wareham. Journey time varies, but you are looking at something around 2 – 2.5 hours, give or take a bit. Then from there, you take the bus.
From Bournemouth – Outside the train station take the 50 Breezer bus to Swanage (about 1 hour). This bus also goes through Studland if you wish to get off there.
From Pool – Outside the train station on the road by the lake, take the 40 Breezer bus to Swanage (a bit over an hour).
From Wareham – Outside the station, take a left then another left to reach the roundabout. From here take the 40 Breezer bus to Swanage (about 30min). It's the same bus that came from Pool.
Map of the circular walk to Old Harry Rocks via Swanage and Studland
Map for the short walk from Studland to Old Harry Rocks
Click on the top left box of Google Maps to open in your maps. Click on the recording name on AllTrails map to open if you have the app.
A guide to the circular walk from Swanage to Old Harry Rocks and back via Studland
We started the walk to Old Harry Rocks from Swanage Bay. Simply walk along the coastline in the direction of the cliffs. 
Keep an eye out for the dinosaur on your left. It is rather amusing.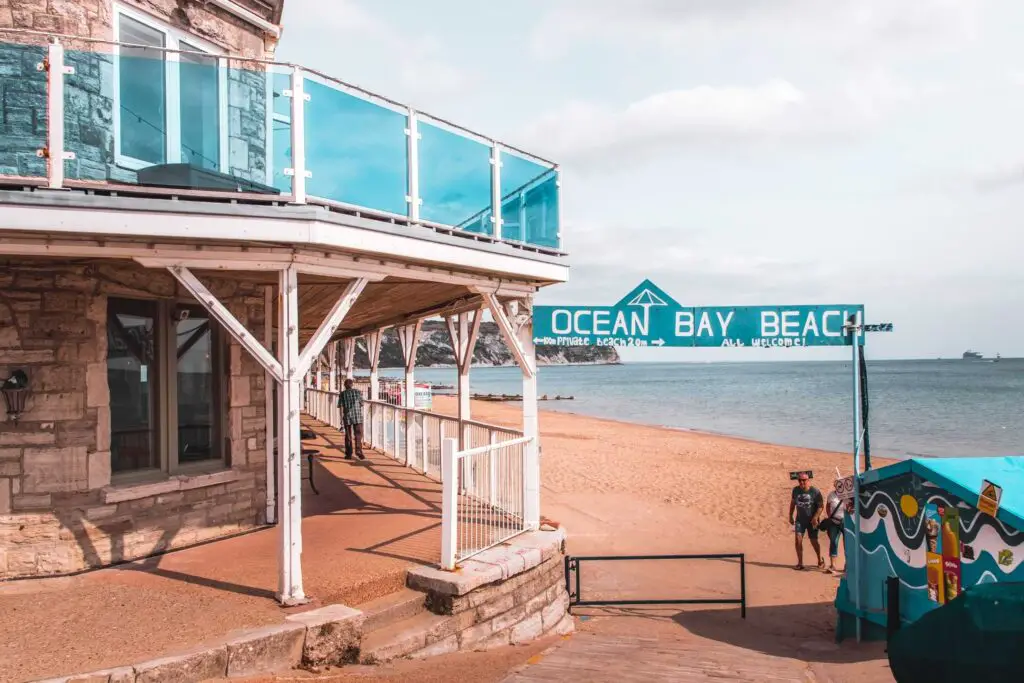 Walking along the coastline, you will pass the very typical colourful English seaside beach huts. At first you can walk along the path, however this will at some point disappear and you will walk on sand for a bit.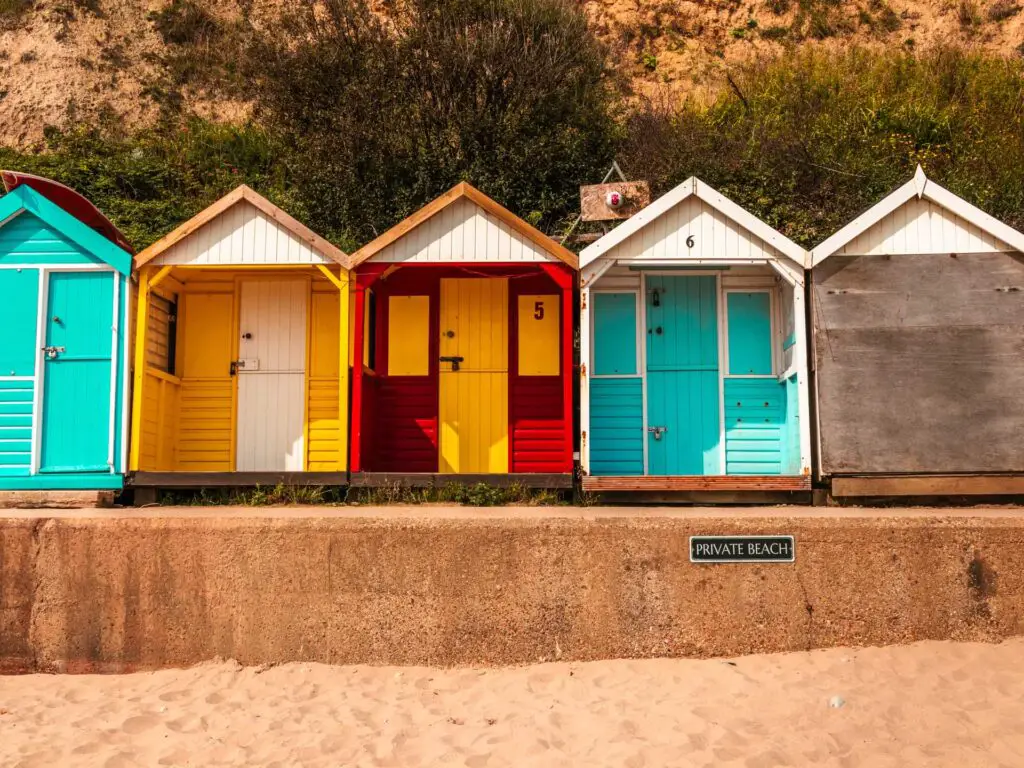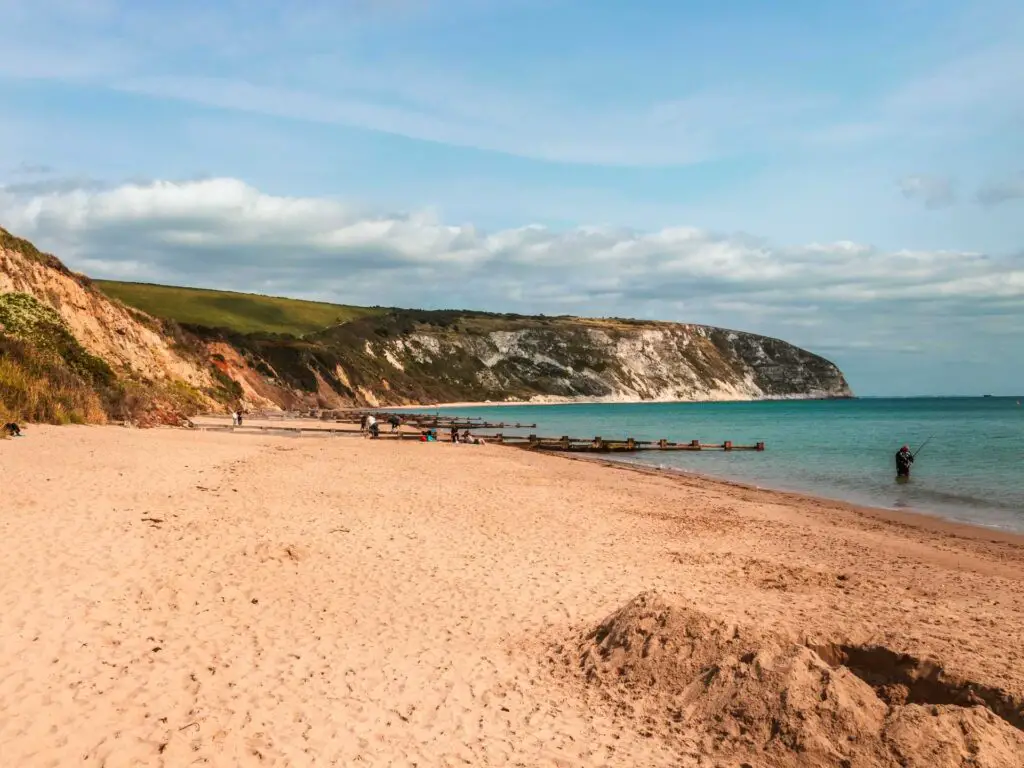 The walk uphill towards Old Harry Rocks
When walking along the beach, keep an eye out for some rugged steps leading up to the left. When you see them, take them.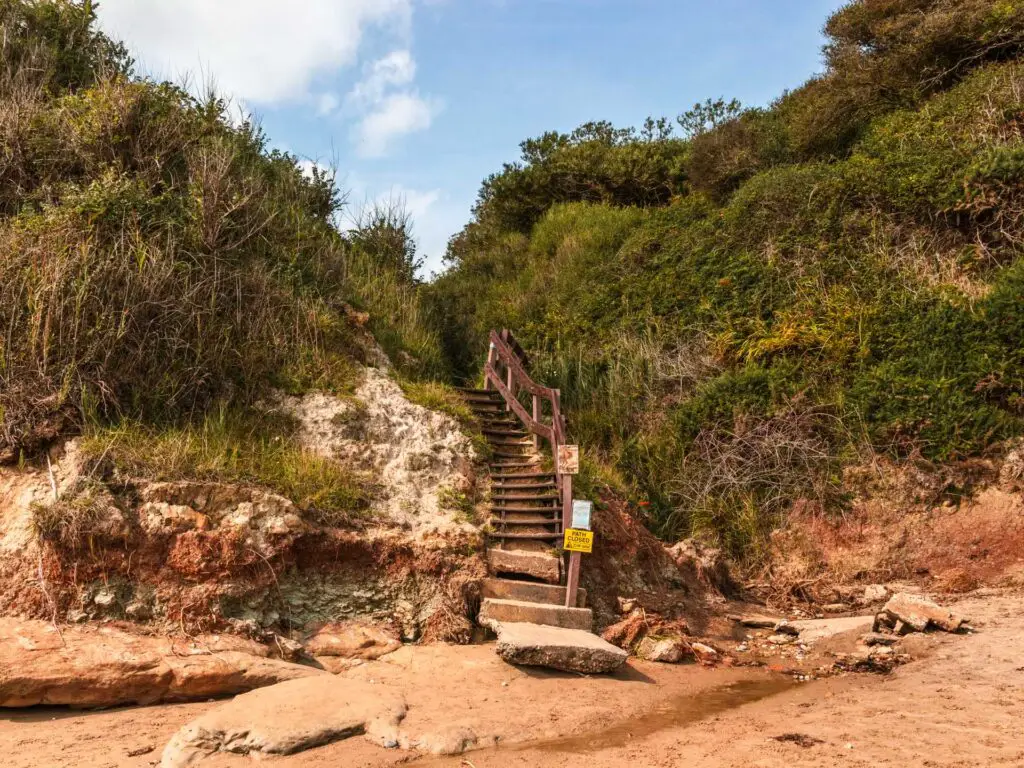 You will walk past signage, that looks like a headstone, marking the route up to Old Harry Rocks and Studland.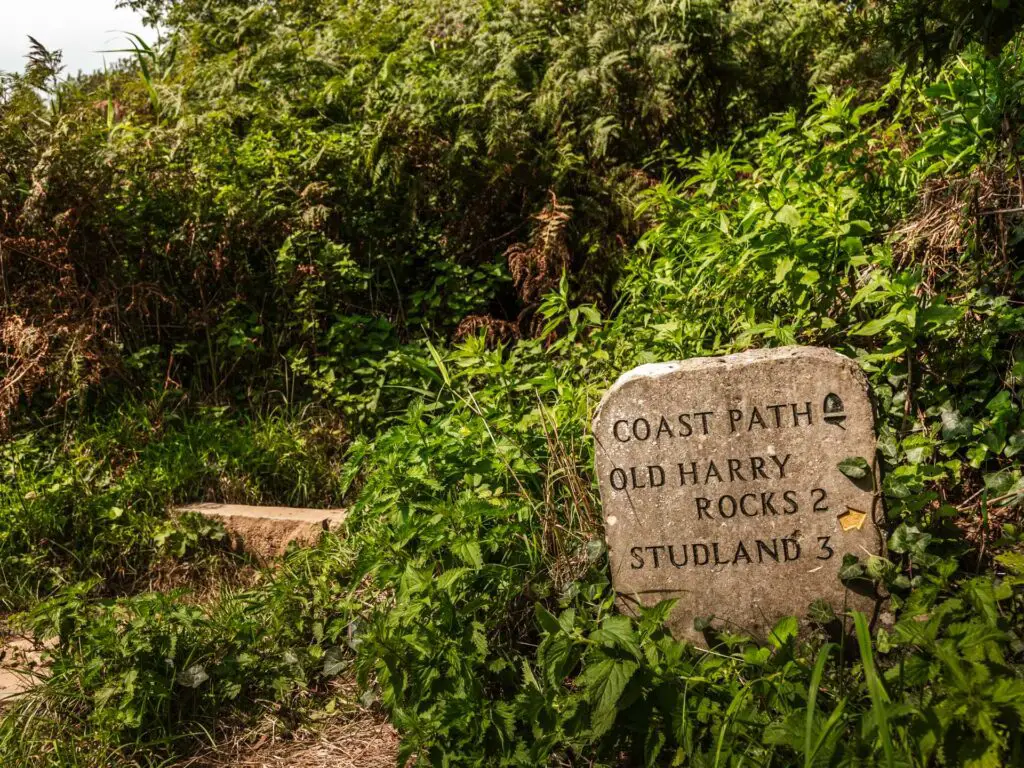 The trail will level off slightly as it leads you alongside an open field before through some blueberry and blackberry bushes. We sampled a few. They were yummy.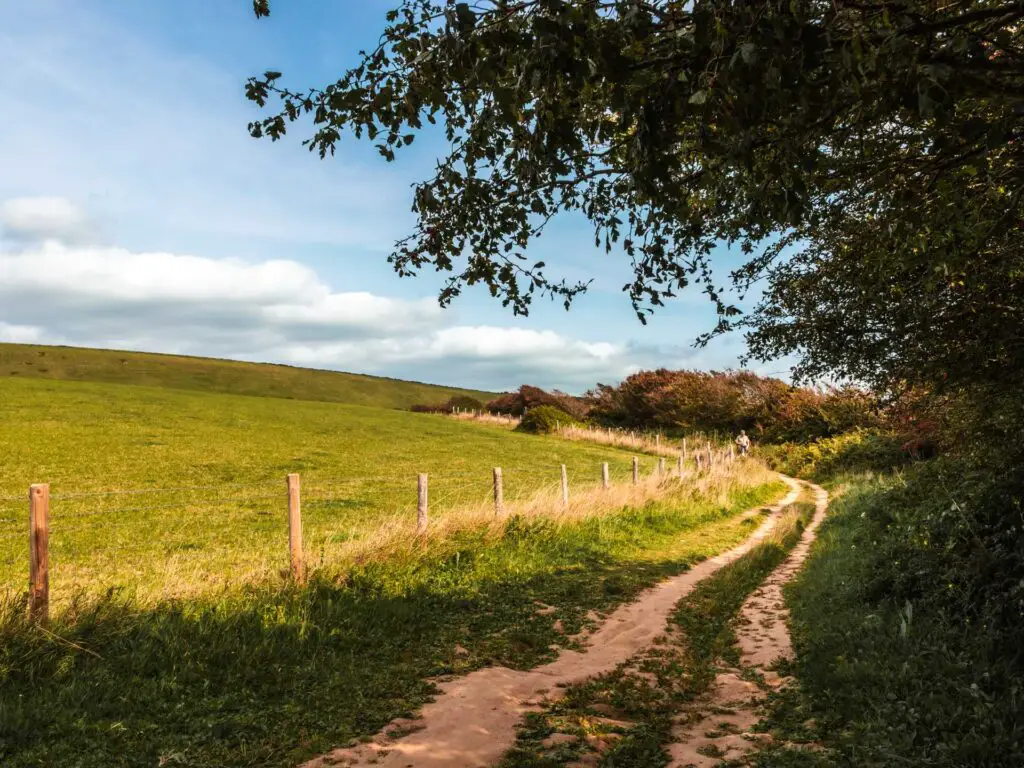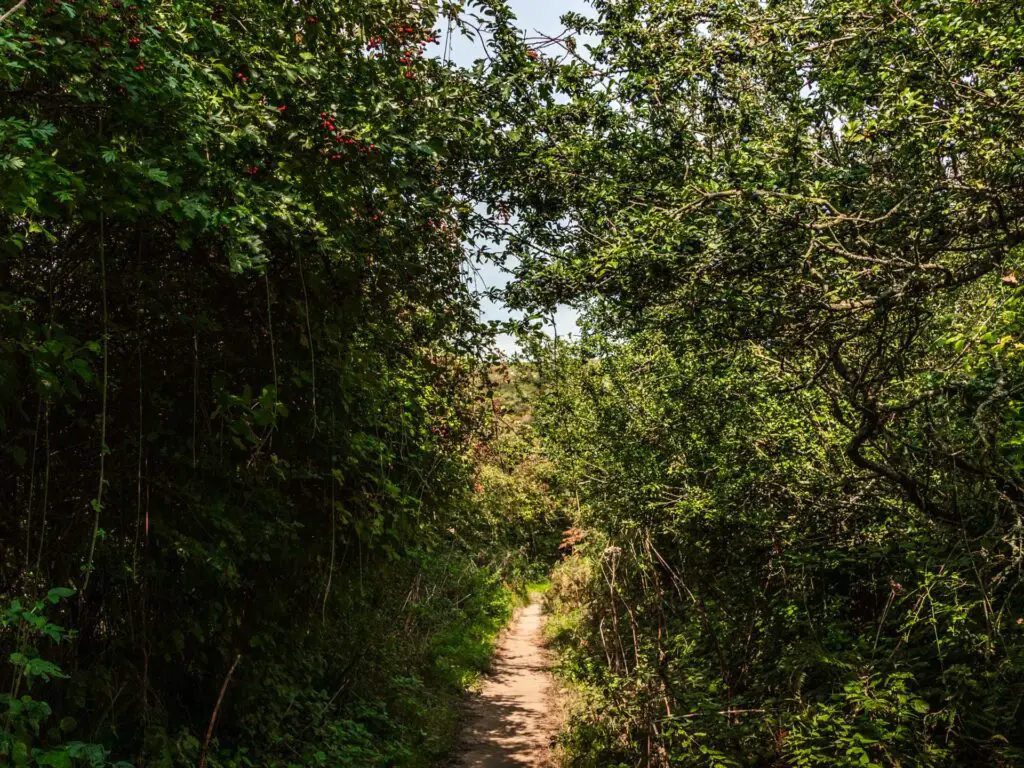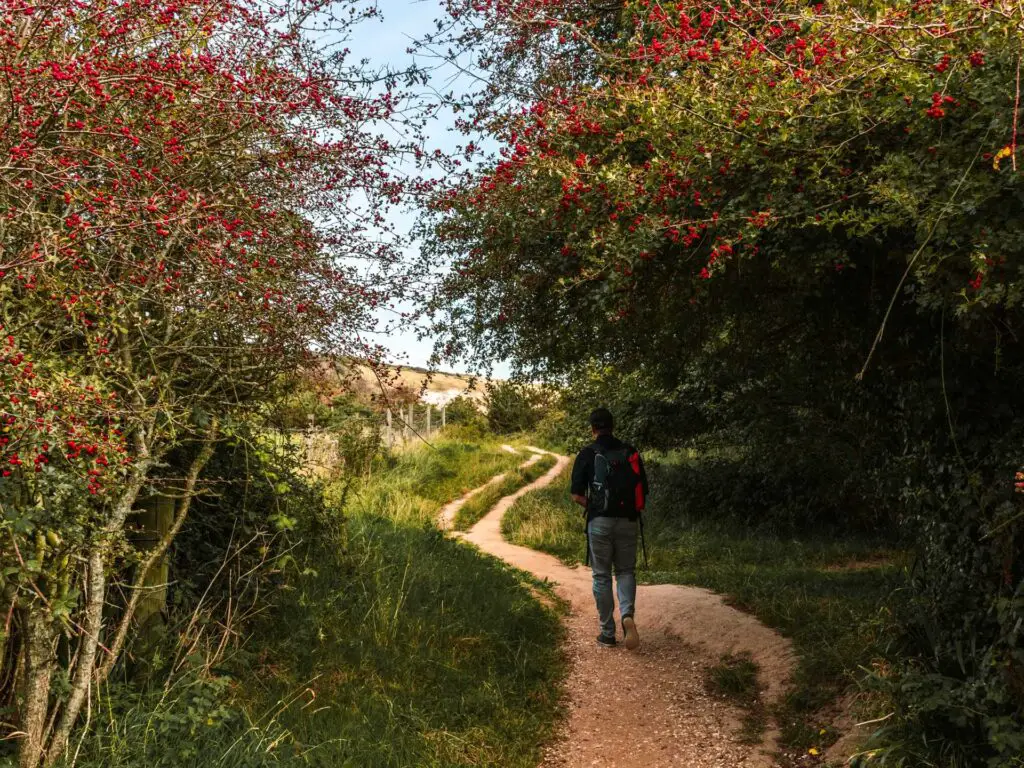 Next you will make your way uphill where you will get some epic views back down to the coastline of Swanage.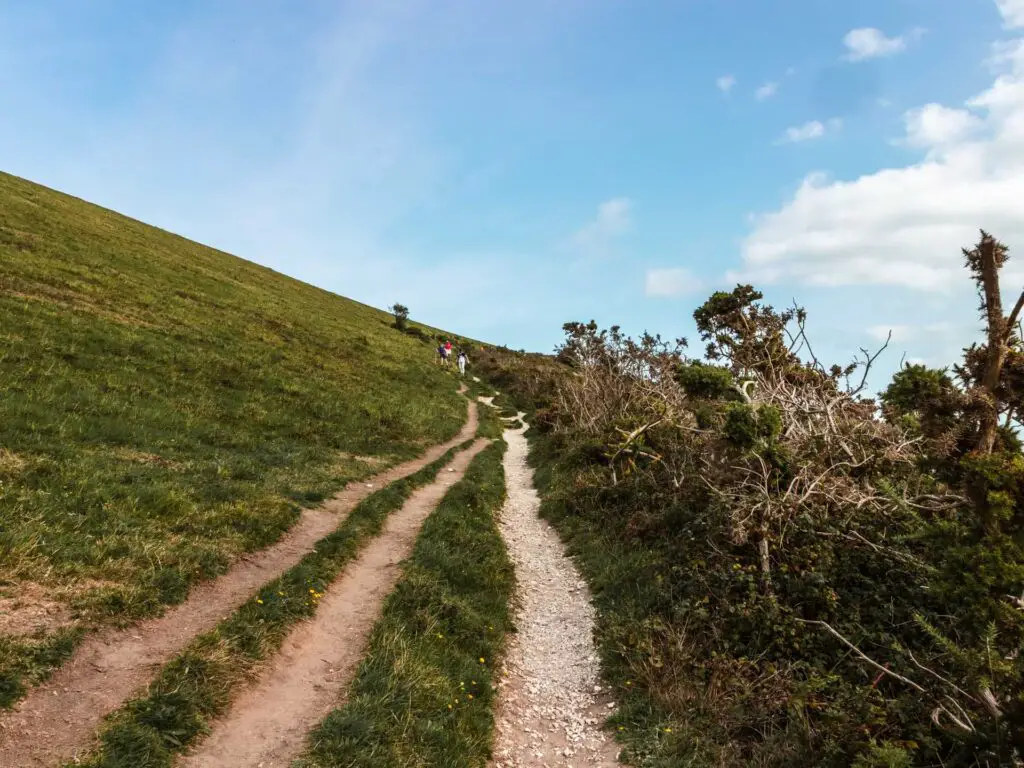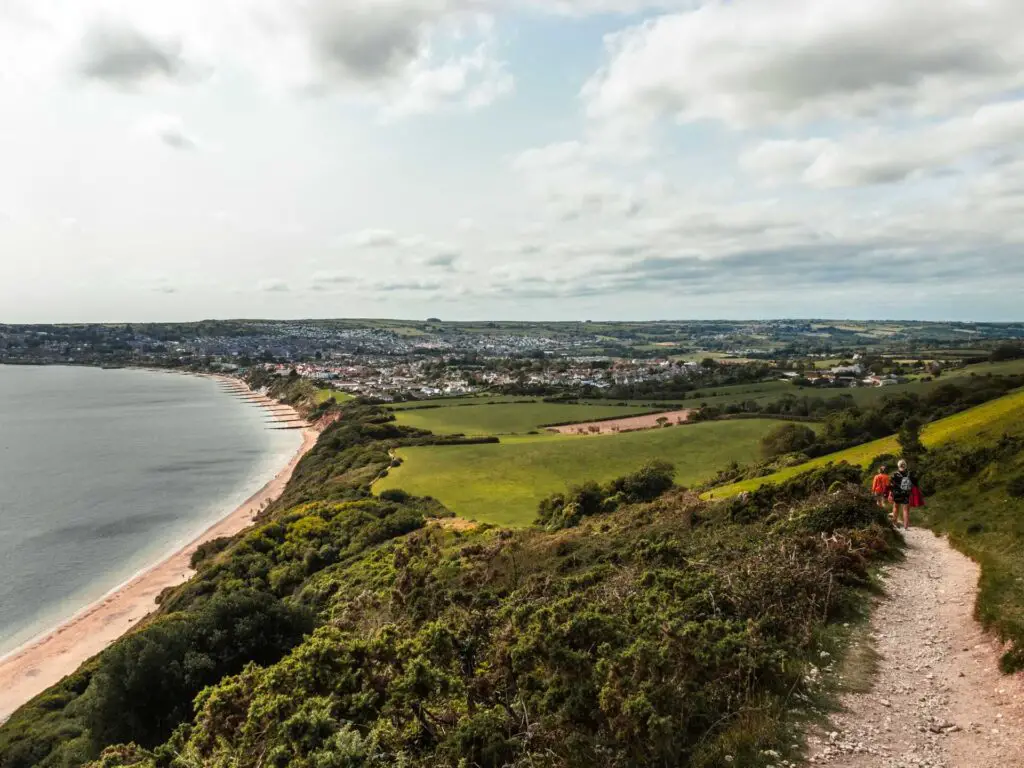 The split in the trail on the walk to Old Harry Rocks
You will next reach a point where the trail splits. Left goes uphill more, right goes through a gate. Both will lead you in the correct direction, however I recommend taking the right one through the gate….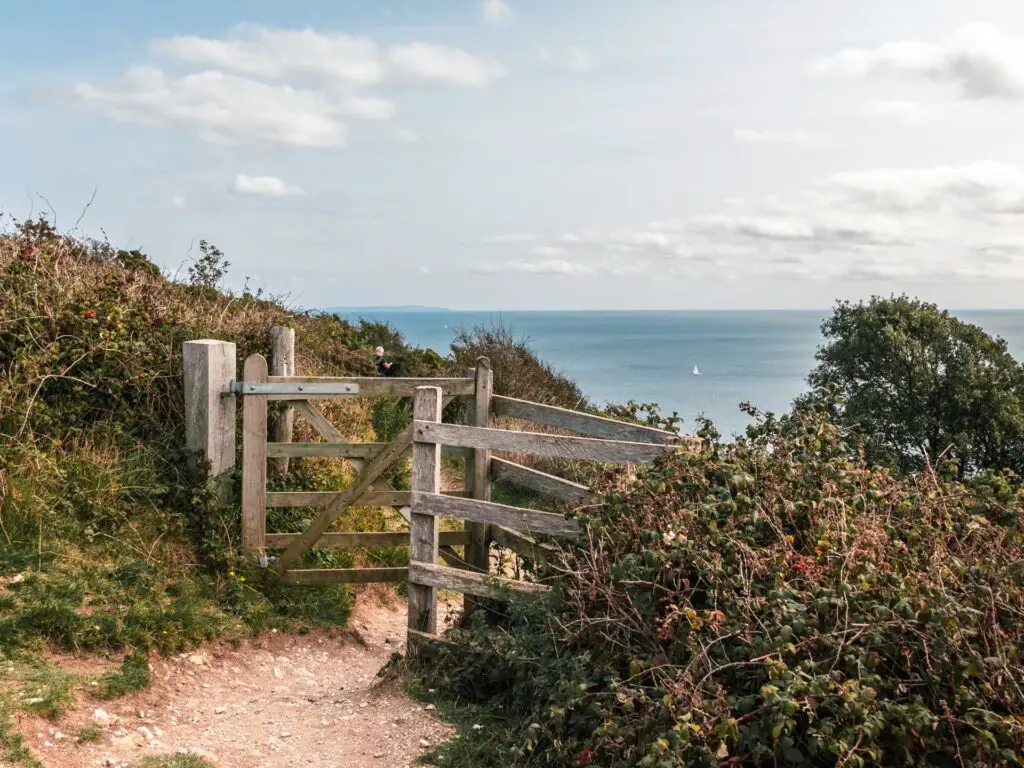 I have no idea what the route is like along the left trail, but I can confirm that the right one through the gate on the right is really really good. 
Although, I'm curious now. If you do decide to take the left trail, then let me know how it is 🙂
Anyway, the trail on the right takes you around the edge of the cliff (not in a dangerous way), with a cool view of Swanage to the right. 
nb. The photos below are not the Swanage view. My Swanage view photo didn't make it look cool.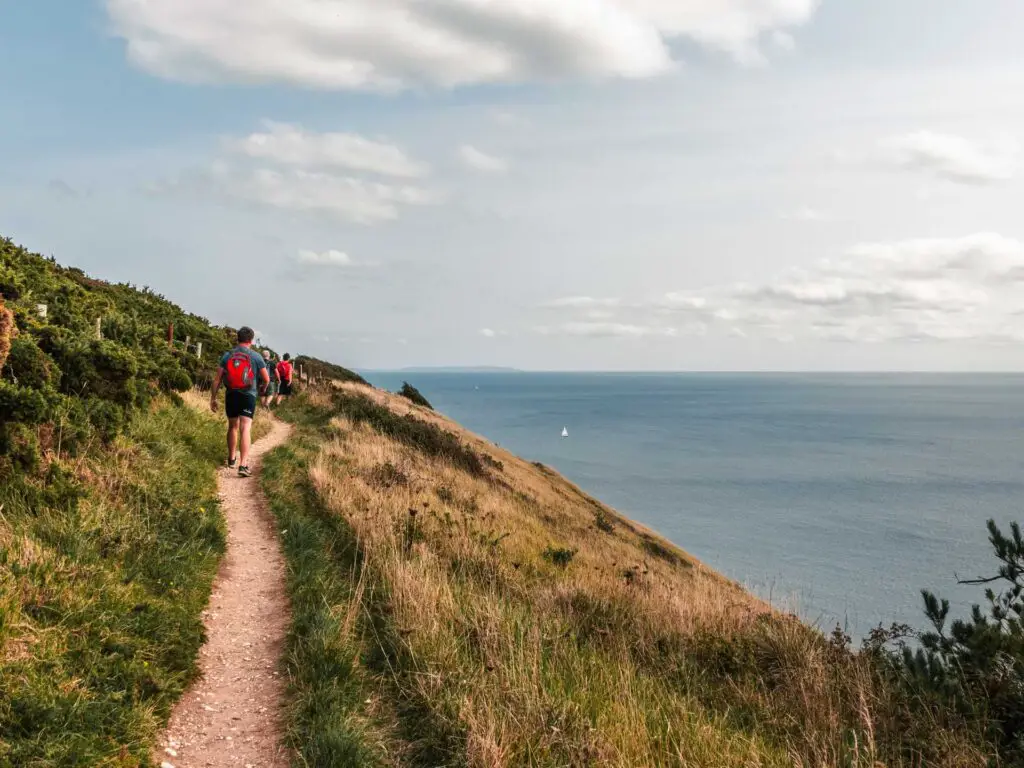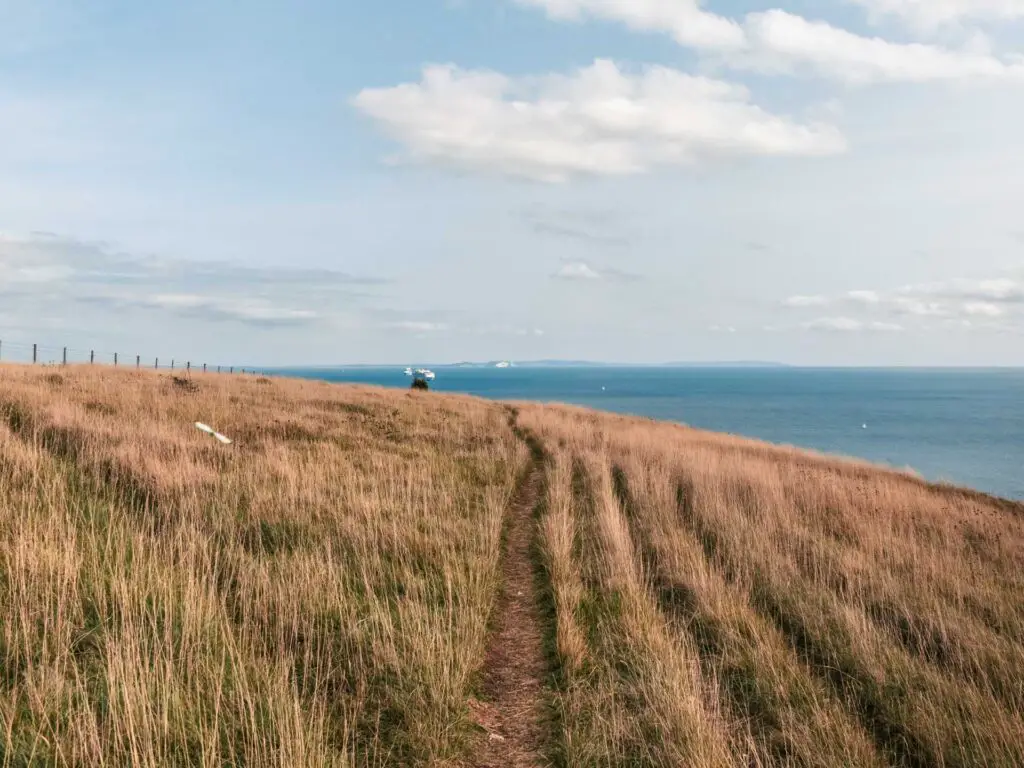 Things will become a little more open, as the dirt trail narrowly snakes though long grassy bits. There are a few trails through this bit. They all pretty much follow the same route, so just walk whatever you want as it leads around to the left along the cliff edge. 
The final stretch on the walk towards Old Harry Rocks
As the trail leads you around to the left, you will be walking alongside a fence with a view ahead of a spiky rock and the white chalk cliffside in the distance. Well, that is it.  Part of the famous rocks. Make your way over there where you will be able to walk around for different views of the cliffside.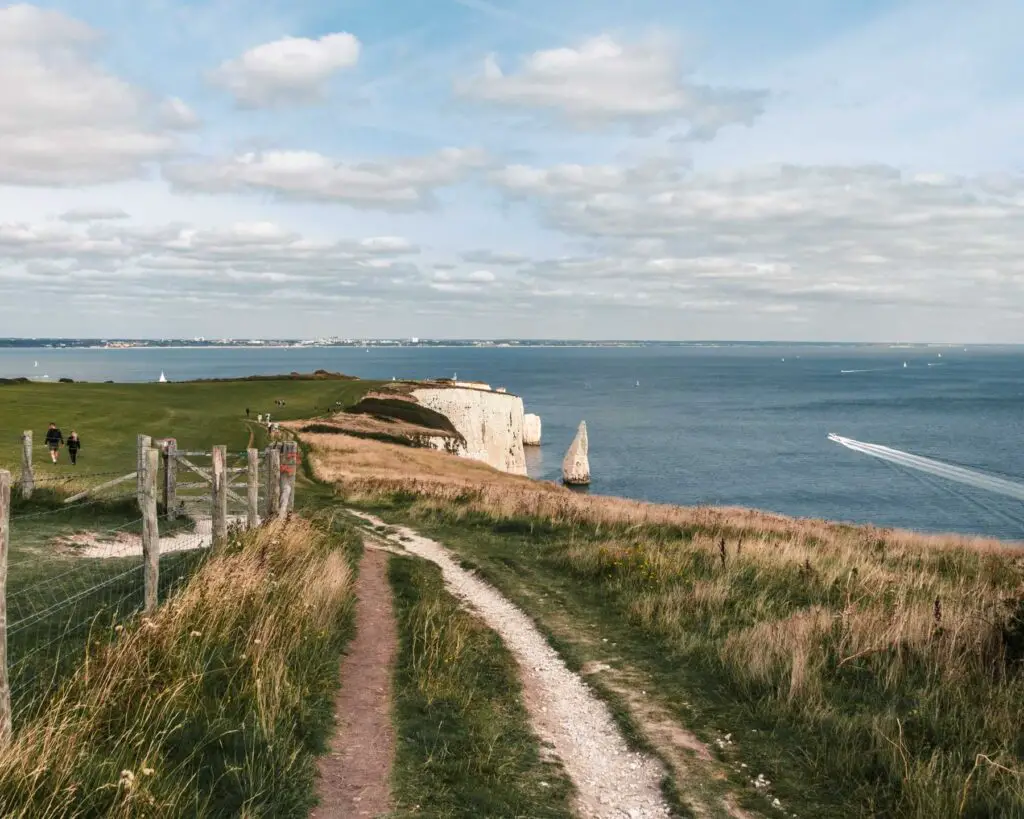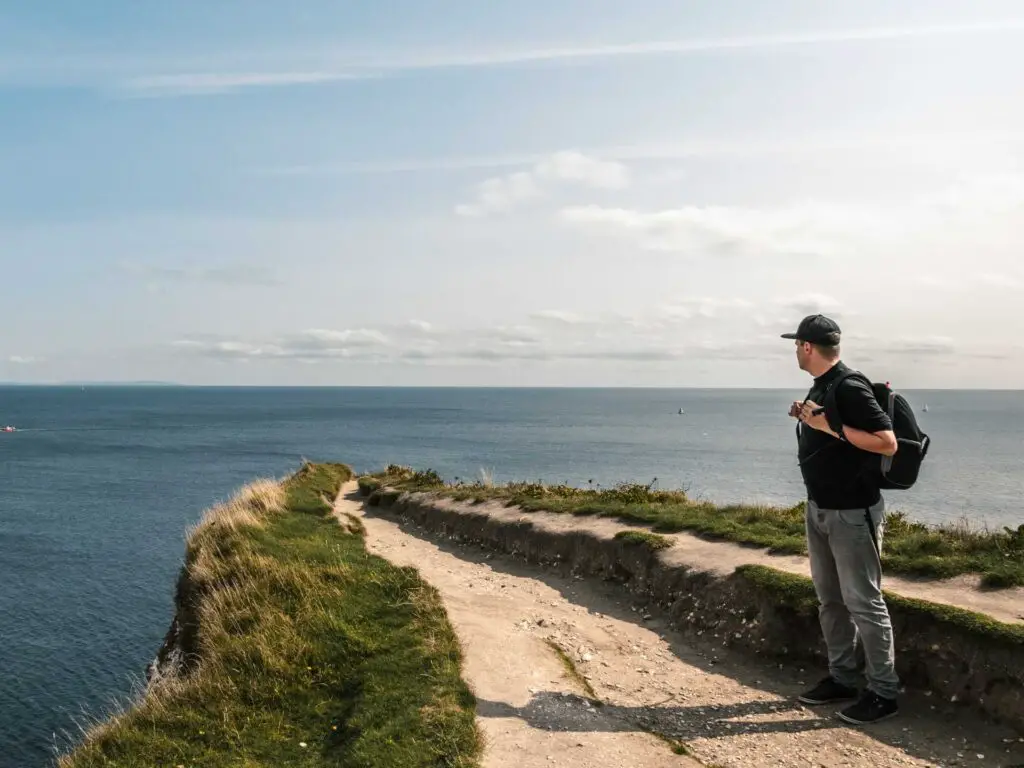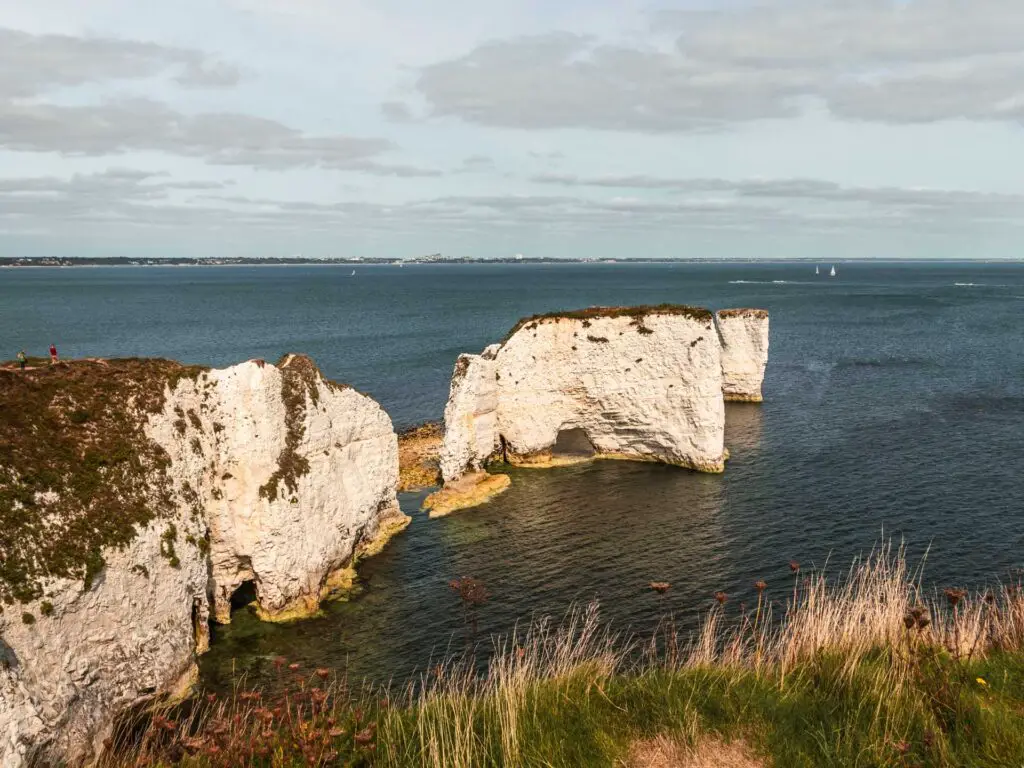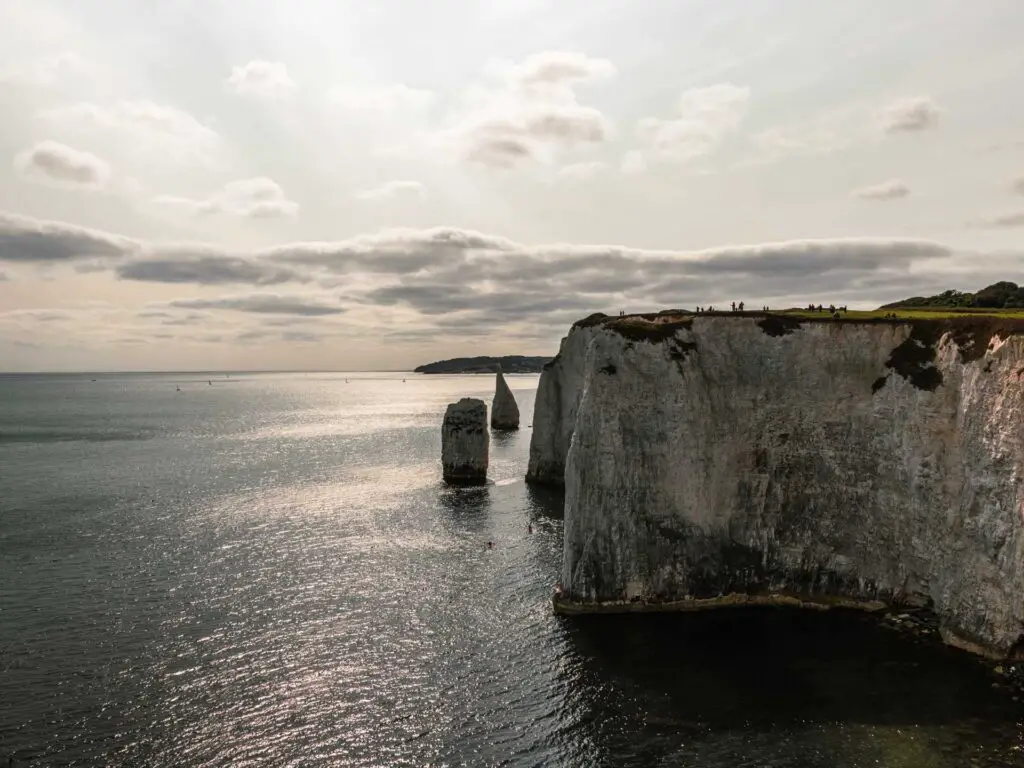 Of course I have to say, be careful. Don't go too close to the edge etc. But for real, white chalk cliffs aren't very stable, and even if you feel safe in your footing, the cliffs might have other ideas.
The walk to a secret viewpoint of Old Harry Rocks
I'm calling this secret because it's hidden away slightly….It probably isn't really secret.
You will find it when you decide to leave the rocks.
If you follow the trail that leads away from Old Harry Rocks, keeping the sea to your right, it should lead you towards some bushes and trees. Walk through them and continue along this path. Keep an eye out for a little wooden post and small opening in the bushes to the right.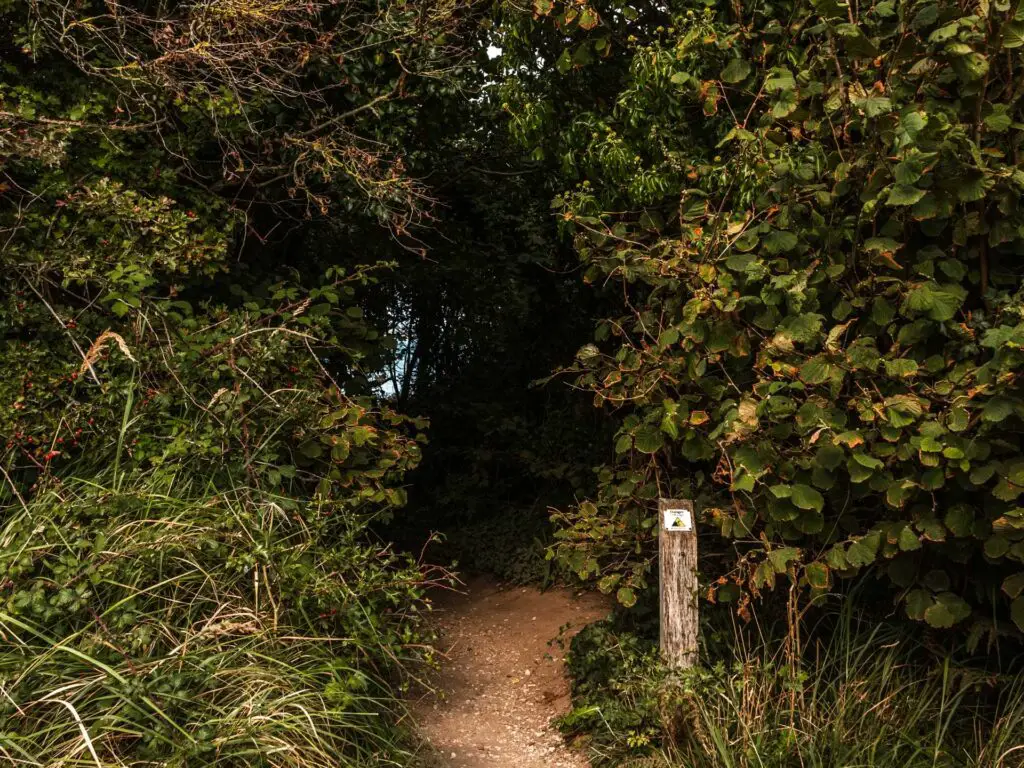 When you see this, congratulations. You have found the secret. Walk though the bushes to the opening for some more cliffy Old Harry goodness. There is even a scenic bench placed here.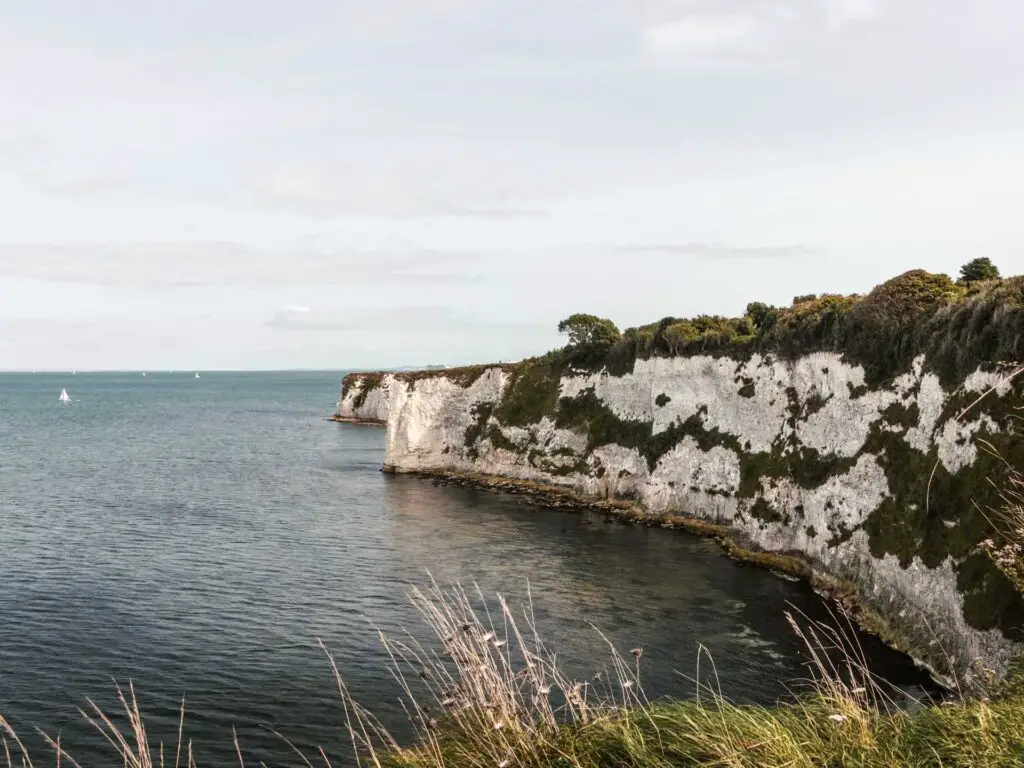 The walk from Old Harry Rocks to Studland
Once you have had enough cliff, it's time for the next section of the walk. Get back onto the trail and continue walking in the direction away from Old Harry Rocks. Now, although you are walking away from the star of this walk, you still have some gorgeousness ahead. For this next section, it might not feel like it, but trust me. It gets good again. 
This part of the walk is on dirt trail, first in an open green area and then surrounded by bushes and trees again. It's pretty flat without much views. It can also get very very busy here.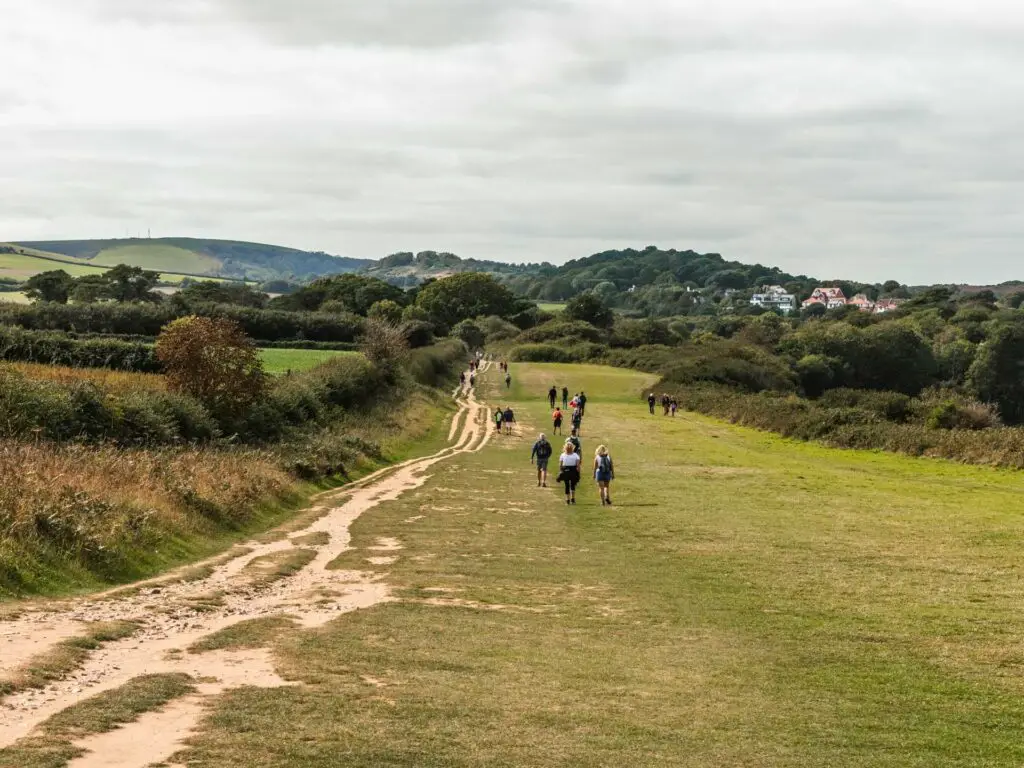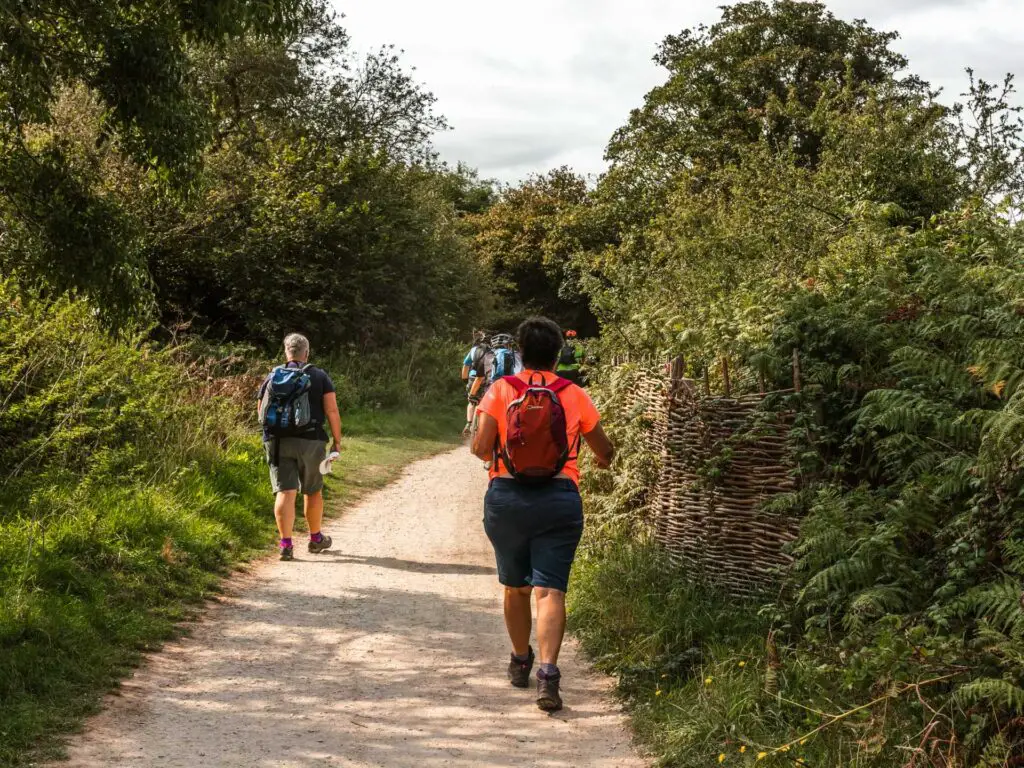 We walked along here the evening before when we decided to try the quick walk from Studland to Old Harry rocks for sunset. It wasn't busy at all. However, today on a weekday, during the day, it was pretty packed. 
Continue on this trail past the tea room sign…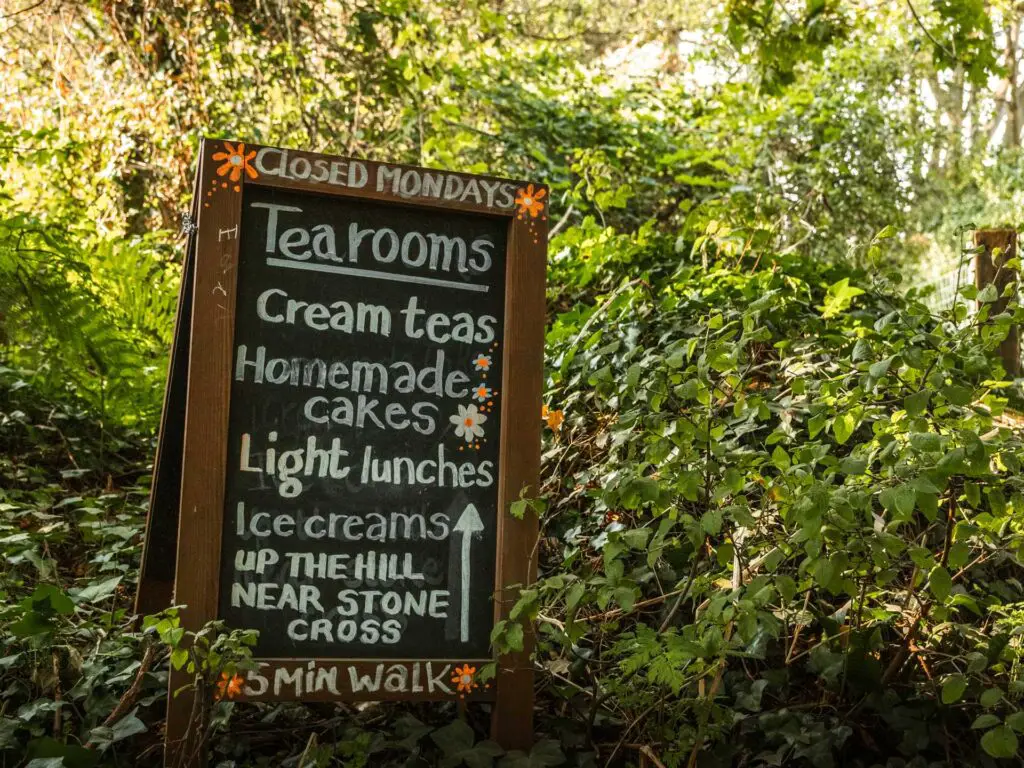 …then take the left turn when you reach the road. Up ahead you will reach some signage where you go left again along the road.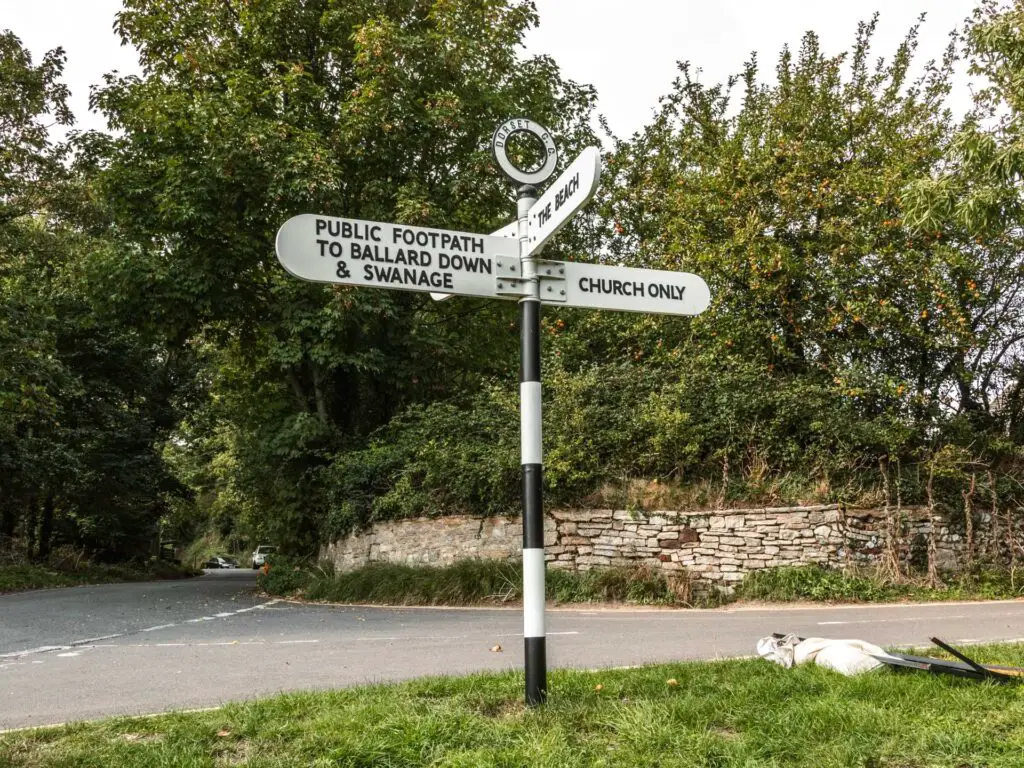 You will pass the Manor Farm Tea room which is probably a lovely place to stop for tea and refreshments. We didn't stop here, although, kind of wish we did now.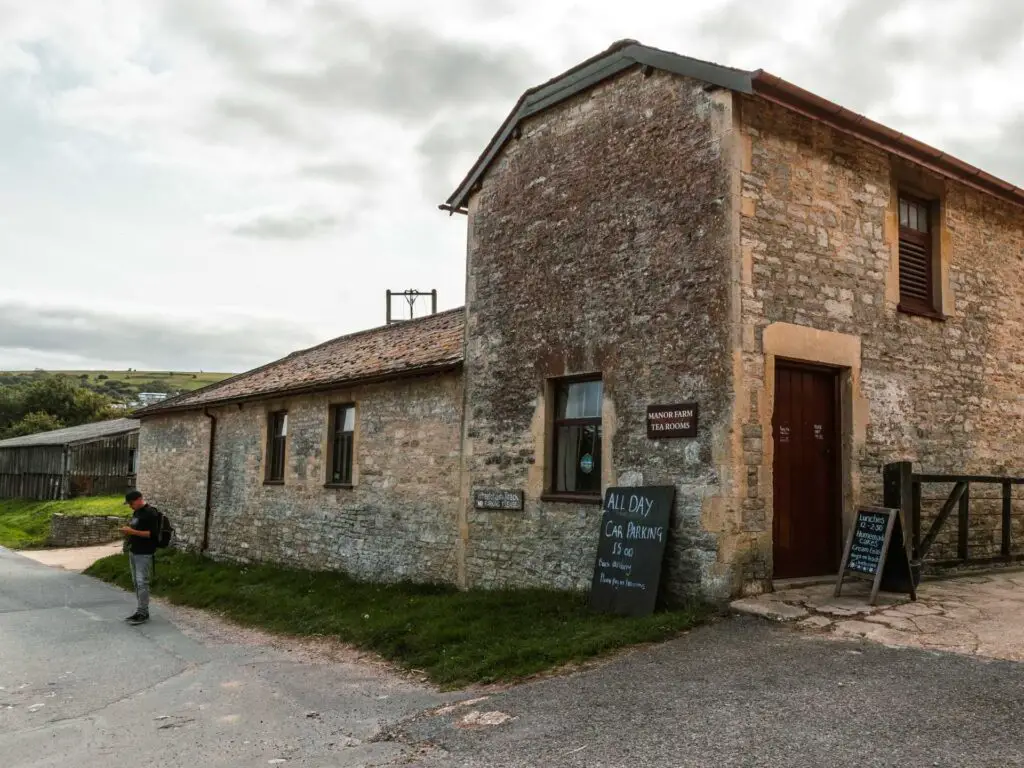 The uphill walk for gorgeous views back to Studland 
Sticking to this road, it will gently take you uphill. You may even get to see some cows in the fields. I don't mind cows as long as there is a barrier between us.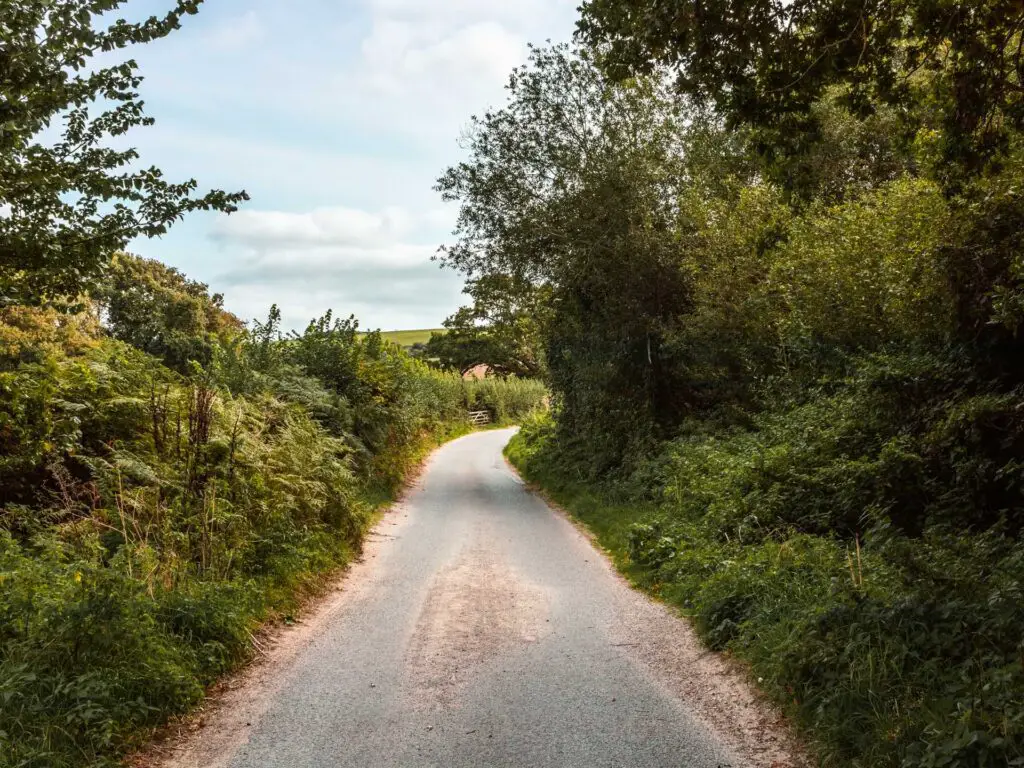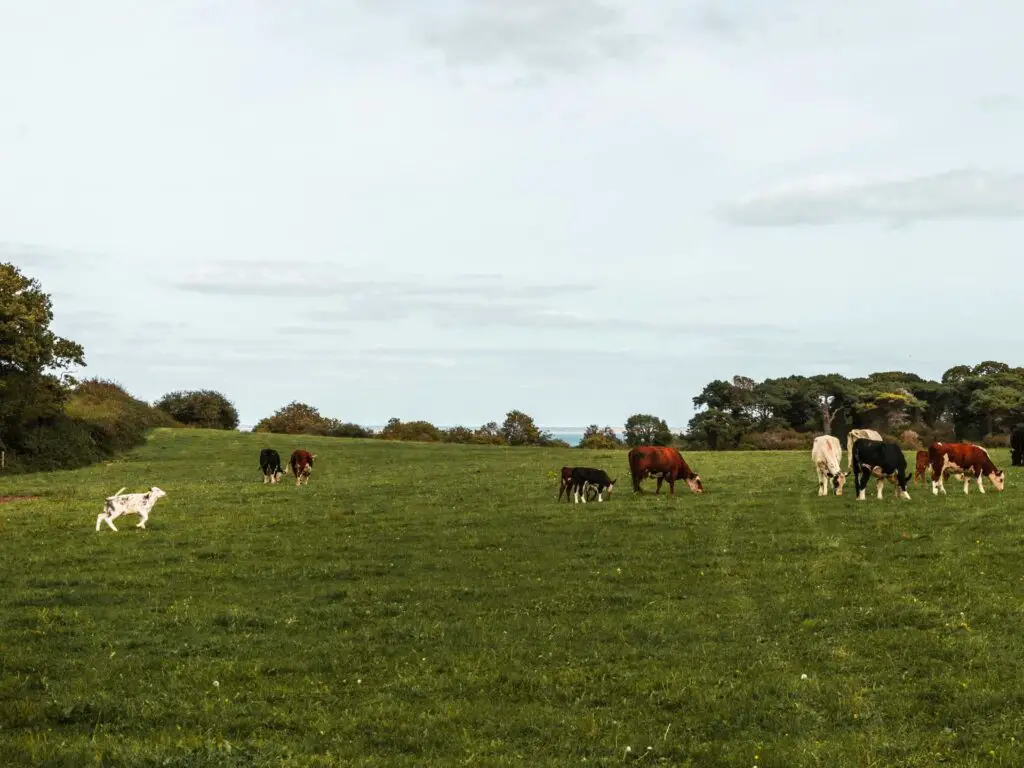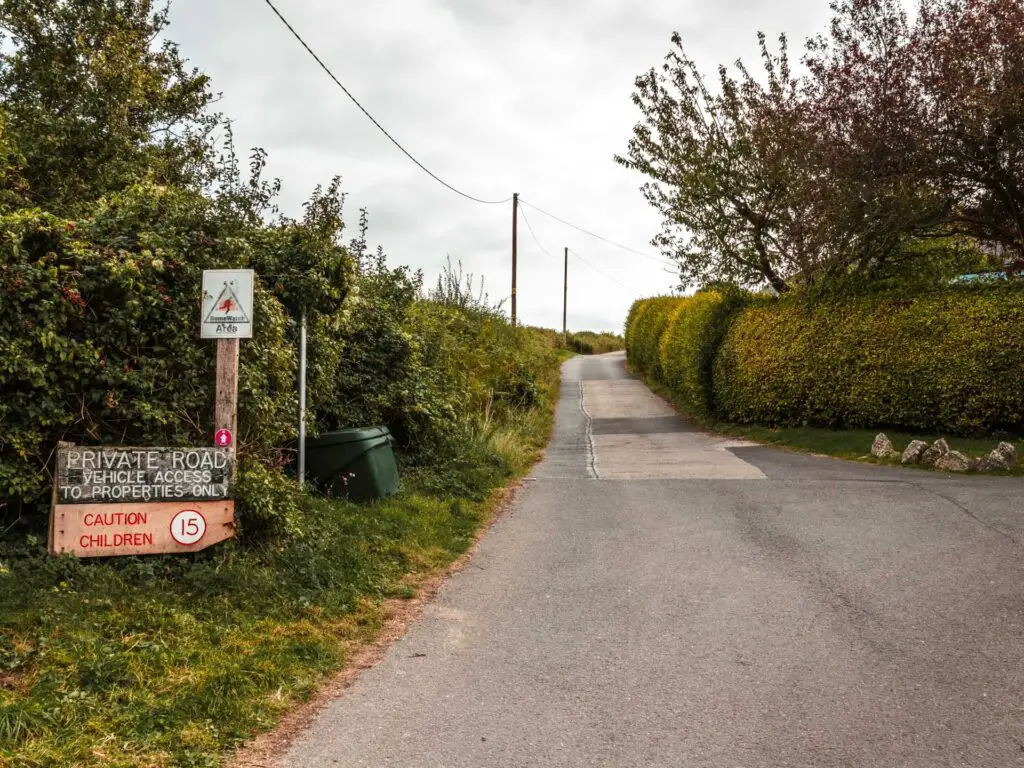 At the top of the road, follow it as it curves to the right (going straight will lead you along private road), then just ahead you will see the dirt trail split into two. Take the left one through the gate and continue up a slightly steeper bit of hill.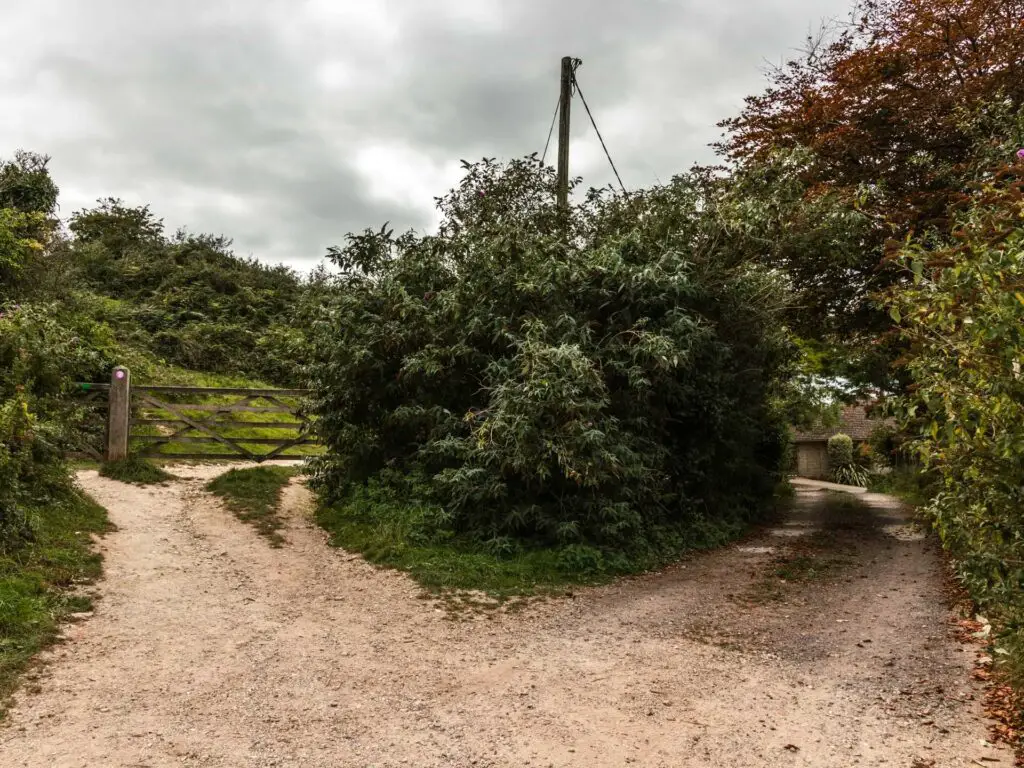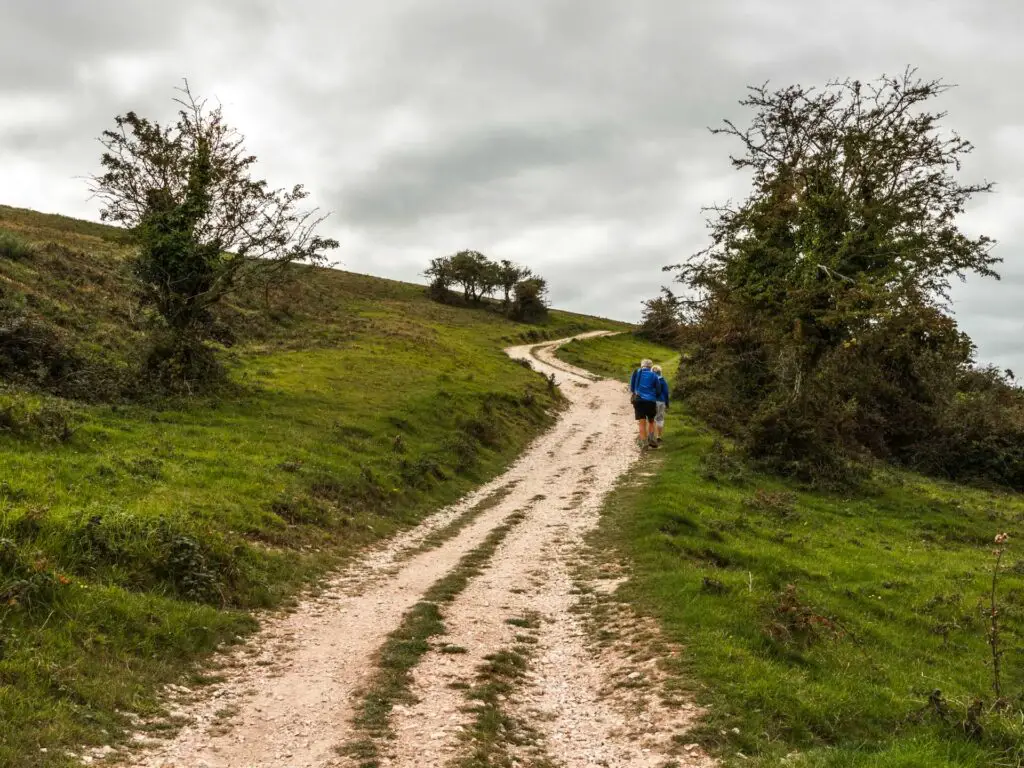 There are actually 2 trails here. One is much steeper and more 'off-piste'. I think it heads the same sort of direction. We, however, chose the less aggressive uphill. Just because.
As you make your way up, you will get some gorgeous views to your right and back.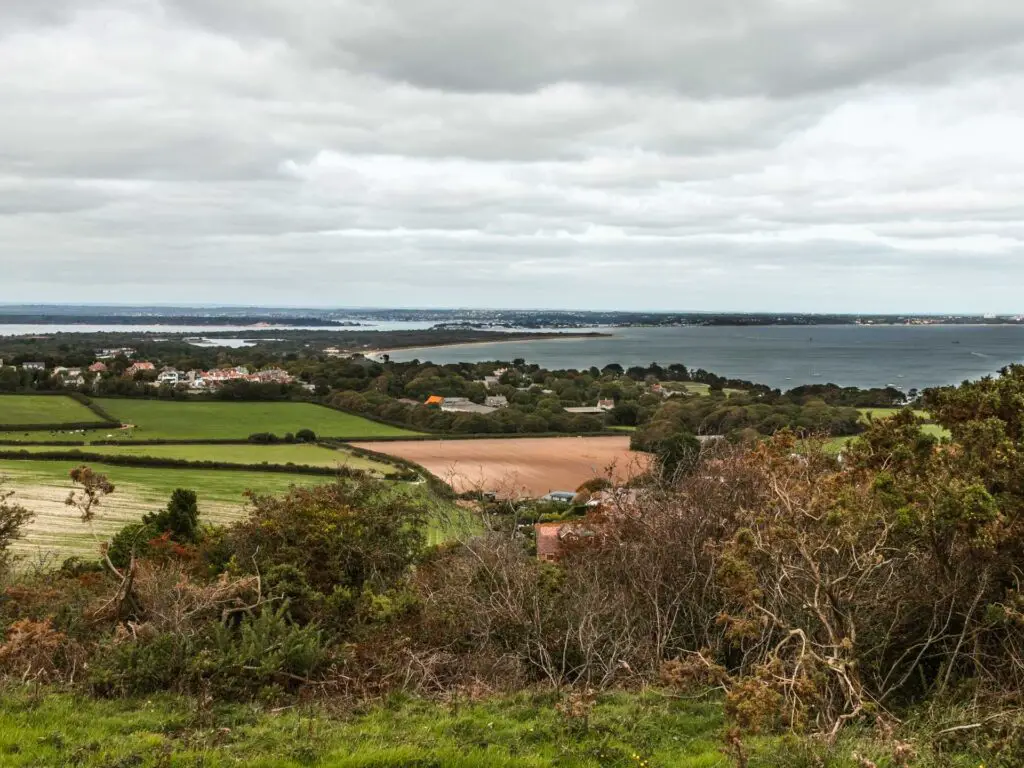 Reaching the top of the hill with views down to Swanage
As you reach the top of the hill, you should see one of those headstone signages with views ahead of Swanage, where you will be heading.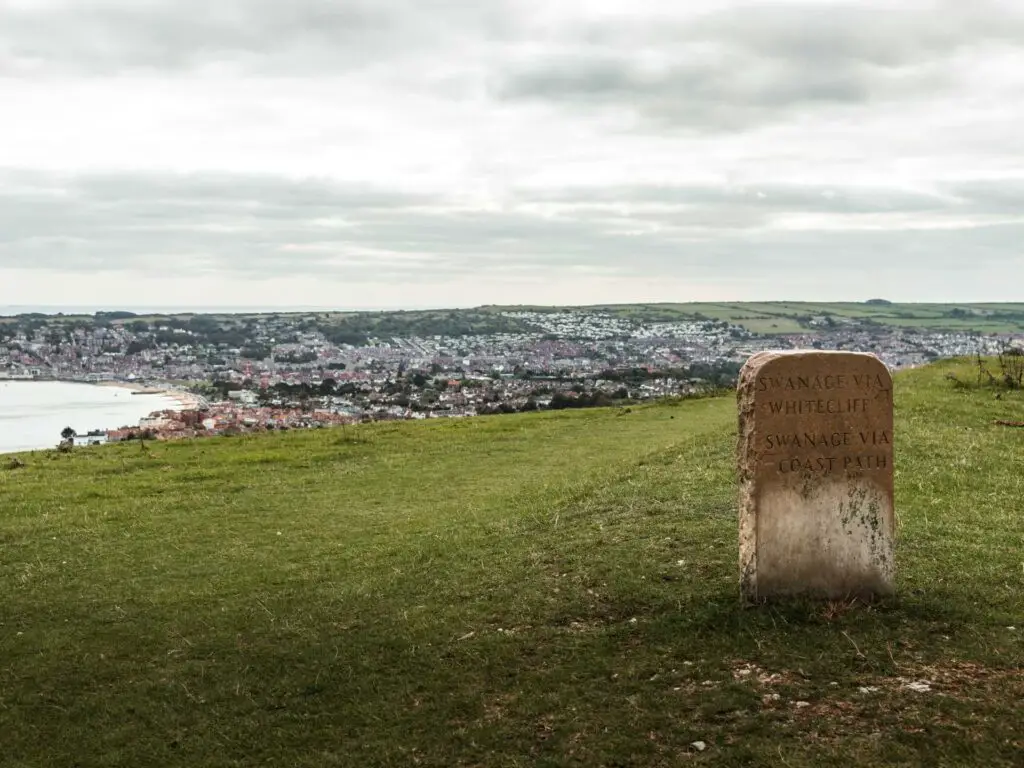 The trail along here is not completely obvious. If you look closely, you should see a sort of outline of shorter grass. This is the trail. Don't worry too much if you can't see it. Just head over the hill and make your way down in a right diagonal direction. 
You will soon pick up the dirt trail again where it guides you gently downhill.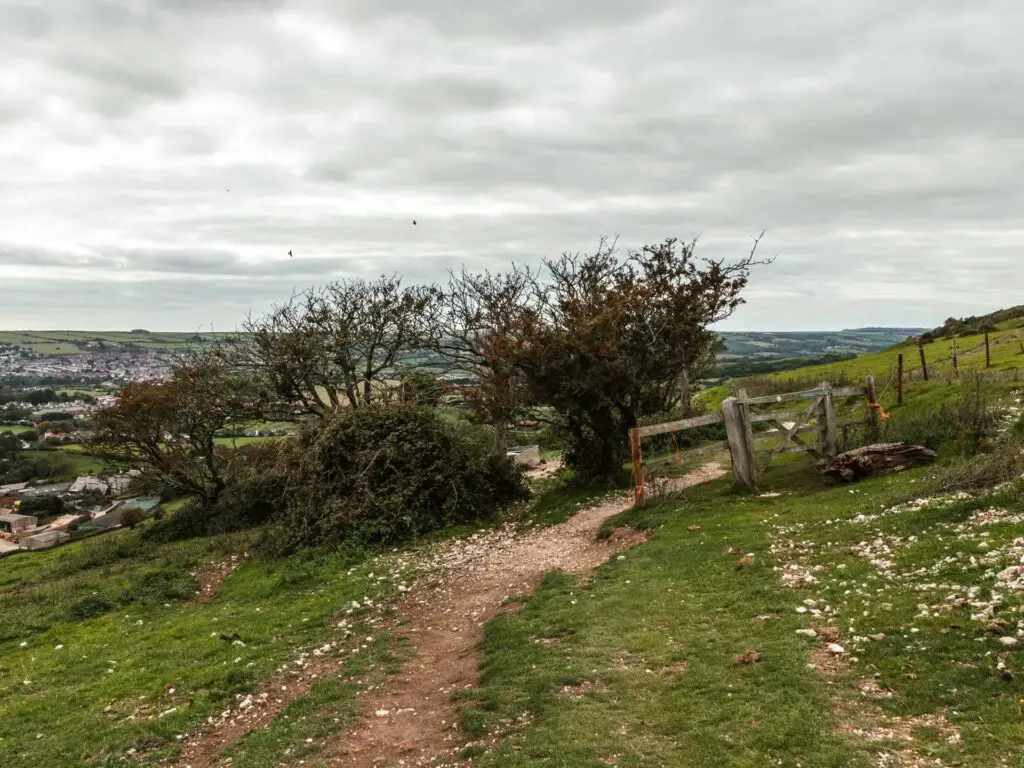 You will even find a lovely scenic bench where you can sit to admire the view. I might even say this was my favourite view of the walk. Probably in part because I did not expect it. Truth be told, after we walked away from Old Harry Rocks and passed Studland, I wasn't expecting much more from this walk. And the best part, is that this section of the walk back into Swanage, was pretty quiet, away from the crowds around Old Harry.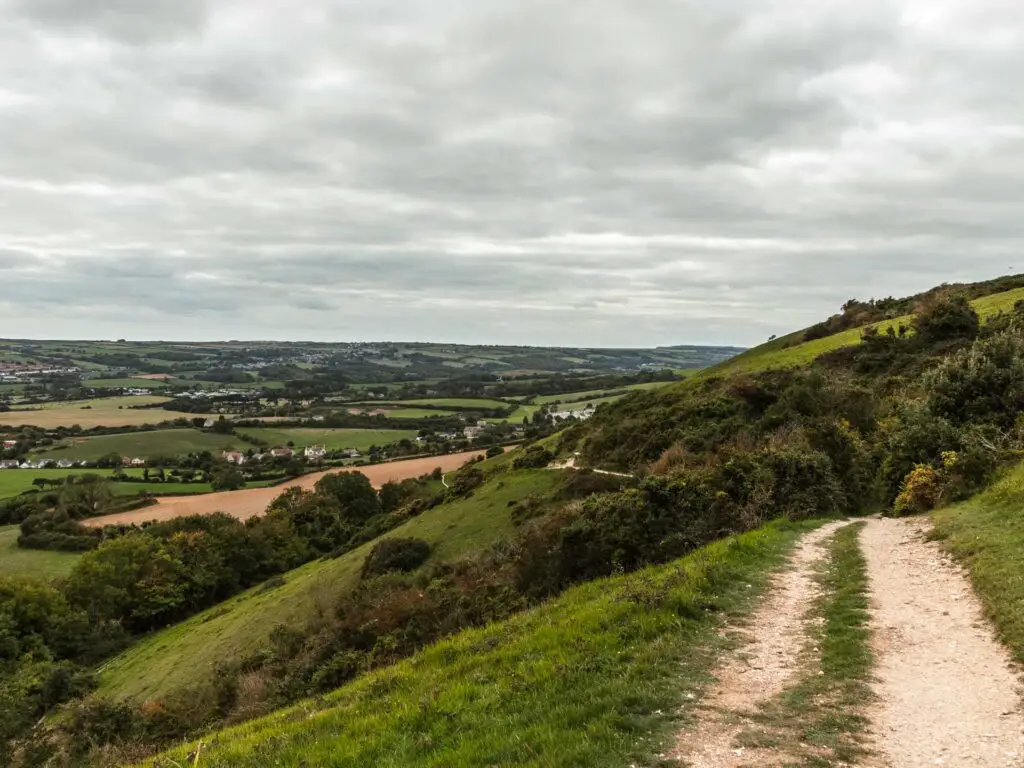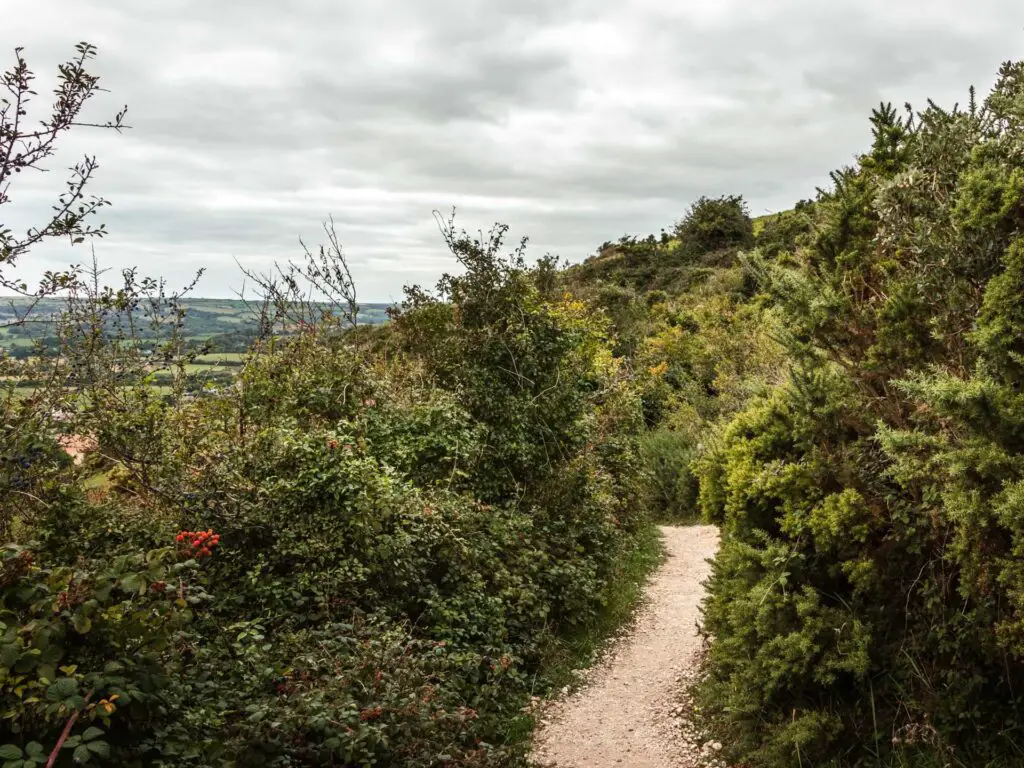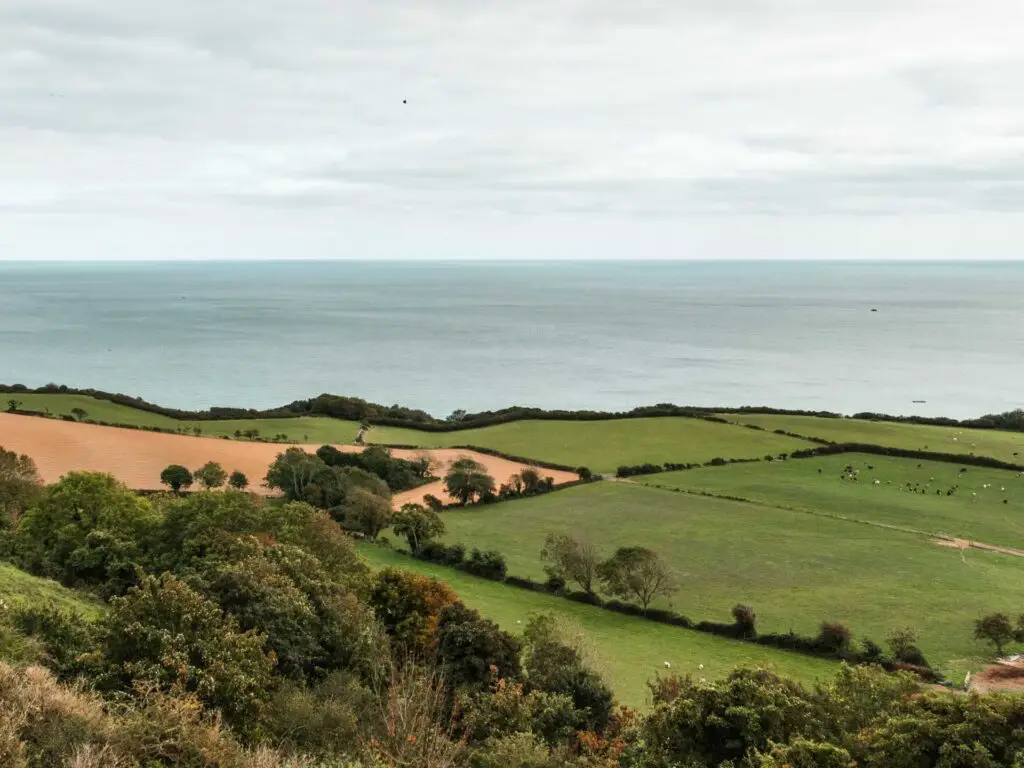 The walk back into Swanage
Once you have enjoyed the view enough, continue following the trail downhill. It will lead you through a gate and then along a trail surrounded by bushes and stuff. Then past a few houses (picture below) and through another gate, and then finally down the back of some more houses.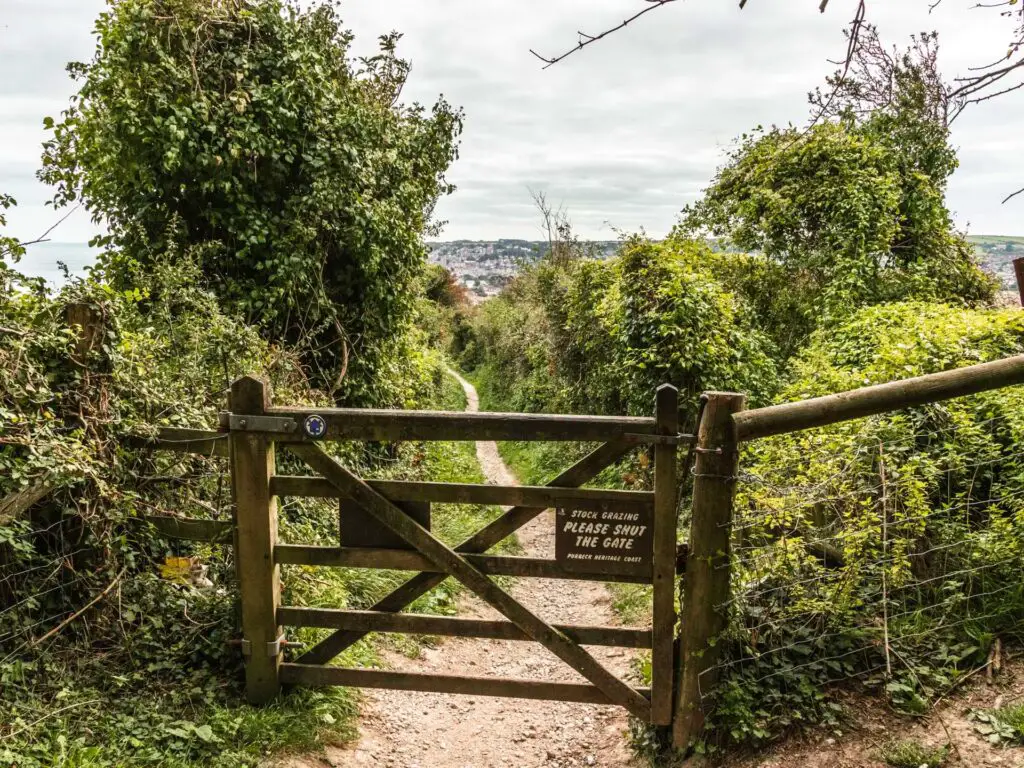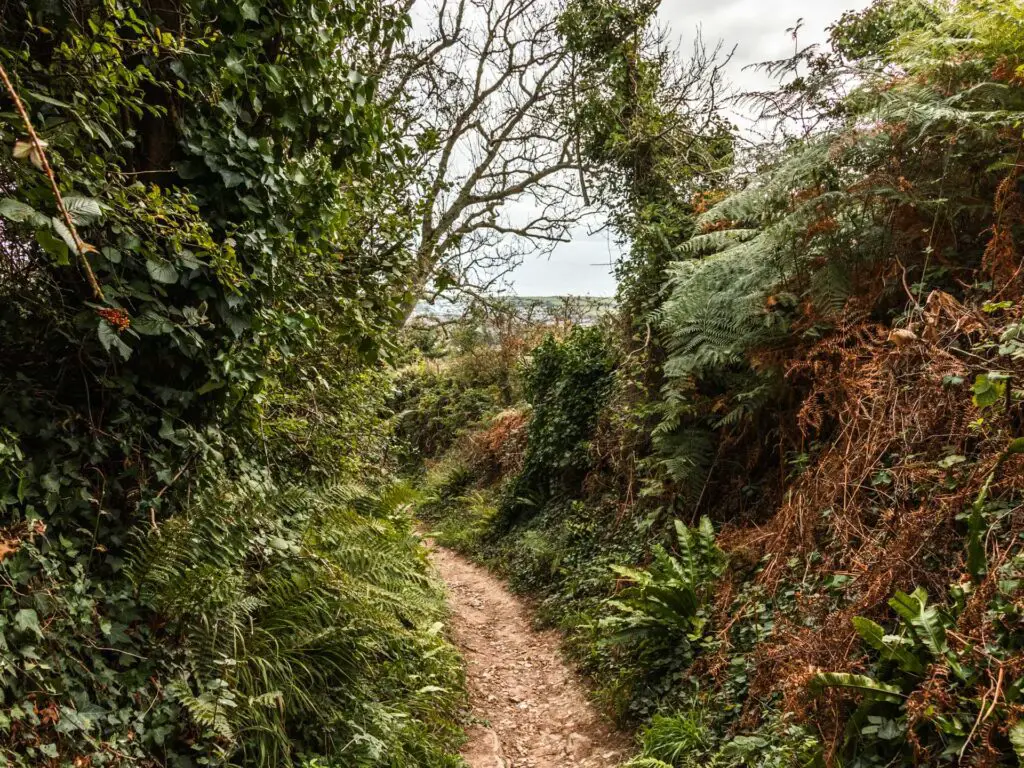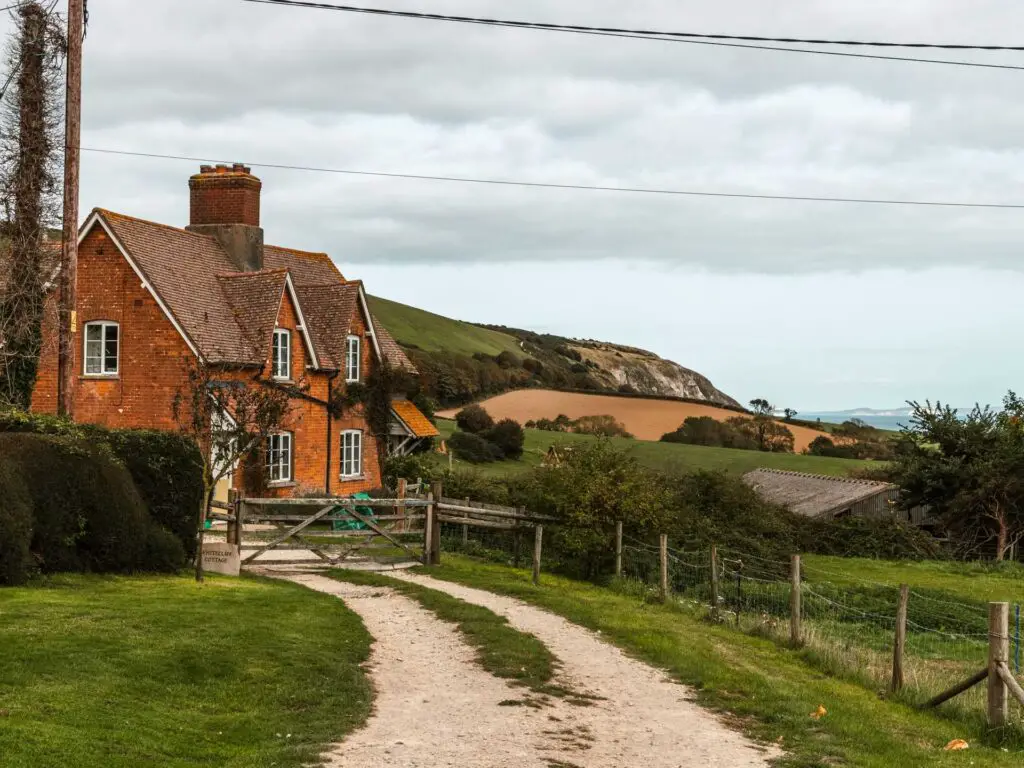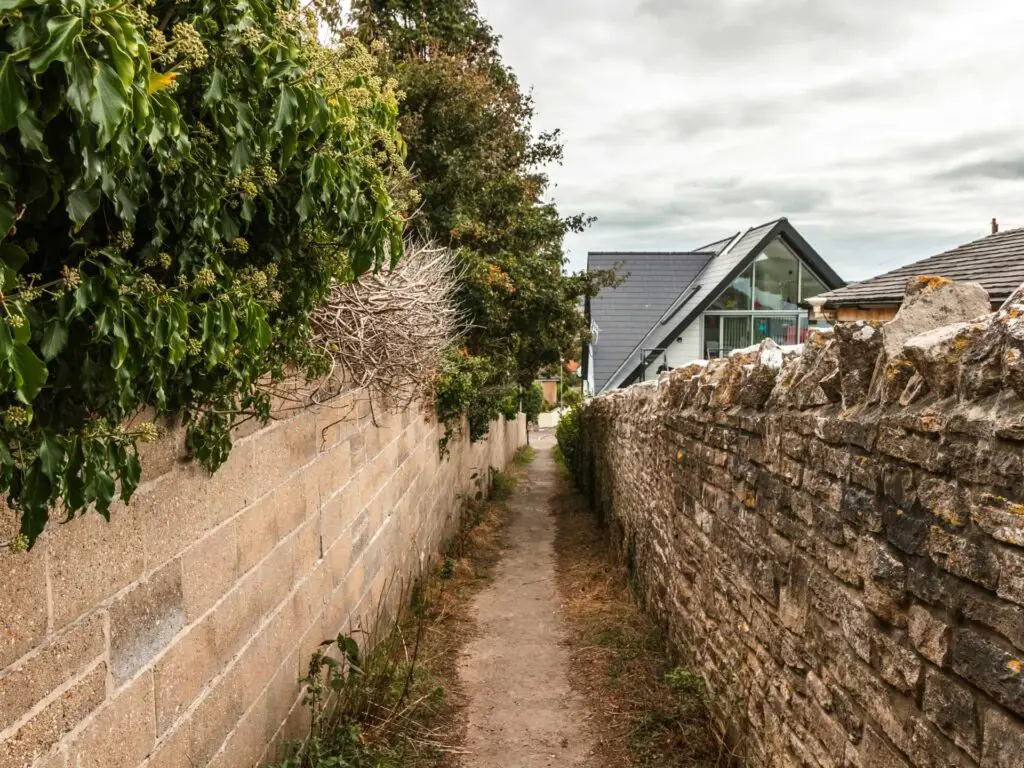 Once you reach the road, just make your way back to wherever you need to be. To get back to the coast, take a left, then at the crossroads, take the road ahead to the left and it should lead you back down to the beach.
Final thoughts on walking to Old Harry Rocks from Swanage and Studland
First of all, if you are physically able I would 100% recommend doing the full circular walk to Old Harry Rocks via Swanage and Studland. Once at the rocks, you get a bit of cliffy views, but the best views are actually getting to and from it.
If you are short on time and simply want to park up at Studland for quick access to Old Harry, then I would at least recommend that once you reach the rocks, to walk just a little bit further along the coast to get some views down into Swanage. Also, remember to take a peak in the little secret viewpoint 😉
More walks in Dorset
The Dorset coastline (known as the Jurassic Coast) is a dream to walk and hike along. It is my goal to walk all of it.
One of the most famous parts you may have heard of is Durdle Door. You can do a short walk to Durdle Door from Lulworth Cove. Or you could make a day of it and walk the long stretch from Lulworth Cove to Weymouth. I did the long one way way long ago before I started blogging. Too long ago to remember enough detail to blog it. But I will do it again and give you all the details.
I also highly recommend this circular walk from Lulworth Cove to Mupe Bay. It is way less crowded than the walk to Durdle Door and with better views (in my opinion).
Now one of my favourites, is the coastal walk from Kimmeridge Bay. It has such a dreamy pretty coastline and some solid hilly bits.
Nearby (actually walking distance from Swanage) you could try out the walk to Dancing Ledge. This one turned out to be really fun, with a bit of scambling down a rock face and tidal pool access.
For more walking ideas you could check out the Visit Dorset website.
Pin it for later – Circular walk to Old Harry Rocks via Swanage and Studland